Mak 70th Grad PhD Citations Session 1, Part 2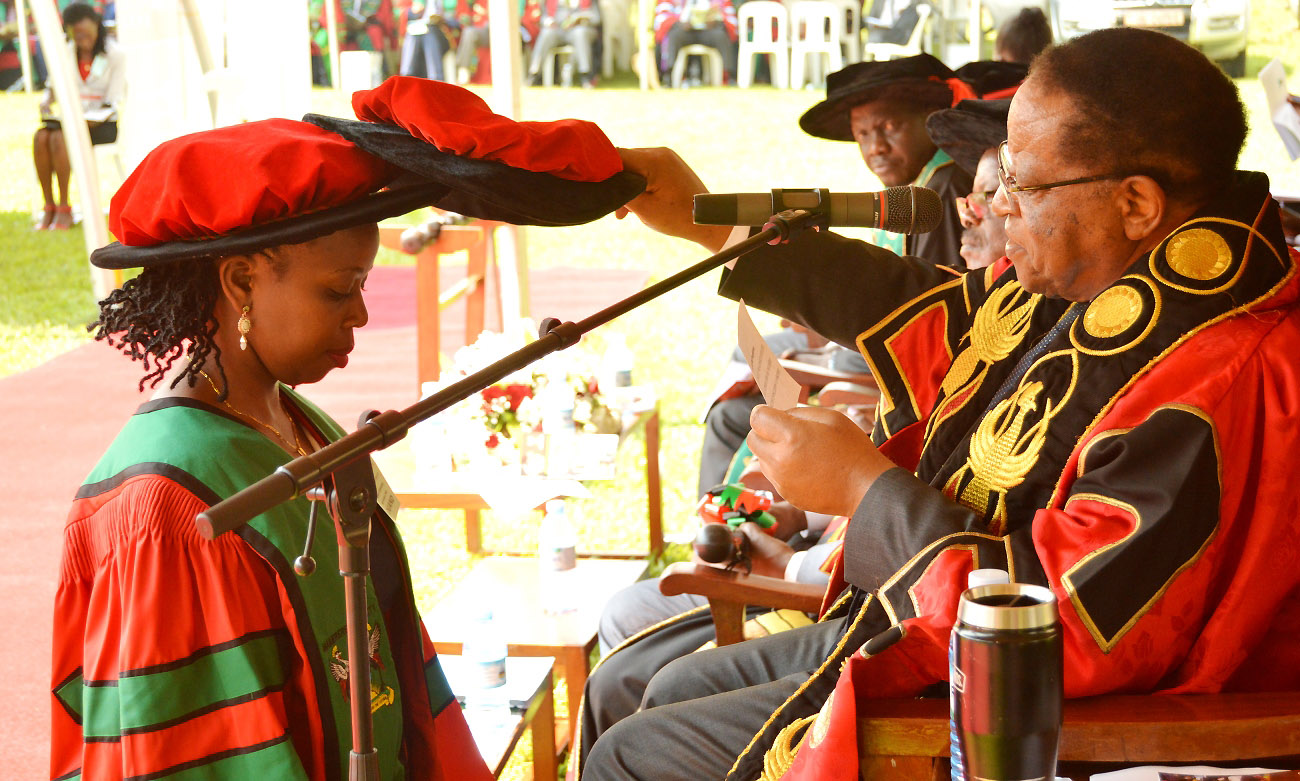 College of Natural Sciences (CoNAS)
NNAMUYOMBA Proscovia (Ms)
Biokinetics and modelling of pollutant accumulation in Cat fish (Clarias casonii) and Silver fish (Rastreneobola argentea) from selected aquatic ecosystems in Uganda
Ms. NNAMUYOMBA Proscovia's study was purposely to examine the levels of pollutants (heavy metals and DDT residues) in the two fish species and to develop a model for predicting heavy metal accumulation in Cat Fish living in contaminated environments. The current experimental methods used to determine pollutant levels are laborious and expensive, which makes it hard to generate data whenever need arises. The research established that biokinetic modelling provides an alternative cost effective method of determining pollutant levels in fish living in polluted aquatic ecosystems. The model can be used to estimate long-term metal accumulation in environmental risk assessments. This study was funded by ADB and Gulu University, and was supervised by Prof. Jolocam Mbabazi and Assoc. Prof. Muhammad Ntale.
UWIMBABAZI Moreen (Ms)
Influence of fruit seasonality on macronutrient and energy intake and its significance on reproduction in female chimpanzees
Ms. UWIMBABAZI Moreen examined how diet-quality in terms of macronutrient content relates to the timing of reproductive events in female chimpanzees of Kibale National Park in Uganda. She found that female chimpanzees ingested more carbohydrates and lipids and reduced their foraging costs during preferred fruit abundant periods. However, they maintained stable energy intake despite the variations in diet quality through feeding behavior modifications and as such were able to breed throughout the year. The findings highlight the relevance of different food tree species in natural forest ecosystems and their significance in maintaining wild populations of chimpanzees, a specie which is threatened by forest degradation in Uganda. This study was funded by Kibale Chimpanzee Project, and was supervised by Prof. Richard Wrangham, Prof. Jessica Rothman, Assoc. Prof. Gilbert Basuta and Prof. Mnason Tweheyo.
WOKIYI Dennis
Solutions to Ill-posed Cauchy problem for a non-linear heat equation.,
Mr Wokiyi's study focused on estimating the temperature distribution below the earth's surface using temperature and heat-flux measurements on the earth's surface. The study enhanced the understanding of how temperature governs a variety of the geological processes such as; formation of magmas, minerals, fossil fuels and deformation of rocks. The candidate demonstrated that the problem is uniquely solvable under a suitable choice of function spaces and showed that numerical solutions were consistent with the existing theoretical proofs. The study was funded by International Science programme – Sweden, Makerere Staff development and Eastern Africa Universities Mathematics Programme (EAUMP). Mr Wokiyi was supervised by Prof. Vladimir Kozlov and Prof. Fredrik Berntsson from Linkoping University-Sweden, Prof. John Mango and Dr. Godwin Kakuba from Makerere University.
College of Education and External Studies (CEES)
ATWEBEMBEIRE Juliet (Ms)
Management practices and quality of teaching and research in private chartered universities in Uganda
Ms. ATWEBEMBEIRE Juliet examined the influence of management practices which included, staff participation, performance monitoring and staff development on quality of teaching and research in four private chartered universities in Uganda. Results demonstrated a significant contribution of staff development and staff participation on quality of teaching and research. There was no sufficient evidence to show that performance monitoring influences quality of teaching and research. The study recommended the development of more user-friendly methods of performance monitoring, giving of constructive feedback and rewarding staff basing on performance reviews. A model of shared governance was suggested for effective management of these universities. The study was funded by Uganda Management Institute, and supervised by Prof. John. Chrysostom Musaazi and Assoc. Prof. Proscovia Namubiru Ssentamu.
AYEBARE Justin (Ms)
Internationalization of higher education and the global citizenship of graduate students at Makerere University
Ms. AYEBARE Justin investigated the effect of internationalization of higher education on the global citizenship of graduate students at Makerere University. This was due to the seemingly low levels of global citizenship amongst university graduates in the country. Using the sequential explanatory research design, the study revealed that the internationalization of academic staff, curriculum, and the student community have significant positive effect on the global citizenship of graduate students. These findings reinforced the belief that the more internationalized a university is, the more likely its graduate students would become global citizens. This study presents to university managers aspects of internationalization that greatly impinge on the global citizenship of graduate students; thus, calls for significant efforts to internationalize these, and other aspects of university operations. This study was self-funded and, and was supervised by Dr. David Onen and Dr. Euzobia Mugisha Baine.
KAAHWA Yuda Taddeo
Equity implications of the district quota and disabled students' scholarships in public universities in Uganda
Mr. KAAHWA Yuda Taddeo investigated how the district quota system and disabled students' scheme were ensuring equity at both opportunity and process of university education for the intended beneficiaries. Findings revealed that majority of students on district quota system come from low socio-economic status families, the district quota system is gender equitable, there is numerical geographical equity on district quota system; but there is geographical inequity on disabled students' scheme. The study recommends that for students to qualify for district quota system, they should have studied both primary and secondary school in that district. The percentage of district quota should be increased from 25% to 50% of government scholarships, urban districts should be excluded from district quota, and government should establish information support services for disabled students. The study was funded by Makerere University Staff Development and was supervised by Prof. Anthony Mugagga Muwagga and Assoc. Prof. Betty Ezati.
LUNYOLO Olive (Ms)
Adapting Leech's model to explore predictors of successful doctoral student completion in Makerere University
Ms. LUNYOLO Olive explored the predictors of successful doctoral student completion (SDSC) in Makerere University. She operationalized SDSC as readiness to teach at university level, creativity, and readiness to conduct research and publish. The study isolated motivation, thinking style, self-efficacy; curriculum and standards of the program of study; the supervisor and other faculty; and the culture of the college on graduate education as predictors of SDSC. SDSC is important to the student, the university and the labour market, thus stakeholders concerned with doctoral students' issues in Makerere University should put in place strategies that enhance predictors of SDSC. The study was self-sponsored, and was supervised by Assoc. Prof. Fred Edwardus Bakkabulindi and Dr. Hilary Mukwenda Tusiime.
SSALI Kizza Francis
Determinants of academic staff retention in Makerere and Kyambogo Universities
Mr. SSALI Kizza Francis investigated the determinants of academic staff retention in Makerere and Kyambogo Universities. This was due to the persistent low levels of academic staff retention reported in the two universities in recent times. Using the descriptive cross-sectional survey design, gender, terms of work and work life balance were found to enhance the retention of academic staff more than their marital status, age, work experience, and interpersonal relationships. Therefore, it was concluded that certain factors were more critical than others in determining the retention of academic staff. It was, thus, recommended that the management of the two universities should engender policies that can improve the terms of work and promote optimal work-life balance amongst academic staff. The study was self-sponsored and was supervised by Dr. David Onen and Dr. Genza Gyaviira Musoke.
Please click the links below to navigate to the PhD Citations for the respective Sessions.
< Director's Message | Session 1: Part1 : Part2 : Part3 | Session 2 | Session 3 | Session 4 >
#Mak70thGrad
Government Sponsorship Admission Lists 2022/23 Verified by Districts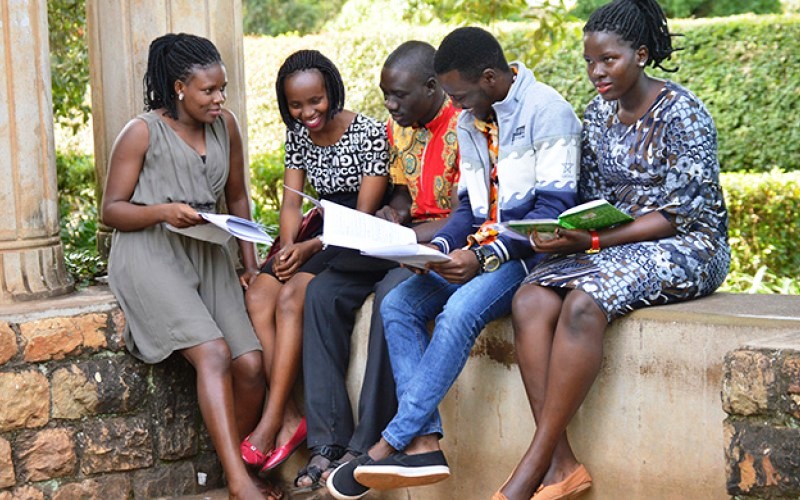 Student Registration for Semester I 2022/2023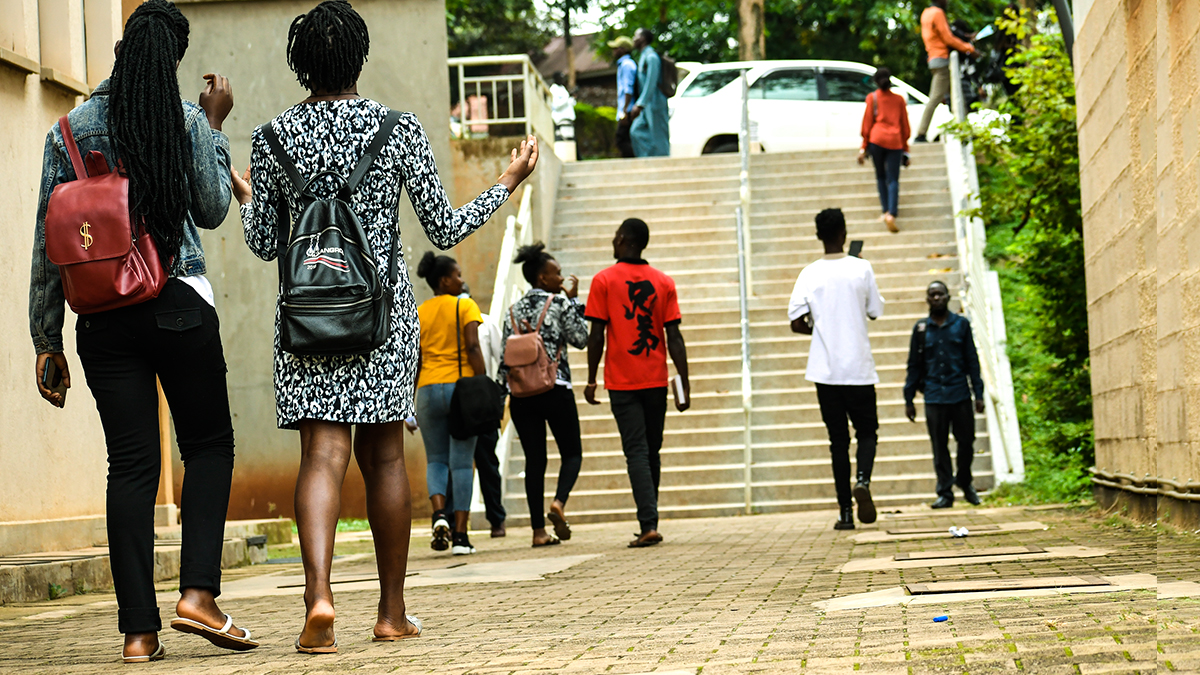 (a) First Years
Every new student admitted to a programme of study of Makerere University was issued a provisional admission letter with fees structure for payment of requisite fees. This enables privately sponsored first year students pay at least 60% tuition and all functional fees before issuance of original admission letters which should be collected from the respective Colleges/Schools.
For a candidate to qualify to be a bonafide student of the University, he/she MUST be
registered. Registration is a mandatory requirement of the University which must be
done within the specified time at the beginning of the semester. Failure to do so will
automatically lead to your place being forfeited to another candidate. Official
Registration/Verification of documents is on going using the Academic Information
Management System (ACMIS) used by Makerere University.
Ensure that you complete all the required registration formalities within the prescribed
time as per the Fees Payment Policy and registration programmes provided by your
respective Colleges. The system cycle will be closed on 3Qth November, 2022.
Registration Requirements
For registration purposes all first year students MUST produce their Original documents
as indicated on their admission letters for validation and verification purposes. At the end
of the online registration exercise, new students will be required to submit 3 photocopies
of their academic documents which will be dully signed and stamped by their Registrars
for record purposes.
(b) Continuing Students
Continuing students also use the Academic Information Management System (ACMIS) for
registration for Academic Year 2022/2023. Continuing students should register online by
accessing the registration Menu in the Student Portal and selecting the first option labeled
"Self Registration" and click the REGISTRATION NOW option.
The Cycle for online registration for the Academic year 2022/2023, Semester One is open
for all continuing students. The system cycle will be closed on 30th November, 2023.
(c) Students who belong to the under listed categories are advised to contact their College/School Registrars before they can register.
(i) Retakes Cases
(ii) Stay Put Cases
(iii) Withdrawal cases
(iv) Audited Courses
(v) Extension Cases
N. B. Each student should pay National Council for Higher Education fee of 20,000/ = per year and UNSA Subscription of 2,000/= per year before registration.
(d) In case of any problem, consult your College/School Registrar. College Accountants are responsible for providing the financial status to all students and generating lists of paid up students to the Deans. They will also clear paid up students to be issued the examination permits before sitting University examinations for Semester One, 2022/2023 Academic year.

Prof. Buyinza Mukadasi
ACADEMIC REGISTRAR
Download the Communication from Academic Registrar here
A Delegation from Netherlands Visits Makerere University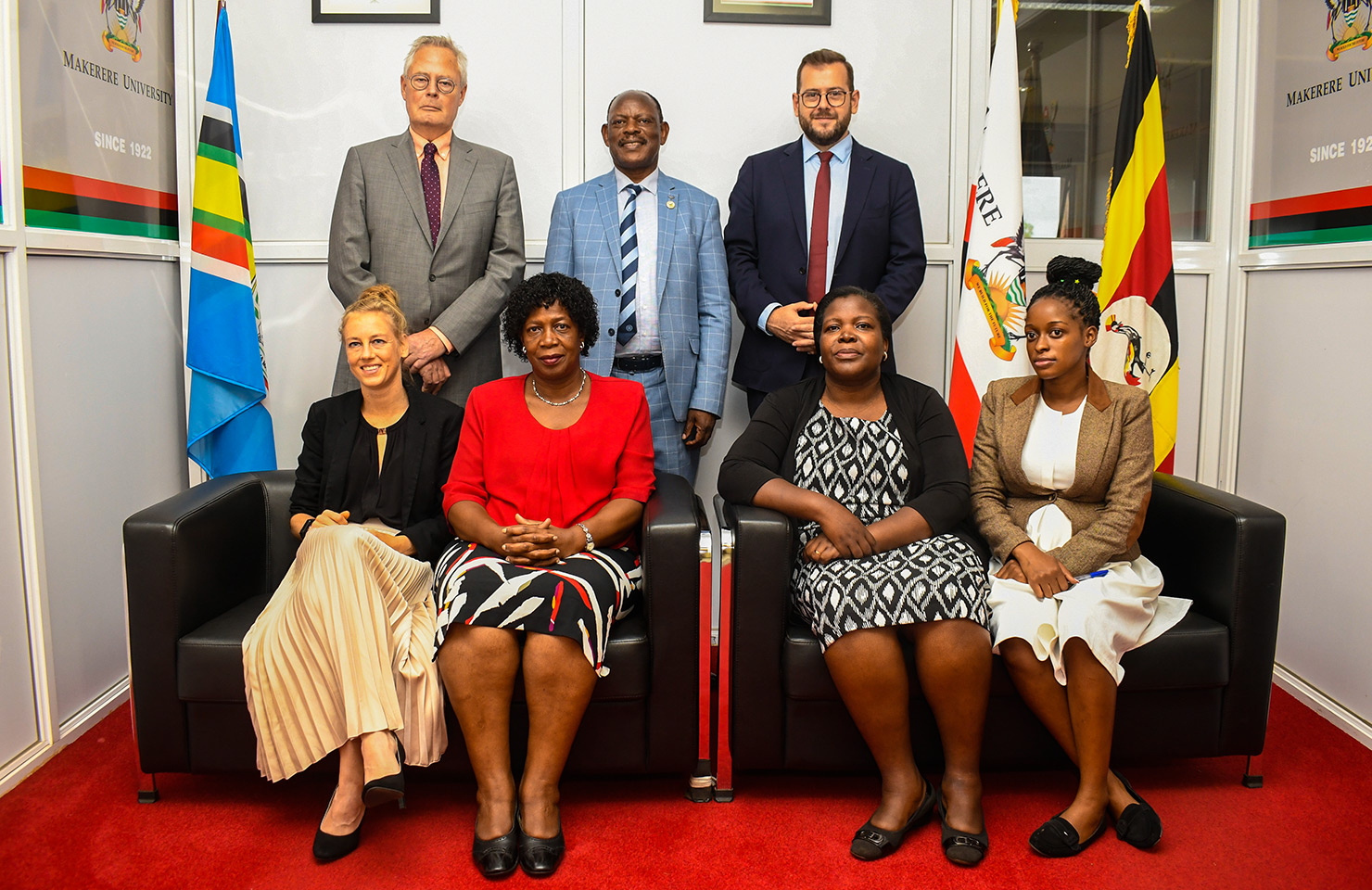 On Monday 14th November 2022, a delegation from the Royal Kingdom of the Netherlands visited Makerere University to discuss capacity building, scholarships, research and approaches to developing the Technical and vocational education and training (TVET) and Higher Education programme.
The visiting delegation consisted of Mr Siemen Tuinstra, Deputy Director, Department of Social Development; Mr Theodore Klouvasa, Coordination Policy Officer, Education & Youth Responsible for the development of the new TVET & Higher Education Programme; Ms Hilde de Bruijn – Senior Policy Officer and Ms Joy Acom-Okello, the Policy Officer Humanitarian Affairs and Migration at the Netherlands Embassy in Kampala.
Discussion with the Vice Chancellor
The Vice Chancellor, Prof. Barnabas Nawangwe welcomed the visitors to Makerere University and briefed them about the history of the University that started as a technical college in 1922 with 14 students. In 1949, it became a University College affiliated to the University College of London, offering courses leading to the general degrees of its then mother institution. With the establishment of the University of East Africa in June 29, 1963, the special relationship with the University of London came to a close and degrees of the University of East Africa were instituted. On July 1, 1970, Makerere became an independent national university of the Republic of Uganda, offering undergraduate and postgraduate courses leading to its own awards. In 1990, there was liberalization of university education after the World Bank and IMF decided that there should be less spending on university education and introduced structural adjustment programmes. The Government pays a lump sum to the university to sponsor some students and the rest are private students.
The Coordination Policy Officer, Mr Theodore Klouvasa informed the Vice Chancellor about the new programme on TVET and Higher Education that their government was developing. The purpose of their visit was to consult other stakeholders in higher education such as universities, ministries of Education and Sports, Agriculture, Gender and Youth and technical institutions to learn more about the existing collaborations between them and see where the Netherlands government can assist in developing a beneficial programme. How exactly do universities relate with Vocational Institutes and what is the education system in Uganda ad how do donors communicate with the major actors in the education system? How do universities relate with the private sector? If government sponsors some students, how can the scholarships be more inclusive and target the marginalized? Research is very important for all universities. How can they bring more research in the university and what can they add on the PhD infrastructure? Makerere University is strategic partner with the Netherlands having trained many PhDs at Wageningen University, Maastricht University, Vrije Universiteit Amsterdam; University of Groningen; Radboud University Nijmegen; Delft University of Technology.
Makerere University has many collaborations globally and has over the years increased partnerships with the government. The College of Health Sciences has done extensive research with the Military in the area of HIV/AIDS; with the Ministry of Water & Mineral Development in the area of water qualities and management; with UNRA with joint research and use of technologies for materials and road construction; with Ministry of Agriculture and Animal Industry and Fisheries in the area of cross boundary animal diseases; with Food processing industries with our School of Food Nutrition and Biotechnology; the Horticulture industries in controlling quality of products for export; the IT companies with our College of Computing and Information Sciences and also the College of Engineering, Design, Art and Technology. The University relates well with the Uganda Society of Architects and our architecture students are exposed to the new products on the market such as the new design of roofing tiles. The students share simple technologies learnt in class with the manufacturing companies which have helped in boosting production.
Uganda is affected by a high population growth and many graduates cannot find jobs. The education system needs to be geared towards problem solving techniques to be taught to learners/students at all levels. There is a need to change the mindset of the teachers/professors and the students as well. A mindset programme is to be introduced in the first year of studies for all programmes. Makerere University is also in the process of establishing an incubation hub where the good ideas of students can be developed to start a business. If you want to change the country, you engage the students to do more innovations and encourage production of their ideas. He informed the delegation that during Covid-19, the government of Uganda provided funds to Makerere University, which were used to equip laboratories and do more research and produce a vaccine. The University also operationalized the online learning by use of technology to minimize the effects of the pandemic.
The Vice Chancellor disclosed that there is an urgent need to re-tool the teachers in the Vocational institutes to upgrade their practical skills with the trends on the market. Therefore, the training and scholarship by Netherlands for vocational teachers to upgrade skills with latest technologies in universities would be appropriate.
Discussion with the College of Education and External Studies
The Deputy Principal, Dr. Ronald Bisaso received and welcomed the delegation. He represented the College Principal, Prof. Anthony Mugagga. The Deputy Principal highlighted that regarding the education system in Uganda, some areas have changed and others improved. He noted that many graduates lack the required skills for the job market. It would therefore be better if Makerere University also benefits from vocational studies and practice. Dr. Bisaso pointed out that the Department of Science, Technology and Vocation Education at the College of Education and External Studies offers a course on vocational studies and they expect to produce 1,500 graduates by 2025. The level of the vocational course offered is gauged by UBTEB (Uganda Business and Technical Examinations Board) that administers examinations and awards National Diplomas. The investment in the education sector by government is quite minimal with just 11.5% (Higher education getting 6.4% and TVET getting 5.1%). Capacity of the sector needs to be enhanced through training. Professors must acquire entrepreneurial skills before they occupy leadership positions instead of doing so when they are already in the positions. At the College of Education and External Studies (CEES) with a population of 4,000 students, there only 30 doctoral students. CEES partners with the Ministry of Education and Sports through projects such as the Early childhood and development projects. Individual staff are seconded to projects to train and even share experiences.
The Deputy Principal called upon the Netherlands to support knowledge and capacity building of early career academics and partnering with the TVET ecosystem. This includes interventions, trainings and exchanges at various levels and cooperation with different stakeholders such as the government, the private sector, civil society and the Vocational institutes. He advocated for strengthening of existing vocational institutes, establishment of vocational institutes were they do not exist and development of research infrastructure and adoption of TVET across the education system.