Mak 70th Grad PhD Citations Session 1, Part 3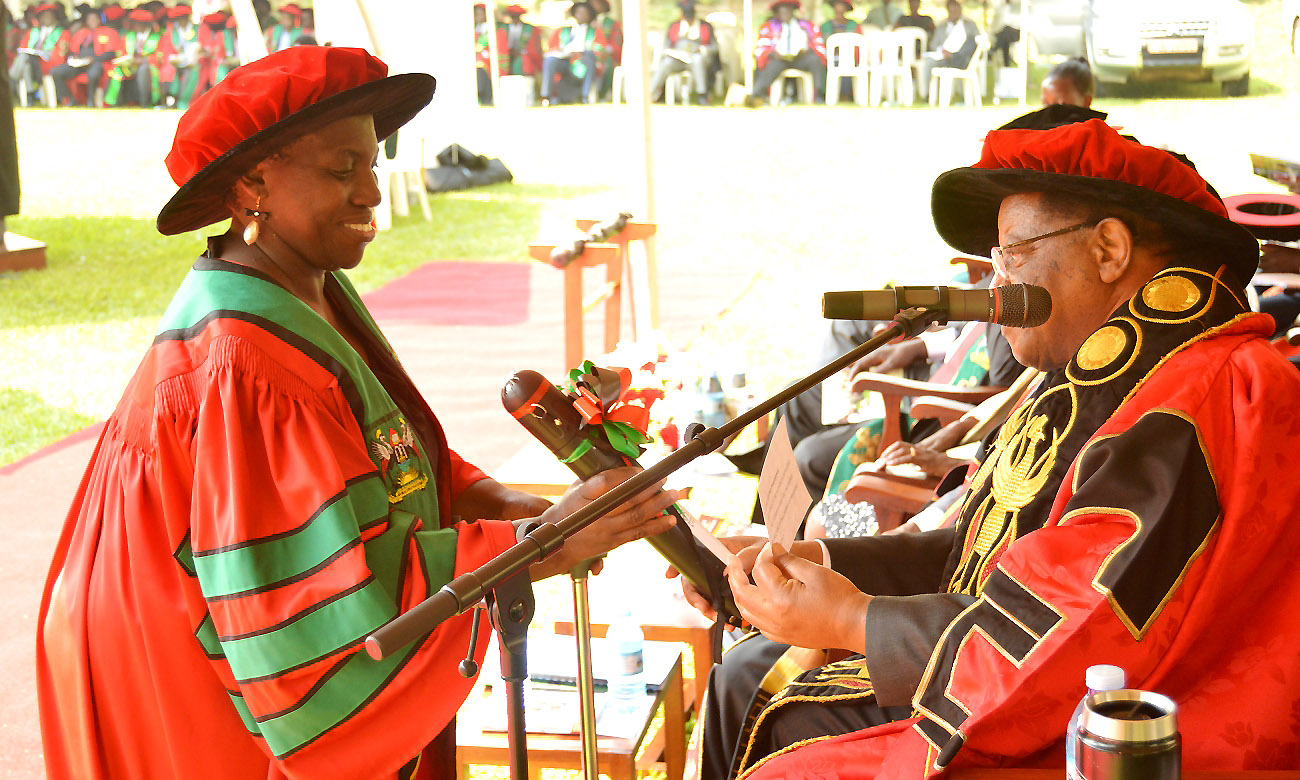 College of Health Sciences (CHS)
BBOSA Nicholas
A molecular phylogenetic and modelling approach towards understanding the transmission dynamics and genetic diversity of HIV-1 in the fishing communities of Lake Victoria, Uganda
Dr. BBOSA Nicholas used molecular phylogenetic and modelling approaches to dissect the transmission dynamics of HIV in the fishing communities of Lake Victoria. The fishing communities are disproportionately affected by HIV relative to the general population and for a long time, the dynamics of HIV transmission were not well understood. His research revealed for the first time in Uganda that the fishing communities were a sink for HIV transmission from the general population and negated the generally held assumption of the fishing communities being viral reservoirs. The findings have contributed towards informing public health policies on the implementation of targeted interventions for effective HIV epidemic control in most at-risk populations. This study was funded by the UK Medical research council, and was supervised by Prof. Pontiano Kaleebu, Prof. Andrew Leigh-Brown, Dr. Bernard S. Bagaya, Assoc. Prof Noah Kiwanuka and Dr. Rebecca N. Nsubuga.
BWIRE Godfrey
Molecular characterization and rapid detection of Vibrio cholerae in Uganda: the relationship between human pathogens and aquatic environment.
Dr. BWIRE Godfrey studied Vibrio cholerae, the bacteria responsible for repeated cholera outbreaks in Uganda to determine their genetic profile, spread, transmission, virulence, aquatic environmental reservoirs and a field cholera rapid diagnostic test (RDT). The study found that cholera outbreaks in Uganda were due to three genetically related V. cholerae clones. The clones showed transmission within Uganda, East and Central African regions. The surface water sources in Uganda were possibly not reservoirs for the epidemic V. cholerae. The accuracy of the cholera RDT, a modified Crystal VC® dipsticks was high. This study enhances our understanding of cholera outbreaks and may help in prevention, control and elimination of cholera in Uganda. The study was jointly funded by the Uganda Ministry of Health and Bill and Melinda Gates Foundation (USA) and supervised by Prof. Christopher Garimoi Orach (MakSPH) and Prof. David Allen Sack (John Hopkins University, USA).
EGESA Moses
Human B and T cell responses to novel Schistosoma mansoni skin-stage antigens
Mr. EGESA Moses studied human immune responses to parasite components expressed at the vulnerable skin larva stage of the human blood fluke, Schistosoma. It was not known how endemic populations respond to recombinant components of the larvae and how these immune responses relate with intensity of infection when people get re-infected. The recombinant antigens induced inflammatory cytokine responses. Additionally, antibodies to these antigens were detectable and were affected by treatment. Although not associated with reinfection intensity, the information generated informs the selection and prioritization of vaccine targets. This study was funded by a Wellcome Trust Strategic Award and the DELTAS Africa Initiative and supported by European Commission's Seventh Framework Programme, and was supervised by Dr. Bernard Bagaya, Prof. Maria Yazdanbakhsh and Dr. Stephen Cose.
KADDUMUKASA Martin
Sodium intake in post-stroke patients – its influence on blood pressure, knowledge and perceptions and stroke outcomes in Uganda
Dr. KADDUMUKASA Martin's thesis focuses on salt intake and cardiovascular stroke. He estimates the daily intake and its association with blood pressure and stroke. He further investigates knowledge, perceptions, and consumption decisions after stroke. He uses 24-hour urine to determine the salt intake in stroke patients. He notes that stroke survivors with high blood pressure have twice the levels of salt compared to stroke survivors without blood pressure. Poor knowledge, perceptions, and salt use beliefs. Finally, a high frequency of stroke recurrence and death was observed in this group. This study recommends primary stroke prevention through salt intake reduction and population salt awareness through education. This study was supported by NIH MEPI-linked Neurology Award (No. 5R24TW008886), Fogarty International Centre and was supervised by Prof. E. Katabira, Prof. Martha Sajatovic, Prof. Larry Goldstein and Dr. Pundik.
KAYIMA James
Hypertension in Uganda: epidemiology and association with HIV infection and genetics
Dr. KAYIMA James investigated the association of HIV infection and selected genes with blood pressure traits among Ugandans. He observed that, unlike the western populations, the frequency of hypertension was lower among HIV-infected compared to uninfected subjects in Uganda. Further, he uncovered the profound negative effect of SUB/NPR3 gene on systolic blood pressure. These finding suggest a protective effect of HIV on hypertension; and a potential modifying effect of SUB/NPR3 gene on hypertension in African populations. This work elucidates the role of HIV and population-specific genetic factors in the control of hypertension risk. It builds a foundation for formulation of prevention efforts for cardiovascular disease among high-risk groups; and for pharmacogenetic studies to identify appropriate medication for hypertensive black populations. This study was funded by Medical Education Partnership Initiative on Cardiovascular Disease (MEPI-CVD), and was supervised by Dr. Achilles Katamba, Prof. Harriet Mayanja Kizza, Prof. Xiaofeng Zhu and Prof. Mahboob Rahman.
MBOOWA Gerald
Functional host-genetic loci associated with pediatric HIV-disease progression in Uganda and Botswana
Dr. MBOOWA Gerald used genomics and bioinformatics approaches to identify a set of genes that informs us which person if HIV-infected will take many years to develop AIDS (symptoms) without HIV-treatment. His research revealed that following HIV infection, there are two groups of people; Rapid-AIDS progressors (develop symptoms in 3-years or less after infection) and Long-term non-progressors (>10-years to develop symptoms) without HIV-treatment. These findings have implications for the current "Test-and-Treat and Treat-for-Life" HIV-treatment policy; when one tests HIV-positive and started on treatment-for-life exposing them to drugs' dangerous side-effects yet some HIV-infected people have nature ability to stay for many years without developing symptoms in absence of HIV-treatment. This study was funded by the Collaborative African Genomics Network-(CAfGEN) and Training Health Researchers into Vocational Excellence in East Africa-(THRiVE-2), and supervised by Prof Moses Joloba and Dr. David Kateete.
MPIMBAZA Arthur Mwambari
Determinants of severe malaria among children hospitalised at Jinja Regional Referral Hospital, Uganda
Dr. MPIMBAZA Arthur Mwambari studied determinants of severe malaria among children in the Busoga sub-region. Risk factors for severe malaria included delayed care seeking by more than 24 hours after fever onset and seeking care at a drug shop as the initial response. For convenience, drug shops were the most common provider sought by caregivers of children with severe malaria. However, drug shops offered sub-optimal healthcare services compared to public health facilities. Hemoglobin S heterozygotes, alpha thalassemia heterozygosity and homozygosity were associated with protection against severe malaria. Drug shops were a problem, contributing to delay and severe malaria. The role of drug shops in caring for children with malaria needs to be re-evaluated and services at public health facilities strengthened. This study was funded by NIH Fogarty International Center (TW009343 and TW007375) and was supervised by Assoc. Prof. Charles Karamagi, Prof. Anne Katahoire, Grace Ndeezi and Philip J Rosenthal.
NABATANZI Rose (Ms)
Innate immune system recovery after long-term antiretroviral therapy in an African cohort
Dr. NABATANZI Rose studied whether key blood cell populations of HIV infected adults recover completely after at least seven years of treatment with antiretroviral therapy (ART). This research found that despite at least seven years of effective ART, key first line defence cells among HIV-infected individuals were still fewer and produced low chemical mediators of first line defence against invading germs; compared with age-matched healthy HIV uninfected individuals. More emphasis should be put on ways of improving the body's defence system for individuals on long-term ART to levels comparable to HIV-uninfected individuals, to prevent or delay HIV-associated complications among adults aging with the disease. This study was funded by DELTAS Africa Initiative, the Wellcome Trust and UK government and Alliance for Global Health and Science at University of California, Berkeley, USA; and was supervised by Prof. Damalie Nakanjako, Prof. Moses Joloba, Prof. Stephen Cose and Prof. Sarah Rowland Jones.
NAJJUKA Christine Florence (Ms)
Characterisation of extended spectrum Beta lactamases elaborated in Enterobactereaceae in Uganda
Dr. NAJJUKA Christine Florence investigated the prevalence of Extended Spectrum beta-Lactamases (ESBLs), the factors associated with gastrointestinal carriage, genotypes, transmission dynamics and co-resistance among clients attending outpatient clinics in Kampala, Kayunga and Mpigi Districts. She found predominance of cefotaximase in Kampala and presence of plasmid-mediated AmpC beta-lactamase genes, especially in ceftriaxone-susceptible Escherichia coli. Use of ciprofloxacin, inoculation and routine health follow up were risk factors, while rural residency and visiting lower health centres were protective of carriage of resistant bacteria. Transmission was predominantly by horizontal gene transfer of cefotaximase with at least two non-beta-lactam resistance genes. The findings inform widespread gut colonisation by bacteria resistant to 3rd generation cephalosporins and commonly used non beta-lactam agents, a source for transmission and infection with unpredictable and limited treatment options. This study was funded by Sida-Makerere Bilateral Research Programme and the Carnegie Cooperation of New York, and was supervised by Prof. Moses L. Joloba and Prof. Sabiha Y. Essack.
ZIDA Andre
Creating and institutionalizing supports for evidence-informed decision making, including a rapid response service, in the Burkina Faso health system
Dr. ZIDA Andre's research focused on decision making in the Burkina Faso health system. His investigation focused on the institutionalization of a policy support unit called rapid response to provide evidence for urgent decision-making. The study showed that the institutionalization of decision support units demands a robust framework and political will. It can be non-linear, and it depends on the leadership of unit managers to implement relevant activities, mobilize funding, and recruit and maintain sufficient human resources. This study developed a clear roadmap for evidence-informed decision-making and policy unit institutionalization. This study was funded by International Development Research Centre (IDRC) and the European Union, and was supervised by Prof. Nelson K. Sewankambo, John N. Lavis and Dr. Bocar Kouyate.
Please click the links below to navigate to the PhD Citations for the respective Sessions.
< Director's Message | Session 1: Part1 : Part2 : Part3 | Session 2 | Session 3 | Session 4 >
#Mak70thGrad
Government Sponsorship Admission Lists 2022/23 Verified by Districts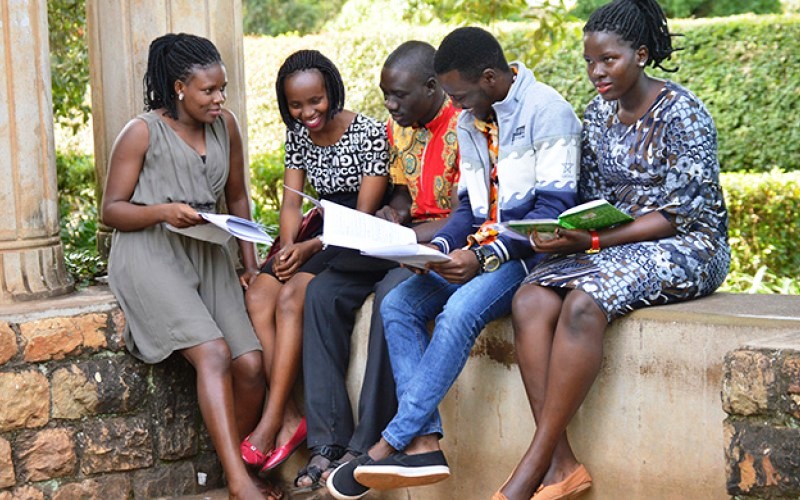 Student Registration for Semester I 2022/2023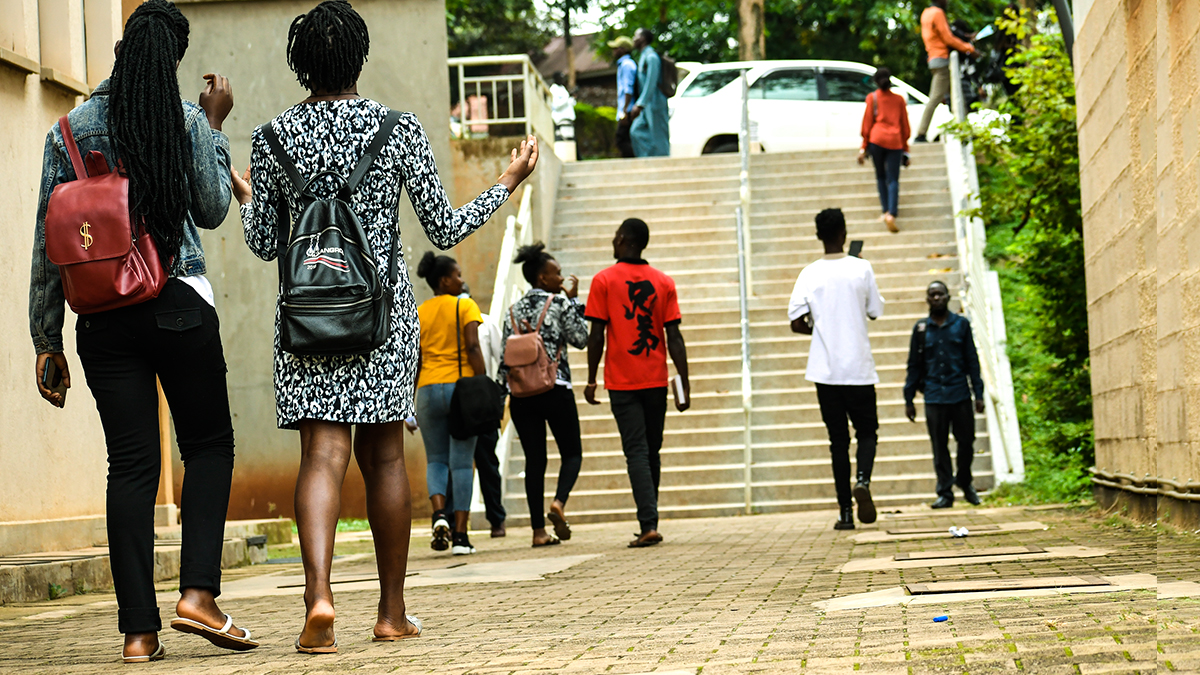 (a) First Years
Every new student admitted to a programme of study of Makerere University was issued a provisional admission letter with fees structure for payment of requisite fees. This enables privately sponsored first year students pay at least 60% tuition and all functional fees before issuance of original admission letters which should be collected from the respective Colleges/Schools.
For a candidate to qualify to be a bonafide student of the University, he/she MUST be
registered. Registration is a mandatory requirement of the University which must be
done within the specified time at the beginning of the semester. Failure to do so will
automatically lead to your place being forfeited to another candidate. Official
Registration/Verification of documents is on going using the Academic Information
Management System (ACMIS) used by Makerere University.
Ensure that you complete all the required registration formalities within the prescribed
time as per the Fees Payment Policy and registration programmes provided by your
respective Colleges. The system cycle will be closed on 3Qth November, 2022.
Registration Requirements
For registration purposes all first year students MUST produce their Original documents
as indicated on their admission letters for validation and verification purposes. At the end
of the online registration exercise, new students will be required to submit 3 photocopies
of their academic documents which will be dully signed and stamped by their Registrars
for record purposes.
(b) Continuing Students
Continuing students also use the Academic Information Management System (ACMIS) for
registration for Academic Year 2022/2023. Continuing students should register online by
accessing the registration Menu in the Student Portal and selecting the first option labeled
"Self Registration" and click the REGISTRATION NOW option.
The Cycle for online registration for the Academic year 2022/2023, Semester One is open
for all continuing students. The system cycle will be closed on 30th November, 2023.
(c) Students who belong to the under listed categories are advised to contact their College/School Registrars before they can register.
(i) Retakes Cases
(ii) Stay Put Cases
(iii) Withdrawal cases
(iv) Audited Courses
(v) Extension Cases
N. B. Each student should pay National Council for Higher Education fee of 20,000/ = per year and UNSA Subscription of 2,000/= per year before registration.
(d) In case of any problem, consult your College/School Registrar. College Accountants are responsible for providing the financial status to all students and generating lists of paid up students to the Deans. They will also clear paid up students to be issued the examination permits before sitting University examinations for Semester One, 2022/2023 Academic year.

Prof. Buyinza Mukadasi
ACADEMIC REGISTRAR
Download the Communication from Academic Registrar here
A Delegation from Netherlands Visits Makerere University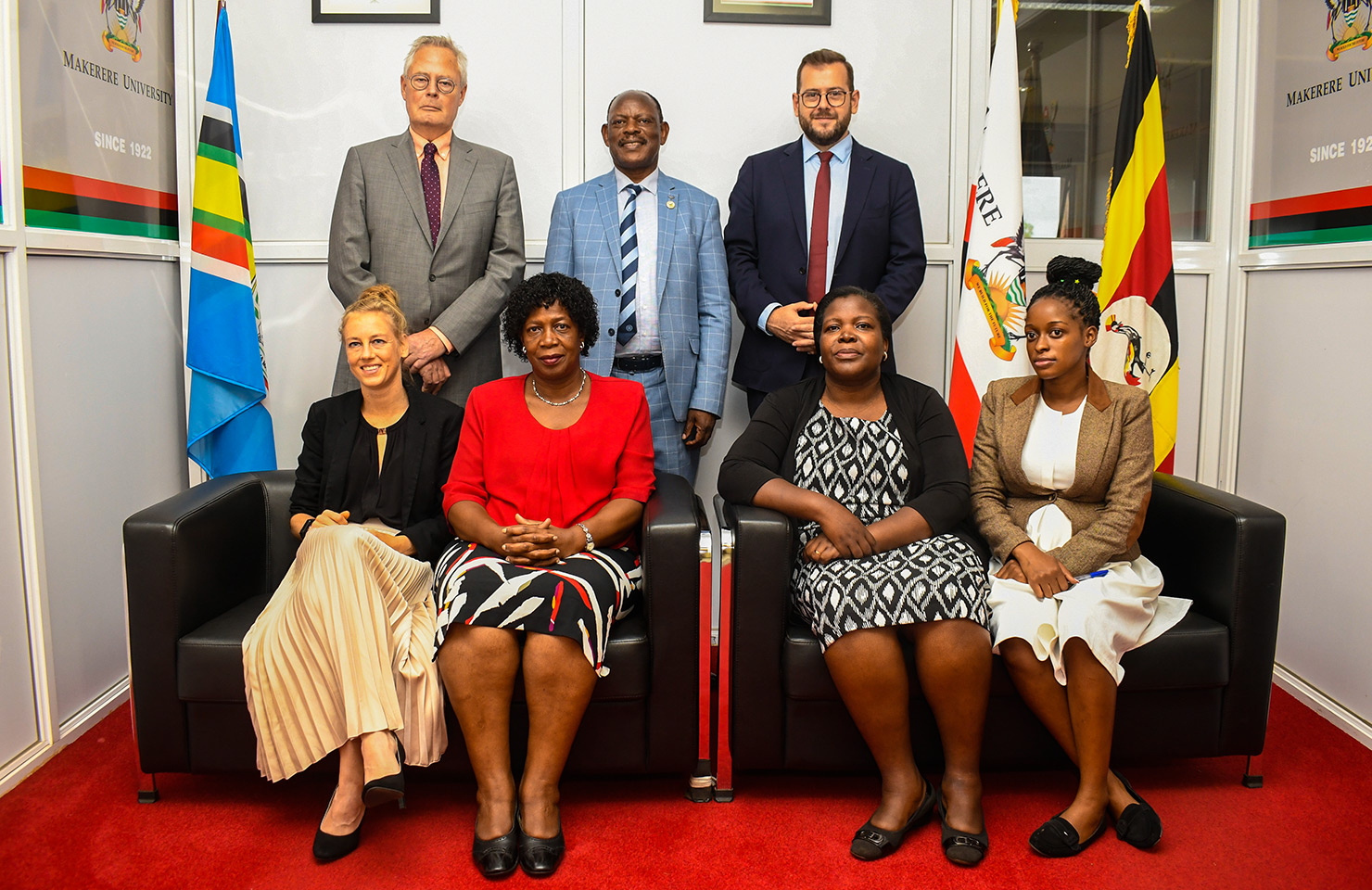 On Monday 14th November 2022, a delegation from the Royal Kingdom of the Netherlands visited Makerere University to discuss capacity building, scholarships, research and approaches to developing the Technical and vocational education and training (TVET) and Higher Education programme.
The visiting delegation consisted of Mr Siemen Tuinstra, Deputy Director, Department of Social Development; Mr Theodore Klouvasa, Coordination Policy Officer, Education & Youth Responsible for the development of the new TVET & Higher Education Programme; Ms Hilde de Bruijn – Senior Policy Officer and Ms Joy Acom-Okello, the Policy Officer Humanitarian Affairs and Migration at the Netherlands Embassy in Kampala.
Discussion with the Vice Chancellor
The Vice Chancellor, Prof. Barnabas Nawangwe welcomed the visitors to Makerere University and briefed them about the history of the University that started as a technical college in 1922 with 14 students. In 1949, it became a University College affiliated to the University College of London, offering courses leading to the general degrees of its then mother institution. With the establishment of the University of East Africa in June 29, 1963, the special relationship with the University of London came to a close and degrees of the University of East Africa were instituted. On July 1, 1970, Makerere became an independent national university of the Republic of Uganda, offering undergraduate and postgraduate courses leading to its own awards. In 1990, there was liberalization of university education after the World Bank and IMF decided that there should be less spending on university education and introduced structural adjustment programmes. The Government pays a lump sum to the university to sponsor some students and the rest are private students.
The Coordination Policy Officer, Mr Theodore Klouvasa informed the Vice Chancellor about the new programme on TVET and Higher Education that their government was developing. The purpose of their visit was to consult other stakeholders in higher education such as universities, ministries of Education and Sports, Agriculture, Gender and Youth and technical institutions to learn more about the existing collaborations between them and see where the Netherlands government can assist in developing a beneficial programme. How exactly do universities relate with Vocational Institutes and what is the education system in Uganda ad how do donors communicate with the major actors in the education system? How do universities relate with the private sector? If government sponsors some students, how can the scholarships be more inclusive and target the marginalized? Research is very important for all universities. How can they bring more research in the university and what can they add on the PhD infrastructure? Makerere University is strategic partner with the Netherlands having trained many PhDs at Wageningen University, Maastricht University, Vrije Universiteit Amsterdam; University of Groningen; Radboud University Nijmegen; Delft University of Technology.
Makerere University has many collaborations globally and has over the years increased partnerships with the government. The College of Health Sciences has done extensive research with the Military in the area of HIV/AIDS; with the Ministry of Water & Mineral Development in the area of water qualities and management; with UNRA with joint research and use of technologies for materials and road construction; with Ministry of Agriculture and Animal Industry and Fisheries in the area of cross boundary animal diseases; with Food processing industries with our School of Food Nutrition and Biotechnology; the Horticulture industries in controlling quality of products for export; the IT companies with our College of Computing and Information Sciences and also the College of Engineering, Design, Art and Technology. The University relates well with the Uganda Society of Architects and our architecture students are exposed to the new products on the market such as the new design of roofing tiles. The students share simple technologies learnt in class with the manufacturing companies which have helped in boosting production.
Uganda is affected by a high population growth and many graduates cannot find jobs. The education system needs to be geared towards problem solving techniques to be taught to learners/students at all levels. There is a need to change the mindset of the teachers/professors and the students as well. A mindset programme is to be introduced in the first year of studies for all programmes. Makerere University is also in the process of establishing an incubation hub where the good ideas of students can be developed to start a business. If you want to change the country, you engage the students to do more innovations and encourage production of their ideas. He informed the delegation that during Covid-19, the government of Uganda provided funds to Makerere University, which were used to equip laboratories and do more research and produce a vaccine. The University also operationalized the online learning by use of technology to minimize the effects of the pandemic.
The Vice Chancellor disclosed that there is an urgent need to re-tool the teachers in the Vocational institutes to upgrade their practical skills with the trends on the market. Therefore, the training and scholarship by Netherlands for vocational teachers to upgrade skills with latest technologies in universities would be appropriate.
Discussion with the College of Education and External Studies
The Deputy Principal, Dr. Ronald Bisaso received and welcomed the delegation. He represented the College Principal, Prof. Anthony Mugagga. The Deputy Principal highlighted that regarding the education system in Uganda, some areas have changed and others improved. He noted that many graduates lack the required skills for the job market. It would therefore be better if Makerere University also benefits from vocational studies and practice. Dr. Bisaso pointed out that the Department of Science, Technology and Vocation Education at the College of Education and External Studies offers a course on vocational studies and they expect to produce 1,500 graduates by 2025. The level of the vocational course offered is gauged by UBTEB (Uganda Business and Technical Examinations Board) that administers examinations and awards National Diplomas. The investment in the education sector by government is quite minimal with just 11.5% (Higher education getting 6.4% and TVET getting 5.1%). Capacity of the sector needs to be enhanced through training. Professors must acquire entrepreneurial skills before they occupy leadership positions instead of doing so when they are already in the positions. At the College of Education and External Studies (CEES) with a population of 4,000 students, there only 30 doctoral students. CEES partners with the Ministry of Education and Sports through projects such as the Early childhood and development projects. Individual staff are seconded to projects to train and even share experiences.
The Deputy Principal called upon the Netherlands to support knowledge and capacity building of early career academics and partnering with the TVET ecosystem. This includes interventions, trainings and exchanges at various levels and cooperation with different stakeholders such as the government, the private sector, civil society and the Vocational institutes. He advocated for strengthening of existing vocational institutes, establishment of vocational institutes were they do not exist and development of research infrastructure and adoption of TVET across the education system.