72nd Graduation: Doctoral Citations – CEDAT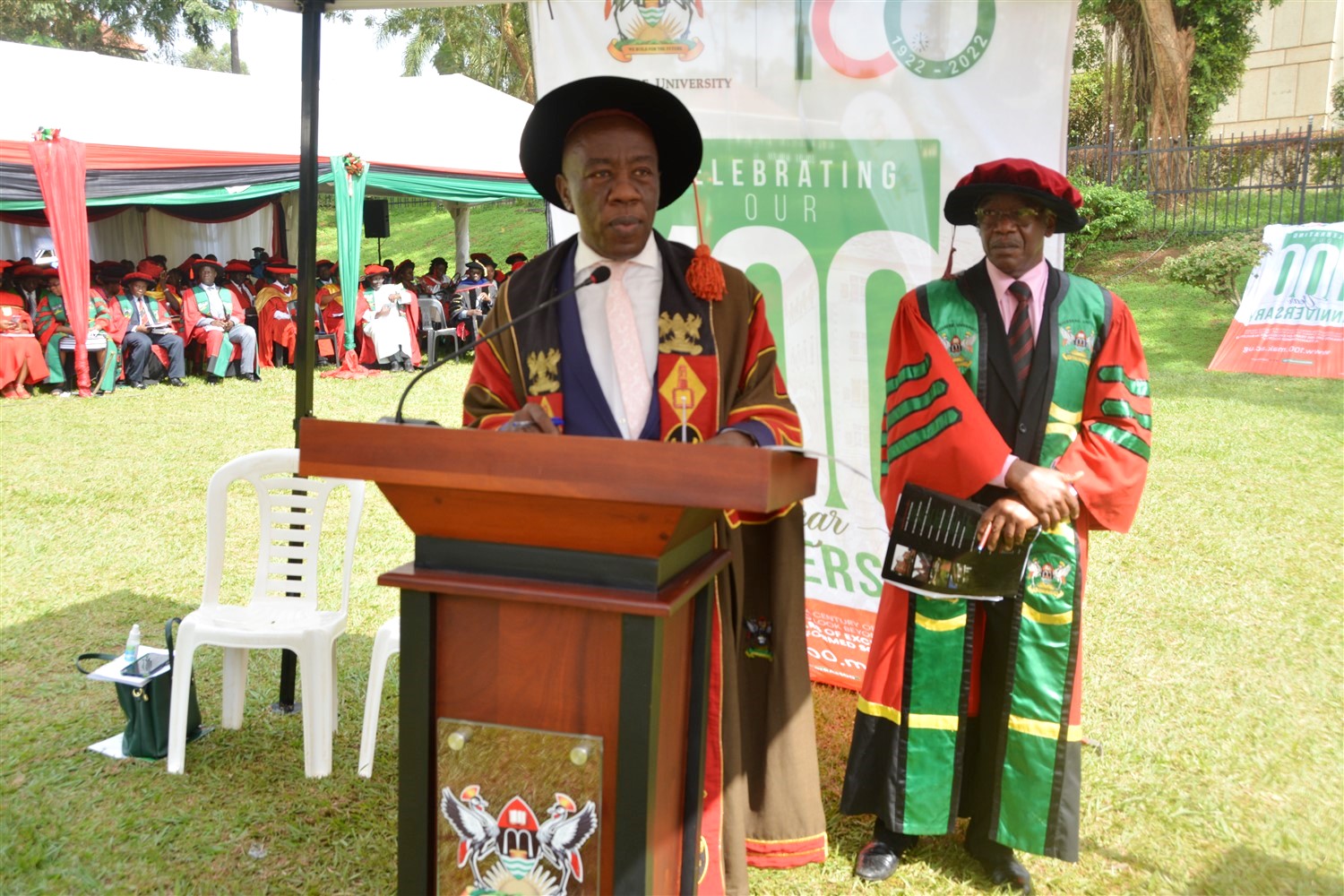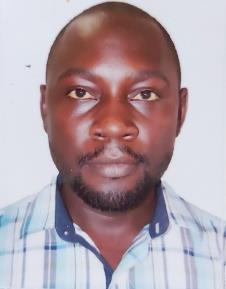 LWANYAGA Joseph Ddumba
Application of process technologies for improved salt production from Lake Katwe, Uganda
Eng. LWANYAGA Joseph Ddumba designed a process that selectively extracts salt from the brines of Lake Katwe coupled with a techno-economic analysis to foster commercial exploitation of the Salt Lake. Through thermodynamic modelling, the study revealed that the mineral precipitation sequence mainly started with sulfate followed by chlorides and lastly carbonates with halite as the most abundant mineral. His study further revealed that the salt pan should be as shallow as practically possible with an optimal depth of 0.1 m. Results from the techno-economic analysis showed that halite of purity >99% was produced after the flotation of burkeite and trona. Additionally, soda ash and sodium sulfate were produced by a combination of flotation, carbonation and calcination techniques. The unit production cost of halite was 0.2629 and 0.4724 $/kg with a NPV of $2,447,853 and -12,085,796 of the solar salt and mechanical evaporation processes respectively. As a result, the solar salt extraction process proved feasible from both engineering and economic standpoints and thus can be scaled up to a pilot scale using conventional industrial equipment. The study was funded by SIDA and was supervised by Prof. John Baptist Kirabira and Dr. Hillary Kasedde.
---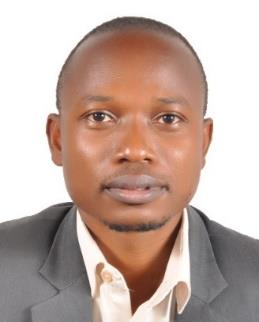 MAKABAYI Brian
Ground Deformation Modelling Based On Causal Factors in Landslide-Prone Areas. A Case Study of Bududa District, Uganda.
Mr. MAKABAYI Brian undertook a study to model ground deformation in Bududa landslide-prone area. He developed a model for predicting ground deformation hence the occurrence of landslides resulting from a number of casual factors such as rainfall, soil, slope and infiltration. He tested the model using two space technologies namely Global Navigation Satellite System (GNSS) and Interferometric Synthetic Aperture Radar (InSAR) techniques. This model can be used by stakeholders such as the Office of the Prime Minister (OPM), the Ministry of Disaster Preparedness and Refugees and local authorities to predict ground deformation as a precursor to landslides. This study was funded by the German Academic Exchange Service (DAAD) and supervised by Prof Moses Musinguzi and Dr John Richard Otukei.
---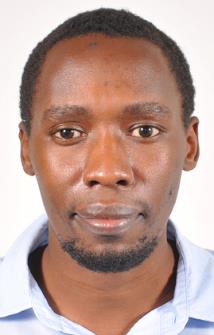 MAZIMWE Allan
Pattern Driven Data interoperability in situation awareness systems. A case of the disaster management community in Uganda
Mr. MAZIMWE Allan studied how to manage semantic barriers to data sharing and integration in disaster situation awareness systems for early warning purposes. Such barriers arise from the fact that stakeholders manage information using different policies and interfaces while at the same time describing data using different vocabularies and conceptualisations. As a solution, the study adopts the use of patterns (best practices) as building blocks for interoperable architectures that address semantic barriers in line with Findable, Accessible, Interoperable and Reusable (FAIR) principles. The study examines the extent to which vocabularies and related best practices for organising data in the disaster risk community are FAIR. A pattern-driven architecture for organising disaster risk knowledge is developed based on existing data-sharing challenges in the disaster community. As a proof of concept, the drought risk-informed response prototype was developed to illustrate the use patterns as building blocks for managing data interoperability in disaster situation awareness systems. The study was funded by SIDA and supervised by Prof. Imed Hammouda and Assoc. Prof Anthony Gidudu.
---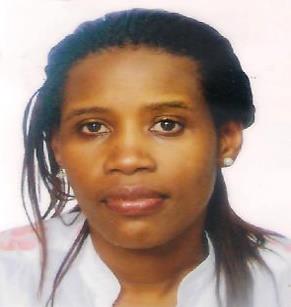 NAKISANZE Sarah
Social Sustainability and the Ugandan Haute Couture Visual Aesthetic: Articulating The Contemporary Value of Past Tradition
Ms. NAKISANZE Sarah interrogated haute couture artefacts which exhibit Uganda's traditional cultural heritage fused with aspects of contemporary dress to produce haute couture as a visual language representing social sustainability. Sarah was intrigued by the stride backwards to move forward amidst modern fashion aesthetic innovations, and has established and articulated the value of the traditional aesthetic in the present. The traditional aesthetic is an engender of sustainable development; and haute couture shaped by the aesthetic is an inclusive knowledge dissemination platform. In addition, the past traditions are an agential tool that facilitate agents' negotiation of contemporary global stage dynamics. The study recommends that the traditional aesthetic is developed beyond traditional culture heritage, but as an aesthetic with contemporary socio-economic sustainability value towards the development of the creative industry and safe environments. The study was jointly funded by the researcher and Makerere University, and supervised by Dr. Nakazibwe Venny and Dr. Ssengendo May.
---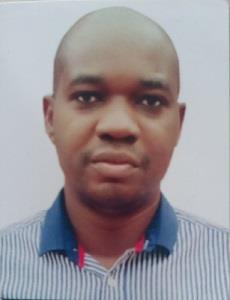 WADEMBERE M. Ismail
A Localized Geometrical Alignment Technique for updating Geo-Spatial Databases
Mr. WADEMBERE Mugumbu Ismail developed a Localized Geometrical Alignment Technique (LGAT) for Updating Geo-spatial databases. The innovative technique uses differences between corresponding objects so that only the changed parts are updated than copying entire objects between geodatabases. This helps to minimize geometrical errors emanating from openings or overlaps of objects. This technique will facilitate efficient data update within the Uganda national spatial data infrastructures. It will also exploit the potential presented by the Internet computing paradigm in terms of data sharing, utilization of Volunteered Geographic Information, and lead to more use of spatial information in decision-making. This study was funded by Kyambogo University, Makerere University, and Nuffic Project of Dutch Ministry of Development Cooperation; and was supervised by Prof. Patrick Ogao and Prof. Moses Musinguzi.
---
Browse Citations by College below:
< Director's Message | CAES | CoBAMS | CoCIS | CEES | CEDAT | CHS | CHUSS | CoNAS | CoVAB | LAW | MUBS >
Integration of Building Information Modelling (BIM) into Construction Education; A stake holder engagement held.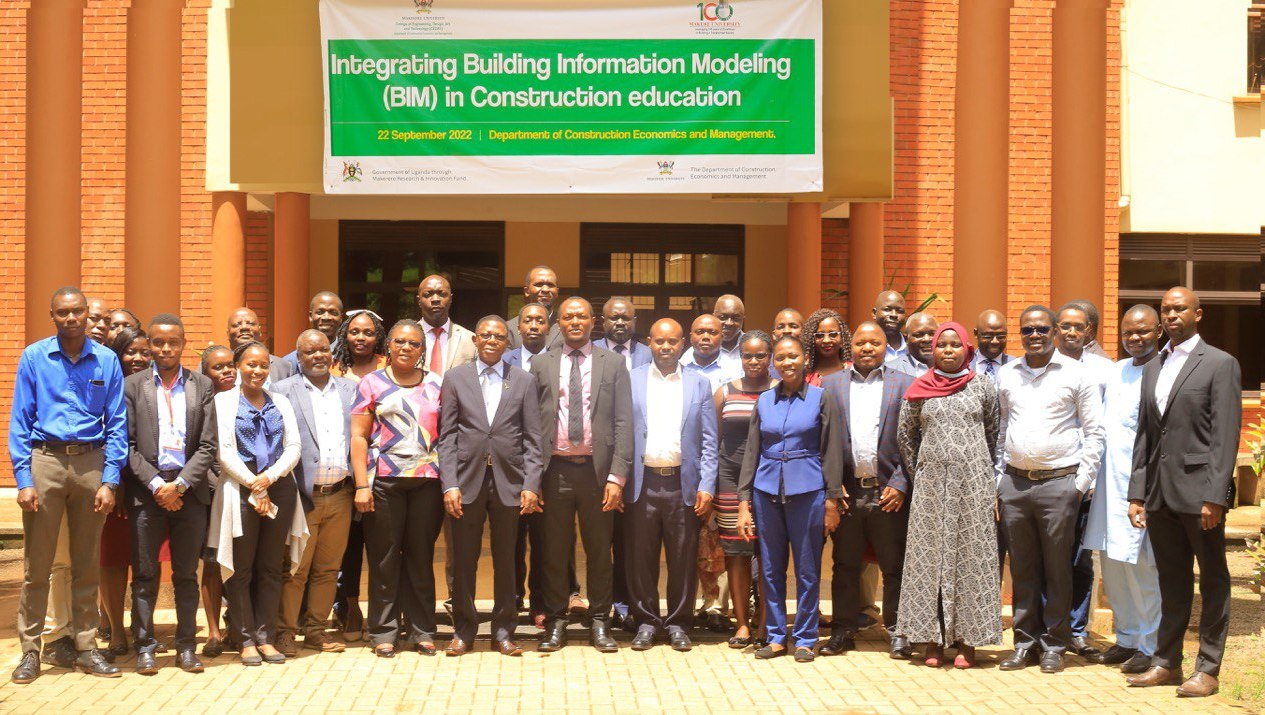 The Construction and Economics Department at the College of Engineering, Design, Art and Technology (CEDAT) is undertaking a study to explore the possibilities of mainstreaming Building Information Modelling (BIM) into the curricula.
A study supported by the Government of Uganda through the Makerere University Research and Innovations Fund (MaKRIF) is conducted by a team led by Dr. Pamela Achieng, lecturer in the Department of Construction Economics and Management at CEDAT.  The Research team is comprised of Ms. Wesonga Rachael, Mr.  Semanda Julius, Mr. Odongkara Billy Brian, Mr. Tom Mukasa and the Departmental Head, Dr. Nathan Kibwami.
MTSIFA gets into partnership with the University of Bergen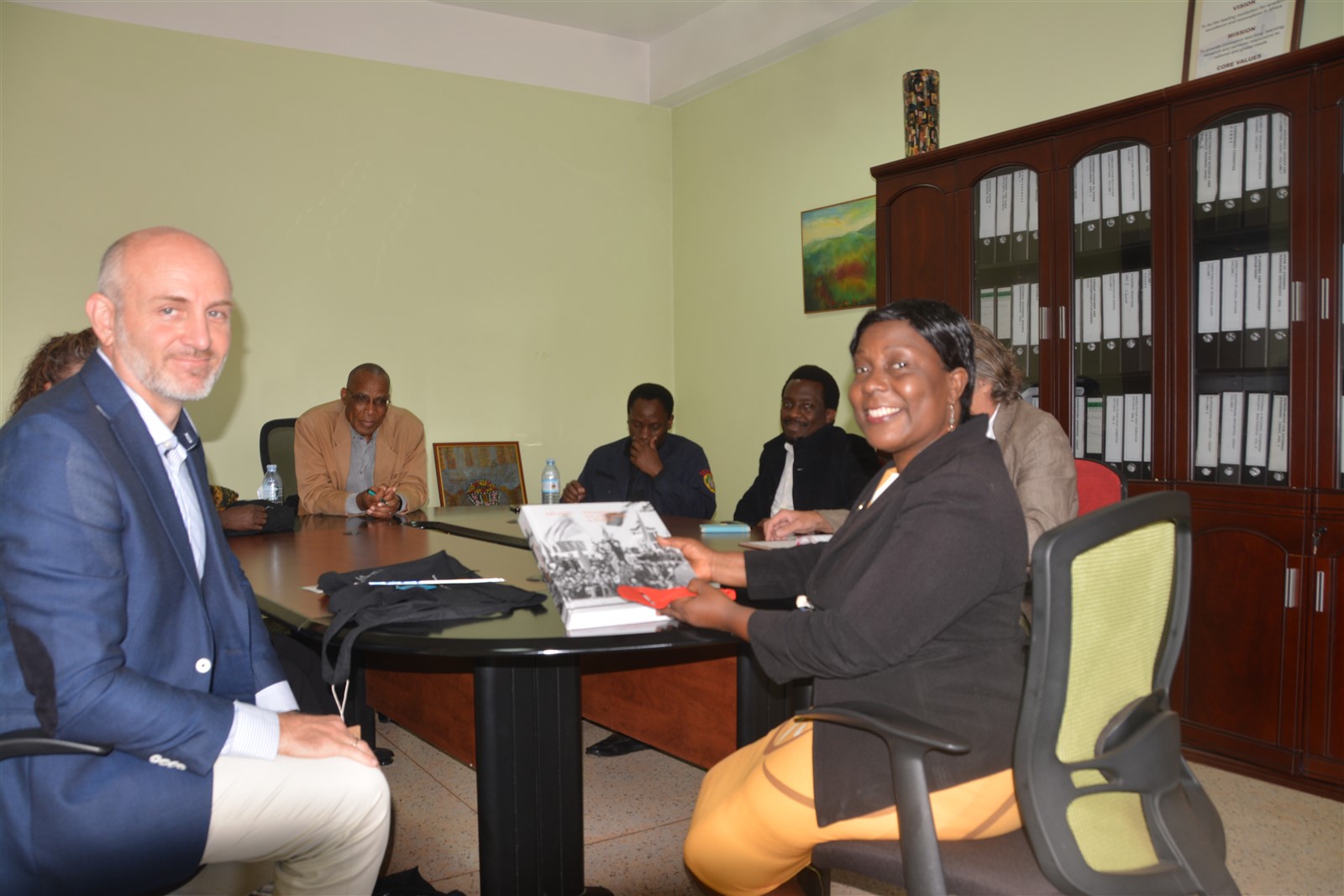 The Margaret Trowel School of Industrial and Art (MTSIFA) in the College of Engineering, Design, Art and Technology (CEDAT) Makerere University has entered into a partnership with the University of Bergen (UIB), Faculty of Art, Music and Design to work towards internalizing and nurturing local indigenous knowledge.
The project will contribute to a multidisciplinary internationalization of higher education between global south and north with art, design, music, involving the two universities and independent enterprises linked to these disciplines.
Teams from the two Universities met at the College of Engineering to further discuss the implementation details and paid a courtesy call on the Deputy Principal, Dr. Venny Nakazibwe.
Janet Goldner Fulbright Specialist Catalogue Department of Fine Art CEDAT Makerere University August 2022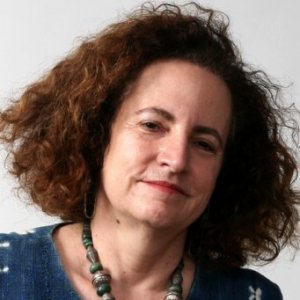 Janet Goldner
It was a pleasure to spend six weeks teaching in the Fine Art Department of Makerere University as a Fulbright Specialist. I want to thank Dr. Lilian Mary Nabulime and Mr. Edward Balaba for their vision for the project that brought me here, their faith in me, and their guidance during this successful program. I also enjoyed meeting and working with Ms. Fedelis Nabukenya, Assoc. Professor George Kyeyune, and Assoc. Professor Rose Kirumira.
Dr. Nabulime's and Mr. Balaba's idea to focus on found and local materials as art materials is an excellent and timely one. As artists, this focus trains us to be sensitive to our daily surroundings. It guides us to look carefully at the beauty and utility of the "trash" that others discard. It becomes our job as artists to reclaim and repurpose it. The use of found materials as art materials is also important since more traditional art materials are expensive for any art student or artist for that matter. Finding these "gifts from the street" requires highly honed creative skills of observation and transformation. And the use of found materials has an important role in raising awareness about climate change. Use of found and local materials lends itself to examining social issues.