Mak 70th Grad PhD Citations Session 4
College of Engineering, Design, Art and Technology (CEDAT)
BAKYAYITA Grace Kizito
Batch Sorption Studies of Aqueous Cadmium and Lead from contaminated Water onto Selected Biosorbents
Mr. Bakyayita Grace Kizito's study focussed on assessment of groundwater and surface water from Lake Victoria basin, Uganda and batch remediation of cadmium and lead from contaminated water using biosorbents. He used the Biomet tool and potential risks to toxicity effects of Cu2+, Ni2+, Zn2+ and Pb2+ in the surface water and groundwater studied. He characterized selected biosorbents and he used models to deduce optimal operating conditions, interionic competition effects, uptake kinetics and mechanisms. He concluded that both untreated and treated biosorbents from Albizia coriaria, Coffea canephora, Cyperus papyrus, Erythrina abyssinica and Musa spp were potential alternative materials for uptake of trace metals from contaminated water. This knowledge will benefit the design of fixed bed reactors for biosorption of trace metals from contaminated water. He recommends detailed risk assessment of water sources and pilot applications for biosorbents. This study was funded by Sida-Makerere Bilateral Research Corporation (Phase 3) and was supervised by Associate Professor Ann-Catrine Norrström and Dr. Robinah Kulabako N.
MENYA Emmanuel
Preparation and Evaluation of Activated Carbons from Rice Husks in Uganda for Removal of Humic Acid from Water
Mr. Menya Emmanuel developed an optimum route for valorization of rice husks into activated carbon to address the disposal problem of rice husks, as well as to provide a sustainable solution for removal of humic acid from water. His study revealed that upland rice husk varieties are more suitable precursors for activated carbon than lowland varieties. By alkaline pretreatment of the rice husks, followed by phosphoric acid (30wt%) impregnation, and activation at 400 oC for 30 min, activated carbons with a carbon yield and total specific surface area as high as 46.9% and 2258.4 m2g-1, respectively, were obtained. The study further revealed that, humic acid removal efficiency and maximum adsorption capacity of 69.23% and 27.2 mgg-1, respectively, can be obtained by employing the rice husk-derived activated carbons in water treatment. The adsorptive properties, and consequently the performance of the resultant activated carbons were comparable to those of the activated carbons found on the market. The findings of this study pave way for utilizing rice husks in Uganda as activated carbon precursors, avoiding the environmental problems associated with the open dumping and/or burning of rice husks, while at the same time providing a sustainable solution for water treatment. This study was funded by the Volkswagen Foundation, and was supervised by Dr. Peter W. Olupot, Dr. Henning Storz, and Dr. Michael Lubwama.
KEKIMURI Joan (Ms)
Embedded meanings of traditional art forms in cultural practices of Baganda
Ms. KEKIMURI Joan's study focused on the meanings embedded in traditional art forms used in Baganda cultural practices. Art forms play a pivotal role in strengthening community connections yet modern technological advances threaten their existence. Using ethnography and benchmarking the theory of culture and behavior, Kekimuri through visual narratives established how traditional art forms used in Baganda cultural practices developed, examined their embedded meanings, and the influence of modernization on these practices. The findings revealed that the embedded meanings in cultural practices enabled communities to function, that modernization hampers the use of cultural practices, and communities are forsaking the practices for modern ideologies. This study recommended support of indigenous practices for cultural identity and posterity. The study was funded by Kyambogo University, and was supervised by Assoc. Prof. Kizito Maria Kasule and Prof. Baguma Peter.
College of Humanities and Social Sciences (CHUSS)
JOCK BANY MADING Samuel
The role of religion in conflict and peace in Sudan: a historical perspective (1989-2011)
Mr. JOCK BANY MADING Samuel's research examined the religious conflict, which had divided the Sudan citizens between Muslims and non-Muslims, Arab and non-Arabs and subsequently resulted in division of the largest country in Africa into Sudan and South Sudan. The islamization program which became a rigid ideology in the Sudanese leadership caused sanction against the country, regionally and internationally, and made a great economic setback. The study found fear that if the Sudanese leadership continues with such an ideology, it may lead other parts that feel marginalized politically, economically and ethnically to continue demanding for similar criteria as the South. The research findings implore the Sudanese leadership to change the one-sided ideological program in order to reform the social integration and development. This study was self-funded, and was supervised by Dr. Catherine Jendia and Dr. Paddy Musana.
MUGAMBE Mpiima David
Gender relations in the access to and use of mobile phones and radios in agricultural production in Apac District, northern Uganda
Mr. MUGAMBE Mpiima David investigated the gender relations in the access to and use of mobile phones and radios in agricultural production in Apac District. Gender relations were found to mediate mobile phones and radios uptake. Farmers using agricultural information from these technologies experienced positive changes in gender power relations, gender roles, social status and incomes. The study recommended that technological interventions should be sensitive to interactions between men and women, and that agricultural extension officers should be sensitized on gender relations so that men and women can fully benefit from agricultural interventions. This study was funded by Makerere-Sida Bilateral Research Corporation, and was supervised by Dr. Henry Manyire, Assoc. Prof. Consolata Kabonesa and Dr. Margareta Espling.
NAJJEMBA Harriet (Ms)
Indigenous agricultural knowledge and food production in Uganda: Buganda region from 1860s to 1997
Ms. NAJJEMBA Harriet's research analysed why some indigenous agricultural practices have become resilient and still inform crop production despite western scientific agricultural knowledge. She found that mulching reduces moisture loss, curbs weed growth and provides organic manure thus reducing effects of climate change. Intercropping, crop rotation, paspalum bunding, catch-pits, and fallowing maintain soil fertility. Select agricultural machinery aligned to tropics, topography and soil type enhances crop yields. The research established that these indigenous practices are still relevant and affordable, and NARO needs to deliberately encourage their use. This study was funded by Carnegie Corporation of New York through the NGAA Project and the African Humanities Programme (AHP), and was supervised by Dr. Simon Peter Rutabajuuka and Dr. Deo Katono Nzarwa.
NAKANGU Bugembe Barbara (Ms)
State Craft in the Natural Resources Management Structure of Uganda
Ms. NAKANGU Bugembe Barbara examined the historical and political circumstances in which the natural resources management structures were established. Nakangu situated the natural resource management within the political context of successive post-colonial regimes. Reforms in natural resource management link to the political orientation of various governments especially their ideas on the management of society. Nakangu showed why attempts at strengthening the resource management structures by the NRM government were unable to address the ecological challenges. Ecological disasters arose at moments when there was imbalance of power between the state or society. Conservation actors needed to re-establish the balance of power between the state and the society to address the declining ecological conditions. This study was funded by Norhed and Carnegie through Makerere Institute of Social Research, and was supervised by Dr. Lyn Ossome.
ODONGOH Stevens Aguto
Polluted boundaries, contested sociality: tracing the Acholi homestead after LRA war and displacement in northern Uganda
Mr. ODONGOH Stevens Aguto demonstrated an understanding of borders/boundaries beyond the usual territorial or geographical perspective. By exploring the return of displaced Acholi people to post-conflict Acholi sub-region in northern Uganda, he argued that: When the Acholi who were held captives by the Lord's Resistance Army (LRA), or were living in exile returned and society accepted them, in a sense, they were socially received but had to ritually or religiously cross different boundaries to regain belonging and sociality. Crossing such boundaries led to contestations of gender roles, identity and values. His analysis offers perspectives on resettling returnees, the human need for boundaries/borders during uncertainty and the capacity to cross them, and signifies how people draw boundaries or separate themselves in periods of uncertainty. This study was funded by NORHED under the Borderlands Dynamics Project of East Africa, and was supervised by Dr. Wotsuna Khamalwa and Dr. Andrew Ellias State.
OPESEN Chris Columbus
Trans-border cultural and reproductive health traditions: an ethnographic study of the Pokot female genital modifications at the Kenya-Uganda-Border
Mr. OPESEN Chris Columbus examined the lived experiences of women with trans-border cultural and reproductive health (CRH) traditions using female genital modifications (FGM) at the Pokot Kenya-Uganda border as his ethnographic case. Based on the inductive analysis he conducted, he observed that one's experience with cultural and reproductive health traditions like FGM is an outcome of many factors including the nature of tradition undergone, the technology used, the skillfulness and experience of the surgeon. Notwithstanding, some exceptions, he argued that the life-long experiences of women that undergo extreme CRH traditions like FGM especially, infibulation, are synonymous with pain, violence and risk. To successfully eliminate FGM, he recommends supporting the current FGM-law enforcement with a soft approach targeting the software of this tradition using meaningful stakeholder engagements. This study was funded by the NORAD East African Borderlands Project, and was supervised by Assoc. Prof. Stella Neema and Dr. Fred Henry Bateganya
WELDESENBET Netsanet Gebremichael (Ms)
Topographies of reminiscences: Asmara as historical representations and deliberations
Ms. WELDESENBET Netsanet Gebremichael examined "neither war nor peace" (1998-2016) moment of historico-political raptures between Eritrea and Ethiopia from reminisces of Asmara – the capital city of Eritrea from Ethiopia in what appears to be a moment of rift. Foregrounding a context of non-movement, the dissertation asked: what happens to conventional historical methods in a moment of raptures? The dissertation opened methodological possibilities on how history could be done in moments of rift by mobilizing popular memory productions in form of oral–accounts with popular cultural productions such as autobiographies, memoirs, songs, novels and poetry. These reminiscing practices were conceptualized deliberations on popular political desires of the present. These accounts can further inform going peace-building efforts between the two countries. This study was funded by Carnegie through Makerere Institute of Social Research, and was supervised by Prof. Mahmood Mamdani.
School of Law
TUSASIRWE Benson
The judicial enforcement of the rights to freedom of political assembly and association in Uganda
Mr. TUSASIRWE Benson investigated the state of rights to freedom of political assembly and association in Uganda and the role that courts have played in their enforcement. The study found that although the concept of human rights has achieved reasonable normativity, on the ground the state of those rights remains precarious due the ideological character or content of the rights, and the political and socio-economic environment. While the courts of judicature have made bold decisions in defence of the rights, these have not gone far enough. It is contended that in the absence of a fundamental change in the political and socio-economic order, courts will not conceivably act as consistent guardians of the rights. The study was funded by Makerere University and SHUREA project, and was supervised by Frederick Jjuuko and Prof. Joe Oloka-Onyango.
Please click the links below to navigate to the PhD Citations for the respective Sessions.
< Director's Message | Session 1: Part1: Part2 : Part3 | Session 2 | Session 3 | Session 4 >
#Mak70thGrad
Launch of Mak-RIF Round 4 Awards & PhD Call for Proposals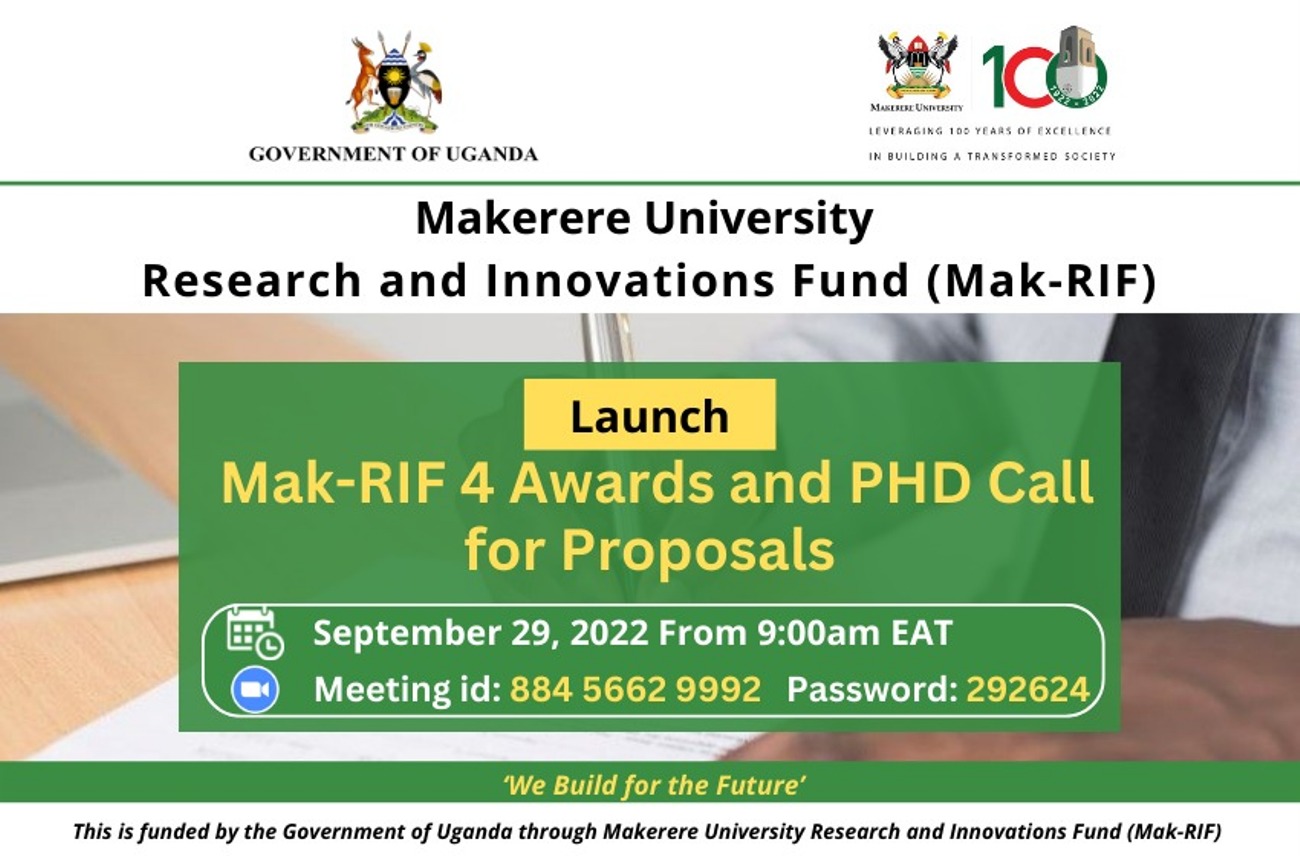 Makerere University received funding from the Government of the Republic of Uganda, earmarked to support high impact Research and Innovations. This unique initiative arose after engagements between the top University Management and the Government of Uganda. This fund illustrates the increasing importance that the Government attaches to Research and Innovation as a driver of development and transformation. The objective of the fund is to increase the local generation of translatable research and scalable innovations that address key gaps required to drive Uganda's development agenda. 
In the Financial years 2019/2020, 2020/2021 and 2021/2022 the Government of the Republic of Uganda through Mak-RIF has funded implementation of over 750 multidisciplinary research and innovations within the various Colleges, while engaging multiple stakeholders within and outside Makerere University. The Grants Management Committee (GMC) has finalized the award process for the Mak-RIF round 4 call for funding for this Financial Year 2022/2023.
The Grants Management Committee (GMC) hereby invites you to the Launch of the Mak-RIF Round 4 awards and PhD Call for Proposals scheduled to take place tomorrow Thursday 29th September 2022 from 9:00 to 10:00 a.m. EAT. 
Please use the following details to join the launch.
Register in advance for this meeting:
https://us06web.zoom.us/meeting/register/tZwpcu-urDIjE9ZgxdsbEmA2IkNMMiJVECt_ 
Meeting ID: 884 5662 9992
Password: 292624
Notice: Makerere Disability Scheme 2022/23 Medical Review Exercise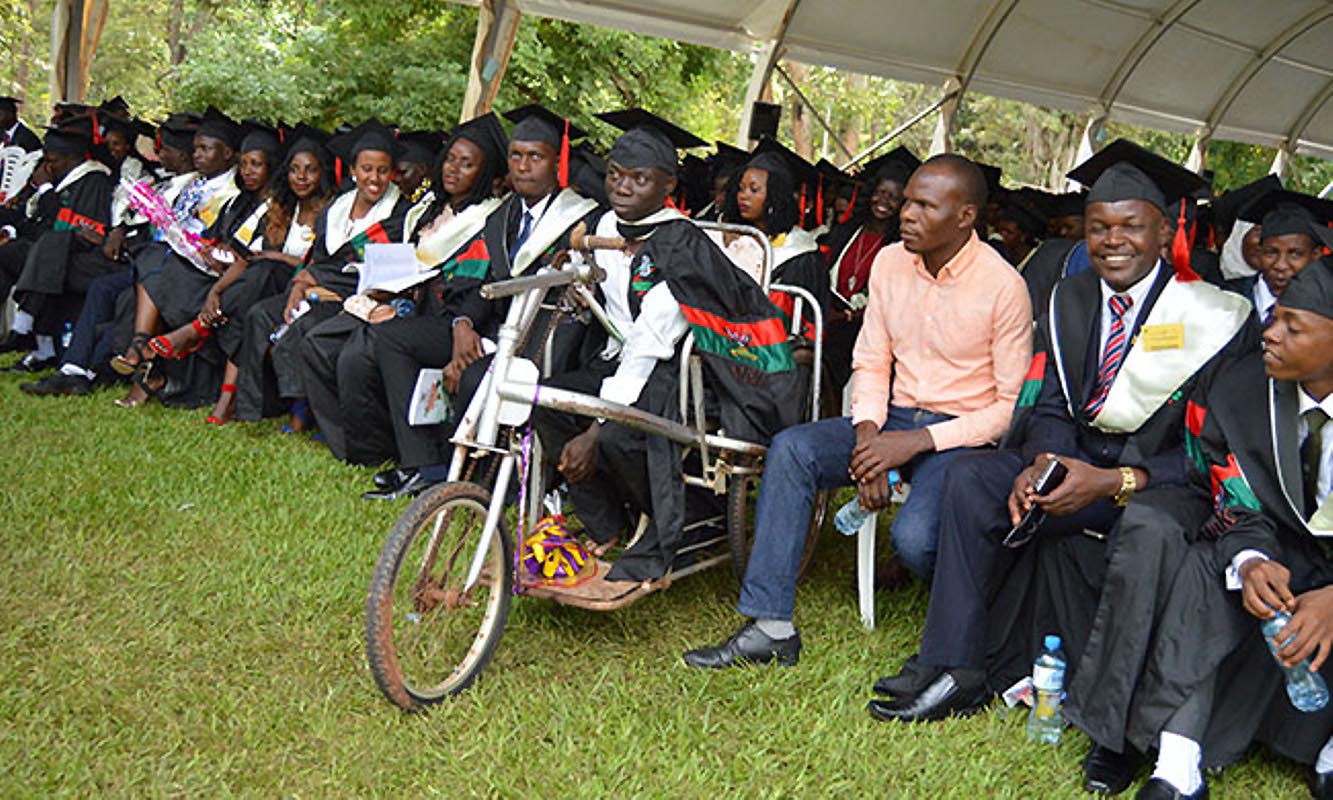 The Academic Registrar, Makerere University invites persons with disability who applied for admission to public universities under the disability entry scheme for 2022/2023 Academic Year to appear for medical/review exercise at Makerere Unive, Senate Building, Level Two (2) in the Telepresence Centre.
NOTE: Only those who have the minimum entry requirements of at least two principal passes at A' Level or its equivalent and at least five (5) passes at O' Level or its equivalent will be interviewed.
Only candidates who sat 'a' level in 2020, 2019 and 2018 are eligible for admission.
THE EXERCISE WILL BE CONDUCTED ON 3rd, 4th and 5th October, 2022 respectively from 9.00 A.M – 1.00 P.M each day.
IMPORTANT:
(i) If you fail to appear on any of the given days above, there will be no other chance for you.
(ii) Applicants with Government Scholarship for the previous years are not eligible for admission
ALFRED MASIKYE NAMOAH
Acting. ACADEMIC REGISTRAR
Uganda's policymakers implored to address forest loss, plastic & water pollution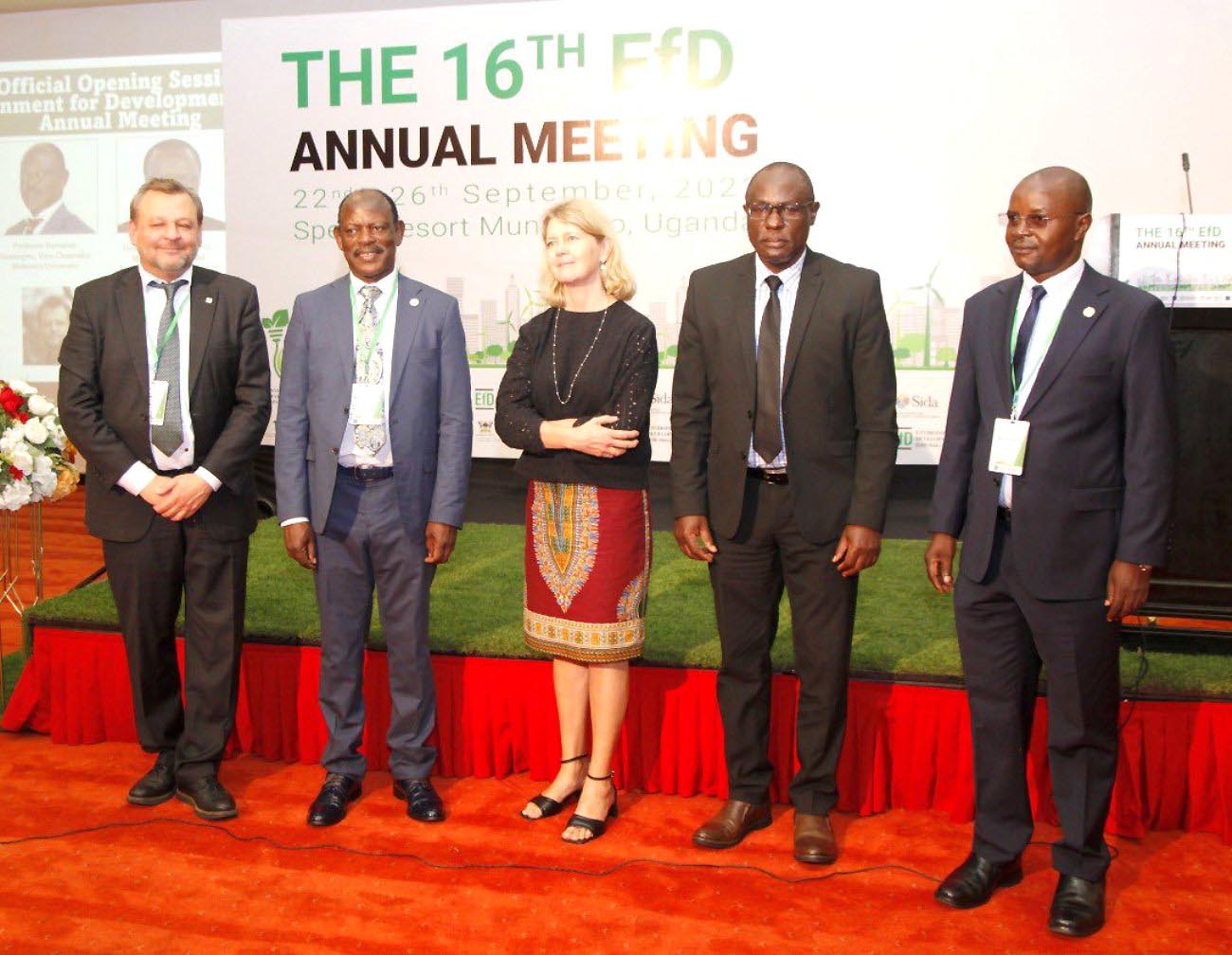 The Vice Chancellor Professor Barnabas Nawangwe on Thursday 22nd September, 2022 participated in the opening of the EfD Annual meeting hosted by Makerere University at Speke Resort Munyonyo where he appealed to government to implement the ban on kaveera and address other environmental issues.
The opening ceremony moderated by the EfD Global Hub Manager Gunnar Köhlin and was graced by Uganda's Minister for Water and Environment represented by the Commissioner for Water, Mr. Julius Mafumbo and the Swedish Ambassador to Uganda, H.E. Maria Håkansson.