Mak 70th Grad PhD Citations Session 3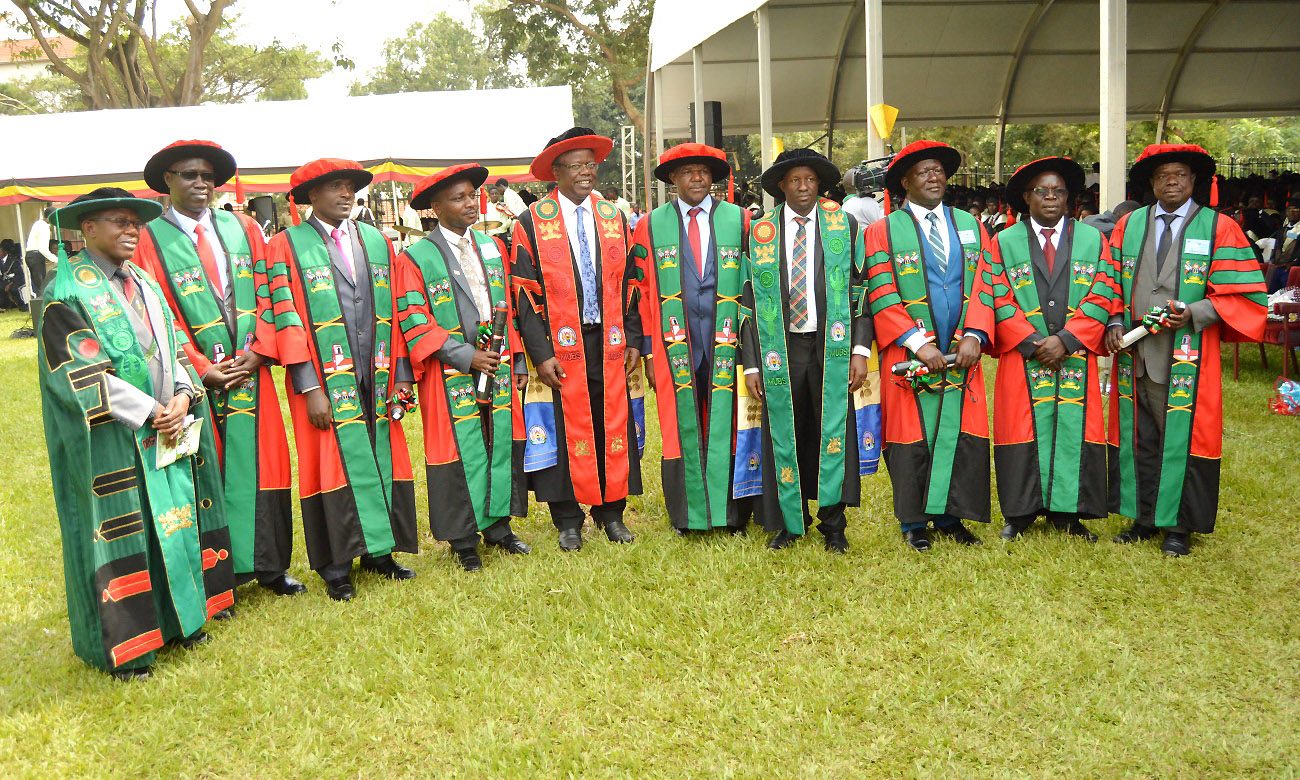 Makerere University Business School (MUBS)
KAWALYA Charles
Happiness at workplace
Mr. KAWALYA Charles investigated the personal factors associated with happiness at the workplace among professional nurses from public Hospitals in Uganda. In light of today's turbulent work environment, happiness at the workplace is essential for increased productivity. This study found that psychological needs satisfaction (relatedness, competence), psychological capital (resilience, hope), self-driven personality (extroversion) and flow experience (challenge skill balance, concentration on the tasks) are important factors that influence happiness at the workplace. Most importantly, the results confirmed the mediation effect of flow experience in these relationships. Government, especially the ministries of Ministry of Health, Public Service and Human Resource Managers, should consider coming up with a policy on the science of happiness at the workplace. The study was funded by Makerere University Business School, and was supervised by Prof. John Munene and Dr. Sam Mafabi.
LUBOGOYI Bumaali
Employee Goal Congruence in the District Local Governments of Government
Mr. LUBOGOYI Bumaali studied the employee goal congruence as a strategy for production of goods and services that match the needs interest and preferences of the citizenry. Despite public sector reforms such as decentralization, democratic governance and capacity building programs and increased financial support employees have not been able to fully realize district mandate due to diverse interests of multiple actors. A mixed research methodology was employed which explained 46% of the variance in Goal congruence. The study revealed that stewardship behavior, ethical culture and collectivism are key in public sector change, transformation and development. This implies that district managers need to pay greater attention to goal congruence as they grapple with strategies for development. This study was funded by African development Bank and Makerere University Business School.
MUTUMBA Abbey
Franchising Readiness in a Developing Country: A Study of Potential Franchisors in Uganda
Mr. MUTUMBA Abbey's study focused on franchising values, public-private-partnership (PPP) support and the entrepreneurial ecosystem quality contribute to franchising readiness among the authorized distributors, master agents and multi-branch enterprises among other potential franchisors. The model revealed that complementary proactiveness and innovativeness, PPP support and entrepreneurial ecosystem quality determine the franchising readiness in Uganda. In addition, the potential franchisors that worked with the policy makers, local leaders, universities and media developed into homegrown franchisors by 2019. Consequently, more world-class knowledge, technology and skills transfer/exchange, jobs and wealth creation are being contributed as the potential franchisors open up more branches through more locally-appointed franchisees. Therefore, Uganda's BUBU policy and industrial parks-allocation policy should favor the more community-engaged potential franchisors. This study was funded by AfDB and MUBS, and was supervised by Prof. John C. Munene, Prof. Joseph Ntayi, and Prof. Mohammad Ngoma.
MAYANJA Samuel
Entrepreneurial networking among Small and Medium Enterprises: the role of nexus of generative influence, positive deviance, informational differences and ecologies of innovation in Uganda
Mr. MAYANJA Samuel studied the determinants of entrepreneurial networking among Small and Medium Enterprises (SMEs) in Uganda. The findings revealed that entrepreneurial opportunity, nexus of generative influence, ecologies of innovation and informational differences explain entrepreneurial networking of SMEs. One the other hand, positive deviant employees cannot access resources on their own without the support of business owner/manager. Therefore, business owners and employees at all levels should support idea generation through experimentation with learning in mind and adaptability readiness. These would create enabling environment for SMEs to access formal and informal resources from their social networks to overcome the liability of smallness. The study was self-funded, and was supervised by Prof. John Munene, Prof. Waswa Balunywa, and Prof. Joseph Ntayi.
MWESIGWA Rogers
Stakeholder management in public private partnership projects in Uganda
Mr. MWESIGWA Rogers investigated the predictors of stakeholder management in public private partnership (PPP) projects in Uganda; focusing on the relationship between stakeholder behavior, contract completeness, stakeholder attributes, relationship building and stakeholder management. The study found that stakeholder behavior and relationship building are associated with stakeholder management, while contract completeness and stakeholder attributes are negatively associated with stakeholder management. Relationship building partially mediated stakeholder behavior, contract completeness with stakeholder management. Therefore, PPP projects need to build strong stakeholder relationships, understand their behavior and attributes; and manage contracts in order to manage stakeholders' interests and expectations. There is need for contract monitoring and enforcement mechanism and capacity building among line ministries involved in contract negotiation so that contracts are enforceable. The study was funded by African Development Bank and Makerere University Business School, and was supervised by Prof. John Chrysostom Munene, Prof. Joseph Ntayi and Assoc. Prof Vincent Bagire.
OMEKE Michael
Dynamics of Enterprise growth of Savings and Credit Cooperatives (SACCOs) in Uganda
Mr. OMEKE Michael studied the growth of Savings and Credit Cooperatives (SACCOs) as socio-enterprises using a multi-theoretical approach. The findings revealed that re-organizing and renewing resources, exchange and sharing of resources and information, self-organizing and adaptive behaviour explain the growth of SACCOs. On the other hand, laws, rules, standards and shared beliefs alone do not necessarily contribute to the growth of SACCOs. Therefore, SACCOs should adopt modern technological applications, build capacity of staff and members, share and exchange knowledge, skills and experiences, self-organize themselves and adjust to the ever changing demands in the dynamic environment. The study was funded by Kyambogo University and supervised by Prof. Pascal Tindi Ngoboka, Dr. Isaac Nabeta Nkote and Dr. Isaac Newton Kayongo.
ONYINYI Benard
Quality management practices among small and medium scale enterprises in Uganda
Mr. OYINYI Benard's study examined quality management practices among Small and Medium Scale Enterprises (SMEs) in Uganda. The study revealed that knowledge management potential is positively and significantly related to quality management practices among SMEs. Besides, resource transformation capabilities positively and significantly predict quality management practices and there exists a positive and significant relationship between benchmarking competency and quality management practices among SMEs. Further, the effect of knowledge management potential on quality management practices varies with the level of ICT robustness. Therefore, government should design framework policies to guide SME management in knowledge management, resource transformation and benchmarking competencies in the ICT dominated environment to support them adopt ideal quality management practices in the current competitive business environment. This study was funded by Makerere University Business School, and was supervised by Prof. Will Kaberuka and Dr. Nichodemus Rudaheranwa.
Please click the links below to navigate to the PhD Citations for the respective Sessions.
< Director's Message | Session 1: Part1 : Part2 : Part3 | Session 2 | Session 3 | Session 4 >
#Mak70thGrad
Government Sponsorship Admission Lists 2022/23 Verified by Districts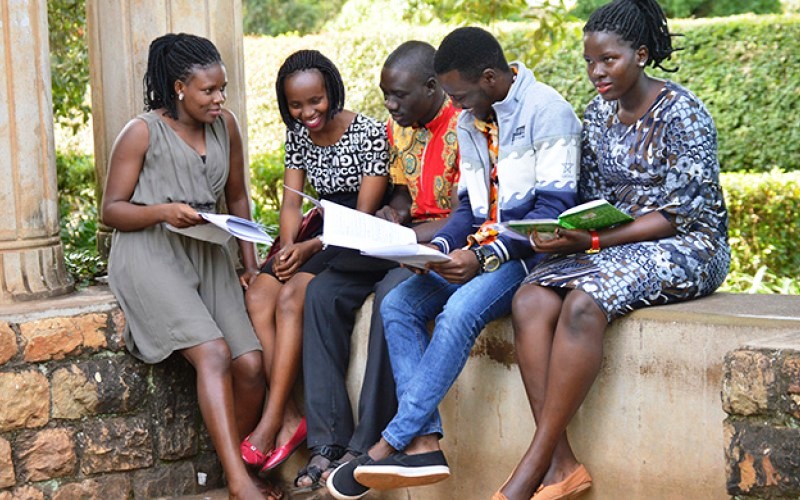 Student Registration for Semester I 2022/2023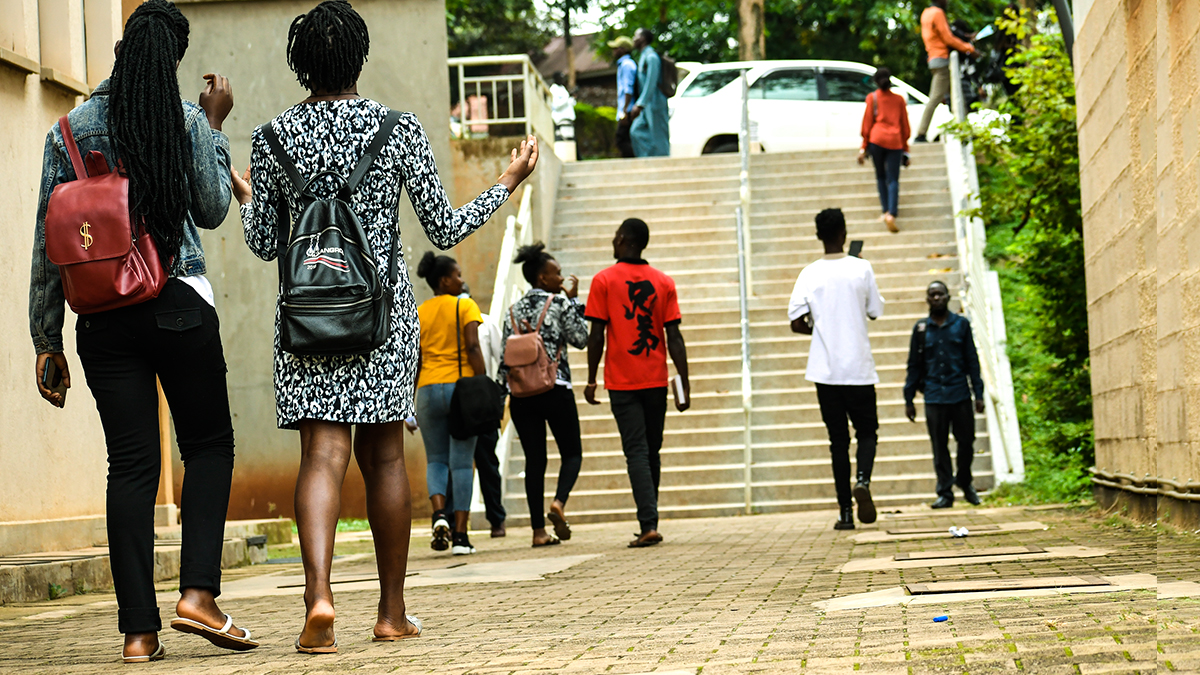 (a) First Years
Every new student admitted to a programme of study of Makerere University was issued a provisional admission letter with fees structure for payment of requisite fees. This enables privately sponsored first year students pay at least 60% tuition and all functional fees before issuance of original admission letters which should be collected from the respective Colleges/Schools.
For a candidate to qualify to be a bonafide student of the University, he/she MUST be
registered. Registration is a mandatory requirement of the University which must be
done within the specified time at the beginning of the semester. Failure to do so will
automatically lead to your place being forfeited to another candidate. Official
Registration/Verification of documents is on going using the Academic Information
Management System (ACMIS) used by Makerere University.
Ensure that you complete all the required registration formalities within the prescribed
time as per the Fees Payment Policy and registration programmes provided by your
respective Colleges. The system cycle will be closed on 3Qth November, 2022.
Registration Requirements
For registration purposes all first year students MUST produce their Original documents
as indicated on their admission letters for validation and verification purposes. At the end
of the online registration exercise, new students will be required to submit 3 photocopies
of their academic documents which will be dully signed and stamped by their Registrars
for record purposes.
(b) Continuing Students
Continuing students also use the Academic Information Management System (ACMIS) for
registration for Academic Year 2022/2023. Continuing students should register online by
accessing the registration Menu in the Student Portal and selecting the first option labeled
"Self Registration" and click the REGISTRATION NOW option.
The Cycle for online registration for the Academic year 2022/2023, Semester One is open
for all continuing students. The system cycle will be closed on 30th November, 2023.
(c) Students who belong to the under listed categories are advised to contact their College/School Registrars before they can register.
(i) Retakes Cases
(ii) Stay Put Cases
(iii) Withdrawal cases
(iv) Audited Courses
(v) Extension Cases
N. B. Each student should pay National Council for Higher Education fee of 20,000/ = per year and UNSA Subscription of 2,000/= per year before registration.
(d) In case of any problem, consult your College/School Registrar. College Accountants are responsible for providing the financial status to all students and generating lists of paid up students to the Deans. They will also clear paid up students to be issued the examination permits before sitting University examinations for Semester One, 2022/2023 Academic year.

Prof. Buyinza Mukadasi
ACADEMIC REGISTRAR
Download the Communication from Academic Registrar here
A Delegation from Netherlands Visits Makerere University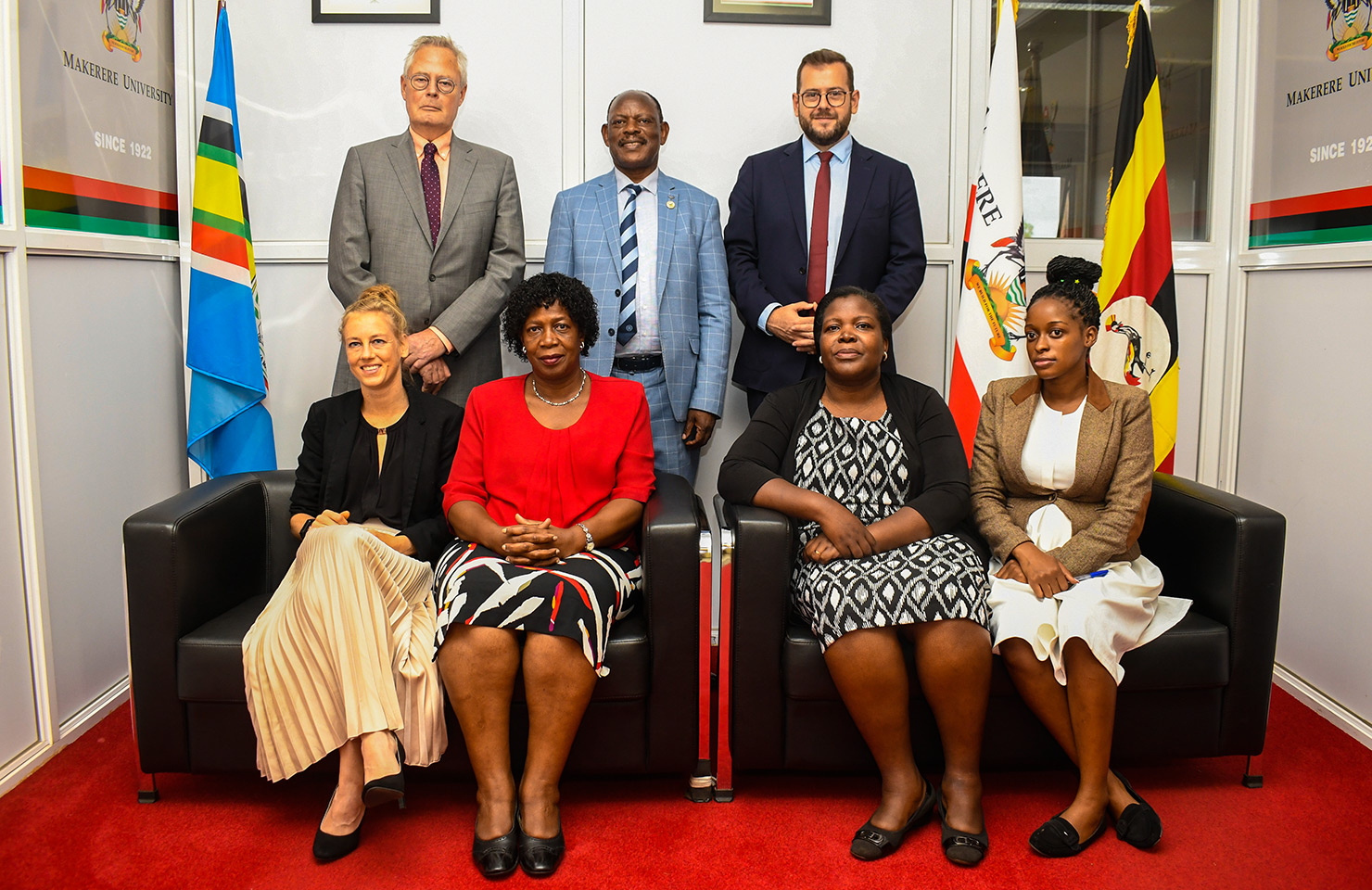 On Monday 14th November 2022, a delegation from the Royal Kingdom of the Netherlands visited Makerere University to discuss capacity building, scholarships, research and approaches to developing the Technical and vocational education and training (TVET) and Higher Education programme.
The visiting delegation consisted of Mr Siemen Tuinstra, Deputy Director, Department of Social Development; Mr Theodore Klouvasa, Coordination Policy Officer, Education & Youth Responsible for the development of the new TVET & Higher Education Programme; Ms Hilde de Bruijn – Senior Policy Officer and Ms Joy Acom-Okello, the Policy Officer Humanitarian Affairs and Migration at the Netherlands Embassy in Kampala.
Discussion with the Vice Chancellor
The Vice Chancellor, Prof. Barnabas Nawangwe welcomed the visitors to Makerere University and briefed them about the history of the University that started as a technical college in 1922 with 14 students. In 1949, it became a University College affiliated to the University College of London, offering courses leading to the general degrees of its then mother institution. With the establishment of the University of East Africa in June 29, 1963, the special relationship with the University of London came to a close and degrees of the University of East Africa were instituted. On July 1, 1970, Makerere became an independent national university of the Republic of Uganda, offering undergraduate and postgraduate courses leading to its own awards. In 1990, there was liberalization of university education after the World Bank and IMF decided that there should be less spending on university education and introduced structural adjustment programmes. The Government pays a lump sum to the university to sponsor some students and the rest are private students.
The Coordination Policy Officer, Mr Theodore Klouvasa informed the Vice Chancellor about the new programme on TVET and Higher Education that their government was developing. The purpose of their visit was to consult other stakeholders in higher education such as universities, ministries of Education and Sports, Agriculture, Gender and Youth and technical institutions to learn more about the existing collaborations between them and see where the Netherlands government can assist in developing a beneficial programme. How exactly do universities relate with Vocational Institutes and what is the education system in Uganda ad how do donors communicate with the major actors in the education system? How do universities relate with the private sector? If government sponsors some students, how can the scholarships be more inclusive and target the marginalized? Research is very important for all universities. How can they bring more research in the university and what can they add on the PhD infrastructure? Makerere University is strategic partner with the Netherlands having trained many PhDs at Wageningen University, Maastricht University, Vrije Universiteit Amsterdam; University of Groningen; Radboud University Nijmegen; Delft University of Technology.
Makerere University has many collaborations globally and has over the years increased partnerships with the government. The College of Health Sciences has done extensive research with the Military in the area of HIV/AIDS; with the Ministry of Water & Mineral Development in the area of water qualities and management; with UNRA with joint research and use of technologies for materials and road construction; with Ministry of Agriculture and Animal Industry and Fisheries in the area of cross boundary animal diseases; with Food processing industries with our School of Food Nutrition and Biotechnology; the Horticulture industries in controlling quality of products for export; the IT companies with our College of Computing and Information Sciences and also the College of Engineering, Design, Art and Technology. The University relates well with the Uganda Society of Architects and our architecture students are exposed to the new products on the market such as the new design of roofing tiles. The students share simple technologies learnt in class with the manufacturing companies which have helped in boosting production.
Uganda is affected by a high population growth and many graduates cannot find jobs. The education system needs to be geared towards problem solving techniques to be taught to learners/students at all levels. There is a need to change the mindset of the teachers/professors and the students as well. A mindset programme is to be introduced in the first year of studies for all programmes. Makerere University is also in the process of establishing an incubation hub where the good ideas of students can be developed to start a business. If you want to change the country, you engage the students to do more innovations and encourage production of their ideas. He informed the delegation that during Covid-19, the government of Uganda provided funds to Makerere University, which were used to equip laboratories and do more research and produce a vaccine. The University also operationalized the online learning by use of technology to minimize the effects of the pandemic.
The Vice Chancellor disclosed that there is an urgent need to re-tool the teachers in the Vocational institutes to upgrade their practical skills with the trends on the market. Therefore, the training and scholarship by Netherlands for vocational teachers to upgrade skills with latest technologies in universities would be appropriate.
Discussion with the College of Education and External Studies
The Deputy Principal, Dr. Ronald Bisaso received and welcomed the delegation. He represented the College Principal, Prof. Anthony Mugagga. The Deputy Principal highlighted that regarding the education system in Uganda, some areas have changed and others improved. He noted that many graduates lack the required skills for the job market. It would therefore be better if Makerere University also benefits from vocational studies and practice. Dr. Bisaso pointed out that the Department of Science, Technology and Vocation Education at the College of Education and External Studies offers a course on vocational studies and they expect to produce 1,500 graduates by 2025. The level of the vocational course offered is gauged by UBTEB (Uganda Business and Technical Examinations Board) that administers examinations and awards National Diplomas. The investment in the education sector by government is quite minimal with just 11.5% (Higher education getting 6.4% and TVET getting 5.1%). Capacity of the sector needs to be enhanced through training. Professors must acquire entrepreneurial skills before they occupy leadership positions instead of doing so when they are already in the positions. At the College of Education and External Studies (CEES) with a population of 4,000 students, there only 30 doctoral students. CEES partners with the Ministry of Education and Sports through projects such as the Early childhood and development projects. Individual staff are seconded to projects to train and even share experiences.
The Deputy Principal called upon the Netherlands to support knowledge and capacity building of early career academics and partnering with the TVET ecosystem. This includes interventions, trainings and exchanges at various levels and cooperation with different stakeholders such as the government, the private sector, civil society and the Vocational institutes. He advocated for strengthening of existing vocational institutes, establishment of vocational institutes were they do not exist and development of research infrastructure and adoption of TVET across the education system.