How a Researcher is Using Art to Create HIV Awareness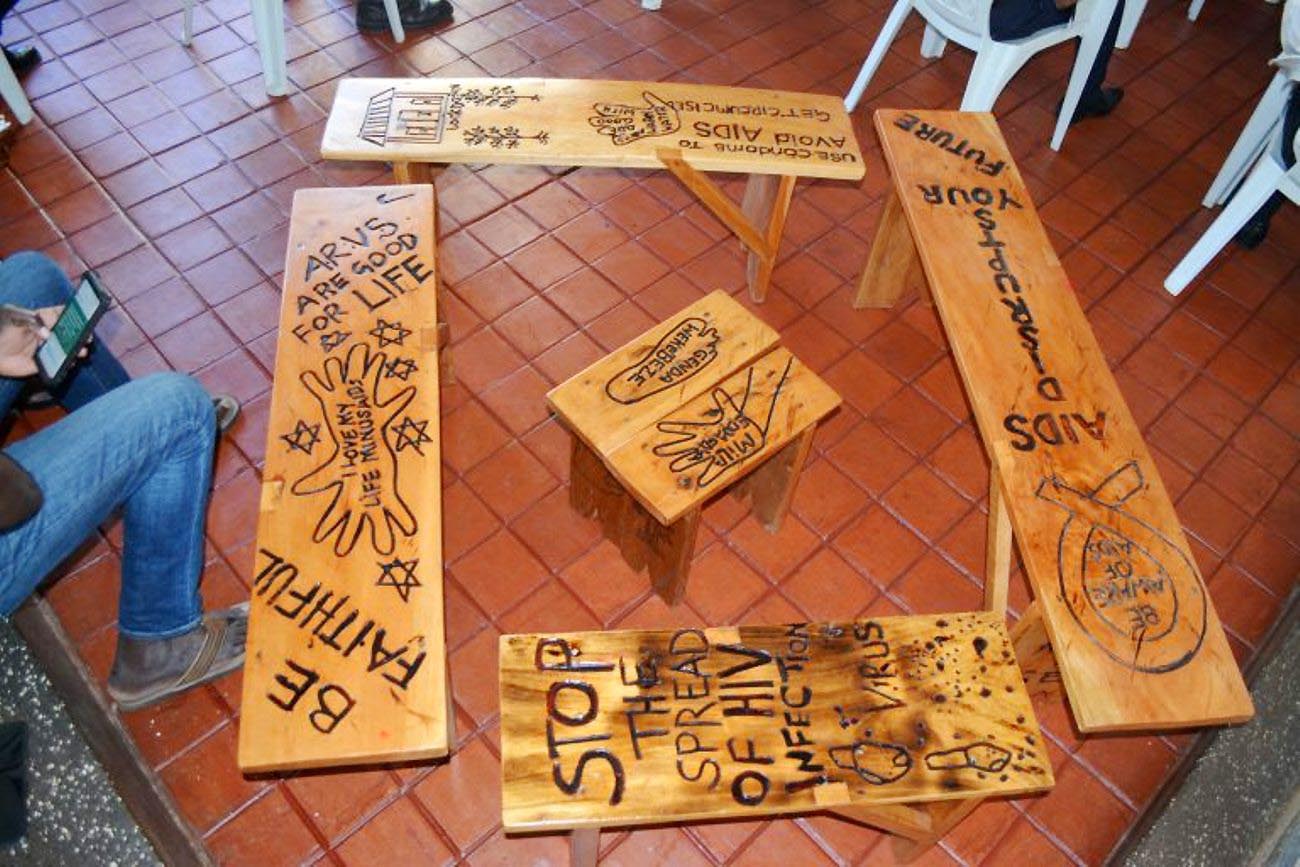 By Betty Kyakuwa & Isaac Abaho
Researchers have been called upon to increase awareness about HIV among the population. The call was made by Rtd. Maj. Rubaramira Ruranga, during the opening of Mr. Robert Ssewanyana's art exhibition that sought to create HIV awareness and prevention in slum areas of Kampala. Maj. Rubaramira said the biggest reason for the increase in HIV is lack of knowledge and information by the population especially in the rural areas. The exhibition was attended by the Deputy Vice Chancellor (Finance and Administration) Dr. Josephine Nabukenya as well as organisations doing HIV treatment and rehabilitation.
Maj. Rubaramira said there was no reason as to why people should contract HIV even if raped. He pointed to the existence of post-exposure prophylaxis (PEP), an emergency treatment to prevent HIV after exposure. This treatment is given before 72 hours after exposure or rape.
The spread of HIV has been on the rise especially among the young people aged between 15 and 24 years. This has been due to lack of knowledge about HIV especially among the rural communities. In the urban centres, HIV increase has been attributed to a number of factors, including, poverty, illiteracy, ignorance, a thriving commercial sex industry and lack of knowledge of matters relating to the spread of HIV. To this end, Mr. Robert Ssewanyana, an artist and lecturer at the Margaret Trowell School of Industrial and Fine Art set out to work with communities in an effort to create awareness and prevent the spread of HIV. He worked with communities of Bwaise, Ndeeba and Katwe.
MAPRONANO Short Course in AI, ML & Bioinformatics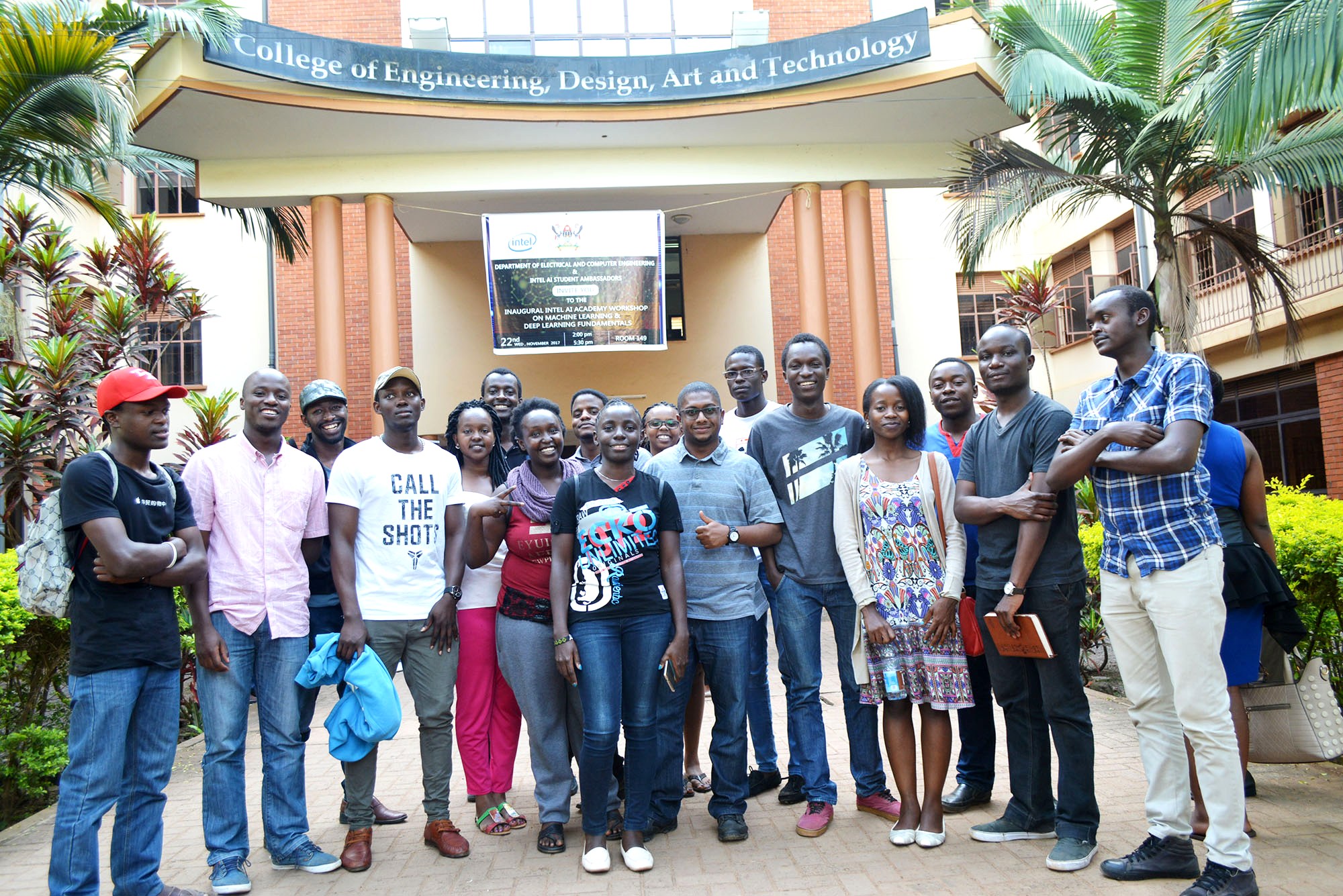 The African Center of Excellence in Materials Product Development & Nanotechnology (MAPRONANO ACE), College of Engineering, Design, Art and Technology (CEDAT), Makerere University in partnership with the Infectious Diseases Institute (IDI)'s African Center of Excellence in Bioinformatics and Data Sciences (ACE), Tel Aviv University, Israel, the Colleges of Health Sciences (CHS) and Computing and Information Sciences (CoCIS) and Teesside University, UK invites applications for the Short Course Training in Artificial Intelligence (AI), Machine Learning (ML) and Bioinformatics.
The course will be run virtually from 4th to 7th October 2021
Please submit all applications to: ace[at]idi.co.ug, mapronanocedatmak[at]gmail.com, bmujuni7[at]gmail.com including a One Page motivation statement indicating why you are interested in attending by 27th September 2021
Call for Scholarship Application: CAMA Post-grad Research Assistantship at CEDAT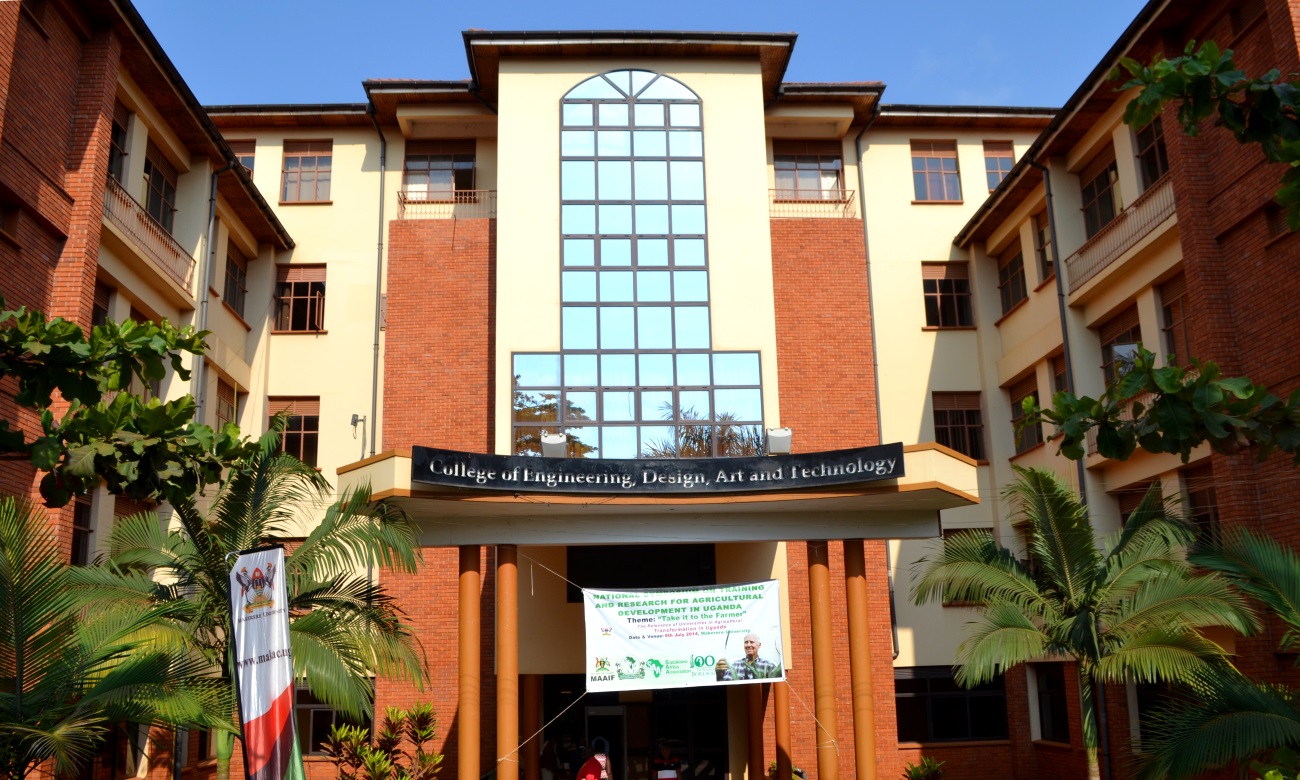 The Karlsruhe University of Applied Sciences (HKA) Germany, Makerere University, University of Nairobi (UoN) and Mekelle University (MU) Ethiopia have started a 4 year R&D project "Collaboration for Active Mobility in Africa-CAMA" under the program "Partnerships for sustainable solutions in sub-Sahara Africa". The Project which is being funded by both the German Academic Exchange Service (DAAD) and Federal Ministry of Education and Research (BMBF), aims to better capture the requirements of the pedestrians and cyclists and to illustrate their needs using digital surveys and crowd mapping approaches.
To facilitate the development and uptake of tailor-made solutions to promote active mobility, the project will utilise learning alliances (bringing together researchers, community representatives, decision makers and experts from the field) to prepare real-life experiments (living labs) and test innovative solutions. To achieve the aforementioned objective, the project intends to utilize some of the resources to recruit a PhD Student who will double as project admin for the project.
In this regard, the CAMA Uganda project is pleased to invite Ugandans to make applications for a the Post Graduate Research Assistantship Position at the Department of Civil and Environmental Engineering, College of Engineering, Design, Art and Technology (CEDAT), Makerere University. Under this program you will be required to register as a PhD. Student at the Department of Civil and Environmental Engineering (focusing on Non Motorised Traffic), which is subject to meeting the admission requirements of Makerere University. You will also be required to undertake Administration and Research project support.
The deadline for application is 8th September 2021.
How to Apply
Interested candidates can submit the following (i) up-to-date curriculum vitae/resume (of no more than 3 pages) in pdf (ii) supporting testimonials (iii) a one-page letter outlining their interest and motivation while highlighting a potential challenge in Non Motorised Traffic.
By email to camauganda[at]gmail.com and copied to civil[at]cedat.mak.ac.ug
Only applicants who meet the minimum requirements will be notified.
Minister Monica Musenero Unveils Locally-made Diesel Engine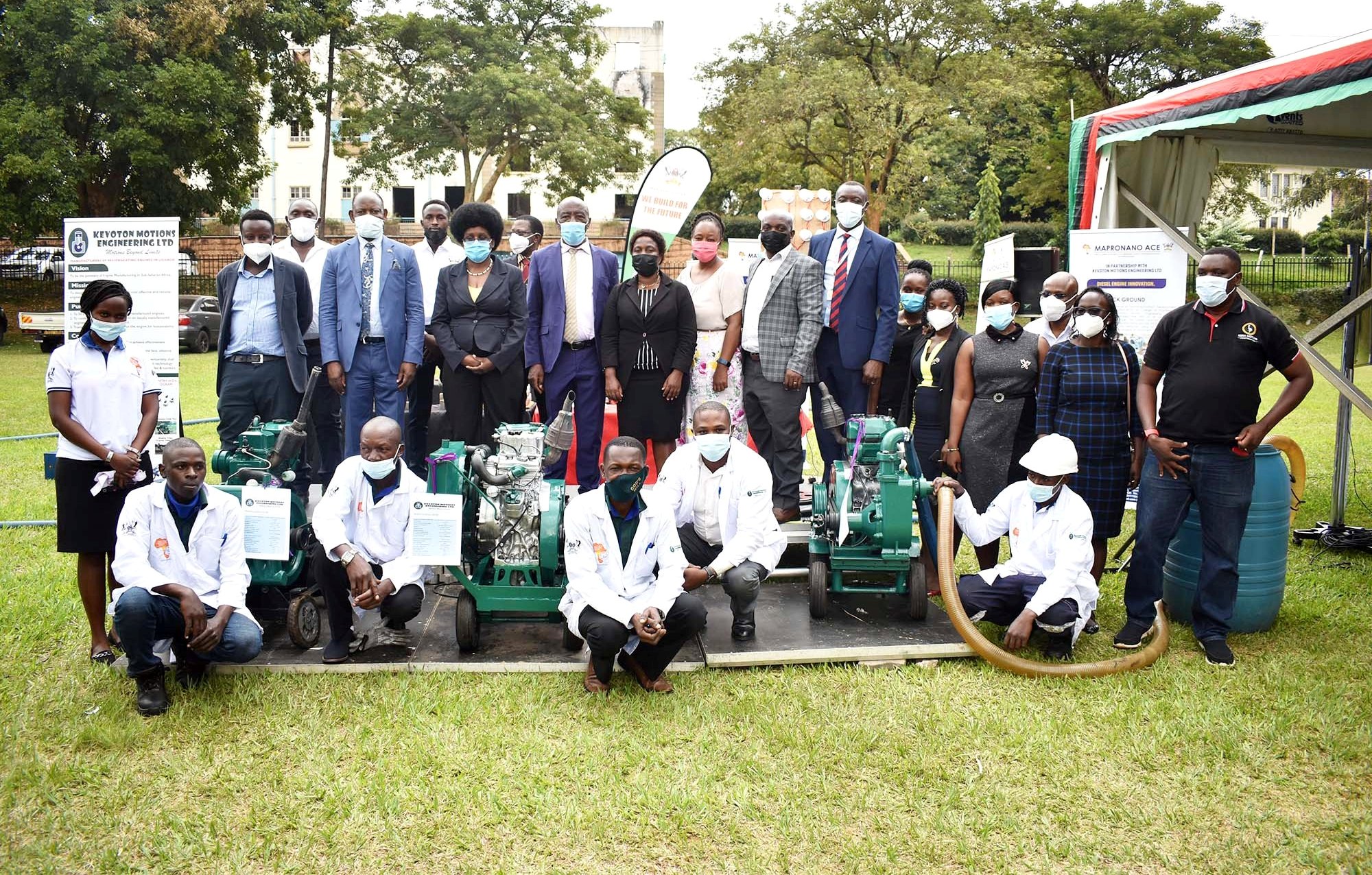 By Betty Kyakuwa
It was a show of innovations geared towards mechanisation of farming processes as the Minister for Science, Technology and Innovations, Dr. Monica Musenero, launched locally made engines today August 19, 2021.
A team of researchers from the African Centre of Excellence for Material science and nanotechnology (MAPRONANO) partnered with artisans from Kevoton Engineering, to design and assemble a diesel engine, the first of its kind in Uganda.
It is a single cylinder 4 stroke engine with 13 horse power and consumes 1 litre of fuel per hour. The engine is a water-cooled and therefore does not heat up.
The engines are able to run a generator and a water pump to facilitate irrigation on farms. The generator, is single phase and can therefore be used to power home appliances and small workshops.
According to Mr. Mubiru Rogers of Kevoton Engineering, work on the engines started in 2017, but they were not able to make much progress until 2019 when they partnered with MAPRONANO ACE. The centre of excellence was then able provide training and technical advice, designing and student attachments to the project.
The Minister commended the MAPRONANO team, led by Prof. John Baptist Kirabira, for various innovations that the team in churning out, which included a sanitizer made in Makerere, solar panel slasher, and a mini tractor.
Dr. Musenero challenged researchers to have a mindset change and also change the pedagogy to reposition theory to practical works. "We need to teach the students knowing that they are going to design and develop an engine or a brake system," Dr. Musenero emphasised.  She encouraged innovators to ensure their products do not stay on the selves, saying the biggest role of science and innovation is economical.  The Minister said, for this reason, PRESIDE which she chairs focused on equipping laboratories in universities so as ensure that scientists receive the facilitation that they require. "Research is like a river which needs an outflow and the Ministry is here to provide that outflow," she said.
She advised the university to prioritise certain areas of research when it comes to grants instead of awarding small grants to different projects which only end up being a drop in the ocean. Dr. Musenero thanked the President for his continued support and belief in science and technology.
The minister advised that the prototypes be refined so that they are genderised to allow women to be able to operate the generator and water pump.
The Vice Chancellor, Prof. Barnabas Nawangwe, called on the minister to support the introduction of an innovation park in Makerere University, saying the park would be able to spinoff companies. Giving an example of Instabul University, the Vice Chancellor said the university has been able to produce 300 companies over the last one year, saying Makerere University should be supported to do the same.