Kayoola Diesel Bus launched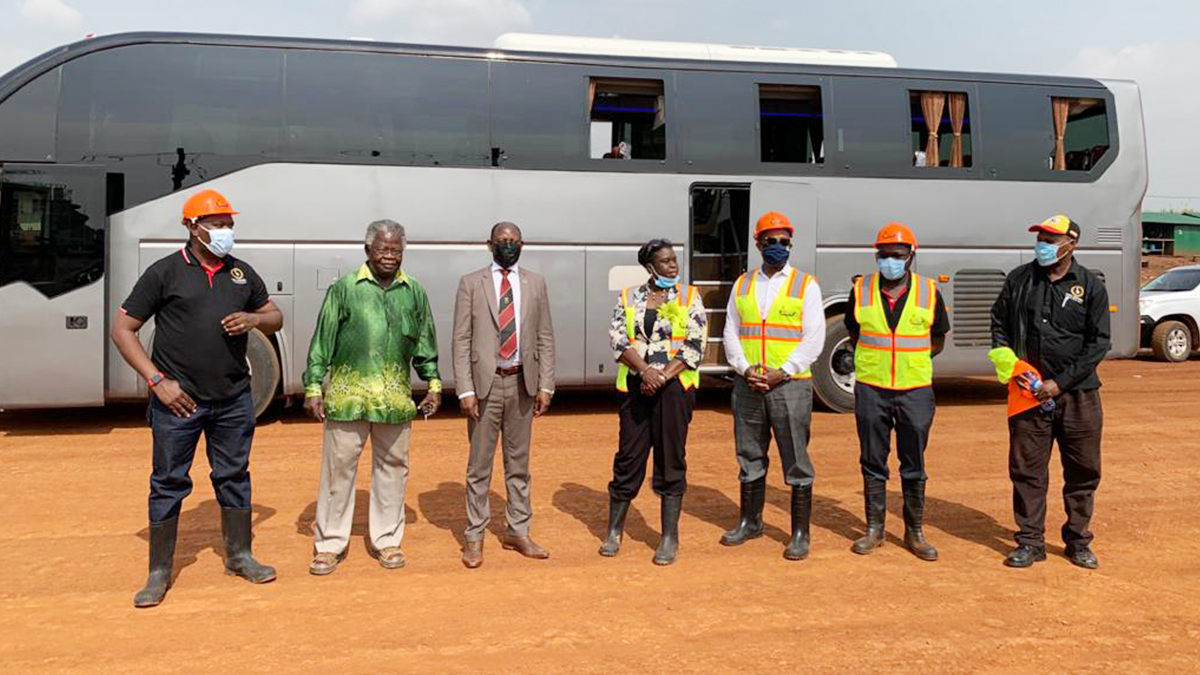 Kiira Motors Corporation (KMC), a state enterprise established to champion value addition in the domestic automotive industry has a launched their latest product -the Kayoola Diesel Bus.
The 47-seater executive coach, the first of a kind in the East and Sub Saharan -Africa that was unveiled by the automotive industry leaders Kiira Motors at UPDF's Luwero Industries in Nakasongola on 17th February 2021. The bus had just returned to Kampala from a 900 kilometers roadshow trip in western Uganda where it was showcased to excited Ugandans- who applauded the Ugandan engineers for proving to the world that the country can now produce commercial vehicles locally. Kiira Motors is led by the Executive Chairman Prof. Sandy Stevens Tickodri-Togboa. Prof. Tickodri-Togboa taught at and served as a Deputy Vice Chancellor(Finance and Administration).
The KMC Chief Executive Officer Mr. Paul Isaac Musasizi said that while designing and building this unique bus the company's team of engineers ensured better aerodynamic performance , fuel efficiency and safety of passengers. The bus is configured to a luxury interior featuring 47 reclining leather seats (43 Executive + 2VIP + 1 Guide + 1 Driver), a lavatory (toilet), on board Wi-Fi, refrigerator and CCTV cameras. The bus conforms to EURO 111 emissions standards.
Makerere University Vice Chancellor Prof. Barnabas Nawangwe is one of the prominent Ugandans who have had a ride on the Kayoola Diseal Bus . He stated thus ; "It feels good to be aboard the ultra modern Kiira Kayoola Diesel bus, designed by Makerere University trained engineers and built in Uganda by Ugandan engineers with more than 50% indigenous parts. Finally we are on the move."
While flagging off the bus from Nakasongola to Kampala , Maj Gen Sabiiti Muzeyi, the Luweero Industries General Manager appealed to Ugandans to support the state owned nascent car manufacturer in order to develop the country's automotive industry.
"Ugandans need to support our own because when we produce and no one consumes the products, we put their work down. This bus is the best I have ever seen. It has the finest features, it consumes only 22 litres of diesel per 100 kilometers and I don't know whether there's any part of the country this coach doesn't reach," Gen Sabiiti stated .
Kiira Motors and the partners plan to produce and deploy 1,030 Buses by end of 2021, 50 of which will be electric. Makerere University is one of the equity partners of KMC.
MAPRONANO Short Course in AI, ML & Bioinformatics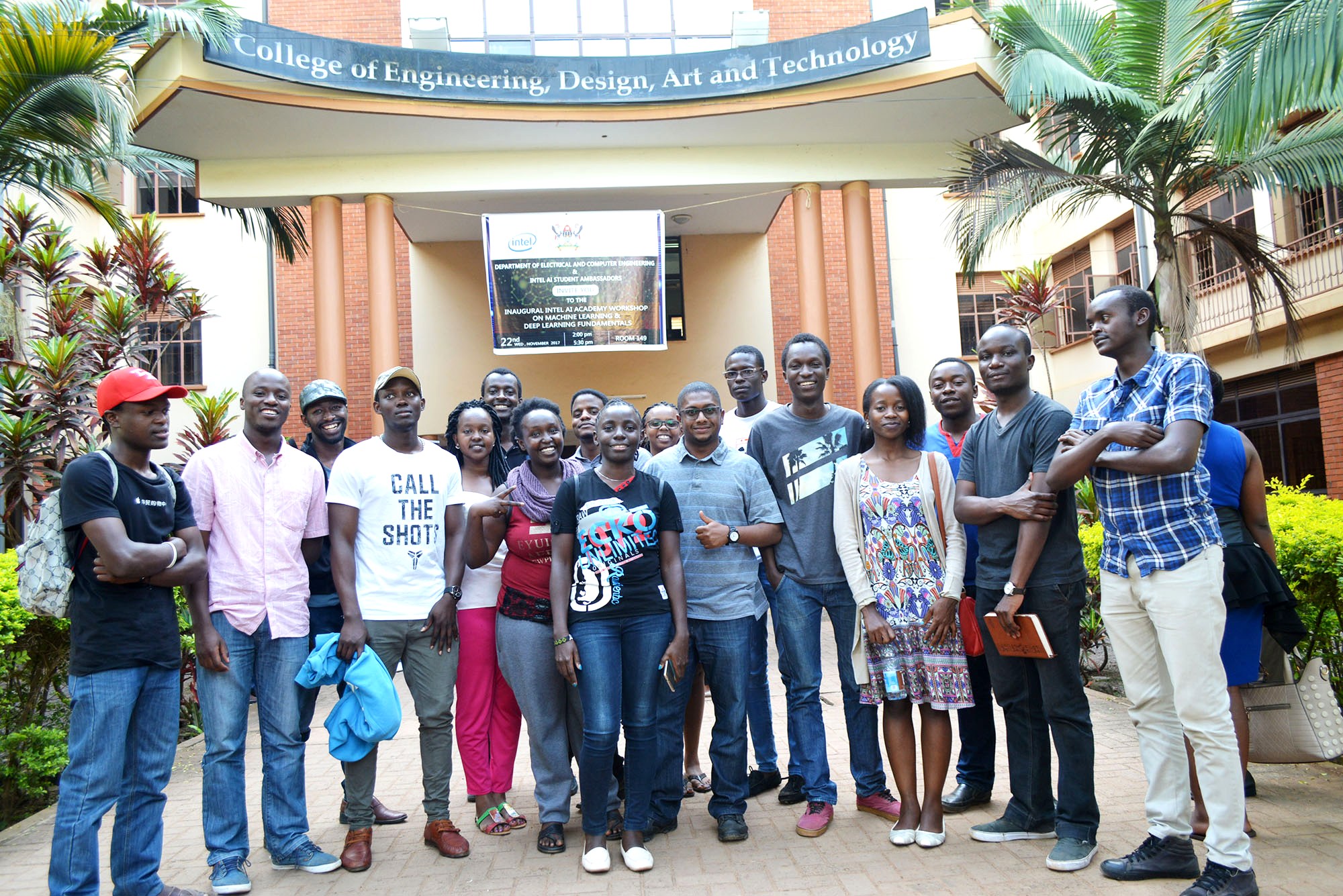 The African Center of Excellence in Materials Product Development & Nanotechnology (MAPRONANO ACE), College of Engineering, Design, Art and Technology (CEDAT), Makerere University in partnership with the Infectious Diseases Institute (IDI)'s African Center of Excellence in Bioinformatics and Data Sciences (ACE), Tel Aviv University, Israel, the Colleges of Health Sciences (CHS) and Computing and Information Sciences (CoCIS) and Teesside University, UK invites applications for the Short Course Training in Artificial Intelligence (AI), Machine Learning (ML) and Bioinformatics.
The course will be run virtually from 4th to 7th October 2021
Please submit all applications to: ace[at]idi.co.ug, mapronanocedatmak[at]gmail.com, bmujuni7[at]gmail.com including a One Page motivation statement indicating why you are interested in attending by 27th September 2021
Call for Scholarship Application: CAMA Post-grad Research Assistantship at CEDAT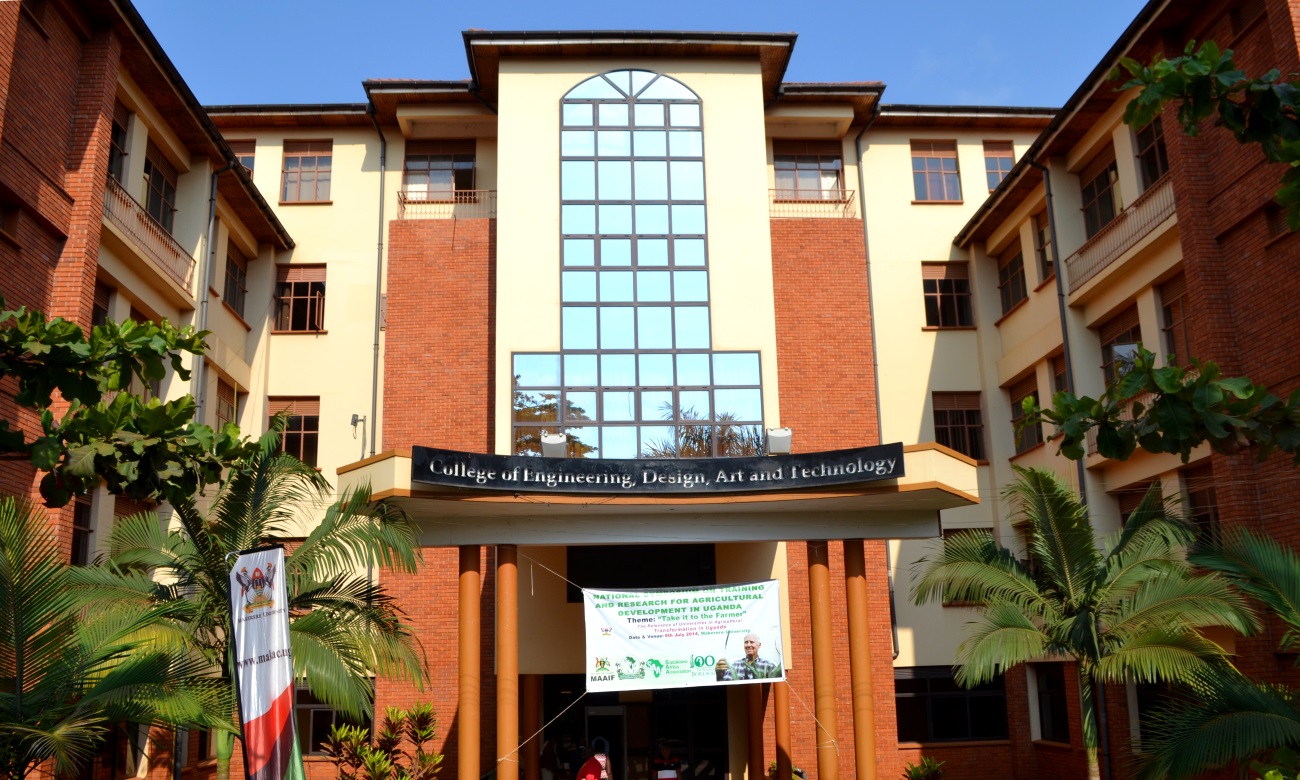 The Karlsruhe University of Applied Sciences (HKA) Germany, Makerere University, University of Nairobi (UoN) and Mekelle University (MU) Ethiopia have started a 4 year R&D project "Collaboration for Active Mobility in Africa-CAMA" under the program "Partnerships for sustainable solutions in sub-Sahara Africa". The Project which is being funded by both the German Academic Exchange Service (DAAD) and Federal Ministry of Education and Research (BMBF), aims to better capture the requirements of the pedestrians and cyclists and to illustrate their needs using digital surveys and crowd mapping approaches.
To facilitate the development and uptake of tailor-made solutions to promote active mobility, the project will utilise learning alliances (bringing together researchers, community representatives, decision makers and experts from the field) to prepare real-life experiments (living labs) and test innovative solutions. To achieve the aforementioned objective, the project intends to utilize some of the resources to recruit a PhD Student who will double as project admin for the project.
In this regard, the CAMA Uganda project is pleased to invite Ugandans to make applications for a the Post Graduate Research Assistantship Position at the Department of Civil and Environmental Engineering, College of Engineering, Design, Art and Technology (CEDAT), Makerere University. Under this program you will be required to register as a PhD. Student at the Department of Civil and Environmental Engineering (focusing on Non Motorised Traffic), which is subject to meeting the admission requirements of Makerere University. You will also be required to undertake Administration and Research project support.
The deadline for application is 8th September 2021.
How to Apply
Interested candidates can submit the following (i) up-to-date curriculum vitae/resume (of no more than 3 pages) in pdf (ii) supporting testimonials (iii) a one-page letter outlining their interest and motivation while highlighting a potential challenge in Non Motorised Traffic.
By email to camauganda[at]gmail.com and copied to civil[at]cedat.mak.ac.ug
Only applicants who meet the minimum requirements will be notified.
Minister Monica Musenero Unveils Locally-made Diesel Engine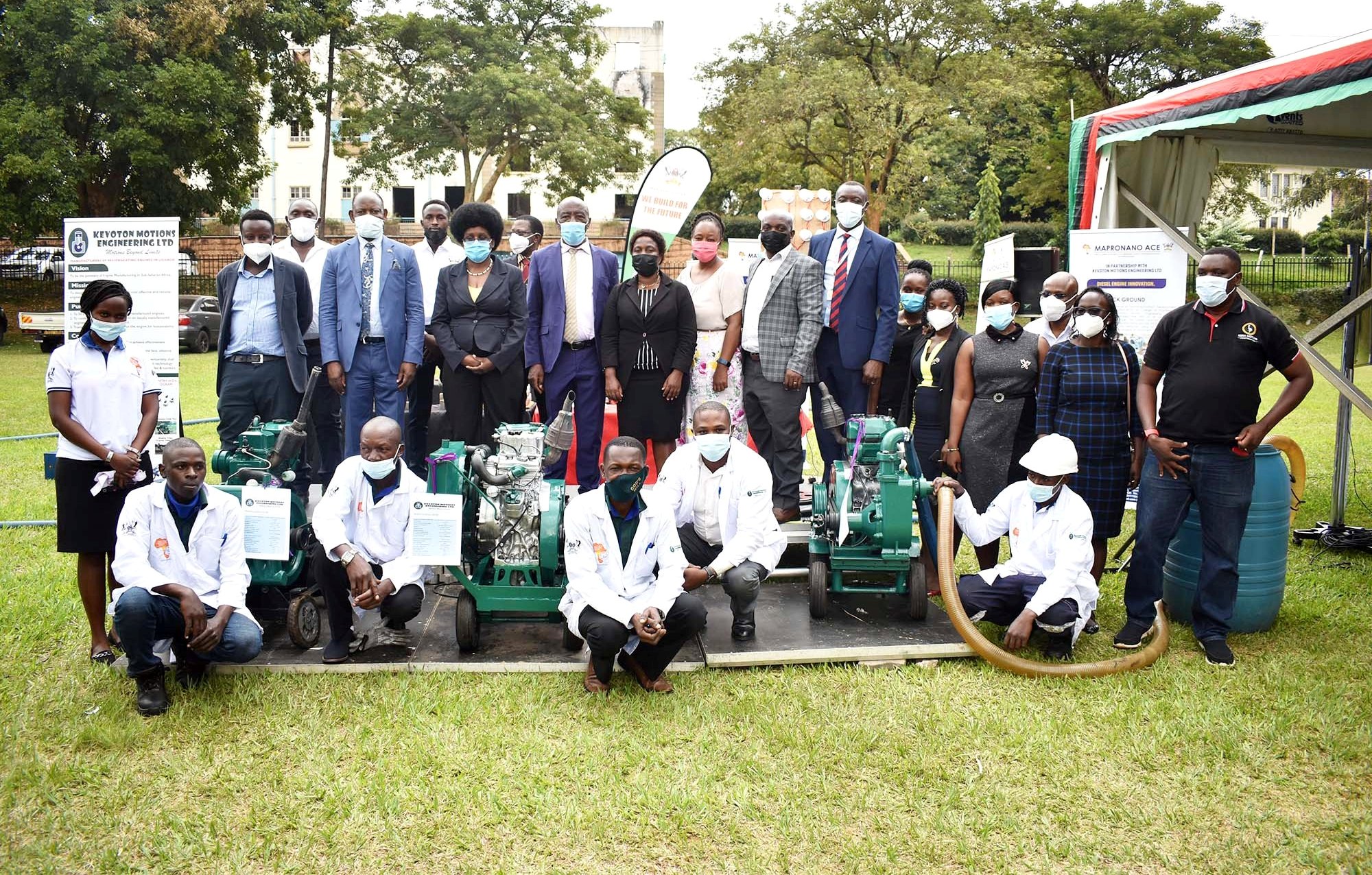 By Betty Kyakuwa
It was a show of innovations geared towards mechanisation of farming processes as the Minister for Science, Technology and Innovations, Dr. Monica Musenero, launched locally made engines today August 19, 2021.
A team of researchers from the African Centre of Excellence for Material science and nanotechnology (MAPRONANO) partnered with artisans from Kevoton Engineering, to design and assemble a diesel engine, the first of its kind in Uganda.
It is a single cylinder 4 stroke engine with 13 horse power and consumes 1 litre of fuel per hour. The engine is a water-cooled and therefore does not heat up.
The engines are able to run a generator and a water pump to facilitate irrigation on farms. The generator, is single phase and can therefore be used to power home appliances and small workshops.
According to Mr. Mubiru Rogers of Kevoton Engineering, work on the engines started in 2017, but they were not able to make much progress until 2019 when they partnered with MAPRONANO ACE. The centre of excellence was then able provide training and technical advice, designing and student attachments to the project.
The Minister commended the MAPRONANO team, led by Prof. John Baptist Kirabira, for various innovations that the team in churning out, which included a sanitizer made in Makerere, solar panel slasher, and a mini tractor.
Dr. Musenero challenged researchers to have a mindset change and also change the pedagogy to reposition theory to practical works. "We need to teach the students knowing that they are going to design and develop an engine or a brake system," Dr. Musenero emphasised.  She encouraged innovators to ensure their products do not stay on the selves, saying the biggest role of science and innovation is economical.  The Minister said, for this reason, PRESIDE which she chairs focused on equipping laboratories in universities so as ensure that scientists receive the facilitation that they require. "Research is like a river which needs an outflow and the Ministry is here to provide that outflow," she said.
She advised the university to prioritise certain areas of research when it comes to grants instead of awarding small grants to different projects which only end up being a drop in the ocean. Dr. Musenero thanked the President for his continued support and belief in science and technology.
The minister advised that the prototypes be refined so that they are genderised to allow women to be able to operate the generator and water pump.
The Vice Chancellor, Prof. Barnabas Nawangwe, called on the minister to support the introduction of an innovation park in Makerere University, saying the park would be able to spinoff companies. Giving an example of Instabul University, the Vice Chancellor said the university has been able to produce 300 companies over the last one year, saying Makerere University should be supported to do the same.