Katikkiro Visits Main Building Site, Expresses Solidarity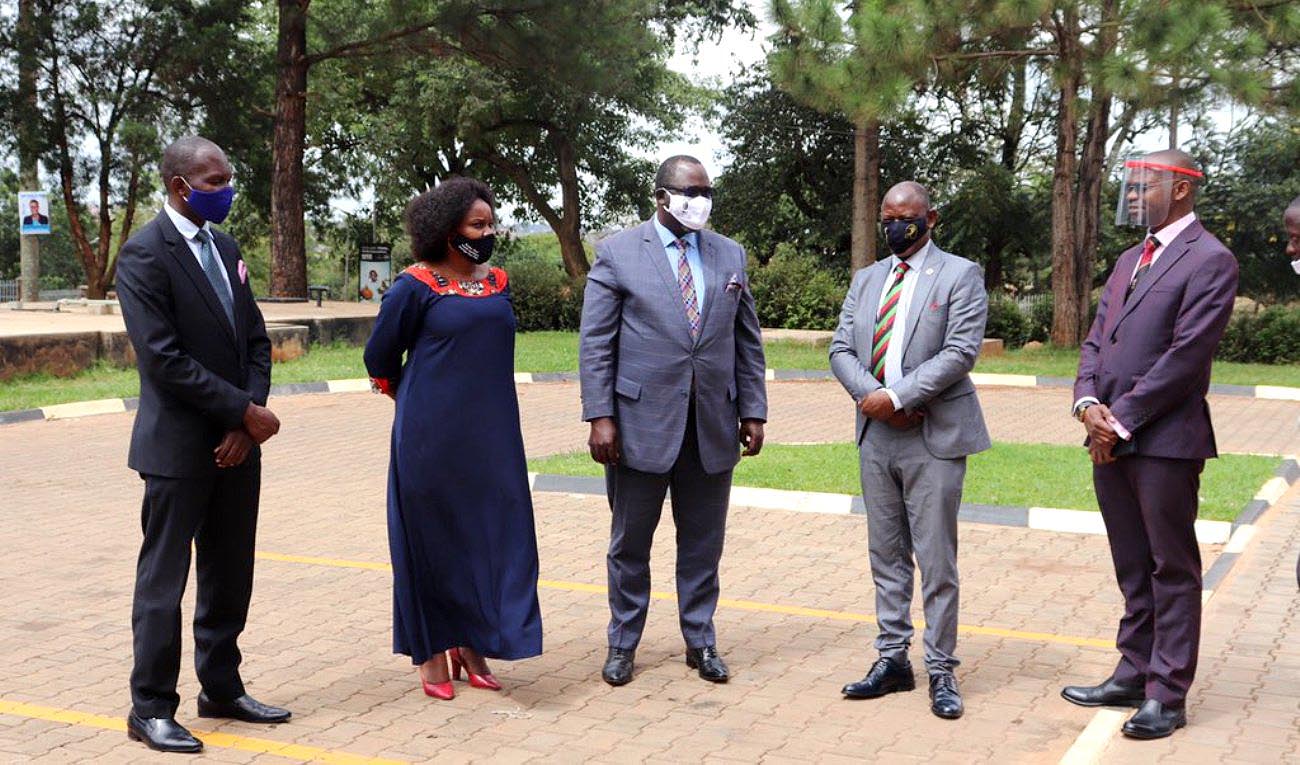 A delegation from Buganda Kingdom led by the Second Deputy Katikkiro and Minister for Finance and Economic Planning-Owek. Robert Waggwa Nsibirwa on Thursday 1st October, 2020 paid a courtesy call on the Vice Chancellor, Prof. Barnabas Nawangwe to express the Kingdom's solidarity and sympathies following the fire incident that ravaged the Main Building on 20th September 2020. The Deputy Katikkiro was accompanied by Buganda Minister for Youth, Sports and Recreation-Owek. Dr. Prosperous Nankindu Kavuma and Buganda Minister for Information, Cabinet, Lukiiko, Protocol and Kingdom Spokesperson-Owek. Noah Kiyimba. Also present to receive the delegation was the Deputy Vice Chancellor (Academic Affairs)-Dr. Umar Kakumba.
In his remarks, the Vice Chancellor welcomed and thanked the delegation for not only sending messages of support when they heard about the fire incident but also taking time visit Makerere University and express their solidarity. He noted that there has been an outpouring of messages of sympathy and support from alumni and friends of Makerere University from all over the world ever since the shocking news of the fire broke early on that Sunday morning.
This, he noted, was a reaffirmation that "Makerere is possibly the most international University in the world owing to two factors i) if we consider the number of Memoranda of Understanding signed with most major institutions in the world and ii) that our staff do research and publish with researchers and academics in other institutions around the world more than any other university."
Prof. Nawangwe shared that as a result of this support, a number of individuals and institutions have already sent in their contributions either to help restore the iconic Main Building or ensure business continuity for the affected departments. He informed the delegation that earlier in the day, the University Management had unveiled two bank accounts and an MTN MoMo Pay merchant code through which contributions to the restoration may be sent. The Vice Chancellor concluded by announcing that the official fundraising drive would be held at a later date.
In her brief remarks prior to inviting the Deputy Katikiro, Dr. Nankindu Kavuma shared that as an alumna and researcher who resided in Africa Hall and Quarry flats respectively, the news of the fire outbreak was both unbelievable and sad. She nevertheless reassured that the spirit of Buganda in donating the land on which the University was built is still alive and that the Kingdom remains committed to working with Makerere to nurture other Universities.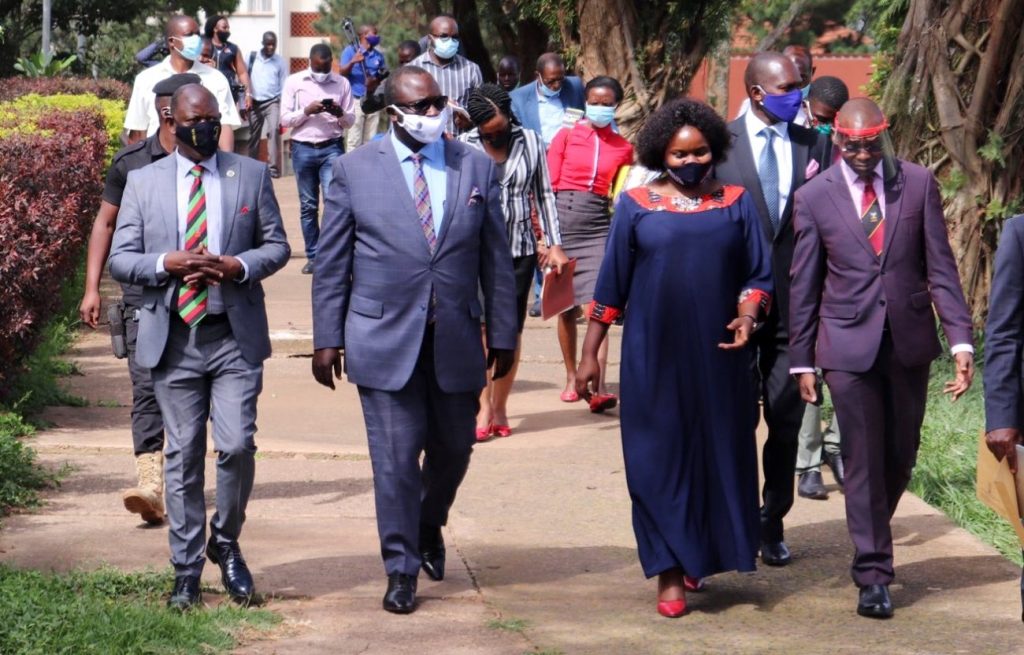 In his personal remarks prior to reading the Katikkiro's message, Owek. Waggwa Nsibirwa said Buganda Kingdom's contribution to Makerere has been well documented beyond the land donations in 1922 at the start of the Technical School and in 1949 when the institution became a College affiliated to the University College of London. He added that century-old collaboration between the two institutions can only grow stronger.
"Many of us serving in the Buganda Kingdom Government are alumni of Makerere University" remarked the Deputy Katikkiro before adding "I used to reside in University Hall while I did my Bachelor of Statistics and I returned for my second degree (Master of Arts) in Economic Policy and Planning."
He added that as members of alumni, they were personally touched when they saw that the iconic Ivory Tower had been gutted by fire. However, this only served to strengthen their resolve. "We shall rise again and have an even more iconic Main Building."
The Katikkiro's Message of Solidarity noted that the gutting of the Ivory Tower was one of the saddest occurrences in Makerere's 98 year old history and conveyed his personal and Kingdom's sympathies to the Vice Chancellor, academic and non-academic staff, students, alumni and Government of Uganda upon this most tragic incident.
"I trust that the government will support management to establish the cause of the fire, and more importantly, to restore the Ivory Tower to its original state and appearance" concluded Owek. Charles Peter Mayiga's message.
The delegation then proceeded to the Main Building site, where they somberly observed the gutted Ivory Tower before once again reassuring the Management of Buganda Kingdom's willingness to support efforts to restore the iconic Main Administration Building.
Article by Public Relations Office
Bachelor of Laws Government Sponsorship Admission List 2020/2021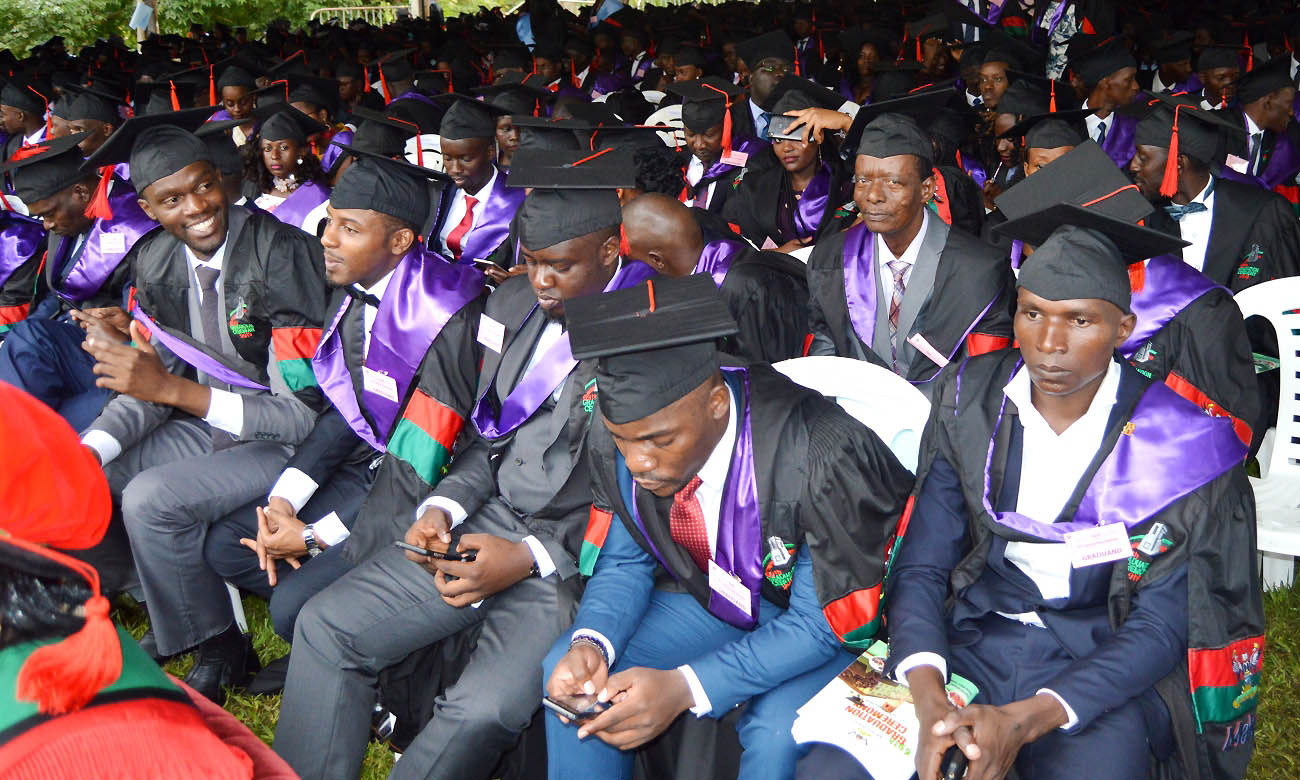 2021 DAAD In-Country In-Region Competitive Masters & PhD Scholarships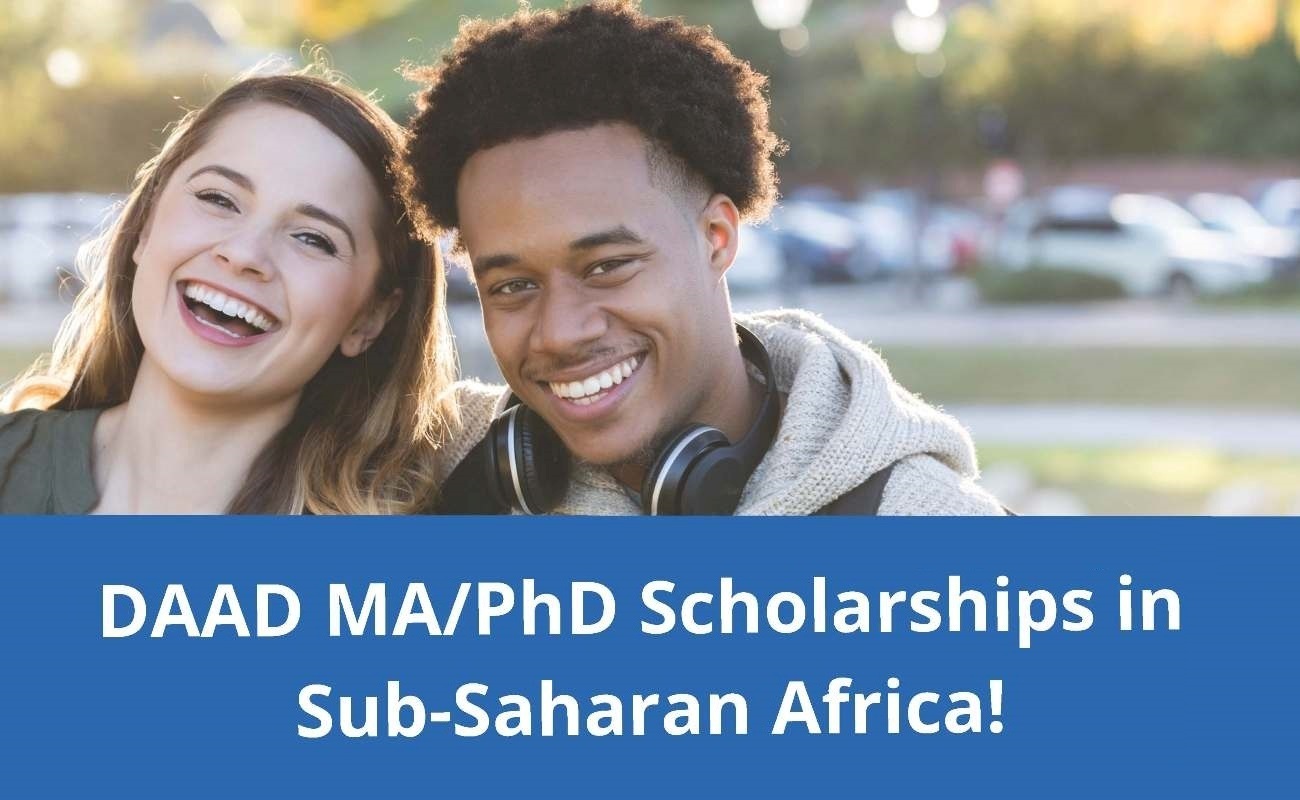 The German Academic Exchange Service (DAAD) in collaboration with Makerere University is offering up to 14 In-Country/In-Region Scholarships for PhD and Master studies at Makerere University for the intake 2021.
Application requirements:
Applicants must meet the following DAAD criteria:
have successfully completed generally a three-year Bachelor's university degree (Master candidates) or a two-year university Master's degree (doctoral candidates) with above average results (at least: Second Class/Upper Division)
clearly show motivation and strong commitment
have thorough knowledge of the language of instruction
have generally completed their last university degree not more than 6 years ago at the time of application
must be nationals or permanent residents of a Sub-Saharan African country
should generally be a) staff member of a public university, b) candidate considered for teaching or research staff recruitment, c) from the public sector and/or d) Alumni of the DAFI-programme
Female applicants and candidates from less privileged regions or groups are especially encouraged to participate in the programme.
Scholarships are initially granted for one year and can be extended to a maximum of the regular period of study upon receipt of an application for extension. Scholars must demonstrate satisfactory progress before an extension is granted.
Eligible fields:
The In-Country/In-Region Scholarship Programme supports studies in subject areas with strong relevance to national development.
The scholarships at Makerere University are available in the following fields:
PhD in Plant Breeding
Master in Environment and Natural Resource Management
Duration and commencement:
The duration
of the PhD programme is generally three years (regular period of studies) and is usually starting in September 2021
of the Master programme is generally two years (regular period of studies) and is usually starting in September 2021
Please note that the maximum duration of the scholarship is based on the time that is left until the scholarship holder has reached the regular period of studies in that programme; i.e., if you apply for a DAAD scholarship starting in your second year of studies of a three-year programme, the maximum duration of the scholarship will be two years.
DAAD will conduct interactive information sessions to guide prospective applicants on Thursday, 29 October, Tuesday 03 November and Thursday 05 November 2020 from 2:00 pm – 3:00 pm EAT. Please click the link below for details on the upcoming information sessions:
https://www.daad.org.za/en/about-us/online-info-sessions/
Please see Downloads for details
The application deadline is 15th December 2020.
Contact and advice
DAAD Contact Person:
Ms. Vivian Magero
Email: magero[at]daad.de
Makerere University Contact Persons:
Dr. Justine Namaalwa (Masters Programme)
Email: namaalwa.justine[at]gmail.com
Prof. Patrick Rubaihayo (PhD Programme)
Email: prubaihayo[at]gmail.com
The Jim Leech MCF Fellowship on Entrepreneurship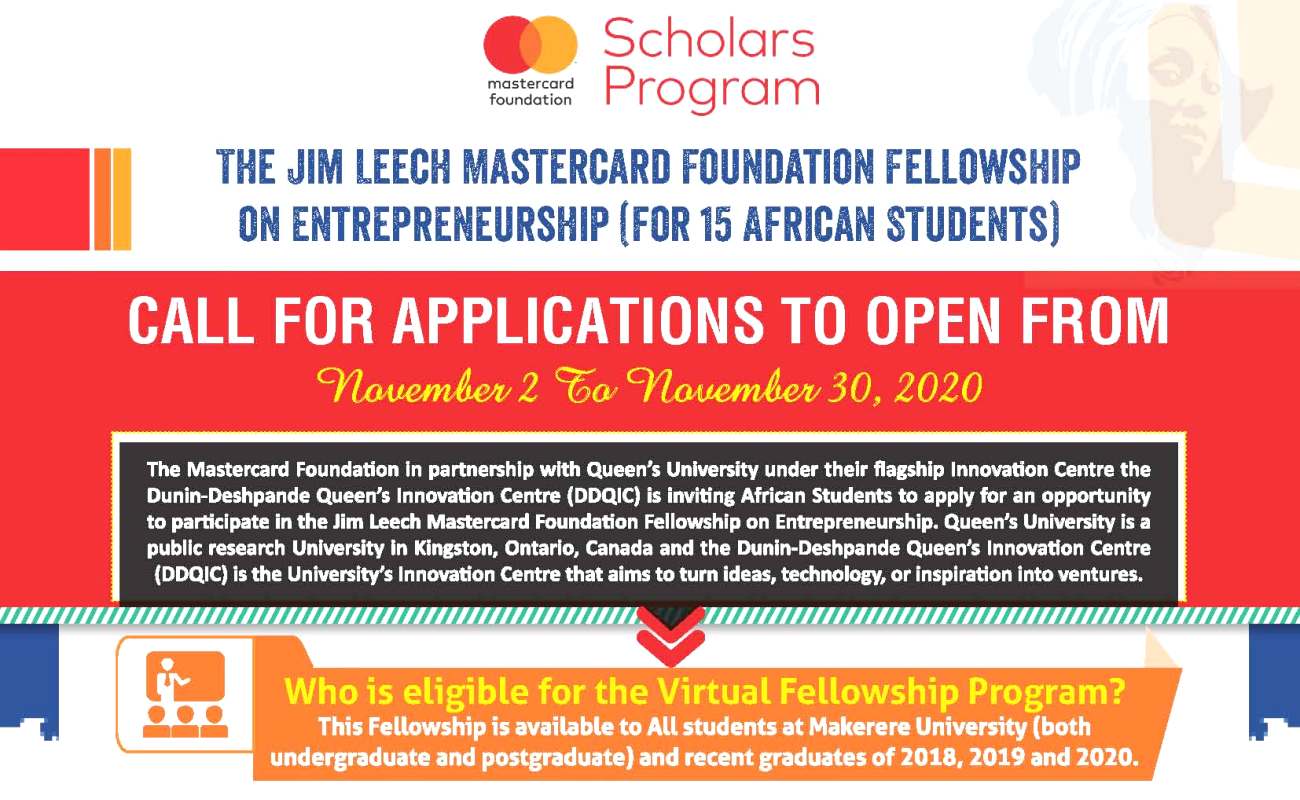 The Mastercard Foundation in partnership with Queen's University under their flagship Innovation Centre the Dunin-Deshpande Queen's Innovation Centre (DDQIC) is inviting African Students to apply for an opportunity to participate in the Jim Leech Mastercard Foundation Fellowship on Entrepreneurship. Queen's University is a public research University in Kingston, Ontario, Canada and the Dunin-Deshpande Queen's Innovation Centre (DDQIC) is the University's Innovation Centre that aims to turn ideas, technology, or inspiration into ventures.
Who is eligible for the Virtual Fellowship Program?
This Fellowship is available to All students at Makerere University (both undergraduate and postgraduate) and recent graduates of 2018, 2019 and 2020.
The Fellowship will be based at DDQIC. The Fellowship will be offered to at least 15 Fellows with 15 outstanding business ideas. They will benefit from the online version of DDQIC's "QyourVenture".
This Eight-month accelerator program provides:
Access to the Discipline Entrepreneurship Toolbox for five months. This is an online entrepreneurship training program with 24 steps developed by the Martin Trust Center for MIT Entrepreneurship.
Access to an incubation support for three months. The Fellows will be on boarded into a company creation process with access to mentorship and coaching from DDQIC's network. They will compete to win seed funding grants from DDQIC's network of investors.
Support to facilitate the Virtual Fellowship Program
Each Fellow will receive a $500 stipend. The stipend is to ensure the Fellows have access to digital devices as well as safe and secure internet access.
Call For Applications to open from November 2 to November 30, 2020
Contact Information
Bernard B. Buteera
Communications & Web Officer
Mastercard Foundation Scholars Program
Makerere University
Tel +256-772325028
Web: http://mcfsp.mak.ac.ug
Please see Downloads for detailed Advert