CAES Management unveils Pact to Foster Transformative Change
The Management team of the College of Agricultural and Environmental Sciences (CAES), Makerere University on 9th August 2022 unveiled a Pact aimed at causing transformation at the College. The Pact presented by the Principal, Prof. Gorettie Nabanoga at the College General Assembly held at the School of Food Technology, Nutrition and Bio-engineering Conference Hall intends to cause transformation in teaching and learning, research and innovation, as well as knowledge transfer partnerships.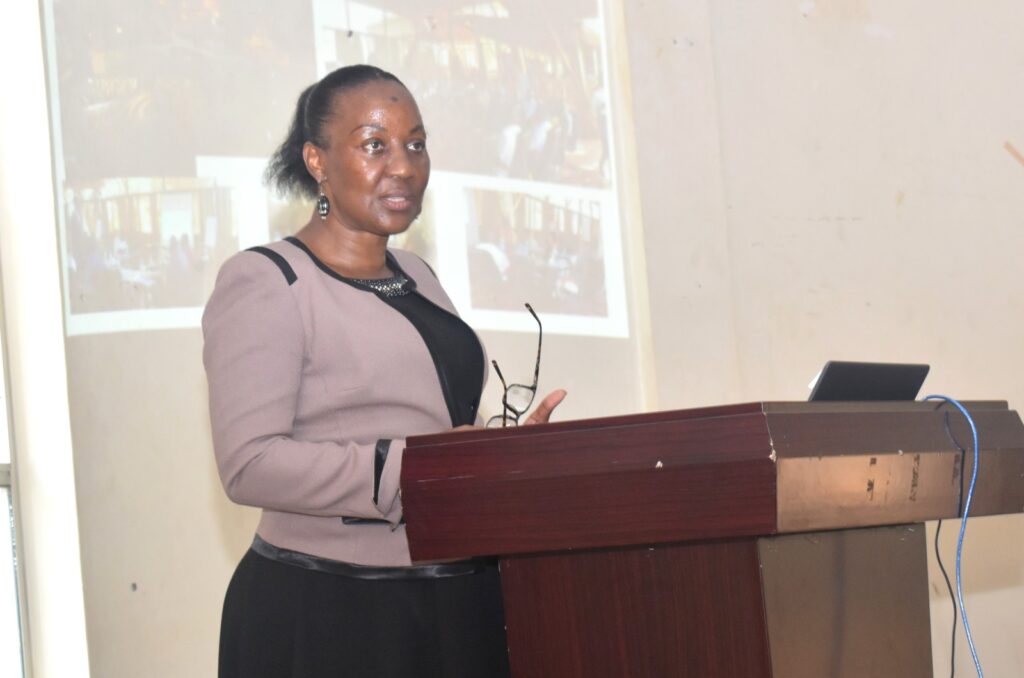 1. Prioritized actions to achieve the desired transformation in teaching and learning
a) Improving the quality of teaching and promoting practical-based training by; i) reviewing curricula to make it innovative and learner-centred; ii) retooling staff to deliver learner-centre curricula and to be more innovative; iii) lobbying for recruitment of technical staff; iv) budget prioritization for practical sessions; v) sensitizing staff on policies and regulations relevant to teaching and learning; vi) revitalizing practical training at MUARIK; vii) developing an in-house mechanism for monitoring teaching and learning; viii) improving training infrastructure; and ix) revitalizing external examination processes.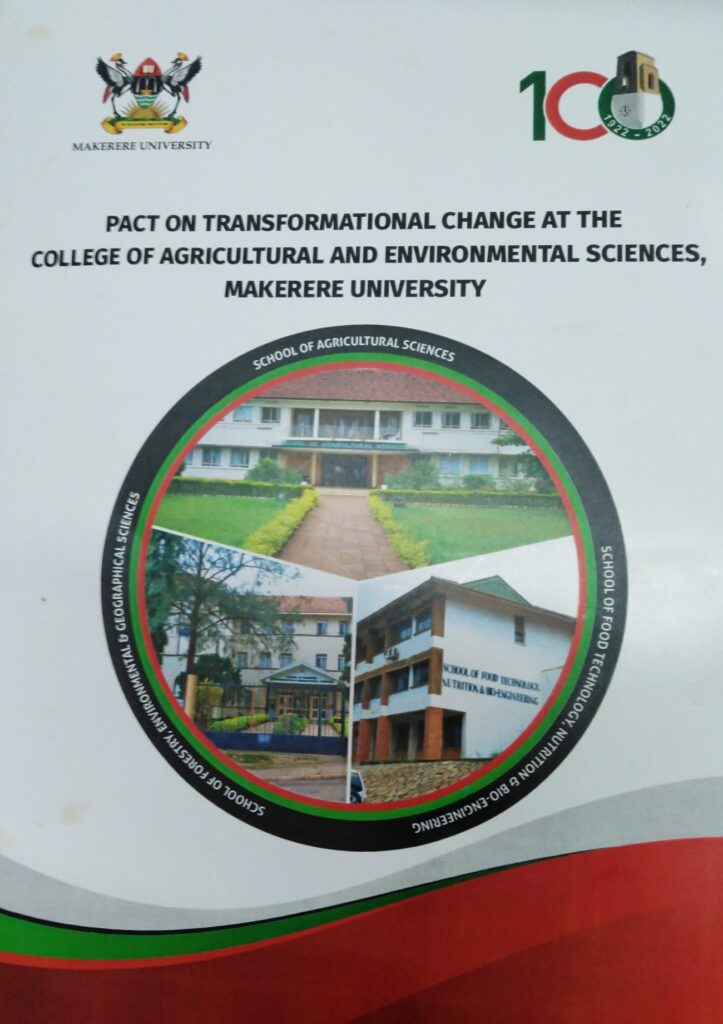 b) Improving completion rates of graduate students by; i) developing a graduate students' management system; ii) retooling staff on mentoring and supervision of students; and iii) incentivising internal examination.
c) Staff motivation to effectively perform their teaching mandate by; i) engaging them in team building sessions, ii) promoting empathizing and feedback sessions; iii) developing a reward system for exceptional performance; iv) promoting mentorship initiatives for staff; v) supporting staff in their professional growth; and vi) promoting a conducive work environment.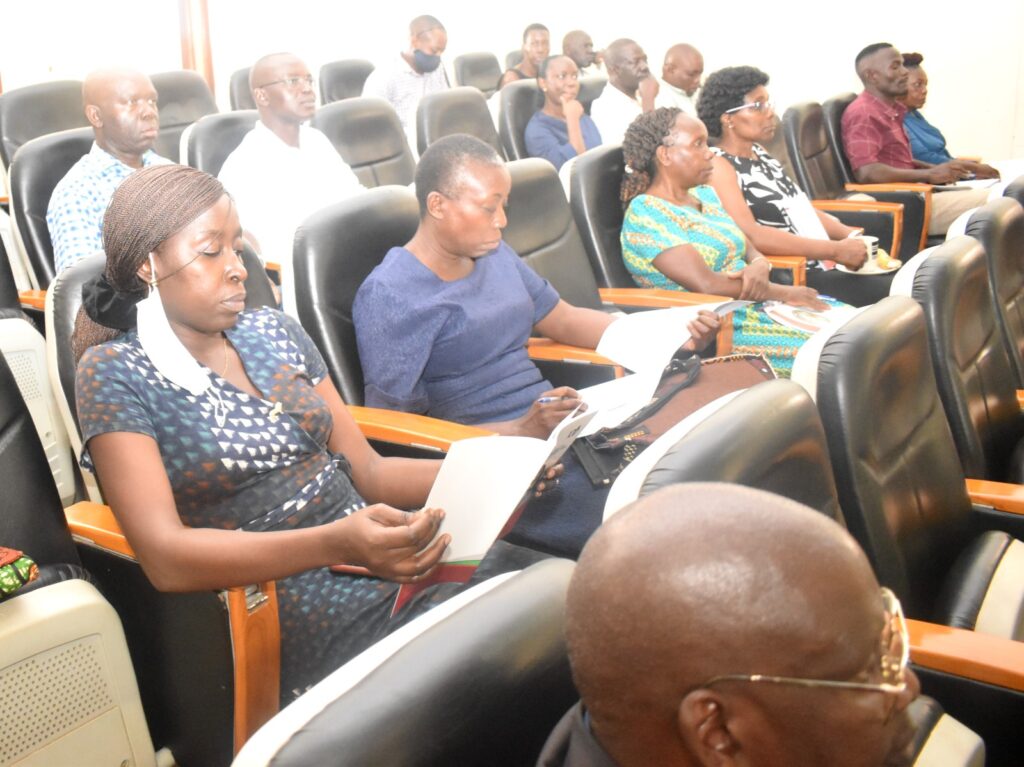 d) Improving infrastructure for teaching and learning by; i) regularly maintaining the existing equipment; ii) generating resources for refurbishing laboratories and practical training sites; iii) Furnishing staff offices; iv) sourcing funding for completion of on-going infrastructural projects; v) procuring relevant state of the art equipment and specialized software.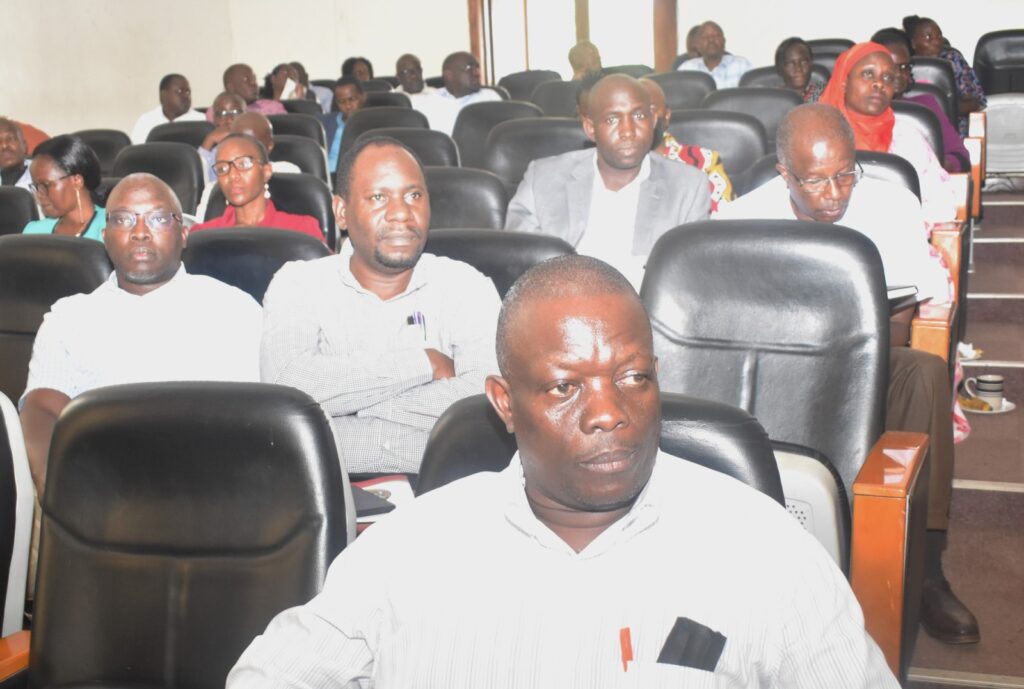 e) Improve staff and student support services by;i) improving sanitary facilities; ii) formulation of workplace policies on health and safety, grievance management, incentives and benefits management, fleet and fire management; iii) incentivizing administrative and support staff; iv) and instituting an effective and responsive communication and feedback mechanism for administrative and support staff.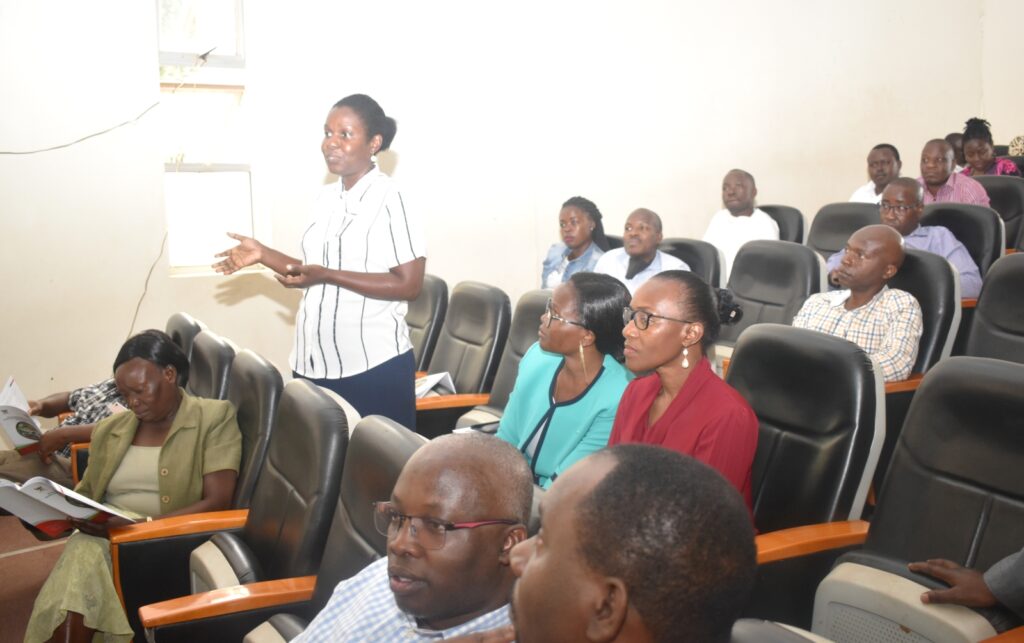 2. Prioritized actions to achieve the desired transformation in research and innovation
a) Innovative and demand driven research – strengthening multi and interdisciplinary research teams, operationalization of the college research and grants office and the Research and Ethics Committee, promotion of partnerships with MDAs and the private sector, creation of linkages with the existing innovation and incubation centres, and creation of innovation hubs for agricultural and environmental aspects.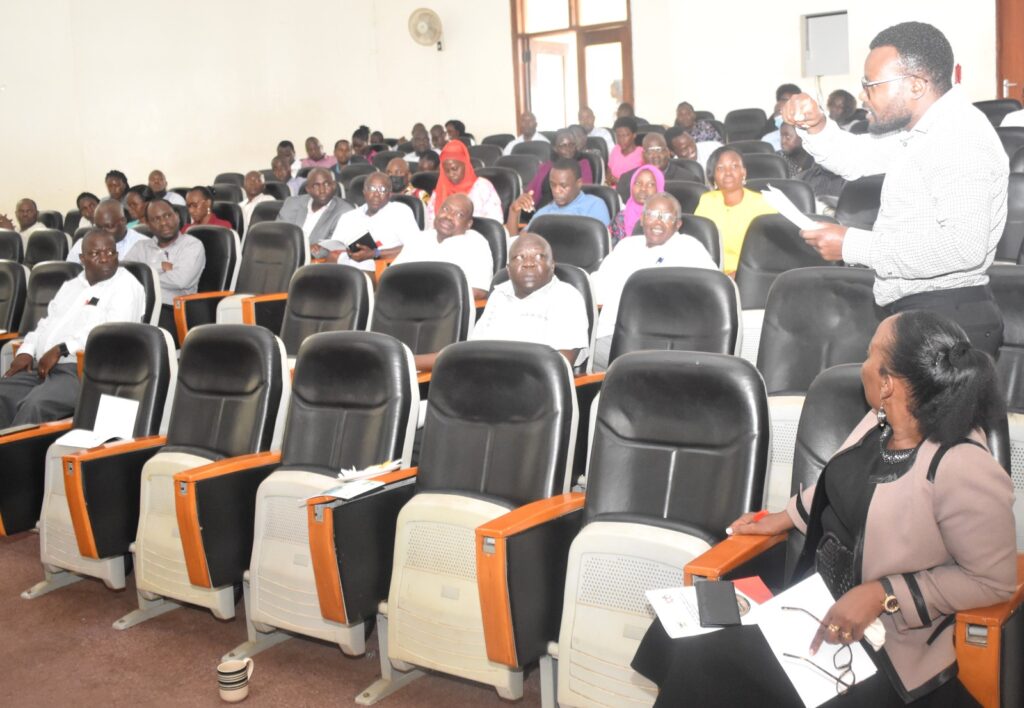 b) Equitable utilization of overheads – Developing guidelines to facilitate equitable distribution of project overheads, monitoring distribution of overheads, and providing grievance redress mechanisms.
c) Efficiency in procurement – sensitizing staff on procurement policies, supporting staff to prepare procurement plans, and conduct regular performance review of suppliers.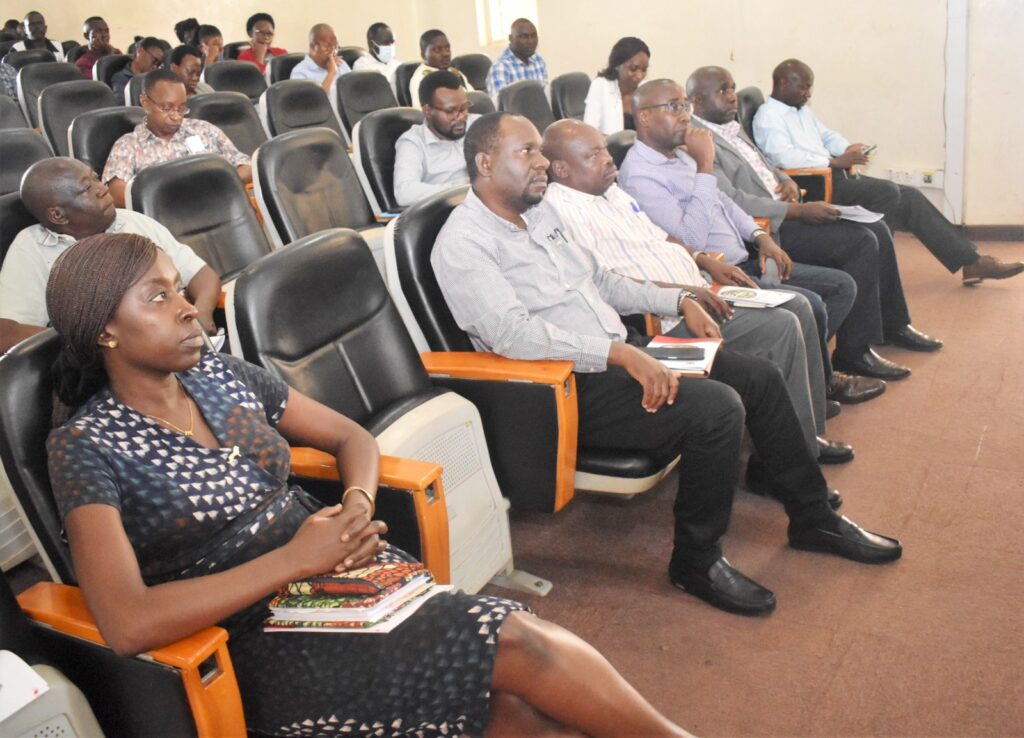 d) Improve supervision and examination of graduate research – Pilot and scale-up the graduate supervision tracking tool, operationalize graduate students' almanac, retool staff on efficient supervision practices, raise awareness on the existing supervision guidelines, and incentivize supervision of graduate students.
3. Prioritized actions to achieve the desired transformation in knowledge transfer partnerships
a) Dissemination of research and innovations in popular versions;
b) Improve college-industry partnerships;
c) Establish and support innovation and incubation centres; and
d) Make CAES a one-stop centre for information and resources in agriculture and environment.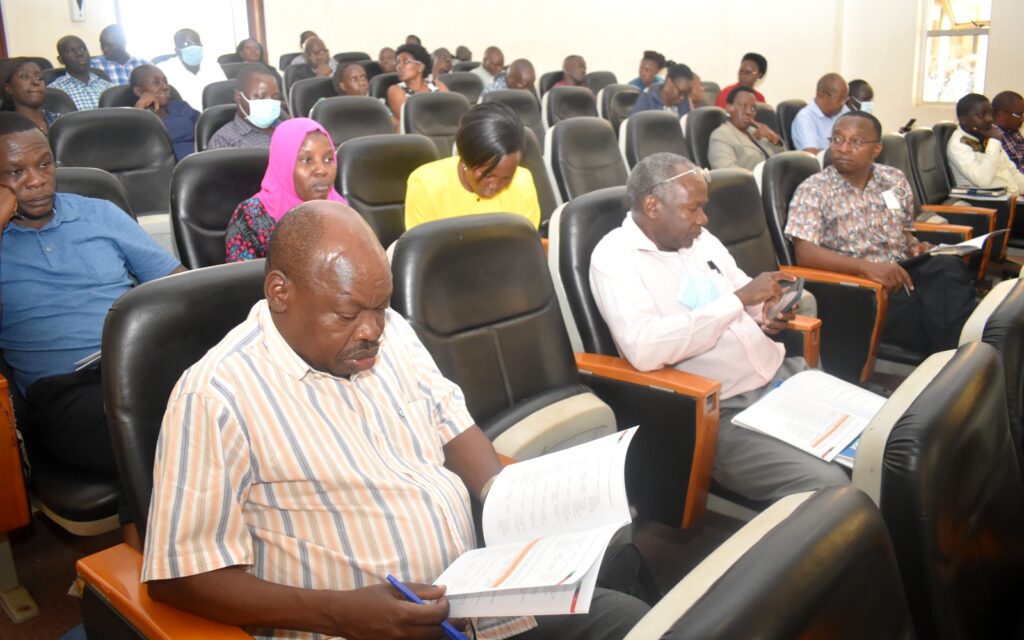 Proposals by staff
Staff welcomed the Pact and called for immediate implementation of some of the priority actions. They called for the establishment of a technology transfer desk and research coordination office in terms of Intellectual Property. They noted that patenting college innovations and recruitment of staff should be given priority. Other proposals included setting up an emergency fund to respond to natural calamities, strengthening internationalization, positioning the college to contribute to matters of national importance, involving alumni in the activities of the college, promoting experiential learning, introducing a deliberate policy on recruitment of young staff, creating linkages with policy makers, promoting mentorship teams, and fostering mind-set change among staff and students.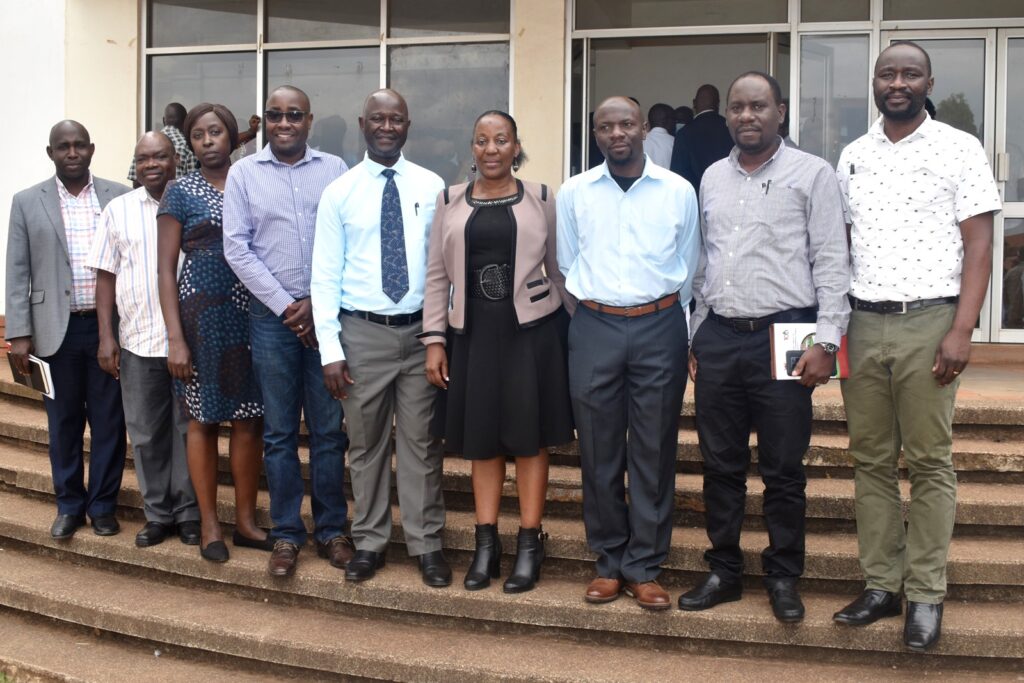 Stakeholders to work with Academia to strengthen Education & Research in Biodiversity Conservation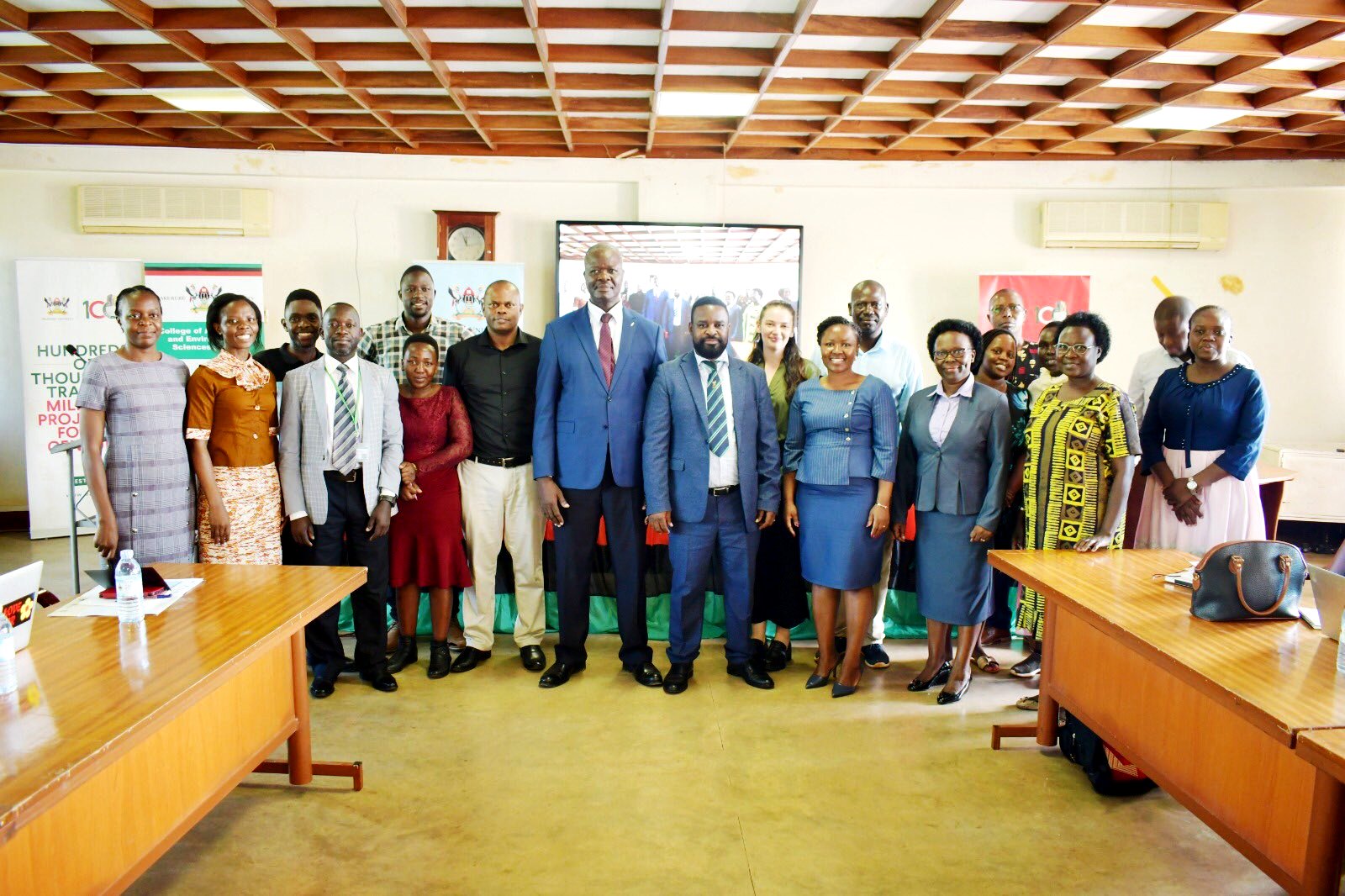 On 16th November 2023, national and international stakeholders participated in the kick off workshop hosted at Makerere University to further consolidate various schools of thought aimed at producing a holistic and relevant graduate student equipped with practical skills, research and problem solving abilities aligned to Sustainable Development Goals.
The blended kick off workshop, which brought on board the academia, researchers, private sector, civil society, business community and graduate students set the pace for the implementation of the Sustainable Development Goals (SDG) Partnership Project titled: Strengthening Education and Research Capacity for Enhancing Biodiversity Conservation and Sustainable Natural Resources Use."
Expected to benefit over 350 graduate students and 20 members of staff, the SDG Partnership project that will be implemented by Makerere University (Mak) through the College of Agricultural and Environmental Sciences (CAES) in collaboration with Rhine-Waal University of Applied Sciences (HSRW), and Central University of Technology (CUT) is funded by the German Academic Exchange Service (DAAD).
Welcoming the stakeholders to the kick off workshop, the research project team represented by Prof. John Tabuti from Makerere University and Ms Nele Vahrenhorst from Rhine Waal University of Applied Sciences highlighted that the project seeks to contribute to the following SDGs: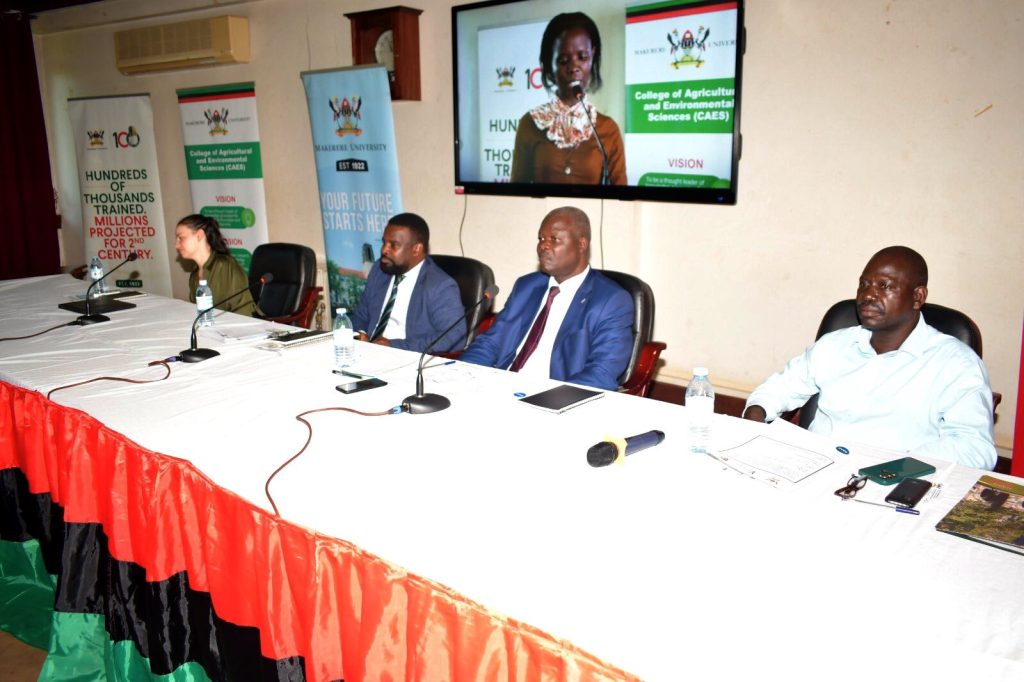 Poverty Eradication (SDG 1), Zero Hunger (SDG 2), Quality Education (SDG 4), Economic Growth (SDG 8), promoting sustainable consumption and production through developing business opportunities in natural resources use (SDG 12), Climate action through better management technologies and protection on natural resources and ecosystems reducing carbon emissions (SDG 13), as well as protect, restore and promote sustainable use of terrestrial ecosystems, sustainably managed forests, combat desertification and halt reverse land degradation and halt bio diversity loss (SDG 15).
Prof. Tabuti stated that the mode of delivery will prioritise the student using an approach referred to as 'Student-centred learning."
The main objective of the project is to enhance SDG research and teaching through a strong North-South-South partnership between HSRW, Mak, and CUT, so as to prepare graduate students for the societal challenges ahead, and the requirements of the job market. The SDG project partnership will ensure that university graduates are highly equipped with the necessary competencies to develop appropriate resource management responses, and implement optimum biodiversity conservation strategies as well as dealing with dynamic and complex business problems. The project will address the issue of environmental degradation hence poverty reduction, food insecurity, natural resource depletion, and climate change.
The project will focus on mainly Uganda, being the most bio-diverse country in Sub-Saharan Africa, with over 70% of its population relying on agriculture and use of natural resources. In addition, the loss of substantial parts of the natural habitat used in infrastructure development and extension is a major issue of concern. The research project states the urgent need to encourage the youths and students to foster their passion for SDGs premised on the rapid population growth in Uganda, with 50% of the population being under 16 years old.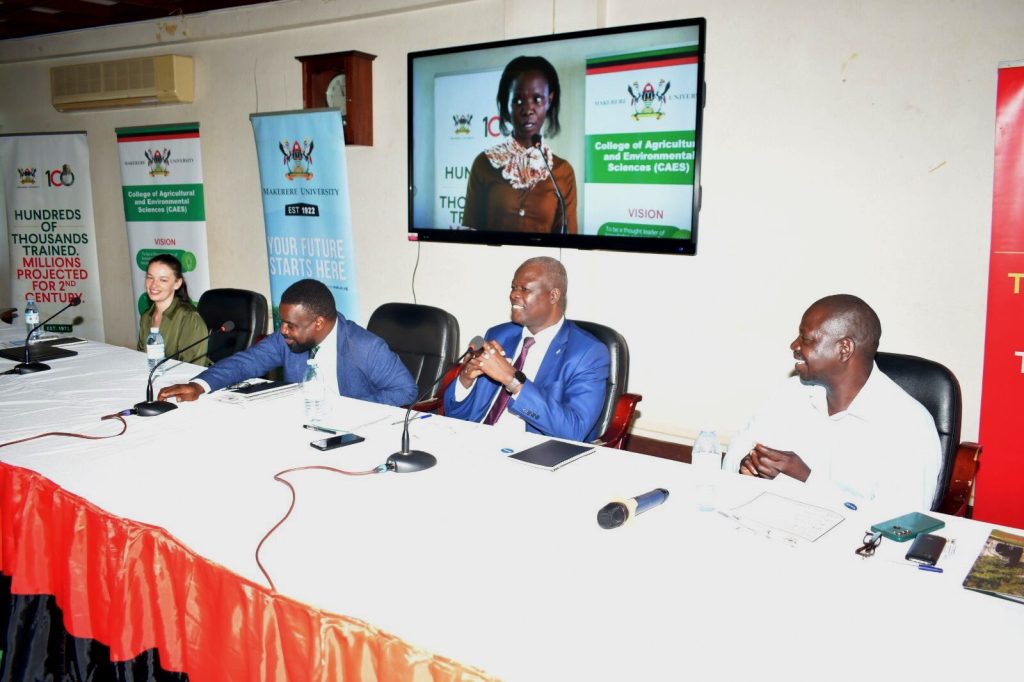 Officially opening the kick off workshop for the SDG partnership project, the Vice Chancellor of Makerere University, Prof. Barnabas Nawangwe, represented by Associate Prof. Robert Wamala from the Directorate of Research and Graduate Training commended the physical and online participants for accepting to engage in this highly interactive workshop. He further underscored the need to conduct research aligned to the SDGs, national development goals, and global challenges.
The Vice Chancellor pointed out that biodiversity, despite sustaining the planet, faces unprecedented challenges including: Climate change, habitat loss, pollution, and unsustainable resource use. He highlighted education and research as the most formidable tools in addressing these challenges. He noted the role played by Makerere University through its 5-year Strategic Plan that aligns with the National Development Plan III (2020/21-2024/25), by contributing to our transformation into a "research-led" institution with a multi-faceted research agenda and enhanced engagement with industry players.
Associate Professor Robert Wamala concluded by informing the audience that DAAD has been instrumental in his career growth, having sponsored both his Masters' and PhD studies. Currently serving as Deputy Director (Research Innovations and Partnerships) at Makerere University, he applauded DAAD for supporting research and capacity building programmes at Makerere University.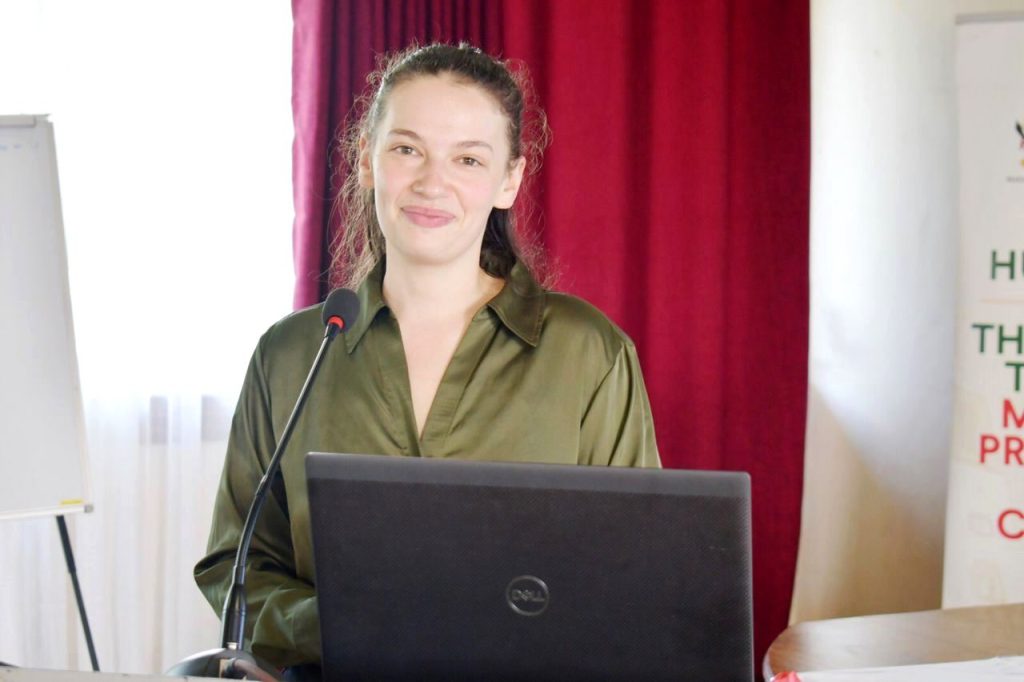 According to the Acting Head, Department of Environmental Management at Makerere University, Associate Professor Vincent Muwanika, the project will support practical training of students on problem identification, and staff in identifying and publishing local cases that are key in enhancing growth, not only at Makerere University but also in the private sector.
Associate Prof. Muwanika observed that the project's alignment with SDG 15 will be guided by and greatly benefit from partnerships. He noted that partnerships are key in enabling us share and cross fertilize academic ideas and experiences, a feat that has kept Makerere University among top-tier research institutions.
Highlighting the importance of policies in churning out relevant products, Associate Prof. Muwanika commended the Vice Chancellor of Makerere University-Prof. Barnabas Nawangwe for spearheading and overseeing policies and programmes that recognize, incentivize, and promote partnerships with industry, people and institutions outside Makerere University.
To further onboard the stakeholders, the project team leads namely Prof. John Tabuti and Ms Nele Vahrenhorst specified that the main activities of the project would include: improving the teaching material on courses that assemble natural resources for use, socio-ecological issues, data analysis, genetics, entrepreneurship, and sustainable tourism. The project will focus on capacity building of teaching and research staff on various methods, develop case studies on sustainable natural resources use, develop networks with non-academic actors, enhance student mobility to strengthen international perspectives, as well as promote inter-country inter-disciplinary learning exchange, incorporate higher education management, internationalization, digitalization as well as monitoring and evaluation.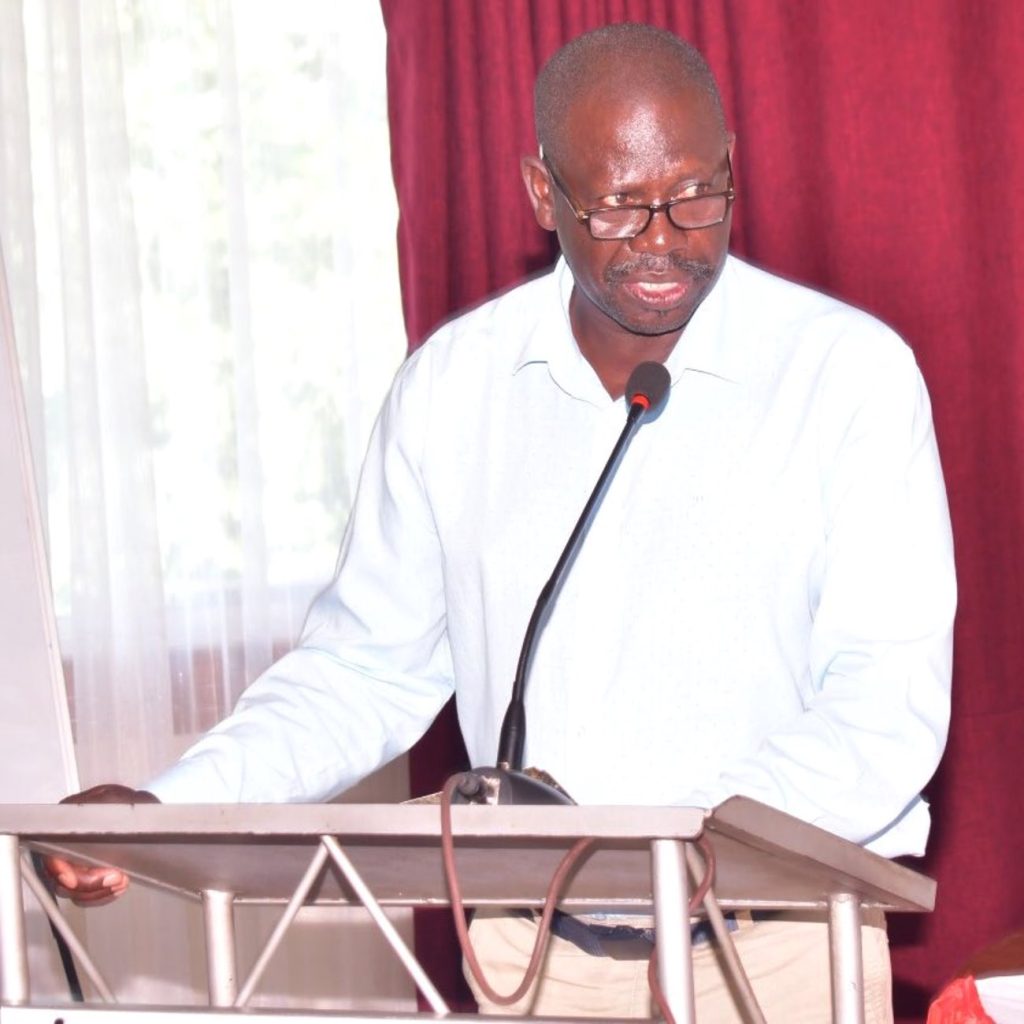 Prof. Tabuti advocated for a strong stakeholder engagement for content development, research undertakings and case studies. "We have brought you on board because you are key people in the field. You are going to play an instrumental role in the development of case studies. Stakeholders will work with the academic staff to develop the content and teach our students," said Prof. Tabuti.
In a highly interactive session involving a plenary and group sessions, the stakeholders contributed to the discussion on their needs and expectations regarding the graduate competencies and skills in biodiversity conservation and sustainable natural resources.
Matters arising from the stakeholder workshop:
With regard to the kind of graduates' employers would wish to have, participants presented a number of qualities including: good communication skills, practical orientation, humility, openness to diversity, readiness to learn and unlearn, ability to adopt to work ethics, problem solving skills, articulateness, confidence with ability to collaborate, design thinking mindset, and innovativeness.
In response to a question on how the partnership with stakeholders to support teaching and research shall be made possible, the participants presented proposals including: Identification of case studies linking to the lecture to be delivered, identification of key stakeholders, stakeholder engagement, identification of valid course content, design access and agreement on methodological approach to be used during the teaching and learning process, compilation of issues to be addressed before they are presented, design of a working document that can guide who does what, coming up with a team to develop a framework for developing the curricular.
Responses to a question on how partners can collaborate in development of case studies included: contribution of knowledge to case study development, establishment of linkages with the community, identification of research gaps, sharing of available resources in public domain, documentation of intellectual property rights, collaboration in teaching and training of students, provision of internship opportunities, giving notifications for advance preparation.
During the presentations, stakeholders indicated the readiness to partner with Makerere University to contribute to the development of case studies and content production for lectures and community outreach.
Closing the kick off workshop, Prof. Tabuti conveyed his gratitude to Makerere University management for supporting the project. He acknowledged Ms Ritah Namisango, the Principal Public Relations Officer of Makerere University for moderating the workshop. He thanked Dr. Dorothy Nampanziira, Ms Ritah Namisango, Ms Aziidah Namatovu and Dr. Godfrey Mayende for the excellent coordination of activities leading to the successful hosting of the workshop. He also thanked the physical and online participants for actively contributing to the stakeholders' workshop.
Dr. Bernard Obaa Appointed Ag. Head, CAES Department of Extension & Innovation Studies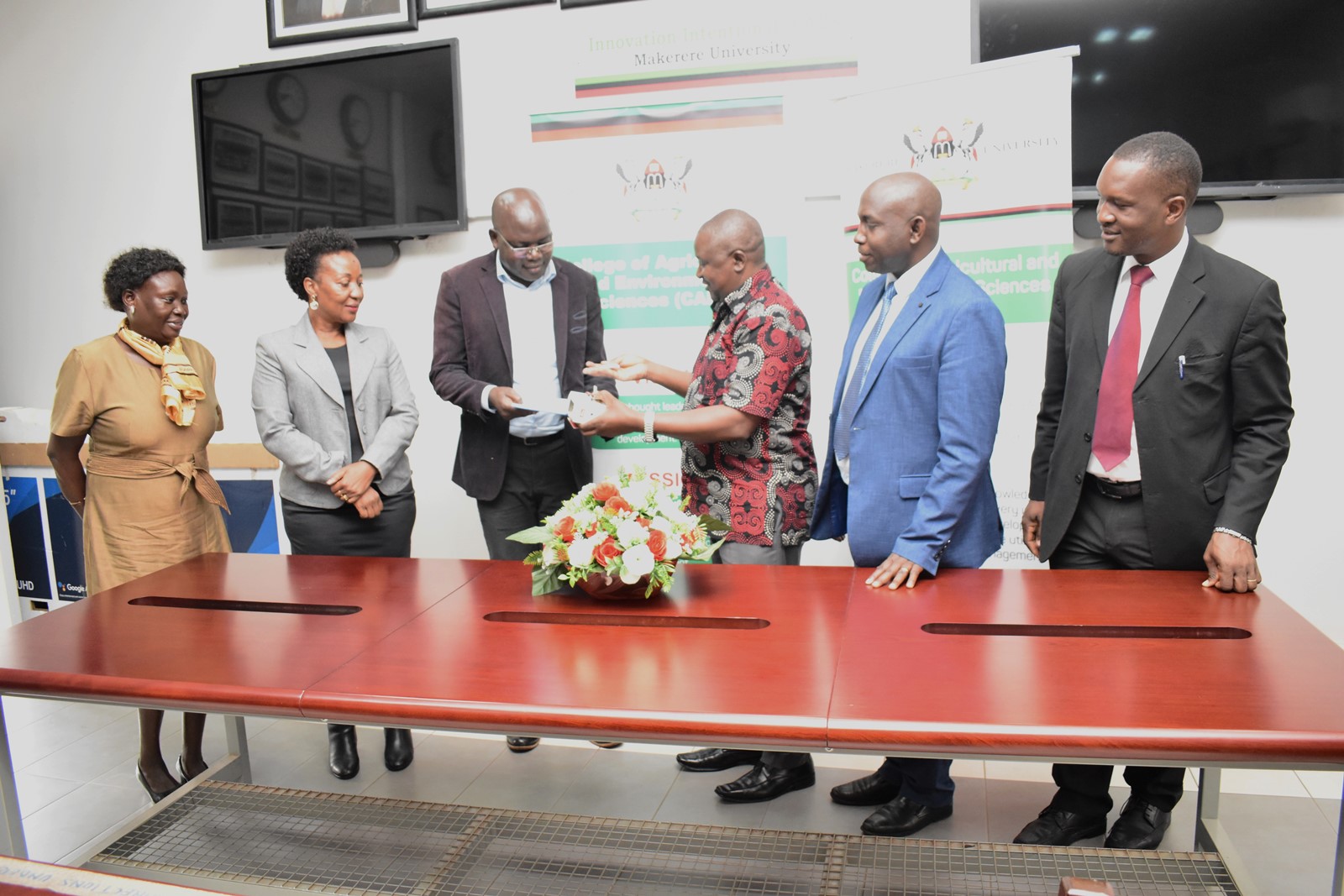 Makerere University Council has appointed Dr Bernard Obaa Acting Head, Department of Extension and Innovation Studies, College of Agricultural and Environmental Sciences (CAES). Dr Obaa takes on from Prof. Nelson Turyahabwe who has held the position for the last four years starting 2nd November 2019. Dr. Obaa is a Senior Lecturer in the Department of Extension and Innovation Studies at CAES. He holds a PhD in Rural Sociology (Food systems, Agriculture and Environment and Social Change and Development) from Iowa State University, USA, and an MSc in Agricultural Extension and Education from Makerere University.
During the official handover ceremony held on 13th November 2023 at CAES, the Principal, Prof. Gorettie Nabanoga appreciated the outgoing Head for his contribution. She congratulated the new Head and implored him to further strengthen the Department in line with the new strategic direction intended to transform Makerere into a research-led University, with more innovations to foster the country's development.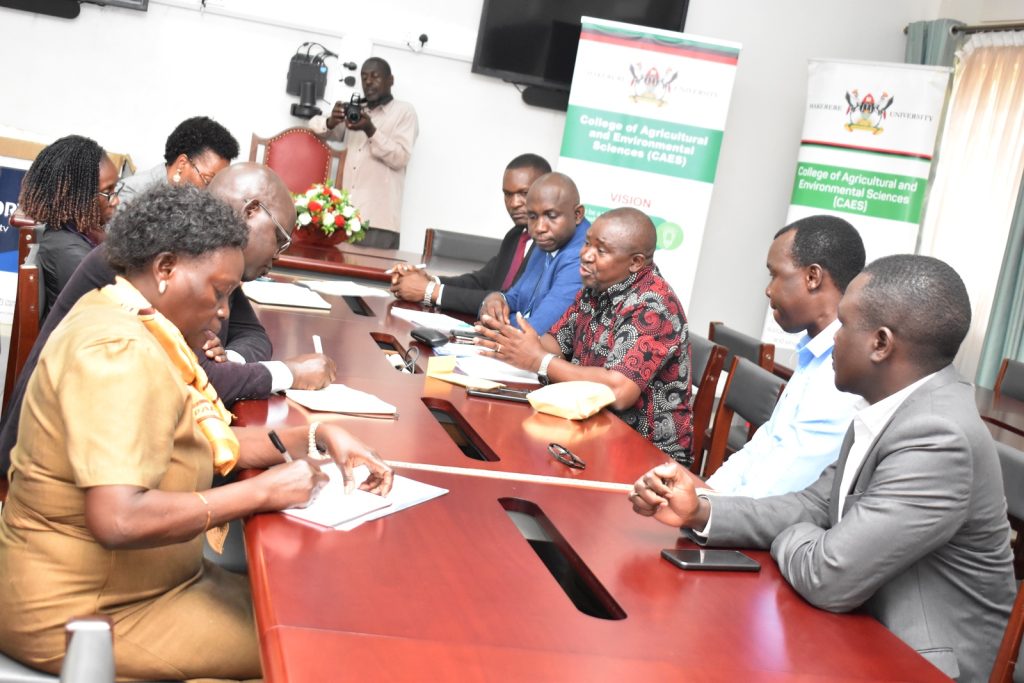 In Prof. Turyahabwe's four-year term of office, the Department of Extension and Innovation Studies has continuously registered improvement in the performance of students on the Bachelor of Agricultural and Rural Innovations programme. There has also been increased enrolment of students into the Masters of Science in Agricultural and Extension Education and PhD in Agricultural and Rural Innovations (PARI). Other achievements include; improvement in the completion rate of PARI students with the highest number of PhD students at CAES being from PARI. The Department has also reviewed curriculum for several programmes to meet the requirements of the Uganda National Council for Higher Education and Makerere University.  These include; the Master of Science in Agricultural Extension and Education that has been renamed Master of Science in Agricultural Extension and Rural Innovation and approved by Senate. Both the Bachelor of Agriculture and Rural Innovation (Internal- BARI) and the Bachelor of Agriculture and Rural Innovation (External – BAXI) were reviewed and renamed Bachelor of Agricultural Extension and Rural Innovation.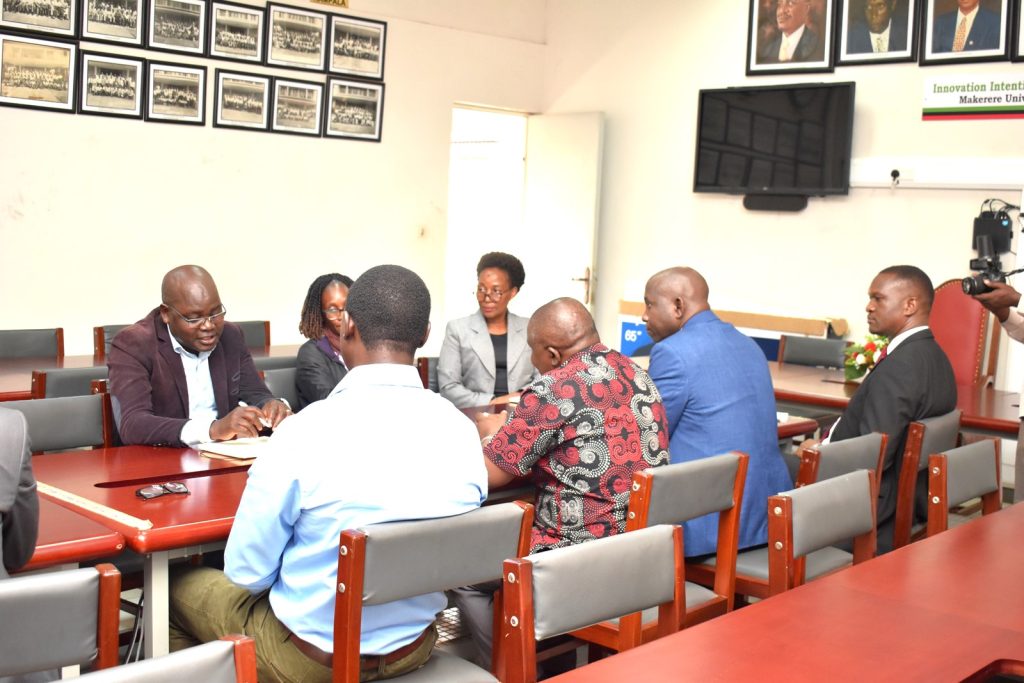 The Department staff have won several research grants namely: Enhancing the Capacity of Faculty and Students on the Bachelor of Agricultural and Rural Innovation, External Degree Programme for E-Learning at Makerere University; the CAES Innovation Scholars Programme run in collaboration with Michigan State University's (MSU) Borlaug Higher Education for Agriculture Research and Development (BHEARD) with support from MSU's Global Centre for Food Systems Innovation. Other projects include; Diversity and Inclusion in Leadership Training between Makerere University and MSU's African Studies Centre and Michigan Fellows Agribusiness Initiative (MFAI), supported by the Alliance African Partnership (AAP); and SECA (2019-2021) with support from Carnegie Cooperation of New York titled – Strengthening academic supervision and mentorship for enhanced completion rates of graduate students in the Department of Extension and Innovation Studies. There is also an ongoing project – Enhancing the Capacity of the Department of Extension and Innovation Studies to Facilitate E-learning and research through installation of the state of the art video conferencing system- Under consolidating Early Career Academic Programme (CECAP) at Makerere University. It is supported by Carnegie Cooperation of New York.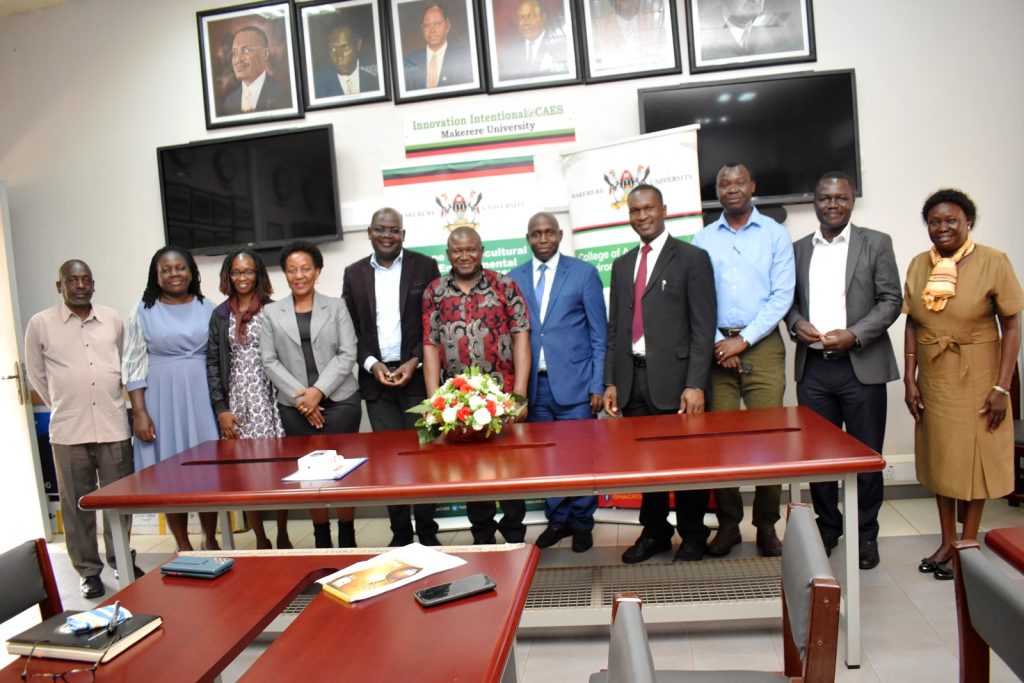 In his remarks, the outgoing Head, Prof. Nelson Turyahabwe appreciated the College leadership and staff, as well as programme coordinators for the support extended to him during his term of office. He also appreciated the incoming Head, Dr Bernard Obaa for accepting to take on the leadership of the Department, and pledged continued support to further strengthen the Department. Similarly, Dr Obaa appreciated Prof. Turyahabwe for his outstanding contribution towards the development of the Department and committed to build on the achievements registered thus far.
The handover ceremony was witnessed by the Dean, School of Agricultural Sciences, Dr John Baptist Tumuhairwe; the College Human Resource Office, Ms. Hawa Harriet; the representative from the Directorate of Internal Audit,   Mr. Aggrey Luwuliza; and members of staff form the Department.
CAES Launches Graduate Management System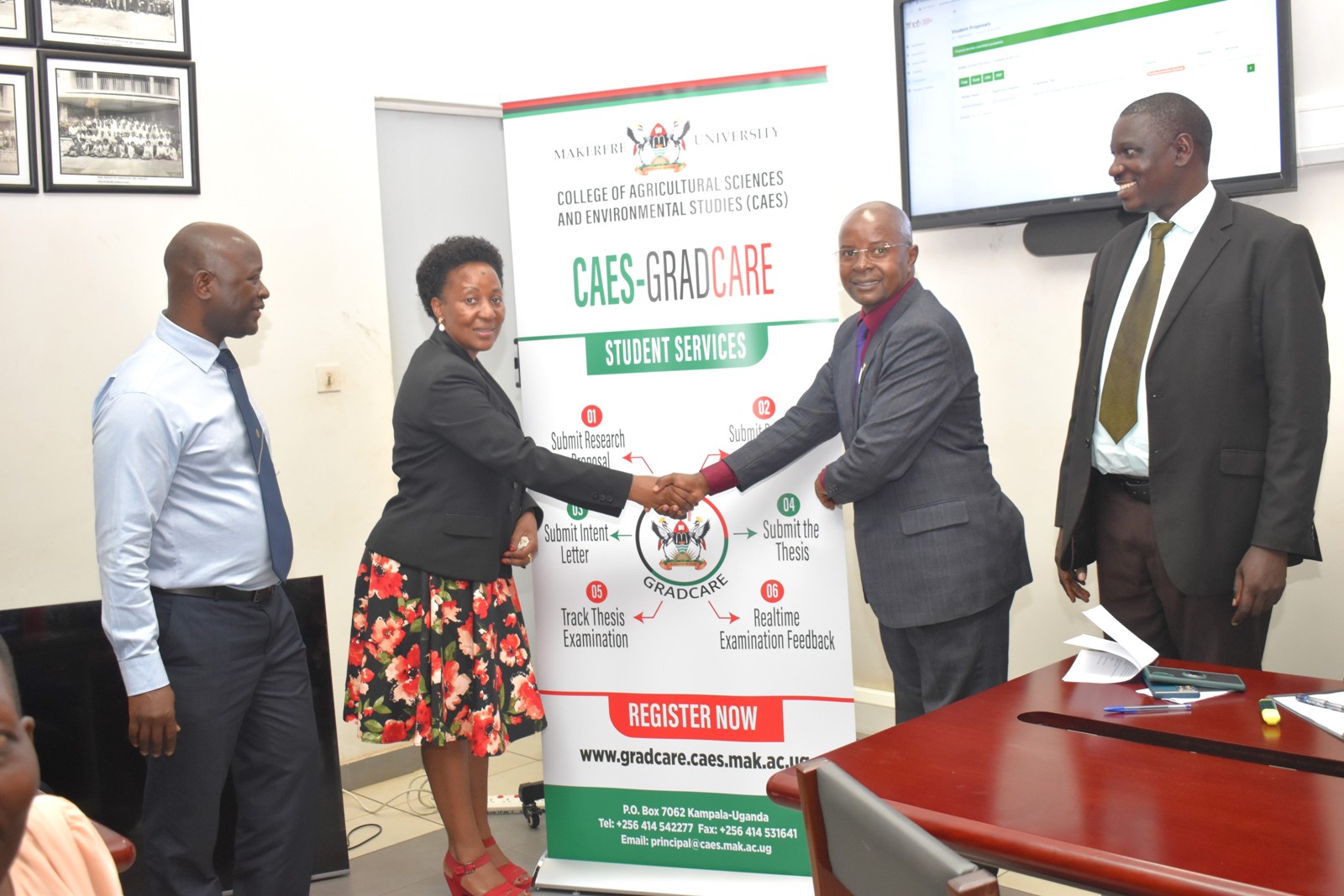 The CAES GRADCARE Management System is envisaged to enhance efficiency in the graduate production process, and to improve the completion rate in the stipulated time to 70%.
The CAES GRADCARE Management System
The College of Agricultural and Environmental Sciences (CAES) has developed an online system to enhance efficiency of graduate management processes. The CAES GRADCARE Management System (http://gradcare.caes.mak.ac.ug/) was developed by a team of experts from the Directorate for ICT Support (DICTS), Makerere University led by Mr. Joshua Muhumuza and Mr. Arthur Opio. The system will enhance efficiency by creating a seamless workflow that improves supervision, reduces the lead time and costs for thesis examination, and yields meaningful data for decision making and a repository for graduate research. By doing so, CAES will unclog the production pipeline of graduate students and firmly contribute to the research-led agenda as stipulated in the 2020-2030 Strategic Plan of Makerere University.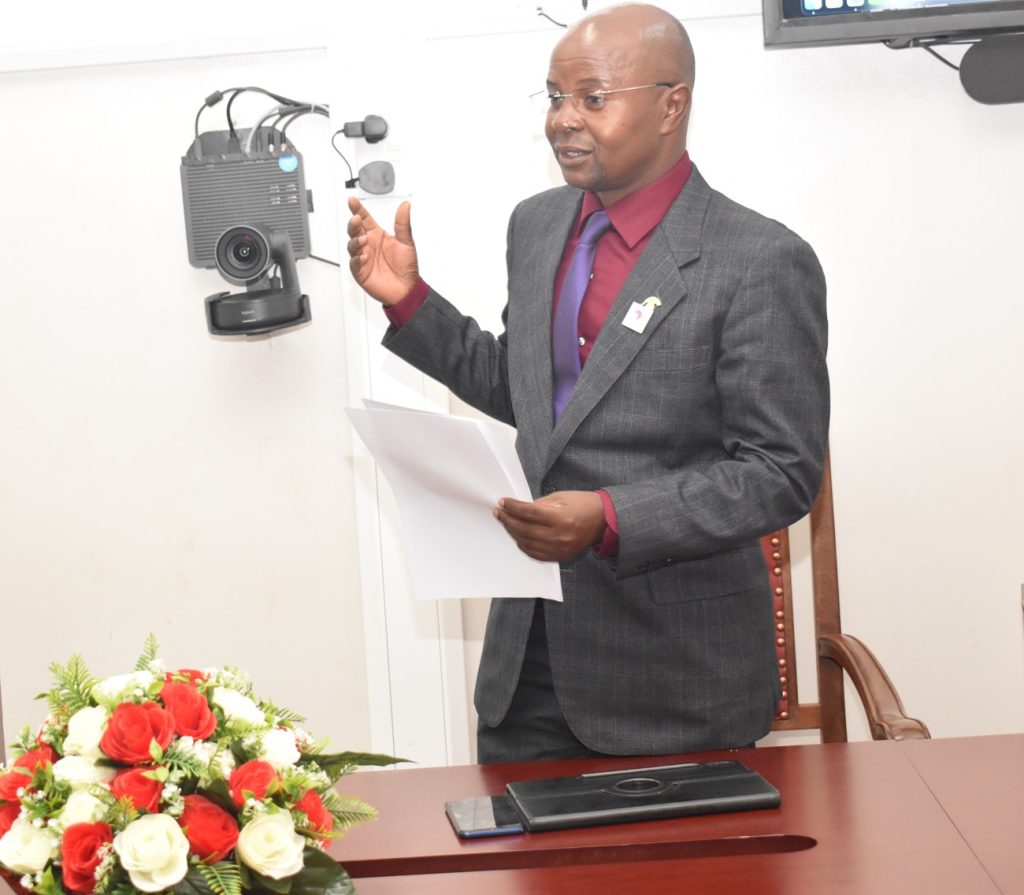 Official launch
The CAES GRADCARE Management System was officially launched by Makerere University Deputy Vice Chancellor in charge of Academic Affairs (DVCAA) represented the Director, Directorate of Research and Graduate Training (DRGT), Prof. Edward Bbaale at the College premises on 17th October 2023.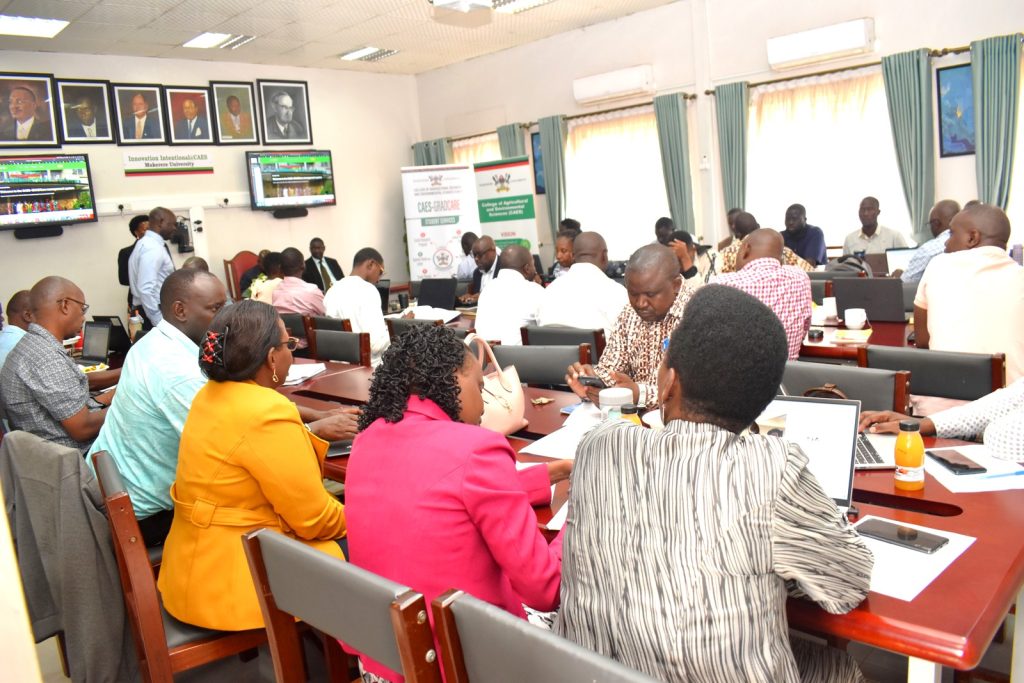 In his remarks, the DVCAA commended the CAES Management for the initiative. He described CAES GRADCARE as a remarkable management system for graduate studies that will support and streamline the path to timely completion. "This system represents a significant leap forward in unlocking the potential of graduate training at Makerere University. With CAES-GRADCARE, we now have the ability to monitor the progress of our graduate students seamlessly, from supervision and thesis submission to examination. This is a commendable achievement that will eliminate the complexities of paper-based reporting and enhance the efficiency of our graduate training processes. It is also a significant step forward in our quest to become a research-led and innovation-driven institution." The DVCAA further noted that the System will aid the postgraduate department in planning their educational activities and facilitate improved data exchange between administrators and students. "To maximize utility of this system, it is essential to establish links with other existing systems, such as RIMS by DRGT and ACMIS for the academic registrar's department. These linkages will ensure that information flows smoothly, eliminating conflicts or discrepancies."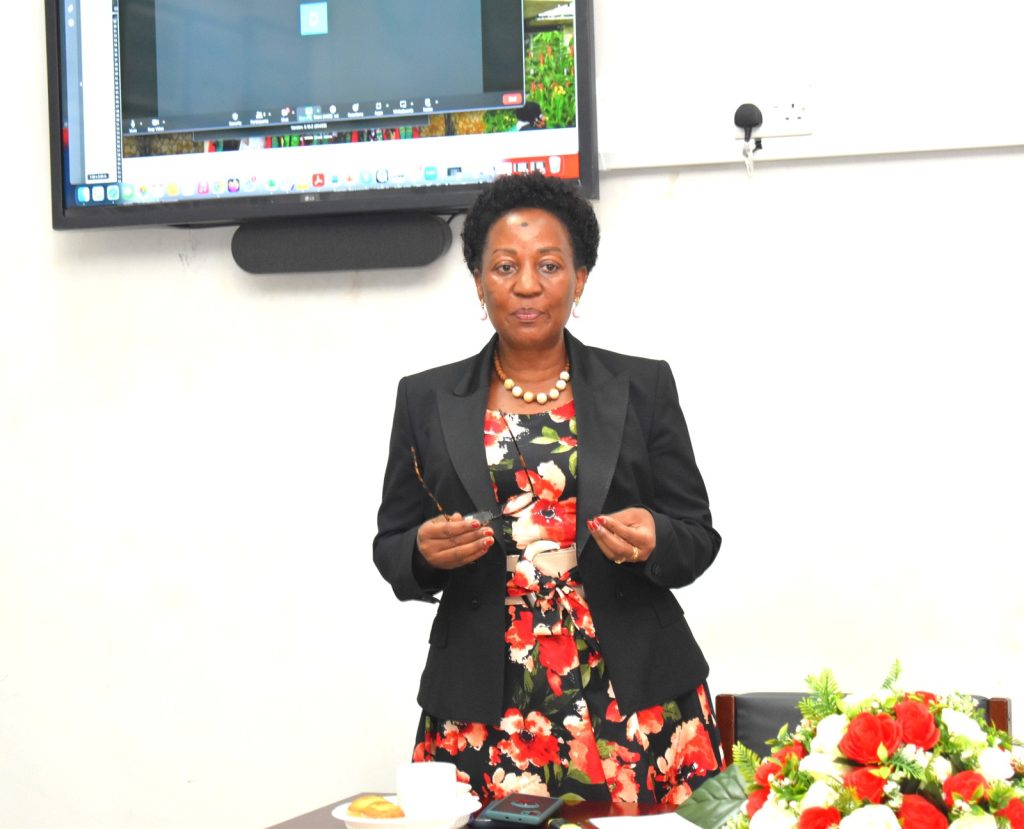 On behalf of DRGT, Prof. Bbaale expressed commitment to reviewing the institutional graduate strategy and policy, prioritizing internationalization through bilateral agreements with global partners, digitizing administrative processes, and encouraging flexible graduate training approaches such as modular, weekend, and online/blended programmes. "Our goal is to enhance resource mobilization, both internally and externally, and work towards international programme accreditation."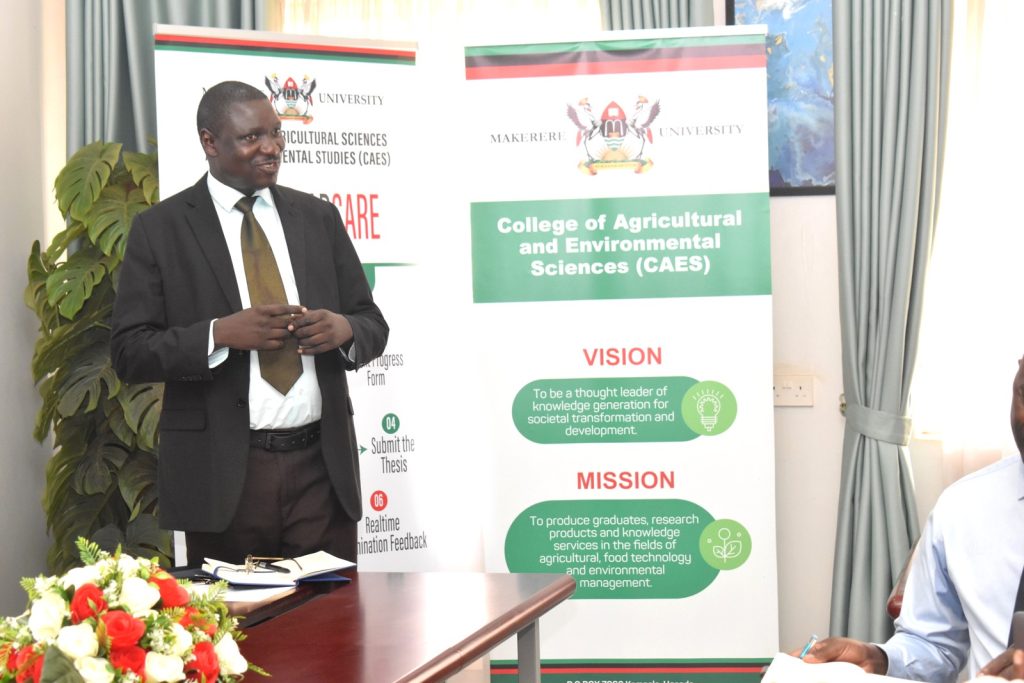 The launch event was also graced by the Director, Quality Assurance at Makerere University, Dr Cyprian Misinde who commended CAES for developing the System. "The CAES GRADCARE Management System will make the students more productive and this will result into more and quality research output leading to improved ranking of the University."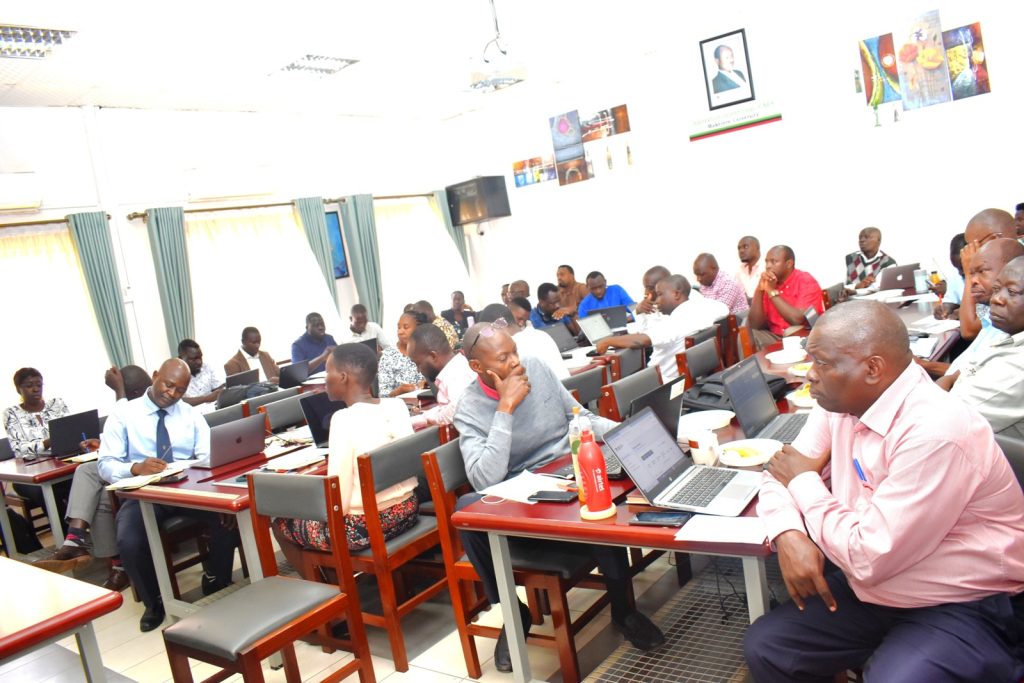 Highlighting the challenges that most colleges grapple with in managing graduate production processes, the Principal of CAES, Prof. Gorettie Nabanoga said the CAES GRADCARE Management System is going to be a game changer in the training of graduate students."In developing the CAES GRADCARE Management System, our target is to ensure we have a flawless graduate management process. With the system, no one will be left behind. Our target is to ensure no student spends more than the stipulated time on a programme." The Principal also noted that the College was working towards increasing graduate students' enrolment to 40 percent. She appreciated the DICTS for supporting the development of the GRADCARE System.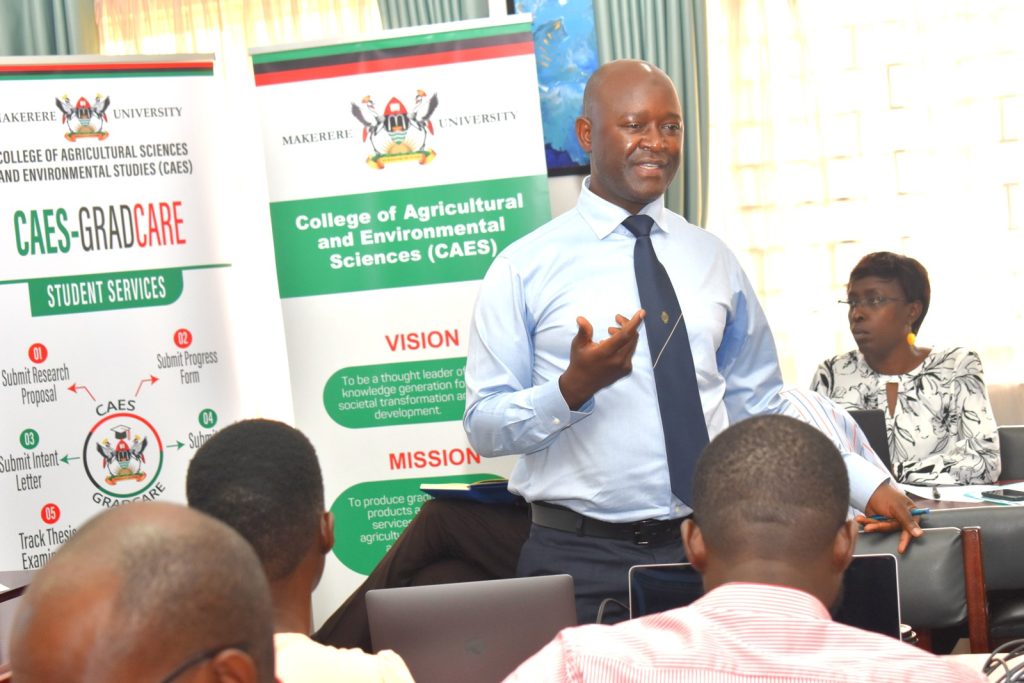 The Deputy Principal of CAES, also lead supervisor of the GRADCARE Management System, Prof. Yazhidi Bamutaze decried the continued delays in completion, noting that the backlog was clogging the system. "With the CAES GRADCARE System, all this is expected to change. There will be regular monitoring of progress on the side of the students and supervisors from the time of submission of the proposal to the time of examining the thesis. This will foster timely completion. As a College, we remain committed to take good care of our students and help them achieve their aspirations and goals."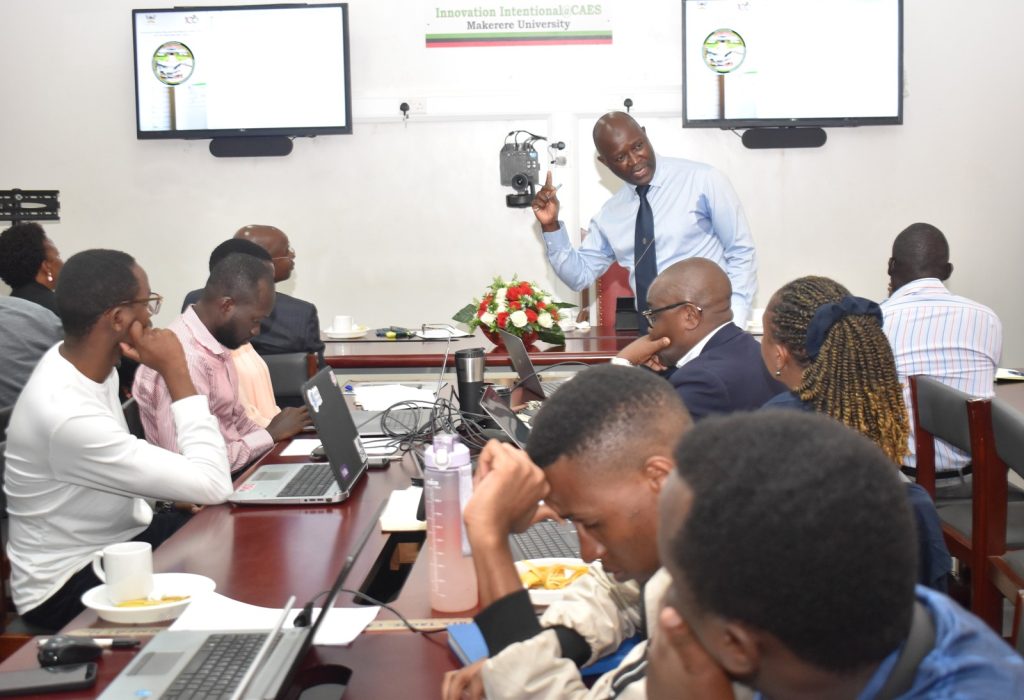 Following the development of the CAES GRADCARE Management System, the Deputy Principal noted that next step would be to retool and mentor staff on graduate students' supervision. The College also intends to initiate formal platforms for regular interactions with graduate students at department, school and college level, improve operations of the graduate supervision and examination tracking system, and operationalize the graduate student timeline –Almanac.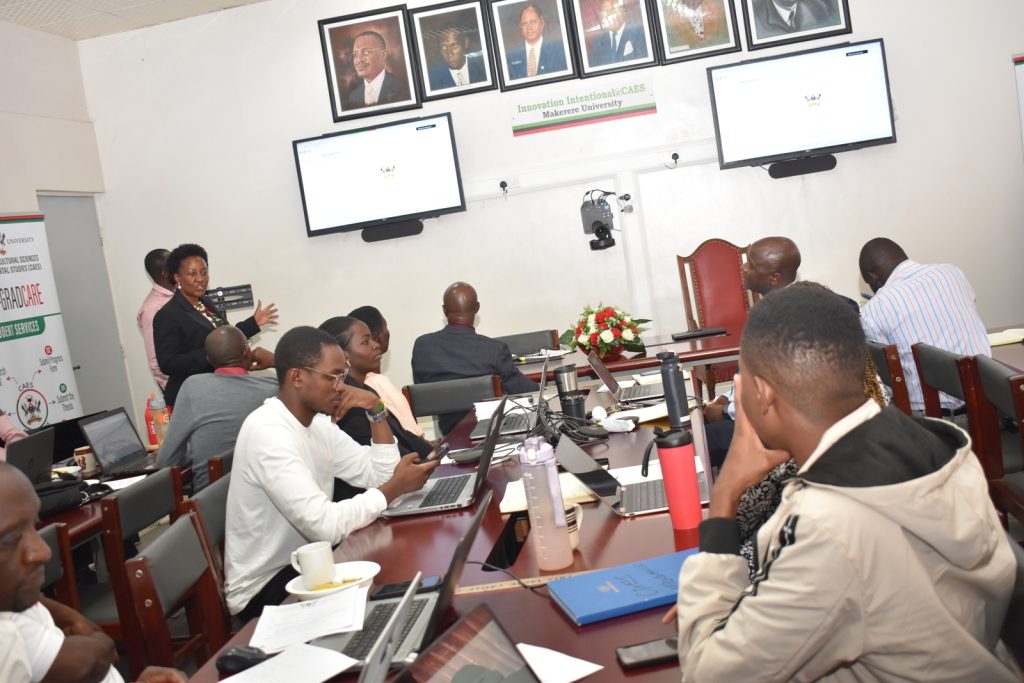 How the system works
Step 1 – Proposal review
This feature starts when a registered student signs into the system and uploads their project proposal. The proposal is then reviewed by the student's supervisors and thereafter endorsed. It is then moved to the level of Head of Department who appoints a review committee to handle the proposal. Finally the proposal is reviewed and endorsed by the head of the committee.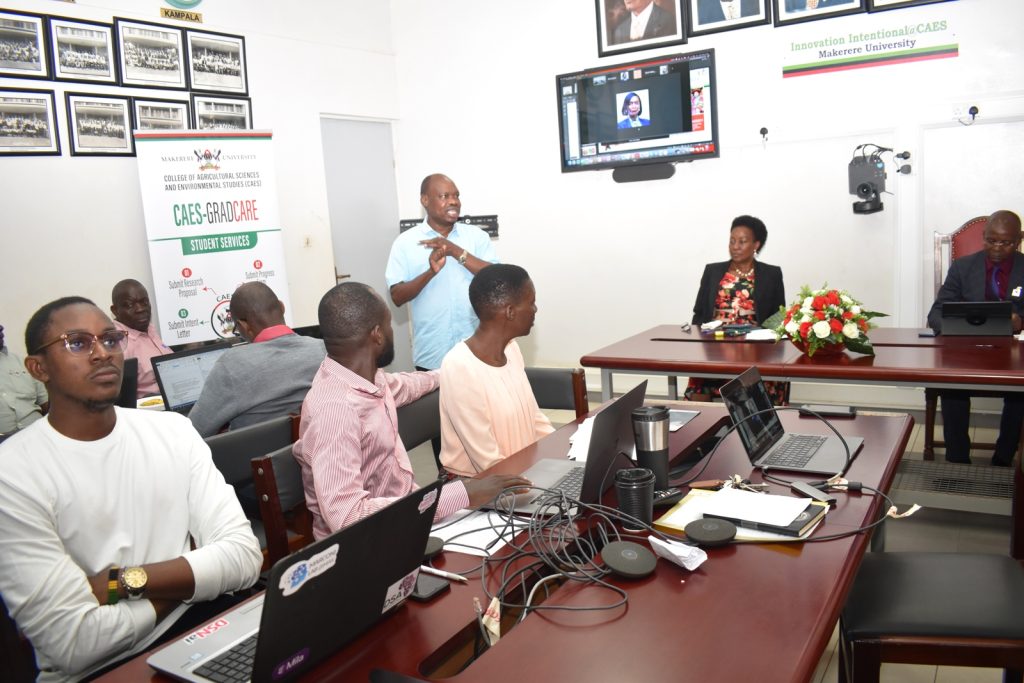 Step 2 – Intent submission
This feature starts by the student upon signing in, downloads the intent form from the system, reviews and fills it. The student then uploads the filled intent form to the system. This form is then reviewed by the student's supervisors who then endorse it. It is then moved to the Dean who endorses it as well. The Dean then shortlists Examiners for the student who are sent for appointment by the Principal.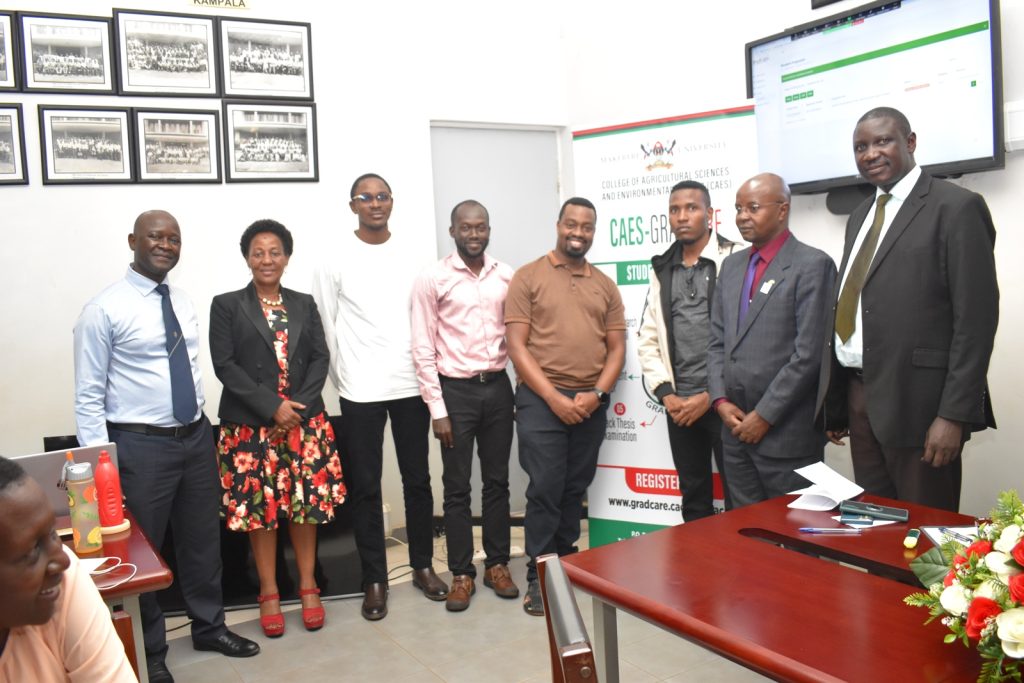 Step 3 – Thesis
This process starts when a student uploads their thesis onto the system. This is then reviewed and approved by the supervisors. The thesis then moves to the Head of Department who also reviews and endorses it. The Dean then reviews and endorses the thesis. The Examiner who was appointed to review the thesis does so and sends back comments if any.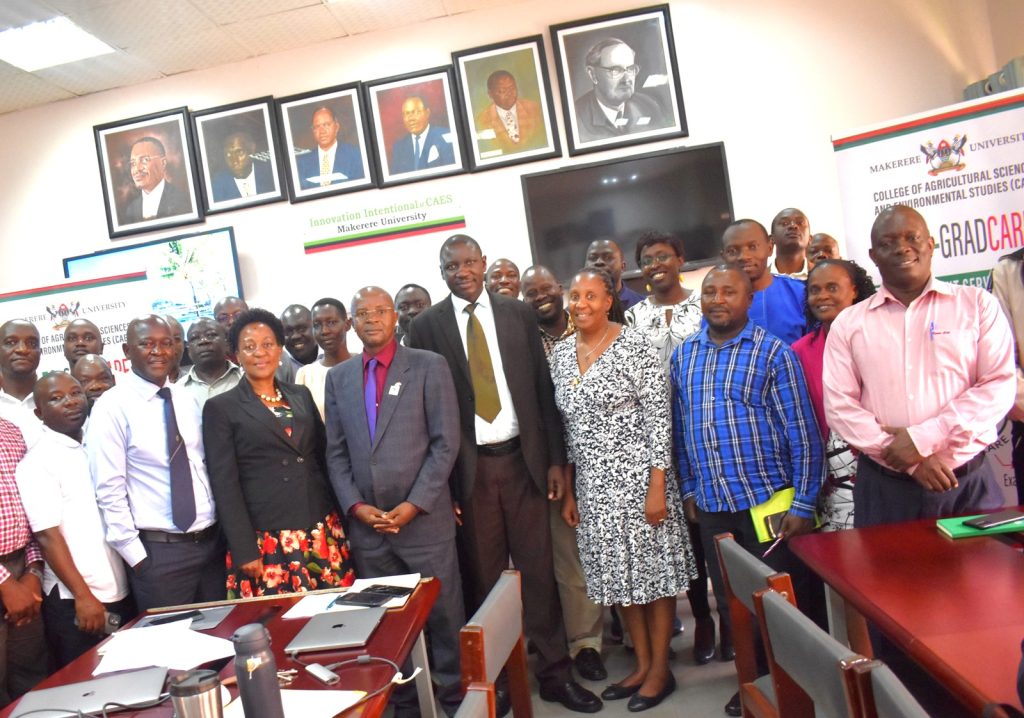 Step 4 – Examiner appointments
The system allows the admin/Principal to appoint examiners for specific students as recommended by the Dean. The system allows the Head of Department to appoint a committee to review a student proposal.