Mak Scientists Unveil New Method of Measuring Stress Levels in Plants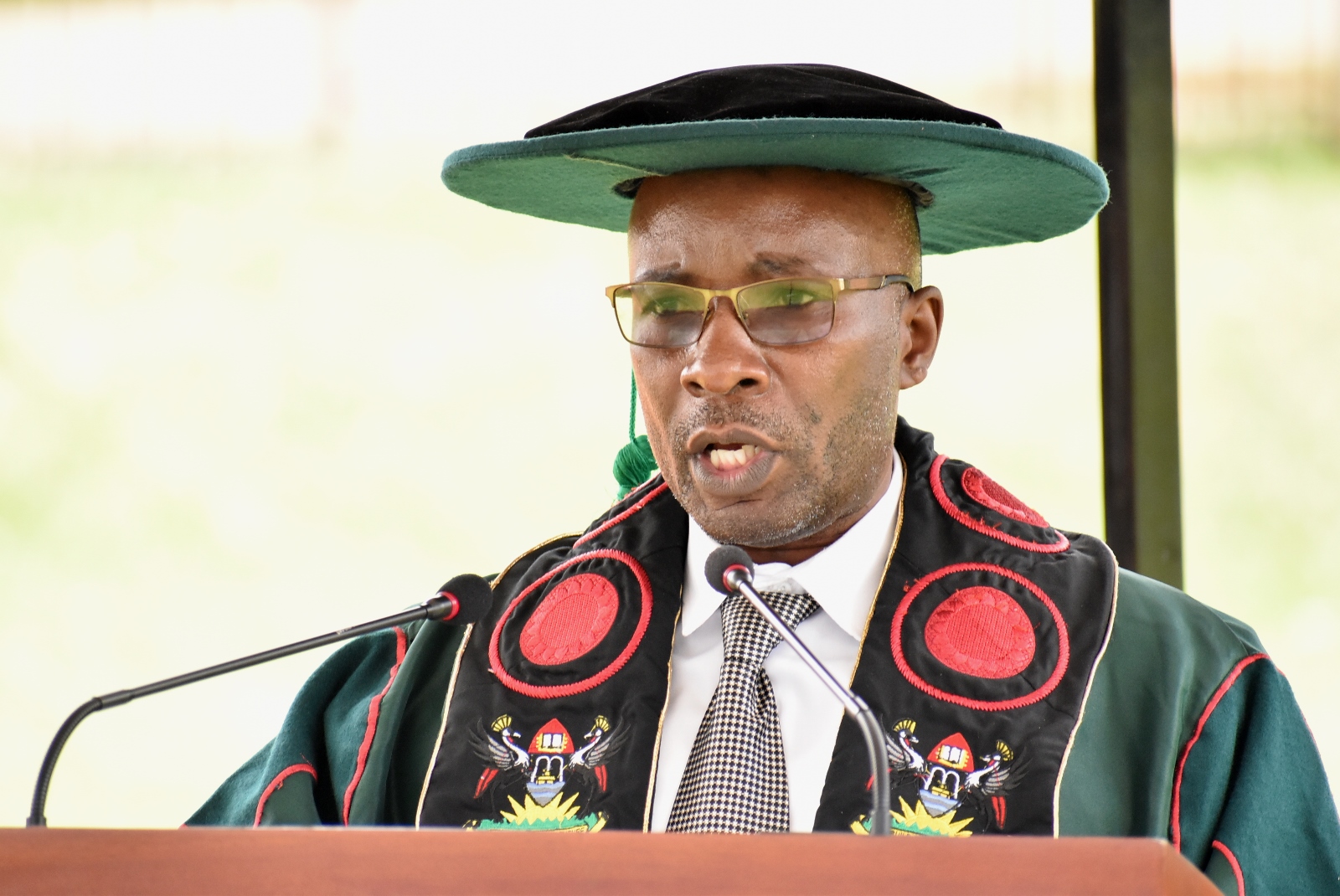 Just like animals and human beings, plants too can be stressed. Whereas one may easily detect stress in animals and humans basing on their behavior, plant "behavior" is not easy to interpret.
Why should we be concerned about stress in plants?
Plants under stress cannot reproduce or grow well because they have to divert much of their physiological energy to fighting stress. If the plants are critical food crops, this will lead to perpetual food shortages because their energy resources are spent fighting stress.
New study on measuring stress in plants
A new study titled "Sandwich Enzyme-Linked Immunosorbent Assay for Quantification of Callose" and led by a team of scientists at the Department of Plant Sciences, Microbiology and Biotechnology at Makerere University in collaboration with the University of California, Davis, USA, shows how stress in plants can be measured. According to Prof. Arthur Tugume, the lead scientist of this study and expert in plant diseases, when plants are stressed, they produce numerous molecules within their cells mostly as means of adapting to stress or avoiding the impact of stress. "For example, plants produce reactive oxygen species like hydrogen peroxide, superoxide ions, and hydroxyl ions. These reactive oxygen species are produced rapidly and act as rapid messengers in the plant tissues to activate additional responses spreading over the entire plant body. This helps the plant to withstand or avoid the impact of stress".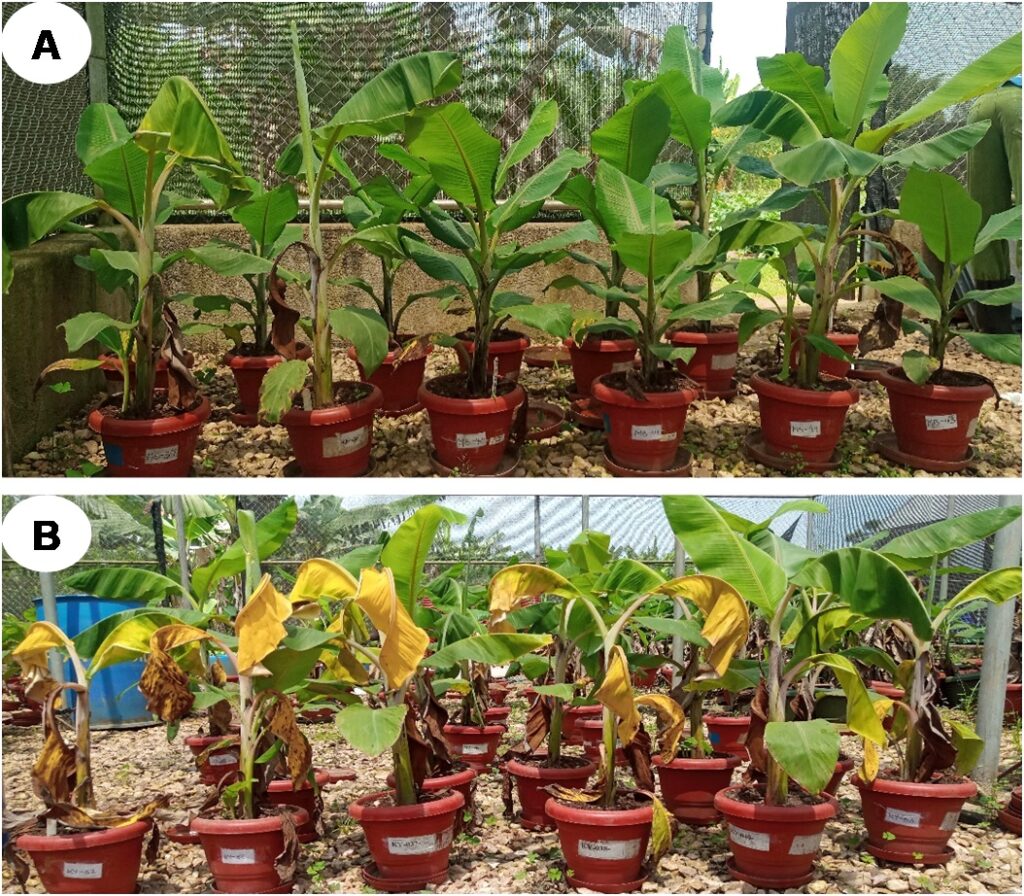 Dr. Ssenku E. Jamilu, a plant physiology expert on the team explains that in plants, stress can be induced by many factors such as pollution in the soil and atmosphere, high soil salinity (salt stress), excessive lack of water (drought), extreme temperatures, lack of oxygen (anoxia), excess radiation, mechanical injury by wounding or by pests that feed on the plants, and infestation by disease-causing microorganisms (pathogens). "Such factors are worsened by climate change, implying the importance of measuring their impact on individual plants to guide plant breeding programmes to ensure sustainable food production in the face of climate change".
The research indicates that reactive oxygen species set in motion additional processes to ensure limited impact of stress on the plant. For example, a unique carbohydrate, named "callose" starts to accumulate in large quantities within plant cells as a means of fortifying plant cells. Callose differs from the other usual plant carbohydrates such as starch or cellulose because of the way its structures are formed. Also, the production of callose gets increased during stress. Callose acts as a road-block to any pathogen such as bacteria by limiting bacterial movement that would otherwise ease attack on other tissues or cells.
"If we can artificially induce the stress on the plant, and then measure the amount of reactive oxygen species or callose or any other responses in the plant, we should be able to directly and quantitatively measure the stress," Prof. Tugume explains.
He however notes that callose participates in many other normal developmental processes of plants and for that reason, there is always some "housekeeping" callose in the plant tissues even without stress. "This means that one must be able to accurately and quantitatively distinguish between 'stress-induced' and normal 'housekeeping' callose".
In this study, the researchers used young (2.5-months old) banana plantlets that had been generated from tissue culture at Kawanda Agricultural Research Institute. They then infected the plantlets with a bacterium called Xanthomonas campestris pv. musacearum. This bacterium induces so much stress on the banana plants resulting into a destructive disease known as banana xanthomonas wilt (BXW), the most destructive disease of bananas in East and Central Africa.
The banana leaves, pseudostems and corms were analyzed for callose and compared with the control plants that had been inoculated with water instead of bacteria. The analysis was done using a method called S-ELISA (Sandwich Enzyme-linked immunosorbent Assay), that was designed by scientists in this study. This method is specific to callose.
Callose-specific primary antibodies were used to coat the wells of 96-well microplates followed by incubation with callose extracts from tissues of stressed plants. Additional incubation with same primary callose-specific antibodies was done, and finally, incubation with a secondary antibody that is conjugated to an enzyme. When a substrate is supplied to the enzyme, colour changes were monitored. The presence of callose (and thus stress on the plants) was assessed quantitatively by measuring the intensity of color change resulting from enzymatic action on the substrate. This method proved effective in comparison to the gold standard method of detecting and quantifying aniline blue stained callose using fluorescence microscopy.
This research was part of the PhD studies for Mr. Abubakar S. Mustafa at Makerere University and University of California, Davis. According to Mr. Mustafa, his method is new and can be applied to any plant that is subjected to any stress because generally, plants produce callose in response to stress." Mr. Mustafa further states that the method is convenient because, if necessary, samples can be processed between a few hours to one year (or even longer), which allows exchange of materials between laboratories and countries when needed, something that was not possible before. The S-ELISA method used 96-well plates which allows high throughout studies, hence, hundreds of samples can be analyzed simultaneously within a few days.
This study has been published as a Protocol by Multidisciplinary Publishing Institute (MDPI) in an open access journal, "Methods and Protocols", in the section: Biochemical and Chemical Analysis & Synthesis and is freely accessible on https://www.mdpi.com/2409-9279/5/4/54/htm.
The research was funded by the Bill and Melinda Gates Foundation through the National Agricultural Research Organization (NARO), Uganda. The project had partners including the International Institute of Tropical Agriculture, the Alliance for Bioversity International and International Centre for Tropical Agriculture (CIAT) and CABI.
For more details, contact;
Prof. Arthur Tugume, Lead Scientist of the study, College of Natural Sciences, Makerere University, Email: arthur.tugume@mak.ac.ug, Tel: +256772514841
Mr. Abubakar S. Mustafa, Co-Author and PhD student on the study, Email: mustafa.abubakar.sadik@gmail.com, Tel: +256702813233
Hasifa Kabejja, Principal Communication Officer, College of Natural Sciences, Makerere University, Email: pr.cns@mak.ac.ug, Tel: +256774904211
Mak Paves Path to Biodiversity Leadership: Inaugural ABS Project Workshop Strengthening Uganda's Nagoya Protocol Capacity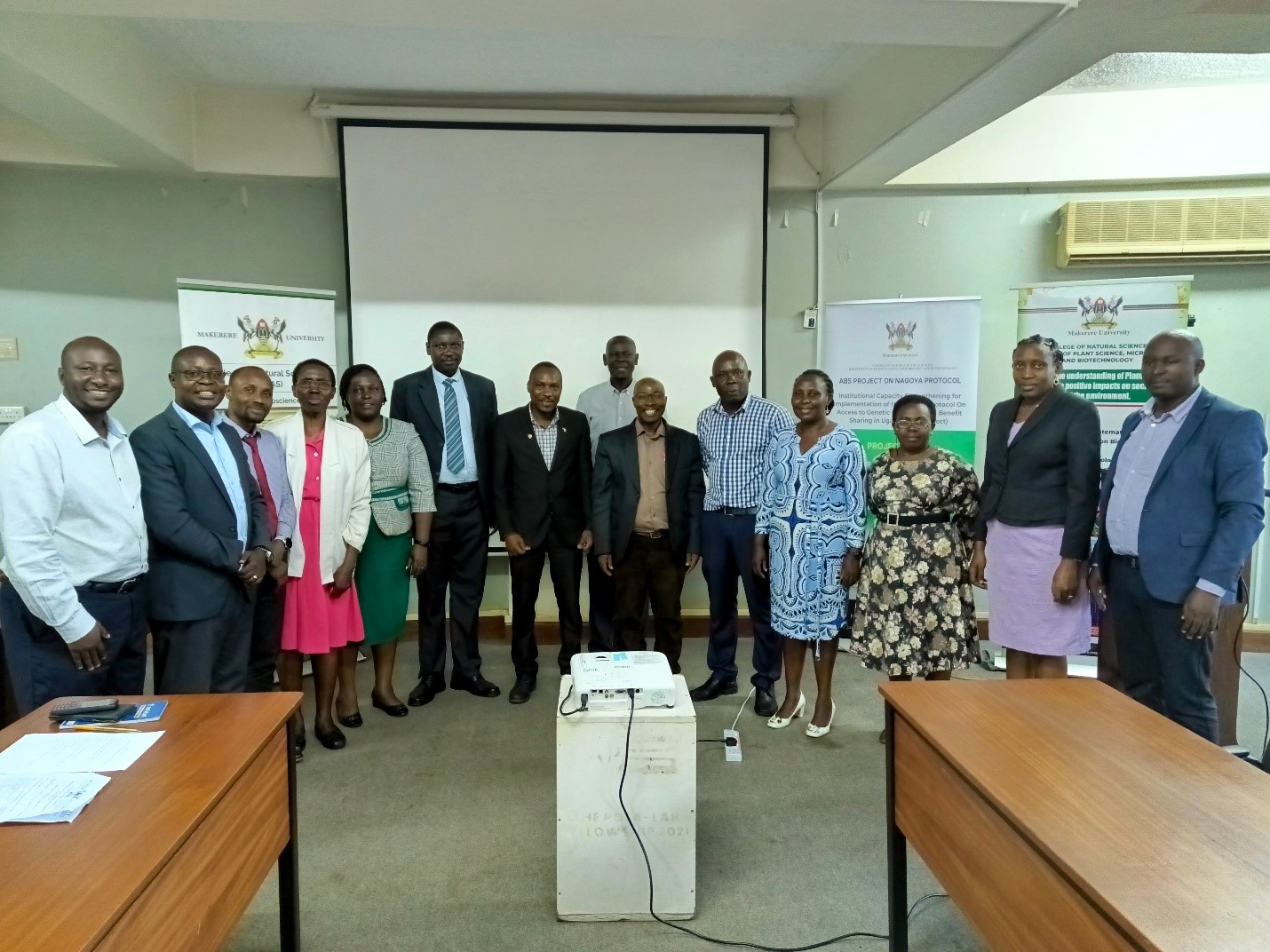 By Laban Lwasa
In a groundbreaking event that unfolded at Makerere University's Telepresence Center on November 7, 2023, the Inception Workshop for the ABS Project took center stage, hosted by the College of Natural Sciences (CoNAS), Department of Plant Sciences, Microbiology, and Biotechnology. Prof. Tumps Ireeta, Principal of CoNAS, set the tone with a warm welcome, highlighting Uganda's rich biodiversity and the pivotal role of the Nagoya Protocol in ensuring the legal utilization of genetic resources. The collaboration between NEMA and Makerere University, supported by the GEF, aims to equip professionals with ABS knowledge and position Makerere at the forefront of Nagoya Protocol compliance.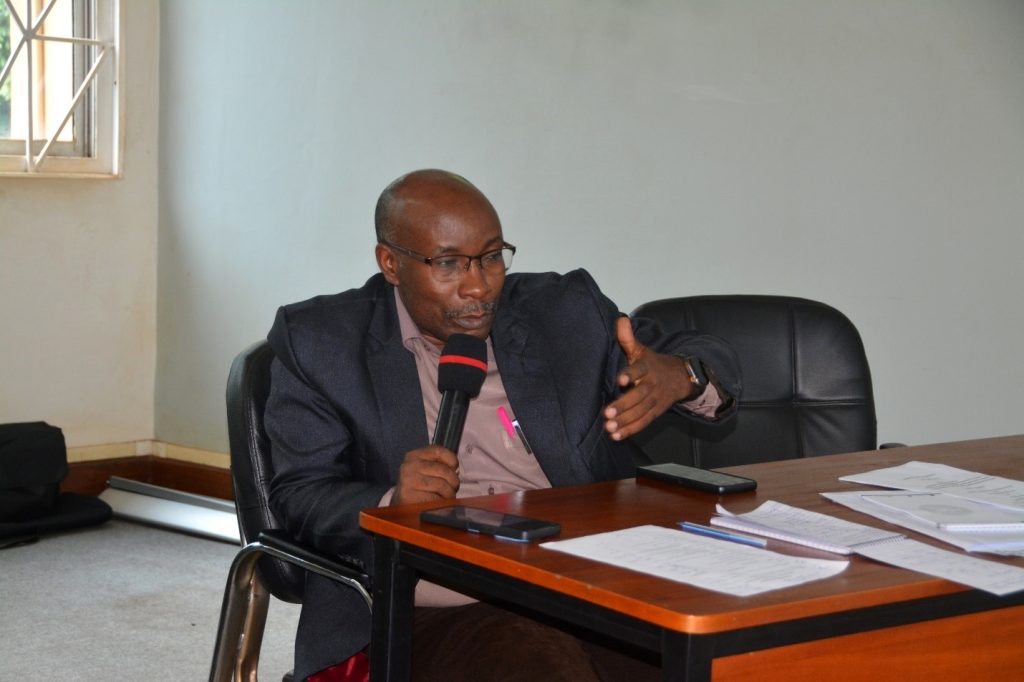 Prof. Arthur Kajungu Tugume, Dean of the School of Biosciences, emphasized the project's significance in institutional capacity strengthening for the Nagoya Protocol's implementation in Uganda, showcasing the School of Biosciences as a hub for genetic resource research and training. The pilot project, in collaboration with NEMA, GEF, and UNEP, aims to expand countrywide and potentially across the African continent. It seeks to empower a skilled workforce informed on ABS issues, contributing to economic development and poverty eradication as aligned with SDG 1.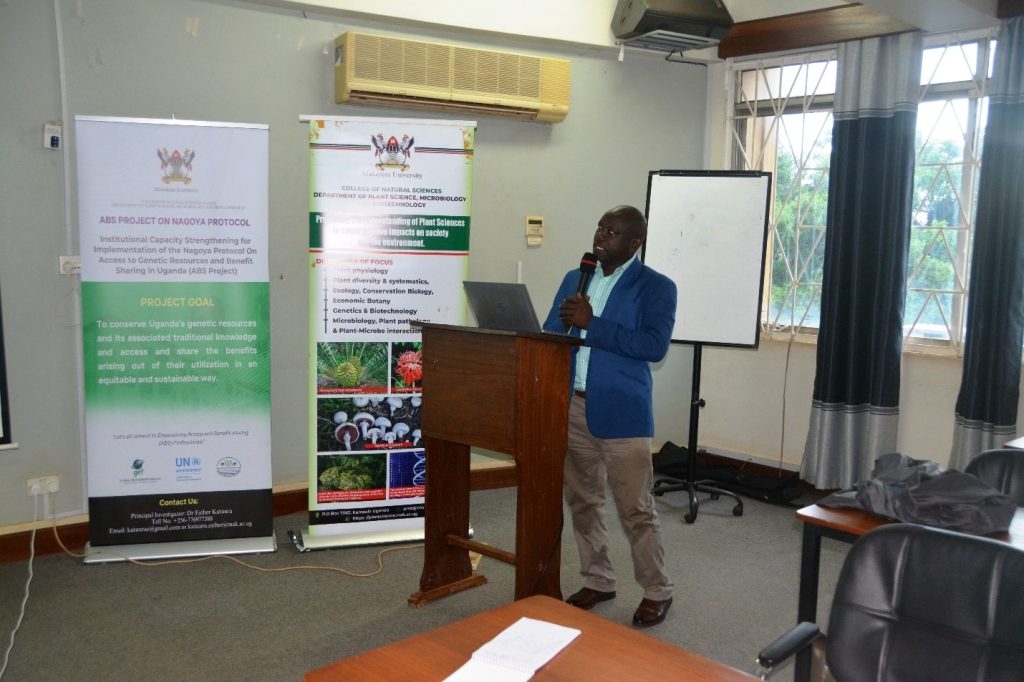 Mr. Achuu Peter, Project Manager from NEMA, highlighted Uganda's extraordinary biodiversity and the need to explore the benefits of genetic resources for medicines, food, and more. He emphasized the importance of the Nagoya Protocol in mitigating biodiversity loss and highlighted challenges faced by Uganda in terms of weak institutional capacity, inadequate policies, and lack of coordination for ABS. The project focuses on strengthening ABS frameworks, capacity building, community-level management, and raising awareness to ensure equitable benefits from genetic resource utilization.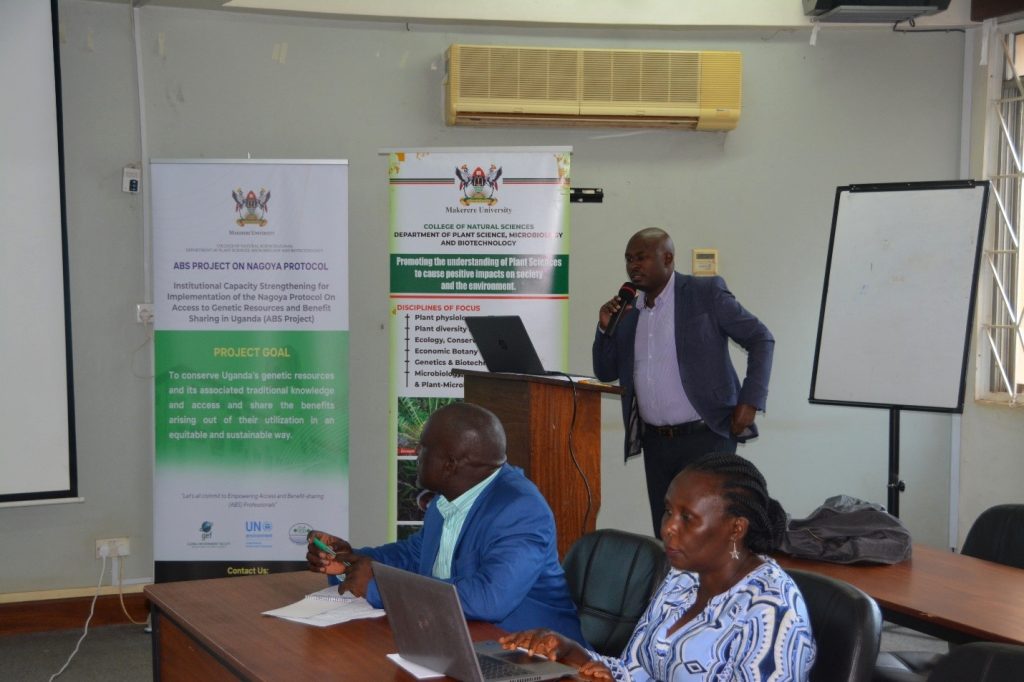 Mr. Daniel Abowe, UNCST ABS Project Officer, shed light on the complex landscape of national ABS laws in Uganda, resulting in legal complexity and high transaction costs for users. He also detailed the Uganda research approval process, emphasizing UNCST's role in ABS implementation, which includes issuing access permits and ensuring benefit-sharing agreements. The multifaceted project aims to align Uganda with the Nagoya Protocol's goals and foster collaboration between higher institutions and local communities for the management of genetic resources.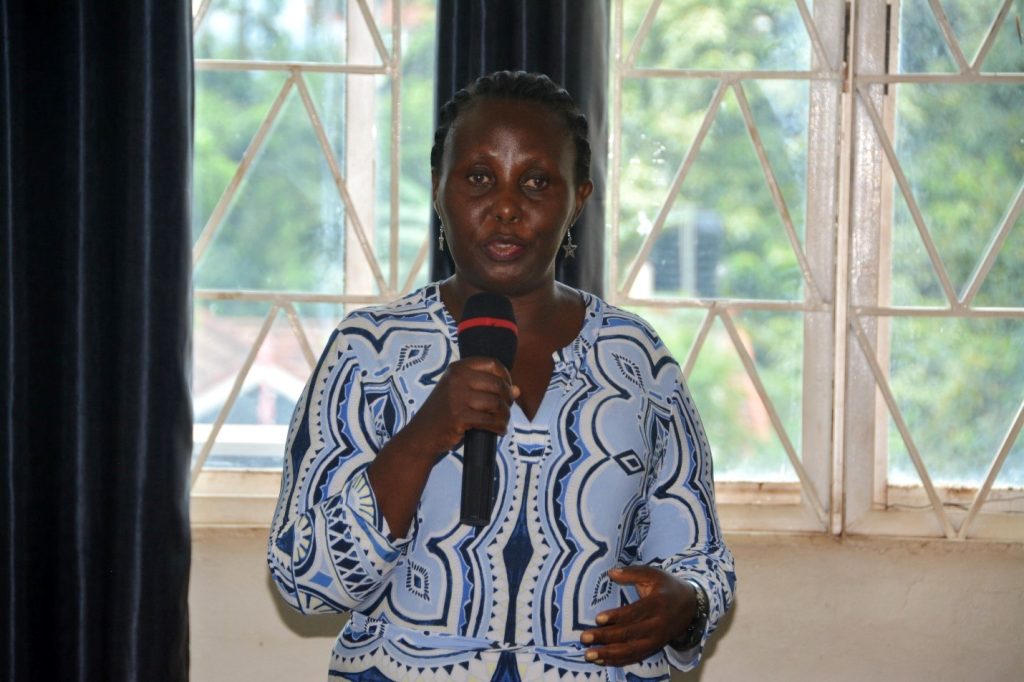 Dr. Katuura Esther, the Project Principal Investigator at Makerere University, highlighted the institution's pivotal role in training and research. Makerere University aspires to be a thought leader, committed to providing transformative teaching, learning, research, and services that cater to dynamic national and global needs. The institution's strategic goals encompass leadership in high-quality programs, knowledge dissemination, research, scholarship promotion, and corporate social responsibility. Dr. Esther also addressed the challenges and opportunities in preserving indigenous knowledge, emphasizing the role of digital technologies and collaboration between research institutions and local communities.
The programs designated for updating at Makerere University are a comprehensive effort to align with the Nagoya Protocol. Notable among these programs are BSc Applied and Economic Botany, BSc in Conservation Biology, Bachelor of Biotechnology, Masters in Botany, Masters in Genetics, Masters in Plant Pathology and Crop Science, and Masters in Economic Botany. This holistic approach aims to contribute to the conservation and equitable utilization of genetic resources.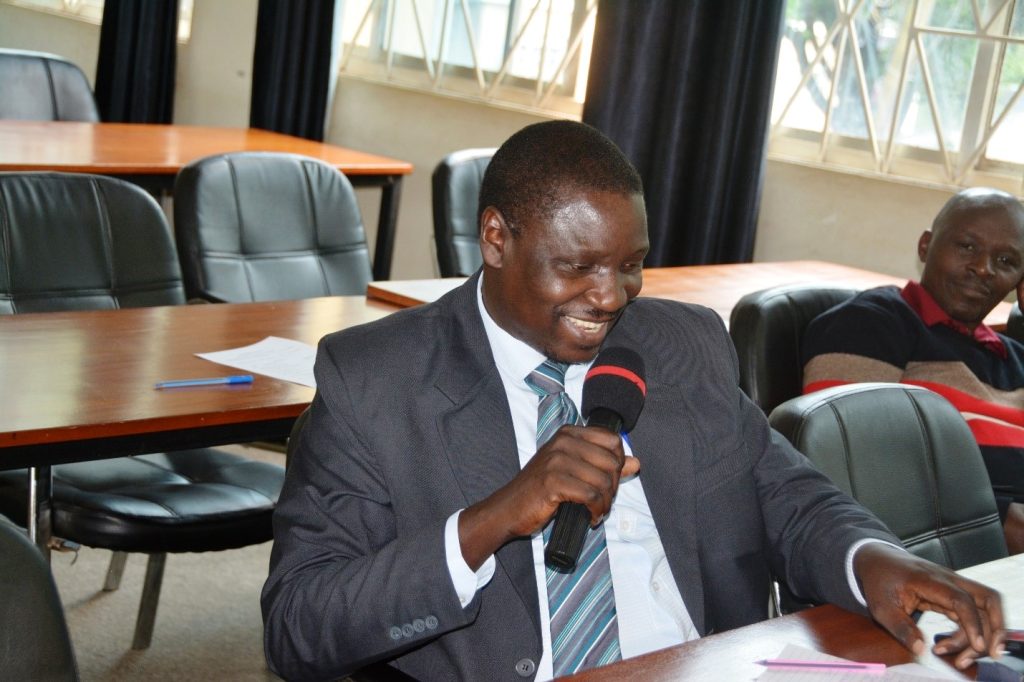 Dr. Cyprian Misinde, the Director of Quality Assurance at Makerere University, emphasized the importance of incorporating international and global standards into the academic curriculum. He underscored the crucial role of projects like ABS in enhancing the capacity of professionals and equipping them to become part of a globally competitive workforce. This workshop marked a significant stride in Uganda's journey towards sustainable biodiversity management and conservation, creating a ripple effect that extends far beyond its borders, leaving a lasting impact on the world stage.
Laban Lwasa is the Senior Administrative Assistant, Makerere University, Grants Administration and Management Support Unit (GAMSU)
Ugandan student Dorothy Akoth wins 2023 GBIF Graduate Researchers Award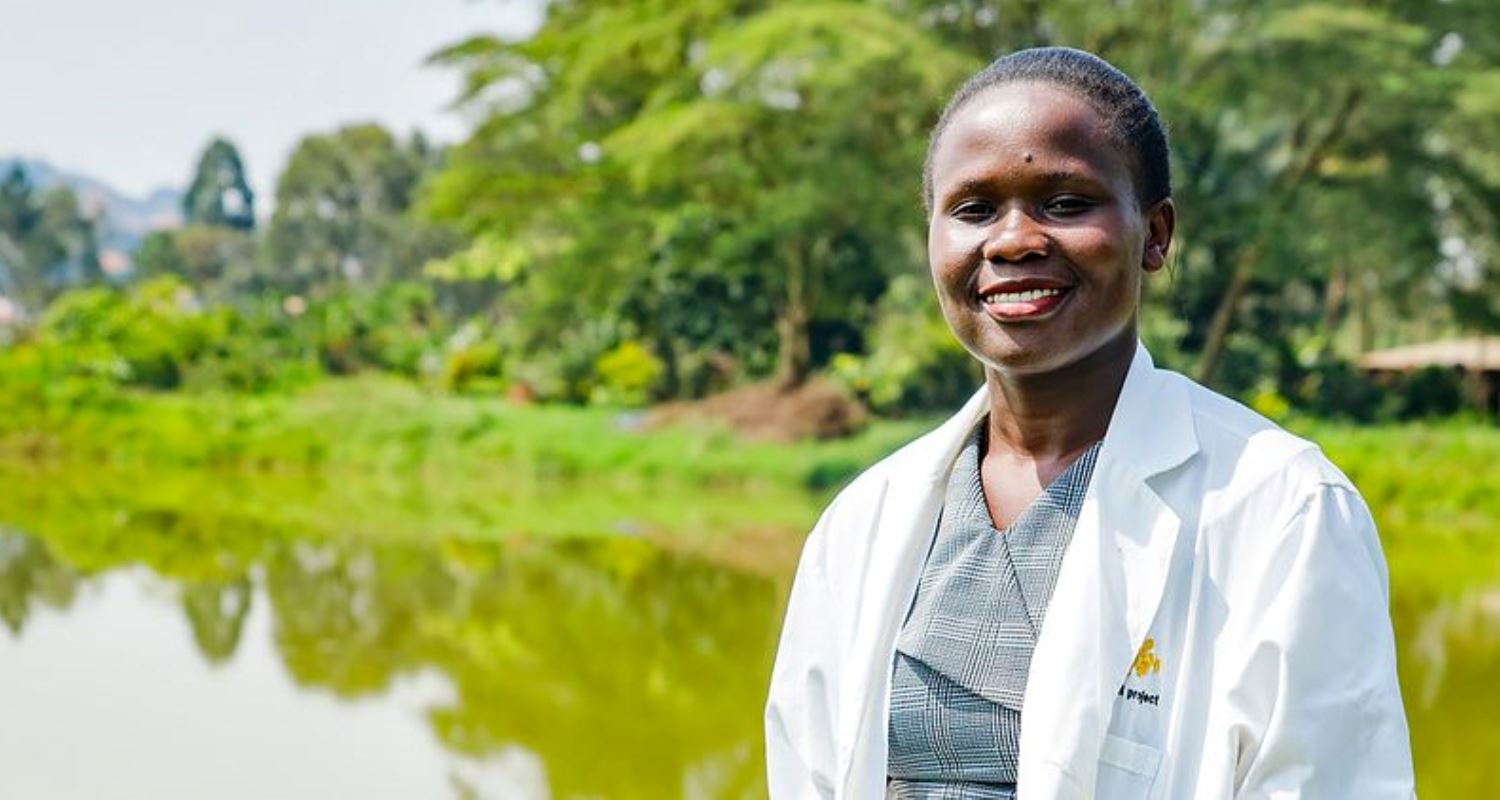 Ms. Dorothy Akoth, a Master's student at the College of Natural Sciences (CoNAS), Makerere University has been named one of two winners of the 2023 GBIF Graduate Researchers Award. An expert jury selected Akoth, who was nominated by the Uganda National Council for Science and Technology together with National Fisheries Resources Research Institute (NaFIRRI), for the instrumental role of her research in improving the knowledge of the distribution and imperilment status of 110 native fish species outside the iconic Haplochromine tribe of East African cichlids. The student was supervised by Prof. Fredrick Muyodi and Dr. Jackson Efitre
from the Department of Zoology, Entomology and Fisheries Sciences at CoNAS, Makerere University, and Dr Vanny Natugonza of Busitema University.

Since its inception in 2010, the annual GBIF Graduate Researchers Award (previously the Young Researchers Award) has sought to promote and encourage innovation in biodiversity-related research using data shared through the GBIF network.

Details at:
https://www.gbif.org/news/6qTuv5Xf1qa05arROvx7Y1/ugandan-student-dorothy-akoth-wins-2023-gbif-graduate-researchers-award
CARTA Fellow Anywar Selected as Fellow of ASLP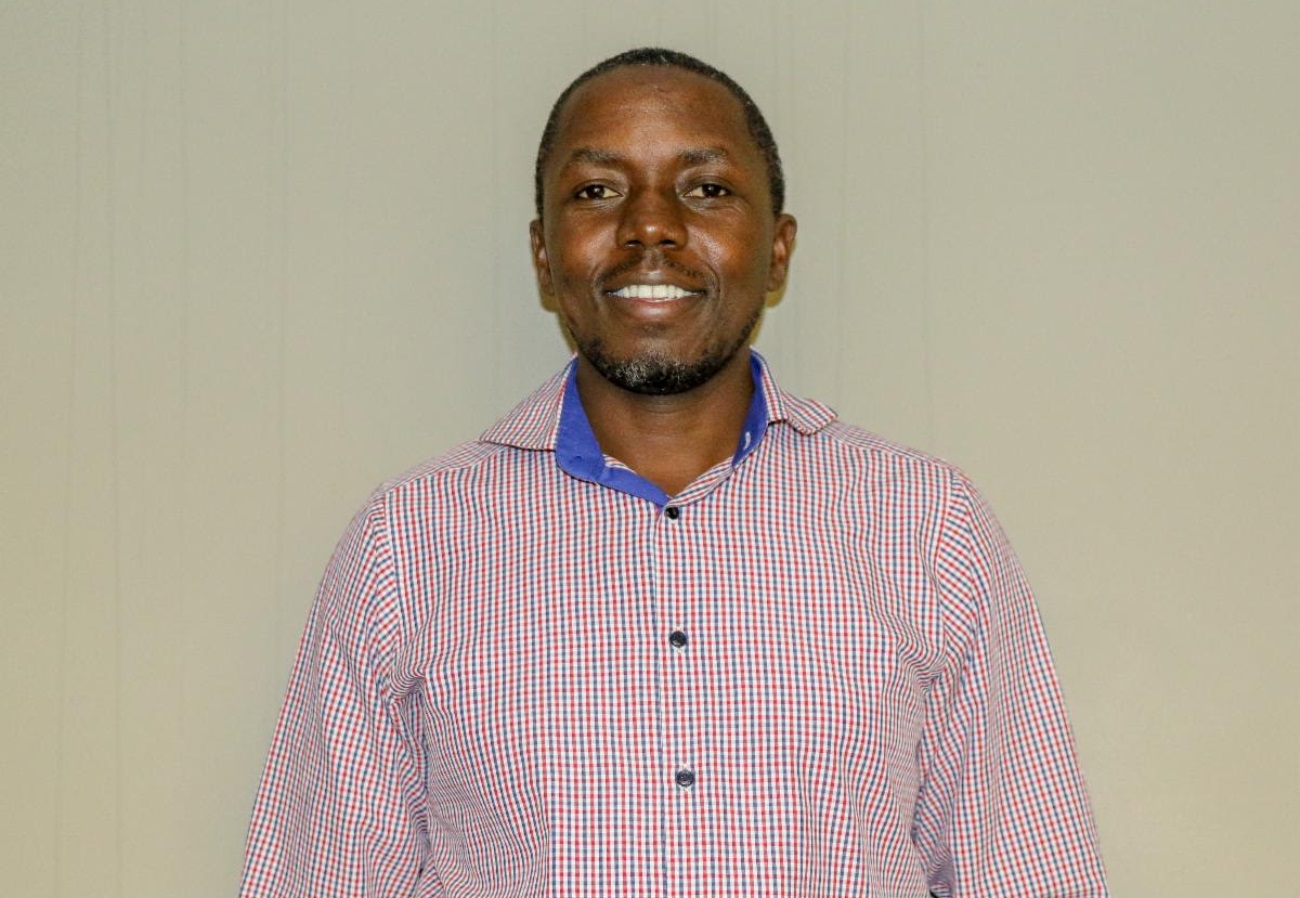 Godwin Anywar (cohort 6 graduate, Makerere University) was selected as a fellow of the Africa Science Leadership Programme (ASLP) based at the Future Africa Campus at the University of Pretoria, South Africa, on September 8, 2023. 
Within the month, he:
Will be participating in the Uganda-Swiss Museum Cooperation Workshop from September 24 – October 4, 2023, in Kampala, Uganda, and will present on 'Traditional Medicine in Transition.'
Presented a keynote paper on 'Mental Health and Wellbeing during the PhD Journey' at the Makerere University Business School (MUBS) 27th Annual International Management Conference (AIMC) under the theme "Leveraging Governance, Human Capital and Technology for Sustainability in Kampala – Uganda on September 25 – 27, 2023.
Presented a paper on 'The Cannabis/Marijuana (Cannabis sativa L.) Landscape in Africa: An Overview of its Cultivation and Legal Aspects' at the 20th International Napreca Conference on Natural Network for East and Central Africa (NAPRECA) in Harare, Zimbabwe on September 20, 2023.
Attended the German Academic Exchange Service (DAAD) Science Forum at the University of Nairobi on September 20, 2023, to celebrate 50 years of DAAD in East Africa.
Source: CARTA Newsletter Issue 69