Environmental Chemistry for Sustainable Development (ECSDevelop) Project Launched
Overall Objective: The ECSDevelop Project launched at Makerere University on 8th June 2022 aims to increase capacity and contribution of environmental chemistry research in higher education in a bid to address the local and global priority needs in improving water quality.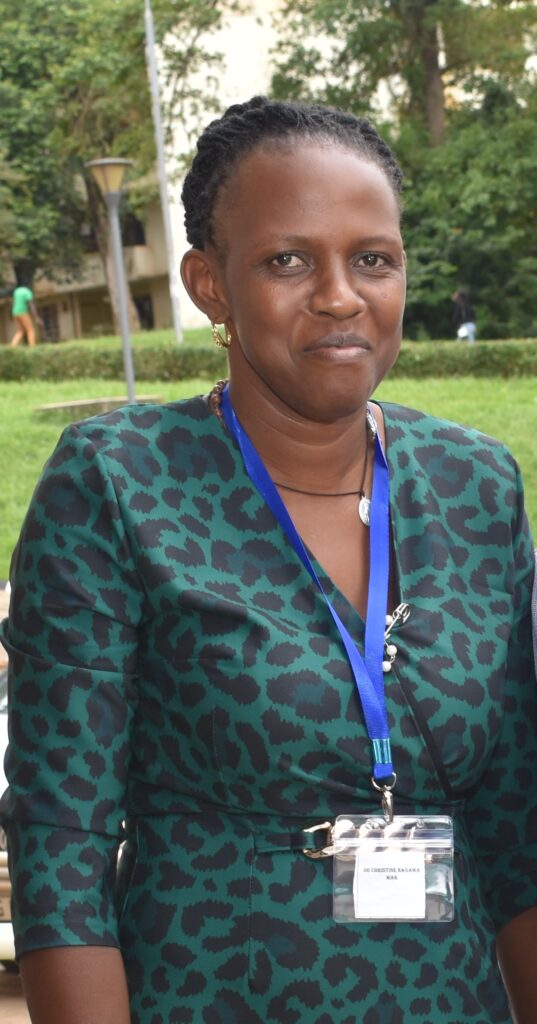 East Africa faces serious challenges in relation to atmospheric, soil and water pollution. The Lake Victoria basin and the Albertine Graben have not been spared either. The Lake Victoria Basin that is shared by Uganda, Kenya and Tanzania has undergone rapid urbanization in the last three decades. The high population density, rapid industrial growth and wastewater treatment plants in the vicinity of the lake have been reported as some of the sources of environmental contaminants such as plastic debris and endocrine disrupting chemicals. Aquatic ecosystems such as Lake Victoria have been reported as endpoints for plastics of all sizes, including microplastics. The harmful effects of microplastics such as starvation, death, oxidative damage, developmental defects and neurotoxicity to organisms have been reported. However, studies on the extent of microplastics pollution in fresh water bodies such as Lake Victoria and River Nile are limited.
The Environmental Chemistry for Sustainable Development (ECSDevelop) project, a joint programme between Makerere University, Uganda; Jaramogi Oginga Odinga University of Science and Technology, Kenya; the University of Natural Sciences and Life Sciences, Vienna; and Kyambogo University targets to investigate the seasonal fluxes, sources and trophic transfer of microplastics within the aquatic ecosystem of Lake Victoria and River Nile. To establish the effect of petroleum exploration and production activities carried out in the Albertine Graben, the research team will examine multifaceted application of nanotechnology in the field of bioremediation of petroleum hydrocarbons.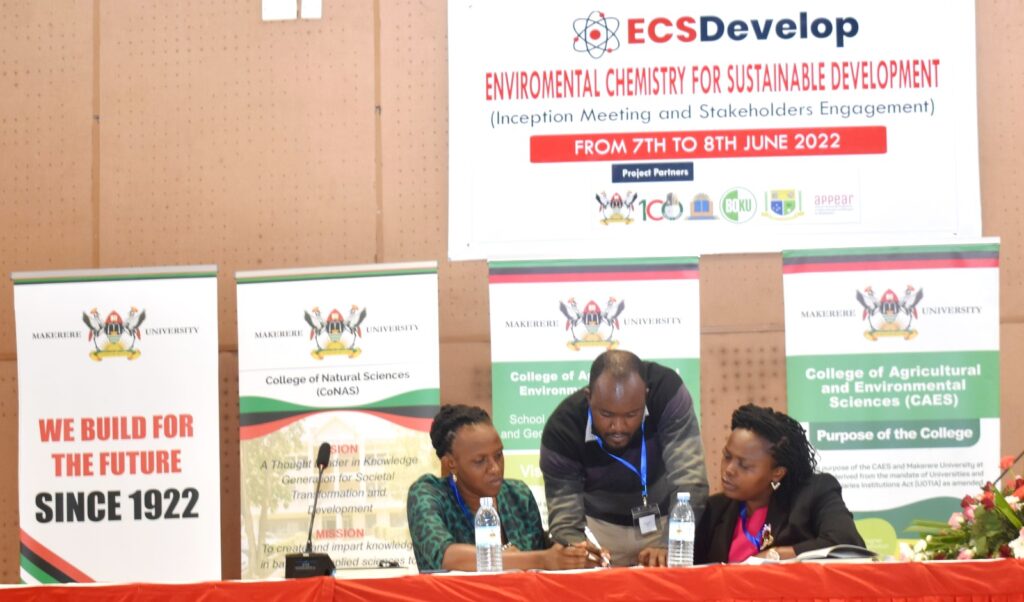 The overall objective of the ECSDevelop Project is to increase capacity and contribution of environmental chemistry research in higher education in a bid to address the local and global priority needs in improving water quality and advancement of remediation technologies. Through the project, the researchers will explore regional capacities to jointly streamline existing curricula on environmental chemistry and ecotoxicology; develop a novel cost-effective state of the art technology to track and clean up contaminants in wastewater using locally available resources such as moringa oleifera and other plant materials; and develop efficient remediation technologies for crude oil contaminated soils and water of the Albertine Graben, Uganda.
The project will also support training of 5 PhDs and 4 MSc graduate researchers at Makerere University, Kyambogo University and Jaramogi Oginga Odinga University of Science and Technology, Kenya.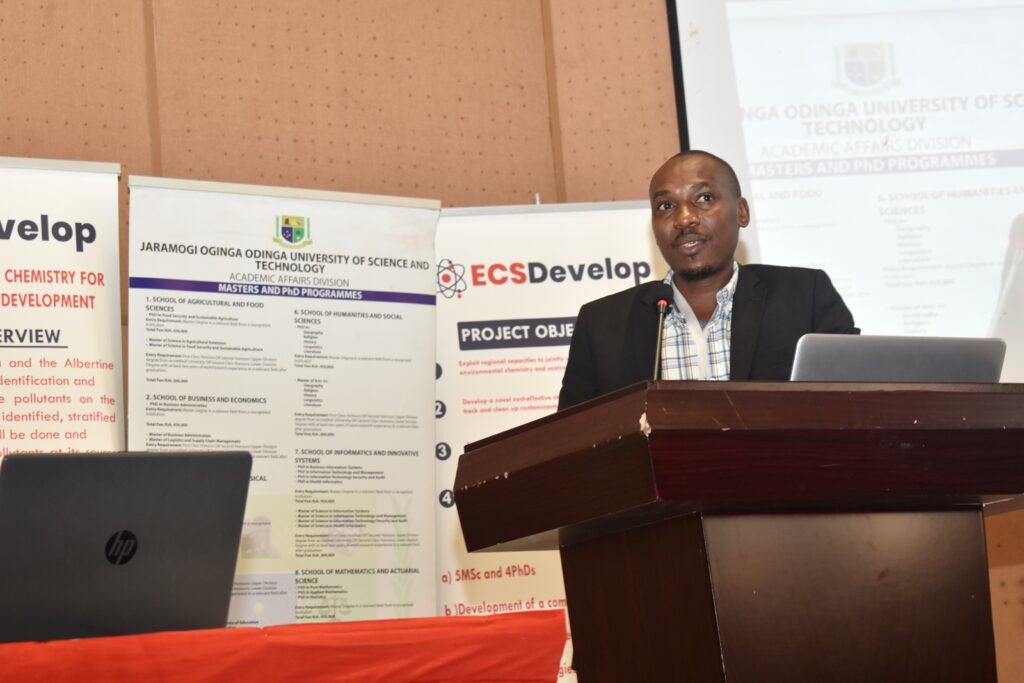 The three-year project launched by the Principal, College of Natural Sciences, Makerere University, Prof. Winston Tumps Ireeta on 8th June 2022 is funded by the Austrian Partnership Programme in Higher Education and Research for Development (APPEAR). The Principal Investigator is Dr Christine Betty Nagawa from the Department of Forestry, Biodiversity and Tourism at the College of Agricultural and Environmental Sciences (CAES), Makerere University. Other members of the consortium are; Dr Patrick Sebugere from the College of Natural Sciences (CoNAS), Makerere University; Dr Christine Kyarimpa from Kyambogo University, Uganda; Dr Solomon Omwowa from Jaramogi Oginga Odinga University of Science and Technology (JOOUST), Kenya; Mr Silver Odongo, Makerere University; and Ms. Emily Chelangat (KAFUCO).

Impact of the project
Under the project, curriculum in Environmental Chemistry and Ecotoxicology will be developed. It will be practical oriented to address the increasing societal challenges in environmental pollution and climate adaptations.
Publications, patents and policy briefs arising from research results will form an important baseline for new knowledge and technologies to be adopted.
The project intends to equip local farmers with relevant skills to boost the production of moringa and gooseberries, which will be a sustainable source of the scaled-up bioremediation technologies. This will in the long run contribute to environmental conservation in the Lake Victoria basin and Albertine graben, and improve livelihoods among the famers through sale of moringa and gooseberries.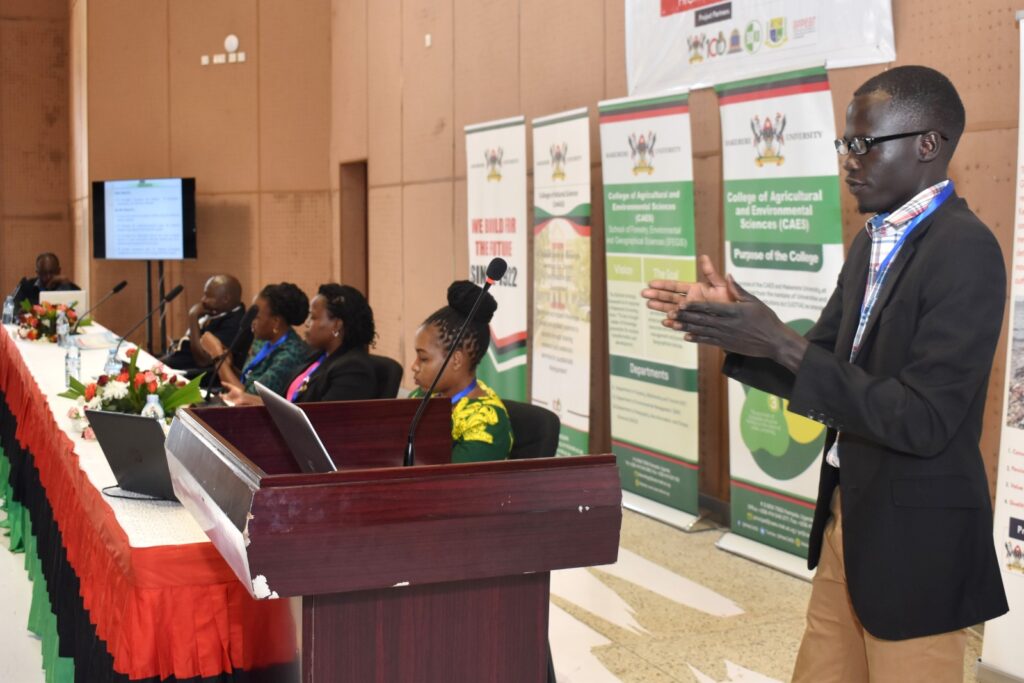 Stakeholders engagement
The research team held a two-day (7th-8th June 2022) meeting to introduce the project to stakeholders. The two-day workshop featured the launch of the project, presentations by Masters and PhD students, and a plenary discussion on how best to manage the project.
During the workshop, the Principal, CoNAS, Prof. Winston Tumps Ireeta and the Head, Department of Chemistry at Makerere University, Dr. John Wasswa pledged total support towards the implementation of the project.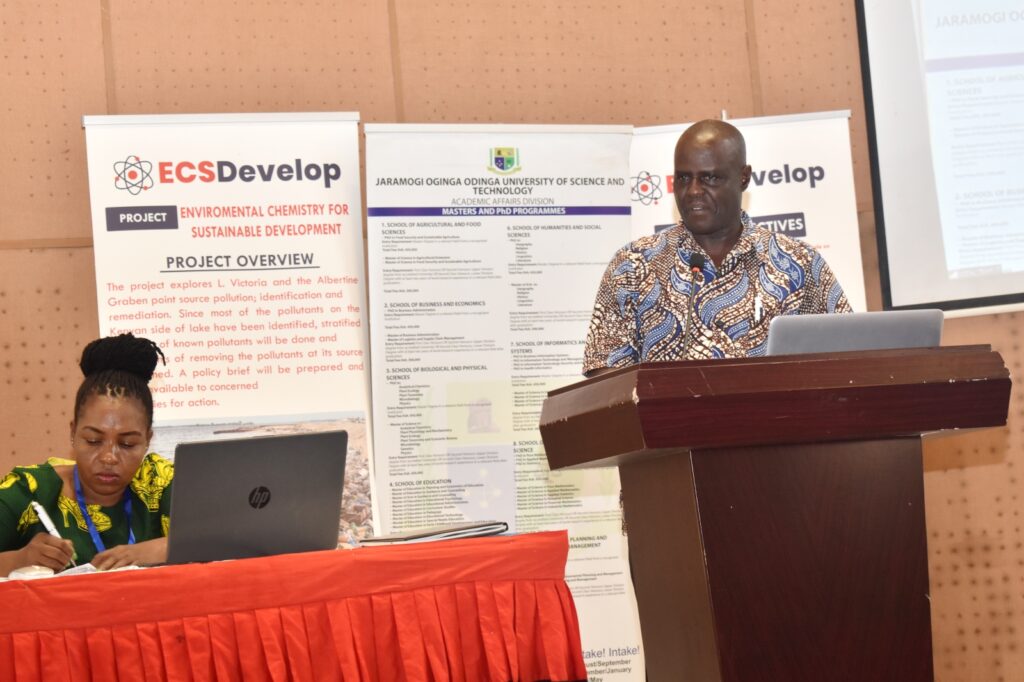 At the plenary session, stakeholders deliberated on the best modes of engagement with different stakeholders to increase impact of the project. They also discussed the gaps in the project and brainstormed on ways of sustaining the project. Participants called for massive sensitization on the dangers of microplastics and involvement of communities in the implementation of the project.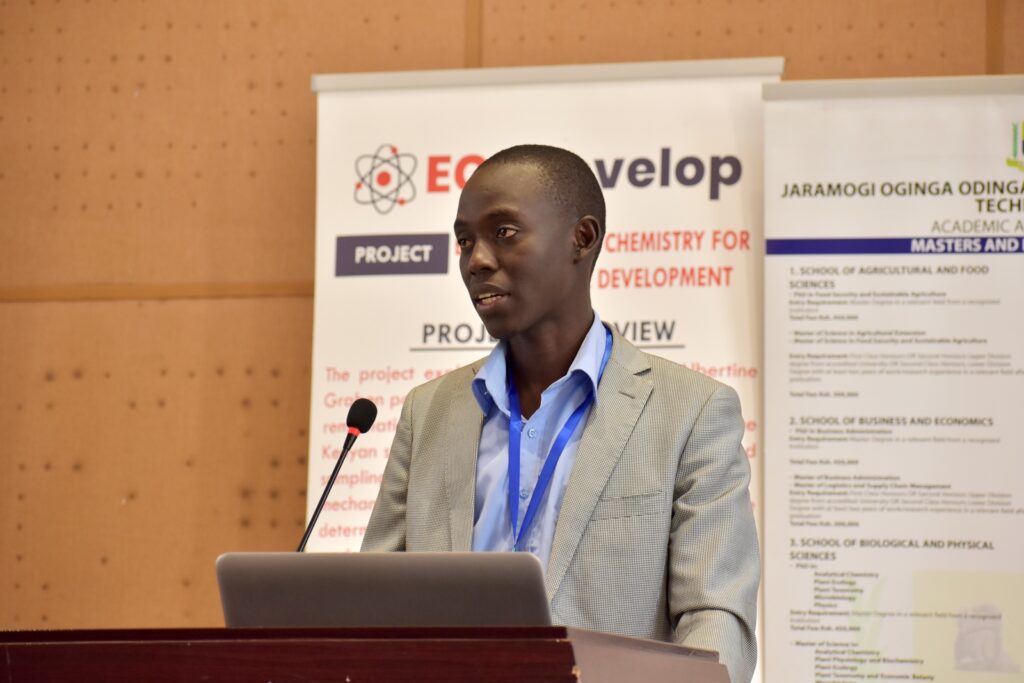 Research projects of students sponsored by the ECSDevelop project
Application of Nano particles in Bioremediation of Oil Spill in the Albertine Graben, Uganda– Abura Tobby Oliwit from the Department of Chemistry, CoNAS, Makerere University
Assessment of Acaricide Residues in Trans Nzoia County and Mechanism of their Adsorption by Zeolites – Sifuna Douglas Bukhebi from Jaramogi Oginga Odinga University of Science and Technology (JOOUST), Kenya
Occurrence of microplastics in the gastrointestinal tract and gills of Oreochromis niloticus from fish breeding areas of northern Lake Victoria– Faith Atukwatse, Department of Zoology, Entomology and Fisheries Sciences, Makerere University
Seasonal variations in the levels and trophic transfer of microplastics and nanoplastics in Lake Victoria basin – Godfrey Muhwezi, Department of Chemistry, Kyambogo University
Investigating Sources of Microplastic Contaminants into Lake Victoria through Nakivubo Channel – Simon Ocakacon, Department of Civil and Environmental Engineering, Makerere University
Thermodynamics and Kinetics of Hexachlorobenzene Adsorption on zeolites – Manada Timothy, Department of Physical Sciences, (JOOUST), Kenya
Sources, Seasonal variations, trophic transfer and magnetic carbon nanotunbe-removal of microplastics from the Ugandan portion of Lake Victoria – Omara Timothy, Uganda National Bureau of Standards
Sorption of Dichlorophenyltrichloroethane, Chlorpyrifos, Atrazine, and Glyphosate by activated charcoal and moringa husks in a packed small diameter column – Ahimbisibwe Michael, Department of Agricultural and Biosystems Engineering, Makerere University
Quantification, spatial prediction and green nano remediation of crude oil contamination in the soils and water of the Albertine Graben, Uganda, Amina Nalweyiso, Department of Agricultural and Biosystems Engineering, Makerere University
Dr. Julius Mulindwa Wins DFG Research Grant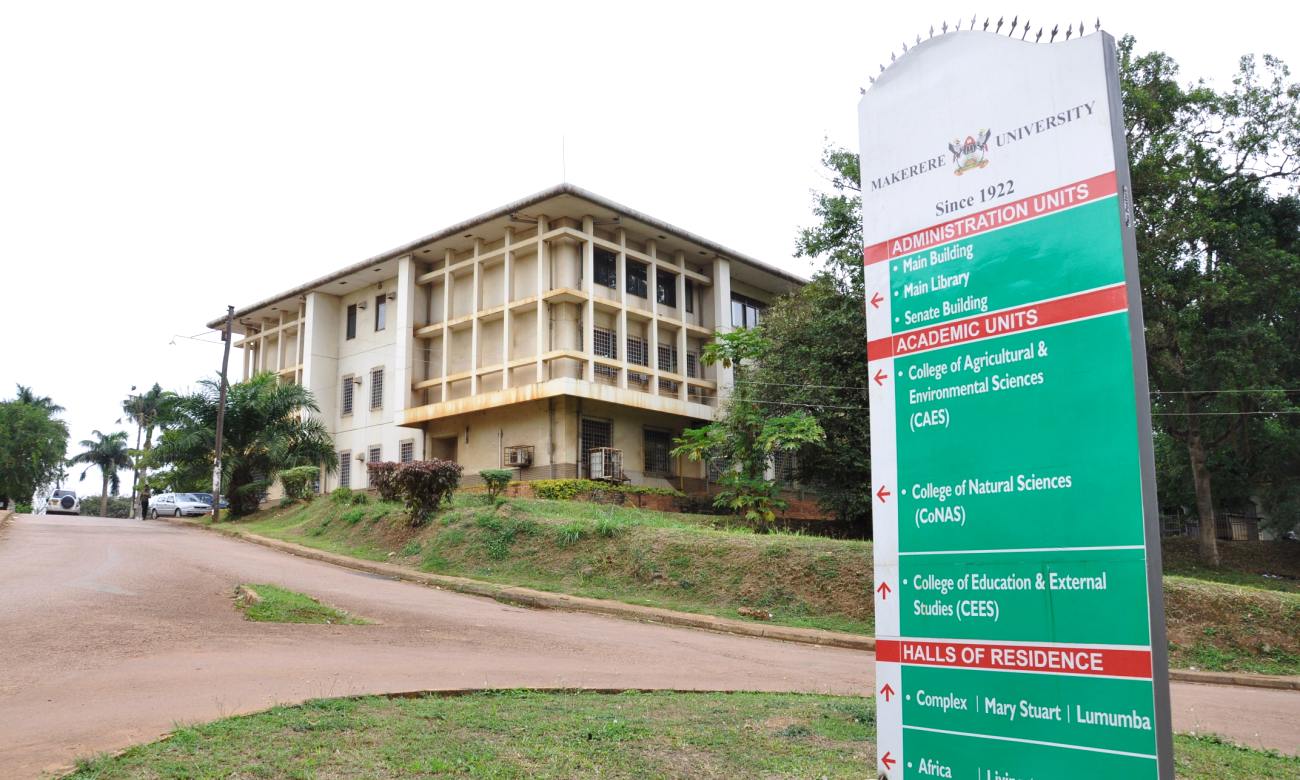 Dr Julius Mulindwa, Lecturer in the Department of Biochemistry and Sports Science, College of Natural Sciences (CoNAS), Makerere University, together with colleagues Prof. Nicolai Seigel at the University of Munchen, Germany and Dr Kevin Marucha at Kisii University, Kenya were recently awarded a research grant by the German Research Foundation (DFG) amounting to 290,985 Euro. Out of this, 179,735 Euro is for the research activities that will be conducted at the Department of Biochemistry and Sports Science, CoNAS.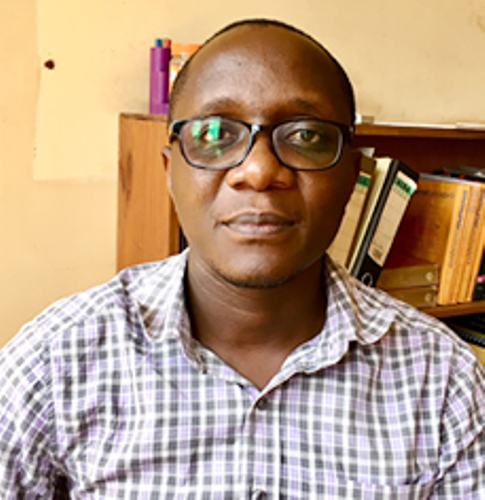 The research study is about, "Understanding cell to cell heterogeneity in African trypanosome field isolates".
The benefits of this study to Makerere University will include:
Capacity building in trypanosome single cell transcriptomics. This technic can be further exploited in other fields of research including cancer biology and it will be a great breakthrough if it is established at CoNAS.
Training of a Ugandan PhD student and MSc students.
Building research networks and fostering collaborative research between Makerere University, LMU, Germany and Kisii University, Kenya.  
Mak Hosts EnergyNET Project Annual Meeting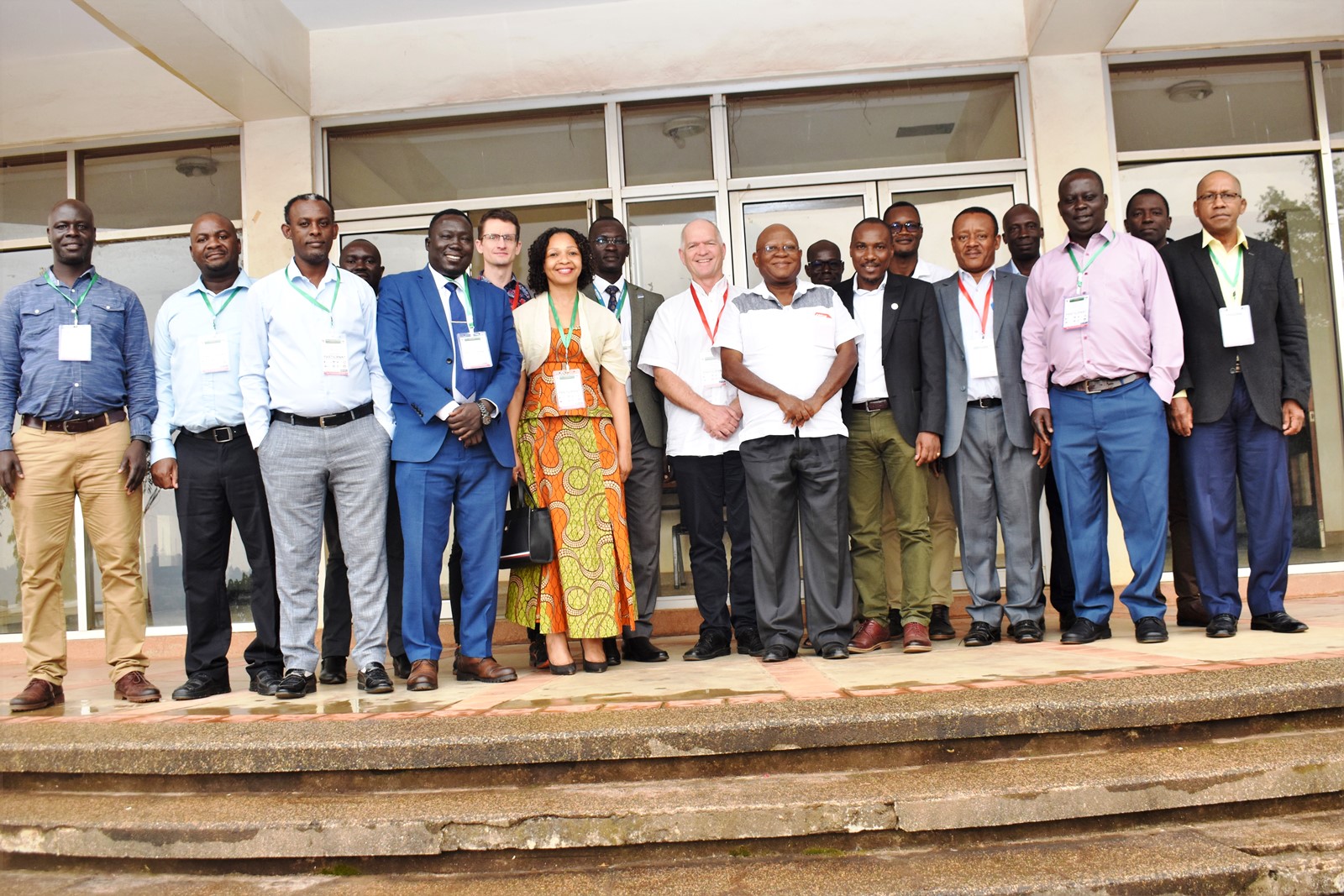 Makerere University College of Natural Sciences (CoNAS) through the Department of Physics is hosting the 2023 Annual Meeting for the Energy Technology Network (EnergyNet) Project.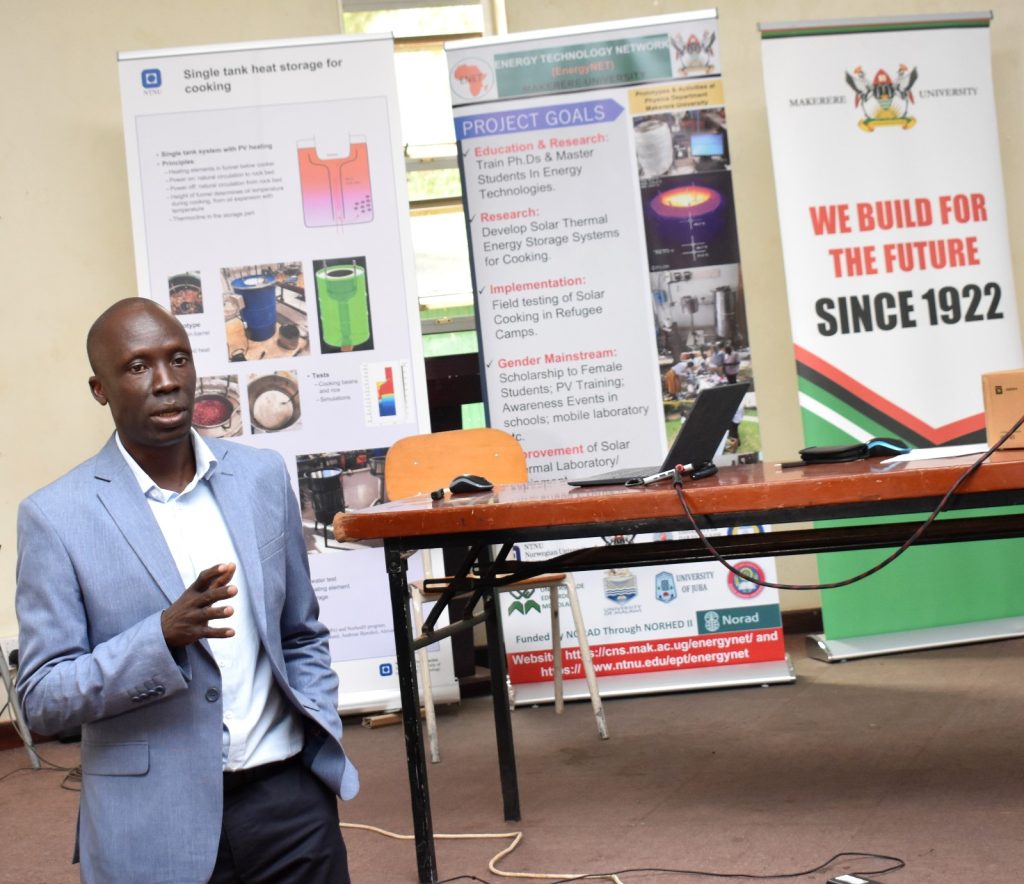 The three-day meeting taking place at the School of Food Technology, Nutrition and Bio-Engineering is being attended by partners from the Norwegian University of Science and Technology (NTNU), University of Dar es Salaam (Tanzania), Makerere University (Uganda), Mekelle University (Ethiopia), Addis Ababa University (Ethiopia) and Eduardo Mondlane University (Mozambique). It was officially opened by the Principal, CoNAS, Prof. Winston Tumps Ireeta on 9th January 2023.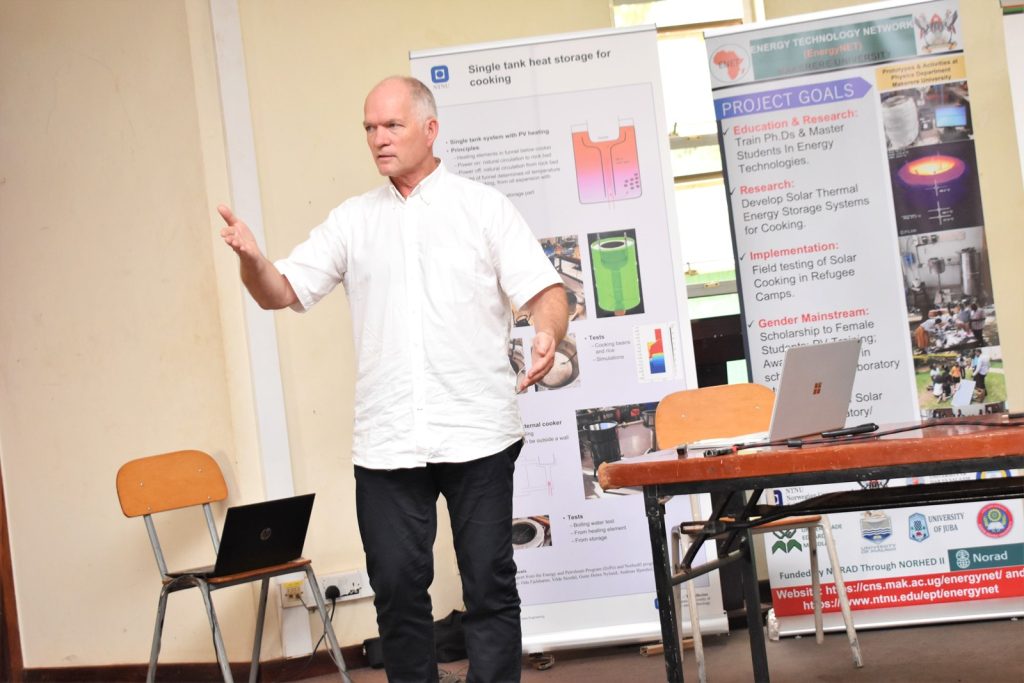 EnergyNet is a six-year (2021-2026) project supported by the Norwegian Agency for Development Cooperation (NORAD) under NORHED II. The project is a network of African universities collaborating on education and research in Energy Technology. Prof. Ole Jorgen Nydal from NTNU is the main coordinator of the Project. At Makerere University, the project is coordinated by Dr Nyeinga Karidewa, Lecturer in the Department of Physics.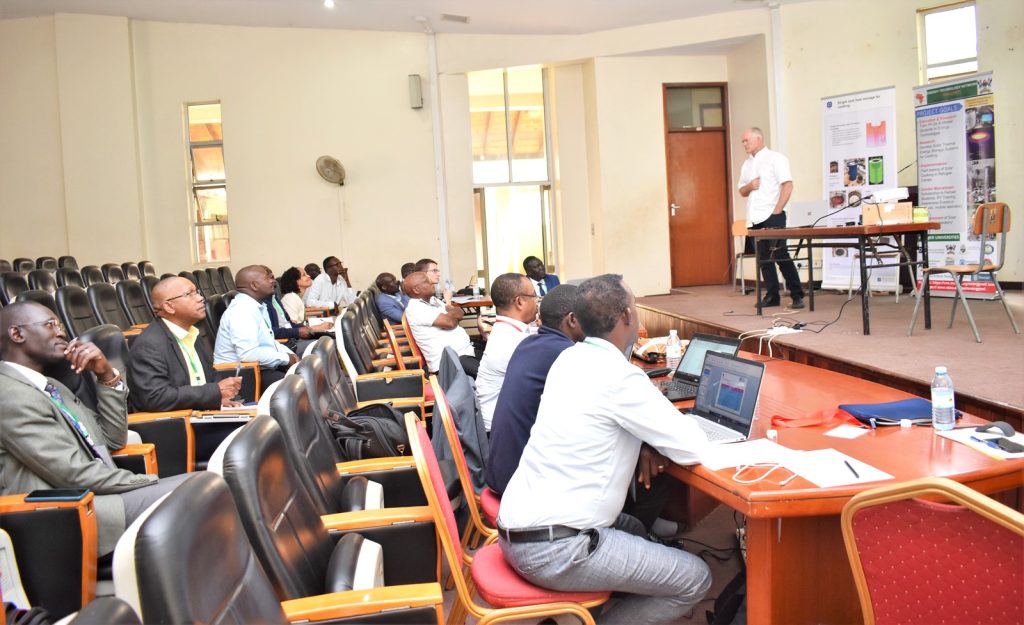 Objectives of the project
i) To increase the quality of MSc/PhD educational programmes in Renewable Energy by training PhDs and MSc students in energy
ii) Conduct research in small scale renewable energy systems
iii) Bring results from the laboratory to the society
iv) Networking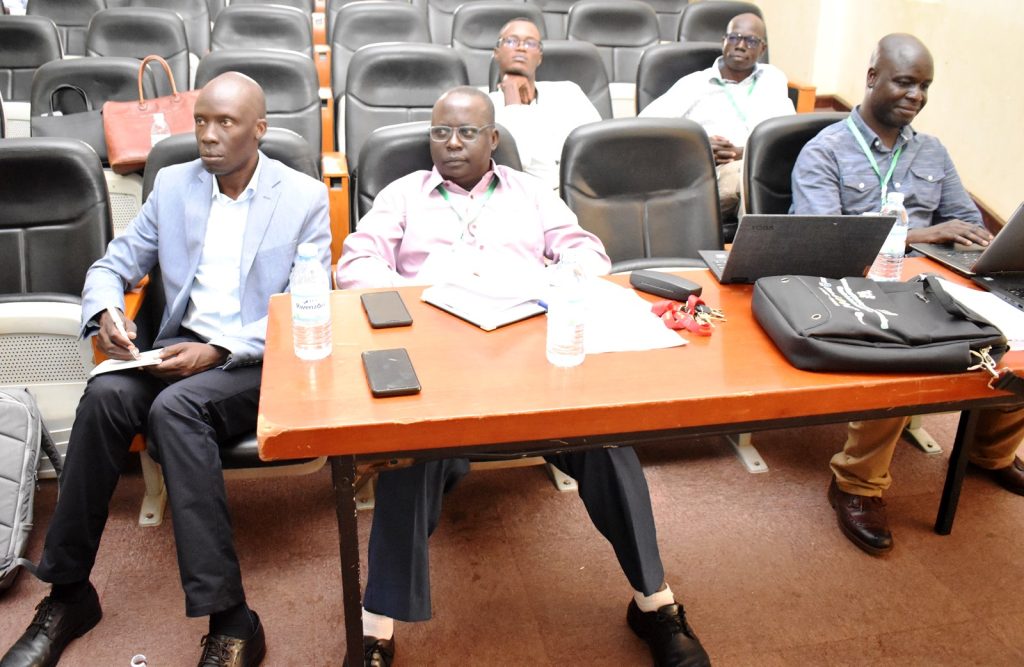 Purpose of the project workshop
The workshop was convened to share reports on the progress of the project at each of the partner institutions, complete the project activity report for 2022, and to develop a work plan and budget for 2023. The workshop featured several presentations covering both technical and social aspects of the research in energy.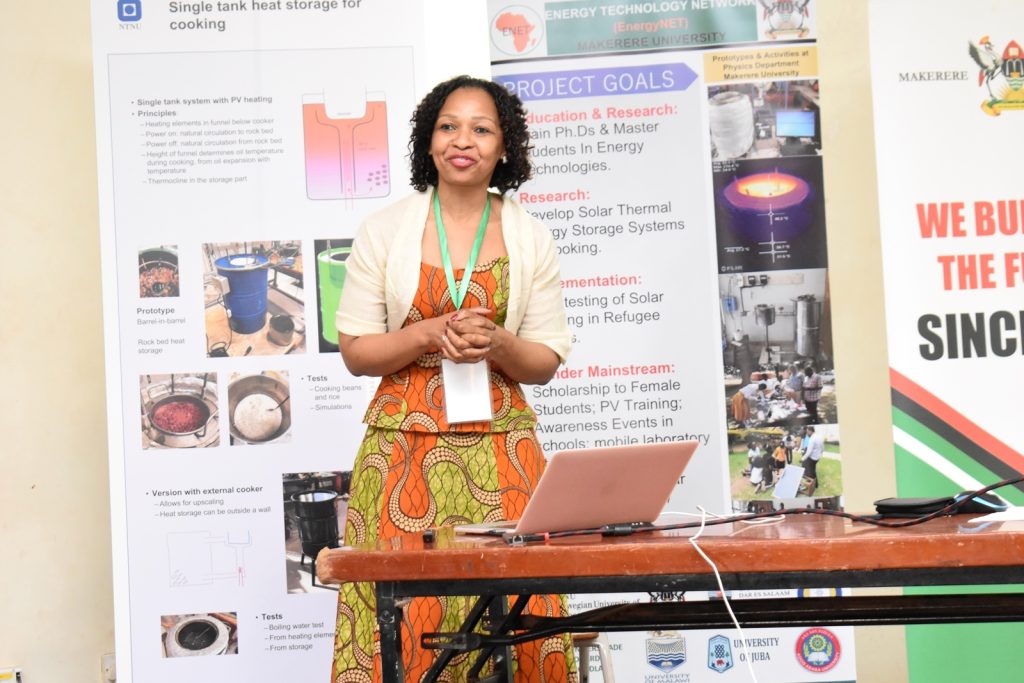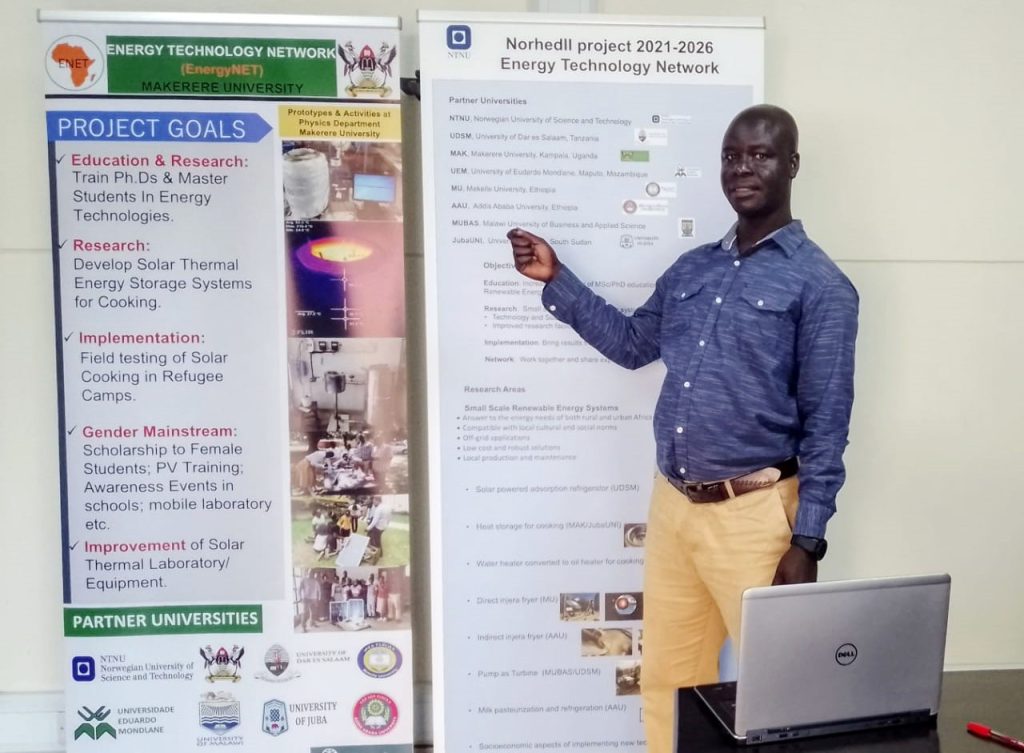 Research areas by the partner institutions under the project
Solar thermal energy storage systems for off grid cooking applications
Modelling and simulating back heating sources and multiple cookers integrated with heat storage
Dar es Saalam University (Tanzania)
Solar refrigeration
Mini hydropower – using pumps
Eduardo Mondlane University (Mozambique)
Solar cooker technologies acceptance among pastoral communities in disaster areas
Solar thermal technology – charging by evacuated tubes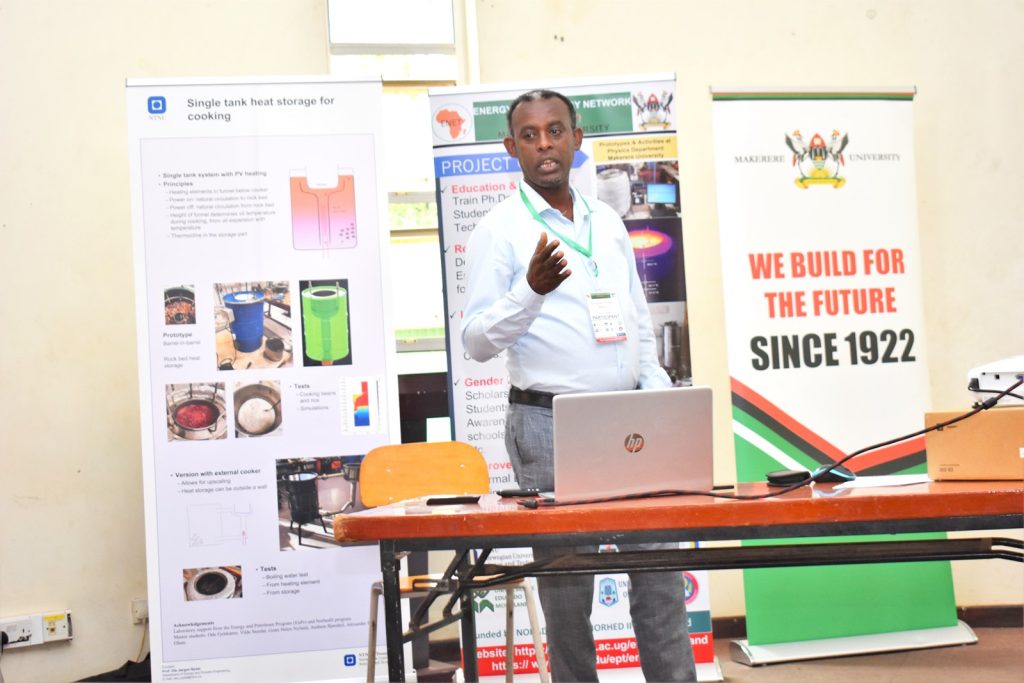 Addis Ababa University
The AAiT team at Addis Ababa University is working with two PhDs in thematic areas of refrigeration and solar thermal cooking. The first system is used for milk cooling and pasteurization with potential application for dairy farmers. The second one focuses on design, development, and experimental investigation of photovoltaic based institutional injera baking system with phase change materials with potential application in Universities, correction centres and hospitals where injera is baked in mass. Abdulkadir Aman Hassen (PhD) is the project coordinator from AAU. Other coordinators are; Boaventura Cuamba, Eduardo Mondlane University (Mozambique); Joseph Kihedu, University of Dar es Salaam; Mulu Bayray, Mekelle University; Ishmael B.M. Kosamu, University of Malawi, and Tito Achire, Juba University.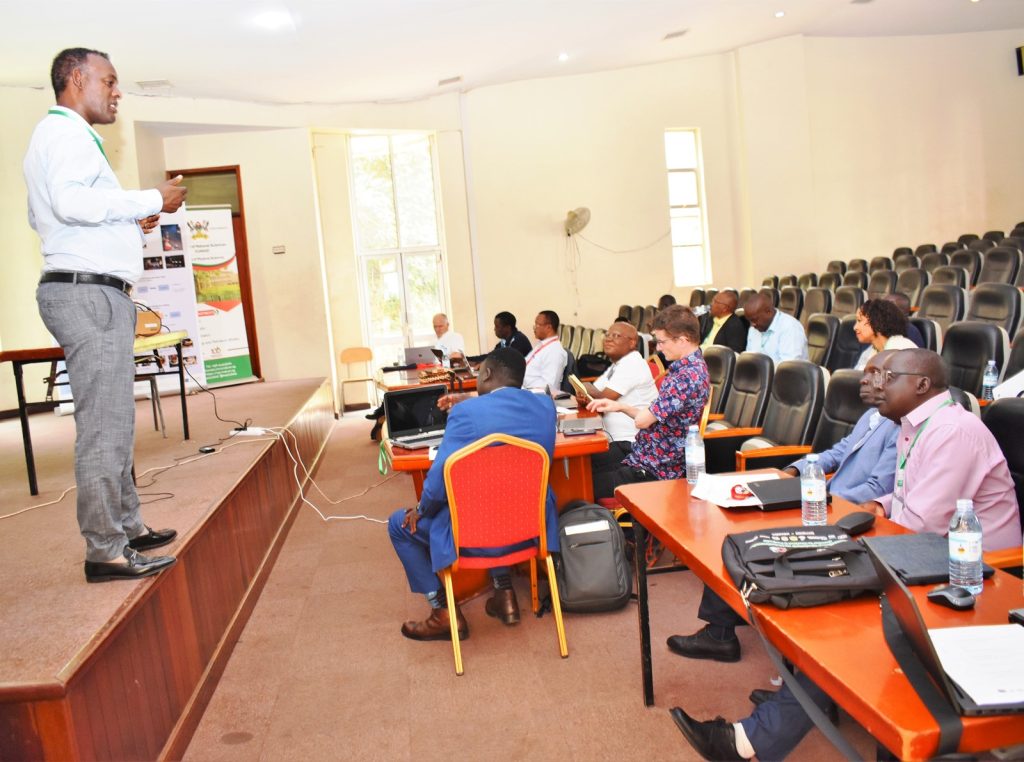 During the workshop, PhD students on the project presented progress reports and plans for 2023. Mr. Richard Ochaya from UNHCR presented energy challenges faced in refugee camps in Uganda, and the need to work closely with universities to find sustainable solutions.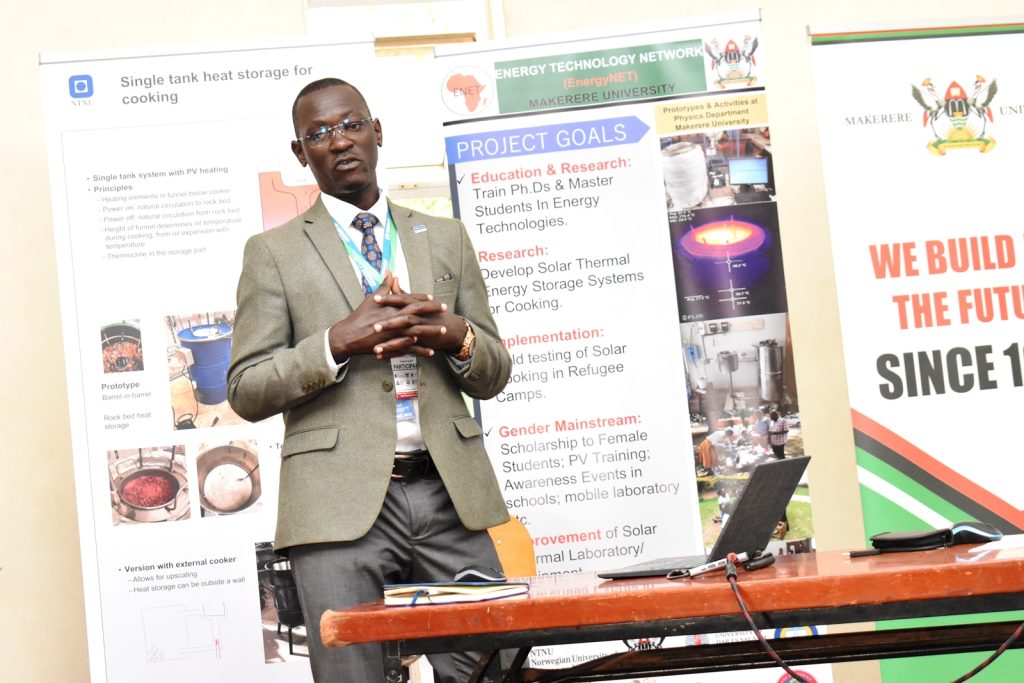 Expected output
The partner universities have a long history of collaboration on research and education in renewable energy. The experiences and the results from the group (programmes and research), will be shared as support for capacity building at the University of Malawi and the University of Juba (South Sudan) which are at an earlier stage on the research capacity path.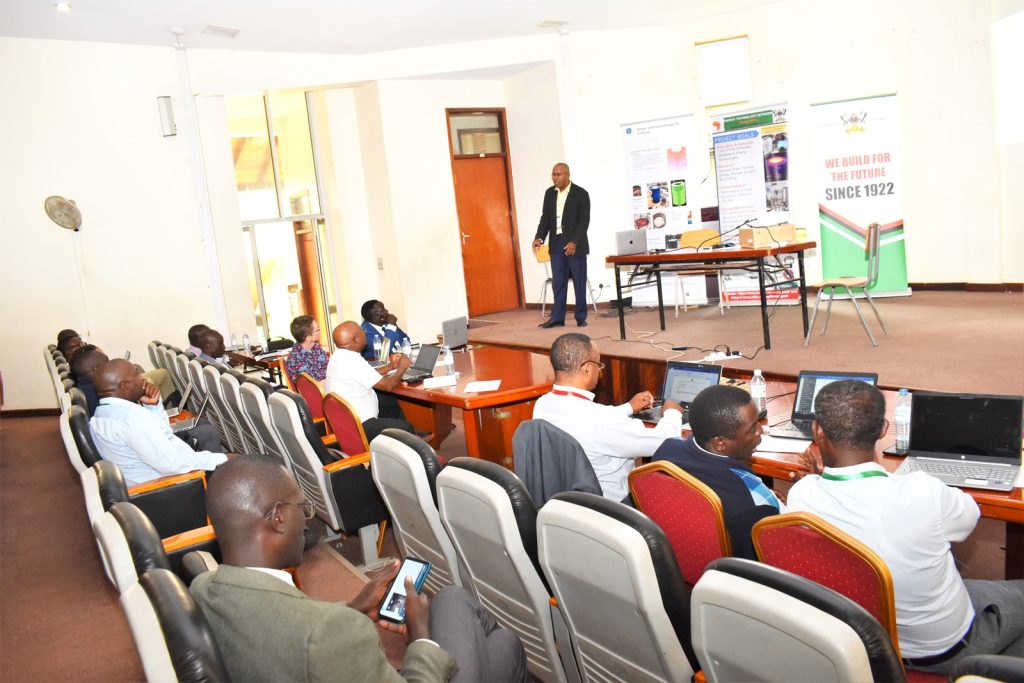 The research tasks have been solution oriented, with the exploration of new and innovative technical solutions for small scale energy components and systems related to hydro and wind power, solar and bio energy for cooking and solar refrigeration technology. Focus is on thermal energy solutions (heating, cooling, cooking) and the integration of heat batteries with electrical batteries in micro grid systems. Emphasis is on qualifying and implementing new technical solutions emerging from university research, in collaboration with relevant stakeholders. The educational part includes a new multidisciplinary PhD programme combining technical, socioeconomic and environmental studies. The quality of the existing master programmes will be enhanced by joint curriculum reviews, improvement of research based teaching and migration towards more digital teaching methods.
Call for Abstracts for Doctoral Convention 2023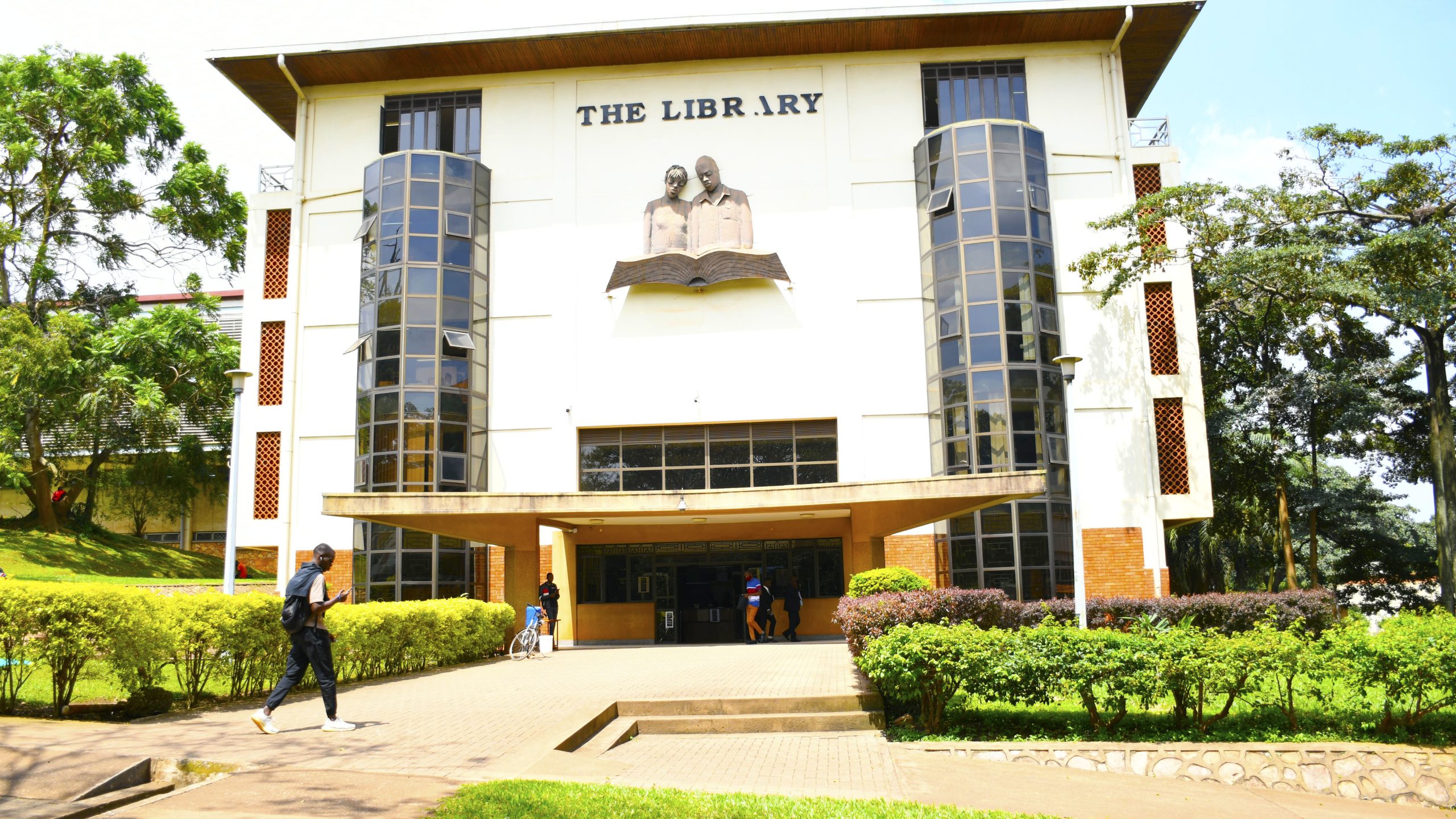 PhD Fellows of Makerere University (PF@mak) invites all PhD and other graduate scholars of Makerere University to the annual doctoral convention slated for 23rd February 2023. The theme for this Convention is "Positioning Research for the attainment of National Development Agenda" Sub-themes are aligned with Uganda's National Development Plan III.
The goal of this Doctoral Convention is to bring together the PhD Community and other graduate students from this great University to share their research projects and outputs as well as critique concepts and proposals in line with the main theme of positioning research in the attainment of national flagship development interventions e.g Uganda's Parish Development Model and Vision 2040. This Doctoral Convention offers a platform where graduate students discuss their research concepts, proposals, preliminary research findings, manuscripts and papers. This will be done through oral paper presentations and pitching sessions. In addition, there will be poster exhibitions and discussion of presenters' works. Awards will be made to the best assessed oral presenters, poster exhibitors and pitching sessions.
PF@Mak is now inviting and accepting abstracts for oral papers and poster presentations. You are invited to submit abstracts not more than five hundred words (500) of your concept note, proposal, manuscripts and/or papers that are relevant to the conference theme and subthemes. Indicate the preferred sub-theme and whether you are submitting a paper for oral or poster presentation.
Sub-themes of this doctoral convention are:
Governance, Economic and Social Change for a prosperous Region.
Natural Resources Management, Climate Smart Development & Food Security
Science, Innovation and Technological Advancement for Bio-safety & Well-being
Health & Health Systems that address Contemporary Global Threats
We look forward to a vibrant PhD Convention that feeds into an enhanced learning environment for PhD studies at Makerere University as We Build For The Future.
The PhD Convention shall be Hybrid in nature with provision for Online Live Streaming.
Abstract Submission Deadline: 23rd December 2022.
SUBMISSION GUIDELINES
The Doctoral convention leadership invites the submission of original abstracts for Oral and/or Poster presentation*. All abstracts should be submitted via the following email; phd.fellows@mak.ac.ug before the deadline (23rd December 2022). These will be forwarded to the Convention Review Board. All abstracts must be submitted and presented in clear English with grammar and spelling of a quality suitable for publication.
WRITING & SUBMITTING YOUR ABSTRACT
Please follow the guidelines below when writing and submitting your abstract/paper. The abstract should be as informative as possible, standard abbreviations may be used. It should not contain diagrams/tables/images: these may be added when submitting the paper. Before you begin submission, please prepare the following information:
Author's and co-Authors' details (Full first and family name(s), Email)
Affiliation details: Institution / University/ College/School/ and Department.
Abstract preferred sub-theme: Please choose from the list of sub-themes
Title: The title should clearly indicate the nature of the investigation. Each word should begin with a capital letter with the exception of transition words (maximum 25 words).
Length: The Abstract body should be no longer than 500 words in total.
Structure: Please ensure your abstract clearly brings out Background; Objectives; Methods;
Results (where applicable) and Conclusion.
Key Words: Outline Four Key Words in your Abstract
Formatting: Use Arial font, size 11.5 with 1.15 spacing.
CONFIRMATION OF RECEIPT
You will receive email confirmation that your abstract has been received, indicating the allocated abstract number. Please refer to that abstract number in all further correspondence regarding the abstract.
NOTIFICATION OF DECISION
After submitting your abstract, you will receive an e-mail confirming your successful submission. If you do not receive this confirmation e-mail within 05 days, please contact;
phd.fellows@mak.ac.ug
IMPORTANT TIMELINES
Issuance of Call for Abstracts: 22nd November 2022
Abstract submission deadline (MS Word Documents only): December 23rd, 2022
Acceptance notification: December 30th, 2022
Full presentation submission deadline: January 30th, 2023
Please Note: Only accepted abstracts of fully registered presenters can be included in the final Doctoral Convention program and Book of Abstracts. Registration is required to be completed within 10 days from date of acceptance notification. Registration Fee is modest UGX 30,000 which also doubles as Annual Membership Fee for PF@Mak (for the case of PhD Scholars). Presentation at this Convention will constitute part of the requirements by DRGT on Conference participation