MAPRONANO Short Course in AI, ML & Bioinformatics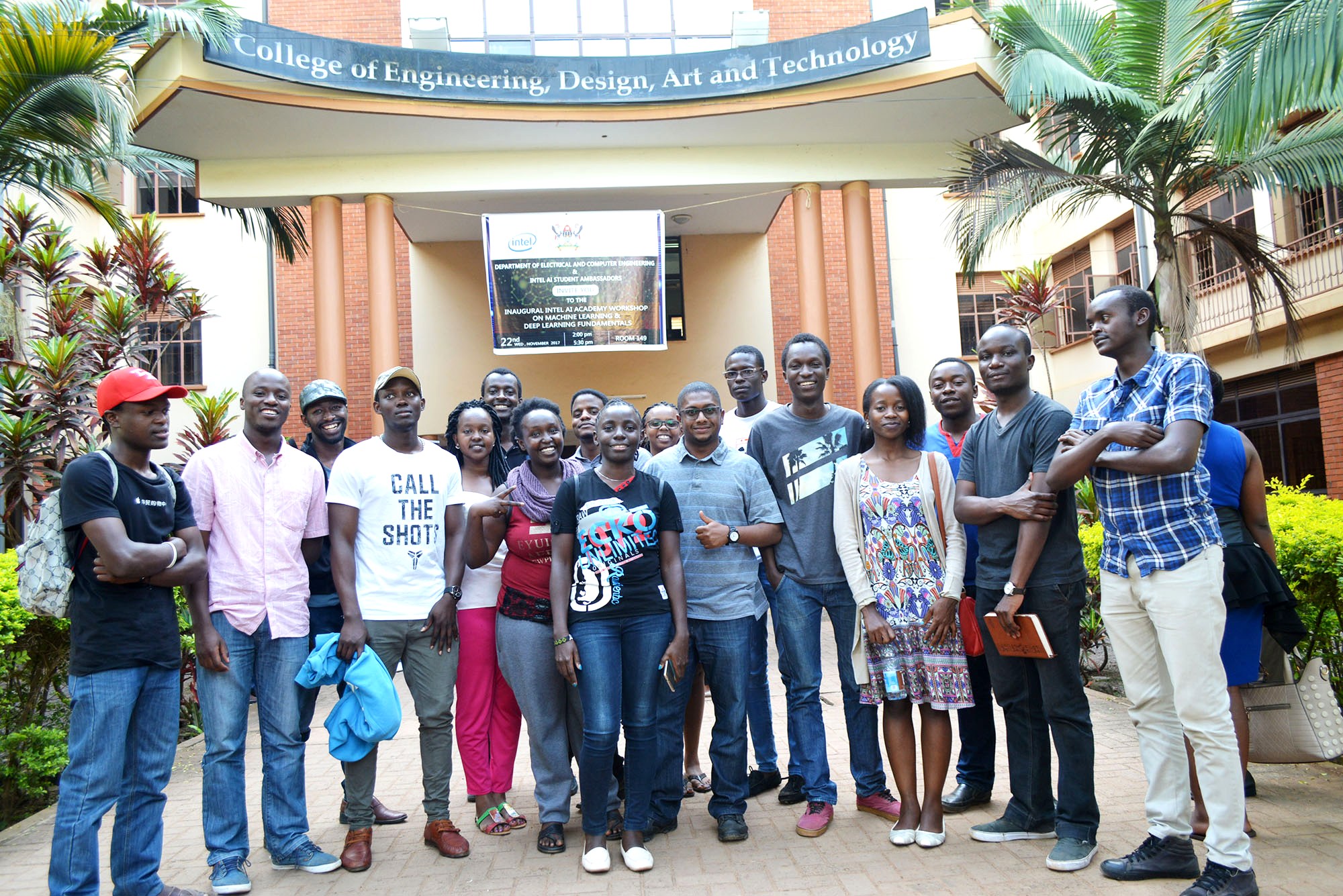 The African Center of Excellence in Materials Product Development & Nanotechnology (MAPRONANO ACE), College of Engineering, Design, Art and Technology (CEDAT), Makerere University in partnership with the Infectious Diseases Institute (IDI)'s African Center of Excellence in Bioinformatics and Data Sciences (ACE), Tel Aviv University, Israel, the Colleges of Health Sciences (CHS) and Computing and Information Sciences (CoCIS) and Teesside University, UK invites applications for the Short Course Training in Artificial Intelligence (AI), Machine Learning (ML) and Bioinformatics.
The course will be run virtually from 4th to 7th October 2021
Please submit all applications to: ace[at]idi.co.ug, mapronanocedatmak[at]gmail.com, bmujuni7[at]gmail.com including a One Page motivation statement indicating why you are interested in attending by 27th September 2021
CEDAT Holds 10th Open Day, Celebrates 50 Years of MES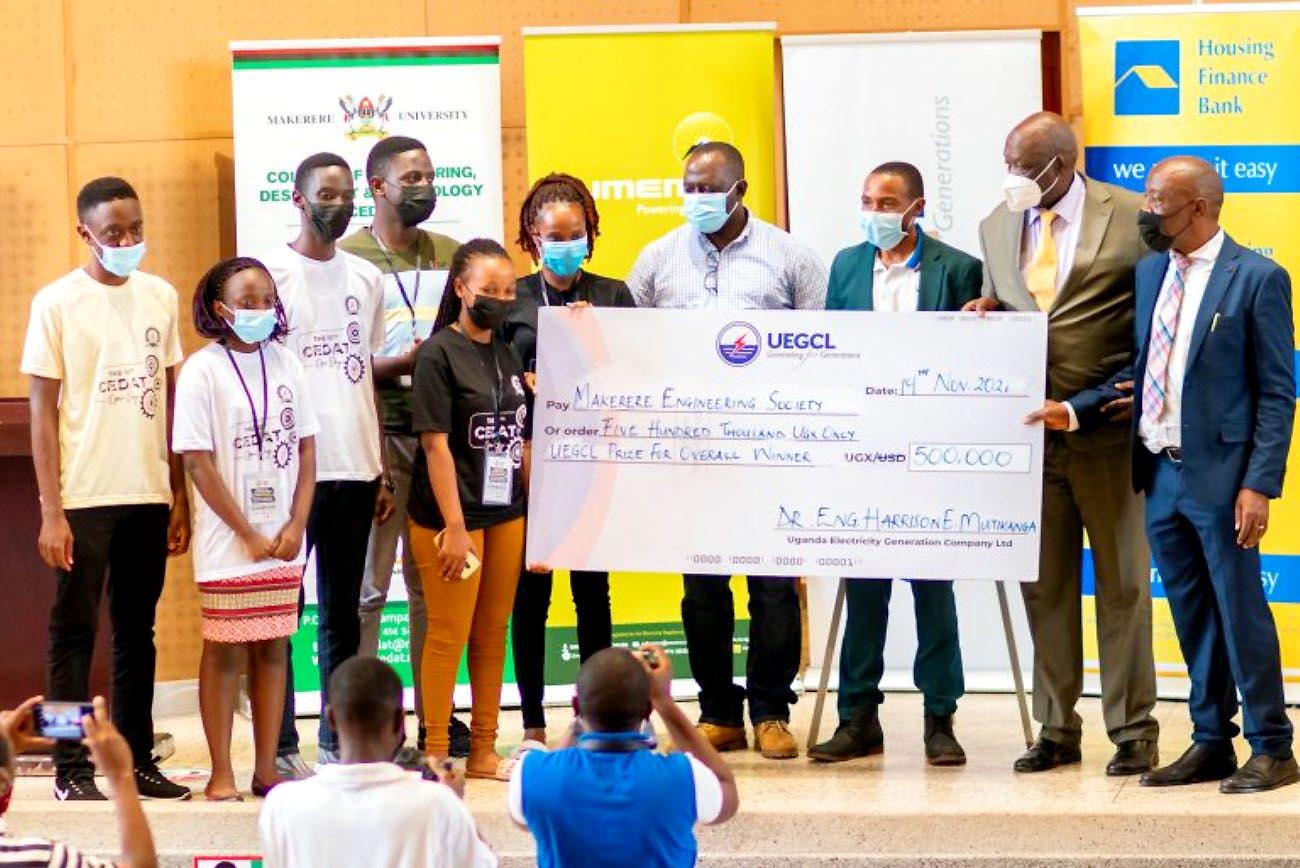 The College of Engineering, Design, Art and Technology (CEDAT) held its Annual Open day on the 19th and 20th of November 2021 on the Theme; 'Innovation and Technology in Combating Crisis'
The event which was also an avenue to celebrate 50 years of Makerere Engineering Society (MES) was characterized by a display of many student ideas and innovations in line with the theme of the event.
The Minister of Science, Innovation and Technology Hon. Dr. Monica Musenero was Chief Guest at the event held at Makerere University Central teaching Facility II.  In her remarks Dr. Monica Musenero expressed her commitment towards building the future in partnership with the young engineers. She applauded the great work done by the students as seen from the exhibitions and expressed optimism that the future of the nation was assured with the kind of work the students were doing.
'We are standing at cross roads, we are standing between the past and the future, standing between what has been and what we want to be, she said adding that we need to choose whether we go forward and take our future in our hands or choose to sit down, lament and blame everybody else'.
Dr. Musenero noted that the young people were the face of the future and congratulated Makerere Engineering Society for the 50 year milestone whose success she said, should be used to reflect on what had been realized as seen from the number of Engineers and products nurtured. She emphasized to the students that they were privileged given that science and technology where engineering falls was a key component for development.
The Minister informed the gathering that her Ministry was ready to support ideas and innovations in areas that included digital technology such as electronics, infrastructure engineering like roads and railways, mobility, the pathogen economy, import substitution and creating products for export as well as space engineering. She charged the students to have the right mindset and determination and assured them of the support of the Ministry.
The 2021 CEDAT open day later in the course of the event hosted the State Minister for Minerals Hon. Peter Lokeris who not only inspected the exhibition of the innovations by the students but also handed over a prize of Five Hundred Thousand Uganda Shillings to the best innovator courtesy of the Uganda Electricity Generation Company Limited (UEGCL).
Hon. Lokeris informed the Engineering students that the Mineral Development sector had a big docket and urged them to continue striving to become big innovators as demonstrated in the exhibition.  He noted that the positive side of COVID 19 made it possible for certain innovations to be seen and that in times of crisis, the mind works at its best.
Dr. Eng. Dorothy Okello inducted as a UNAS Fellow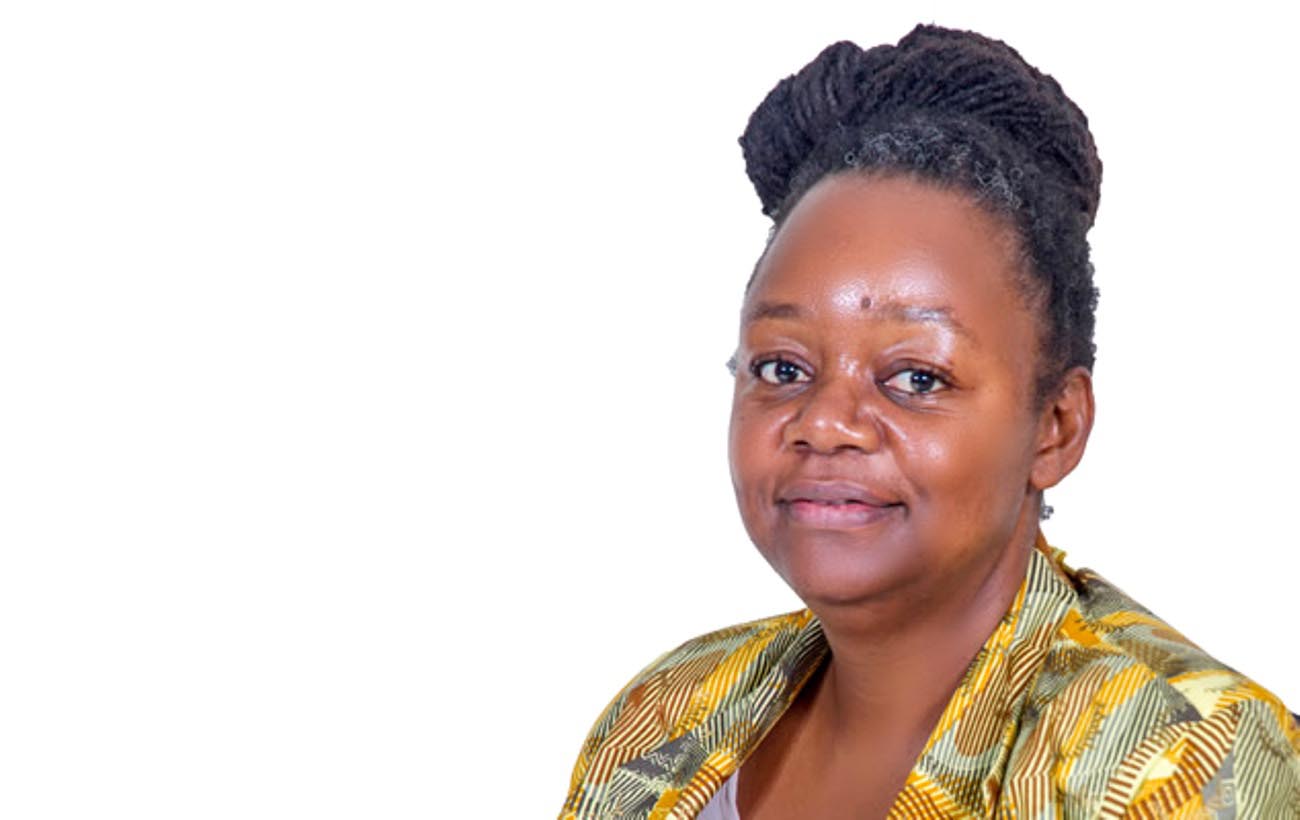 Dr. Eng. Dorothy Okello has been inducted as a Fellow of the Uganda National Academy of Sciences (UNAS).
Dr. Engineer Dorothy Okello is the Dean, School of Engineering, College of Engineering, Design, Art and Technology (CEDAT), Makerere University. She is also, Senior Lecturer, Department of Electrical and Computer Engineering as well as a Researcher with netLabs!
A number of staff in CEDAT led by the Principal Prof. Henry Alinaitwe extended congratulations to her for the achievement. Many applauded her for this and many other achievements. She pledged to work towards ensuring that more staff in CEDAT get enrolled.
Press Release: New method offers rapid monitoring of contamination in drinking water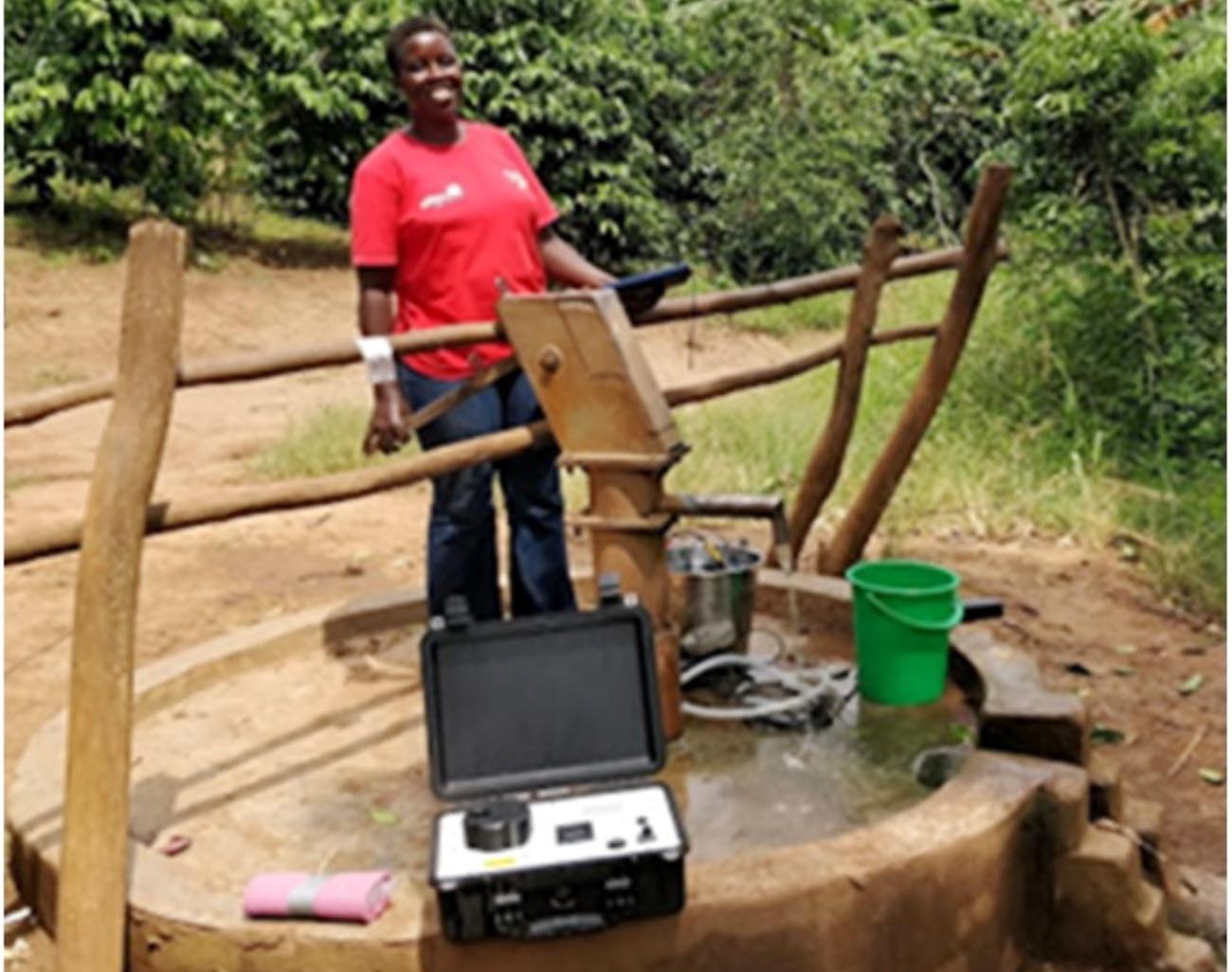 12th October 2021: Scientists have developed a reliable new method to monitor the risk of contamination in drinking water which gives immediate results, enabling global communities to respond rapidly and help reduce their exposure to waterborne diseases.
Drinking water contaminated with human and animal faeces is consumed by at least two billion people worldwide. This pollution is responsible for outbreaks of waterborne diseases that remain common, even in high-income countries.
For decades, standard approaches to test water supplies have used bacteriological indicators of faecal contamination, most commonly thermotolerant coliform bacteria known as TTCs. Analysis of these indicators requires use of sterile equipment and culturing techniques, which practically limit the frequency of water sampling so that contamination events can be missed. Time lags of 1 or 2 days before results are returned mean that people can already have been exposed to the faecal contamination.
A new study, published this week in Water Research by a collaborative team from Makerere University, the British Geological Survey, and University College London, shows how a technique exploiting the fluorescent properties of microbiological materials in water provides an easy-to-use method to test for faecal contamination.
Co-author Jacintha Nayebare, PhD student at Makerere University said, "In-situ fluorescence spectroscopy provides an instantaneous assessment of faecal contamination allowing rapid feedback to consumers that could reduce exposure of consumers to faecally contaminated drinking water."
The team examined changes in water quality over a 14-month period from 40 sources supplied by groundwater in Lukaya Town of south-central Uganda. The results show not only that in-situ fluorescence provides an instantaneous measure of faecal contamination but also that it is a more reliable measure of the risk of faecal contamination than TTCs.
Co-author, Dr. Robinah Kulabako from Makerere University's Department of Civil and Environmental Engineering said, "this rapid, robust method of monitoring the risk posed by faecal contamination has enormous implications in Uganda not only for untreated water sources such as wells and springs thereby, enabling communities to respond rapidly to contamination events but also for low-cost, continuous monitoring of piped water supplies."  
This research builds upon field studies conducted by the team in a network of urban observatories in Senegal, Kenya and Uganda under the AfriWatSan project, supported by The Royal Society and DFID, as well as research in the UK, India, and Zambia funded by Natural Environment Research Council.
Lead-author, James Sorensen from the BGS and UCL said: "the ability to test in-situ fluorescence as an indicator of faecal contamination risk in a wide range of environments and conditions has greatly improved both the evidence base for this method of water quality monitoring and our understanding of what fluorescence observed in water means."