Norway helps Uganda take lead in journalism training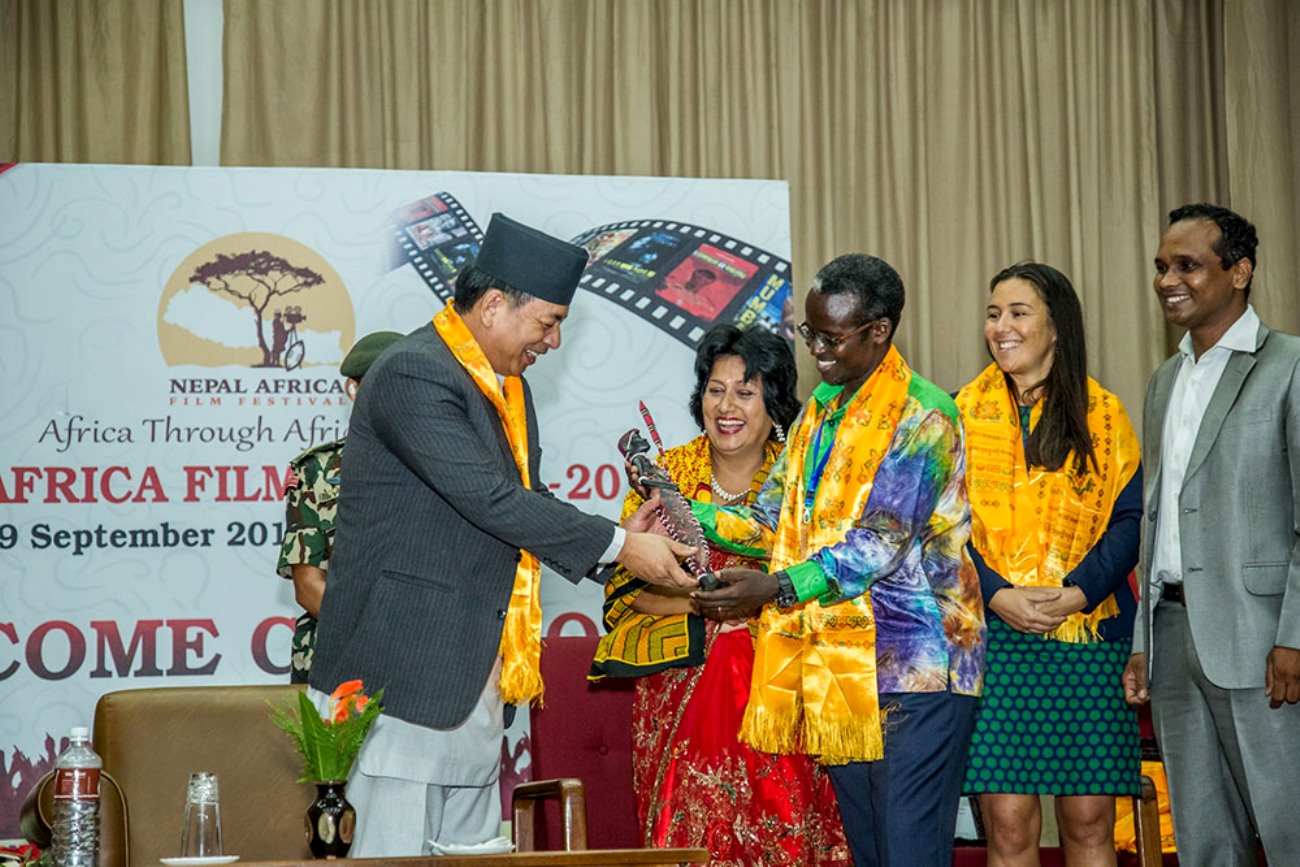 By Conan Businge
The NUFU provided immense support to Makerere University in infrastructural development, graduate scholarships, and research funding.
KAMPALA – On any day, for any news bulletin or any newspaper publication in Uganda, a student from Makerere University is most likely involved. 

This reality is partly just because the university is one of the longest-serving journalism training institutions in the country, having over three decades of history in Uganda's education system. 

The country's oldest university, Makerere University, started a Mass Communication course in 1988 to professionalize journalism and communication.

The Department has grown in the last three decades from a handful of lecturers with Bachelors and Masters degrees; to ones with Doctors of Philosophy (PhD) and Professors; working as lecturers in this Department; thanks to initiatives such as the Norwegian Programme for Capacity Development in Higher Education and Research for Development (NORHED). 

Other support came previously to Makerere University through the Norwegian Programme for Development, Research and Education (NUFU) that run from 1991 to 2012. 

The NUFU provided immense support to Makerere University in infrastructural development, graduate scholarships, and research funding. 
NUFU was phased out and replaced in 2013 with the Norwegian Programme for Capacity Development in Higher Education and Research for Development (NORHED). 

Alongside NORHED, however, several other academic institutions can also benefit from others, such as the Norwegian Partnership Programme for Global Academic Cooperation (NORPART) and the NORAD Master Studies Programme (NOMA).

The former head of Makerere University's Department of Journalism and Communication, Dr. William Tayeebwa says that after 33 years, 'Journalism and Communication' is now a separate department offering Ugandans the chance to develop their print, broadcasting, photography, communication, and public relations talents. 

Dr. Tayeebwa has also been for six years the Principal Investigator and overall coordinator of the NORHED project. 

'This is a culmination of the university and other projects' investment in journalism education and training, in this institution in the last two decades,' remarks the university's Deputy Vice-Chancellor for academic affairs, Assoc. Prof. Umar Kakumba.

 'It has been through the great support of Government and foreign funders like the Government of the Royal Kingdom of Norway.' 

In 2004, the Department started a Master's programme in Journalism and Communication, and this answered the need for an advanced journalism degree, and non-journalists have also applied to this course, as the course would equip them with the right skills and qualifications needed at work.

The department was the first establishment, to offer a degree programme in Mass Communication in East Africa. 

For years, the Government of the Royal Kingdom of Norway provided millions of dollars in bilateral support to countries in the global south, including Uganda.
Mak New Vision Pull-out: Innovating for the Future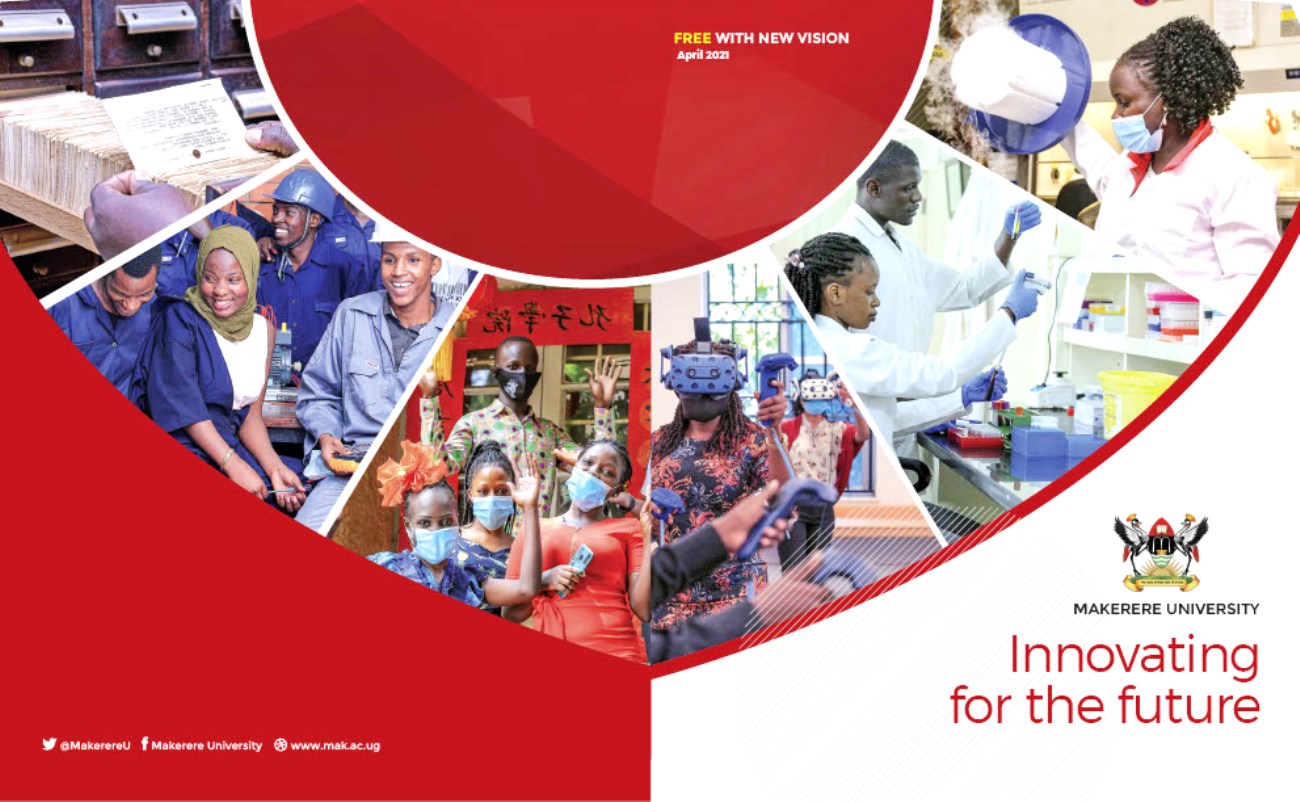 Makerere University research, innovations and strategic direction have been featured as a pull-out in the New Vision newspaper of Thursday 22nd April 2021. The pull-out has as its leading voice an interview with the First Lady and Minister of Education and Sports, Hon. Janet Kataaha Museveni, with the rallying call "We must be masters of our future".
The pull-out also features an article by the Chairperson of Council, Mrs. Lorna Magara entitled "Our future is research". Therein, she discusses Makerere University's focus to transform into a research-led university as outlined by the Strategic Plan 2020-2030.
The Vice Chancellor, Prof. Barnabas Nawangwe then outlines the reforms being undertaken in the University based on findings that "No organisation can run efficiently and effectively without the appropriate governance structures. This is even more important for a complex organisation like Makerere University, with multiple stakeholders and numerous international links and partnerships."
Do not miss your free hard copy in today's New Vision or see Downloads for the soft copy.
Winners of NextGen East African Innovator Programme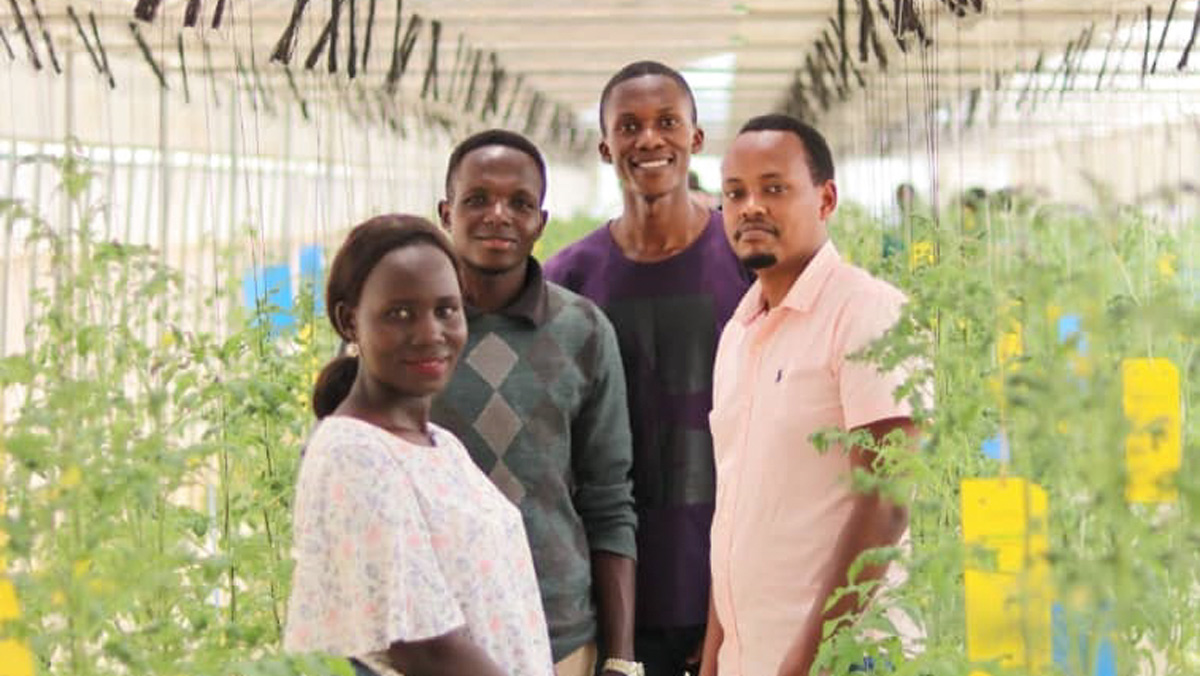 Four student teams from across East Africa have won a competition seeking innovative solutions to address food-related challenges.
The United Nations World Food Programme (WFP) Innovation Hub for Eastern Africa partnered with the Technical University of Denmark's DTU Skylab FoodLab, the Hult Prize Foundation and the Ministry of Danish Affairs to launch the first NextGen East African Innovators Programme.
Nine teams of student innovators from Kenya, Sudan, Ethiopia, Uganda and Rwanda were selected out of 156 applicants to participate in a virtual bootcamp to further develop their concepts and take part in a culminating pitch competition on 18 March 2021.
Students had the opportunity to work with qualified facilitators and experts to improve their skills in areas such as value proposition, sustainable business development, pitching and fine-tuning their venture concepts.
Four winning teams were selected at the pitch event to take part in a part-virtual, part-in-person programme with the DTU Skylab FoodLab, which is the food systems change lab of the Technical University of Denmark´s innovation hub. The teams are from Ethiopia, Uganda and two from Kenya. One of the Kenyan teams is made up of refugees based in Kakuma who are originally from South Sudan and the Democratic Republic of Congo.
Participants in the programme will receive virtual mentoring and take part in inspirational lectures in preparation for a month-long trip to DTU focusing on intensive prototyping and research. When they return home, they will continue to interact with DTU staff virtually and exchange ideas with DTU Skylab FoodLab students.
They will also be able to connect with Skylab Experts and DTU's strong global network of innovators and entrepreneurs. DTU National Food Institute will also be a partner in the activities and will provide scientific support and access to facilities during the programme.
"I believe that this collaboration will provide the winners of the NextGen with the possibility of living a full DTU experience and bringing back to their regions relevant knowledge that can be shared with other team members and among other fellow innovators," said Roberto Flore, head of the DTU Skylab FoodLab.
"This is also a fantastic opportunity for the DTU Skylab FoodLab community to connect and exchange ideas with a group of bright innovators such as the winners of the NextGen East African Innovators Programme. I believe this kind of interaction will immensely enrich our DTU students," Flore added.
The winning teams are:
Tripple P (Kenya)
Tripple P is a social enterprise dedicated to providing eco-friendly and affordable fertilizer and feed made from soldier fly larvae.
Quote on winning:
"WFP Next Gen Innovators brings together the greatest innovators in the region. We are humbled to have won in a pool of such incredible talent. We are also very excited and can't wait for the start of a hopefully long relationship with DTU Skylab FoodLab and the continuation of the relationship with the WFP Regional Bureau for Eastern Africa."
Team Contact Person
Gloria Cherono (Team lead)
Kenyatta University
AgriOT (Uganda)
An AI-Based greenhouse system using Internet of Things technology capable of delivering quality produce by controlling unpredictable weather conditions to ensure sufficient and consistent food production throughout the year.
Quote on winning:
" Winning is not just about being the first. It's about working harder every day, building one another and constantly improving ourselves to be better than the day before, and being part of WFP innovation hub helped us achieve these goals. It has been an awesome experience interacting with other participants and hope we can inspire other innovators to join the hub to help improve their ideas and transform their communities and Africa as a whole."
Team Contact Person
Derrick Locha
Makerere University
Read more here…
Math icon wants people to fall in love with numbers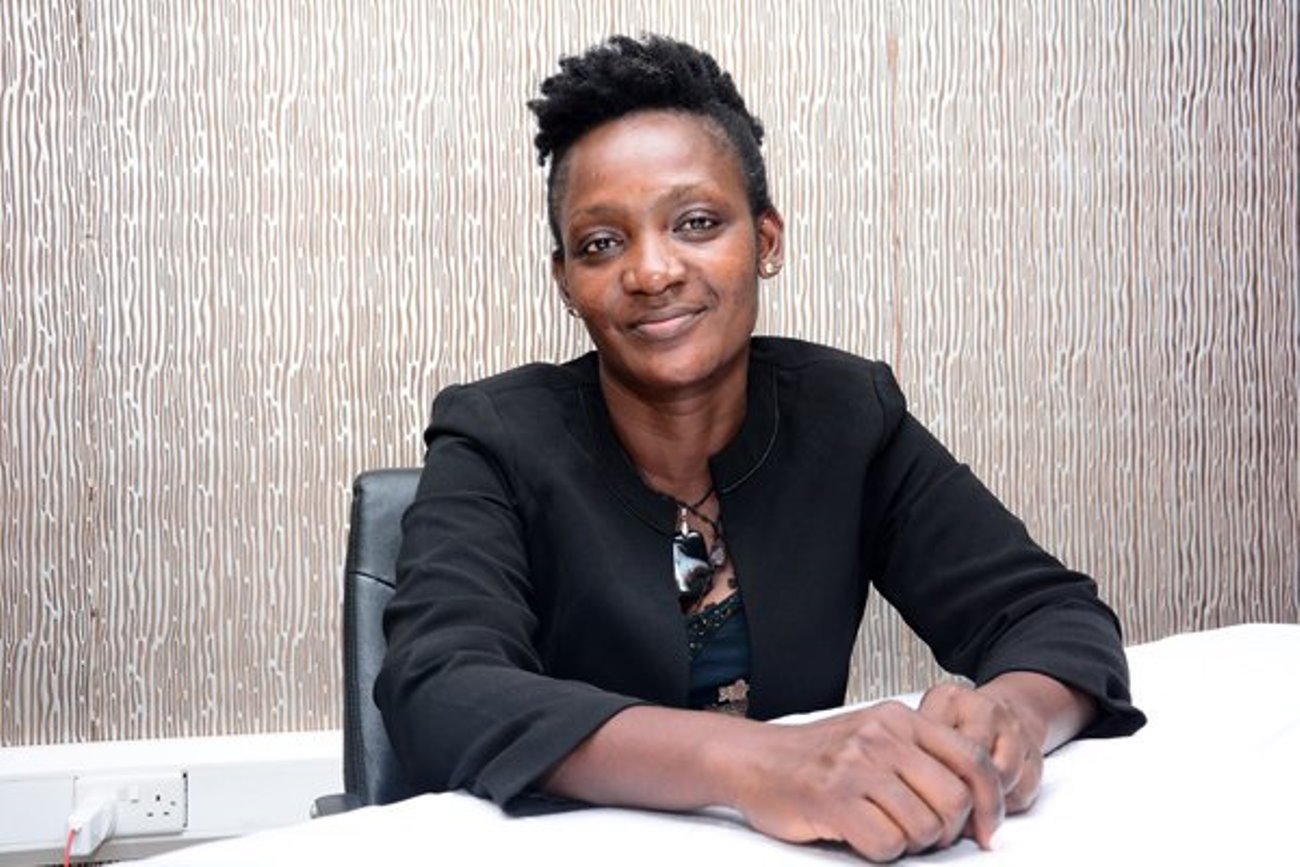 As a Primary Three Pupil at St. Clement Primary School, Ntusi in Sembablule District, Betty Kivumbi Nannyonga survived being another child broken by bullying. Her classmates laughed at her and made fun of the way she spoke English. "I had problems with pronouncing some words and people laughed at me," she recalls.
Her late father hoped school would help with her speech in vain. Instead of wallowing in self-pity, she sought solace in mathematics. She talked less and fell in love with numbers.
"I realised with maths I did not have to say anything or read a lot, I kept quiet and focused. All you had to do was grasp a concept, I realised you did not have to speak to do maths," says Kivumbi who now speaks effortlessly.
Kivumbi is now on course to become the first female associate professor of mathematics in the country and is a senior lecturer in the Department of Mathematics at Makerere University. She credits mathematics for the transformative power it has had on her life and has committed herself to imparting its beauty to all children, especially young girls. She wants to be remembered for changing people's attitude towards maths.