Six MakSPH Early Career Scholars Receive Seed Research Funds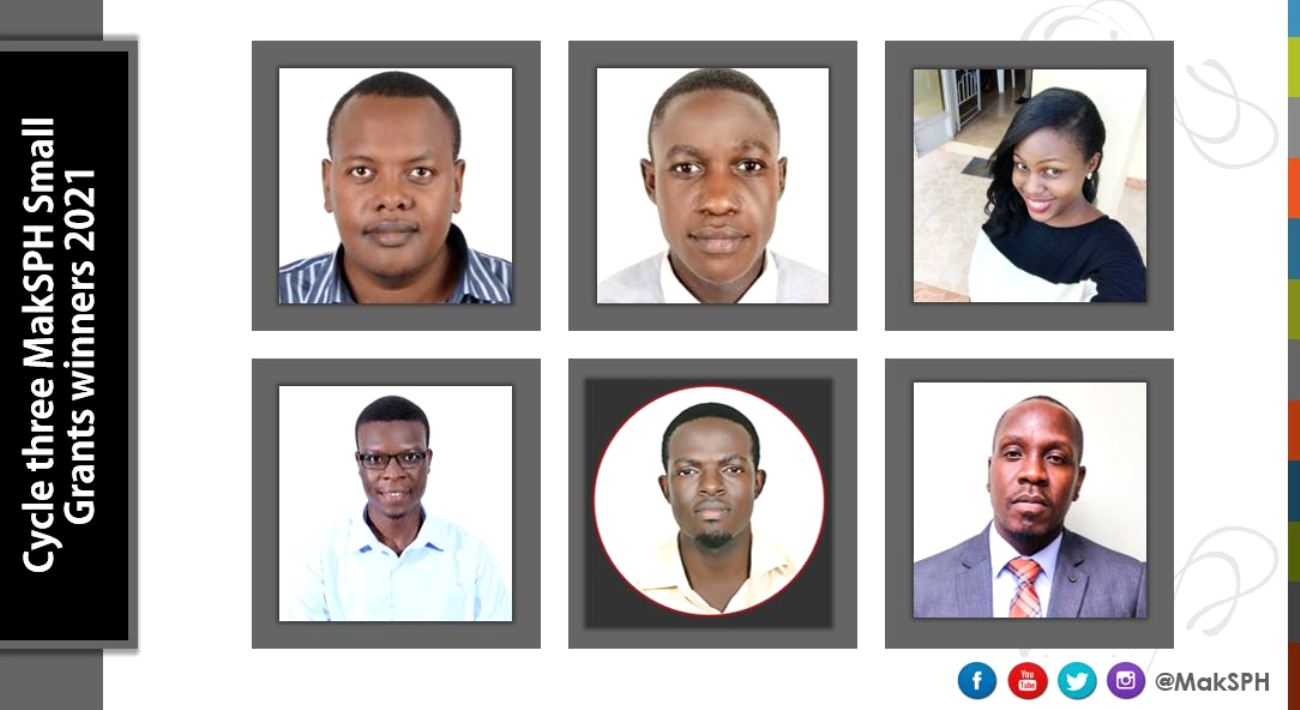 Six early-career scholars at the Makerere University School of Public Health have been awarded funding to support their research.
Cycle three (3) of the MakSPH Small Grants Program has six awardees that are: Rawlance Ndejjo, Solomon Wafula, Dr. Arthur Bagonza, Frederick Oporia, Catherine Ninsiima, and Bonny Enock Balugaba.
Each of the awardees is to receive up to US$5000 (about 18 million Uganda Shillings) for the research. The awards were announced by Dr. David Musoke, the newly appointed Grants and Research Capacity Building Committee chairperson in a virtual 32nd Meeting of the Committee held on Tuesday, March 23, 2021.
Representing the Seed Grant recipients, Mr. Rawlance Ndejjo, a Ph.D. Student and Research Associate at the School hailed the School management for the initiative towards supporting early-career scholars to grow their research capacity.
"On behalf of the recipients of this third round, I want to thank you. A big thank you to the Grants and Research Capacity Building Committee for awarding us these grants. It's an honor. It's always very nice to wake up to such good news. We want to thank you for giving us funding to implement some of our ideas," Ndejjo said.
He also thanked the School Management and the Dean for starting this initiative to support young researchers.
"This will be a big stepping stone for us as we look forward to winning other grants. I also want to congratulate my colleagues for getting this far and I promise that we shall work as a team to move the different research agendas forward," Mr. Ndejjo said.
On her part, Dr. Rhoda Wanyenze, Professor and Dean, MakSPH congratulated the team of six researchers for emerging winners of the 3rd round of the seed grants from the School.
"They are seeds to grow our individuals and young faculty, our stars for tomorrow. They are also seeds because they are growing new areas of research where we are not doing as much as we ought to. But they are also seeds because they are growing us as a School," Prof. Wanyenze said.
The Dean also appealed to the grantees to exhibit professionalism, ethics, and accountability.
"When you receive a seed, please do not eat it. This is meant to grow. Please make sure that it grows in various directions. Make sure that it grows you as an individual, and the subject of research you are going to work on. In other words, do a good study, look out for other grants that you can apply for to move that agenda forward, and also make sure that it grows the School. We are looking up to you and hopefully, this seed grant can add value to you all," Prof. Wanyenze added.
Overall, a total of 11 applications were received but six were successful. Dr. David Musoke congratulated the grantees on the awards and encouraged them to conduct good quality research so as to be a stepping stone for better things in the future.
The studies:
Mr. Solomon Tsebeni Wafula, a Research Associate, Department of Disease Control and Environmental Health at MakSPH will be assessing the indoor air quality, risk factors, and potential health effects among residents in an urban informal settlement, Uganda.
Meanwhile, Mr. Rawlance Ndejjo, a Research Associate in the Department of Disease Control and Environmental at MakSPH Health will be studying the lifestyles of slum dwellers in Kampala with particular interests in cardiovascular diseases.
Also, Dr. Arthur Bagonza, a veterinarian and public health fellow at MakSPH will be investigating the effect of COVID-19 on pediatric fever treatment among registered private drug sellers in East Central Uganda.
Mr. Frederick Oporia, an Injury Epidemiologist and Research Associate in the Department of Disease Control and Environmental Health will be expanding his research on preventing drowning. 
Mr. Oporia will be particularly investigating the effectiveness of Lifejackets used by boaters on Lake Albert, Uganda in the prevention of drowning.
With this funding, Catherine Ninsiima, a research associate at MakSPH will be undertaking a study on adherence to dietary approaches to stop hypertension diet and factors associated with adherence amongst hypertensive patients attending Uganda Heart Institute, Mulago Hospital.
Bonny Enock Balugaba, a Research Associate in the Department of Disease Control and Environmental Health at MakSPH will be investigating the effect of lockdown measures on traffic injuries in Kampala.
Professor David Serwadda, the out-going chairperson of the Grants and Research Capacity Building Committee said the launch of the Small Grants, which was passionately championed by Professor Rhoda Wanyenze's leadership, is one of the exciting achievements of the Committee.
"This resulted from our strategic planning where we realized that the young faculty members probably do not have many opportunities to engage in research," Prof. Serwadda.
The Small Grants Program was initiated in 2018, and the committee was interested in public health fields that had initially been neglected. Later, the first cohort of grantees was awarded in 2019 and the second in 2020.
"This has been really very exciting for the young faculty. Recently, we had an evaluation of this program and it is extremely important that we continue this scheme. Despite the fact that funding from the Makerere Research and Innovations Fund (Mak-RIF) is available, we feel this is still very important for the School of Public Health," Prof. Serwadda observed.
Already two peer-reviewed articles have been published in public health journals and about four are in advanced stages. This means that all the initial grantees will most likely publish with this support. "This program is intended to increase publications especially from the young faculty in the School. The grants are very successful and should be encouraged to continue," Prof. Serwadda says.
Article originally published on MakSPH
From Working as a Houseboy to Being the Best in School: Ssembuusi's Story of Overcoming Hardships & Achieving Success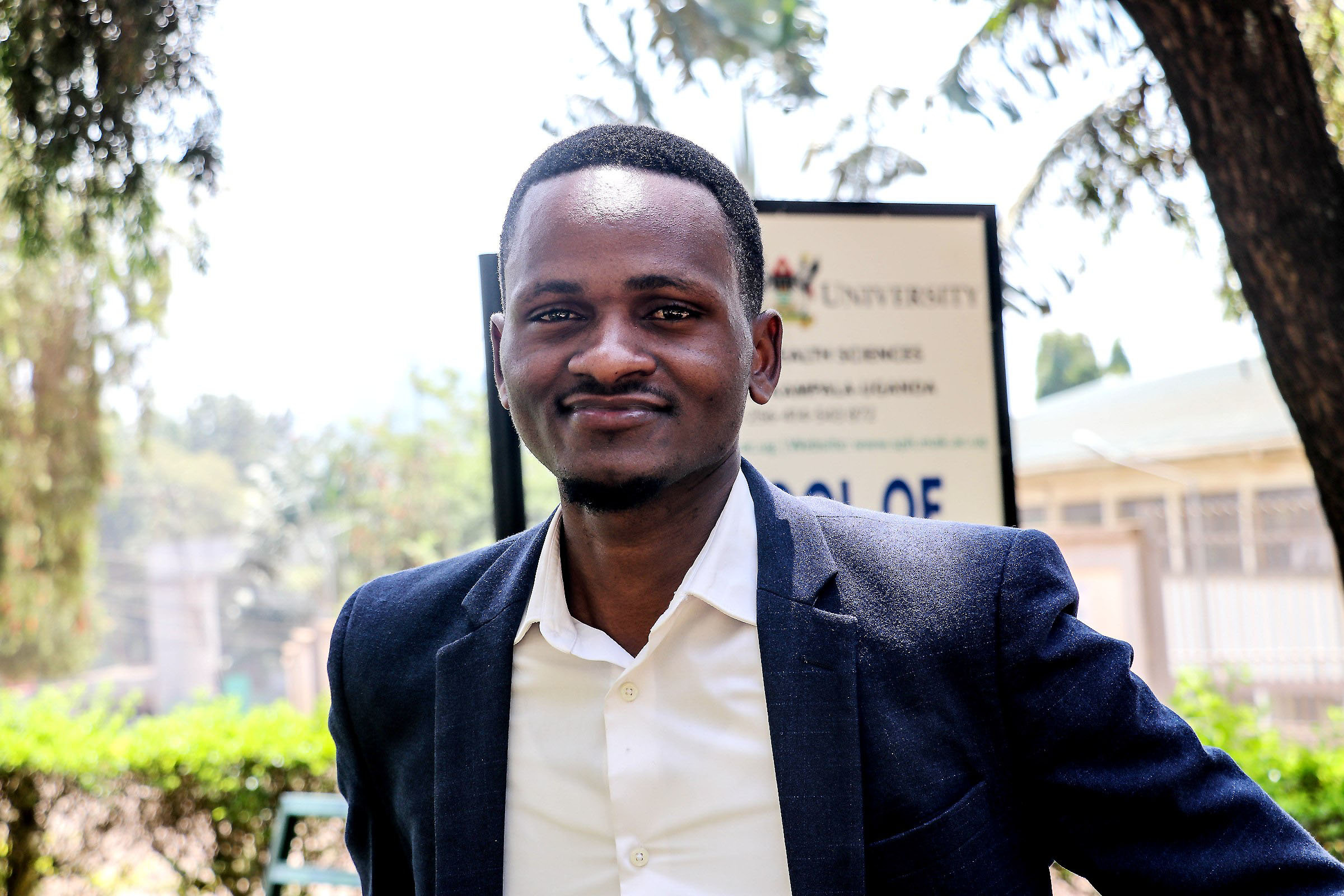 Against all odds, Allan Ssembuusi-Mayengo rose from a house boy to a First-Class student. In this episode of Makerere University's week-long 73rd graduation ceremony slated to run from February 13-17, 2023 we present to you a story of a determined young man who never let his circumstances define him, and how he achieved the impossible through hard work, perseverance and the power of prayer. He will graduating as a second best in his class at Makerere School of Public Health (MakSPH) with a Cumulative Grade Point Average (CGPA) of 4.42.
With determination and a willingness to take on any job that came his way, Ssembuusi struggled through financial hardship to make a better life for himself. From selling water at the new taxi park to working as a phone repairman and even starting a mobile manicure and pedicure business, he used his entrepreneurial spirit to support himself through University, despite the challenges he faced he carved out a path to success, proving that with grit and perseverance, anything is possible.
Born on 15th February 1996 in Kyabiiri, Kibinge Subcounty, Bukomansimbi District in Greater Masaka to Wilson Mayengo and the late Sarah Nantongo, Ssembuusi is the 4th born in his family.
School life
For the better part of his childhood, Ssembuusi stayed with his step-mother Ms. Margret Namuddu in Kawanda, Wakiso District after a separation between his mother and father. His mother later passed away while he was in Senior four (S.4). With obstacles in his path he hopped from school to school sometimes to dodge school financial requirements.
As early as 2004, he had started school at Bituntu Church of Uganda Primary School in Masaka. He only completed his Primary One class before he was transferred back to Nalujja primary school in Kawempe in Kampala, where he had a short stint of two academic terms.
In 2005, his family shifted to Kawanda, a small town located north-west of Kampala, the Uganda's capital town. While here, he completed his Primary Two (P.2) at Little Angels Primary School, a private school. The comfort was short lived as he would later relocate to Nakyessanja Church of Uganda Primary School from P.3 until he sat his Primary Leaving Examination -PLE in 2010.
"This was so hard for me, we didn't even have lunch at school. In the morning, our step-mom would prepare for us tea with acoil bun (Mwana akaaba) bread of Shs. 100, and this would take us all day until our next meal in the evening. My stepmom always had dinner ready whenever we returned from school. It was hard being at school, seeing your colleagues going to the canteen to buy eats during break and lunch time when you are in class "eating shadows" but still I managed to perform well. I started being in the first position in class in P.3 up to when I finished P.7. All these challenges gave me determination and courage to work hard so that I get a better future," recollects Ssembuusi.
While in P.3, Ssembuusi was top of his class in promotional examinations but he could not access his report card because his parents had failed to pay UShs 2,000 (approximately $0.54).
"While appearing at end of term School assembly, I was announced as being in the first position—the School administration used to announce the 1st, 2nd and 3rd place holders. We didn't have that money at home so I didn't pick my report. With this in mind however, I just reported to P.4 at the start of the next year. The headmaster however, came reading out names of those who didn't pick their reports, and we were all taken back to P.3," he says.
He recalls crying endlessly by this act but would only console himself knowing the situation back at home and that his father genuinely did not have the money; "We used to eat cassava flour with avocado. We had an Avocado tree at home and we would temporarily forget hunger in seasons the tree would, bear fruits. We would pick avocado and mash it as the sauce."
As luck would have it, Ms. Grace Nakidde, his teacher provided him the required Ushs.2,000 that granted him access to his report, and then became officially promoted to the next class in 2006.
Ssembuusi, was frequently engaged in various household tasks, which caught the attention of a neighbor. At the age of 12, while in Primary Five, he went to work for this neighbor as a houseboy to earn money for school fees.
"At the time, we were paying around Ushs 10,000 (approximately $2.72), for remedial classes and Ushs 5,000 for lunch. I used to work day and night, but I stayed focused because I wanted to study. I would go to School barefooted. At P.7, I got 9 aggregates and this was the only first grade at my school."
Ssembuusi's excellent performance earned him a bursary to attend Central College Kawempe, a school owned by a relative of his employer. Despite this financial aid, he still had to pay for some school materials, which prompted him to continue working at home. "I would wash cars for our neighbor every day to buy books, but I still excelled and was the best in all three terms of S.1," he said. However, due to the mistreatment he experienced as a houseboy, Ssembuusi confided in his parents, who then spoke to his employer. Unfortunately, this led to the loss of his bursary.
"Since my parents were unable to pay for my education at Central College Kawempe, they transferred me to Luteete Senior Secondary School in Luweero. I am grateful to Mrs. Kiwanuka who, through our shared faith at Elim Pentecostal church in Kawanda, connected me to Luteete where I was able to obtain a half bursary. This required me to raise Ushs 150,000 (approximately $40.82) on my own. Despite this, things were still difficult for me, as I often only had Ushs 20,000 (approximately $5.44) to last me through the entire term."
Ssembuusi states that the school's provision of lunch and supper helped him stay focused. He adds, "Sometimes I sold my lunch to afford necessities like books and pens, but I still excelled and remained the best throughout my stay, up to S.4. I scored 13 out of 8 aggregates, the best performance in the school's 60-year history. I achieved it through hard work and prayer, even fasting dry for 3 days."
After getting his Uganda Certificate of Education (UCE) results, Ssembusi moved to Wampeewo Ntakke Senior Secondary School along Gayaza Road with the help of his former head teacher Mr. Mike Ssekaggo. He says, "I scored 12 points in BCM/ICT and I remember getting a D1 in Biology Paper 3. I was also the founder and pioneer of the school's Science Club." After finishing S.6, he found a job as a porter at a construction site near his school. He adds, "Although students saw me working there, I was determined to survive. Later, my former head teacher helped me get a job as a canteen attendant at his school, where I stayed for 1 and a half years."
Failing to join University and Resorting to Barber and Taxi Tout
Ssembuusi had always dreamed of going to university, but his journey was not an easy one., Despite sitting for his Uganda Advanced Certificate of Education (UACE) in 2016 with hope to join a university in 2017, he was not admitted to any of the institutions he applied to on his application forms. He lost that year of 2017 and decided to try again in 2018. "I had understood my points, and weights better and thought by trying on a Diploma, I would get admission. I applied for a diploma in Education at National Teachers College NTC Kaliro, but was not admitted once again"
Feeling defeated, Ssembuusi left his job as a canteen attendant and returned home, but struggled to find any opportunities. However, things still weren't working out and he found himself living with his uncle who was a barber and taught him the trade. He also started working as a conductor on a taxi route from Jinja road-Kawanda-Matugga, where he used to meet his old teachers and colleagues. He felt like a failure, but still held on to hope for better opportunities.
"We used to ply the Jinja road route. I grew up on this route and so I had mastered it. While in this trade, I would meet my teachers, my former colleagues, the students I used to discuss for. For once, I felt like I was a total failure," says Ssembuusi.
One day while operating as a taxi tout in Wandegeya, he bumped into an old friend, Jackline Nankya, who in 2020 graduated from MakSPH. They had studied together at Wampeewo Ntakke Senior Secondary School. Concerned about him she asked for his contact to check on him. Ssembuusi explained his situation and Jackline told him about the Government Loan Scheme program, a fund that awards study loans to Ugandan students seeking to pursue Higher Education but are financially constrained. She helped him apply for a course in Environmental Health Science, which he made his first choice, and also helped him apply for the Government Loan Scheme.
Ssembuusi was in a dilemma, he had even prepared to go to the United Arab Emirates to do "Kyeeyo" (cheap employment for immigrants to the developed world) with some sisters that were already there. His parents were excited about the prospect of him making money. "I didn't tell them [parents] when I applied. I told them when I was admitted. I was in a dilemma and in fear of how my parents would react to me leaving an opportunity to work and provide for them."
He sought advice from a few people, including his boss in the taxi business, before ultimately telling his parents. To his surprise, they were overjoyed when he finally shared his plans with them. They had the assumption that Makerere University was the only university in Uganda.
Life at MakSPH
Determined to succeed, Ssembuusi used all the money he made working in the taxi to buy the requirements needed for his first year. He was so passionate about his studies that he even joined a week before his colleagues and was voted unopposed as class representative. "This is where my journey to perform well started," he says.
Adding that; "After our first lecture with Ms. Ruth Mubeezi, I felt deeply inspired. I approached her after class and shared my struggles with her. Her words of encouragement and assurance that I would be able to manage school, gave me the courage and determination to push forward. And that's how I embarked on my journey towards achieving a first-class degree, starting off with a strong 4.6 GPA in my first semester."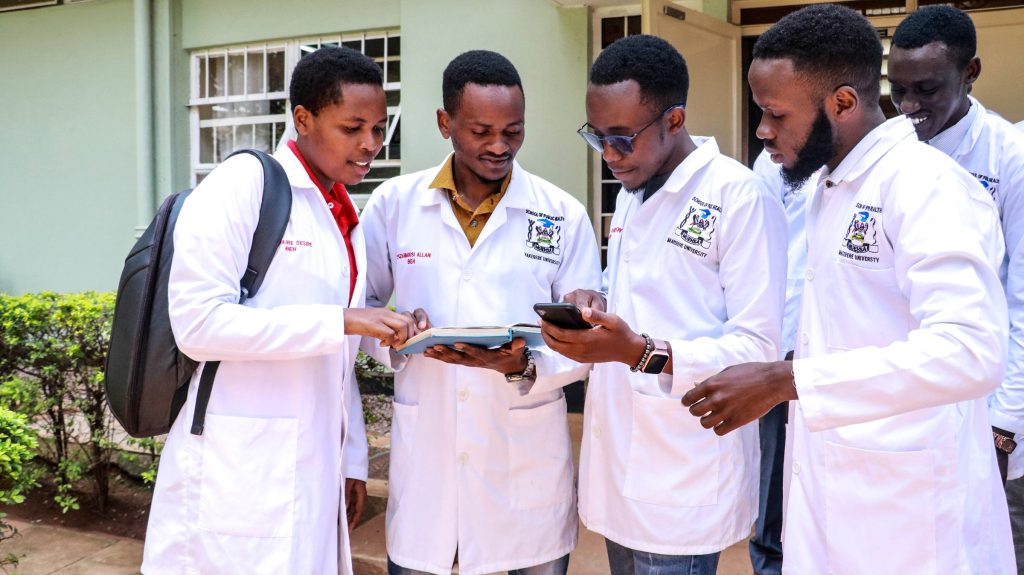 He commuted to school in his first semester, but during a brief holiday before the second semester, he decided to stop commuting and go back to his taxi business in the Old Taxi Park to earn money for accommodation. He was able to get some money and temporarily moved into Nkrumah Hall, one of the halls of residence for male students admitted to Makerere University, named after the great pan Africanist Nkwame Nkrumah of Ghana with a friend Kelvin Langat.
"I wanted to go back to work as a conductor to earn money for accommodation but it was the festive season so things didn't work out. I decide to sell sugarcanes in Old Taxi Park because most people there, knew me. I used to contribute something and stay with him on the same bed before COVID came in and we had to leave campus," a teary Ssembuusi recalls.
COVID-19 and Ssembuusi's campus nail business
As the COVID-19 pandemic swept the world, it brought with it a host of challenges for students like Ssembuusi. With lockdowns in place and classes conducted online, Ssembuusi was forced to find ways to make ends meet. Like many students, Ssembuusi found himself struggling to afford the costs of accommodation, and everyday living expenses.
"I went to New Taxi Park (the old one was closed for renovation at this time) and sold water there. It was a tough moment, because I found so many classmates there boarding taxis to go about their business. I wanted to quit, but I also still wanted to survive," he says.
The Student Loan Scheme is a cost sharing initiative. The Loan strictly covers the academic component, i.e., Tuition fees, Functional fees, Research fees, Aids and Appliances for Persons with Disabilities (PWDs). For Ssembusi's case, the loan covered Ushs1.8m fees inclusive of functional fees and he is indebted to the loan scheme; "I am thankful for the Student Loan Scheme for enabling me to continue my education, however, they have not yet paid for my last three semesters, preventing me from accessing my transcript until the debt is fully cleared. Despite the delay in payments, they would still allow us to sit for exams with the assurance that they would pay later."
It was during this time that Ssembuusi stumbled upon an unexpected opportunity. At a friend's home, he discovered a salon offering manicures and pedicures. Intrigued, he asked the owner to teach him the trade, and soon found himself learning the skills needed to set up his own mobile manicure and pedicure business.
With the support of his classmates, Ssembuusi's business quickly took off. Working on almost all of his female classmates, Ssembuusi found himself juggling the demands of her coursework and his business. But he was committed to making it work, and with the help of a loan from a friend, he was able to purchase the equipment he needed to keep his business running.
"I have been doing pedicure and manicure, and all my clients have been my colleagues. I was charging 10,000 to 30,000 Ushs for gel nails. People perceive it as a "low-key job", and I am sure it's hard for most campusers to do this kind of work especially on their classmates. I know some people come from advantaged families, but for those of us who have been disadvantaged, please don't look down on any opportunities or jobs that will help you raise some money to sustain you," he says.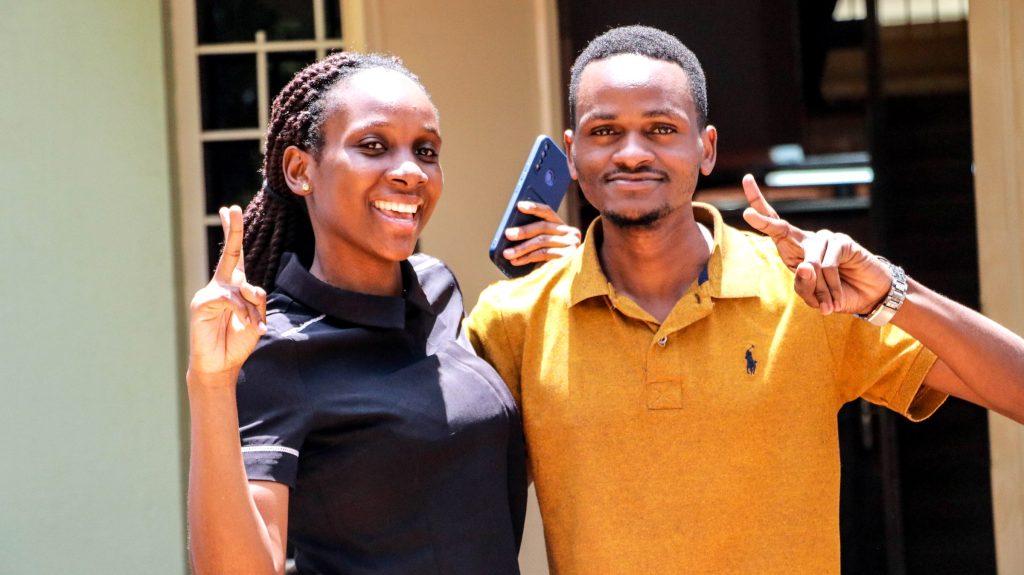 "I think I have worked on almost all my female classmates. The business boomed, I started getting recommendations but it was a challenge on my side to attend lectures and also attend to clients. My course is a full day course, and being a course representative, I had to be around. I managed to schedule my clients in the evenings and over the weekends when I worked all day.
Ssembuusi has throughout his school life struggled with self-doubt and imposter syndrome, but along the way found ways to overcome it through self-improvement and taking advantage of opportunities. He was active in the school community, serving as a class representative and holding leadership positions in Makerere University Environmental Health Students Association (MUEHSA).
He found success in extracurricular activities, such as participating in medical camps and running events. After finishing his course, Ssembuusi sought guidance from his mentors and ultimately landed a volunteer position under the mentorship of Dr. David Musoke, a Senior Lecturer in the Department of Disease Control and Environmental Health at Makerere University School of Public Health (MakSPH). His future goal is to pursue a Masters and eventually a PHD in academia and research. He encourages others to take advantage of opportunities in order to be successful.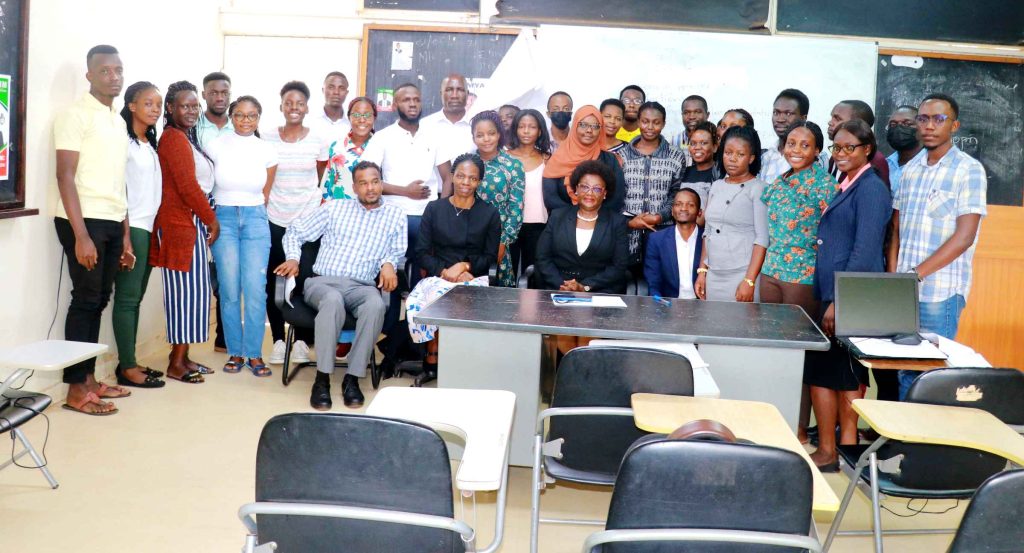 To achieve a first class, one must put in hard work and strive to do their best. "I didn't set out to achieve a first class, but I now understand its value. A lecturer once told us, 'Don't listen to those who say a first class isn't worth it – if you can earn one, go for it.' That's my advice to my peers – aim for the best and don't be discouraged. I didn't actively pursue a first class, but my efforts paid off in the form of this distinction," says Ssembuusi.
He adds; "Mr. Frederick Oporia, who taught me inspection, court etiquettes, and environmental health legislation, is my standout lecturer and role model. Currently the Head of Trauma, Injury, & Disability (TRIAD) unit, he continues to inspire me. Additionally, Dr. David Musoke, who is my mentor, is someone I look up to and strive to emulate in my work."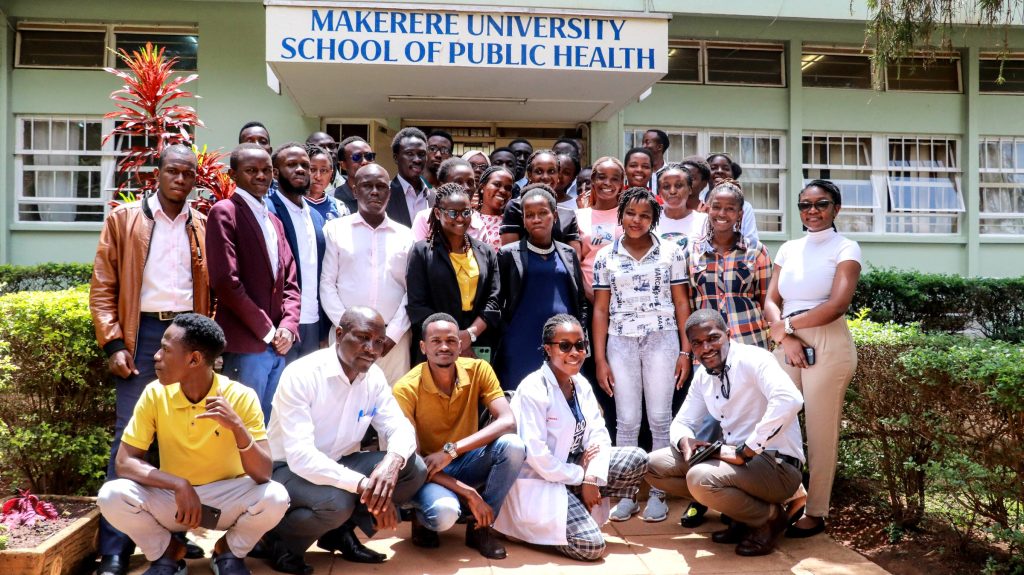 METS Newsletter December 2022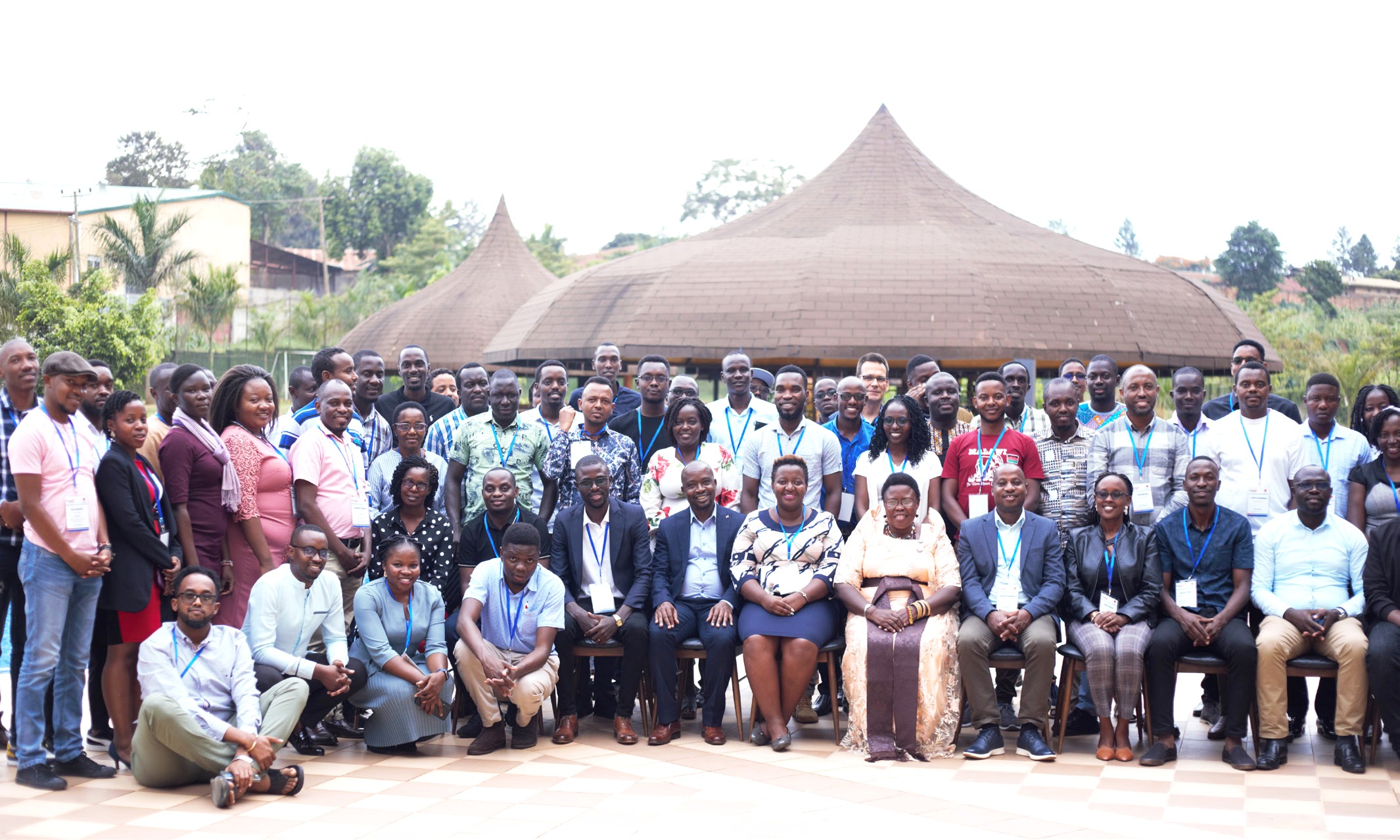 The Monitoring and Evaluation Technical Support (METS) Program is a 5-year CDC-supported collaboration of Makerere University School of Public Health (MakSPH), the University of California San Francisco (UCSF) and Health Information Systems Program (HISP Uganda).
Highlights of the METS December 2022 Newsletter
DHIS2 Academy 2022

The workshop held at Namanve, Uganda from 28th November to 3rd December 2022 with 105 participants from 17 countries representing different non-Governmental organizations (NGOs), Ministries of Health, and Education.
The Design for Data Use Academy was a practical training program aimed at supporting facilitators and participants to work together to learn the principles and skills for good system design.
State Minister for Primary Education, Dr. Joyce Kaducu emphasized the need for cross sectoral learning and designing sustainable systems that can be managed in-country thus building capacity.

Scale up of electronic Case-Based Surveillance System (e-CBSS)

The electronic Case-Based Surveillance System (e-CBSS) is an aggregate system that records individual Tuberculosis (TB) and Leprosy patient data from the time they enter a health facility; a diagnosis is made, patient is registered and enrolled onto treatment, their contacts are followed up, and it continues to report all events until they complete TB and Leprosy treatment.
As of December 2022, over 447 health facilities out of the 1674 TB diagnostic and treatment units (DTUs) were using the system in the regions of Acholi, Ankole, Bugisu, Bukedea, Teso, Kigezi, South and North Central, Kampala, Lango, Karamoja, West Nile, Toro, Busoga and Bunyoro.
The goal for 2023 is to have 800 health facilities enrolled onto the eCBS system.

Annual National Healthcare Quality Improvement (QI) conference

The Ministry of Health held the 9th National Quality Improvement (QI) conference from 13th to 15th December 2022 at Speke Resort, Munyonyo under the theme Supervision, Monitoring, Coaching & Mentorship for a Resilient Health System – the role of Quality Improvement.
METS team participated in the conference and made several contributions; as a panelist, Dr. Alice Namale shared views on how Implementing Partners are impacting QI implementation at service delivery level; Evelyn Akello chaired a mid-morning session on Special Groups, Dr. Simon Muhumuza presented on 'Improving Client Satisfaction in Uganda's Health Sector'; Julius Sendiwala made a presentation on 'Quality Improvement of PMTCT And EID Services In Health Centre II Countrywide'; and Wilfred Soyekwo presented on 'Mothers' Experiences on Receiving Male Midwives During Birth'.

Using digital integration to manage Decongestion at Health facilities

To decongest the facilities, the Ministry of Health (MoH) adopted Differentiated Service Delivery Models (DSDM) where clients receive care based on a model that best suits them.
To ease exchange of information between patients receiving care at the pharmacies attached to the health facilities, a collaboration between MoH, METS, Infectious Disease Institute (IDI) Academy and Africa Resource Centre (ARC) was formed to create a platform where data can be exchanged between systems to reduce on the burden of tracking patients on paper.

Highlights from METS Retreat

End of year strategic plan meeting
Soccer match
Stephen Senkomago's Sendoff
Save the Date: Non-Communicable Diseases (NCD) Symposium 2023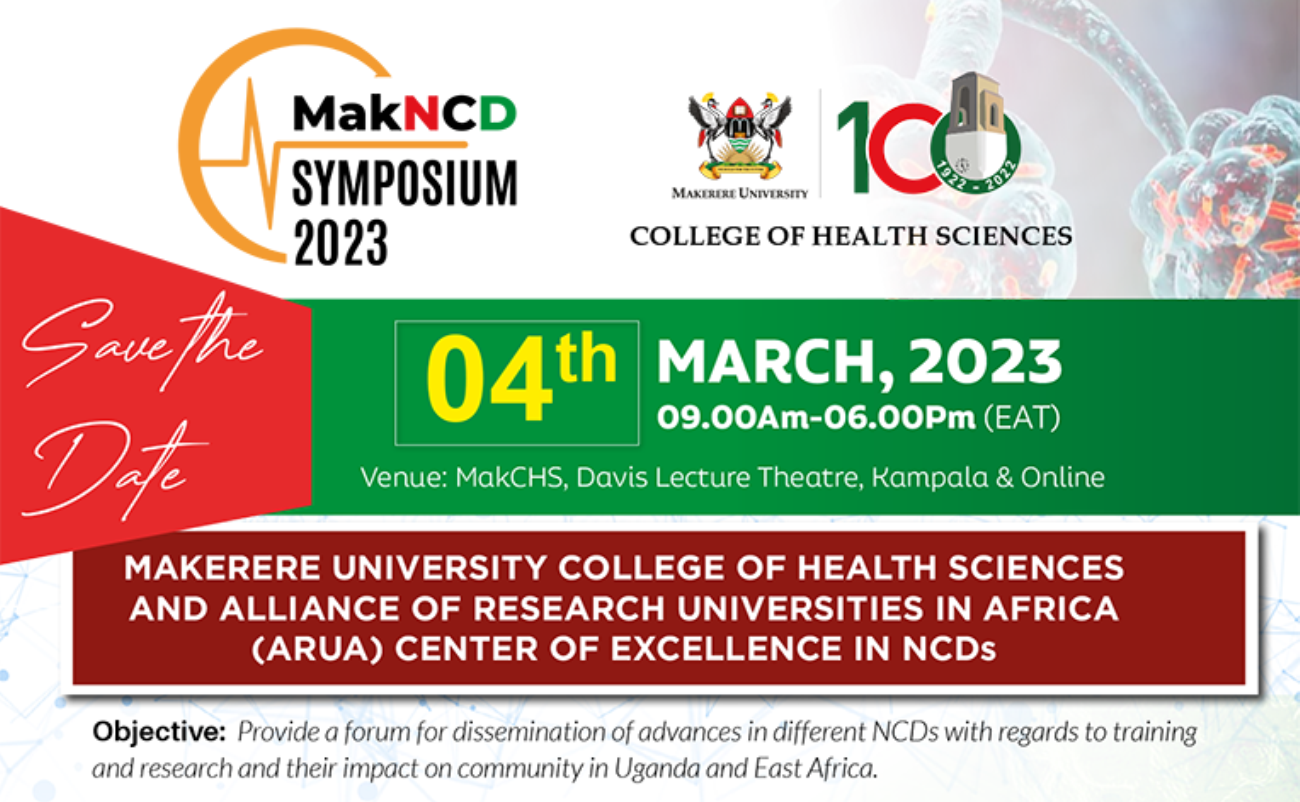 The Makerere University College of Health Sciences (MakCHS) will host the NON-COMMUNICABLE DISEASES (NCD) SYMPOSIUM 2023.

Date: 4th March 2023 Time: 9:00am to 6:00pm

Objective:  Provide a forum for dissemination of advances in different NCDs with regard to training and research and their impact on community in Uganda and East Africa.

Theme: Advances in NCD Training, research and community impact

Venue: Davies Lecture Theatre at MakCHS and Online

Sub Themes:
Cardiovascular diseases
Renal Diseases
Diabetes Mellitus & Other Endocrine Disorders
Cancers
Mental Health Disorders
Respiratory Diseases and Lung Health
Sickle Cell Disease and Other Haematological Conditions
Interactions between NCDS and Infectious Diseases
Target Audience: Researchers, Academics, policy-makers, practitioners and Health Advocates with special interest in NCDS.

NOTE: Attendance is free

Presentations: Invited abstracts on NCDS will be presented orally while others will be poster presentations.

Exhibitors: All NCD stakeholders are invited to exhibit their work
Registration for participants: http://rb.gy/tlqma8

For more information: Dr. Innocent Besigye; Email: makncdsymposium2023@gmail.com; Tel: +256-782-499852