Six MakSPH Early Career Scholars Receive Seed Research Funds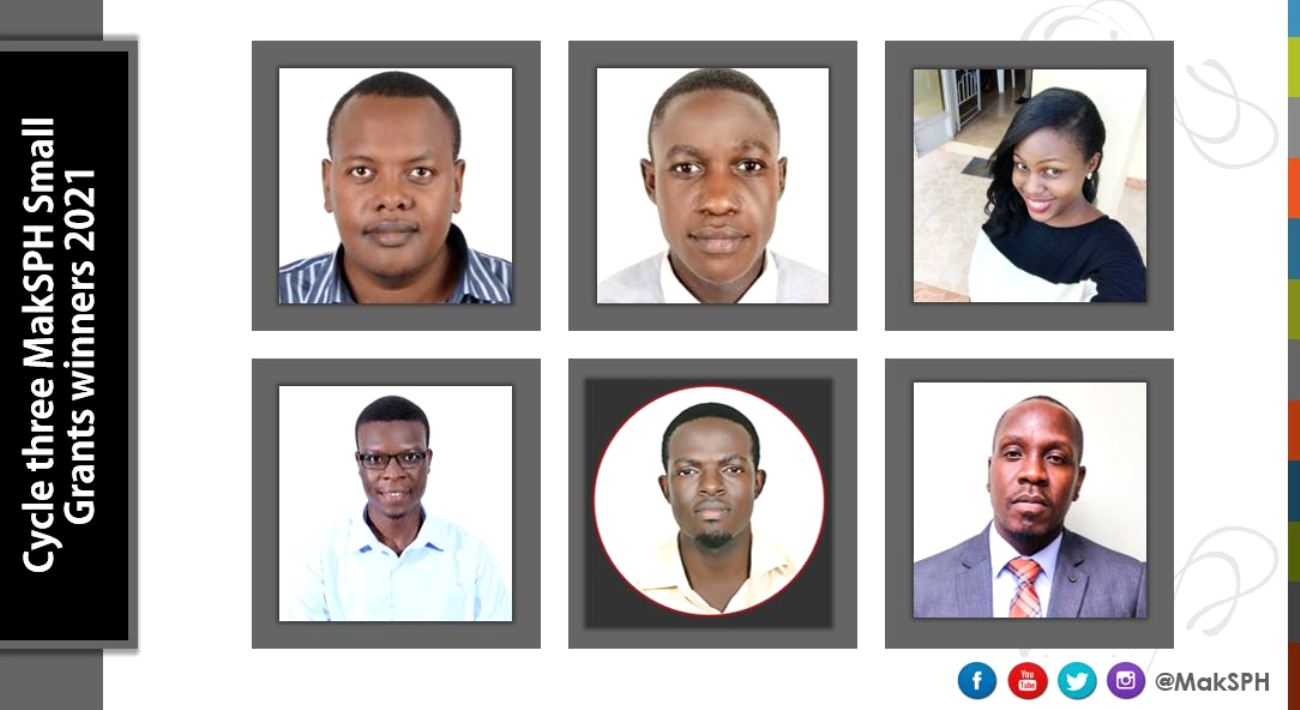 Six early-career scholars at the Makerere University School of Public Health have been awarded funding to support their research.
Cycle three (3) of the MakSPH Small Grants Program has six awardees that are: Rawlance Ndejjo, Solomon Wafula, Dr. Arthur Bagonza, Frederick Oporia, Catherine Ninsiima, and Bonny Enock Balugaba.
Each of the awardees is to receive up to US$5000 (about 18 million Uganda Shillings) for the research. The awards were announced by Dr. David Musoke, the newly appointed Grants and Research Capacity Building Committee chairperson in a virtual 32nd Meeting of the Committee held on Tuesday, March 23, 2021.
Representing the Seed Grant recipients, Mr. Rawlance Ndejjo, a Ph.D. Student and Research Associate at the School hailed the School management for the initiative towards supporting early-career scholars to grow their research capacity.
"On behalf of the recipients of this third round, I want to thank you. A big thank you to the Grants and Research Capacity Building Committee for awarding us these grants. It's an honor. It's always very nice to wake up to such good news. We want to thank you for giving us funding to implement some of our ideas," Ndejjo said.
He also thanked the School Management and the Dean for starting this initiative to support young researchers.
"This will be a big stepping stone for us as we look forward to winning other grants. I also want to congratulate my colleagues for getting this far and I promise that we shall work as a team to move the different research agendas forward," Mr. Ndejjo said.
On her part, Dr. Rhoda Wanyenze, Professor and Dean, MakSPH congratulated the team of six researchers for emerging winners of the 3rd round of the seed grants from the School.
"They are seeds to grow our individuals and young faculty, our stars for tomorrow. They are also seeds because they are growing new areas of research where we are not doing as much as we ought to. But they are also seeds because they are growing us as a School," Prof. Wanyenze said.
The Dean also appealed to the grantees to exhibit professionalism, ethics, and accountability.
"When you receive a seed, please do not eat it. This is meant to grow. Please make sure that it grows in various directions. Make sure that it grows you as an individual, and the subject of research you are going to work on. In other words, do a good study, look out for other grants that you can apply for to move that agenda forward, and also make sure that it grows the School. We are looking up to you and hopefully, this seed grant can add value to you all," Prof. Wanyenze added.
Overall, a total of 11 applications were received but six were successful. Dr. David Musoke congratulated the grantees on the awards and encouraged them to conduct good quality research so as to be a stepping stone for better things in the future.
The studies:
Mr. Solomon Tsebeni Wafula, a Research Associate, Department of Disease Control and Environmental Health at MakSPH will be assessing the indoor air quality, risk factors, and potential health effects among residents in an urban informal settlement, Uganda.
Meanwhile, Mr. Rawlance Ndejjo, a Research Associate in the Department of Disease Control and Environmental at MakSPH Health will be studying the lifestyles of slum dwellers in Kampala with particular interests in cardiovascular diseases.
Also, Dr. Arthur Bagonza, a veterinarian and public health fellow at MakSPH will be investigating the effect of COVID-19 on pediatric fever treatment among registered private drug sellers in East Central Uganda.
Mr. Frederick Oporia, an Injury Epidemiologist and Research Associate in the Department of Disease Control and Environmental Health will be expanding his research on preventing drowning. 
Mr. Oporia will be particularly investigating the effectiveness of Lifejackets used by boaters on Lake Albert, Uganda in the prevention of drowning.
With this funding, Catherine Ninsiima, a research associate at MakSPH will be undertaking a study on adherence to dietary approaches to stop hypertension diet and factors associated with adherence amongst hypertensive patients attending Uganda Heart Institute, Mulago Hospital.
Bonny Enock Balugaba, a Research Associate in the Department of Disease Control and Environmental Health at MakSPH will be investigating the effect of lockdown measures on traffic injuries in Kampala.
Professor David Serwadda, the out-going chairperson of the Grants and Research Capacity Building Committee said the launch of the Small Grants, which was passionately championed by Professor Rhoda Wanyenze's leadership, is one of the exciting achievements of the Committee.
"This resulted from our strategic planning where we realized that the young faculty members probably do not have many opportunities to engage in research," Prof. Serwadda.
The Small Grants Program was initiated in 2018, and the committee was interested in public health fields that had initially been neglected. Later, the first cohort of grantees was awarded in 2019 and the second in 2020.
"This has been really very exciting for the young faculty. Recently, we had an evaluation of this program and it is extremely important that we continue this scheme. Despite the fact that funding from the Makerere Research and Innovations Fund (Mak-RIF) is available, we feel this is still very important for the School of Public Health," Prof. Serwadda observed.
Already two peer-reviewed articles have been published in public health journals and about four are in advanced stages. This means that all the initial grantees will most likely publish with this support. "This program is intended to increase publications especially from the young faculty in the School. The grants are very successful and should be encouraged to continue," Prof. Serwadda says.
Article originally published on MakSPH
Makerere Medical Journal: Golden Jubilee Edition 2022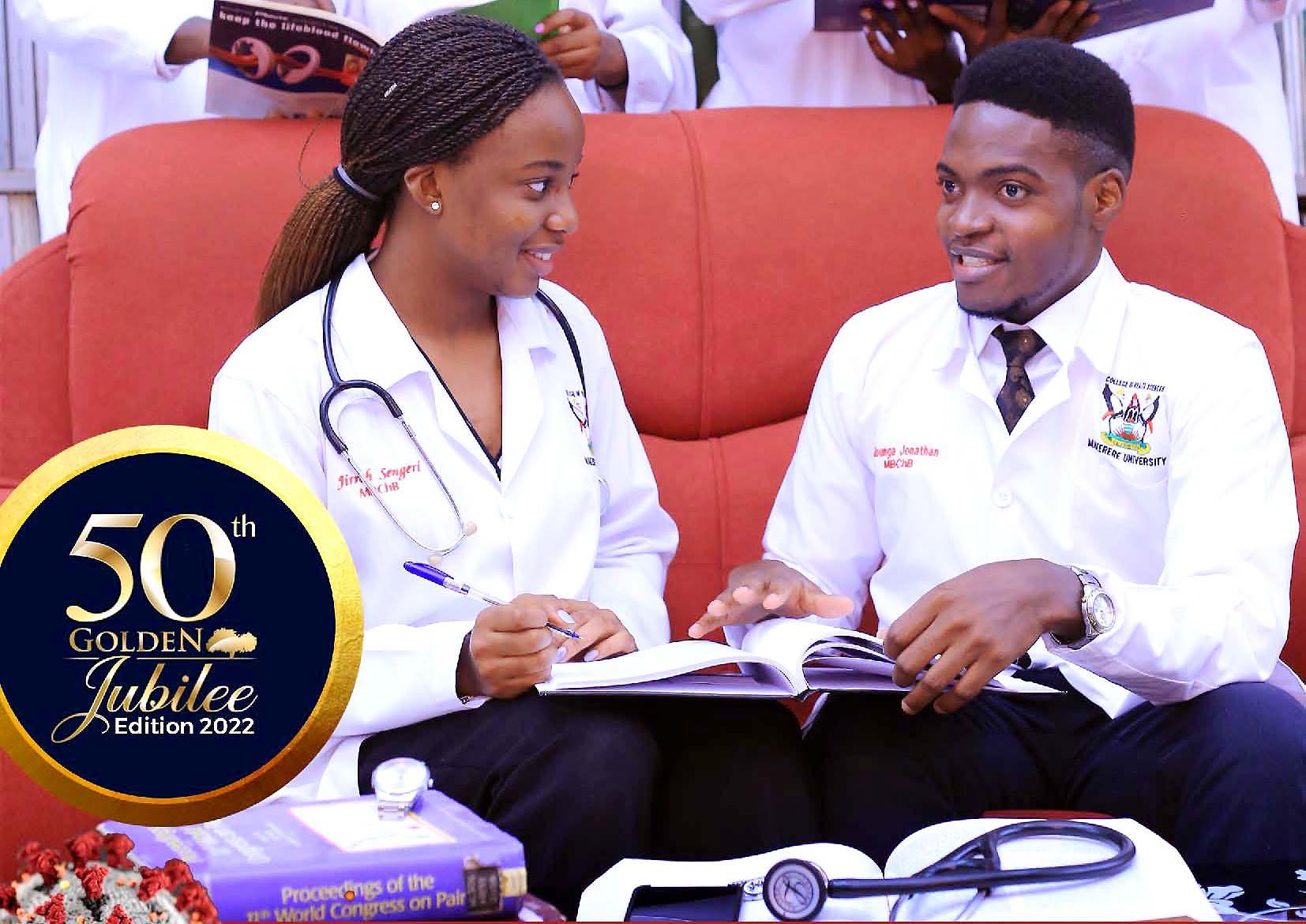 It's with great pleasure that I welcome you to the Golden Jubilee edition of this phenomenal journal. Yes, The Makerere Medical Journal marks 50 years of publication with this year's edition and all this has been made possible by the endless efforts and contributions of the Makerere University College of Health Sciences Staff and students because without your research submissions and financial support, the journal wouldn't have made it this far. To you reading this, thank you for contributing to the sustainability of this great project, year in year out.
Here's a quote to ponder on as you delve into this year's well-crafted articles and it's by Zora Hurston (1891-1960), "Research is formalized curiosity. It is poking and prying with a purpose." And doesn't that just define our purpose as researchers?!
This edition's articles cover pertinent topics ranging from Antimicrobial Stewardship, COVID-19 interventions, Oral Health amongst others. It also features student projects, write-ups on student-led organizations and societies that are making a difference in the life of a health sciences' student and many more interesting writings. Featured in this issue are international manuscripts from countries like Nigeria and we were also honored to work with other universities within the country and feature some of their students' articles.
I would like to extend my most sincere gratitude to my team of editors that engaged in a rigorous peer review process to ensure that the articles published are up to standard. As the editorial team, we are quite pleased to see the number of undergraduates involved in research steadily increasing and all the efforts that have been put in by the different stakeholders to see this happen are commendable.
With that said, I hope you enjoy every second of your read!!!
LINDA ATULINDA,
MBChB IV
EDITOR-IN-CHIEF,
Research and Writers' Club 2021-2022
Call for Applications: HEPI Masters Support Fellowship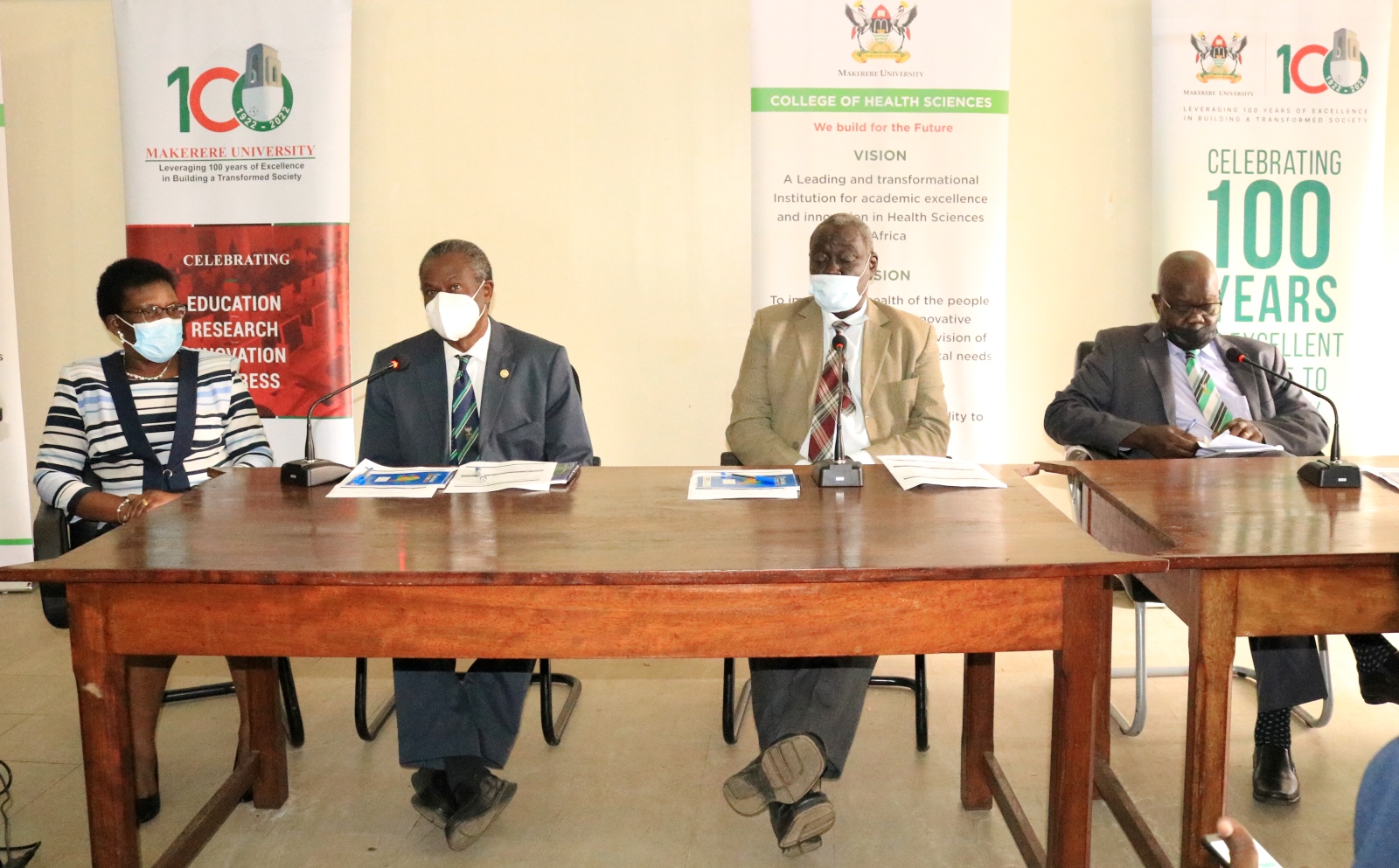 Applications are invited for the Health Professional Education Partnership Initiative (HEPI-SHSSU) Masters fellowship programme support from postgraduate students of:
Makerere University College of Health Sciences (MakCHS)
Kabale University School of Medicine
Clarke International University
Faculty of Health Sciences, Busitema University
The programme will support graduates in their final year of training leading to the award of a Masters degree on any of the Master's graduate training programs at the stated University for a maximum of 19 successful candidates.
The closing date for the receipt of applications is 30th September 2022.
Inquiries and Applications must be submitted to hepishssu@gmail.com
See attachment for more details 
Call for Applications: Faculty Research Training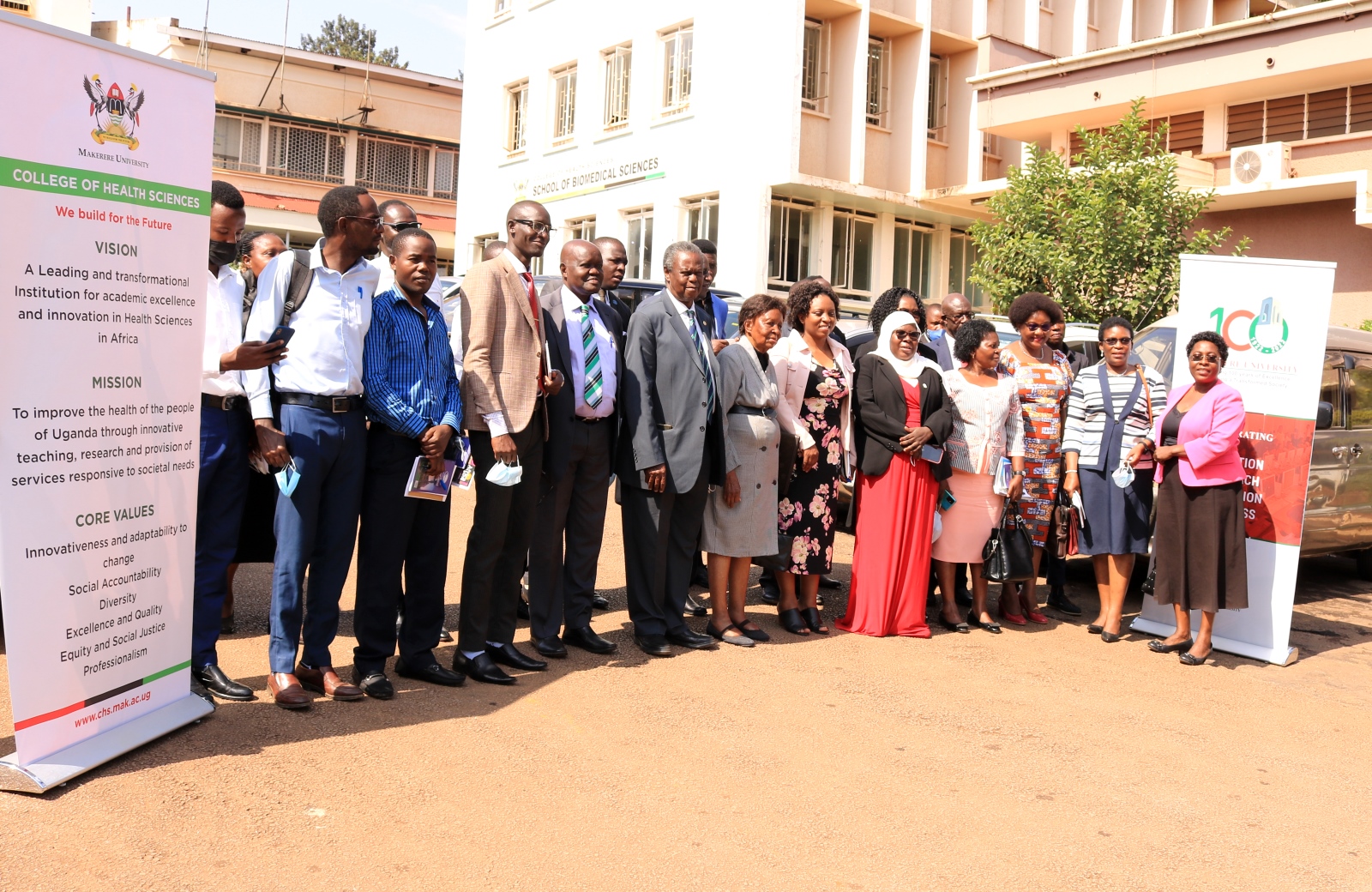 Applications are invited from faculty at Makerere University College of Health Sciences, Kabale School of Medicine, and Clarke International University to undertake training in research.
Limited research funding will be available for research focusing on community-based, clinical, operational, health professions education, epidemiological, biomedical, and research in Communicable Diseases (e.g. HIV/AIDS, malaria, tuberculosis, etc.) or non-communicable diseases of importance to Uganda.
Up to 15 applicants will be selected and they will undergo a brief (2 days) didactic training in research proposal development prior to embarking on their research projects. Up to 4,000 US dollars per applicant (depending on budget) will be available to support the research.
The closing date for the receipt of applications is 3rd October 2022.
Inquiries can be forwarded to the PI, HEPISU Program on hepishssu@gmail.com
See attachment for more details