MakSPH Grants and Research Capacity Building Committee Gets New Leadership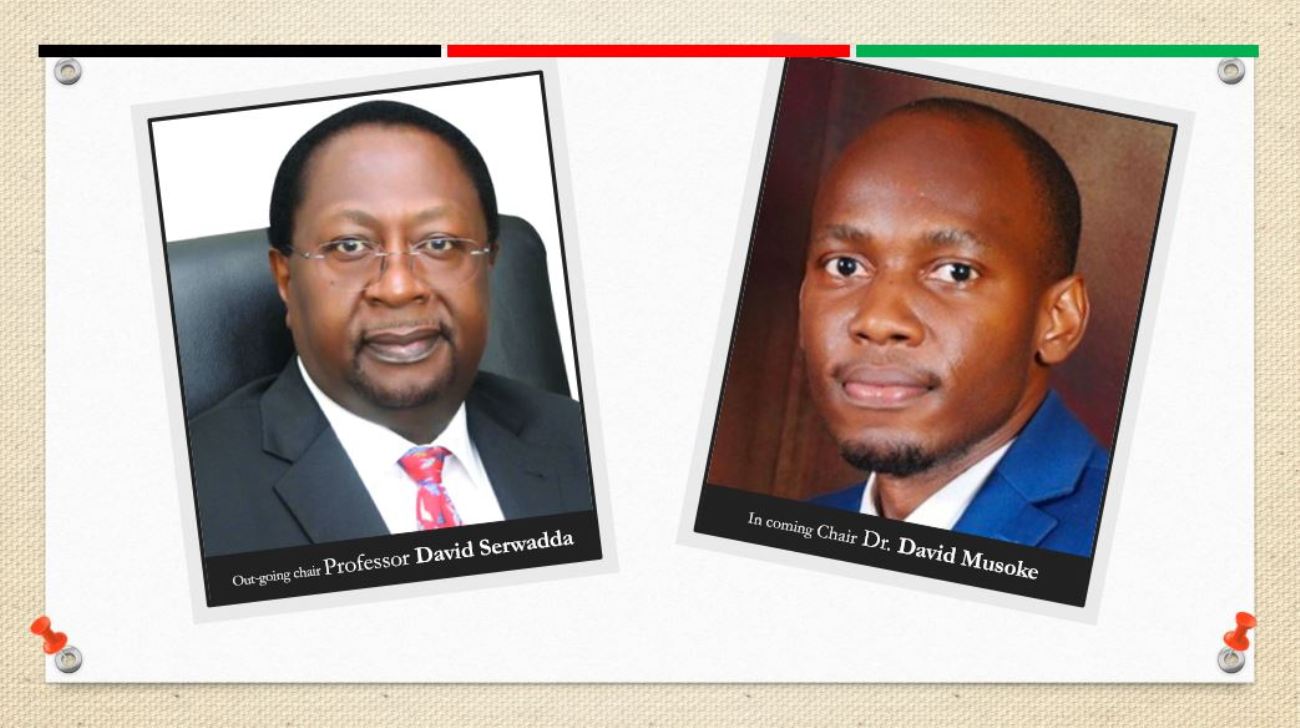 By Davidson Ndyabahika
Makerere University School of Public Health's (MakSPH) Dr. David Musoke has started his term as the new Chair of the Grants and Research Capacity Building Committee.
Dr. Musoke, a Lecturer in the Department of Disease Control and Environmental Health at MakSPH, replaced Dr. David Serwadda, an infectious disease epidemiologist and Professor at the School who had served in this capacity for 13 years, at the committee's handover meeting held on 23rd March 2021.
MakSPH maintains its rank as an academic, research leader in public health in the region. This has been enabled by a strong and dedicated team of professionals that support the research and training. The School has also been leading in this area of grants management in the entire University, thanks to the credible leadership of the School.
A brief about the Grants Committee
Between 2003 and 2009, Professor Serwadda was Director of the then Makerere Institute of Public Health. He served in that position until 2007 when he was promoted to the position of Dean, Makerere University School of Public Health, following the elevation of the Institute to a constituent School of Makerere University College of Health Sciences. It is during this period, that he started a grants committee.
"During that time, the committee did not perform as expected because there was a lot of resistance. Nevertheless, in 2008 the grants committee kicked off," Professor Serwadda recalls.
In the past four years, the committee has evolved into what we now know as the Grants and Research Capacity Building Committee.
One of its key achievements under Prof. Serwadda's leadership has been a generation of strong policies to guide the grants management at the School, that have since been approved by the School Board. The documents range from the Grants Procedure Manual, Conflict of Interest Policy to Management of Grants external to MakSPH.
"These documents we have developed are very important for purposes of management and procedural management of the grants at the School. Having these documents is a very important achievement as Makerere University Central Management does not have some of them very well outlined for the whole University," Professor Serwadda.
He adds that; "The School of Public Health has been leading in this area and some of the colleges are learning from what we have been able to do to manage their grants."
Additionally, the grants committee has been involved in the capacity strengthening by the grant's secretariat. "I am extremely grateful to the grants secretariat and initiatives they have made in securing grants for purposes of either training researchers among others. This is something that is commendable," Professor Serwadda.
Professor Serwadda also appealed to the new committee to embark on the Monitoring and Evaluation of the performance of grants, which had initially been thought to be the function of the Heads of Department. He added that the committee ought to continuously sensitize and enforce the monitoring and evaluation of projects.
"The other issue is the individual conduct of the PIs on these grants. There is a need to follow well-laid-out procedures for procurement, as well as conflict of interest. The conduct of the PI is extremely important in setting a tone on how the whole grant is managed," said Professor Serwadda.
Other Areas of Improvement
Professor Serwadda highlighted that the Grants committee needs to regularly sensitize staff about the grants policies that exist in the School.
The in-coming Grants committee chairperson Dr. David Musoke said thanked the School management for entrusting him with the leadership of the committee.
"This confidence in me by the management of the School will be a driving force to work with the new team to ensure that we build on what has been achieved by the committee and move its agenda forward," Dr. Musoke.
"I wish in a special way to thank my predecessor Prof. David Serwadda who has been at the forefront of this committee for very many years and, we have seen what the committee has been able to achieve over the years. This gives us an opportunity as the in-coming committee to harness what has been achieved but also build on the successes and learn from the challenges for the benefit of the School. I believe we will carry on the great work done by the outgoing committee and we shall make the entire School faculty proud," he added.
Dr. Musoke further highlighted that the committee will continue to support the use and adherence to the already existing policy guidelines moving forward to enable proper management of grants at the School.
Dr. Rhoda Wanyenze, Professor and Dean, MakSPH emphasized that the Grants and Research Capacity Building Committee is a very crucial committee of the School.
"The volume of work has grown. We have a lot of funds coming into the School. Last year, we had slightly over US$ 30M in grants coming into the School despite the fact that we were in the middle of the COVID-19 pandemic. One of the things I am excited about is that these funds are not being contributed by one large grant. It is being contributed to by multiple small grants," Prof. Wanyenze said.
She added that at the time she took over the Office of the Dean, the School's grants portfolio went down about 50% because three large grants ended simultaneously.
"At that time, we were coming down from over US$ 30M to almost half if we had not put in deliberately efforts to try and expand the pool of people bringing in grants, multiple small grants, deliberately expanding partnerships so that we can work with more people, and so we have more players and to me, that is more sustainable," Professor Wanyenze explains.
In the last three years, MakSPH has had more than 20 new partners and several direct first-time grantees.
According to Prof. Wanyenze, the School aspires to have more visibility in terms of Ph.D. training for regional leadership as the first Public Health Institute in the region.
"We have expanded the number of regional grants that we are coordinating as a School. There are more coming. This has been a deliberate effort and we must continue since we now understand what it takes to have that presence in the region," she noted.
The Dean also noted that the school will further ensure it improves on the management of partnerships and grants.
"It is one thing winning a grant but it's another sustaining this grant. Being in harmony with your funder, partners and making sure that you can pull them to deliver quality products on time is crucial. That is a major issue and one of our biggest risks. We have been taught science and no one has taught us administration and therefore the issues that break us are quite often not the science but how we manage our grants, our people, the procurement, and many other things. We need to continue to learn so that we appreciate our policies put in place," Dr. Wanyenze.
Through the PMA project, Jhpiego, an international, non-profit health organization affiliated with The Johns Hopkins University rated MakSPH highly during the 3rd Organizational Capacity Assessment.
Prof. Wanyenze also noted that; "We had initially scored about 50% in Human Resources in the previous assessment but now the last assessment put us at 100%. But we need to continue to learn and so we appreciate that excellent contribution, all those great policies, it's a reason we score highly. It is very important for us to attract money and continue to have more funders come to us but we must tighten up the loopholes within the policies and be able to implement them."
She commended Prof. Serwadda for the great leadership of the committee and for working with humility. "We really appreciate your work. You have done a great job and I really like that you have had a good end-game. I hope you will keep around so that you continue to support Dr. Musoke and his team so that we can continue to add to the good works that you started, but also reach out and support us in the office of the Dean and Management so that we can continue moving the school to the next level."
"I don't take smooth handovers for granted and I almost feel emotional when I see a smooth handover. This is a special moment for seeing that after 13 years, we have a smooth handover to the next generation of leaders for the School," Dr. Wanyenze said.
She urged Dr. Musoke to ensure professionalism, ethics, integrity for research capacity building. She emphasized the need for good administration, good management.
"If there is anyone thing, I would like to leave behind myself in this School, is that we must learn to be good managers, we must learn and be good administrators because ultimately we cannot manage our projects that we are funded to implement if we are not good at those things," She advanced.
To the grants team, the Deans said; "We are the leaders in terms of ensuring that we have a solid grants management, infrastructure, systems that can help us. The key is going to be on how we implement our policies. We must lead by example."
She equally hailed the grants secretariat for being outstanding and excellent at the job they do.
What others say
Dr. Lynn Atuyambe, Associate Professor at MakSPH thanked the out-going Chair for dedicated service, keeping the committee together for 13 years.
"In an emotional special way, I really would like to thank the administration and specifically the Dean and Professor Serwadda for a job well done. No wonder, you are moving higher and higher at national and global levels. We really want to emulate you as much as possible for the inspiring leadership and all the achievements," Dr. Atuyambe said.
Dr. Victoria Nankabirwa in equal measure hailed Prof. Serwadda's exceptional leadership, citing that they had learned a lot from him and his leadership.
"We are very grateful to you Professor Serwadda for the foundation. We are also grateful to the secretariat. It is true that this actually one of the best secretariats that I have seen. We are thankful to the Dean who is very active in many things particularly with this committee, including the Small Grants.," Dr. Nankabirwa.
Dr. David Guwatudde, a Professor and Co-chair of the incoming Grants and Research Capacity Building Committee thanked Professor Serwadda for the great leadership exhibited on the committee since 2008. Prof. Guwatudde, who also happens to have been a member of the Grants Committee since its inception, also hailed the Dean for advocating for handing over to the younger generation and making sure it happens.
Article originally published on MakSPH website
Intentionality Key to Nurturing More Women Leaders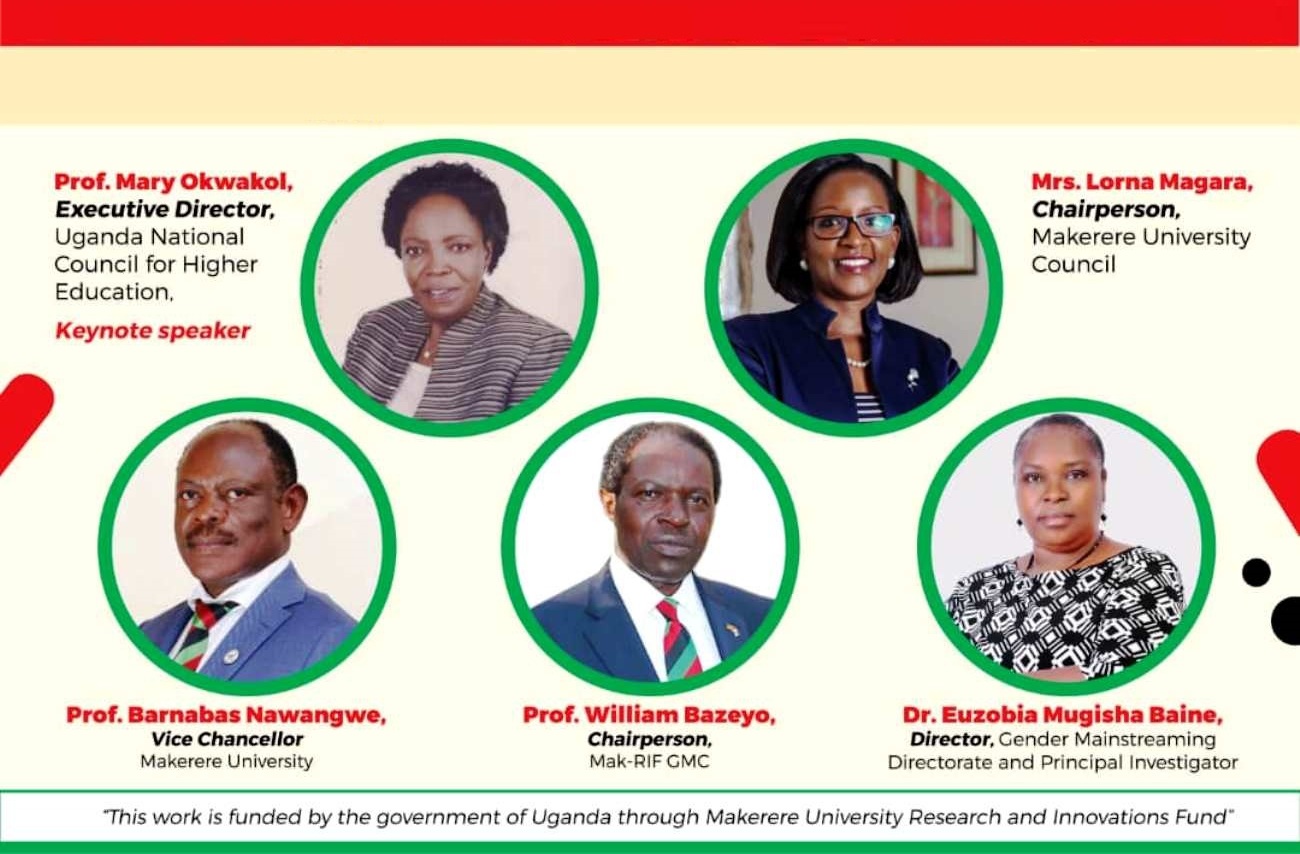 The Gender Mainstreaming Directorate (GMD), Makerere University on 14th September 2021 presented findings from phase one of the study on Enhancing Women's Participation and Visibility in Leadership and Decision-Making Organs of Public Universities in Uganda through Action Research. The study team led by the Director GMD and Principal Investigator (PI), Dr. Euzobia Mugisha Baine also consists of Assoc. Prof. Consolata Kabonesa, Dr. Anna Ninsiima, Ms. Frances Nyachwo, Ms. Susan Mbabazi and Mr. Eric Tumwesigye.  
The team is also made of coordinators from participating Universities such as Busitema University-Ms. Elizabeth Birabwa, Kabale University-Sr. Dr. Eva Tumusiime, Mbarara University of Science and Technology (MUST)-Dr. Specioza Twinamasiko, Muni University-Ms. Amandru Stella Wawa, and Gulu Univeristy-Sr. Rosalba Aciro.
Funded by the Government of Uganda through the Makerere University Research and Innovations Fund (Mak-RIF), the study was inspired by the fact that women are persistently few in numbers as staff, more so in leadership and decision-making organs of Ugandan Public Universities. "This is despite all the various efforts at national and international levels; the numbers are not growing as fast as needed to meet development goals of the country" explained Dr. Euzobia.
Based on this background, the study team therefore sought to conduct a situational analysis of the gender terrain of the six public universities to obtain baseline information encompassing the composition of governance and leadership organs and senior staff by sex, as well as a needs assessment and profiles of potential mentors and mentees.
Furthermore, the team sought to explore the capacity to conduct gender-responsive research as well as the role of male staff engagement in gender equity interventions within the universities as the drivers of development.
Dr. Mugisha-Baine shared that results of the baseline would then be used to design participatory training manuals or guides on gender and leadership. The manuals would cover; Institutionalized mentorship, How to conduct gender-responsive research, gender and equity budgeting, among others.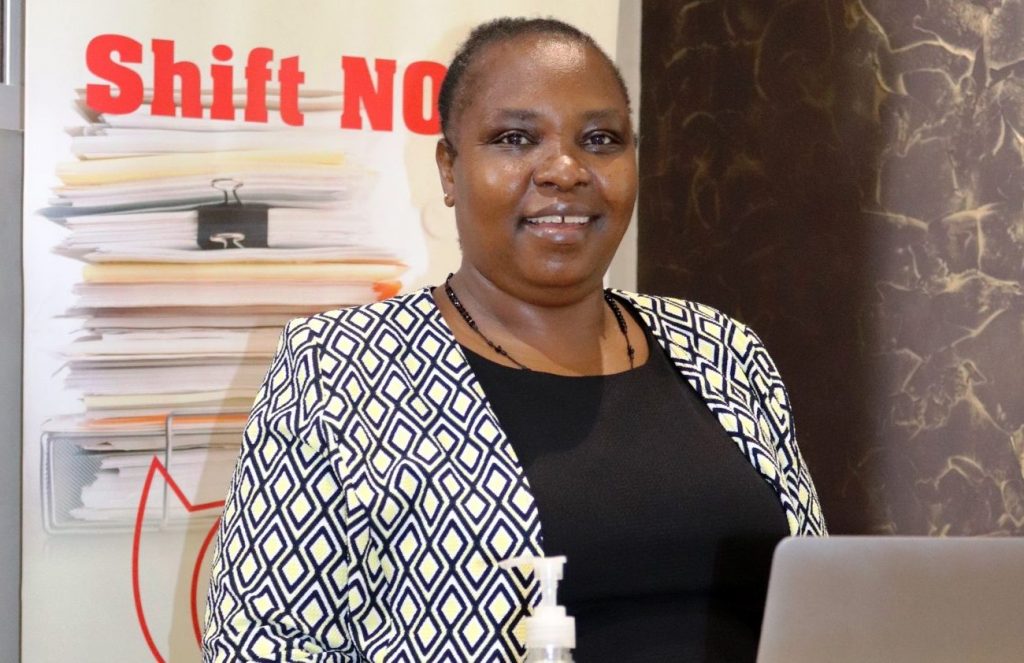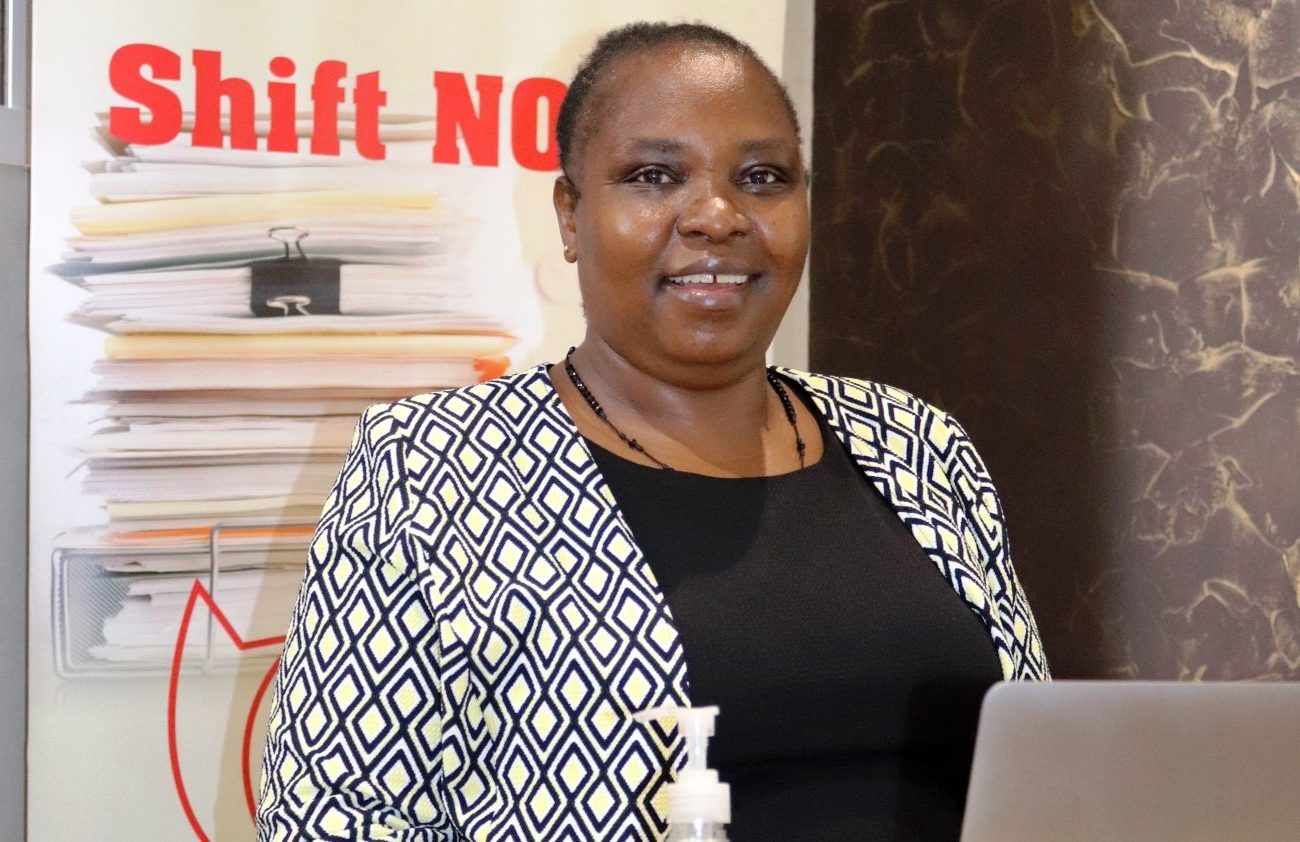 "Within these manuals, we shall have a male staff engagement strategy in gender equity interventions in universities" she explained.
The development of the aforementioned materials would then be followed by their adoption and use to build capacity for women not only in leadership of participating and other public university but also beyond. "We shall periodically evaluate whether the capacity we have built has influenced women's participation in leadership and decision-making organs of the university" supplemented the PI.
The capacity building trainings for women, it is envisaged, will lay the foundation for the formation of a functional Uganda University Women's Think Tank, starting with the six participating universities. Dr. Mugisha Baine added that through this Think Tank, a monitoring and tracking system for gender representation in recruitment, promotion, retention/turnover and leadership of public universities shall be established and maintained.
At the conclusion of phase one, the study team had drafted participatory training manuals in gender and leadership with content on; gender specific critical analysis of the leadership spectrum of public universities, positioning of individual women within the institutional framework and strategies for their advancement, gender equity advocacy in the university setting, institutional mentorship, building capacity in conducting gender-responsive research, among others.
"This content will be validated by the participating universities before the actual research training is conducted" added the PI.
On behalf of the research team, Dr. Mugisha Baine thanked the Government of Uganda for providing the resources that facilitated phase one of the study and prayed that the Mak-RIF Grants Management Committee (GMC) would support the next phase of capacity building.
Speaking on behalf of the Mak-RIF GMC Chairperson, Prof. William Bazeyo, Dr. Helen Nambalirwa Nkabala thanked and congratulated the team led by the Director GMD upon the milestones registered in the critical research.
"We are very proud of that work that is being done by all researchers in Mak-RIF and we would like to most sincerely thank Management for all the support throughout this process" she remarked.
Dr. Nkabala encouraged the research team to continue disseminating and using the findings for the furtherance of gender mainstreaming, particularly through the aspect of male staff engagement in gender equity interventions.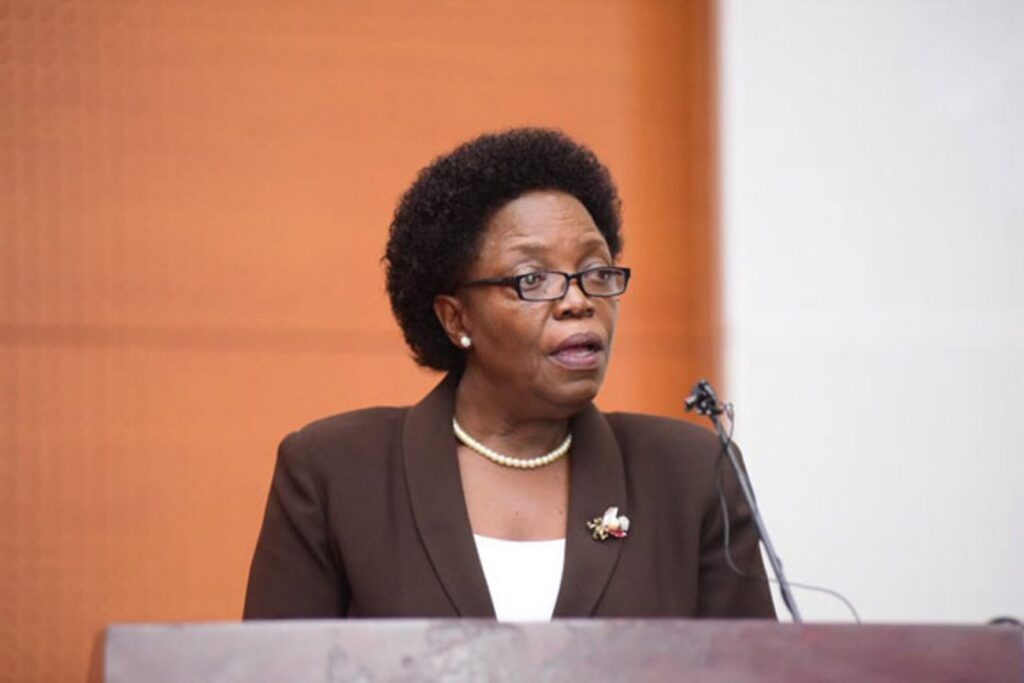 Prior to delivering the keynote address of the day, the Executive Director National Council for Higher Education (NCHE) Prof. Mary Okwakol thanked the Vice Chancellor, Prof. Barnabas Nawangwe for inviting her to the important forum, noting that women's participation in decision making and governance is a priority area of the Uganda Gender Policy 2007.
She commended Makerere University for being at the forefront of gender mainstreaming in Uganda, noting that this prominence was one of the reasons why the Gender in Education Policy 2007 provides for replicating the institution's strategy in all other Higher Education Institutions.   
Prof. Okwakol whose keynote address was punctuated incisive personal examples reaffirmed the statistics that women are generally not visible in leadership of Universities. That notwithstanding, in instances where they rise to leadership and decision-making positions, they are regularly subject to roles traditionally deemed as women's inconsiderate of their managerial seniority and experience.
She nevertheless rallied the women to play their respective roles in enhancing participation and visibility at a personal level. The following were some of the strategies she proposed; work hard to acquire academic credentials so as to compete favourably with men, acquire necessary administrative training and experience, network among women, join professional networks as well as do research and publish.
On joining professional networks, she shared her personal experience as a young zoologist who joined UNESCO's Tropical Biology and Fertility Programme. "Within a short time I was appointed Coordinator for Africa and after two years, I was elected as a Member of the International Board of Management. After serving for two years, I became Vice Chairperson of that Board and finally I became Chairperson of that International Board."
At the institutional level, Prof. Okwakol appealed to the Chairperson Council and Vice Chancellor to proactively recruit women who meet the requirements for leadership positions even if it means actively seeking out the reluctant ones. In this regard, she shared that it would be useful for the university to develop a database of women and their qualifications to ease this process.
She shared that NCHE has in recognition of female underrepresentation at every level in Higher Education approved the establishment of a Gender and Equity Unit with the aim of promoting inclusive gender participation in the sub-sector.
"This unit has been placed under the Directorate of Quality Assurance and Accreditation which implies that as we look out for and regulate quality, gender will be a very important aspect of that regulation" she reassured.
Prof. Okwakol concluded by urging participants to read the; Third National Development Plan (NDPIII), Uganda Vision 2040, and Sustainable Development Goals (SDGs) noting that there is no way all three can be achieved while women are left behind because they each make a case for inclusion of the female gender.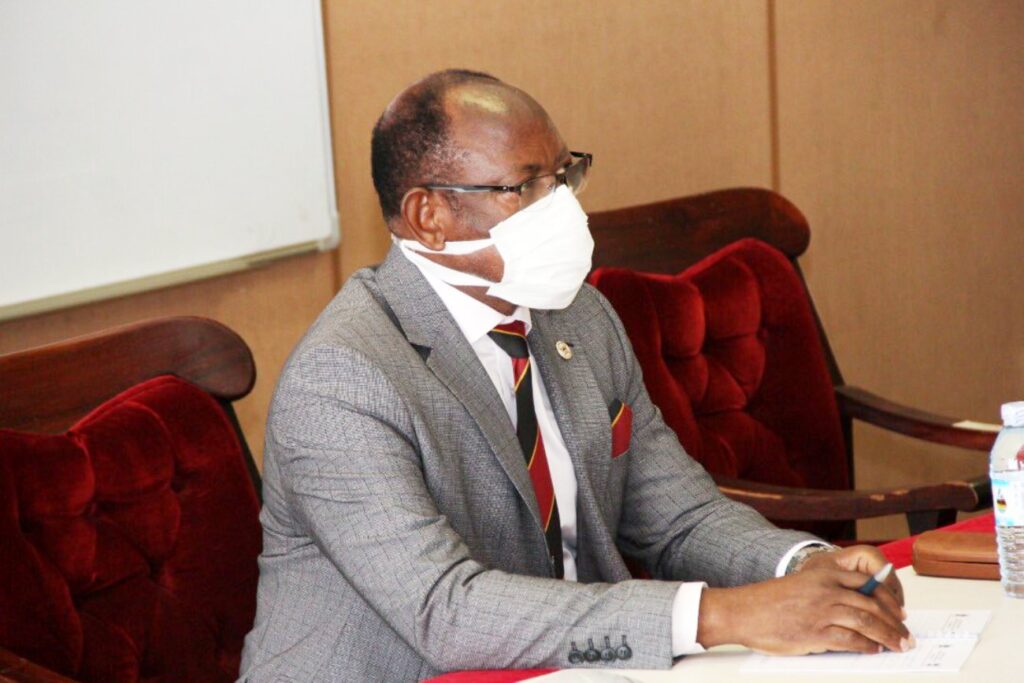 "What we are addressing here are historical injustices" said Prof. Barnabas Nawangwe as he commenced his remarks, "And in the case of Makerere University, it is well known that the institution started as a male-only institution and we all know the original motto was 'Let us be men'" he added.
Citing examples from history such as; Marie Curie – one of the smartest physicists, Hatshepsut, Nefertiti and Cleopatra – prominent Pharaohs of Egypt, George Eliot, Rosa Luxemburg and Hypatia – all great philosophers as well as Chancellor Angela Merkel – first female Chancellor of Germany, the Vice Chancellor said there is no plausible argument that there are things women cannot do as well as their male counterparts.
He said it was against this knowledge and in a bid to correct historical injustices that Makerere University pioneered initiatives such as putting in place affirmative action for girls, establishing a Gender Mainstreaming Directorate as well as a School of Women and Gender Studies. The Vice Chancellor nevertheless stressed the need to go beyond pioneering to protecting these gains through legislation. "Historically we have seen that discrimination can only be addressed by laws and policies."
Prof. Nawangwe thanked the Government for providing funds to support Mak-RIF as well as the Funds GMC and Secretariat for ensuring that these funds are put to good use. He equally thanked the Chairperson of Council, Mrs. Lorna Magara for her not only her support but also sparing time to attend a good number of the research dissemination events.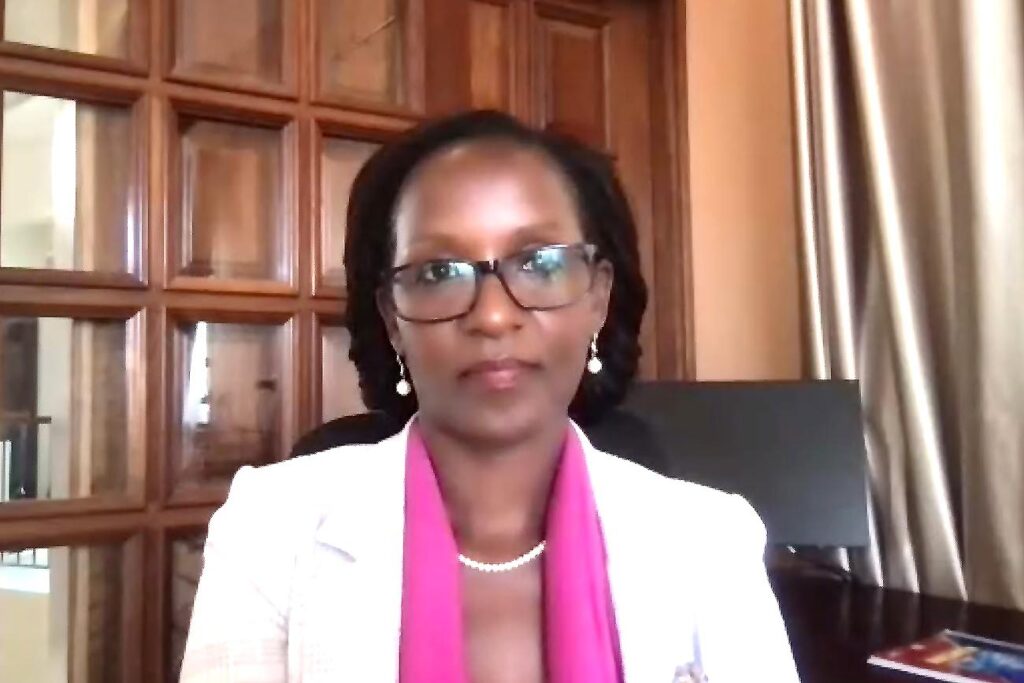 Delivering the concluding remarks, Mrs. Magara acknowledged that the study was timely and relevant the contemporary University, as one of the critical drivers of the national and international development agenda. She therefore reechoed the Vice Chancellor's thanks to the Government of Uganda for generously supporting the University's research through Mak-RIF.
Turning to the keynote speaker she said, "I thank Prof. Okwakol for ardently discussing the critical issues affecting the female gender, the strategies to overcome the challenges, including sharing her inspiring personal experiences."
Mrs. Magara equally thanked Prof. Okwakol for her very instructional analysis, providing mentorship guidance with the resultant impact of enhancing the female gender in decision-making positions. In the same breath she congratulated the PI and her team upon successfully concluding phase one of the project.
"Phase one has generated insights in understanding the status of women in leadership in public universities, the legal and policy framework and its implications on women's visibility, the institutional mentoring systems and the gaps therein" she observed.
The Chairperson of Council acknowledged that the challenge of underrepresentation of women in leadership roles cannot be resolved at an individual level. She therefore advocated for broad based strategies that can address deep-seated structural and cultural biases facing women. "These include developing mentorship networks, enacting laws and policies that address the imbalances and providing training programmes to address the leadership gaps."
She therefore pledged the University Council's unwavering support to the Gender Mainstreaming Programme by ensuring an enabling policy environment that facilitates gender-responsive teaching, learning, research innovation and community service.
The research dissemination was moderated by the Principal Public Relations Officer (PRO), Ms. Ritah Namisango and the Director Communications, Learning and Knowledge Management, ResilientAfrica Network (RAN) and PRO Mak-RIF, Ms. Harriet Adong.
Dr. Tayeebwa wins UN-SDGF Continental Research Grant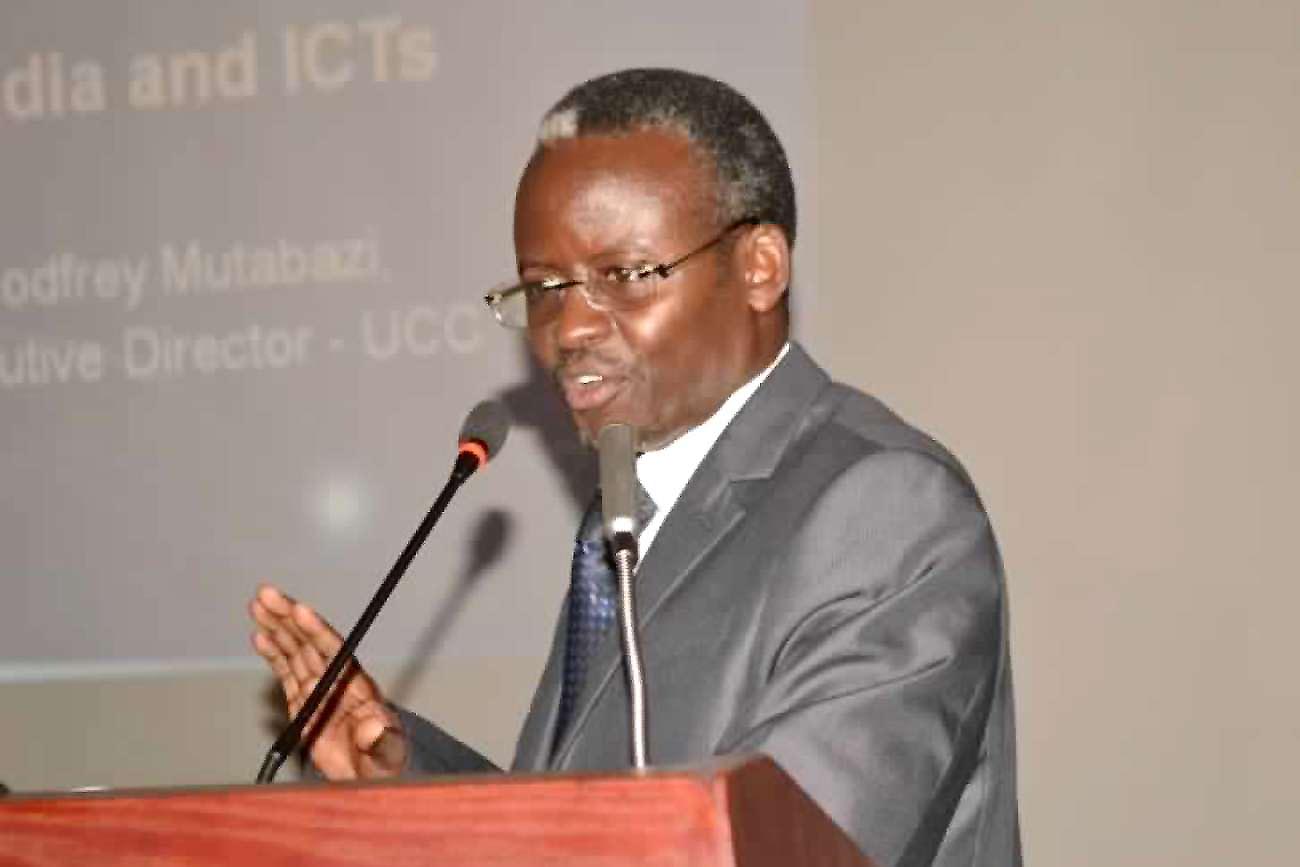 The United Nations Sustainable Development Goals Fund (UN-SDGF) has awarded to Dr. William Tayeebwa and five of his continental research associates USD 339,650 towards his research project titled "Airwaves for Building Peace and Inclusive Societies: The Case of United Nations Peacekeeping Mission Radio Networks in Africa".  Dr. Tayeebwa is a Senior Lecturer in the Department of Journalism and Communication, College of Humanities and Social Sciences (CHUSS), Makerere University.
This continental research project examines how the programming of nine United Nations (UN) peacekeeping mission supported radio networks has addressed issues of 'national integration and security' in the respective countries. It also probes how the radio programmes have covered the implementation of the 17 SDGs and the country-specific targets. The goal and main output of the project will be a book tentatively titled "United Nations Radio Framing of Peacebuilding in Africa" that has already been solicited by Palgrave McMillan Publishers based on previous research on Burundi and DR Congo by Dr. Tayeebwa.
Call for Applications: Schlumberger 2022-2023 Faculty for the Future Fellowships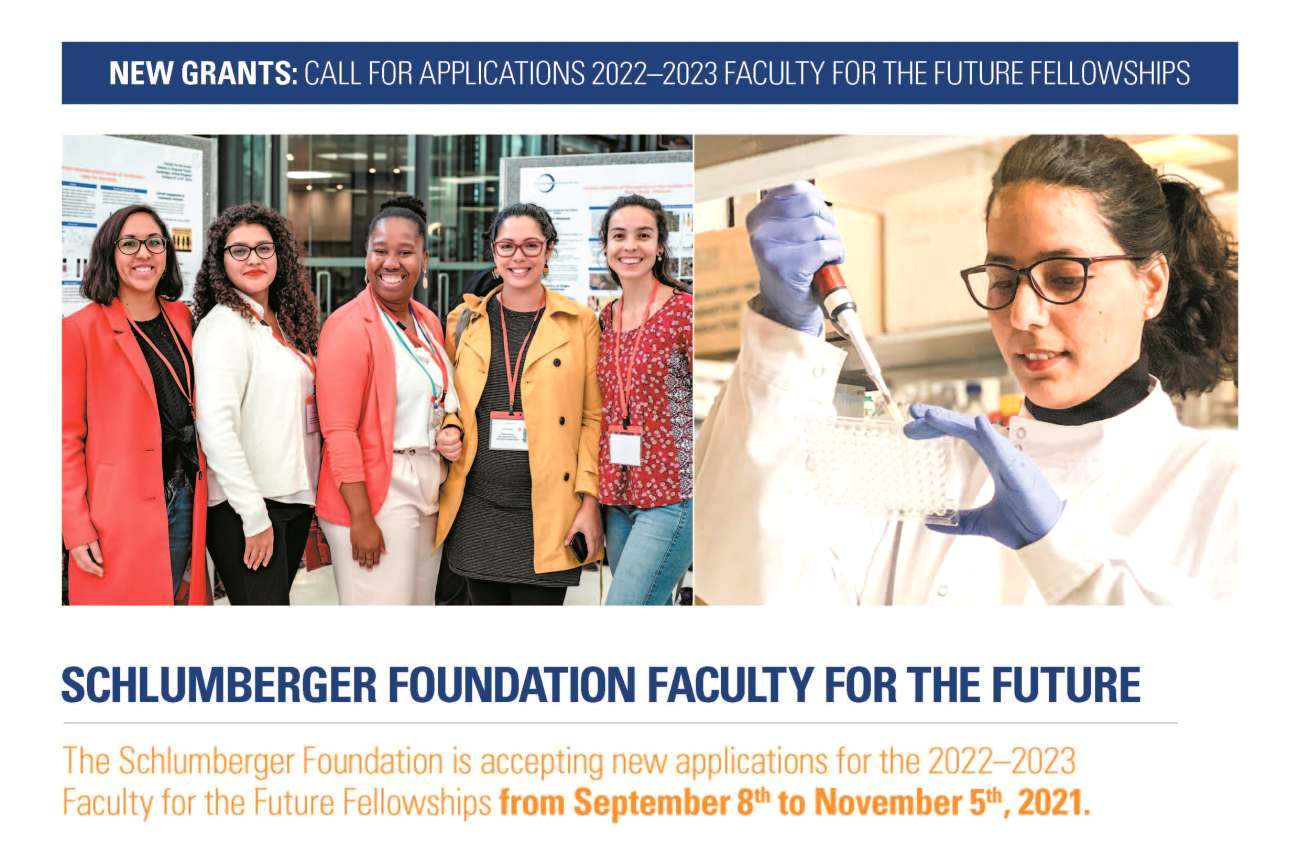 The Schlumberger Foundation Faculty for the Future program, launched in 2004, awards fellowships to women from developing and emerging economies to pursue PhD or Post-doctoral research in science, technology, engineering and mathematics (STEM) fields at leading universities worldwide.
The Schlumberger Foundation is committed to gender parity in science and recognizes that full access to and participation in STEM curriculum is essential for the empowerment of women and girls. By facilitating STEM research for women scientists in emerging economies, scientific and technological advances will be enhanced in the local communities and regions from where selected candidates are awarded this program.
Since its launch in 2004, 770 women from 84 countries have received Faculty for the Future fellowships to pursue PhD and Post-doctoral research in STEM in leading universities and research institutes outside of their home country.
Faculty of the Future grants are based on actual costs for eligible expenses up to a maximum of USD 50,000 per year for a PhD and maximum of USD 40,000 per year for a Post-doc and may be renewed through to completion of studies.
Please see Downloads for the detailed Call For Applications.
If you believe you meet all the eligibility criteria, apply online from September 8th to November 5th 2021: https://www.fftf.slb.com/