MakSPH Grants and Research Capacity Building Committee Gets New Leadership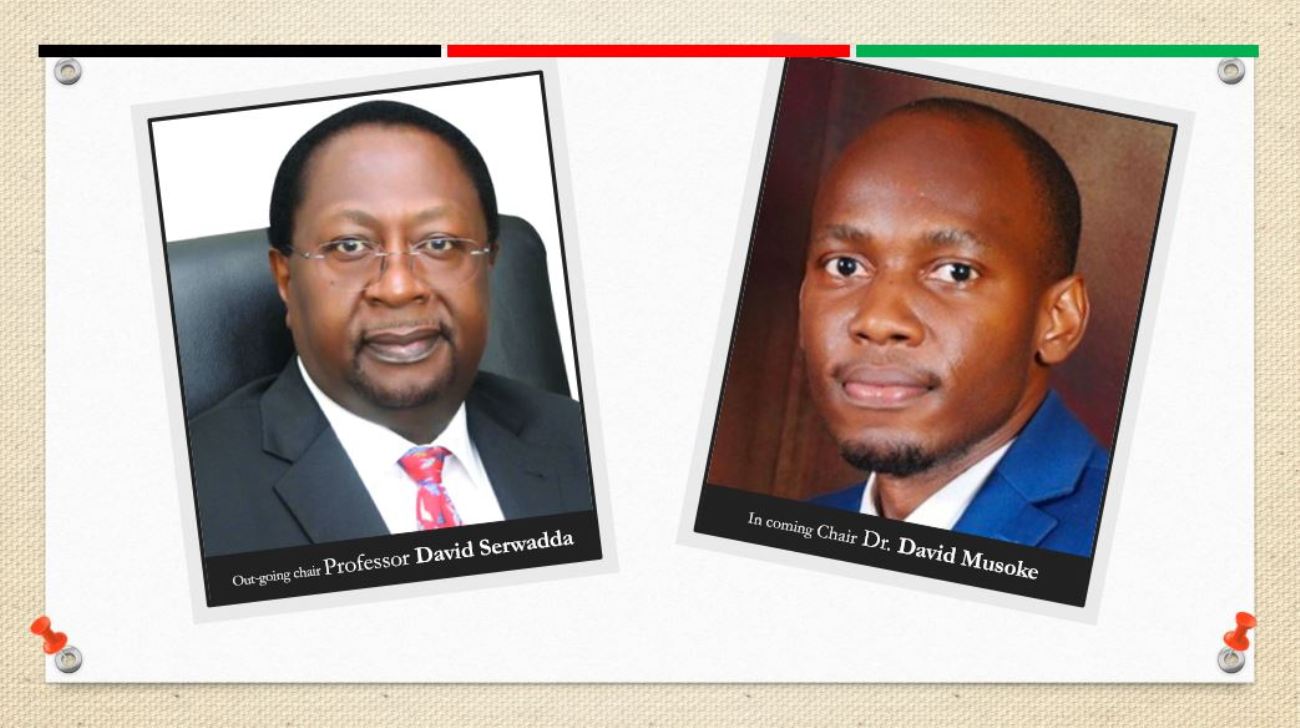 By Davidson Ndyabahika
Makerere University School of Public Health's (MakSPH) Dr. David Musoke has started his term as the new Chair of the Grants and Research Capacity Building Committee.
Dr. Musoke, a Lecturer in the Department of Disease Control and Environmental Health at MakSPH, replaced Dr. David Serwadda, an infectious disease epidemiologist and Professor at the School who had served in this capacity for 13 years, at the committee's handover meeting held on 23rd March 2021.
MakSPH maintains its rank as an academic, research leader in public health in the region. This has been enabled by a strong and dedicated team of professionals that support the research and training. The School has also been leading in this area of grants management in the entire University, thanks to the credible leadership of the School.
A brief about the Grants Committee
Between 2003 and 2009, Professor Serwadda was Director of the then Makerere Institute of Public Health. He served in that position until 2007 when he was promoted to the position of Dean, Makerere University School of Public Health, following the elevation of the Institute to a constituent School of Makerere University College of Health Sciences. It is during this period, that he started a grants committee.
"During that time, the committee did not perform as expected because there was a lot of resistance. Nevertheless, in 2008 the grants committee kicked off," Professor Serwadda recalls.
In the past four years, the committee has evolved into what we now know as the Grants and Research Capacity Building Committee.
One of its key achievements under Prof. Serwadda's leadership has been a generation of strong policies to guide the grants management at the School, that have since been approved by the School Board. The documents range from the Grants Procedure Manual, Conflict of Interest Policy to Management of Grants external to MakSPH.
"These documents we have developed are very important for purposes of management and procedural management of the grants at the School. Having these documents is a very important achievement as Makerere University Central Management does not have some of them very well outlined for the whole University," Professor Serwadda.
He adds that; "The School of Public Health has been leading in this area and some of the colleges are learning from what we have been able to do to manage their grants."
Additionally, the grants committee has been involved in the capacity strengthening by the grant's secretariat. "I am extremely grateful to the grants secretariat and initiatives they have made in securing grants for purposes of either training researchers among others. This is something that is commendable," Professor Serwadda.
Professor Serwadda also appealed to the new committee to embark on the Monitoring and Evaluation of the performance of grants, which had initially been thought to be the function of the Heads of Department. He added that the committee ought to continuously sensitize and enforce the monitoring and evaluation of projects.
"The other issue is the individual conduct of the PIs on these grants. There is a need to follow well-laid-out procedures for procurement, as well as conflict of interest. The conduct of the PI is extremely important in setting a tone on how the whole grant is managed," said Professor Serwadda.
Other Areas of Improvement
Professor Serwadda highlighted that the Grants committee needs to regularly sensitize staff about the grants policies that exist in the School.
The in-coming Grants committee chairperson Dr. David Musoke said thanked the School management for entrusting him with the leadership of the committee.
"This confidence in me by the management of the School will be a driving force to work with the new team to ensure that we build on what has been achieved by the committee and move its agenda forward," Dr. Musoke.
"I wish in a special way to thank my predecessor Prof. David Serwadda who has been at the forefront of this committee for very many years and, we have seen what the committee has been able to achieve over the years. This gives us an opportunity as the in-coming committee to harness what has been achieved but also build on the successes and learn from the challenges for the benefit of the School. I believe we will carry on the great work done by the outgoing committee and we shall make the entire School faculty proud," he added.
Dr. Musoke further highlighted that the committee will continue to support the use and adherence to the already existing policy guidelines moving forward to enable proper management of grants at the School.
Dr. Rhoda Wanyenze, Professor and Dean, MakSPH emphasized that the Grants and Research Capacity Building Committee is a very crucial committee of the School.
"The volume of work has grown. We have a lot of funds coming into the School. Last year, we had slightly over US$ 30M in grants coming into the School despite the fact that we were in the middle of the COVID-19 pandemic. One of the things I am excited about is that these funds are not being contributed by one large grant. It is being contributed to by multiple small grants," Prof. Wanyenze said.
She added that at the time she took over the Office of the Dean, the School's grants portfolio went down about 50% because three large grants ended simultaneously.
"At that time, we were coming down from over US$ 30M to almost half if we had not put in deliberately efforts to try and expand the pool of people bringing in grants, multiple small grants, deliberately expanding partnerships so that we can work with more people, and so we have more players and to me, that is more sustainable," Professor Wanyenze explains.
In the last three years, MakSPH has had more than 20 new partners and several direct first-time grantees.
According to Prof. Wanyenze, the School aspires to have more visibility in terms of Ph.D. training for regional leadership as the first Public Health Institute in the region.
"We have expanded the number of regional grants that we are coordinating as a School. There are more coming. This has been a deliberate effort and we must continue since we now understand what it takes to have that presence in the region," she noted.
The Dean also noted that the school will further ensure it improves on the management of partnerships and grants.
"It is one thing winning a grant but it's another sustaining this grant. Being in harmony with your funder, partners and making sure that you can pull them to deliver quality products on time is crucial. That is a major issue and one of our biggest risks. We have been taught science and no one has taught us administration and therefore the issues that break us are quite often not the science but how we manage our grants, our people, the procurement, and many other things. We need to continue to learn so that we appreciate our policies put in place," Dr. Wanyenze.
Through the PMA project, Jhpiego, an international, non-profit health organization affiliated with The Johns Hopkins University rated MakSPH highly during the 3rd Organizational Capacity Assessment.
Prof. Wanyenze also noted that; "We had initially scored about 50% in Human Resources in the previous assessment but now the last assessment put us at 100%. But we need to continue to learn and so we appreciate that excellent contribution, all those great policies, it's a reason we score highly. It is very important for us to attract money and continue to have more funders come to us but we must tighten up the loopholes within the policies and be able to implement them."
She commended Prof. Serwadda for the great leadership of the committee and for working with humility. "We really appreciate your work. You have done a great job and I really like that you have had a good end-game. I hope you will keep around so that you continue to support Dr. Musoke and his team so that we can continue to add to the good works that you started, but also reach out and support us in the office of the Dean and Management so that we can continue moving the school to the next level."
"I don't take smooth handovers for granted and I almost feel emotional when I see a smooth handover. This is a special moment for seeing that after 13 years, we have a smooth handover to the next generation of leaders for the School," Dr. Wanyenze said.
She urged Dr. Musoke to ensure professionalism, ethics, integrity for research capacity building. She emphasized the need for good administration, good management.
"If there is anyone thing, I would like to leave behind myself in this School, is that we must learn to be good managers, we must learn and be good administrators because ultimately we cannot manage our projects that we are funded to implement if we are not good at those things," She advanced.
To the grants team, the Deans said; "We are the leaders in terms of ensuring that we have a solid grants management, infrastructure, systems that can help us. The key is going to be on how we implement our policies. We must lead by example."
She equally hailed the grants secretariat for being outstanding and excellent at the job they do.
What others say
Dr. Lynn Atuyambe, Associate Professor at MakSPH thanked the out-going Chair for dedicated service, keeping the committee together for 13 years.
"In an emotional special way, I really would like to thank the administration and specifically the Dean and Professor Serwadda for a job well done. No wonder, you are moving higher and higher at national and global levels. We really want to emulate you as much as possible for the inspiring leadership and all the achievements," Dr. Atuyambe said.
Dr. Victoria Nankabirwa in equal measure hailed Prof. Serwadda's exceptional leadership, citing that they had learned a lot from him and his leadership.
"We are very grateful to you Professor Serwadda for the foundation. We are also grateful to the secretariat. It is true that this actually one of the best secretariats that I have seen. We are thankful to the Dean who is very active in many things particularly with this committee, including the Small Grants.," Dr. Nankabirwa.
Dr. David Guwatudde, a Professor and Co-chair of the incoming Grants and Research Capacity Building Committee thanked Professor Serwadda for the great leadership exhibited on the committee since 2008. Prof. Guwatudde, who also happens to have been a member of the Grants Committee since its inception, also hailed the Dean for advocating for handing over to the younger generation and making sure it happens.
Article originally published on MakSPH website
The 2020 COVID-19 Non-Pharmaceutical Containment Measures – Adherence and Impact on Livelihoods in Rural Uganda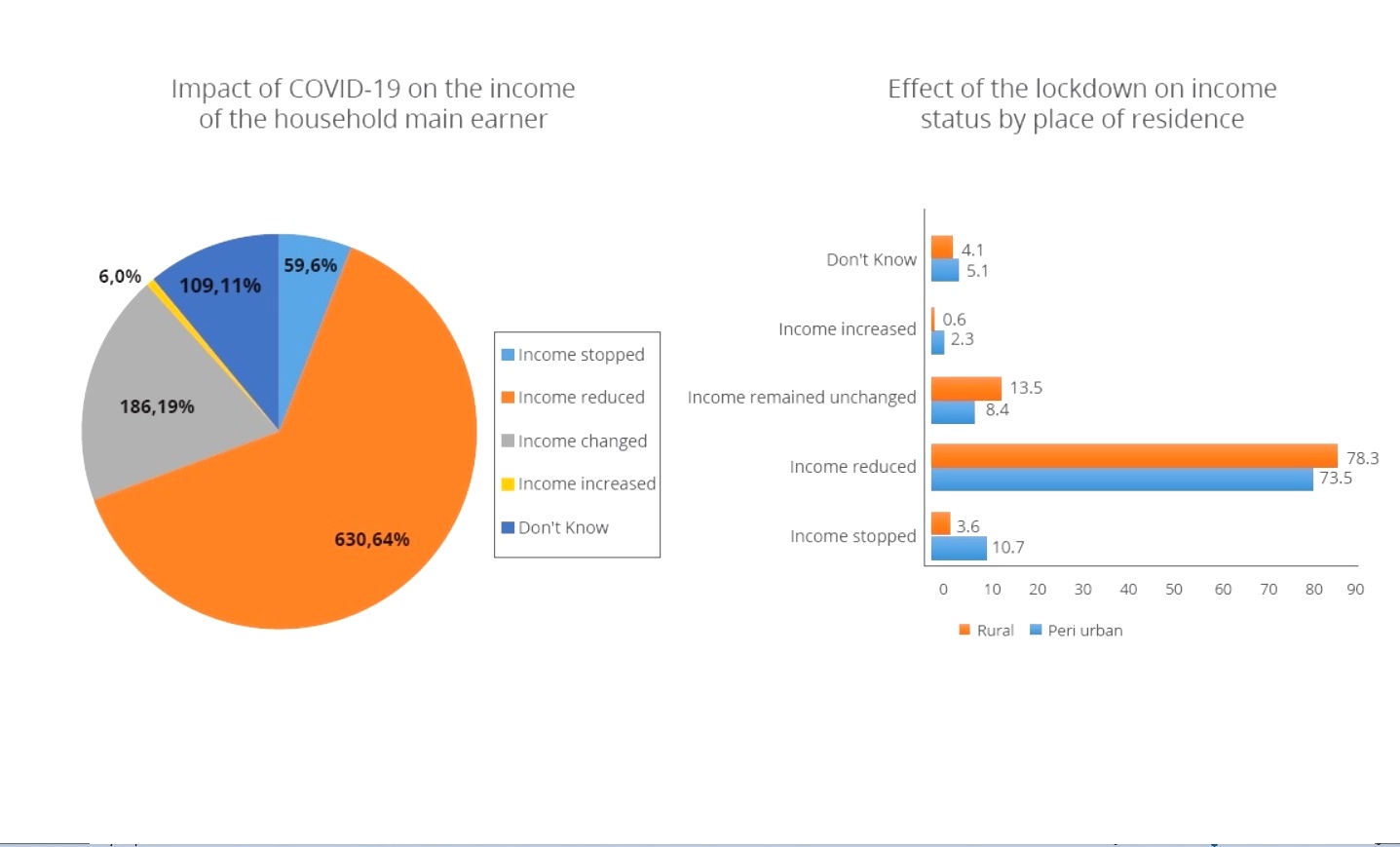 By Dr. Dan Kajungu and MUCHAP/IMHDSS Team
Uganda is currently experiencing a second wave of the COVID-19 pandemic with an upsurge of cases. The country registered an 81% increase in the number of COVID-19 cases between March and April 2021, which indicates resurgence or another wave in the pandemic. From 200 cases per day in April, now the country is recording over 500 cases per day. The vaccines uptake has improved only recently, and the population has ignored the Ministry of Health (MoH) Standard Operating Procedures (SOPs) meant to contain transmission. Since March 2021, when the COVID-19 AstraZeneca vaccine was introduced, about 541,569 persons have so far been vaccinated.
On 6th June, new control measures were announced to mitigate the transmission. The Makerere University Centre for Health and Population Research (MUCHAP) which runs a longitudinal population-based cohort of Iganga and Mayuge districts (Iganga Mayuge Health and Demographic Surveillance Site) conducted a community survey to understand how citizens responded to the non-pharmaceutical interventional measures, and the impact on their livelihood. This survey was part of the routine community surveys that a typical health and demographic surveillance site conducts to understand the population dynamics in population cohorts. The hybrid survey involved about 2,000 households in rural and peri-urban settings using a questionnaire that adopted some questions from the Wellcome Trust COVID-19 tool. It was a hybrid of on-phone and physical interviews conducted between July and August 2020 right after the relaxation of restriction in Uganda. Community based surveys provide information on what to expect when piloting and implementing interventions in populations. In addition to the demographic and household characteristics, questions sought to understand the extent of community adherence to COVID-19 control measures and probed about the impact on socio-economic and access to health services.
Adherence to preventive measures: The survey found that 94% of the respondents adhered to COVID-19 non-medical control measures that were enforceable by security personnel. It was different for non-pharmaceutical measures that were largely dependent on individual enforcement or discipline and this averaged at 43% of the respondents. Six in ten respondents reported doing most of their work from home and half (50%) avoided seeking medical care at health facilities during lockdown.
The non-pharmaceutical guidelines included using preventive actions like social-distancing, hand washing with soap, the use of alcohol-based hand sanitizing gels as well as wearing of face masks. Citizens were encouraged to stay at home with the exception of essential workers who rendered critical services. Some community members could not adhere, not because they do not take it as a priority but because of the cost implications.
Socio-economic impact: There was change in the living arrangement in 12% of the households mostly because someone moved out or into the household. Community members reported a reduction (64%) in the income for household members with some experiencing a complete stop in earnings (6%). Residents in rural settings reported more reduction in income compared to Peri-urban residents (78% vs 74%). There are seemingly unique circumstances that need to be considered as interventions and decisions are made. For instance, it should not be surprising that a household cannot afford to have a bar of soap, a face mask, an alcohol-based hand sanitizing gel and social distance because of the living structures. In some cases, even accessing water is a luxury for some homes. There are some homesteads that are unable to grow food or earn an income from selling cash crops because they leased their pieces of land for large scale sugarcane growing 3 or 4 years ago, with just a house and a few feet of compound to spare. Unfortunately, such individuals have no access to social media where they can express their predicament.
The survey further found out that during the 2020 lockdown period, there was a general increase in violence against men, children, and women. There were cases of child neglect as well as marital problems. The survey found that 53% of the respondents reported increase in marital problems, while violence against women during the lockdown was reported by 51% of the respondents and was more common among rural residents compared to their Peri-urban counterparts. Residents could not access what they considered essential needs like transport and education services, which were directly affected by government directives and other community services. Communication was the most affected essential service reported.
Access to Health Services: 26% of the interviewed community members who were on daily medication due to a chronic or long-term condition reported running out of drugs during lockdown. Non-affordability due to the cost was the main reason in 54% of respondents, while 19% reported cases of stock-outs at both public and private health facilities and 10% were restricted by lockdown measures.
In another review of the immunisation records at Busowubi Health Centre III in Iganga district, it was clear that during the lockdown, utilisation of immunization services was severely affected (manuscript is undergoing peer review). Children did not complete their scheduled vaccine doses which calls for catch up vaccination drives. People could not go to health facilities because of fear of acquiring infection and restricted movements of boda-boda.
Please see Downloads for the detailed report.
Artificial Intelligence Capacity in Sub-Saharan Africa – Compendium Report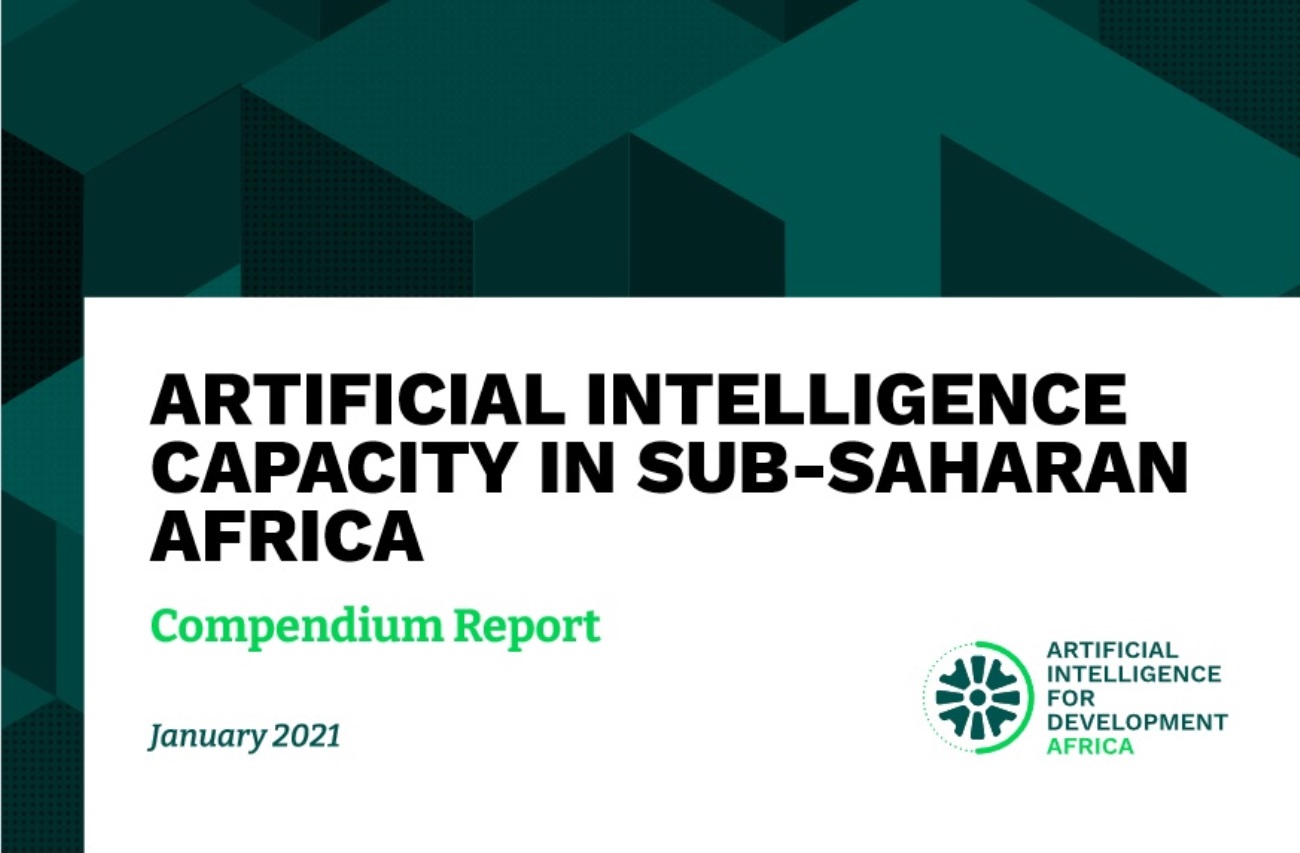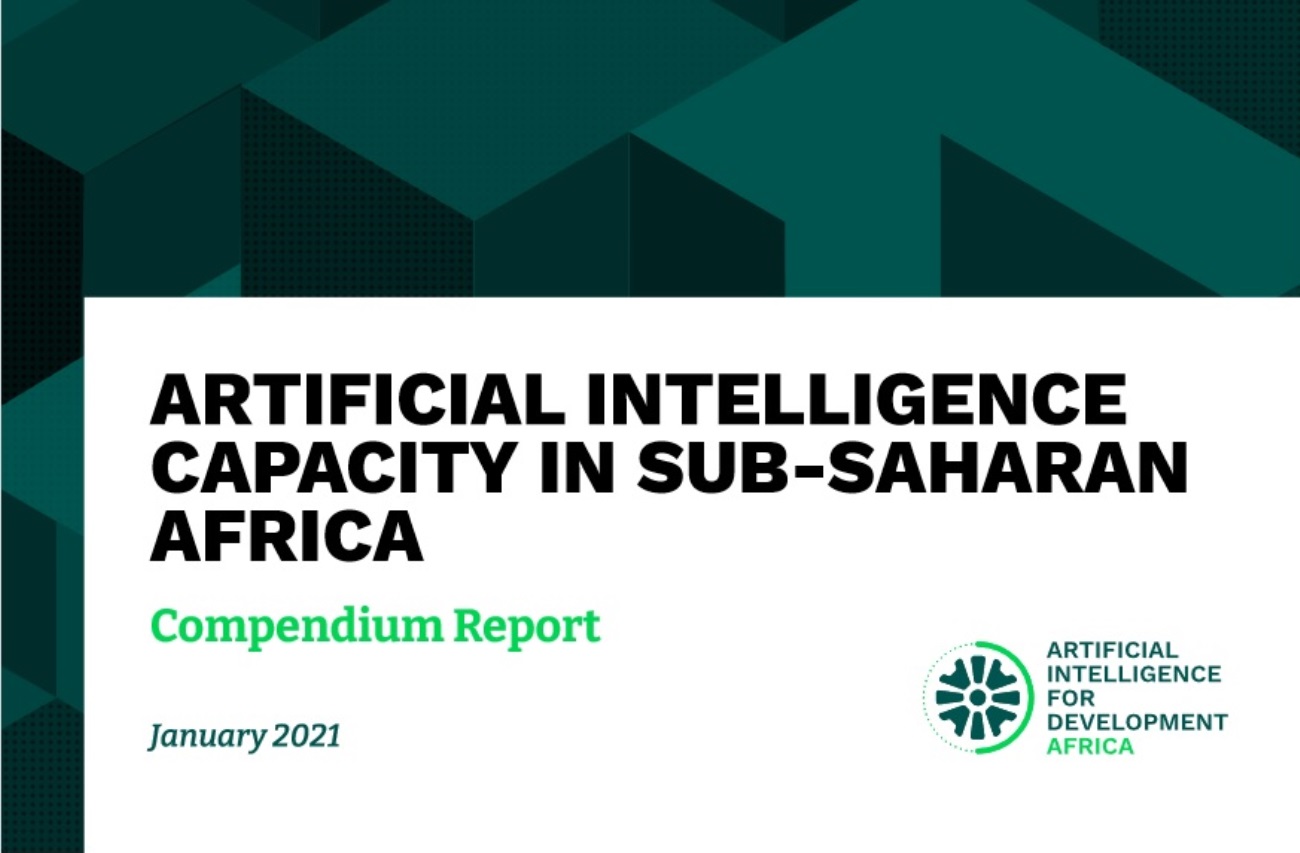 Makerere University in Uganda formed the AI & Data Science Research Group, which examines various areas related to AI and data science such as ML methods, computer vision and predictive analytics. The group has conducted research on automated diagnosis of crop and human diseases, auction design for mobile commodity markets, analysis of traffic patterns in African cities, and the use of telecoms and remote sensing data for anticipating the spread of infectious disease, to name a few.
Institution-specific research groups and activities
Robotics and Autonomous Intelligence
The Robotics, Autonomous Intelligence and Learning (RAIL) Laboratory (Wits);
Wits Institute of Data Science (WIDS) (Wits);
Computational Intelligence Research Group (UP);
Automating Robot Design for General Applications (University of Cape Town) (UCT);
Guided Self-Organisation in Artificial Complex Systems (UCT); and
Spatiotemporal models for Biosurveillance (Makerere).
Health and Biology
Machine Learning for Cancer Detection (NUL);
Nature Inspired Computing Optimisation Group (NICOG) (UP);
Prediction of Co-infection of TB and HIV using Computational Intelligence Methodologies (UniSwa);
An Expert System for Malaria Diagnosis Using Fuzzy Cognitive Map Engine (Best Paper Award) IEEE-IST Africa Botswana (UniSwa);
Multi-Target Regression Prediction on Cervical Cancer for evaluation of Performance Measures (UniSwa);
A Framework for Early di!erential diagnosis of tropical confusable diseases using the fuzzy cognitive map engine (UniSwa); and
Machine learning-based detector for cervical cancer (Makerere).
Agriculture and Disaster management
Early Warning System for Disaster Preparedness (MUST);
Forecasting crops using drones (UWC);
WineTech (UWC);
Disease surveillance – mobile monitoring of crop disease (Makerere);
Automated Malaria diagnosis (Makerere);
Computational prediction of famine (Makerere);
Auction design for agricultural commodity trading (Makerere); and
A portable deep-learning-based diagnostic platform for passion fruit diseases (Makerere).
Click here to access the full report
Seed Grant for New African Principal Investigators (SG-NAPI)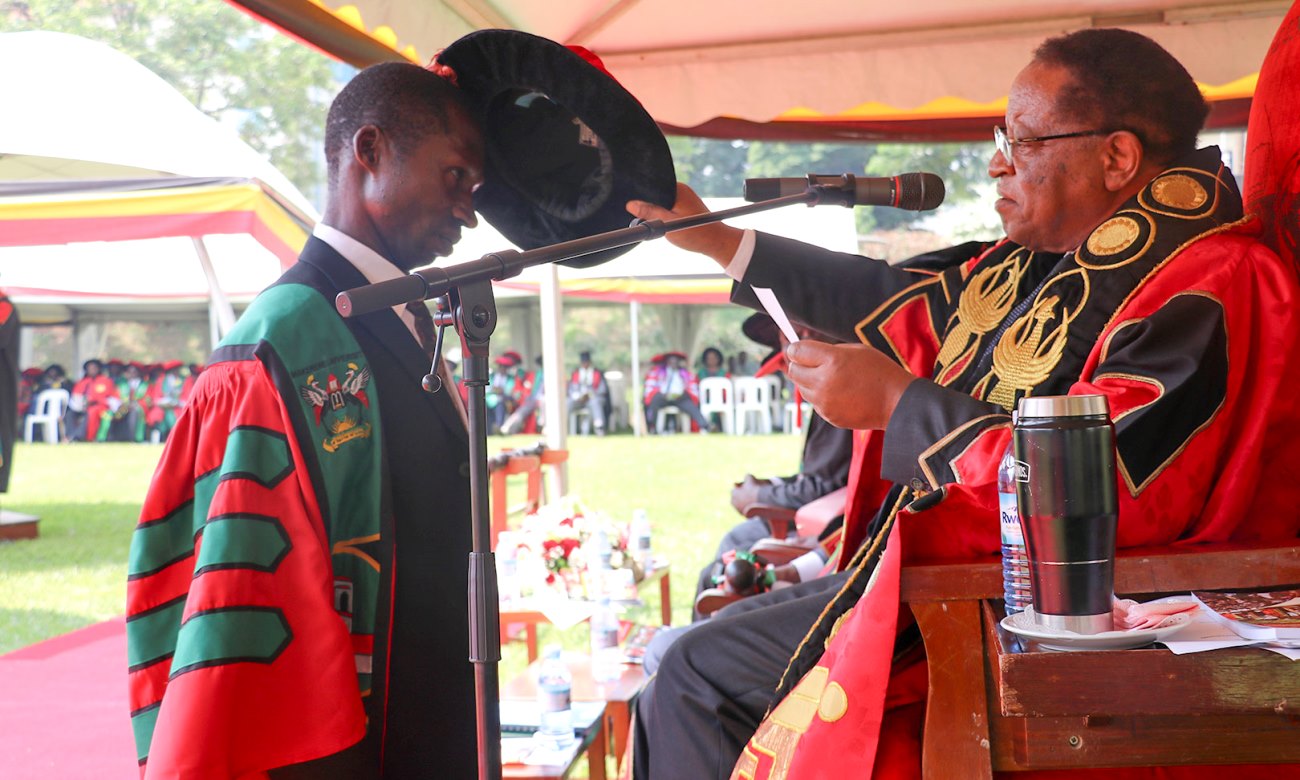 The Seed Grant for New African Principal Investigators (SG-NAPI) was established in response to the needs of researchers in developing countries, particularly those attached to institutions that lack appropriate research facilities. Under this scheme, grants can be awarded for research projects in Agriculture, Biology, Chemistry, Earth Sciences, Engineering, Information Computer Technology, Mathematics, Medical Sciences and Physics to Principal Investigators in the African countries lagging in science and technology identified by TWAS, to enable them to purchase the research facilities they need to enhance their productivity.
The Seed Grant for New African Principal Investigators (SG-NAPI) aims to support early-career scientists in Sub-Saharan Africa, with particular emphasis on Least Developed Countries (LDCs).
Seed Grant for New African Principal Investigators (SG-NAPI) is fully funded by The German Ministry of Education and Research (BMBF).
Programme Details
SG-NAPI Grants are awarded to high-level promising research projects in Agriculture, Biology, Chemistry, Earth Sciences, Engineering, Information Computer Technology, Mathematics, Medical Sciences and Physics carried out by Principal Investigators (PI) in the African countries lagging in science and technology identified by TWAS.
Research Grants to research units amount to a maximum of USD 67,700.
The grants, which are normally provided for a period of 24 months, may be used to purchase scientific equipment, consumables, which can include fieldwork and maintenance of equipment and specialized literature (textbooks and proceedings only). The grant does not cover salaries of the Principal Investigator or travel expenses unless they are clearly related to one of the conference and/or mobility components mentioned below. In addition, the purchase of laptops, tablets, drones and laboratory animals is not supported.
Awarded PIs may also support MSc student as part of the project, request funding for international conference grant, industrial link grant, mobility grant and open access publication grant. Full details of each component are laid out in the guidelines.
The programme has an additional component which seeks to enhance the productivity of female scientists returning to academia after a maternity leave, scientist-after-child grant. Full details of this component can be found in the guidelines.