Mak Staff Vaccination for COVID-19 Kicks Off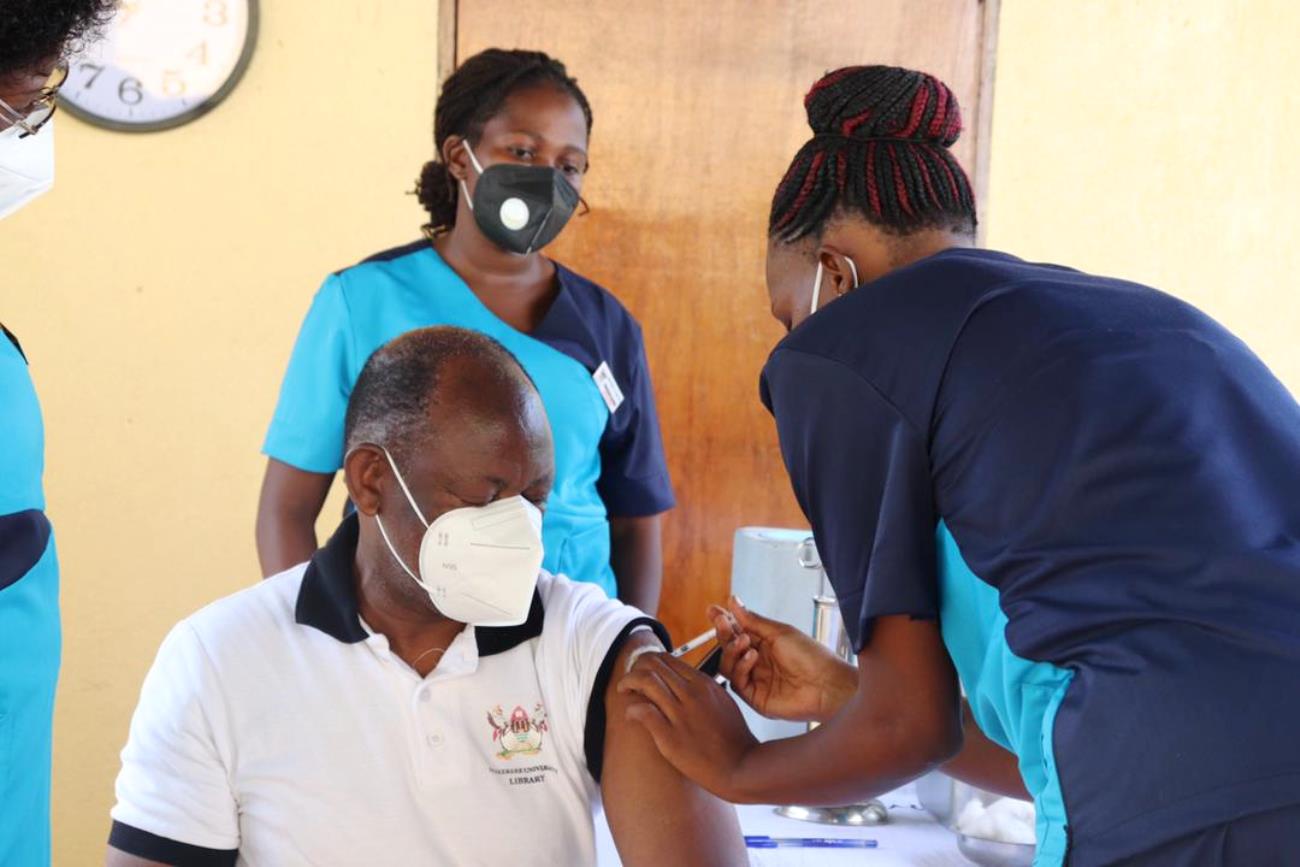 By Judith Grace Amoit, Brenda Namata & Davidson Ndyabahika
Makerere University through the University Hospital has today March 26, 2021, rolled out vaccination of its staff.
This is also in conjunction with the Ministry of Health, Kampala Capital City Authority -KCCA and World Health Organization -WHO, starting with staff from the College of Health Sciences and administrative units at the University Hospital. The exercise is deemed to occur between 9:00 AM and 03:00 PM.
Prof. Barnabas Nawangwe, the Vice-Chancellor of Makerere University, upon receiving his jab, urged all staff to get the vaccination and affirmed its safety.
"I have just received the first Jab for COVID-19 vaccine here at the Makerere University Hospital. I want to assure all Makerere Community, all Ugandans that the Vaccine is safe," Professor Nawangwe said after receiving the jab.
"Please make sure that you get your jab if you are in the priority group because this is the only opportunity you have to ensure that you are protected. Please come according to the schedule that you have received," he added.
Dr. Josaphat Byamugisha, Associate Professor and Director of University Hospital upon receiving his jab also appealed to staff to heed the call and take the chance to receive the vaccine.
According to Dr. Byamugisha, Makerere University Hospital has received 500 Jabs to kick-start the process. He says they intend to vaccinate all the 3,150 Makerere University staff.
"I want to encourage the University community to come and get the vaccine. The information available is that this vaccine is safe and it is going to protect all of us from this severe disease. So it is very important that each one of us endeavors to come and get the vaccine. It is labor-intensive and so we would like people to adhere to the schedule provided," Dr. Byamugisha said.
The Hospital Director adds that; "We must say we are very grateful to the Ministry of Health, Kampala Capital City Authority, and the WHO whom we are very closely collaborating with in terms of training, vaccinations, and follow-up in case there is any side effects."
This reassurance informs a public doubt towards the AstraZeneca vaccine following said side effect severity and withdrawal of vaccine uptake by some western countries and African like Congo. The WHO has since cleared the vaccine citing that the benefits of the AstraZeneca vaccine outweigh its risks and recommended its continued use.
The Chaplain, St. Francis Chapel, Rev. Onesimus Asiimwe speaking after receiving the jab urged the Christians to embrace the COVID-19 vaccination campaign.
"I have just received the COVID-19 jab here at Makerere University Hospital. And so far, so good. No immediate reaction. In fact, one of the things, I feared most other than the effects was the pricking of my body but it was done so gently, professionally. So, I want to encourage you friends, St. Franciscans, Makerere University community, and fellow citizens to respond to this call," Rev. Asiimwe said.
He adds; "You need to be safe. There has been a lot of conspiracy theories about the vaccine but I want to encourage you to take this vaccine and be safe because COVID-19 is an enemy and God has provided a solution through the vaccine. God Bless you and prepare to receive yours."
As of 24th March 2021, Uganda's cumulative confirmed COVID-19 cases were 40,751. A total of 46,444 vaccinated persons against COVID-19. The Minister for Health, Hon. Dr. Jane Ruth Aceng says that government plans to cascade this vaccination process until the entire population is covered to prevent severe disease and death.
"We thank the COVAX facility and the Government of India for enabling Uganda to access the initial 964,000 doses of the AstraZeneca vaccine. So far, a total of 663,520 doses have been distributed to all districts in the country," Dr. Aceng noted.
The exercise follows a consultative meeting on Friday, March 19, 2021, between Makerere University communications officers, University Hospital representatives, and the Ministry of Health team.
Led by Dr. Driwale Alfred, the assistant Commissioner Vaccines and Immunization (UNEPI), the meeting aimed at developing schedules for the effective rollout across all the nine colleges of the institution.
During the consultative meeting, Dr. Driwale related that Ministry Health had arranged and trained people along local government structure to implement the vaccination activities and to advocate and sensitize leaders and create awareness on COVID-19 vaccination.
''We got six members in five teams of vaccinators per district and this is in rural districts, so when it came to Kampala district being more complex, each division in Kampala will have 5 teams of vaccinators and of which Makerere University falls under the Kawempe division".
He added that Makerere University has got a very big and complex community and therefore two teams had been assigned to Makerere-Mulago hill because of its six and nature.
During the training, Dr. Byamugisha observed that the training on vaccinations was to prepare the community and hospital staff for any possible effects that may develop.
"It's very important to note that there is a national database for these vaccinations so it is a very well-organized exercise so that if anything happens, it can even be detected very early and will inform the rest of the activities."
The Ministry of Health developed the vaccination deployment plan to be followed in administering the vaccine, inclusive of teachers and staff in all education institutions – public and private not-for-profit, as well as private for-profit will follow, among the priority categories.
They estimated to have 550,000 teachers and lecturers who are to be vaccinated against coronavirus and this is a local Government mandate.
Uganda targets to vaccinate 49.6 percent of the population, which is about 21,936,011, in a phased manner. Each phase is planned to cover 20 percent of the population – approximately 4.38 million people.
Also, among those that have so far received their jabs at the Makerere University Hospital are; Dr. Vincent Ssembatya, Director Quality Assurance, Makerere University, Mr. Alfred Masikye Namoah, the Academic Registrar, Dr. Helen Byamugisha, Associate Professor and University Librarian, Mr. Godwin Okiror, Human Resources Officer MakCHS, among others.
According to a schedule provided by the Makerere University Hospital, the Program for vaccination will runup to April 1st, 2021. Staff from the College of Health Sciences and all administrative units are expected to take their jabs on Friday, March 26, 2021.
On Monday, March 29, 2021 staff from the College of Veterinary Medicine, Animal Resources and BioSecurity (CoVAB), College of Natural Science (CONAS), and Jinja Campus will receive their COVID-19 shots.
Meanwhile, staff from the College of Engineering, Design, Art, and Technology (CEDAT), College of Business and Management Science (CoBAMS), and the College of Computing and Information Sciences (CoCIS) will receive their COVID-19 jabs on Tuesday, March 30th, 2021.
On Wednesdays March 31st, Colleges of Education and External Studies (CEES) and Agricultural and Environmental Science (CAES) will have their staff vaccinated.
The last day of vaccination for staff according to the hospital schedule is Thursday, April 1st for staff from the College of Humanities and Social Sciences (CHUSS) and School of Law.
Article originally published on MakSPH
Alliance for Global Health and Science 2021 Virtual Institute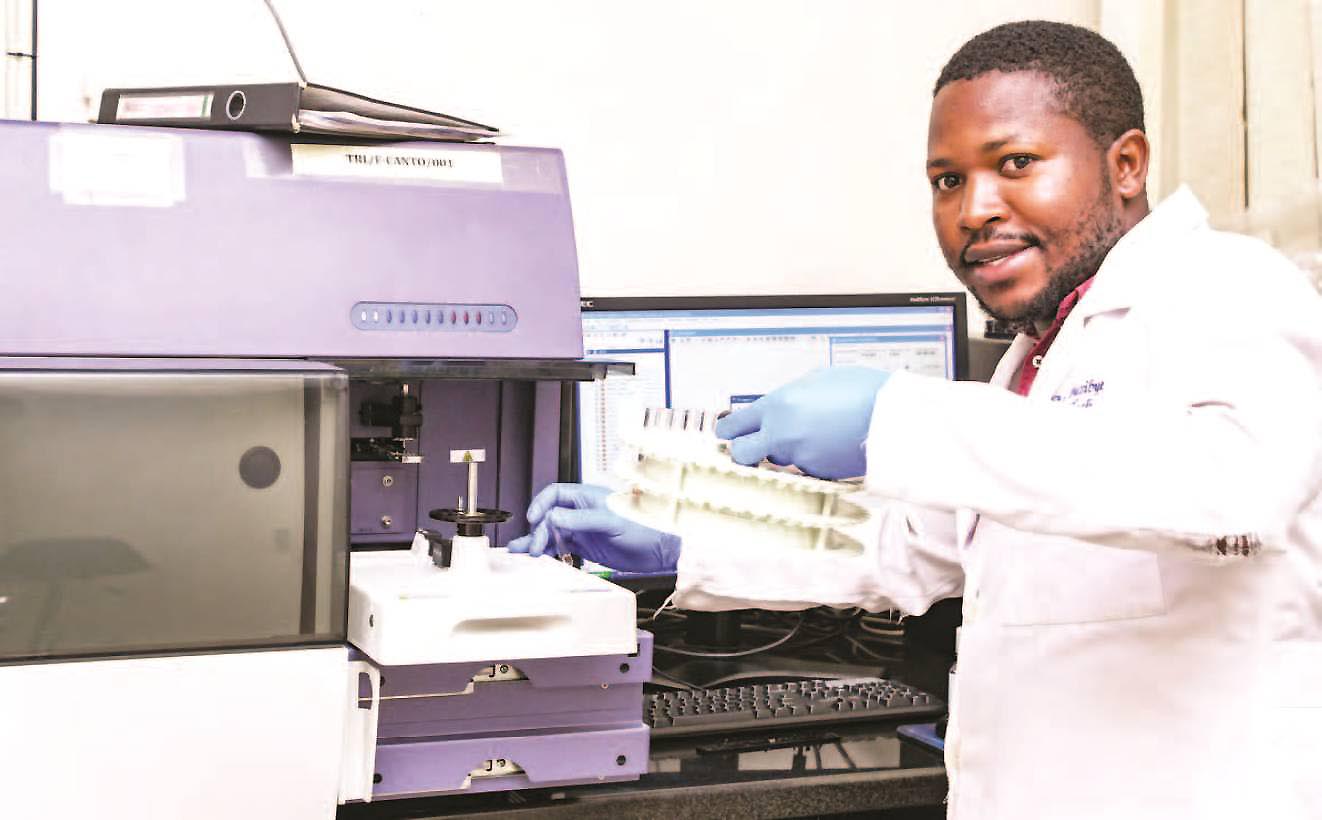 The Alliance for Global Health and Science (the Alliance) is a partnership between the University of California, Berkeley and Makerere University. The Alliance seeks to make a tangible, enduring impact by focusing on locally identified health research needs and strengthening collaborations between faculty at UC Berkeley and Makerere University.
The Alliance Summer Institute is an opportunity for Makerere University students to learn cutting edge, vital skillsets for bioscience researchers from world class scientists from the University of California system, the Chan Zuckerberg Biohub, SciDIP Global, and Makerere University. This year, the Institute will be held completely virtually, keeping in mind the public health crisis of COVID-19.
If you are interested in participating in the Summer Institute, please fill out this application form which can be found at: https://forms.gle/d1WZVBin3sbfyZdF6
All applications require 1) a letter of interest outlining which course(s) you are interested in participating in, how you will benefit from this coursework, and how you intend on using it to advance your scientific career, and 2) an up-to-date resume listing relevant prerequisites, experience, and coursework with references.
Applications are due by June 30th, 2021 at the latest. The courses being offered this year are as
follows:
Introduction to Next Generation Sequencing and Genomic Epidemiology (July 19 – 30)
Bioentrepreneurship: Small Molecule Therapeutic and Diagnostic Development (July 19 – 23)
Bioinformatics: Covid19 Pandemic Genome Sequence Analysis and Phylogenomics (August 2 – 13)
Scientific Diplomacy (August 2 – 13)
Concepts and techniques in modern vaccine design for global infectious disease (July 26 – August 6)
Scientific Grantwriting & Presentation (August 9 – 13)
Please see Downloads for details.
Call for Applications: MakNCD Non-Degree Research Support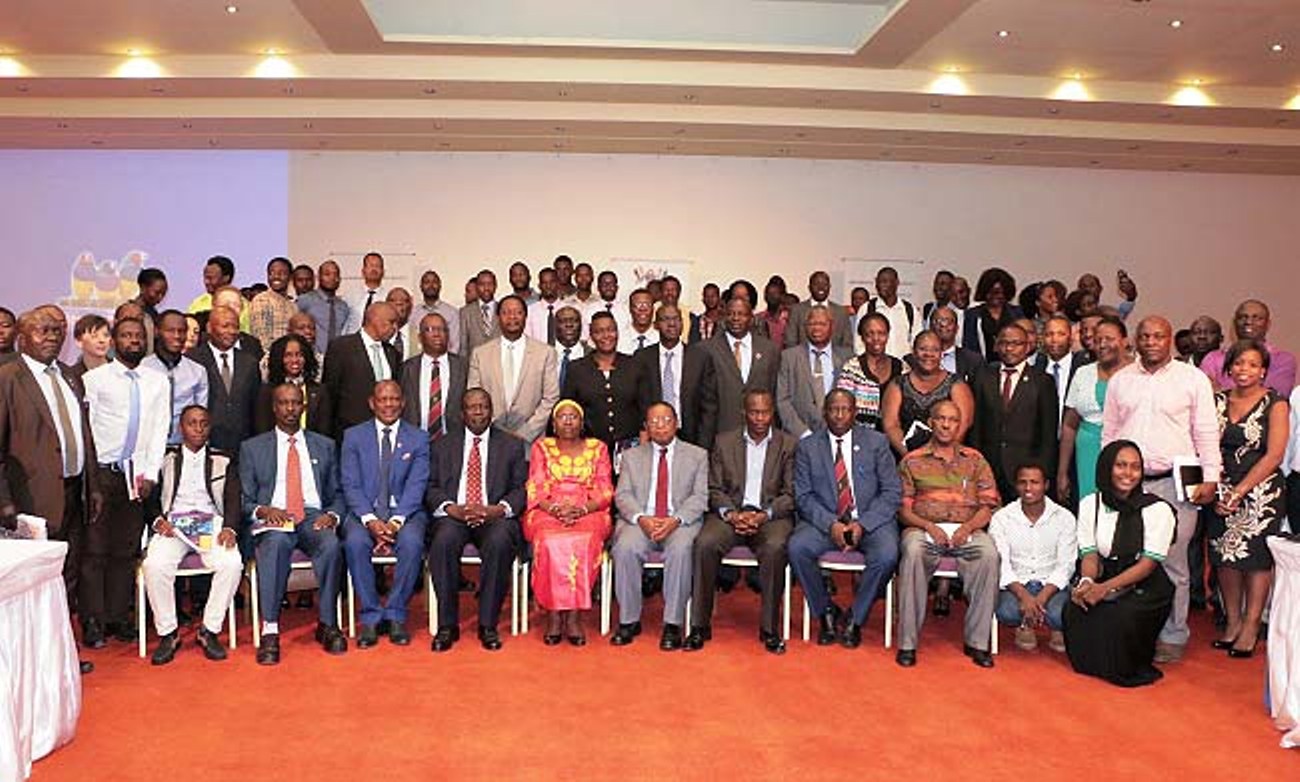 The Makerere University Non-Communicable Disease (MAK-NCD) Research Training Program, funded by the United States National Institute of Health-Fogarty international centre is a collaboration between Makerere University College of Health Sciences and Johns Hopkins University. The overall goal of this training program is to develop a comprehensive mentored research-training program in Uganda that will build local capacity to address the challenges of NCD control and management and promote the use of research findings to inform decision-making and policy.
This call for applications is targeting mainly junior researchers and Graduates at Makerere University with interest in building an independent research career in NCD.
A stipend and mentorship support for up to 12 months will be available to the selected candidates
Criteria for selection:
Must have a concept or a research idea proposal in one of the following NCD areas; Chronic Respiratory Diseases (CRD), Diabetes Mellitus (DM), Chronic Kidney Disease (CKD), Cardiovascular Diseases (CVD) & Hypertension.
Demonstrated interest in NCD research studies focusing on biomedical sciences, Clinical Research, Epidemiology, Implementation Science research and Policy.
Commitment to develop and maintain a productive career devoted to NCD
Must have two (2) mentors in the proposed area of research.
Must commit 40% of their time (2 working days) to the fellowship. A letter of support from an immediate supervisor stating that you can commit this time is required
The following are the broad NCD Research priority areas (themes). Applicants are encouraged to develop concepts from these themes.
(a)   Chronic Respiratory Diseases
(b)  Cardiovascular Diseases
(c)   Diabetes
(d)  Renal diseases
Benefits:
Mentorship
A monthly stipend will be provided upon development of a full proposal and clearance of the proposed study with appropriate IRB
Short courses in Bioethics, Good clinical Practice, Good laboratory Practice, Grant writing, Data Analysis and Manuscript writing.
Support to submit at least 1 paper in an indexed peer-reviewed journal as first author for publication
Fellows that achieve set targets will be supported to apply for additional grant funding to conduct primary research
Platform to develop into an independent Researcher in the NCD field
Application Process:
Email Makncd.chs@mak.ac.ug to request for the application form and CV template
Submit completed application, detailed CV, 2 letters of recommendation, letter of support from immediate supervisor stating that you can commit 40% of your time to the fellowship to Makncd.chs@mak.ac.ug, cc to Program Manager. Dr. Charles Batte dr.cbatte@gmail.com
Deadline for submission of applications: 9th July,2021.
"Only shortlisted candidates will be contacted"
MU-JHU Positions: Locum Midwives/Nurses – WOMANPOWER Study June 2021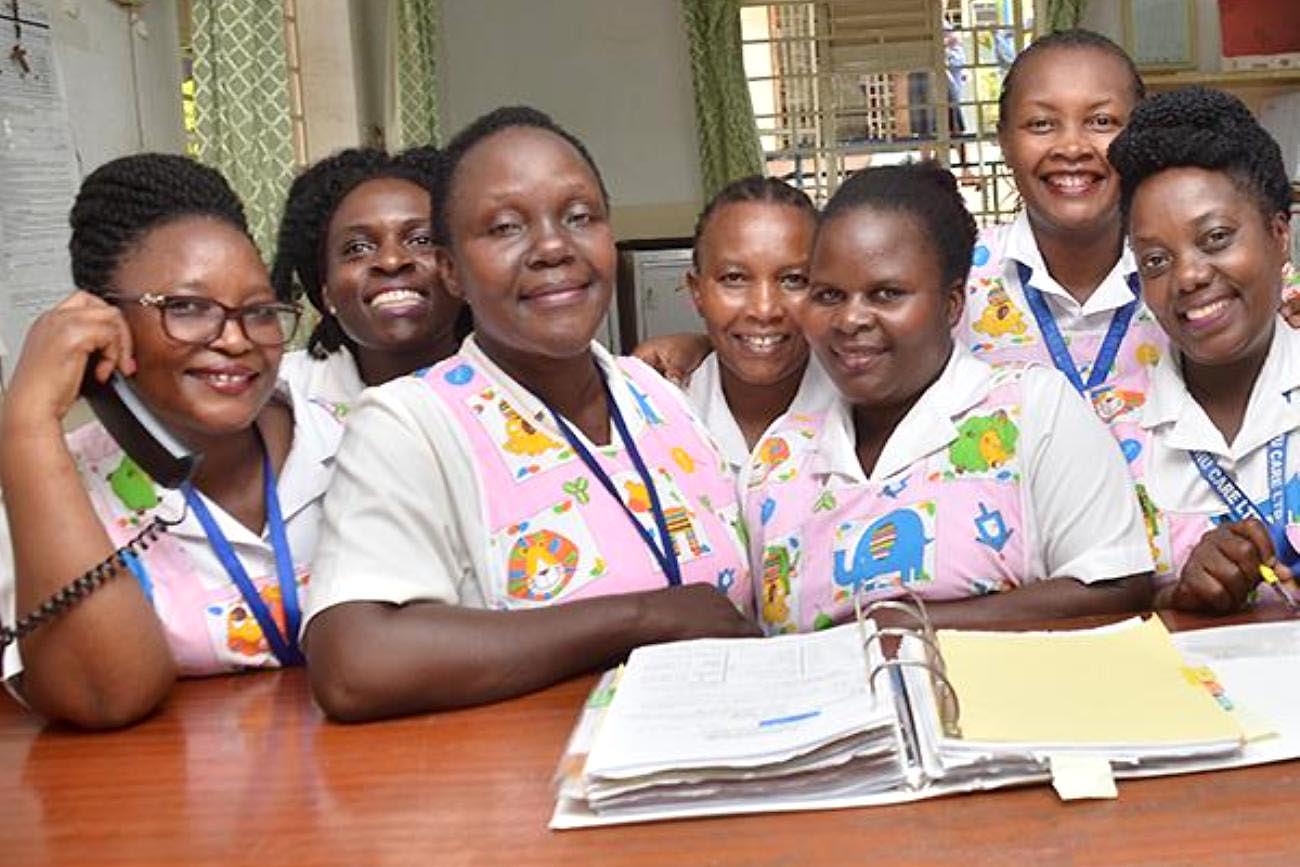 The Makerere University-Johns Hopkins (MU-JHU) Research Collaboration – MU-JHU CARE LTD, a Kampala – based equal opportunities Clinical Research and Service Delivery Organisation with more than 350 employees is seeking interested, committed and reliable professionals with the described qualifications to apply for the Locum positions listed below in support of the EDCTP funded studies. The positions are Locum positions on short term contract for 6 months.
1. Locum Midwife/Nurse: multiple positions
Reports To: Nurse Coordinator
Duty station: MUJHU, Kisenyi HCIV and Kawempe National Referral Hospital
Required qualifications and profile:
A Diploma in Midwifery/Nursing, with current registration for practice from the Uganda Nurses and Midwives councils (UNMC) with interest in working in a busy labour ward with minimum supervision. The candidates are required to have worked for at least three (3) years in a busy health centre/institution. Previous work experience in a clinical research environment and/or with HIV, TB and/or MCH clinical care would be a strong advantage. Computer literacy is required. The successful candidates should be willing and able to work extended duty shifts i.e. 12 hour day, and 12 hour night shifts, including public holidays and weekends.
The holder of this position will work under the direct supervision of the Nurse Coordinator with guidance from the Head of Nursing Section, and will be responsible for the following duties:
Working closely with other health professionals/research staff to obtain consents.
Provide midwifery/nursing care to study participants as well as do phlebotomy, cord blood sampling and other sample collection as required.
Collect data using tablets and laptops.
Participate in study data quality assurance and control.
Any other duties reasonably assigned by the relevant authorities.
Maintain professional GCP/HSP accreditation and complete study specific training as required.
Applications with complete C.Vs, including 3 referees and their full addresses or contact Telephone numbers, copies of academic certificates and testimonials, should be hand delivered to: MU-JHU Human Resource Manager, through the reception on first floor, MUJHU 1 Building – not later than 25th June, 2021 by 5.30pm.
Only short-listed applicants will be contacted. Successful candidates will be expected to start work immediately.