Mak Staff Vaccination for COVID-19 Kicks Off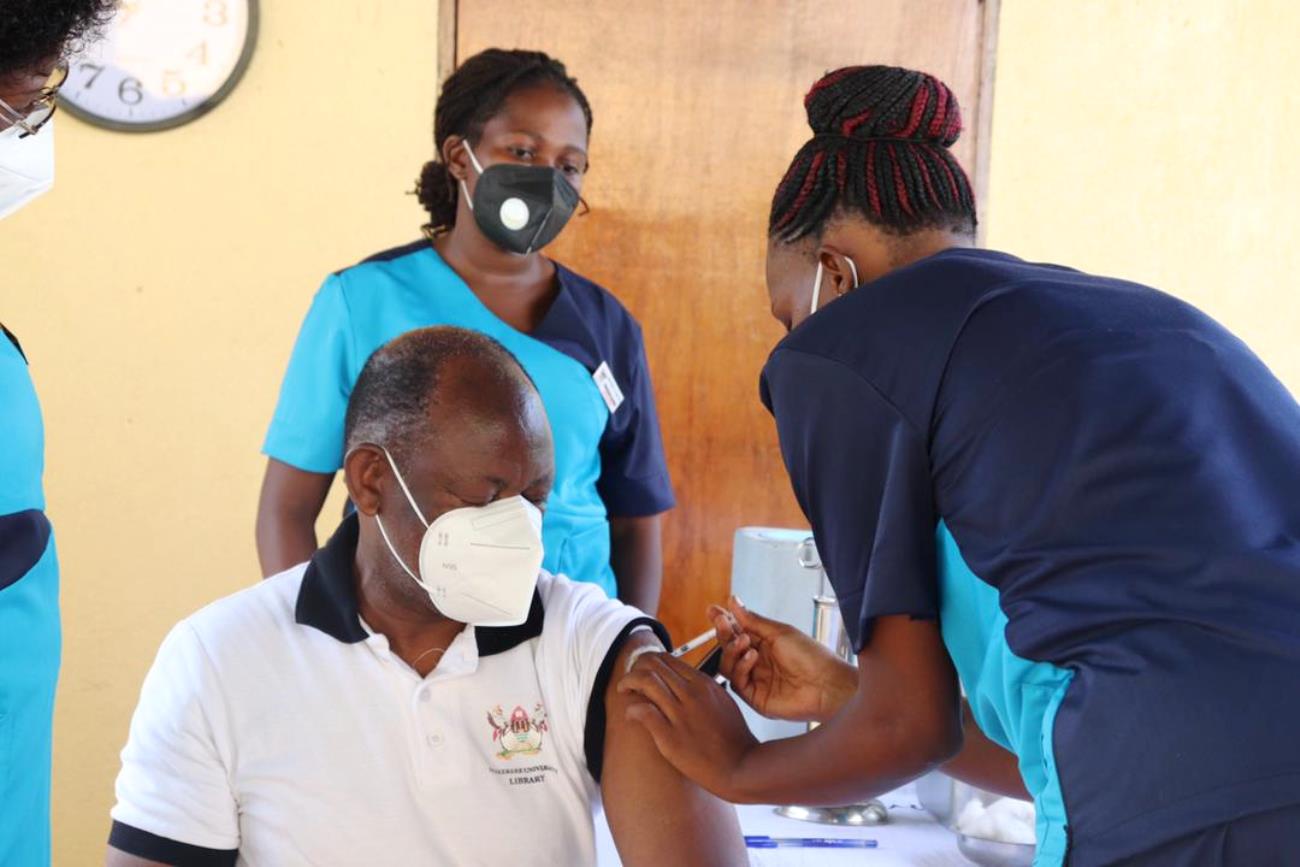 By Judith Grace Amoit, Brenda Namata & Davidson Ndyabahika
Makerere University through the University Hospital has today March 26, 2021, rolled out vaccination of its staff.
This is also in conjunction with the Ministry of Health, Kampala Capital City Authority -KCCA and World Health Organization -WHO, starting with staff from the College of Health Sciences and administrative units at the University Hospital. The exercise is deemed to occur between 9:00 AM and 03:00 PM.
Prof. Barnabas Nawangwe, the Vice-Chancellor of Makerere University, upon receiving his jab, urged all staff to get the vaccination and affirmed its safety.
"I have just received the first Jab for COVID-19 vaccine here at the Makerere University Hospital. I want to assure all Makerere Community, all Ugandans that the Vaccine is safe," Professor Nawangwe said after receiving the jab.
"Please make sure that you get your jab if you are in the priority group because this is the only opportunity you have to ensure that you are protected. Please come according to the schedule that you have received," he added.
Dr. Josaphat Byamugisha, Associate Professor and Director of University Hospital upon receiving his jab also appealed to staff to heed the call and take the chance to receive the vaccine.
According to Dr. Byamugisha, Makerere University Hospital has received 500 Jabs to kick-start the process. He says they intend to vaccinate all the 3,150 Makerere University staff.
"I want to encourage the University community to come and get the vaccine. The information available is that this vaccine is safe and it is going to protect all of us from this severe disease. So it is very important that each one of us endeavors to come and get the vaccine. It is labor-intensive and so we would like people to adhere to the schedule provided," Dr. Byamugisha said.
The Hospital Director adds that; "We must say we are very grateful to the Ministry of Health, Kampala Capital City Authority, and the WHO whom we are very closely collaborating with in terms of training, vaccinations, and follow-up in case there is any side effects."
This reassurance informs a public doubt towards the AstraZeneca vaccine following said side effect severity and withdrawal of vaccine uptake by some western countries and African like Congo. The WHO has since cleared the vaccine citing that the benefits of the AstraZeneca vaccine outweigh its risks and recommended its continued use.
The Chaplain, St. Francis Chapel, Rev. Onesimus Asiimwe speaking after receiving the jab urged the Christians to embrace the COVID-19 vaccination campaign.
"I have just received the COVID-19 jab here at Makerere University Hospital. And so far, so good. No immediate reaction. In fact, one of the things, I feared most other than the effects was the pricking of my body but it was done so gently, professionally. So, I want to encourage you friends, St. Franciscans, Makerere University community, and fellow citizens to respond to this call," Rev. Asiimwe said.
He adds; "You need to be safe. There has been a lot of conspiracy theories about the vaccine but I want to encourage you to take this vaccine and be safe because COVID-19 is an enemy and God has provided a solution through the vaccine. God Bless you and prepare to receive yours."
As of 24th March 2021, Uganda's cumulative confirmed COVID-19 cases were 40,751. A total of 46,444 vaccinated persons against COVID-19. The Minister for Health, Hon. Dr. Jane Ruth Aceng says that government plans to cascade this vaccination process until the entire population is covered to prevent severe disease and death.
"We thank the COVAX facility and the Government of India for enabling Uganda to access the initial 964,000 doses of the AstraZeneca vaccine. So far, a total of 663,520 doses have been distributed to all districts in the country," Dr. Aceng noted.
The exercise follows a consultative meeting on Friday, March 19, 2021, between Makerere University communications officers, University Hospital representatives, and the Ministry of Health team.
Led by Dr. Driwale Alfred, the assistant Commissioner Vaccines and Immunization (UNEPI), the meeting aimed at developing schedules for the effective rollout across all the nine colleges of the institution.
During the consultative meeting, Dr. Driwale related that Ministry Health had arranged and trained people along local government structure to implement the vaccination activities and to advocate and sensitize leaders and create awareness on COVID-19 vaccination.
''We got six members in five teams of vaccinators per district and this is in rural districts, so when it came to Kampala district being more complex, each division in Kampala will have 5 teams of vaccinators and of which Makerere University falls under the Kawempe division".
He added that Makerere University has got a very big and complex community and therefore two teams had been assigned to Makerere-Mulago hill because of its six and nature.
During the training, Dr. Byamugisha observed that the training on vaccinations was to prepare the community and hospital staff for any possible effects that may develop.
"It's very important to note that there is a national database for these vaccinations so it is a very well-organized exercise so that if anything happens, it can even be detected very early and will inform the rest of the activities."
The Ministry of Health developed the vaccination deployment plan to be followed in administering the vaccine, inclusive of teachers and staff in all education institutions – public and private not-for-profit, as well as private for-profit will follow, among the priority categories.
They estimated to have 550,000 teachers and lecturers who are to be vaccinated against coronavirus and this is a local Government mandate.
Uganda targets to vaccinate 49.6 percent of the population, which is about 21,936,011, in a phased manner. Each phase is planned to cover 20 percent of the population – approximately 4.38 million people.
Also, among those that have so far received their jabs at the Makerere University Hospital are; Dr. Vincent Ssembatya, Director Quality Assurance, Makerere University, Mr. Alfred Masikye Namoah, the Academic Registrar, Dr. Helen Byamugisha, Associate Professor and University Librarian, Mr. Godwin Okiror, Human Resources Officer MakCHS, among others.
According to a schedule provided by the Makerere University Hospital, the Program for vaccination will runup to April 1st, 2021. Staff from the College of Health Sciences and all administrative units are expected to take their jabs on Friday, March 26, 2021.
On Monday, March 29, 2021 staff from the College of Veterinary Medicine, Animal Resources and BioSecurity (CoVAB), College of Natural Science (CONAS), and Jinja Campus will receive their COVID-19 shots.
Meanwhile, staff from the College of Engineering, Design, Art, and Technology (CEDAT), College of Business and Management Science (CoBAMS), and the College of Computing and Information Sciences (CoCIS) will receive their COVID-19 jabs on Tuesday, March 30th, 2021.
On Wednesdays March 31st, Colleges of Education and External Studies (CEES) and Agricultural and Environmental Science (CAES) will have their staff vaccinated.
The last day of vaccination for staff according to the hospital schedule is Thursday, April 1st for staff from the College of Humanities and Social Sciences (CHUSS) and School of Law.
Article originally published on MakSPH
Digital Health Payment Initiative and Research in Africa RFAs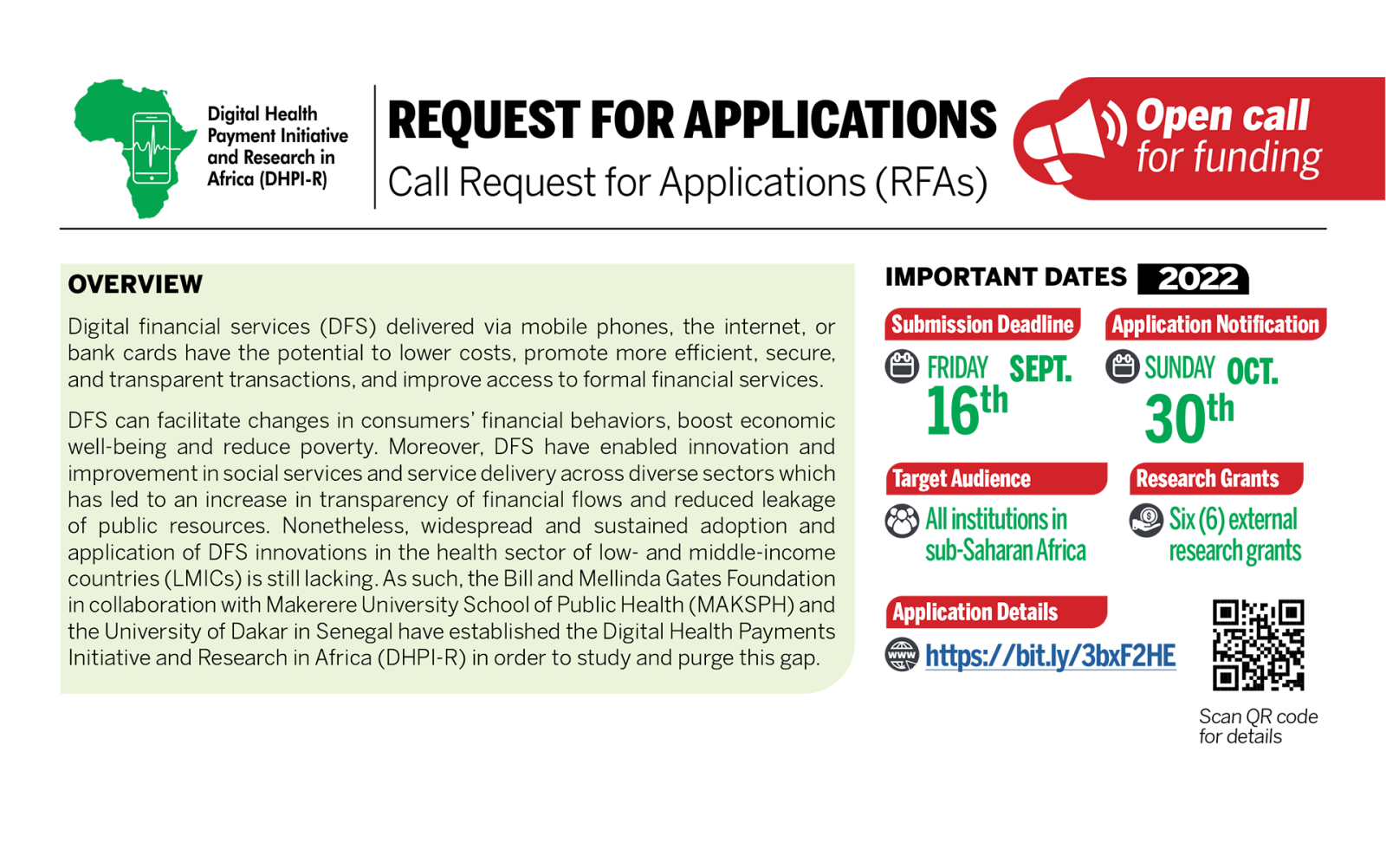 The Digital Health Payment Initiative and Research in Africa (DHPI-R), a Bill and Melinda Gates Foundation-funded project that is implemented in Makerere University School of Public Health (MakSPH) and Université Cheikh Anta Diop de Dakar (UCAD) Senegal is thrilled to announce an OPEN CALL FOR REQUEST FOR APPLICATIONS. This will foster widespread, sustainable adoption and application of Digital Financial Service innovations within the health sector of low-and-middle-income countries (LMICs) in sub-Saharan Africa.
Focus Research Areas/ Research Themes
DHPI-R is seeking applications for studies that address the evidence gaps listed.
1) Campaign Effectiveness
2) Digital Financial Services' effects on financial inclusion, safety, and security of payments
3) Health worker performance and retention
4) Payment experience and financial behavior
Funding Information
For any request made in this call, the budget goes as follows;
Large studies:12 months $200,000
Medium studies: 9 months $100,000
Small studies: 6 months $60,000
Eligibility
All Institutions within sub-Saharan Africa
Funding Restrictions and Terms
The award will be a fixed fee agreement, and the total amount of the award will be stated in the award letter. The funding is intended to support the collection, analysis, and dissemination of research. The allocation of program funds will directly correspond to the monetary figures presented in the final Budget and disbursement of funds will be initiated upon the timely receipt of invoices, financial reports, and expected deliverables.
How to Apply
Applications must be submitted in English or in French.
Applications must be submitted through our website: Submit applications here.
Application deadline: 16th SEPT 2022
Award decisions: All applicants will be notified of the outcome of their submission by 30th October 2022.
For more information and application details, see; Call for Request for Applications
Call For Applications: ACHIEVE Training Program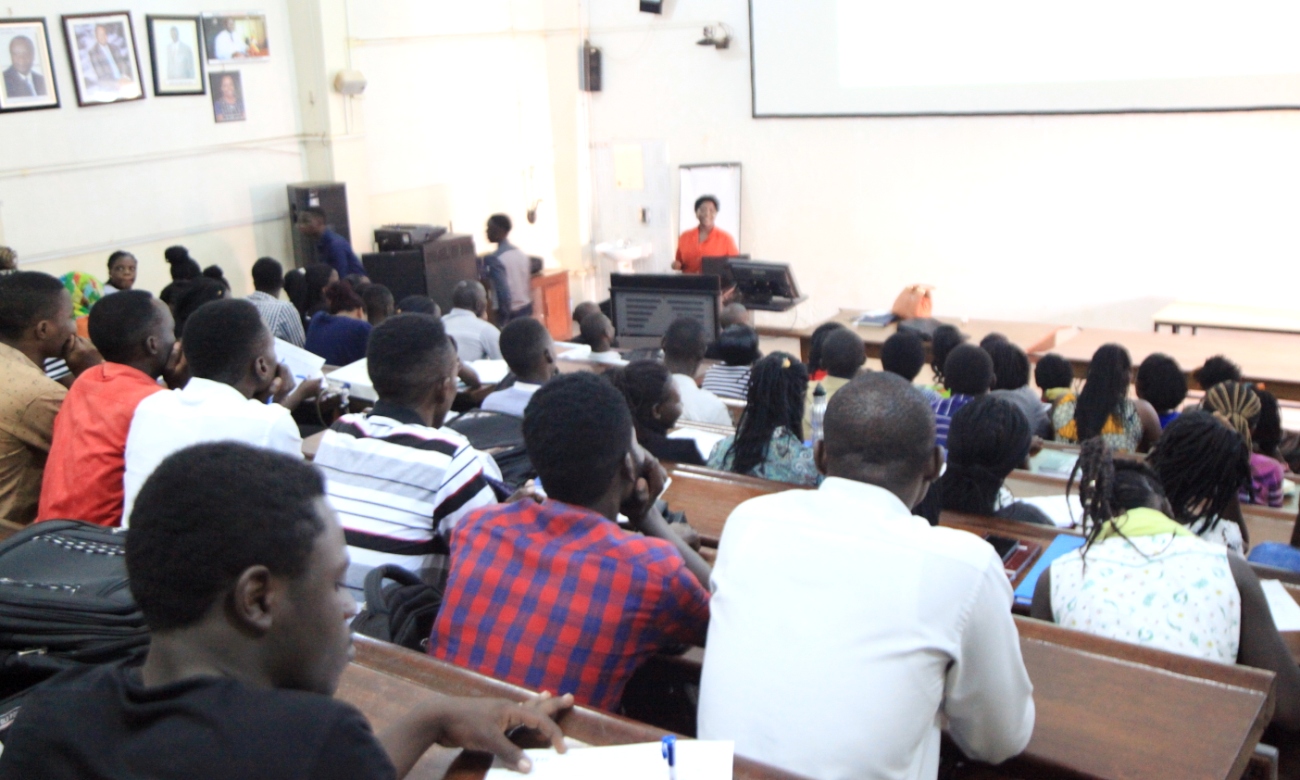 ACHIEVE provides trainees with dissemination and implementation (D&I) and data science research skills and knowledge through experiential learning, mentoring, and "hands-on" immersion in global health implementation and data science research and methodologies. ACHIEVE is a consortium of ten institutions: Washington University in St. Louis, Boston College, New York University, University of Illinois Chicago, University of Makeni, University of Kwazulu-Natal, University of Rwanda, University of Ghana, Makerere University, University of Nairobi.
Program Overview
One-year appointment at a research site in Sub-Saharan Africa or other partner site in a low and middle income country (LMIC)
Up to $10,000 in research project seed funding, a monthly living stipend, travel expenses covered
Mentored research training in global health, dissemination & implementation, and data science
Eligibility
Interest in applying D&I and data science methodologies in a global health area, with special focus on projects related to: children, adolescents, and their caregiving families; parenting; HIV/AIDS; mental health; cancer; nutrition; and environmental health.
See flyer below for more details on eligibility
Application Information
Please email Laura Peer at lpeer@wustl.eduto express interest

Letter of Intent (LOI) due September 1, 2022
Full Application (2ndPhase—by invitation only) due November 1, 2022
For more information visit https://sites.wustl.edu/achieve/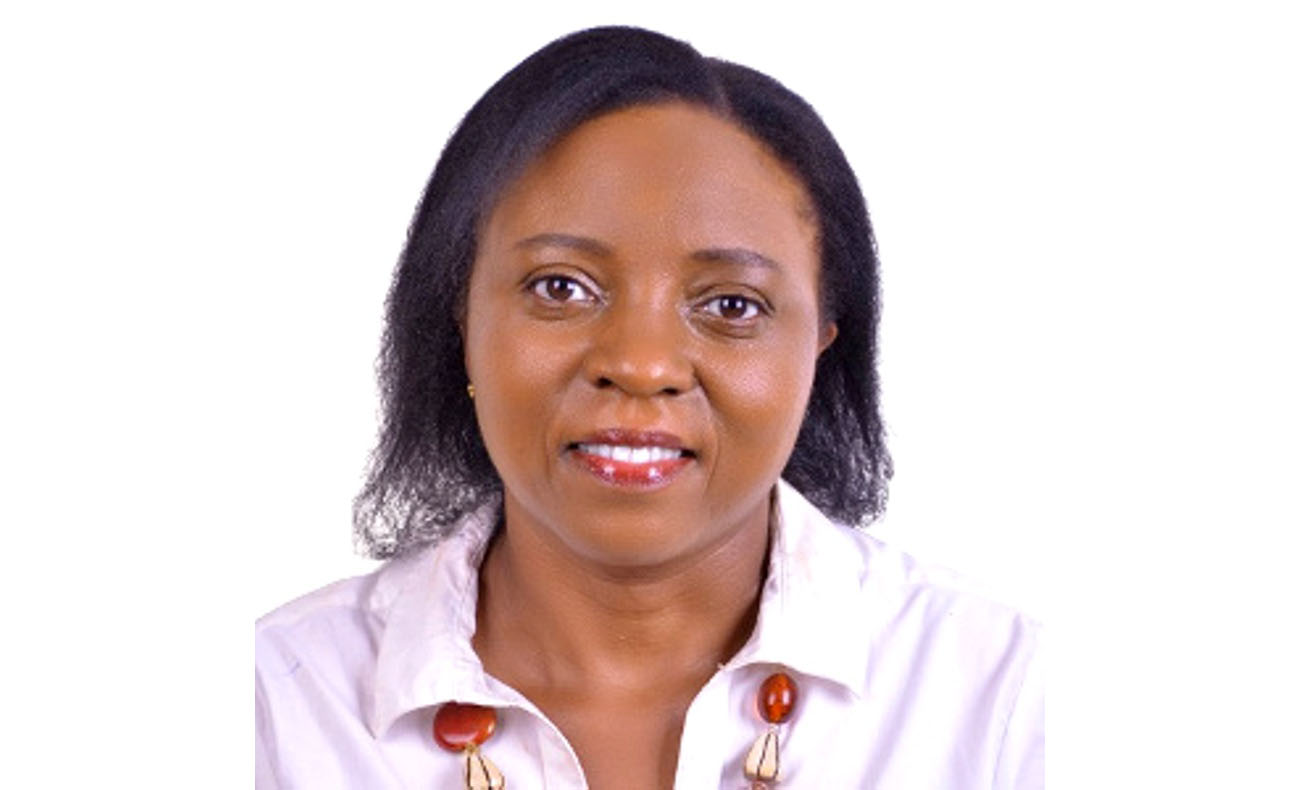 I hereby present to you the Makerere University College of Health Sciences (MakCHS) annual report for 2021. This report provides an overview of activities at MakCHS under our mandates of teaching and learning, research, and service delivery during 2021.
The MakCHS continues to lead the national response to the COVID-19 pandemic through case management, research on advances in SARS-COV2 prevention and treatment intervention, as well as supporting faculty and students to adapt to the new learning environment of blended approaches to sustain teaching and learning activities during the COVID-19 pandemic period. I wish to congratulate MakCHS staff and students upon the resilience exhibited through the COVID-19 pandemic and emerging stronger, with various approaches to blended learning to complement the clinical/practical training approaches.
It is my pleasure to congratulate all staff who have received promotions, new research fund awards and publications during this period. You continue to raise the bar of the College of Health Sciences as we strive to lead in providing transformational education and research to improve service delivery and well-being of all the communities we serve. I extend my gratitude to all our stakeholders including but not limited to all MakCHS staff, students, alumni, collaborators, partners, funders, patients, and doctors for the exemplary multi-disciplinary teams that continue to deliver high quality education and health care programs.
Our major challenge remains to innovate, develop, produce, and sustain local solutions to emerging global health challenges including the large burden of emerging and re-emerging infections as well as the burden of non-communicable diseases.
I therefore urge all faculty and students to seek and grab all opportunities for each one to utilise their role in this space as we advance science initiatives to impact lives in Uganda, Africa and globally. On behalf of the leadership at MakCHS, I pledge our unwavering efforts to provide all relevant support to facilitate you to achieve your career dreams for 2022 at MakCHS.
Professor Damalie Nakanjako MBChB, MMED, PhD
PRINCIPAL