St. Francis Chaplain Rev. Onesimus Asiimwe & Wife Florence Mark Silver Jubilee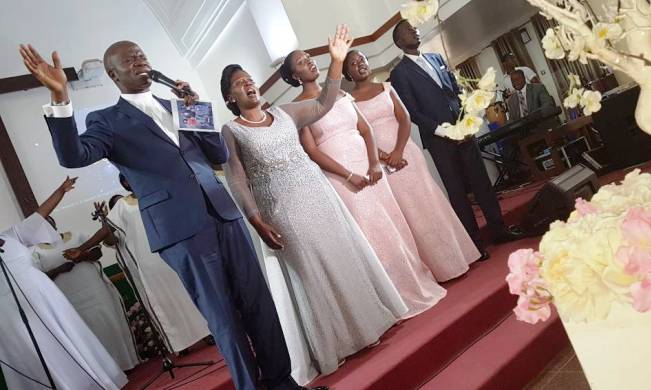 Joy and praise filled the air as the Chaplain, St. Francis Chapel, Rev. Onesimus Asiimwe and his dear wife Florence, were joined by their children; Daudi, Marjorie and Ruth, parents, family and friends on Saturday, 22nd September 2018 at Makerere University to celebrate 25 years of Holy Matrimony.
Facing her husband with a charming smile, Florence said: "Thank you for loving me. I was a little timid village girl when we met. You have empowered me and contributed greatly to the wonderful Florence standing here. Thank you for loving me. Thank you for loving our children and taking care of them. I will love you pakalast."
Officiating at the thanksgiving service held at St. Francis Chapel, the retired Archbishop of the Church of Uganda, Bishop Henry Luke Orombi who witnessed Onesimus and Florence take their marriage vows in September 1993 congratulated the couple upon a successful and happy marriage.
"Congratulations! Thank you for being a role model to students and the community at large. Thank you for bringing up God fearing and disciplined children. May God continue to bless you! I look forward to the Golden Jubilee," he remarked.
The genuine speeches from parents, students, staff and friends confirmed that the couple is a living testimony of God's goodness and faithfulness.
The Vice Chancellor, Prof. Barnabas Nawangwe and his dear wife Susan, members of the University Management, Makerere University staff, students, and alumni turned up in big numbers to celebrate God's goodness with the wonderful couple!
"On behalf of Makerere University, we are very happy for you. You have been entrusted with leadership to guide most of our students and staff. The University Management will work with you to save the next generation from indiscipline, drugs and hooliganism. We will work together to build a Makerere University community filled with disciplined students. I wish you all the best. I wish you good health so that you continue to minister to our students, staff and the community at large," said the Vice Chancellor.
Addressing the congregation at St. Francis Chapel, the overjoyed Mrs. Florence Asiimwe said they were celebrating God's love and faithfulness.
"God has loved us. God has blessed us with great wealth in form of friends. Thank you for loving us. We were wed on 18th September 1993. The best thing that ever happened to me is meeting Onesimus. He brings a smile on my face. He is a blessing."
The Chaplain, popularly known as Uncle O, remarked that the purpose of the thanks giving is to glorify God-to thank the Almighty God for thus far He has brought us. "25 years have gone by since we started our journey in Holy Matrimony. God has been with us as sure as His word is through all the time."
I pray to the Almighty God that the young people can be inspired to marry one wife and live with that one wife until death does them a part.
Recalling his teenage years as a very popular D.J. with Michael Jackson as his role model, Rev. Onesimus Asiimwe who accepted Jesus Christ as his Lord and Saviour on 8th January 1988 thanked God for His saving grace, mercy, kindness, love and favour.
"I really bless the Lord for the transformation I have experienced. Florence and I, also thank God for blessing us with very loving people. We will keep praying for you that the Lord blesses you abundantly" added Rev. Asiimwe.
The Chaplain led the congregation into a befitting hymn of praise: "My hallelujah belongs to you. All of the Glory belongs to you. All of the Glory belongs to Jesus. You deserve it. You deserve it…"
Article by Public Relations Office
Photos courtesy Canon Goddy Muhumuza
Drone Technology; a viable option to facilitate compensation processes in projects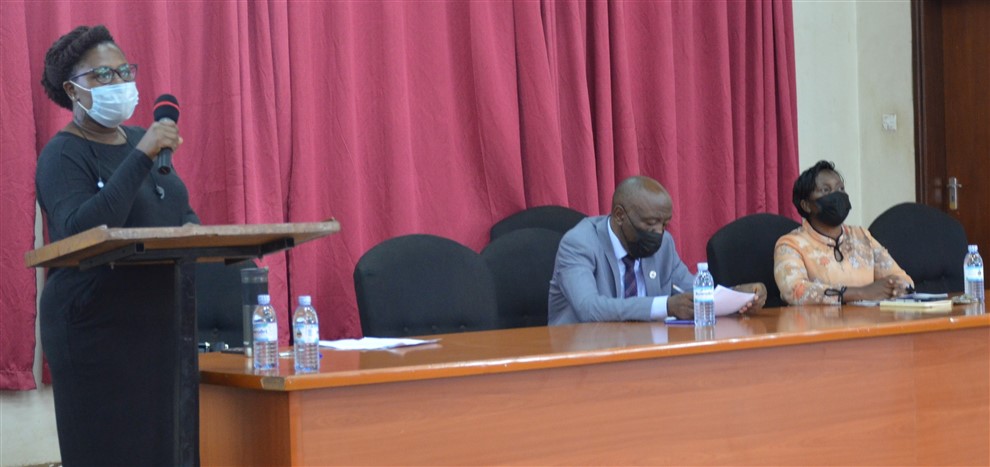 The use of Unmanned Aerial Vehicles (UAVs) has been found to be a viable and usable technology for capturing data needed to undertake compensation for projects. The UAVs were found to be cost effective since they use half of the cost in terms of time and resources compared to the traditional valuation processes. During the final dissemination workshop held at the College on Monday 30th November 2021, the Principal College of Engineering, Design, Art and technology (CEDAT). and Acting Deputy Vice Chancellor, Finance and Administration Prof. Henry Alinaitwe noted that the study on the use of unmanned aerial vehicles to pick data for use in  mapping was offering a lot of learning opportunity to a number of stakeholders.
This and more were some of the findings of the Research project.
"Makerere is Like Windows, It Can Longer Be Challenged" Prof Waswa Balunywa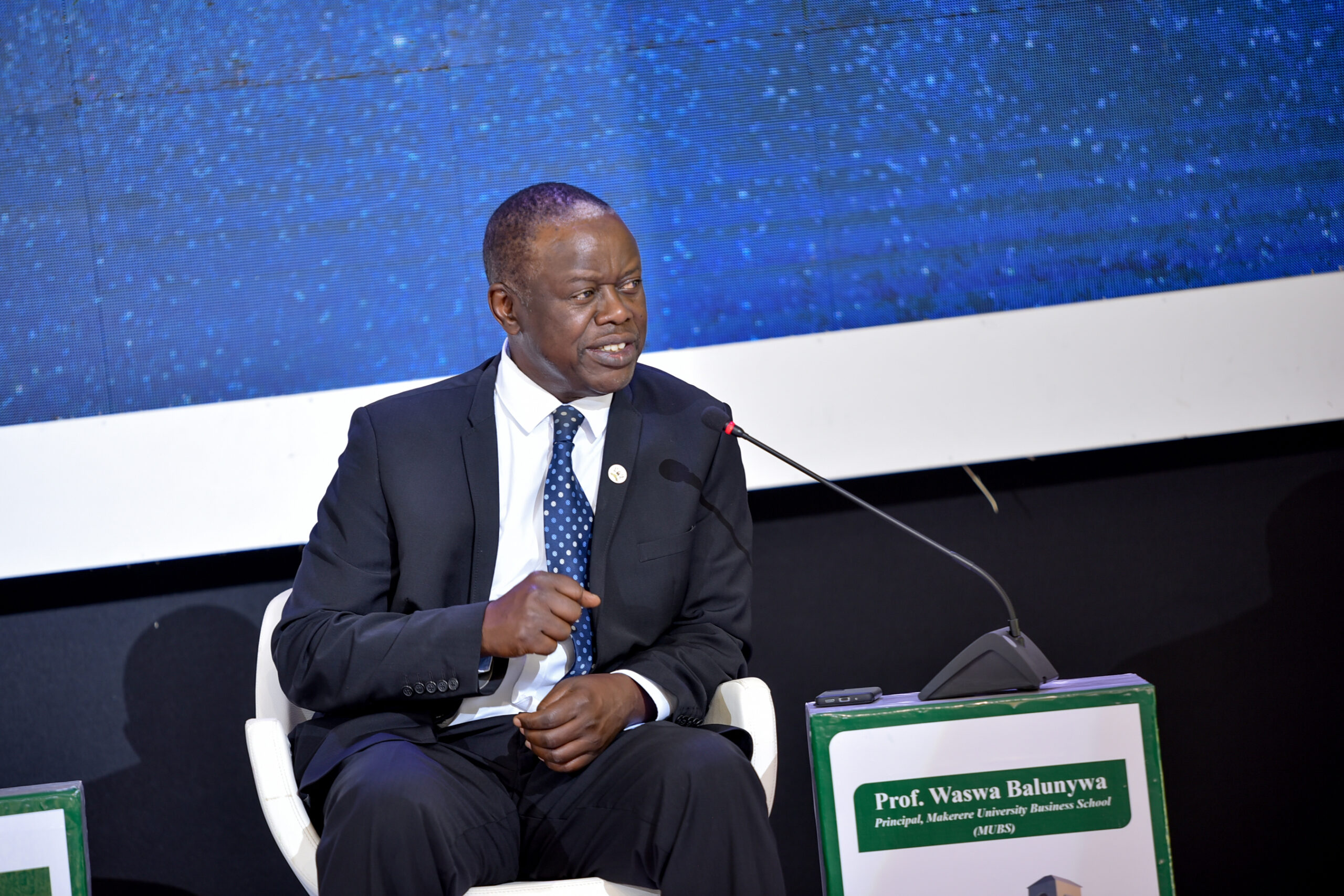 "I think you can no longer challenge Makerere. Makerere is like Windows. Everybody with a computer, it is run by windows," Prof. Waswa Balunywa, the Makerere University Business School (MUBS) Principal said candidly on Thursday 25th November 2021 during a stakeholder engagement event. 
Prof. Balunywa who was on the panel with Kampala Capital City Authority (KCCA) Executive Director Mrs. Dorothy Kisaka and the University Secretary Mr. Yusuf Kiranda, said that Makerere has mothered all the institutions in Uganda. He thinks the University has set a standard that all other institutions in the country must follow. 
Prof. Balunywa has been at the helm of MUBS since 1991 when it was still Faculty of Commerce at Makerere University and is cognisant of the institution's academic reputation. Thus he thinks, the "pricelessness of Makerere must be leveraged to move not only Makerere ahead but higher education and the entire education system in this country. Makerere has this capacity. It needs to be a bit innovative and more free."
Concurring with Prof Balunywa, Kiranda quipped, "Makerere has enjoyed the last 100 years as the elephant in the house."
As Makerere prepares to mark its centennial journey next year, it will be engaging stakeholders, partners, alumni, students and staff through a series of events. Makerere University Council Chairperson, Mrs. Lorna Magara urged stakeholders to partner with the institution to make the "future more impactful."
The panelists who discussed the topic, "leveraging 100 years of excellence in building a transformed society" tipped Makerere on areas where it needs to improve. Mrs. Dorothy Kisaka advised Makerere to focus on human capital development through collaboration and partnerships between the institution and the workplaces by creating a window for students in order to prepare them for the post university life. It's a proposal that was reinforced by other panelists and speakers.
Dr. Michael Walimbwa, a Lecturer in the College of Education and External Studies said the University should develop a partnership pedagogy, in which stakeholders, students, and research institutions come together, collaborate to plan and assess and get the feedback in real time.
"Partnership pedagogy is beyond internship opportunities. It is really working together with research institutions, with stakeholders out there, planning teaching activities to assess them, to evaluate them and get the impact in real time,"  Walimbwa said. 
Impact, research and innovation
In the next century, Mr. Kiranda said the University is going to be focusing on its impact on society. "We are supposed to be moving from the league of asking ourselves what is our ranking in the country, on the continent, in the world to asking ourselves, what is that impact in society which is clearly attributed to Makerere."
As other people count first class degrees, Makerere, Mr. Kiranda said, will be counting its impactful research and innovation. "The focus in the next 100 years is helping this country to overcome challenges it has."
Makerere University Vice Chancellor Prof. Barnabas Nawangwe said they see issues such as rapid population growth, youth unemployment, riots, climate change, food insecurity, unending conflicts, among others which must be tackled through research and innovation. To tackle these challenges,  he said, "we must modernise the research infrastructure, we must modernise laboratories, come up with central laboratories."
The University, Prof. Nawangwe said, will also leverage science and technology power to  "help young people incubate their ideas into businesses, begin companies and create jobs for multitude of the youths coming out and of course further human resource development."
Prof. Balunywa further applauded Makerere University for transformative research. In the coming years, he said, research conducted should be in line with the direction the country is taking, hinged on finding local solutions to our problems.
"There is no business in this country that hasn't been done elsewhere in the world. If you want any product, the Chinese have it. If you want any application, the Europeans have it. Our research must be focused in those areas where we think we can add value in the country and in the continent," he said.
RAN/RTAC Short Course on Writing a Winning Grant Proposal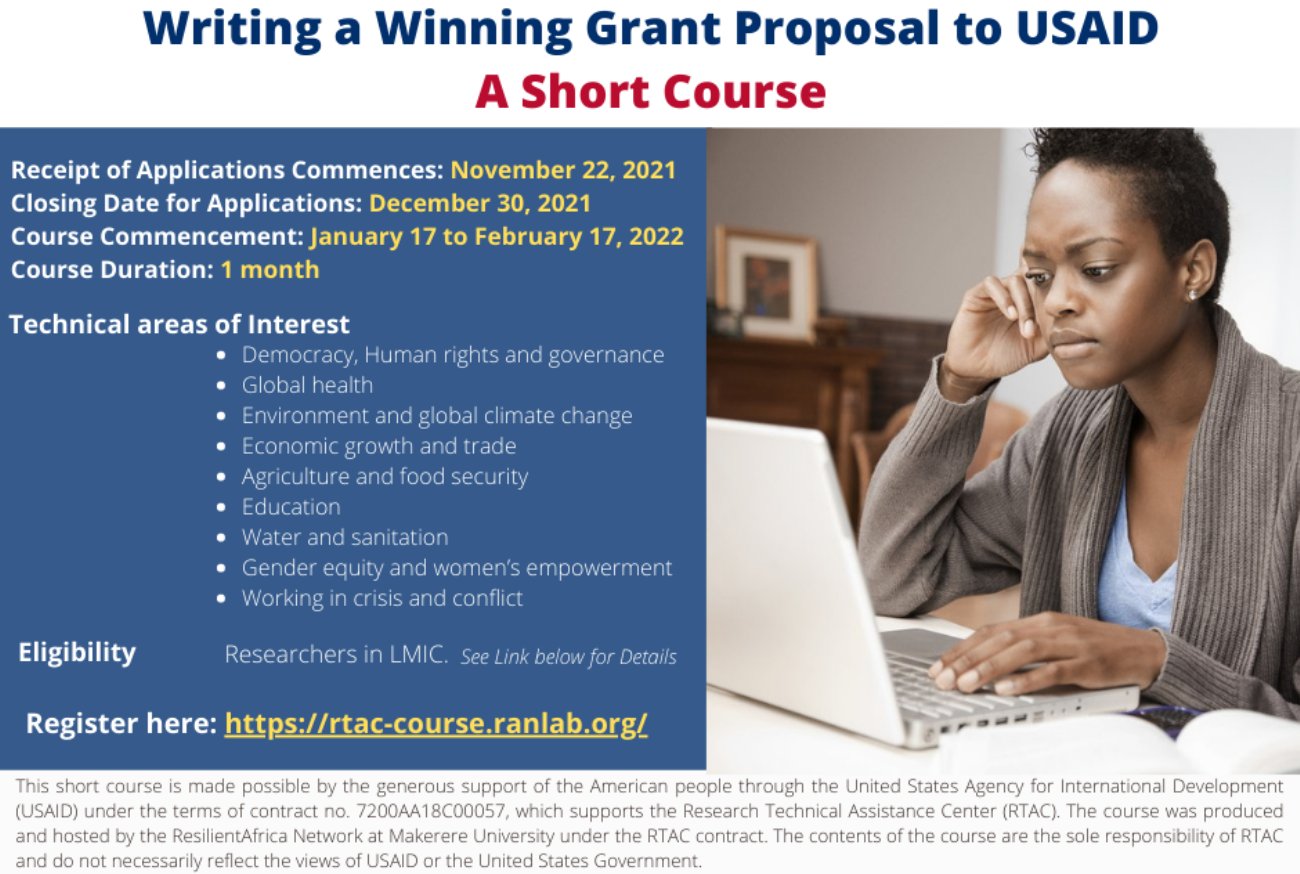 The Makerere University-ResilientAfrica Network (RAN) informs all prospective applicants that the second cohort of the grants writing short course is now open. The short course is entitled: 'Writing a winning grant proposal'. Evidence has shown that despite having content expertise, most professionals and University-based researchers in LMICs often have limited specific experience on how to write a winning grant for development, specifically for USAID. RAN through USAID's Research Technical Assistance Center (RTAC) has designed a short course on how to write a winning grant proposal.
This is a high-level course that will be offered under the RTAC targeting practitioners involved in development and research related work. The course will be interactive and delivered by 'E-learning' mode. Well-experienced and regionally recognized resourceful persons from Makerere University and partner organizations involved in research and development work will facilitate the course. This will be a four weeks modular online course offered by RAN through USAID's Research Technical Assistance Center (RTAC), running from 17th January to 17th February, 2022.
If you are interested in taking this course, please register through the following link: https://rtac-course.ranlab.org/
The deadline for receipt of applications is December 30th, 2021.