Land Tenure System: A Challenge for Urban Development and Service Delivery in GKMA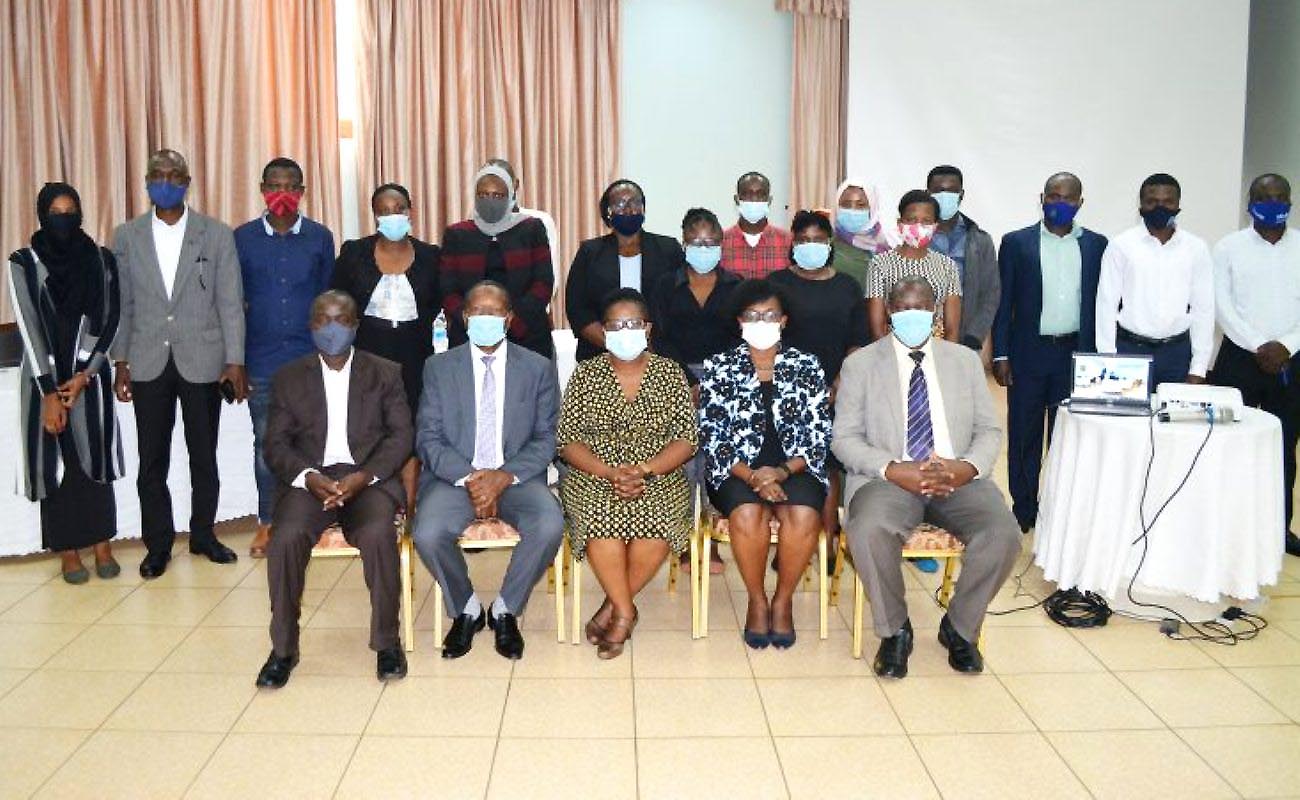 The opening remarks were given by Dr. Lydia Mazzi Kayondo who represented Professor Moses Musinguzi, the Dean School of the Built Environment, Makerere University. Dr. Mazzi Kayondo is the Chair, Department of Geomatics and Land Management, a senior lecturer and a Geographical Information System (GIS) specialist. She welcomed the participants and appreciated them for making it for the dialogue.
Dr. Kayondo also acknowledged her Department's influence in training and churning out planners to both private and government organisations. 60% of the urban development in Kampala is informal and land tenure is one of the key factors affecting it. "Tenure of land defines the relationship of how rights are accessed and how to influence development," she said.
Ms. Amanda Ngabirano, the Acting Chair National Physical Planning Board and also a Senior Lecturer at Makerere University was the guest speaker at the public dialogue. In her presentation she referred to the land tenure system as a 'white elephant'. "We are stuck with it" she emphasized. She said that land tenure system is the reason why planners are not delivering. Ms Ngabirano also added that urban development is not only glamorous but is about balanced growth, that is to say equity and distribution of services and amenities.
Ms. Ngabirano emphasised the fact that land tenure is bigger than we can imagine. She called upon the participants to identify and open discussions with people on the land, identify areas with partnerships and opportunities and be able to work with them. Ms. Ngabirano said funding and compensation were also affecting development. She, however, pointed out that the land tenure system may not be the only thing affecting development. She challenged participants to identify all the factors and find solutions to them.
To further address the theme , the panel comprised of urban development experts, specialists and researchers such as Mrs. Rehema Nanvuma an urban planner currently working with the Buganda Land Board, Mr. Samuel  Mabala, a representative from Cities Alliance and  a senior urban development expert, Ms. Anitah Kusiima, a physical planner working with KCCA and Dr. Fredrick Omolo Okalebo, an urban planner and researcher at Makerere University shared their thoughts.
Mak Bids Farewell to Prof. Anthony Kerali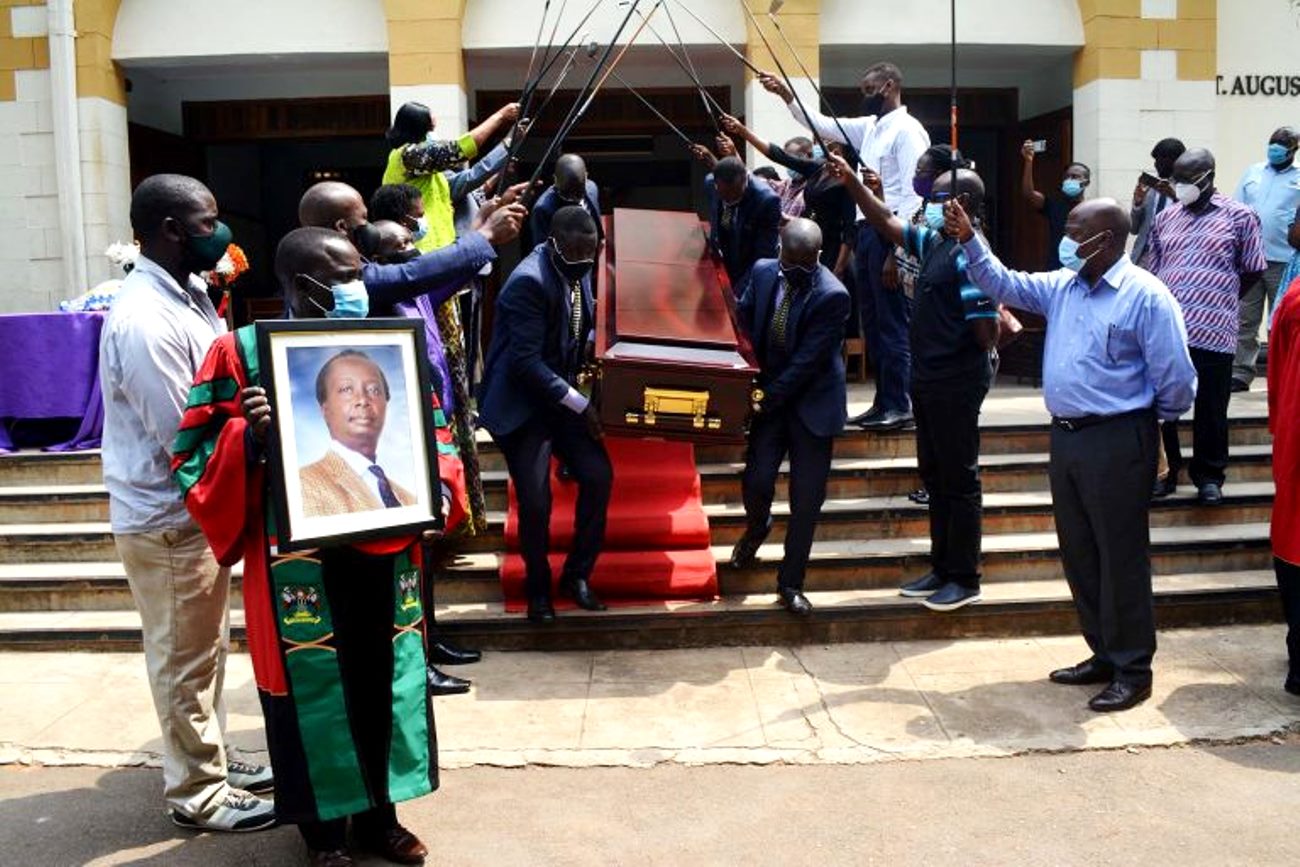 By Betty Kyakuwa
Staff of Makerere University on February 23, 2021 honorably bid farewell to their fallen comrade Prof. Anthony G. Kerali. As if to mimic the elegant and flamboyant lifestyle that he lived, the academic staff led by the Vice Chancellor, donning their academic gowns, escorted the casket into the church.
Prof. Kerali was described by many as a simple, quiet and intelligent individual who performed exceptionally well in everything he did.
"We are sincerely grateful to God that Prof. Kerali was able to share his knowledge with thousands of students through teaching, mentoring, field work supervision and his day to-day life. He was a man who offered distinguished service to Makerere University and the country," the Vice Chancellor, Prof. Barnabas Nawangwe, said.
Prof. Kerali was described as a prolific writer who won research grants worth USD 2million. He was passionate about education, its transformative impact on society and an individual's upward mobility.
One of his Colleagues at the College of Engineering, Design, Art and Technology (CEDAT), Dr. Dans Naturinda shared his education journey with Prof. Kerali. "Dr. Anthony Kerali was one of the lecturers who had to teach me in a one-man class; he taught me Strategic Management in Construction, one of the courses that shaped my outlook to inspire and influence the Ugandan construction industry," he said. Dr. Dans described Kerali as a good father-figure and professional.
Kayoola Diesel Bus launched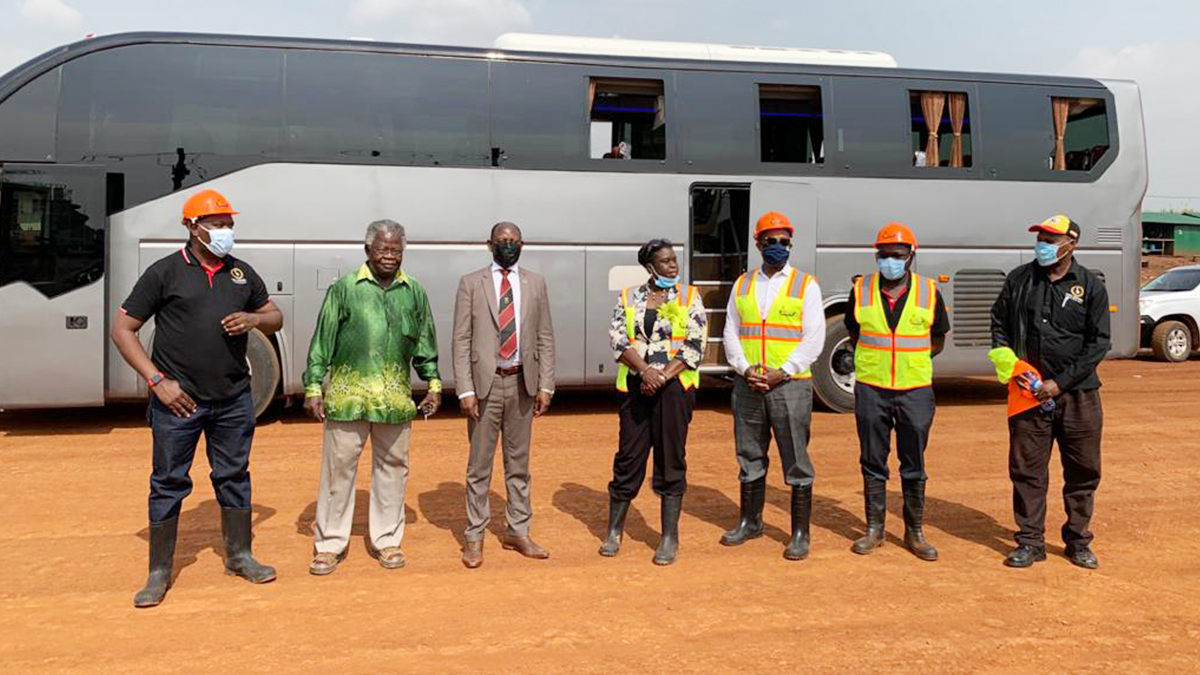 Kiira Motors Corporation (KMC), a state enterprise established to champion value addition in the domestic automotive industry has a launched their latest product -the Kayoola Diesel Bus.
The 47-seater executive coach, the first of a kind in the East and Sub Saharan -Africa that was unveiled by the automotive industry leaders Kiira Motors at UPDF's Luwero Industries in Nakasongola on 17th February 2021. The bus had just returned to Kampala from a 900 kilometers roadshow trip in western Uganda where it was showcased to excited Ugandans- who applauded the Ugandan engineers for proving to the world that the country can now produce commercial vehicles locally. Kiira Motors is led by the Executive Chairman Prof. Sandy Stevens Tickodri-Togboa. Prof. Tickodri-Togboa taught at and served as a Deputy Vice Chancellor(Finance and Administration).
The KMC Chief Executive Officer Mr. Paul Isaac Musasizi said that while designing and building this unique bus the company's team of engineers ensured better aerodynamic performance , fuel efficiency and safety of passengers. The bus is configured to a luxury interior featuring 47 reclining leather seats (43 Executive + 2VIP + 1 Guide + 1 Driver), a lavatory (toilet), on board Wi-Fi, refrigerator and CCTV cameras. The bus conforms to EURO 111 emissions standards.
Makerere University Vice Chancellor Prof. Barnabas Nawangwe is one of the prominent Ugandans who have had a ride on the Kayoola Diseal Bus . He stated thus ; "It feels good to be aboard the ultra modern Kiira Kayoola Diesel bus, designed by Makerere University trained engineers and built in Uganda by Ugandan engineers with more than 50% indigenous parts. Finally we are on the move."
While flagging off the bus from Nakasongola to Kampala , Maj Gen Sabiiti Muzeyi, the Luweero Industries General Manager appealed to Ugandans to support the state owned nascent car manufacturer in order to develop the country's automotive industry.
"Ugandans need to support our own because when we produce and no one consumes the products, we put their work down. This bus is the best I have ever seen. It has the finest features, it consumes only 22 litres of diesel per 100 kilometers and I don't know whether there's any part of the country this coach doesn't reach," Gen Sabiiti stated .
Kiira Motors and the partners plan to produce and deploy 1,030 Buses by end of 2021, 50 of which will be electric. Makerere University is one of the equity partners of KMC.
How a Researcher is Using Art to Create HIV Awareness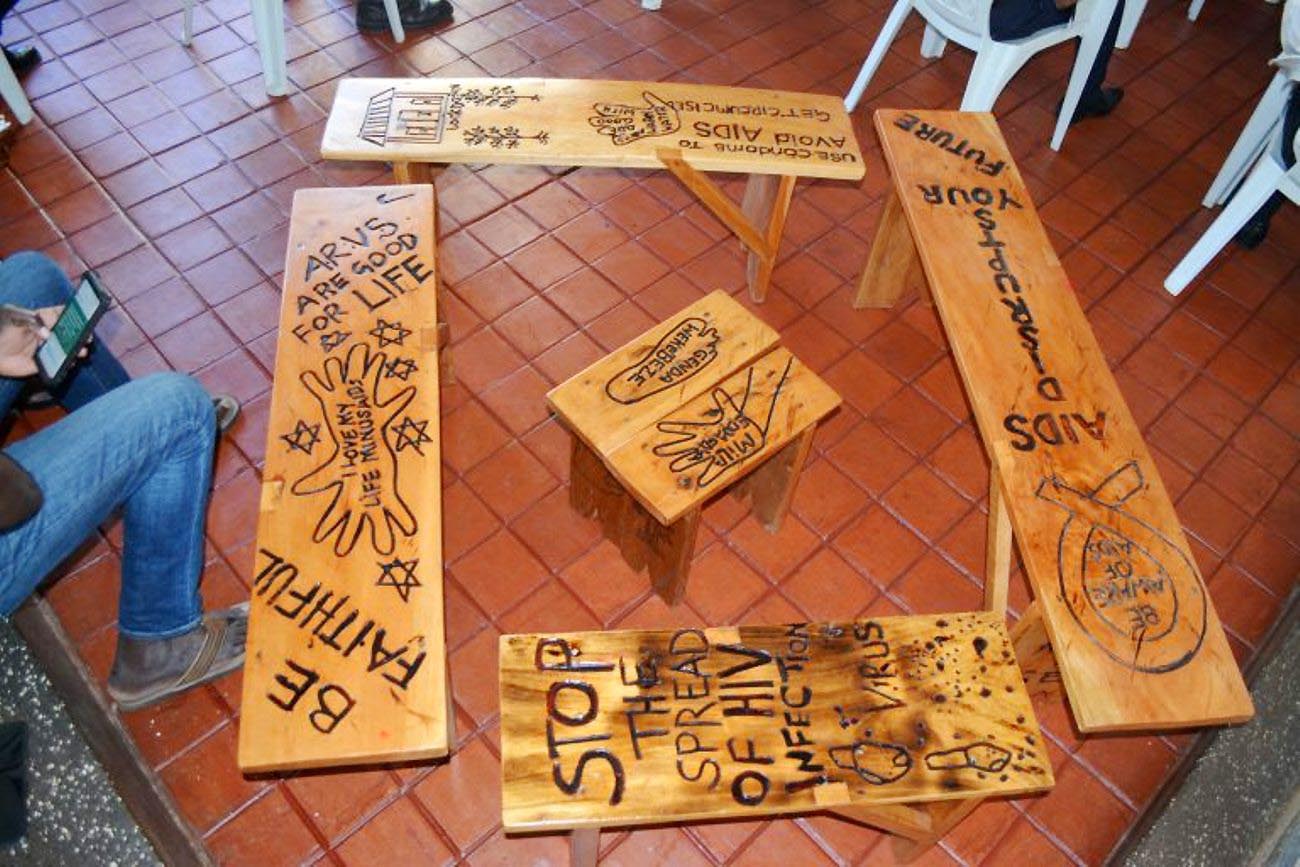 By Betty Kyakuwa & Isaac Abaho
Researchers have been called upon to increase awareness about HIV among the population. The call was made by Rtd. Maj. Rubaramira Ruranga, during the opening of Mr. Robert Ssewanyana's art exhibition that sought to create HIV awareness and prevention in slum areas of Kampala. Maj. Rubaramira said the biggest reason for the increase in HIV is lack of knowledge and information by the population especially in the rural areas. The exhibition was attended by the Deputy Vice Chancellor (Finance and Administration) Dr. Josephine Nabukenya as well as organisations doing HIV treatment and rehabilitation.
Maj. Rubaramira said there was no reason as to why people should contract HIV even if raped. He pointed to the existence of post-exposure prophylaxis (PEP), an emergency treatment to prevent HIV after exposure. This treatment is given before 72 hours after exposure or rape.
The spread of HIV has been on the rise especially among the young people aged between 15 and 24 years. This has been due to lack of knowledge about HIV especially among the rural communities. In the urban centres, HIV increase has been attributed to a number of factors, including, poverty, illiteracy, ignorance, a thriving commercial sex industry and lack of knowledge of matters relating to the spread of HIV. To this end, Mr. Robert Ssewanyana, an artist and lecturer at the Margaret Trowell School of Industrial and Fine Art set out to work with communities in an effort to create awareness and prevent the spread of HIV. He worked with communities of Bwaise, Ndeeba and Katwe.