Prof. Bazeyo Hands over DVCFA Office to Dr. Nabukenya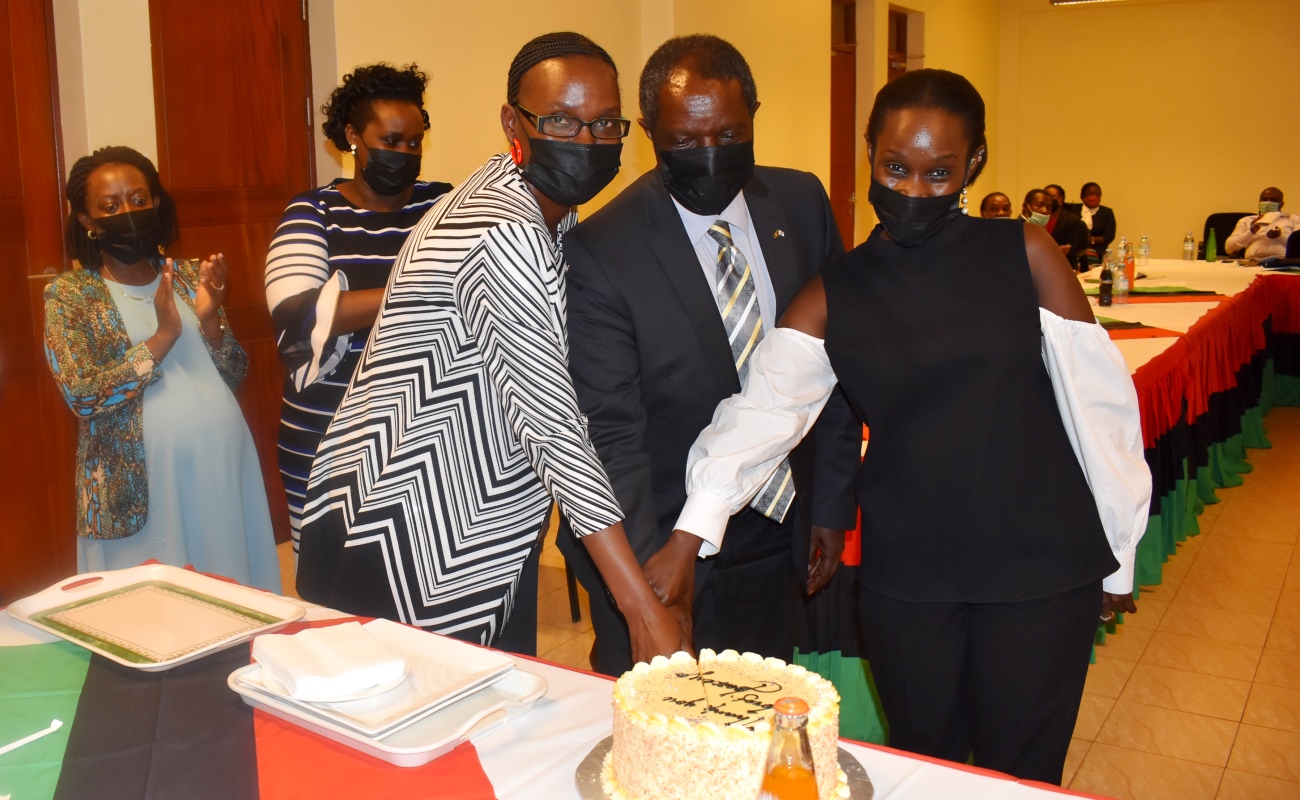 The outgoing Acting (Ag.) Deputy Vice Chancellor (Finance and Administration)-DVCFA on 30th November 2020 officially handed over office to the incoming Ag. DVCFA Dr. Josephine Nabukenya at a ceremony presided over by the Chairperson of Mak Council Mrs. Lorna Magara. The event held in the Central Teaching Facility 1 (CTF1) was guided by the Ag. University Secretary-Mr. Yusuf Kiranda and witnessed by the Chairperson Finance, Planning, Administration and Investment Committee (FPAIC) of Council-Mr. Bruce Kabaasa, the Vice Chancellor-Prof. Barnabas Nawangwe, Deputy Vice Chancellor (Academic Affairs)-Dr. Umar Kakumba, Members of University Management and Prof. Bazeyo's family.
In his remarks, the Vice Chancellor paid tribute to Prof. Bazeyo for the tremendous achievements registered which made his own job very easy.
"One of Prof. Bazeyo's tremendous achievements has been to move the University out of huge debt, with the most outstanding one; the In-House benefits scheme, almost completely settled," remarked Prof. Nawangwe.
He also commended Prof. Bazeyo for his negotiation skills, which enabled the University to secure the Research and Innovations Fund (Mak-RIF) from the Government of Uganda. Mak-RIF is the first of its kind Government funding dedicated purely to supporting research and innovations at Makerere University, and is open to competitive bidding by any member of staff.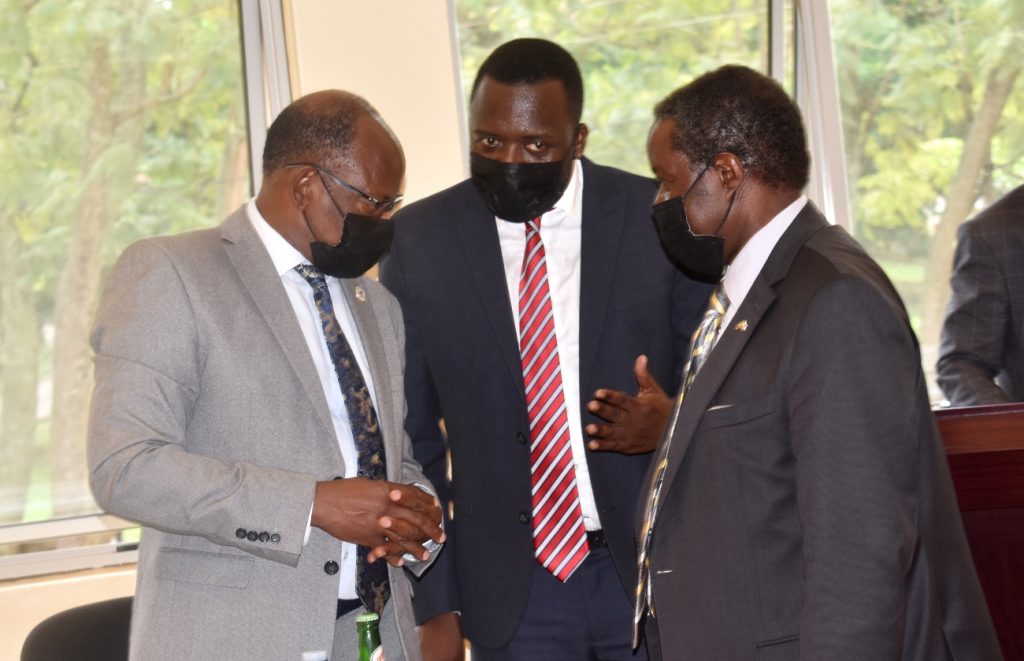 Prof. Nawangwe thanked the outgoing DVCFA for his exemplary service and accepting to continue chairing the inaugural Grants Management Committee (GMC) of Mak-RIF. This selflessness, he noted would help Makerere to become a truly research-led university.
The Vice Chancellor equally expressed gratitude that Prof. Bazeyo was handing over to Dr. Nabukenya who is known for her steadfastness, prolific research and grant winning abilities. "Dr. Nabukenya has been very responsive when called upon to serve on various University Committees and we pledge to continue according you all the necessary support until a substantive DVCFA is appointed."
In his handover speech, Prof. William Bazeyo thanked God for the negotiation and other skills that have enabled him to be a contribution to Makerere University right from his date of appointment on 23rd August 1993 until he attained the mandatory retirement age on 22nd June 2017. Now serving on a post-retirement contract valid until May 2021, Prof. Bazeyo shared that these skills had enabled him to transform the School of Public Health (MakSPH) from being virtually unknown to the second-best School of Public Health on the African continent.
Speaking about what motivated him to take up the role of DVCFA, Prof. Bazeyo outlined; the Media coverage of Makerere's indebtedness, need to achieve research-led status, need to improve staff remuneration, unpaid retirement benefits and the absence of an institutional grants policy as some of the challenges that spurred him on.
"On the research front, I am glad to say that today, we have 595 project groups concurrently engaged with full funding by Government under Mak-RIF. And whereas Government had initially committed to avail this funding for only five years, they are now willing to funding every financial year having seen Makerere's demonstrated capacity," Prof. Bazeyo said.
Addressing Dr. Nabukenya, the outgoing Ag. DVCFA said, "I have never seen an office as challenging as this but the fact that I have tried means that you too can do the same through initiatives like strategic planning, participatory budgeting and a host of others as outlined in my handover report. I pledge that I will be available to introduce you and support you where you need me."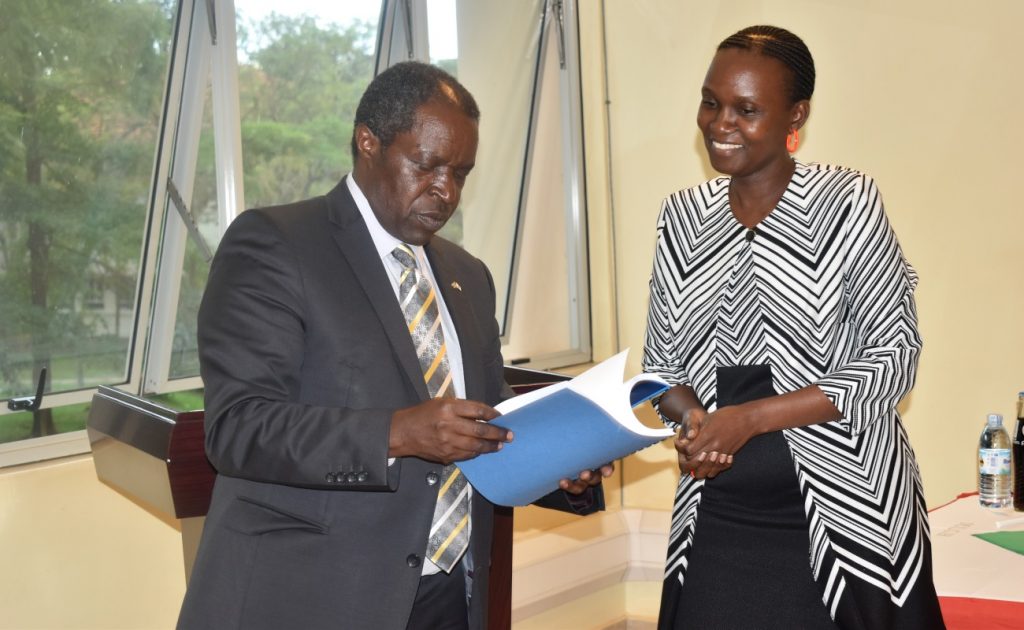 In conclusion, Prof. Bazeyo thanked the Chairperson and Members of Council for entrusting him with the role of DVCFA and Prof. Nawangwe for always listening to his proposals and offering much-needed guidance. He thanked Dr. Kakumba for always speaking honestly and Dr. Eria Hisali for continually stepping-in to act on his behalf whenever he was out of office. Prof. Bazeyo equally thanked rest of the members of Management for their support throughout his term of office and staff in the Office of the DVCFA for enabling him to serve efficiently.
In her acceptance speech, Dr. Josephine Nabukenya thanked the University Council for giving her the opportunity to act as DVCFA, a role she pledged to use wisely. "I thank the Chairperson Council, Mrs. Lorna Magara, Vice Chancellor, Deputy Vice Chancellor (Academic Affairs) and all members of Management for being part of this handover ceremony. I am humbled to be assigned the role of next Acting DVCFA, a great responsibility and at the same time, a great honour."
She paid tribute to her predecessor Prof. Bazeyo for the achievements registered during his term of leadership and for not losing sight of his goals especially in research, despite the challenges faced. She attributed this to Prof. Bazeyo's passion for Makerere University, which has been a good driving force during his three years in office.
Dr. Nabukenya nevertheless made appealed to her outgoing colleague to continue working with the institution to cement the successes that had been registered during his term. She pledged to work hand in hand with her colleagues in Top Management to ensure that several projects currently being undertaken such as automation of services are accomplished.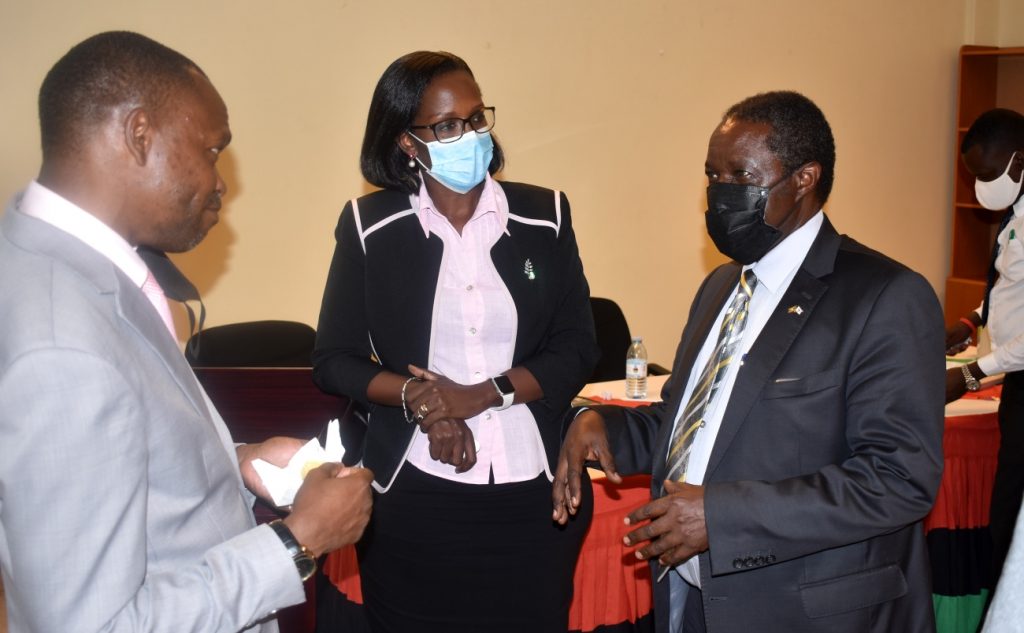 In her remarks, the Chairperson Council thanked Prof. William Bazeyo for his selfless service to Makerere University, especially for his role in spearheading negotiations with Government to secure the remainder of funds owed to the Makerere University Retirement Benefits Scheme (MURBS). Mrs. Magara noted that the University Council is still looking forward to working with Prof. Bazeyo in various capacities.
Turning to Dr. Nabukenya, the Chairperson noted that the University Council celebrates her as a woman who has ascended to a top position of University Management. She nevertheless noted that Dr. Nabukenya's prolific record made her a good candidate for the position. "Drawing on the gender card was never a necessity in considering your candidature because your past attainments in research and especially automation made you a perfect fit for the role."
Quoting Proverbs 22:1 "A good name is to be chosen rather than great riches, Loving favor rather than silver and gold", Mrs. Magara urged Dr. Nabukenya focus on leaving a legacy in Makerere University because her legacy would outlive her. She added that Council's expectations of the DVCFA role are high but nevertheless expressed confidence that Dr. Nabukenya would deliver as much as Prof. Bazeyo had and hopefully, exceed expectations.
The Chairperson noted that whereas the University aspires to be research-led, the institution should not conduct research just for the sake. "Our drive must be to conduct research that responds to the National Development Agenda" remarked Mrs. Magara before posing a question, "What do we need to do to ensure that Makerere becomes the Think Tank for the National Development Agenda?"
She concluded her remarks by pledging the University Council's and her personal support to the new Ag. DVCFA and urged Dr. Nabukenya to stay focused on her duties.
Members of Management also present included the University Librarian-Dr. Helen Byamugisha, University Bursar-Mr. Evarist Bainomugisha, Director Estates and Works Directorate-Eng. Christina Kakeeto, Director Internal Audit-Mr. Walter Yorac Nono, Ag. Director Legal Affairs-Mr. Hudson Musoke, Representing the Ag. Director Human Resources-Mr. Deus Mujuni Tayari and other officials.
Article by Public Relations Office
Late Registration Surcharge for Semester I 2020-2021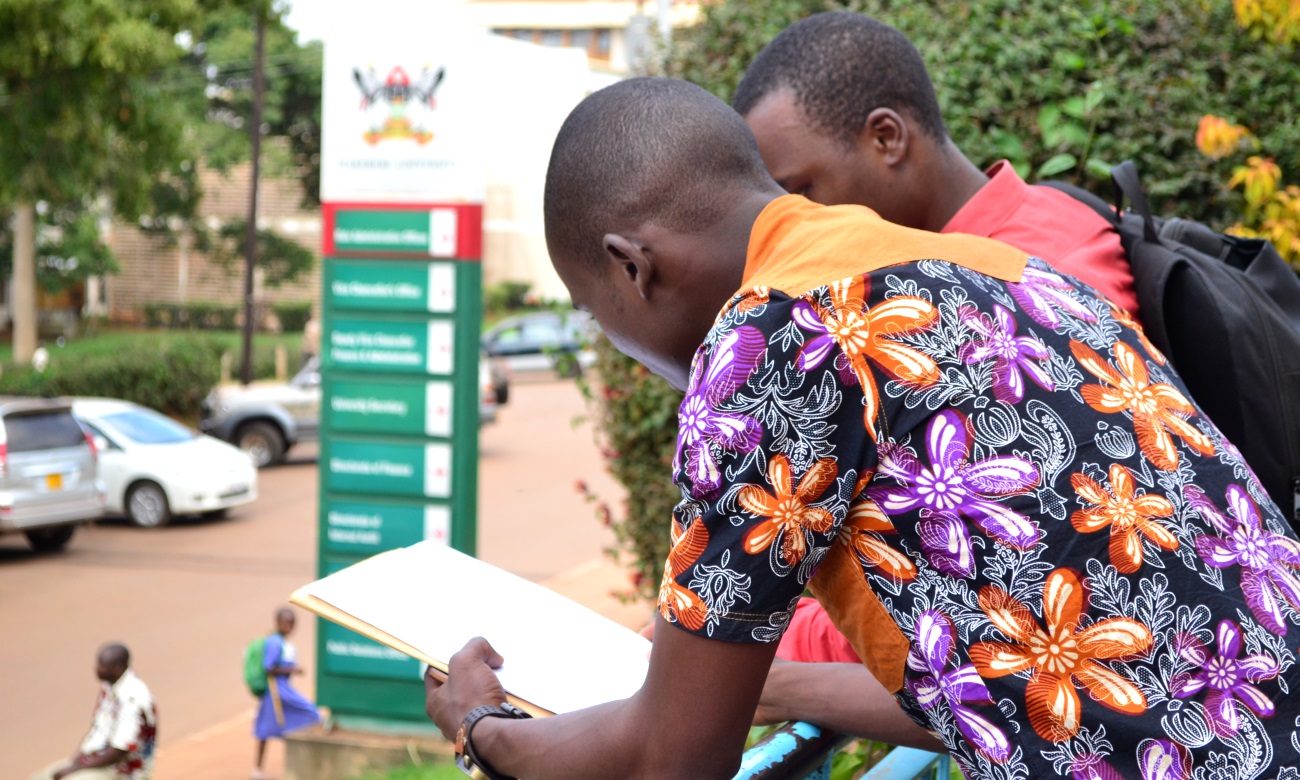 To All Students
This is to inform you that there will be no late registration /surcharge for this semester for now and the functionality has been removed from the students portal. This is in regard to the Communication to Students regarding fees payment for Sem I 2020/21 of February 26, 2021.
Please make the necessary arrangements to enroll and register as soon as possible.
Alfred Masikye Namoah
ACADEMIC REGISTRAR

Mak and Stanbic Discuss Partnership beyond Banking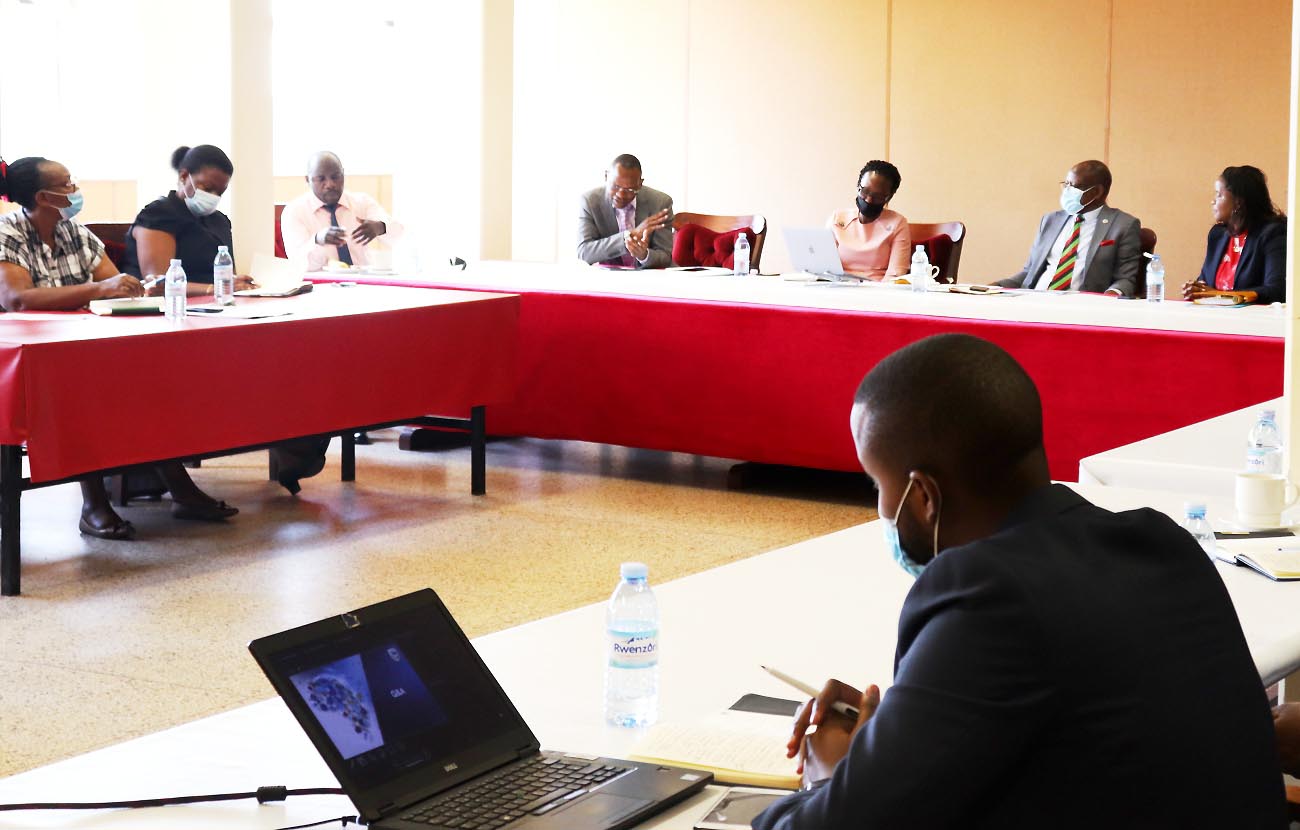 As Makerere University gears up for celebrations to mark 100 years of existence in the second half of 2022, a team from Stanbic Bank Uganda (SBU) led by Chief Executive Officer (CEO) Ms. Anne Juuko on Monday 12th April, 2021 held discussions with a special session of Central Management on how to deepen collaboration. Chaired by the Vice Chancellor, Prof. Barnabas Nawangwe, the session specifically provided a platform for Stanbic to showcase the non-banking services that Makerere can take advantage of in the quest to become a research-led university.
The special session was prompted by a prior engagements between the Acting (Ag.) Deputy Vice Chancellor (Finance and Administration)-DVCFA, Dr. Josephine Nabukenya and Ms. Juuko, wherein the latter expressed SBU's interest in partnering with Makerere to deliver her ten year strategic objectives. The Vision for the ten year (2020-2030) strategic plan is "a thought leader of knowledge generation for societal transformation and development".
"Makerere University's first strategic goal to translate into a research-led university requires a lot of thinking through on how the different services can be rehabilitated into frameworks that support our vision" remarked Dr. Nabukenya.
The Ag. DVCFA was speaking in reference to the research and innovations ecosystem that needs to be created to ensure that Makerere's research will over the next 10 years have demonstrable economic, environmental, health and social impacts.
The Vice Chancellor thanked the Ag. DVCFA for initiating the discussions with SBU, noting that this was timely and would help take advantage of the huge potential that the University has to offer. "Thanks to funding from the Government of Uganda through the Makerere University Research and Innovations Fund (Mak-RIF) we now have hundreds of innovations produced by the various research teams."
"Our biggest problem at present is the lack of funds to commercialise these innovations. Uganda has no venture capitalists but I believe that with the resources that you (SBU) have, we can work together to help support these innovators" remarked Prof. Nawangwe.
Prior to making her presentation the CEO thanked Makerere University for the supporting SBU's business thus far, as well as the ensuring that the two partners enjoy a quality relationship with each successive Management team. "We take extra pride when it comes to working with Makerere University," she added.
Ms. Juuko said the reorganisation of SBU in 2018 to include a holding company (Stanbic Holdings Uganda Limited-SHUL) had enabled the entity to enhance the value of products and services offered to its customers. In addition to SBU, other SHUL subsidiaries; Stanbic Properties Uganda Limited, Stanbic Business Incubator Limited, FlyHub and SBG Securities. These, she noted, enable Stanbic to offer a broader range of services to staff and students beyond banking.
Reflecting on the signing of the Final Investment Decision (FID) on 11th April 2021, the CEO shared that SBU in line with its support for responsible investment through assessing and managing environmental, social and governance risks would take keen interest in oil production. "One of the hottest topics is that oil mining is going to take place in one of the most ecologically sensitive zones. How can we partner with Makerere to ensure that this is conducted in a sustainable way?" she pondered.
The CEO also brought to the attention of Central Management that SBU had in 2020 partnered with the United Nations Development Programme (UNDP) to launch the Youth4Business Innovation and Entrepreneurial Facility as an answer to youth unemployment. As a way forward, she added that Makerere would be brought on board to form a three-way conversation on how best to achieve the facility's objectives, especially following disruptions to micro, small and medium enterprises (MSMEs) operations caused by COVID-19.
Other topics covered by the SBU presentation included; supporting the Makerere University Staff SACCO to grow their funds, Financial Fitness sessions for staff on how best to invest and grow their earnings, and a laptop loan scheme for staff and students where payments can be made over a period of two to three years. Also shared was how SBU is using data to reduce loan approval for customers to 120seconds as well as introducing alternative systems for making payments and receiving collections such as point of sale devices and virtual wallets tagged to customer phone numbers.
In some of the reactions that followed, the Deputy Vice Chancellor (Academic Affairs)-DVCAA Dr. Umar Kakumba thanked SBU for reaching out to Makerere and advocated for increased internship placements for students in the SHUL subsidiaries. He also called for collaboration at the training level.
"The staff at the College of Business and Management Sciences (CoBAMS) have in the past conducted financial literacy training for various organisations and are ready to partner with Stanbic as they reach out to various communities in their educational programmes," added Dr. Kakumba.
Delivering the concluding remarks, the Vice Chancellor thanked the Ag. DVCFA for initiating discussions with SBU as well as the CEO and her team for sparing time to meet with Central Management. "Together, Makerere as the premier and largest University and Stanbic as the largest bank operating in Uganda can do a lot to transform this country."
The parties agreed to formalise the collaboration by signing Memorandum of Understanding at a later date.
RUFORUM Quarterly Report 1st January – 31st March 2021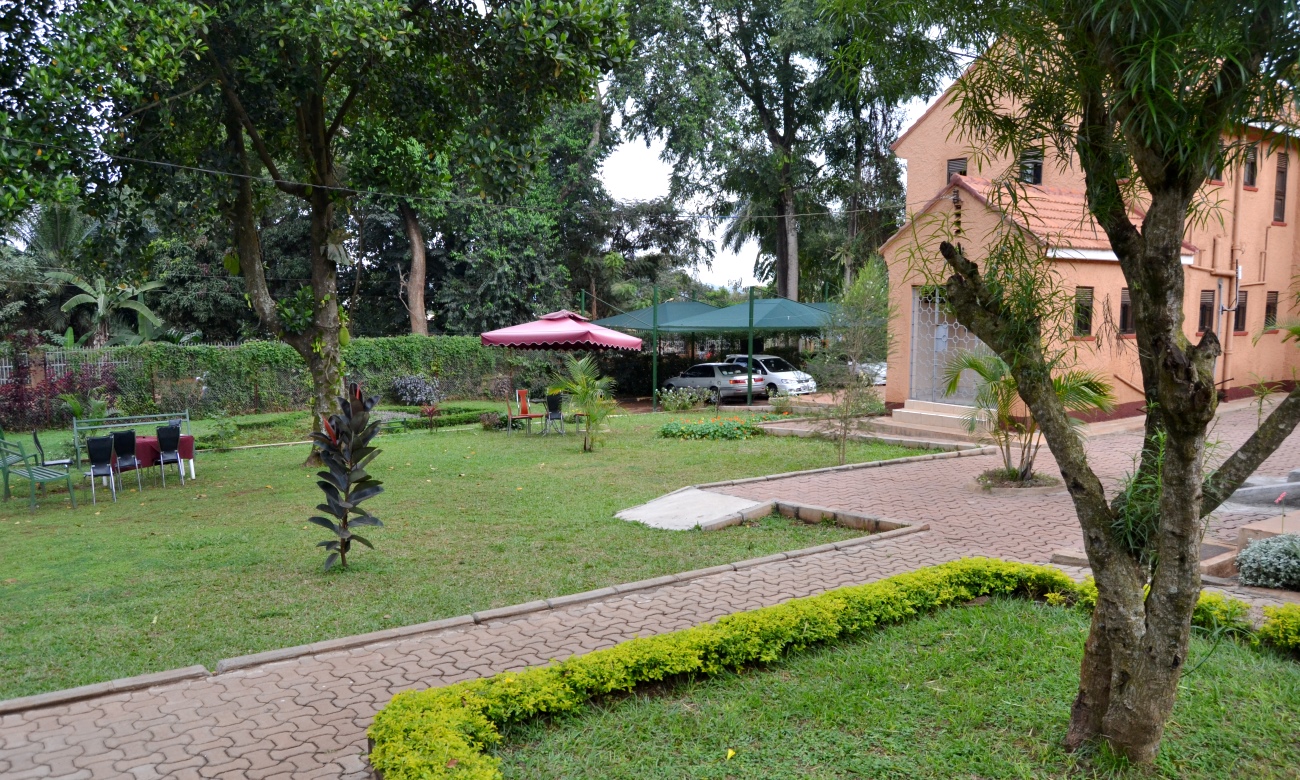 This report highlights key achievements and progress made during the period 1st January – 31st March 2021 (the third quarter of the Financial Year 2020/2021, and the third year of implementing the operational plan-2018-2022 of RUFORUM Vision 2030). The Operational Plan is designed around four (4) flagship programmes underpinned by activities to support regional collective action and learning to give stimulus to achieving the RUFORUM vision for vibrant transformative universities catalysing inclusive agricultural development to feed and create prosperity for Africa. The four flagship programmes are:
Transforming African Agricultural Universities to meaningfully contribute to Africa's Growth and Development (TAGDev) seeks to transform African agricultural universities and their graduates to better respond to developmental challenges through enhanced application of science, technology, business and innovation for rural agricultural transformation.This flagship programme is largely supported by the Mastercard Foundation.
Cultivating Research and Teaching Excellence (CREATE) seeks to realign universities' research and teaching functions into a more integrated model with a focus on problem solving and enhancing the capacity of the entire university academic practice and outreach system mainly.
Regional Anchor Universities for Higher Agricultural Education (RANCH) seeks to escalate the setting up of a network of linked universities as African anchor universities/African centres of excellence and academic leadership in agricultural higher education and learning.
Knowledge Hub for University Networking, Partnership and Advocacy (K-Hub) builds on RUFORUM's convening power and facilitates the creation, capture, organising, sharing and refining of information and content across teams and geographic locations –thus increasing access to latest evidence based information and knowledge.
Below are the highlights of progress made across the flagships:
a) RUFORUM strengthened engagement in new forms of partnerships at national, regional and continental level to support research and development; and, strengthen higher education and agricultural sectors on the continent. This included engagements with several agencies in the Gulf States.
b) The Republics of Benin and Cameroon signed the RUFORUM Charter,bringing to total eight African Nations along with eSwatini, Ghana, Liberia, Mali, Sierra Leone and Zimbabwe.
c) RUFORUM with support from the African Development Bank awarded two Entrepreneurship Challenge Programme (RECAP) grants to MbararaUniversity of Science and Technology (Uganda) and University of Sine Saloum El-Hâdj Ibrahima NIASS (Senegal) to strengthen Agri-entrepreneurship training.
d) RUFORUM was awarded a grant of US$ 330,000 from the Arab Bank for Economic Development in Africa to operationalize its African Digital Agriculture Programme (AfriDAP) which, amongst others,aims to strengthen Online Learning and Teachingin its Member universities.
e) The Secretariat developed the RUFORUM Post COVID 19 strategy to enable member universities respond, recover and build resilience in the medium term.