Prof. Bazeyo Hands over DVCFA Office to Dr. Nabukenya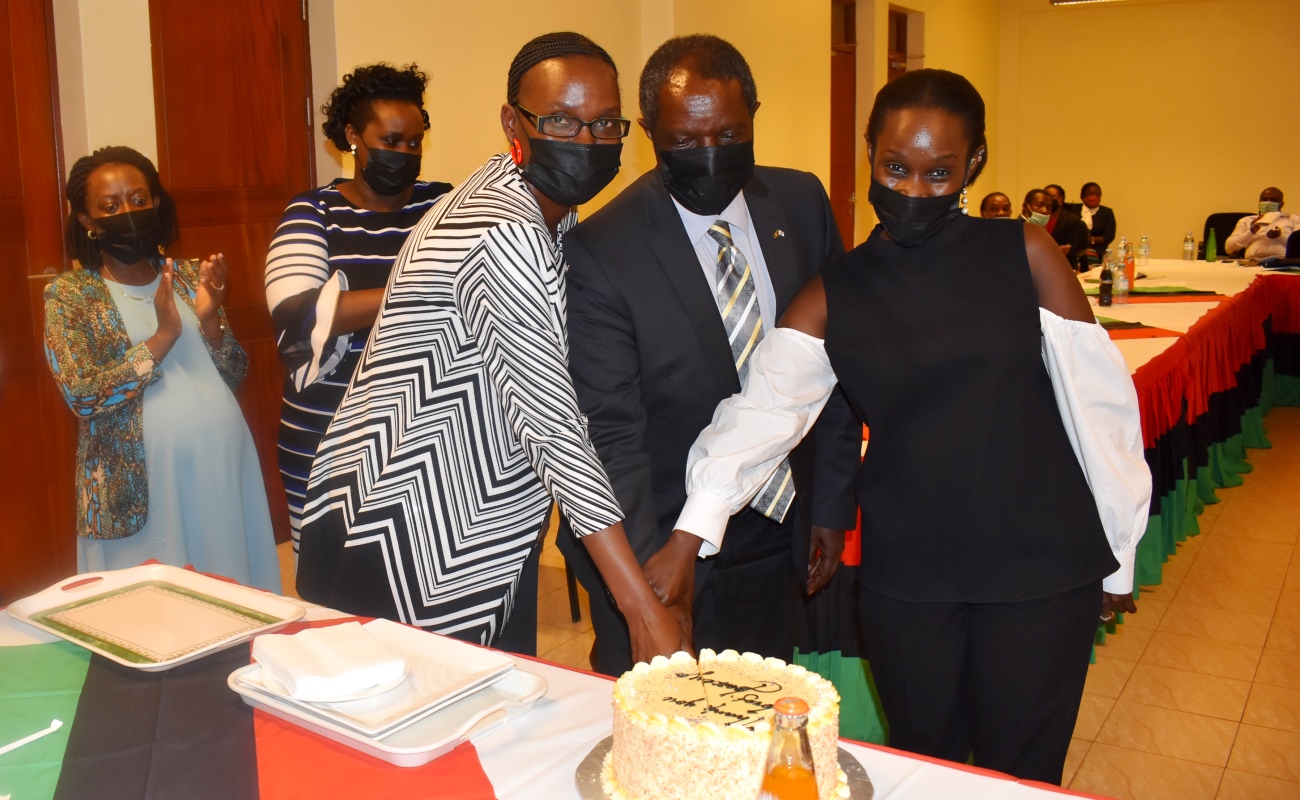 The outgoing Acting (Ag.) Deputy Vice Chancellor (Finance and Administration)-DVCFA on 30th November 2020 officially handed over office to the incoming Ag. DVCFA Dr. Josephine Nabukenya at a ceremony presided over by the Chairperson of Mak Council Mrs. Lorna Magara. The event held in the Central Teaching Facility 1 (CTF1) was guided by the Ag. University Secretary-Mr. Yusuf Kiranda and witnessed by the Chairperson Finance, Planning, Administration and Investment Committee (FPAIC) of Council-Mr. Bruce Kabaasa, the Vice Chancellor-Prof. Barnabas Nawangwe, Deputy Vice Chancellor (Academic Affairs)-Dr. Umar Kakumba, Members of University Management and Prof. Bazeyo's family.
In his remarks, the Vice Chancellor paid tribute to Prof. Bazeyo for the tremendous achievements registered which made his own job very easy.
"One of Prof. Bazeyo's tremendous achievements has been to move the University out of huge debt, with the most outstanding one; the In-House benefits scheme, almost completely settled," remarked Prof. Nawangwe.
He also commended Prof. Bazeyo for his negotiation skills, which enabled the University to secure the Research and Innovations Fund (Mak-RIF) from the Government of Uganda. Mak-RIF is the first of its kind Government funding dedicated purely to supporting research and innovations at Makerere University, and is open to competitive bidding by any member of staff.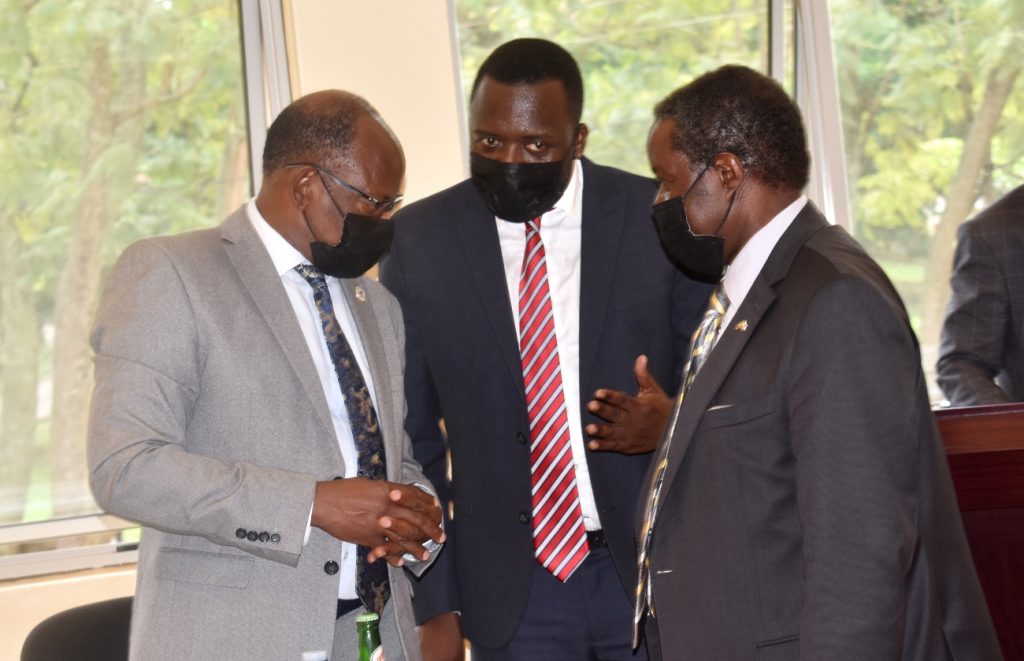 Prof. Nawangwe thanked the outgoing DVCFA for his exemplary service and accepting to continue chairing the inaugural Grants Management Committee (GMC) of Mak-RIF. This selflessness, he noted would help Makerere to become a truly research-led university.
The Vice Chancellor equally expressed gratitude that Prof. Bazeyo was handing over to Dr. Nabukenya who is known for her steadfastness, prolific research and grant winning abilities. "Dr. Nabukenya has been very responsive when called upon to serve on various University Committees and we pledge to continue according you all the necessary support until a substantive DVCFA is appointed."
In his handover speech, Prof. William Bazeyo thanked God for the negotiation and other skills that have enabled him to be a contribution to Makerere University right from his date of appointment on 23rd August 1993 until he attained the mandatory retirement age on 22nd June 2017. Now serving on a post-retirement contract valid until May 2021, Prof. Bazeyo shared that these skills had enabled him to transform the School of Public Health (MakSPH) from being virtually unknown to the second-best School of Public Health on the African continent.
Speaking about what motivated him to take up the role of DVCFA, Prof. Bazeyo outlined; the Media coverage of Makerere's indebtedness, need to achieve research-led status, need to improve staff remuneration, unpaid retirement benefits and the absence of an institutional grants policy as some of the challenges that spurred him on.
"On the research front, I am glad to say that today, we have 595 project groups concurrently engaged with full funding by Government under Mak-RIF. And whereas Government had initially committed to avail this funding for only five years, they are now willing to funding every financial year having seen Makerere's demonstrated capacity," Prof. Bazeyo said.
Addressing Dr. Nabukenya, the outgoing Ag. DVCFA said, "I have never seen an office as challenging as this but the fact that I have tried means that you too can do the same through initiatives like strategic planning, participatory budgeting and a host of others as outlined in my handover report. I pledge that I will be available to introduce you and support you where you need me."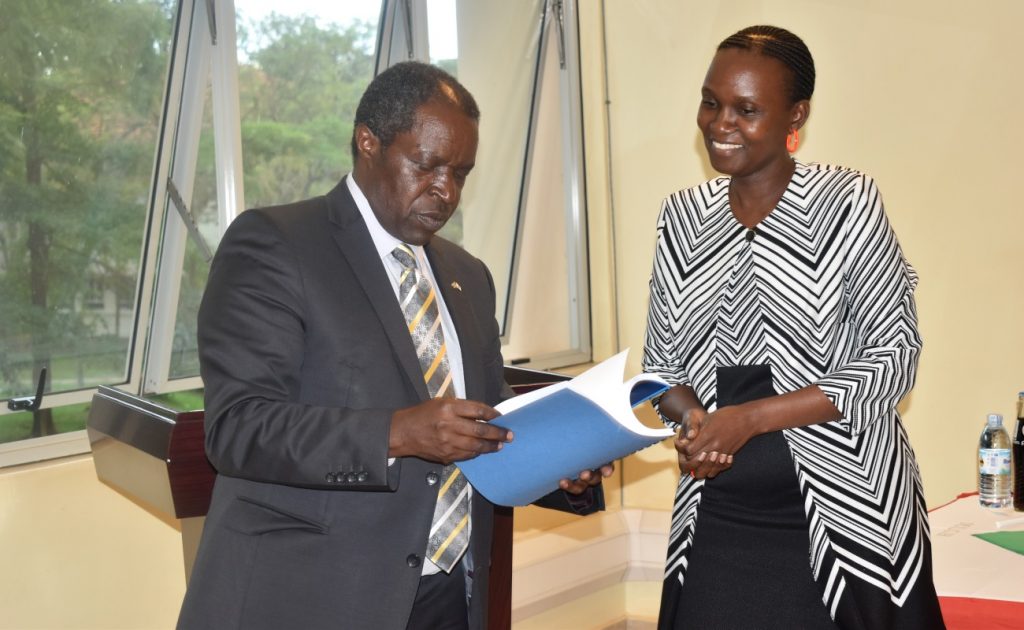 In conclusion, Prof. Bazeyo thanked the Chairperson and Members of Council for entrusting him with the role of DVCFA and Prof. Nawangwe for always listening to his proposals and offering much-needed guidance. He thanked Dr. Kakumba for always speaking honestly and Dr. Eria Hisali for continually stepping-in to act on his behalf whenever he was out of office. Prof. Bazeyo equally thanked rest of the members of Management for their support throughout his term of office and staff in the Office of the DVCFA for enabling him to serve efficiently.
In her acceptance speech, Dr. Josephine Nabukenya thanked the University Council for giving her the opportunity to act as DVCFA, a role she pledged to use wisely. "I thank the Chairperson Council, Mrs. Lorna Magara, Vice Chancellor, Deputy Vice Chancellor (Academic Affairs) and all members of Management for being part of this handover ceremony. I am humbled to be assigned the role of next Acting DVCFA, a great responsibility and at the same time, a great honour."
She paid tribute to her predecessor Prof. Bazeyo for the achievements registered during his term of leadership and for not losing sight of his goals especially in research, despite the challenges faced. She attributed this to Prof. Bazeyo's passion for Makerere University, which has been a good driving force during his three years in office.
Dr. Nabukenya nevertheless made appealed to her outgoing colleague to continue working with the institution to cement the successes that had been registered during his term. She pledged to work hand in hand with her colleagues in Top Management to ensure that several projects currently being undertaken such as automation of services are accomplished.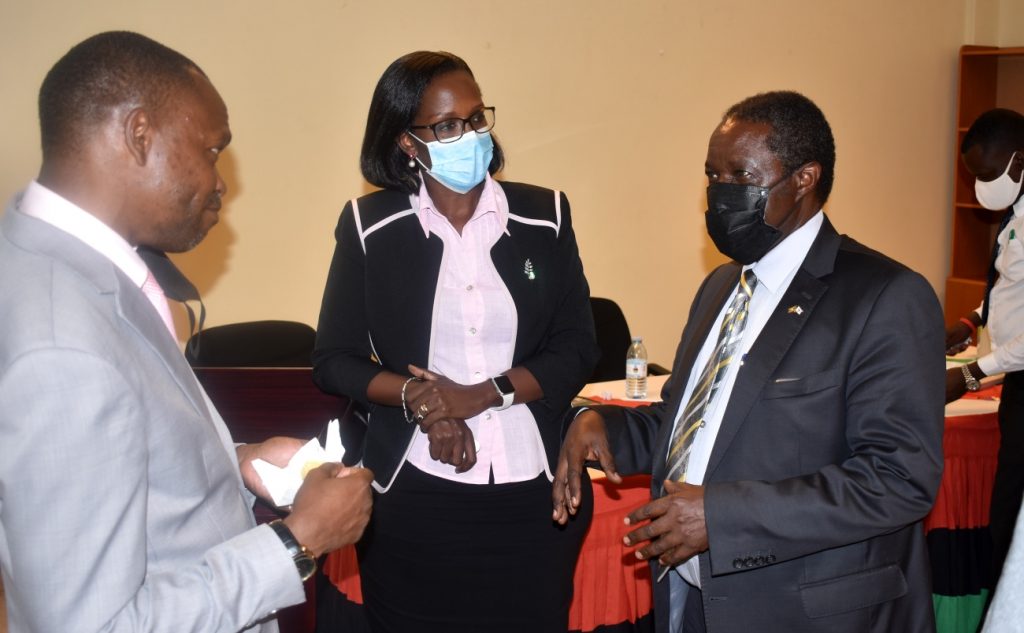 In her remarks, the Chairperson Council thanked Prof. William Bazeyo for his selfless service to Makerere University, especially for his role in spearheading negotiations with Government to secure the remainder of funds owed to the Makerere University Retirement Benefits Scheme (MURBS). Mrs. Magara noted that the University Council is still looking forward to working with Prof. Bazeyo in various capacities.
Turning to Dr. Nabukenya, the Chairperson noted that the University Council celebrates her as a woman who has ascended to a top position of University Management. She nevertheless noted that Dr. Nabukenya's prolific record made her a good candidate for the position. "Drawing on the gender card was never a necessity in considering your candidature because your past attainments in research and especially automation made you a perfect fit for the role."
Quoting Proverbs 22:1 "A good name is to be chosen rather than great riches, Loving favor rather than silver and gold", Mrs. Magara urged Dr. Nabukenya focus on leaving a legacy in Makerere University because her legacy would outlive her. She added that Council's expectations of the DVCFA role are high but nevertheless expressed confidence that Dr. Nabukenya would deliver as much as Prof. Bazeyo had and hopefully, exceed expectations.
The Chairperson noted that whereas the University aspires to be research-led, the institution should not conduct research just for the sake. "Our drive must be to conduct research that responds to the National Development Agenda" remarked Mrs. Magara before posing a question, "What do we need to do to ensure that Makerere becomes the Think Tank for the National Development Agenda?"
She concluded her remarks by pledging the University Council's and her personal support to the new Ag. DVCFA and urged Dr. Nabukenya to stay focused on her duties.
Members of Management also present included the University Librarian-Dr. Helen Byamugisha, University Bursar-Mr. Evarist Bainomugisha, Director Estates and Works Directorate-Eng. Christina Kakeeto, Director Internal Audit-Mr. Walter Yorac Nono, Ag. Director Legal Affairs-Mr. Hudson Musoke, Representing the Ag. Director Human Resources-Mr. Deus Mujuni Tayari and other officials.
Article by Public Relations Office
Guidelines for Freshers 2020/21 Academic Year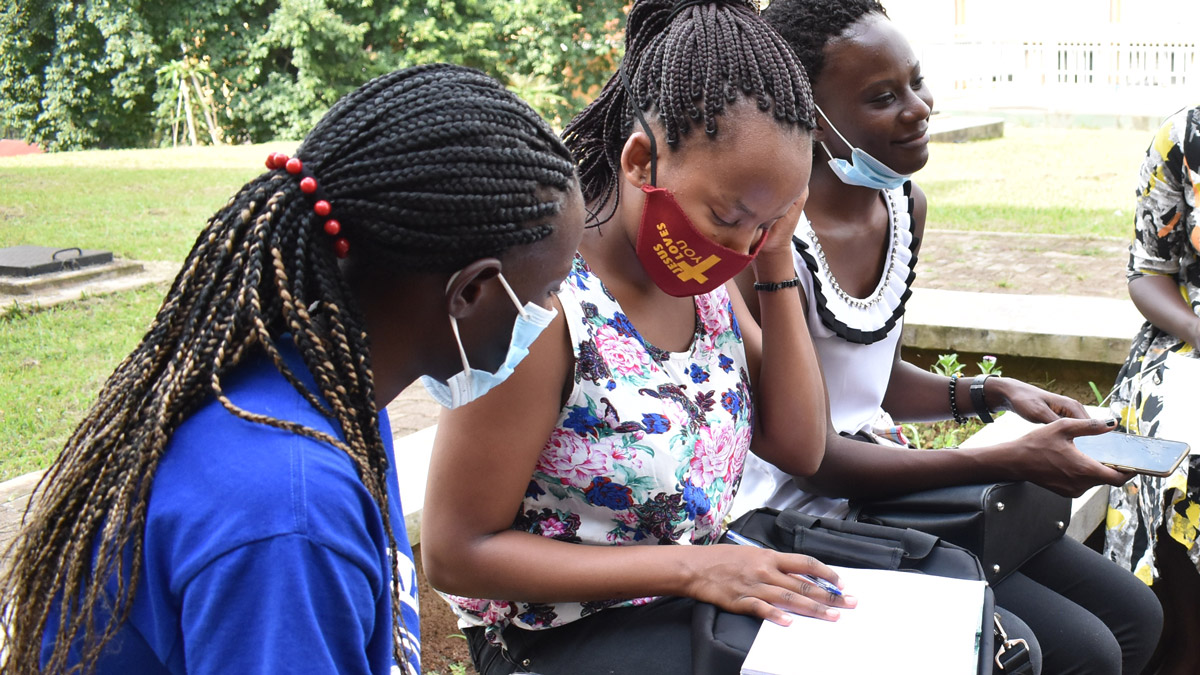 First Year students (Freshers) are by tradition given an "acclimatization" period of normally one week which is referred to as the "Orientation Week". The Freshers report on Campus one week earlier than the Continuing students and during this week they are introduced to the key facilities in the University as well as other important aspects of life at the University.
From Saturday 30th January, 2021 to Friday 5th February, 2021 (7 Days) will be the Orientation Week for all Freshers at their respective Colleges while observing the COVID-19 SOPS, will follow a programme drawn by the College.
After the orientation programme, first year students will undertake an Open Distance and e-Learning education model (ODeL/Blended Learning) subject to further guidance from government. Each student therefore, MUST have a laptop computer as one of the essential tools for study purposes for the programme offered.
Registration
For a candidate to qualify to be a bona fide student of the University, he/she must be registered. Registration is a mandatory requirement of the University which must be done within the first two (2) weeks from the beginning of the semester by every student. Privately sponsored students will pick their original admission letters after payment of 60% tuition and all functional fees from their respective colleges.
Registration will commence on Tuesday 2nd February, 2021 starting at 9.00 a.m. each day.
Ensure that you complete all the required enrollment/registration formalities within the prescribed time in order to avoid disappointments later.
Further details including fees and change and procedures of change of course are available in the documents downloadable from the links below:
NOTE
The information on orientation and registration for non-finalists which was proposed to start on 30th January 2021 is tentative. You should therefore wait for Government of Uganda directive/guidelines on the official opening of Higher Education Institutions.
MU-JHU Position: Director Strategic Planning and Partnerships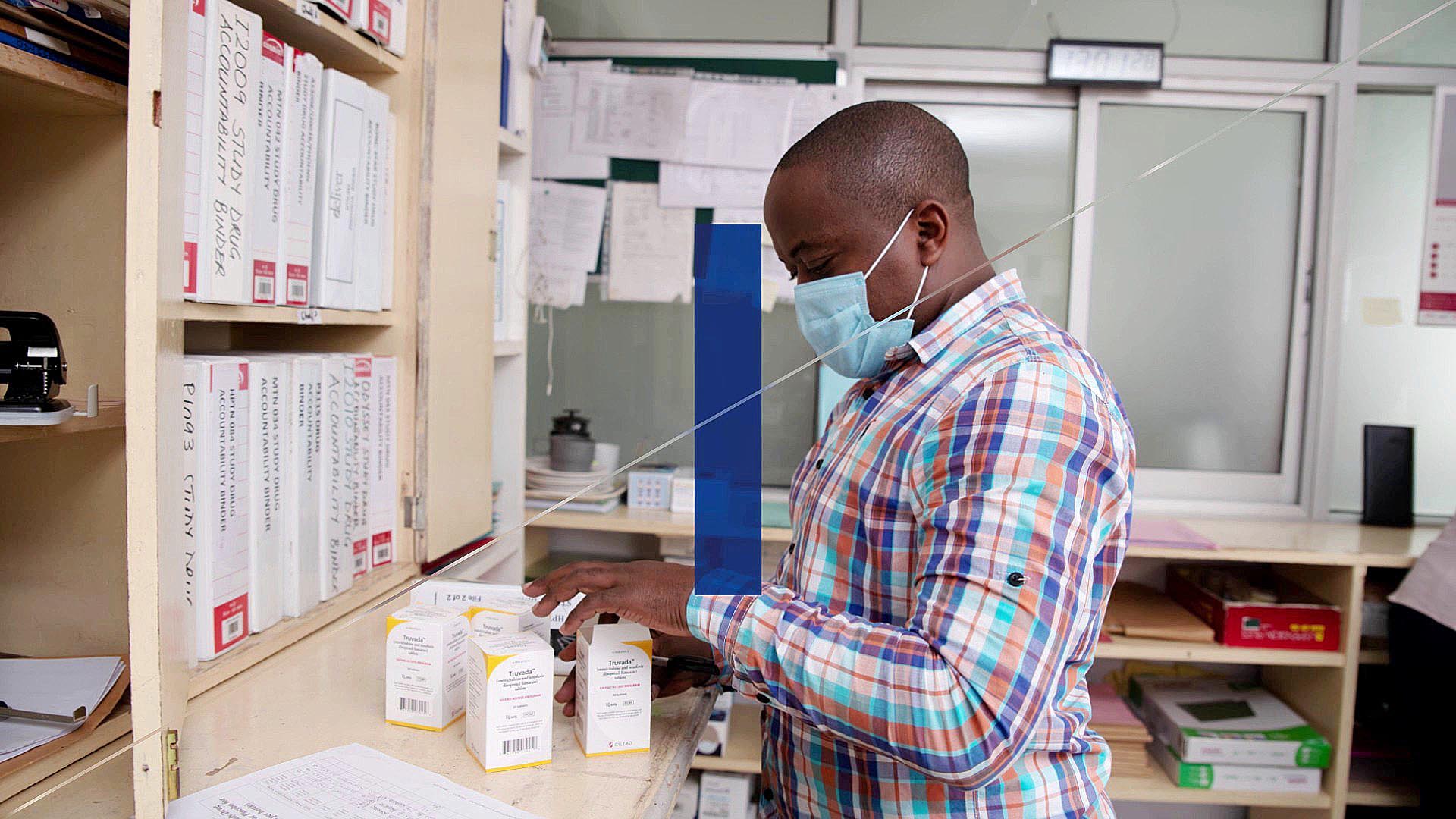 The Makerere University-Johns Hopkins (MU-JHU) Research Collaboration | MU-JHU Care Limited, a Kampala–based equal opportunities Clinical Research and Service Delivery Organisation with more than 350 employees is seeking an interested, committed and reliable senior professional with the described qualifications to apply for the position of Director Strategic Planning and  Partnerships in support of MU-JHU Care Ltd studies/programs to be implemented in Kampala, Uganda.
Job Title: Director Strategic Planning and Partnerships
Reports To: Executive Director
Job Location: MU-JHU Research House, Upper Mulago Hill Road, Kampala.
Description and purpose:
The successful person will be responsible for identifying and managing strategic partnerships within the health research, care and funder fields in Uganda and abroad, including managing the grants portfolio and serving as a lead liaison and advocate on behalf of MU-JHU with major funders and partners and ensuring regular and effective communications for a wide range of stakeholder communications.
Required qualifications and profile:
A Master's degree in a relevant field such as Development, Public Health, Public Policy, Finance, Business or Public Administration. The candidate will demonstrate a minimum of seven years successful experience in strategic planning, grant solicitation, grant management and stakeholder relations in the clinical research and/or health care field in Uganda or a similar setting. General management and communications experience, including project and personnel management, is essential. The candidate should be a self-starter with exceptional communication skills, both written and oral, well-developed interpersonal skills and presence to interact at the most senior corporate, funder and academic levels, experience in strategic planning and in identifying and evaluating potential partner relationships with related organizations. Proven success in resource solicitation and management, funder cultivation and acknowledgement, skilled in general management, including personnel management, basic knowledge of clinical research with a focus on the improvement of the health and well-being of women and children. Knowledge of HIV, TB and vaccine preventable infectious diseases would be an advantage. High level ability to implement short- and long-term goals, ability to foster a cooperative work environment, sensitive to cultural issues and language differences, proficiency in computer systems are core skills. Advanced proficiency in use of Microsoft applications, desktop publishing and willing to travel and work irregular hours will be added advantages.
The holder of this position will work under the direct supervision of the Executive Director, and will be responsible for the following duties:
Strategic and Operational Planning and Development
Consult closely with the Executive Director and Core Management Team to identify areas for strategic program and related infrastructure (space, equipment, resources) expansion that are consistent with the goals and objectives of the organization.
Design, develop and implement short and long term resource development plans and strategies that make possible both the strengthening of the specific programs/components of MU-JHU core competencies (across Research, Program Services and related Capacity/System Strengthening) as well as expansion into approved strategic directions and niches.
Work closely with the MU-JHU Executive Director and Board in developing and reviewing high quality MU-JHU Strategic plans over 5 year cycles.
Working in support of the MU-JHU Executive Director, liaise with all stakeholders to ensure the interests of these major stakeholders are appropriately reflected in MU-JHU planning.
Regular communicate the elements of the Strategic Plan to the Division Directors/Senior Management and coordinate the annual operational planning and reporting cycle aligned to this Strategic Plan.
Analyse, prioritize and pursue funding opportunities among the potential funders that are consistent with the goals and objectives as defined in the Strategic Plan.
Identify and address critical knowledge and skill gaps in middle, senior and executive management staff related to strategic and operational planning processes.
Grants portfolio, partnership and communications leadership
Lead in the development and implementation of the Strategic Resource Generation component of the MU-JHU Strategic Plan.
Leads in the formation and implementation of policies regarding development and resource generation.
Serve as the Authorised Business Official and lead the MU-JHU grants administration office including supervision of the Grants Administration Manager and grants and contracts portfolio. 
With MU-JHU Executive Director, prepares regular reports on development activities and status funder-defined projects underway.
Represents MU-JHU management at various community, funder, stakeholder and board meetings.
Ensure MU-JHU communications reflect MU-JHU's strategic plan and promote visibility with MU-JHU's diverse stakeholders including supervision of the Communications Specialist and communications portfolio.  
Risk management
Work closely with the Board, Executive Director and Director of Administration and Finance to establish and resource effective risk management processes including internal controls and with appropriate separation of duties and accountability to the Board.
Applications with complete C.Vs, including 3 referees and their full addresses or contact Tel No.'s, copies of academic certificates and testimonials, should be sent by email to hr[at]mujhu.org or hand delivered to: MU-JHU Human Resource Manager, through the reception on first floor, MU-JHU 1 Building – not later than January 15, 2021 by 5.30pm. Only short-listed applicants will be contacted.
AFROHUN Position: Regional Lead Africa-USAID STOP Spillover Project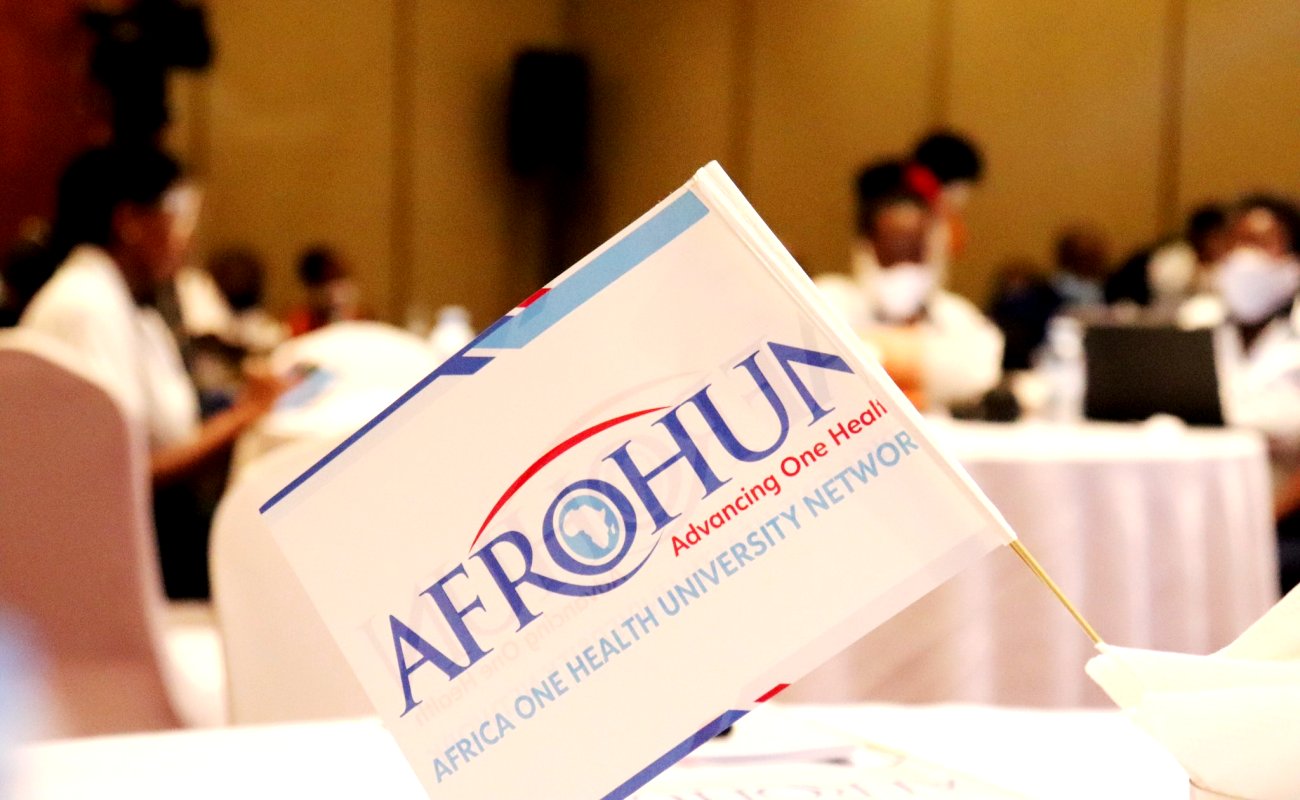 PROJECT DESCRIPTION:
The USAID STOP Spillover program provides a critical opportunity to enhance global understanding of the complex drivers of viral spillover and to augment sustainable national capacities in surveillance, risk analysis, and behavior change. Implementation of the project envisions priority ten countries across Africa and Asia to gain critical knowledge about their Spillover Ecosystems, to refine and use that knowledge effectively, efficiently, and sustainably to reduce the risk of zoonotic viral spillover and
spread. This is a five year project from October 2020 to September 2025.
STOP Spillover is a USAID-funded project to anticipate and address threats posed by the emerging zoonotic diseases that pose the greatest risk of jumping from animals to humans. Tufts University, together with an international consortium of nine core partners including Africa One Health University Network (AFROHUN) and six core sub-award partners are working collaboratively utilizing diverse capabilities among consortium members and stakeholders to implement the STOP project in five countries in Africa over the next five years.
AFROHUN under the STOP project is looking for a competent and passionate person for the position of Regional Lead Africa (RLA).
The RLA is a key position for the STOP project and will preferably be located at AFROHUN Regional Secretariat located in Kampala, Uganda with frequent travels where possible within project target countries.
JOB TITLE: REGIONAL LEAD AFRICA
Reports to:
AFROHUN Chief Executive Officer
Responsibilities:
The RLA will provide leadership to project implementation in Africa and serve as a member of the Global project's leadership team. S/he will offer technical leadership to the project working very closely with global consortium members and AFROHUN leadership. The RLA will be under the overall administrative supervision of the AFROHUN Chief Executive Officer. This is a full-time position, renewed yearly based on performance evaluation, and availability of funds.
Qualifications:
Master's degree in any discipline with relevance to One Health (public health, human health, animal health, wildlife, behavioral sciences, environmental health), project management, international development or related relevant discipline.
Experience with developing and managing projects of partnerships at the highest levels with government partners, academia, international partners, funders, and private sector.
Understanding of One Health concepts and expertise in areas critical to surveillance, risk reduction and management, intervention implementation and mitigation of zoonotic disease amplification and spread, public health and ecosystem health
Excellent collaboration capabilities, working in multi-cultural and multidisciplinary settings.
10-15 years in program/project management experience.
Excellent organizational, written, and verbal communication skills.
Proven experience in managing donor funded projects especially USAID.
Gender and cultural awareness and sensitivity.
Proficient in Microsoft Office Suite, Adobe Acrobat, digital communications.
Willingness to travel locally and internally
How to apply:
If your career aspirations, qualifications and experience match the above requirements, please email your application in English stating Regional Lead Africa as the subject to secretariat[at]afrohun.org and copy to nainembabazi[at]afrohun.org by 17h00 East African Time on January 8th 2021. The application package should include, application letter, CV with 2 referees, and copies of relevant academic certificates.
Please see Downloads for detailed advert