CARTA @ 10 Scientific Conference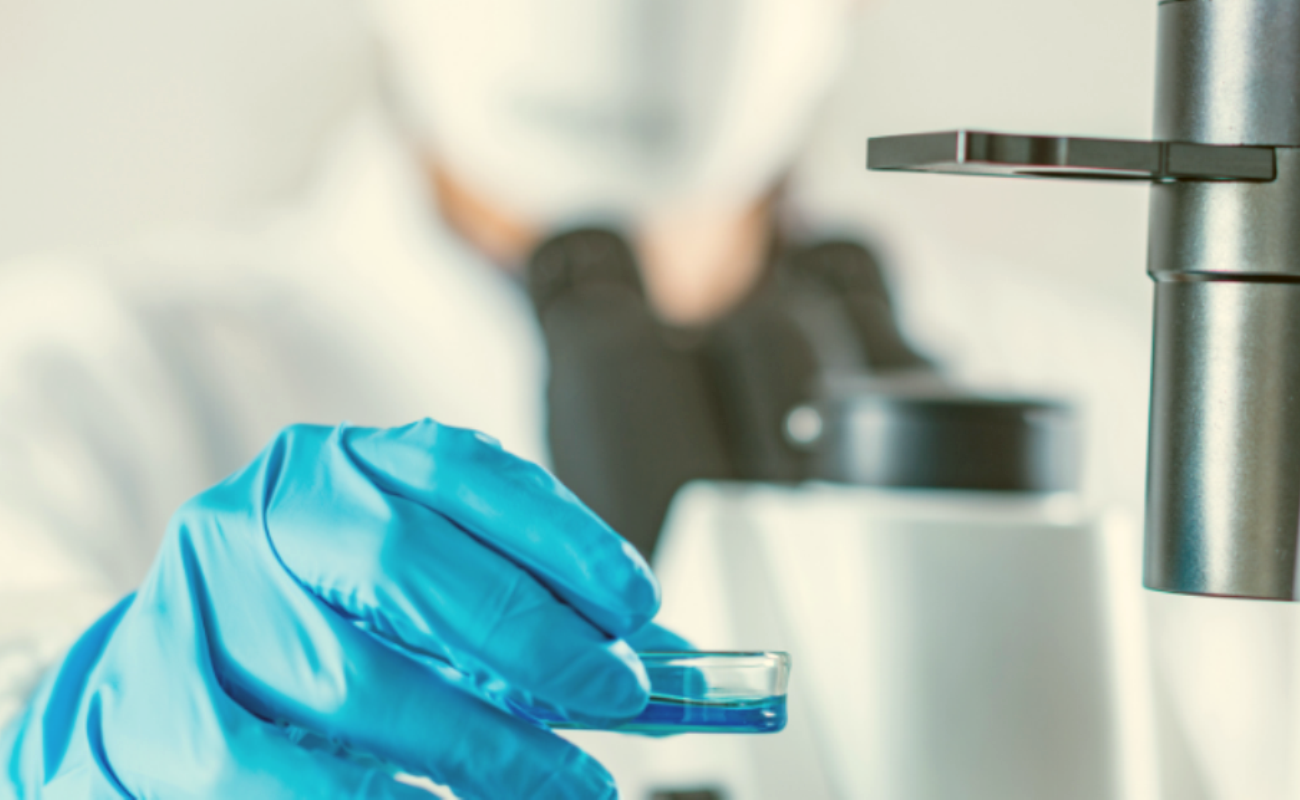 The Consortium for Advanced Research Training in Africa (CARTA) fellows and graduates will come together in a virtual Scientific Conference scheduled for 03-04 December 2020 to present and discuss their research work.
The audience will have a chance to hear about the presenters' work in health systems and non-communicable diseases, ageing, sexual and reproductive health rights, infectious diseases, and immunization among others. Additionally, the conference will offer an opportunity for researchers and presenters from different institutions around the world to interact and learn about new research presented, including the tools and techniques used.
The conference will have two 2-hour sessions that will accommodate eight to ten presentations. The pre-recorded talks will be available a week before the conference to accommodate interested audiences in different time zones.The videos will also be streamed in the first hour of each day's session. In the second hour, the session will be open to discussions and Q&A with the speakers.
Each session's audience will include all presenters, external mentors, local mentors, and supervisors.
More details on the program and speakers will be shared shortly.
To Register please visit-https://us02web.zoom.us/webinar/register/WN_LWs0vXPBR-SFN96k_S285g
NB: The Conference is open to the public. Academics and scholars, experts and PhD students are invited to join the conference
DeepMind supports the establishment of Master's scholarships to study AI at Makerere University

Press Release [For Immediate Release]
DeepMind will make a donation to Makerere University to fund the establishment of four scholarships in the field of Machine Learning beginning in the academic year 2021/2022. The scholarships will support students who wish to study MSc. Computer Science programme (Track: AI and Data Science) taught in the Department of Computer Science at Makerere University beginning in the academic year 2021/22. The scholarships will be open to students from Uganda, other East African countries, or International students from a Sub-Saharan African country. The scholarship package will include full financial support for tuition, stipend, equipment, AI conference participation and mentorship. International students will also be eligible for a relocation grant to move to Makerere to begin their studies.
Makerere University will join other leading universities in partnering with DeepMind to offer scholarships, including Stellenbosch University in South Africa and international partners, such as the Universities of Cambridge and Oxford, University College London and Imperial College in London.
The Vice Chancellor of Makerere University, Prof. Barnabas Nawangwe applauded the partnership between Makerere University and DeepMind.
"In this era, Universities in Africa should embrace the Fourth Industrial Revolution if they are to remain relevant and competitive. To achieve this, Makerere University is partnering with reputable partners at the national and international levels to train hi-tech human resources and establish state-of-the-art teaching, learning and research facilities. So, the partnership between Makerere University and DeepMind is aligned to the already ongoing efforts by Makerere University to build the future workforce for the Fourth Industrial Revolution through our College of Computing and Information Sciences. This is a valuable partnership that will enable Makerere University to train and produce graduate students/researchers and scholars with expertise in Artificial Intelligence, Machine Learning and Data Science. Thank you DeepMind for coming on board and for choosing to partner with Makerere University," remarked Prof. Nawangwe.
Obum Ekeke, Global Lead, University Relations & Education Partnerships at DeepMind, added, "We are very proud to be further expanding our scholarships in Africa with Makerere University, and look forward to welcoming new African scholars to our programme. DeepMind's education efforts recognise that talent must be nurtured in regions which can bring a diverse range of perspectives into AI research, to ensure AI is a technology that can bring benefits for all."
Engineer Bainomugisha, Associate Professor and Chair of the Department of Computer Science at Makerere University, said "We are delighted that DeepMind has provided funding to support graduate training in AI and Data Science at Makerere University. The Department of Computer Science is committed to providing relevant skills in AI and machine learning. The scholarships will complement our ongoing efforts in AI training and research with emphasis on its applications to unique African challenges in the sectors of health, agriculture, and environment, among others. The scholarships will contribute to the growth of the African AI ecosystem."
About DeepMind
DeepMind is a multidisciplinary team of scientists, engineers, machine learning experts and more, working together to research and build safe AI systems that learn how to solve problems and advance scientific discovery for all.
Best-known for developing AlphaGo, the first program to beat a world champion at the complex game of Go, DeepMind has published over 1000 research papers – including more than a dozen in Nature and Science – and achieved breakthrough results in many challenging AI domains from StarCraft II to protein folding.
DeepMind was founded in London in 2010, and joined forces with Google in 2014 to accelerate its work. Since then, its community has expanded to include teams in Alberta, Montreal, Paris, and Mountain View in California.
http://deepmind.com/scholarships
About the Department of Computer Science atMakerere University
The Department of Computer Science is one of the four Departments in the School of Computing and IT of the College of Computing and Information Sciences at Makerere University. The Department is recognized as one of the top Computer Science departments in Africa. Faculty and students in the Department are undertaking innovative research in areas such as machine learning, computer vision, natural language processing, and software systems security. The Department of Computer Science hosts the Makerere AI research lab that specialises in AI research and its applications to real world challenges including the automated diagnosis of crop and human diseases, auction design for mobile commodity markets, Google-funded research on monitoring and analysis of air pollution and traffic patterns in African cities.
http://cs.mak.ac.ug
Eligible students for the scholarships need to be admitted to the MSc Computer Science programme. Applicants for the Msc Computer Science at Makerere University should look out for a call for graduate admissions for 2021/22 around the end of February 2021 (tentative) the Directorate of Research and Graduate Training website. For more information about the DeepMind scholarships please contact cs@cis.mak.ac.ug. The scholarship announcement will be published around May 2021 on the Department and University websites.
Highlights of 16 Years of Soybean Research at Makerere University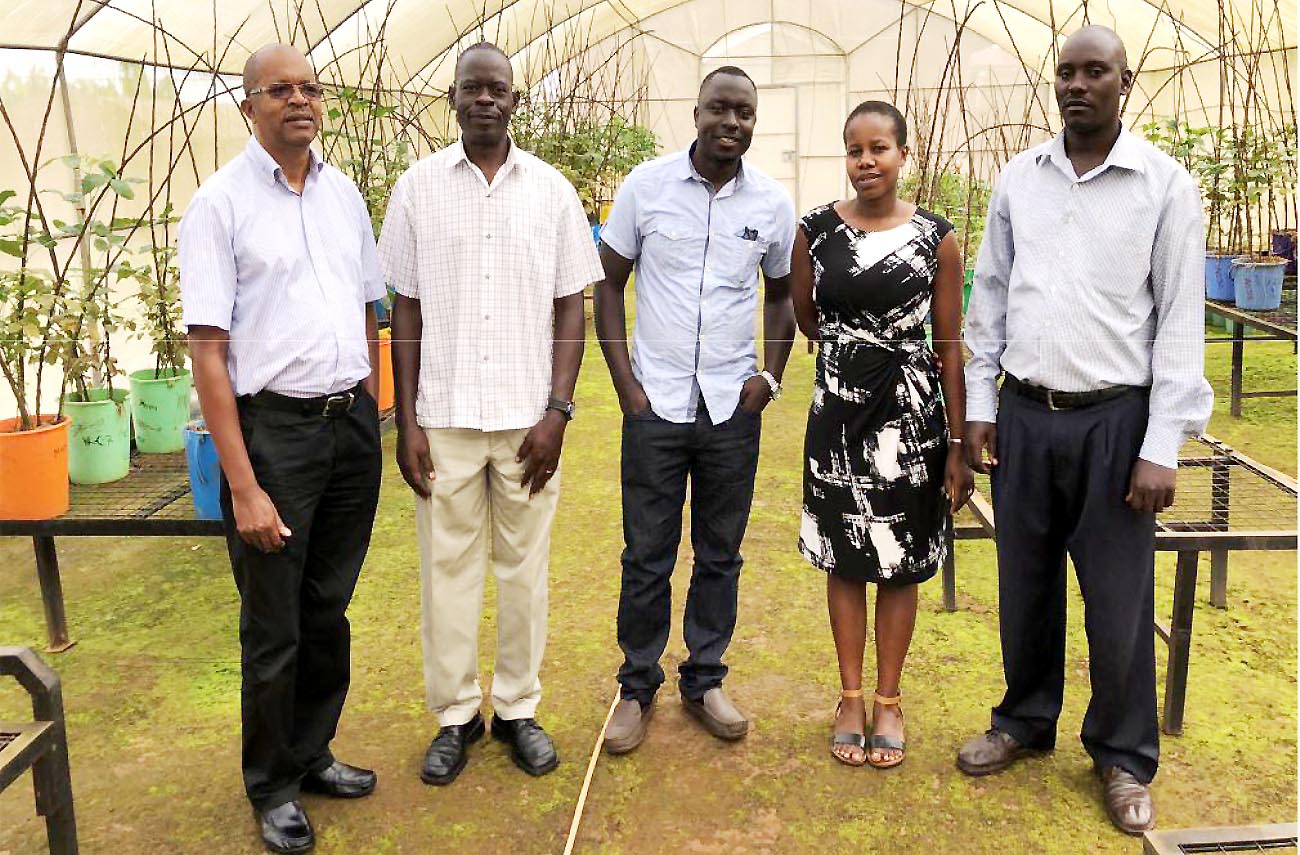 Sixteen years of soybean research at Makerere University have led to a rapid increase in the number of industries engaged in processing soybean in Uganda and neighbouring countries.
This report provides highlights of the contribution of rust-resistant soybean varieties to the agricultural sector in Uganda. It contains forward-looking research results based on current research findings and forecasts made by the Centre for Soybean Research and Development from 2002 to 2018.
Soybean was first introduced in Uganda way back in 1908. Its production was emphasized to combat malnutrition and to provide soldiers with highly nutritious food during the Second World War. Like most new crops, soybean was not readily accepted by the local people based on claims that it depleted soil fertility, could not be cooked like commonly known legumes, had beany flavor and lacked a readily available market.
The soybean crop was also not given consistent recognition by the National Agricultural Research System (NARS) and suffered decline in production due to a major out break of soybean rust disease in 1996.
Makerere University in collaboration with the National Agricultural Research Organization (NARO) and Vegetable Oil Development Project (VODP) of the Ministry of Agriculture Animal Industry and Fisheries (MAAIF) undertook research to control soybean rust disease and to promote and disseminate soybean seed of locally developed superior varieties.
Through efforts of the Centre for Soybean Improvement and Development (MAKCSID), the soybean rust pandemic was brought under control, through breeding and dissemination of superior varieties to the farming communities. Currently over 93% of these varieties are grown across the country.
These efforts were spearheaded by Prof. Phinehas Tukamuhabwa from the Department of Agricultural Production.
Please see Downloads for the detailed report.
Uganda launches its first meeting to kick off the "Unlocking Resilient Benefits from African Water Resources" project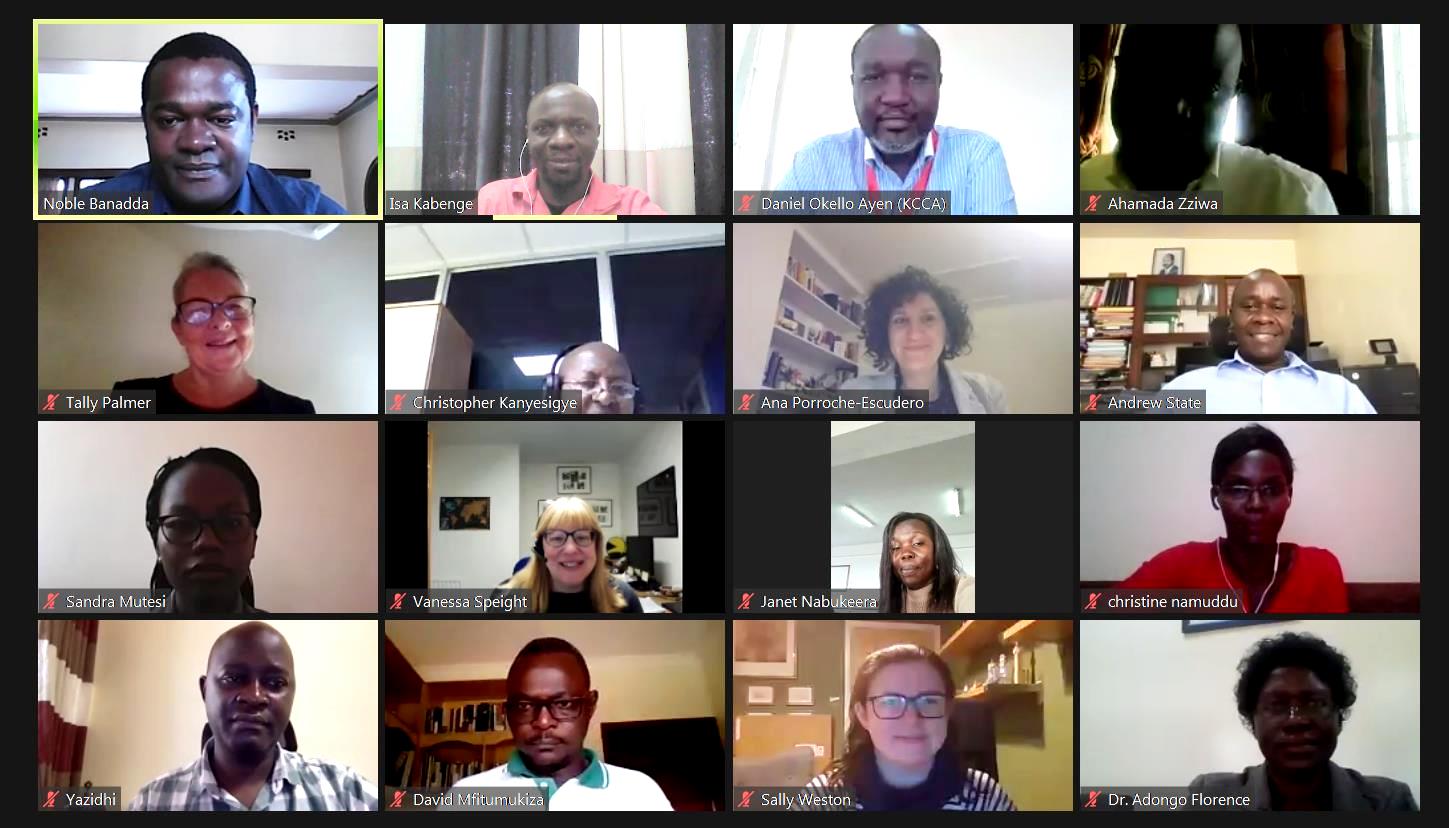 Story highlights
Makerere University convened its first high level meeting virtually to introduce Uganda's participation in the international project "Unlocking Resilient Benefits from African Water Resources".
The project is funded by UKRI GCRF through the ARUA Water Centre of Excellence at Rhodes University, South Africa, and it involves six nodes in Ethiopia, Uganda, Rwanda, Senegal, Tanzania, Nigeria, South Africa as well as UK partners.
The Ugandan node will look at the sources, pathways and impact of pollution in urban water.
While the meeting was well represented by top academics from Makerere University and formal water institutions at different levels of government, the node is in the process of revisiting its approach to engaging a wide range of stakeholders including local residents, civil society, non-governmental organisations and private business, government ministries, local governments, water management agencies  and
By bringing together a wide array of knowledges from Uganda, and in partnership with African countries and the UK, the project aims to shift water development practice towards greater equity and sustainability.
Makerere University has committed to continue the momentum on the international project "Unlocking Resilient Benefits from African Water Resources" (known as RESBEN). The project involves six nodes in Ethiopia, Uganda, Rwanda, Senegal, Tanzania, Nigeria, South Africa as well as UK partners. It is funded by UKRI through the ARUA Water Centre of Excellence at Rhodes University, South Africa. The super goal of this project is to produce knowledge that shift water development practice towards greater equity and sustainability.
After a lot of background work dealing with administrative hoops presented by international grants, COVID challenges and cross-country logistics, Uganda convened the first RESBEN country meeting on Feb 5, 2021.
Uganda brought together 17 stakeholders from a mix of backgrounds from formal water institutions including the Ministry of Water and Environment and the National Water and Sewerage Corporation, Kampala Capital City Authority as well as top academics from the Universities of Makerere, Rhodes (South Africa, SA), Sheffield and Lancaster (UK).
Prof. Noble Banadda, node lead for Uganda and OR Tambo Research Chair and Chair of the Department of Agricultural and BioSystems Engineering at Makerere University, opened the session and welcomed participants. After participants' short introduction, Professor Tally Palmer, Principal Investigator of RESBEN, gave a project overview and explained the Adaptive Systemic Approach that underpins RESBEN. This approach considers the close interconnection of complex social and ecological systems. In attending to complexity, Prof Palmer stressed the importance of linking social sciences with natural sciences as well as the equal representation of diverse stakeholders at the discussion table.
The opening was followed by Prof Banadda's presentation of the background to project in Uganda. In particular, he explained the Ugandan node will look to understand the sources, pathways and impact of pollution in urban water and will compare findings with other urban water research nodes in Lagos (Nigeria) and Cape Town (SA)
MA students recruited as research assistants will play an important role in shedding light on the backbone of pathways of water pollution. Sandra Mutesi and Christine Namuddu gave two sterling presentations about preliminary thoughts on their research directions. Ms Mutesi, who will complete a MA in natural sciences, is considering looking at pollutants in Nakivubo water drainage channel and fish at Ggaba landing site and into Lake Victoria, including pollutants in fish and water. From the social sciences angle, Ms Christine Namuddu plans to examine the relationship between the local people and the water governance institutions and identifying potential indicators of change.
After the presentation, Prof Banadda opened the floor to questions. Dr Florence Adongo from the Ministry of Water expressed her interest in being involved in the project and facilitating data for the MA students to conduct their literature review. Similarly, Chris Kanyesigye from NWSC reported that they have done two phases of Lake Victoria Environmental Management Project (LVEMP) research into this area and is happy to share findings to inform the literature review and methodology.
Other participants including Prof Vanessa Speight, Dr Sally Weston (Sheffield) and Dr Ana Porroche-Escudero (Lancaster Environment Centre) agreed that the research projects look exciting and proposed ways to facilitate methodological and contextual dialogue between the two students so their work complement and strength each other.
The Ugandan node is in the process of revisiting its approach to engaging a wide range of stakeholders including local residents, civil society, non-governmental organisations and private business and
Although the agenda was busy and the meeting was well attended, the chair managed to create an engaging and dynamic atmosphere and kept the meeting running to time!