Prof. Banadda Inaugurated as one of 10 O.R. Tambo Africa Research Chairs-Attracts USD250k & EUR100k Annually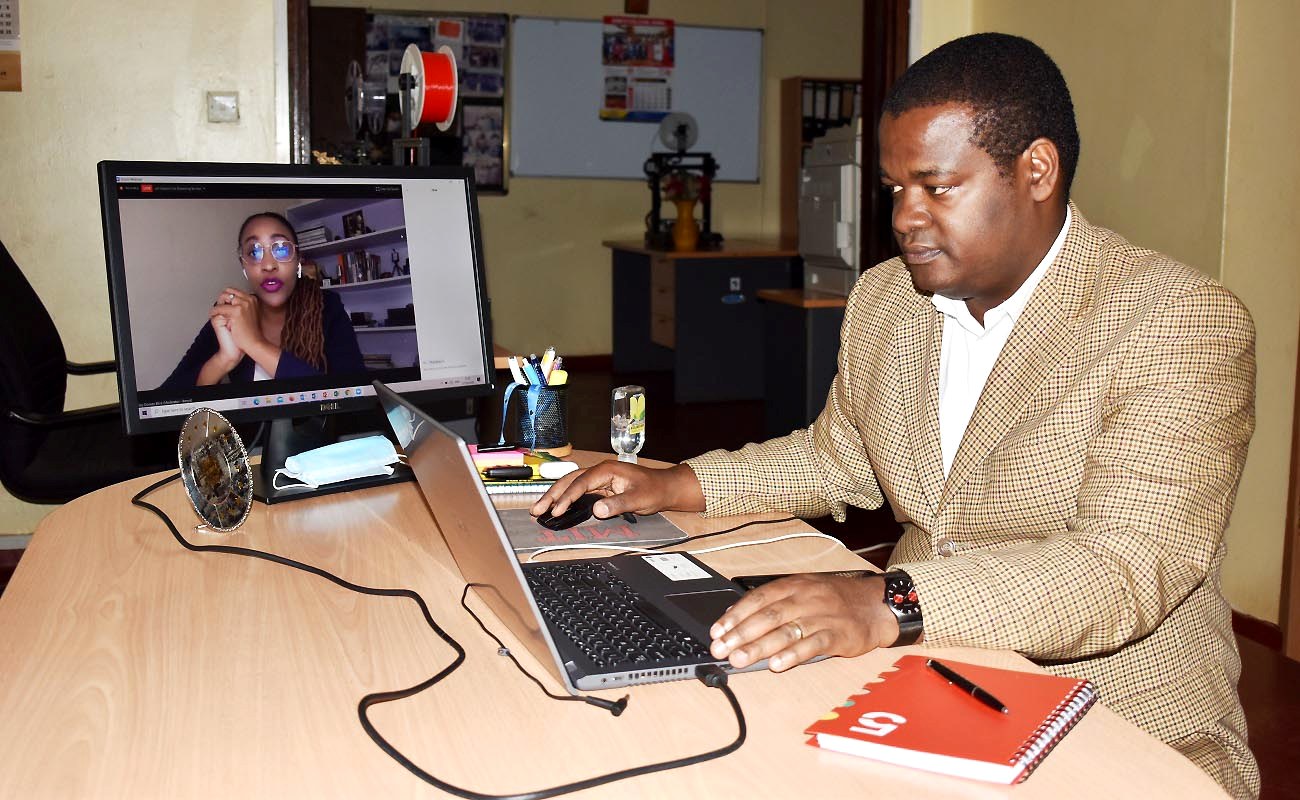 Makerere University's Professor Noble Banadda was on 27th October 2020 inaugurated as one of the 10 Oliver Reginald Tambo Africa Research Chairs Initiative (ORTARChI) recipients. The inauguration ceremony was held via zoom from South Africa. In Uganda and Makerere University, the ceremony was witnessed by media at the African Institute for Capacity Development (AICAD) Project Office.
For the next five years, Prof. Banadda will receive US$250,000 annually and an additional offer of €100,000 from Wageningen University for the next 15 years. The grants will be utilized in supervising research in agricultural waste management on farms with a target of training 15 PhD, 9 Postdoctoral and 27 Masters students.
The ORTARChI chair and grant feeds into the Makerere's Vision as enshrined in its new Strategic plan (2020-2030) that is to become a research-led university. This is the first fully funded Research Chair in Makerere University.
Under this grant, Makerere University will work with South Africa's Stellenbosch University and Wageningen University of the Netherlands to expose students to different study and research environments and also feed into university's internationalization agenda.
The Virtual O.R. Tambo Africa Research Chairs Initiative launch was facilitated by Media Personality-Joy Doreen Biira while the welcome address was delivered by Dr. Molapo Qhobela-CEO, National Research Foundation (NRF), South Africa. Prof. Barnabas Nawangwe was acknowledged by the facilitator as the only Vice Chancellor who virtually attended the Media Launch.
O.R. Tambo's legacy was presented by Ms. Zengeziwe Msimang-CEO, Oliver and Adelaide Tambo Foundation and the ministerial address by Hon. Dr. Blade Nzimande, Minister of Higher Education, Science and Innovation (South Africa).
Ministerial Panel Discussions were represented by Hon. Prof. Kwabena Frimpong-Boateng, Minister of Environment, Science, Technology and Innovation (Ghana), Hon. Eng. Dr. Brian Mushimba, Minister of Higher Education (Zambia), Hon. Prof. Joyce Ndalichako, Minister of Education, Science and Technology (Tanzania) represented by her Permanent Secretary Dr. Leonard D Akwilapo.
Ministerial Messages of Support were delivered by Hon. Dr. Douglas Letsholathebe, Ministry of Tertiary Education, Research, Science and Technology (Botswana), Hon. Gabriel Ismail Salimo, Minister of Science and Technology, Higher and Technical Vocational Education (Mozambique) represented by his Permanent Secretary Dr. Nilsa Miquidade, and Hon. Dr. Elioda Tumwesigye, Minister of Science, Technology and Innovation (Uganda).
The Oliver Reginald Tambo Africa Research Chair was advertised two years ago in search of high calibre scientists who will be able to supervise doctoral and post-doctoral research on the African continent, but specifically to solve African problems.
For any candidate to apply for ORTACHI chair, the initiative set standards that attracted 1,500 applicants. The researcher had to be anchored in a research institution at the rank of a Professor with a minimum of 200 publications. Additionally, the applicant must have supervised at least seven(7) PhD students and had a citation index of not less than 18.
Only 10 candidates (including Prof. Banadda) out of the 1,500 applicants qualified to receive the Research Chairs. Prof. Banadda is ranked 69th worldwide in the area of waste management while in Africa, he holds the 4th position.The other parameters considered were the applicants' alma mater, international exposure and the network of people the candidate has worked with.
Prof. Banadda's candidature was supported by South Africa's National Research Foundation (NRF), the Uganda National Council for Science and Technology (UNCST) and Wageningen University.
" I am grateful to God that I have been selected among the 10 recipients of the O.R. Tambo Research Chairs. I am grateful to Makerere University for having given me an opportunity to excel; Secondly, I am grateful to the Uganda National Council of Science and Technology for their letter of support; and to Wageningen University in the Netherlands for their counter offer conditioned upon my winning the Chair. Wageningen University offered me €100,000 per year for the next 15 years and also gave me an offer to be an extraordinary professor in their university. All these offers enhanced my chances of winning.
The Oliver Tambo research chair is a prestigious chair that provides US$250,000 per year for the first five years, and based on satisfactory performance, it's renewable twice. So it can run for fifteen years.
I look forward to the challenge. I look forward to doing very good research with God as my provider. I guarantee you I will invite you for an innovation from this grant. I look forward to the next five, fifteen years as a top class researcher at Makerere University. I look forward to improving my citation index and being more relevant to the community". Prof. Banadda pledged.
The ORTARChI award to Prof. Banadda will focus on sustainable agriculture under the thematic area of food security.
"I am going to create models or systems of recycling our waste into agriculture, i.e. to see how we can avoid the use of artificial fertilizers by making use of organic fertilizers such that I increase agricultural productivity, technology, and efficiency.
I want to use the engineering point of view to explore how best to extract nutrients from agricultural waste and plug them back into the soil to make sure that crops grow faster and better without wasting them so as to complete the cycle instead accumulating waste", Prof. Banadda explained.
He explained that ORTARChI is an African project aimed at building capacity in Africa and therefore students must be African. As such, the University will advertise internationally so as to attract African students who will solve problems and create solutions for farmers in Africa while based at Makerere.
About Oliver Reginald Tambo and OR Tambo Research Chairs Initiative
Oliver Tambo never wavered from his vision for a free, just South Africa. His principled and values-based leadership style was the glue that held the African National Congress, which he led for almost thirty years, together in exile. Sadly, he did not live to see the dawn of the democratic dispensation that he dedicated his life to fighting for, passing away a mere year shy of the 1994 national elections.
The Oliver and Adelaide Tambo Foundation is a public benefit organisation established to promote, protect and preserve the legacy of veteran freedom fighters and doyens of democracy, Oliver and Adelaide Tambo. The Foundation achieves this by undertaking education-focused, community-upliftment initiatives that seek to instil the values for which the Tambos stood into a new generation. It is believed that these values, such as integrity, selflessness, and collective, servant leadership, are critical in consolidating democracy. By equipping young leaders with the tools to reinforce the gains made by Oliver Tambo, South Africa's democratic dispensation will be protected and nurtured for years to come.
The Foundation has partnered with South Africa's National Research Foundation (NRF) and the Department of Science and Innovation (DSI) and Canada's International Development Research Centre (IDRC) to develop the O.R. Tambo Africa Research Chairs Initiative (ORTARChI). The initiative was first announced in 2017 to commemorate the 100th anniversary of the birth of Oliver Reginald Tambo. Now, the initiative stands ready to launch the inaugural 10 O.R. Tambo Africa Research Chairs as selected by ORTARChI.
The O.R. Tambo Africa Research Chairs combine political, development and higher education objectives. They aim to honour a leading figure in the development of African unity; have a catalytic impact on the development of research infrastructure in recipient countries; and contribute to knowledge production and high end skills in alignment with the African Union (AU) Agenda 2063 and Science, Technology and Innovation Strategy for Africa 2024 (STISA-2024). Through international and regional strategic partnerships, the Chairs will contribute to the development of long term mutually beneficial research collaborations on the continent.
About Noble Ephraim Banadda
Noble Banadda (born in 1975) is a Ugandan biosystems engineer, researcher and academic, who is a Professor of Biosystems Engineering at Makerere University's Department of Agricultural and Bio systems engineering, School of Food Technology, Nutrition and Bio engineering. He was appointed as a full professor in 2012 at age 37, the youngest person in the history of the university to attain full professorship.
After attending local primary and secondary schools, he was admitted to Sokoine University of Agriculture, in Morogoro, Tanzania, graduating with a Bachelor of Science in Food Science and Technology. His Master of Science degree in Process Engineering, together with his Doctor of Philosophy degree in Chemical Engineering, were both obtained from Katholieke Universiteit Leuven, in Leuven, Belgium. Later he studied in a post-doctoral fellowship at the Massachusetts Institute of Technology, in the United States.
He was the first sub-Saharan African person to graduate with a PhD in Chemical Engineering from the Katholieke Universiteit-Leuven in Belgium. Banadda is a Visiting Research Fellow at the University of Cambridge, United Kingdom.
Banadda has had a trailblazing scientific career. He was former head of the Department of Agricultural and Biosystems Engineering, in the College of Agricultural and Environmental Sciences.
Noble is the first African recipient of the Pius XI Golden Medal (2018) awarded by Pope Francis in the Vatican;a Laureate of the Next Einstein Fellowship and now, the Oliver Reginald Tambo Research Chair; honored young scientist at the World Economic Forum; Alumni of the Global Young Academy (2013 -2018); Member of the Malabo Panel of Experts; Fellow of the Uganda National Academy of Sciences; Council member of the Pan African Society for. Agricultural Engineering; Member of the Makerere University Senate; Adjunct Professor at Iowa State University (USA); Research Fellow at Clare Hall at University of Cambridge (UK); College member of the UKRI GCRF programme and a candidate for Extra-ordinary Professor at Wageningen University (Netherlands).
His research focus areas are in the biosystems engineering field and include mathematic modeling of biological systems and interactions. His goal is to create value-added products from solid biowaste resources.
Noble is favorably cited with thus far published research findings in over 195 peer-reviewed journal scientific publications. He has also (co)-supervised 10 PhD students to Completion and 27 M.Sc. students as of 2020.
His notable research innovations include the invention of the MV Multipurpose tractor; Conversion of hard plastics into diesel; the solar powered irrigation pump; Organic pesticides from agricultural waste and the most recent thermal imaging for detection of COVID-19 as well as the three-Dimensional (3D) printing of biodegradable face shields and components for the BulamuVentilator aimed at boosting the contribution of local content to the fight against the COVID 19.
Report compiled by: Jane Anyango, Principal Communication Officer, CAES
Dr. Julius Mulindwa Wins DFG Research Grant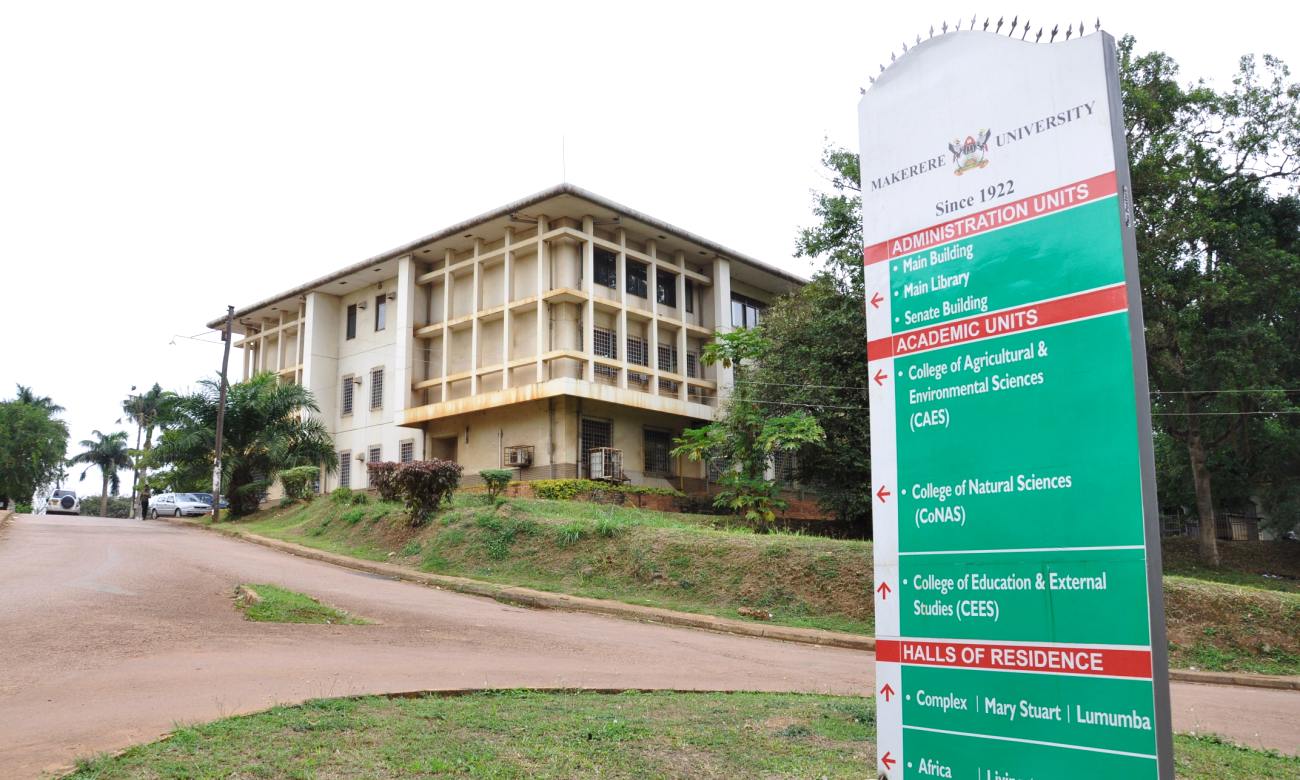 Dr Julius Mulindwa, Lecturer in the Department of Biochemistry and Sports Science, College of Natural Sciences (CoNAS), Makerere University, together with colleagues Prof. Nicolai Seigel at the University of Munchen, Germany and Dr Kevin Marucha at Kisii University, Kenya were recently awarded a research grant by the German Research Foundation (DFG) amounting to 290,985 Euro. Out of this, 179,735 Euro is for the research activities that will be conducted at the Department of Biochemistry and Sports Science, CoNAS.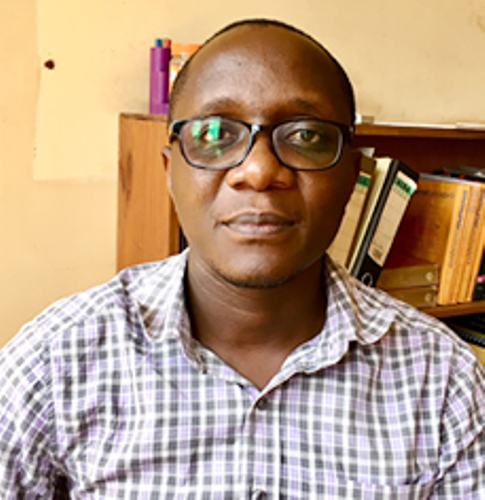 The research study is about, "Understanding cell to cell heterogeneity in African trypanosome field isolates".
The benefits of this study to Makerere University will include:
Capacity building in trypanosome single cell transcriptomics. This technic can be further exploited in other fields of research including cancer biology and it will be a great breakthrough if it is established at CoNAS.
Training of a Ugandan PhD student and MSc students.
Building research networks and fostering collaborative research between Makerere University, LMU, Germany and Kisii University, Kenya.  
17 Postdoctoral Research Teams Mentored as SECA Project Winds up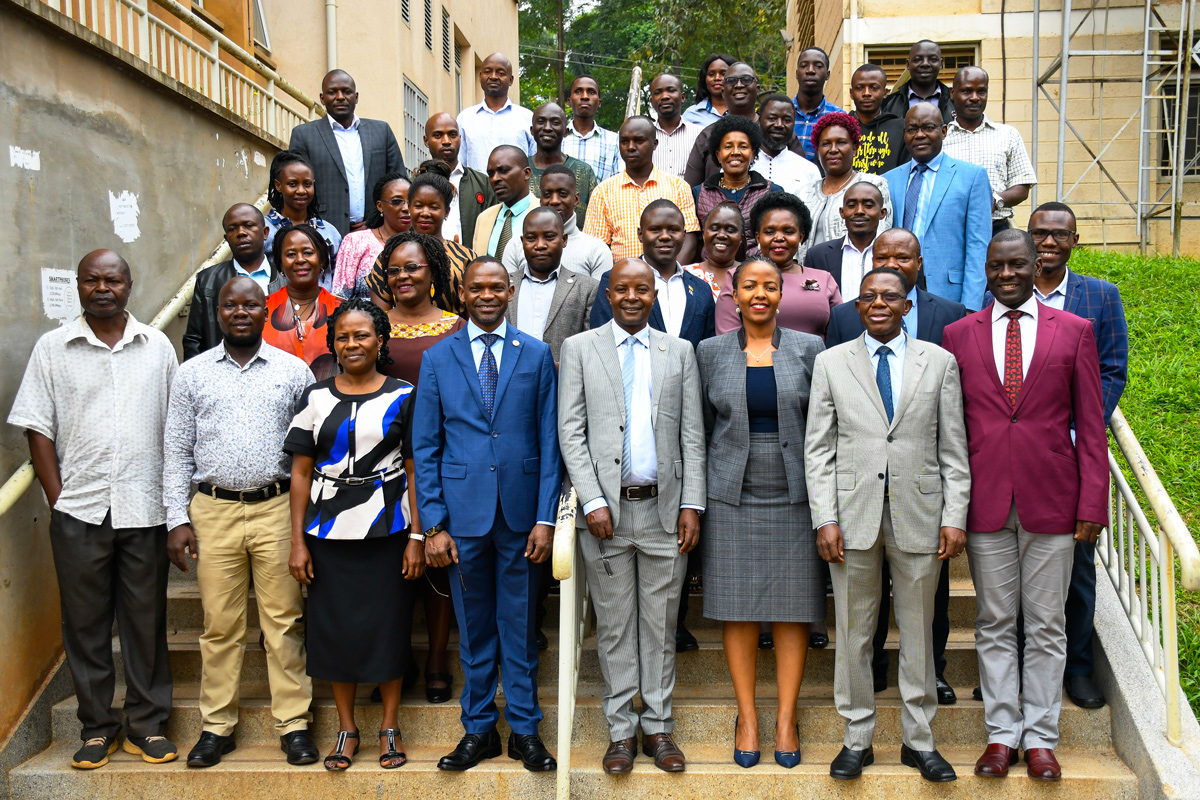 SECA is an acronym for the Supporting Early-Career Academics Programme at Makerere University (2019-2022). SECA is the fifth "phase" of the Carnegie Corporation of New York (CCNY)'s support to Makerere, and follows in the steps of similar successful initiatives that date back to 1946 when the Corporation's relations with Uganda started. On Thursday 12th January 2023, the Deputy Vice Chancellor (Academic Affairs) and SECA Chairman Project Implementation Committee (PIC), Prof. Umar Kakumba was joined by the Director, Directorate of Research and Graduate Training (DRGT), Prof. Edward Bbaale as well as Academic Registrar and SECA Project Coordinator, Prof. Buyinza Mukadasi to preside over the programme's final dissemination workshop.
Held in the Telepresence Centre, Senate Building, the workshop accorded the opportunity to research teams to present and discuss their findings. SECA supported seventeen (17) Early-Career academics at Makerere University, eight (8) of whom were female and nine (9) male, to undertake postdoctoral research fellowships in their respective fields of specialty. Additionally, SECA supported professional skills enhancement courses, as well as tuition and research costs for seventeen (17) Masters students (7 female, 10 male) attached to the research teams.
Furthermore, SECA provided funds to fellows for writing and publication, supported mentorship and research team building, provided travel grants to international conferences, and supported fellows to disseminate their findings to academia, policy makers and the general public. To facilitate improvements in the university research environment, SECA provided access to a grant worth US$6,000 to each of the fellows' host departments. Some of the activities undertaken using the grants included; conducting academic writing and dissemination workshops, holding symposia for PhD students and academic staff, development of academic programmes, renovating research infrastructure and acquiring equipment.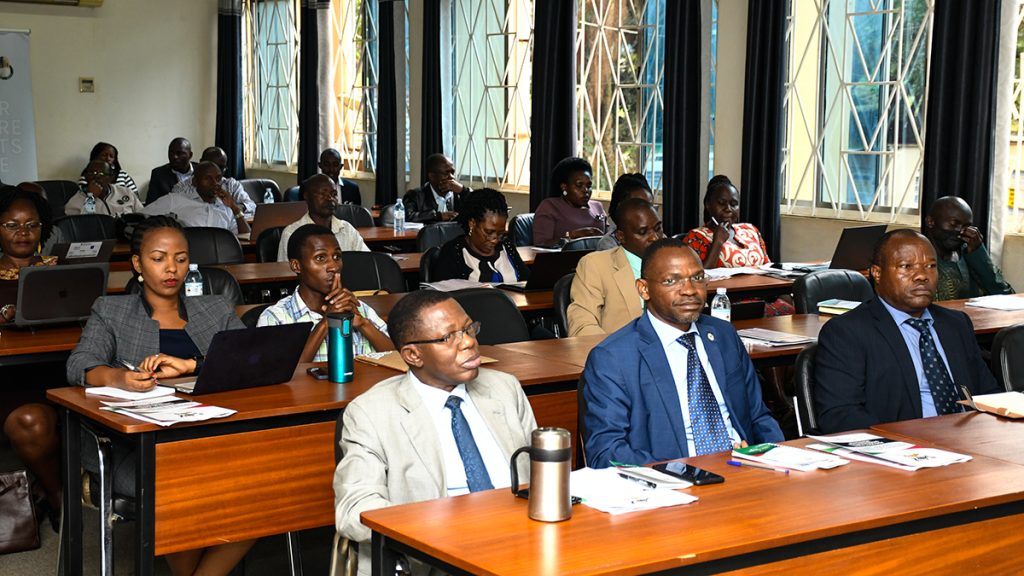 Delivering his remarks, Prof. Umar Kakumba congratulated both Prof. Buyinza and Prof. Bbaale upon their new appointments as Academic Registrar and Director DRGT respectively, and thanked them for contributing to SECA's success. In the same breath, he recognized and introduced members of the PIC namely; Prof. Jesca Nakavuma, Prof. Nicholas Kiggundu, Dr. Pamela Khanakwa, Prof. Julius Kikooma and Dr. Euzobia Baine Mugisha and thanked them for the rigorous work done in reviewing applications by fellows.
"I wish to congratulate you the fellows. As part of the monitoring team for SECA, we visited what you were involved in and I must say that Makerere has great potential. We received close to 102 proposals, and selecting seventeen (17) was a huge task because every proposition was bankable and attuned to the relevance of our country" Prof. Kakumba remarked.
The DVCAA noted that all projects undertaken by fellows had the potential to co-create knowledge with the communities and respective sectors beyond SECA funding. He therefore called upon them to continue providing research leadership in their departments and communities. On this note, he appreciated the fellows for each mentoring a graduate student.
Prof. Kakumba equally acknowledged CCNY for the generous support accorded to Makerere and continually entrusting the University with various opportunities to enhance the research capacities of her staff. In this regard, he thanked the Mentors, Heads of Department and the PIC for ensuring that the fellows continued to perform well and compile their progressive reports on time. This feat, he acknowledged, has led to Makerere University securing a successor grant in line with SECA.
Addressing the fellows and audience, Prof. Bbaale paid tribute to his predecessor, Prof. Buyinza for his visionary leadership of DRGT that gave rise to initiatives such as SECA. "It is gratifying and heartwarming to have events of this nature that are in line with the research-led agenda of the University.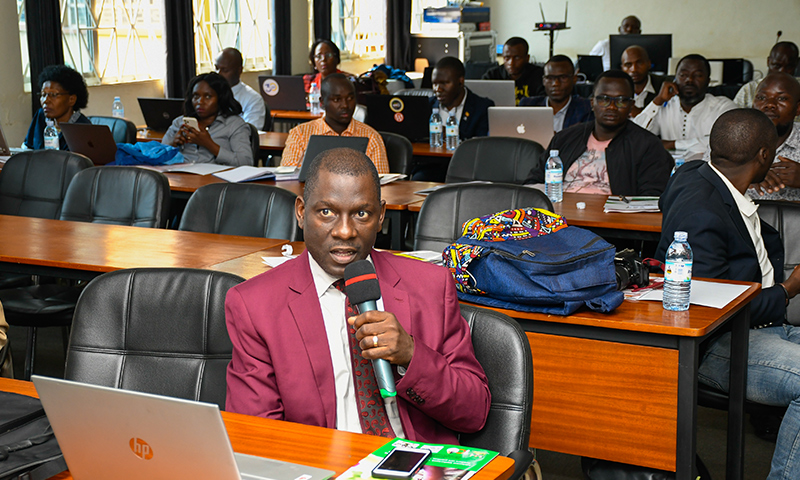 "Postdoctoral research is high quality research, which can go a long way in informing policy for societal transformation. We greatly value each of the projects you have undertaken and we are confident that they have the potential to contribute to the national development agenda. Therefore, we must bring on board targeted dissemination beyond this general dissemination" said Prof. Bbaale.
He explained that targeted dissemination is the gateway to different institutions of Government that are either users or potential users of policy recommendations and different projects that need to be scaled up across the country. Beyond SECA, Prof. Bbaale urged the fellows to form a cluster of researchers as a platform for continued collaboration and a multidisciplinary entity to compete for research grants.
"The world over, postdoctoral research is an engine that must propel the university into a research-led direction… As DRGT, we are soon going to propose a policy on postdoctoral degrees that will pave the way for different units to admit many more postdoctoral fellows" added Prof. Bbaale.
"Makerere's strategic thinking in terms of research is informed by the Sustainable Development Goals (SDGs), National Vision 2040, African Charter 2063 and the Institutional Research Framework, which implies that we are running a coherent research agenda" said Prof. Buyinza as he commenced his remarks.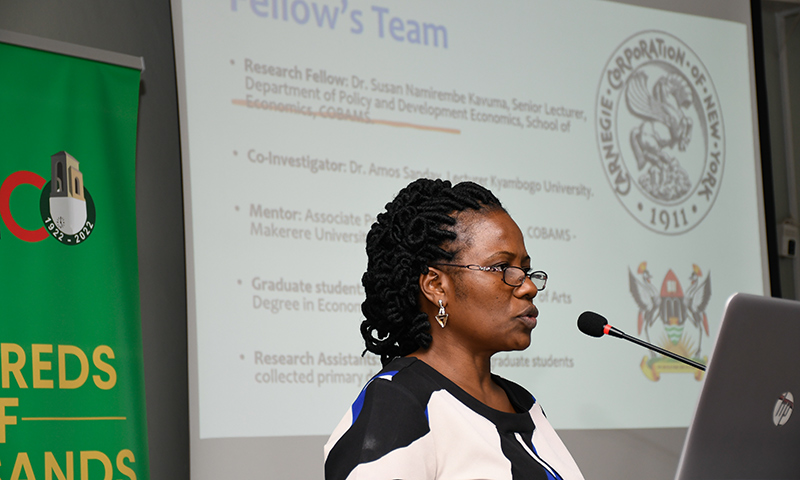 The Academic Registrar added that the realization of these aspirations is dependent on grooming a crop of critical thinkers who can contribute to the knowledge economy. He therefore expressed his gratitude at being able to participate in a number of phases of CCCNY's support to Makerere, aimed at achieving this objective.
"I have been privileged to participate in the Next Generation of African Academics I, Next Generation of African Academics II, Nurturing Emerging Research Leaders through Post-Doctoral Training (NERLP) and Supporting Early-Career Academics (SECA), which we are closing today, and the successor consolidating the Supporting Early-Career Academics (SECA) programme" he explained.
Turning to SECA, Prof. Buyinza noted that the project was designed to expand Makerere's community of research leaders and doctoral supervisors through four (4) specific objectives. These included;
To consolidate the capacity of fellows to conduct quality research with appropriate mentorship at Makerere,
To strengthen the enabling environment to encourage the retention of fellows at Makerere,
To strengthen research management and research leadership capacity at Makerere, and
To increase the capacity for scientific communication of research outputs into publicly accessible writing.
"We believe that we have built an integrated, institutionalized, research mentorship culture at this University because of our model of delivery of this project. It is a three-tier model consisting of the Senior who is the Mentor, the PI (Principal Investigator) who is the Early-Career fellow and the Masters student" said Prof. Buyinza.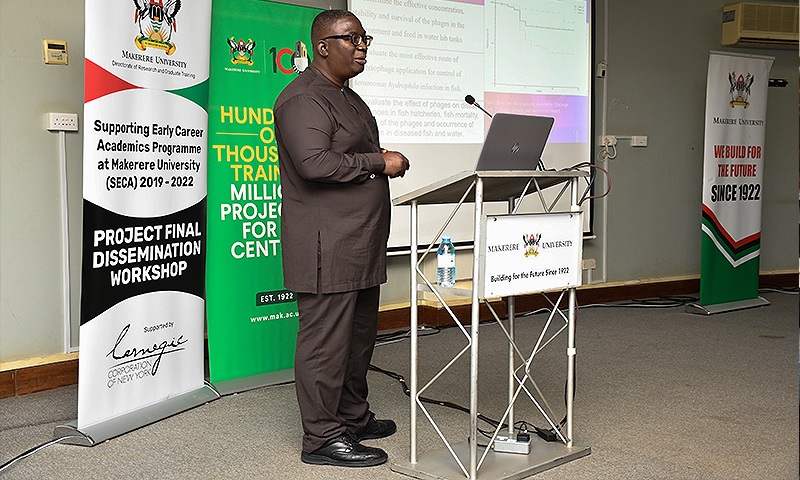 He added that this architecture enabled the SECA team to build synergies between the different levels of research development and in so doing, ensure sustainability by institutionalizing mentorship. Prof. Buyinza therefore encouraged the fellows to continue posting their successes on the SECA portal and holding the lunchtime seminars in their departments.
"I want to believe that your skills have been enhanced, your vision to research has been touched beyond publishing an article to looking at the wider spectra of events that form you as a regional research leader. We want you to form a regional network so that together you can write research grants, supervise graduate students and influence the research agenda in the different countries" concluded Prof. Buyinza.
Details of the fellows and their research projects may be viewed in the table below.
| | | | |
| --- | --- | --- | --- |
| No. | Name | Unit | Project Title |
| 1. | Dr. Dhabangi Aggrey | Child Health and Development Centre (CHDC), CHS. | Hemolytic Disease of the New-born in Uganda: Burden and Clinical Characteristics |
| 2. | Dr. Edopu Nabuyungo Ritah | Department of Fine Art, MTSIFA, CEDAT. | Community Product Design Education for Improved Market Access. |
| 3. | Dr. Kabagenyi Allen | Department of Population Studies, CoBAMS. | Adolescent Motherhood, pre and postnatal New-born care practices, perceptions and barriers in Eastern Uganda (AMNEP). |
| 4. | Dr. Kambugu Robert | Department of Agricultural and Biosystems Engineering, CAES | Modeling of long-term development scenarios for plantation forestry and forest industries in Uganda. |
| 5. | Dr. Kavuma Namirembe Susan | Department of Policy and Development Economics, CoBAMS | Empirical Evaluation of Spatial Connectivity, Urban structure, Density and Firm Productivity: Evidence from Kampala. |
| 6. | Dr. Kindi Immanuel Fredrick | School of Women and Gender Studies, CHUSS. | Gender, Oil and Migration in the Albertine Graben Region, Uganda. |
| 7. | Dr. Mayanja Nanziri Maureen | Department of Bio-security, Ecosystem and Veterinary Public Health, CoVAB. | Ethnoveterinary Medicinal Plant Technology Information Pathways and Prospective for Sustained Usage among Transhumant Pastrolists in Karamoja. |
| 8. | Dr. Muhanguzi Denis | Department of Bio-molecular and Bio-Laboratory Sciences, CoVAB | Targeting hotspot villages to accelerate the eradication of Acute Sleeping Sickness (ASS) from Uganda. |
| 9. | Dr. Mwesigye Rutabatiina Abraham | Department of Forestry, Biodiversity and Tourism, CAES. | Epidemiological survey of populations exposed to heavy metals and trace elements from Mining activites in Uganda. A case study of Kilembe copper mine catchment. |
| 10. | Dr. Mwikirize Cosmas | Department of Electrical and Computer Engineering, School of Engineering, CEDAT. | Efficacy of Deep Learning-aided Platform for Diagnosis of Breast Cancer using Ultrasound Images in the Ugandan Population. |
| 11. | Dr. Najjemba Harriet P. | Institute of Open Distance and E-learning, CEES. | Using Emerging Technologies to Capture and Disseminate Indigenous Agricultural Practices for Improved Food Production in Uganda: A case of Luweero District (INDIGRIC). |
| 12. | Dr. Nambi Rebecca | Department of Humanities and Language Education, CEES. | Supporting refugee access and participation in higher education: A case of Makerere University. |
| 13. | Dr. Nasirumbi B. Losira | School of Agricultural Sciences, CAES. | Intra-household gender dynamics and uptake of agricultural technologies for sustainable livelihoods in Uganda. |
| 14. | Dr. Semujju Brian | Department of Journalism and Communication, CHUSS. | Evaluating Digital Literacy to Create a Policy for Digital Media use at Makerere University. |
| 15. | Dr. Ssekuubwa Enock | Department of Forestry, Biodiversity and Tourism, CAES. | Enhancing the use of Farmer-Managed Natural Regeneration for mitigating climate change, conserving biodiversity and improving livelihoods in Uganda's Cattle Corridor (FMNR). |
| 16. | Dr. Tamale Andrew | Department of Wildlife and Aquatic Animal Resources, CoVAB. | Operationalization of Phages for Management of Bacterial Diseases in Fish Hatcheries |
| 17. | Dr. Zawedde Aminah | Ministry of ICT and National Guidance. Formerly CoCIS. | QATE: A Public Participatory Approach for Quality Assessment of e-Government Services to Enable Sustainable Development. |
SECA Project Postdoctoral Research Teams (2019-2022)
Impact Program PhD Fellowships (Cohort 2): Deadline Extended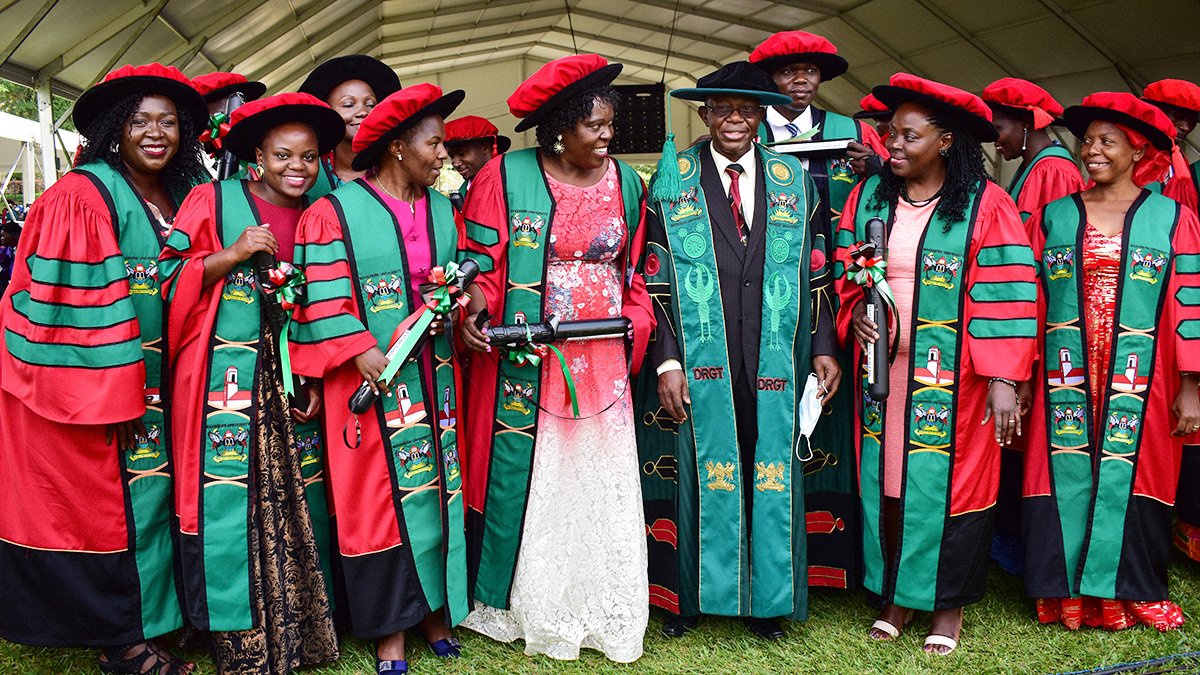 Makerere University in collaboration with the Uganda Heart Institute, Cincinnati Children's Hospital Medical Center and Children's National Hospital received funding from the National Institutes of Health's Fogarty International Centre to implement the Impact Training Program. The goal of the program is to equip and nurture emerging research leaders and
professional scholars in Uganda to generate high-quality contemporary evidence on rheumatic heart disease (RHD) across the lifespan and to create an enduring research training center on the African continent that will rapidly advance progress towards the elimination of the disease in a generation. The impact program is soliciting for applications for Cohort 2, 4-year PhD scholarships tenable at Makerere University.
Eligibility
Must be junior or mid-level researcher/scientist affiliated to Makerere University and Uganda Heart Institute.
Prior master's degree or fellowship in medicine, social sciences, gender studies or biomedical/health related field.
Able to articulate a clear research RHD problem.
Demonstrate interest in RHD research and commitment to develop a productive career in RHD research.
Demonstrate a basic understanding of RHD in order to know that this is an appropriate next step for the applicant.
Willingness to undertake and complete all training as mandated by the Impact program
Commitment to publish research conducted under this training in open access peer reviewed journals.
Please see Downloads for detailed selection criteria and application process.
Closing date for the receipt of applications is January 20, 2023.
Enquiries can be forwarded to the Impact Program Coordinator, 1st Floor Clinical Research Building, Room 1.4, makimpact22@gmail.com.
Successful candidates must complete training in responsible conduct of research (RCR), protection of human research participants (PHRP) and good clinical practice (GCP) before they conduct research involving human research subjects.
Timelines:
Application deadline: January 20, 2023
Interviews: February 13-17, 2023
Notification date: February 24, 2023
Applicants should demonstrate excellent communications skills and will be expected to work as part of a highly motivated, result oriented RHD group.