Prof. Banadda Inaugurated as one of 10 O.R. Tambo Africa Research Chairs-Attracts USD250k & EUR100k Annually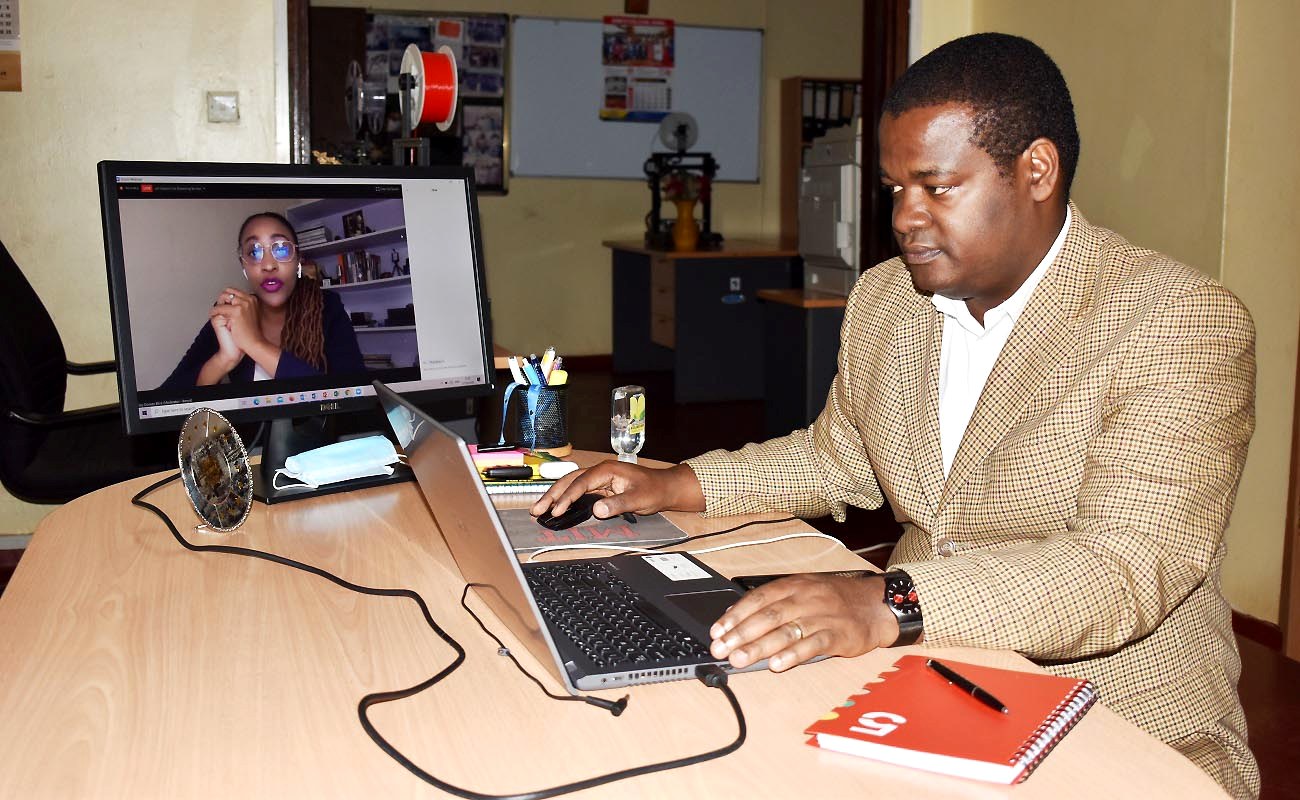 Makerere University's Professor Noble Banadda was on 27th October 2020 inaugurated as one of the 10 Oliver Reginald Tambo Africa Research Chairs Initiative (ORTARChI) recipients. The inauguration ceremony was held via zoom from South Africa. In Uganda and Makerere University, the ceremony was witnessed by media at the African Institute for Capacity Development (AICAD) Project Office.
For the next five years, Prof. Banadda will receive US$250,000 annually and an additional offer of €100,000 from Wageningen University for the next 15 years. The grants will be utilized in supervising research in agricultural waste management on farms with a target of training 15 PhD, 9 Postdoctoral and 27 Masters students.
The ORTARChI chair and grant feeds into the Makerere's Vision as enshrined in its new Strategic plan (2020-2030) that is to become a research-led university. This is the first fully funded Research Chair in Makerere University.
Under this grant, Makerere University will work with South Africa's Stellenbosch University and Wageningen University of the Netherlands to expose students to different study and research environments and also feed into university's internationalization agenda.
The Virtual O.R. Tambo Africa Research Chairs Initiative launch was facilitated by Media Personality-Joy Doreen Biira while the welcome address was delivered by Dr. Molapo Qhobela-CEO, National Research Foundation (NRF), South Africa. Prof. Barnabas Nawangwe was acknowledged by the facilitator as the only Vice Chancellor who virtually attended the Media Launch.
O.R. Tambo's legacy was presented by Ms. Zengeziwe Msimang-CEO, Oliver and Adelaide Tambo Foundation and the ministerial address by Hon. Dr. Blade Nzimande, Minister of Higher Education, Science and Innovation (South Africa).
Ministerial Panel Discussions were represented by Hon. Prof. Kwabena Frimpong-Boateng, Minister of Environment, Science, Technology and Innovation (Ghana), Hon. Eng. Dr. Brian Mushimba, Minister of Higher Education (Zambia), Hon. Prof. Joyce Ndalichako, Minister of Education, Science and Technology (Tanzania) represented by her Permanent Secretary Dr. Leonard D Akwilapo.
Ministerial Messages of Support were delivered by Hon. Dr. Douglas Letsholathebe, Ministry of Tertiary Education, Research, Science and Technology (Botswana), Hon. Gabriel Ismail Salimo, Minister of Science and Technology, Higher and Technical Vocational Education (Mozambique) represented by his Permanent Secretary Dr. Nilsa Miquidade, and Hon. Dr. Elioda Tumwesigye, Minister of Science, Technology and Innovation (Uganda).
The Oliver Reginald Tambo Africa Research Chair was advertised two years ago in search of high calibre scientists who will be able to supervise doctoral and post-doctoral research on the African continent, but specifically to solve African problems.
For any candidate to apply for ORTACHI chair, the initiative set standards that attracted 1,500 applicants. The researcher had to be anchored in a research institution at the rank of a Professor with a minimum of 200 publications. Additionally, the applicant must have supervised at least seven(7) PhD students and had a citation index of not less than 18.
Only 10 candidates (including Prof. Banadda) out of the 1,500 applicants qualified to receive the Research Chairs. Prof. Banadda is ranked 69th worldwide in the area of waste management while in Africa, he holds the 4th position.The other parameters considered were the applicants' alma mater, international exposure and the network of people the candidate has worked with.
Prof. Banadda's candidature was supported by South Africa's National Research Foundation (NRF), the Uganda National Council for Science and Technology (UNCST) and Wageningen University.
" I am grateful to God that I have been selected among the 10 recipients of the O.R. Tambo Research Chairs. I am grateful to Makerere University for having given me an opportunity to excel; Secondly, I am grateful to the Uganda National Council of Science and Technology for their letter of support; and to Wageningen University in the Netherlands for their counter offer conditioned upon my winning the Chair. Wageningen University offered me €100,000 per year for the next 15 years and also gave me an offer to be an extraordinary professor in their university. All these offers enhanced my chances of winning.
The Oliver Tambo research chair is a prestigious chair that provides US$250,000 per year for the first five years, and based on satisfactory performance, it's renewable twice. So it can run for fifteen years.
I look forward to the challenge. I look forward to doing very good research with God as my provider. I guarantee you I will invite you for an innovation from this grant. I look forward to the next five, fifteen years as a top class researcher at Makerere University. I look forward to improving my citation index and being more relevant to the community". Prof. Banadda pledged.
The ORTARChI award to Prof. Banadda will focus on sustainable agriculture under the thematic area of food security.
"I am going to create models or systems of recycling our waste into agriculture, i.e. to see how we can avoid the use of artificial fertilizers by making use of organic fertilizers such that I increase agricultural productivity, technology, and efficiency.
I want to use the engineering point of view to explore how best to extract nutrients from agricultural waste and plug them back into the soil to make sure that crops grow faster and better without wasting them so as to complete the cycle instead accumulating waste", Prof. Banadda explained.
He explained that ORTARChI is an African project aimed at building capacity in Africa and therefore students must be African. As such, the University will advertise internationally so as to attract African students who will solve problems and create solutions for farmers in Africa while based at Makerere.
About Oliver Reginald Tambo and OR Tambo Research Chairs Initiative
Oliver Tambo never wavered from his vision for a free, just South Africa. His principled and values-based leadership style was the glue that held the African National Congress, which he led for almost thirty years, together in exile. Sadly, he did not live to see the dawn of the democratic dispensation that he dedicated his life to fighting for, passing away a mere year shy of the 1994 national elections.
The Oliver and Adelaide Tambo Foundation is a public benefit organisation established to promote, protect and preserve the legacy of veteran freedom fighters and doyens of democracy, Oliver and Adelaide Tambo. The Foundation achieves this by undertaking education-focused, community-upliftment initiatives that seek to instil the values for which the Tambos stood into a new generation. It is believed that these values, such as integrity, selflessness, and collective, servant leadership, are critical in consolidating democracy. By equipping young leaders with the tools to reinforce the gains made by Oliver Tambo, South Africa's democratic dispensation will be protected and nurtured for years to come.
The Foundation has partnered with South Africa's National Research Foundation (NRF) and the Department of Science and Innovation (DSI) and Canada's International Development Research Centre (IDRC) to develop the O.R. Tambo Africa Research Chairs Initiative (ORTARChI). The initiative was first announced in 2017 to commemorate the 100th anniversary of the birth of Oliver Reginald Tambo. Now, the initiative stands ready to launch the inaugural 10 O.R. Tambo Africa Research Chairs as selected by ORTARChI.
The O.R. Tambo Africa Research Chairs combine political, development and higher education objectives. They aim to honour a leading figure in the development of African unity; have a catalytic impact on the development of research infrastructure in recipient countries; and contribute to knowledge production and high end skills in alignment with the African Union (AU) Agenda 2063 and Science, Technology and Innovation Strategy for Africa 2024 (STISA-2024). Through international and regional strategic partnerships, the Chairs will contribute to the development of long term mutually beneficial research collaborations on the continent.
About Noble Ephraim Banadda
Noble Banadda (born in 1975) is a Ugandan biosystems engineer, researcher and academic, who is a Professor of Biosystems Engineering at Makerere University's Department of Agricultural and Bio systems engineering, School of Food Technology, Nutrition and Bio engineering. He was appointed as a full professor in 2012 at age 37, the youngest person in the history of the university to attain full professorship.
After attending local primary and secondary schools, he was admitted to Sokoine University of Agriculture, in Morogoro, Tanzania, graduating with a Bachelor of Science in Food Science and Technology. His Master of Science degree in Process Engineering, together with his Doctor of Philosophy degree in Chemical Engineering, were both obtained from Katholieke Universiteit Leuven, in Leuven, Belgium. Later he studied in a post-doctoral fellowship at the Massachusetts Institute of Technology, in the United States.
He was the first sub-Saharan African person to graduate with a PhD in Chemical Engineering from the Katholieke Universiteit-Leuven in Belgium. Banadda is a Visiting Research Fellow at the University of Cambridge, United Kingdom.
Banadda has had a trailblazing scientific career. He was former head of the Department of Agricultural and Biosystems Engineering, in the College of Agricultural and Environmental Sciences.
Noble is the first African recipient of the Pius XI Golden Medal (2018) awarded by Pope Francis in the Vatican;a Laureate of the Next Einstein Fellowship and now, the Oliver Reginald Tambo Research Chair; honored young scientist at the World Economic Forum; Alumni of the Global Young Academy (2013 -2018); Member of the Malabo Panel of Experts; Fellow of the Uganda National Academy of Sciences; Council member of the Pan African Society for. Agricultural Engineering; Member of the Makerere University Senate; Adjunct Professor at Iowa State University (USA); Research Fellow at Clare Hall at University of Cambridge (UK); College member of the UKRI GCRF programme and a candidate for Extra-ordinary Professor at Wageningen University (Netherlands).
His research focus areas are in the biosystems engineering field and include mathematic modeling of biological systems and interactions. His goal is to create value-added products from solid biowaste resources.
Noble is favorably cited with thus far published research findings in over 195 peer-reviewed journal scientific publications. He has also (co)-supervised 10 PhD students to Completion and 27 M.Sc. students as of 2020.
His notable research innovations include the invention of the MV Multipurpose tractor; Conversion of hard plastics into diesel; the solar powered irrigation pump; Organic pesticides from agricultural waste and the most recent thermal imaging for detection of COVID-19 as well as the three-Dimensional (3D) printing of biodegradable face shields and components for the BulamuVentilator aimed at boosting the contribution of local content to the fight against the COVID 19.
Report compiled by: Jane Anyango, Principal Communication Officer, CAES
Innovations using low cost locally available materials for point of use water treatment system unveiled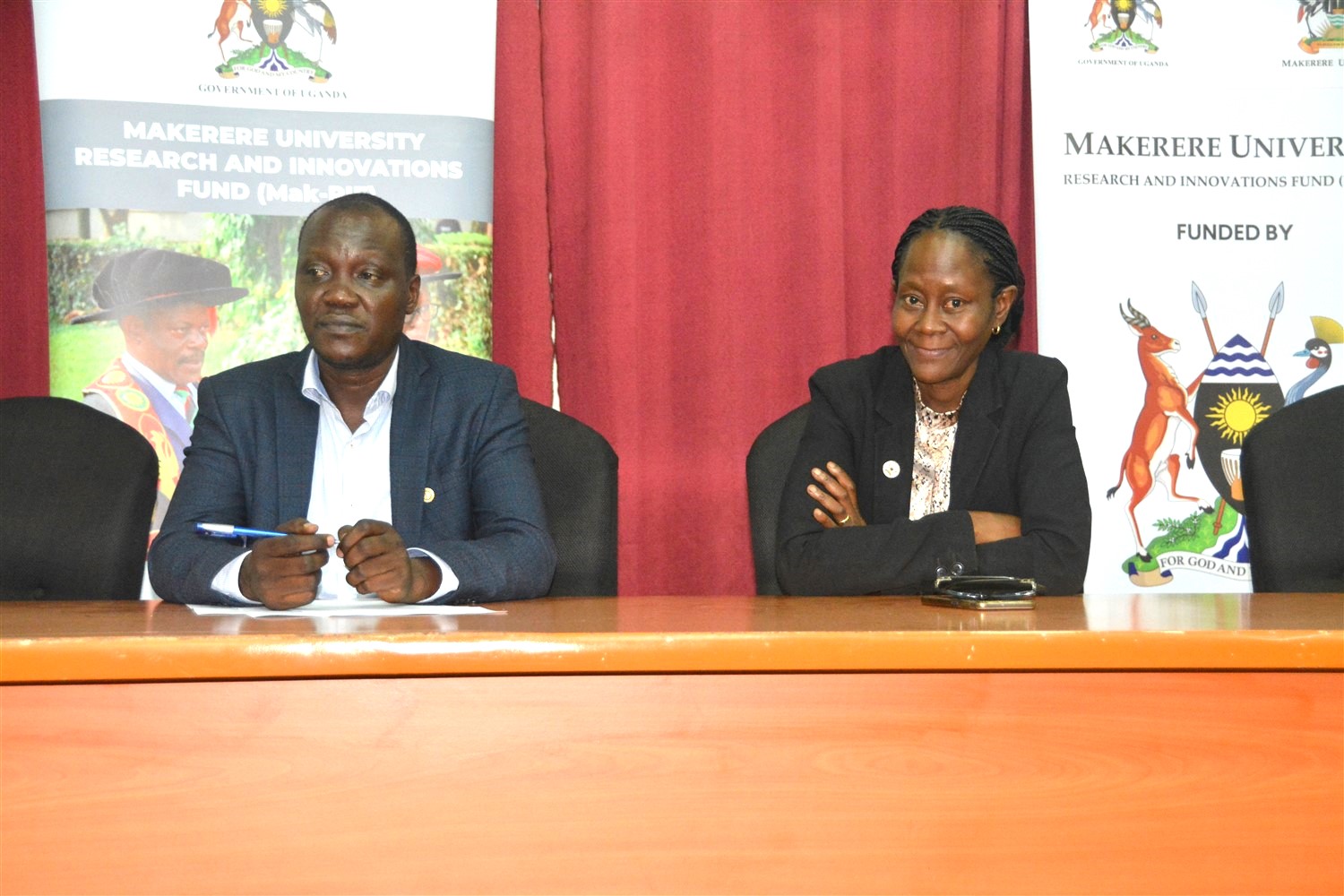 The College of Engineering, Design, Art and Technology (CEDAT) conducted a Research Dissemination of two studies aimed at the Development of Materials for point of use water treatment systems.
The investigations were conducted by a team of researchers comprised of P. W. Olupot, H. M. Kalibbala, E. Menya, G.M. Wangi, J. Jjagwe, J. Wakatuntu, M. Turyasingura, R. Walozi, C. Kanyesigye and R. N. Kulabako.
The dissemination event held on Wednesday 29th November 2023 follows the successful completion of two MakRIF supported Research projects namely; Development of rice husk based granular activated carbon for point-of-use water treatment systems and Development of zeolite-based nanocomposite filters for drinking water treatment.
Apac District gains from CEDAT's Research on Piloting a Rural Broadband Connectivity Model and Efficacious patient management system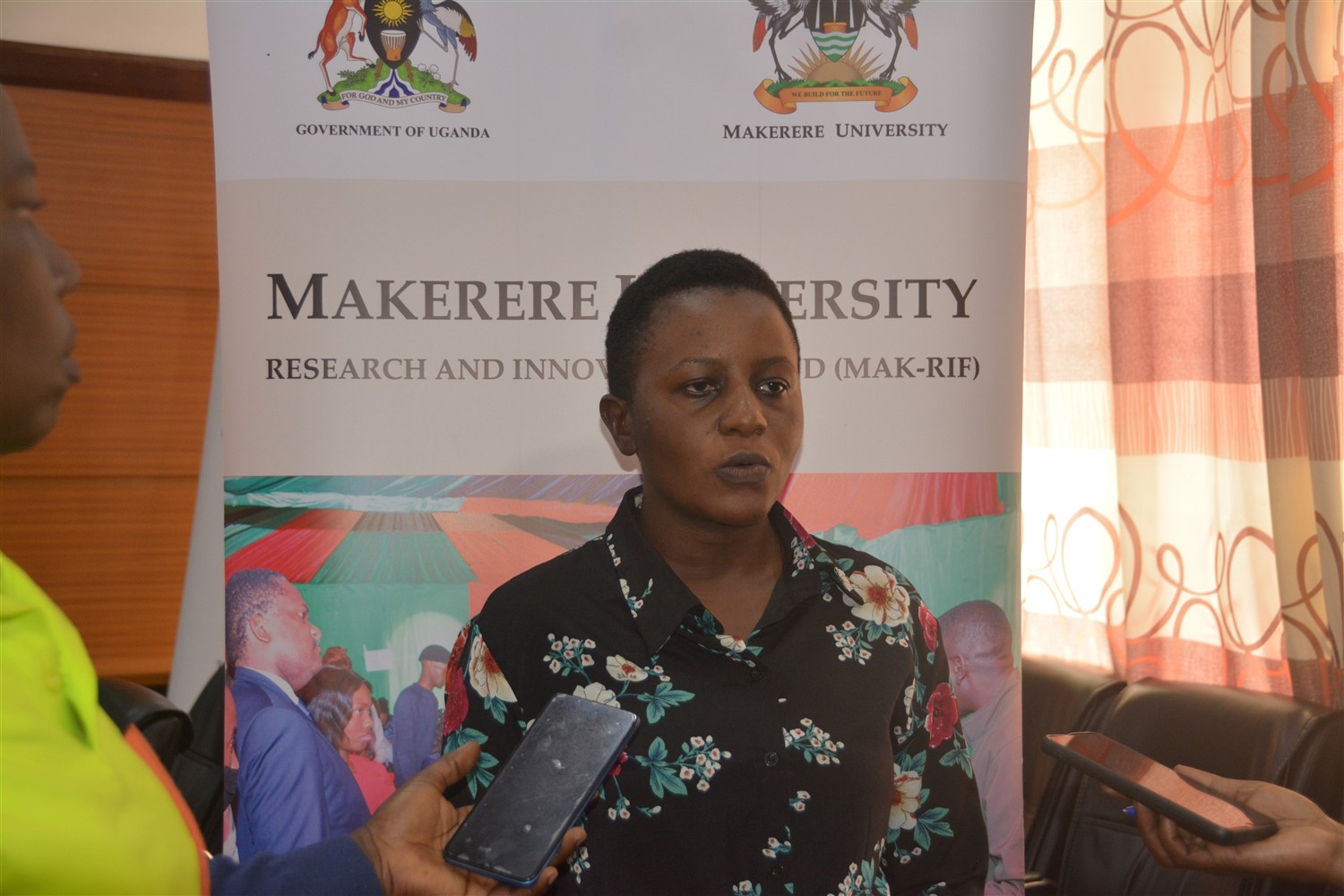 The School of Engineering at the College of Engineering, Design, Art and Technology (CEDAT) shared findings of research that was conducted in Apac Districts through two projects namely Piloting a Rural Broadband Connectivity Model (RCBM) and Efficacious patient management system (EPMS).
The findings of the research sponsored by the Government of Uganda through the Makerere University research and Innovation Fund(MakRIF) were disseminated during a dissemination seminar held in the College on Friday 24th November 2023, where it was revealed that  Apac the host District greatly benefited from the services that not only led to the increased uptake of internet services but also gained through other socio economic areas.
Soybean Breeders Deliberate Strategies for Improving Productivity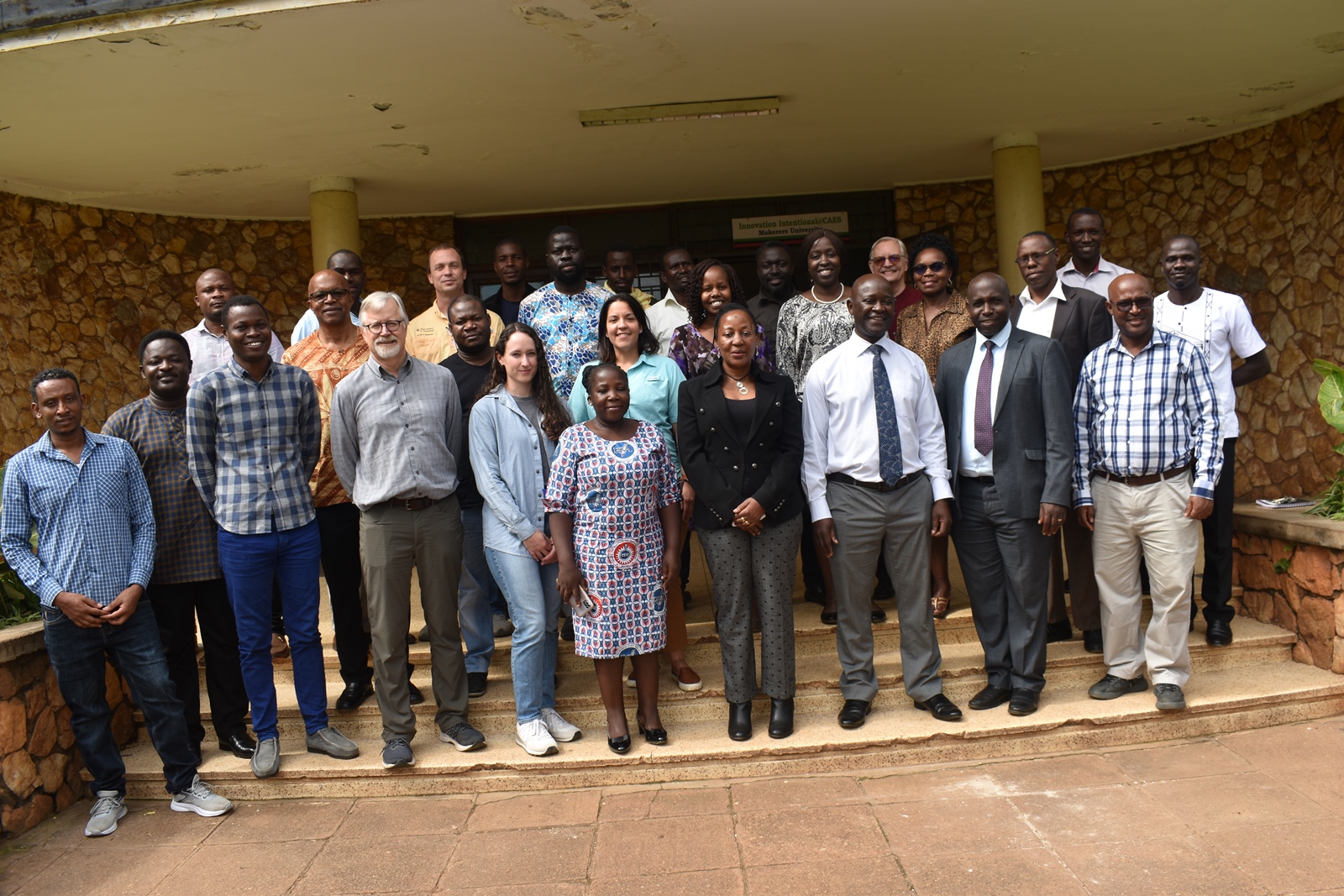 The breeders from USA, Brazil and across Africa, including scientists from CGIAR met at Makerere University on 28th November-1st December 2023 to share experiences, best practices and ideas on collaboration, and to brainstorm on ways of improving productivity.
Overview
Soybean (Glycine max) serves as one of the most valuable crops in the world, not only as an oil seed crop and feed for livestock and aquaculture, but also as a good and cheap source of protein for human diet and as a biofuel feedstock.  The protein content of soybean is the highest among legume crops, averaging 40% on a dry matter basis. Soy-foods are generally considered to be nutritious and healthy based on their nutrient composition which includes protein, fat, carbohydrates, dietary fibres as well as minerals and phytoestrogens (or isoflavones). Due to its nutritional superiority, soybean-based foods are highly recommended for children under 5 years, expectant mothers, and HIV/AIDS patients. Impact studies have shown that regular soy food consumption can reduce the risk of heart disease by lowering serum cholesterol by about 33%. It can also reduce the risk of rectal cancer by 80%, mammary tumour by 40%, and breast cancer by 50%.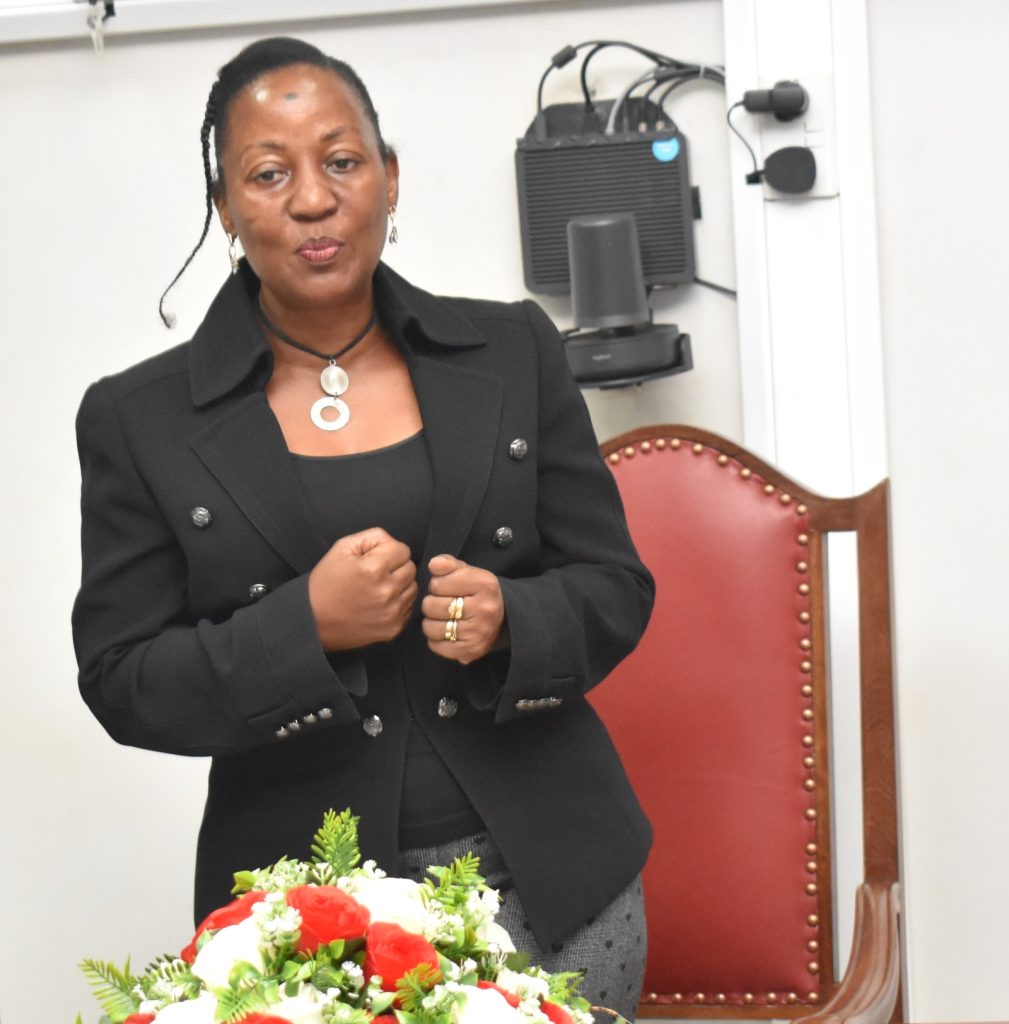 Economic viability
Production of soybean stands at 264 million MT worldwide, with United States of America (USA), Brazil and Argentina being the largest producers. In Africa, Nigeria, South Africa, Zambia and Uganda are the largest producers, with annual volumes estimated at 1.5 million metric tonnes (FAO, 2017). The Soybean Market size is estimated to reach $259 billion by 2030 (IndustryARC – Soybean Market Forecast 2023-2028).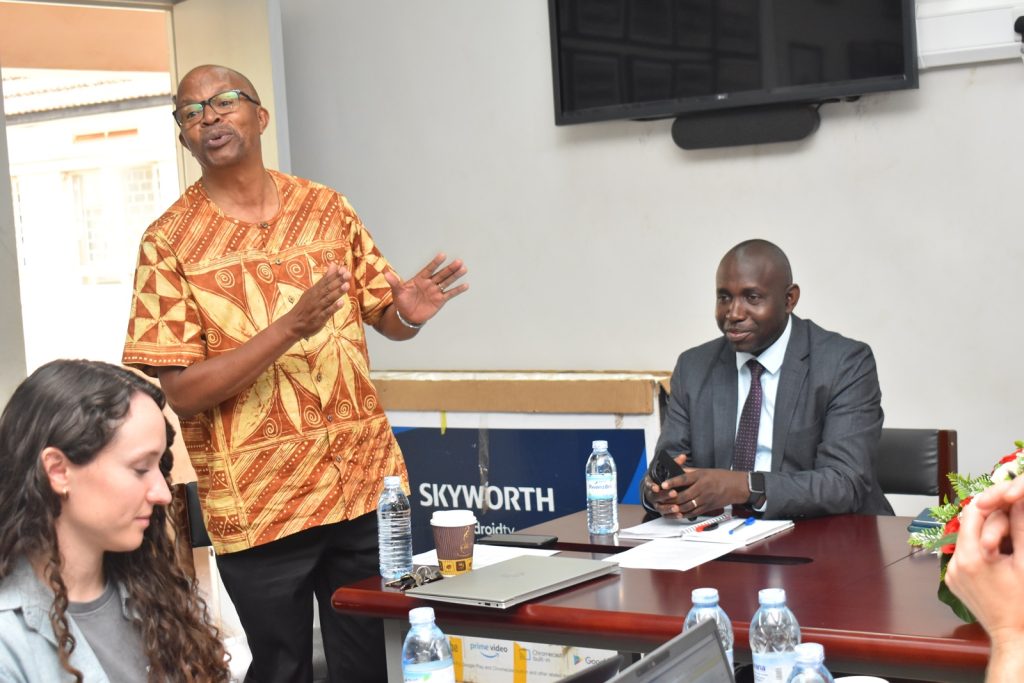 The economic viability of soy production is determined by the commercial utilization of both its sub-products, meal and oil, which, respectively, account for about two thirds and one third of the crop's economic value. Soymeal accounts for over 60% of world output of vegetable and animal meals and occupies a prominent position among protein feedstuffs used in the production of feed concentrates, while soybean oil is the single most important vegetable oil, accounting for 20% of global vegetable oil production. The widespread use of soybean oil in particular as edible oil is mainly due to (i) its plentiful and dependable supplies, (ii) its competitive price, (iii) its neutral flavour, and its stability in both unhydrogenated and partially hydrogenated form. Indirectly, the rapid rise in the demand for compound feed has contributed considerably to the rise in soybean and soyoil production. Soybean contributes significantly to the total value added by the agricultural sector in the major producing countries and particularly so in Brazil, Argentina, Paraguay and the USA. In these countries, soybean and its two main sub-products also occupy an important position in export earnings from agriculture as well as in terms of total merchandise exports (FAO). In Uganda, soybean is number one income earner crop in Northern and Eastern Uganda. Farmers in the region earn at least UGX1,200,000 per hectare per season.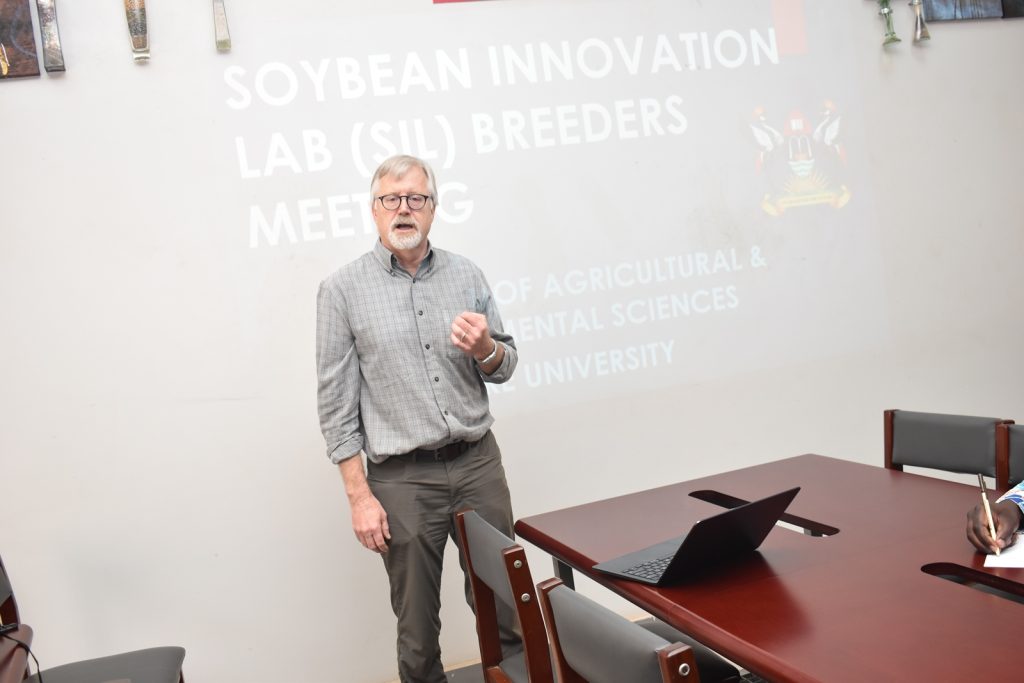 Challenges undermining productivity
Despite the significant strides registered by soybean growing countries, and the health and economic benefits that the crop presents, a number of challenges still undermine productivity. These include; pests and diseases, prolonged droughts and prolonged rains, poor agronomic practices, inaccessibility to good seed by farmers, drudgery in the production chain (Planting and harvesting) and market price fluctuations, as well as mismatches in supply and demand. Surging input costs, supply disruptions of fertilizers and alternative crops caused by Russia's invasion of Ukraine and lingering COVID-19 effects have added more uncertainty and volatility to the soybeans market, driving up the prices. Home grown technologies, local seed business approach, and addressing the whole value chain, are envisaged as some of the strategies to overcome the challenges. Adapting crop management, conserving and improving soil conditions by minimizing tilling, increasing crop diversification, protecting soil from erosion, as well as the development of drought-tolerant varieties, will be key to withstand the emerging climate challenges.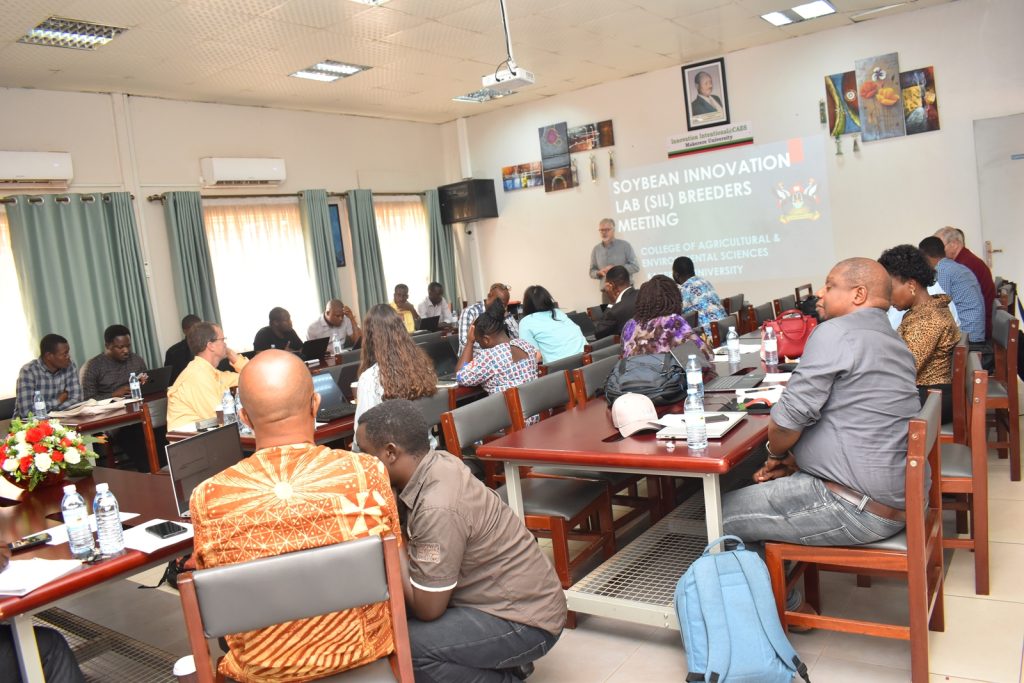 Soybean Breeders meeting at Makerere
Soybean breeders from USA, Brazil, and across Africa including scientists from CGIAR on 28th November 2023 met at Makerere University to share experiences, best practices, and ideas on collaboration, and to brainstorm on ways of improving soybean productivity. The meeting held at the School of Agricultural Sciences (SAS), College of Agricultural and Environmental Sciences (CAES) was organized by the Makerere University Centre for Soybean Improvement and Development (MAKCSID) and the Soybean Innovation Lab (SIL) of the University of Illinois with support from USAID. It was coordinated by Prof. Phinehas Tukamuhabwa, Principal Investigator for the Soybean Breeding and Seed Systems at Makerere, and Prof. Brian Diers from SIL, University of Illinois. It was graced by the Principal of CAES, Prof. Gorettie Nabanoga, the Deputy Principal, Prof. Yazidhi Bamutaze, and the Dean, SAS, Dr John Baptist Tumuhairwe. During the meeting, participants shared progress reports of their respective institutions, highlighting the achievements registered in soybean breeding and seed systems, best practices, challenges undermining productivity, and strategies for improvement. In his presentation, Prof. Diers briefed participants on SIL breeding efforts, indicating that 20 varieties had been developed between 2019-2022 up from the 7 developed between 2013-2018. He also shared updates on the renewed funding from USAID, and the support extended towards new breeding programmes at IITA in Nigeria, IITA in Zambia, EIAR in Ethiopia, Makerere University, and SARI in Ghana.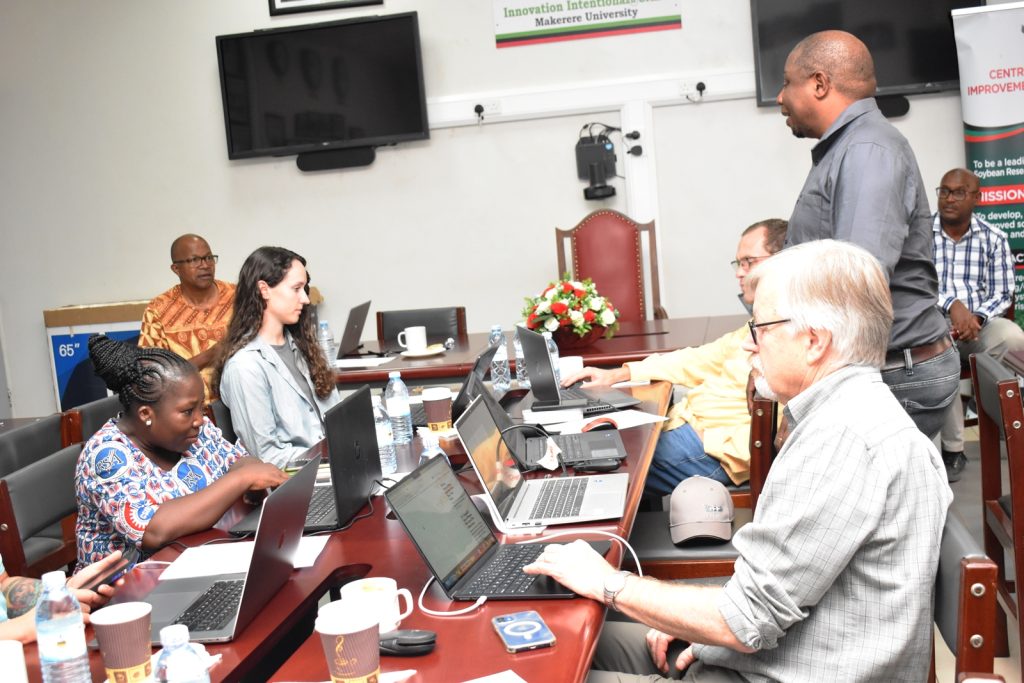 Delivering a presentation on soybean research in Uganda, Prof. Tukamuhabwa noted that the country had registered significant strides with the production of six high yielding varieties namely; Maksoy IN, Maksoy 2N, Maksoy 3N, Maksoy 4N; Maksoy 5N, Maksoy 6N. Recent impact studies indicated that the new varieties developed by MAKCSID were the most planted and accounted for 93% of the soybean varieties grown by Ugandan farmers. Currently, Maksoy 1N is the most widely adopted variety by farmers, while Maksoy 3N has the largest quantities of foundation seed disseminated by the Centre. According to Prof. Tukamuhabwa, the Centre also established a state-of-the-art seed storage facility for early generation seed (Breeders and Foundation seed) and soybean germplasm used for breeding other varieties. Other facilities are soybean processing equipment (soycow) and Soybean roaster that are used to add value to soybeans. The growth of the soybean sub-sector in Uganda is mainly attributed to the availability of a wide range of improved varieties, government investment in soybean research, and increased private sector investment along the soybean value chain. Despite the achievements, Prof. Tukamuhabwa outlined a number of factors undermining soybean seed systems in Uganda including; the presumed high cost of seed by farmers, counterfeit seed in the market, limited interest in self-pollinating crops by most private seed companies, weak seed policy enforcement, limited access to seed, and unpredictable weather conditions. He expressed gratitude to all development partners that have supported the growth of the MAKCSID programme including; USAID through SIL, the Government of Uganda through the Ministry of Agriculture, Animal Industry and Fisheries (MAAIF VODP), NARO, NAcRRI, RUFORUM, AATF, AGRA, Soybean Africa Limited, NAADS, Smart Foods, ISSD Uganda, IITA, and all local soybean stakeholders.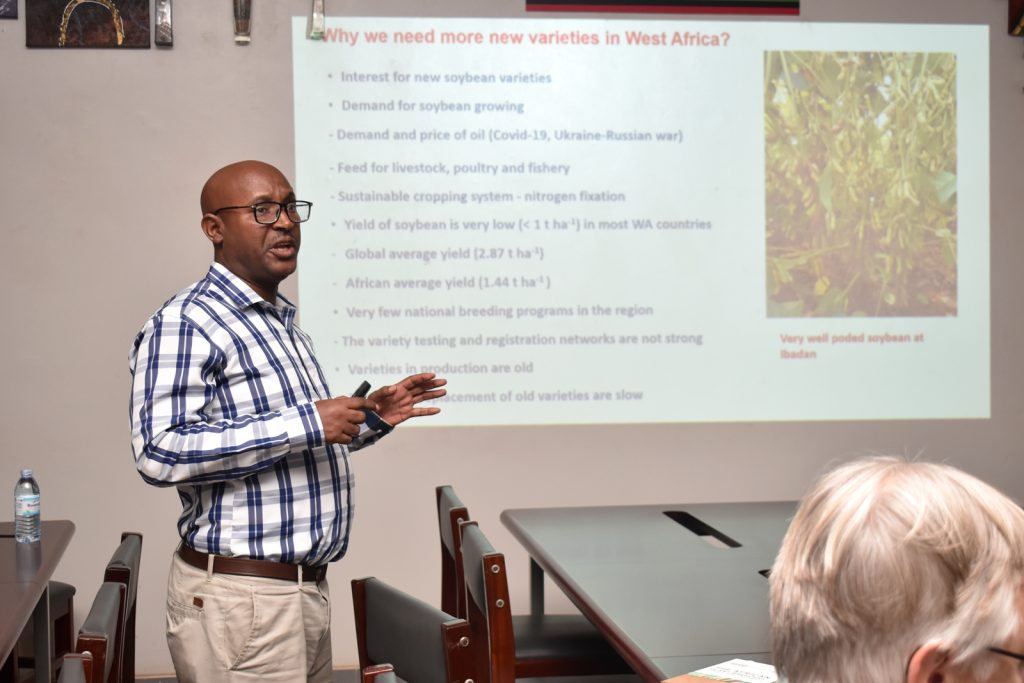 At the meeting, participants including Godfree Chigeza from IITA, Zambia; Abush Tesfaye (IITA, Nigeria), Masresha Yirga (EIAR, Ethiopia), Harun Murithi (SIL), Andrew Scaboo (University of Missouri), Elizabeth De Meyer (University of Missouri), and Carrie Miranda (North Dakota State University) delivered presentations on the progress of their breeding and research programmes.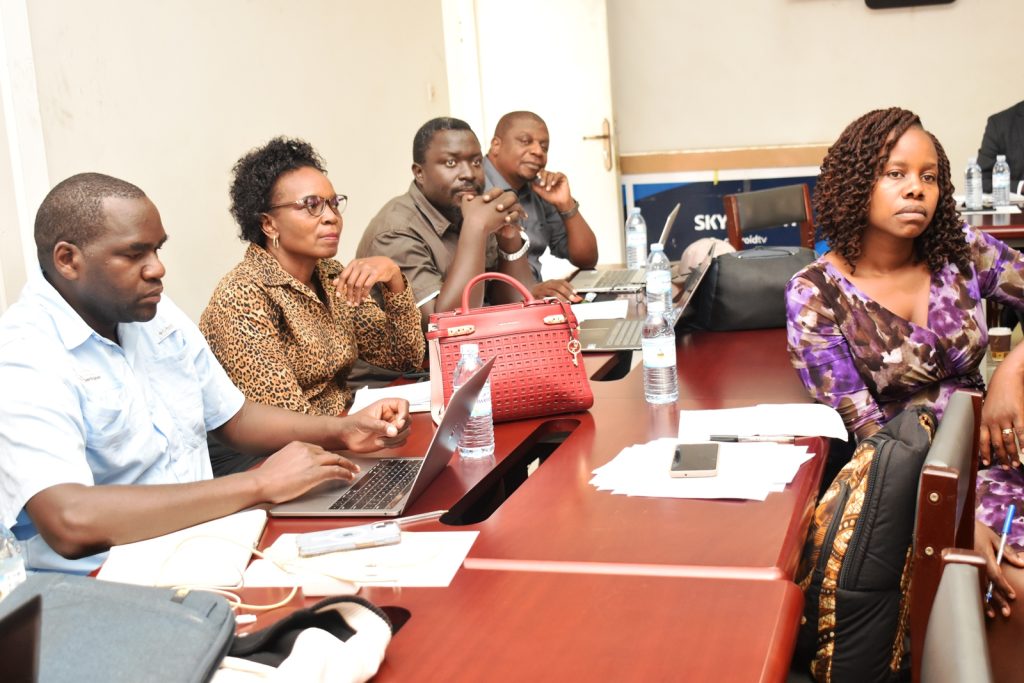 A major concern arising from the meeting was the increasing threat of rust. Through efforts of the Centre for Soybean Improvement and Development (MAKCSID), the soybean rust pandemic was brought under control, through breeding and dissemination of superior varieties to the farming communities.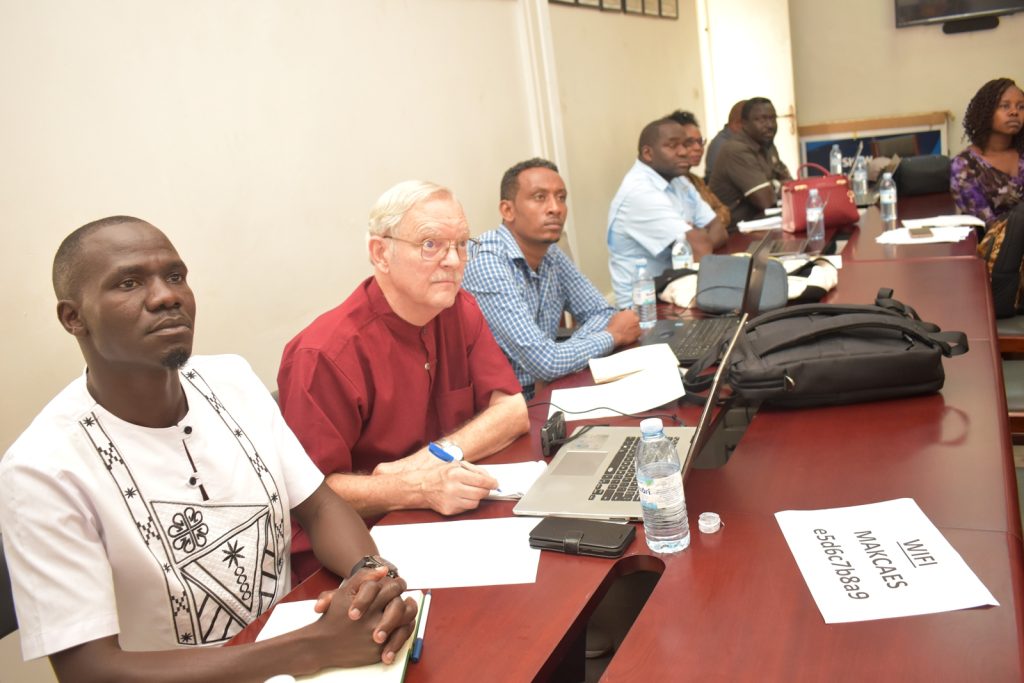 Going forward, participants emphasized the need to set up a rust reference centre, early warning systems, and disease nurseries – potential lines for monitoring virulence. They also called for an increase in germplasm acquisition, capacity building for germplasm storage and utilization, introduction of bruchid tolerant genotypes, introduction of soybean genotypes suitable for mechanical harvest, mechanization of production processes, leveraging the scarce research infrastructure, and the development of necessary skills amongst scientists and staff.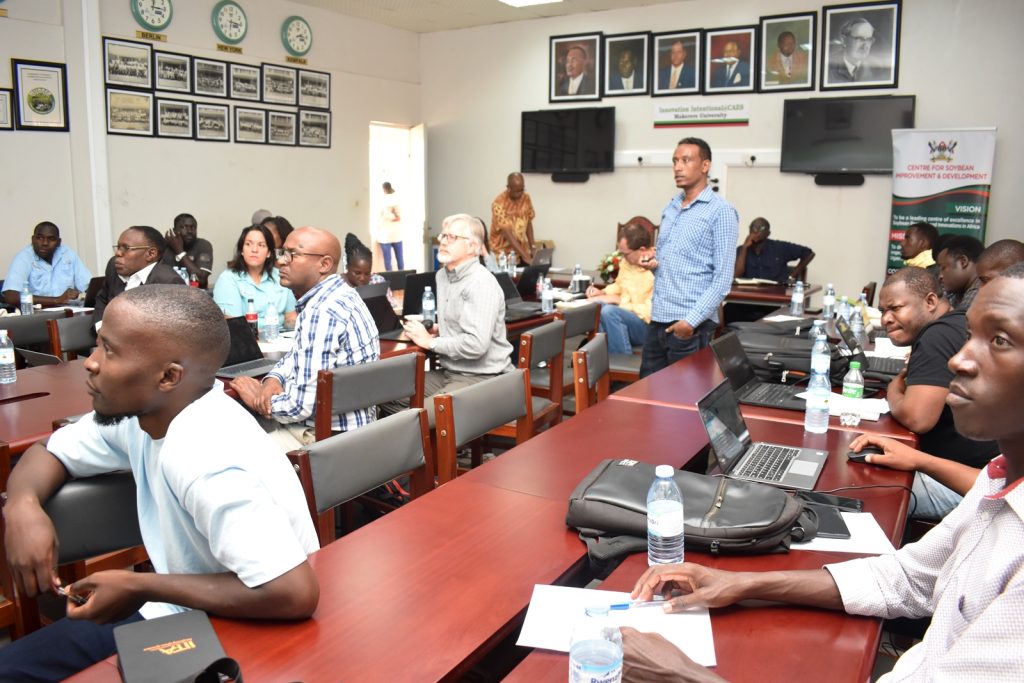 In her remarks, the Principal of CAES, Prof. Gorettie Nabanoga expressed gratitude to participants for leading soybean development initiatives. She also appreciated the development partners for supporting the programme. Commenting on the significance of the crop, she said under NDPIII, soybean had been identified as a game changer and one of the crops to improve the country's food systems. "The crop has been targeted for its oils and nutritional benefits. It is therefore important that we move it to the next level in terms of resistance to diseases, adaption to climate change, and development of fast growing varieties." She specifically thanked the breeding team led by Prof. Tukamuhabwa for making Makerere the leading Centre in quality soybean seed production and distribution in the country. During their four-day visit, the soybean breeders visited the screen houses, soybean fields, and the Early Generation Seed Unit at MUARIK where they provided enriching insights for improvement. The team also toured Nakabango/Jinja trials as well as the Bugi ZARDI highland soybean trials.
---
---
More photos from the meeting