Prof. Banadda Inaugurated as one of 10 O.R. Tambo Africa Research Chairs-Attracts USD250k & EUR100k Annually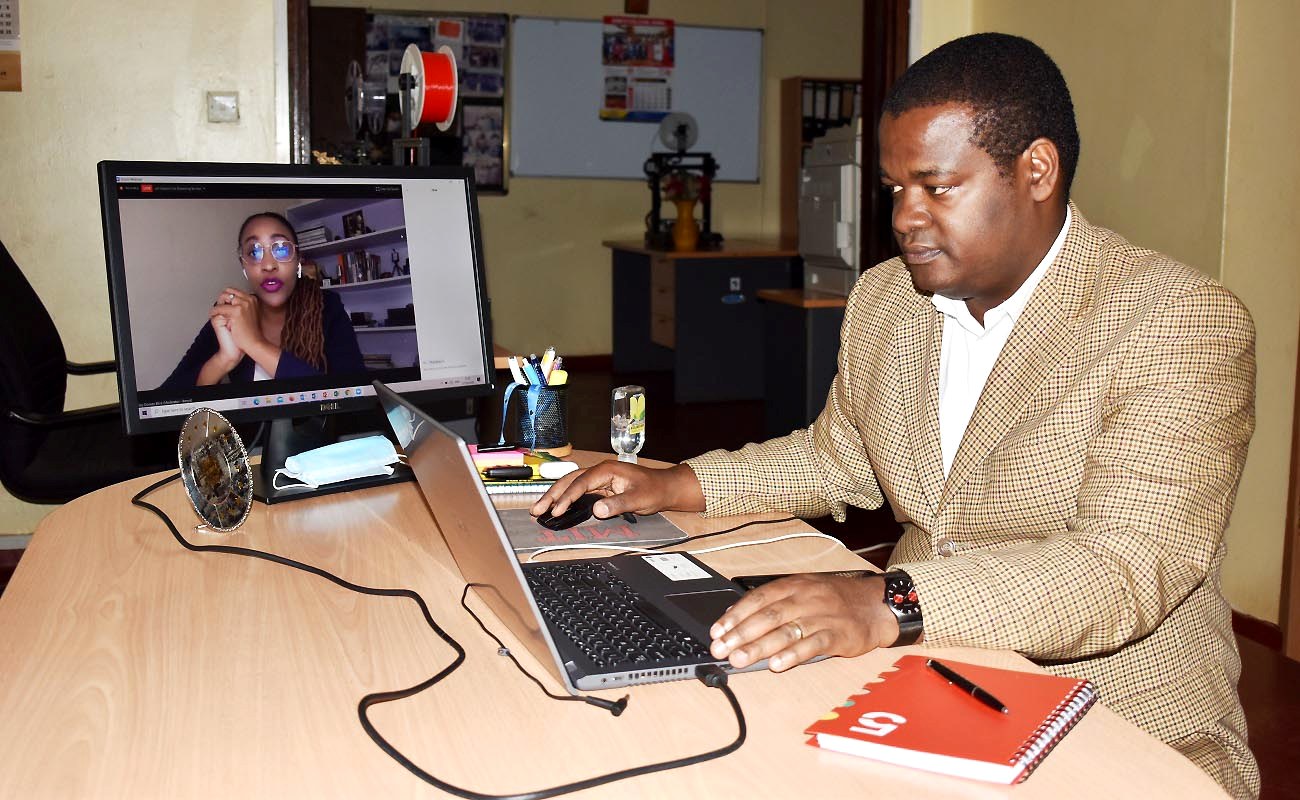 Makerere University's Professor Noble Banadda was on 27th October 2020 inaugurated as one of the 10 Oliver Reginald Tambo Africa Research Chairs Initiative (ORTARChI) recipients. The inauguration ceremony was held via zoom from South Africa. In Uganda and Makerere University, the ceremony was witnessed by media at the African Institute for Capacity Development (AICAD) Project Office.
For the next five years, Prof. Banadda will receive US$250,000 annually and an additional offer of €100,000 from Wageningen University for the next 15 years. The grants will be utilized in supervising research in agricultural waste management on farms with a target of training 15 PhD, 9 Postdoctoral and 27 Masters students.
The ORTARChI chair and grant feeds into the Makerere's Vision as enshrined in its new Strategic plan (2020-2030) that is to become a research-led university. This is the first fully funded Research Chair in Makerere University.
Under this grant, Makerere University will work with South Africa's Stellenbosch University and Wageningen University of the Netherlands to expose students to different study and research environments and also feed into university's internationalization agenda.
The Virtual O.R. Tambo Africa Research Chairs Initiative launch was facilitated by Media Personality-Joy Doreen Biira while the welcome address was delivered by Dr. Molapo Qhobela-CEO, National Research Foundation (NRF), South Africa. Prof. Barnabas Nawangwe was acknowledged by the facilitator as the only Vice Chancellor who virtually attended the Media Launch.
O.R. Tambo's legacy was presented by Ms. Zengeziwe Msimang-CEO, Oliver and Adelaide Tambo Foundation and the ministerial address by Hon. Dr. Blade Nzimande, Minister of Higher Education, Science and Innovation (South Africa).
Ministerial Panel Discussions were represented by Hon. Prof. Kwabena Frimpong-Boateng, Minister of Environment, Science, Technology and Innovation (Ghana), Hon. Eng. Dr. Brian Mushimba, Minister of Higher Education (Zambia), Hon. Prof. Joyce Ndalichako, Minister of Education, Science and Technology (Tanzania) represented by her Permanent Secretary Dr. Leonard D Akwilapo.
Ministerial Messages of Support were delivered by Hon. Dr. Douglas Letsholathebe, Ministry of Tertiary Education, Research, Science and Technology (Botswana), Hon. Gabriel Ismail Salimo, Minister of Science and Technology, Higher and Technical Vocational Education (Mozambique) represented by his Permanent Secretary Dr. Nilsa Miquidade, and Hon. Dr. Elioda Tumwesigye, Minister of Science, Technology and Innovation (Uganda).
The Oliver Reginald Tambo Africa Research Chair was advertised two years ago in search of high calibre scientists who will be able to supervise doctoral and post-doctoral research on the African continent, but specifically to solve African problems.
For any candidate to apply for ORTACHI chair, the initiative set standards that attracted 1,500 applicants. The researcher had to be anchored in a research institution at the rank of a Professor with a minimum of 200 publications. Additionally, the applicant must have supervised at least seven(7) PhD students and had a citation index of not less than 18.
Only 10 candidates (including Prof. Banadda) out of the 1,500 applicants qualified to receive the Research Chairs. Prof. Banadda is ranked 69th worldwide in the area of waste management while in Africa, he holds the 4th position.The other parameters considered were the applicants' alma mater, international exposure and the network of people the candidate has worked with.
Prof. Banadda's candidature was supported by South Africa's National Research Foundation (NRF), the Uganda National Council for Science and Technology (UNCST) and Wageningen University.
" I am grateful to God that I have been selected among the 10 recipients of the O.R. Tambo Research Chairs. I am grateful to Makerere University for having given me an opportunity to excel; Secondly, I am grateful to the Uganda National Council of Science and Technology for their letter of support; and to Wageningen University in the Netherlands for their counter offer conditioned upon my winning the Chair. Wageningen University offered me €100,000 per year for the next 15 years and also gave me an offer to be an extraordinary professor in their university. All these offers enhanced my chances of winning.
The Oliver Tambo research chair is a prestigious chair that provides US$250,000 per year for the first five years, and based on satisfactory performance, it's renewable twice. So it can run for fifteen years.
I look forward to the challenge. I look forward to doing very good research with God as my provider. I guarantee you I will invite you for an innovation from this grant. I look forward to the next five, fifteen years as a top class researcher at Makerere University. I look forward to improving my citation index and being more relevant to the community". Prof. Banadda pledged.
The ORTARChI award to Prof. Banadda will focus on sustainable agriculture under the thematic area of food security.
"I am going to create models or systems of recycling our waste into agriculture, i.e. to see how we can avoid the use of artificial fertilizers by making use of organic fertilizers such that I increase agricultural productivity, technology, and efficiency.
I want to use the engineering point of view to explore how best to extract nutrients from agricultural waste and plug them back into the soil to make sure that crops grow faster and better without wasting them so as to complete the cycle instead accumulating waste", Prof. Banadda explained.
He explained that ORTARChI is an African project aimed at building capacity in Africa and therefore students must be African. As such, the University will advertise internationally so as to attract African students who will solve problems and create solutions for farmers in Africa while based at Makerere.
About Oliver Reginald Tambo and OR Tambo Research Chairs Initiative
Oliver Tambo never wavered from his vision for a free, just South Africa. His principled and values-based leadership style was the glue that held the African National Congress, which he led for almost thirty years, together in exile. Sadly, he did not live to see the dawn of the democratic dispensation that he dedicated his life to fighting for, passing away a mere year shy of the 1994 national elections.
The Oliver and Adelaide Tambo Foundation is a public benefit organisation established to promote, protect and preserve the legacy of veteran freedom fighters and doyens of democracy, Oliver and Adelaide Tambo. The Foundation achieves this by undertaking education-focused, community-upliftment initiatives that seek to instil the values for which the Tambos stood into a new generation. It is believed that these values, such as integrity, selflessness, and collective, servant leadership, are critical in consolidating democracy. By equipping young leaders with the tools to reinforce the gains made by Oliver Tambo, South Africa's democratic dispensation will be protected and nurtured for years to come.
The Foundation has partnered with South Africa's National Research Foundation (NRF) and the Department of Science and Innovation (DSI) and Canada's International Development Research Centre (IDRC) to develop the O.R. Tambo Africa Research Chairs Initiative (ORTARChI). The initiative was first announced in 2017 to commemorate the 100th anniversary of the birth of Oliver Reginald Tambo. Now, the initiative stands ready to launch the inaugural 10 O.R. Tambo Africa Research Chairs as selected by ORTARChI.
The O.R. Tambo Africa Research Chairs combine political, development and higher education objectives. They aim to honour a leading figure in the development of African unity; have a catalytic impact on the development of research infrastructure in recipient countries; and contribute to knowledge production and high end skills in alignment with the African Union (AU) Agenda 2063 and Science, Technology and Innovation Strategy for Africa 2024 (STISA-2024). Through international and regional strategic partnerships, the Chairs will contribute to the development of long term mutually beneficial research collaborations on the continent.
About Noble Ephraim Banadda
Noble Banadda (born in 1975) is a Ugandan biosystems engineer, researcher and academic, who is a Professor of Biosystems Engineering at Makerere University's Department of Agricultural and Bio systems engineering, School of Food Technology, Nutrition and Bio engineering. He was appointed as a full professor in 2012 at age 37, the youngest person in the history of the university to attain full professorship.
After attending local primary and secondary schools, he was admitted to Sokoine University of Agriculture, in Morogoro, Tanzania, graduating with a Bachelor of Science in Food Science and Technology. His Master of Science degree in Process Engineering, together with his Doctor of Philosophy degree in Chemical Engineering, were both obtained from Katholieke Universiteit Leuven, in Leuven, Belgium. Later he studied in a post-doctoral fellowship at the Massachusetts Institute of Technology, in the United States.
He was the first sub-Saharan African person to graduate with a PhD in Chemical Engineering from the Katholieke Universiteit-Leuven in Belgium. Banadda is a Visiting Research Fellow at the University of Cambridge, United Kingdom.
Banadda has had a trailblazing scientific career. He was former head of the Department of Agricultural and Biosystems Engineering, in the College of Agricultural and Environmental Sciences.
Noble is the first African recipient of the Pius XI Golden Medal (2018) awarded by Pope Francis in the Vatican;a Laureate of the Next Einstein Fellowship and now, the Oliver Reginald Tambo Research Chair; honored young scientist at the World Economic Forum; Alumni of the Global Young Academy (2013 -2018); Member of the Malabo Panel of Experts; Fellow of the Uganda National Academy of Sciences; Council member of the Pan African Society for. Agricultural Engineering; Member of the Makerere University Senate; Adjunct Professor at Iowa State University (USA); Research Fellow at Clare Hall at University of Cambridge (UK); College member of the UKRI GCRF programme and a candidate for Extra-ordinary Professor at Wageningen University (Netherlands).
His research focus areas are in the biosystems engineering field and include mathematic modeling of biological systems and interactions. His goal is to create value-added products from solid biowaste resources.
Noble is favorably cited with thus far published research findings in over 195 peer-reviewed journal scientific publications. He has also (co)-supervised 10 PhD students to Completion and 27 M.Sc. students as of 2020.
His notable research innovations include the invention of the MV Multipurpose tractor; Conversion of hard plastics into diesel; the solar powered irrigation pump; Organic pesticides from agricultural waste and the most recent thermal imaging for detection of COVID-19 as well as the three-Dimensional (3D) printing of biodegradable face shields and components for the BulamuVentilator aimed at boosting the contribution of local content to the fight against the COVID 19.
Report compiled by: Jane Anyango, Principal Communication Officer, CAES
The 2020 COVID-19 Non-Pharmaceutical Containment Measures – Adherence and Impact on Livelihoods in Rural Uganda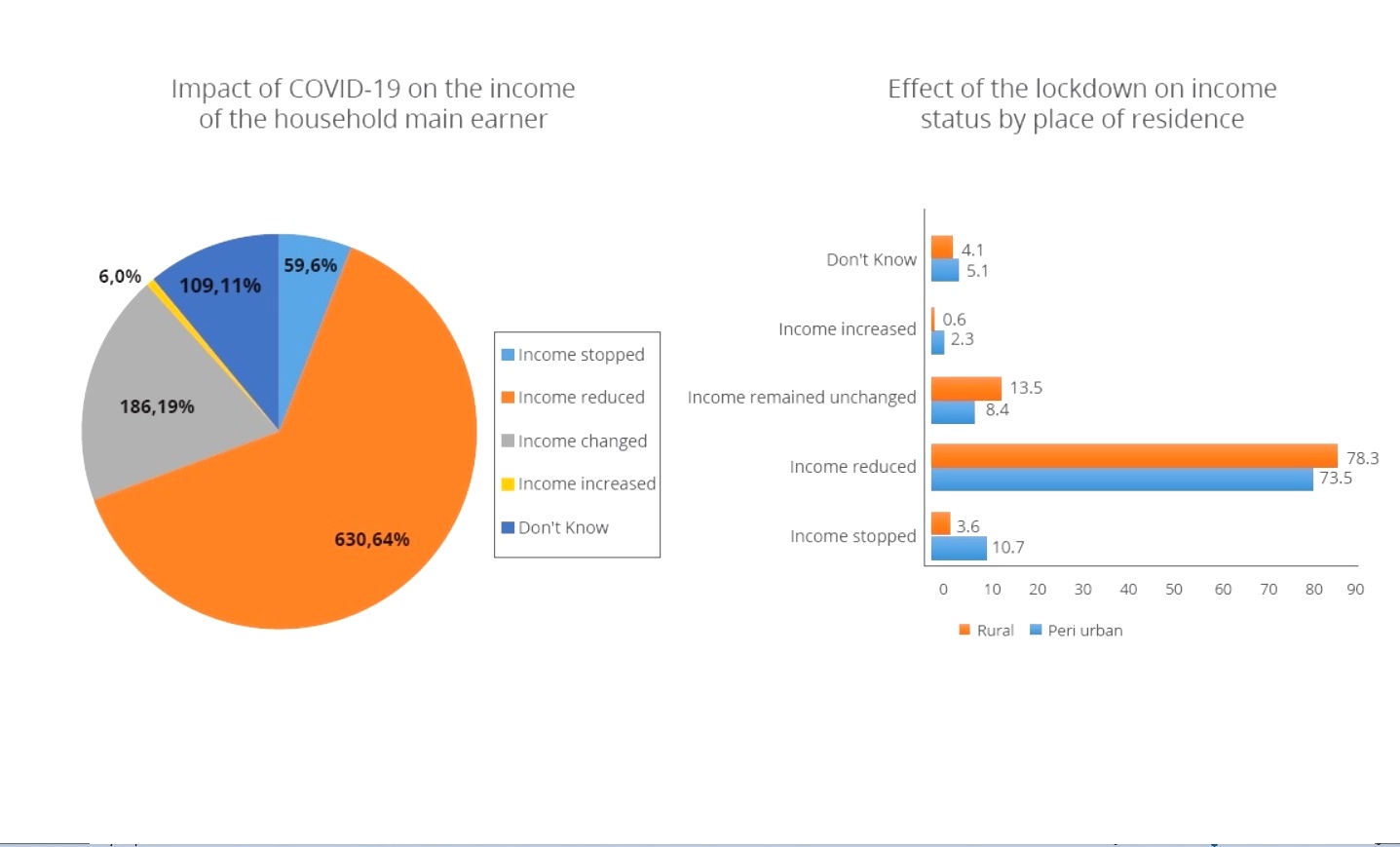 By Dr. Dan Kajungu and MUCHAP/IMHDSS Team
Uganda is currently experiencing a second wave of the COVID-19 pandemic with an upsurge of cases. The country registered an 81% increase in the number of COVID-19 cases between March and April 2021, which indicates resurgence or another wave in the pandemic. From 200 cases per day in April, now the country is recording over 500 cases per day. The vaccines uptake has improved only recently, and the population has ignored the Ministry of Health (MoH) Standard Operating Procedures (SOPs) meant to contain transmission. Since March 2021, when the COVID-19 AstraZeneca vaccine was introduced, about 541,569 persons have so far been vaccinated.
On 6th June, new control measures were announced to mitigate the transmission. The Makerere University Centre for Health and Population Research (MUCHAP) which runs a longitudinal population-based cohort of Iganga and Mayuge districts (Iganga Mayuge Health and Demographic Surveillance Site) conducted a community survey to understand how citizens responded to the non-pharmaceutical interventional measures, and the impact on their livelihood. This survey was part of the routine community surveys that a typical health and demographic surveillance site conducts to understand the population dynamics in population cohorts. The hybrid survey involved about 2,000 households in rural and peri-urban settings using a questionnaire that adopted some questions from the Wellcome Trust COVID-19 tool. It was a hybrid of on-phone and physical interviews conducted between July and August 2020 right after the relaxation of restriction in Uganda. Community based surveys provide information on what to expect when piloting and implementing interventions in populations. In addition to the demographic and household characteristics, questions sought to understand the extent of community adherence to COVID-19 control measures and probed about the impact on socio-economic and access to health services.
Adherence to preventive measures: The survey found that 94% of the respondents adhered to COVID-19 non-medical control measures that were enforceable by security personnel. It was different for non-pharmaceutical measures that were largely dependent on individual enforcement or discipline and this averaged at 43% of the respondents. Six in ten respondents reported doing most of their work from home and half (50%) avoided seeking medical care at health facilities during lockdown.
The non-pharmaceutical guidelines included using preventive actions like social-distancing, hand washing with soap, the use of alcohol-based hand sanitizing gels as well as wearing of face masks. Citizens were encouraged to stay at home with the exception of essential workers who rendered critical services. Some community members could not adhere, not because they do not take it as a priority but because of the cost implications.
Socio-economic impact: There was change in the living arrangement in 12% of the households mostly because someone moved out or into the household. Community members reported a reduction (64%) in the income for household members with some experiencing a complete stop in earnings (6%). Residents in rural settings reported more reduction in income compared to Peri-urban residents (78% vs 74%). There are seemingly unique circumstances that need to be considered as interventions and decisions are made. For instance, it should not be surprising that a household cannot afford to have a bar of soap, a face mask, an alcohol-based hand sanitizing gel and social distance because of the living structures. In some cases, even accessing water is a luxury for some homes. There are some homesteads that are unable to grow food or earn an income from selling cash crops because they leased their pieces of land for large scale sugarcane growing 3 or 4 years ago, with just a house and a few feet of compound to spare. Unfortunately, such individuals have no access to social media where they can express their predicament.
The survey further found out that during the 2020 lockdown period, there was a general increase in violence against men, children, and women. There were cases of child neglect as well as marital problems. The survey found that 53% of the respondents reported increase in marital problems, while violence against women during the lockdown was reported by 51% of the respondents and was more common among rural residents compared to their Peri-urban counterparts. Residents could not access what they considered essential needs like transport and education services, which were directly affected by government directives and other community services. Communication was the most affected essential service reported.
Access to Health Services: 26% of the interviewed community members who were on daily medication due to a chronic or long-term condition reported running out of drugs during lockdown. Non-affordability due to the cost was the main reason in 54% of respondents, while 19% reported cases of stock-outs at both public and private health facilities and 10% were restricted by lockdown measures.
In another review of the immunisation records at Busowubi Health Centre III in Iganga district, it was clear that during the lockdown, utilisation of immunization services was severely affected (manuscript is undergoing peer review). Children did not complete their scheduled vaccine doses which calls for catch up vaccination drives. People could not go to health facilities because of fear of acquiring infection and restricted movements of boda-boda.
Please see Downloads for the detailed report.
Artificial Intelligence Capacity in Sub-Saharan Africa – Compendium Report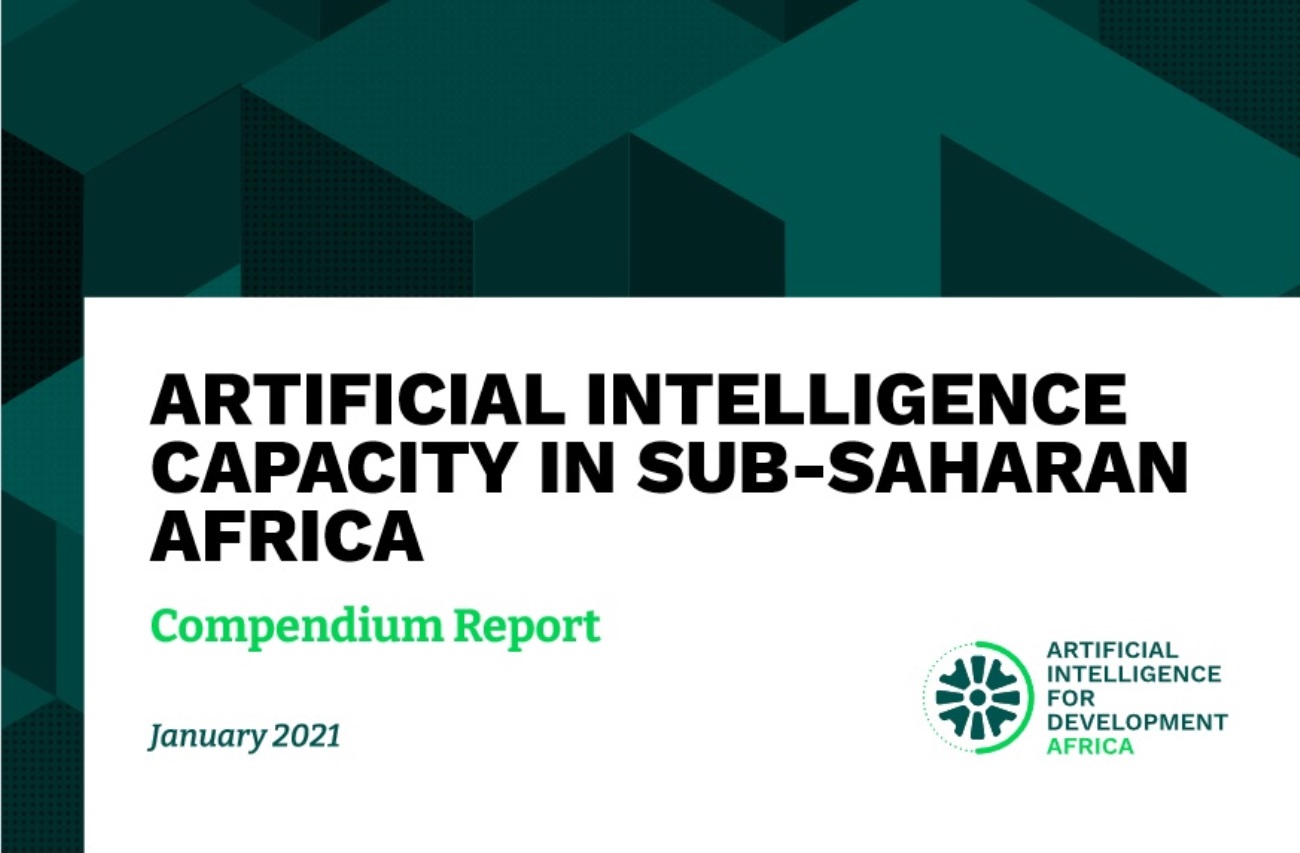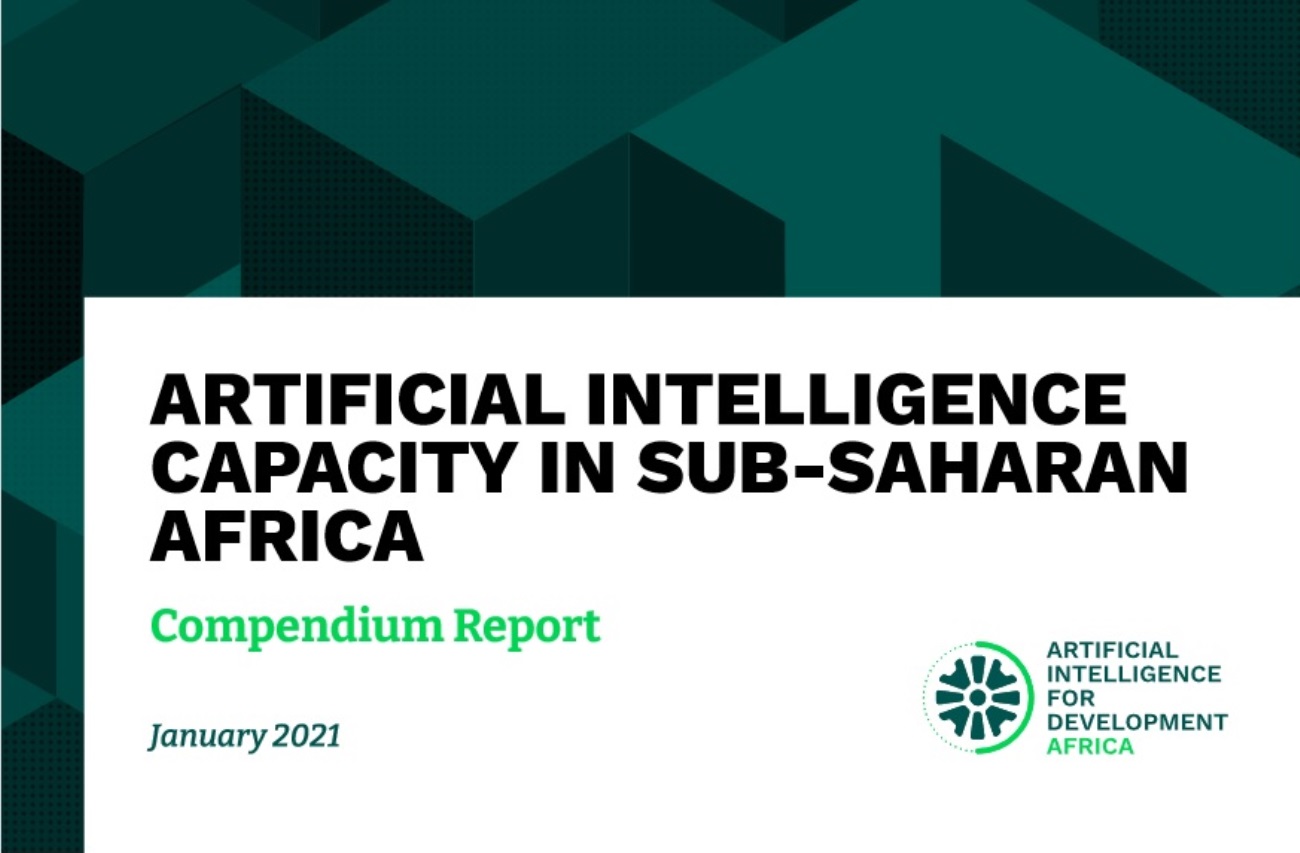 Makerere University in Uganda formed the AI & Data Science Research Group, which examines various areas related to AI and data science such as ML methods, computer vision and predictive analytics. The group has conducted research on automated diagnosis of crop and human diseases, auction design for mobile commodity markets, analysis of traffic patterns in African cities, and the use of telecoms and remote sensing data for anticipating the spread of infectious disease, to name a few.
Institution-specific research groups and activities
Robotics and Autonomous Intelligence
The Robotics, Autonomous Intelligence and Learning (RAIL) Laboratory (Wits);
Wits Institute of Data Science (WIDS) (Wits);
Computational Intelligence Research Group (UP);
Automating Robot Design for General Applications (University of Cape Town) (UCT);
Guided Self-Organisation in Artificial Complex Systems (UCT); and
Spatiotemporal models for Biosurveillance (Makerere).
Health and Biology
Machine Learning for Cancer Detection (NUL);
Nature Inspired Computing Optimisation Group (NICOG) (UP);
Prediction of Co-infection of TB and HIV using Computational Intelligence Methodologies (UniSwa);
An Expert System for Malaria Diagnosis Using Fuzzy Cognitive Map Engine (Best Paper Award) IEEE-IST Africa Botswana (UniSwa);
Multi-Target Regression Prediction on Cervical Cancer for evaluation of Performance Measures (UniSwa);
A Framework for Early di!erential diagnosis of tropical confusable diseases using the fuzzy cognitive map engine (UniSwa); and
Machine learning-based detector for cervical cancer (Makerere).
Agriculture and Disaster management
Early Warning System for Disaster Preparedness (MUST);
Forecasting crops using drones (UWC);
WineTech (UWC);
Disease surveillance – mobile monitoring of crop disease (Makerere);
Automated Malaria diagnosis (Makerere);
Computational prediction of famine (Makerere);
Auction design for agricultural commodity trading (Makerere); and
A portable deep-learning-based diagnostic platform for passion fruit diseases (Makerere).
Click here to access the full report
Seed Grant for New African Principal Investigators (SG-NAPI)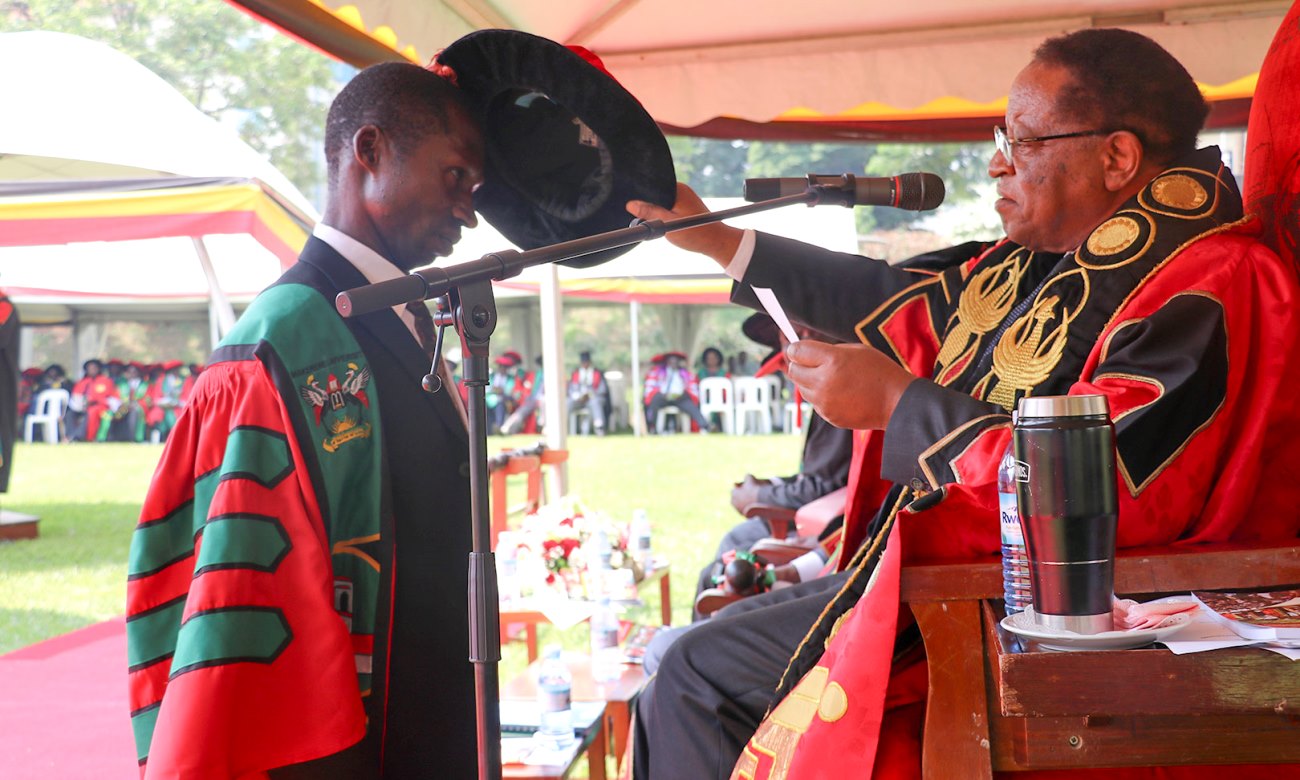 The Seed Grant for New African Principal Investigators (SG-NAPI) was established in response to the needs of researchers in developing countries, particularly those attached to institutions that lack appropriate research facilities. Under this scheme, grants can be awarded for research projects in Agriculture, Biology, Chemistry, Earth Sciences, Engineering, Information Computer Technology, Mathematics, Medical Sciences and Physics to Principal Investigators in the African countries lagging in science and technology identified by TWAS, to enable them to purchase the research facilities they need to enhance their productivity.
The Seed Grant for New African Principal Investigators (SG-NAPI) aims to support early-career scientists in Sub-Saharan Africa, with particular emphasis on Least Developed Countries (LDCs).
Seed Grant for New African Principal Investigators (SG-NAPI) is fully funded by The German Ministry of Education and Research (BMBF).
Programme Details
SG-NAPI Grants are awarded to high-level promising research projects in Agriculture, Biology, Chemistry, Earth Sciences, Engineering, Information Computer Technology, Mathematics, Medical Sciences and Physics carried out by Principal Investigators (PI) in the African countries lagging in science and technology identified by TWAS.
Research Grants to research units amount to a maximum of USD 67,700.
The grants, which are normally provided for a period of 24 months, may be used to purchase scientific equipment, consumables, which can include fieldwork and maintenance of equipment and specialized literature (textbooks and proceedings only). The grant does not cover salaries of the Principal Investigator or travel expenses unless they are clearly related to one of the conference and/or mobility components mentioned below. In addition, the purchase of laptops, tablets, drones and laboratory animals is not supported.
Awarded PIs may also support MSc student as part of the project, request funding for international conference grant, industrial link grant, mobility grant and open access publication grant. Full details of each component are laid out in the guidelines.
The programme has an additional component which seeks to enhance the productivity of female scientists returning to academia after a maternity leave, scientist-after-child grant. Full details of this component can be found in the guidelines.