Tribute to Late Prof. Noble Banadda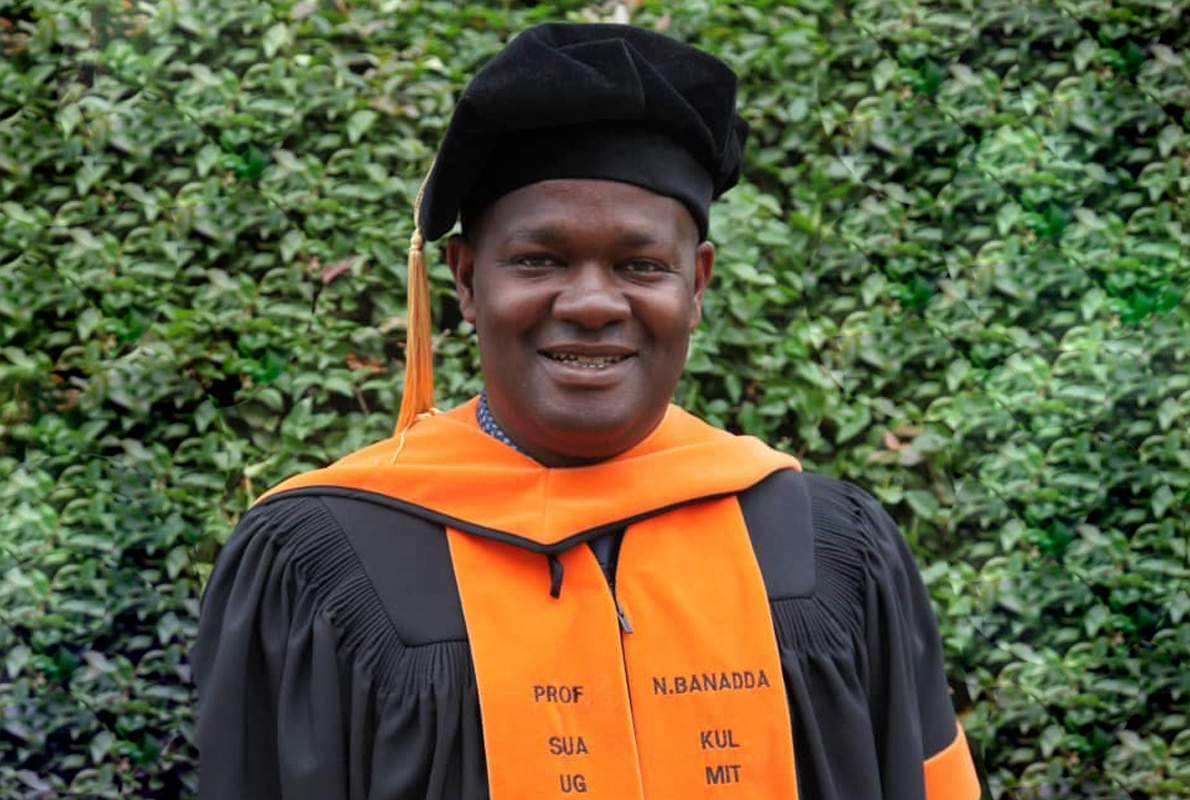 Death has robbed Makerere and Uganda an extraordinary Professor.
Banadda was the first Sub-Saharan African to graduate with a PhD in Chemical engineering from the Katholiek University Leuven in Belgium opening many doors for Africans. He was appointed as full professor in 2012 at the age of 37, one of the youngest persons in the history of Makerere University. He was the first African recipient of the Pius XI Golden Medal 2018, the first African under the age of 45 to be recognized by a sitting pope. And many other medals for his outstanding performance.
Makerere and the entire globe has lost a prolific researcher. Noble Banadda held a n MSc in processing engineering (2006) and a post graduate diploma in processing engineering (2000) of the Katholeik
University Belgium, Bachelors of Science in Food Science and Technology (1998) of Sokoine University of Tanzania. Through his expertise and experience, Banadda won several projects, Fellows and was ranked high by Google Scholar. Noble has supervised several PhD and MSc students with over 100 scientific publications.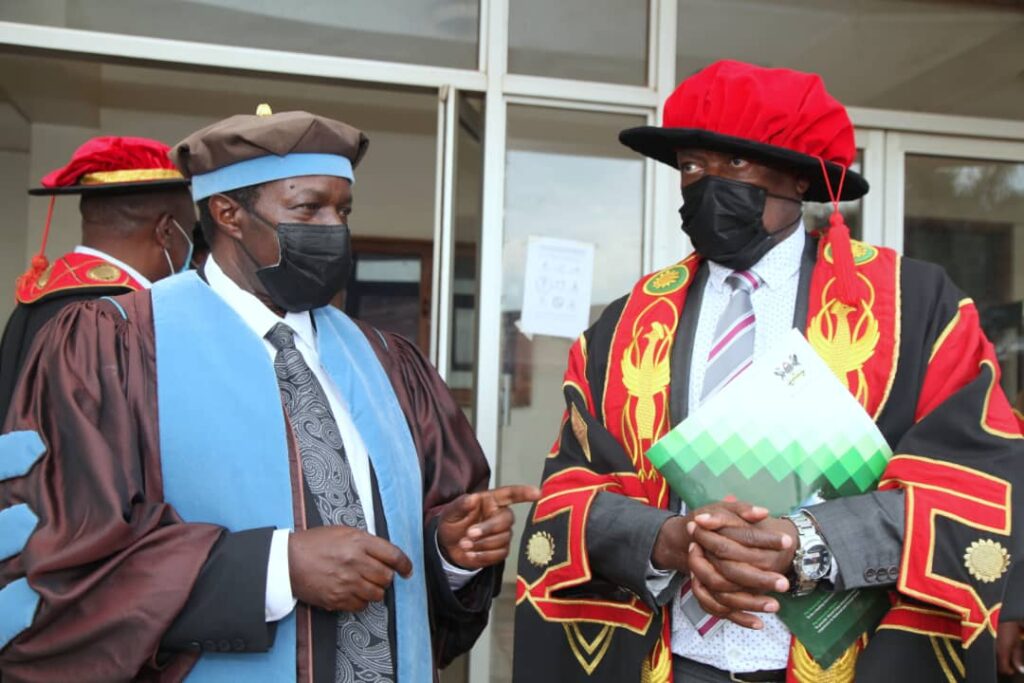 By the time of his death, Prof. Banadda had in October 2020 been inaugurated as one of the 10 Oliver Thambo (ORTARChi) Chairs attracting USD 250, 000 annually and an additional £ 100,000 Euros for the next 15 years for graduate research in Agricultural waste management on farms with a target of training 15 PhDs, 9 Post-doctorals and 27 MSc.
Makerere has lost an academic giant and innovator. Banadda was the brain behind the development of the parts of the Bulamu Ventilator and the Biodegradable face shields in the efforts to combat COVID -19.
He developed the solar powered irrigation pump, the Multipurpose Farmers' Tractor called MV Mulimi, and started the extraction of fuel from hard plastics and making insecticides from the eucalyptus and otheragricultural waste to name but a few.
As CAES, we mourn our fallen top cream Professor with very heavy hearts. He has left over 10 PhD and MSc. under his supervision and was aspiring candidate for the post of Principal CAES.
It is, indeed a very trying moment as CAES looses one staff after the other and their loved ones to COVID-19.
Jane Anyango
Principal Communication Officer
Drone Technology; a viable option to facilitate compensation processes in projects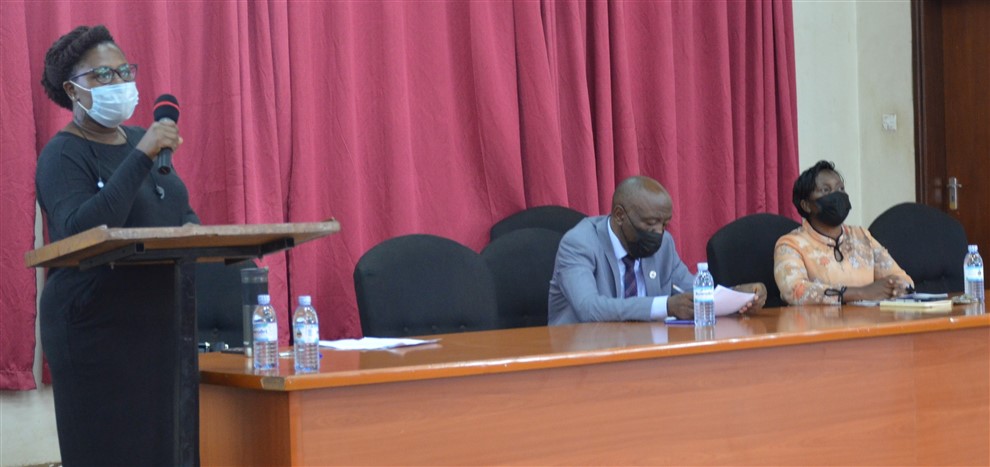 The use of Unmanned Aerial Vehicles (UAVs) has been found to be a viable and usable technology for capturing data needed to undertake compensation for projects. The UAVs were found to be cost effective since they use half of the cost in terms of time and resources compared to the traditional valuation processes. During the final dissemination workshop held at the College on Monday 30th November 2021, the Principal College of Engineering, Design, Art and technology (CEDAT). and Acting Deputy Vice Chancellor, Finance and Administration Prof. Henry Alinaitwe noted that the study on the use of unmanned aerial vehicles to pick data for use in  mapping was offering a lot of learning opportunity to a number of stakeholders.
This and more were some of the findings of the Research project.
"Makerere is Like Windows, It Can Longer Be Challenged" Prof Waswa Balunywa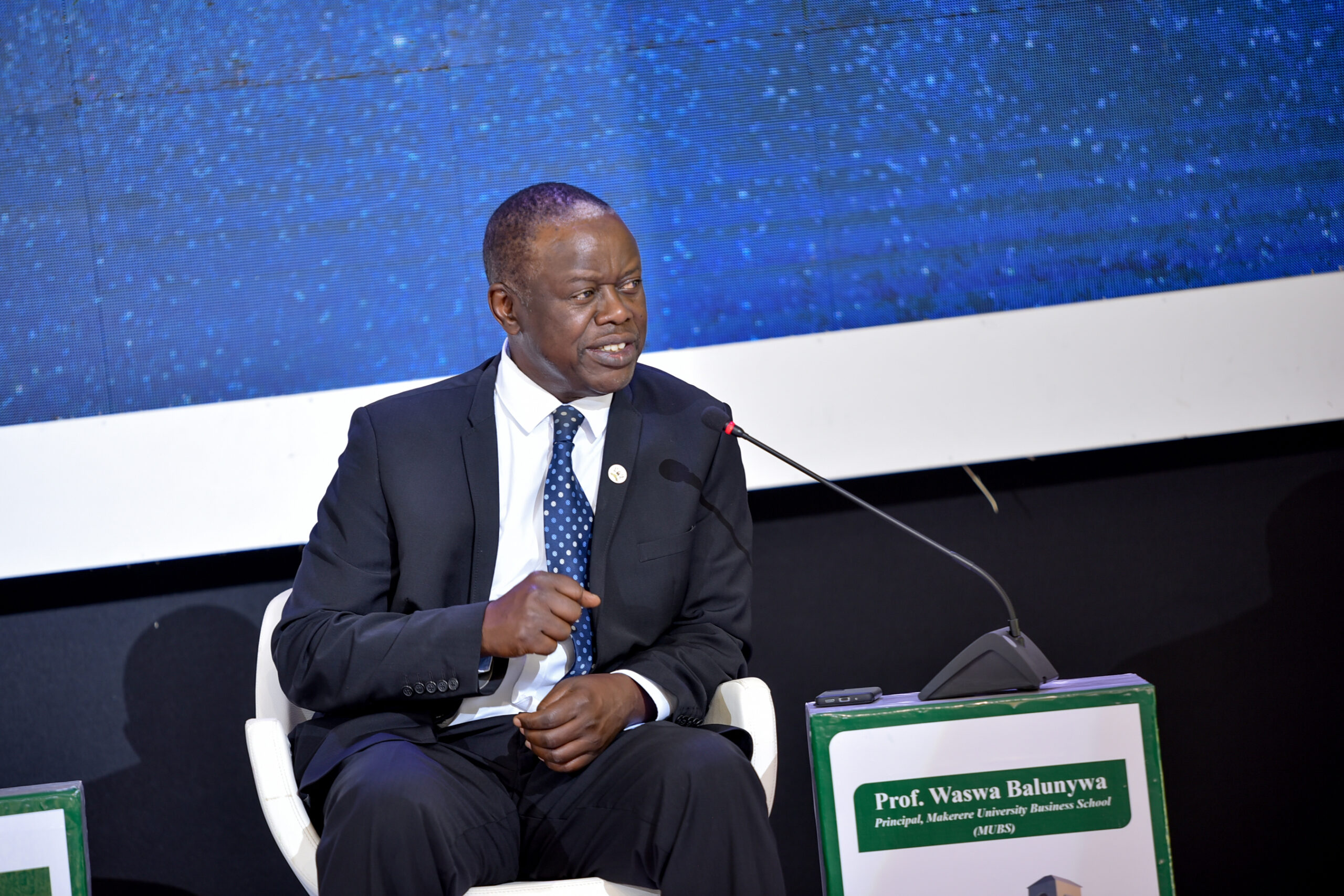 "I think you can no longer challenge Makerere. Makerere is like Windows. Everybody with a computer, it is run by windows," Prof. Waswa Balunywa, the Makerere University Business School (MUBS) Principal said candidly on Thursday 25th November 2021 during a stakeholder engagement event. 
Prof. Balunywa who was on the panel with Kampala Capital City Authority (KCCA) Executive Director Mrs. Dorothy Kisaka and the University Secretary Mr. Yusuf Kiranda, said that Makerere has mothered all the institutions in Uganda. He thinks the University has set a standard that all other institutions in the country must follow. 
Prof. Balunywa has been at the helm of MUBS since 1991 when it was still Faculty of Commerce at Makerere University and is cognisant of the institution's academic reputation. Thus he thinks, the "pricelessness of Makerere must be leveraged to move not only Makerere ahead but higher education and the entire education system in this country. Makerere has this capacity. It needs to be a bit innovative and more free."
Concurring with Prof Balunywa, Kiranda quipped, "Makerere has enjoyed the last 100 years as the elephant in the house."
As Makerere prepares to mark its centennial journey next year, it will be engaging stakeholders, partners, alumni, students and staff through a series of events. Makerere University Council Chairperson, Mrs. Lorna Magara urged stakeholders to partner with the institution to make the "future more impactful."
The panelists who discussed the topic, "leveraging 100 years of excellence in building a transformed society" tipped Makerere on areas where it needs to improve. Mrs. Dorothy Kisaka advised Makerere to focus on human capital development through collaboration and partnerships between the institution and the workplaces by creating a window for students in order to prepare them for the post university life. It's a proposal that was reinforced by other panelists and speakers.
Dr. Michael Walimbwa, a Lecturer in the College of Education and External Studies said the University should develop a partnership pedagogy, in which stakeholders, students, and research institutions come together, collaborate to plan and assess and get the feedback in real time.
"Partnership pedagogy is beyond internship opportunities. It is really working together with research institutions, with stakeholders out there, planning teaching activities to assess them, to evaluate them and get the impact in real time,"  Walimbwa said. 
Impact, research and innovation
In the next century, Mr. Kiranda said the University is going to be focusing on its impact on society. "We are supposed to be moving from the league of asking ourselves what is our ranking in the country, on the continent, in the world to asking ourselves, what is that impact in society which is clearly attributed to Makerere."
As other people count first class degrees, Makerere, Mr. Kiranda said, will be counting its impactful research and innovation. "The focus in the next 100 years is helping this country to overcome challenges it has."
Makerere University Vice Chancellor Prof. Barnabas Nawangwe said they see issues such as rapid population growth, youth unemployment, riots, climate change, food insecurity, unending conflicts, among others which must be tackled through research and innovation. To tackle these challenges,  he said, "we must modernise the research infrastructure, we must modernise laboratories, come up with central laboratories."
The University, Prof. Nawangwe said, will also leverage science and technology power to  "help young people incubate their ideas into businesses, begin companies and create jobs for multitude of the youths coming out and of course further human resource development."
Prof. Balunywa further applauded Makerere University for transformative research. In the coming years, he said, research conducted should be in line with the direction the country is taking, hinged on finding local solutions to our problems.
"There is no business in this country that hasn't been done elsewhere in the world. If you want any product, the Chinese have it. If you want any application, the Europeans have it. Our research must be focused in those areas where we think we can add value in the country and in the continent," he said.
RAN/RTAC Short Course on Writing a Winning Grant Proposal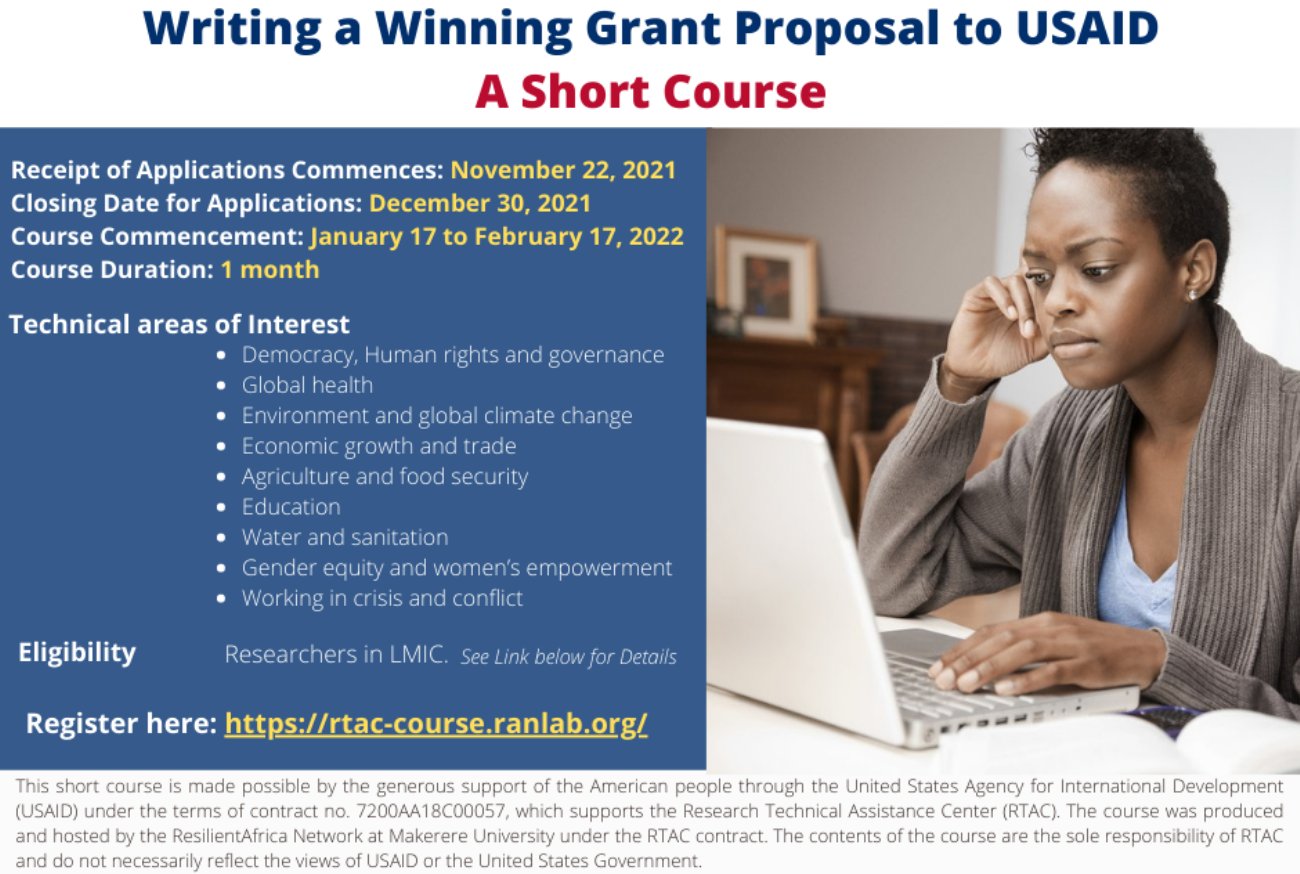 The Makerere University-ResilientAfrica Network (RAN) informs all prospective applicants that the second cohort of the grants writing short course is now open. The short course is entitled: 'Writing a winning grant proposal'. Evidence has shown that despite having content expertise, most professionals and University-based researchers in LMICs often have limited specific experience on how to write a winning grant for development, specifically for USAID. RAN through USAID's Research Technical Assistance Center (RTAC) has designed a short course on how to write a winning grant proposal.
This is a high-level course that will be offered under the RTAC targeting practitioners involved in development and research related work. The course will be interactive and delivered by 'E-learning' mode. Well-experienced and regionally recognized resourceful persons from Makerere University and partner organizations involved in research and development work will facilitate the course. This will be a four weeks modular online course offered by RAN through USAID's Research Technical Assistance Center (RTAC), running from 17th January to 17th February, 2022.
If you are interested in taking this course, please register through the following link: https://rtac-course.ranlab.org/
The deadline for receipt of applications is December 30th, 2021.