Executive Summary: Tracer Study of RUFORUM Graduates, 2004-2020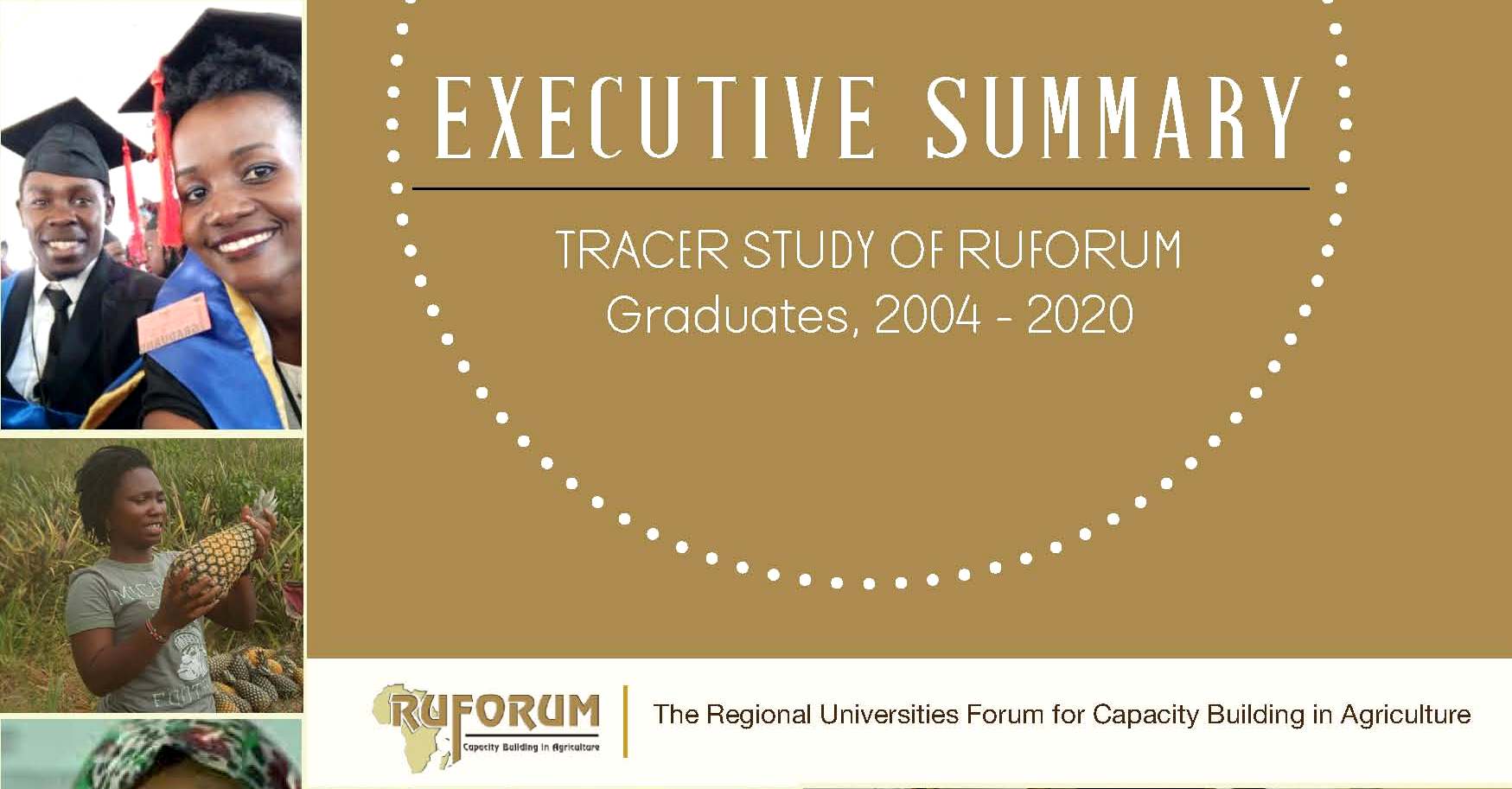 Study Objectives
The issue of graduates' employability, career patterns, and progression in the labour market has gained particular importance on the higher education agenda for Africa. Enhancing labour and skills supply by addressing structural weaknesses in the higher agricultural education and training systems and by tackling youth and long-term unemployment has always been a guiding element for the design and implementation of the RUFORUM graduate funding support mechanisms. The aim of this tracer study was to update information about the experiences of graduates supported under various graduate study support programmes in the labour market after completing their studies; thereby, helping RUFORUM and its stakeholders in taking informed decisions in relation to the transition from education to employment. The study went beyond examining the formal qualifications graduates had obtained and inquired about their personal assessments, their satisfaction with their experiences on their job, and their judgement about the relevance of their qualification.
Methodology
Through the use of an online questionnaire, the onetime cross-sectional study collected data about the graduates by different socioeconomic, study and employment related characteristics. The scope of variables and thematic blocs covered included: employment and income; details on study programs and context factors such as age, gender and civil status; further education and job prospects; details of the jobs and context factors such as family life and mobility; and alternative career paths and the perceptions of graduates of their achievements.
The initial target population was all students who completed their studies with RUFORUM support between the years 2004 and 2020. From a total population of 2,494 students in the RUFORUM Information Management System (RIMS) administrative data, of whom 1,885 had graduated, an effective sample of 1,310 respondents was obtained and served with the online questionnaire. The number that responded was 490, giving a response rate of 37.4% – with good representation of cohort of admission/graduation, gender, institution of study and nationality. A response rate of 30-40% is regarded as credible to enable generalised conclusions.
Resumption of Teaching and Learning for Final Year Medical Students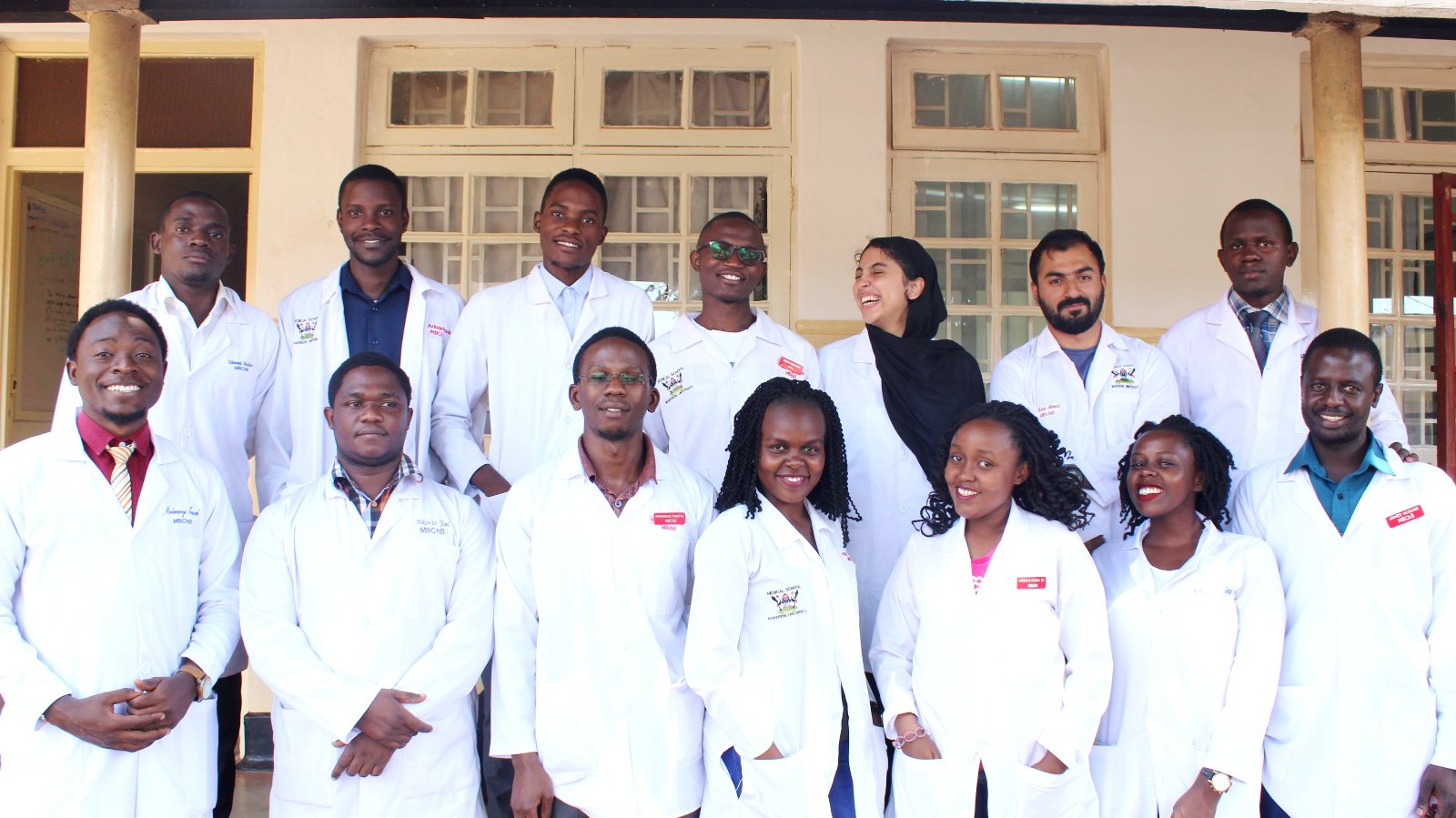 Featured image: Members of the Makerere University College of Health Sciences Students Association (MAKCHSA) pose for a photo ahead of their 1st College Open Day and Alumni Convention held on 1st November 2019.
This is to inform all Final Year Medical Students that teaching and learning activities which were halted following the closure of education institutions in a bid to prevent the spread of COVID-19, will resume on Saturday 3rd October 2020.
You are therefore required to report to your respective Deans in the College of Health Sciences for detailed information.
Note that you must strictly adheare to the Standard Operating Procedures put in place by the Ministry of Health to combat the spread of COVID-19 which include among others:
Mandatory wearing of a clean mask covering the mouth and nose
Social distancing
Washing of hands regularly and/or sanitizing hands
Further note that the schedule of the remaining semester shall cover 8 weeks (5 weeks for teaching and learning and 3 weeks of examinations).
Alfred Masikye-Namoah
ACADEMIC REGISTRAR
17th September 2020
IAEA Marie Sklodowska-Curie Fellowship Programme for Female Students
Featured image: Female graduands pose for the camera in January 2018 after a session of the 68th Graduation Ceremony, Makerere University, Kampala Uganda. Photo credit: GMD
The application process has opened for female students interested in applying for a scholarship from the IAEA Marie Sklodowska-Curie Fellowship Programme (MSCFP) towards their Master's degrees in nuclear science and technology, nuclear safety and security or non-proliferation. The fellowship will provide scholarships for up to 100 selected applicants annually, to help enhance the pool of qualified young women in the nuclear field. It also aims to support an inclusive workforce of both men and women for the future, contributing to global scientific and technological innovation from all over the world as diversity gives opportunity to greater creativity and productivity. Candidates have until midnight on 11 October 2020 to apply for the first 100 scholarships.
RUFORUM Thought Piece on COVID-19: Are we prepared for an integrated Africa?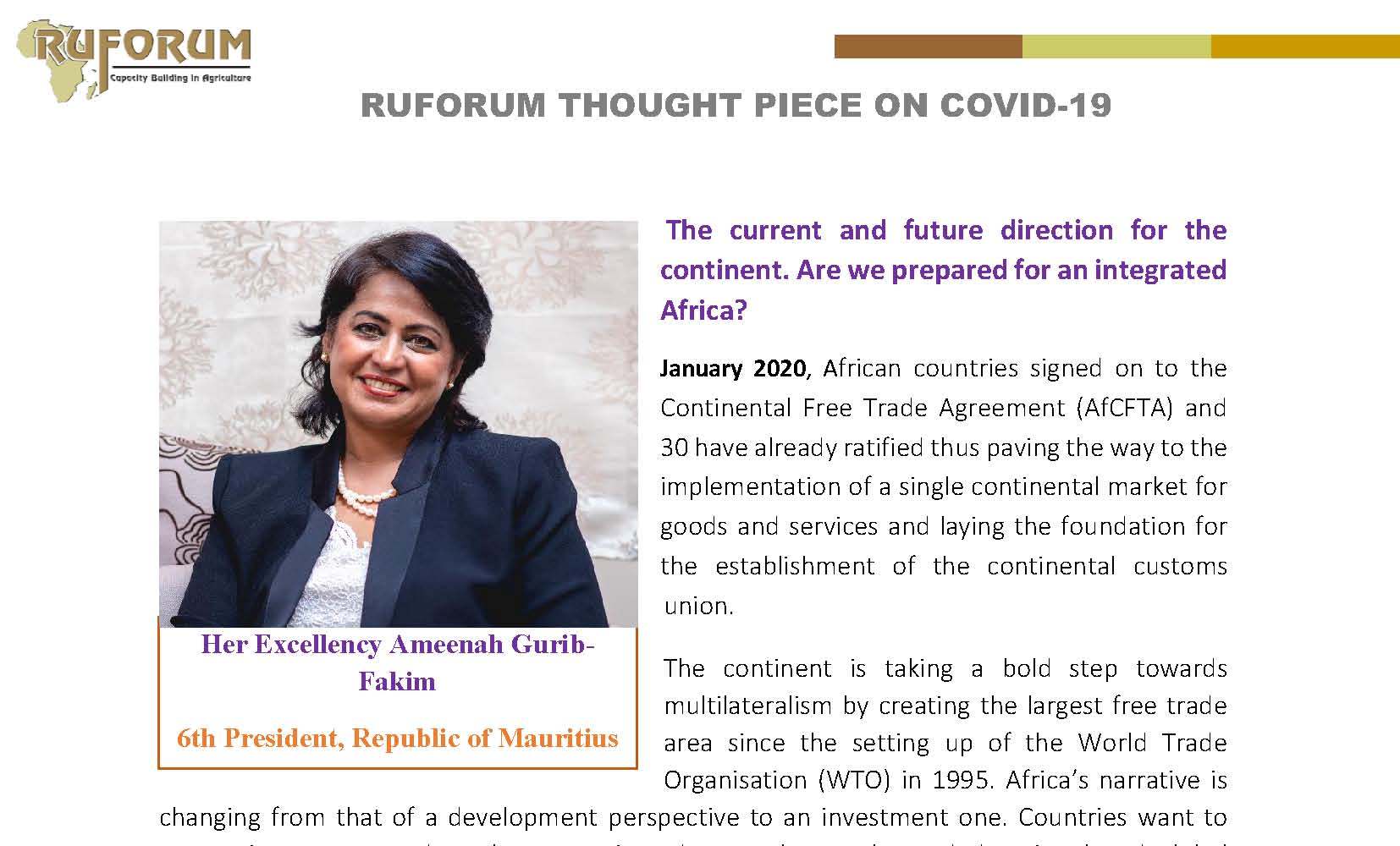 Featured image: RUFORUM Thought Piece on COVID-19 by Her Excellency Ameenah Gurib-Fakim, 6th President of the Republic of Mauritius
The current and future direction for the continent. Are we prepared for an integrated Africa?
January 2020, African countries signed on to the Continental Free Trade Agreement (AfCFTA) and 30 have already ratified thus paving the way to the implementation of a single continental market for goods and services and laying the foundation for the establishment of the continental customs union.
The continent is taking a bold step towards multilateralism by creating the largest free trade area since the setting up of the World Trade Organisation (WTO) in 1995. Africa's narrative is changing from that of a development perspective to an investment one. Countries want to attract investment and at the same time deepen the much needed regional and global engagement especially as we emerge out of the COVID 19 era.
Over the past few years, Africa's annual GDP growth has consistently outpaced the global average and was expected to remain at least 6% until 2023. Even if COVID 19 has changed these projections; it is a fact that by 2050, the continent's population is predicted to be over 2.5 billion, according to the United Nations and the World Economic Forum – more than the combined populations of China and India today. The richest 10% of the African continent will be driving demand for consumer goods and services and this represents at least 200 million people.