Professorial Inaugural Lecture Unlocks the Wealth of Environmental Science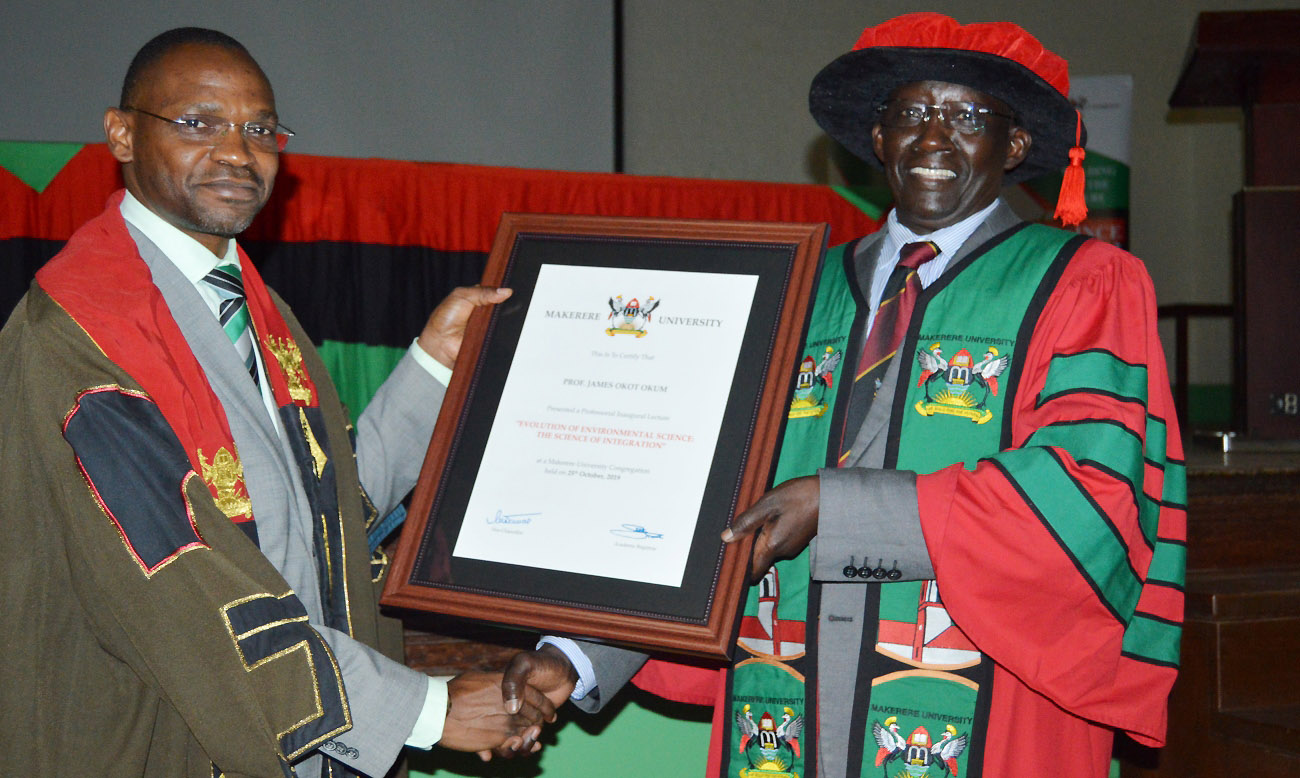 The field of Environmental Science plays a very important and yet not often talked about role in society today. For example, did you know that Lake Nabugabo is scientifically considered very safe for recreation by WHO, US-EPA (World Health Organisation, United States-Environmental Protection Agency) standards owing to its natural inability to sustain snails; the intermediate hosts for bilharzia? Thanks to research by Environmental Scientist; Prof. James Okot-Okumu, we have access to such information, as well as more worrying trends. This world Ramsar Site could easily be destroyed within the next ten years unless the rapid development of recreation centres along its banks is regulated.
However, did you know that one of nature's own Phytolacca Dodecandra also locally known as Luwooko in Central Uganda produces chemicals that can kill fresh water snails; the intermediary hosts of bilharzia? Research by other Environmental Scientists in Ethiopia has gone on to prove that Phytolacca Dodecandra is best stored in powder and not in seed form for maximum potency. All this and more came to light as Prof. Okot-Okumu delivered the Professorial Inaugural Lecture before friends, family and students in the Main Hall, Makerere University on 25th October 2019.
Congratulating Prof. Okot-Okumu upon reaching his milestone, the Acting Vice Chancellor and Deputy Vice Chancellor (Academic Affairs), Dr. Umar Kakumba noted that Professorial Inaugural Lectures mark the apex of the scholarly journey of University academics the world over.
"Professors are appointed to this rank following a scholarly journey of searching for new knowledge in their areas of expertise. It is therefore important that they should make this information accessible to the public, by way of contribution to society" added Dr. Kakumba.
The Acting Vice Chancellor also paid tribute to the College of Agricultural and Environmental Sciences (CAES), and the Department of Environmental Management; the academic home of Prof. James Okot-Okumu in particular, for its contributions to research, and added "your outgoing Department Chair is both challenging and inspiring you today."
Earlier on, the Chairperson of the Professorial Inaugural Lectures Organising Committee, Prof. Elly Sabiiti had introduced the theme of the Lecture; "Evolution of Environmental Science: The Science of Integration". He shared that this was an important subject concerned with the relationship between the environment, man and society, which is more relevant today as the world contends with the effects of climate change.
Prof. Sabiiti noted that although Professorial Inaugural Lectures are meant to be given following appointment to the rank, Professors may present them at different points in their career.
"I therefore wish to take this opportunity to encourage both recently appointed and the longstanding Professors to make use of this unique opportunity to showcase their expertise as intellectuals, by demonstrating the value and worth of being Professor" urged Prof. Sabiiti.
It was a moment of pride for CAES as the Principal Prof. Bernard Bashaasha took to the podium to read the citation in honour of Prof. James Okot-Okumu.
"This afternoon as it is in the tradition of this great university; Makerere University, we have a presentation of the Professorial Inaugural Lecture that follows the conferring of the rank of full professor on an academic by the university. This is a tradition that has been practiced by universities the world over, to celebrate the professional achievements, scholarship and the contributions of a Professor to the university, social and economic development of the nation" beamed Prof. Bashaasha.
Prof. Bashaasha shared that Prof. Okot-Okumu joined Makerere University as a Lecturer in 1990 and gradually grew through the ranks of Senior Lecturer, Associate Professor to full Professor. Since then, he has taught courses such as: Water Resources Management, Cleaner Production, Solid Waste Management, Pollution Analysis, Environmental and Social Impact Assessment (ESIA) and Environmental Audit.
Prof. Okot-Okumu has conducted research on water quality, water pollution and solid waste management and shared his findings through publications in scientific journals and book chapters. He has also supervised graduate students of Environmental Science and Natural Resources at Makerere University as well as students of Waste Management at Wageningen University in the Netherlands and Kenyatta University, Kenya.
Before delving into his presentation, Prof. James Okot-Okumu paid tribute to his wife; Mrs. Judith Achen Okot, his children, other members of the family present and colleagues. The family man could not hide his love and appreciation for his family, whose support had seen him scale the academic ladder. He equally thanked his colleagues for the encouragement and mentorship over the years.
It was clear from the presentation that Prof. Okot-Okumu takes great inspiration from quotes. Right from Ernest Haeckel (1834-1919) who coined the term ecology, to George Washington Carver (1865-1943) who introduced modern day farming in the USA, the Professorial Inaugural Lecture deliverer took the audience on a journey of appreciating science in the context of history its contribution to current body of knowledge.
For example, Prof. Okot-Okumu shared that Forest Rivers near Kampala City specifically in Mabira, Kitubulu, Zika and Mpanga have historically apart from sustaining the forest hydrology, also carried along water with nutrients and other materials obtained from the forests that feed the downstream ecosystems. This, he noted, is however being threatened by the continued encroachment on these forests as human activity increases.
"With the rapid degradation of these forests mainly from illegal felling of trees, the evapotranspiration and infiltration components of the hydrological cycle are reduced while runoff water losses are increased in these locations within the Lake Victoria basin and are putting stress on environmental maintenance requirements of the rivers" warned Prof. Okot-Okumu.
He also made reference to the increasing cost of piped water supplied by the National Water and Sewerage Corporation as another effect of human and industrial activity polluting the Murchison bay of Lake Victoria.
"Water treatment at this utility is now gradually replacing Aluminium sulphate with synthetic polymers as coagulant at an added cost to consumers. There is therefore need to think about innovative cheaper way to treat water especially for the sector of the community who cannot afford the current costs of water" he explained.
Thankfully, Prof. Okot-Okumu and fellow researchers in 2015 conducted research on the use of alternative solutions readily available in nature to treat water.
"Having seen drawbacks in some of the conventional methods, we have tested some readily available plant materials that required simple preparation methods and were cheap to use. These are seed powders from Java plum, Jackfruit and Moringa that worked very well as coagulates to clarify water from community wells" shared Prof. Okot-Okumu.
He added that the same seed powders, when used in certain concentrations were able to remove turbidity (matter suspended in water) by more than 95% as well as the bacterial effects of agents like E. coli, P. aeruginosa, S. Typhii, S .dysenteriae, S. aureus and S. faecalis within the range of 98 -100% hence making the water safe for drinking.
As the urban centres continue to expand, increasing amounts of solid waste are being generated and poorly disposed of in the environment. Prof. Okot-Okumu therefore advocated for the application of approaches of Integrated Solid Waste Management (ISWM), which he said would help prolong the lifespans of landfills such as Kiteezi owned by the Kampala Capital City Authority (KCCA).
"Applying approaches of ISWM such as Cleaner Production (CP), Lean Production (LP), Industrial Ecology (EC), Circular Economy (CE) and Sustainable Consumption and Production (SCP) that are Green Development Strategies can mitigate the impacts of solid wastes" advised Prof. Okot-Okumu.
He proposed that science needs to copy more from nature whereby the waste from one organism or system becomes a raw material or input for another. This, he further shared, would create a very efficient system for sustainability and mitigate damage to the environment caused by poorly disposed of solid waste.
Whereas Prof. Okot-Okumu admitted that Makerere University through the Department of Environmental Management (DEM) plays a leading role in training the best Environmental Science graduates in Uganda, he his concluded his Professorial Inaugural Lecture with a call to action.
"The university can still do better by allowing the training programs at DEM to evolve together with the national and global challenges of environmental management. By working in collaboration with other Departments in Science and Social Sciences at the university, DEM can improve on the training and research in environmental science to support Uganda's sustainable development efforts" Prof. Okot-Okumu concluded.
Article by Public Relations Office
Notice: Makerere Disability Scheme 2022/23 Medical Review Exercise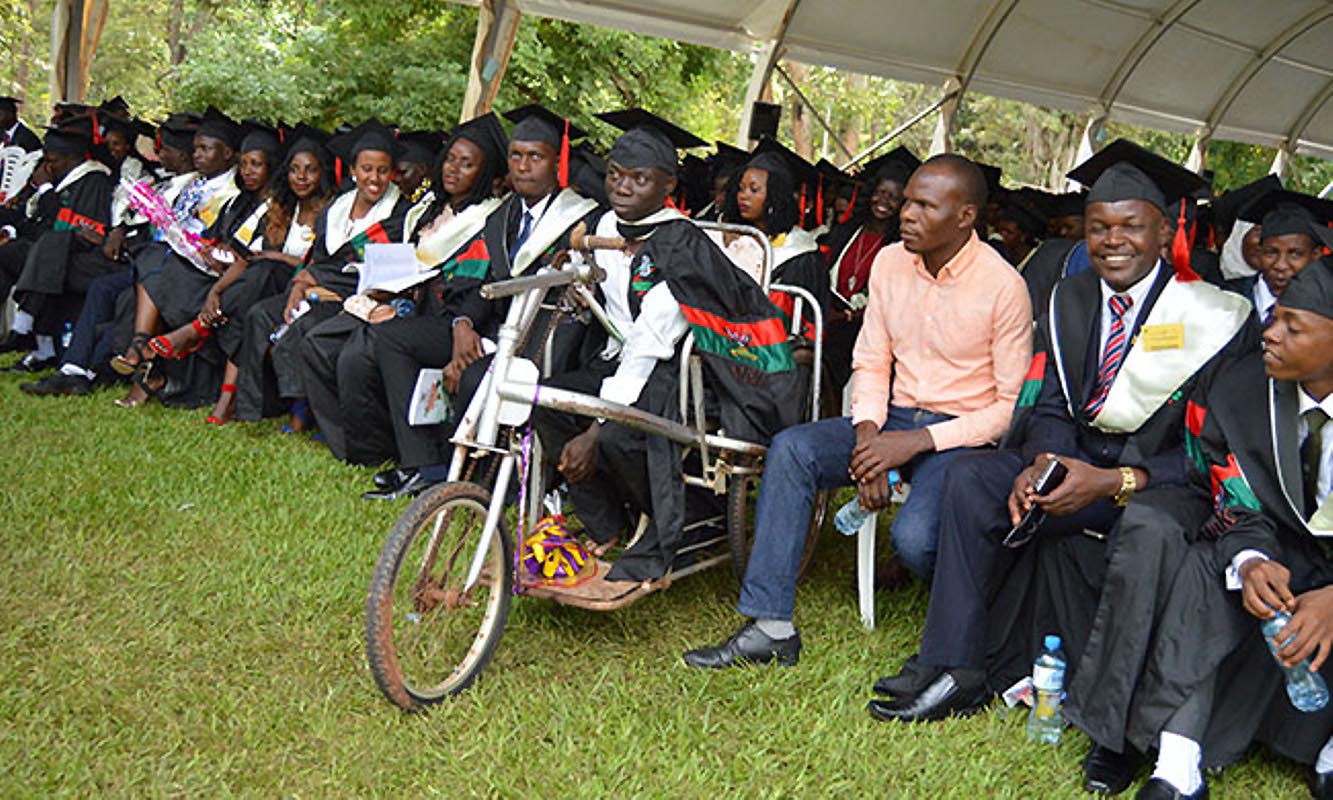 The Academic Registrar, Makerere University invites persons with disability who applied for admission to public universities under the disability entry scheme for 2022/2023 Academic Year to appear for medical/review exercise at Makerere Unive, Senate Building, Level Two (2) in the Telepresence Centre.
NOTE: Only those who have the minimum entry requirements of at least two principal passes at A' Level or its equivalent and at least five (5) passes at O' Level or its equivalent will be interviewed.
Only candidates who sat 'a' level in 2020, 2019 and 2018 are eligible for admission.
THE EXERCISE WILL BE CONDUCTED ON 3rd, 4th and 5th October, 2022 respectively from 9.00 A.M – 1.00 P.M each day.
IMPORTANT:
(i) If you fail to appear on any of the given days above, there will be no other chance for you.
(ii) Applicants with Government Scholarship for the previous years are not eligible for admission
ALFRED MASIKYE NAMOAH
Acting. ACADEMIC REGISTRAR
Uganda's policymakers implored to address forest loss, plastic & water pollution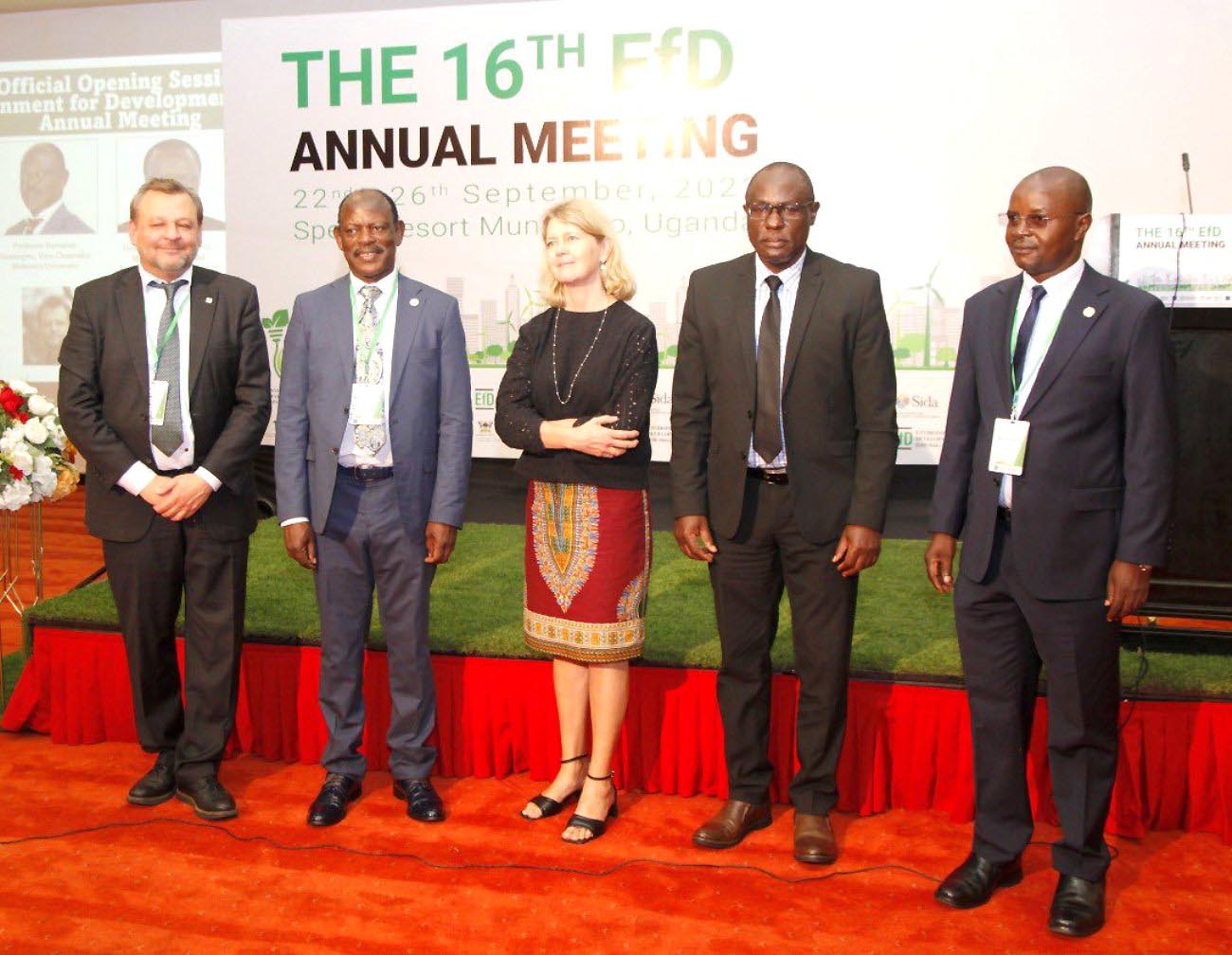 The Vice Chancellor Professor Barnabas Nawangwe on Thursday 22nd September, 2022 participated in the opening of the EfD Annual meeting hosted by Makerere University at Speke Resort Munyonyo where he appealed to government to implement the ban on kaveera and address other environmental issues.
The opening ceremony moderated by the EfD Global Hub Manager Gunnar Köhlin and was graced by Uganda's Minister for Water and Environment represented by the Commissioner for Water, Mr. Julius Mafumbo and the Swedish Ambassador to Uganda, H.E. Maria Håkansson.
Prof. Nawangwe urges Makerere University community to support the Mastercard Foundation E-learning Initiative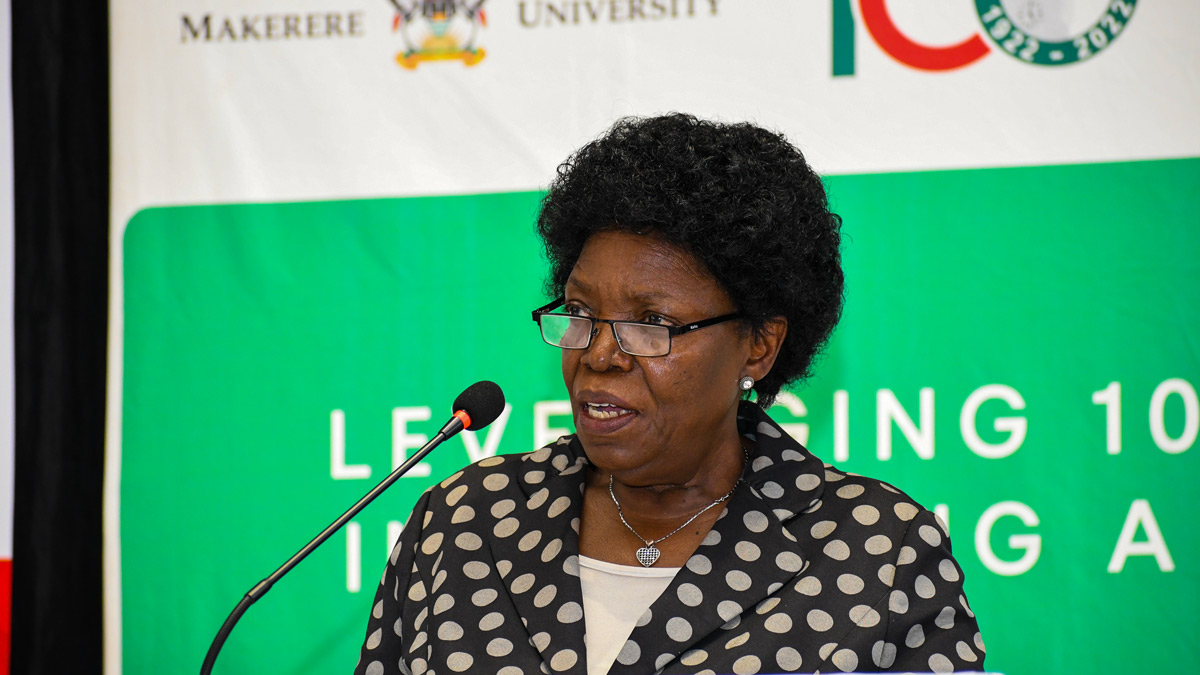 By Bernard Buteera
Makerere University has launched a two million dollar E-learning Project, dubbed The Mastercard Foundation Scholars Program E-learning initiative.  
The launch was held on Tuesday 20th September 2022 at Makerere University, Yusuf Lule Central Teaching Facility Auditorium. It attracted over 200 participants, who included members of University Management, College Principals, School Deans, Academic and Administrative staff, students and the general university community.
While addressing the gathering, the Chief Guest, Prof. Mary Okwakol, the Executive Director of National Council for Higher Education (NCHE), congratulated Makerere University for winning such a huge grant, which will go a long way in transforming the eLearning infrastructure at Makerere University.
"I am happy to be joining you in launching a project that is at the heart of National Council for Higher Education. Online learning is at the heart of the Council, not only because of the challenges presented by the Covid-19 pandemic, but also the world is now a digital world." Prof. Okwakol remarked.
Prof. Okwakol thanked Mastercard Foundation and other development partners who have continued to support initiatives that help transform higher institutions of learning in Uganda.
"I sincerely thank the Mastercard Foundation and other partners who have continued to support higher education in Uganda, especially in the area of research and online learning. Globally, the outbreak of the COVID-19 pandemic, greatly disrupted education systems forcing learners and some schools to shift to virtual learning to curb the spread of the pandemic." Prof. Okwakol pointed out.
On his part, the Vice Chancellor, Prof. Barnabas Nawangwe urged the university community, especially the academic staff to take advantage of the Mastercard Foundation E-learning initiative to develop e-content across all Colleges of the University, to enhance capacity for eLearning at Makerere University.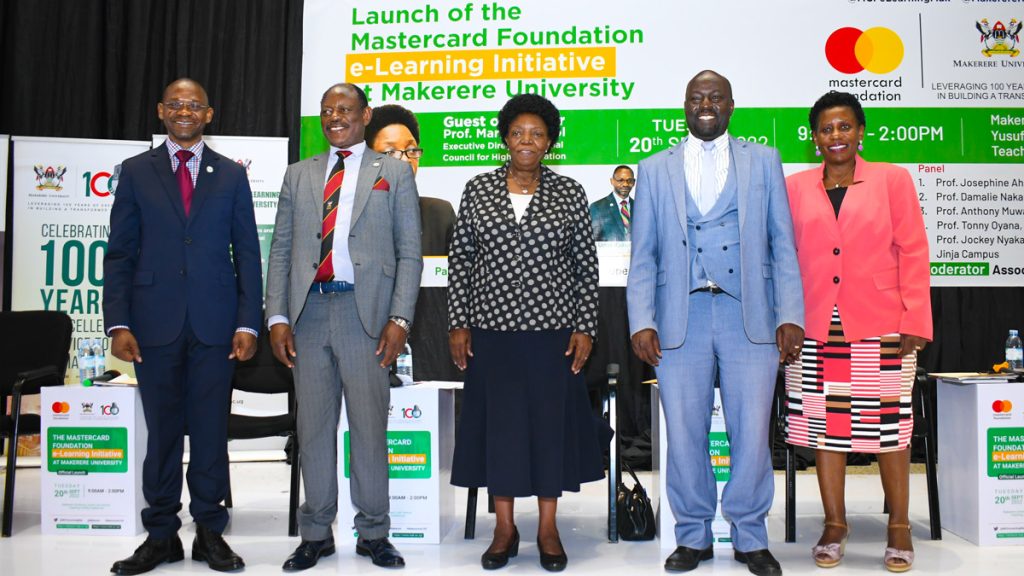 "I appeal to the Colleges to embrace this project and have as many courses adopt this pedagogy development system, even though students will continue with face-to face and phyisical learning, they should be allowed the option of online learning. The platforms that are going to be built, will give our students an opportunity to interact with international students, scholars, teachers and with each other." Prof. Nawangwe applealed.
The Vice Chancellor, further called upon all other development partners to emulate Mastercard Foundation in supporting Makerere University and other universities on the entire African continent in strengthening digital literacy, so that Africa is not left behind.
"In 2018 I attended a conference on E-learning in Beijing China, where a critical question was asked; Will Africa be left behind again? This was in reference to many advancements that were taking place in the western world, in which Africa had been left behind." The Vice Chancellor reminded the audience.
Prof. Nawangwe further emphaised the importance of e-learning as one of the critical modes of teaching and learning in the 21st first century.
"Ladies and Gentlemen, I cannot over emphasise the importance we attach to e-learning the 21st Century, that is why we took a decision to elevate the Department of Open and Distance Learning into an Institute of Open and Distance E-learning with an intention of having e-learning extended to other Colleges of the university." Prof. Nawangwe pointed out.
The Deputy Vice Chancellor Academic Affairs, and Chairperson of the Steering Committee of the E-learning Initiative, Prof. Umar Kakumba, rallied the University community to support the implementation of the project in the University.
"The Mastercard Foundation Scholars Program E-learning initiative could not have come in at a better time than post COVID19 era. A pandemic, which exposed our systems and methods of teaching and learning. You all recall, when were hit by the pandemic, with lockdowns and closures of institutions of learning, we all went into a panicky mode on how were going to cope with online learning. I therefore call upon every member of the university to give this project the support it deserves.
Prof. Kakumba reminded the audience the importance and relevancy of online learning at Makerere University and other universities in Uganda.
"The online method of learning is best suited for everyone. This digital revolution has led to remarkable changes in how the content is accessed, consumed, discussed, and shared. Office goers and stay home mothers can take up online educational courses too, at the time that suits them. Depending on their availability and comfort, many people choose to learn at weekends or evenings." Prof. Kakumba remarked.
Prof. Paul Birevu Muyinda, the Coordinator of the Mastercard Foundation E-learning Initiative, informed the audience the importance of the project and the expected outcomes for the University.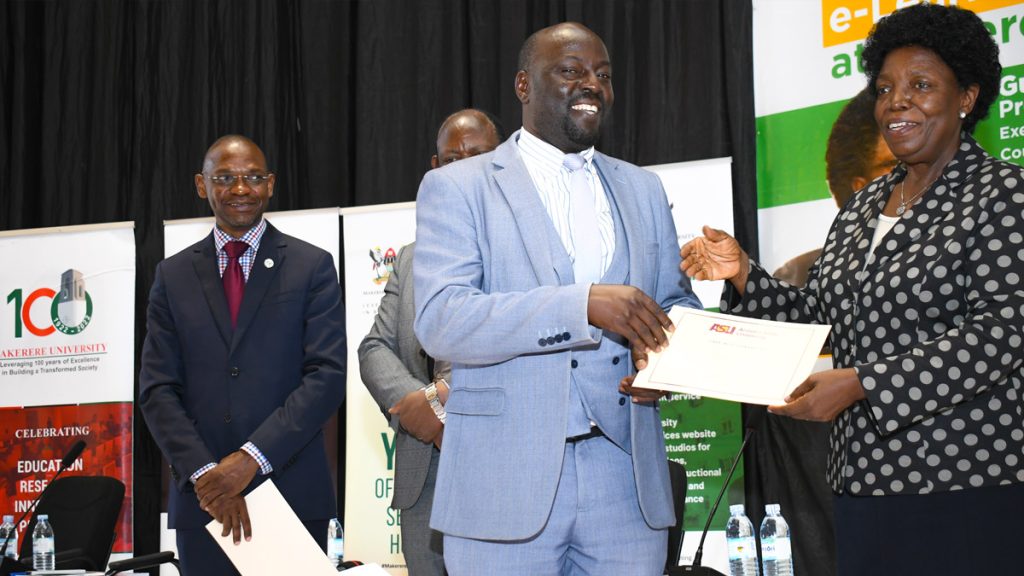 "The Mastercard Foundation e- Learning Initiative is a Project funded by Mastercard Foundation aimed at addressing the negative impact of COVID-19 pandemic that constrained access and continuity of teaching, learning, research and community engagement activities at Makerere University" Prof. Muyinda pointed out.
Prof. Muyinda further thanked the team that he worked with in putting up the proposal in a very short time that yielded such an important grant for the University.
"I thank the team that spent sleepless nights putting together the proposal that resulted into this project. I must report that Makerere University is privileged to be having the most highly qualified persons in online instruction design and online pedagogy at the IODeL and beyond. It is now up to Makerere University in particular and the Country in general to make use of these persons to transform the terrain of online, blended distance and e-learning education." Prof. Muyinda remarked.
Prof. Justine Namaalwa, the Program Coordinator for Mastercard Foundation Scholars Program at Makerere University, informed the audience, that the E-learning initiative was one of the many partnerships between Mastercard Foundation and Makerere University geared at supporting the young people to succeed on the African continent.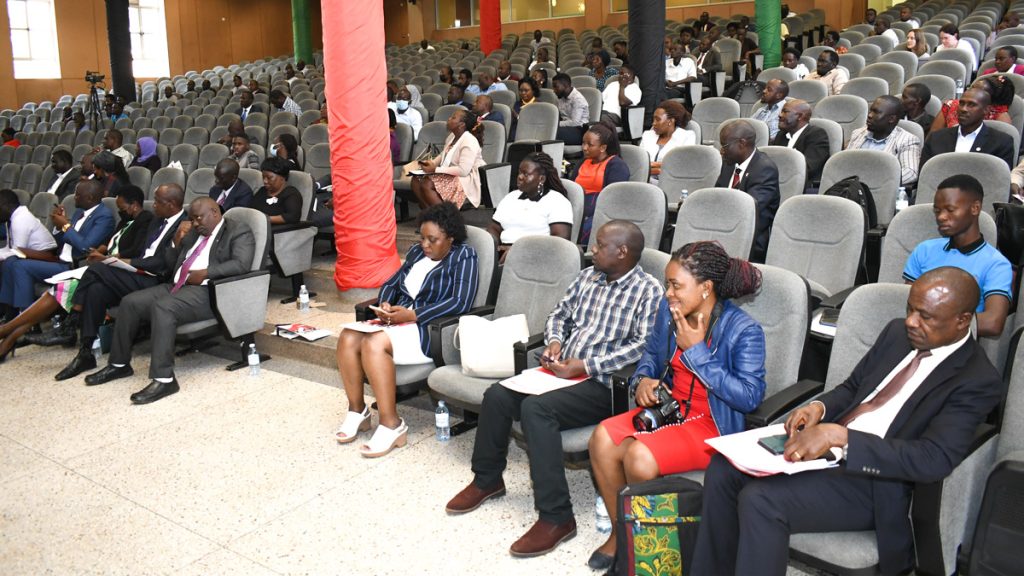 "The Mastercard Foundation Scholars Program continues to recognize that in order to enable young people across Africa to succeed, there is need to; Address systemic barriers in Higher education, Strengthen the capacity of Institutions that serve the Young People, and Support innovative solutions across critical sectors." Prof. Namaalwa remarked.
The colourful launch ended with a panel discussion in which panelists digested the importance and opportunities for open distance and eLearning in higher institutions of learning.
Bernard Buteera is the Communications Officer of the Mastercard Foundation Scholars Program at Makerere University.