Makerere receives first ASA presidential scholar recognition
Dr. Sister Dominic Dipio is renowned for her feature films on Ugandan folklore and her passion for cultural film production and research. This however does not mean that she is used to recognition.

Dr. Sister Dominic Dipio is renowned for her feature films on Ugandan folklore and her passion for cultural film production and research. This however does not mean that she is used to recognition.Dr. Dipio received the nomination to become the first African Studies Association's (ASA) Presidential Scholar, which also accorded her a trip to New Jersey and San Francisco States of the US, from 5th to 27th November 2010.
Before attending the Associations meeting in San Francisco from 18th to 21 November, Dr. Dipio was hosted at Rutgers University by the Center for African Studies, where she gave a lecture in an African Studies Writer's class titled, Rendition of History in Goretti Kyomuhendo's Novel, Waiting (2007). She also screened her film, Crafting the Bamasaba, which completely captivated her audience.
She also went to two Media Studies classes, one being peculiarly all female, in keeping with a tradition of a one-time Women's Studies Department, that has now been reduced to one course. In these classes, she talked broadly about her research area in film and gender: the changing and unchanging gender images represented in African films that she analyzes.
However, her sessions were not without amusement. In the all female class, Dr. Dipio was amazed by a question by one of the students who asked, "How are you perceived in your country/community?" The idea behind the question highlighted how little known, the advancements made by African Women in all spheres of influence were. Startled but not speechless, Dr. Dipio explained to the student that she was right and wrong at the same time because, "There are many women in my country with even greater achievements," she quickly informed.
In the other media class, Dr. Dipio mainly talked about the politics of making, marketing and distributing African cinema. So as to illustrate her point, she cited Ousmane Sembene, a former mechanic and bricklayer, who rose to international fame for his award-winning films, like Moolaade (2004) among the many. However, as most of the students had no knowledge of who Sembene was, her illustration was incomplete until she easily found a few clips of the director and his film off Youtube, thanks to the fully equipped lecture theatre which hosted the day's class. This feat was truly enviable for Dr. Dipio who quickly recalled how she struggles with her heroic students of the film class, to screen their weekly films for the class. Nevertheless she expressed her hope, "We hope and look forward to a time when we shall at least have a lecture theatre in the Faculty of Arts, fully equipped with screening facilities."
About the African Studies Association's (ASA)
The ASAmembership consists of a diverse group of individuals, who are interested in Africa and its people, and as such carry out research and scholarly activities in and on Africa. It has a long history of doing this, and this year's conference was the 53rd, with the theme, AFRICAN DIASPORA AND DIASPORAS IN AFRICA.
The overall objectives of ASA are:
Fostering the study of Africa
Supporting research by Africans and
Promoting collaborations among Africanists
The Conference
The 53rd ASA conference was opened by Johnnie Carson, Assistant Secretary of State for African Affairs in President Barack Obama's administration, and former American Ambassador to Uganda. In his address, he underlined the importance of academic scholarships in US policy. The policy makers need the feedback from academics to inform decision. He outlined four areas of priority that the US Government has in Africa and these are:
Food security: To enhance Africa's capacity to feed itself and the world because of its enormous capacity for food security.
Climate change: This will greatly affect food security, especially in Africa, which has the greatest risks and vulnerabilities.
Global Health: Related to the large number of skilled work force that Africa loses to the Diaspora. The brain-drain phenomenon has lead to health related deaths in Africa.
Youth and Change in Africa: This is the government's commitment to leadership training. Training the next generation of African leaders is what will positively influence the three areas mentioned above.
During the conference, Dr. Dipio managed to attend some of the parallel sessions and was particularly impressed by the academic rigor of the various senior scholars and graduate students' researches, undertaken in different parts of the continent. Some of the sessions she attended were: a Roundtable: Whither African Studies in the Academy and in Praxis, Visuality and Social Reform in Colonial Africa; New Critical Approaches to African Literature and Cinema in an Age of Global Production; New discourses on African Personhood in a Time of Votality; and South Asians in Africa, Asian Communities in Africa.
On the last day of the conference, Dr. Dipio was introduced to a group of scholars, doing research on Uganda. Most of the researches that are currently on-going are either historical or political. She however foresaw opportunities, where researchers in Makerere could collaborate with team leaders and join these research groups.
At the close of the conference, The Bashorun M.K.O. Abiola Lecture was delivered by Professor Bekeret Selassie. The issue he highlighted was the need for renewed commitment of the Africans in Diaspora to their Mother continent, where at one point he challenged the Africans living in Diaspora to go back and get involved more directly in the continent's development.
The African continent's participation in the ASA annual conference is important. As observed by Dr. Dipio, "Almost all the participants at the conference were people living in or studying in the US or European universities."
The Association's initiative to open up the Presidential scholar offer is an attempt to bridge the gap between scholars in the Diaspora and those in the continent. "Whereas this move from the ASA is highly appreciated, it is the challenge of African universities that value research to support the membership and participation of their scholars at this annual conference and other ASA activities," added Dr. Dipio.
As Makerere continues to re-affirm its commitment to be a research driven University, this is a great opportunity for her to network with various universities especially in the US that welcome such collaborations. Additionally, investment for institutional participation at this conference that is attended by top researchers in the academia will be an added advantage. "I was delighted to particularly meet and interact with Prof. Ali Mazrui our revered and beloved scholar from East Africa," remarked Dr. Dipio. "I was also delighted to meet my mentor in African cinema and comparative Literature, Prof. Manthia Diawara, who in recent years twice visited Makerere; first to deliver a lecture on Sembene Ousmane in 2005, and in the following year as a filmmaker who accompanied Ngugi wa Thiongo in is 'homecoming' to Makerere and East Africa," she concluded.
Some quick facts about the Nomination
Dr. Dipio's nomination came through the American Council of Learned Societies (ACLS) that that is directly responsible for promoting the African Humanities Program (AHP) to which she has previously been a fellow 2009/2010.
This nomination came in response to African Studies Association's (ASA) search for a credible African scholar to be invited as the first Presidential Scholar at the Association annual conference.
After this inaugural process, the association will annually invite an African scholar living in the continent to participate in the annual ASA conference
The purpose for this is to grow a more meaningful connection/relationship African scholars in the continent and those in Diaspora
Related Stories
Crafting the Bamasaba: a Mak-NUFU film premiere
mwamai@admin.mak.ac.ug, Public Relations Office
Mak Participates in New Vision Education Expo 2023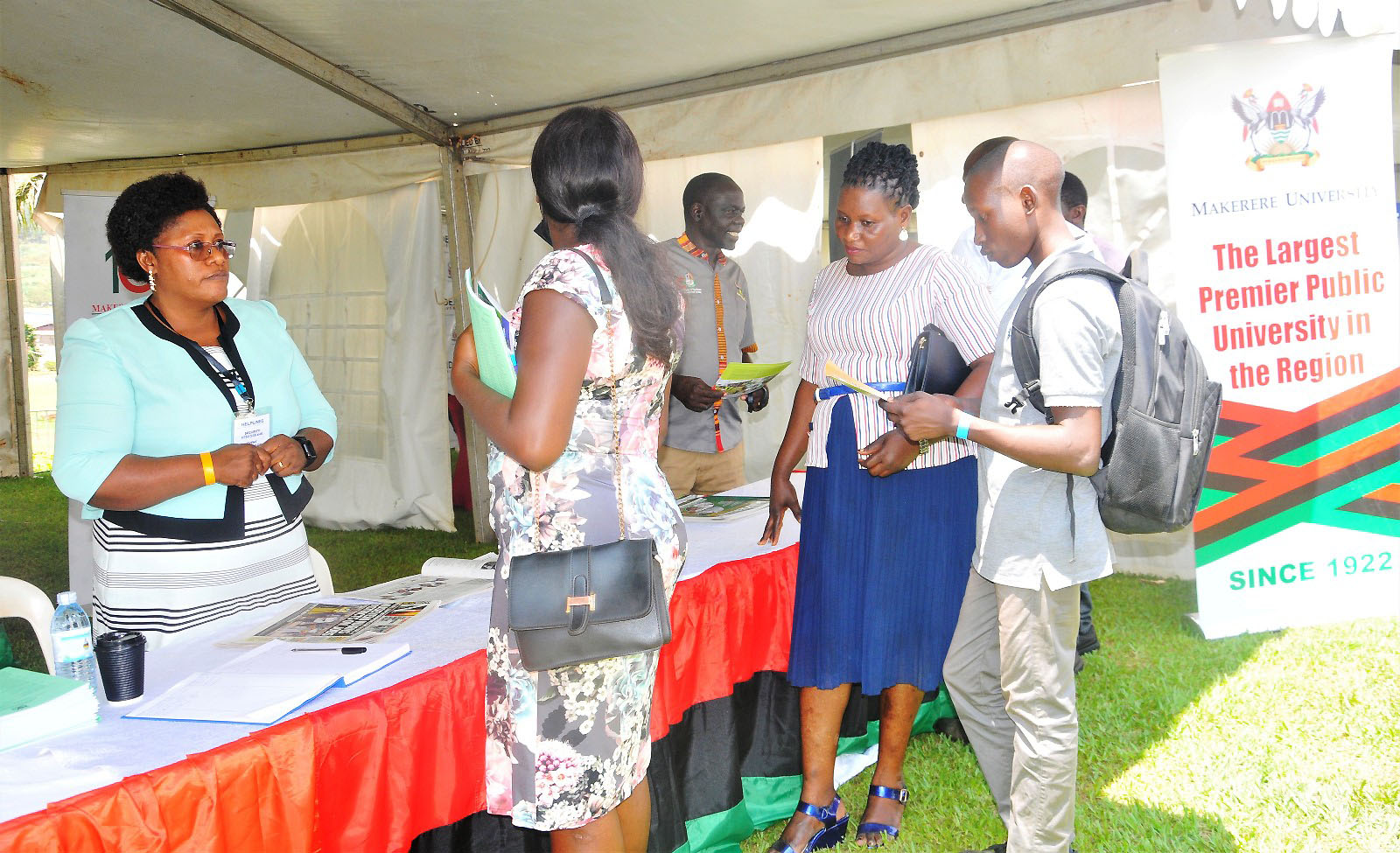 Makerere University is participating in the New Vision Education Expo 2023 to strengthen its niche as the leading provider of education services.
The three-day New Vision Expo (Friday 27th January 2023 to Sunday 29th January 2023) at the Uganda Institute of Information and Communications Technology (UICT) Nakawa brings on board players in the education and business fields to forge partnerships to improve the quality and outcomes of education in Uganda.
Makerere University seeks to maximally utilize the three days to ensure that the participants at the Education Expo gain a deeper understanding of its 100 year journey of providing excellent services to humanity through academic programmes, services offered and ongoing efforts aimed at producing employable graduates as well as entrepreneurs.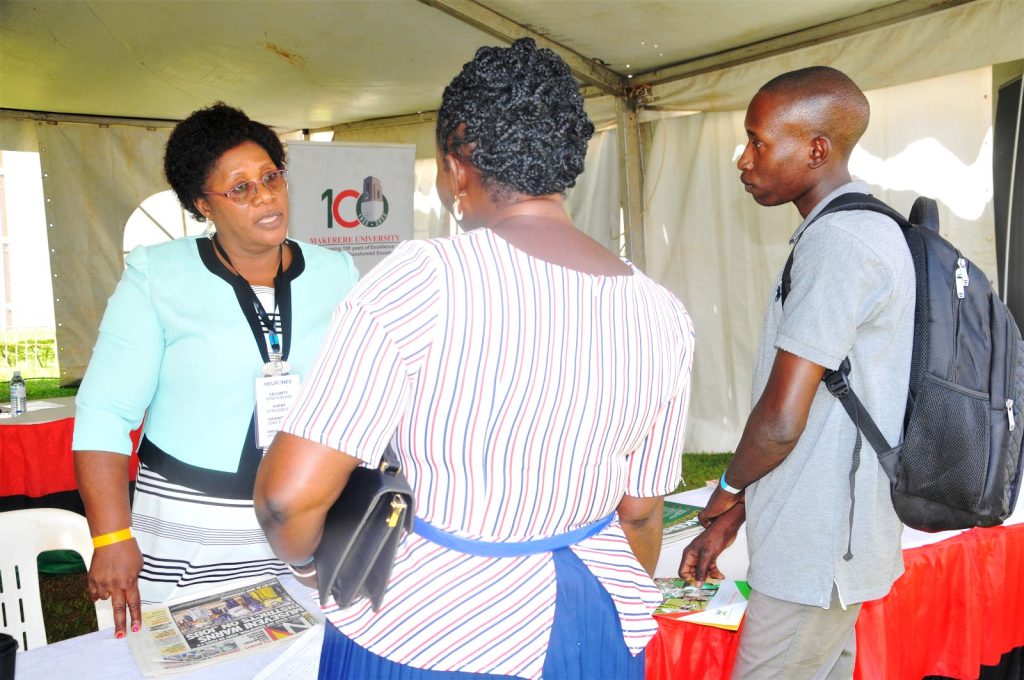 The Vice Chancellor, Prof. Barnabas Nawangwe highlights that Makerere University values stakeholder engagements and partnerships.  "The New Vision Expo 2023 presents Makerere University with an opportunity to enhance stakeholder engagements. It is about consolidating the relationships with schools, prospective students and parents, and partners in the education sector. I applaud the CEO of Vision Group-Mr. Don Wanyama for coming up with the Education Expo."
To respond to the information needs of stakeholders, Makerere University has lined up a team of experienced staff from the Department of the Academic Registrar, the Admissions Office, Public Relations Office, Career Guidance experts as well as the Institute of Open Distance and e-Learning (IODeL) under the College of Education and External Studies (CEES).
According to the Principal PRO of Makerere University Ms. Ritah Namisango, the Education Expo provides a platform to reach out to the clients that Makerere University exists to serve. "You must be in touch with your prospective parents, students as well as schools and partners that continue to recommend you as the leading university in the region. Makerere University has celebrated 100 years of excellent service to humanity (1922-2022). So, as we continue to promote the academic programmes, innovations and services that we offer, we are ready to listen, interact and learn from respective stakeholders about what they expect from the University as we embark on the next 100 years."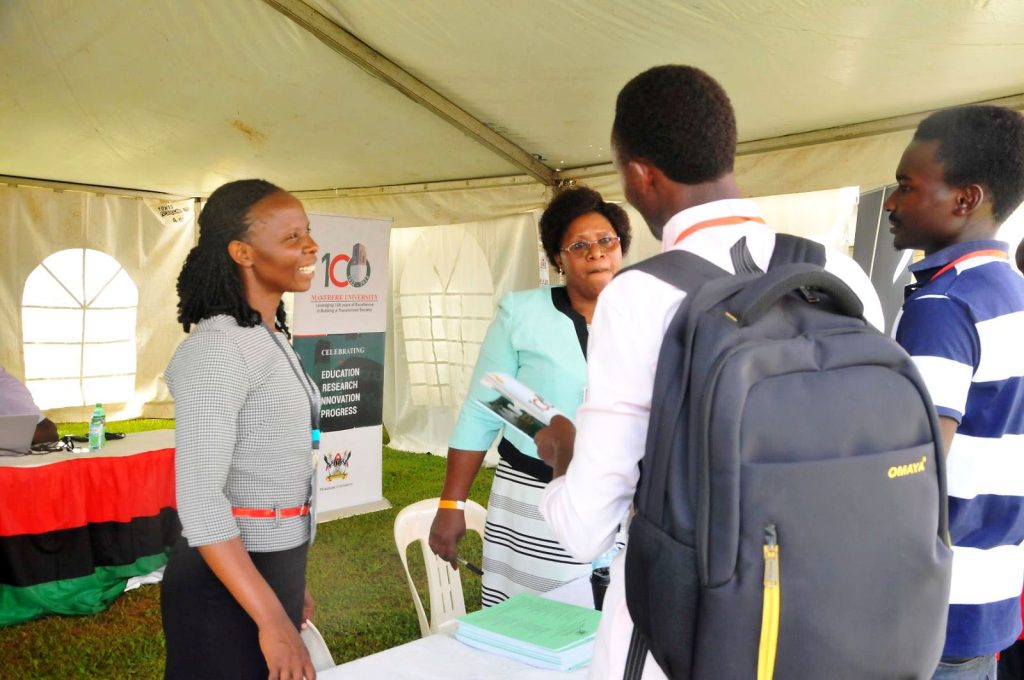 The New Vision Expo 2023 is happening at an opportune (holiday) time, which accords the students, parents and guardians quality time to visit the exhibition and interact with experts in the education sector.
In addition, Makerere University has recently advertised its academic programmes and it is preparing to receive students for the Academic year 2023/2024. Sharing her experience about the interaction with participants who visited the Makerere University exhibition space, Ms Joyce Muhanguzi, Senior Assistant Registrar in the Department of the Academic Registrar noted that most of the prospective students and parents wanted to know about the academic programmes, the subject combinations that students should study to qualify to apply for the respective academic programmes, and the available admission avenues i.e. government sponsorship, private sponsorship, diploma entry, direct entry, national merit, talented sports entry and district quota programme).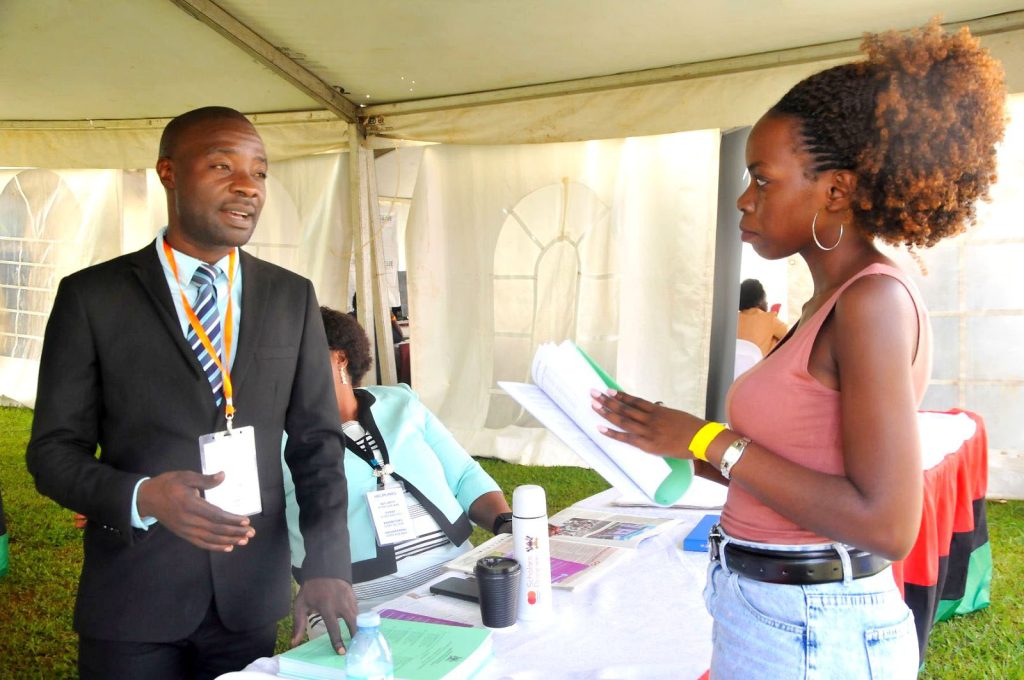 Ms Joyce Muhanguzi and Mr. Dennis Kibuuka's interaction focused on students who expressed their desire to join Makerere University in the coming years, and needed a case by case approach to their information needs, career guidance and linkages to Professors and Administrative staff in the respective Colleges at Makerere University.
The prospective students and parents also disclosed that in addition to the information on the Makerere University website, they welcome interactive and friendly approaches such as the New Vision Education Expo where they are presented with a golden opportunity to interact with Makerere University officials face-to-face.
At the New Vision Education Expo 2023, Makerere University joins other exhibitors that include; Government agencies, NGOs, Telecom companies, Banks, Insurance companies, Kindergartens/Daycare Centres, Primary and Secondary schools, Ugandan and Kenyan Universities, International schools, Study Abroad Agencies, Vocational institutions, Scholastic materials suppliers and SME service providers.
73rd Graduation Highlights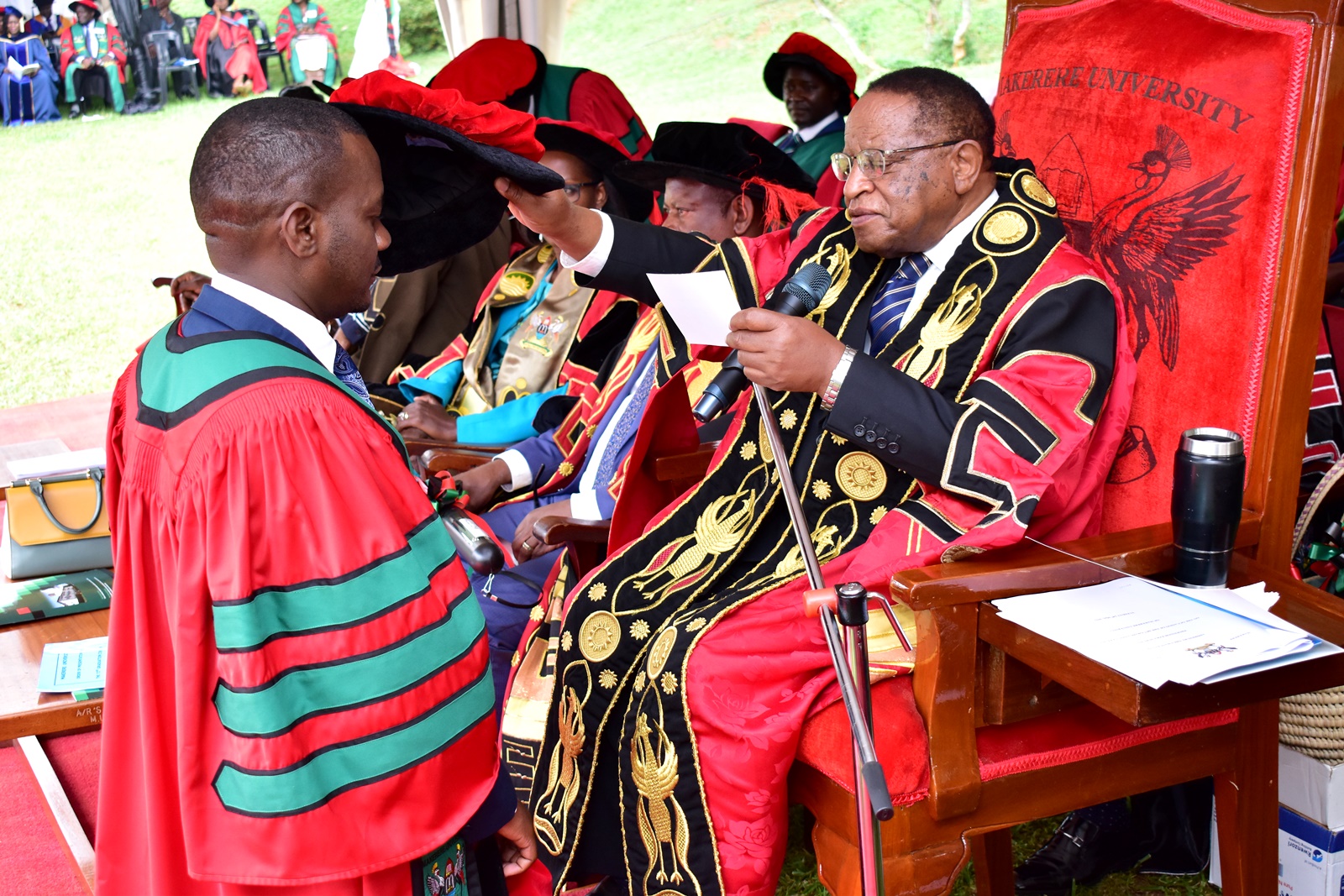 The 73rd Graduation Ceremony of Makerere University will be held from Monday 13th to Friday 17th February 2023 following the schedule below:
Monday, 13th February, 2023
College of Health Sciences (CHS)
College of Natural Sciences (CoNAS)
School of Law (SoL)
Tuesday, 14th February, 2023
College of Agricultural and Environmental Sciences (CAES)
College of Education and External Studies (CEES)
Wednesday, 15th February, 2023
College of Business and Management Sciences (CoBAMS)
College of Computing and Information Sciences (CoCIS)
College of Veterinary Medicine, Animal Resources and Bio-security (CoVAB)
Thursday, 16th February, 2023
Makerere University Business School (MUBS)
Friday, 17th February, 2023
College of Engineering, Design, Art and Technology (CEDAT)
College of Humanities and Social Sciences (CHUSS)
HEST Graduate Programme: Internship Placement Advert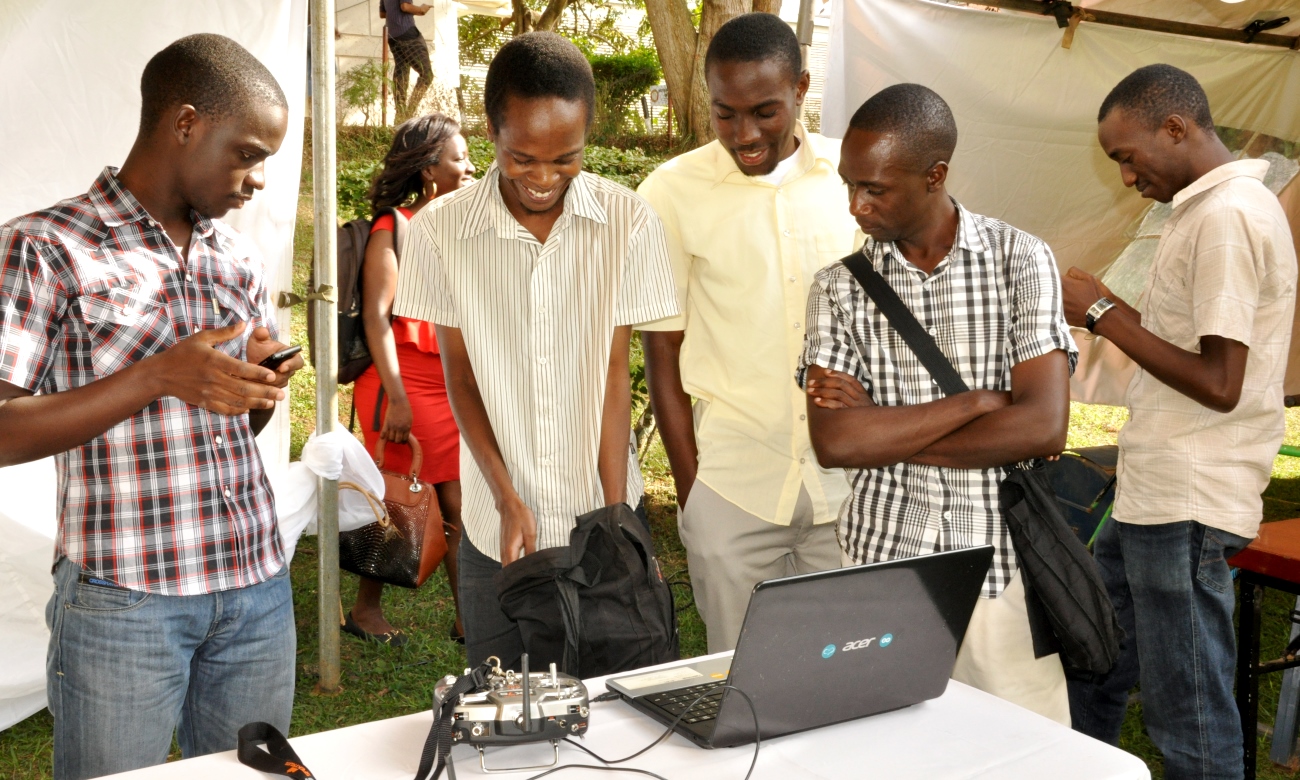 Purpose
The program aims to improve graduates' skills by placing them into selected partner industries for skills gain, facilitating the process and supervising placed interns. Graduates will be placed in their areas of study accordingly.
Time frame
The phased recruitment and placement will start from 1st December 2022 for a period of three months. Recent university graduates and those awaiting graduation should apply for this opportunity.
Eligibility
The project mainly focuses on university graduates from Makerere University (Mak), Makerere University Business School (MUBS) and Kyambogo University (KYU) who have undertaken the following courses
Makerere University and Kyambogo University
Bachelor of Science in Civil Engineering
Bachelor of Science in Electrical Engineering
Bachelor of Science in Computer Engineering
Bachelor of Science in Telecommunication Engineering
Bachelor of Science in Mechanical Engineering
Bachelor of Architecture
Bachelor of Science in Construction Management
Bachelor of Science in Land Economics
Bachelor of Science in Quantity Surveying
Bachelor of Science in Land Surveying and Geomatics
Bachelor of Visual Communication Design
Bachelor of Science in Actuarial Science
Makerere University Business School
Bachelor of Arts in Economics
Bachelor of Science in Business Statistics
Bachelor of Business Administration
Bachelor of Commerce
Bachelor of Real Estate Business Mgt.
Bachelor of Science in Accounting
.Bachelor of Science in Finance
Bachelor of Human Resource Mgt.
Bachelor of Leadership and Governance
Bachelor of Procurement and Supply Chain Mgt.
Bachelor of Transport & Logistics Mgt.
Bachelor of International Business
Bachelor of Catering and Hotel Mgt.
Bachelor of Science in Marketing
Bachelor of Travel and Tourism Mgt.
Bachelor of Entrepreneurship and Small Business Mgt.
Bachelor of Business Computing
Bachelor of Office and Information Mgt.
They should not be employed anywhere and should have gone through the traditional internship placement required by their respective universities.
How Students join
Interested university graduates shall submit an online application and contact the designated university contact or focal persons. Successful applicants will be required to complete the three (3) months internship pgoram uninterrupted to fully benefit from the program. Apply here: https://bit.ly/HEST2022
How companies participate
A company interested in hosting interns under the program can fill out an internship acceptance form and forward it to the internship placement officer.
Contacts of University focal persons
Makerere University (Mak)
Dr. Christine Amito
Tel: +256-771-321384
Email: amitoxtine@gmail.com
Makerere University Business School (MUBS)
Ms. Christine Nantambi
Tel: +256-772-654454/+256-703-878277
Email: cnantambi@mubs.ac.ug
Kyambogo University (KYU)
Ms. Nandugwa Harriet
Tel: +256-786030640
Email: hnandugwa@kyu.ac.ug
Contacts of IEED Project Team
Makerere University School of Public Health (MakSPH)
Ms. Mary Kaakyo,
IEED Project Coordinator
Email: mkaakyo@musph.ac.ug
Tel: +256-706-960075
Makerere University School of Statistics and Planning (MakSSP)
Ms. Afazali Zabibu,
HEST Study Coordinator
Email: zabibu.afazali@gmail.com
Tel: +256-779-912365/+256-705-587072