Uganda Commemorates One Health Day with a call for a Multi-Sectoral Approach to address emerging health threats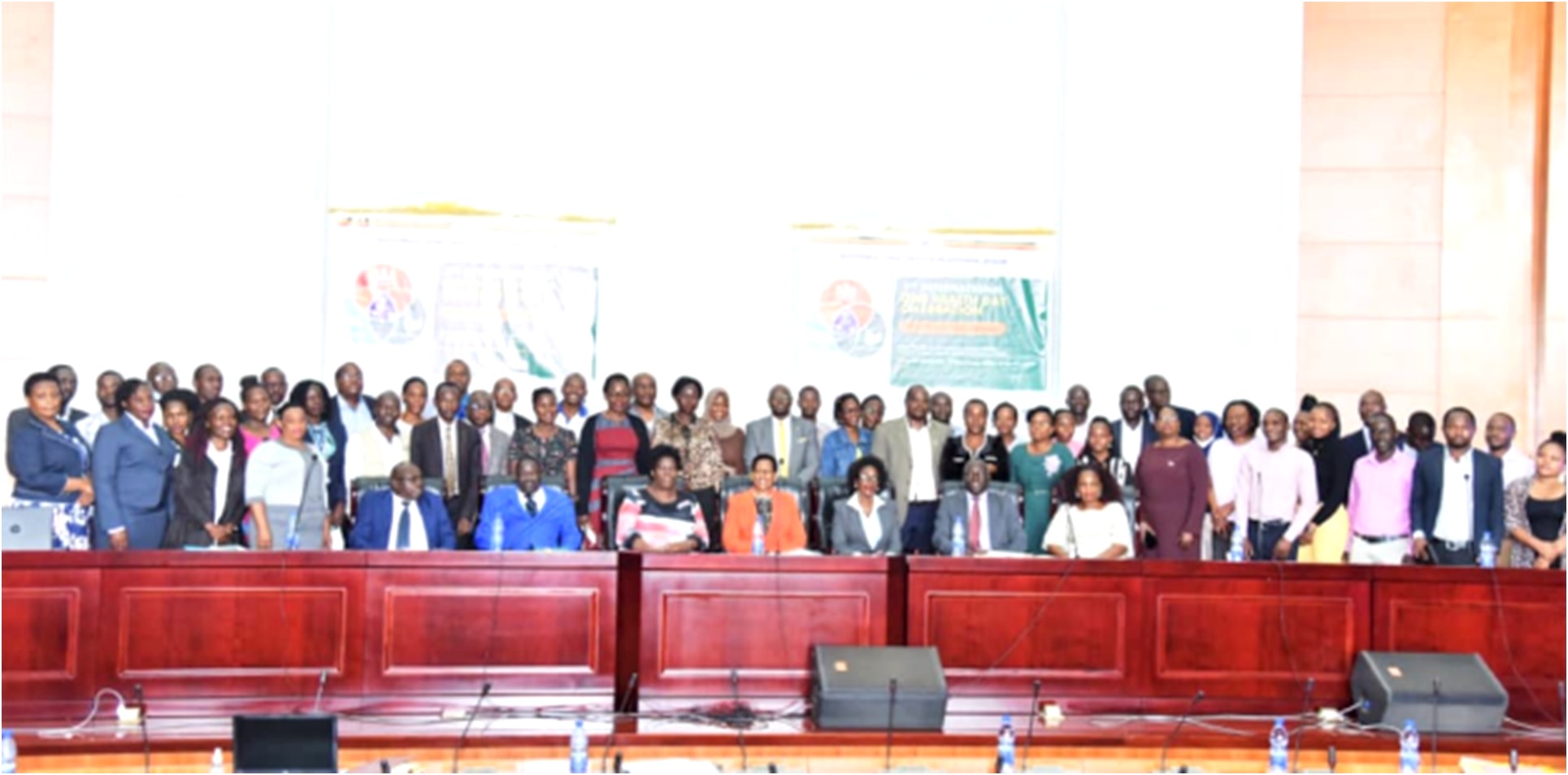 By Joseph Odoi
On 3rd November 2022, Uganda joined the rest of the world in celebrating One Health Day. This year marks the seventh  annual One Health Day, a global campaign that celebrates and brings attention to the need for a One Health approach to address shared health threats at the human-animal-environment interface.
One Health Day is an initiative that gives One Health advocates and practitioners around the world a powerful voice for moving beyond provincial approaches to emerging zoonotic infectious diseases, antimicrobial resistance, climate change, environmental pollution, food safety, comparative/ translational medicine and many other problems, to a holistic, One Health, way of thinking and acting for the benefit of all living creatures.
While giving a keynote speech at Presidential Hall in Kampala under the theme "Our Planet, Our Health" at the Office of the President in Kampala, Dr. Lawrence Mugisha, an Associate Professor at Makerere University College of Veterinary Medicine, Animal Resources and Bio-Security (CoVAB) in a special way welcomed participants to the One-Health day celebrations. He noted that there's urgent need for all sectors to work together if emerging and re-emerging infectious diseases and other public health threats are to be addressed.
"The challenges we face today whether health-related like emerging and re-emerging infectious diseases or public disasters like flooding, drought among others are complex, cross-cutting and cross different borders requiring one health approach which is multidisciplinary that facilitates collaboration, coordination and communication among different professionals/disciplines to address the public health events quickly. This helps to quickly identify appropriate interventions timely and use available resources effectively,"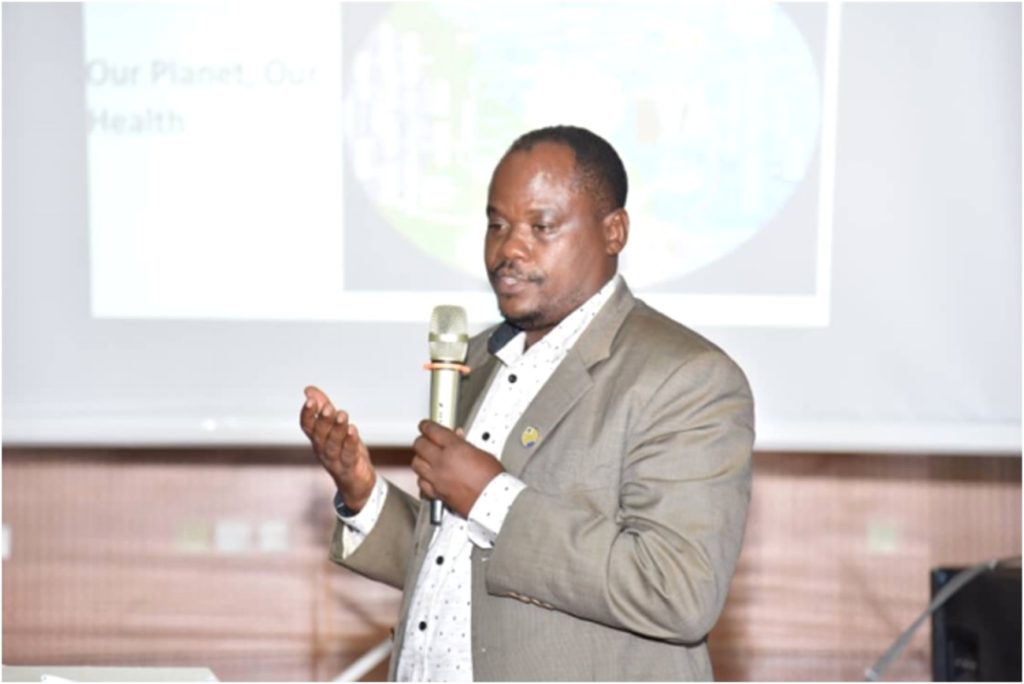 Citing WHO data, Professor Mugisha noted AMR one of the emerging public health challenges which if left unchecked will contribute to 10 million deaths per year
To address these challenges, Prof.Mugisha recommended the following
Raising public awareness about AMR and AMU
Promoting water, hygiene and sanitation
Enhanced AMR/AMU Surveillance in humans, animals and environment
Investing in human capital for innovative research in vaccines and alternative therapeutic approaches like herbal use for the replacement of Antibiotic use.
In her presentation titled; Progress of Implementation of the anti-microbial resistance national action plan, Dr. Hellen Byomire Ndagije from National Drug Authority  emphasized the importance of raising awareness to combat anti-microbial resistance adding that national drug authority has been holding Meetings to raise awareness of antimicrobial stewardship (AMS) and antimicrobial resistance (AMR) among health workers in pharmacies, and drug shops both human and animal medicine use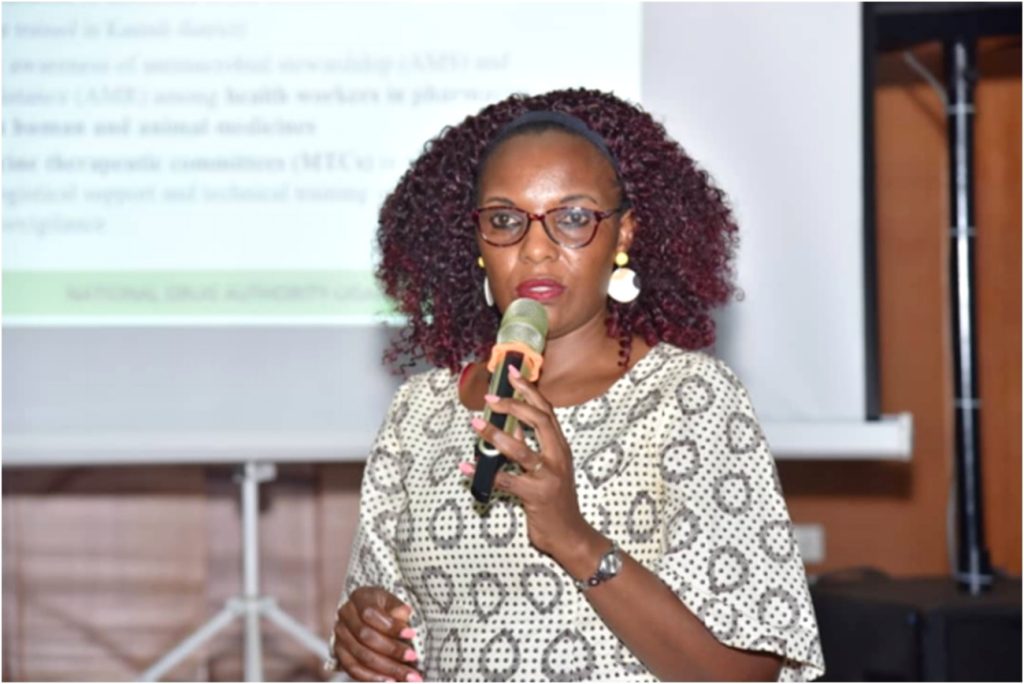 As part of capacity building to address AMR, she supported strengthening the Medicine Therapeutic Committees (MTCs) in regional referral hospitals with logistical support and technical training on rational medicine use and pharmacovigilance. In terms of antibiotics demand, she noted Uganda currently imports over 50,000 kilograms which should call for close vigilance.
To promote optimal access and use of antimicrobials, she recommended regular and risk-based testing of imported antimicrobials and medical equipment to assure their quality. She emphasized the need for good distribution practice standards to guarantee that antimicrobials are restored and dispensed in a way that does not compromise quality or efficacy.  She said there was need to promote good manufacturing practices (GMP) inspections for both foreign and local drug manufacturers to ensure compliance to quality standards of manufacture, in addition to  enforcing compliance monitoring and support supervision of human and veterinary drug outlets to ensure compliance to drug regulatory requirements.
As a way forward, she made recommendations that included the strengthening of stakeholder engagement, awareness, training and collaboration.  The need for improved access to quality, safe and efficacious antimicrobials was emphasized in addition to strengthening pharmacovigilance: reporting ADE (AMR surveillance)
Dr. Ndadije stressed the need to promote rational use of drugs as well as investing in research and innovations
In her presentation, Dr. Lydia Nakiire under the Project titled 7-1-7 timeliness at Infectious Diseases Institute, Global Health Security Program said   the Ministry of Health conducted a pilot study, 'To Save Lives' through Infectious Diseases Institute to identify bottlenecks causing delays in detection, notification and response.
During the study, she said, it was observed that application of One Health during responses to public health emergencies was one of the major enablers for timely initiation of early response.  ''Recent outbreaks like Ebola Sudan virus disease and COVID 19 make it necessary to review the lessons learnt from recent public health events, reevaluate approaches and develop frameworks to measure progress towards making the world safe from public health threats.
The 7-1-7 framework proposes timeliness matrix with defined targets; 7 days to suspected outbreak detection, 1 day for public health authorities to be notified and the investigation is initiated within 7days. The 7-1-7 metric can supplement existing capacity measurements of the International Health Regulations (2005), including the Joint External Evaluation and Global Health Security Index' explained Dr. Nakiire.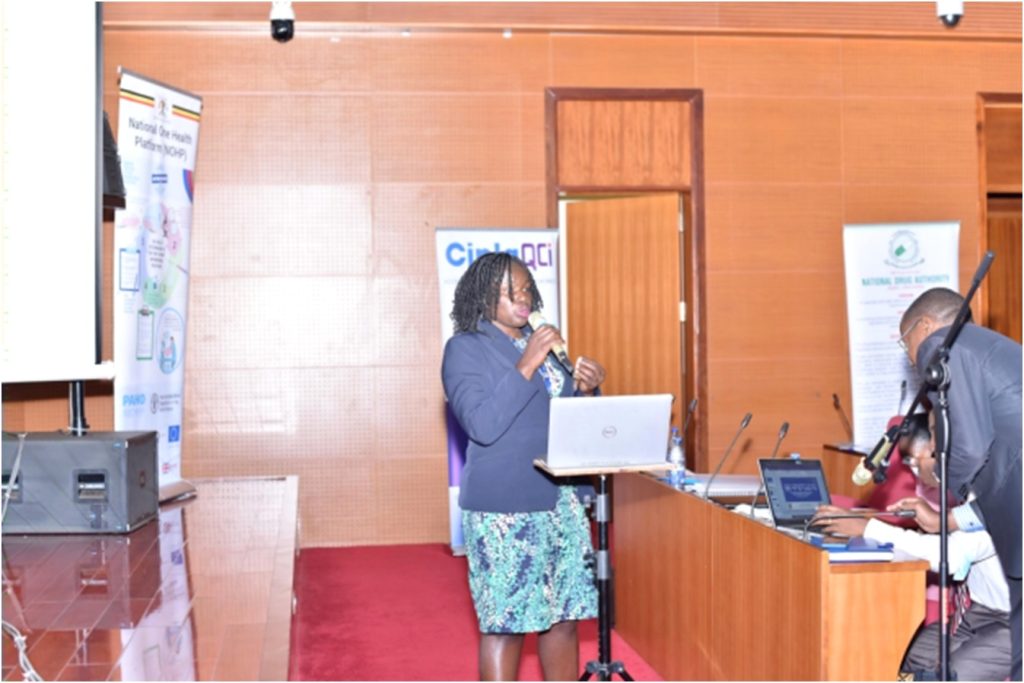 In his presentation on behalf of Dr. Immaculate Nabukenya, Senior Project Manager, NAPHS A-Team Uganda Herbert Bakiika shared the progress of Implementation of the Uganda National Action Plan for Health Security (NAPHS) and 2022 Operational Plan.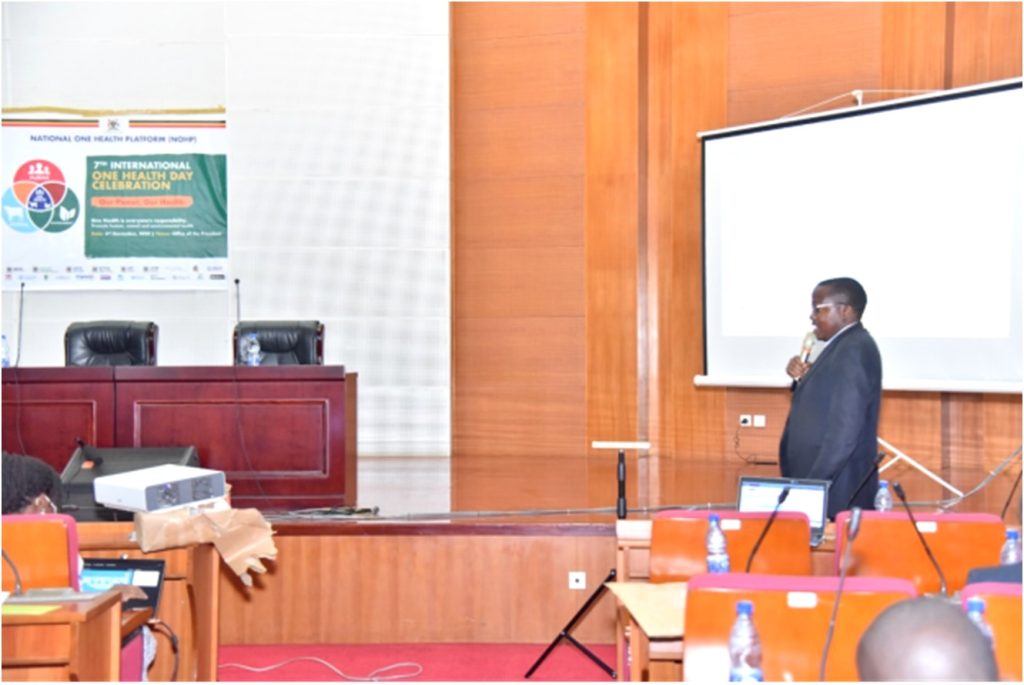 He noted there is progress in the following as mechanism of addressing AMR, and that the guidelines for mandatory license were drafted, but not approved. He further said that decentralizing One Health in 50 districts by 2024 to strengthen coordination of surveillance and response to zoonotic diseases was underway. Uganda committed to achieving demonstrated capacity in at least 3 technical areas by 2024.
He said the other milestone was licensing of all laboratories across animal, human, food, nuclear and chemical sectors by 2024 to strengthen the national laboratory network. On how this will be achieved, she said government was to liaise with professional councils to license laboratories in line with basic Quality Management Services (QMS)​​
Dr. Jonathan Mayito from Uganda Fleming Fund highlighted Inadequate human resources in the microbiology laboratories, Irrational and overuse of antibiotics, Lack of AMR data sharing across one health sectors, Lack of structures response to the emerging AMR epidemic as some of the challenges that needed to be addressed.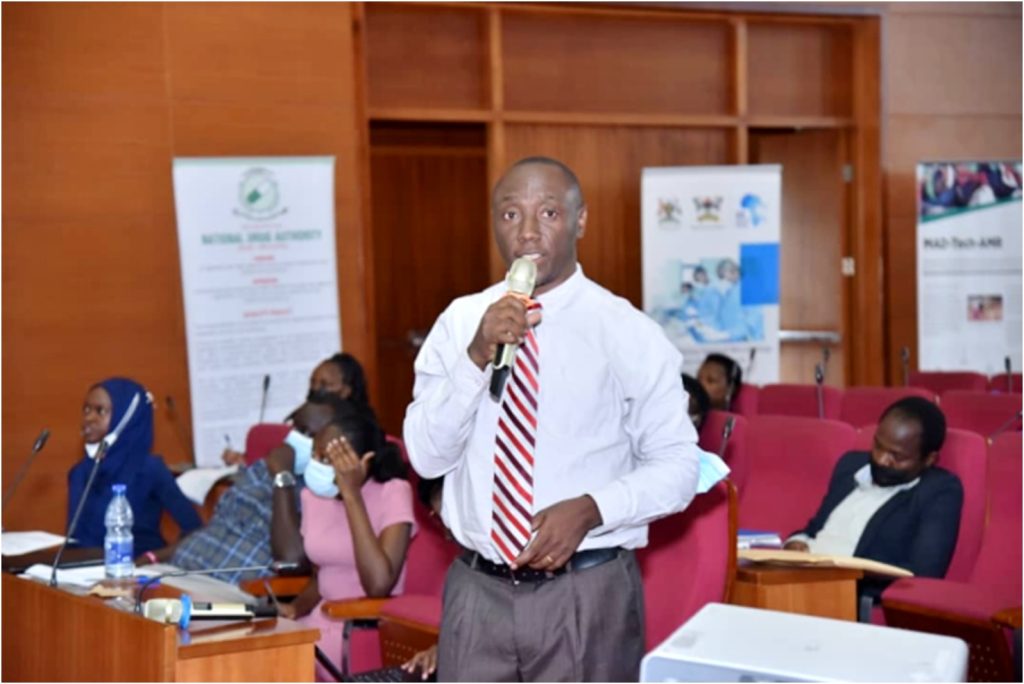 Moving forward, he recommended streamlining the supply of microbiology supplies by National Medical Stores, Increase human resources allocation through public service commission, data sharing agreement to enable data sharing to inform strategies and above all creating a National Task Force to investigate and respond to AMR   alerts/outbreaks.
The Food and Agriculture Organization of the United Nations (FAO)'s Country Director, Bessong Willington emphasized the importance of capacity building to support timely intervention when addressing disease outbreaks. He called upon different sectors to work collaboratively and in a multidisciplinary fashion under the One Health Approach.
In his remarks read by Dr. John Opolot, Dr. Henry Mwebesa congratulated participants for marking the one-health day. He that 61% of all existing human infections in the past decade have been zoonotic including Ebola, HIV, and influenza and that 80 % of pathogens could potentially be used for bio terrorism.
In addition, to effectively strengthen One Health initiatives in Uganda, the Ministry of Health has embarked on roll out of the third edition of the integrated disease surveillance and response in over seven health regions using One Health approaches.  The ministry, he said, also piloted integrated (both animal and human) sample transportation from communities using the hub transportation network using One Health Approaches.
On the importance of a multi-sectoral approach towards addressing public health challenges, Dr. Mwebesa emphasized the importance of involving all state and non-state actors including civil society and the private sector in one-health programmes.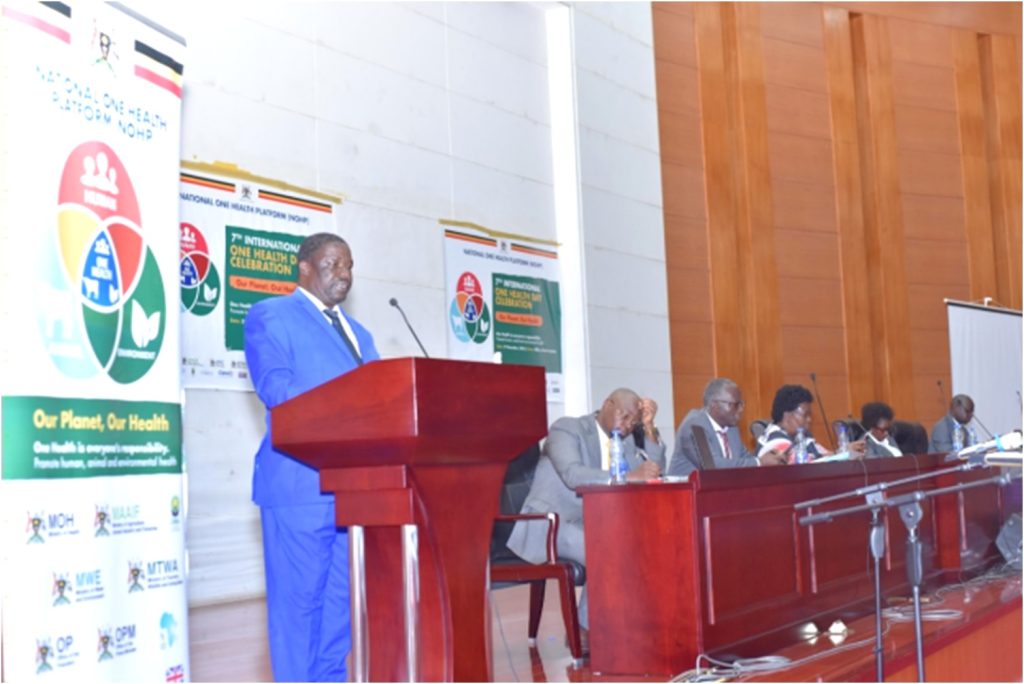 In terms of government commitment, Dr. Mwebesa noted that The Ministry of Health will continue to support the One Health initiative, and currently government is funding division of veterinary public health and zoonoses which is supporting decentralization of One Health in over 30 districts to strengthen multi-sectoral emergency preparedness at sub-national level.
On current outbreak of Ebola, Dr. Mwebesa said The ministry of health shall continue to engage the National One Health platform in the current epidemic and urged all stakeholders to observe standard operating procedures to prevent the spread of Ebola virus disease. He equally thanked development, Implementing Partners and private sector partners for the financial and technical support towards the One Health initiatives as long forward to prevention, detection and response to emerging public health emergencies in the country.
Antimicrobial Awareness Resistance Awareness Week, 18th-24th November, 2022: "Public Cautioned on Self Medication & Misuse of Drugs"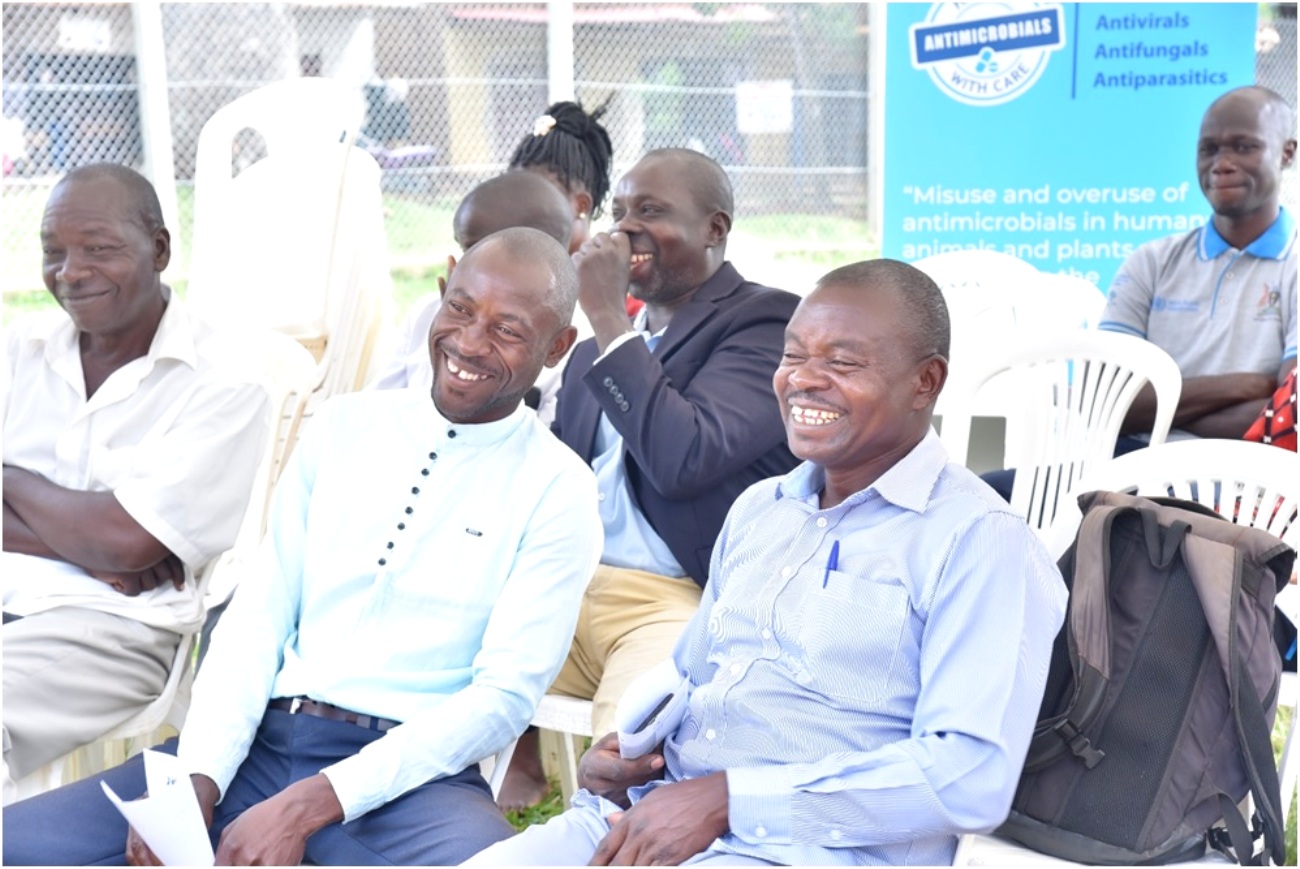 By Joseph Odoi
Assoc. Prof. Lawrence Mugisha from the College of Veterinary Medicine, Animal Resources and Bio Security (CoVAB), Makerere University has cautioned the general public on self-medication and misuse of drugs.
This call comes at a time when microbial infections are becoming increasingly resistant to available drugs under the scientific phenomenon known as Antimicrobial resistance
According to WHO, Antimicrobial resistance (AMR) occurs when bacteria, viruses, fungi and parasites change over time and no longer respond to medicines, making infections harder to treat and increasing the risk of disease spread, severe illness and death. As a result of drug resistance,antibiotics and other antimicrobial medicines become ineffective and infections become increasingly difficult or impossible to treat.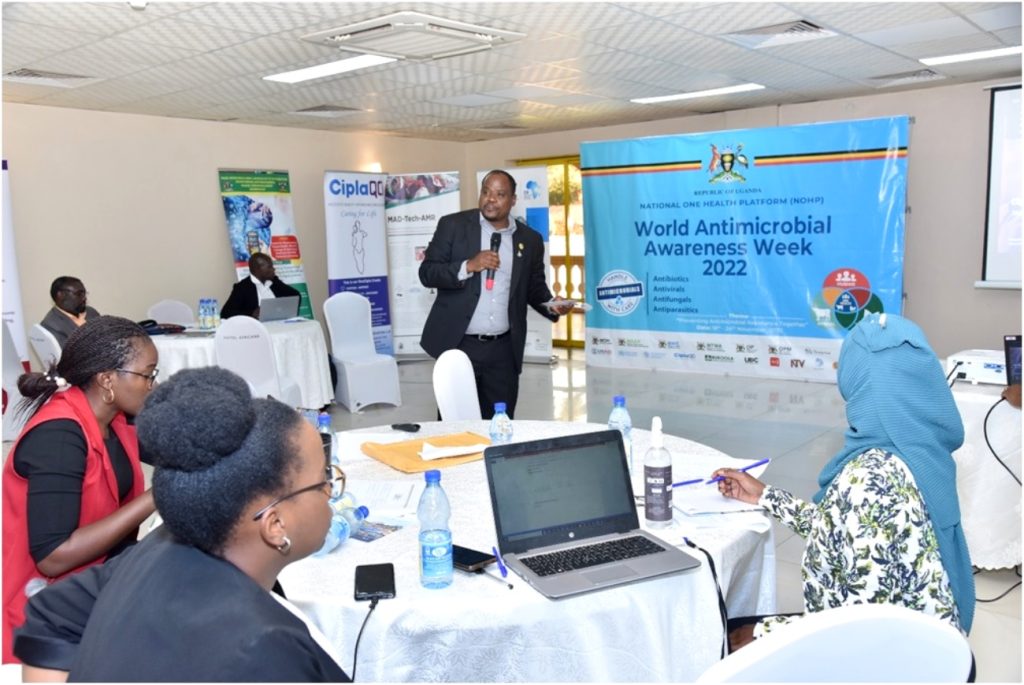 While gracing the Antimicrobial resistance Awareness Week Dialogue (AMR) held at Hotel Africana, Kampala Uganda, Prof. Lawrence Mugisha said Antimicrobial resistance is on the rise locally and globally mainly due to over consumption and misuse of antimicrobials thus need for urgent attention.
''Antimicrobial resistance is on the rise locally and globally mainly due to over consumption and misuse of antimicrobials. Self-medication is now rampant in low and middle-income countries especially here in Uganda where antimicrobials especially antibiotics are accessed over the counter in pharmacies and drug shops without a prescription throughout the country.
There are wide malpractices among professionals dealing with drugs despite the existing regulations and guidelines for prescriptions. The majority of the consumers and end users are not aware of the consequences of just taking antibiotics, taking low doses, not finishing the dose while dealing with conditions that have not been properly diagnosed.
There are a number of misuse practices with antibiotics that have not been well explored and discussed publicly like sharing of antibiotic doses among family members, use of antibiotics meant for human treatment in animals and vice versa.
In livestock practice, the situation is worse especially when antibiotics are used for disease prevention in feeds and water, a common practice in poultry farming. These malpractices and misuses in using antimicrobials require urgent attention in all efforts to addressing antimicrobial resistance challenges'' explained Prof. Mugisha.
''We require massive campaigns to raise public awareness on the dangers and consequences of the inappropriate use of antibiotics and appropriate actions expected from every actor at different levels. The package of different actions to address antimicrobial resistance should be universal using one health approach'' he recommended moving forward.
In his remarks to mark the overall Awareness event held at Nakasongola District, Mr. Musa Ssekamatte on behalf of the National One Health Platform (event organizers) welcomed participants to the event. He noted that the main purpose of the World Anti-Microbial Awareness Week is to increase awareness and understanding of antimicrobial resistance (AMR) and promote best practice among the general public to reduce emergence and spread of drug-resistant pathogens.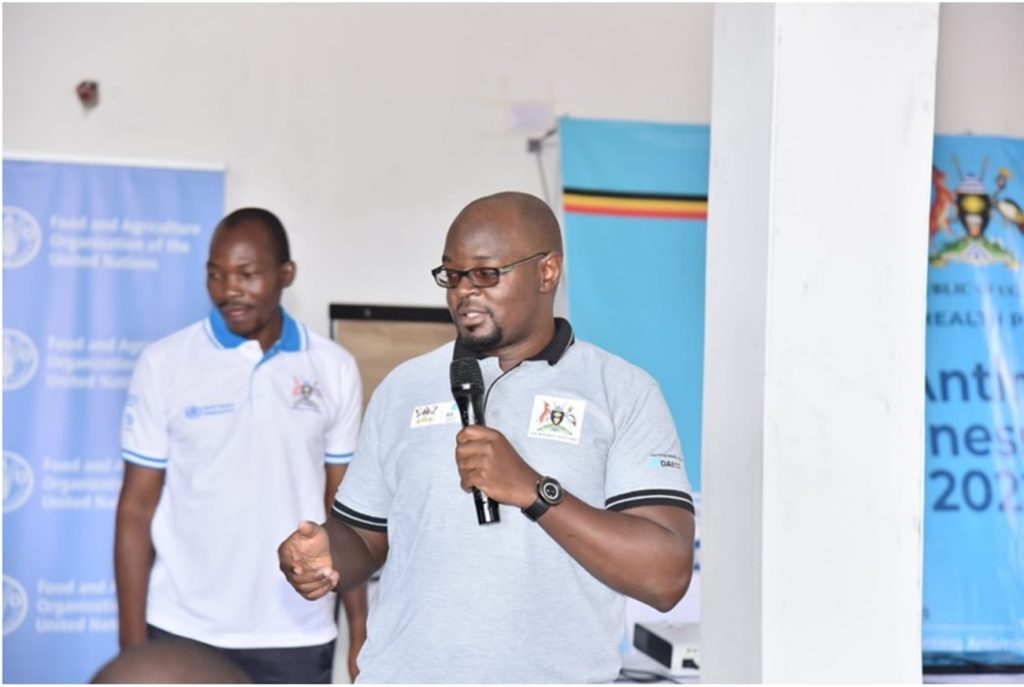 Citing the WHO report, Mr. Sekamatte noted that AMR is one of the emerging public health challenges that if left unchecked will contribute to 10 million deaths per year.
To address this problem, Mr. Sekamatte revealed that a national one health platform was established to enable Uganda implement the National Action Plan against AMR. The National One Health Platform enables different sectors to work together in prevention, detection and control.
As part of the national action plan against AMR, He highlighted the following
Awareness
Surveillance
Training
Research
In his remarks, Muyanja Elaad -the secretary for health and Education at Nakasongola representing the Resident District Commissioner thanked National One Health Platform for handpicking Nakasongola as a host District for this year's AMR Awareness Celebrations. He noted that AMR is now a serious concern adding that AMR touches everyone thus need for a multi-sectoral approach. He called upon all participants to be patriotic by observing hygiene in human health and animals, proper eating habits.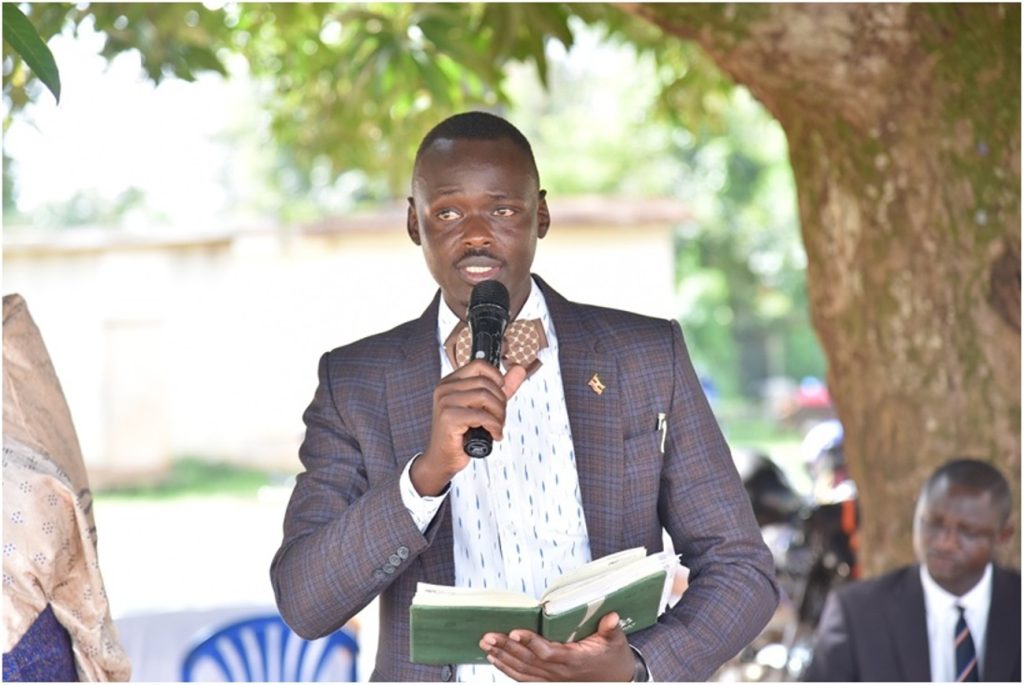 During the long week WAAW sessions, participants were introduced to some of the strategies to promote responsible uptake of antimicrobials and innovations and safe practices aimed at lowering uptake of antimicrobials in plants, animals and humans among others. The Awareness Week attracted notable government officials namely; Nsamba David-Nakasongola District Fisheries Officer, Uma Charles, the Chief Administrative Officer at Nakasongola and Nakamya Sarah –the Nakasongola District Production Officer among others. The day's activity was coordinated by Dr. Ssekamatte of the One Health Platform . To read about how to prevent AMR visit: https://www.fao.org/news/story/en/item/1330872/icode/
Proposed Ph.D. in Global Biosecurity & Ecosystems Health (GLOBECO) will train cadres of critical thinkers that will mitigate the ever-increasing instances of zoonotic Disease outbreaks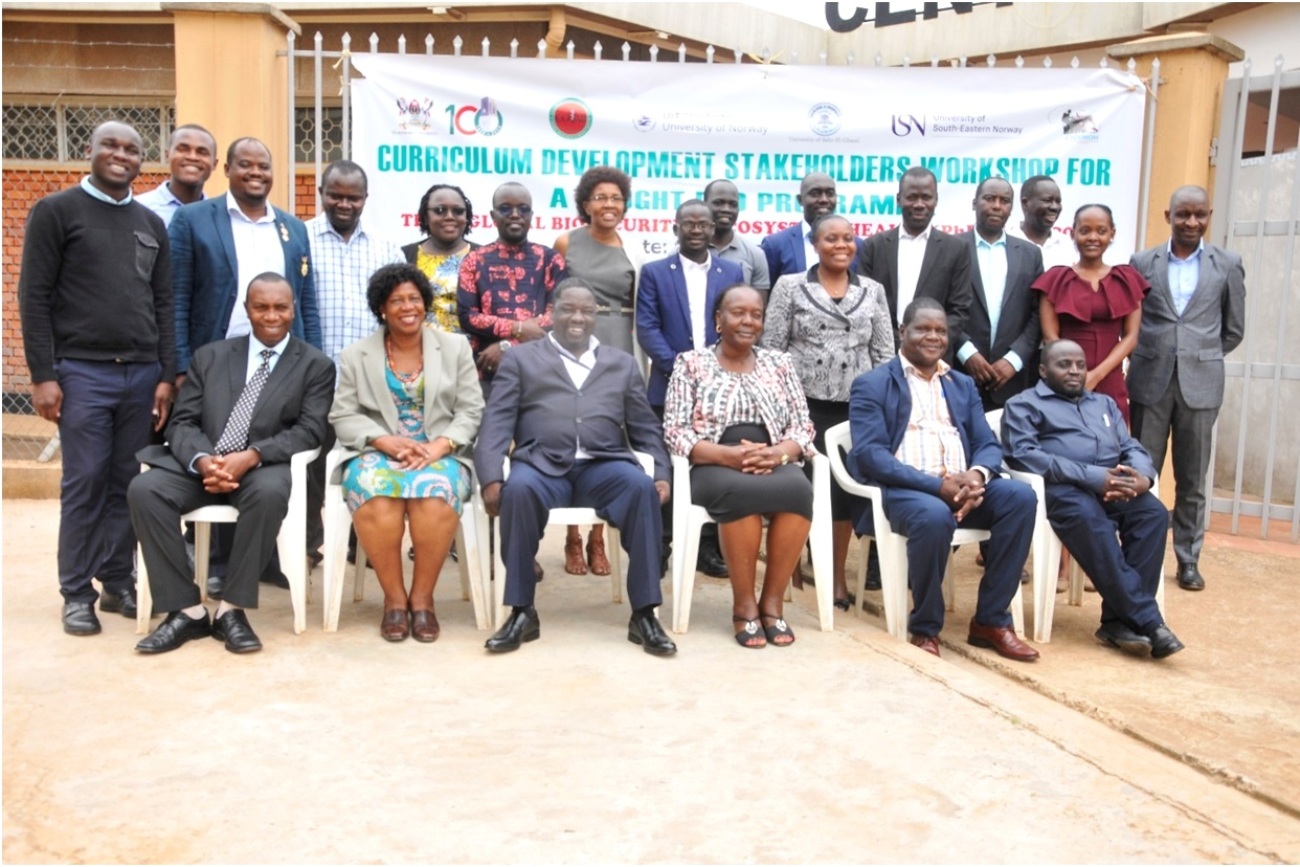 The College of Veterinary Medicine, Animal Resources, and Biosecurity (CoVAB) on Friday 4th November hosted a stakeholder engagement that discussed the proposed Ph.D. in Global Security and Ecosystem Health (GLOBECO). They came up with an eight-man committee that will deliberate further to consider the input of the stakeholders.
The stakeholders were drawn from agencies that included the Curriculum Development Centre, the National Council for Higher Education, The College of Education and External Studies, the Ministry of Health, the Ministry of Agriculture, Animal Industry and Fisheries, the Ministry of Water and Environment, East Africa School of Library, Office of the Prime Minister as well as various Departments from the College.
According to Professor Clovice Kankya, the Head of, Department of Biosecurity, Ecosystems and Veterinary Public Health at CoVAB, Makerere University as the seat of critical thinkers came up with the idea of initiating an unusual Ph.D. as one way of mitigating the continuously emerging epidemics of zoonotic diseases citing Ebola, COVID-19, Rift Valley Fever and Anthrax, as well as Brucellosis and Tuberculosis.  He said it was important that the University came up with such a program to train a high cadre of professionals able to address the emergencies in Biosecurity.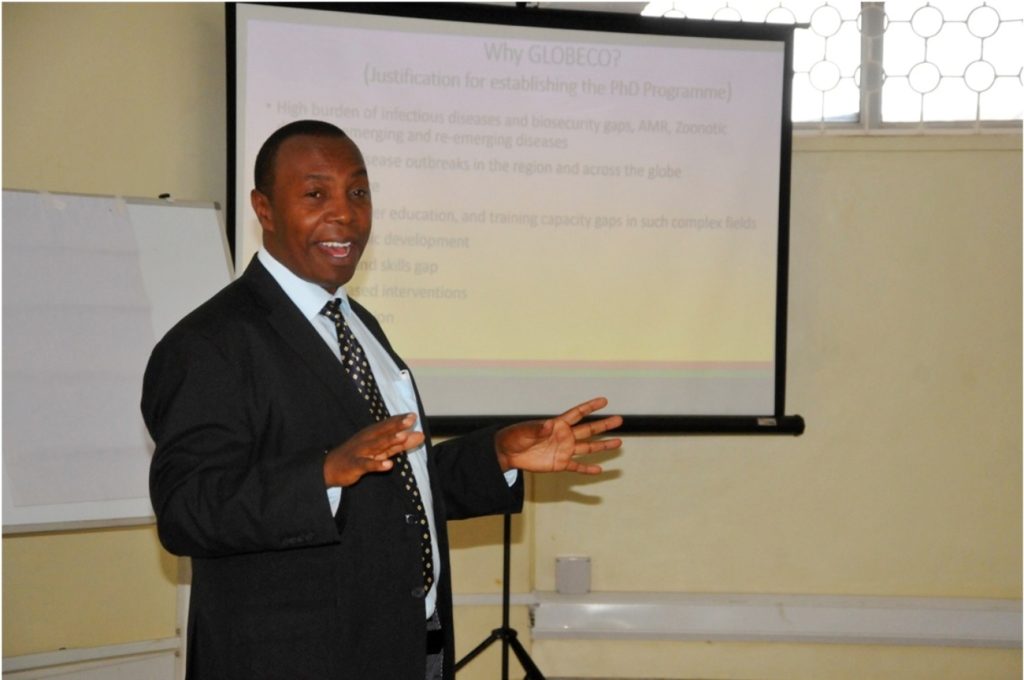 'This is the long-awaited new dawn at CoVAB.  The College is a pillar of biosecurity.  This is a golden opportunity to improve Makerere University and get at the forefront of finding solutions to serious societal problems at the national, regional, and global levels, he said.
'We would like to have professionals who can competently guide and advise hotspot communities that face such zoonotic disease outbreaks so that they are contained' said Prof. Kankya at the stakeholder meeting held in the Biosecurity center at the College. He said the kind of Ph.D. proposed was intended for students that are creative, innovative, and able to deliver a product, such as vaccine development that is tailored to our own setting in Uganda and the Region.
He revealed that the program will be cross-cutting in line with the One Health Approach, and will enroll students from fields of Gender, Sociology, Social Anthropology, Rural Development, Agriculture, Plant Science, Ecosystems Health, Wildlife, Veterinary, Public Health, Environmental Health, Occupation, and environmental health and others."We are going to focus on a number of tracks to even include engineering and architectural design so that we have these engineering controls that are tailored to Biosecurity issues well addressed in this Doctoral program", he said.
The Director of the National Curriculum Development Centre (NCDC) Dr. Grace Baguma informed the meeting that she was shocked to learn that a number of diseases we suffer as human beings were from animals.   She said she was looking forward to a Ph.D. that would yield results from researchers, addressing Afri-centred challenges and generating African knowledge.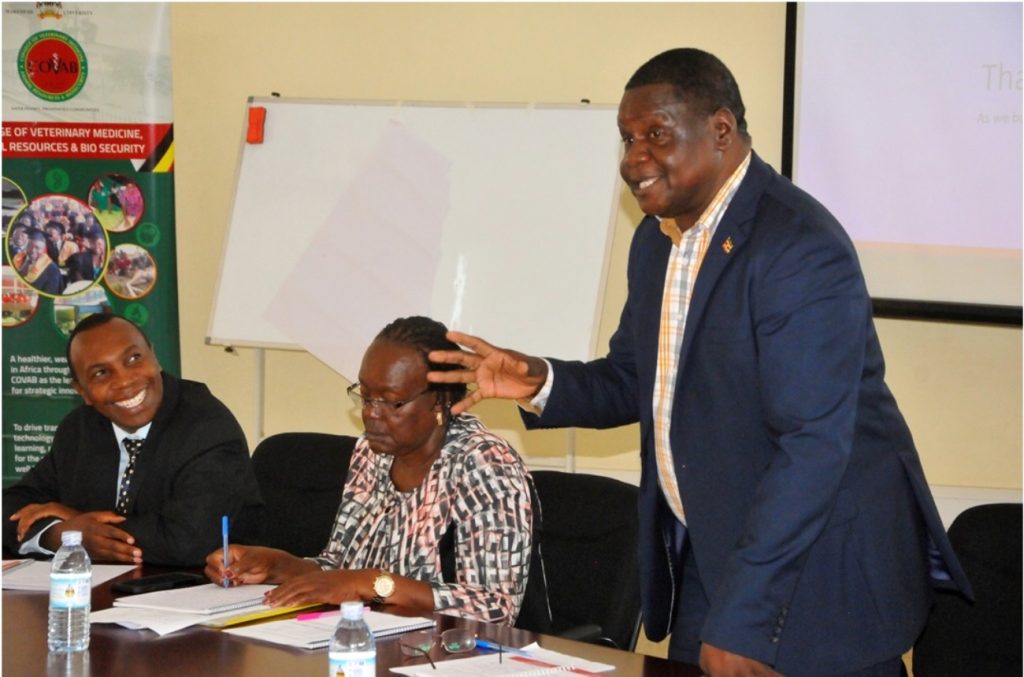 She challenged scientists to find ways of coming up with translations of scientific terminologies that would appeal to the communities for whom the messages are intended.  I have a strong feeling that research information can be taken to the people and they use it.  Research should be about addressing societal issues and I would love to look at the current 21st-century skills embedded in the program, she said while emphasizing the need to have a program of relevance to the communities rather than stressing writing articles for the journals.
Dr. Baguma said the program should be seen to add value for instance in vaccine development. Citing an example of Ebola, Ms. Baguma opined that professionals should be seen to set up their research centers in different regions of this country where the public would go and get ideas on how to control and manage such outbreaks.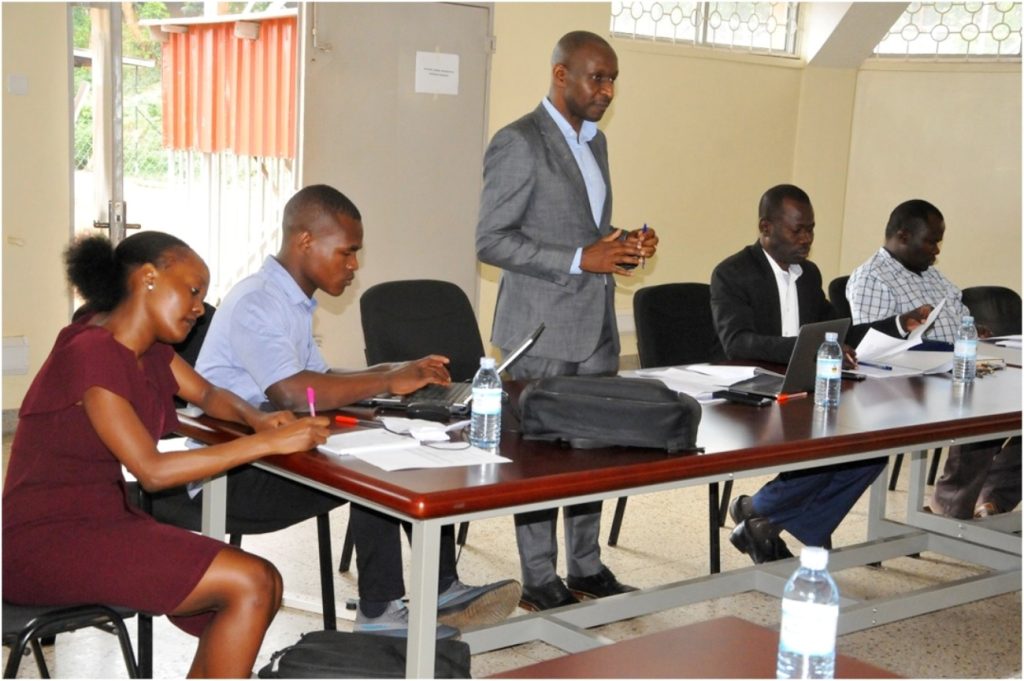 While speaking as Head of the Department, Dr. Rwego said the Ph.D program was coming at the right time when the One Health Approach had been in existence since 2010.   He said social scientists, medical doctors, and educationists came together to work as a team in ensuring that the various aspects of the program were addressed through a multisectoral approach. He observed that the progression to the PH.D program had been gradual having started off with programs like the Bachelor and Masters's Degree in Biotechnical Laboratory sciences.
Prof. John David Kabasa while making contributions to the discussion said for one to be called a Scientist, there was a need for that person to practice science with professional skill and tact. He said in Africa, the term scientist had been used in a misleading way with people holding Bachelor's or Master's degrees referred to as Scientists. 'Makerere cannot be part of this misnomer. So we want to ensure that scientists harness the body of knowledge. Right now there is a lot of knowledge everywhere.  Scientists should now be seen to bring products to the market, he said.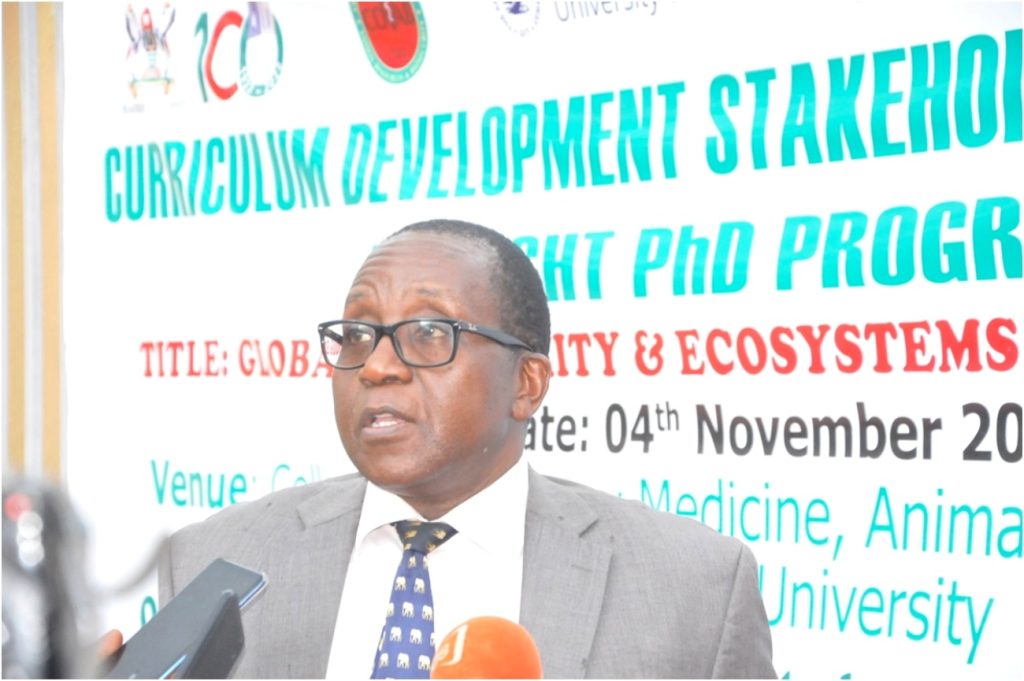 This is going to be the first ever taught Ph.D. program at the College of Veterinary Medicine, Animal Resources and Biosecurity (COVAB). The current programs, Doctor of Philosophy Degree in veterinary medicine are general in nature, whereas this one will have coursework to align the students to the field of Biosecurity, which is a relatively new and complex area that requires professionals to change mindsets, requires laboratory capacity, social anthropological angle to understand the zoonotic diseases and advise the society on behavior change.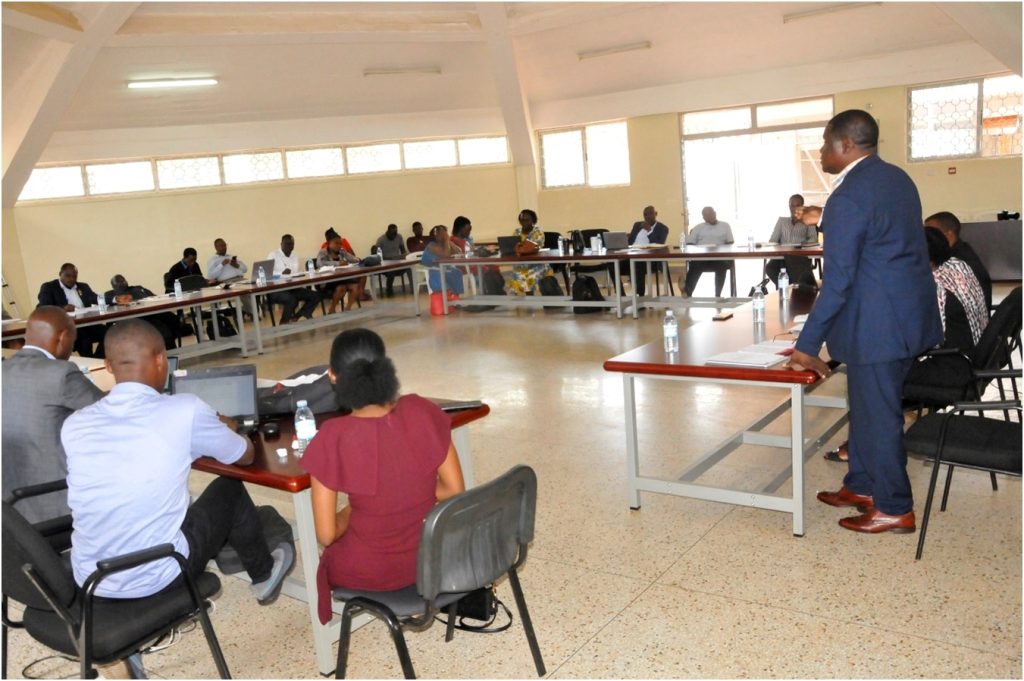 It is supported by the Norway Government through a NORHED II programme under the Climate Change and Infectious Diseases management, A one Health Approach (CIDIMOH project). 6 Masters and 6 PhDs and 2 postdocs will be supported. This project is coordinated by the Artic University of Norway(UiT), University of South Eastern Norway (USN), University of Bahr-EL-Ghazal (UBG) in South Sudan and Makerere University Kampala, Uganda.
Global Biosecurity & Ecosystems Health (GLOBECO): A new, Taught Ph.D. Program at CoVAB
The College of Veterinary Medicine, Animal Resources and Bio security (CoVAB) that has been at the forefront of conducting research and training in animal health and biosecurity is set to offer a taught Ph.D. program, PhD in Global Biosecurity and Ecosystems Health (PhD GLOBECO).
The School of Biosecurity, Biotechnical and Laboratory services will host a curriculum development stakeholder workshop on the 4th of November 2022 at the College.
The first of its kind, the Ph.D. program comes up in the wake of increased instances of neglected and emerging Zoonoses including Corona Virus disease, Ebola and other haemorrhagic fevers, swine, bird flu, and Corona Virus that present serious global health threats to humans and animals.
It is expected to provide in-depth understanding of risks associated with intentional and unintentional release of biological agents, and will also look at systems and practices that can be used to investigate, manage and control these diseases in animals, the environment and to humans.
This intensive 2 to4 years mentored research program will train a multidisciplinary cadre of professionals to manage biothreats in animals and humans and will therefore lead to a critical mass of Scientists well trained in pathogen molecular biology, able to work productively in their communities, conduct collaborative research and produce new knowledge through the application of Global Biosecurity and Ecosystems Health technologies and interventions.
The fact that Biosecurity and Ecosystems health is a relatively new discipline not covered during undergraduate (Bachelor's) and Master's training in most universities in Africa including Makerere, successful applicants on the Doctoral Programme who do not have a biosecurity and ecosystems health background will need the knowledge and competences of coursework on the Master's programme.
For eligibility, students should have a background in Master's degree programs like Global Biosecurity and Infectious Diseases Management, Veterinary Preventive Medicine, Epidemiology and Biostatistics, Public health, Wildlife health, Rural Development, Sociology, Environmental and Occupational Health and Agricultural and Health science related Master's degree programs.
Further details can be found in the documents below.