Gone but still lives on: Makerere University celebrates Prof. Kajubi's legacy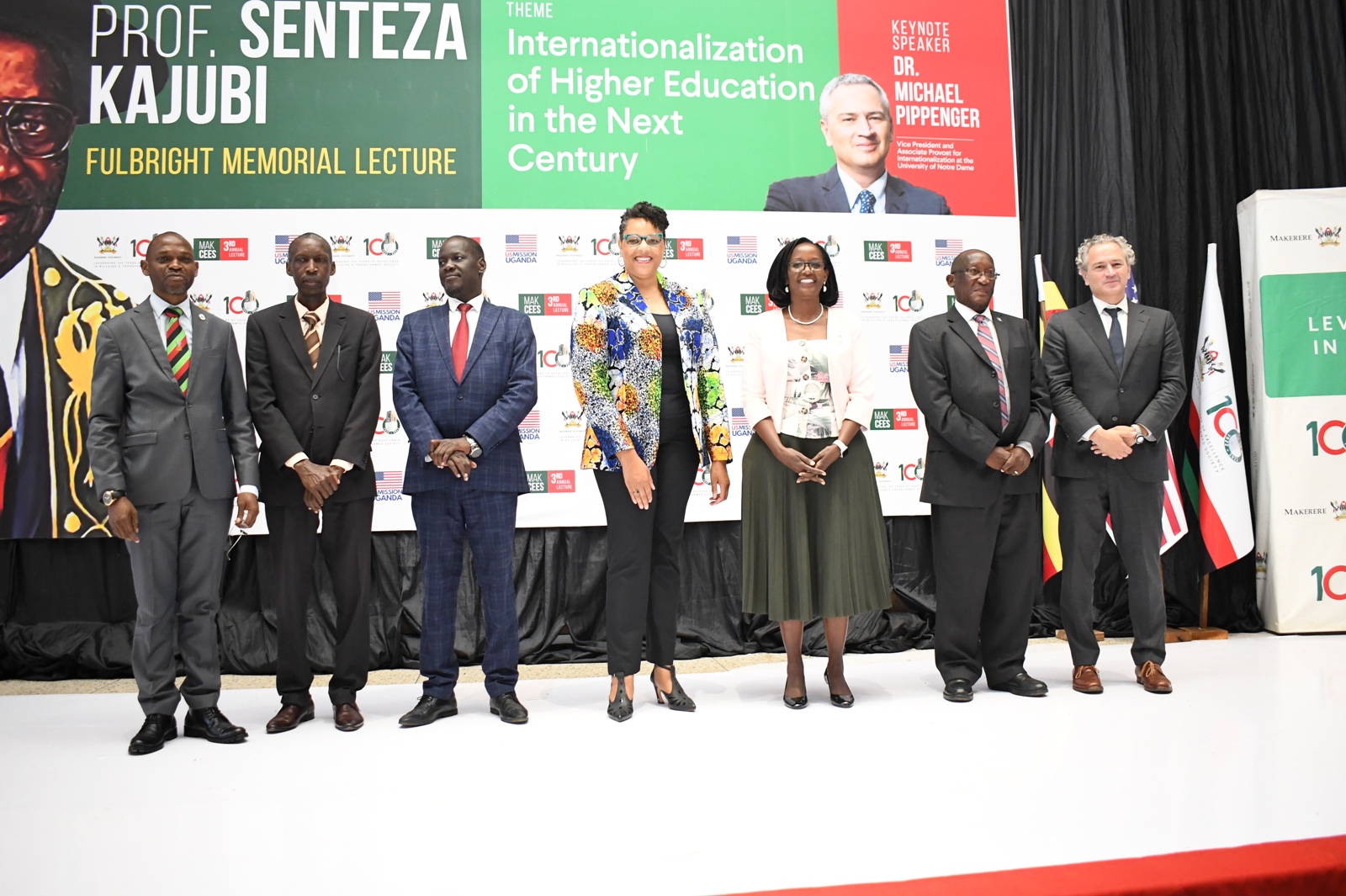 Professor William Senteza Kajubi, the first African to receive a Fulbright scholarship in 1952 and a renowned educationist who diversified and chaired a committee to review Uganda's Curriculum in 1990 was remembered and celebrated by Makerere University College of Education and External studies (CEES) in a public lecture that happened on 22nd September 2022 at the Yusuf Lule teaching facility Auditorium at Makerere University.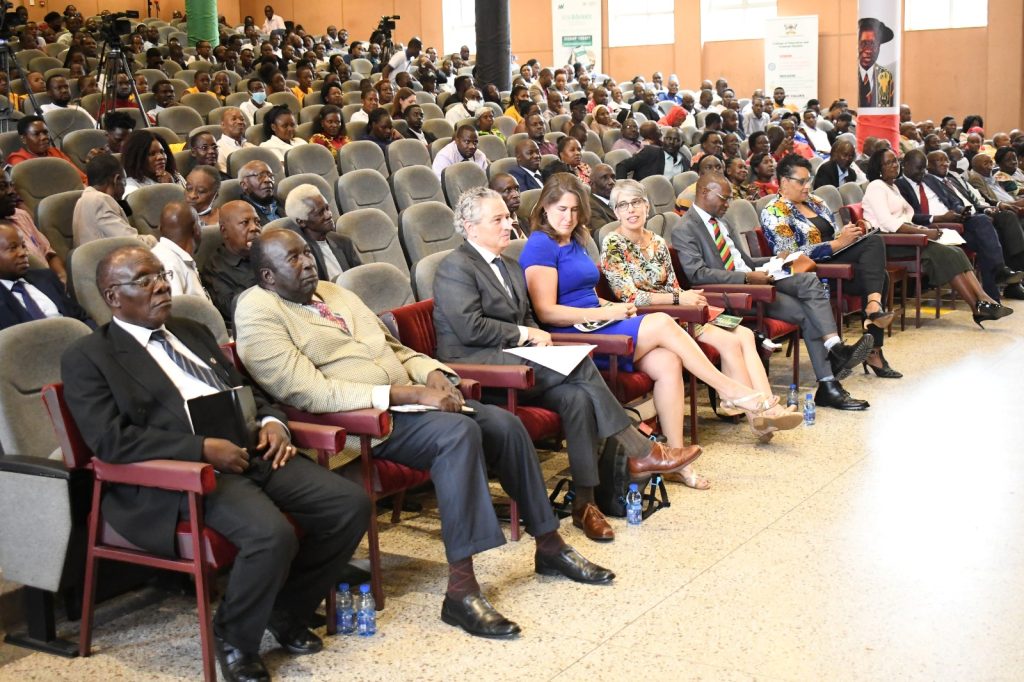 The ceremony themed "Internationalization of Higher Education in the next Century" presided over by the United States's Ambassador to Uganda Her Excellency Natalie Brown brought together many academicians, educationists and students across the world to celebrate the life and achievements of the person of Professor William Senteza Kajubi. In attendance were Vice Chancellors from Ugandan universities e.g. Soroti, Muni, Bishop Stuart, Bugema, Ndejje and Busitema.
Besides remembering the life of Prof. Kajubi, this public lecture also happened to be marking the Makerere University's 100 year anniversary, Uganda's 60 years of independence and its fruitful relationship with the United States that has paved way for the Fulbright Scholarship program and many other partnerships that have impacted lives of Ugandans.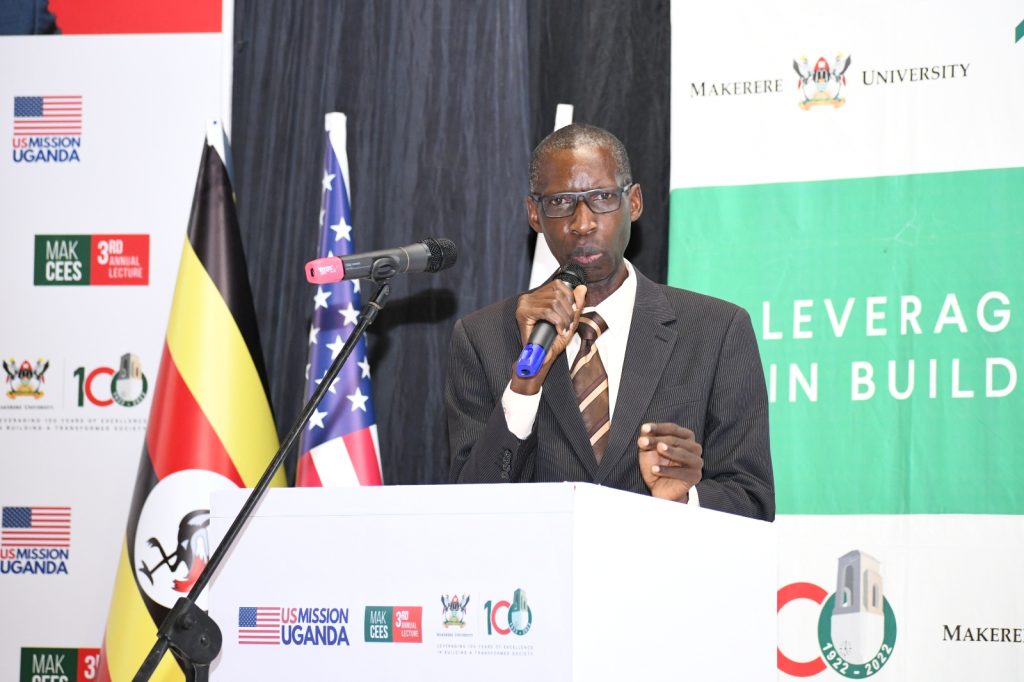 While addressing the congregation, the Principal College of Education and External Studies (CEES) Professor Anthony Mugagga hailed Professor Kajubi for the 1989 report on Education which the National Resistance Movement government incorporated into its 10-point program.
"In 1954 when Pope Leo the 10th appointed Ben Kiwanuka as the first African Bishop, he cautioned him to be successful so that he can inspire more African theologians. Kajubi never got lost in the States, neither did he do drugs but he clang to studies and paved way for other scholars of the Fulbright Scholarship program," added Professor Mugagga who concluded his remarks cautioning the congregation to emulate Prof. Kajubi, and also thanked all staff who participated in seeing this event a success.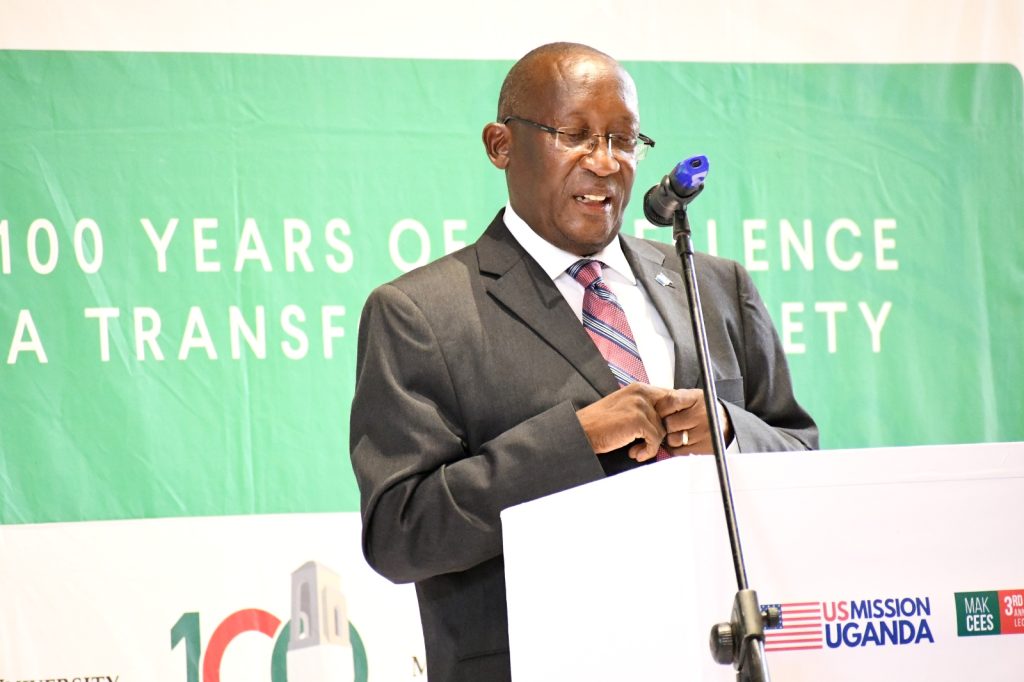 On behalf of the Senteza Kajubi family, his son Wasswa Kajubi expressed their deepest gratitude and honor to Makerere University and CEES administration for always remembering their loved one even when he passed on long time ago.
The Chairperson Makerere University Council Mrs.Lorna Magara highlighted how the Late Prof. Kajubi's life symbolized hard work, persistence and courage to pursue excellence and greatness. She added that Prof. Kajubi's passion for education at Makerere and the University of Chicago resulted into a lot of phenomenal education reforms that saw admission of private sponsored students to Makerere.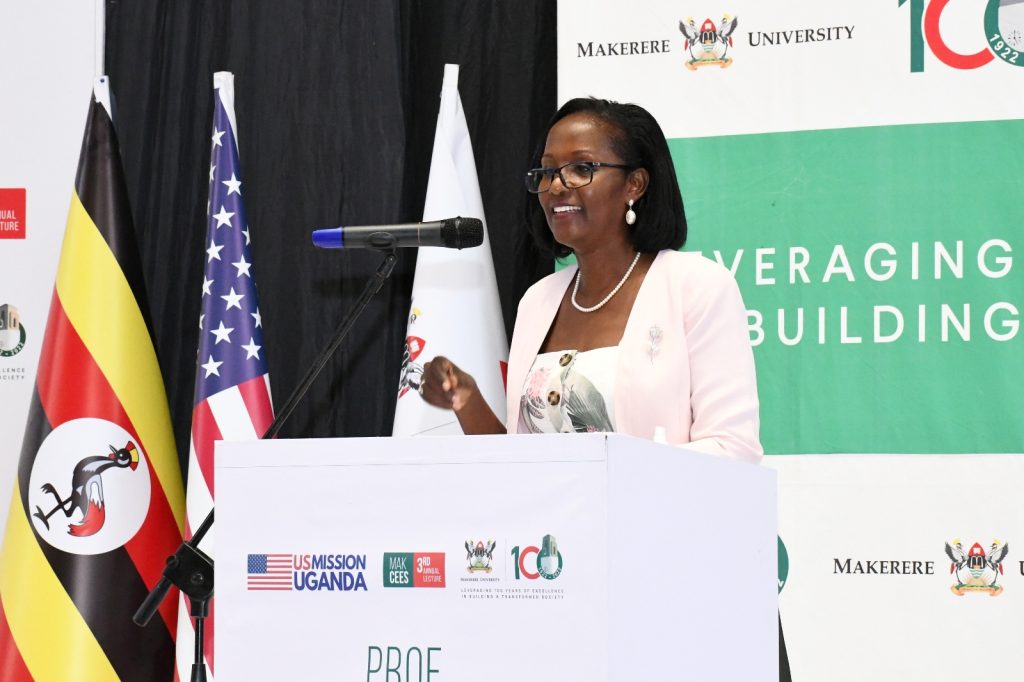 "Prof. Sentenza Kajubi's life symbolized hard work, passion for the profession,
creativity, innovation, and courage to pursue and carry out a vision". This hard work ethic, Mrs. Magara informed the gathering, was reinforced daily by a family motto in the Kajubi sitting room, "OMULIMU LYE LINNYA LY'OMUNTU," which may be translated as ONE'S WORK IS ONE'S NAME.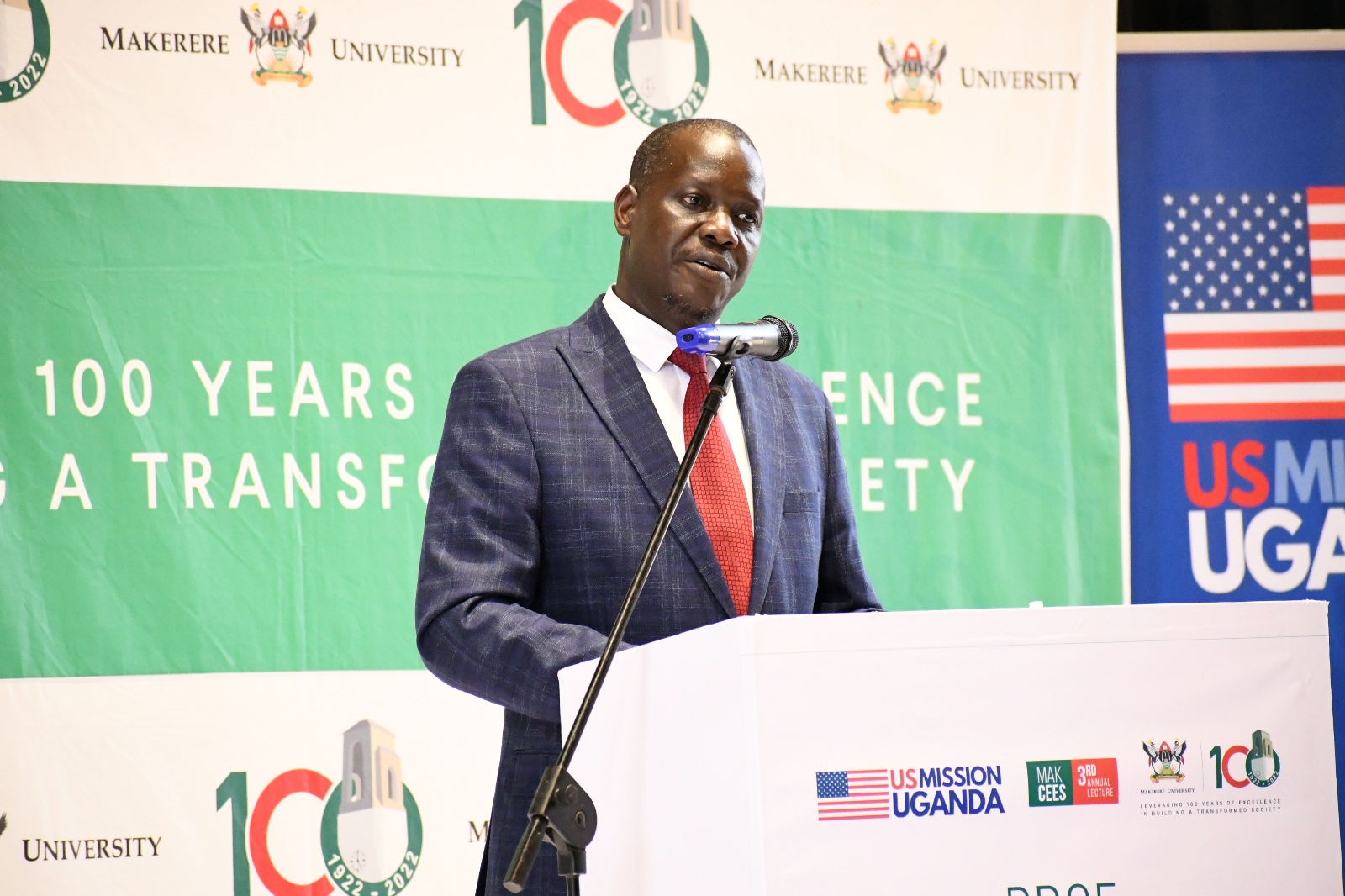 The late Prof. Kajubi's passion and pursuit for knowledge can be traced through his education journey, from Mengo Junior Secondary school to Kings College Budo, to Makerere University, and on to the University of Chicago on a Fulbright Scholarship graduating with an MSC. with a concentration in Geography. Upon return, he embraced the privilege and honor of serving as a teacher, and Administrator. His dedicated service saw him rise through the ranks to serve as Director, National Institute of Education (1964- 1977) and twice as Vice Chancellor, Makerere University (1977-1979; 1990-1993).
Her Excellency Natalie Brown the United States Ambassador to Uganda said," Professor Kajubi is a shining star among Fulbright alumni, in Uganda and beyond. He traveled to the U.S. in 1952 as a Fulbright student to pursue a master's degree at the University of Chicago. He returned to make great contributions to the education sector in Uganda and the region. His two-time tenure appointments at the helm of this university demonstrate his outstanding leadership ability". Professor Kajubi did not limit himself to education alone, he went on to serve as a delegate to Uganda's Constituent Assembly which created the new constitution in 1995, among other things. His legacy of service to his country remains an inspiration to generations of faculty and students alike".
Ms. Brown said the US Mission in Uganda are proud to manage the Fulbright program in Uganda where 12 Ugandan Fulbright grantees were sent this year to academic programs for Masters, PhD and research in the United States, and in exchange Uganda welcomed nine U.S. Fulbrighters to conduct research.
Makerere University and the people of America have had great partnerships that have seen America's public Health enthusiasts and other specialists come to Uganda to conduct research. They include the National Institutes of Health (NIH), the U.S. Centers for Disease Control and Prevention (CDC), President's Emergency Plan for AIDS Relief (PEPFAR), and so many others.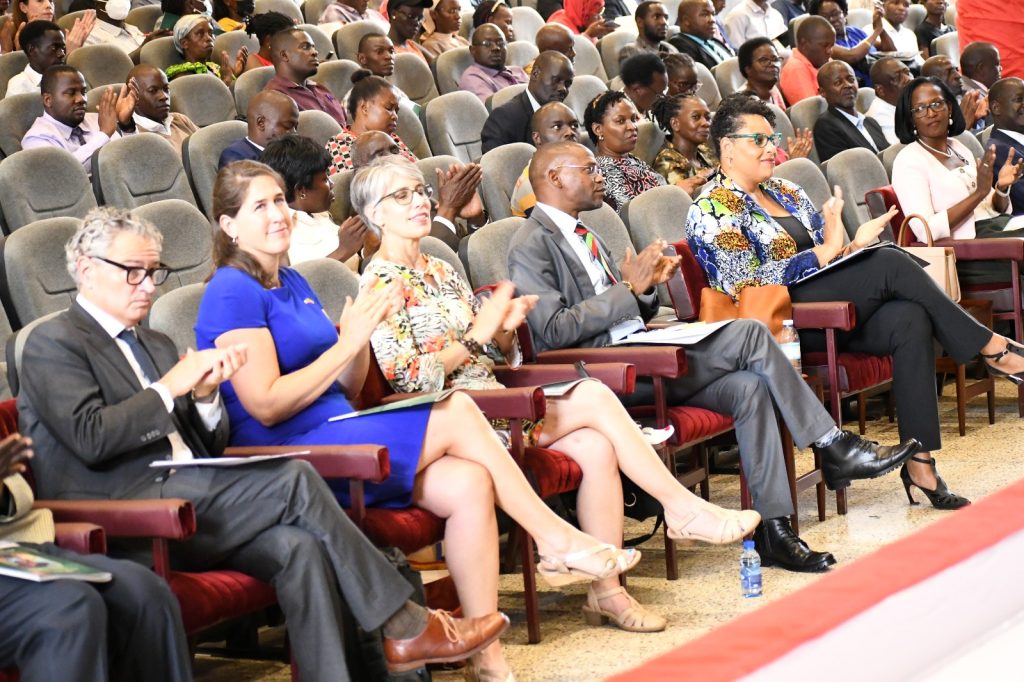 The keynote speaker of the day and the Vice President and Associate Provost for Internationalization at the University of Notre Dame, Dr. Michael Pippenger challenged African Universities to ensure solidarity, commitment and transparency if they actually want to internationalize since it not only helps them realize weaknesses, strengths and potential areas of collaboration but also builds transformative and global minded students.
"It is not the MOUs and agreements we sign that show internationalization, but rather the work we do while together on ending pandemics, fostering rule of law and other community impactful engagements. Surprisingly Prof Kajubi knew all this". Concluded Dr. Pippenger who urged universities to stick to their visions and missions which should reflect on the communities they serve.
Prof. William Senteza Kajubi served as the Vice Chancellor of Makerere University at two different intervals 1977 – 1979 and 1990 – 1993. He was also a member of the constitutional Assembly that drafted Uganda's constitution of 1995. He devoted his life to Academics and impacting communities until his death on May 1st, 2012.
Background
Prof. Senteza Kajubi was born in 1926, in Singo county (modern day Mityana District), to Yoweri Bugonzi Kajubi and Bulanina Namukomya. His family later moved closer to the capital and settled in Busega, a suburb in the outskirts of Kampala, where he began his long journey with, or rather in, education at the Mackay Memorial Primary School in 1933. He then attended Mengo Junior School from 1941 to 1943 before transferring to King's College Budo for his Advanced Level, finally making it to Makerere College in 1947 where he pursued a Bachelor of Arts with a Diploma in Education.
Shortly after he graduated, Prof. Kajubi taught at Kako Junior Secondary School before going to the University of Chicago for a Master of Science in Geography. Later, in 1955, he went back to his alma mater, King's College Budo, and taught Geography. It was during this period that he taught other notable personalities in Uganda's history such as Mathew Rukikaire and Prof. Apolo Nsibambi in a predominantly white environment. The only other native teachers at Budo, then, were the Deputy Headteacher, Mr. Sempebwa and Erisa Kironde, an English language teacher.
As one of the few Protestant members of a predominantly Catholic Democratic party (DP), Senteza Kajubi was a member of the National Symbols Committee which was tasked with selecting the national anthem, flag and coat of arms.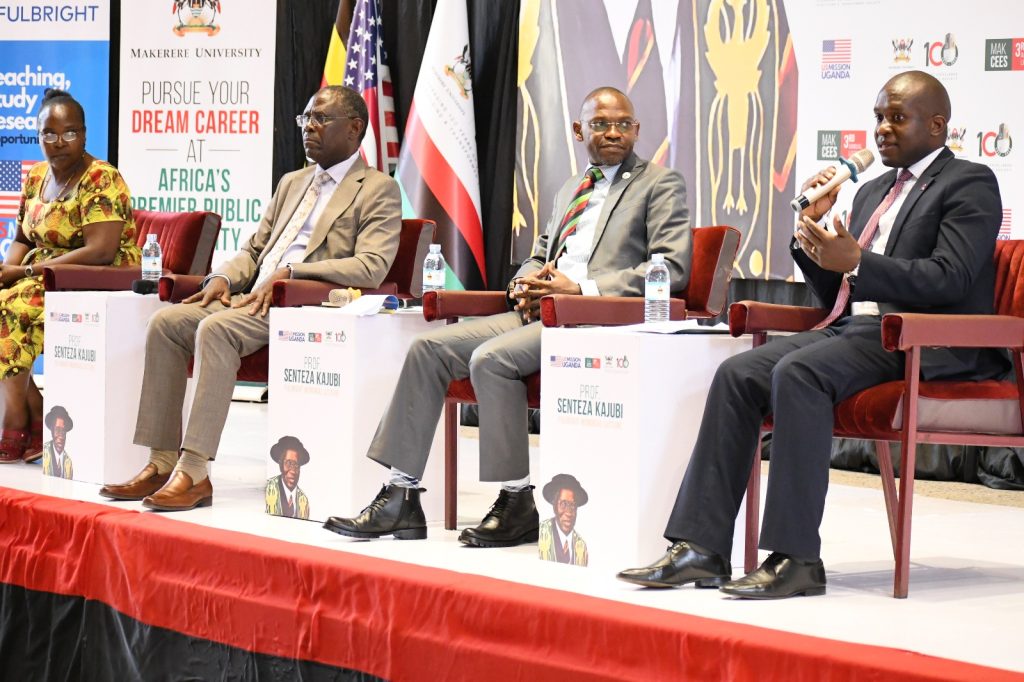 His political acumen propelled him to chair a number of government boards over the years until he directly participated in electoral politics in 1994 as a delegate of the Constituent Assembly representing Kyadondo North.
Two years after Uganda got independence, now a lecturer at Makerere University, Prof. Senteza was appointed the Director of National Institute of Education. He served there until 1977 when he became Vice Chancellor for the first time.
Education Policy Formation in Uganda
As the Secretary General of the Uganda Teachers' Association from 1959 to 1962, Prof. Senteza Kajubi was a member of the famed Castle Commission on Uganda's post-independence education policy framework.
Instituted and appointed in January 1963, the Castle Commission had been tasked with examining the content and structure of education in Uganda in light of the approved recommendations of the International Bank Survey Mission Report, Uganda's financial position and its future manpower requirement.
In the execution of its mandate, the commission dealt with a dilemma; if the formulated policy disproportionately focused on universal primary education and adult literacy while neglecting secondary, tertiary and higher education, it would fail to produce high level manpower which was required to staff government and teach in schools. However, on the other hand, the country did not have the resources to make improvements across the board and had to prioritise one option to the detriment of the other.
Since Makerere was still under the University of East Africa and higher education was still an inter-territorial responsibility, the commission instead focused on prioritising teacher-training, expanding secondary school enrolment and improving relevance, quality and access of primary education in remote areas.
In 1977, during his first tenure as the Vice Chancellor of Makerere University, Prof. Kajubi went on to chair the Education Policy Review Commission (EPRC) which was appointed by Idi Amin's Minister of Education, Brig. Barnabas Kili.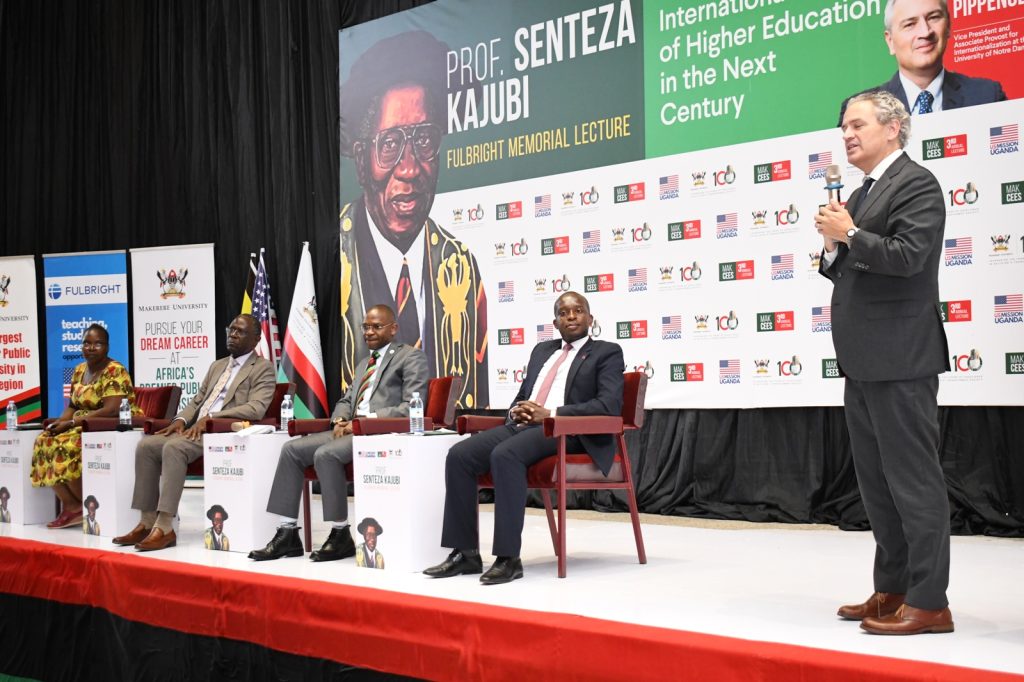 Owing to the political climate at the time, the education system was facing even dire problems. The gross human rights violations had led to a mass exodus of highly qualified professionals from civil service, teachers and university faculty into exile. Imploding diplomatic relations rendered external assistance with regard to education inexistent and the government had to deal with shortages from personnel to instructional material.
Prof. Senteza Kajubi was then tasked with the responsibility of leading an effort to circumvent some of these challenges and therefore keeping the education system in Uganda alive. Unfortunately, the findings and recommendations of the report, from its members and constituent sub-committees were overtaken by events in 1979 when war broke out and the Idi Amin regime was overthrown. The report was shelved and never formally presented to cabinet.
In 1987, after the ascendancy of the NRM government into power, another commission, once again headed by Prof. Senteza Kajubi, was appointed. Still under similarly unique circumstances, this commission too had to work within the socio-economic confines of a post-war society riddled with scarcity of resources. Eighteen months later, the commission's report was produced in January 1989.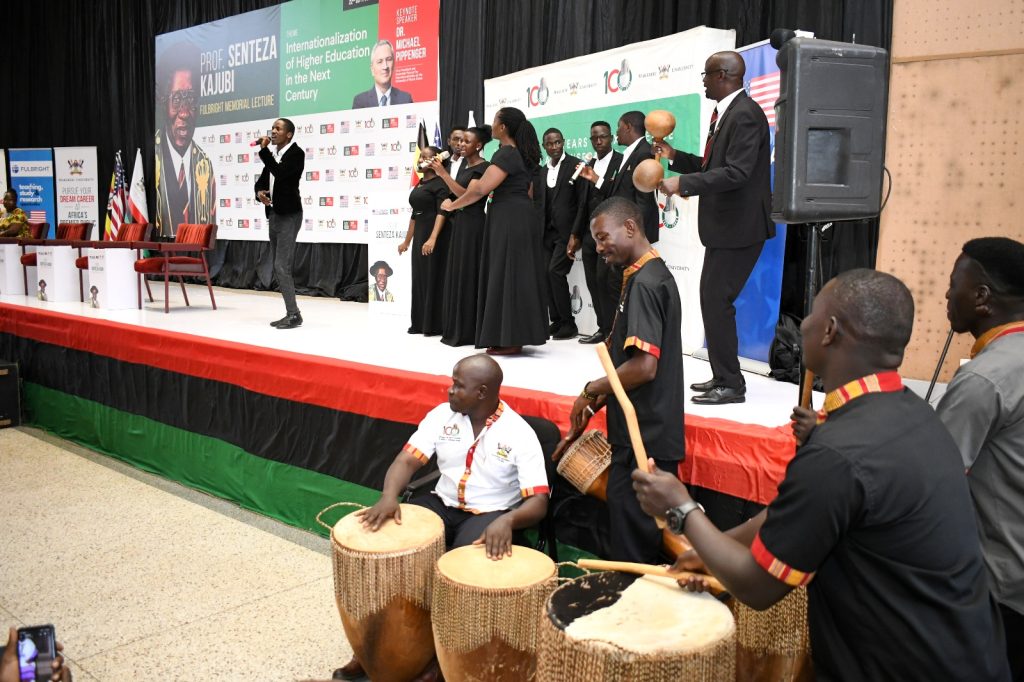 The most notable outcome of this committee report was a government white paper which brought to life the famous Universal Primary Education. This recommendation alone, for all its limitations, has contributed significantly to literacy levels in Uganda and to the education system as a whole.
After chairing the second Kajubi commission, he then became the Vice Chancellor of Makerere University for the second time, from 1990 to 1993, preceded by Prof. George Kirya and succeeded by Prof. John Ssebuwufu.
The Fulbright Program
In 1952, Prof. Senteza went on to the University of Chicago, on a Fulbright Scholarship, to pursue a Master of Science in Geography, making him the first African beneficiary of this scholarship program.
The student exchange scholarship program, which was started shortly after the Second World War by an act of Congress, was named after the American Senator J. William Fulbright, its framer. He made the case that "educational exchange could turn nations into people, contributing as no other form of communication can to the humanising of international relations."
Through his notable achievements and illustrious career, it is clear that this initiative to bridge cultural gaps through an international education exchange program had Prof. Senteza as one its successes.
Minister Kabanda launches training of Ghetto Youth by Mak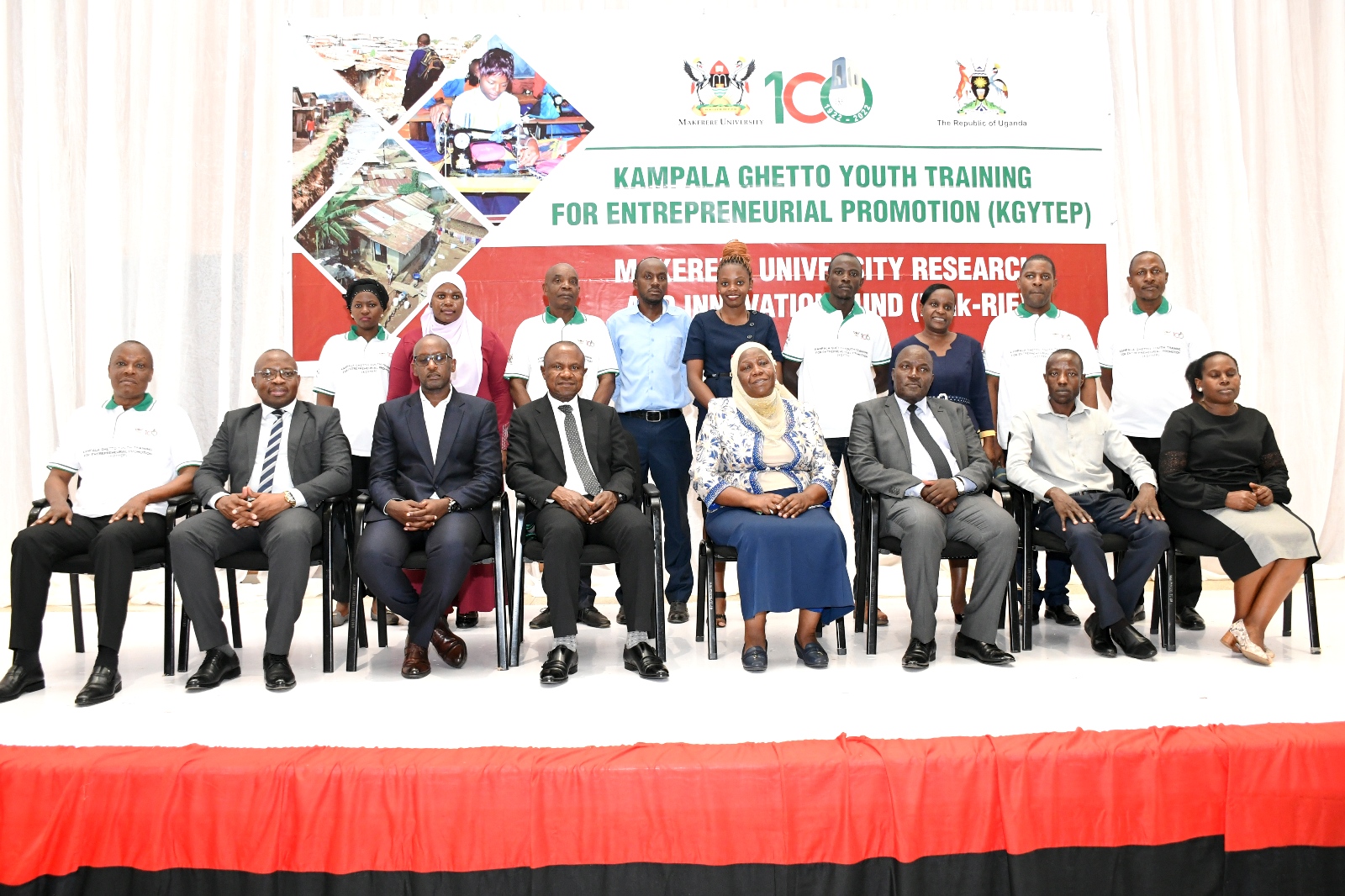 A project aimed at equipping ghetto youth with entrepreneurial skills was on January 31, 2023 launched by the Minister of Kampala City Council Authority, Hon. Hajjat Minsa Kabanda. The training will be conducted by researchers from the College of Education and External Studies led by Dr. Badru Musisi and Dr. Nalugwa Allen.
Dr. Musisi said the training would take twelve (12) weeks after which the trainees would be grouped and given capital and asked to start a business. This business will be monitored by the trainers in an effort to offer guidance where need be. The training will be two-faceted; it will also try to do mindset change by impressing it upon the youth that self-employment is a viable option. "When sending children to school, we think about them being job seekers and not creators. This needs to change," Dr. Musisi said.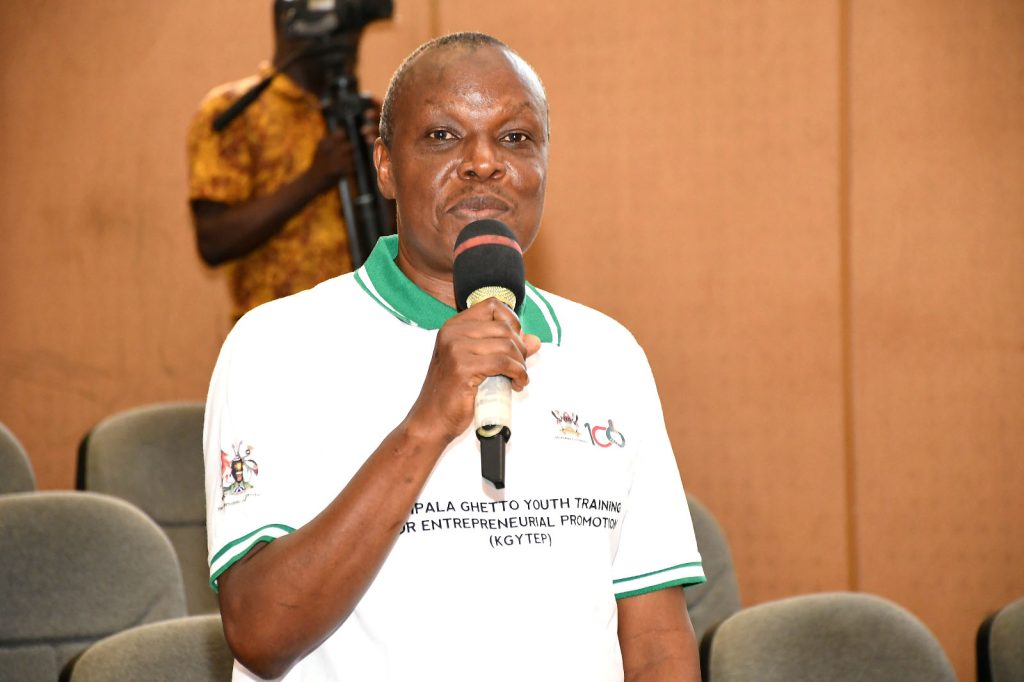 Dr. Musisi said, only 50 youth will be trained in the first phase because of resource constraints. The target, in the long run, is to train 5,000 youth (1,000 from each of the five Divisions in Kampala).
He thanked the government for the funding and the University for the environment conducive to researchers. The project titled 'Kampala Ghetto Youth Training for Entrepreneurial Promotion (KGYTEP)' is funded by the Makerere University Research and Innovations Fund (Mak-RIF). It is hoped that the project will contribute to reduction of unemployment and crime in Kampala's slum areas.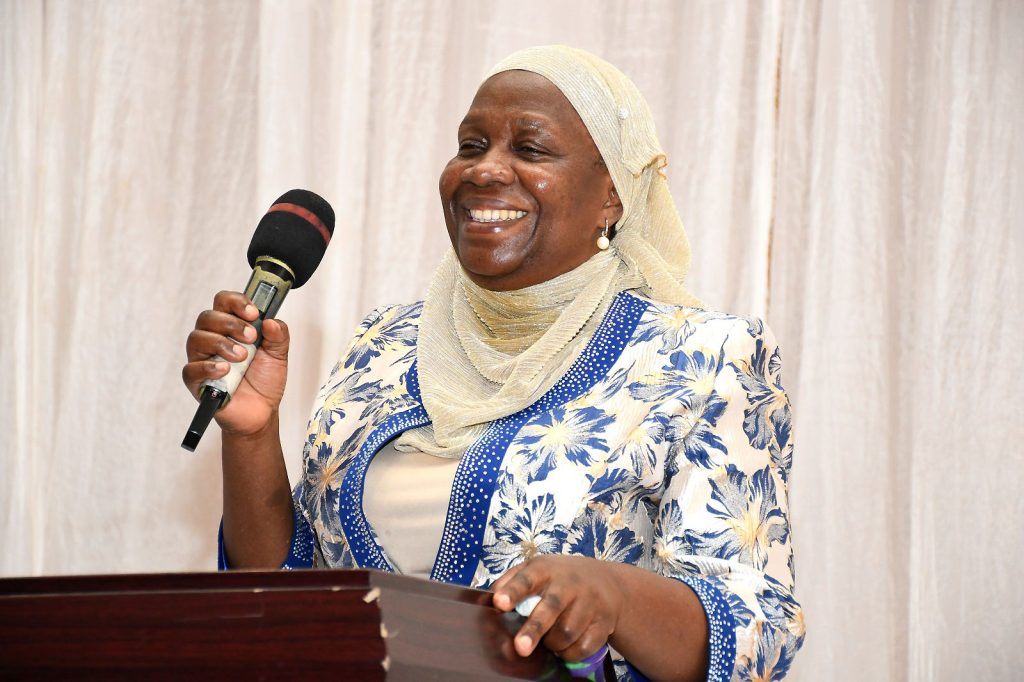 Minister Hajjat Kabanda welcomed the training saying, "By 2030, we don't want to have ghettos in Kampala," she said. She asked the youth to utilize the opportunity given to them. She reminded the youth that the government had started appreciating the ghetto by appointing 3 RDCs from that area. "Let us use this opportunity to get ourselves and our friends out of the ghetto," she emphasized. She called on the youth to register and benefit from government programs such as the Parish Development Model and the Emyooga. This she said, however, requires that they have National IDs. She then encouraged them to register so that they can exercise their civic duty of voting for their leaders. She encouraged them to be enterprising, hardworking and avoid crime.
Hajjat Kabanda, who referred to herself as 'Maama Ghetto' asked the youth to embrace government's skilling programs and other such poverty eradication programs.
She thanked the research team and Makerere University for contributing to government projects by trying to create employment for Ugandans. She pledged KCCA's support to the project and the struggle to move towards a middle income economy.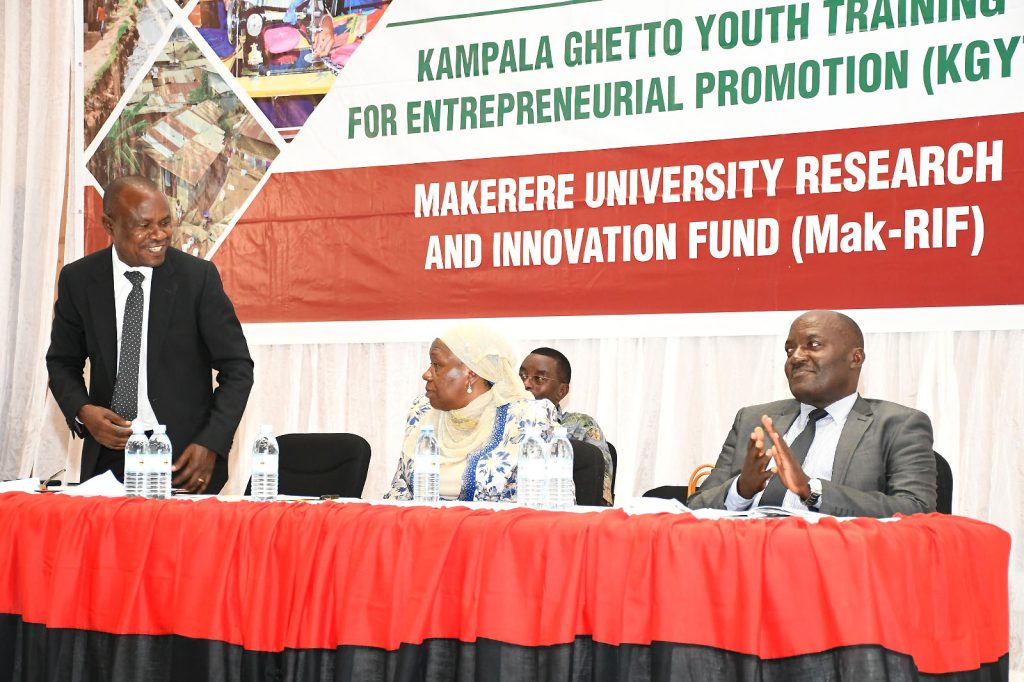 The Principal of the College of Business and Management Sciences, Prof. Eria Hisali, who represented the Vice Chancellor, thanked the Minister for making the time to open the training and also congratulated the research team for undertaking something relevant to society. He thanked the government for the financial support to the university and Mak-RIF for making resources available for the project. Prof. Hisali advised the different agencies to work together to achieve the intended goals. He advised the project team to work with KCCA, Uganda Police, State House and any such organizations with interest in ghetto youth.
Prof. Hisali informed the youth about the new Innovations Hub being established at Makerere University with funding from UNDP.  He advised the youth to utilize the facility which will be an incubation centre for innovative ideas and products.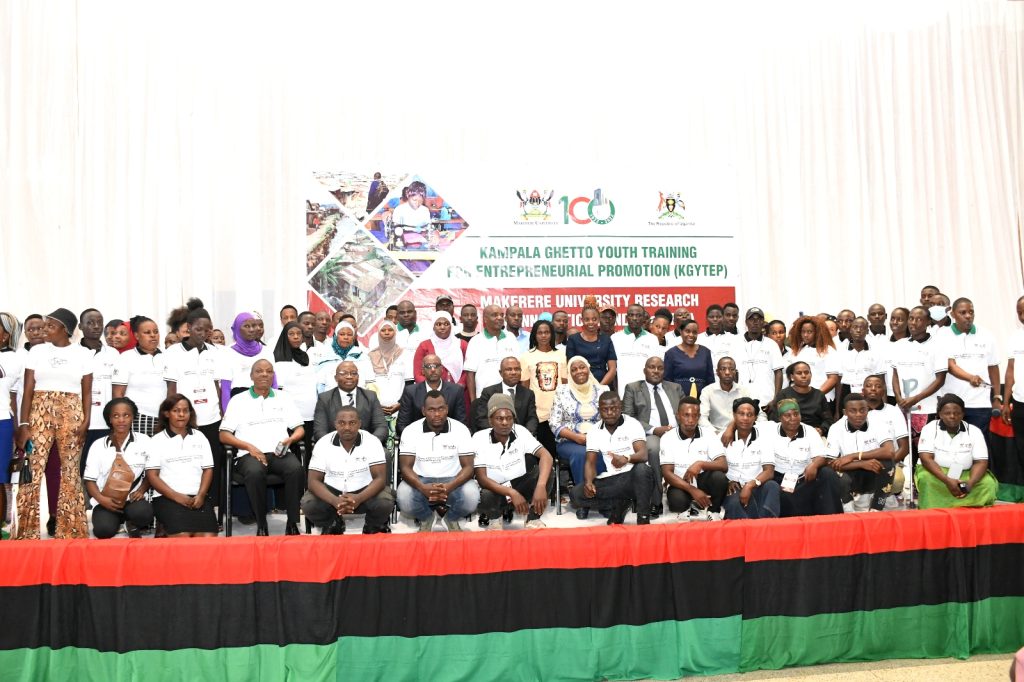 The Deputy Principal of the College of Education and External Studies, Prof. Bisaso Ronald said the strategic direction of the university in the next 10 years calls for community engagements, so it was humbling to see his staff contributing to this goal. "We believe that this training will impact the youth and also significantly change our research models," he said. He emphasized the need for the trainees to be innovative if they are to succeed in the area of self-employment.
The Chair Grants Management Committee (GMC) of Mak-RIF, Prof. Fred Masagazi Masaazi, informed the congregation that the fund had changed its focus to commercialization and PhD research. He congratulated the research team and also appreciated the Minister for sparing time to preside over the launch of the training. The government allocates UShs30 billion annually to the Makerere University Research and Innovations Fund.
EASHESD hosts Prof. Keet Lecture on Critical University Studies
The East African School of Higher Education Studies and Development (EASHESD) on Friday 27th January 2023 hosted Prof. André Keet, who gave a lecture on Advancing Critical University Studies across Africa.
Prof. Keet is the Research Chair for Critical Studies in Higher Education Transformation (CriSHET) and is the Deputy Vice-Chancellor for Engagement and Transformation at Nelson Mandela University.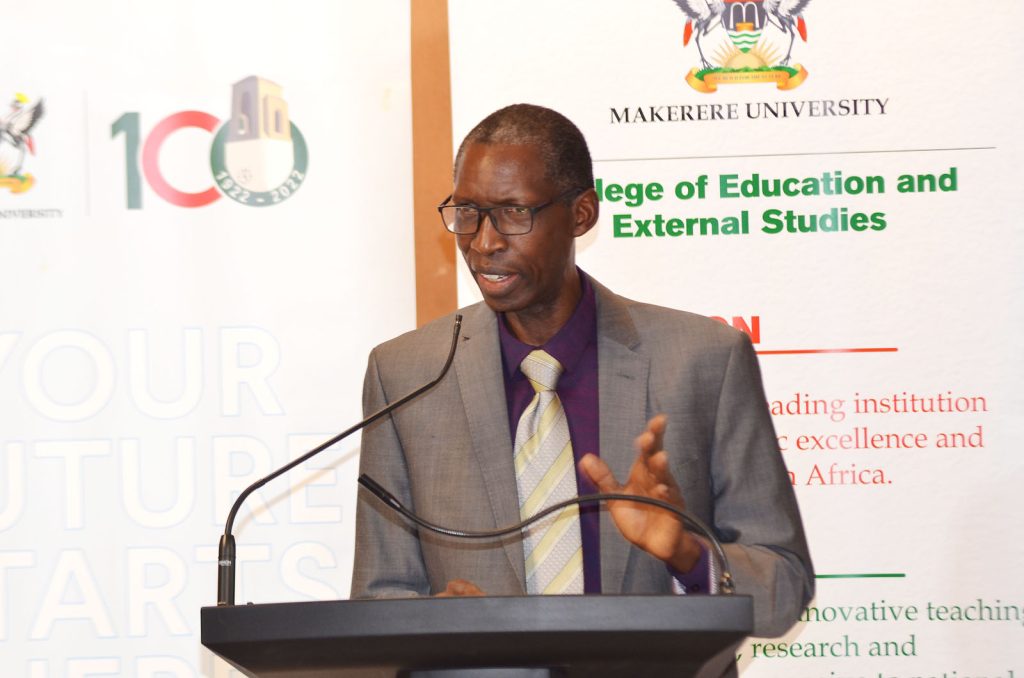 Critical University Studies (CUS) is an approach to the study of university that critically explores the taken-for-granted assumptions of higher education. The study seeks to examine other ways of addressing issues in the university. "When you critique your institution, you are making it better," Prof. Keet said.
Prof. Keet said there are divergent traditions and views about CUS. One such tradition says Institutional CUS is founded on the premise of a fundamental change in the ontology of the University from the onset of global neoliberalism in the 1990's.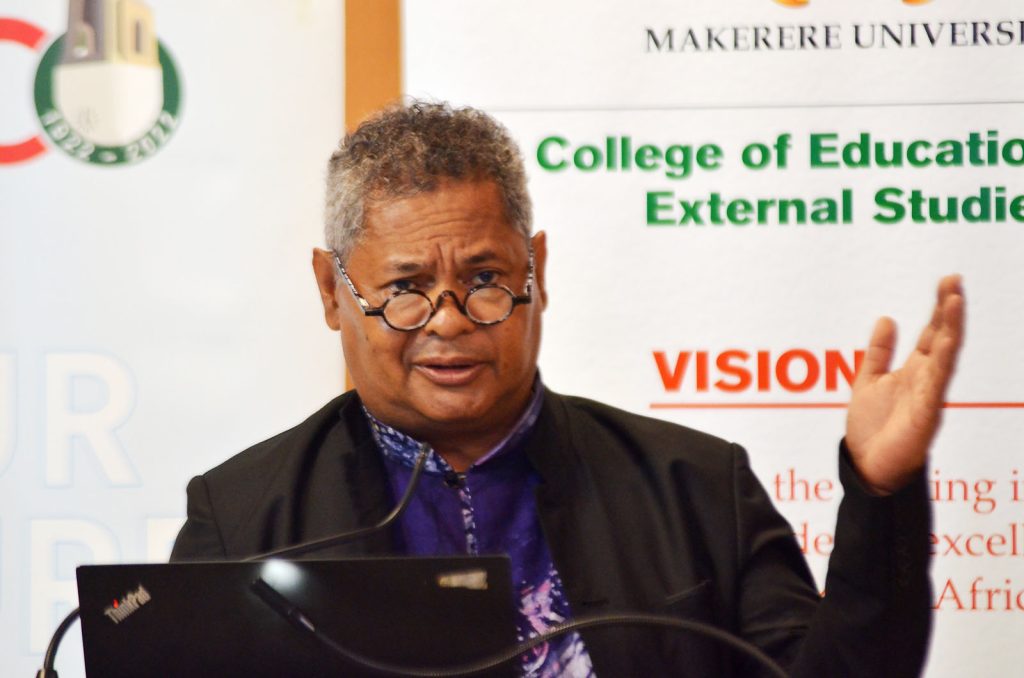 There was, according to this view, a time when the University was a utopic space and criticism ought to work towards that realising that utopia once more.
According to Prof. Keet, another 'tradition' of critical work in the University can be traced to critical pedagogy, decolonial studies, and critical internationalization studies. There has always been a critical tradition, one which acknowledges the University was never a utopic space, but always exclusionary and unjust.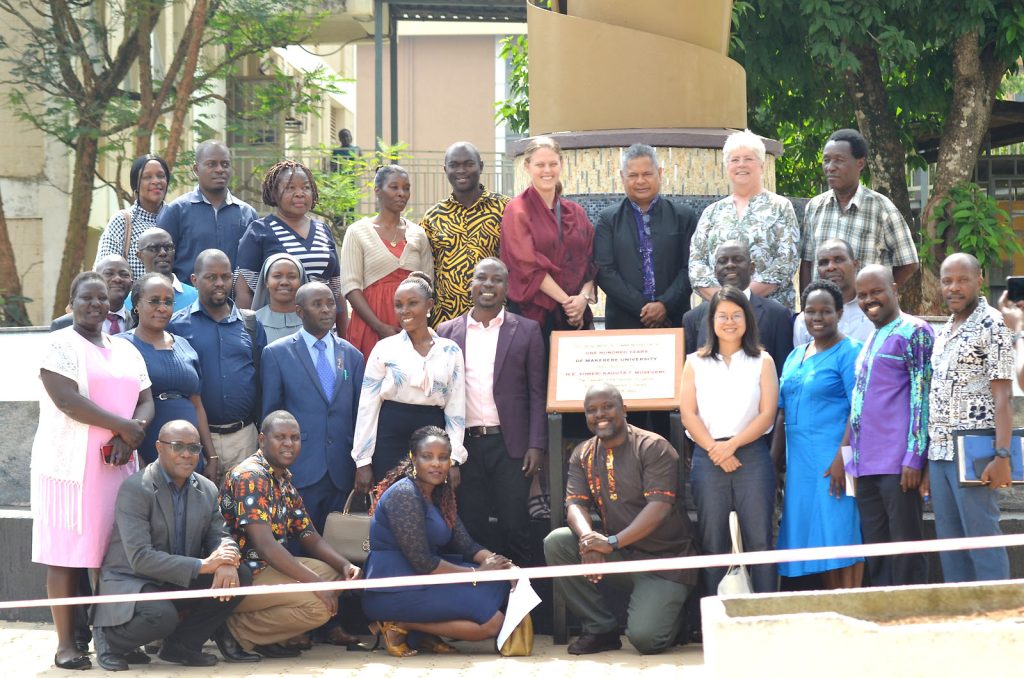 The Abolitionist University Studies scholars argue, therefore, that for CUS to be truly emancipatory and meaningful, these traditions must be acknowledged and built upon.
Prof. Keet has established a network to advance CUS. The network is called CriSHET.
While addressing the participants, the Principal of CEES, Prof. Anthony Muwagga Mugagga, who also represented the Vice Chancellor called on the scholars to crtically think about how we can better our education system. He argued that with the privatization of education in Uganda, we had many universities opening up and with that came many students that are not up to the task and yet universities have to groom these students. He called for critical ways in which this training can be done. "How come our education was able to produce the Kenneth Kaunda, Ngũgĩ wa Thiong'o, Nelson Mandela and the like, yet today the people leaving the university are corrupt, selfish individuals? We need to rethink our education," he said.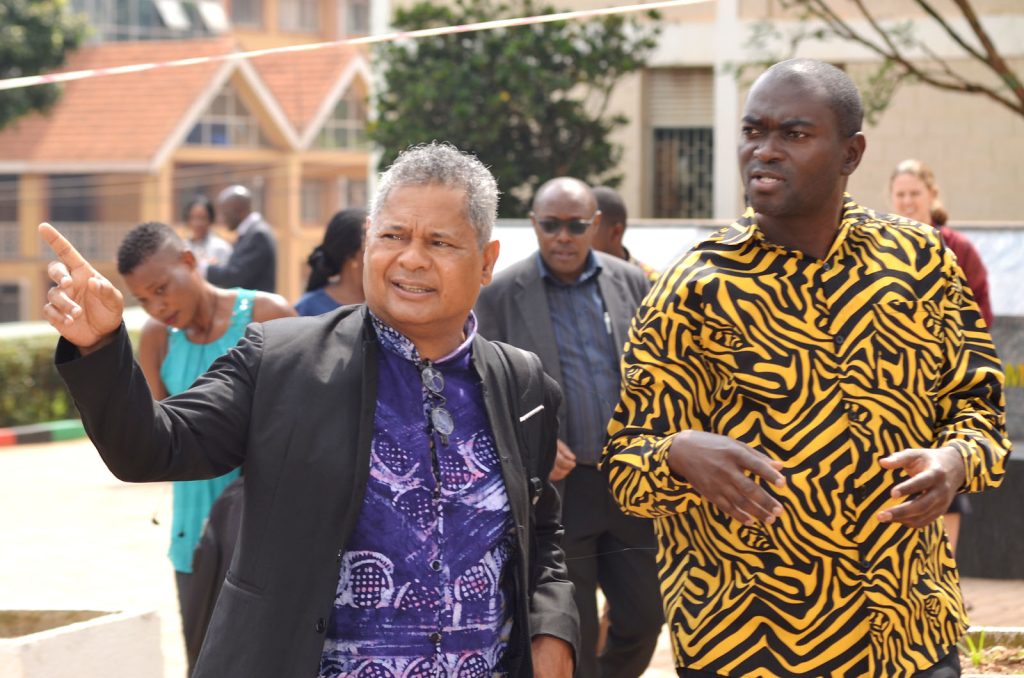 Dr. Jude Ssempebwa, who organized the public lecture said the topic was important for it allows people to think of new ways to solve challenges within the university and education sector at large.
Brief Profile of Prof André Keet
Prof. Keet currently holds the Research Chair for Critical Studies in Higher Education Transformation (CriSHET) and is the Deputy Vice-Chancellor for Engagement and Transformation at Nelson Mandela University. He is a former Visiting Professor at the Centre for Race, Education and Decoloniality, Carnegie School of Education, Leeds Beckett University, UK and the 2018 Marsha Lilien Gladstein Visiting Professor of Human Rights at the University of Connecticut.
Prof. Keet served as Director and Deputy Chief Executive Officer of the South African Human Rights Commission (SAHRC) and on the Commission for Gender Equality, before joining the university sector. Since entering the higher education field, André has held professorial positions at the universities of Pretoria, Fort Hare and Free State. He has been serving as transformation advisor and practitioner in various capacities in the sector.
Prof. Keet's research and post-graduate supervision focus on radical approaches to the study of higher education, such as critical and abolitionist university studies.
Memorial Lecture: Nsumba-Lyazi's unforgettable Legacy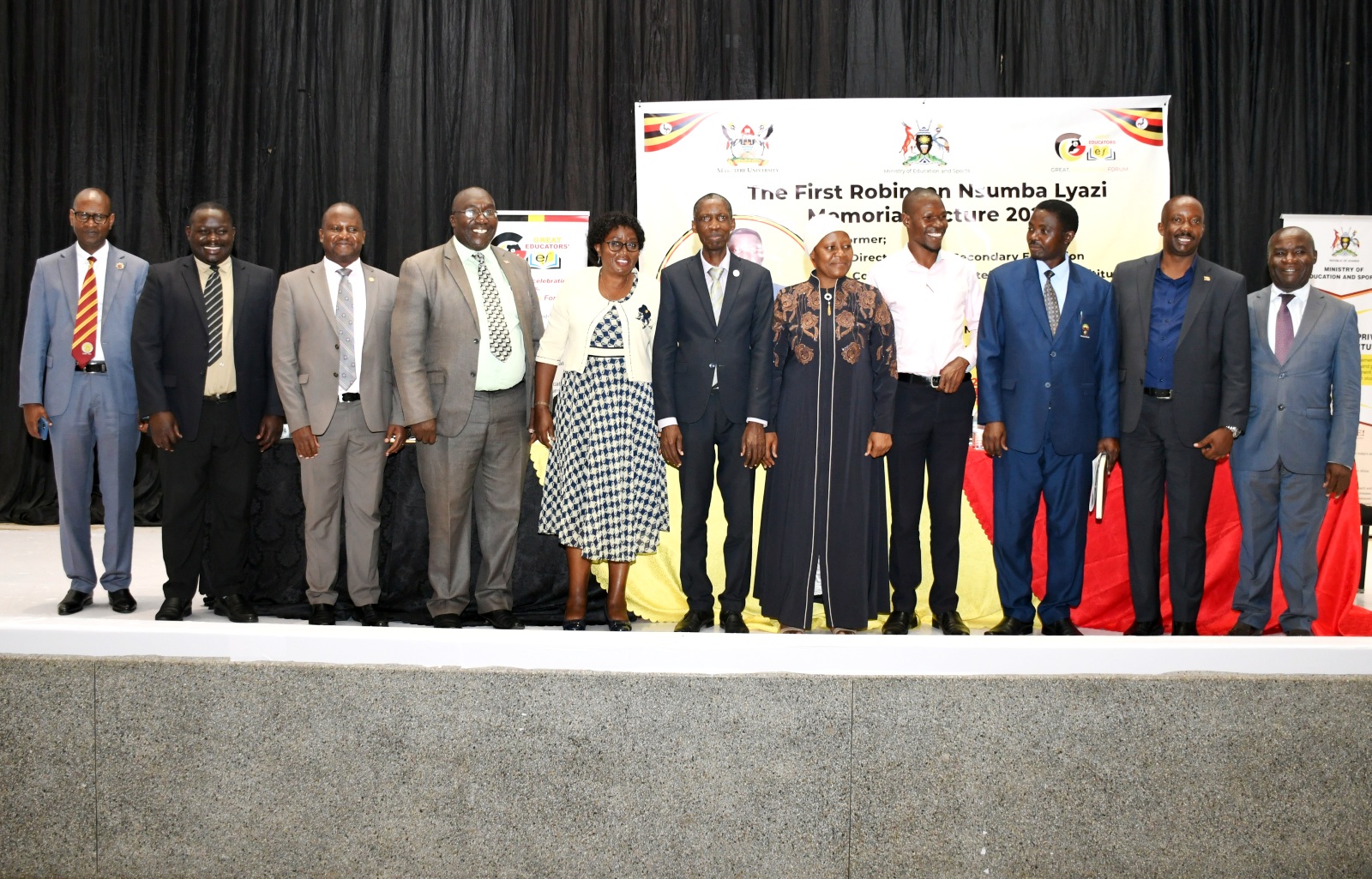 He was a great educator, a loving father, very calm despite his level of education, a good listener, a smart guy, punctual, disciplined, religious, social, trustworthy, dependable, cooperative and a great mentor were some of the words used to describe the Late Robinson Nsumba-Lyazi.
Speaker after speaker poured praises on the fallen Robinson Nsumba-Lyazi, a great educationist, to whom many owe their success.
This was during the maiden Memorial Public Lecture in his honour, held on Wednesday 25th January 2023 at the Makerere University Yusuf Lule Central Teaching Facility.
Nsumba-Lyazi is said to have died a contented man in 2022 after 40-years of service to the education sector.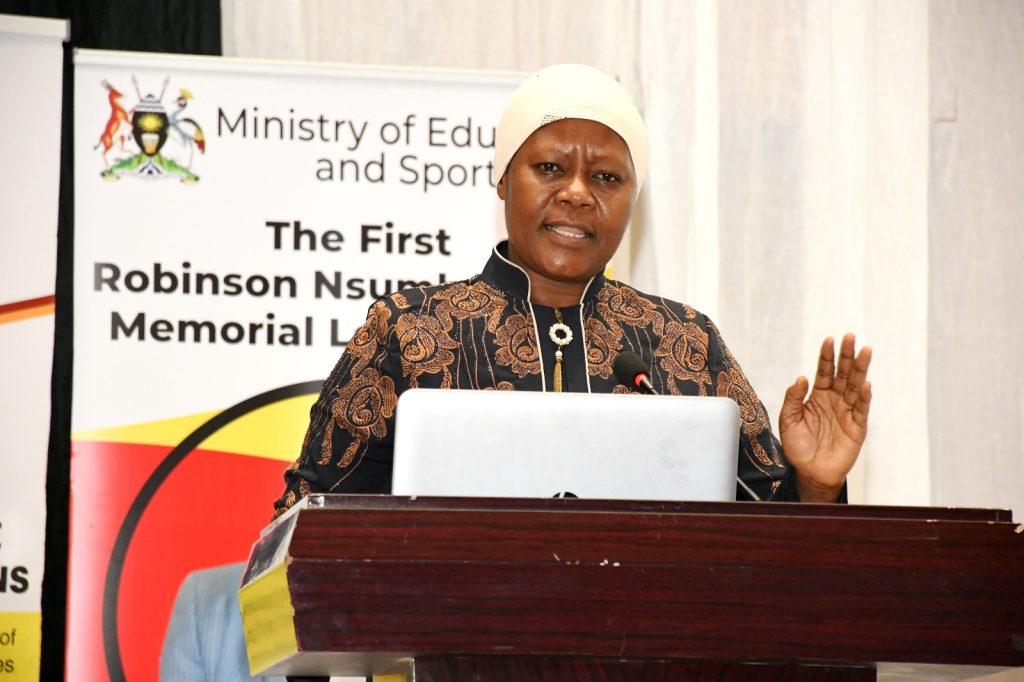 "It takes a lot to raise men and women who are admired and we can stand up and speak about them. If you evaluate yourself, will you have people to celebrate and speak about you when we are gone?" asked Hajjat Zaujja Ndifuna, the Director of Mbogo Schools during her keynote address.
Speaking about Nsumba-Lyazi, Hajjat Zaujja said he always emphasized to people that 'Our beginnings do not define our future'. Having been born to peasant parents in Mityana, Nsumba-Lyazi rose to the rank of Director Basic and Secondary education. Before serving in that capacity, he served as the Commissioner Private Schools and Institutions, Assistant Commissioner Comprehensive Education, Chairperson Church of Uganda Schools in Uganda, Head teacher Mityana SS and Head of Laity Mityana Diocese.
The public lecture was attended by different dignitaries including; his family members, officials from the Ministry of Education and Sports, Makerere University, different secondary schools among others.
In his speech read to the congregation by Prof. Anthony Muwagga Mugagga, the Vice Chancellor of Makerere University  Prof. Barnabas Nawangwe praised Lyazi as a great Educationist.
"Robinson Nsumba-Lyazi attended Makerere during a period of great political upheaval. Academic and Administrative staff had fled into exile and only a handful remained holding fort; doing their best to ensure that Makerere continued producing graduates despite economic hardships that characterized the period," he said adding,
"Specifically, the University's plan 1980-1986 outlined efforts to reintroduce correspondence courses or distance education courses, which included External Degrees. Distance education courses are particularly designed to take the University to the people. This was Makerere's way of recognizing the challenges at hand and in response, extending the principles and quality of University education to the greater majority of people who are unable to attend full-time courses due to work, financial and other obligations,"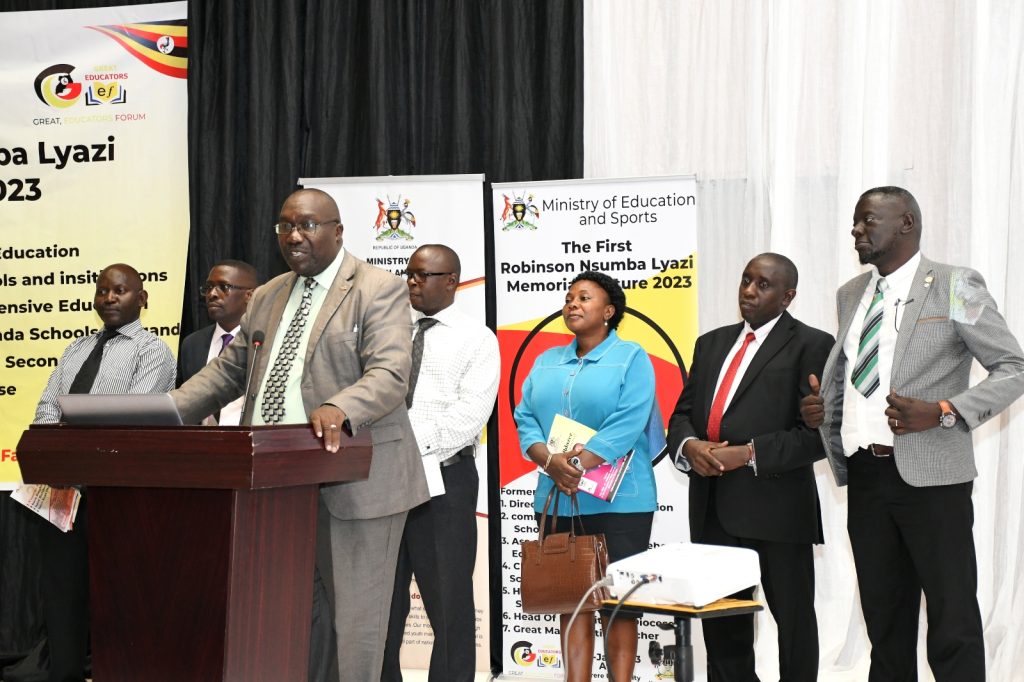 This strategic move by the University, he said, could have inspired Robinson Nsumba-Lyazi to pursue a postgraduate diploma in Education immediately after completing his Bachelor of Science to enable him teach Physics and Double Math at Secondary school level.
"Looking back, I think Nsumba-Lyazi was not going to wait for the people to come to the University. He wanted to inspire them even before they embarked on their respective Higher Education journies," the Vice Chancellor said.
"As one who had witnessed firsthand what his parents' entrepreneurial skills had helped the family achieve, Robinson Nsumba-Lyazi's exposure to higher education and science subjects in particular made him an even stronger advocate for the value that education adds to our God-given talents. Education unlocks one's potential and in so doing, opens many more doors for that talent to shine even brighter".
It is against this background that Robinson Nsumba-Lyazi was a strong advocate for the competence-based curriculum, and worked hard to ensure that its implementation gains traction before his retirement.
"It is very important that our young men and women graduate with skills and competencies that empower them to make meaningful contributions to society," he added.
Despite being born to peasant parents, Nsumba-Lyazi according to Speakers broke the chains and became a great person who worked tirelessly to promote private schools not only in Mityana but Uganda as a whole.
"He was passionate about teaching right from his early days, after S.6 he was invited in Mityana to teach fellow students which he took on. He rose through the ranks of a teacher to lead and education institution and finally to the Ministry of Education," Hajjat Zaujja noted adding,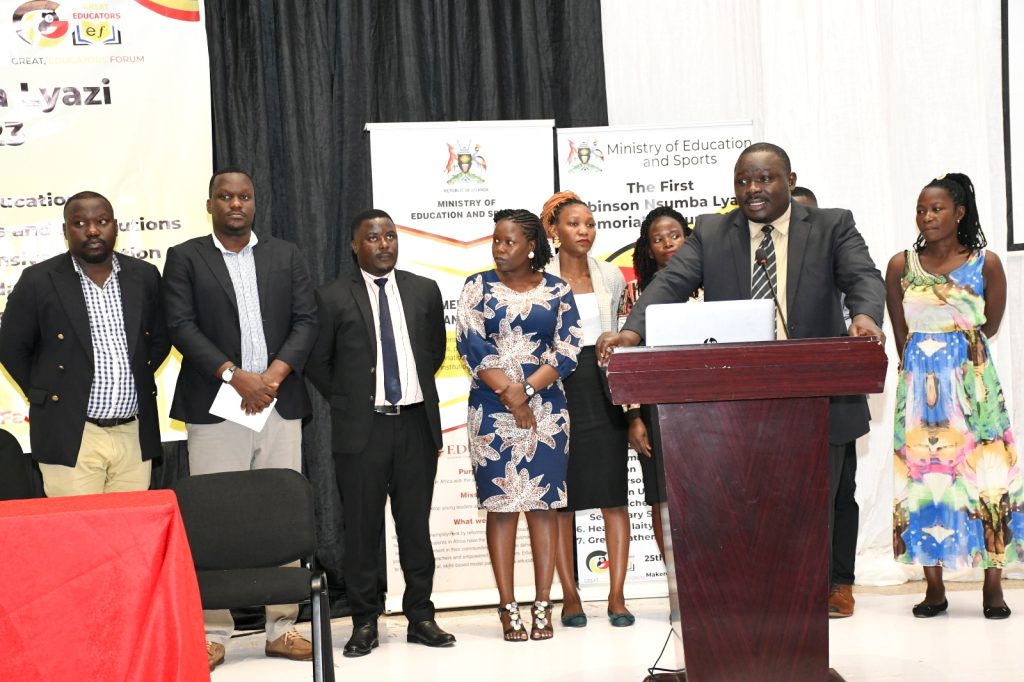 "His family members described him as a great husband, father, relative who worked towards instilling humility, discipline, respect in everyone that knew him."
Dr. John Chrysostom Muyingo the State Minister of High Education in a speech read for him by Mr. George Mutekanga, Commissioner of Private Education Institutions, asked the audience to emulate the works of the late Nsumba-Lyazi whom he said gave his best to humanity.
Nsumba-Lyazi, Dr. Muyingo said, walked away from the Ministry with satisfaction that he had done his part.
"We liked the way he did his work, there a number of lessons: our beginnings should not define our destiny," he said
Nsumba-Lyazi's services, the Minister noted, were always with a smile that lit up the room.
He is credited for having developed education standards in Mityana and also started the association of Private Academic institutions in an effort to ensure that the schools had a voice and could participate in the decision making at the Ministry of Education and Sports.
Nsumba-Lyazi is said to have loved a quote by Martin Luther King, "If you can't fly then run, if you can't run then walk, if you can't walk then crawl, but whatever you do you have to keep moving forward." He is said to have been moving until his death in 2022.