Mak Almnus Prof. Ngugi Wa Thiongo Honored, Humanities Book Launched during the Humanities Conference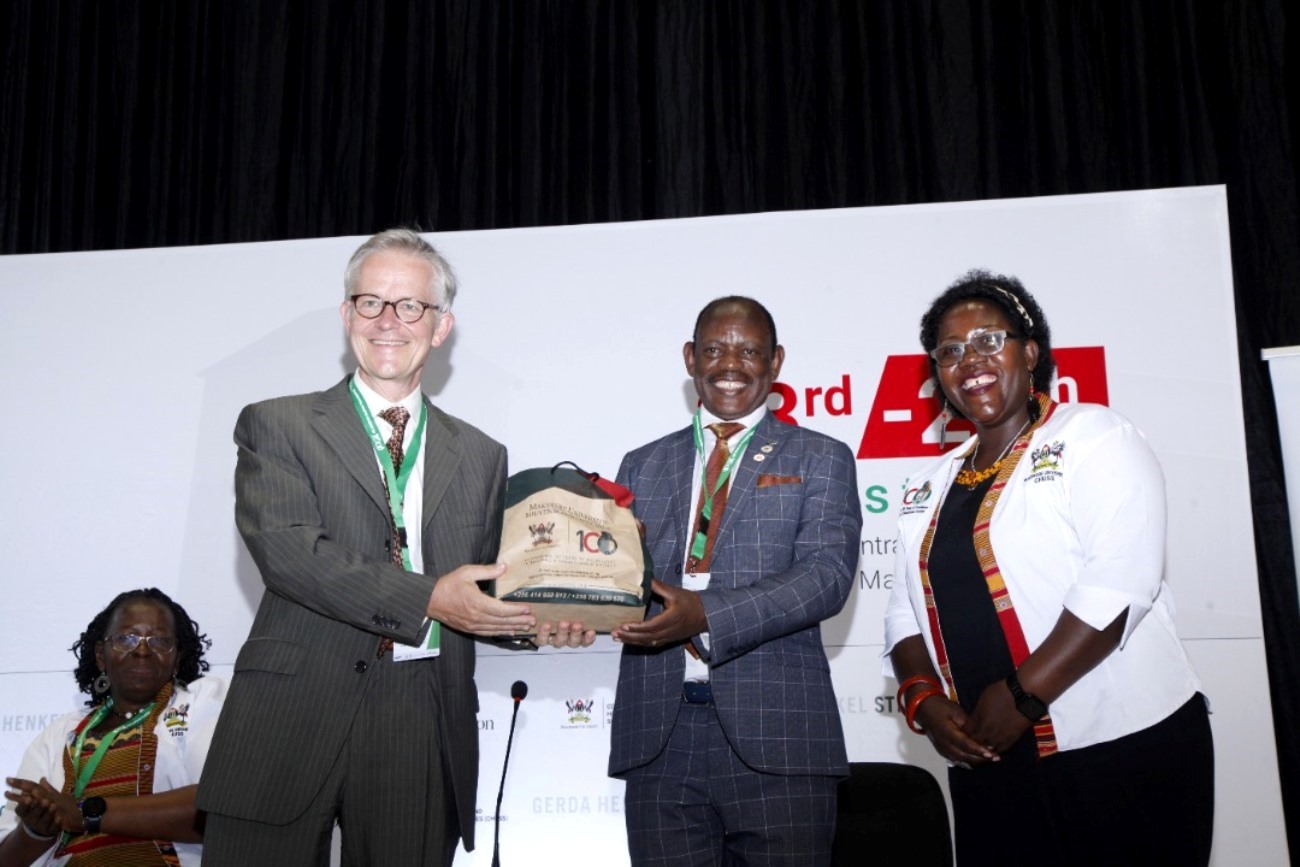 The three-day International Humanities  Conference organized by the College of Humanities and Social Sciences (CHUSS) was on 23rd August 2022 opened with the Graduate Mentorship session, followed by  planting a  tree in honor of Makerere University Alumnus Prof. Ngugi Wa Thiong'o by the Vice Chancellor Prof. Prof. Barnabas Nawangwe At the Arts Quadrangle.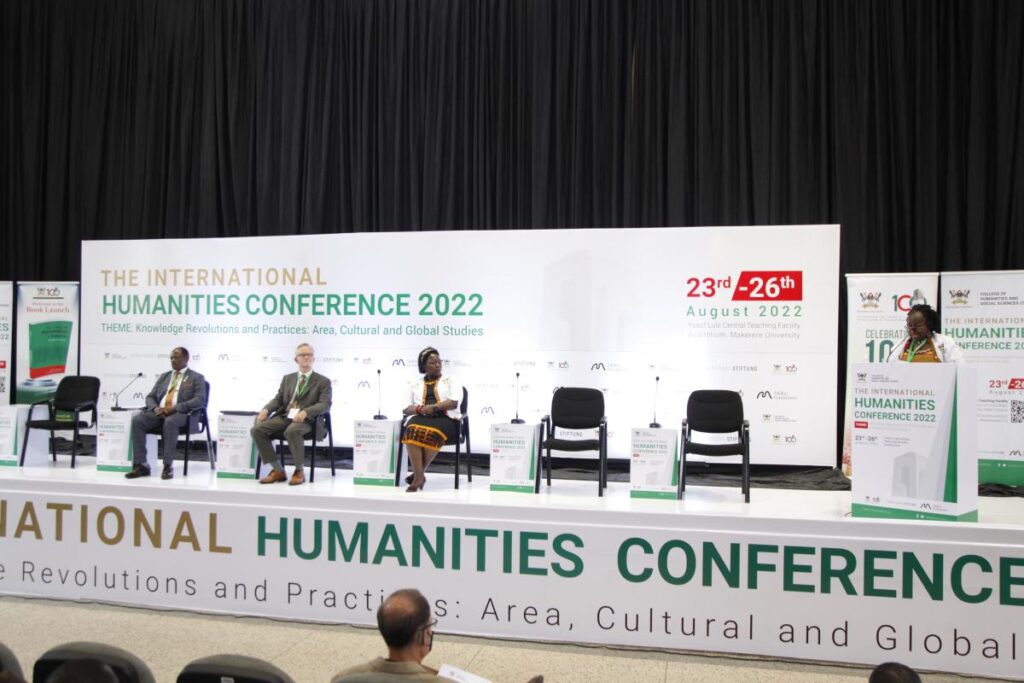 Prof. Nawangwe also launched a book titled, " Historicising Humanities at Makerere: Trends, Patterns and Prospects". The book authored by over 20 people with 16 chapters is an outcome of a project on historicizing the humanities at Makerere supported by the Andrew Mellon Foundation of New York.
The conference convener Dr. Levis Mugumya said the key goal of the project was to rethink and reshape the role of humanities in Uganda and reexamine the basis and significance of humanities and humanistic social sciences at Makerere University from a historical perspective.
"The sixteen chapters have taken a slice of the history of some disciplines and raised questions around their basis and trajectory. It is an attempt to renew conversation and debate as well as ideational leadership of the academy ", Dr. Mugumya said
The three day Humanities conference 23rd-26th August 2022 was part of the activities to celebrate the 100 years of Makerere University service to Humanity, held at the Yusuf Lule Auditorium.
The overriding thrust of the conference was to explore how the knowledge revolutions have impacted university practices and transformed the teaching of and research in the Humanities and Social Sciences. The conference also acted as a discursive zone to interrogate innovative ways through which Humanities and Social Sciences scholarship has refocused beyond the knowledge revolutions to imagine the inevitable future economic, social, biological and political challenges to humanity.
The conference was blended to enable physical and virtual engagements, presentations, and insightful and vibrant discussions. It will consist of keynote addresses, individual and panel presentations, and graduate student panel discussions.
It attracted key note speakers:- Prof. Ngungi Wa Thiong'o – a distinguished Professor of English and Comparative Literature from the University of California;Derrick Peterson – Ali Mazrui Collegiate Professor of History from the Afro-American and African Studies University of Michigan and; Nakanyike Musisi – a Professor from the African Women Education and Development, Makerere University/ University of Toronto
It would be a mistake to discredit humanities as a second class subject
The conference was officially opened by the German Ambassador to Uganda H.E Matthias Schauer. The ambassador underscored the role of humanities in society saying, it is un imaginable to create a legal regulatory system without a profound knowledge of history of society and language which is part of the humanities.
He observed that scholars in humanities and social sciences have witnessed three major knowledge revolutions since 1945 from Area studies, cultural studies and global studies. Ambassador Schauer noted that today, there are signs that scholars may be at another brink of the fourth revolution as witnessed by problems in maintaining global production process, amidst rising transport costs, political unrest and the realization that countries may not be dependent on one other.
"We have been fooling ourselves that economic interdependence would prevent out conflicts but this is not the case. We may now need a new focus on global cooperation and create new fields of research in humanities and social sciences". He said.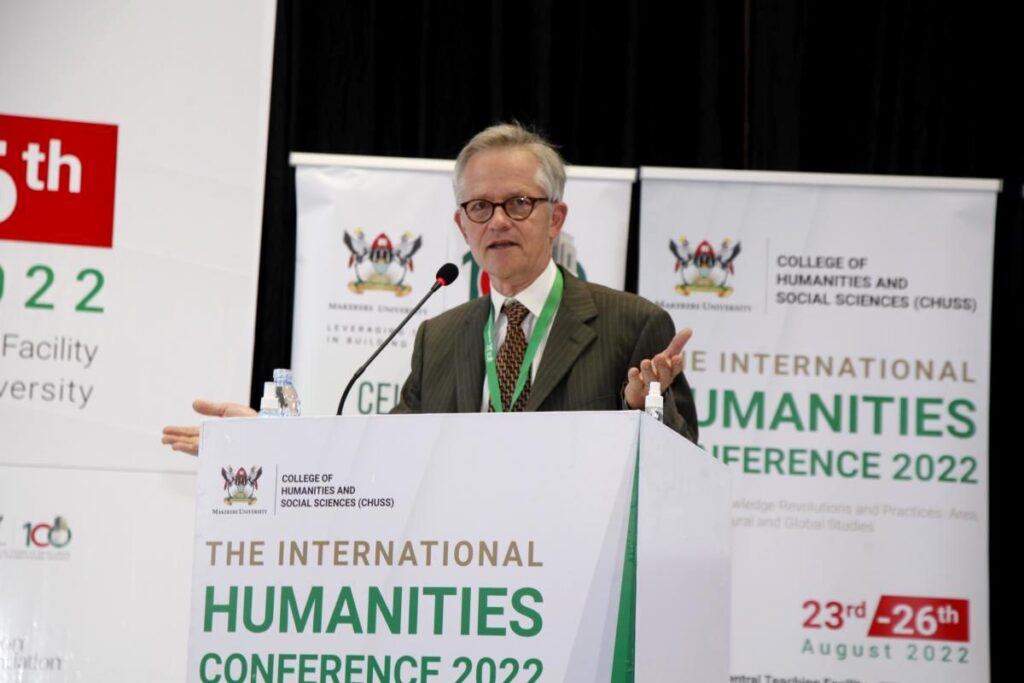 He said humanities attracts a huge number of students at universities because of the diversity of subjects and rich menu for offer. On the political debate on education, Ambassador Schauer noted that its common to hear that countries may need natural scientists, engineers and technicians to increase economic performance.
Though that may be right to some extent, Ambassador Schauer described the humanities and humanistic social sciences as vital to society saying, it would be a mistake to discredit humanities as a second class subject. He advised that young people should do what they feel passionate about.
"First of all they (Humanities) help us understand each other. Language, history and culture shapes each one of us. Without communication that works, nothing much else can work. Humanities also teach us to approach new complex issues in a systematic way to assess information and considering different facts from all sides, Humanities make us informed and critical citizens and, without humanities, democracy would not work. Humanities also foster social justice and teach us empathy and make international relations broader and stronger. Humanities encourage us to think creatively, to reflect upon ourselves and human nature and to think outside the box. Humanistic services enrich the soul and make us a cultured individual," The ambassador asserted.
The ambassador also described as false the thinking that humanistic degrees are not marketable as degrees in STEM, business management and other natural sciences.
"At sight that might seem true, but in my experience a student who diligently study in humanistic subjects will always carry this energy and motivation successfully into his professional life and sell more as in finding a good job. Almost all employers desperately need employees who can communicate fluently, intelligently and persuasively and, employees who can organize their thoughts and synthesis their scattered information into a coherent story.
Employers need employees who are equipped with soft skills such as the ability to converse with difficult topics in a constructive manner and it is the humanities that helps them to express very well. Humanistic education will enrich you very well, emotionally, socially and intellectually and gain a wide experience while at college", The ambassador asserted.
The Ambassador hailed the long standing relationship and collaboration that Germany enjoys with Makerere University especially with CHUSS.
He said it was now over 60 years when Germany was taught in the evening class at Makerere University as an extracurricular language program that continued till 1967 when the first bachelor of arts was established and it became the first German phonology in East Africa.
He highlighted a number of advantages of studying Germany including teacher employment opportunities in education sector, participation in internships, huge range of opportunities in tourism, training opportunities and on job trainings in companies and unique connections, interaction and demand across the world.
The ambassador encouraged the university leadership to foster the teaching of foreign languages at Makerere in prominent way at CHUSS department of European and Oriental languages and proposed the establishment of Master of Arts program in Germany as the most appealing to him.
He expressed the Germany commitment to continue funding the Ugandan students and staff in their academic and other endeavors.
CHUSS reputed for producing eminent scholars
The Vice Chancellor Makerere University Prof. Barnabas Nawangwe reported that the Humanities and Social Sciences have been at the heart of Makerere University since the introduction of History in 1946, and the East African Institute of Social Research in 1948.
He explained that the Faculty of Arts and Social Sciences is reputed for producing eminent scholars and political leaders, including Julius Nyerere, Milton Obote, Mwai Kibaki, Benjamin Mkapa, Oginga Odinga, Okot p'Bitek, Ali Mazrui, David Rubadiri, Nuruddin Farah, Ngugi wa Thiong'o, John Ruganda, V. S. Naipul and Wole Soyinka among others.
Prof. Nawangwe informed participants that CHUSS has championed the critical role of humanities and humanistic social sciences in comprehending, interpreting, and recognizing societal commonalities and differences as well as fostering critical thought, social justice, equity and democratic practice stressing that, in the 1960s and 1970s before the onslaught of neoliberalism and the emphasis on STEM, the humanities and humanistic social sciences were vibrant.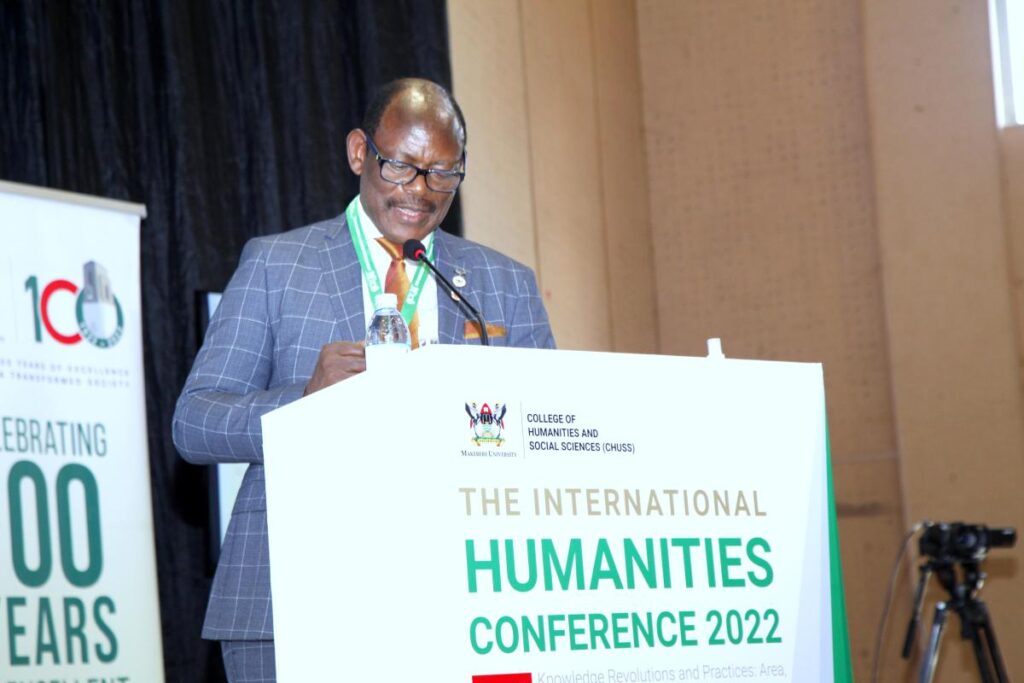 In spite of this rich history, Prof. Nawangwe pointed out that the current positionality and relevance of the disciplines of humanities and humanistic Social Sciences has come under scrutiny as compared to the natural scientific disciplines.
While the University is prized in scientific research, Nawangwe said, today's complex global challenges such as 'global warming, global poverty, global epidemics' and gender inequality cannot be solely explained or resolved by natural scientific disciplines.
"It is therefore important to understand the human factor, which is central in most of the modern scientific glitches. Not only do the humanities and humanistic social sciences explicate our existence as human beings, but they also contribute to creating "tolerance and understanding between citizens", which promote social cohesion, and challenge established positions, social norms and traditions through critical thinking, and preserve heritage, cultural memory and identity", He said.
The Vice Chancellor was optimistic that the knowledge and strategies generated through the conference will go towards uplifting the lifestyles of the people and also aid in conducting a comprehensive review of all aspects of teaching, theorizing, research and practice in the humanities and social sciences disciplines.
Prof. Nawangwe extended appreciation to development partners for the support extended through generous acts such as sponsoring this fora, capacity building, research and developing infrastructure with particularly recognition to the Andrew Mellon Foundation and Gerda Henkel Stiftung for supporting academic activities in the College of Humanities and Social Sciences as well as the Government of Uganda for supporting research and creating an environment conducive for the same to thrive at Makerere University.
The Vice Chancellor also appreciated keynote speakers, Prof. Ngugi wa Thiong'o, Prof. Nakanyike Musisi and Prof. Derek Peterson, the participants, and all guests for honouring the invitations.
To the students (PhD and Masters), The Vice Chancellor expressed happiness that that the International Humanities Conference 2022had commenced with the Graduate Mentorship session.
"You are being nurtured and mentored to not only become the next generation of academics, but to also provide leadership and championship towards Uganda's development and transformation of your communities.
I encourage you to actively participate in the conference so that you learn more as you pursue your PhD and Masters" Nawangwe said and applauded CHUSS management under the leadership of the Principal, Associate Professor Josephine Ahikire for hosting a number of activities in line with the centenary celebrations.
The conference looked at the world with resolve for greater humanity
The Principal CHUSS, Associate Prof. Josephine Ahikire welcomed all to the conference saying, this was the first Conference to be held after the serious lockdown for two years as the university celebrates the Humanities and Social Sciences and make a mark on the nation, continent and the world at large.
This conference themed: Knowledge revolutions and Practices: Area, Cultural and Global Studies she said , is structured as part of Makerere's Centennial celebration aimed at exploring how the knowledge revolutions have impacted university practices, the teaching of and research in the Humanities and Social Sciences as well as human praxis.
"We use this space as a discursive zone to interrogate innovative ways through which Humanities and Social Sciences scholarship has refocused beyond the knowledge revolutions to imagine inevitable futures. We use this very space to foster critical thought about life, its afflictions, and ideals of human society – to debate and rejuvenate theory and practice", The Principal said.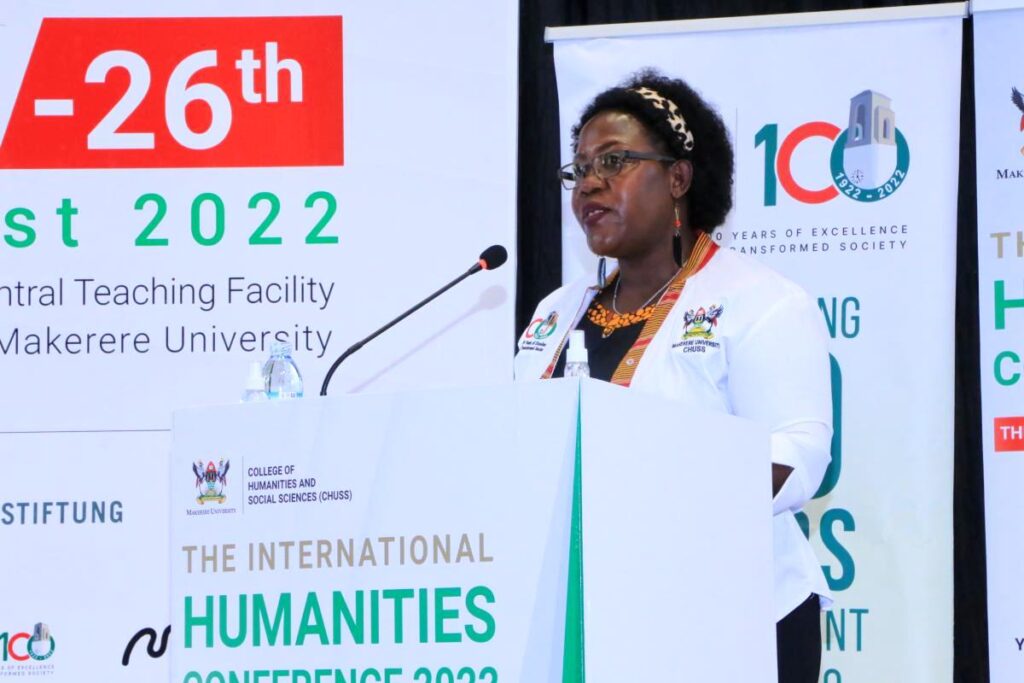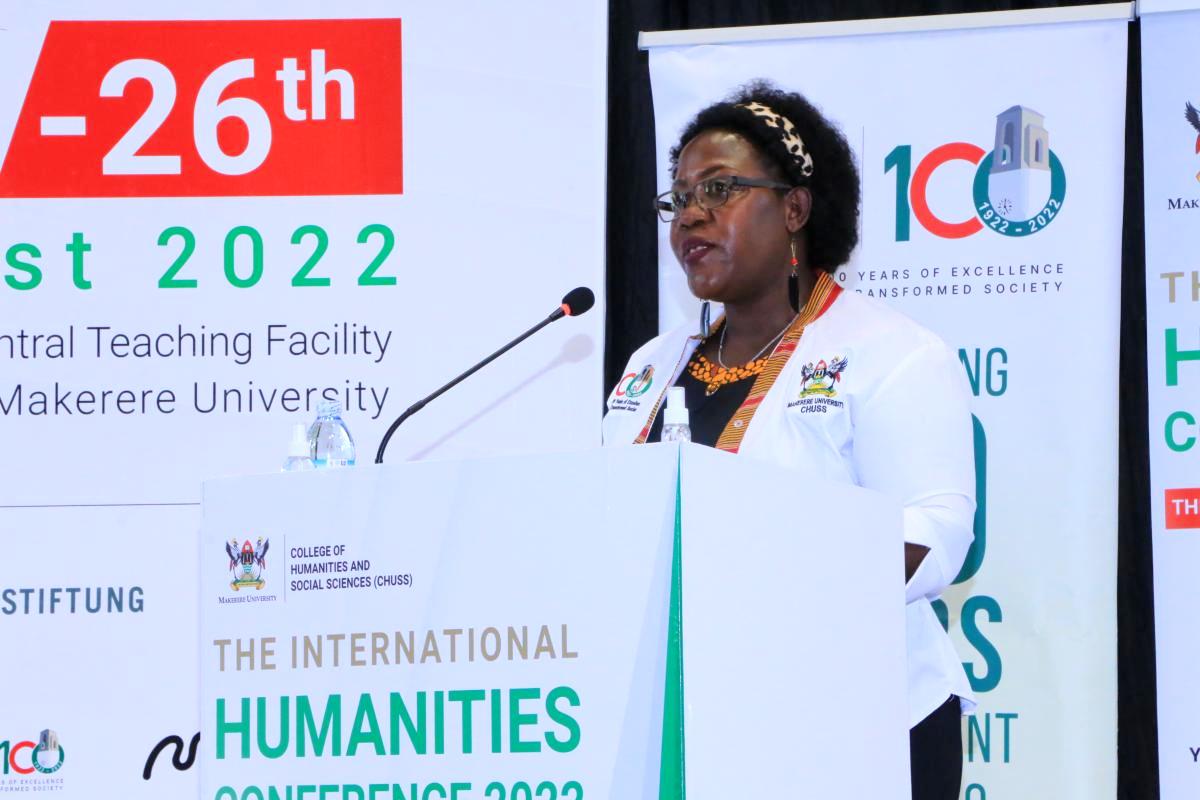 Prof. Ahikire acknowledged the friendship and partnership between Germany, Makerere and the country at large and specifically, the support by the Gerda Henkel Stiftung to the college that has soared the capacity of PhD training at CHUSS.
On behalf of CHUSS and Makerere University, the Prof Ahikire thanked the keynote speakers: Prof Ngugi who was not able to join, saying that he was and is still enthusiastic about this Conference and what happens at Makerere adding that , Prof. Ngungi has always believed/ and openly confessed that Makerere made him and Perhaps he also made Makerere.
"This symbiotic relationship is one we greatly cherish at CHUSS. Prof Nakanyike Musisi – a gem- renown historian of our time. Welcome home- proud alumnus. Prof Derek Peterson, we treasure your commitment on restoring and conserving history", Prof. Ahikire commended.
Prof. Ahikire emphasized that the humanities have been at the heart of Makerere University since its birth and is reputed for eminent scholars, post-independence political leaders and activists. Under the ambit of the CHUSS program dubbed Humanities@ Mak 100, the Principal said, this conference was part of the efforts to galvanize humanities scholarship for even greater human utility on the African continent.
"As humanity continues to grapple with challenges such as mis -governance, conflict, climate change, and pandemics there is need for more ingenuity and inventiveness. In very specific ways, the COVID-19 pandemic has demonstrated the need for a multidisciplinary approach to this unprecedented global health challenge, with the human subject at the centre." She said adding that:"These conversations are important because our disciplines allow us to experience humanity at its best. This Conference is therefore aimed at facilitating these debates and key issues in the Humanities and Social Sciences. It is our hope that the conversations that start here do not stop here, but help us critically look at world we live in with resolve for greater humanity".
Prof. Ahikire acknowledged the generous support of the Mellon Foundation (USA) which allowed the college to dream three years ago – when the idea of the book was proposed. The Mellon Foundation she reported has also supported various research efforts by Early Career and Senior Scholars in the college including the support for this conference that was also committed three years ago.
She thanked the University management for enabling the college to meaningfully pursue the strategic goal of a truly research led university and, the chair of the Organising Committee, the Convener of the Conference and all members of the organising committee for the job well done.
Conference planned to discuss issues important for the survival of human race
The chairperson CHUSS organizing committee Prof. Grace Bantebya said each year the college organizes a conference adding that what started as symposia has metamorphosed into great and rich academic conferences.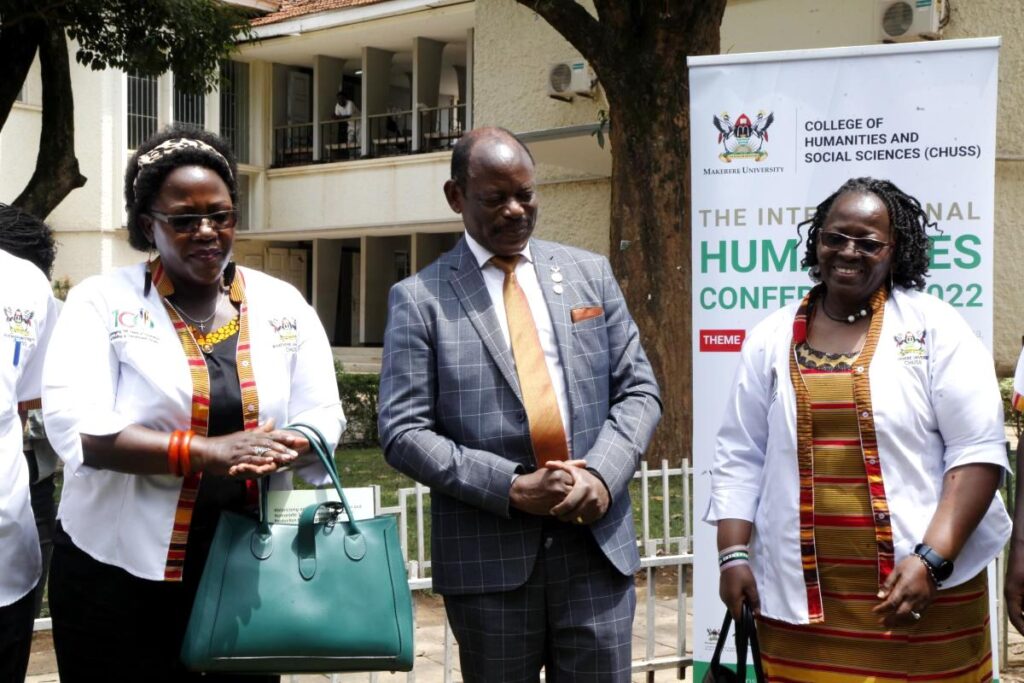 Prof. Bantebya hailed the college leadership for the support and the organizing committee for the commitment that led to the success of the conference noting that they have tirelessly worked in their different committees to see to it that it materializes.
She also thanked the Andrew Mellon Foundation and the Gerda Henkel Foundation for the support to the conference as well as the different doctoral students cohorts over the years.
"The issues this team has prepared for you to chew are those that are pertinent to our being human. It is for this reason that we are sometimes looked at as activists because issues of urgency within the global context are important for the survival of human race and this is why conferences of this nature need to keep happening". Prof. Bantebya said.
Mak School of Languages to start new Masters programmes in different languages next year 2023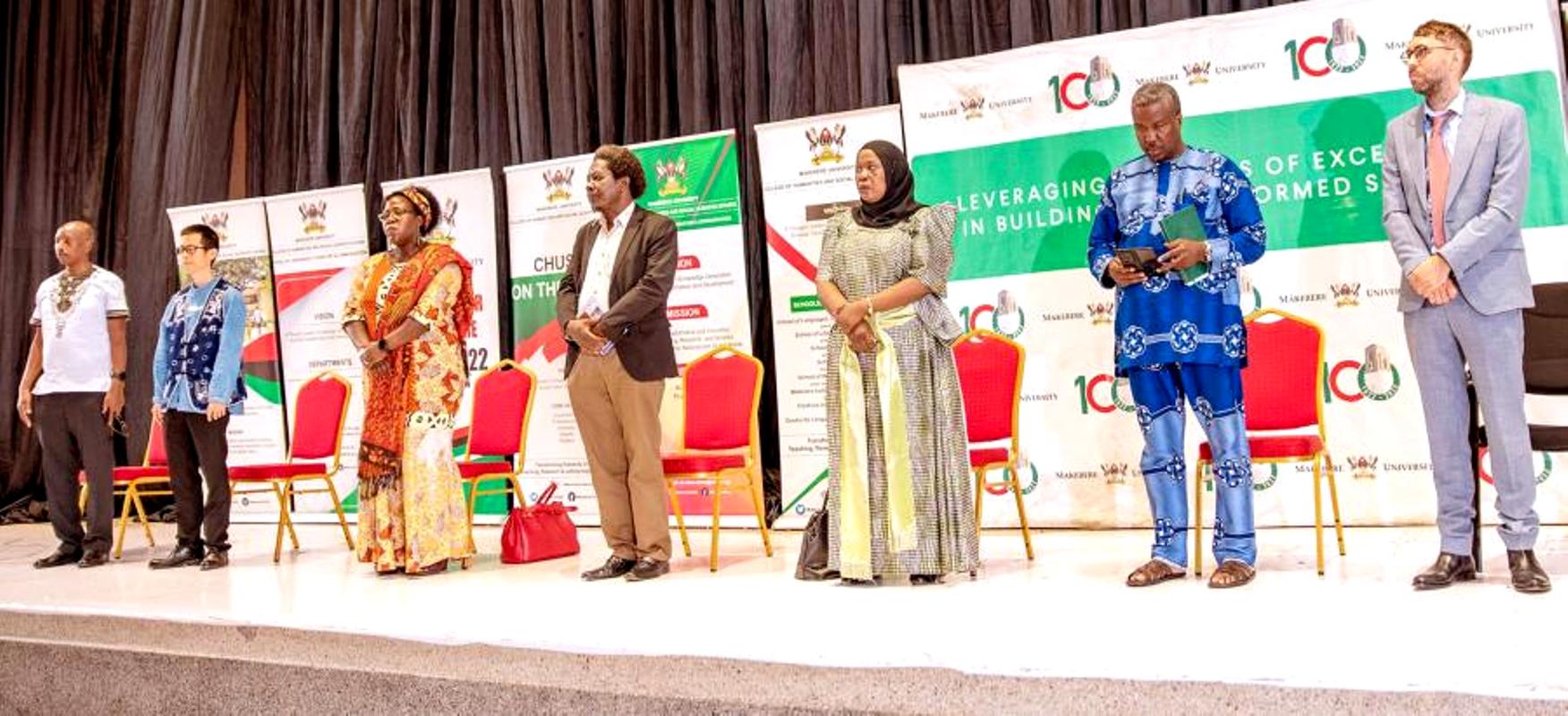 The School of Languages, Literature and Communication will next year 2023 start new graduate programs in different languages including French, Kiswahili, English studies and Luganda among others.
This was disclosed during the school's open day held on 9th December 2022 at the Yusuf Lule Auditorium. The school also launched two books and a journal of languages.
The Dean School of Languages, Literature and Communication Dr. Saudah Namyalo said the school has nurtured and churned out great men and artists through the gates of Makerere University.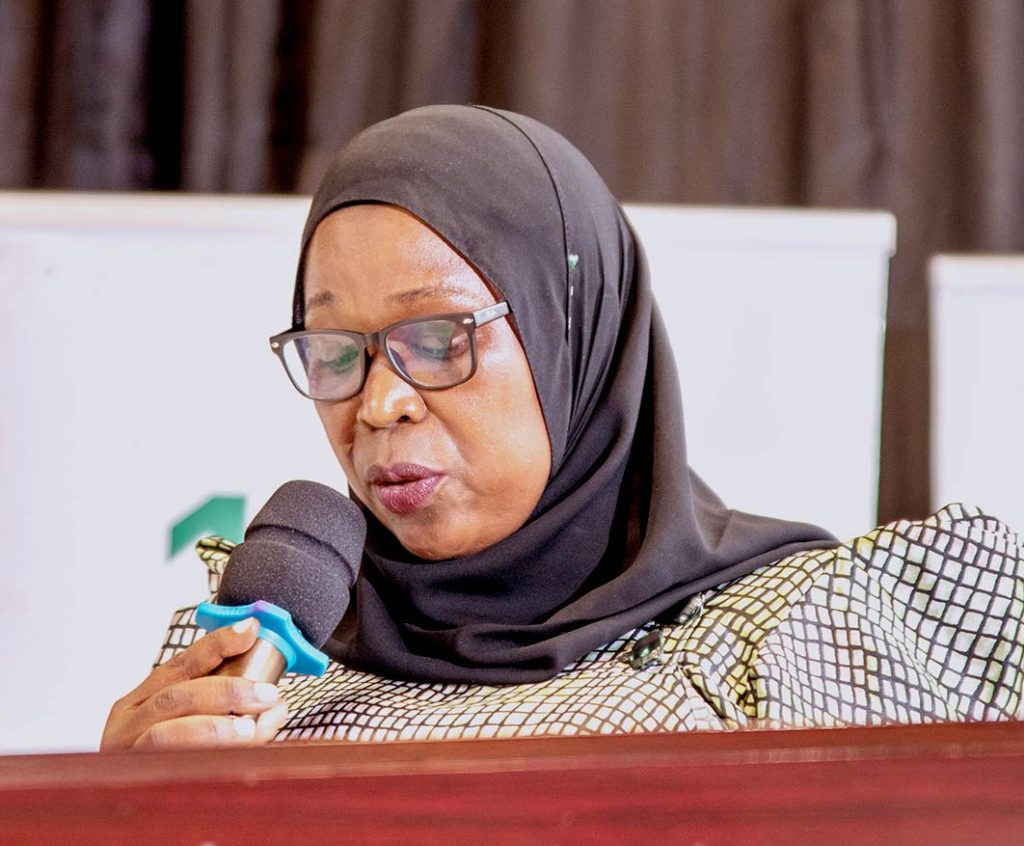 "We are also here to celebrate out languages and cultures. We believe in unity in diversity. As you can see we have students from different ethnic backgrounds. We have been involved in different researches that's why we are here today celebrating those achievements", She said
To support the University in its strategic move of transforming into a research led university, Dr. Namyalo said the school will ensure that they have adequate graduate programs.
"The school has come up with master's degree in French studies, Literature, Journalism and communication, Linguistics and many more. So the school is in the process of finalizing most of these curricular. And we believe with all these programs, we shall be able to do research in our languages", Namyalo explained
Recognizing that the entire world survives partly on science and technology, Dean Namyalo stressed that linguistics believe that the country cannot have meaningful transformation if science and technology is dressed in foreign languages.
"So what we are doing as a school is to position ourselves, do research and publish to ensure that our languages can be used to teach science and technology. This is possible as we have seen it happen in other countries like China and Japan. We believe if we do the same we are going to have all these wonderful innovations by both highly and non-highly educated communicated in a language they understand. And that's part of our agenda and we believe as linguistics, we have a very big block to add to science and technology advancement in Uganda", she added.
Dr. Namyalo appealed to parents to pass on their heritage to their children calling upon them to speak to children in their mother tongue.
"We have the educated group of people thinking that when you speak with your child from birth in a foreign language, then they will become intelligent and prosperous but as linguists we think to the contrary and believe that if you deny your child opportunity to speak, grow and develop using their own mother tongue, you are doing a very big disadvantage to them.
Also remember that our languages and cultures make us who we are. I am a Muganda because I have a language and a culture associated to me. Now when you kill this that means you are going to become a nobody", The Dean advised.
The Principal College of Humanities and Social Sciences Prof. Josephine Ahikire described the school as a cradle for language diversification in the region hence the celebrating.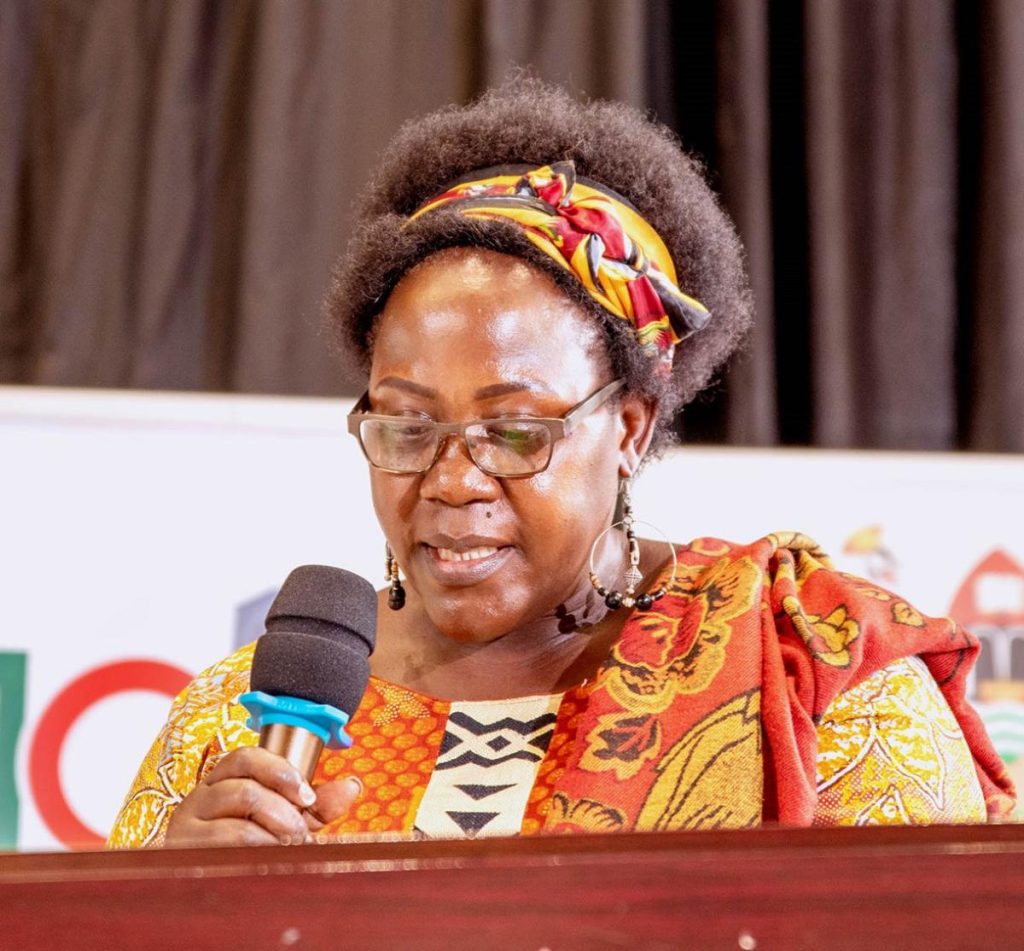 "The school has curved out its kind of celebration that has a rich menu of poems, songs, presentations by our alumni".
She said the school has developed a number of Masters programs to help the university achieve its goal of becoming research led. 
"As A university we continue to enrich the curriculum and for Makerere, the next step that we are taking is to become a research led. It is at graduate level that you produce a true skilled university graduate, continue to build that capacity of critical thinkers and innovators to solve human predicaments", the Principal said.
The celebration were also marked by two panel discussions. Prof. Oswold Ndolerire delivered the key note speech on   Trends and Perspectives of Language Teaching at Makerere University. Panelists Dr. Aisha Nakiwala, Mrs Shirley Byakutaga, the representative from the German embassy Mr. Christian Kettlhut and the representative of the Libyan Embassy Hesham gave their reflections on the topic.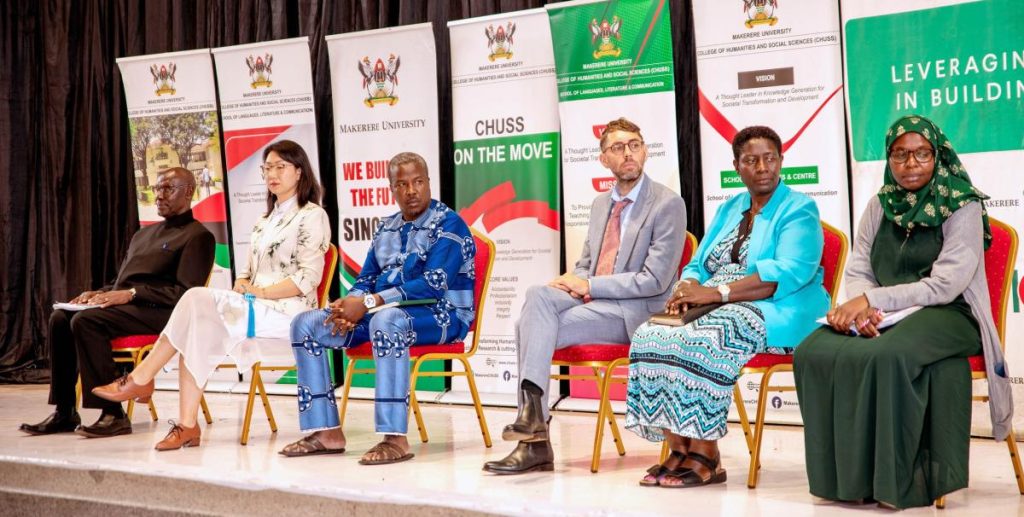 Prof. Abasi Kiyimba delivered a keynote speech on the Reflections on the Historical 1962 Literary Conference at Makerere University with panelists Julian Namiyinga and Dr. Danstan Kahyana giving their reflections.
The centennial celebrations were also characterized by cultural performances from students consisting of fashion show, songs, dance and poetry recitations in Kiswahili, Spanish, German, French, English, Chinese, Runyakitara, Luo, Madi, Luganda among others.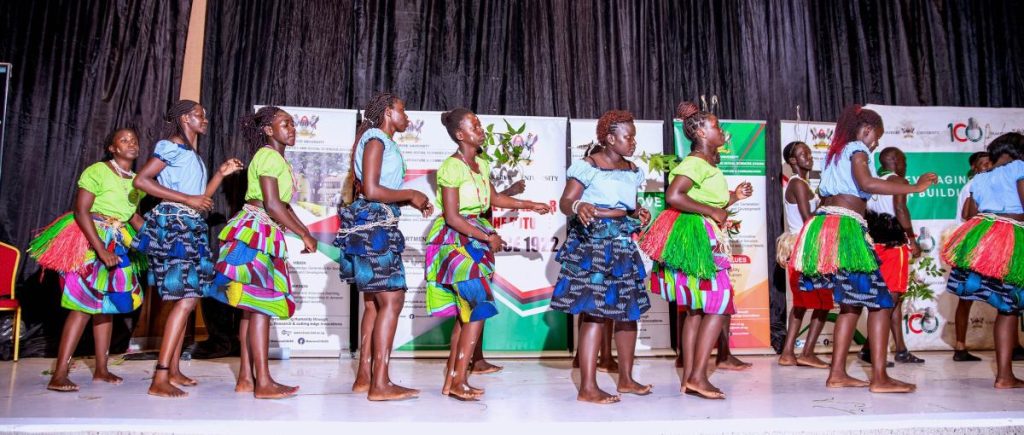 A nation without culture is no nation- Mak DVCAA
In his closing remarks, the Deputy Vice Chancellor in charge of Academic Affairs represented by CAES Principal Assoc. Prof. Gorrettie Nabanoga commended the school for the exemplary performance exhibited by the students.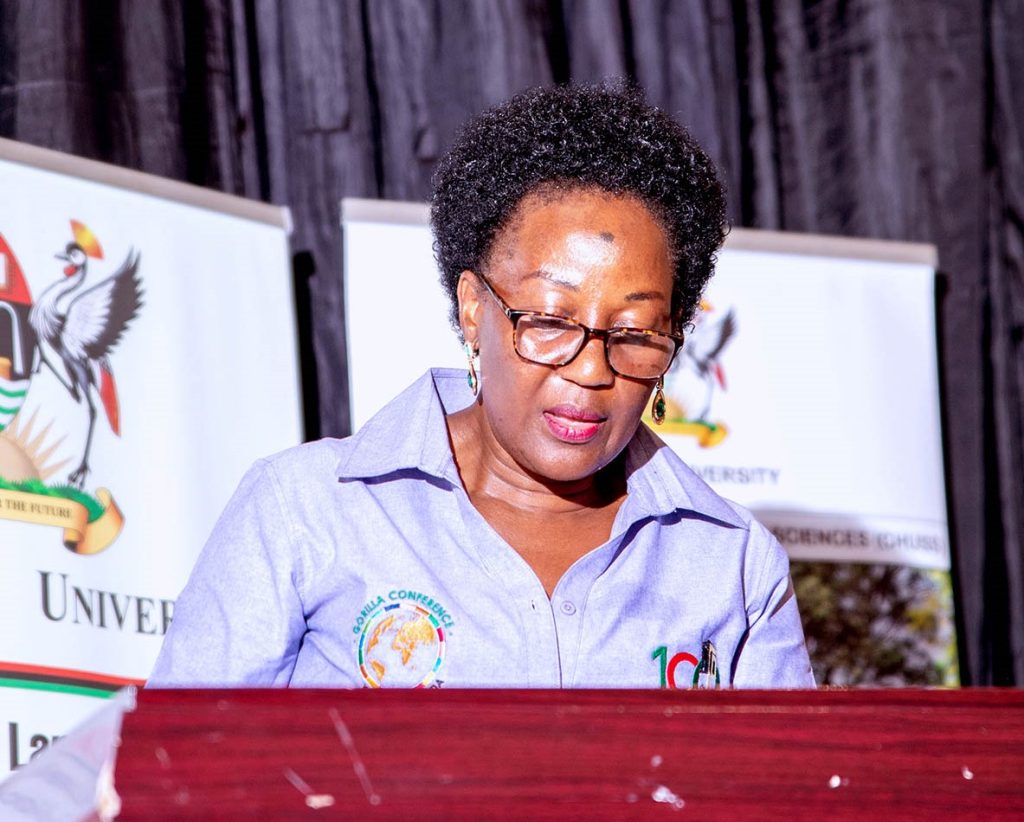 "Thank you for showcasing what Makerere has. I didn't know our students would sing, dance, show case talent and I realized that out there Makerere is not known I hope the media has captured this because it's the first of its kind to be demonstrated by Makerere University.
This is what we call solid engagement with each other across disciplines. What has happened here today has not just been a show, it is a celebration of the field of languages literature and communication. This is a celebration within a hundred years and we are glad to witness the school of languages literature and communication achieve in time", She said.
 Nabanoga noted that the discussion of the trends and perspectives of language teaching at Makerere university and the impact of the famous 1962 Literally conference of writers in English expression which is also celebrating 60 years is  a confirmation that  the university  engages the past to be able to build the future as the  motto states.
In having these conversations, Nabanoga said, it shows the relevance of language to national development and open conversations on how to relate with each other.
"I am sure that this is a conversation that should not end here but continue for years to come. We must not lose our language because there are part of who we are and they demonstrate our cultural heritage.
A nation without culture is no nation. The fact that we embrace our culture continues to have us who we are. We must also have languages so as to have a better way of serving each other in the world. We are one family though different cultures, everything is one." Dr. Nabanoga stressed
Nabanoga commended the School of Languages Literature and Communication for showing the way in this regard.
"Art demonstrates a lot, culture is an art and as we embrace diversity we cannot forget that the School of Languages Literature and Communication has showed us what we ought to do at Makerere University. Allow me thank the leadership of the whole college at CHUSS for your commitment in ensuring that the humanities do not merely survive but actually thrive at Makerere university. This is the beginning, we expect to see more of such events in the college", She added.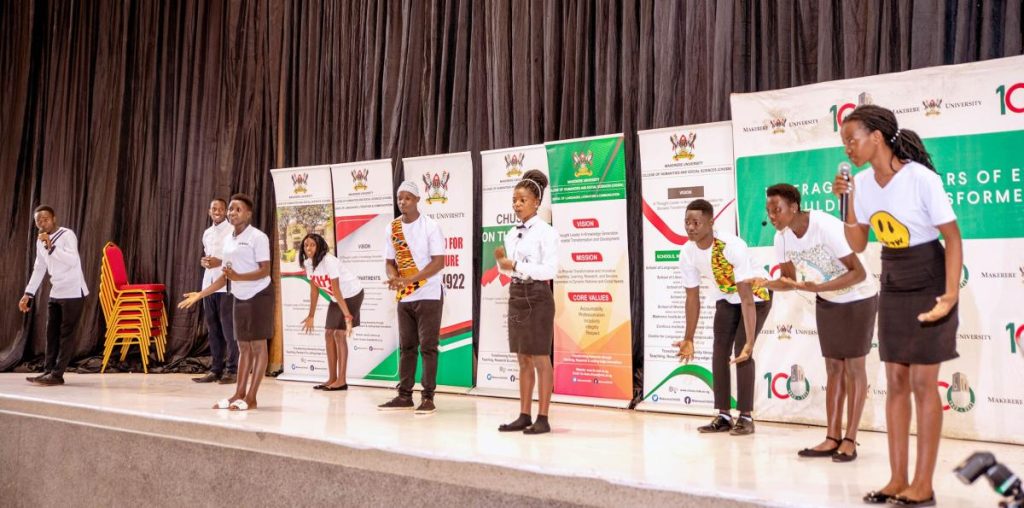 She appreciated all participants for making time to participate in this event, promising full support for the disciplines understudy in the school of languages literature and communication.
If you missed this massive event, catch up on line by clicking on the link below:
We also bring you a pictorial of the event on the link:
https://drive.google.com/drive/folders/12tbbOWvyILUEFeAlQxj9kraoDFrSlu8z
Mak New hires trained on varsity policies, curriculum development & implementation

New employees across colleges of Makerere University were on 7th December 2022 equipped with information and tools on how to succeed on the job at Makerere University.
The main objectives were to update the new hires in terms of the policies and to help them know the core business of curriculum development and implementation and to make sure that they are effective teachers.
The third new hires workshop held in the Yusuf Lule Auditorium a was organized by CHUSS Centre of Excellence in Research, Teaching and Learning (CERTL). The College of Humanities and Social Sciences (CHUSS), received a grant from the Mellon Foundation of New York for the establishment of the center to explore and develop mechanisms of strengthening and promoting teaching and learning in the humanities and social sciences.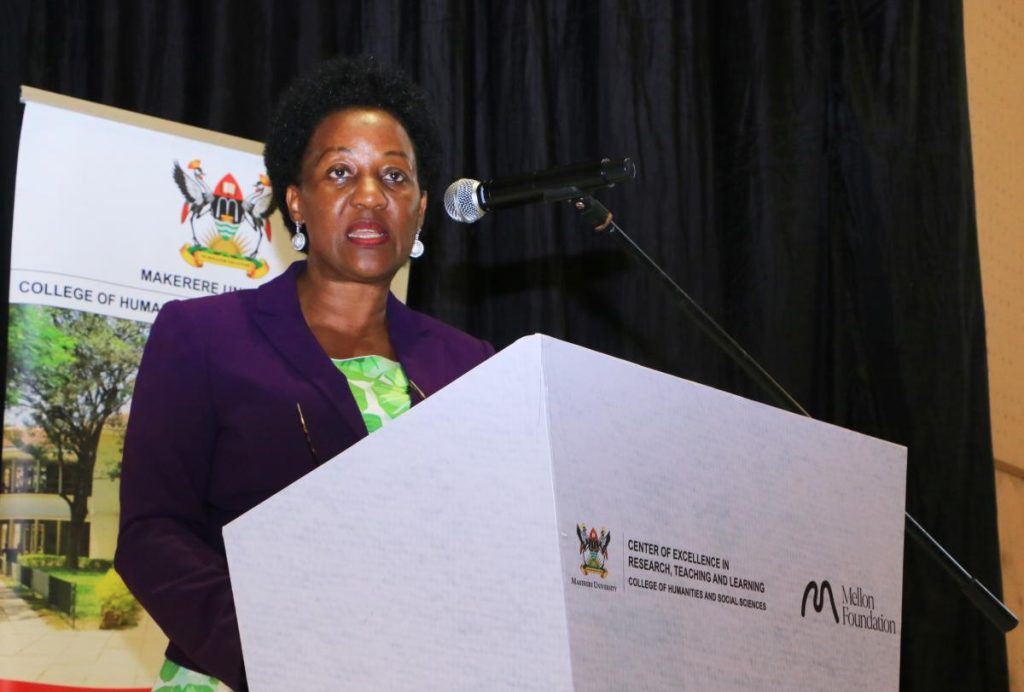 The third new hires training was facilitated by panelists from university Directorates,  prominent  alumni  and former  staff working outside Makerere University including Prof. Aaron Mushengyezi, the Vice Chancellor Uganda Christian University (UCU) Mukono. The workshop was officially opened by the Deputy Vice Chancellor in charge of Academic Affairs (DVCAA) represented by the Principal, College of Agricultural and Environmental Sciences Assoc. Prof. Gorettie Nabanoga.
The  DVC AA appreciated  all those  involved in this noble task of orienting new staff noting that the importance of employee orientation in many organizations is often understated. The new hires workshop according to the DVCAA was in line with the mandate of the university in ensuring that teaching and learning is effective and secondly, it was timely for new hires to be aware of the changes brought by COVID in the way teaching and learning is conducted.
"Orientation serves to assist new employees with the tools and information they need to succeed in the job. It establishes the stage for human resource processes and company policy in the organization. An effective employee orientation program like this one will make a notable difference in how swiftly a new employee becomes prolific with other long-term impressions on the organization", Part of the speech read
The DVC commended all those who have put aside their commitments to come and provide the new recruits with the tools and information they require to serve the university.
"Orientation encourages employee confidence and helps the new employee adapt faster to the job; Contributes to a more effective, productive workforce; Improves employee retention; and. Promotes communication between the supervisor and the new employee. Without an adequate, skilled and well-motivated workforce operating within a sound human resource management programme, development is not possible, "he added.
The  DVC AA  congratulated and welcomed the new hires for successfully joining Makerere noting that the University has many opportunities but, like any other higher education institution, there are challenges including; the academic student -staff ratio, inadequate funding, staff welfare issues, and infrastructural challenges and challenges  related to managing relationships, training and ddevelopment, talent retention, diversity in the workplace, embracing  inevitable change as well as employee health and well-being.
Besides the Policy Framework, Financial Sustainability and Infrastructure Support, the the DVCAA reported that the new Strategic Plan (2020/21-2030/31) considers Human resource as   the foundation of the University's success.
He pledged the University commitment to have an integrated and innovative people-centered services that foster attraction, retention and development of an engaged, rewarded, motivated, healthy and effective workforce supporting the strategic direction of the University.
The objectives under Human Resource Development according to the Deputy Vice Chancellor include; to attract, recruit and retain quality Human Resource to support the mission of the University; to create an enabling environment for optimal performance of staff in service delivery; and to increase the capacity of teaching staff to deliver using modern pedagogy, including use of Online, Distance and e-Learning (ODEL) technologies.
"The university has continued to lobby government and succeeded on welfare where salaries for staff were more than doubled by the target period. Appraisal tools were developed and are being used and staff development programmes, including sabbaticals, were instituted.  The academic staff-student ratio was decreased which is within acceptable levels internationally and we continue to pursue our goal of becoming research led- a move to focus more on graduate training" he added.
He reminded recruits that Makerere is an equal opportunity institution that embraces diversity in order to achieve maximum potential without discrimination. He implored them to commit to the university's core values including accountability and upholding ethos that meet the expectations of the different stakeholders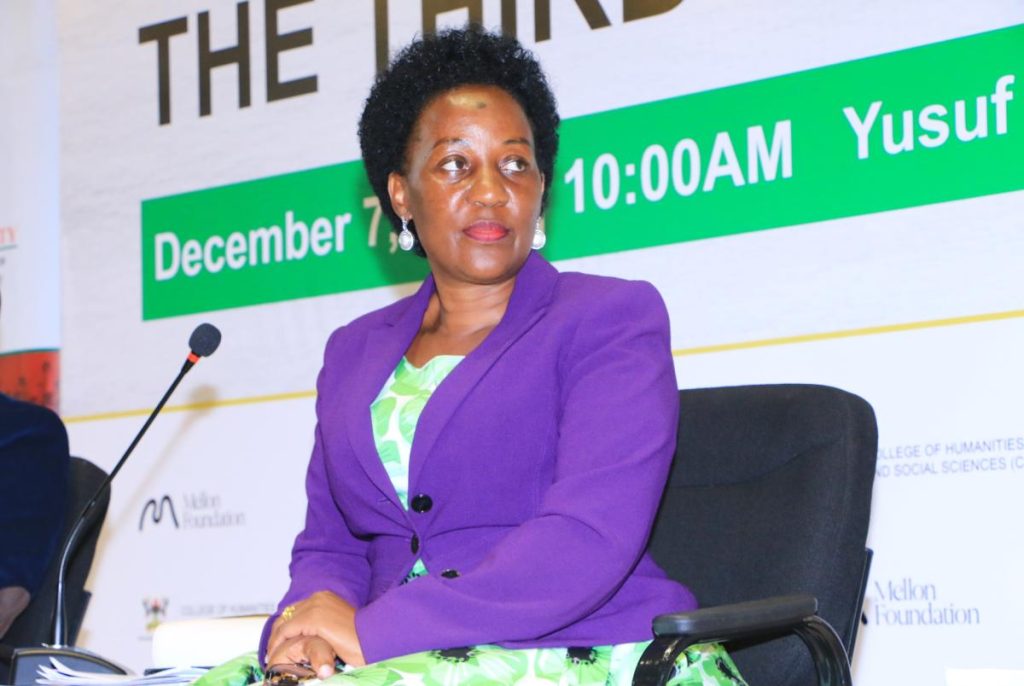 The DVC AA also implored employees to uphold Professionalism and adopt work ethics that demonstrate competence and capacity to generate results to the expected institutional, national, international and discipline specific standards.
"We also cherish integrity and upholding ethical values that will ensure that you do the right thing in all circumstances and maintaining the value of honesty, trust and responsibility in all your actions.
You are expected to have respect for fellow staff and students and that you will conduct yourselves with due regard and consideration for the rights of others and ensure acknowledgement, attention and good judgement in dealings with all our stakeholders", he added
He applauded CHUSS and CERTL for this initiative and asked the Director and his team to continue using it to improve teaching and learning.  As management, we also pledge our continued support to the center.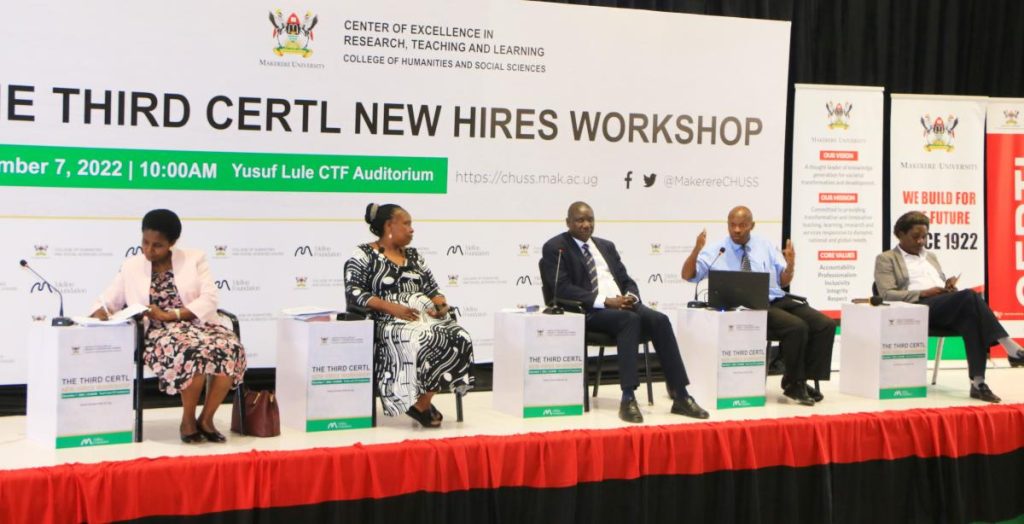 Session one on Makerere University academic and other policies brought together a panel of experts including Patience Mushyengyezi representing the Academic Registrar who spoke on academic policies. The Director Quality Assurance Dr. Cyprian Misinde presented on Quality Assurance policy while the Mr. Julius Lebo who represented the Acting Director Ssanyu Lawrence deliberated on the Human resources policy and the Director Gender Mainstreaming Dr. Baine Euzobia presented the Gender mainstreaming policy and the Sexual Harassment policy.
Session two of the training was on working at a university and focused on privileges and academic responsibilities with advise from panelists: Prof. Paul Birevu Muyinda, Prof. Anthony Muwagga Mugagga, Prof. Florence Kyoheirwe Muhanguzi and Dr. James Taabu  Busimba.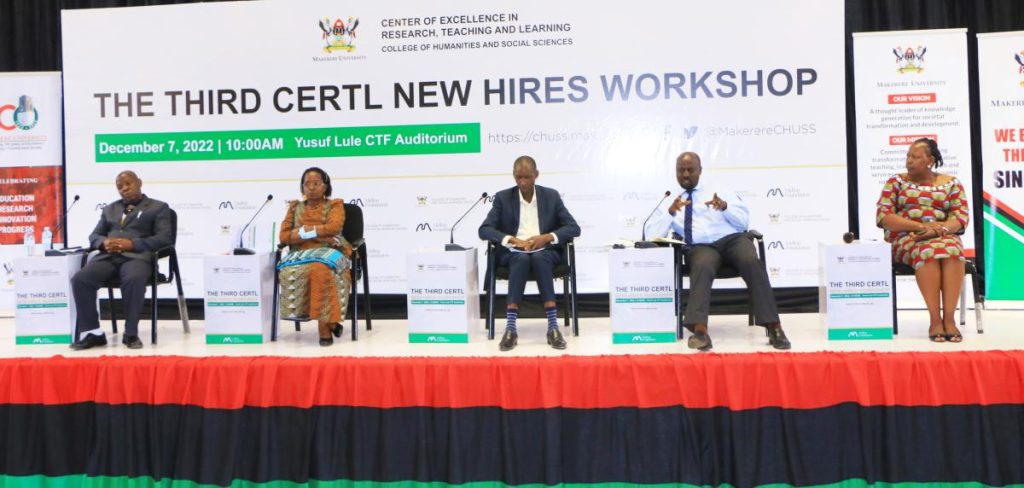 Aspects covered in session two included: Managing relationship with colleagues, Heads of Departments, Deans and Principals, Academics and senate Academics and peers, Academics and support staff, preparation to teach and Sexual Harrassment and Teaching that as the elephant in the room .
The training was also graced by Vice Chancellor Uganda Christian University Mukono Prof. Aaron Mushengyezi. In his keynote address titled: From Teaching Assistant to Vice Chancellor: The academic and professional journey of Makerere academic. Prof.  Mushengyezi advised new hires that it is alright to start small as a Teaching Assistant and progress step by step, but always endeavor to publish and aim at professorship as the goal.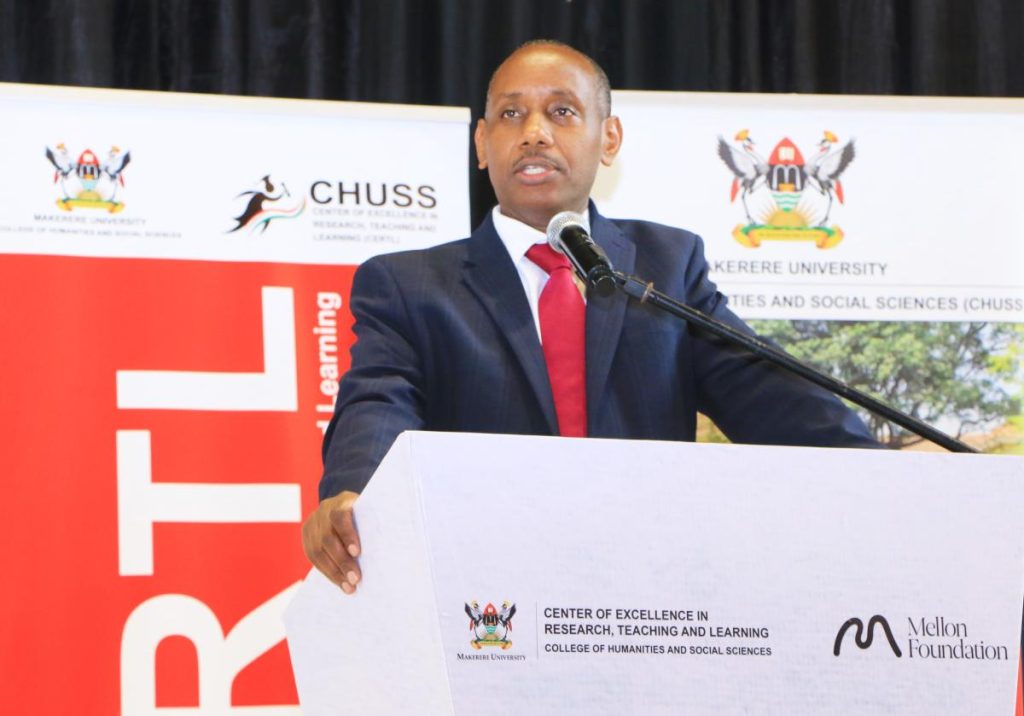 Mushengyezi described Makerere as a place full of opportunities and privileges for employees to tap into saying, working as an academic requires hard work and commitment but, a sacrifice worth making.
He advised new employees to define the philosophy of their leadership, lead to make a difference and serve beyond self-saying, sometimes they have to make sacrifices of their leisure and use creativity to make things work.
The professor also urged employees  to pursue dreams beyond the university obligations, engage in community work, join good networks, support just courses, stand for the good of the institution,   be sober minded, and to always put God first.
"Professorship is our dream us academicians, we all dream to be professors. Position yourself, find out what you are good at and use it as an opener for you. When there is always an opportunity for you, go for it. The biggest problem is our mindset change. Always be focused and deal with mindsets.
Join good networks of winners and associate with people who are innovative because you learn from them. Find a good mentor with mentorship skills that you admire. Lastly live to make a change in the community and God will bless you", he advised.
The Director CERTL Prof. Andrew Ellias State told new hires that they are expected to communicate with students very well and to remember that culture and emotions affect communication hence the need to check their teaching effectiveness.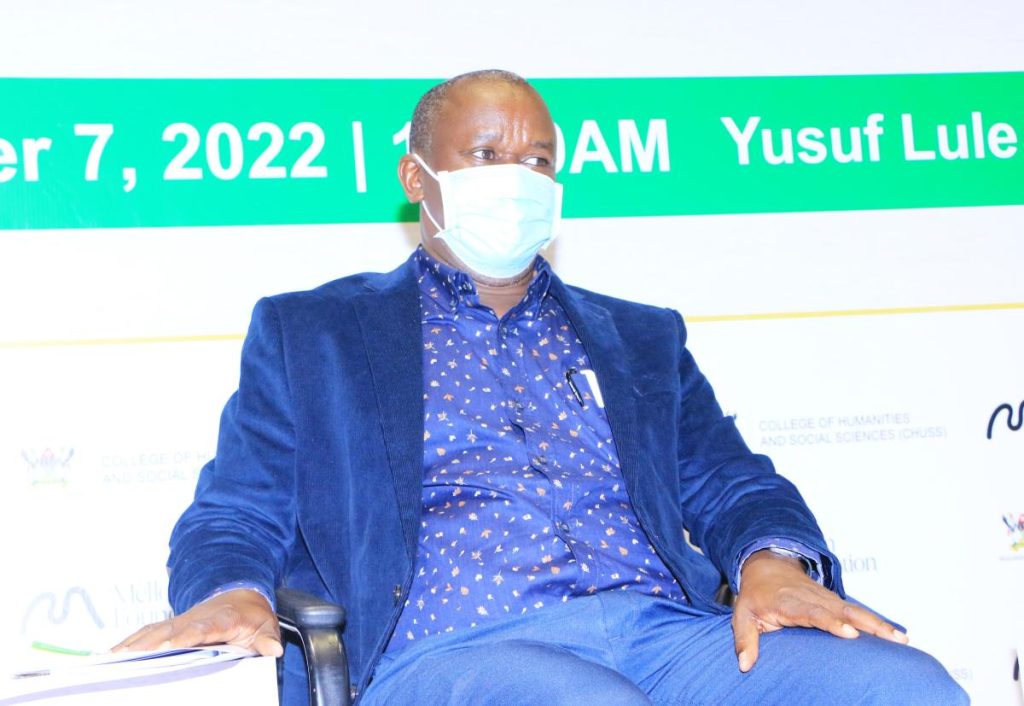 "Students will also remember you because of your unique teaching techniques and you need to ask and evaluate yourself if you doing the right thing. Promote effective learning by encouraging students to deal with challenges in class and bring out the ideas and also debates. Do not prejudge. Engage students in active learning. ", Prof. State advised
From the day's discussion State asked new hires to pick positive professional relationships on reason that they are going to be in a community with other scholars, colleagues and are also going to teach multiple classes, serve on other committees, have family and also squeeze in time for scholarship.
"Take time and talk to others If the opportunity presents and involve those in and out of your department. On top of that, be kind, patient for the interests of others, don't be selfish. Develop a reputation for acting with integrity and trying to understand your colleagues' perspectives and avoid departmental factions.
Support networks, seek out mentoring in your profession line. Attend conferences, tell colleagues what your research interests are, where you want to specialize in. Take out colleagues for coffee and tea in case you have something to discuss", State advised.
Prof. State also advised employees never to give up when their   articles for publication get nasty comments but instead marry their science, for better or worse, pursue their passions and make sure they are good and also learn to say no and not to be afraid to change directions.
Make Philosophy a cross cutting & compulsory course – UNESCO

Makerere University Department of Philosophy together with the Uganda National Commission for UNESCO (UNATCOM) on 17th November ,2022 joined the rest of the world to celebrate the 20th World Philosophy Day with a call for reforms in Uganda's education system to make Philosophy a cross cutting and compulsory course.
This year's celebration under the Global theme, "Humans of the Future". Uganda chose to refine the theme to speak to pressing challenges hence the theme, "Harnessing Philosophy for addressing Uganda's Development challenges".
The World Philosophy Day coincided with Makerere University's celebration of 100 years of existence and service to humanity and offered an opportunity both to celebrate the immense contribution made by Philosophy in understanding the world and to further reflect.
Amidst the ongoing debates on the importance of the Humanities, the debate at this event steered conversation among the academia, government, civil society and the general public on how Philosophy can inform progress in various aspects of individual and national aspirations.
Scholars argued that Uganda has a creativity, anticipation and the empathy gap premised in philosophy and that the humanity and humanism in this country cannot be restored unless the philosophical approach is resuscitated. Unfortunately, philosophy is taught at higher levels in universities and when people search for courses, philosophy becomes the last opt option not taken as a serious course yet the country needs people to be patriotic, hopeful for the sake of development.
Convening at Makerere University Senate Conference Hall, the celebrants stressed that development cannot be achieved without including philosophy which starts with developing the human mind philosophically so that man is at peace with the environment sustainably.
When young people are in malaise bored in the morning, scholars asserted that you can only harness their strength to work for the development of this country when they have the philosophy and tenets for hope. Philosophy in that regard, brings that hope, critical thinking in humanity that is why philosophy should be a crosscutting course like communication skills, ICT and Ethics.
For example, people are downgrading all the swamps, trees are being cut but people do not think about tomorrow. Shall we teach that in textbooks and examine that? The fact that people do not have the philosophical mind even to think of what they are going to leave for their children and the future generation, is partly the reason humanities scholars say need philosophy in colleges and institutions of higher learning.
Major propositions from the meeting
Parliament of Uganda enacts a policy that makes the teaching of Philosophy compulsory at all educational levels.
Makerere University works with other stakeholders to draft a proposal and submit to the Education Policy Review Commission (EPRC) chaired by the former Education and Public Service Minister Amanya Mushega.
Makerere University mobilises other stakeholders to draft a paper to the President of the Republic of Uganda through the Directorate of Ethics and Integrity on the role of Humanities and Social Sciences in addressing Uganda's development challenges.
Makerere University champions and rolls out dialogues in public, private and non-governmental organizations and the general public on the importance of humanities and social sciences, and philosophy in particular.
Presiding over the function as Chief Guest, the Chairman Board of Governors Uganda National Commission for UNESCO Prof. Eliabu Lugujjo said UNESCO has urged its member states to take philosophy as a unifier and an intersection in human development.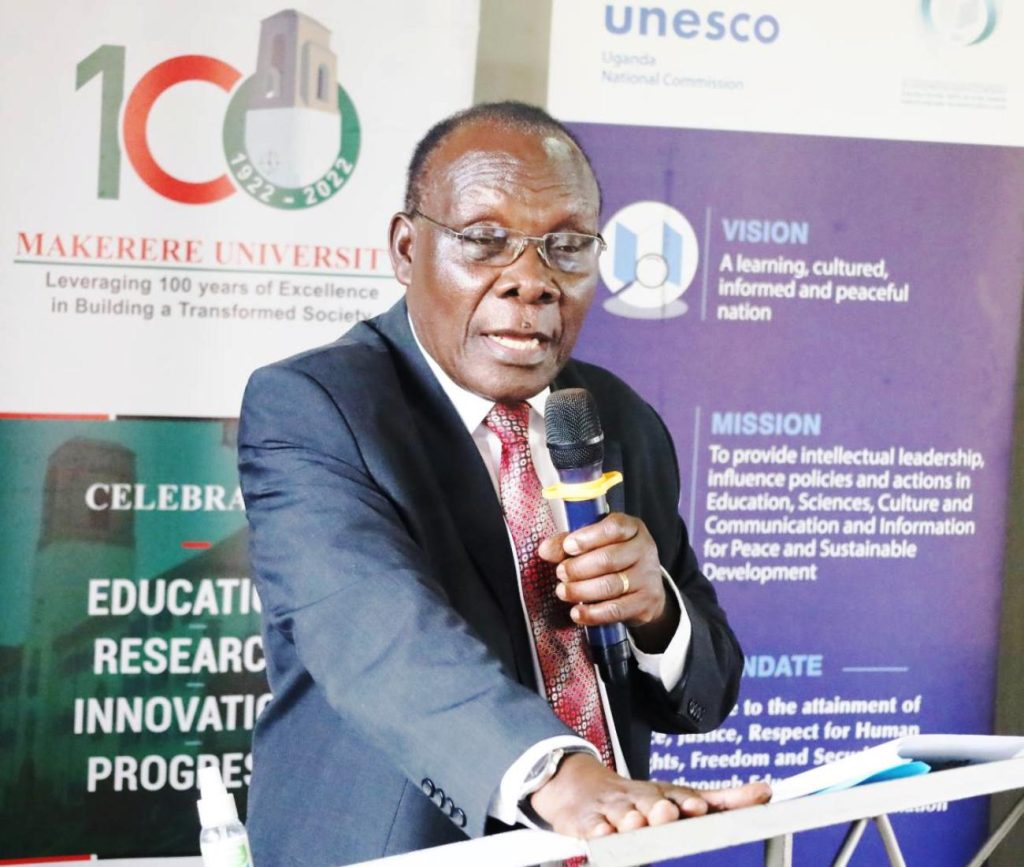 To him, the first activity required for this involves the preparation of a study about the present state of teaching of philosophy in the world as an indispensable pre requisite for any future activity in this domain, since alert, enlightened reflection is the guarantor of action that is intelligent and to the point.
Lugujjo stressed that Philosophy finds its place at the intersection of education and the social sciences and humanities. In Uganda, he observed that there is an emphasis on the immediate utility of disciplines that are offered in higher institutions of learning with the priority being technological sciences.
"But we forget that the ideal utility is in itself philosophical. Even the concept Science cannot be understood outside of philosophy…. We should understand that natural and technological science have roots in pre-socratic, medieval and modern philosophical thought" He asserted
This according to Lugujjo implies that meaningful science should be founded in philosophy. In the area of humanities and social sciences, philosophy offers among others criticality, creativity and humanness that form the essence of such disciplines and therefore philosophy is a cross cutting discipline.
"…Philosophy should be given a special attention in Uganda's academia and practice. Let us take an example of the political challenges we have gone through as a people; the immediate question is how can we co-exist? If we stopped asking such questions, the dignity of human person, respect for others, tolerance, social justice and liberty lose meaning and we may go back to the state of nature as postulated by Thomas Hobbes, where there is war of each against all", He stressed.
Taking an example of corruption and social injustices and their far reaching implications on the wellbeing of Ugandans, Prof. Lugujjo challenged participants to ask hard questions about the root cause and what ought to be done.
"Whereas STEM is good, it must be done with philosophy at the background because you cannot build a bridge without considering the impact to society or construct a road without considering the sociological aspect of what you are doing. Science can germinate more, when it considers the humanities", the professor stated.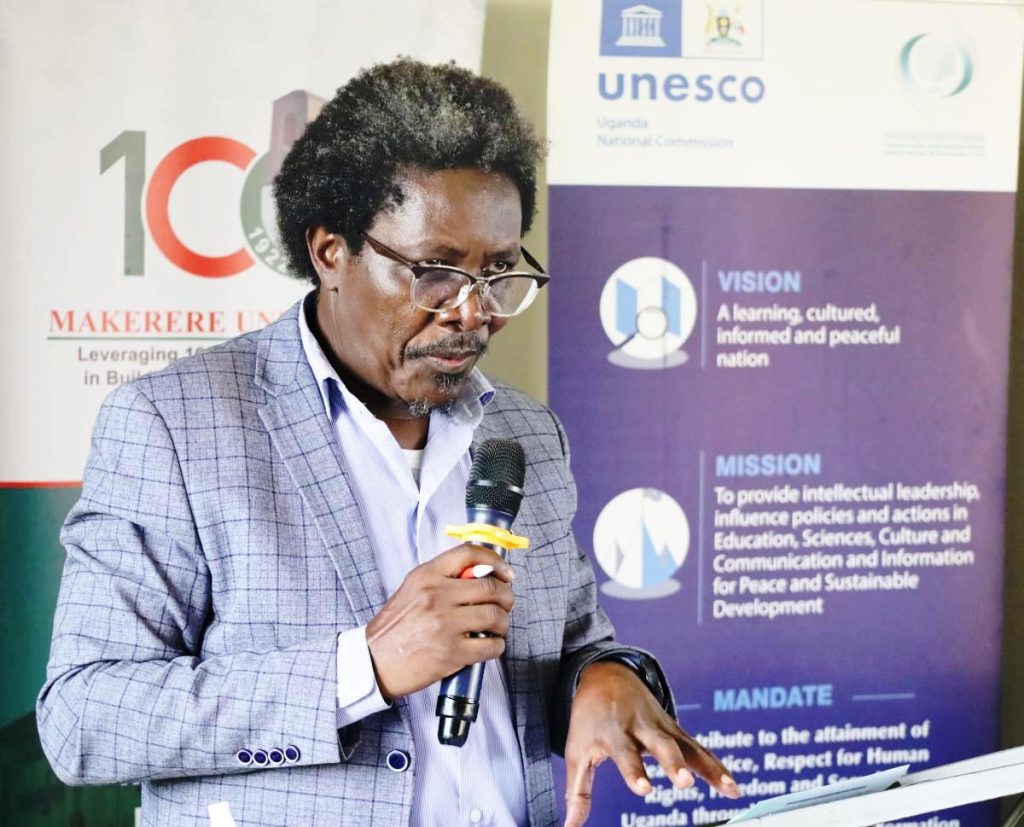 The Principal College of Humanities and Social Sciences represented by Prof. Patrick Mangeni said the conversation on the Harnessing Philosophy for addressing Uganda's Development challenges is critical and important for the academia.
"In a number of cases, many people do not seem to appreciate the role of the knowledge seeking discipline and disposition it brings to our lives. We are in a take away generation where thinking is left as a preserve of the isolated field. It is important when we locate our discipline and conversation within the realm of knowledge because a number of people take humanities as less contributing in its base to development." Mangeni said.
Unlike other countries where highly and A – scoring students enroll to pursue philosophy Mangeni decried that in Uganda, the program is taken as a last resort after applicants fail to secure places of their priority courses. He however reported that within the limitations, departments have continued to do tremendous work and endeavored to make students appreciate the subject.
"We have produced students with excellent performance and have moved out and made an impact to many countries and that can be testified by the number of people in the field of philosophy".
Professor Mangeni described the day's conversation as significant in terms of visibility imploring the head of Department to devise means of sharing them out and come up with more activities such as public lectures and seminars in the field of philosophy.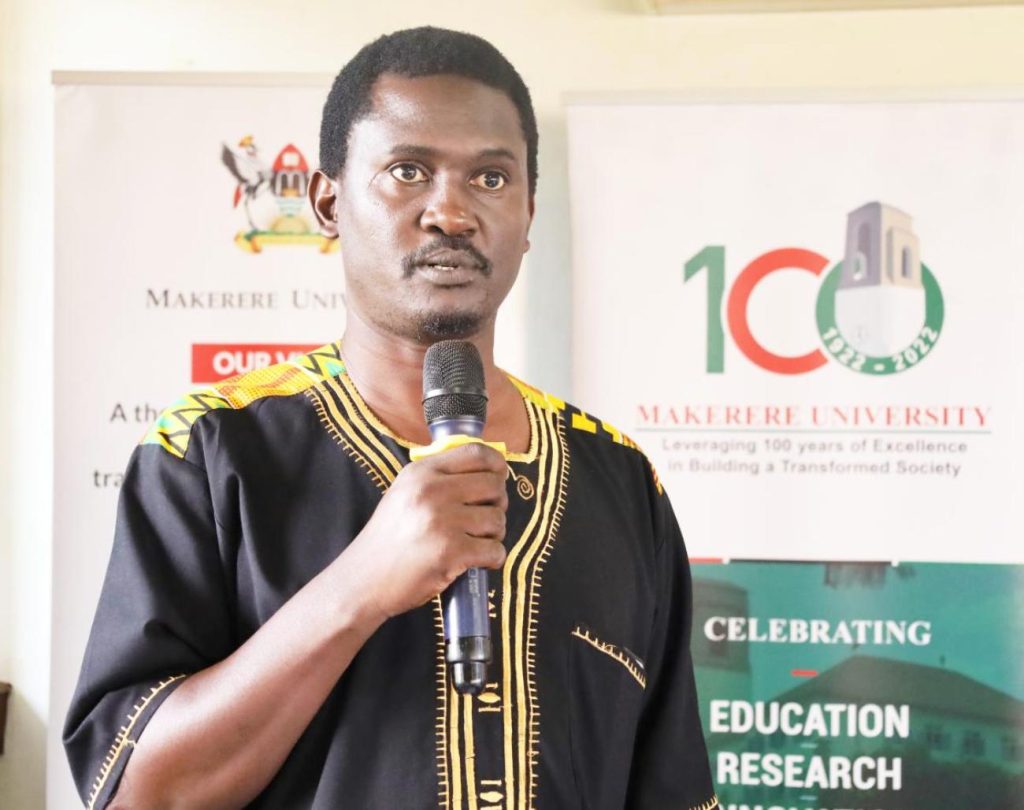 The Head Department of Philosophy Dr. Spire Ssentongo thanked all participants for honoring the invitation to celebrate and having a constructive conversation inspired by philosophy saying the engagement will discredit the unfortunate believe that philosophy is basically an area of highly abstract matters and air splitting that has little to do with life and existing challenges of society.
Dr. Spire urged colleagues in the field of philosophy to demystify the impression that philosophy is about big grammar adding that anyone who sets out to communicate yet deliberately making it difficult for others to understand, can only be described as crazy.
"It is my hope that today is about a conversation that will make realistic efforts to be understood. One of the challenges of philosophy today is that it continues to live without proving its importance to anyone that cannot find it.
Philosophy appears to carry the attitude of a mother who may seem to look on as her children denounce her uselessness. She may frown and curse but not so to refute them. This has become a challenge because we live in a world where unfortunately the value of things is measured by whether they are defined by the powerful or not", He said.
Dr. Spire observed that philosophy today finds itself on a shaky ground in neoliberal terms where the education is left to the market and forces of demand and supply to determine what is worth. In addition, philosophy continues to be threatened in a harsh world of scientism that is growing more than critical thinking.
"Philosophers in the past lived a quiet life of pursuing knowledge without a burden of proving their relevance in material path and now forced to join the crazy stampede of territory, money and disciplinary survival. Philosophers may choose to lament about these changes and stringent demand of them but we also need to remember the African saying: – that the groans of the goat does not stop the seller dragging it to the market.
As we work for a better educational order, in the meantime we may need to ask ourselves how do we position ourselves in the markets that is the reason for mobilizing this conversation but without totally surrendering it to the whims of the market", He challenged.
Dr. Spire said the beauty of philosophical discussion which sound is construed as a weakness, is that it is characterized by constant questioning adding that once something has an answer, it ceases to be philosophy and becomes an entirely new discipline hence the continuous breakaway of disciplines from philosophy from history.
"Whereas philosophical inquiry may not provide direct answers, it produces questions that may handle it to the discovery of answers as well as the discovery of new disciplines. While philosophy is not a hard science, it contemplative discussion has contributed and still contributes to the creation of hard sciences.
Much of what we know today for scientific facts started with philosophical speculation through asking difficult questions challenging convention wisdom. In view of the above approach philosophy is unlike other disciplines in the sense that it does not limit itself to a particular matter the way biology speaks about living things for example. Philosophy focuses on unanswered questions of various subjects and beyond old disciplines", He explained.

The World Philosophy Day
This year 2022, the world celebrates the 20th Philosophy day that was initiated by UNESCO in 2002 by UNESCO General Conference that highlighted the importance of this discipline especially for young people. The general Conference underlined that Philosophy is a discipline that encourages critical and independent thought and is capable of working towards better understating of the world and promoting tolerance and peace.
UNESCO hopes to promote philosophical reflections throughout the world by opening spaces and encouraging people to share their philosophical heritage, opening their minds to new ideas, and inspiring public debate on society's challenges.
The commemoration of the World Philosophy day on the third Thursday of November is reported to be associated with the birthday of Plato, a Greek philosopher born in Anthens during the classical period in ancient Greece. UNESCO as the initiator leads the World Philosophy Day but does not own it. It belongs to everyone who cares about philosophy.
This year's Global theme is, "Humans of the Future" given the contestation about the concept, "human" and that human being of today has been affected a lot by politics, economics, socialization, science and technology which have an implication on the human being of the future in terms of development especially in Uganda.