Uganda's IGE fellows in a Survey on Social Acceptance of Policy Instruments on Fossil Fuel, Plastic Pollution & Forest loss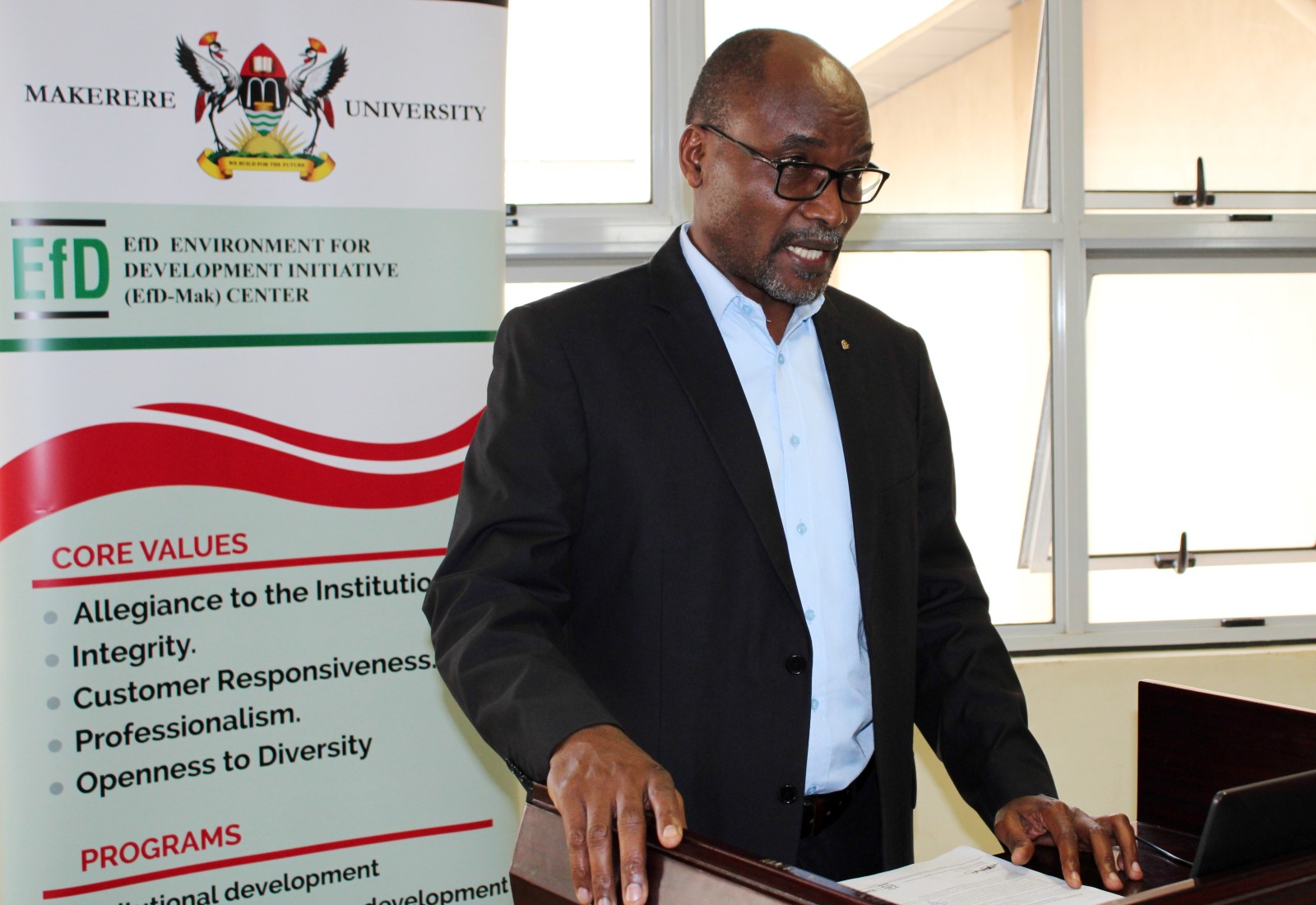 Over 80 participants from the environment and natural resources sector including, senior civil servants, the academia, civil society organisation, members of the public and students converged at Makerere University to discuss and participate in a survey on opinions about policy instruments such as taxes, subsidies and bans.
This stakeholder workshop held on 15th July 2022 was part of the Inclusive Green Economy (IGE) capacity building program funded by Sida, implemented by EfD-Global Hub University of Gothenburg partnering with Kenya, Tanzania, Uganda, Ethiopia and Rwanda
 Participants were mainly concerned with getting the perceptions of stakeholders on acceptability of IGE policy instruments and alternatives.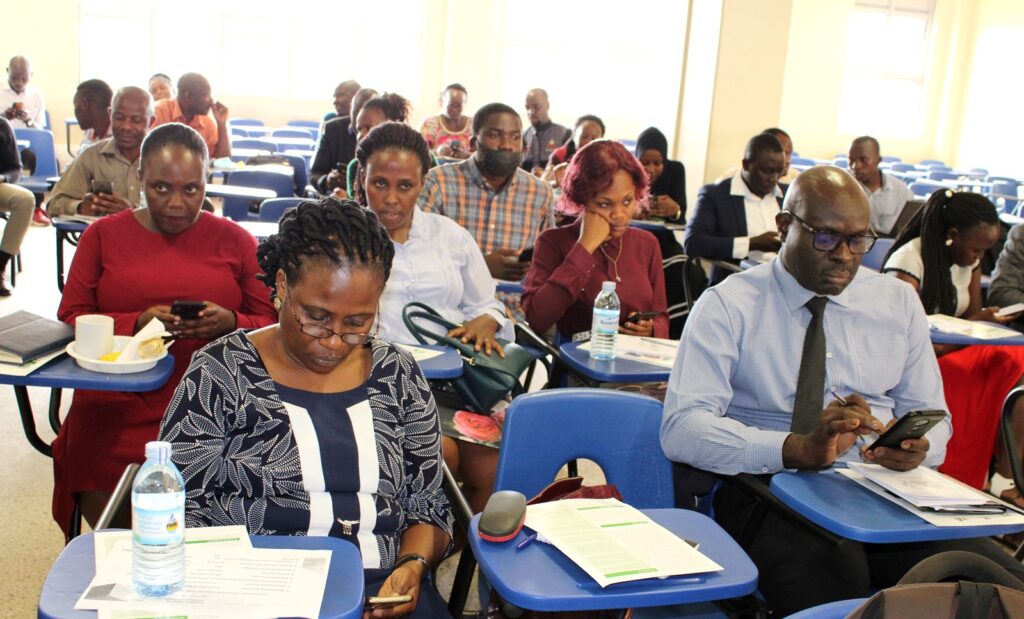 The purpose of this workshop was to increase the awareness of the current level of social acceptance in the country through presentation of results from the population survey that was carried out among Ugandans in 2021.
New knowledge regarding social acceptance among stakeholders was also collected through a short survey and discussions largely on three themes; Fossil fuel, Plastic pollution and Forest loss.
Opinions from the population survey indicated low levels of social acceptance while stakeholders' opinions indicated high level of social acceptance of the policy instruments.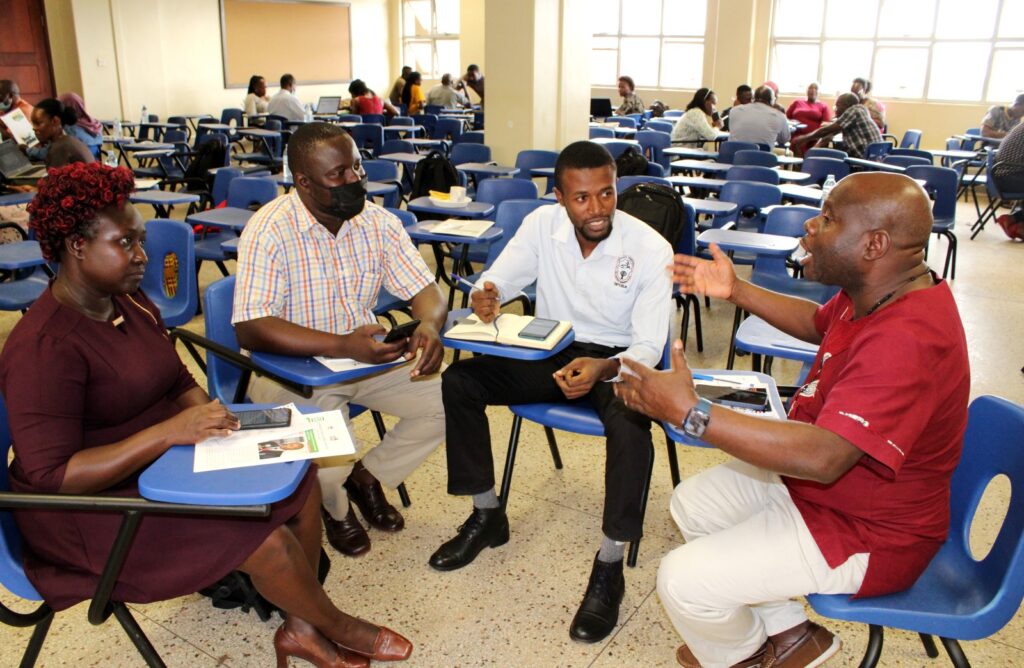 While opening the workshop, the Deputy Principal, College of Business and Management Sciences (CoBAMS), Dr. Yawe Bruno, said the matters of greening the economy were so central today.
He observed that for many years, Uganda has never experienced such unpredictable temperatures adding that those who might be alive 30-50years to come may need fire places in their houses with different architectural plans.
"We are reaping our fruits in regards to our managing the environment. The guiding principle should be, can we nurture nature so that nature can nurture us? We are hiding our heads in the sand blaming the cyclic issues but wherever one comes from, one feature that shows that we have messed up with the environment is how long does it take to find firewood that has come down on its own? In the villages, people worry about everything in the food chain from firewood and it is now worse with hiked prices", Yawe explained.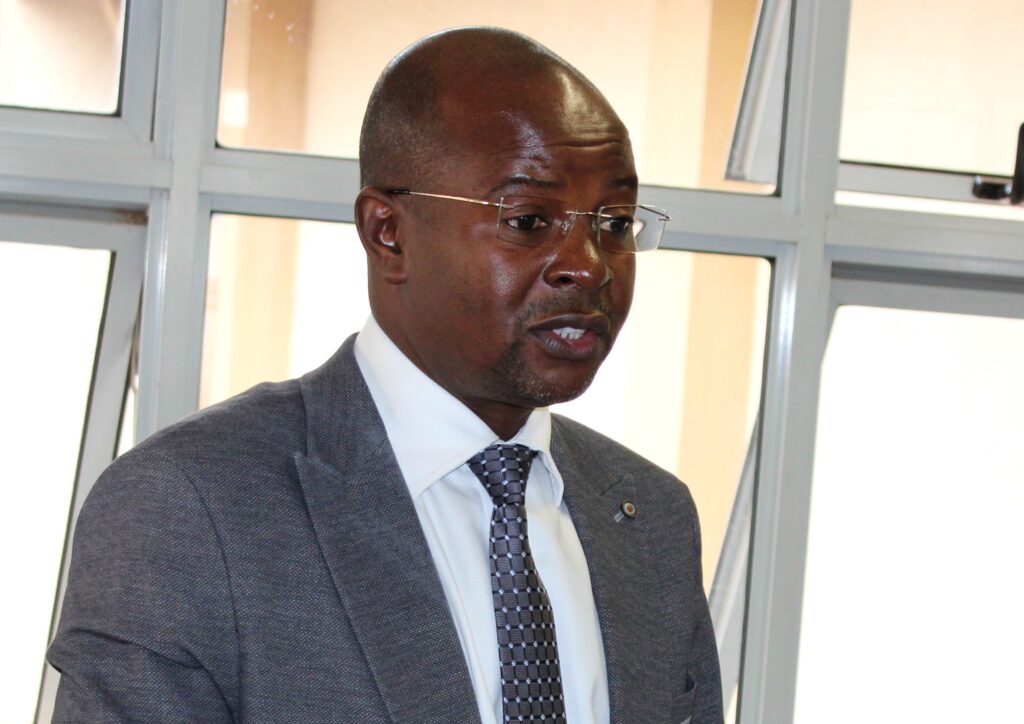 He noted that matters of Inclusive Green growth are at the centre of the development agenda today and clearly spelt out in the national development plan and Vision 2040 with many SDGs on this same issue .
In his welcome remarks, the Director, EfD-Mak Centre Prof. Edward Bbaale said the initiative is heavily involved in undertaking research in environmental economics to inform policy in the matter of improving the environment and natural resources.
He said the Inclusive Green Economy is fully funded by Sida and implemented by the EfD-Global hub at the University of Gothenburg, Sweden in collaboration with EfD-Mak centre in case of Uganda but it is also taking place in other Eastern African Countries – Ethiopia, Kenya, Rwanda and Tanzania is in its year of  implementation.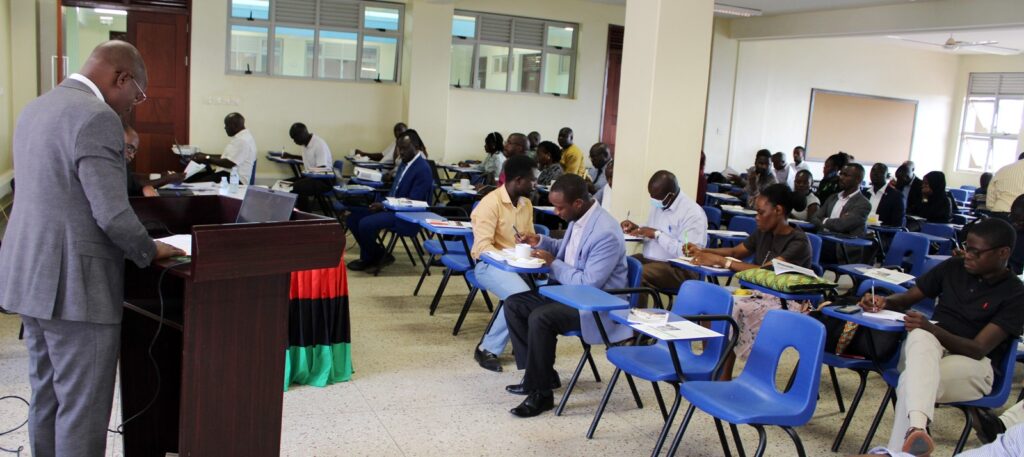 The program he added, targets senior civil servants and policy makers in the Environment and Natural Resources sector mainly the economists who undergo capacity building on the design and application of policy instrument .
Uganda's IGE Policy engagement specialist Peter Babyenda said, they are training public servants in the green issues to change their understanding so that they can take care of the environment while undertaking projects and making decisions.
Babyenda said the purpose of the workshop was to discuss how to minimise the effects of three key issues namely; the use of fossil fuels, conversion of forest loss and plastic pollution.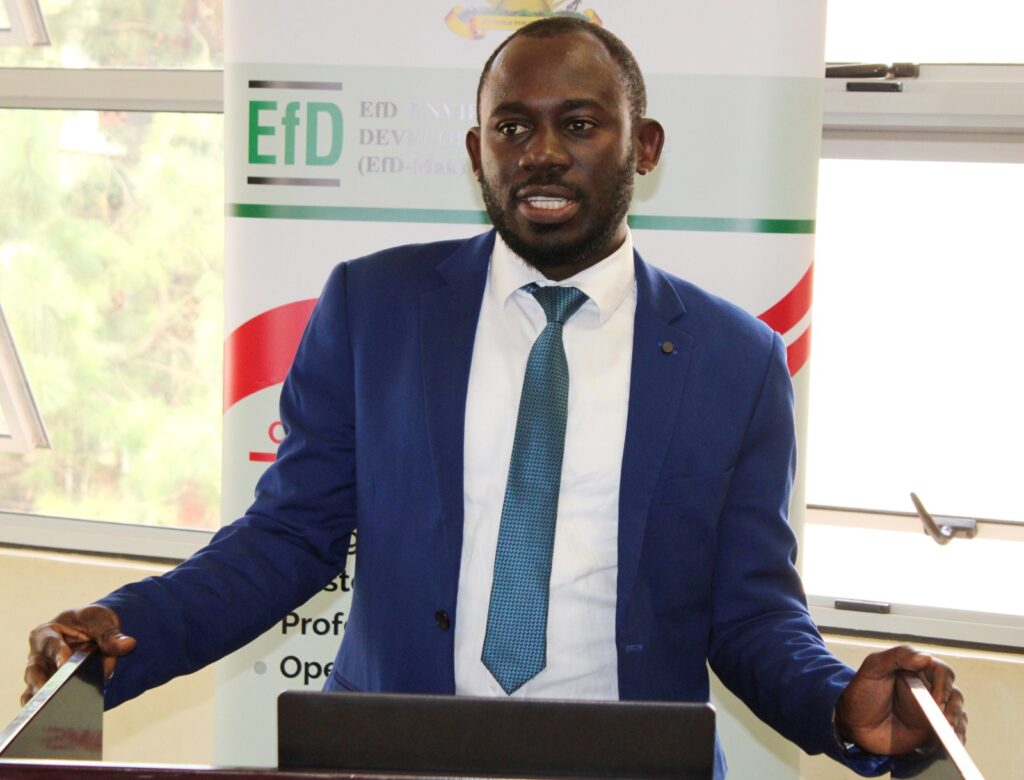 Stakeholders, he said, were given a questionnaire on what they feel about suggested alternatives.
"A study was also conducted last year among a randomly selected population in Uganda's 10 cities. Today we are discussing which alternatives we can come up with to get a win-win situation, what to tell plastic manufacturers so that they run a business that at the same time protects the environment. For fossil fuels, is it time to start talking of electric motor vehicles?" Babyenda asked.
The survey from the population indicated less acceptance of the policy instruments mainly due to lack of alternatives for fossil fuels, plastics and cooking techniques coupled with the issue of affordability.
These IGE fellows are being training to come up with policies that are inclusive i.e. leave no one behind.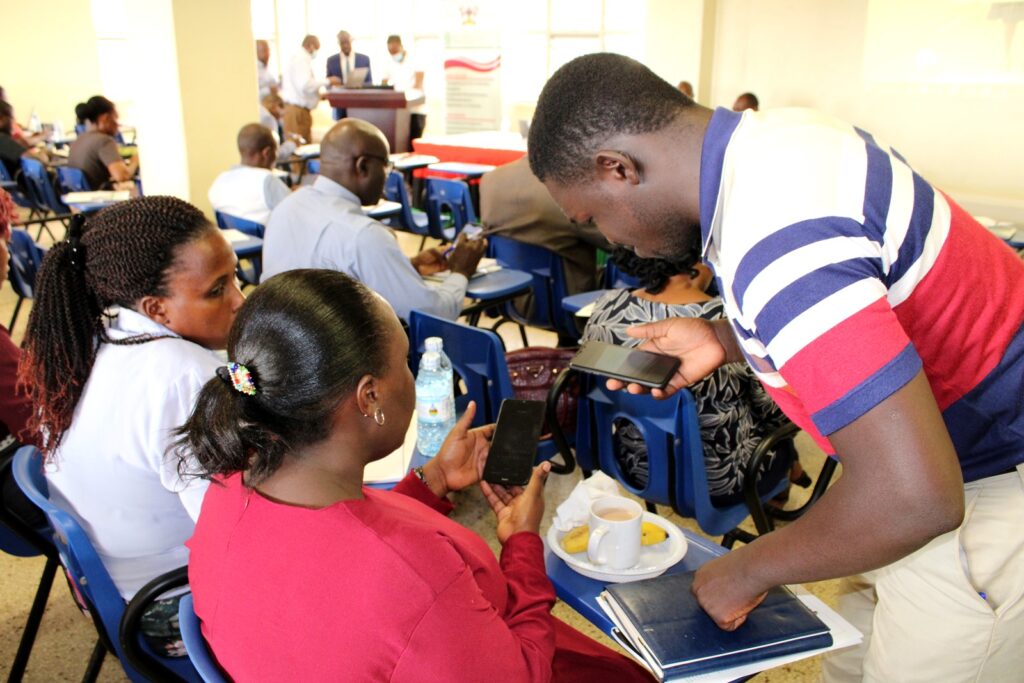 Participants speak out
IGE Fellow, Calysts Bikwasi Ndyomugabi, who is the Principal Economist and Ag. Commissioner from the Ministry of Finance Planning and Economic Development said,
"We have been looking at the effects of the use of fossil fuels, forest use and plastics and how best we can engage stakeholders in terms of acceptance of policy instruments so that they are regulated to mitigate the current challenges such as climate change arising out of destruction of environment, sensitization and capacity building gaps to enhance green economy in Uganda and the region."
Fred Onyai an IGE fellow from the National Environment Management Authority (NEMA) noted that although environmental policies exist there is continued forest loss and low acceptance and implementation of policies.
"Greening the economy means we must come up with policies that are inclusive and where every stakeholder plays a role so that there is collective ownership, sustainability and acceptance and evaluation of the policies so that government does not own the process alone.
These policies must enhance environmental conservation vis-à-vis human livelihood and climate resilient because a green policy looks at conserving nature, ecosystem integrity and people must be able to withstand the shocks", Onyai explained.
Jane Anyango is the Communication Officer, EfD-Mak Centre
Aptitude Test Exam Results for the Mature Age Entry Scheme 2023/2024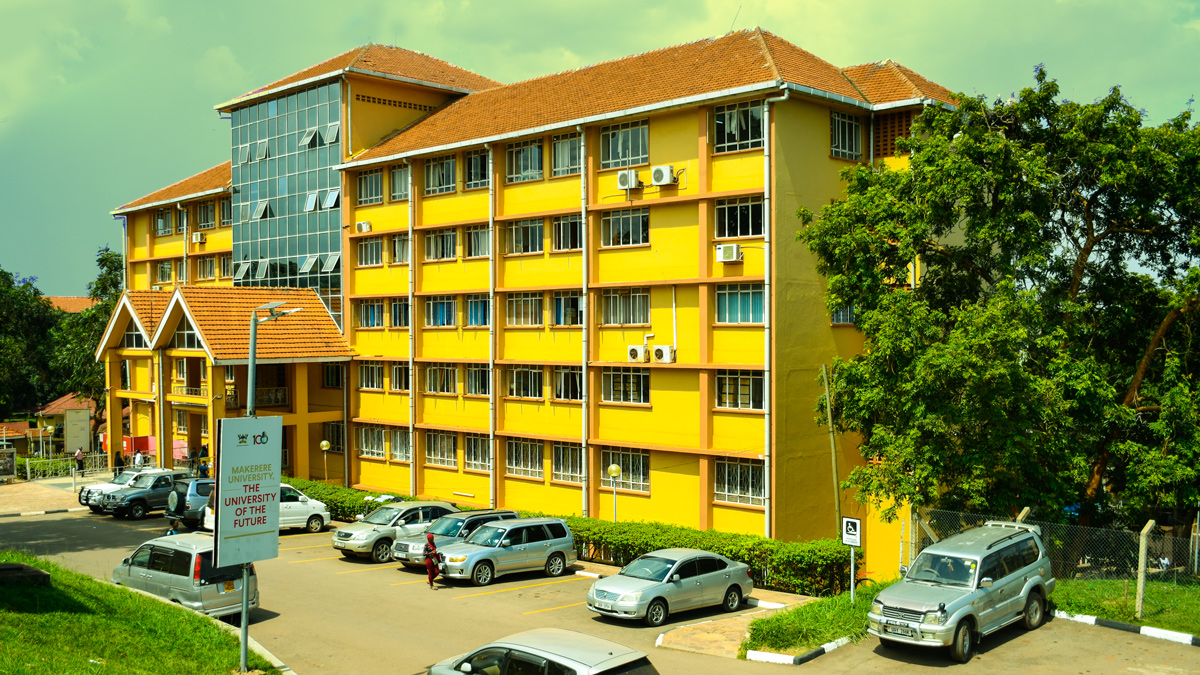 The Office of Academic Registrar, Makerere University has released Aptitude Test Examination results for the Mature Age Entry Scheme Examinations held on Saturday 17th December, 2022.
The Candidates who scored 50% and above in the aptitude test passed the aptitude examination and will have their programme -specific examination paper marked. Those who scored less than 50% failed.
Access the links below for the lists categorised under Science-based and Humanities based programmes respectively:
Mak Participates in New Vision Education Expo 2023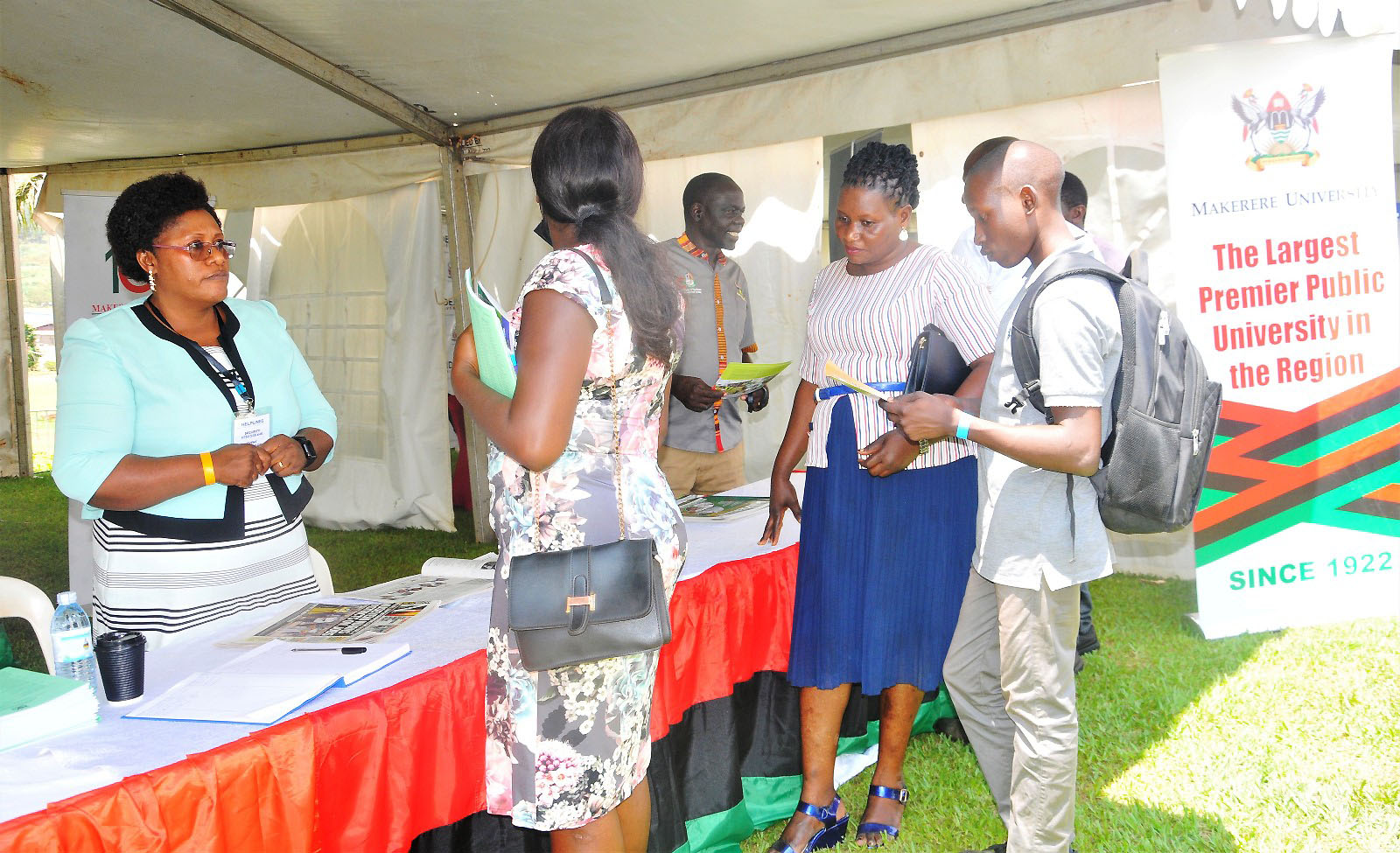 Makerere University is participating in the New Vision Education Expo 2023 to strengthen its niche as the leading provider of education services.
The three-day New Vision Expo (Friday 27th January 2023 to Sunday 29th January 2023) at the Uganda Institute of Information and Communications Technology (UICT) Nakawa brings on board players in the education and business fields to forge partnerships to improve the quality and outcomes of education in Uganda.
Makerere University seeks to maximally utilize the three days to ensure that the participants at the Education Expo gain a deeper understanding of its 100 year journey of providing excellent services to humanity through academic programmes, services offered and ongoing efforts aimed at producing employable graduates as well as entrepreneurs.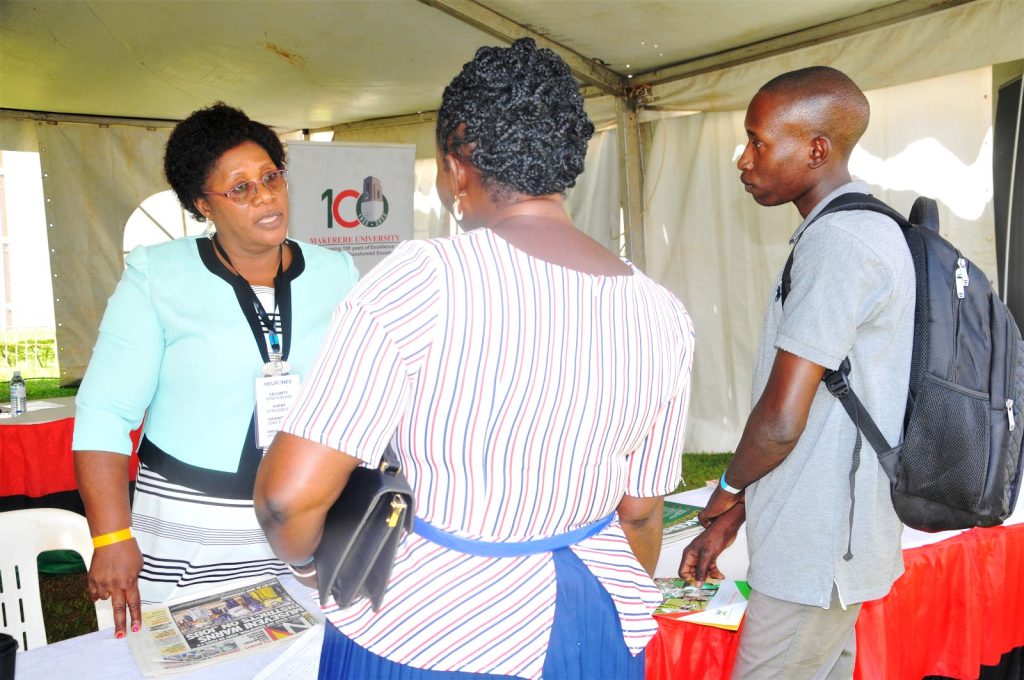 The Vice Chancellor, Prof. Barnabas Nawangwe highlights that Makerere University values stakeholder engagements and partnerships.  "The New Vision Expo 2023 presents Makerere University with an opportunity to enhance stakeholder engagements. It is about consolidating the relationships with schools, prospective students and parents, and partners in the education sector. I applaud the CEO of Vision Group-Mr. Don Wanyama for coming up with the Education Expo."
To respond to the information needs of stakeholders, Makerere University has lined up a team of experienced staff from the Department of the Academic Registrar, the Admissions Office, Public Relations Office, Career Guidance experts as well as the Institute of Open Distance and e-Learning (IODeL) under the College of Education and External Studies (CEES).
According to the Principal PRO of Makerere University Ms. Ritah Namisango, the Education Expo provides a platform to reach out to the clients that Makerere University exists to serve. "You must be in touch with your prospective parents, students as well as schools and partners that continue to recommend you as the leading university in the region. Makerere University has celebrated 100 years of excellent service to humanity (1922-2022). So, as we continue to promote the academic programmes, innovations and services that we offer, we are ready to listen, interact and learn from respective stakeholders about what they expect from the University as we embark on the next 100 years."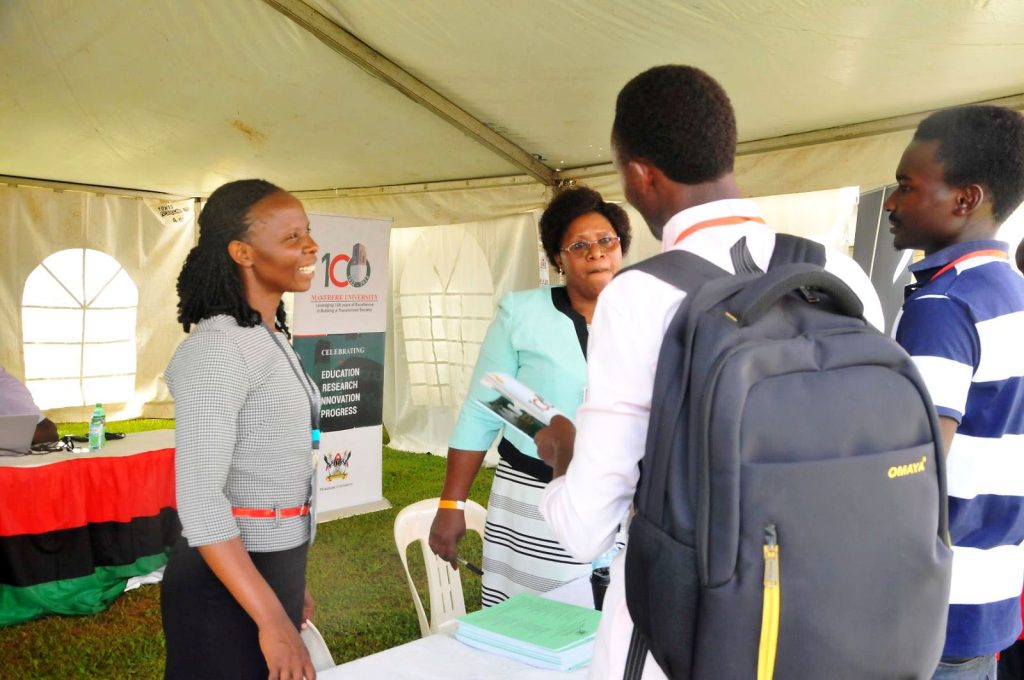 The New Vision Expo 2023 is happening at an opportune (holiday) time, which accords the students, parents and guardians quality time to visit the exhibition and interact with experts in the education sector.
In addition, Makerere University has recently advertised its academic programmes and it is preparing to receive students for the Academic year 2023/2024. Sharing her experience about the interaction with participants who visited the Makerere University exhibition space, Ms Joyce Muhanguzi, Senior Assistant Registrar in the Department of the Academic Registrar noted that most of the prospective students and parents wanted to know about the academic programmes, the subject combinations that students should study to qualify to apply for the respective academic programmes, and the available admission avenues i.e. government sponsorship, private sponsorship, diploma entry, direct entry, national merit, talented sports entry and district quota programme).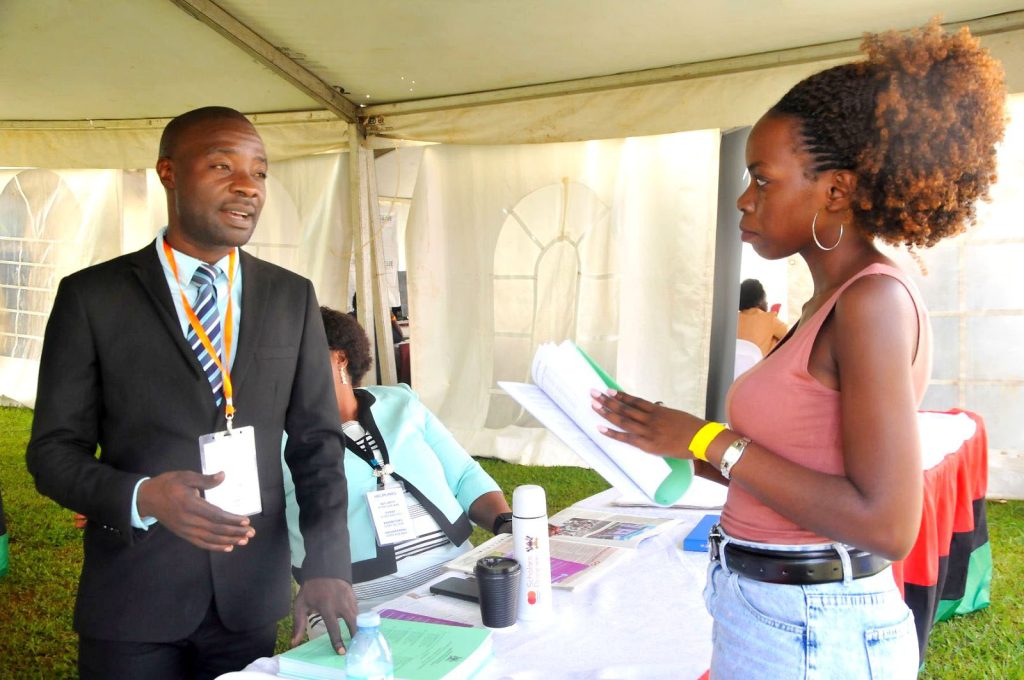 Ms Joyce Muhanguzi and Mr. Dennis Kibuuka's interaction focused on students who expressed their desire to join Makerere University in the coming years, and needed a case by case approach to their information needs, career guidance and linkages to Professors and Administrative staff in the respective Colleges at Makerere University.
The prospective students and parents also disclosed that in addition to the information on the Makerere University website, they welcome interactive and friendly approaches such as the New Vision Education Expo where they are presented with a golden opportunity to interact with Makerere University officials face-to-face.
At the New Vision Education Expo 2023, Makerere University joins other exhibitors that include; Government agencies, NGOs, Telecom companies, Banks, Insurance companies, Kindergartens/Daycare Centres, Primary and Secondary schools, Ugandan and Kenyan Universities, International schools, Study Abroad Agencies, Vocational institutions, Scholastic materials suppliers and SME service providers.
73rd Graduation Highlights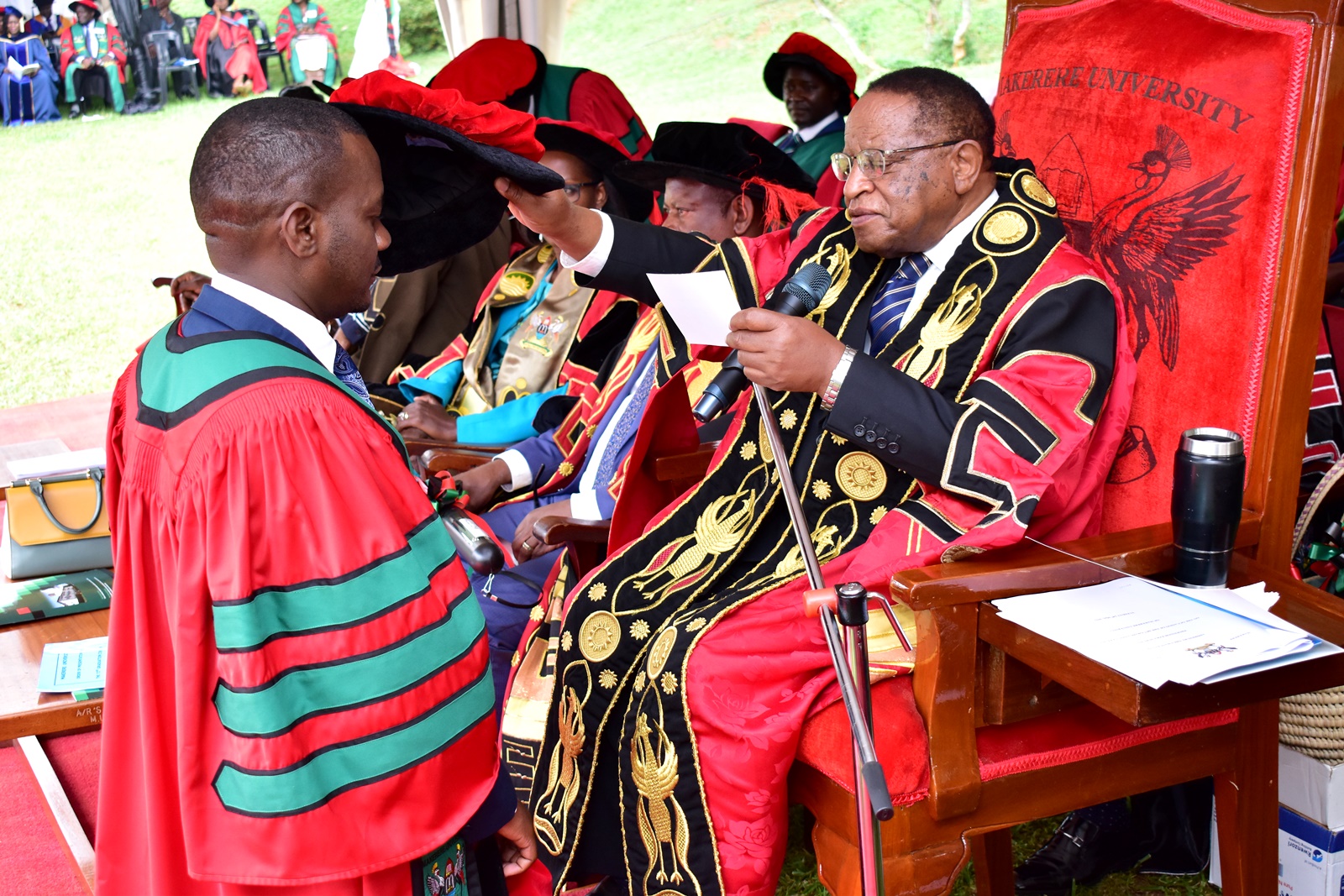 The 73rd Graduation Ceremony of Makerere University will be held from Monday 13th to Friday 17th February 2023 following the schedule below:
Monday, 13th February, 2023
College of Health Sciences (CHS)
College of Natural Sciences (CoNAS)
School of Law (SoL)
Tuesday, 14th February, 2023
College of Agricultural and Environmental Sciences (CAES)
College of Education and External Studies (CEES)
Wednesday, 15th February, 2023
College of Business and Management Sciences (CoBAMS)
College of Computing and Information Sciences (CoCIS)
College of Veterinary Medicine, Animal Resources and Bio-security (CoVAB)
Thursday, 16th February, 2023
Makerere University Business School (MUBS)
Friday, 17th February, 2023
College of Engineering, Design, Art and Technology (CEDAT)
College of Humanities and Social Sciences (CHUSS)