Oscar Arac Triumphs Out of his Troubled Past to a Makerere University First Class Star
When Arac Oscar was abducted in S.1 at Alito Secondary School in Kole District by the self-appointed 'messiah' of the Lord's Resistance Army (LRA) Joseph Kony, his world had come to an end. He could never believe that he could have any other opportunity to shape his future through education.
In those days, the spiritualist rebel group abducted thousands of children and adults to serve as porters and also fill the ranks of Kony's Army.
But as luck would have it, despite a troubled background, he emerged in the top quarter of his class with a First Class of 4.49 in Bachelor of Environmental Health Sciences housed at Makerere University School of Public Health under the College of Health Sciences.
We walk you his life journey of how he beat the odds to become today's star. Born to the late Arac George and Esther Akello in April 1987, Oscar doesn't have any memory of what his father looked like.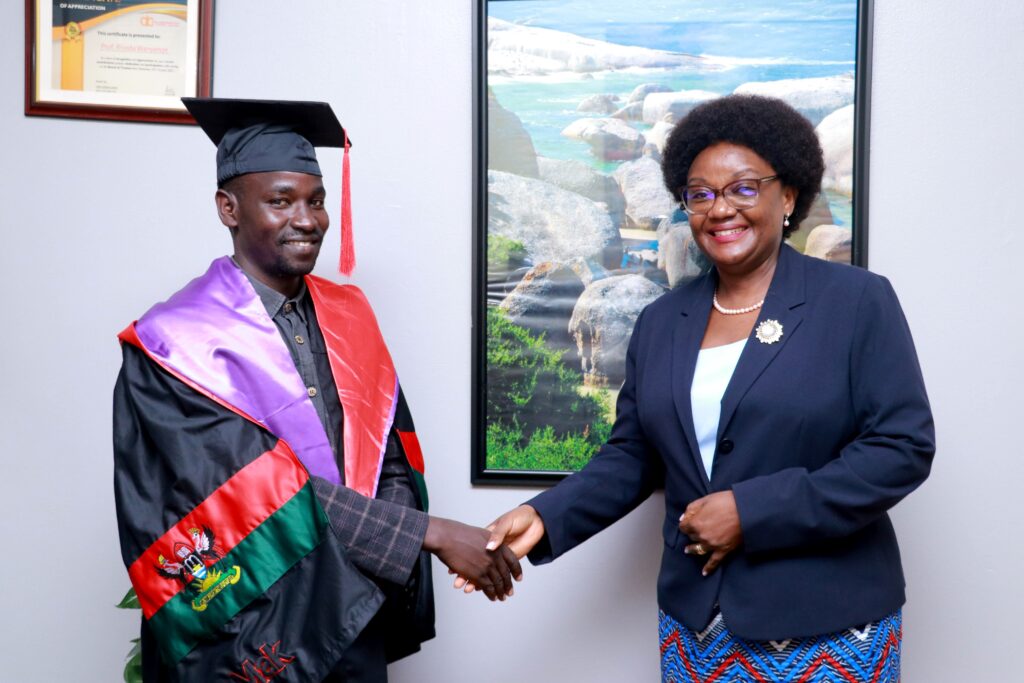 When he was born, he was told that his father passed on, shortly after his mother conceived; "My mother was 6 months pregnant. I wasn't born yet and my father passed away. I am told he was a UPDF soldier who died at a rank of Sergeant. At that time, I am told that there was limited attention to photography in my village. As of today, I can't figure out how he looked like"
He grew up under the care of his beloved maternal grandfather, the now late Mathias Obuku who stepped in to fill the father gap at Angwengotop village, Amuge Parish, Alito sub-county in Kole district.
His past, he says has shaped his view of life and influenced his life. In 1993, Osar Arac enrolled to Agoma Primary School where completed his Primary Leaving Examination and passed in 2nd division in 2001. He would later be admitted to Alito Secondary School where he studied for only one year but later transferred to Aculbanya Secondary School, also in Kole District in 2003 after the unfortunate abduction incident. He was here until 2005.
Arac recollects the ugly days of his childhood when he was abducted by the LRA when one day in the wee hours of the morning in June 2002 when they invaded his school, a few meters from his home and was abducted alongside other people he can't recall.
At the age 13 then, Arac says his dream of ever going back to school had been shattered by the incident. It seemed mission impossible but kept patient and resilient until an opportunity presented itself for him to escape.
"I remember I had just turned 13 that year. My Guardian could not afford boarding fees. I, together with other colleagues rented a small room near the School to cut on the cost of living at the school dormitories. One night, the rebels invaded our school and took us along with them," recalls Arac.
They trekked from Pajule via Pader district into the deep of the jungles. "This was horrific. I used to hear that the rebels would abduct people but had never witnessed. It was my turn. It felt like a dream but I realized I was under captivity when all my freedom was gone. I would spend almost every day of my three months in the bush crying. Sometimes I would fail to walk and they carry me on their shoulders in turns," says Arac.
What kept him strong was the zeal for education he had. "Escaping from captivity was my priority and I badly wanted to go to back School," says Arac.
Three months later, he says he, alongside other children were rescued by the UPDF soldiers when the rebel groups were attacked. Eventually, he was handed over to Red cross team which drove him to his home.
But he was living in fear of being abducted again by the rebels. At his tender age, he most times stayed awake in the nights in case the rebels came hunting for him.
This childhood experience however, would later torment his childhood life and subsequently affected his performance at School. But aware of his background, Arac says he knew the meaning of education and knew he would shape his future well only if he studied. He pursued his academics despite the numerous challenges along the way. In 2005 for instance, he passed his Ordinary Level Education with a 2nd Division grade at Aculbanya Secondary School.
He was then, admitted to a missionary School -Comboni College in Lira for his Advanced Level. He obtained 11 points in Physics, Chemistry, Biology and Agriculture (PCB/A). These marks, earned him an admission to study a Bachelor of Science in Nursing at Gulu University in 2008. This was however on Private and he could hardly raise any fees to pursue the course. He was told however that he would win a government slot if he went for a Certificate or Diploma in a tertiary institution.
In fact, his Uncle, Mr. Jasper Okello, an Environmental Health Officer in Otuke District inspired him to pursue a career by doing a Diploma of Environmental Health at Mbale School of Hygiene in 2008 which he enrolled, later graduating with a CGPA of 3.93 in 2010.
"I loved how he conducted himself. Changing the health status of the community he worked in made me love the course. When I joined the course, I found it unique because it was a course where you get field experience by engaging with communities, change their health behaviors and make them responsible for their health," says Arac.
While at Mbale School of Hygiene, Arac says he juggled between work and studies. He obtained a job as a pump attendant "I faced a lot of financial challenges since I am the bread-winner in the family."
Following his Diploma, Arac says he tried several job opportunities fruitlessly. He recalls the days he applied to work as a Health Inspector in Kole, Alebtong, and Otuke District but could not get a slot.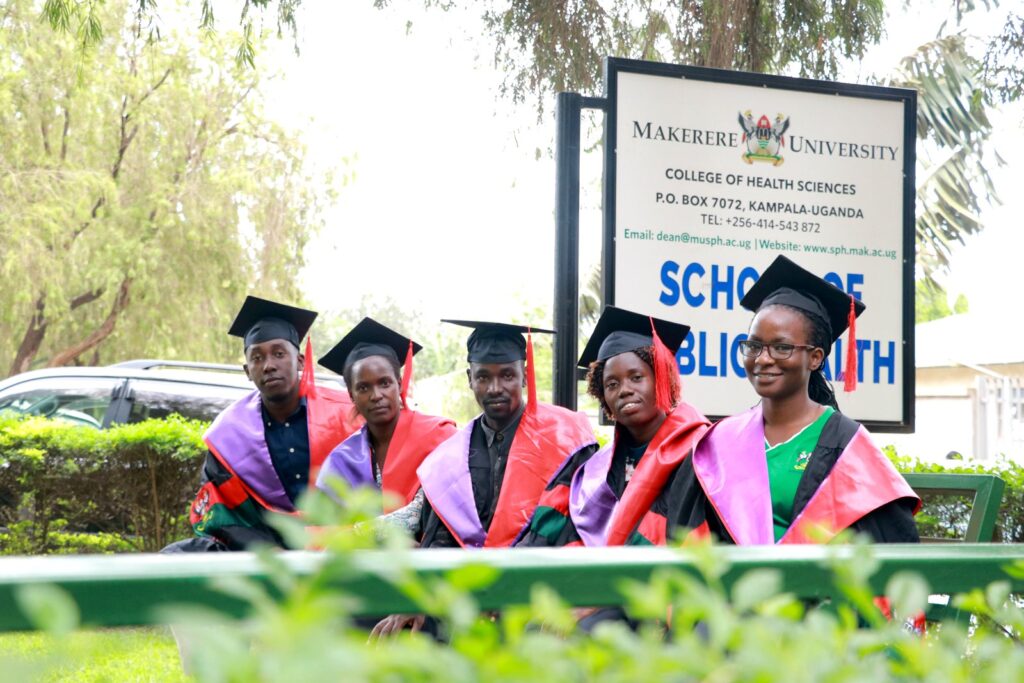 After several unsuccessful attempts to get a job, Arac says a friend urged him to join the the Uganda Peoples Defence Forces (UPDF), which at that time was recruiting health professionals and that is how he joined the Army in 2011. Upon completion of his training, he got deployed as a Health Inspector with the Chieftaincy of Medical Services under the Directorate of Public Health, UPDF.
In 2016, he was admitted to Makerere University but could not proceed with the the course because of financial calls. He applied again and in 2018, Arac was admitted on Bachelor of Science in Environmental Health Sciences at the School of Public Health, Makerere University.
Being a privately sponsored student, it meant that he had to continue work to secure his tuition and fend family. "The course is so practical and it demanded almost all my personal time. But I pressed on. I am thankful to the UPDF family especially the Education Implementation Board for giving me an opportunity to study," says Arac.
His inspirational quote is from Harriet Tubman; who once said 'Every great dream begins with a dreamer.' I am very excited that I am here as one of the best students," says Arac.
Arach attributes his outstanding performance to teamwork, and not just an individual effort, a trait he has since learned from the forces.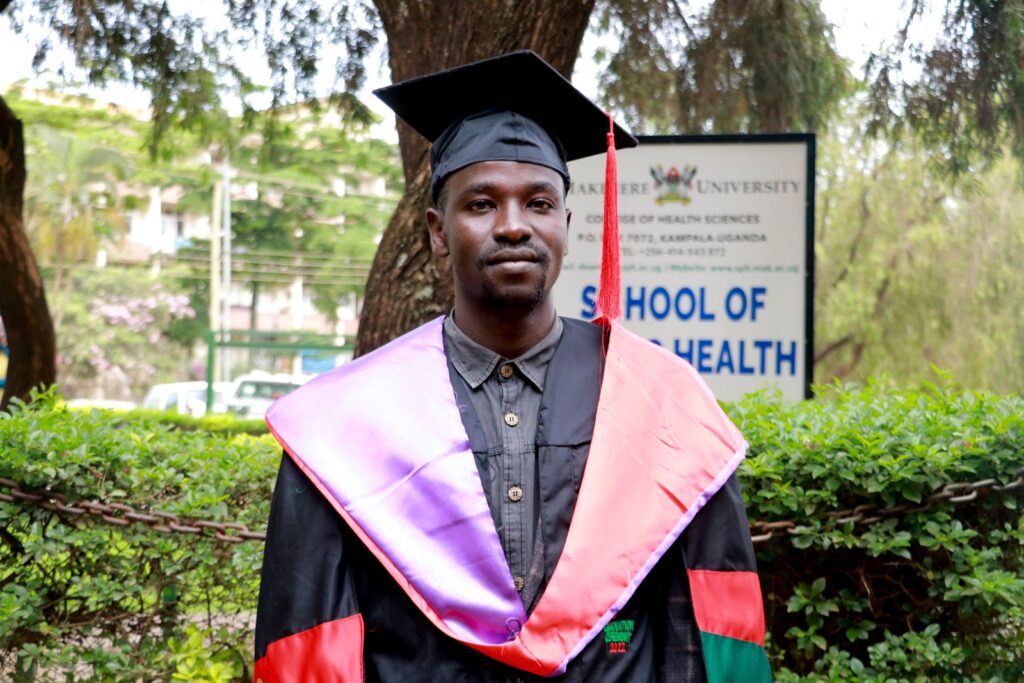 Makerere Medical Journal: Golden Jubilee Edition 2022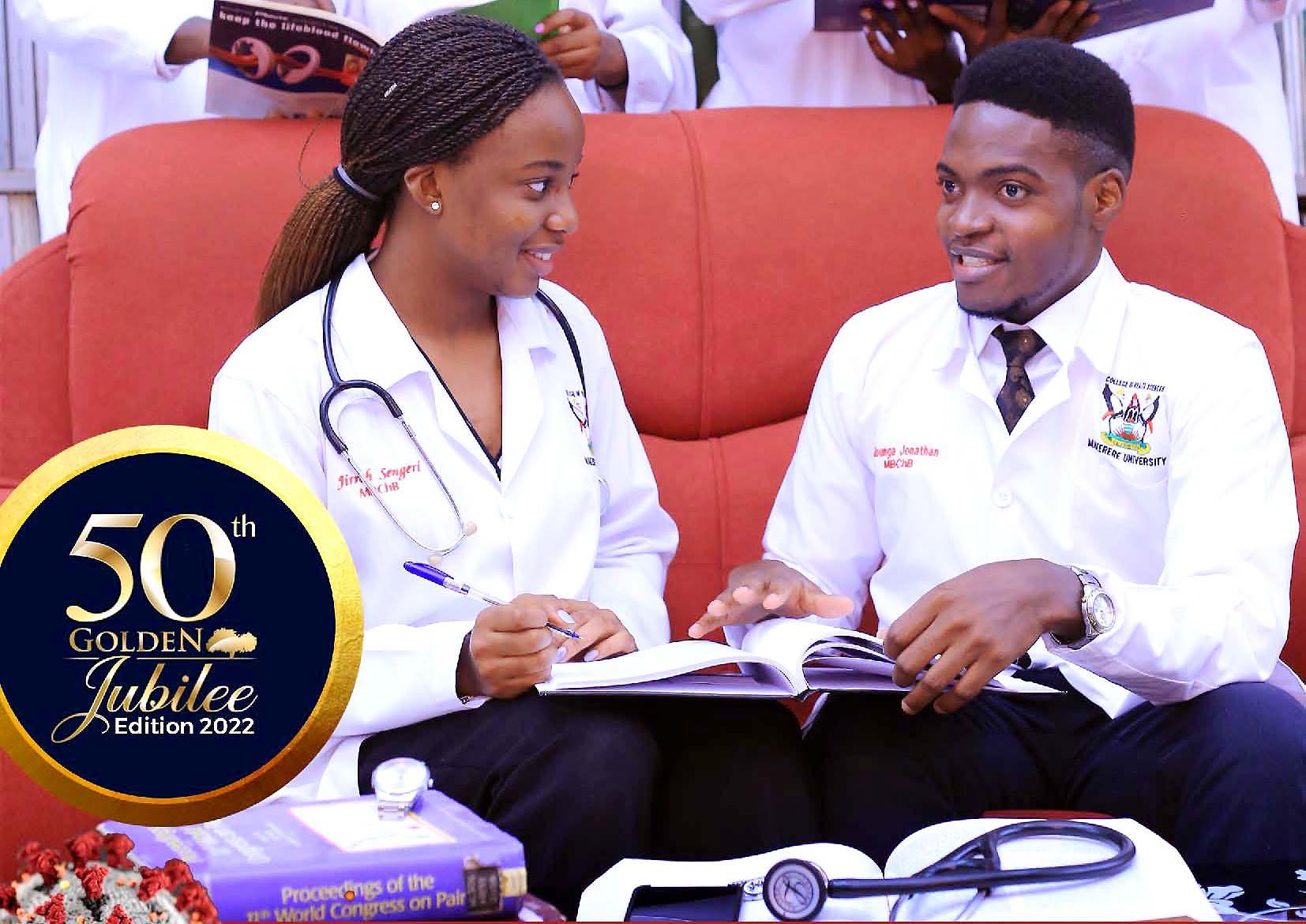 It's with great pleasure that I welcome you to the Golden Jubilee edition of this phenomenal journal. Yes, The Makerere Medical Journal marks 50 years of publication with this year's edition and all this has been made possible by the endless efforts and contributions of the Makerere University College of Health Sciences Staff and students because without your research submissions and financial support, the journal wouldn't have made it this far. To you reading this, thank you for contributing to the sustainability of this great project, year in year out.
Here's a quote to ponder on as you delve into this year's well-crafted articles and it's by Zora Hurston (1891-1960), "Research is formalized curiosity. It is poking and prying with a purpose." And doesn't that just define our purpose as researchers?!
This edition's articles cover pertinent topics ranging from Antimicrobial Stewardship, COVID-19 interventions, Oral Health amongst others. It also features student projects, write-ups on student-led organizations and societies that are making a difference in the life of a health sciences' student and many more interesting writings. Featured in this issue are international manuscripts from countries like Nigeria and we were also honored to work with other universities within the country and feature some of their students' articles.
I would like to extend my most sincere gratitude to my team of editors that engaged in a rigorous peer review process to ensure that the articles published are up to standard. As the editorial team, we are quite pleased to see the number of undergraduates involved in research steadily increasing and all the efforts that have been put in by the different stakeholders to see this happen are commendable.
With that said, I hope you enjoy every second of your read!!!
LINDA ATULINDA,
MBChB IV
EDITOR-IN-CHIEF,
Research and Writers' Club 2021-2022
Call for Applications: HEPI Masters Support Fellowship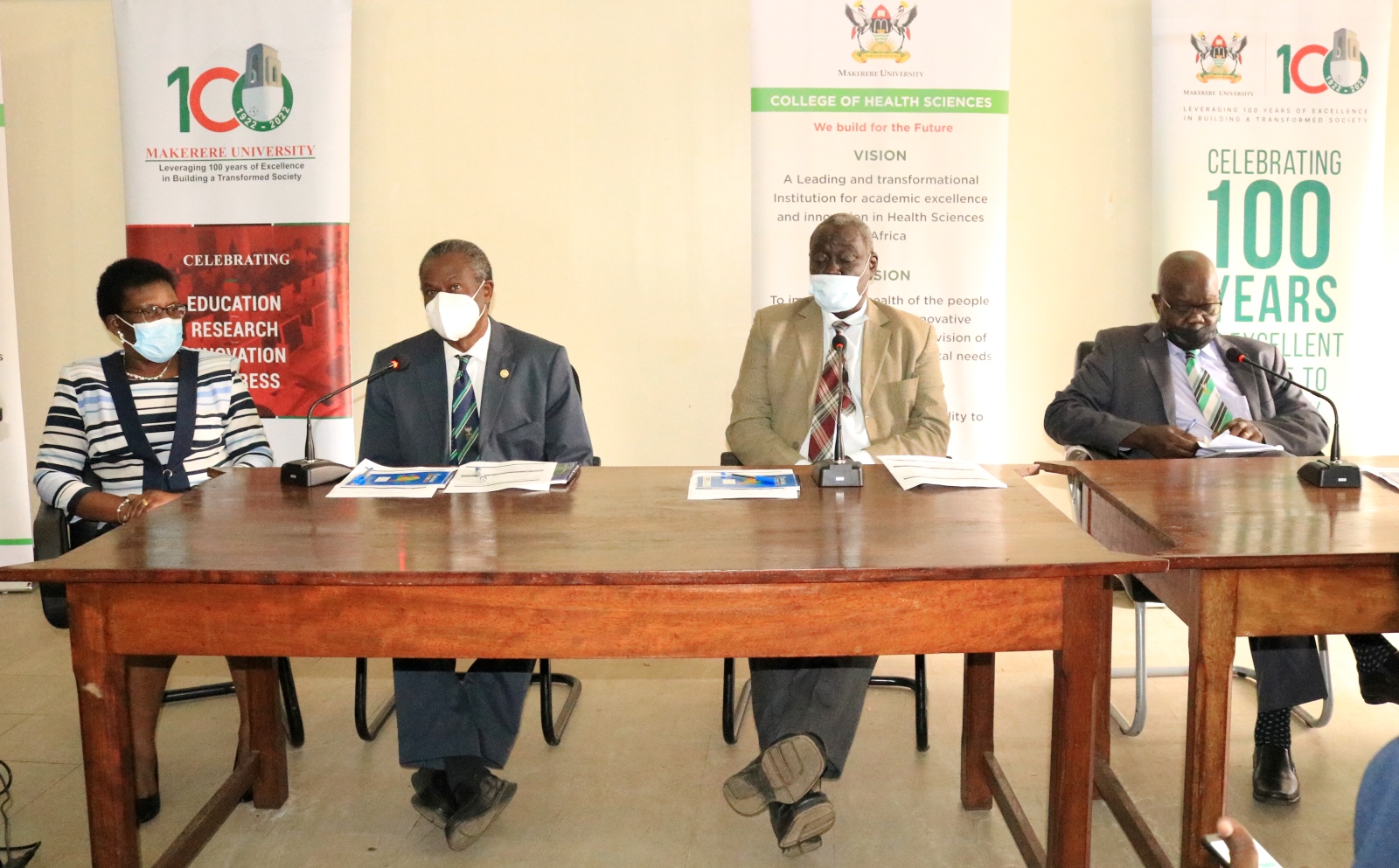 Applications are invited for the Health Professional Education Partnership Initiative (HEPI-SHSSU) Masters fellowship programme support from postgraduate students of:
Makerere University College of Health Sciences (MakCHS)
Kabale University School of Medicine
Clarke International University
Faculty of Health Sciences, Busitema University
The programme will support graduates in their final year of training leading to the award of a Masters degree on any of the Master's graduate training programs at the stated University for a maximum of 19 successful candidates.
The closing date for the receipt of applications is 30th September 2022.
Inquiries and Applications must be submitted to hepishssu@gmail.com
See attachment for more details 
Call for Applications: Faculty Research Training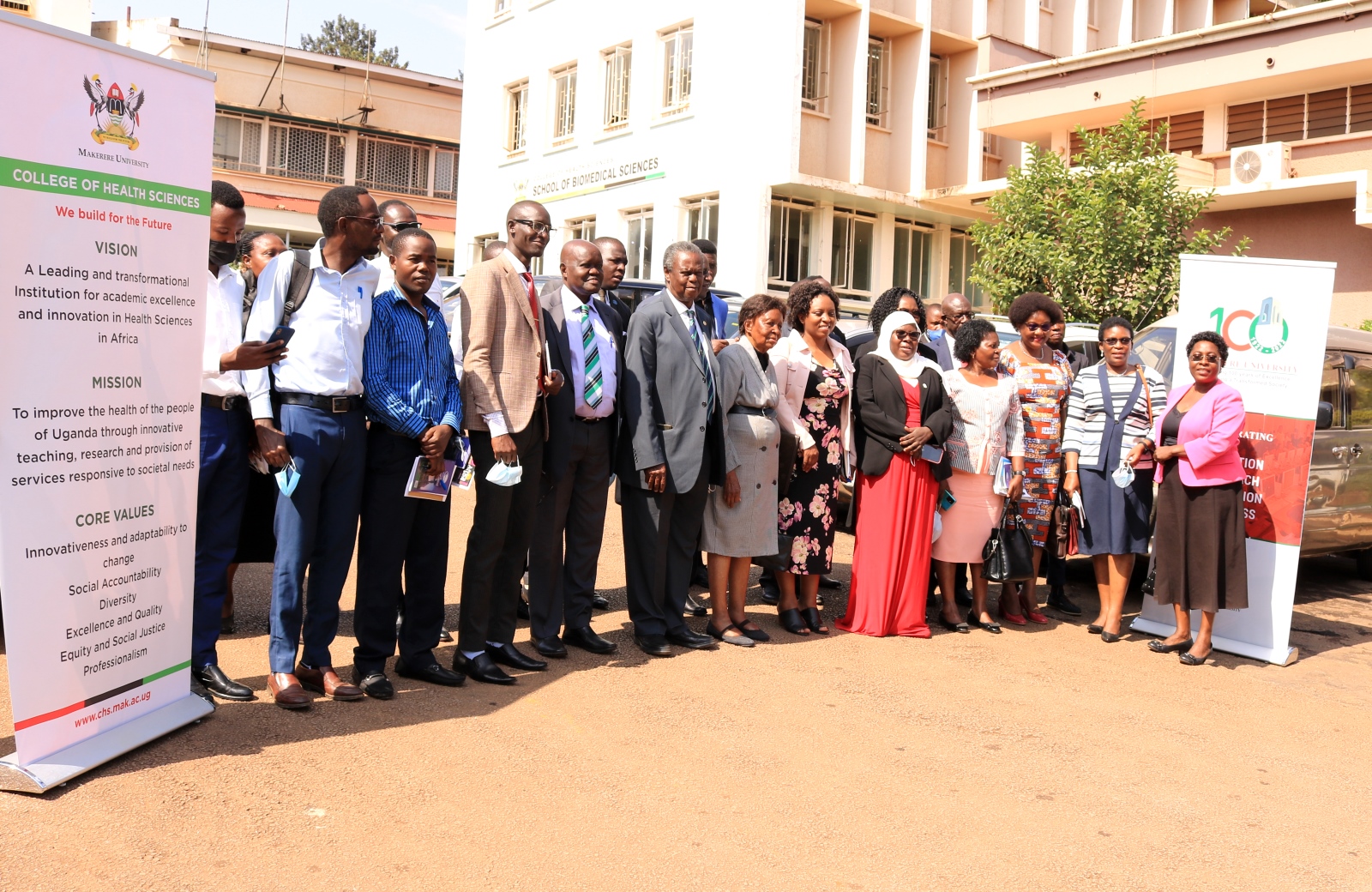 Applications are invited from faculty at Makerere University College of Health Sciences, Kabale School of Medicine, and Clarke International University to undertake training in research.
Limited research funding will be available for research focusing on community-based, clinical, operational, health professions education, epidemiological, biomedical, and research in Communicable Diseases (e.g. HIV/AIDS, malaria, tuberculosis, etc.) or non-communicable diseases of importance to Uganda.
Up to 15 applicants will be selected and they will undergo a brief (2 days) didactic training in research proposal development prior to embarking on their research projects. Up to 4,000 US dollars per applicant (depending on budget) will be available to support the research.
The closing date for the receipt of applications is 3rd October 2022.
Inquiries can be forwarded to the PI, HEPISU Program on hepishssu@gmail.com
See attachment for more details