PhD training as a pillar in Uganda's Economic and Sustainable Development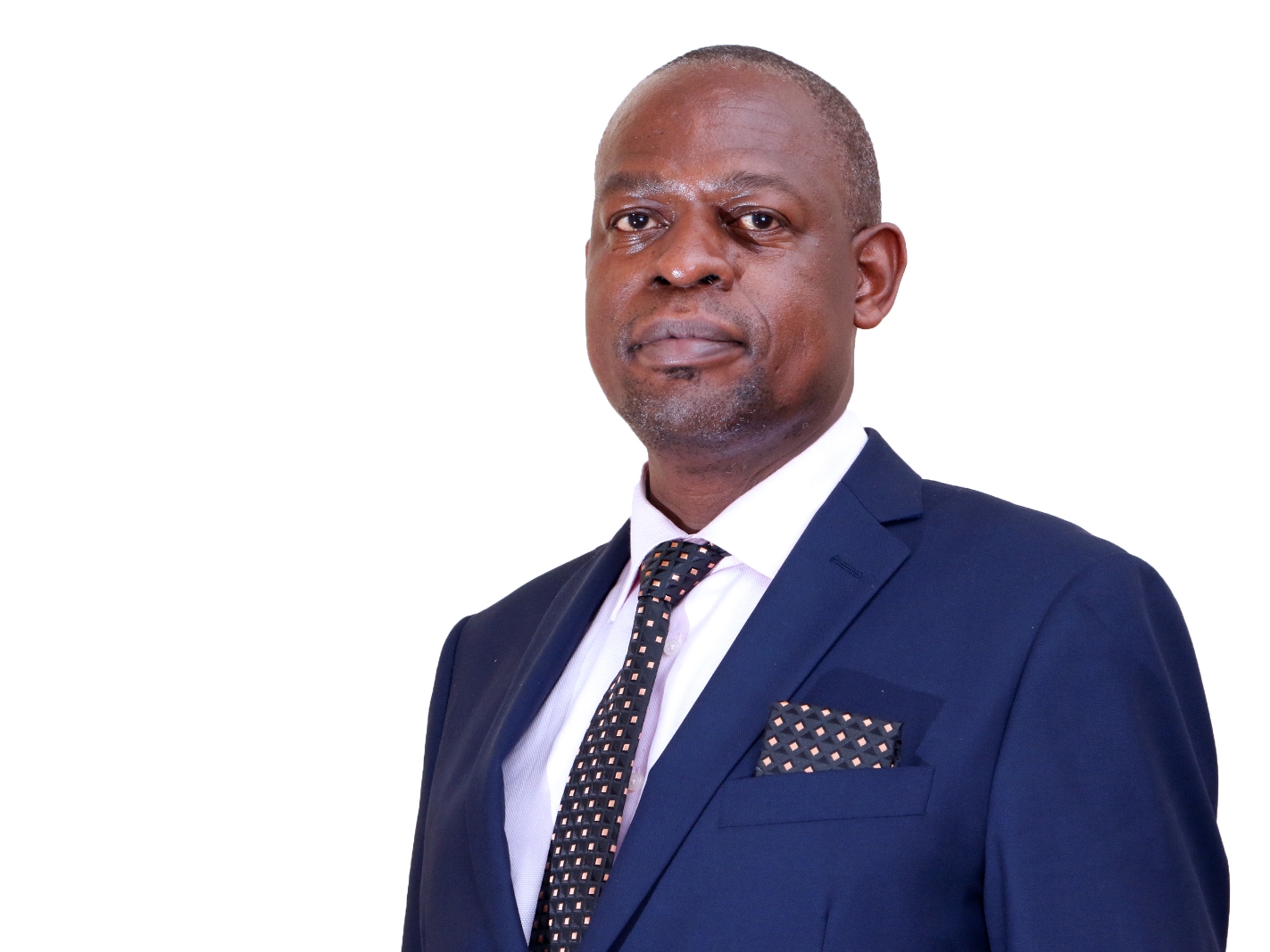 On 26th October 2015, The Guardian run an article by Tom Kariuki with an alarming title, albeit with a promise. It read "Africa produces just 1.1% of global scientific knowledge – but change is coming". Therein, Mr. Kariuki, the Director of the Alliance for Accelerating Excellence in Science (ASEA) noted that his institution had been founded by the African Academy of Sciences (AAS) and the African Union's New Partnership for African Development to award research grants to African universities, advise them on financial best practice and develop a science strategy for Africa.
Approximately seven (7) years later on 17th February 2022, the University World News website published an article by Wagdy Sawahel titled "Science output rising, but some countries' yields still low" that showed that Africa had "made notable progress in the production of scientific knowledge in the past two decades, with a total share of 7.6% of contributions to the world of science and one-third of all international publications in tropical medicine."
These revelations were made by Dr. Vincent Ssembatya on 25th April 2022 as he presented a rationale for PhD production to a visiting delegation from Norway. The delegation is attending the NORHED Week in Uganda, that is set to conclude on 29th April 2022 with a visit to the Uganda National Council for Science and Technology (UNCST).
"Among the top 10 high-producing countries in science in Africa there were six Sub-Saharan countries, namely; South Africa, Uganda, Nigeria, Kenya, Ethiopia and Tanzania" noted Dr. Ssembatya.
Coincidentally, South Africa which leads Sub-Saharan Africa pack at 437 also has the highest number of researchers per one million people. Uganda and Tanzania have 38 and 18 scientists per one million people respectively.
Dr. Ssembatya observed that the liberalisation of higher education in Uganda led to a more diverse and complex system, partly due to the growth in the number of public and private institutions and multiple stakeholders with diverging interests.
"Human resources were redistributed to support the elastic change in higher education provision with existing institutions seceding Human Resources to newly created ones; more PhDs were required to support the higher education system" he said.
Statistics shared by Dr. Ssembatya show that there are approximately 6,667 Higher Education students for every one million Ugandans, with only 44 of these being PhD holders. Whereas the current enrolment at universities requires more than 3,600 PhDs, the PhD count stood at only to 2,200 in 2020.
"PhD production capacity is stifled with about 100 PhDs per year with most of these produced at Makerere University. PhD productivity is coupled with research productivity in more ways than one; at Makerere every PhD student is required to have two publications, while the supervision of PhDs to completion is an incentive for promotion. Senior lectureship is required for supervision of PhDs" noted Dr. Ssembatya.
The PhD count at Makerere and the country as a whole could be attributed to the policy environment. Since the year 2000, Makerere University has had a requirement that every lecturer hold a PhD degree, the exception being the clinical medicine disciplines and those lecturers who were already serving prior to the policy enforcement. Furthermore, the National Council for Higher Education (NCHE) has modified the requirement for a PhD in universities to allow for the hiring of registered PhD students who are progressing normally.
"The modification to the PhD requirement was compelled by the difficulties of attaining a sufficient number of PhDs. It is estimated that Uganda has about 2,200 PhDs, amidst a requirement for over 10,000 PhDs according to a 2011 publication by the Uganda National Council for Science and Technology (UNCST).
"The current PhD deficit is over 8,000 PhDs. This deficit cannot be covered with the current production rate of about 100 PhDs per year" stressed Dr. Ssembatya.
Powell, Walter W.; Snellman, Kaisa (2004) define the knowledge economy or knowledge-based economy as an economic system in which the production of goods and services is based principally on knowledge-intensive activities that contribute to advancement in technical and scientific innovation. Statistics shared by Dr. Ssembatya revealed that Makerere accounts for 65% of the research output in Uganda. This statistic, coupled with the fact that the institution has the highest concentration of PhDs in Uganda shows a direct correlation between PhD numbers and knowledge production, an essential ingredient of the knowledge economy.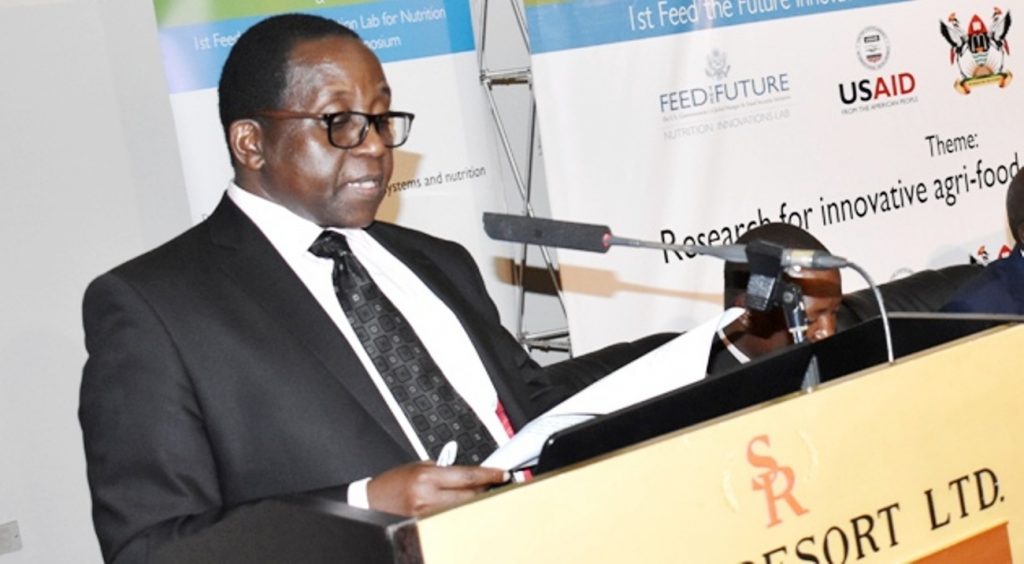 Discussing the presentation, Prof. John David Kabasa concurred that "a PhD should be a transformative tool helping us to get product and solutions to the market. Co-creation of knowledge at the level of PhD will liberate African from the conundrum of poverty."
Furthermore, Prof. Kabasa pointed out the urgent need for PhDs to be anchored in the community so as to extract knowledge of the challenges faced and advise on policy formulation that is anchored and implementable at Local Government level.
Please see below for the presentation.
References
Powell, Walter W.; Snellman, Kaisa (2004). "The Knowledge Economy". Annual Review of Sociology. 30 (1): 199–220. http://doi.org/10.1146/annurev.soc.29.010202.100037
Innovations using low cost locally available materials for point of use water treatment system unveiled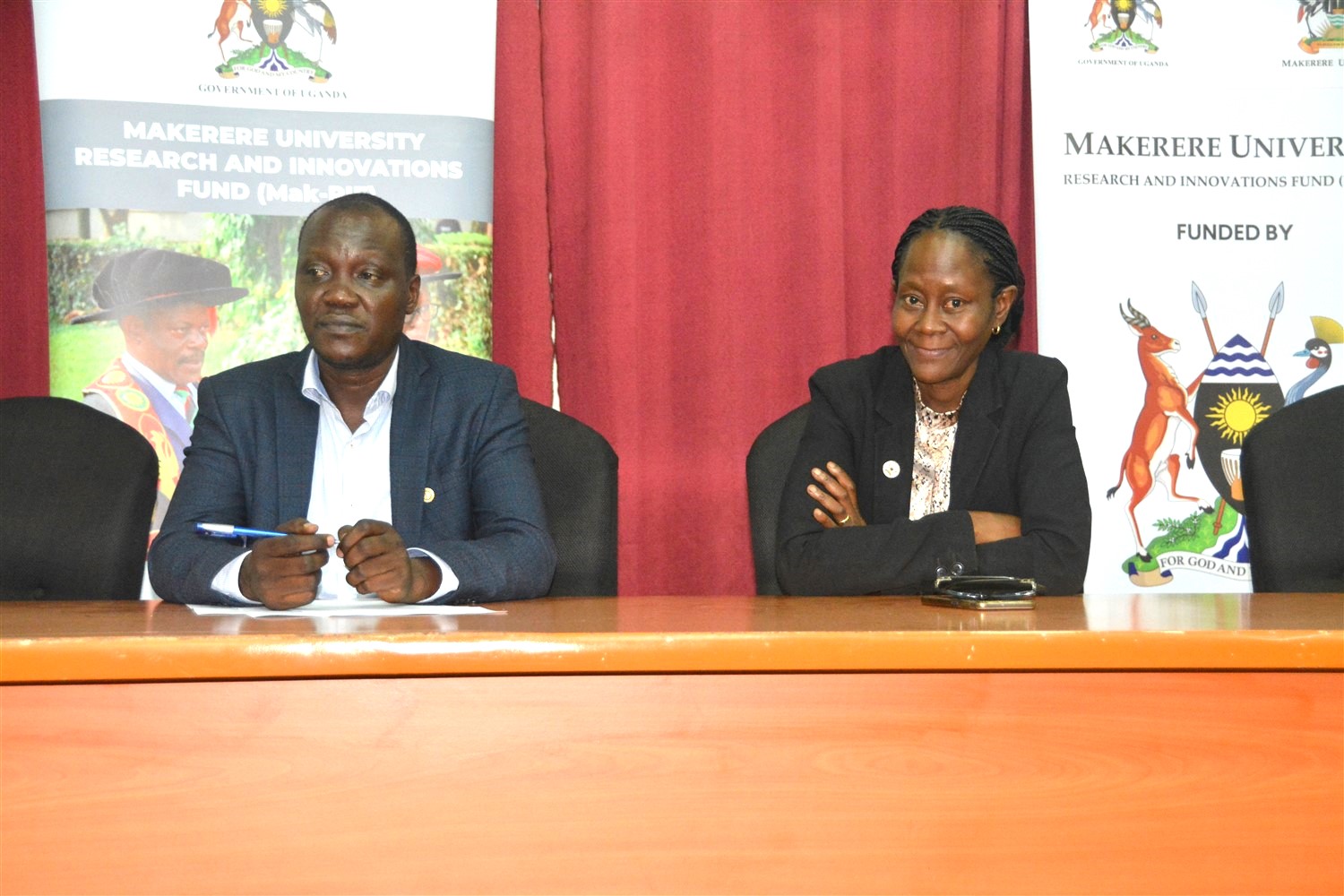 The College of Engineering, Design, Art and Technology (CEDAT) conducted a Research Dissemination of two studies aimed at the Development of Materials for point of use water treatment systems.
The investigations were conducted by a team of researchers comprised of P. W. Olupot, H. M. Kalibbala, E. Menya, G.M. Wangi, J. Jjagwe, J. Wakatuntu, M. Turyasingura, R. Walozi, C. Kanyesigye and R. N. Kulabako.
The dissemination event held on Wednesday 29th November 2023 follows the successful completion of two MakRIF supported Research projects namely; Development of rice husk based granular activated carbon for point-of-use water treatment systems and Development of zeolite-based nanocomposite filters for drinking water treatment.
Apac District gains from CEDAT's Research on Piloting a Rural Broadband Connectivity Model and Efficacious patient management system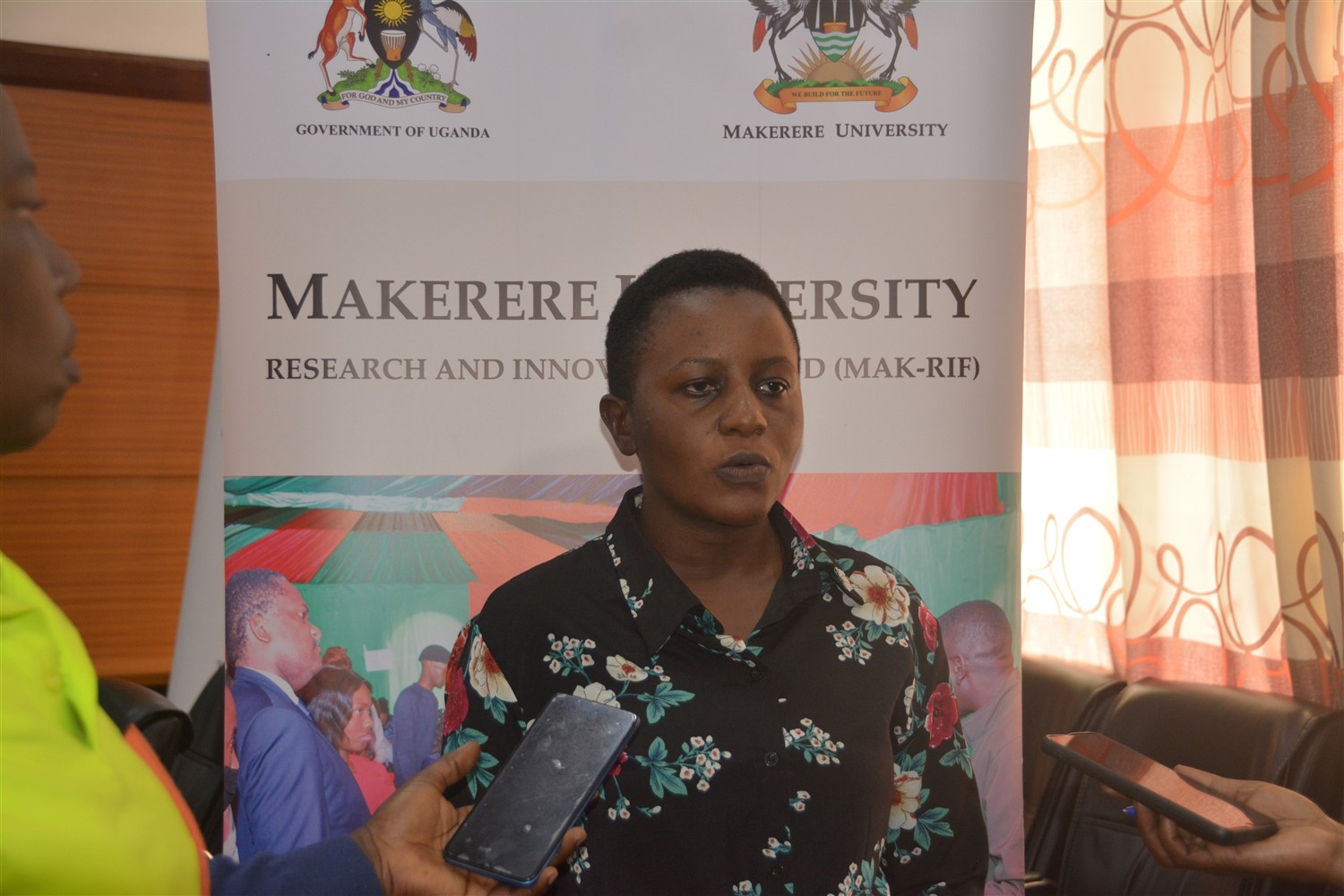 The School of Engineering at the College of Engineering, Design, Art and Technology (CEDAT) shared findings of research that was conducted in Apac Districts through two projects namely Piloting a Rural Broadband Connectivity Model (RCBM) and Efficacious patient management system (EPMS).
The findings of the research sponsored by the Government of Uganda through the Makerere University research and Innovation Fund(MakRIF) were disseminated during a dissemination seminar held in the College on Friday 24th November 2023, where it was revealed that  Apac the host District greatly benefited from the services that not only led to the increased uptake of internet services but also gained through other socio economic areas.
Application Forms for Admission to Public Universities 2024/2025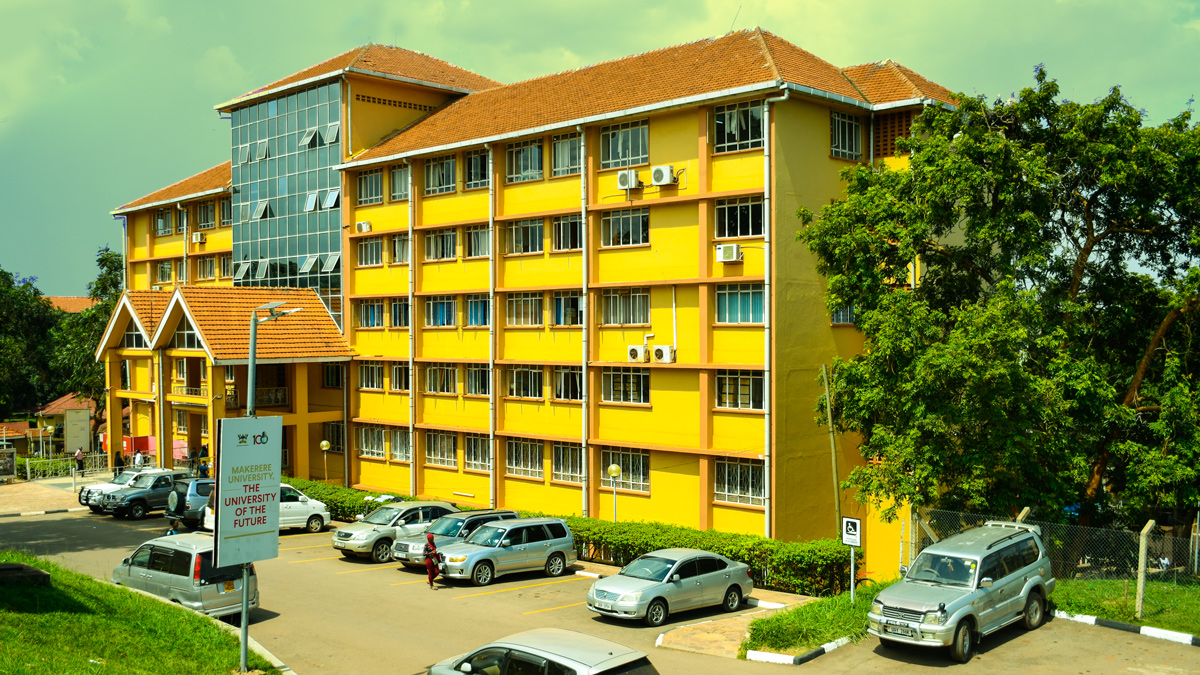 The Academic Registrar, Makerere University informs all Head Teachers of A 'Level schools that application forms for admission to public universities for senior six candidates (UACE 2023) for the 2024/2025 academic year will be ready for collection from the university from Monday 4th December, 2023.
The application forms should be collected from the Office of the Academic Registrar, Senate Building, Level 3, Makerere University.
Issuing of the application forms will start on Monday, 4th December 2023 on payment of a non-refundable application fee of Uganda Shs. 52,000/=(fifty two thousand Uganda shillings only) per application form.
You are advised to get a pay reference number (PRN) using the ACMIS system (http://pay.mak.ac.ug) to enable you pay the application fees in any bank used by Uganda Revenue Authority (URA).
The forms are for Ugandans only.
Please note that only Head Teachers or their authorized representatives will be served.
The closing date for submitting the completed application forms will be Wednesday 31st January, 2024.
Prof. Buyinza Mukadasi
ACADEMIC REGISTRAR