School of Law Newsletter 2021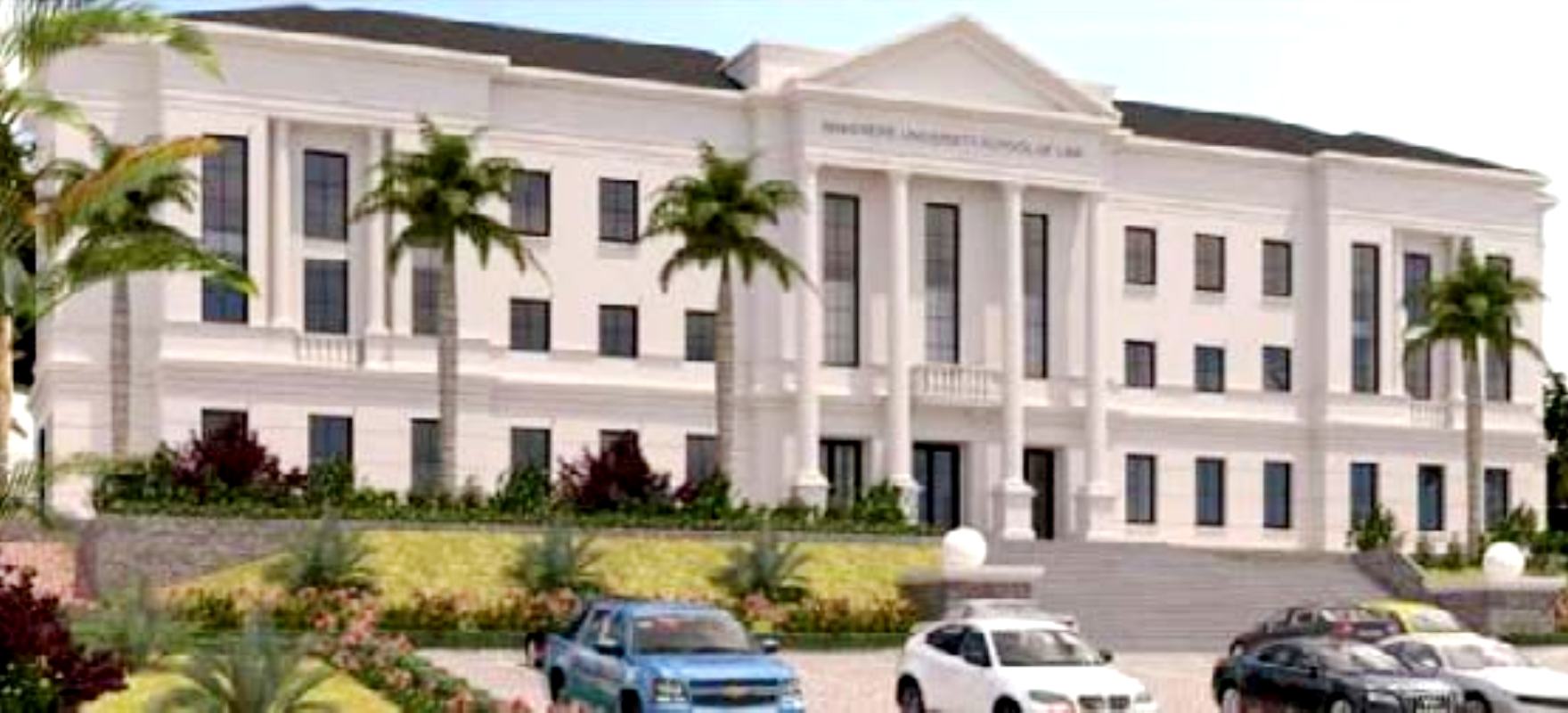 The School of Law (SoL), Makerere University is a trail-blazer in the arena of legal teaching scholarship and practice, providing personnel for traditional law practice, non-governmental service, international diplomacy and academia.
At SoL, we impart quality legal knowledge and skills within an inter-disciplinary framework inspired by legal scholarship, outreach and a commitment to Justice for all, and produce
graduates well equipped to deal with new and emerging legal problems who will serve their clients and the community with integrity and excellence.
Contents
Commissioning of the New School of Law Building
Prof. Sylvia Tamale Awarded Honorary Doctor of Laws
HURIPEC Convenes Stakeholders to Discuss Militarisation, Sustainable Growth and Peace in Uganda
The Makerere Law Society At 50 Moot Court Trial
NEPTIL Calls for Justice
Externships By School of Law Students
Training of Students on Refugee Rights and Protection
2-Day Training Workshop on Public Interest Litigation as an Advocacy Tool
Makerere School of Law Female Staff Nominated for 2021 Women in Law Awards
Please see below for the full Newsletter.
Law Students Advised to Make the Right Choices and Work Hard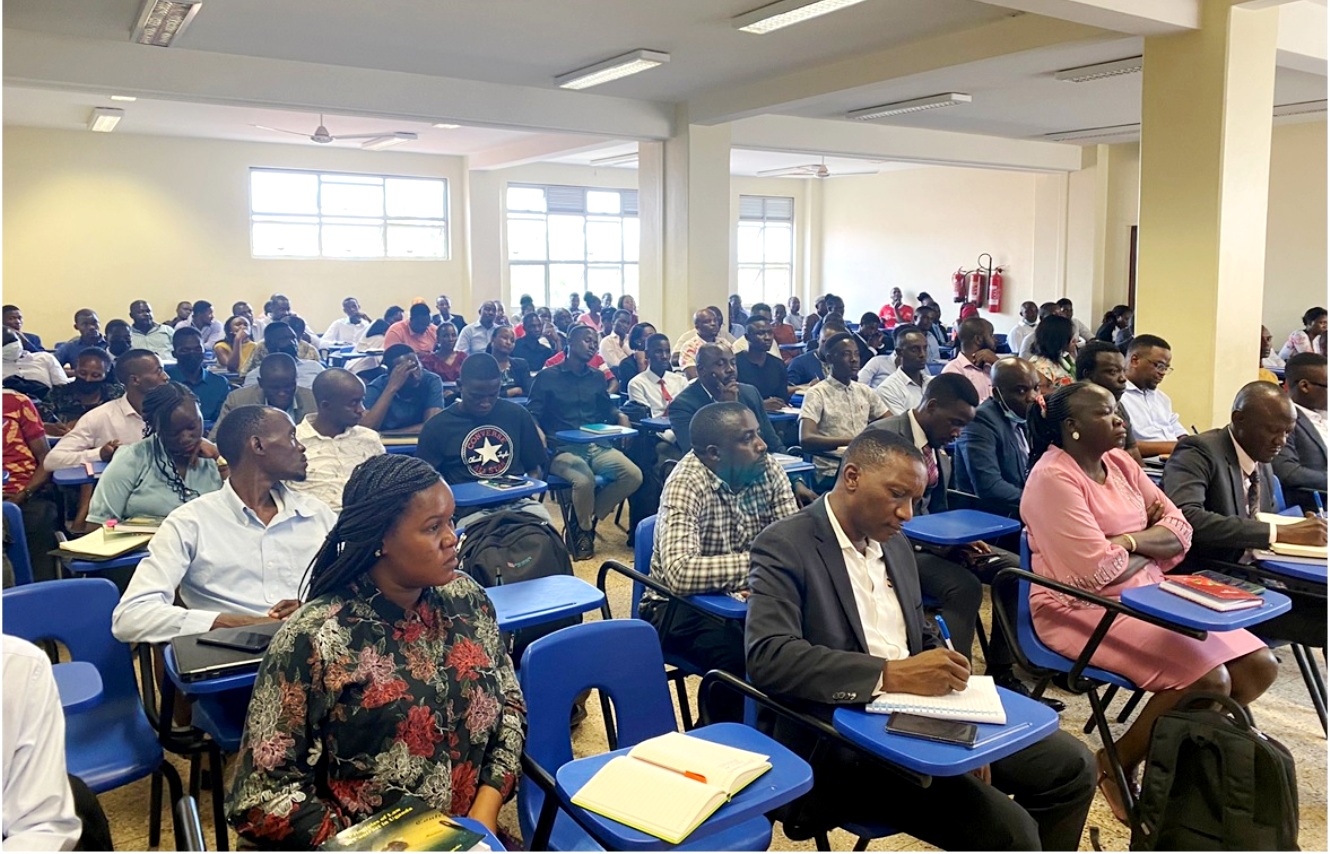 The Makerere University School of Law (SoL) held the Orientation Meeting for its First Year Students, Academic Year 2022/2023 on the 20th October 2022; Ms. Sarah Langa Siu, Chief Registrar – Courts of Judicature was the Guest of Honour.
Ms. Langa welcomed the freshers to the prestigious and honourable profession. She advised the students to make the right choices and work hard for the best grades during their time at University. 'Campus is a buffet with a lot to offer, make the best choices. Remember every choice has a consequence and your choice today will impact your tomorrow', she said. She highlighted a number of dos and donts which the students should take note of.Some of the points mentioned were: good role models and mentors; avoiding free things; minding the dress code and indecent dressing; quick money and deals, students using fees as capital; positive brand of self; vision and value addition.
The Chief Registrar added that 'there is a long life ahead of you and don't act like the world is ending, that everything has to be enjoyed within the 4 years of university'. Quoting the Bible Ecclesiastes 11:9, Ms. Langa told the students to enjoy their youth but to remember that God will judge them. She implored the students to work hard, be patient, be resilient and have a positive attitude, 'the major reason you are at Makerere is to study and make sure you leave with a good degree class not a pass' she said.
Staff welcomed the students to the SoL and gave them tips on how to use their time while at University.
In his remarks, Dr. Ronald Naluwairo (Associate Professor), Deputy Principal –SoL welcomed the students to Makerere University and the School of Law. He also conveyed a warm welcome from the Principal, Professor Christopher Mbazira who is away on official leave.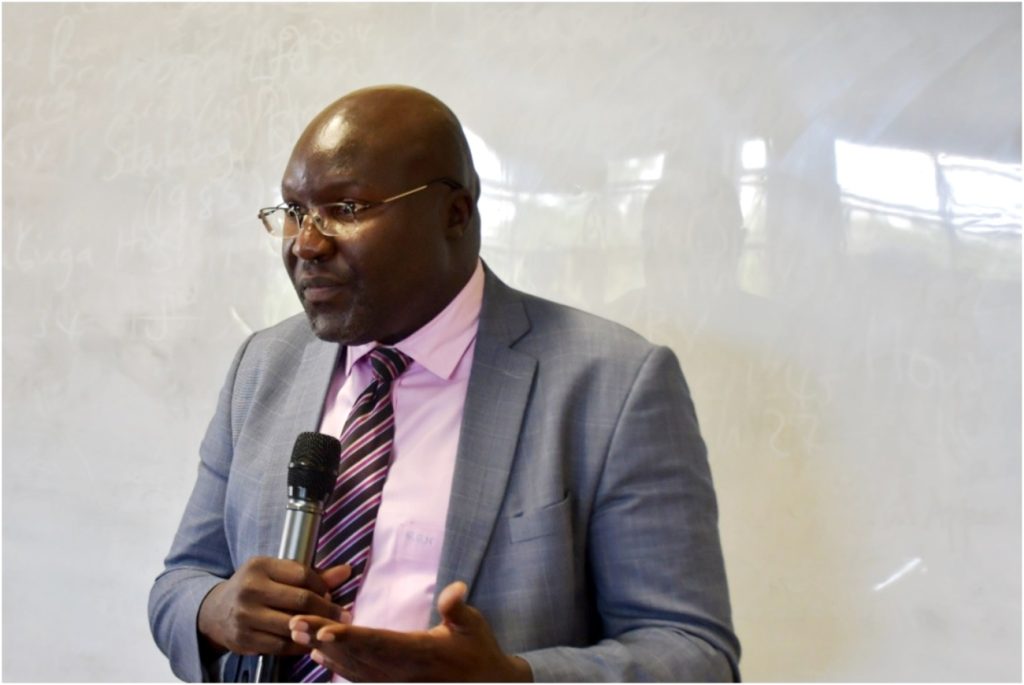 Dr. Naluwairo congratulated the students on joining a top law school in the country and region, he advised that the best teachers and resources are available and there is no reason for them to fail. 'If you want the best results, don't relax, concentrate on your studies and consult faculty and administration when you have challenges. We are here to ensure that you succeed' he added. The Deputy Principal reminded the students that SoL and Makerere University have a zero tolerance policy to sexual harassment as well as examination malpractice and irregularities. 'We wish you the best as you embark on this journey' he said.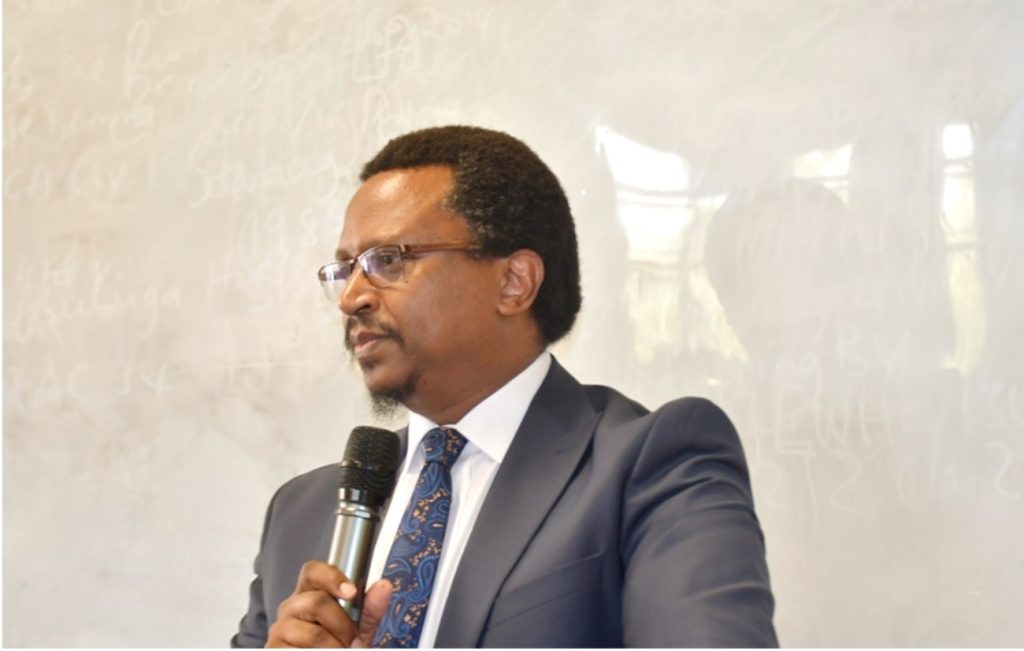 Mr. Ernest Kalibbala, Lecturer – SoL also welcomed the students to the School and Makerere University. 'You are the cream de la cream; the cream rises to the top, doesn't sink to the bottom. Grades are important in determining your professional journey, therefore study hard and start now', he told the students. Mr. Kalibbala further advised the students that you may feel overwhelmed at times but keep focused, be agile and work hard for the best results.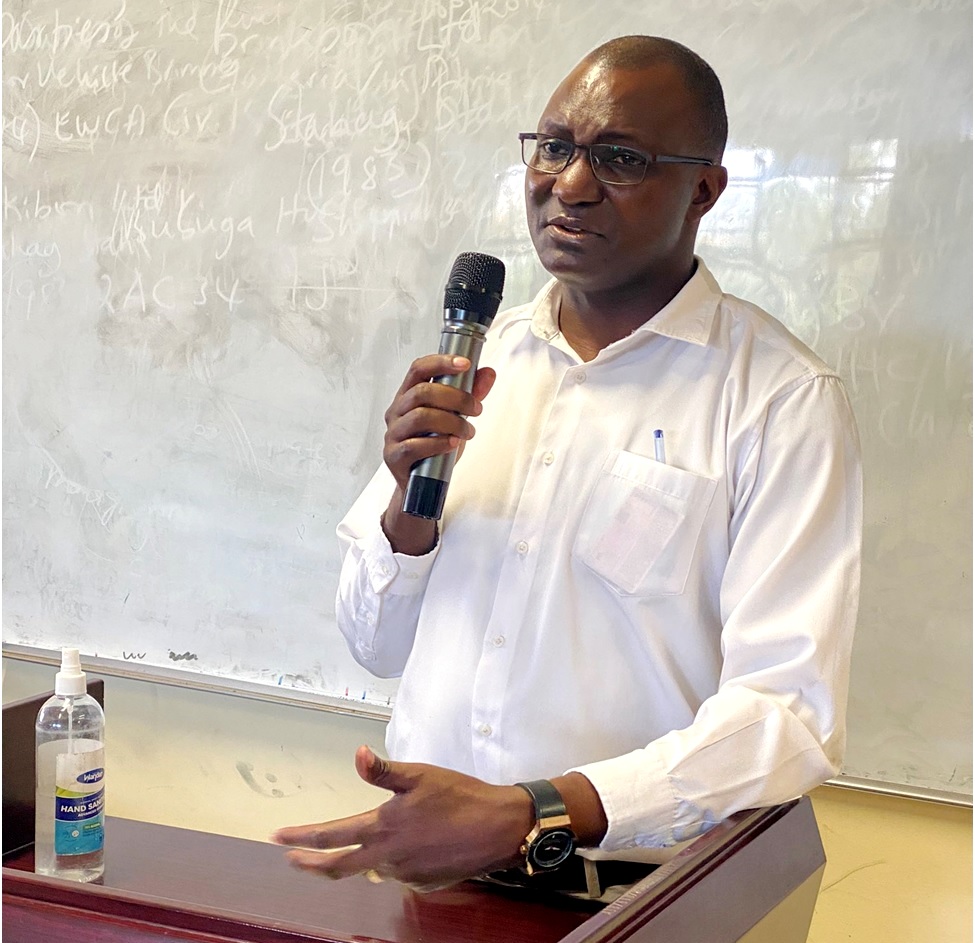 Dr. Kakungulu Mayambala (Associate Professor) also welcomed the students to SoL. 'Set aside time for self-study, at least 4hours per day. Avoid the following problem areas: early marriages, alcoholism, late night movements, political activism, excessive prayer activities. Find a balance, otherwise your studies will be affected' Dr. Kakungulu Mayambala advised the students.
Administrative staff spoke to the students highlighting the services available and where to access assistance. Mr. Abigaba Vincent, College Registrar – SoL and Ms. Hellen Mirembe, Examination Officer – SoL explained to the students the registration and examinationsprocesses. Both officers advised the students to read the joining instructions booklet carefully and to avoid circumstances that may lead to suspension or expulsion from university such as examination malpractice to which others have been culprits.
Ms. Caroline Abilat and Ms. Evelyn Harona represented the Directorate of Gender Mainstreaming and Department of Guidance and Counselling respectively. Ms. Abilat talked to the students about the University Anti-Sexual Harassment Policy and the scholarships available. Ms. Harona advised the students to take care of their mental health and to seek help when they experience challenges.
Call For Applications: Administrative Officers' Law Short Course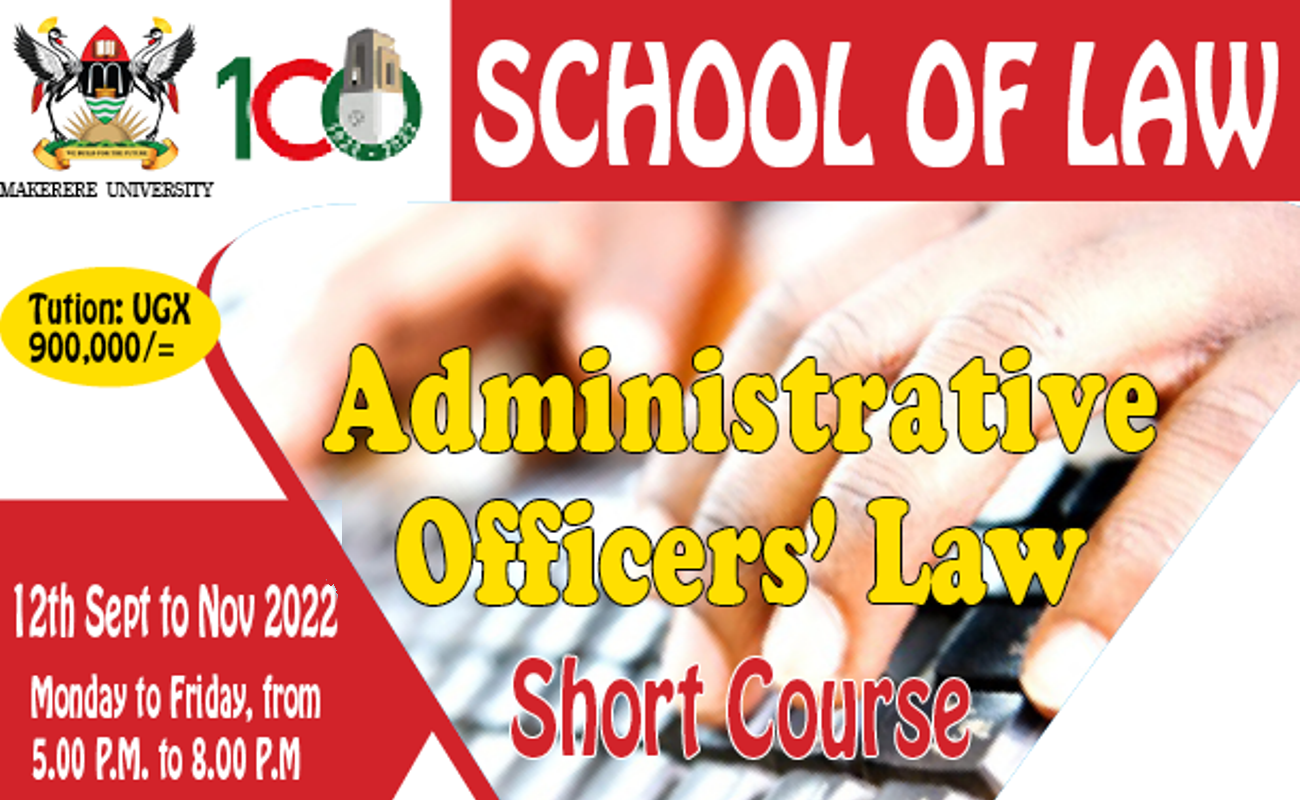 Makerere University School of Law invites applications for admission to the Administrative Officers' Law Short Course for the KAMPALA CENTRE that will run for two (2) months during the period (12th Sept. to Nov. 2022). The course will start on Monday 12th Sept.  2022 at the School of Law premises. Classes will be conducted from Monday to Friday, between 5.00 P.M. to 8.00 P.M.
The tuition for the course is UGX 900,000/= and the application fee is UGX 50,000/= plus bank charge of UGX 2,750/=. Payments should be made to Makerere University/Uganda Revenue Authority, using a Deposit Reference Number (DRN) obtained from the Office of the Bursar of the School. Please contact Mr. Rolland Mpiriirwe on 0777699887/0701338259 or rmpiriirwe@gmail.com/ rmpiriirwe@law.mak.ac.ug
The minimum admission requirement for the course is 'A'Level or its equivalent.
We also have other centres in Tororo, Jinja, Mukono, Mityana, Masaka, Arua, Lira, Gulu, Moroto on weekends, for (9 weekends).
For more information, contact the Course Coordinator, Assoc. Prof. Ronald Kakungulu-Mayambala on 0772318528/0752983648 or rkakungulu@law.mak.ac.ug
Ndagire Joyce Irene (Administrator) on 0772498954/0701498954 or  joyce.ndagire@mak.ac.ug/ ndagirejoys@gmail.com, Department of Public and Comparative Law, for Application forms and also a soft copy can be sent
Desk Officers for the Centres
| | | | |
| --- | --- | --- | --- |
| 1. | Kampala Centre (MUK) | Ndagire Joyce Irene | 0772498954/0701- ongo |
| 2. | Masindi Centre (Capstone Institute) | Ajuna James | 0779810080/0776676769 |
| 3. | Mukono Centre (DLG) | Zaina Ssebidde | 0772717842/0752655387 |
| 4. | Jinja Centre (Campus) | Asiimwe Donah | 0782767650/0702978936 |
| 5. | Masaka Centre (Sazza) | Namanda Rose Sylvia | 0706343052/07820280815 |
| 6. | Tororo Centre | D.J. Ochieng | 0772662368/0753464655 |
| 7. | Mityana Centre (Kolping) | Ssemango Lawrence | 0706856979 |
| 8. | Gulu Centre | Ouma Victor | 0780190926 |
| 9. | Lira Centre | Okwir Isaac | 0773895958 |
| 10. | Moroto | Lotyang Judith | 0775208529 |
| 11. | Kabale | Tumuheereze Julius | 0772323114 |
Vice Chancellor congratulates School of Law team upon winning the 2022 All-Africa Human Rights Moot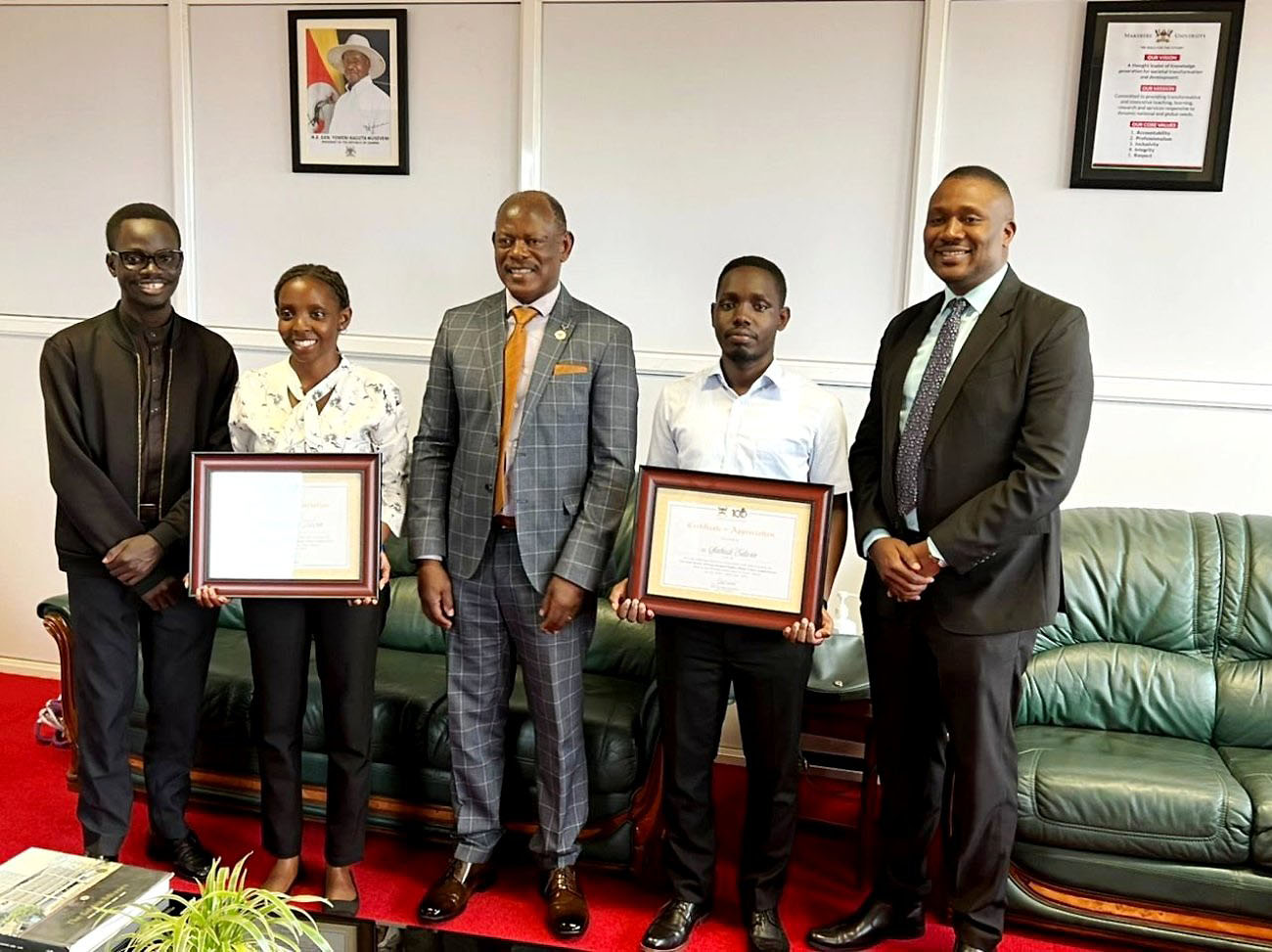 Professor Barnabas Nawangwe, Vice Chancellor – Makerere University has congratulated the Makerere University School of Law (SoL) team – Ms. Kevin Nakimbugwe and Mr. Edwin Sabiiti upon winning the 2022 edition of the Christof Heyns African Human Rights Moot Court Competition. The Moot Competition held from the 25th – 30th July in Cairo, Egypt was hosted by The British University in Egypt.
The All Africa Moot Competition is named after Professor Christof Heyns (1959-2021)who was a Professor of Human Rights Law, Director of the Institute for International and Comparative Law in Africa at the University of Pretoria and a member of the United Nations Human Rights Committee. The 2022 edition attracted a total of 50 Law Schools, 38 of these were English speakers.
The Vice Chancellor hosted the winning team in his Office on Thursday, 4th August, 2022 and presented Certificates of Recognition to Kevin and Edwin for making Makerere University proud. Dr. Daniel Ruhweza, Lecturer at SoL and Patron of the Makerere University Moot Society and Mr. David Kasibante, alumni – SoL and team coach also attended the presentation.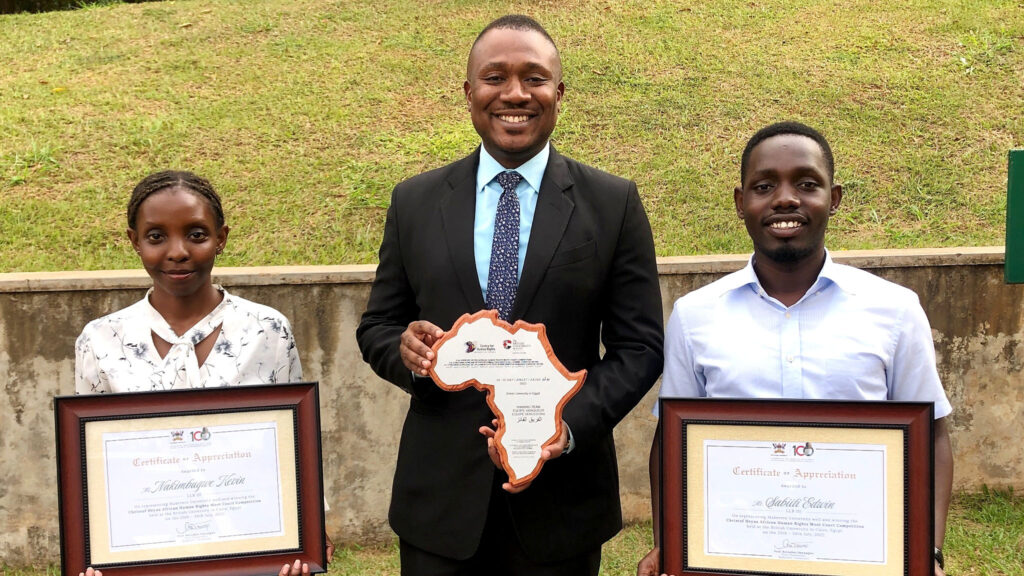 Explaining to the Vice Chancellor, Dr. Ruhweza said, "We are happy that you have hosted this team which worked so hard to bring the trophy home". He also highlighted the rigorous process through which the team that represented Makerere University was selected.
In his remarks, Professor Nawangwe said, "I congratulate you for winning the competition and making Makerere University proud, more especially in this centennial year of celebration for the institution. Thank you for flying the Makerere flag high which instils confidence that the University and our School of Law are centres of excellence". He commended the team for their commitment and doing their best to represent Makerere University. Professor Nawangwe also thanked Dr. Ruhweza for committing time to support the students. He added, "this is an activity that should be supported and I will present it to the University Council for inclusion in the budget for financial year 2023/2024".
Sharing their experience from attending the competition, Kevin and Edwin explained to the Vice Chancellor what is entailed in participating.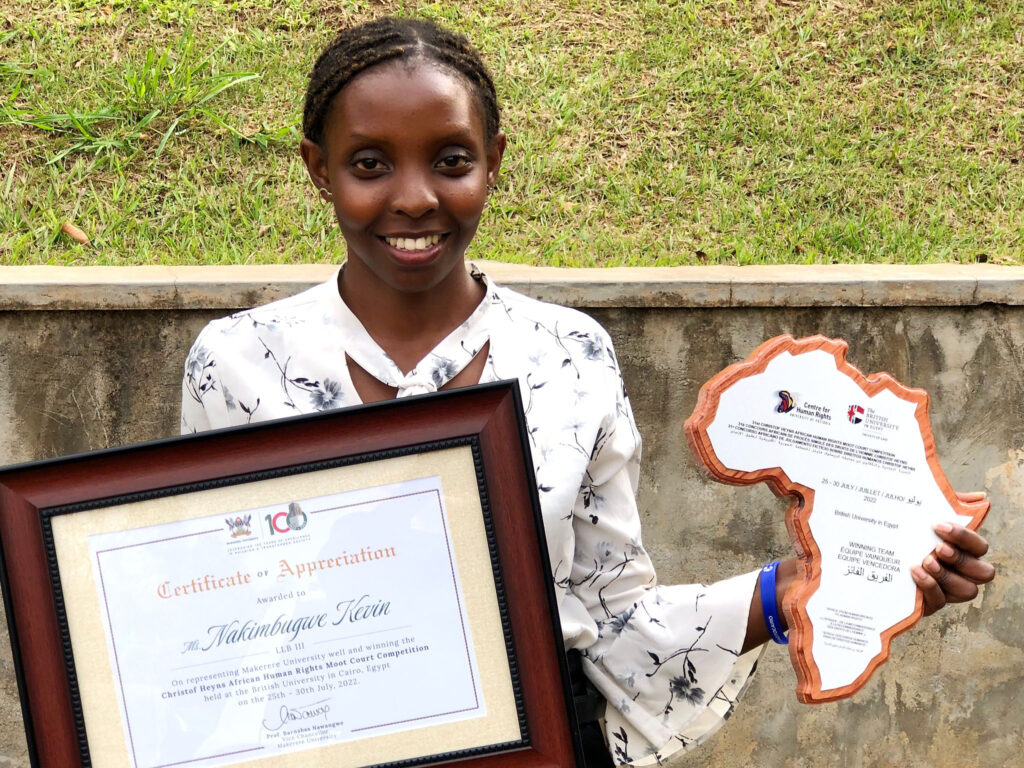 "The Moot was very challenging in-terms of preparing for the competition while balancing it with class work; the processing of travel documents and visas was also quiet hard. We are grateful that you have hosted us here today and also the support of the SoL, University that enabled us to triumph despite the challenges", Ms. Nakimbugwe said. Kevin added, "we are a brilliant team and our win is evidence".
Edwin Sabiiti who is also the President of the Makerere University Moot Society said, "the society organises internal moots, identifies the students to represent the University at various competitions. We participate in several competitions within the country, continent and internationally, only that this is the most prestigious. Makerere University are reigning champions of the national Center for Health, Human Rights and Development (CEHURD) Moot Court Competition".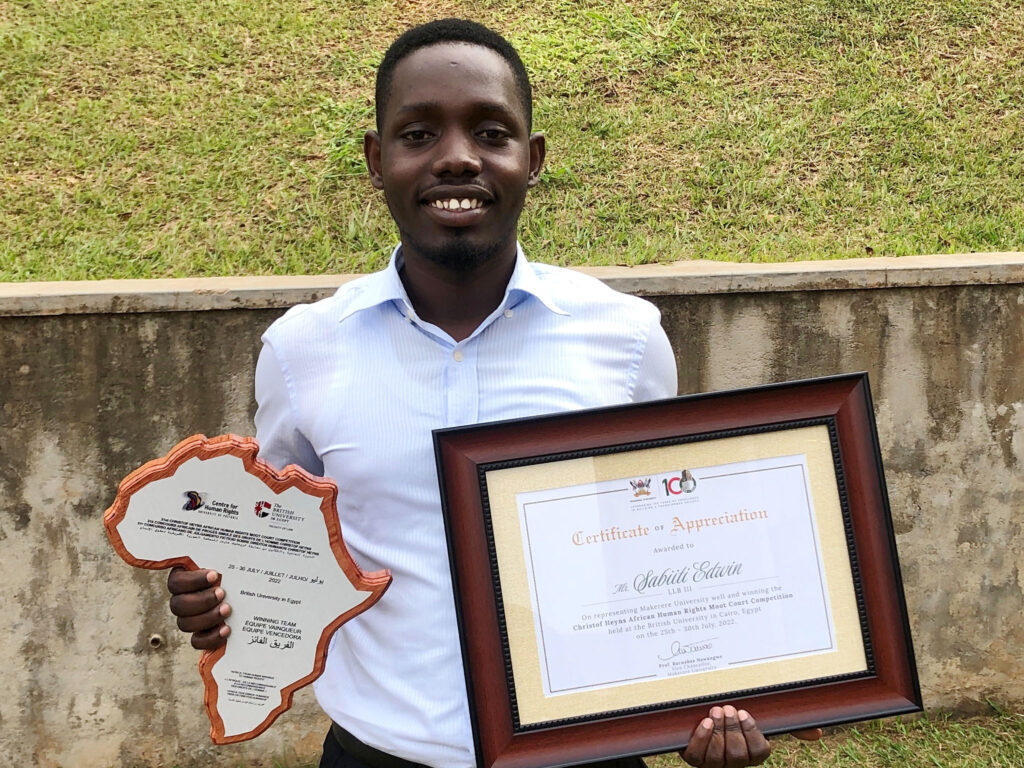 Edwin further explained that mooting is an opportunity to learn as well as apply the law that we learn in class. He expressed that the University should consider inclusion of mooting as a course unit on the academic transcript because a lot of time is spent in preparing for the various competitions. Edwin also requested that the University extends a supporting arm in facilitating preparations for the various moots that the students participate in.
SoL teams also won the 2018 competition held in Accra Ghana; were 2nd in 2019 edition held in Gaborone, Botswana and emerged finalists in the 2020 edition held online and the 2021 edition held in Stellenbosch, South Africa.
Read more about the Competition:https://www.chr.up.ac.za/moot#:~:text=The%20Christof%20Heyns%20African%20Human,of%20human%20rights%20in%20Africa