ECRLF Helping to Co-create the Future of African Academic Leadership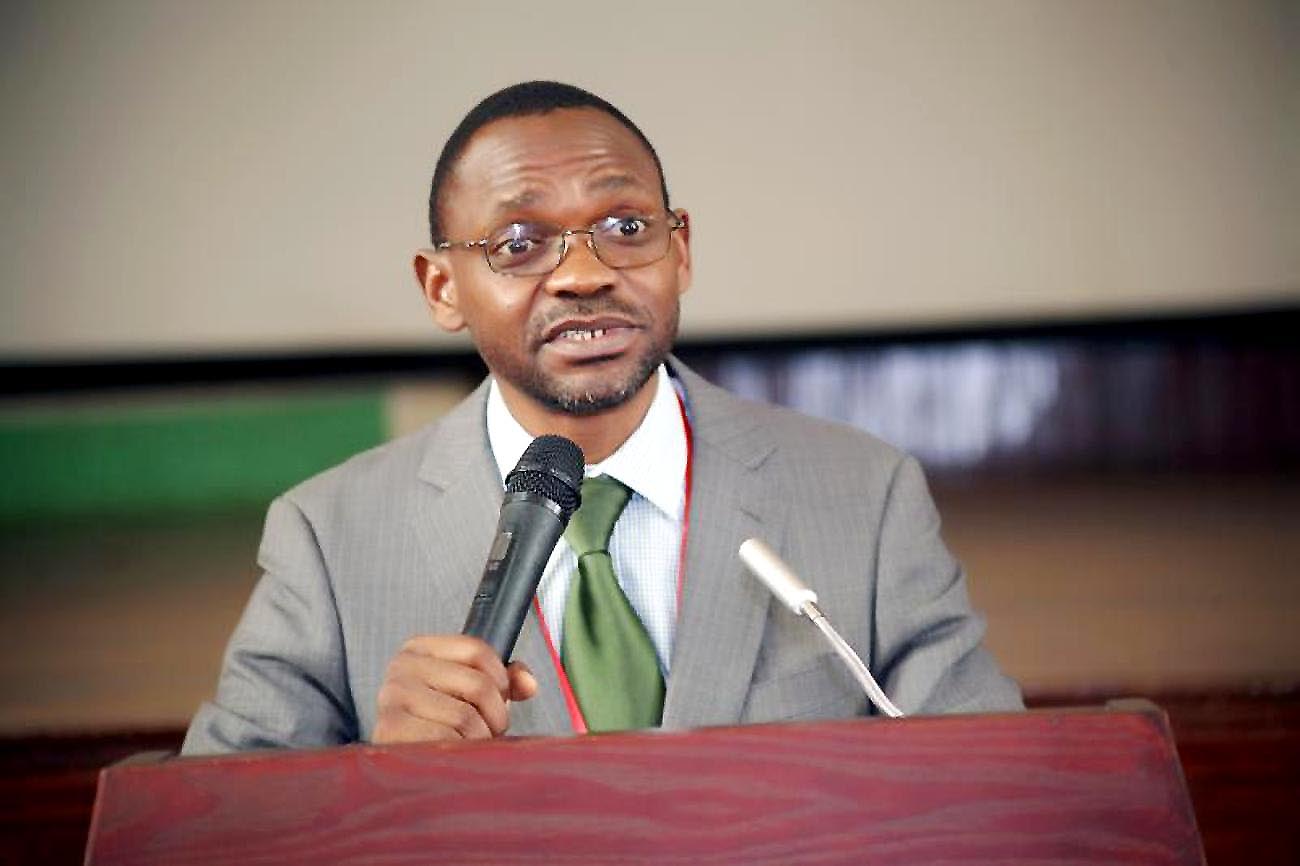 Makerere University in partnership with University of Pretoria on 14th September 2021 hosted the Future Africa's Early Career Research Leader Fellowship (ECRLF) Dissemination Workshop in the Central Teaching Facility 2 (CTF 2) Auditorium and virtually. ECRLF's aim is to offer an opportunity for development of research leaders who will be able to fill a critical gap in the African research capacity ecosystem. This fellowship program is offered by the University of Pretoria with support from the Carnegie Corporation of New York.

The Principal Investigator (PI) of the ECRLF program at Makerere University and Lecturer in the Department of Population Studies, Dr. John A. Mushomi, thanked Future Africa for the first-of-its-kind fellowship accorded to young African academics.
"We are used to taking leave from academia at a much later time in life, where we have professors taking their sabbaticals, but within five years of finishing my doctorate, I was given an opportunity to spend two years at the University of Pretoria and interact with academics from across different disciplines and universities in Africa" explained Dr. Mushomi.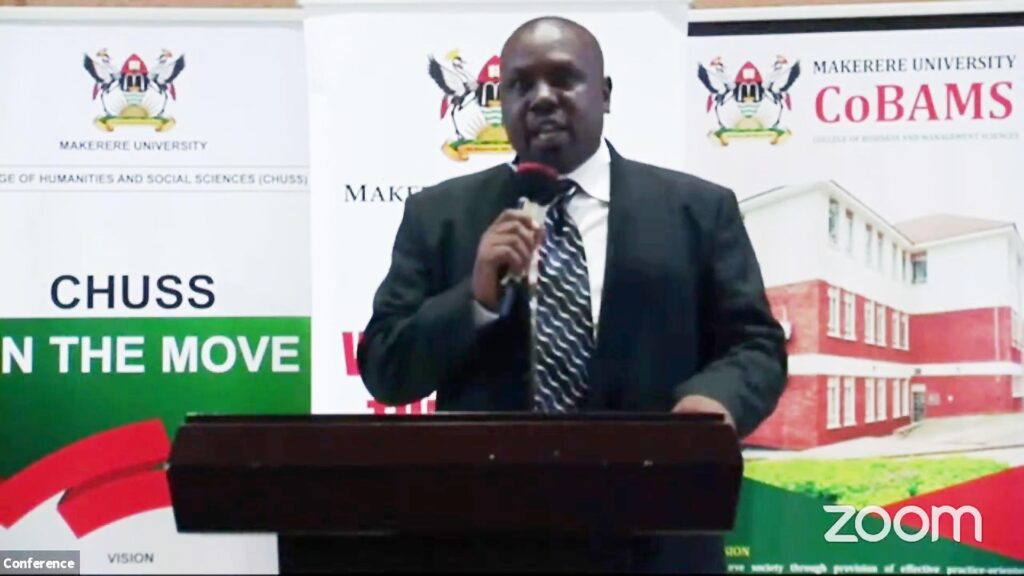 In this respect, he thanked the Carnegie Corporation of New York for sponsoring the ECRLF and the University of Pretoria for hosting the fellowship. He equally thanked Dr. Cori Wielenga from the University of Pretoria for the mentorship accorded to him during the fellowship.
"We had the opportunity to interact with fifteen researchers from different disciplines and spent time learning and training together, and we have not been the same since. We were not just invited to participate but to also co-create what we think is the future of African academic leadership" added Dr. Mushomi.
Speaking on behalf of Future Africa, Rachel Fischer said, "In particular we see with this conference today our very important objective to work with a transdisciplinary mindset and engagement towards forming partnerships, and to collaborate across various disciplines."
She added that the shift from physical to virtual and online collaboration is an active endeavour towards breaking down silos within disciplines, partnerships as well as across various countries on the African continent. The outcomes from such partnerships, she noted, would allow all stakeholders to have a peaceful and secure Africa that is stable and fully functional, while ensuring that the values and ideals of Africa are prioritised.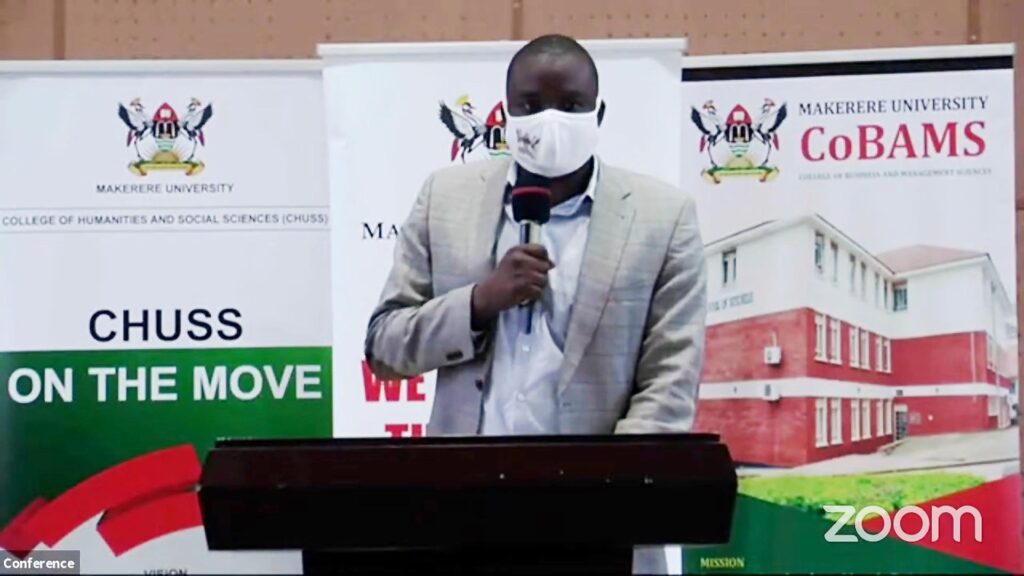 The Dean, School of Statistics and Planning (SSP), Dr. James Wokadala, who was represented by the Head, Department of Population Studies, Dr. Stephen Wandera noted in his remarks that SSP encourages staff to go beyond conducting research and publishing to mentoring students into the next generation of African academics by co-publishing with them.
In line with the workshop he thanked the University of Pretoria for the partnership, noting that "collaboration among African academics helps us to build more comparative studies across the continent, allowing colleagues to learn from each other the best practices and opportunities that can move us forward."
He congratulated Dr. John Mushomi upon completing his post-doctoral research experience at UP, which culminated into the exciting workshop.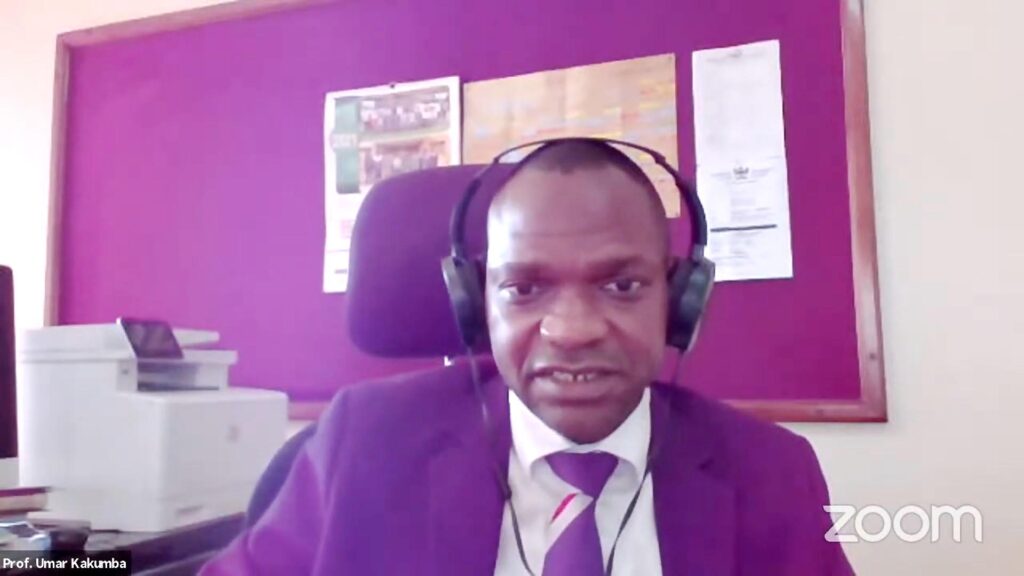 Officially opening the workshop, the Deputy Vice Chancellor (Academic Affairs)-DVCAA, Dr. Umar Kakumba applauded the University of Pretoria supported by the Carnegie Corporation of New York for the great capacity development for future academia and African leaders. The workshop was based on the theme, History Meets Demography: Multi-Disciplinary Inquiry on Poverty, Resource.
"I applaud the University of Pretoria on this move and demonstrating the great potential that Africa has, especially the academic institutions, in mobilising resources, bringing together the African scholars and giving them an opportunity to explore and forge South-to-South collaboration" remarked Dr. Kakumba.
He added that South-to-South collaborations help to build a solid academia across the continent, enabling them to find solutions to emerging problems of African societies. The DVCAA noted that COVID-19 had brought to light the vulnerability of Africa's dependence on the global North to solve her fundamental problems as well as the greater role that universities ought to play.
"And we cannot play this role as Universities outside the shadows of partnerships between our institutions, and without building the huge capacity of early career researchers" he observed.
The DVCAA therefore noted that workshop's theme and its concerns about issues of history and demography were source of great hope, especially given its transdisciplinary nature.
"We are able to dialogue on history and demography and see how we can address issues of poverty in light of our past experiences as well as interrogate the nature of our population and the characteristics that affect our society in various ways" he stated.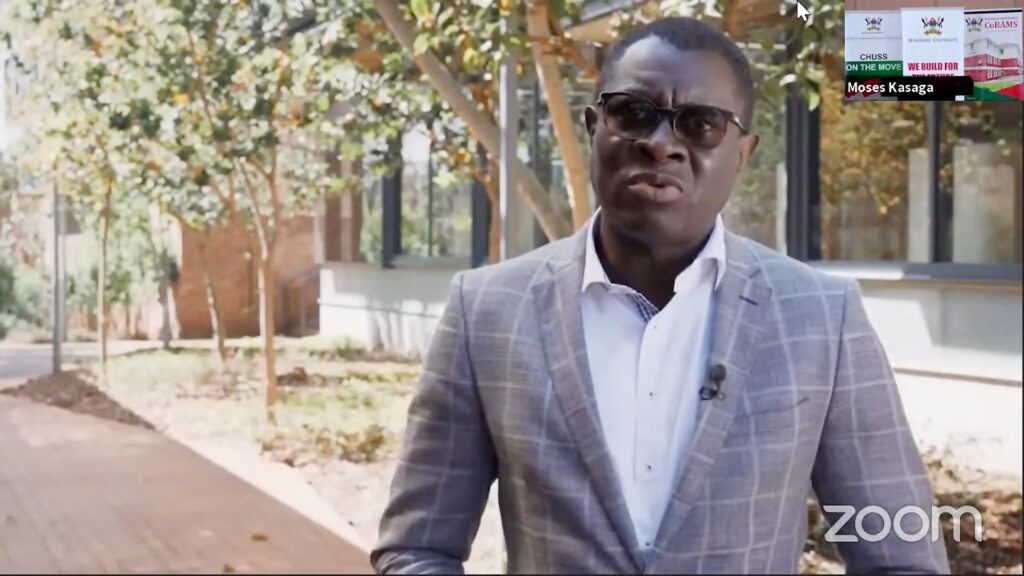 In his welcome message, Prof. Cheikh Mbow, Future Africa Director at the University of Pretoria noted that his organization had over the years been holding academic workshops on different topics across different African countries.
"The reason why were are trying to empower the early career scientists is actually to be able to close the loop in terms of availing science in order to package and deliver knowledge to everyone who needs it, particularly the stakeholders.
"Today's topic is very timely. It's about poverty in Africa, it's about resources in Africa, and it's about mobility in Africa. The poverty line which had come to be stable at some point or decreasing quite slowly over the projected years to come has just suddenly gone into a spike – Africa now has more than 50 million new poor people coming into the statistics of the World Bank" remarked Prof. Mbow.
He concluded by noting that research is not only about hardcore science but looking at all other aspects of life as contributors to knowledge production. "The transdiciplinary theme of the workshop is one of the most important discussions that ECRLF could have."
The workshop featured four parallel sessions that covered;
Governance, Security, Peace and Conflict I
Mining, Resource, Extraction and Policy frameworks
Global Trends in Interdisciplinary Research and Governance, Security, Peace and Conflict II and
Education and Development and Resource extraction and Policy frameworks II
During the closing ceremony, Dr. Cori Wielenga on behalf of ECRLF thanked participants for the wonderful conference proceedings as fostered by Dr. Mushomi's involvement with the University of Pretoria.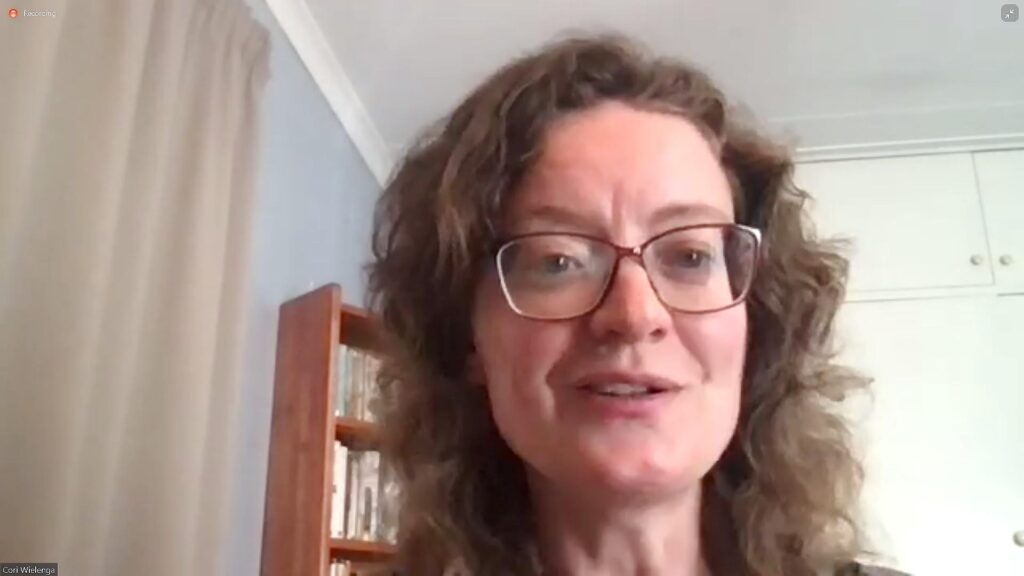 "The purpose of this fellowship and its collaboration is to promote interdisciplinary research as well as collaboration between institutions on the continent and in this regard Dr. Mushomi has made excellent use of the fellowship to meet its objectives including through this conference" she elaborated.
The program mentor from UP added that her collaborative work with Dr. Mushomi was particularly in the areas of resources, identity and migration, which remain a challenge to Africa and the entire globe.
Dr. Wielanga thanked Makerere University for supporting the event, and Dr. Mushomi as well as the coordination team for organizing a successful hybrid event. "We do hope that we will be able to meet in person in the near future as we deepen the collaboration between our institutions."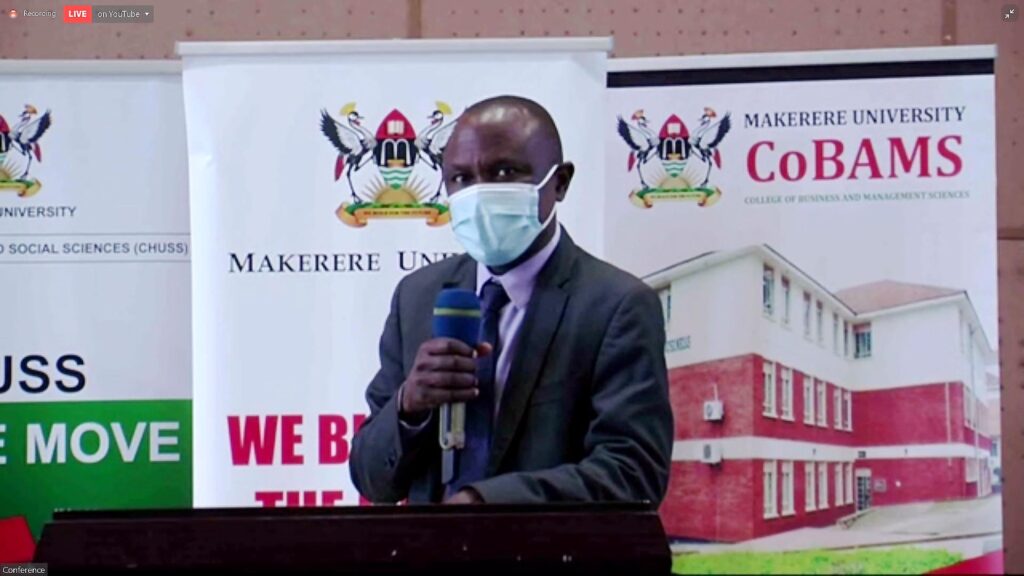 Addressing participants, the Principal, College of Business and Management Sciences (CoBAMS), Dr. Eria Hisali congratulated Dr. Mushomi upon successfully convening the hybrid workshop and extended his appreciation to the funding partners for supporting both the event and work of early career researchers.
In terms of providing sustainability to the collaboration, Dr. Hisali appealed to all the partners to regard the day's workshop as a starting point and work towards strengthening their collaborations so that a lot more work can be done in other fields of research.
He equally appealed to the collaborating parties to use the findings generated thus far to engage policy makers, civil society and the private sector under a framework of policy labs, at least once every quarter. The Principal further called for the integration of students into research activities, as a way of creating multiplier effects that can continue to inform policy debates.
"As the College of Business and Mangement Sciences, we commit that out of our small grants research programme, we should be able to take up funding to further studies in some of these areas" concluded Dr. Hisali.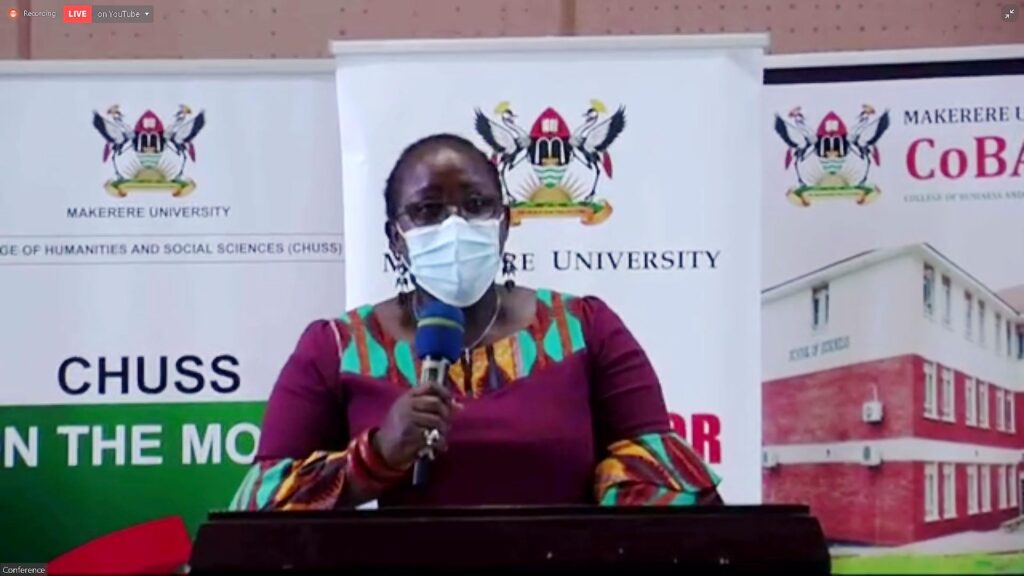 Delivering the closing remarks, the Principal College of Humanities and Social Sciences (CHUSS), Dr. Josephine Ahikire noted that interdisciplinarity increases the University's relevance to society by bringing forth perspectives that enrich the understanding what is at stake in terms of development challenges.
"It is very exciting that we are re-centering history as a key perspective in whatever we do as a university. We know that in the past decade, history had been relegated as a study of the past but actually, history is not just a study of the past, it is the understanding of the totality of humanity for you to be able to actually craft a way forward" Dr. Ahikire explained.
The Principal noted that resource conflicts and contestations are at the heart of human existence. As such, she opined that issues such as citizenship, tribe and nation were very important and the workshop had commendably provided a space where early career researchers can try to provide answers to questions of the time on the African continent.
"A research-led university is one where the people engage intellectually. These engagements improve the academic environment for staff as well as students" she concluded.
The abstracts and presentations from the workshop will contribute to an edited book to be published by Palgrave.
Please click the embedded video below to view proceedings from the Workshop
Opening Session
---
---
Session 1A: Governance, Security, Peace and Conflict I
---
---
Session 2A: Global Trends in Interdisciplinary Research and Governance, Security, Peace and Conflict II
---
---
Closing Ceremony
---
---
Makerere Innovations Hub celebrates Persons living with Disabilities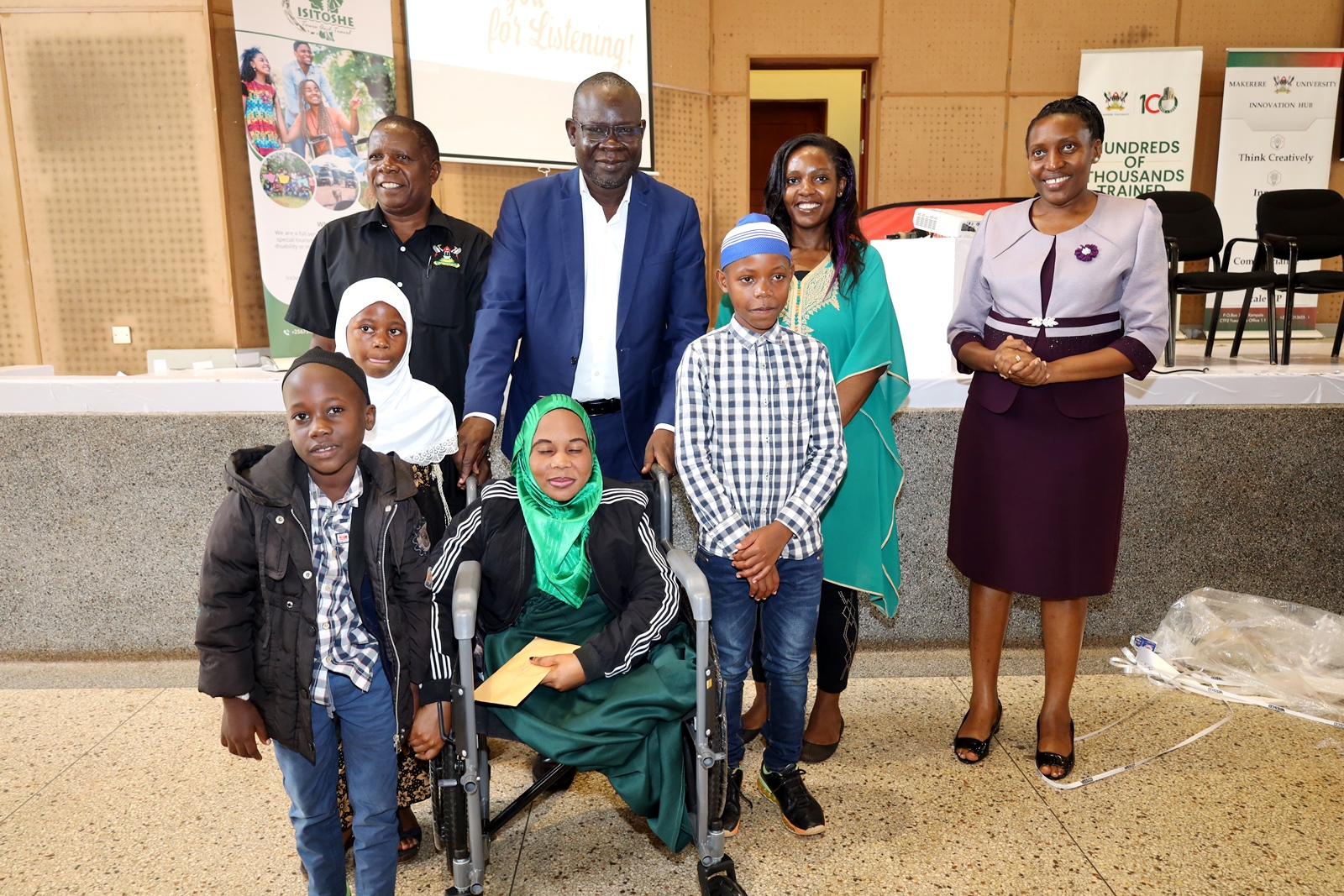 Makerere University Innovations Hub has commemorated the international day for persons living with disabilities by celebrating these young innovators.
The celebrations were held at Makerere University in the Yusuf Lule Teaching Facility-Auditorium on December 01.
The persons living with disabilities showcased different skills in shoe making, soap making, bracelets making, weaving among others, parading their items they make to earn a living.
Makerere University Innovations Hub started up a project last year dubbed, "Innovativeness of Young Persons with Disabilities in Uganda" to support them in discovering their skills and help them to start a journey to economic empowerment. The programme is sponsored by the Royal Academy of Engineering, a UK based agency.
Dr Cathy Mbidde, the Principal Investigator (PI) of this programme, said she conceived the idea in December 2022 from a class assignment that she gave to students to go into the community and identify problems.
"I wanted them to go and find problems in the community to start a business. So they identified a few problems but one of the groups of students had a disabled person and she was struggling as they were arguing how to develop the product. That is how I realized that I can do something to impact people with disabilities," she said
Dr Mbidde said she took a step to initiate a programme that can keep these persons busy and at the same time start up some businesses convenient for them to do.
"In December last year, there was a call from the Royal Academy of Engineering providing grants and I wrote and won the Frontiers Champions grant of around Shs42 million to organize an event," she said.
She says one of the objectives of this programme was to identify persons living with disabilities who are innovative.
"How are they able to maneuver and start an enterprise or do some kind of business in an innovative way. I also wanted to look for stakeholders who can support them to execute their innovativeness," she said.
The PI wanted to get for them a platform where they can come together and share experiences.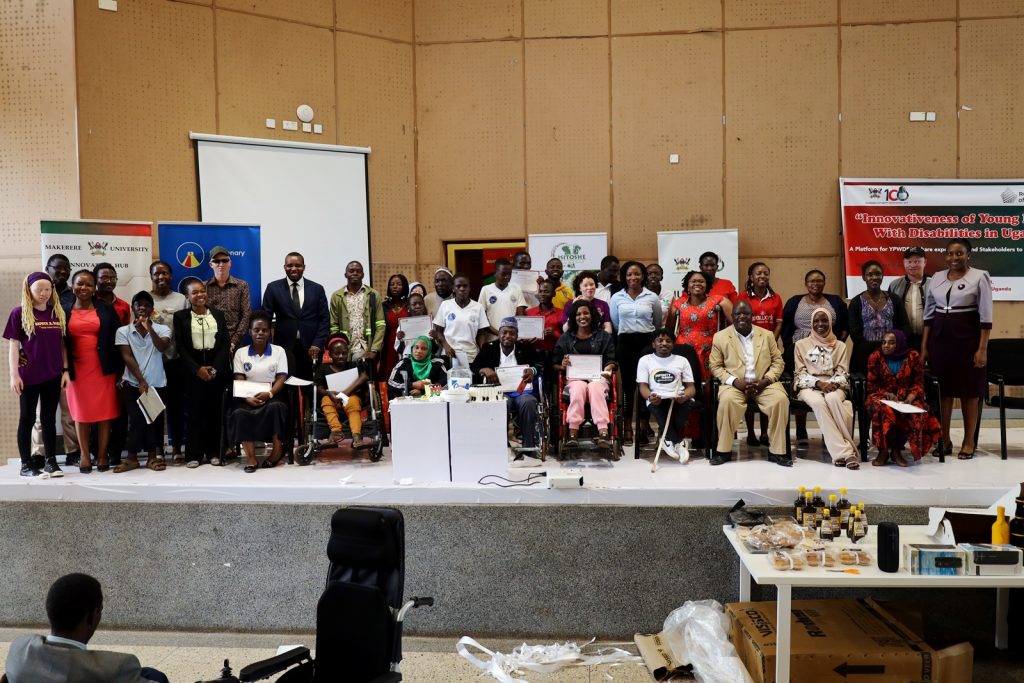 During the initial stages of the programme, Dr Mbidde went out to the field and made research about persons living with disabilities. She identified a few things that they needed including decent housing after noting that some of them were living in houses which could not accommodate them.
She also found out that these people lacked school fees to take their children to school and something needed to be done to see a way to bail them out of this situation.
"They had the skills but did not have the resources, we therefore came up and picked 15 persons during our pilot study of one year," she said.
Dr Mbidde partners with different agencies and organizations to pave a way of helping skilled persons living with disabilities.
Ms Penninah Nakandi, one of the persons living with disabilities who doubles as the Executive Director of Persons with disabilities in Business Uganda (PIB-UG) said she empowers youth and mothers of children living with disabilities through an economic skilling programme.
"We believed that after dropping papers of applications seeking for jobs and people at times don't even respond to us, we decided to startup that initiative and we have moved a long way because we have a total of 55 members," she said adding that PIB-UG offers mentorship and empowers people to work as a team.
Mr Gerald Sunday, the Centenary Bank branch manager at Makerere said they have special packages for PWDs who are doing private businesses, small scale cottage businesses like those doing tailoring, liquid soap making, shoe making among others.
"We invite them to come for startup capital. We have youth negotiable loans at 16 percent per annum right from shs50,000 up to shs5 million as long as they qualify and are in the age bracket of the youth," he said.
Mr Edwin Leroy, the Operations manager at Isitoshe Tours and Travel company, which mostly deals with people living disabilities in touring services said most of these people have been left behind but they have now embarked on helping them to engage in different job opportunities.
"We want to take the initiative to be part of this programme to see that the persons living with disabilities can exercise their skills and at the end of the day, they can improve their well-being," he said.
He added: "We want to help them to engage in different activities that can generate income for them and equally participate and compete with all other people that do not have disabilities."
Makerere University hosts CSAE Economic Development workshop 2023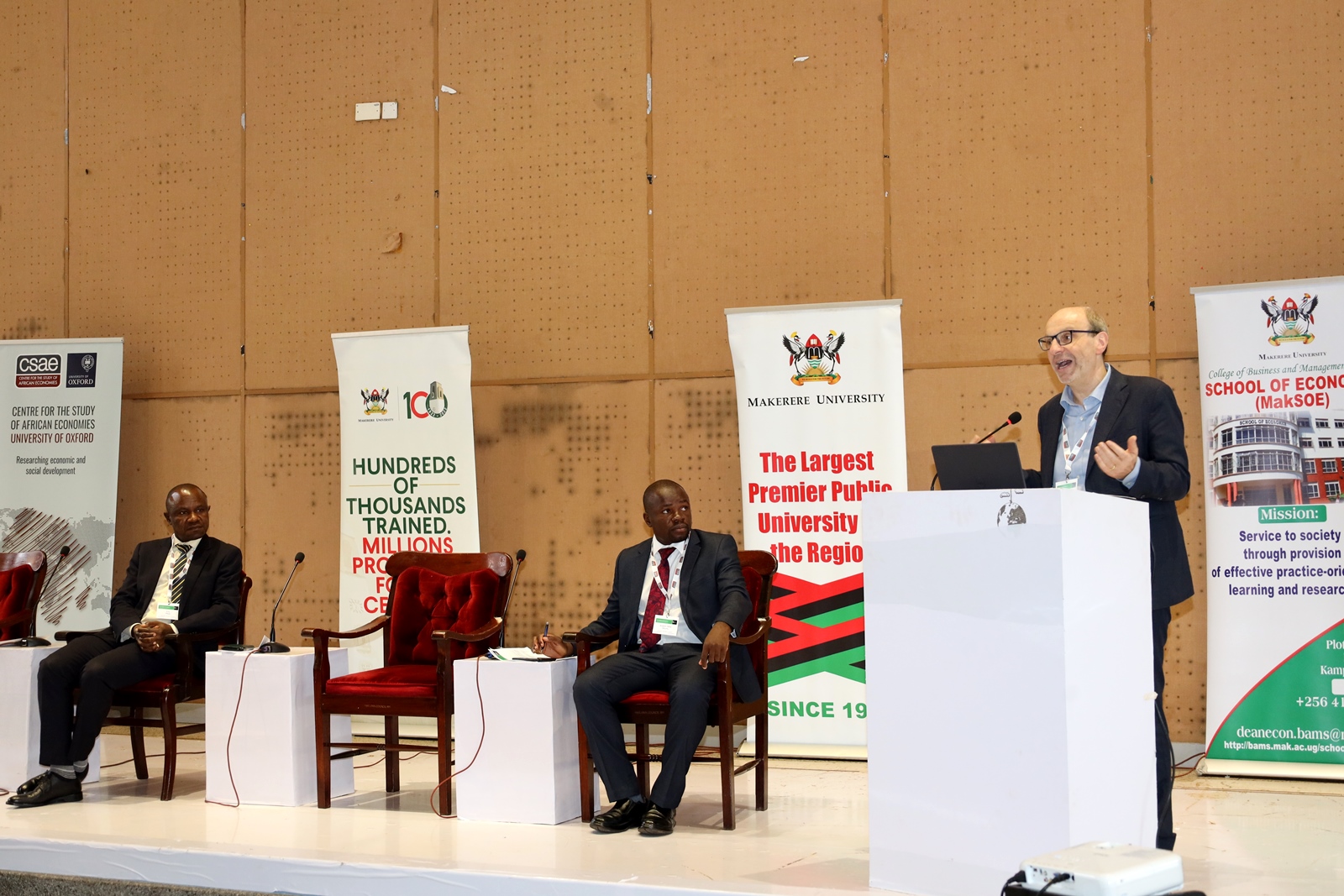 Makerere University has hosted this year's Center for the Study of African Economies (CSAE) workshop that brings together scholars across the world.
The workshop started on November 27and is expected to run up to November 30 at Makerere University Yusuf Lule Central Teaching Facility II (CTF).
The Center has brought together economic scholars from Africa, Europe, North America, and Asia among others to discuss how the economy of Africa can be developed through conducting research.
According to Prof Eria Hisali, the Principal of the College of Business and Management Sciences (CoBAMS), they are looking at scholars doing research to the extent that it can help them to understand the problems hindering development, understanding the obstacles and finding the correct solutions to the development of the African countries.
"Researchers are presenting their research to get advice, get room for improvement and pave a way of translating the research finding into policies," he said.
He noted that it is a great opportunity for researchers from different universities both on the African continent and outside the continent to present the work that they are doing and to understand the economies of the different countries.
This years' conference is attended by about 40 speakers on the continent and around 10 speakers from Europe, Asia, and North America, Canada among others discussing different areas that are relevant to understanding the economies.
These include the Natural resources and environmental misuse, fiscal policies and monetary policies, agriculture, inequality and poverty and trade and structural transformation among others.
Prof Hisali said Uganda's problems arise from her structural formation but there is need to look beyond just the physical problems like poverty and unemployment and establish the root cause of that.
"It is true we have unemployment in Uganda and we still need to grapple with issues of poverty but we need to appreciate that unemployment, poverty among others are not the primary problems, they are actually effects of certain underlying problems. So, we want researchers to understand what explains unemployment as we see it," he explained.
Prof Stefan Dercon, the Professor of Economic Policy at the University of Oxford who doubles as the Director of CSAE revealed that African researchers need to improve the quality of their work and create avenues for associating with policy makers to appreciate their work for the development of their economies.
"Scholars are presenting their research and we give them feedback, share knowledge and learn from each other. A lot of research is still academic because we don't create space for advisors. Very many economists are not good translators of research not only in Uganda but throughout the world," he noted.
Prof Ibrahim Mike Okumu, the Dean of the School of Economics said this forum brings together scholars to discuss issues of the African economy among their colleagues who appreciate the African context saying, "They are here for quality checks. We have an opportunity to improve the quality of research papers that scholars across the African continent have developed. By improving the quality, we are trying to get authenticity, proof that the methodologies, the quality of analysis that we have is of standard and consequently we can have credibility regarding policy recommendation that will come from research papers."
African scholars have come from Cameroon, Morocco, Ethiopia, Kenya, South Africa, Nigeria, and Botswana among others…
He re-echoed the message from the Principal concerning the problems affecting Uganda noting that they are not unique to Uganda, she (Uganda) is just struggling with sluggish structural transformation and that is the transition from agriculture to industry which he says is the same story across Africa.
"For as long as industries are not able to create sufficient jobs, the economy cannot pick up because the industry is what moves agriculture forward and is what gives business to the service sector. For as long as industry is not robust enough then you tend to have weak service and agricultural sectors," he emphasized.
Dr Oluwabunmi Adejumo, a senior lecturer at Obafeemi Awolowo University in Nigeria who is conducting research on the clashes between herders and farmers from different states of the country from which over 10,000 fatalities were registered in 2020, advocates for a law of migrating herders to a separate place and stay away from farmers.
She noted that herders in Nigeria graze their cattle on the crops of farmers when the green space is exploited as a result of climate change like drying out of Lake Chad.
"I am suggesting a policy that I think will bring back sanity in Nigeria especially among herders and farmers," she said.
This is the second time that this workshop is being held on the African continent, the first one was held in Ghana. The rest of other conferences have been held at Oxford University in the United Kingdom.
Makerere University to set up an agro-processing skilling hub in 2024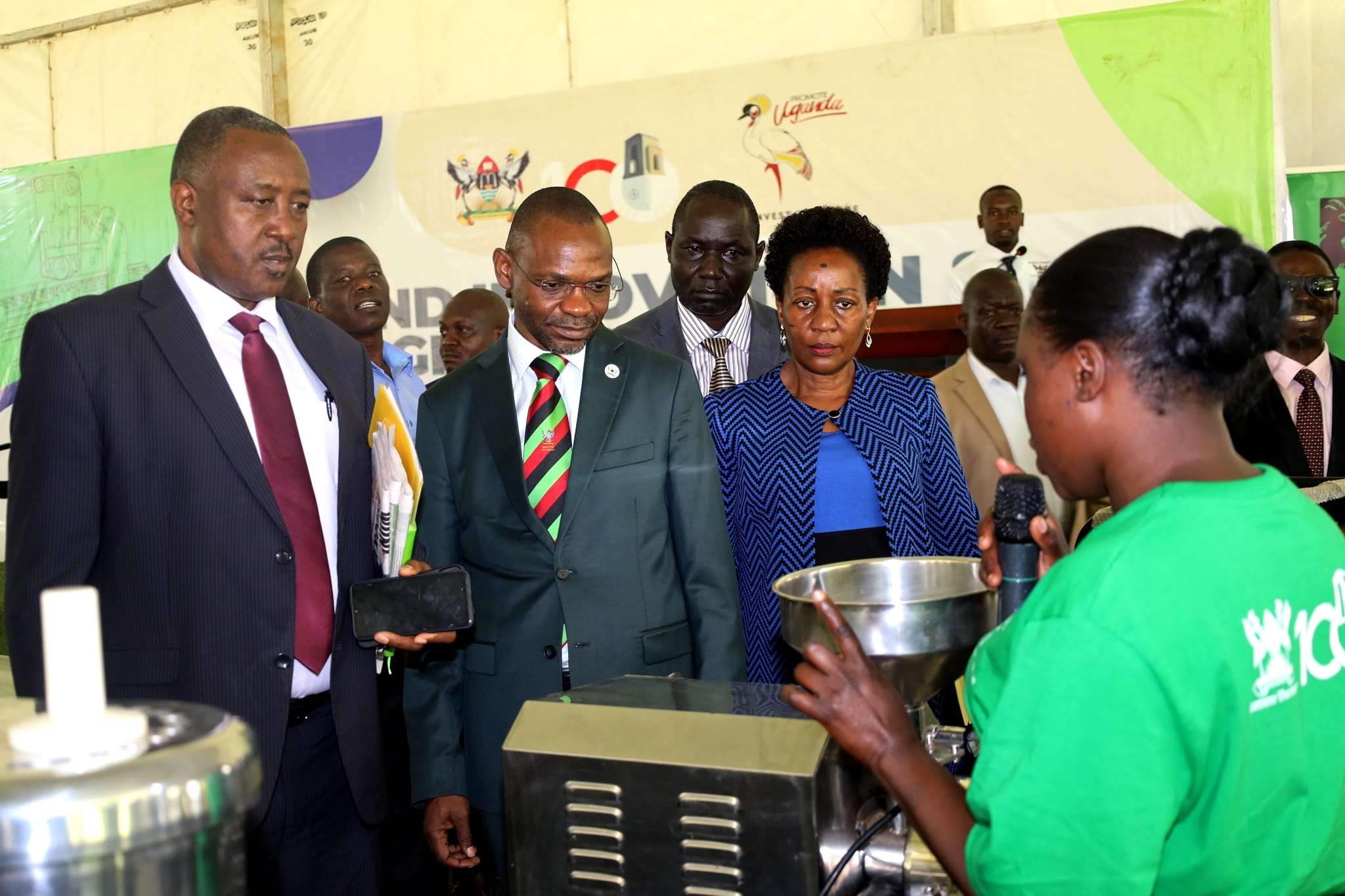 Makerere University in partnership with Promote Uganda Company Limited (PROUL) is set to establish an agro-processing skilling hub next year to expose students to agricultural machinery.
The hub that will be based at Makerere University main campus in Kampala will house agricultural machines that add value to agricultural products.
While unveiling the initiative on Thursday, November 23 during the opening day of the three-day 2nd Innovation and Agro-processing machine exhibition at Makerere University's Freedom Square, Mr David Nsubuga, the Director for PROUL said many youths remain unemployed despite their academic qualifications and it is high time they embraced new technology to create more job opportunities for the graduates. He revealed that the university will be signing a memorandum of understanding with PROUL next week.
"On top of the courses students are studying, we are going to establish a skilling center where they can be exposed to the machines that add value to agricultural products. We believe that when they start buying and selling finished agricultural products, this, will start them on the journey of industrialists." he noted
The Vice Chancellor, represented by his deputy Prof. Umar Kakumba, revealed that the university has student innovators who just need backup funds to transform the agricultural sector.
"They have innovated machinery that can do irrigation. We are partnering with Promote Uganda Limited to showcase some of the innovations and to be able to connect them to banks which can give them credit and be able to promote their machinery that they are producing including those that do a lot with production of finished goods." He said in a message delivered by Prof Umar Kakumba, the Deputy Vice Chancellor in charge of academics.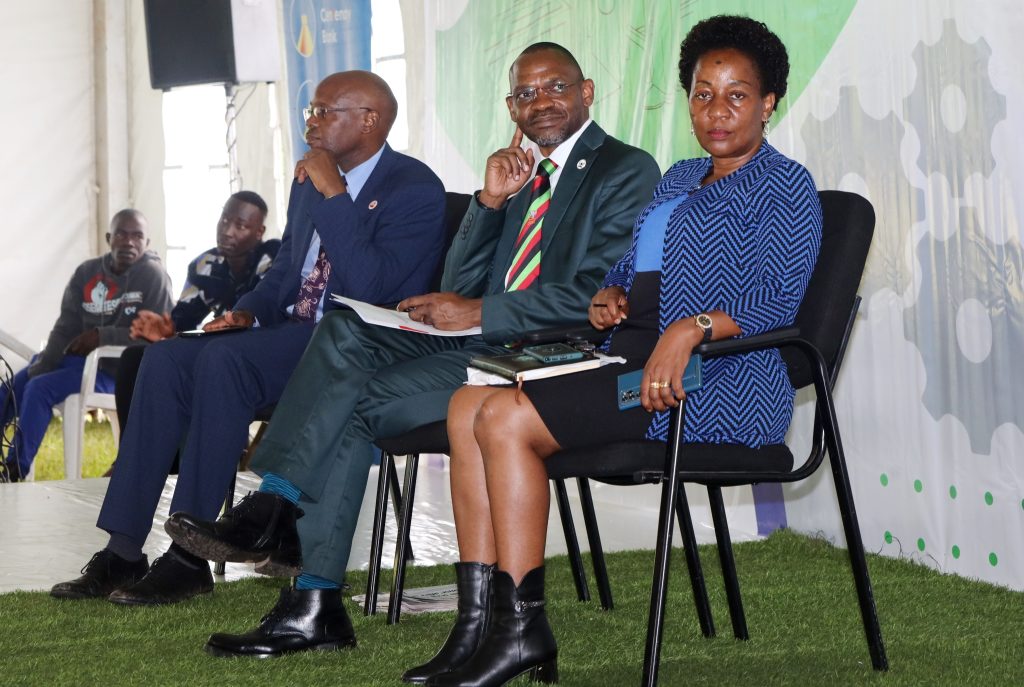 Student innovators of agricultural machinery are those pursuing degree programmes related to bioprocessing engineering, water resources engineering, dealing with mechanical engineering and students of business management sciences among others.
The 2nd innovation and Agro-processing machine expo is a three day exhibition that will run from Thursday, November 23 to Saturday, November 25.
Prof Kakumba understands 80 percent of Makerere graduates fail to get formal employment and revealed the need to inject money in such innovations to harness surging number of unemployed youth flooding the streets of Kampala looking for what to do saying, "Every year, higher institutions of learning and tertiary institutions produce about 150,000 students and yet government job slots are around 30,000 only which is a great blow to students who want white collar jobs," he added
Mr Steven Byantwale Tibeijuka, the Director Crop Protection in the Ministry of Agriculture, Animal Fisheries and Industries who represented the minister for Agriculture, Mr Frank Tumwebaze pledged on behalf of the government to support the skilling hub that will be established at Makerere University next year.
"I ask the University to put it into writing and address the letter to the minister, the government cannot fail to give you funds once everything is ready," he pledged
Dr Cathy Mbidde, the manager of the Makerere University Innovation hub said the hub was established in August 2022 under the office of the Vice Chancellor to commercialise the innovations from basically research that the university does and their main goal is to create awareness of the agro-processing machinery.
She added: "When you look at the current Uganda National Development Plan III government's agenda goal one is agri-industrialisation. As the University, yes we do research and teach but how do we work with the private sector to achieve that goal. We have students who have done research and discovered nutritional values but they don't have the machinery and access."
She believes this expo will act as an eye opener to young innovators to team up and purchase the agricultural machinery they need to start up small companies and food processing enterprises while still at the university.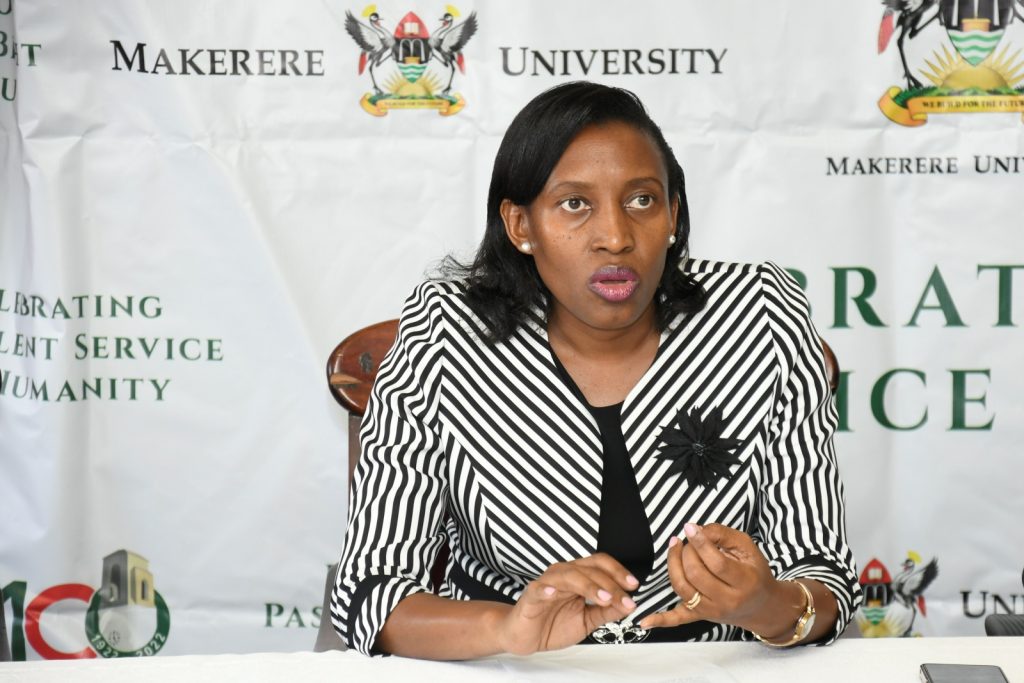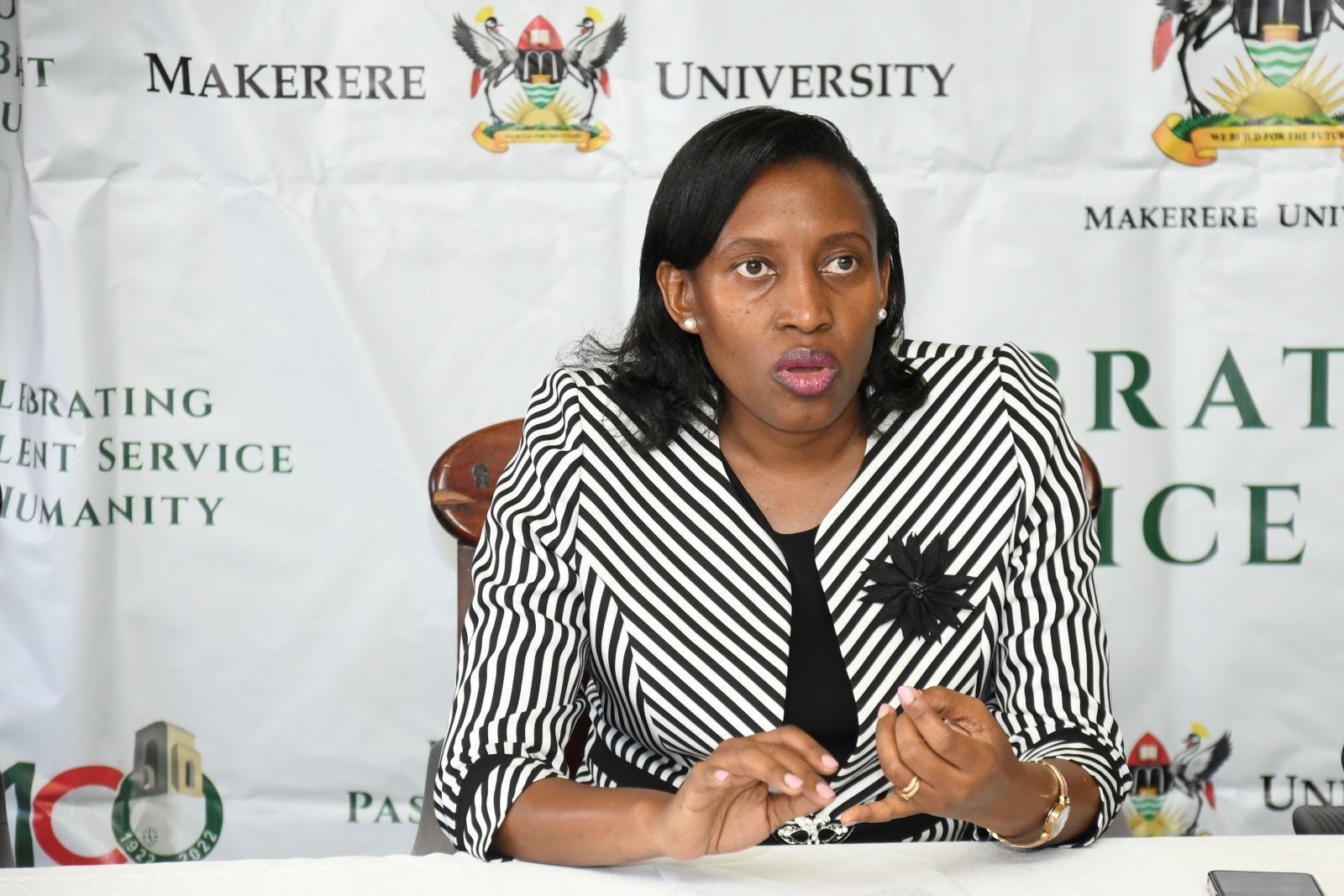 According to her, every year Makerere University graduates around 13,000 students and they can't find jobs anywhere so there is a need to come up with financing models through financing companies, Non-governmental organisations, and the government to help them to get machinery on credit.
Promote Uganda limited is a company that produces agricultural machinery and their partnership with the university is to introduce the idea of using machines to add value to agricultural products.
When many students graduate, they fail to get formal employment, and end up going to Arab countries where many have lost their lives.
Mr Nsubuga wants the skilling training on operation of agricultural machinery to be added to the students' courses.
The skilling center will help students to become entrepreneurs and know how to utilise raw materials that are readily available from agriculture to make value added products. The expo is a cross-cutting student exhibition.
Mr Anthony Akandwanaho, a student from Busitema University, said had come to exhibit a day and night dryer invented by his lecturer.
"The machine uses solar thermal during the day to dry the products which it collects directly from the sun and transpires the heat to the products for drying and solar energy during the night," he said
He noted that this machine dries products from both animal and plant types including meat, chicken, fruits and vegetables. And the maximum drying time for products is 24 hours, for those with higher moisture content like pineapples. However, for products like meat, it dries them within eight hours.
"The unique beauty with it is that you collect the water from the product and can be used for domestic purposes." Mr Akandwanaho explained
The student also exhibited a chicken de-feathering machine which is able to rip all feathers from the chicken. The mode of operation is that you slaughter the chicken and soak it in warm water for about one minute and transfer the chicken to the machines and in 15 seconds, the feathers are all removed. Its production rate is three chicken per minute.
Some of the exhibited machinery include a garden sprayer, a maize mill, grain grinder stainless, potato slicer, electric chips cutter, vacuum sealer, food dryer, bone Shaw, meat cutter among others.