MakSPH Position: Program Officer – Uganda DDP for WH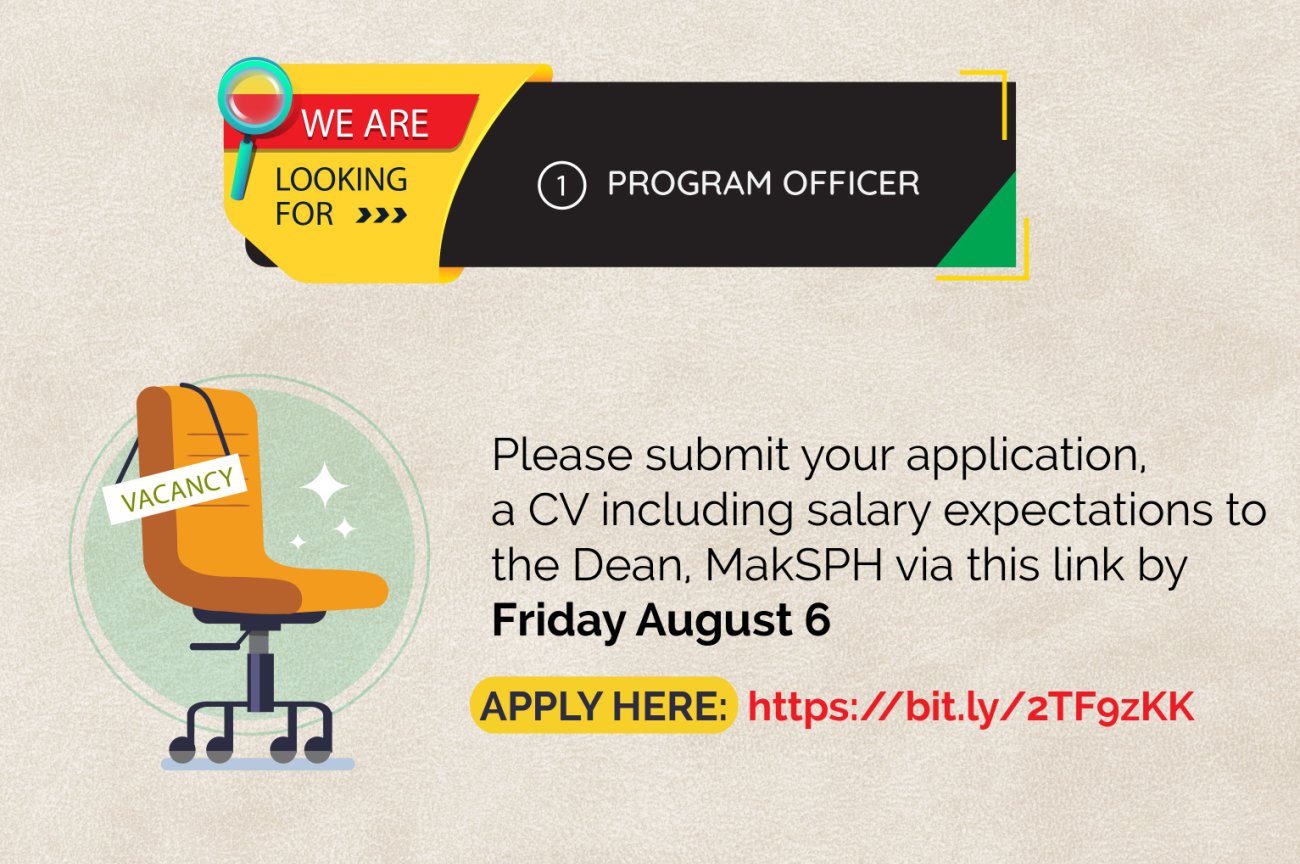 Makerere University School of Public Health (Department of Community Health and Behavioural Sciences) in collaboration with Vital Strategies is looking for a Program Officer for an exciting new program to reduce maternal mortality in Uganda.
Vital Strategies also promotes public health programs that include road safety, mental health, and activities to strengthen public health data systems and the use of public health data to guide policy and decision-making in Uganda.
About the Program
Makerere University School of Public Health (MakSPH) with funding from Vital Strategies will implement a program to promote women's health by address leading causes of morbidity and mortality. This program under the name Data-Driven Policy Initiative to Improve Women's Health (DDP for WH) aims to reduce maternal morbidity and mortality resulting from unintended pregnancies, unsafe abortions, and complications of pregnancy and childbirth in Uganda. Other countries where this project is being implemented are Bangladesh and Rwanda.
The program officer will work closely with ministry of health to strengthen capacity to collect, analyze and apply data to develop evidence-based policies. This Initiative applies a data-to-policy model to support improved access to, and surveillance of, family planning, contraceptives, abortion care, and other sexual and reproductive health services. The program complements existing efforts in Uganda and leverages Vital Strategies' expertise in health data, epidemiology, surveillance, health policy and public health law, and strategic communication and advocacy.
The program's theory of change is based on the assumption that clear and compelling data and evidence, along with effective advocacy, is fundamental to create meaningful and impactful policy and program improvements. Anchoring the first-year activities in building capacity and understanding in the data and its gaps will serve as the basis for policy analysis and development. Also through support and partnership with others currently working in this space, will complement ongoing advocacy and communications, and implementation efforts in the initial year and beyond.
The Position
This is a two-year, grant funded position but may extend for additional years. The Program Officer will be responsible for supporting Uganda-specific program results. S/he will serve as a subject matter expert in epidemiology/health data/Health Management Information Systems and will guide and provide technical support to Ministry of Health (MoH) of Uganda counterparts. The program officer will report to the Principal Investigator at the MakSPH. Progress will be discussed with Program Director based at Vital Strategies, the MoH and the Kampala based Investigators. The primary responsibilities of this position will be to ensure that the implementation of Initiative-activities in Uganda are country-owned and country-driven, technically sound and sustainable. They should also be in line with program goals and objectives, best practice standards, approved work plans, and budgets. S/he will ensure that Initiative activities are continuously monitored, and that implementation obstacles are identified and reported in a timely manner.
This position requires expertise and experience in the technical dimensions of this work, i.e., reproductive and sexual health, familiarity with sources and analytic approaches for data related to reproductive health, safe abortion and post-abortion care, and the use of data for policymaking and program management. The officer will be embedded in the Ministry of Health and MakSPH with dual accountability to MakSPH and Vital Strategies.
Term of Service
Initial consultant contract will be 12 months and may be renewed, subject to satisfactory performance. A three-month probationary period will apply.
How to Apply
Please submit your application, a CV including salary expectations to the Dean, MakSPH via the link below.
Application link: https://forms.gle/w5GPpqTCVgftQJvFA
The deadline for applications is August 6th 2021. Only shortlisted candidates will be contacted.
Call For Applications: Implementation Research & Practice Incubator (IRPI) Program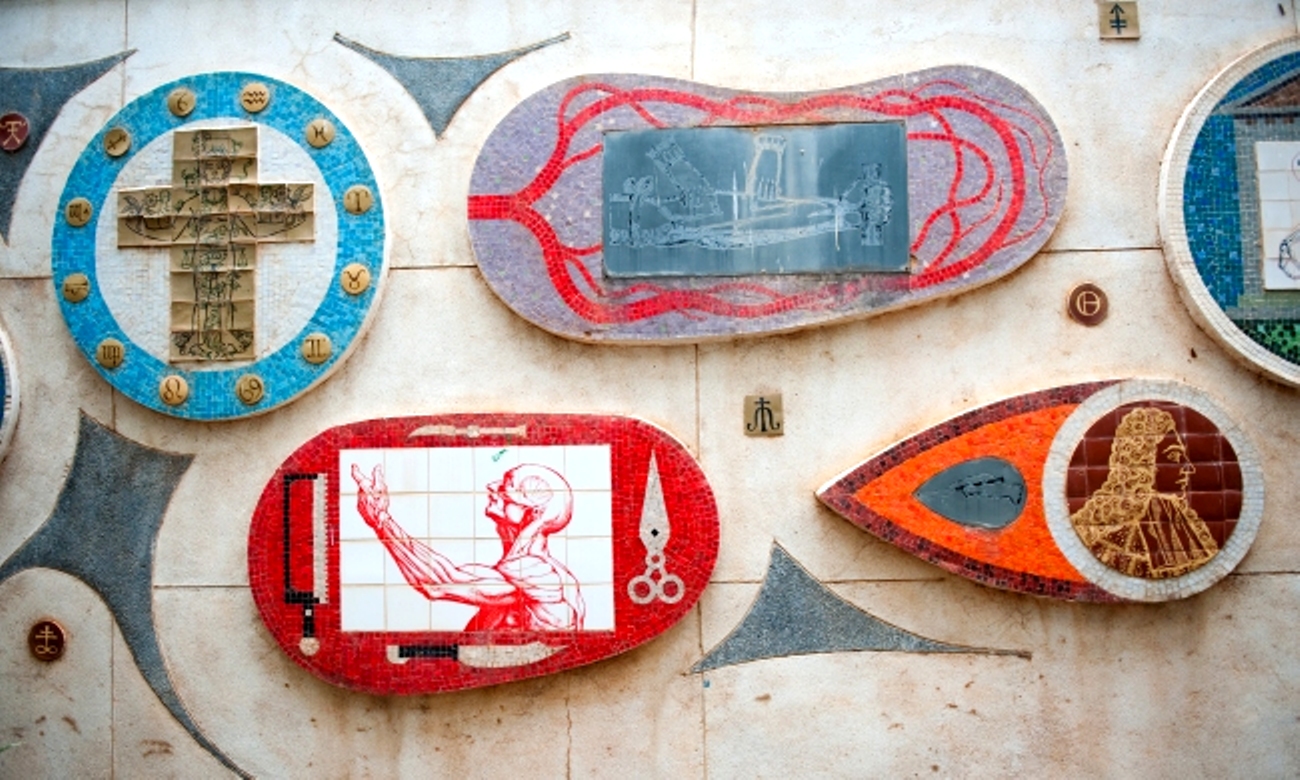 The Makerere-Yale-University of California Berkeley PART Program (& Makerere HIV ImS Training Program), sponsored by the National Institutes of Health Fogarty International Center D43 HIV/AIDS Research Training program, announces plans to recruit a new cohort of participants for its newly renamed Implementation Research and Practice Incubator (IRPI) program, formerly known as the Implementation Science Fellowship.
Objective: To provide a part-time, executive-style didactic training and mentoring program to prepare scientists and practitioners to lead a new implementation research and/or practice initiative. Program graduates will develop an implementation protocol suitable for adoption and public dissemination to the scientific and public health communities.
Target audience: Faculty, PhD students, Implementation science program trainees, Staff of either Implementation or Research Programs/Projects, Implementation Science short course Alumni, Public health Practitioners and Clinicians.
Requirements:
Main pre-requisites to be considered during selection include:
Masters' or Doctoral training and at least three years' experience in health-related research or practice
Clearly specified implementation problem related to implementation research or implementation practice
Availability to participate all incubator activities (Quarterly modules and works-in-progress sessions)
Support for implementation of the proposed project from a qualified sponsor with a commitment of protected time to work on the project free from other responsibilities (at least 1 day per week)
Program Description:
The program will be structured in four quarterly modules with interlaced bi-weekly works-in-progress sessions spread out over on year and cover the following topics:
2021 Q4 Implementation Science Overview
2022 Q1 Implementation Planning and Design
2022 Q2 Implementation Launch
2022 Q3        Implementation Evaluation
Application process for the ImS course:
Submit an online application form at:  https://forms.gle/ZqeUJacWPUCktimXA. Applicants are required to also submit a one-page concept sheet summarizing the background, objectives, methods, and implications of the proposed project together with a detailed CV to the Administrator –PART Program Mr. Richard Senvewo on richard[at]walimu.org.
The deadline for submission of applications is 15th October 2021.
Note: The number of attendees will be limited and will be chosen by application.
Only accepted applicants will be contacted.
Fostering Continuous Improvement of Public Health Laboratory Services In Uganda: IDI's Contribution (2018-2020)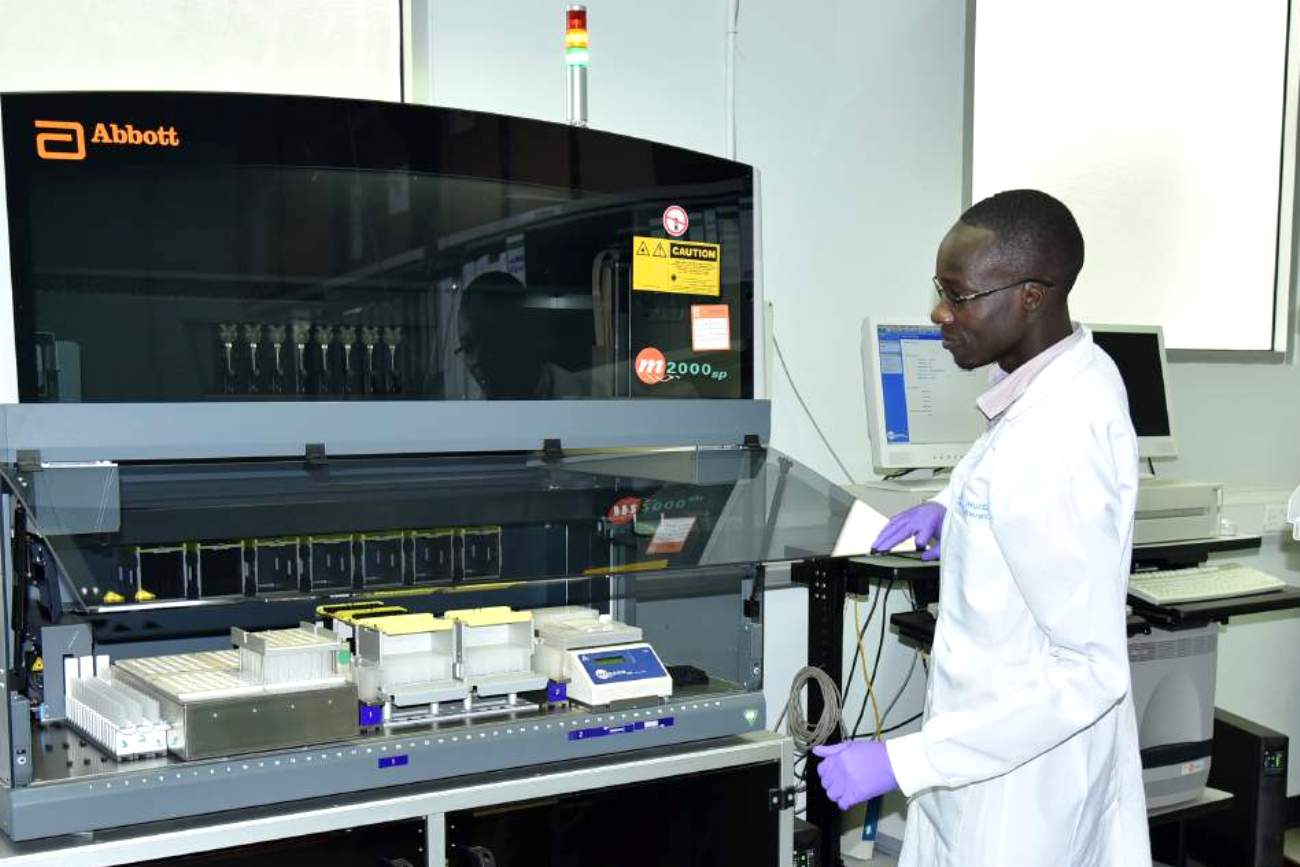 The Infectious Diseases Institute (IDI), Makerere University houses a state of the art laboratory – the Core Laboratory (CL) – certified by the College of American Pathologists (CAP) and accredited by the Uganda Ministry of Health (MoH) as a lead partner in strengthening laboratory systems.
In line with its 5-year (2018-2023) goal of 'providing high-quality lab services at IDI to meet both clinical and research demands, to support the sustained improvement of lab capacity across Uganda with systems of assured and consistent quality' to conduct routine testing, specialized clinical research trials, and detection of virulent pathogens of epidemic outbreak nature.
To match internationally standards for clinical laboratory methodologies and clinical applications, the CL has maintained a 25-year record of conducting at least 01 internal audit, 04 external audits annually, besides bi-annual inspections by the College of American Pathologists (CAP), to incorporate the latest best practices. Further, the CL continuously improves its technology and automation to increase productivity and enhance testing turnaround time (TAT).
The CL operates in a One IDI approach, where sister Technical Programs source its support, besides the Ministry of Health of Uganda, local and international academic research institutions and individual research fellows. The outbreak of COVID-19 in December 2019 was an opportunity for growth and expansion for the CL, to support national and global preparedness and response to infection prevention and control (IPC). To date, the CL has registered several milestones in enhancing disease laboratory TAT for COVID-19 testing, strengthening human capacity at the forefront on COVID-19 IPC, sustaining laboratory services for other communicable and non-communicable diseases as well as answering research questions.
Please see Downloads for the full technical brief.
UniCare App: 24/7 Access to Counselling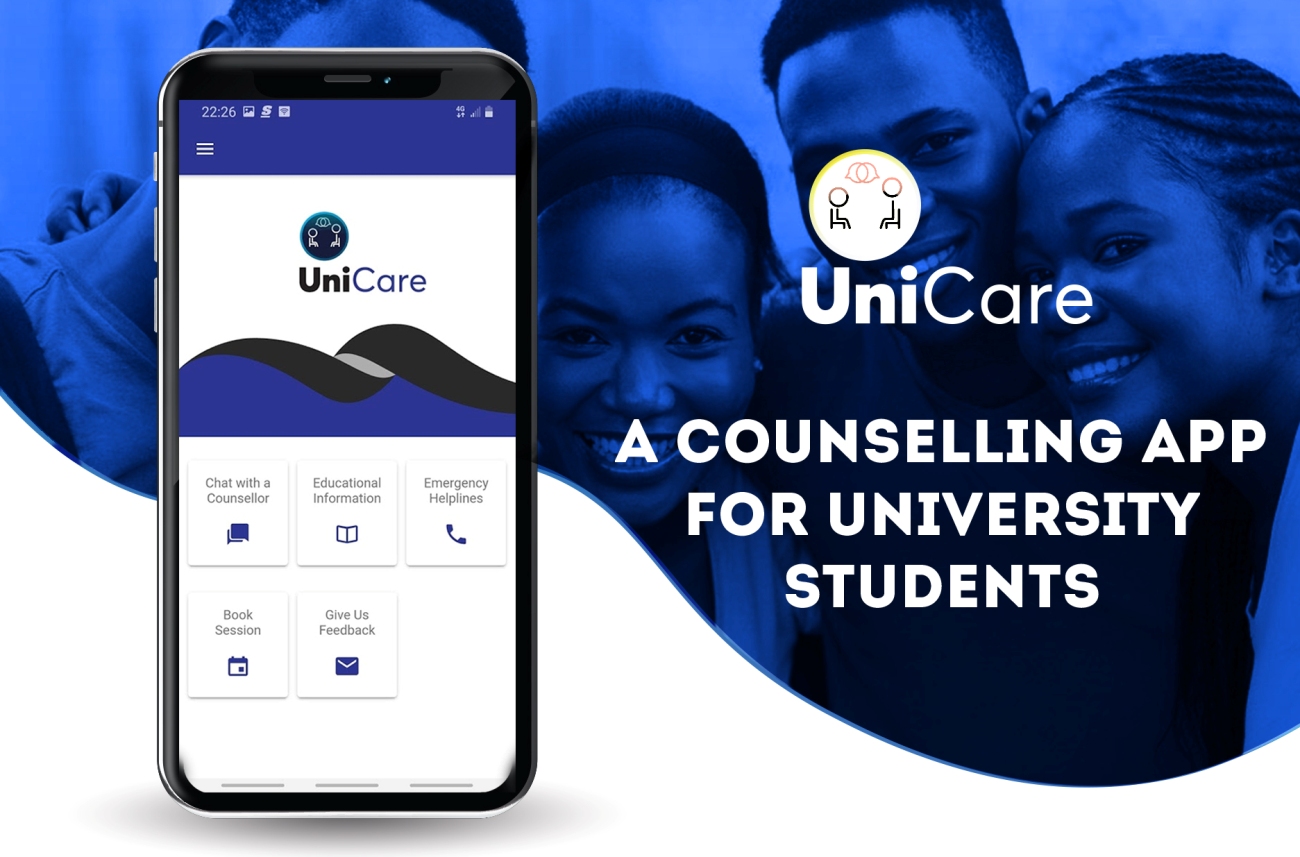 The Counselling and Guidance Centre (CGC) has developed UniCare, a counselling App for the Makerere University community members (Staff and Students).
Do you have personal concerns that need addressing?
Do you need to improve your life skills?
Are you struggling with something and need to talk to someone professional in confidence?
Then download UniCare from the Play Store and use it at any time of your convenience.
You can access counselling services through instant messaging, phone calls and other forms.
Enquiries:
Tel: +256-751-700897
Email: rbaguma[at]cit.ac.ug, henry.nsubuga[at]mak.ac.ug