Police Boss Asks Mak to Conduct Research on Impact of Air Pollution on Traffic Officers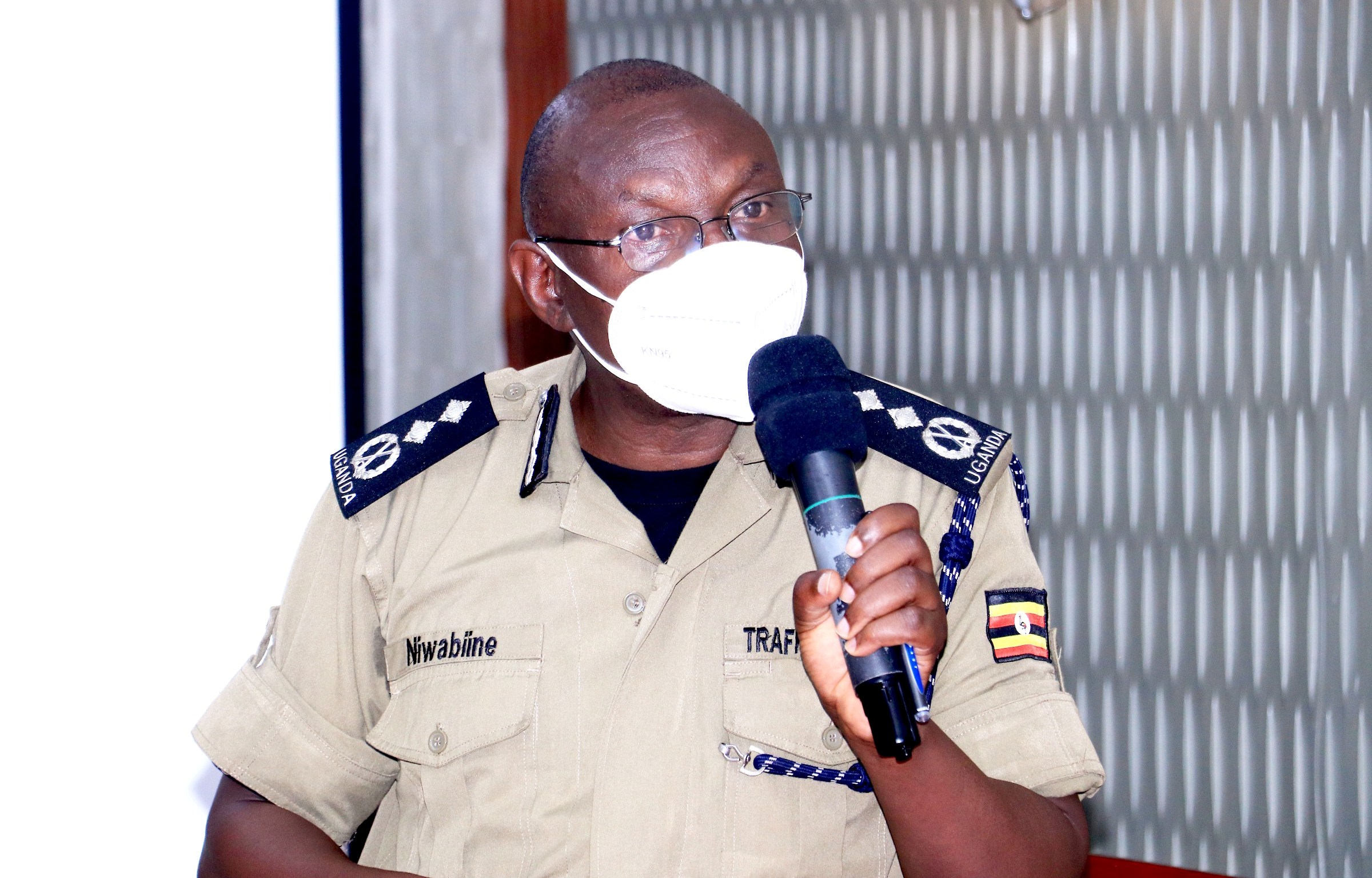 Commissioner of Police Niwabiine Lawrence, the acting Director Traffic and Road Safety in the Uganda Police Force has asked Makerere University to help conduct an investigation on the impact of air pollution on traffic officers in Uganda.
Niwabiine says on average, a traffic police officer spends a minimum of 6-8 hours on a particular spot directing traffic which is highly likely to affect the officers' health.
"We need to have a comprehensive study on the impact of air pollution on our traffic police officers. We request you Makerere University to help us. Our traffic officers spend 6-8 hours on one spot directing traffic. But we get worried about the exhaust fumes they are exposed to. We don't know what this could mean to their lives," said CP Niwabiine.
He said this while presenting on The Role of the Media in Road Safety at a two and a half journalists' training workshop on road safety in Uganda organized by the Makerere University School of Public Health at Hotel Africana in Kampala.
A total of 30 journalists and editors participated. This workshop aimed to increase the impact of the media in the prevention of road traffic crashes and injuries.
CP Niwabiine urged journalists to acknowledge the challenges that traffic police officers go through at their work noting that the police is overstretched. He also highlighted that police officers are psychologically affected by many things including the poor living conditions as well as abuses they undergo while on the road.
welcomed the request citing that air pollution is now the leading cause of many diseases globally especially infectious and non-infectious diseases.
According to Dr. Buregyeya, exposure to air pollution is an occupational hazard for traffic police officers. She however adds that the whole population is at risk, especially in urban areas due to emissions from cars hence the need for a multi-sectoral approach. She notes that since the air pollution is complex issue that no one sector can address it alone. She calls for policies and frameworks to support working across sectors to address some of these issues.
"If you talk about the cancers, they are related to pollution, if you talk about TB, its infectious but also related to pollution, if you talk about asthma, hypertension etc. Research that is coming out shows that air pollution is a risk factor for cardiovascular diseases. So these are important areas to address in order to reduce the burden of disease in this country. It is not about only police officers that are affected by pollution," Dr. Buregyeya said.
Dr. Buregyeya further notes that; "I believe doing research about this air pollution issue will provide the evidence needed that can inform policy and practice. Without evidence, it is difficult to cause change in the right direction and without policy our hands are tied."
Dr. Olive Kobusingye, who is also the board chairperson of the Road Traffic Injury Research Network, an international agency working to improve road safety through research globally, said Commissioner of Police Niwabiine's request is an area that the School of Public Health continues to pursue to make sure that we don't just look at roads as being a risk for injuries but also being a risk for other health conditions.
"CP Niwabiine brought in another component. His point was that law enforcers –traffic police officers who stand on the road for long hours and they consume fumes from cars and dust, sometimes 8hours at a time – there is a fear that this extreme exposure to pollutants is likely to affect their health," Dr. Kobusingye a Senior Research Fellow Principal Investigator, Trauma, Injury, & Disability unit (TRIAD) at MakSPH said.
Research from Makerere University has already showed that there are very high levels of pollution along the roads.
Dr. Lynn Atuyambe, an air quality specialist and associate Professor at Makerere University School of Public Health says long-term exposure to high levels of fine particulate matter (PM2.5) is harmful to human health.
This PM2.5 comes from vehicle emissions, industrial emissions, household energy use, and windblown dust.
A study by the Eastern Africa GEOHealth Hub at Makerere University School of Public Health sought to establish the effects of COVID-19 lockdown on Air Quality in Kampala city by measuring ambient PM2.5 concentration using the Met One Instrument Inc.
The study team analysed data for three years (2018, 2019, and 2020) but paid special attention to the first six months (January-June) of 2020 which coincided with the COVID-19 pandemic period.
"Our data revealed that air pollution has two main peaks in 24 hours of a typical day. The two peaks are at 09.00hrs and 23.00 hrs. This pattern is consistent in all the months under observation for the last three years (2020, 2019, and 2018) including the lockdown period.
A 2020 Health Effects Institute report shows air pollution was the 4th leading risk factor for early death worldwide in 2019, surpassed only by high blood pressure, tobacco use, and poor diet.
Contact Davidson Ndyabahika, communications officer at Makerere University School of Public Health for more information on dndyabahika[at]musph.ac.ug
Article originally published by MakSPH
MU-JHU Positions: Locum Midwives/Nurses – WOMANPOWER Study June 2021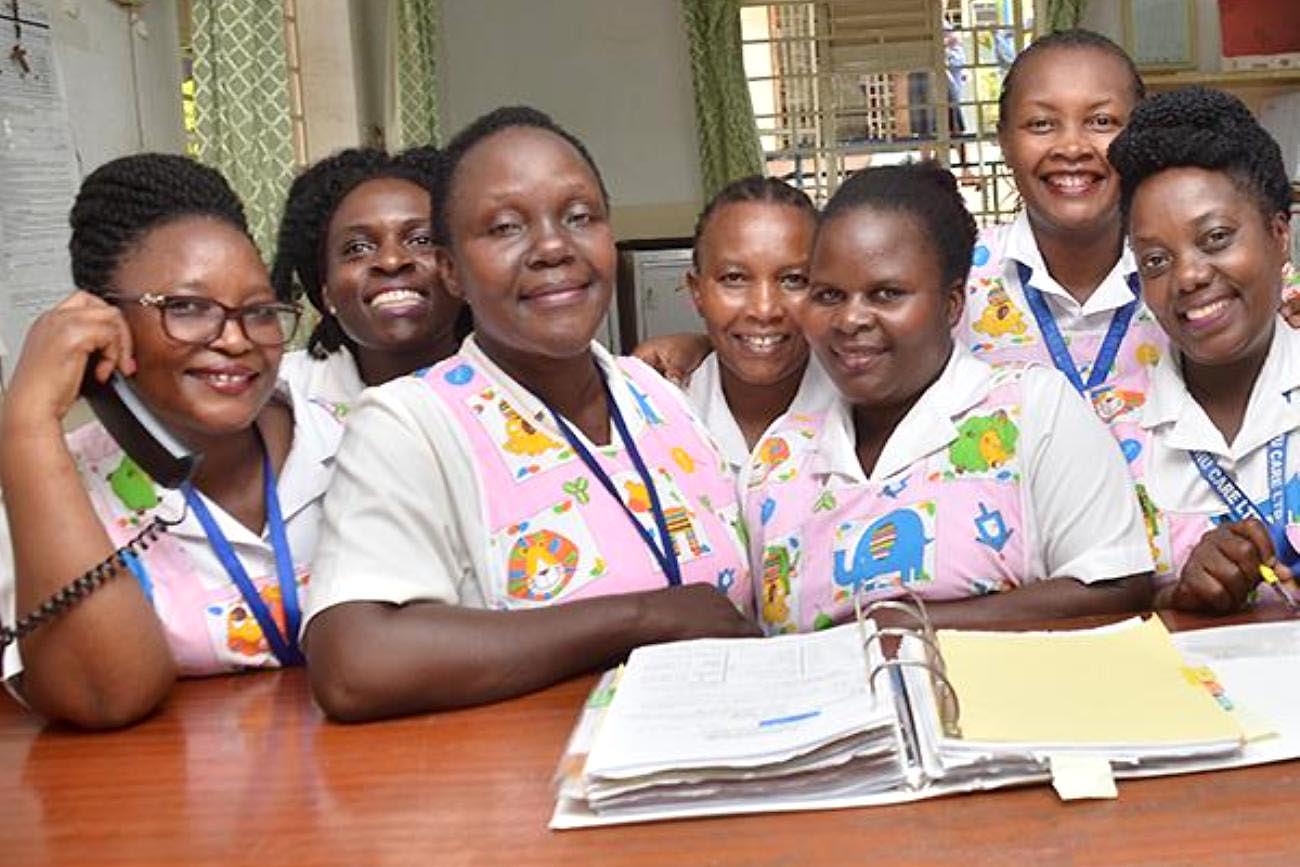 The Makerere University-Johns Hopkins (MU-JHU) Research Collaboration – MU-JHU CARE LTD, a Kampala – based equal opportunities Clinical Research and Service Delivery Organisation with more than 350 employees is seeking interested, committed and reliable professionals with the described qualifications to apply for the Locum positions listed below in support of the EDCTP funded studies. The positions are Locum positions on short term contract for 6 months.
1. Locum Midwife/Nurse: multiple positions
Reports To: Nurse Coordinator
Duty station: MUJHU, Kisenyi HCIV and Kawempe National Referral Hospital
Required qualifications and profile:
A Diploma in Midwifery/Nursing, with current registration for practice from the Uganda Nurses and Midwives councils (UNMC) with interest in working in a busy labour ward with minimum supervision. The candidates are required to have worked for at least three (3) years in a busy health centre/institution. Previous work experience in a clinical research environment and/or with HIV, TB and/or MCH clinical care would be a strong advantage. Computer literacy is required. The successful candidates should be willing and able to work extended duty shifts i.e. 12 hour day, and 12 hour night shifts, including public holidays and weekends.
The holder of this position will work under the direct supervision of the Nurse Coordinator with guidance from the Head of Nursing Section, and will be responsible for the following duties:
Working closely with other health professionals/research staff to obtain consents.
Provide midwifery/nursing care to study participants as well as do phlebotomy, cord blood sampling and other sample collection as required.
Collect data using tablets and laptops.
Participate in study data quality assurance and control.
Any other duties reasonably assigned by the relevant authorities.
Maintain professional GCP/HSP accreditation and complete study specific training as required.
Applications with complete C.Vs, including 3 referees and their full addresses or contact Telephone numbers, copies of academic certificates and testimonials, should be hand delivered to: MU-JHU Human Resource Manager, through the reception on first floor, MUJHU 1 Building – not later than 25th June, 2021 by 5.30pm.
Only short-listed applicants will be contacted. Successful candidates will be expected to start work immediately.
Psychological Services for Community Members While Home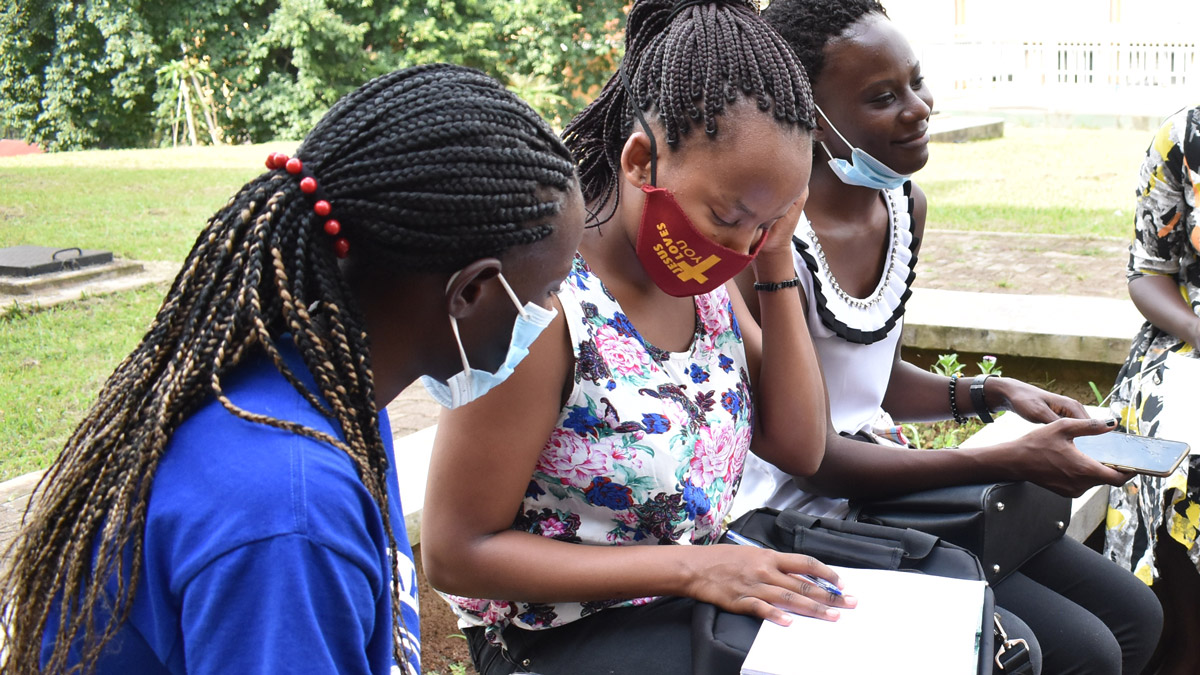 COVID-19 is a terrible disease that has brought about so many psychological challenges within the population but with many more effects to the students and the entire community. Already as students were departing yesterday they made remarks like "shall we ever finish?" "Let us go and get married" etc. They put on faces of sadness, anxiety, and many other forms of negative emotions. At their homes parents too some are having other challenges and anxieties that we need to help them deal with.

The Counselling and Guidance Centre is going to intensify its online presence as an avenue to reach out to the community. We shall do the following:
With support from the College of Computing and Information Sciences (CoCIS) staff we developed an App UniCare which people can download and reach a counsellor of their choice via e-mail, telephone, chat etc at any time at their convenience.
We intend to have a zoom session every fortnight addressing a topic of interest basing on the prevailing need.
Yesterday we held a meeting with student leaders who promised to work with us to deliver any content we develop to students via students' WhatsApp groups.
We lost a student (Byengyera Natasha) from the School of Law to suicide on Sunday and she will be buried tomorrow.

We want to do our best to provide all support possible using the avenues above to support members of the community and we call upon you to reach out to as many students as possible with this information. Thank you very much.

We build for the future.
Henry Nsubuga
Manager, Counselling and Guidance Centre,
Plot 106, Mary Stuart Road (Opposite Mary Stuart Hall),
Makerere University
Email: hnsubuga[at]cgc.mak.ac.ug
Tel: +256-772-558022
Click here for more information about the Counselling and Guidance Centre
MakSPH Annual Report 2020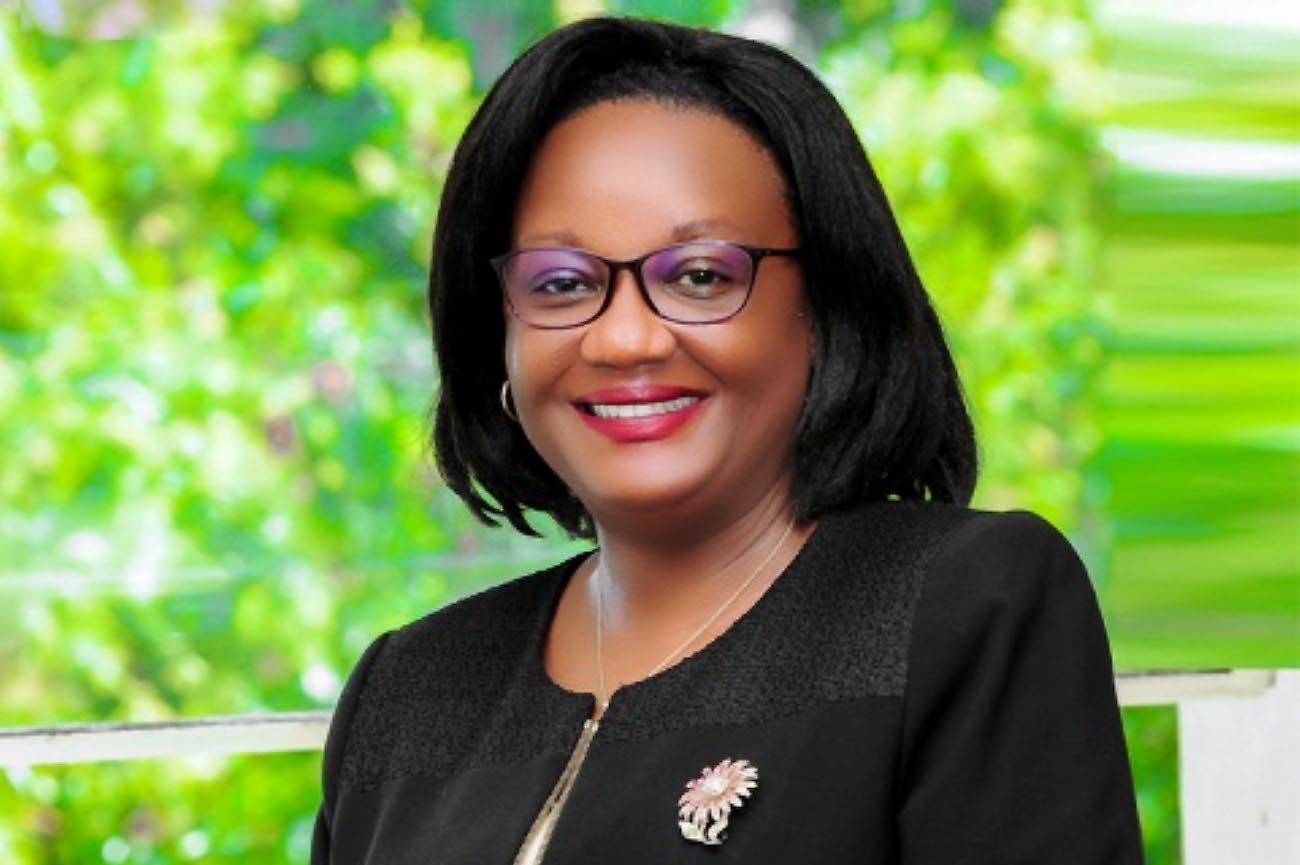 Dear Reader,
I am pleased to introduce our 2020 Annual Report, which illustrates the Makerere University School of Public Health, (MakSPH)'s shared commitment to advancing excellence in public health education, research, and innovation in Uganda and beyond.
In the face of the COVID-19 pandemic, the School of Public Health teams working together with the Ministry of Health and other partners moved fast towards enhancing the knowledge and awareness of our communities and other public health interventions to combat the spread of COVID-19 and mitigate a public health crisis that has thrown the world into disarray. We quickly adapted to the new normal, moving to working in a virtual environment and using blended approaches, to deliver our teaching, learning and research activities.
The pandemic has been a great challenge and slowed down several activities. However, this challenge has also propelled us towards fast-tracking some of our planned advancements including virtual
learning and partnerships, and has accelerated our public health innovations in a bid to contribute solutions to the current and future public health challenges.
Research
Our research has focused on current issues to support evidence-based decision making, and mitigate the impact of the pandemic on essential health and other services, especially in vulnerable groups such as adolescents and children, refugees, among others.
Construction
In 2020, we embarked on construction of our new home that we hope will reduce the space constraints for our staff and students. I am happy to report that the construction is now under way at Makerere University Main Campus. We are sincerely grateful to our partners, sponsors and staff for the efforts towards this great move.
Community Engagement
Our teams have maintained a very active community engagement focus and working with various stakeholders to share research findings and support processes for knowledge translation. We have also maintained a high level of scientific research outputs including over 250 peer reviewed publications in 2020. I cannot thank our researchers enough for this great effort.
Grants
The number of partnerships, grants and volume of work at the School has grown within Uganda and the African region. We are very grateful to our funders; partners and stakeholders for this continued growth.
I acknowledge the extraordinary efforts made by all our staff, students and alumni. We look forward to another productive year and decade of better service to our communities.
Have a nice read.
Dr. Rhoda Wanyenze,
Professor & Dean, School of Public Health, Makerere University
Please Downloads for the full report.