Dr. Kakumba Officially Opens HPE Conference 2021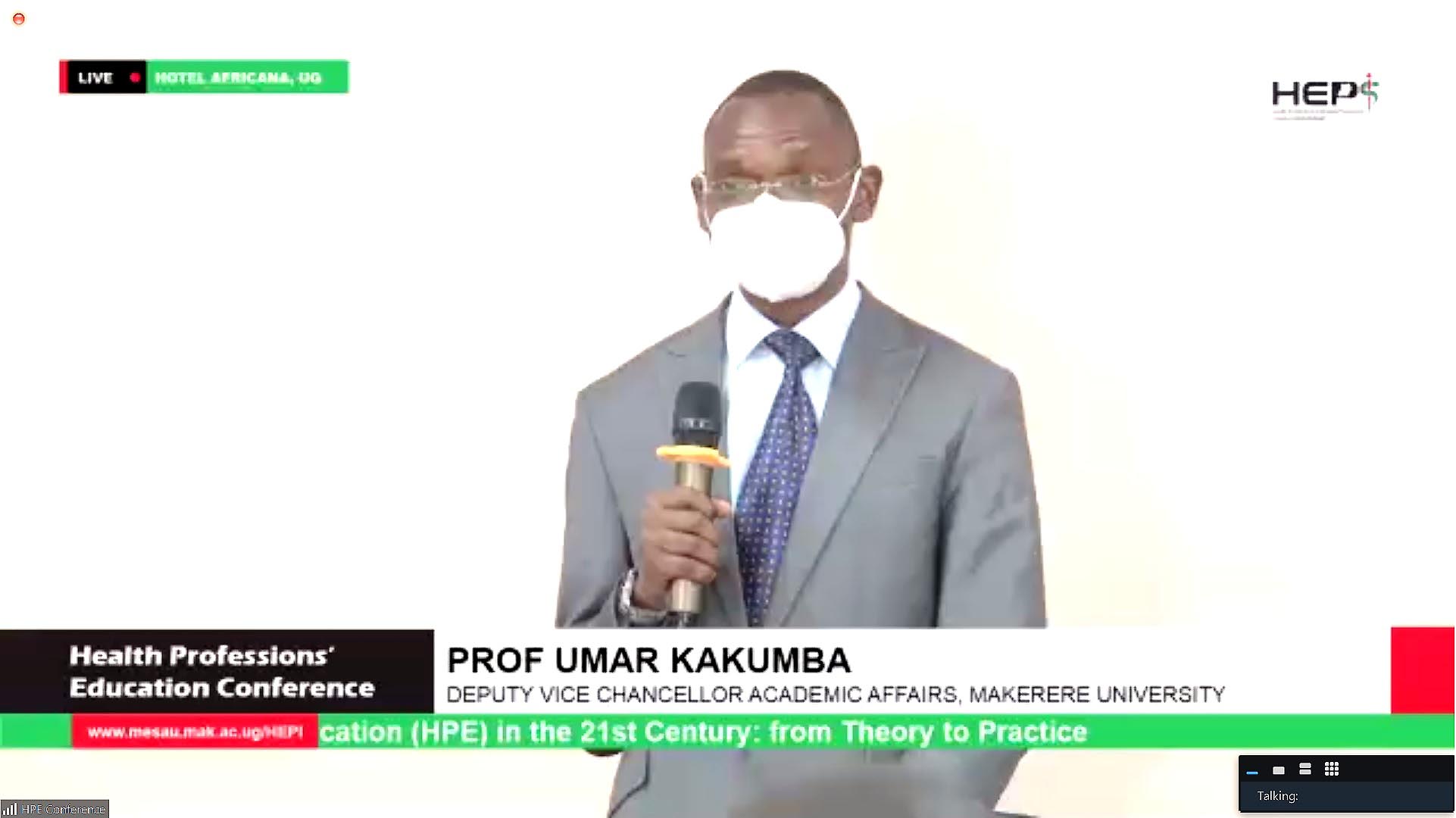 The Deputy Vice Chancellor (Academic Affairs)-DVCAA, Dr. Umar Kakumba on Thursday 27th May, 2021 officially opened the two-day Health Profession's Education Conference based on the theme; "Transforming Health Professions Education (HPE) in the 21st Century: From Theory to Practice". The Conference was organised by the Eastern Africa Health Professions Educators' Association (EAHPEA), and the Health Professions Education Partnership Initiative (HEPI) Project co-hosted by the College of Health Sciences (CHS), Makerere University.
The project; Health Professions Education and training for Strengthening the Health System and Services in Uganda(HEPI-SHSSU), is an innovative Education Research NIH-funded program implemented by a partnership between CHS, Busitema University School of Health Sciences, Kabale University School of Medicine, Clarke International University, Mulago School of Nursing and Midwifery, The African center for Global health and social transformation (ACHEST), Yale University and John Hopkins University (JHU). Prof. Sarah Kiguli from the School of Medicine, CHS is the project's Principal Investigator and the Conference's Chairperson Organising Committee.
The goal of the HEPI program, which started in August 2018 is to improve service delivery of the Ugandan health system through strengthened interdisciplinary health professional education and research training to produce graduates with competencies to address the priority health needs of the population.
Dr. Kakumba in his remarks noted that health is a critical success factor towards sustaining and promoting high levels of human development and it is therefore important that all stakeholders are involved in strengthening education and training systems for Health Professionals.
In this regard, he said that EAHPEA and the HEPI Project both provide opportunities and platforms for stakeholders to collaborate, plan and implement strategies that will improve the competence of educators and ultimately, the quality of graduates and health of communities.
"At institutional level, Makerere is especially aware of the dire need to recruit adequate numbers of well qualified staff, who should be developed in knowledge, and other competencies. Indeed a number of actions continue to be undertaken in the units with most critical need" he shared.
The DVCAA made specific mention of CHS' proposed; pre-entry exam to improve the process of admitting medical students, and establishment of the Health Professions Education Centre to support faculty development at the college and other Institutions, as interventions that will contribute to the University's efforts to implement student-centred learning.
"I equally bid to support the establishment of the Health Professions Education Centre" he vouched.
Dr. Kakumba therefore urged the College to strengthen its partnership with Government, particularly the Ministries of Health and Education as well as development partners and the community to ensure that meaningful transformation in Health Professions Education is achieved.
"I extend special thanks to all the Keynote Speakers, Partner Institutions represented, and the National Institutes of Health that has funded the conference through the Makerere University HEPI Project" he concluded.
The Principal CHS, Prof. Damalie Nakanjako thanked Dr. Kakumba for being supportive of the college's innovations, particularly the proposal to establish the Health Professions Education Centre. She added that CHS had since followed it through to the next level. "The proposal is already under review by the Senate sub-Committee."
Prof. Nakajanko shared that CHS was proud to have led the transformation of traditional curricular into the student-centred curricular. This curricular is grounded in problem-based learning and community-based education and services. The college has also embraced inter-disciplinary education.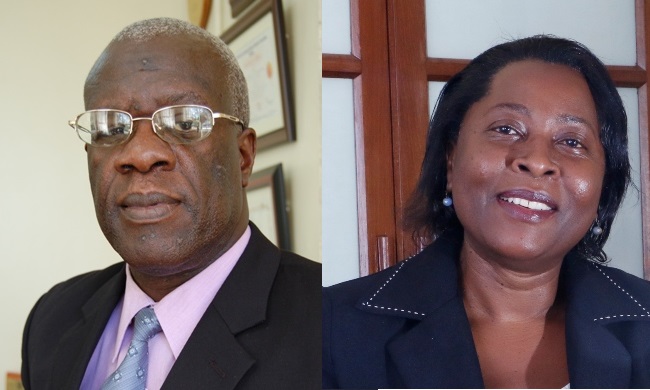 "All these innovations would not have been possible without the efforts of; Prof. Nelson Sewankambo, Prof. Sarah Kiguli and Prof. Elsie Kiguli Malwadde" remarked Prof. Kiguli to applause from the audience.
She added that the Professors have since gone beyond CHS to support and work with all other Health Education Programmes in the country. "It is because of you that our Medical Education continues to be the leader in the region and we thank you very much."
The Principal said her college was able to carry on teaching despite restrictions to institutions aimed at preventing the spread of COVID-19 thanks largely to the pedagogical support provided by the HEPI program. She therefore called for the need to reclassify computers and e-Learning equipment as teaching materials at procurement stage, so as to facilitate increased roll-out of online education.
Prof. Nelson Sewankambo is a Professor of Internal Medicine in the School of Medicine, CHS. Having served as Associate Dean and Dean of the School of Medicine and thereafter Principal CHS, he has been at the helm of various academic and administrative innovations and dedicated his efforts to improving medical education both in Uganda and internationally. Recently awarded Professor Emeritus of Makerere University, he was therefore the perfect candidate to deliver the opening ceremony's keynote address on "Transformative Health Professions Education: Owning and Changing Our Future".
"As we think about transformation of education, we need to link education and health systems. We cannot or should not work with one system and not the other. We as health profession educators should contribute to building the health systems as well" said Prof. Sewankambo as he tackled the need for holistic transformative education.
Reflecting on the three types of learning of health professions education; Transmissional, Transactional and Transformational, Prof. Sewankambo said that the latter; Transformative learning involves experiencing a deep, structural shift in the basic premises of thought, feelings and actions.
"Many of you know that young people join health professions training institutions with a lot of vigour and interest to do wonderful things and by the time they leave these institutions they have given up; they are not thinking the way they did when they were coming in" he shared solemnly.
This point then drove him to ask "So, how can we lay the foundation for transformational learning?" and as his audience pondered he answered, "We need to analyse the main opportunities and challenges which are facing the health workforce… and then we need to recognise and accept the need for change."
Prof. Sewankambo acknowledged that we are in most cases our own barriers because we do not recognise the need for change. "We have therefore, before we talk about transformative education, to transform our own minds, then we can plunge into transformative education."
Other factors identified by Prof. Sewankambo in laying the foundation for transformative education included; Strategic vision and change management, Balancing the top-down and bottom-up approach and above all, Transformative leadership and a learning system/institution.
He further warned that a failure to re-lay the foundations would most likely result in Uganda and the region risking a "continued deterioration of service provision, worsening health outcomes and a system poorly equipped to respond to future health challenges."
Prof. Sewankambo in conclusion tasked the delegates who were drawn from various institutions within Uganda and the region to come up with a call to action. This, he opined, would serve as the turning point for ensuring transformative health professions education in the period following the conference.
Makerere Medical Journal: Golden Jubilee Edition 2022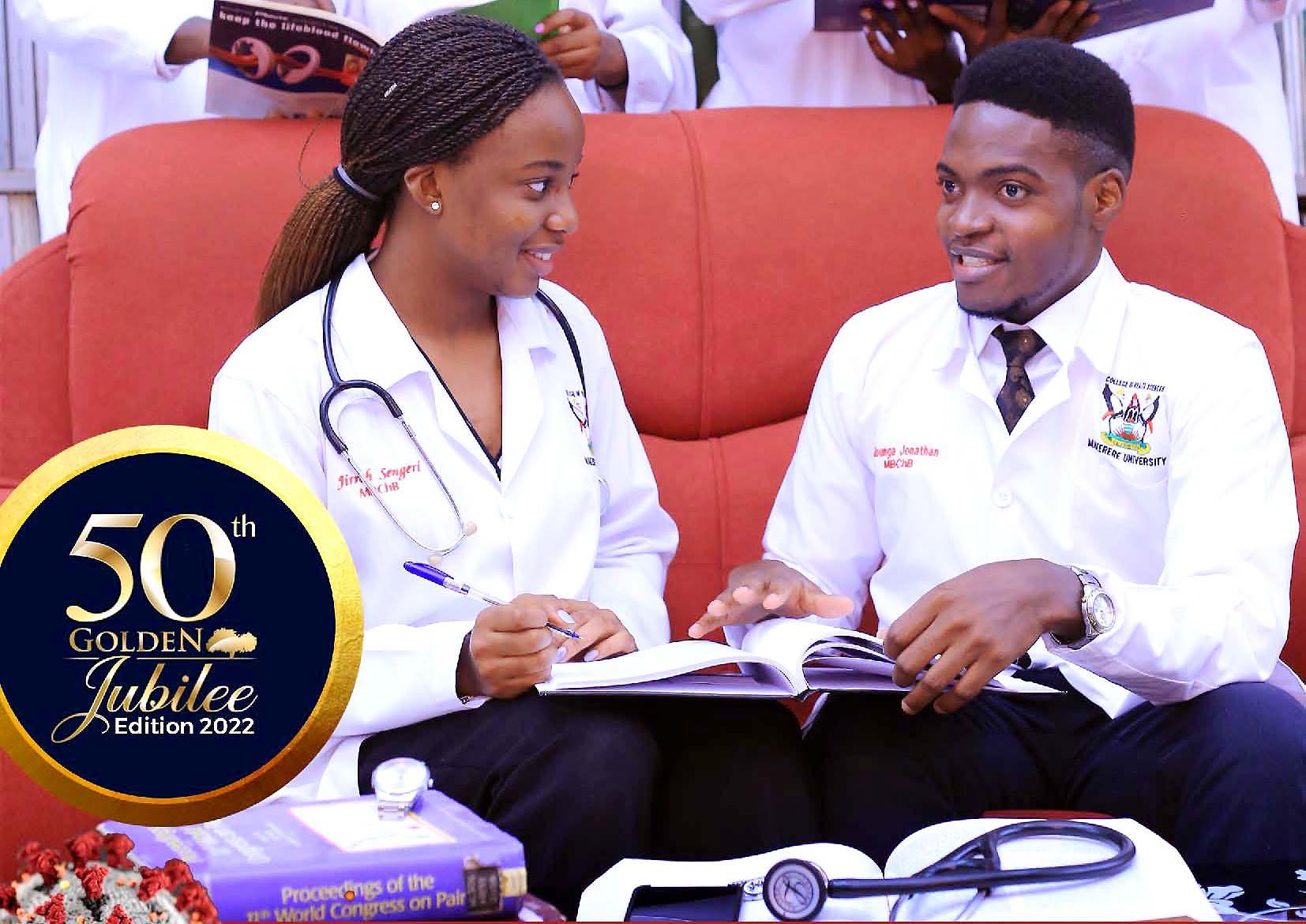 It's with great pleasure that I welcome you to the Golden Jubilee edition of this phenomenal journal. Yes, The Makerere Medical Journal marks 50 years of publication with this year's edition and all this has been made possible by the endless efforts and contributions of the Makerere University College of Health Sciences Staff and students because without your research submissions and financial support, the journal wouldn't have made it this far. To you reading this, thank you for contributing to the sustainability of this great project, year in year out.
Here's a quote to ponder on as you delve into this year's well-crafted articles and it's by Zora Hurston (1891-1960), "Research is formalized curiosity. It is poking and prying with a purpose." And doesn't that just define our purpose as researchers?!
This edition's articles cover pertinent topics ranging from Antimicrobial Stewardship, COVID-19 interventions, Oral Health amongst others. It also features student projects, write-ups on student-led organizations and societies that are making a difference in the life of a health sciences' student and many more interesting writings. Featured in this issue are international manuscripts from countries like Nigeria and we were also honored to work with other universities within the country and feature some of their students' articles.
I would like to extend my most sincere gratitude to my team of editors that engaged in a rigorous peer review process to ensure that the articles published are up to standard. As the editorial team, we are quite pleased to see the number of undergraduates involved in research steadily increasing and all the efforts that have been put in by the different stakeholders to see this happen are commendable.
With that said, I hope you enjoy every second of your read!!!
LINDA ATULINDA,
MBChB IV
EDITOR-IN-CHIEF,
Research and Writers' Club 2021-2022
Call for Applications: HEPI Masters Support Fellowship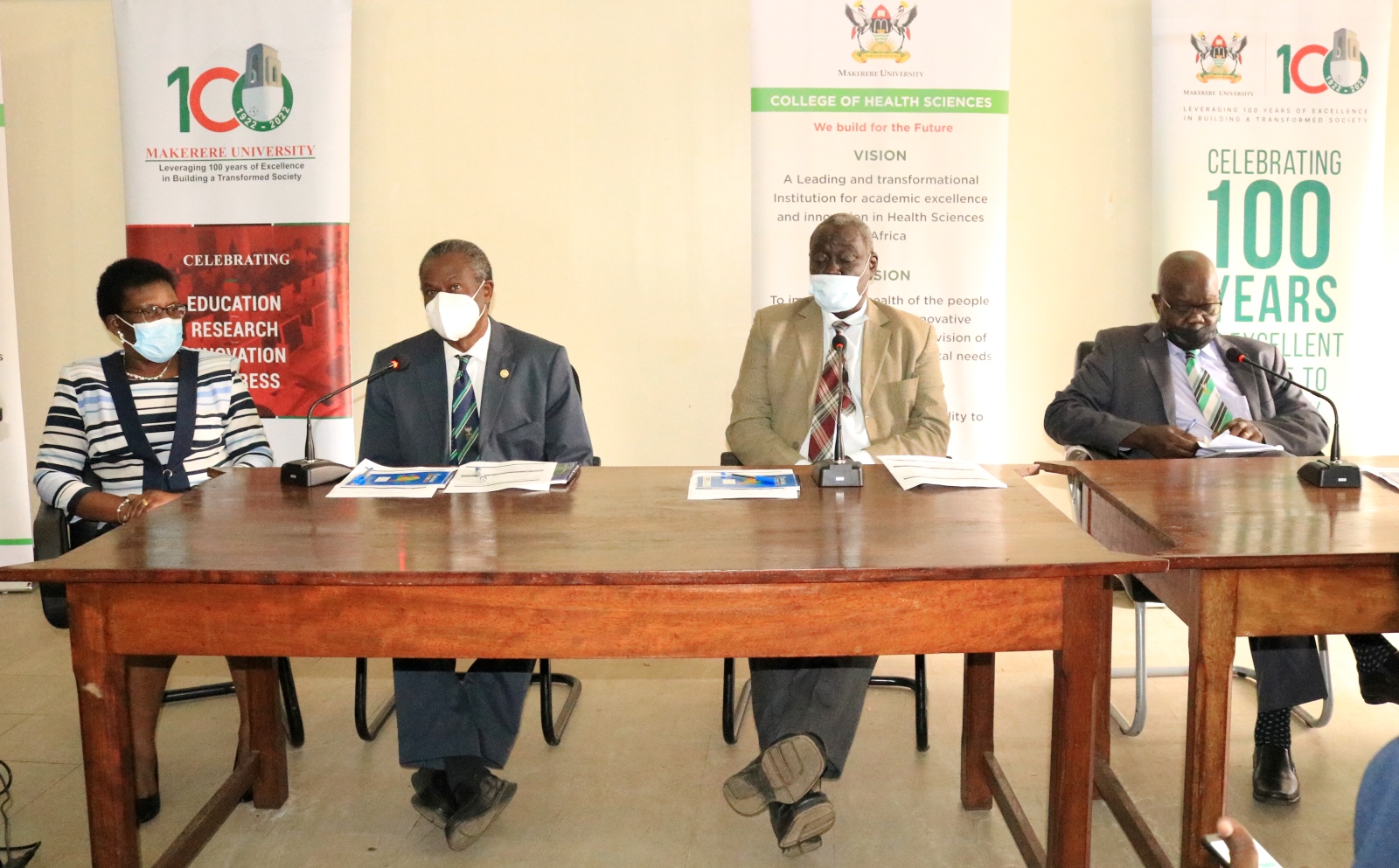 Applications are invited for the Health Professional Education Partnership Initiative (HEPI-SHSSU) Masters fellowship programme support from postgraduate students of:
Makerere University College of Health Sciences (MakCHS)
Kabale University School of Medicine
Clarke International University
Faculty of Health Sciences, Busitema University
The programme will support graduates in their final year of training leading to the award of a Masters degree on any of the Master's graduate training programs at the stated University for a maximum of 19 successful candidates.
The closing date for the receipt of applications is 30th September 2022.
Inquiries and Applications must be submitted to hepishssu@gmail.com
See attachment for more details 
Call for Applications: Faculty Research Training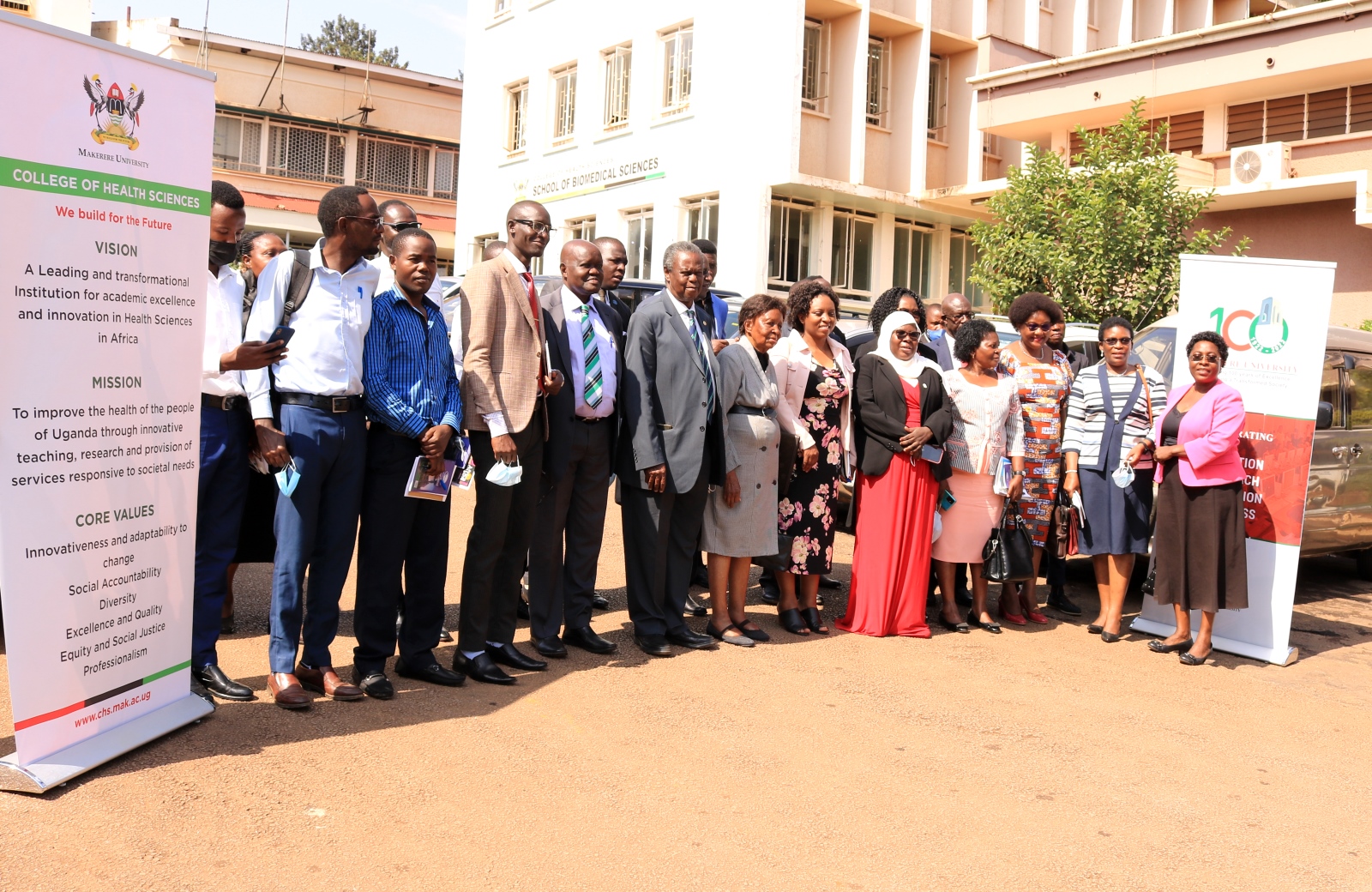 Applications are invited from faculty at Makerere University College of Health Sciences, Kabale School of Medicine, and Clarke International University to undertake training in research.
Limited research funding will be available for research focusing on community-based, clinical, operational, health professions education, epidemiological, biomedical, and research in Communicable Diseases (e.g. HIV/AIDS, malaria, tuberculosis, etc.) or non-communicable diseases of importance to Uganda.
Up to 15 applicants will be selected and they will undergo a brief (2 days) didactic training in research proposal development prior to embarking on their research projects. Up to 4,000 US dollars per applicant (depending on budget) will be available to support the research.
The closing date for the receipt of applications is 3rd October 2022.
Inquiries can be forwarded to the PI, HEPISU Program on hepishssu@gmail.com
See attachment for more details