Campus FM Reassured of Frequency Restoration at #MakAMC2021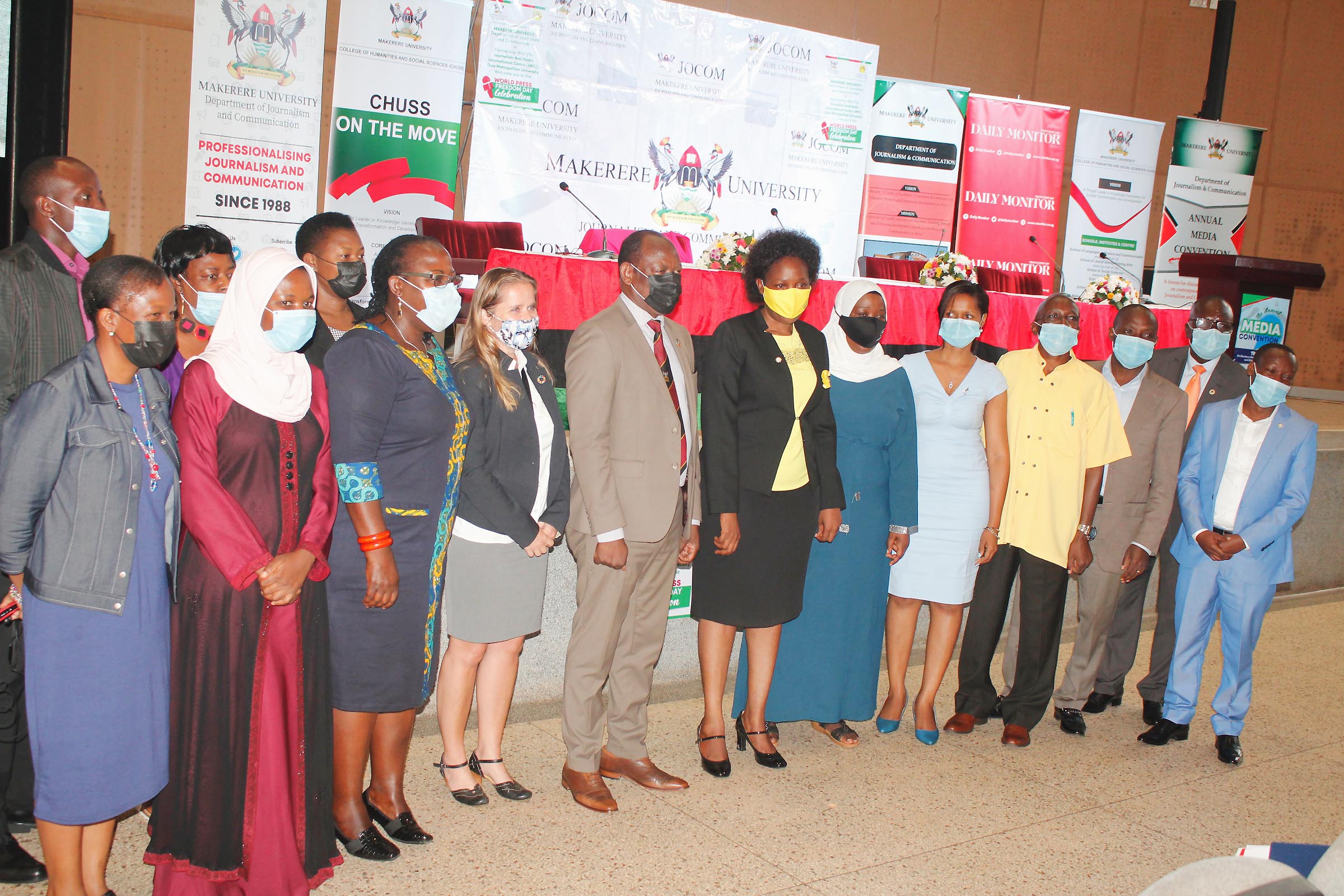 The Minister of ICT and National Guidance Hon. Judith Nabakooba has reassured Makerere University of her readiness to help restore the Campus FM to air so as to contribute to the training of professional journalists and dissemination of research and innovations. Hon. Nabakooba gave her reassurance while presiding over the Annual Media Convention (#MakAMC2021) held in the Central Teaching Facility 2 (CTF2) Auditorium on the morning of Monday 3rd May 2021.
Hosted by the Department of Journalism and Communication since 1998, the Annual Media Convention provides a platform for various stakeholders in journalism, communication and the media to debate contemporary issues affecting these fields. The #MakAMC2021 theme is 'On Elections: Media Freedom, Polarization and (Politics) of the Future.'
"As the Ministry responsible for formulating media policies, we fully associate ourselves with such engagements, and remain available to take part, to listen and to learn" remarked Hon. Nabakooba. "This is in the spirit of our commitment to a participatory and inclusive policy regime, in as far as press and media freedom is concerned" she added.
Whereas she welcomed the advancements in technology that have led to a rapid growth of social media and citizen journalism, the Minister decried the distorted and sometimes inflammatory content it often comes with. "We therefore need a robust and professional mainstream media more than ever, to provide verified, fair, balanced and objective news."
Prior to the Minister's address, the Head, Department of Journalism and Communication, Dr. Aisha Nakiwala had appealed to Hon. Nabakooba, an alumna of Makerere University and the Department specifically, to lead the way in the restoration of the Campus FM radio frequency. The appeal was re-echoed by the Dean, School of Languages, Literature and Communication, Dr. Saudah Namyalo.
Furthermore, in his remarks, the Vice Chancellor emphasized that Makerere's research and innovations output continues to grow by, which calls for a bigger platform to stimulate discussions around them beyond traditional coverage of the launches. He therefore added his voice to that of the Dr. Nakiwala and Dr. Namyalo in appealing to the Minister to champion the restoration of the Campus FM frequency.
"In addition to training our students, it (the restoration of Campus FM's frequency) would be even more useful because a lot of the work being done at Makerere University would now go out to the public" remarked Prof. Nawangwe before explaining, "There are a lot of innovations which could benefit our people but they don't know about them and getting back our radio frequency and adding a TV station would help immensely."
In response to the requests, Hon. Nabakooba asked the Head, Department of Journalism and Communication to write a brief on Campus FM frequency which would aid her follow-up of the matter with the Uganda Communications Commission (UCC).
"I promise that I am going to get in touch with UCC and find a solution to your frequency because we want practical people; if you have your frequency, you will be in position to train on it but also we believe that you have a lot of information (to share).
"I have visited some of your innovations, they are really good and you might find that the public are not aware of these wonderful innovations by Makerere University. We believe that such a platform would be a good one in as far as promoting what Makerere has done but also making it more practical for the community and also we in Government to understand the different projects taking place in our University" added Hon. Nabakooba.
To sum it all up, the Principal, College of Humanities and Social Sciences (CHUSS), Dr. Josephine Ahikire thanked the Minister for making time to attend the Annual Media Convention and requested her as an alumna to enable her alma mater's Campus FM to resume live broadcasts before the centenary celebrations next year.
"We are due to celebrate 100 years at Makerere University in October 2022 beginning in October this year. And so I would like our dear alumni to make a commitment that Campus Radio will already be on (air), where we can sensitize, celebrate and create that positive momentum to take us to the next century. And to us, that would be the greatest gift that our own would have given us" concluded Dr. Ahikire.
Mak launches MA in French Language Studies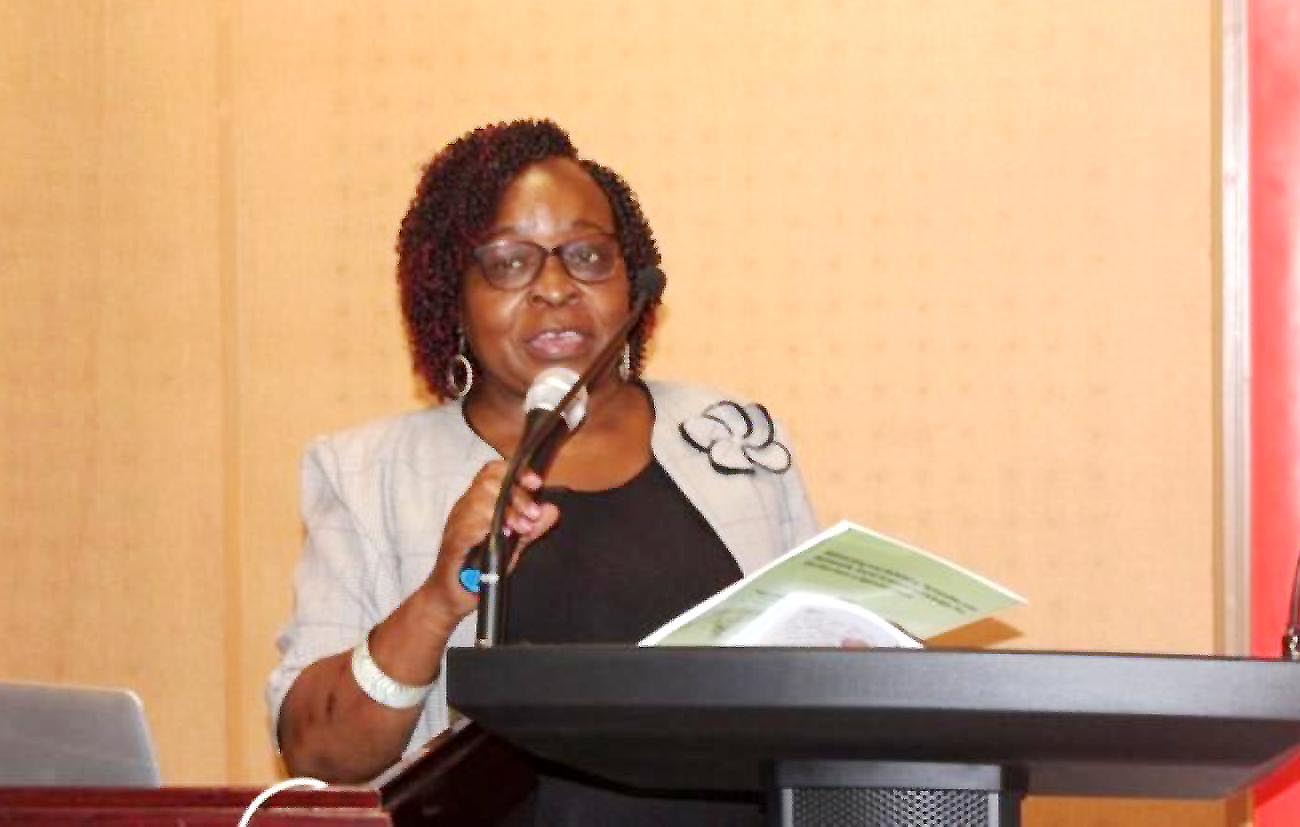 Makerere University has launched a new Masters programme in French Language Studies. The programme was officially launched by the Deputy Director, Directorate of Research and Graduate Training (DRGT) at Makerere University, Dr. Wamala Robert on 15th September 2021.
The main objective of the Master in French Language Studies (MAFLS) is to build professional capacities in the mastery of the French Language, develop skills in the pedagogy of French and impart knowledge on the cultural and political relations of the Francophone world. The programme is hosted by the French Section of the Department of European and Oriental Languages, under the School of Languages, Literature and Communication, College of Humanities and Social Sciences (CHUSS), Makerere University.
The programme offers students historical, economic, political, linguistic, cultural and pedagogical perspectives to the Francophone world. It also engages the graduate students in the critical debates of topical issues and current development challenges relating to Francophone and other societies. It emphasizes comparisons and contrasts with other development scenarios and interactions with other stakeholders both within and outside Africa.
MAFLS is structured into two strands; PLAN A and PLAN B.  PLAN A is by coursework and dissertation/thesis and here emphasis will be put on using research skills and problem analysis to create knowledge mainly through investigation.  This option will enable institutions in the country and the region to train their staff for academic career development. PLAN B is by coursework, internship and research paper.  This alternative will be for students who require in-service language and practitioners' training and not necessarily pursuing the traditional rigorous research skills but rather seeking the mastery of the French Language and grounding in functional competences.
ECRLF Helping to Co-create the Future of African Academic Leadership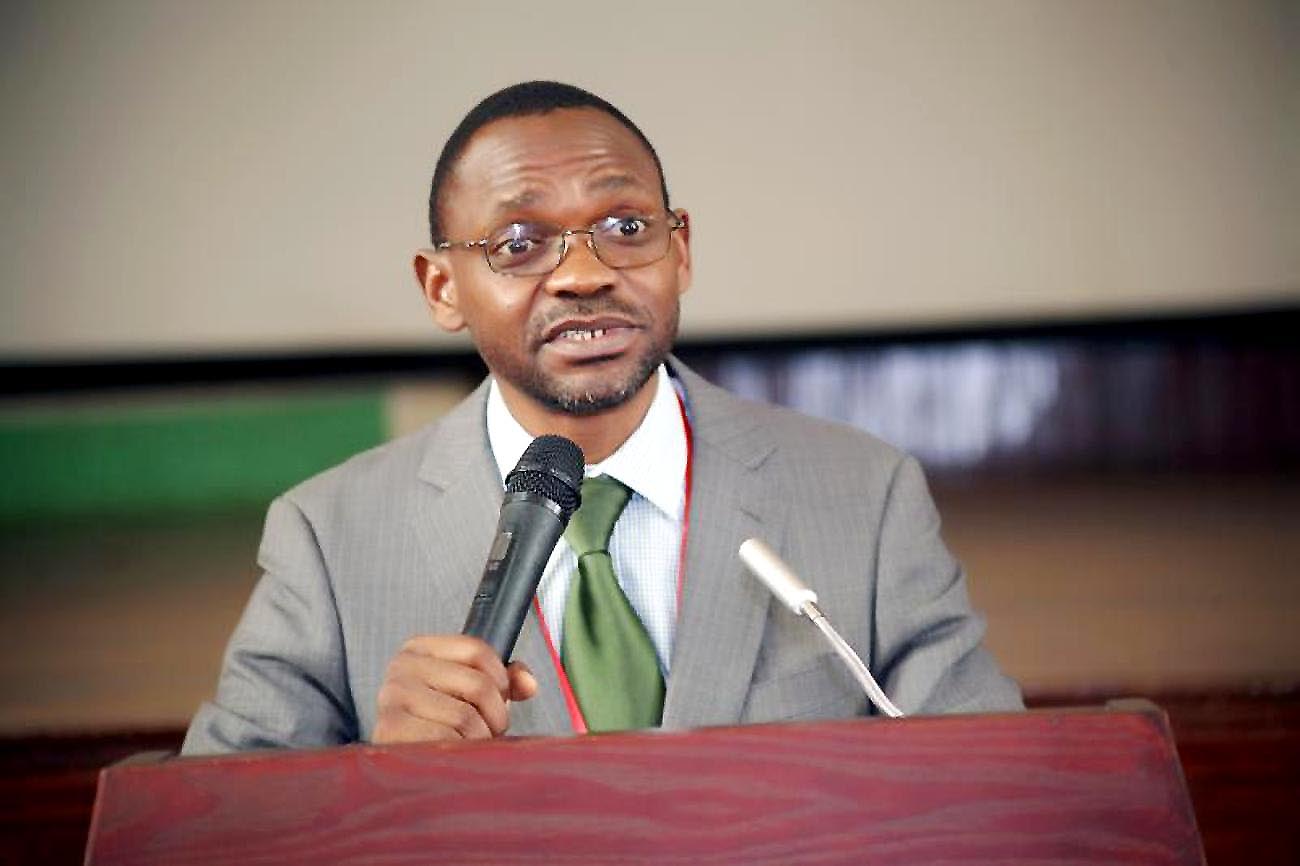 Makerere University in partnership with University of Pretoria on 14th September 2021 hosted the Future Africa's Early Career Research Leader Fellowship (ECRLF) Dissemination Workshop in the Central Teaching Facility 2 (CTF 2) Auditorium and virtually. ECRLF's aim is to offer an opportunity for development of research leaders who will be able to fill a critical gap in the African research capacity ecosystem. This fellowship program is offered by the University of Pretoria with support from the Carnegie Corporation of New York.

The Principal Investigator (PI) of the ECRLF program at Makerere University and Lecturer in the Department of Population Studies, Dr. John A. Mushomi, thanked Future Africa for the first-of-its-kind fellowship accorded to young African academics.
"We are used to taking leave from academia at a much later time in life, where we have professors taking their sabbaticals, but within five years of finishing my doctorate, I was given an opportunity to spend two years at the University of Pretoria and interact with academics from across different disciplines and universities in Africa" explained Dr. Mushomi.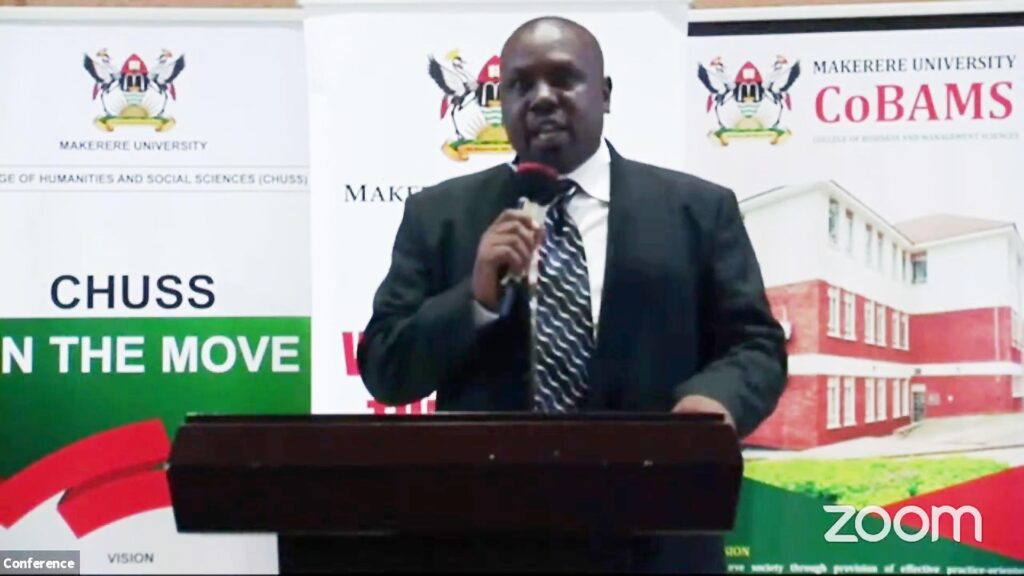 In this respect, he thanked the Carnegie Corporation of New York for sponsoring the ECRLF and the University of Pretoria for hosting the fellowship. He equally thanked Dr. Cori Wielenga from the University of Pretoria for the mentorship accorded to him during the fellowship.
"We had the opportunity to interact with fifteen researchers from different disciplines and spent time learning and training together, and we have not been the same since. We were not just invited to participate but to also co-create what we think is the future of African academic leadership" added Dr. Mushomi.
Speaking on behalf of Future Africa, Rachel Fischer said, "In particular we see with this conference today our very important objective to work with a transdisciplinary mindset and engagement towards forming partnerships, and to collaborate across various disciplines."
She added that the shift from physical to virtual and online collaboration is an active endeavour towards breaking down silos within disciplines, partnerships as well as across various countries on the African continent. The outcomes from such partnerships, she noted, would allow all stakeholders to have a peaceful and secure Africa that is stable and fully functional, while ensuring that the values and ideals of Africa are prioritised.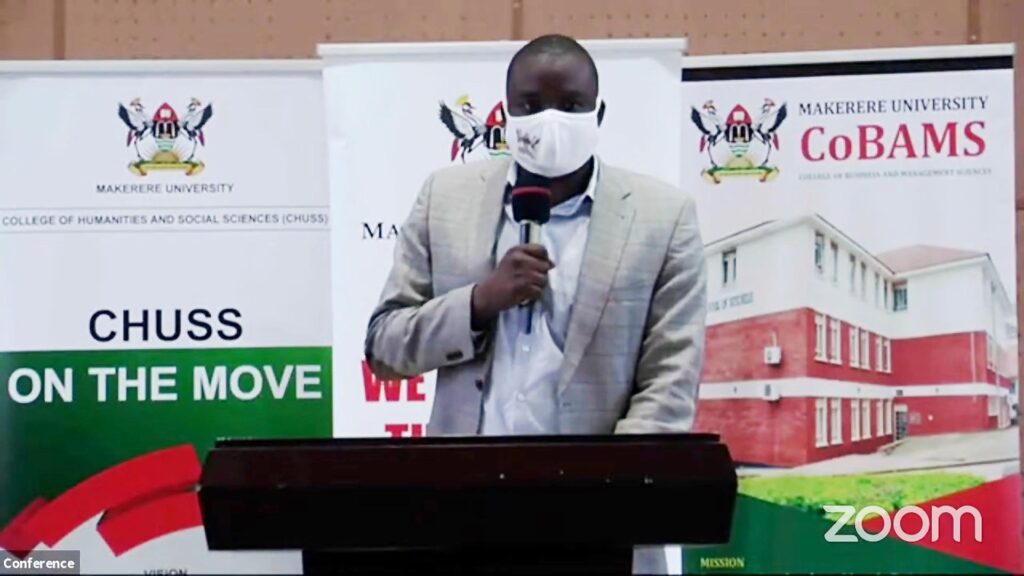 The Dean, School of Statistics and Planning (SSP), Dr. James Wokadala, who was represented by the Head, Department of Population Studies, Dr. Stephen Wandera noted in his remarks that SSP encourages staff to go beyond conducting research and publishing to mentoring students into the next generation of African academics by co-publishing with them.
In line with the workshop he thanked the University of Pretoria for the partnership, noting that "collaboration among African academics helps us to build more comparative studies across the continent, allowing colleagues to learn from each other the best practices and opportunities that can move us forward."
He congratulated Dr. John Mushomi upon completing his post-doctoral research experience at UP, which culminated into the exciting workshop.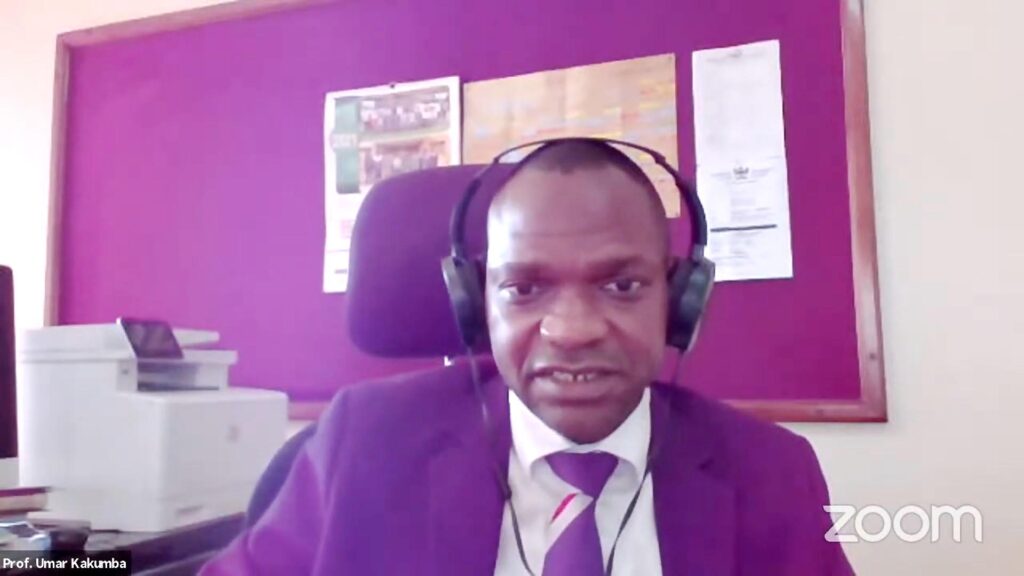 Officially opening the workshop, the Deputy Vice Chancellor (Academic Affairs)-DVCAA, Dr. Umar Kakumba applauded the University of Pretoria supported by the Carnegie Corporation of New York for the great capacity development for future academia and African leaders. The workshop was based on the theme, History Meets Demography: Multi-Disciplinary Inquiry on Poverty, Resource.
"I applaud the University of Pretoria on this move and demonstrating the great potential that Africa has, especially the academic institutions, in mobilising resources, bringing together the African scholars and giving them an opportunity to explore and forge South-to-South collaboration" remarked Dr. Kakumba.
He added that South-to-South collaborations help to build a solid academia across the continent, enabling them to find solutions to emerging problems of African societies. The DVCAA noted that COVID-19 had brought to light the vulnerability of Africa's dependence on the global North to solve her fundamental problems as well as the greater role that universities ought to play.
"And we cannot play this role as Universities outside the shadows of partnerships between our institutions, and without building the huge capacity of early career researchers" he observed.
The DVCAA therefore noted that workshop's theme and its concerns about issues of history and demography were source of great hope, especially given its transdisciplinary nature.
"We are able to dialogue on history and demography and see how we can address issues of poverty in light of our past experiences as well as interrogate the nature of our population and the characteristics that affect our society in various ways" he stated.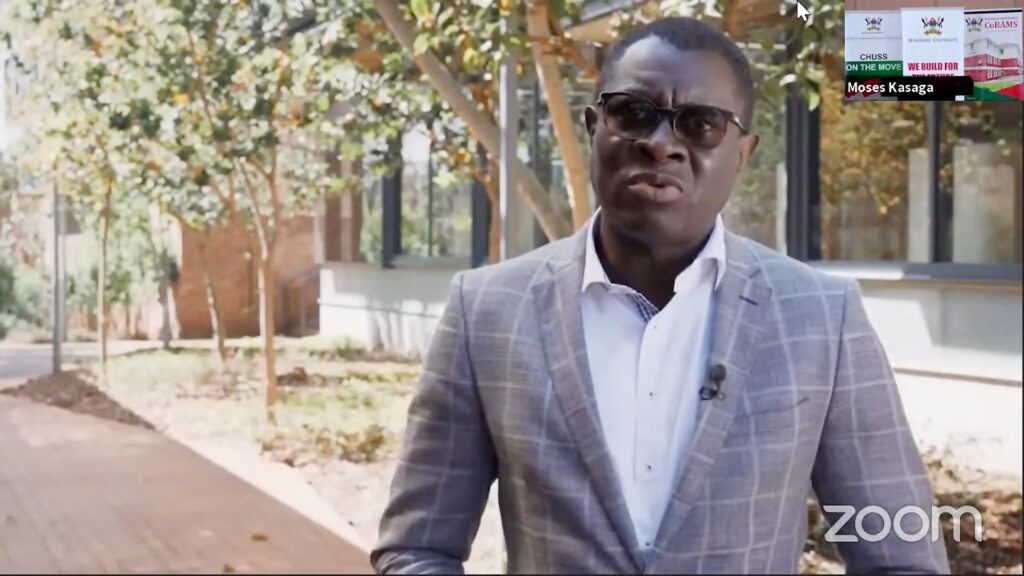 In his welcome message, Prof. Cheikh Mbow, Future Africa Director at the University of Pretoria noted that his organization had over the years been holding academic workshops on different topics across different African countries.
"The reason why were are trying to empower the early career scientists is actually to be able to close the loop in terms of availing science in order to package and deliver knowledge to everyone who needs it, particularly the stakeholders.
"Today's topic is very timely. It's about poverty in Africa, it's about resources in Africa, and it's about mobility in Africa. The poverty line which had come to be stable at some point or decreasing quite slowly over the projected years to come has just suddenly gone into a spike – Africa now has more than 50 million new poor people coming into the statistics of the World Bank" remarked Prof. Mbow.
He concluded by noting that research is not only about hardcore science but looking at all other aspects of life as contributors to knowledge production. "The transdiciplinary theme of the workshop is one of the most important discussions that ECRLF could have."
The workshop featured four parallel sessions that covered;
Governance, Security, Peace and Conflict I
Mining, Resource, Extraction and Policy frameworks
Global Trends in Interdisciplinary Research and Governance, Security, Peace and Conflict II and
Education and Development and Resource extraction and Policy frameworks II
During the closing ceremony, Dr. Cori Wielenga on behalf of ECRLF thanked participants for the wonderful conference proceedings as fostered by Dr. Mushomi's involvement with the University of Pretoria.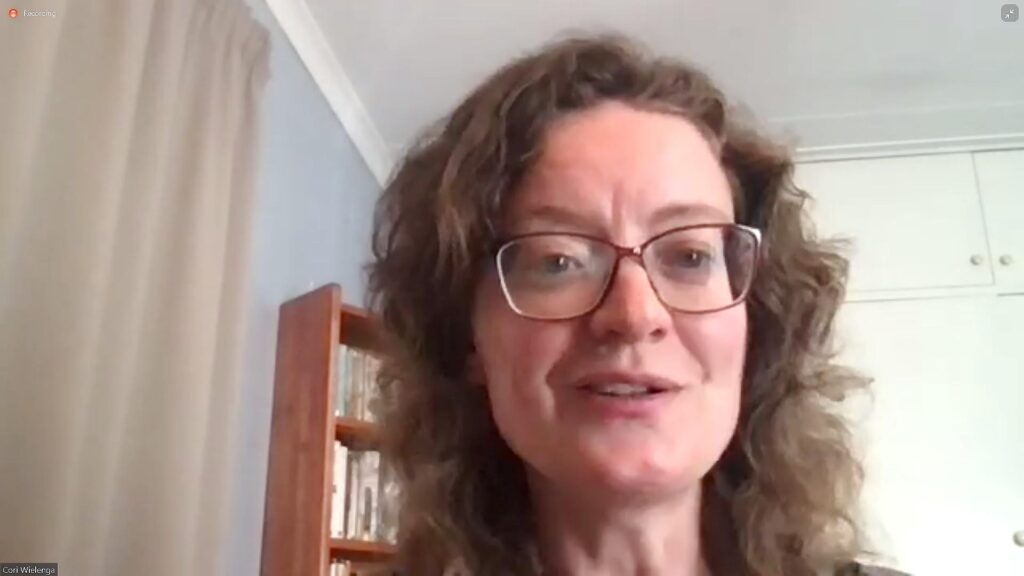 "The purpose of this fellowship and its collaboration is to promote interdisciplinary research as well as collaboration between institutions on the continent and in this regard Dr. Mushomi has made excellent use of the fellowship to meet its objectives including through this conference" she elaborated.
The program mentor from UP added that her collaborative work with Dr. Mushomi was particularly in the areas of resources, identity and migration, which remain a challenge to Africa and the entire globe.
Dr. Wielanga thanked Makerere University for supporting the event, and Dr. Mushomi as well as the coordination team for organizing a successful hybrid event. "We do hope that we will be able to meet in person in the near future as we deepen the collaboration between our institutions."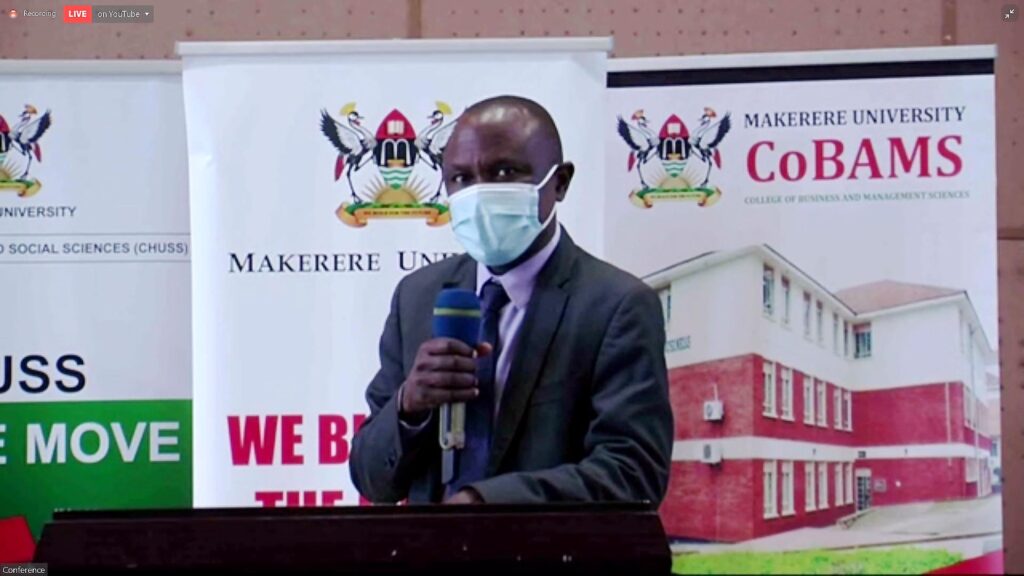 Addressing participants, the Principal, College of Business and Management Sciences (CoBAMS), Dr. Eria Hisali congratulated Dr. Mushomi upon successfully convening the hybrid workshop and extended his appreciation to the funding partners for supporting both the event and work of early career researchers.
In terms of providing sustainability to the collaboration, Dr. Hisali appealed to all the partners to regard the day's workshop as a starting point and work towards strengthening their collaborations so that a lot more work can be done in other fields of research.
He equally appealed to the collaborating parties to use the findings generated thus far to engage policy makers, civil society and the private sector under a framework of policy labs, at least once every quarter. The Principal further called for the integration of students into research activities, as a way of creating multiplier effects that can continue to inform policy debates.
"As the College of Business and Mangement Sciences, we commit that out of our small grants research programme, we should be able to take up funding to further studies in some of these areas" concluded Dr. Hisali.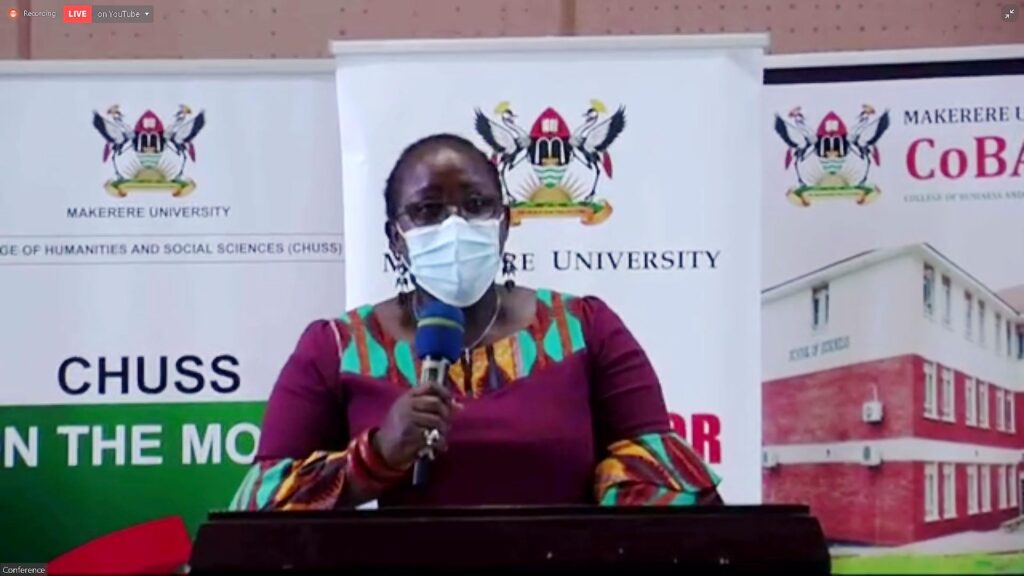 Delivering the closing remarks, the Principal College of Humanities and Social Sciences (CHUSS), Dr. Josephine Ahikire noted that interdisciplinarity increases the University's relevance to society by bringing forth perspectives that enrich the understanding what is at stake in terms of development challenges.
"It is very exciting that we are re-centering history as a key perspective in whatever we do as a university. We know that in the past decade, history had been relegated as a study of the past but actually, history is not just a study of the past, it is the understanding of the totality of humanity for you to be able to actually craft a way forward" Dr. Ahikire explained.
The Principal noted that resource conflicts and contestations are at the heart of human existence. As such, she opined that issues such as citizenship, tribe and nation were very important and the workshop had commendably provided a space where early career researchers can try to provide answers to questions of the time on the African continent.
"A research-led university is one where the people engage intellectually. These engagements improve the academic environment for staff as well as students" she concluded.
The abstracts and presentations from the workshop will contribute to an edited book to be published by Palgrave.
Please click the embedded video below to view proceedings from the Workshop
Opening Session
---
---
Session 1A: Governance, Security, Peace and Conflict I
---
---
Session 2A: Global Trends in Interdisciplinary Research and Governance, Security, Peace and Conflict II
---
---
Closing Ceremony
---
---
TRF Canada Announces Endowment for Mak Rotary Peace Centre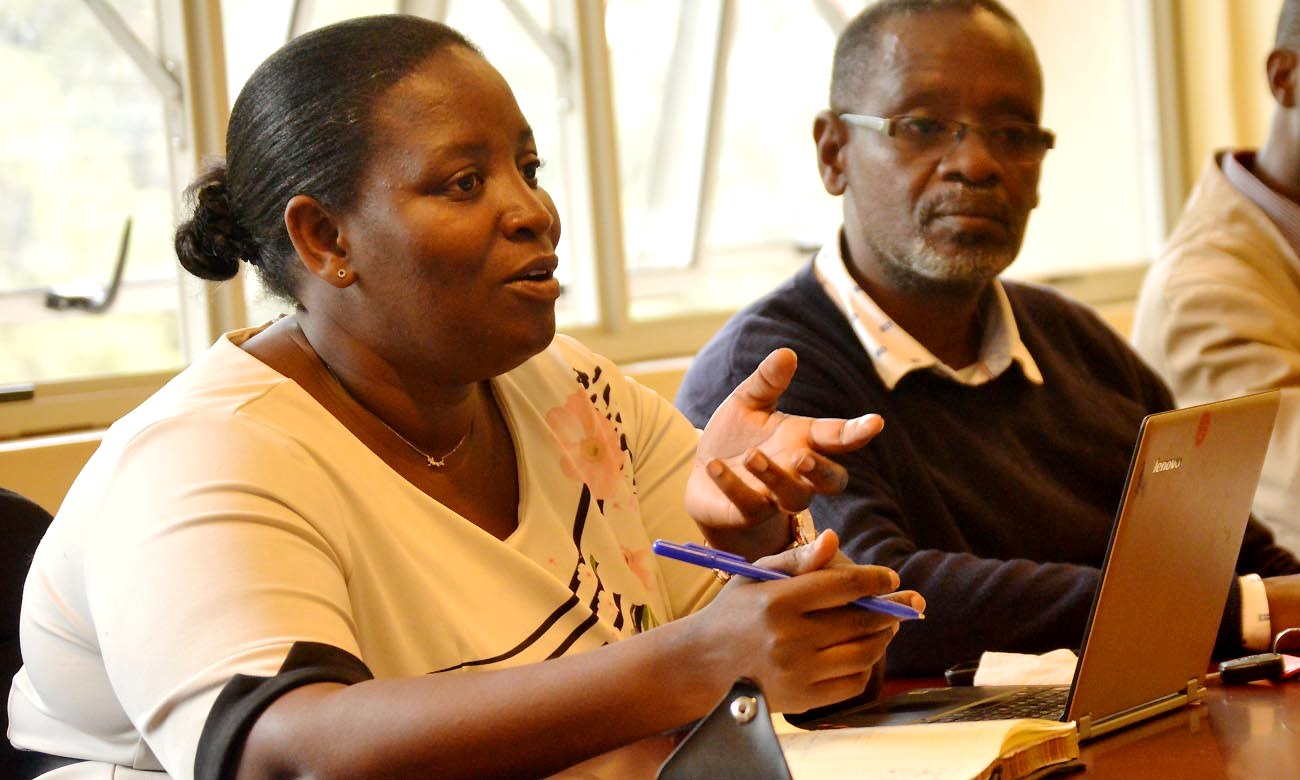 The Rotary Foundation (TRF) Canada has on behalf of Canadian Rotarians announced an endowment fund to support the annual capstone seminar at Rotary's newest Peace Centre at Makerere University in Kampala, Uganda.
The endowment was established with a gift of CAN$125,000.00 (US $100,000) to The Rotary Foundation. The seminar is an opportunity for peace fellows to reflect and report on their social change initiative efforts to an audience of peers, Rotarians, and experts in the field. The year long certificate courses at Makerere overlap allowing current and incoming fellows  the opportunity to network and build fellowship.
We congratulate the Director of the International Rotary Peace Centre at Makerere University, Dr. Helen Nambalirwa Nkabala upon yet another meritorious award.