Call for Applications: Admissions to Postgraduate Programmes 2021/2022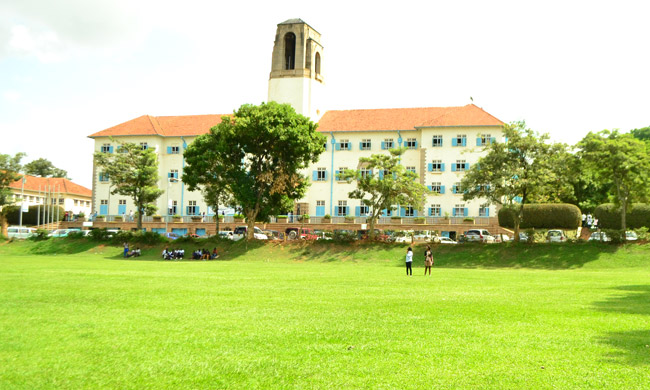 The Academic Registrar, Makerere University invites applications for admission to Graduate Programmes (Postgraduate Diplomas, Masters and Doctoral Degree Programmes) for the 2021/2022 Academic Year.
Applicants should have obtained at least a first or second class degree (or its equivalent) from a recognized and chartered university/institution at the time of completion. Applicants should also possess a Ugandan Certificate of Education with at least five passes (or its equivalent) and a Uganda Advanced Certificate of Education (UACE) with at least two principal passes and one subsidiary pass obtained at the same sitting (or its equivalent).
Sponsorship:
All Graduate Programmes are PRIVATELY-SPONSORED. Therefore applicants seeking sponsorship should have their applications endorsed by their respective sponsors where applicable. Applicants should note that the various fees payable to the University indicated for the various programmes EXCLUDE functional fees, accommodation, books, research and other expenses.
COLLEGE OF AGRICULTURAL AND ENVIRONMENTAL SCIENCES(https://caes.mak.ac.ug)
1 PGD Environmental Impact Assessment
2 MSc. in Agricultural Extension Education
3 MSc. in Crop Science
4 MSc. in Animal Science
5 MSc. in Agricultural Engineering
6 MSc. in Soil Science
7 Master of Agribusiness Management
8 MSc. in Integrated Watershed Management
9 MSc. in Food Science & Technology
10 MSc. in Plant Breeding and Seed Systems
11 MSc. in Applied Human Nutrition
12 MSc.in Forestry and Biodiversity Management
13 MSc.in Disaster Risk Management
14 Master of Land Use and Regional Development Planning
15 MSc.in Agroforestry and Community Development
16 Master of Geographical Sciences
17 MSc. Food Safety and Quality Management
18 Master of Science in Environment and Natural Resources
19 MSc. Agricultural and Applied Economics
20 MSc. in Applied Meteorology
COLLEGE OF HUMANITIES AND SOCIAL SCIENCES(https://chuss.mak.ac.ug)
21 PGD in Gender and Local Economic Development
22 PGD in Social Justice (Nsamizi Inst. of Social Dev' t)
23 PGD (Guidance and Counselling)
24 M.A. in Human Rights
25 M.A.in Philosophy
26 M.A. in Applied Ethics
27 M.A. in Journalism and Communication
28 M.A. in History
29 M.A. in Music
30 M.A.in Literature
31 M.A. in Religious Studies
32 M.A. in Peace and Conflict Studies
33 M.A. in Religious and Theological Studies (Ggaba & Kinyamasika National Seminaries)
34 M.A. in African Languages
35 M.A. in Linguistics
36 M.A. in Gender Studies
37 M.A. in Public Administration & Management
38 M.A. in Sociology
39 M.A. in International Relations & Diplomatic Studies
40 M.A. in Rural Development
41 Master of Social Work
42 M.Ed. in Educational Psychology
43 Master of Organizational Psychology
44 M.A. in Counselling
45 MSc. in Clinical Psychology
46 M.PhiI/PhD in Social Studies
COLLEGE OF COMPUTING AND INFORMATION SCIENCES(https://cis.mak.ac.ug)
47 PGD in Information Technology
48 PGD in Computer Science
49 PGD in Data Communication and Software Engineering
50 PGD in Information Systems
51 MSc. in Computer Science
52 Master of Information Technology
53 MSc. in Data Communication and Software Engineering
54 MSc. in Information Systems
55 MSc. in Information Science
56 MSc. in Records and Archives Management
COLLEGE OF BUSINESS AND MANAGEMENT SCIENCES(https://bams.mak.ac.ug)
57 PGD in Demography
58 PGD in Statistics
59 M.A. in Economic Policy and Planning
60 M.A. in Economic Policy Management
61 M.A in Economics
62 Master of Business Administration
63 Master of Statistics
64 MSc.in Population and Reproductive Health
65 MSc. in Quantitative Economics
66 Master in Financial Services (Uganda Institute of Banking and Financial Services)
67 Master in Public Infrastructure Management (Block week Modular)
COLLEGE OF EDUCATION AND EXTERNAL STUDIES(https://cees.mak.ac.ug)
68 PGD in Education
69 PGD in Medical Education (Mulago Health Tutors College)
70 Master of Education in Curriculum Studies
71 Master of Adult and Community Education
72 Master of Instructional Design and Technology
73 Master of Education,
Tracks:
a) Educational Management,
b) Foundations of Education,
c) Educational Policy and Planning
d) Early Childhood Education and Development,
e) Language and Literature Education,
f) Social Science and Humanities Education,
g) Science Education
74 Master of Higher Education,
Tracks:
a) Leadership and Management
b) Teaching and Learning
c) Research and Innovation
SCHOOL OF LAW(https://law.mak.ac.ug)
75 Master of Laws
COLLEGE OF HEALTH SCIENCES(https://chs.mak.ac.ug)
76 M. Med: Internal Medicine
77 M.Med: Family Medicine
78 M.Med: Emergency Medicine
79 M.Med: Neurosurgery
80 M.Med: Microbiology
81 M.Med: Ophthalmology
82 M.Med: Paediatrics and Child Health
83 M.Med: Pathology
84 M.Med: Psychiatry
85 M.Med: Radiology
86 M.Med: Ear, Nose &Throat
87 M.Med: Surgery
88 M.Med: Obstetrics & Gynaecology
89 M.Med: Anaesthesia
90 M.Med: Orthopaedics
91 MSc. in Medical Illustration
92 MSc. in Human Anatomy
93 MSc. in Pharmacology
94 MSc. in Physiology
95 MSc. in Clinical Epidemiology & Biostatistics
96 MSc. in Immunology and Clinical Microbiology
97 MSc. in Pharmaceuticals and Health Supplies Mgt
98 MSc. in Pharmacognosy
99 MSc.in Health Professions Education (Distance)
100 MSc.in Biostatistics
101 Master of Nursing (Midwifery & Women's Health)
102 Master of Public Health (Full Time)
103 Master of Public Health (Distance)
104 Master of Health Services Research
105 Master of Public Health Nutrition
106 Master of Public Health Disaster Management
107 Master of Health Sciences in Bioethics
108 Master of Health Informatics
109 Master of Dentistry (Oral & Maxillofacial Surgery)
110 Master of Public Health Monitoring and Evaluation
111 Master of Science in Bioinformatics
112 MSc.in Palliative Care (Tenable at the Institute of Hospice and Palliative Care in Africa
COLLEGE OF NATURAL SCIENCES(https://cns.mak.ac.ug)
113 MSc. in Physics
114 MSc. in Chemistry
115. MSc. in Botany
Tracks:
a) Molecular Biology & Genetics
b) Natural Resources Ecology & Conservation
c) Plant Taxonomy & Biosystematics
d) Microbiology & Plant Pathology
e) Plant Physiology
116 MSc. in Zoology
Tracks:
a) Fisheries and Aquatic Sciences
b) Entomology
c) Parasitology
d) Wildlife Ecology and Management
117 MSc. in Geology
118 MSc. in Biochemistry
119 MSc.in Petroleum Geosciences
120 MSc. Mathematics
121 MSc. Applied Mathematics
COLLEGE OF ENGINEERING, DESIGN, ART AND TECHNOLOGY(https://cedat.mak.ac.ug)
122 PGD in Construction Project Management
123 PGD in Urban Planning and Design
124 MSc. in Mechanical Engineering
125 Master of Architecture
126 MSc. in Renewable Energy
127 MSc. in Technology Innovation and Industrial Development
128 MSc. in Civil Engineering
129 MSc. in Urban Planning & Design
130 MSc. in Geo-Information Science and Technology
131 MSc. in Power Systems Engineering
132 MSc. in Telecommunication Engineering
133 MSc. in Construction Management
134 M.A. in Fine Art
COLLEGE OF VETERINARY MEDICINE, ANIMAL RESOURCES AND BIOSECURITY(https://covab.mak.ac.ug)
135 PGD in Livestock Development Planning & Management
136 Master of Veterinary Medicine (Food Animal Health & Production)
137 MSc. in Molecular Biology
138 MSc. in Veterinary Pathology
139 Master of Veterinary Preventive Medicine
140 Master of Biomedical Laboratory Sciences and Management
141 MSc.in International Infectious Diseases Management
142 MSc.in Wildlife Health and Management.
Tracks:
a) Wildlife Clinical Medicine
b) Wildlife Resource Management
c) Aquatic Health Management
143 MSc.in Livestock Development and Management
Tracks:
a) Livestock Sector Planning and Management
b) Animal Product Processing, Entrepreneurship and Safety
MAKERERE UNIVERSITY BUSINESS SCHOOL(https://mubs.mak.ac.ug)
144 Master of Business Administration
145 MSc. in Accounting and Finance
146 MSc. in Marketing
147 Master of Human Resource Management
148 MSc. in Procurement & Supply Chain Management
149 MSc. in Leadership and Governance
150 MSc. in Entrepreneurship
151 M.A. in Economic Policy Management
152 Master of International Business
153 Master of Hospitality and Tourism Management
154 Master of Business Administration (Modular)
155 MSc. in Banking & Investment Management
156 Master of Energy Economics and Governance
PHD DEGREES BY RESEARCH ONLY:
All Colleges offer PhD degrees by Research. Applicants for PhD by research should have a Master's degree in a field relevant to their area of further studies. Applicants will be required to submit on-line applications their applications on line any time in Room 410, Level 4 with a synopsis. For further information, please visit our website http://rgt.mak.ac.ug check on applying.
DURATION OF PROGRAMMES
Postgraduate Diplomas – One Academic Year
Masters degrees (full time) – Two Academic Years
Masters degrees (part time) – Three – Four Academic Years
Masters of Medicine – Three Academic Years
Master of Public Health (Day) – Two Academic Years
Master of Public Health (Distance) – Three to Five Academic Years
PhD (Provisional Admission) – One Academic Year (Maximum)
PhD (Full Admission) – Three Academic Years
PhD/MD/LLD (full time) – Three Academic Years
PhD/MD/LLD (part time) – Five Academic Years
Application Procedure
Visit the Makerere University's Admissions URL https://admissions.mak.ac.ug and generate a Payment Reference Number (PRN) by following the guide below.
2. Sign up using full name, e-mail and Mobile No. Please note that your name must be similar to the one on your supporting academic documents for your application to be considered valid.
3. A password will be sent to both your e-mail and mobile number.
4. The system will prompt you to change the password to the one you can easily remember.
5. To fill a form the appl icant clicks on the APPLY NOW button displayed on the appropriate scheme i.e. Postgraduate and Taught PhD or PhD Research
6. Obtain a payment advice slip by clicking on "Pay for Form" button7. Make a payment at any of the following Banks:
(a) Stanbic
(b) Post Bank
(c) Centenary Bank
(d) DFCU Bank
(e) UBA Bank
8. Print 2 copies of the filled biodata form and attach 2 certified copies of your academic documents, 2 copies of all other relevant academic documents, 2 passport photos and the three referees' letters of recommendation.
9. Submit in office No. 307; level 3 Senate Building Or email scanned copies of the mentioned documents to drgt(@)rgt.mak.ac.ug.
PROCEDURE FOR OBTAINING A PAYMENT REFERENCE NUMBER FOR PAYMENT OF APPLICATION FEES
i) Go the payment reference site: https//:payments.mak.ac.ug
ii) Fill in your name;
iii) Fill in your email;
iv) Fill in your telephone number – Go to the next
v) Click on the option number;
vi) Application fee = Ugx 50,000 (East African applicants) or UGX 151,500 (International Applicants)
vii) the pay reference number
viii) Go to the Bank and payFor foreign applicants, application fees can be transferred either by EFT or any other means in UGX to a designated URA collection account in Bank of Uganda as follows:
Account Name: UGANDA REVENUE AUTHORITY COLLECTIONS
Account No: 003410158000002
Swift Code: UGBAUGKAU
10. Strictly observe the closing date of Friday, 28th May, 2021.
11. All Applicants for Master of Laws (LLM) will do a Graduate Admission Test (GAT) consisting of an oral Interview and written test on dates and other requirements to be communicated by the School.
12. All Applicants for Master of Business Administration (College of Business and Management Sciences and Makerere University Business School) will do a GMAT test on dates to be communicated by College of Business and Management Sciences and Makerere University Business School respectively.
13. In addition to the general admission requirements, applicants for Master of Public Infrastructure Management (MPIM) must have "Proven professional experience of at least 2 years at managerial/supervisory level or policy-decision making position in a government, parastatal organ,international organisation or non-governmental organisation" Applicants should attach a 2- page short CV and referee recommendations.
14. Detailed information about the Programmes' admission requirements, content and regulations can be obtained from College Websites or contact the Principals/College Registrars of the respective Colleges and Schools.
 Further details including tuition fees can be found in the attached document below. 
Alfred Masikye Namoah
ACADEMIC REGISTRAR
Mak Participates in New Vision Education Expo 2023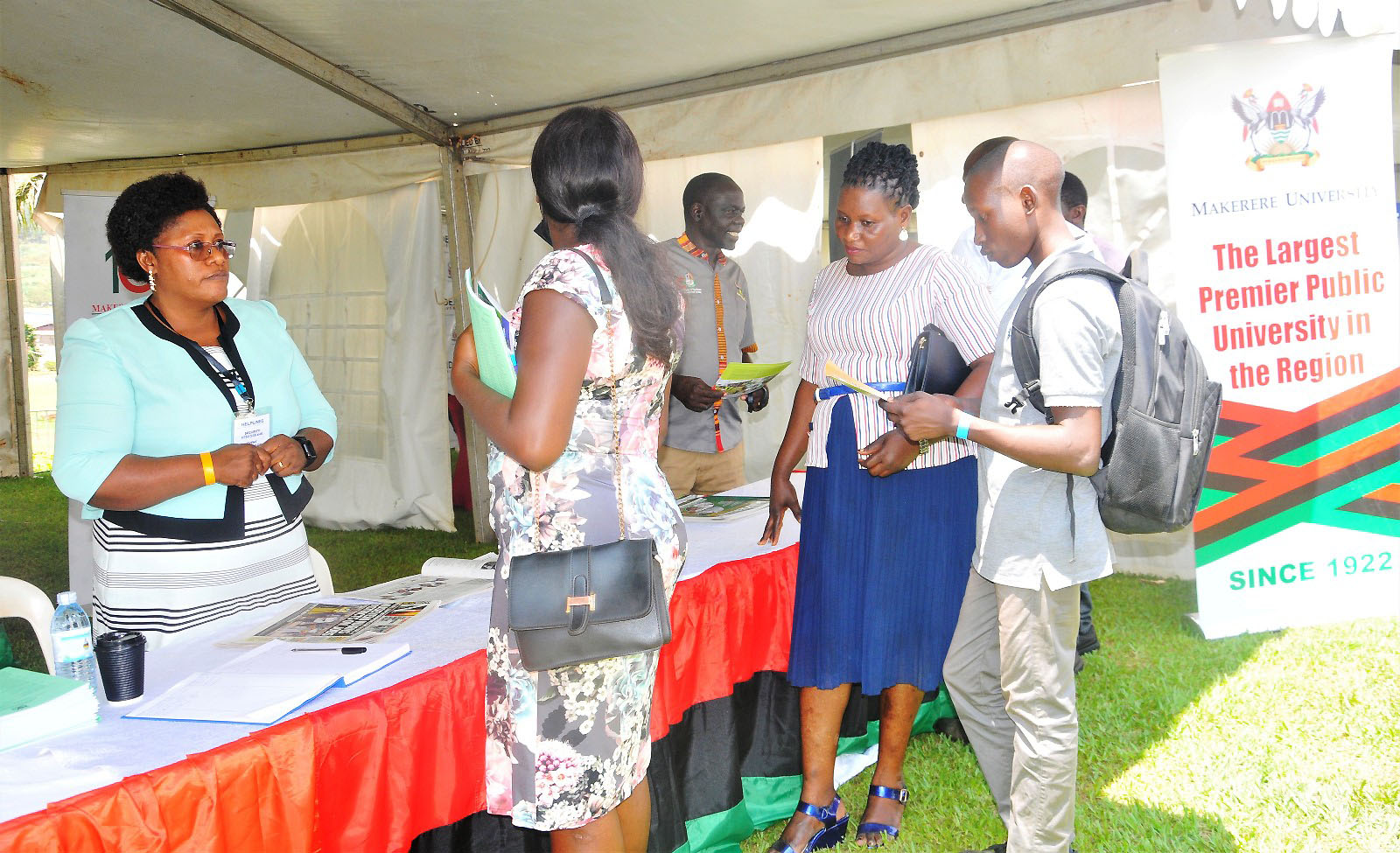 Makerere University is participating in the New Vision Education Expo 2023 to strengthen its niche as the leading provider of education services.
The three-day New Vision Expo (Friday 27th January 2023 to Sunday 29th January 2023) at the Uganda Institute of Information and Communications Technology (UICT) Nakawa brings on board players in the education and business fields to forge partnerships to improve the quality and outcomes of education in Uganda.
Makerere University seeks to maximally utilize the three days to ensure that the participants at the Education Expo gain a deeper understanding of its 100 year journey of providing excellent services to humanity through academic programmes, services offered and ongoing efforts aimed at producing employable graduates as well as entrepreneurs.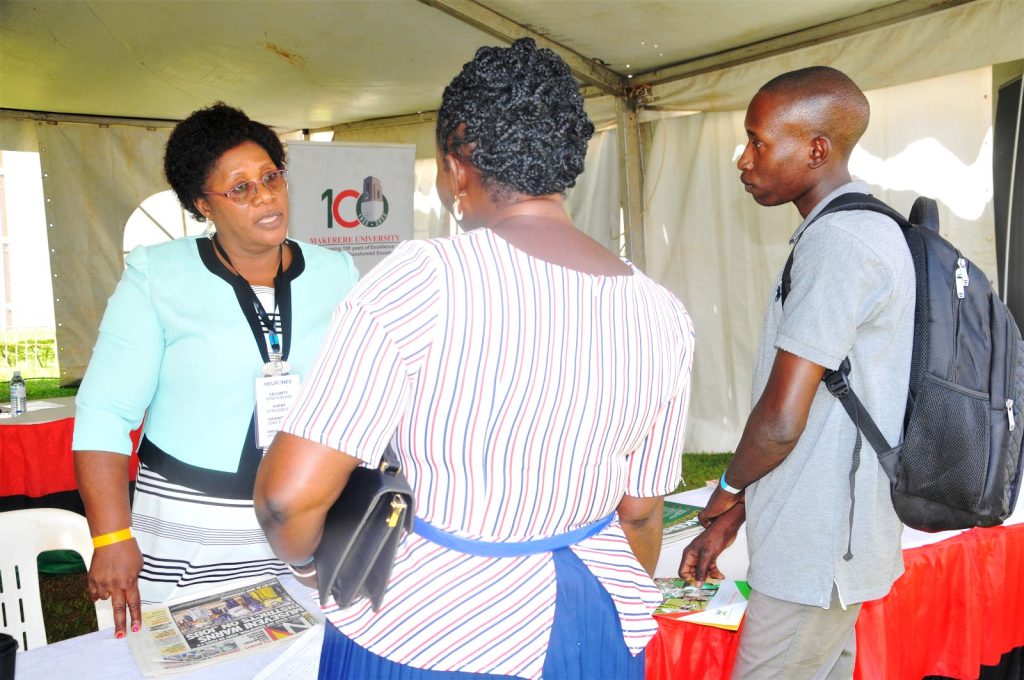 The Vice Chancellor, Prof. Barnabas Nawangwe highlights that Makerere University values stakeholder engagements and partnerships.  "The New Vision Expo 2023 presents Makerere University with an opportunity to enhance stakeholder engagements. It is about consolidating the relationships with schools, prospective students and parents, and partners in the education sector. I applaud the CEO of Vision Group-Mr. Don Wanyama for coming up with the Education Expo."
To respond to the information needs of stakeholders, Makerere University has lined up a team of experienced staff from the Department of the Academic Registrar, the Admissions Office, Public Relations Office, Career Guidance experts as well as the Institute of Open Distance and e-Learning (IODeL) under the College of Education and External Studies (CEES).
According to the Principal PRO of Makerere University Ms. Ritah Namisango, the Education Expo provides a platform to reach out to the clients that Makerere University exists to serve. "You must be in touch with your prospective parents, students as well as schools and partners that continue to recommend you as the leading university in the region. Makerere University has celebrated 100 years of excellent service to humanity (1922-2022). So, as we continue to promote the academic programmes, innovations and services that we offer, we are ready to listen, interact and learn from respective stakeholders about what they expect from the University as we embark on the next 100 years."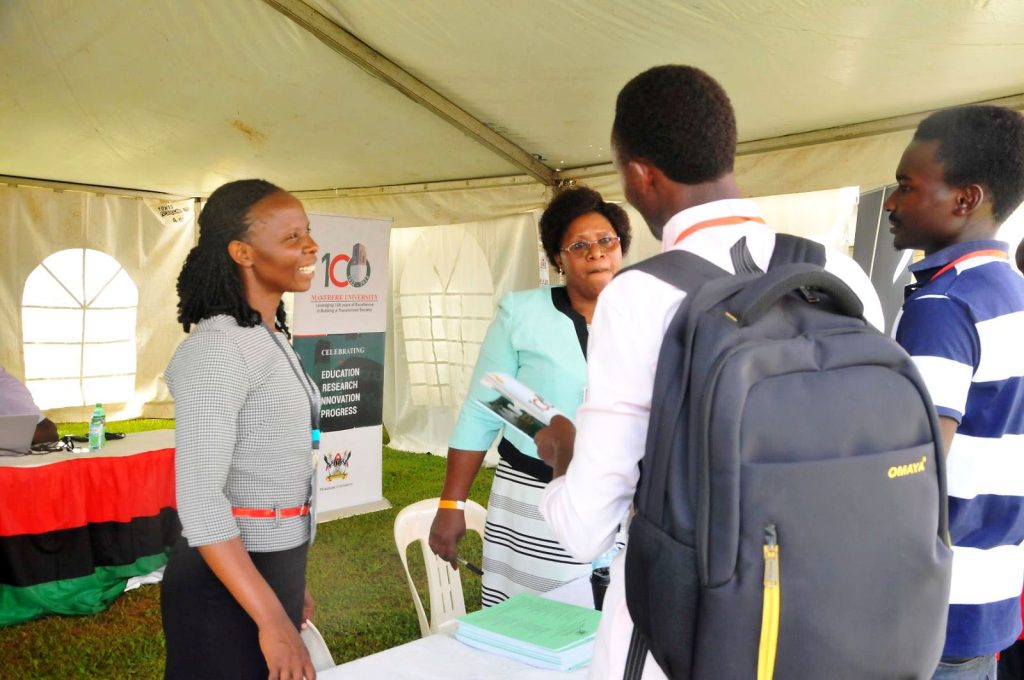 The New Vision Expo 2023 is happening at an opportune (holiday) time, which accords the students, parents and guardians quality time to visit the exhibition and interact with experts in the education sector.
In addition, Makerere University has recently advertised its academic programmes and it is preparing to receive students for the Academic year 2023/2024. Sharing her experience about the interaction with participants who visited the Makerere University exhibition space, Ms Joyce Muhanguzi, Senior Assistant Registrar in the Department of the Academic Registrar noted that most of the prospective students and parents wanted to know about the academic programmes, the subject combinations that students should study to qualify to apply for the respective academic programmes, and the available admission avenues i.e. government sponsorship, private sponsorship, diploma entry, direct entry, national merit, talented sports entry and district quota programme).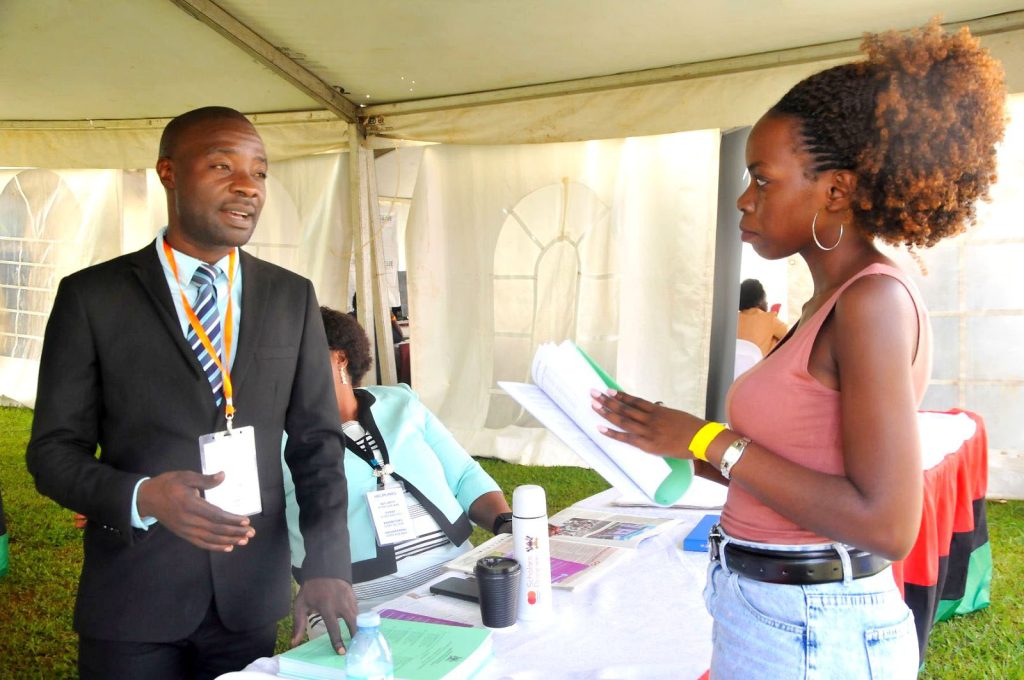 Ms Joyce Muhanguzi and Mr. Dennis Kibuuka's interaction focused on students who expressed their desire to join Makerere University in the coming years, and needed a case by case approach to their information needs, career guidance and linkages to Professors and Administrative staff in the respective Colleges at Makerere University.
The prospective students and parents also disclosed that in addition to the information on the Makerere University website, they welcome interactive and friendly approaches such as the New Vision Education Expo where they are presented with a golden opportunity to interact with Makerere University officials face-to-face.
At the New Vision Education Expo 2023, Makerere University joins other exhibitors that include; Government agencies, NGOs, Telecom companies, Banks, Insurance companies, Kindergartens/Daycare Centres, Primary and Secondary schools, Ugandan and Kenyan Universities, International schools, Study Abroad Agencies, Vocational institutions, Scholastic materials suppliers and SME service providers.
73rd Graduation Highlights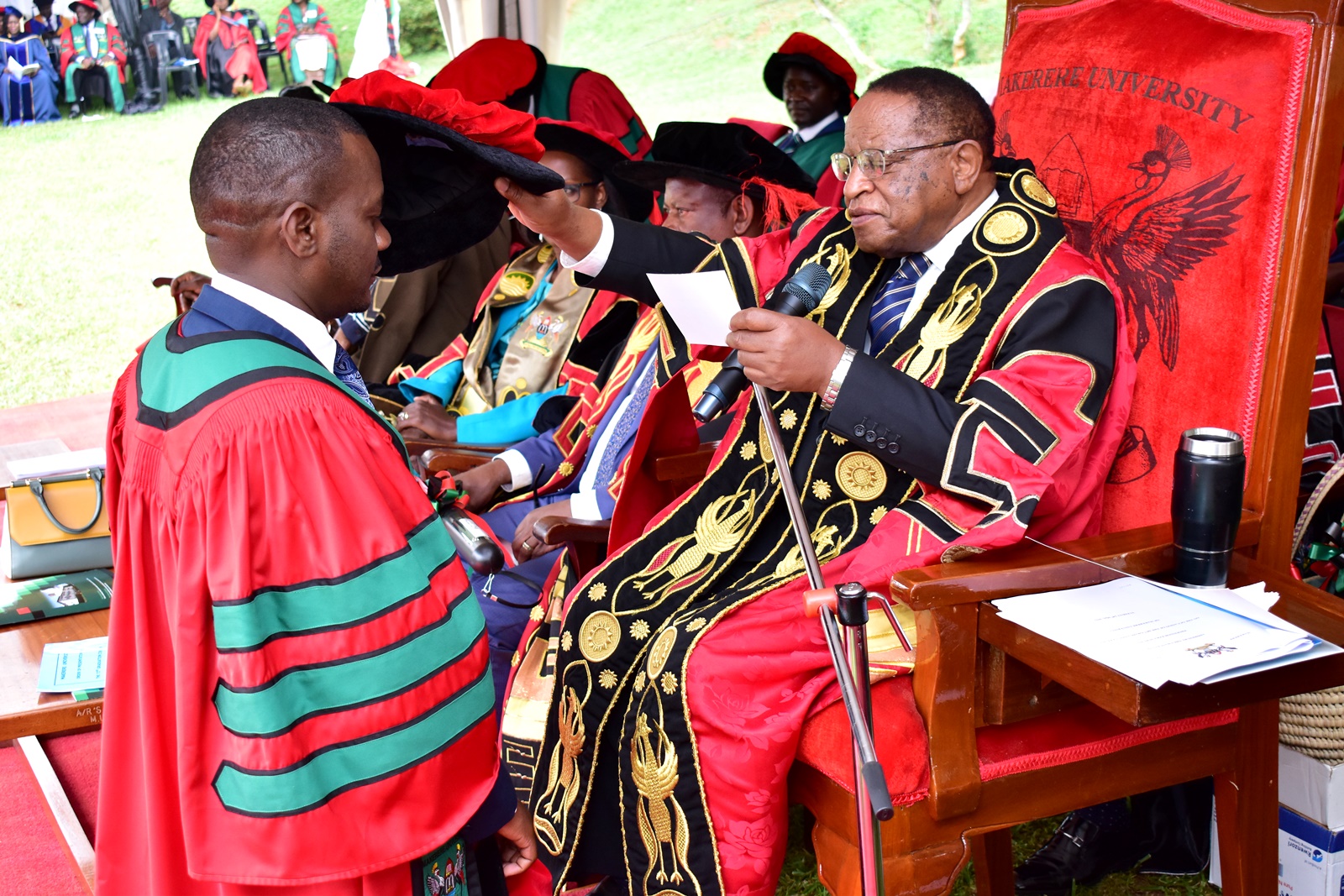 The 73rd Graduation Ceremony of Makerere University will be held from Monday 13th to Friday 17th February 2023 following the schedule below:
Monday, 13th February, 2023
College of Health Sciences (CHS)
College of Natural Sciences (CoNAS)
School of Law (SoL)
Tuesday, 14th February, 2023
College of Agricultural and Environmental Sciences (CAES)
College of Education and External Studies (CEES)
Wednesday, 15th February, 2023
College of Business and Management Sciences (CoBAMS)
College of Computing and Information Sciences (CoCIS)
College of Veterinary Medicine, Animal Resources and Bio-security (CoVAB)
Thursday, 16th February, 2023
Makerere University Business School (MUBS)
Friday, 17th February, 2023
College of Engineering, Design, Art and Technology (CEDAT)
College of Humanities and Social Sciences (CHUSS)
HEST Graduate Programme: Internship Placement Advert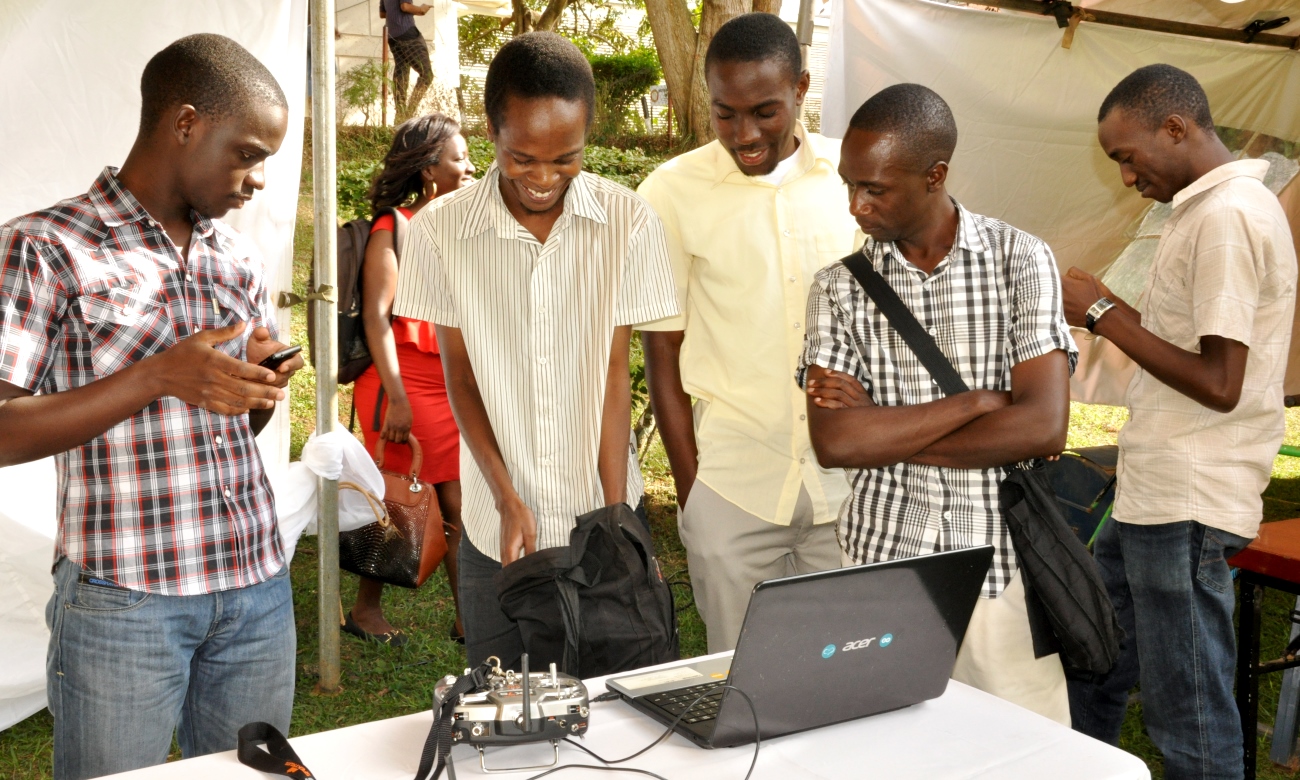 Purpose
The program aims to improve graduates' skills by placing them into selected partner industries for skills gain, facilitating the process and supervising placed interns. Graduates will be placed in their areas of study accordingly.
Time frame
The phased recruitment and placement will start from 1st December 2022 for a period of three months. Recent university graduates and those awaiting graduation should apply for this opportunity.
Eligibility
The project mainly focuses on university graduates from Makerere University (Mak), Makerere University Business School (MUBS) and Kyambogo University (KYU) who have undertaken the following courses
Makerere University and Kyambogo University
Bachelor of Science in Civil Engineering
Bachelor of Science in Electrical Engineering
Bachelor of Science in Computer Engineering
Bachelor of Science in Telecommunication Engineering
Bachelor of Science in Mechanical Engineering
Bachelor of Architecture
Bachelor of Science in Construction Management
Bachelor of Science in Land Economics
Bachelor of Science in Quantity Surveying
Bachelor of Science in Land Surveying and Geomatics
Bachelor of Visual Communication Design
Bachelor of Science in Actuarial Science
Makerere University Business School
Bachelor of Arts in Economics
Bachelor of Science in Business Statistics
Bachelor of Business Administration
Bachelor of Commerce
Bachelor of Real Estate Business Mgt.
Bachelor of Science in Accounting
.Bachelor of Science in Finance
Bachelor of Human Resource Mgt.
Bachelor of Leadership and Governance
Bachelor of Procurement and Supply Chain Mgt.
Bachelor of Transport & Logistics Mgt.
Bachelor of International Business
Bachelor of Catering and Hotel Mgt.
Bachelor of Science in Marketing
Bachelor of Travel and Tourism Mgt.
Bachelor of Entrepreneurship and Small Business Mgt.
Bachelor of Business Computing
Bachelor of Office and Information Mgt.
They should not be employed anywhere and should have gone through the traditional internship placement required by their respective universities.
How Students join
Interested university graduates shall submit an online application and contact the designated university contact or focal persons. Successful applicants will be required to complete the three (3) months internship pgoram uninterrupted to fully benefit from the program. Apply here: https://bit.ly/HEST2022
How companies participate
A company interested in hosting interns under the program can fill out an internship acceptance form and forward it to the internship placement officer.
Contacts of University focal persons
Makerere University (Mak)
Dr. Christine Amito
Tel: +256-771-321384
Email: amitoxtine@gmail.com
Makerere University Business School (MUBS)
Ms. Christine Nantambi
Tel: +256-772-654454/+256-703-878277
Email: cnantambi@mubs.ac.ug
Kyambogo University (KYU)
Ms. Nandugwa Harriet
Tel: +256-786030640
Email: hnandugwa@kyu.ac.ug
Contacts of IEED Project Team
Makerere University School of Public Health (MakSPH)
Ms. Mary Kaakyo,
IEED Project Coordinator
Email: mkaakyo@musph.ac.ug
Tel: +256-706-960075
Makerere University School of Statistics and Planning (MakSSP)
Ms. Afazali Zabibu,
HEST Study Coordinator
Email: zabibu.afazali@gmail.com
Tel: +256-779-912365/+256-705-587072