DeepMind supports the establishment of Master's scholarships to study AI at Makerere University

Press Release [For Immediate Release]
DeepMind will make a donation to Makerere University to fund the establishment of four scholarships in the field of Machine Learning beginning in the academic year 2021/2022. The scholarships will support students who wish to study MSc. Computer Science programme (Track: AI and Data Science) taught in the Department of Computer Science at Makerere University beginning in the academic year 2021/22. The scholarships will be open to students from Uganda, other East African countries, or International students from a Sub-Saharan African country. The scholarship package will include full financial support for tuition, stipend, equipment, AI conference participation and mentorship. International students will also be eligible for a relocation grant to move to Makerere to begin their studies.
Makerere University will join other leading universities in partnering with DeepMind to offer scholarships, including Stellenbosch University in South Africa and international partners, such as the Universities of Cambridge and Oxford, University College London and Imperial College in London.
The Vice Chancellor of Makerere University, Prof. Barnabas Nawangwe applauded the partnership between Makerere University and DeepMind.
"In this era, Universities in Africa should embrace the Fourth Industrial Revolution if they are to remain relevant and competitive. To achieve this, Makerere University is partnering with reputable partners at the national and international levels to train hi-tech human resources and establish state-of-the-art teaching, learning and research facilities. So, the partnership between Makerere University and DeepMind is aligned to the already ongoing efforts by Makerere University to build the future workforce for the Fourth Industrial Revolution through our College of Computing and Information Sciences. This is a valuable partnership that will enable Makerere University to train and produce graduate students/researchers and scholars with expertise in Artificial Intelligence, Machine Learning and Data Science. Thank you DeepMind for coming on board and for choosing to partner with Makerere University," remarked Prof. Nawangwe.
Obum Ekeke, Global Lead, University Relations & Education Partnerships at DeepMind, added, "We are very proud to be further expanding our scholarships in Africa with Makerere University, and look forward to welcoming new African scholars to our programme. DeepMind's education efforts recognise that talent must be nurtured in regions which can bring a diverse range of perspectives into AI research, to ensure AI is a technology that can bring benefits for all."
Engineer Bainomugisha, Associate Professor and Chair of the Department of Computer Science at Makerere University, said "We are delighted that DeepMind has provided funding to support graduate training in AI and Data Science at Makerere University. The Department of Computer Science is committed to providing relevant skills in AI and machine learning. The scholarships will complement our ongoing efforts in AI training and research with emphasis on its applications to unique African challenges in the sectors of health, agriculture, and environment, among others. The scholarships will contribute to the growth of the African AI ecosystem."
About DeepMind
DeepMind is a multidisciplinary team of scientists, engineers, machine learning experts and more, working together to research and build safe AI systems that learn how to solve problems and advance scientific discovery for all.
Best-known for developing AlphaGo, the first program to beat a world champion at the complex game of Go, DeepMind has published over 1000 research papers – including more than a dozen in Nature and Science – and achieved breakthrough results in many challenging AI domains from StarCraft II to protein folding.
DeepMind was founded in London in 2010, and joined forces with Google in 2014 to accelerate its work. Since then, its community has expanded to include teams in Alberta, Montreal, Paris, and Mountain View in California.
http://deepmind.com/scholarships
About the Department of Computer Science atMakerere University
The Department of Computer Science is one of the four Departments in the School of Computing and IT of the College of Computing and Information Sciences at Makerere University. The Department is recognized as one of the top Computer Science departments in Africa. Faculty and students in the Department are undertaking innovative research in areas such as machine learning, computer vision, natural language processing, and software systems security. The Department of Computer Science hosts the Makerere AI research lab that specialises in AI research and its applications to real world challenges including the automated diagnosis of crop and human diseases, auction design for mobile commodity markets, Google-funded research on monitoring and analysis of air pollution and traffic patterns in African cities.
http://cs.mak.ac.ug
Eligible students for the scholarships need to be admitted to the MSc Computer Science programme. Applicants for the Msc Computer Science at Makerere University should look out for a call for graduate admissions for 2021/22 around the end of February 2021 (tentative) the Directorate of Research and Graduate Training website. For more information about the DeepMind scholarships please contact cs@cis.mak.ac.ug. The scholarship announcement will be published around May 2021 on the Department and University websites.
CoCIS CIPSD Short Courses Online September 2021 Intake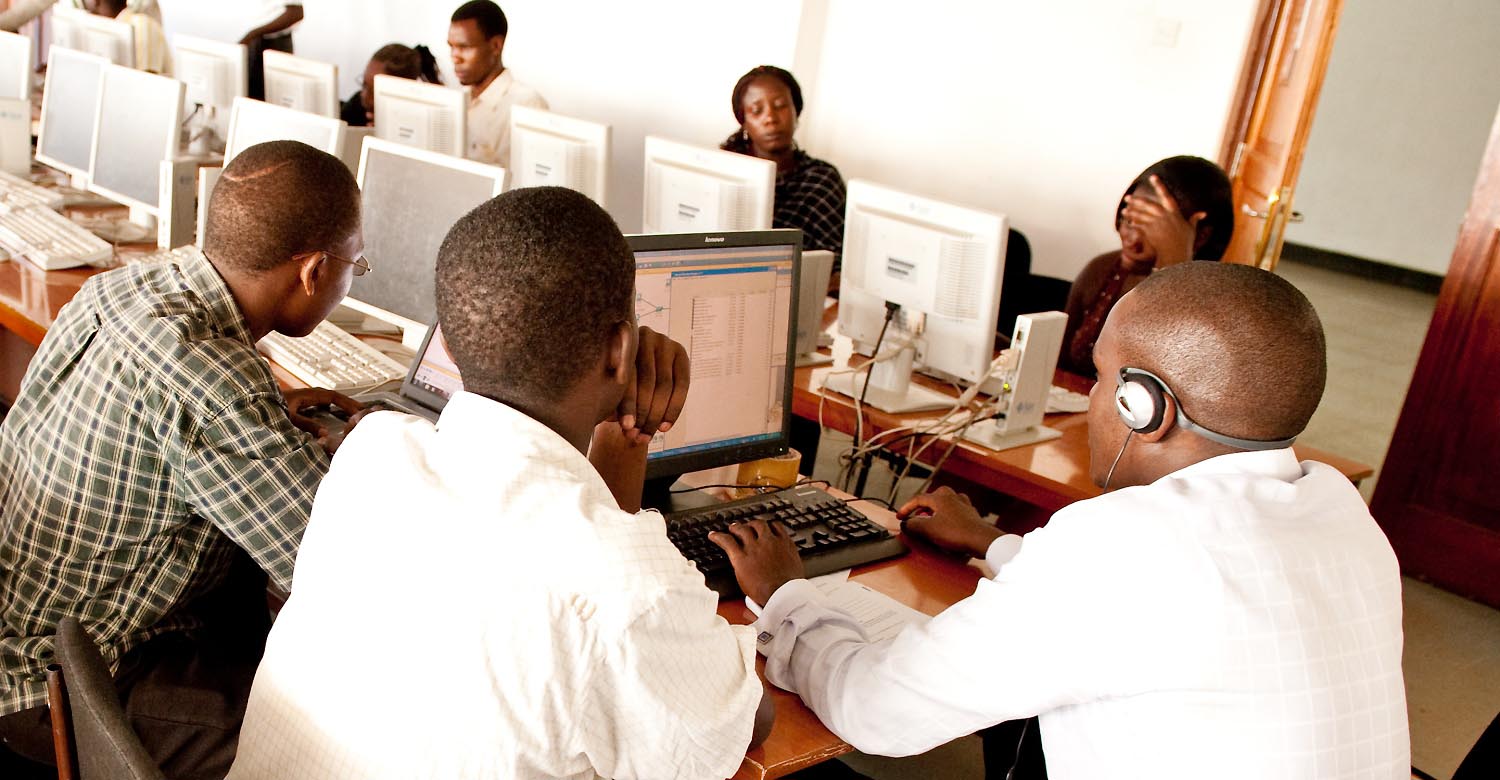 The Center for Innovations and Professional Skills Development (CIPSD), College of Computing and Information Sciences (CoCIS), Makerere University is a specialized unit which delivers state-of-art training in ICT. The training includes; Cisco Networking Academy for Cisco related courses, Microsoft IT Academy Program for Microsoft related courses, International Computer Driving License course, Oracle Certified Training center for Oracle, Linux and Unix Training center. CoCIS is also an authorized Testing center, operating under PearsonVUE and Kryterion.
Please see Downloads for the courses currently offered at the Center.
For further enquiries, contact;
The Center for Innovations and Professional Skills Development (CIPSD)
Level 5, Block B/Front Office, Block A
College of Computing and Information Sciences (CoCIS)
Makerere University
E-mail: psd.cis[at]mak.ac.ug
Url: www.cis.mak.ac.ug/cipsd
Tel: +256 392 000 180
Mob: +256 782 512 897/+256 752 779 964/+256 775 349 730
EASLIS Sends 6 Undergrads to University of Borås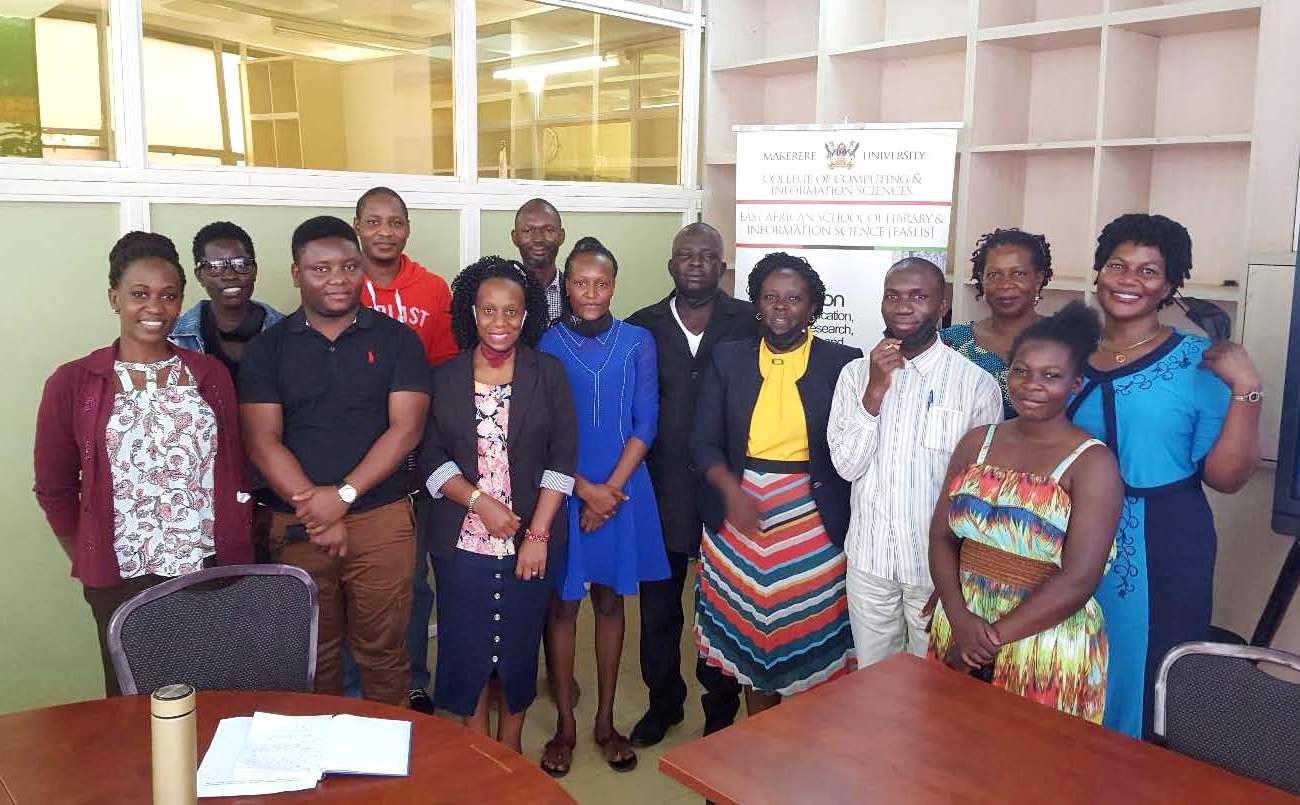 By Charles Halonda-Funa
The East African School of Library and Information Science (EASLIS), College of Computing and Information Sciences (CoCIS), Makerere University in collaboration with the University of Borås, Sweden officially launched the Erasmus+ ICM and Linnaeus-Palme projects. Under the project each institution will exchange and send undergraduate students, academic staff and administrative staff to their respective partner institutions. The project is slated to last three years with a total of 18 students, 9 academic staff and 3 administrative/library staff benefiting from the exchange program.
The collaboration is a partnership that was initiated in 2019 with the approval of the Vice Chancellor, Makerere University– Prof. Barnabas Nawangwe. It consists of two projects and will be funded for three years. The two projects are:
Linnaeus-Palme
• A SIDA-funded programme administered by the Swedish Council for Higher Education. The aim is to contribute to a broader resource base for international development cooperation and increased quality in higher education, through teacher and student exchange between higher education institutions in Sweden and higher education institutions in low- and middle-income countries.
• Sustainable Internalization in Library and Information Education.
• Financed by the Swedish Council for Higher Education.
Erasmus+ International Credit Mobility
• A programme within the Erasmus+ framework promoting the exchange of students, academics, and non-academic staff with partner countries of the ERASMUS+ program (i.e., mostly non-EU and non-EFTA countries and non-candidate countries of the EU).
• Enhanced Sustainable and Integrated Internationalization.
• Financed by Erasmus and the European Union.
Some of the partner countries on these projects include Albania, Brazil, Sweden, Canada, Iran, China, Rwanda and Uganda.
On 1st September 2021, the East African School of Library and Information Science officially bade farewell to the eligible six undergraduate exchange students as the first cohort on these projects. The students are:
Ms. Nakibuka Esther, Bachelor of Library and Information Sciences (BLIS)
Mr. Ssemogerere Abubaker, BLIS
Ms. Kavuhani Immaculate, BLIS
Mr. Ngowi Innocent, BLIS
Mr. Kato Arnold, Bachelor of Records and Archive Management (BRAM)
Ms. Nagujja Jamirah, BRAM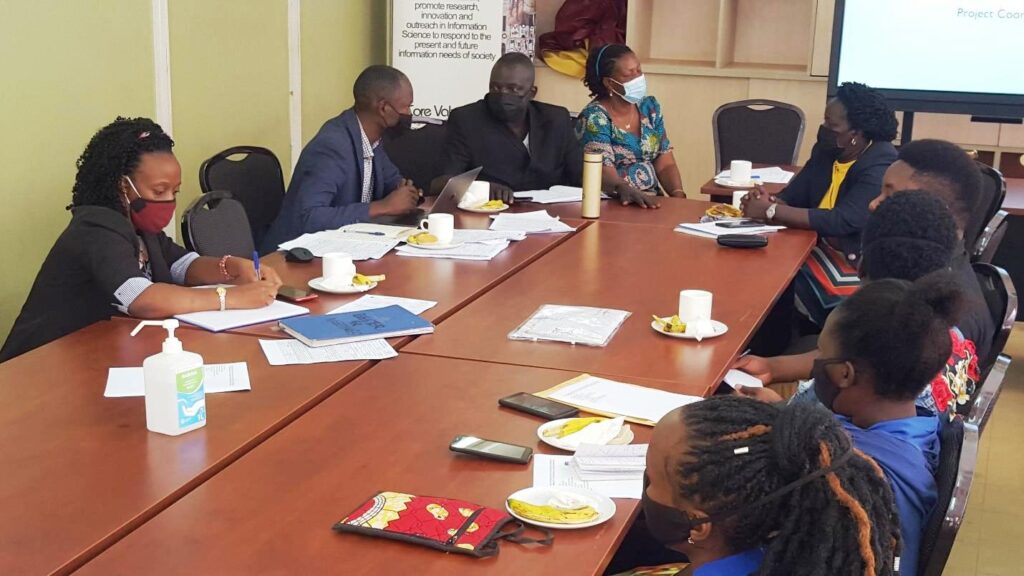 The students were briefed by EASLIS staff on the expectations from them and the partners and in his opening remarks Prof. Constant Okello-Obura (Dean, EASLIS) emphasized on the fact that they would be ambassadors of EASLIS, CoCIS, Makerere University, and Uganda, hence the need for students' maturity, innovativeness and discipline that is reflective of the high standards of Makerere University. He further added that the students should continuously be in touch with their Heads of Department/Project coordinator, document their stay, and embrace the good professional operations in place at the University of Borås. This he said, would enable EASLIS to address the requirements and re-plan where necessary for the benefit of the 2nd cohort and further improve its international relations. "Take the many great things from Makerere University to Borås and come back with only good practices from Borås to Makerere University" Prof. Obura remarked.
Mr. Richard Batte (Project coordinator) briefed them on the project expectations and encouraged them to heed the advice of Prof. Okello-Obura as he wished them a safe journey."This opportunity will be very beneficial to you. I know it's your first time to travel out of Uganda, but it is important to be humble, embrace and learn the culture," said Richard Batte.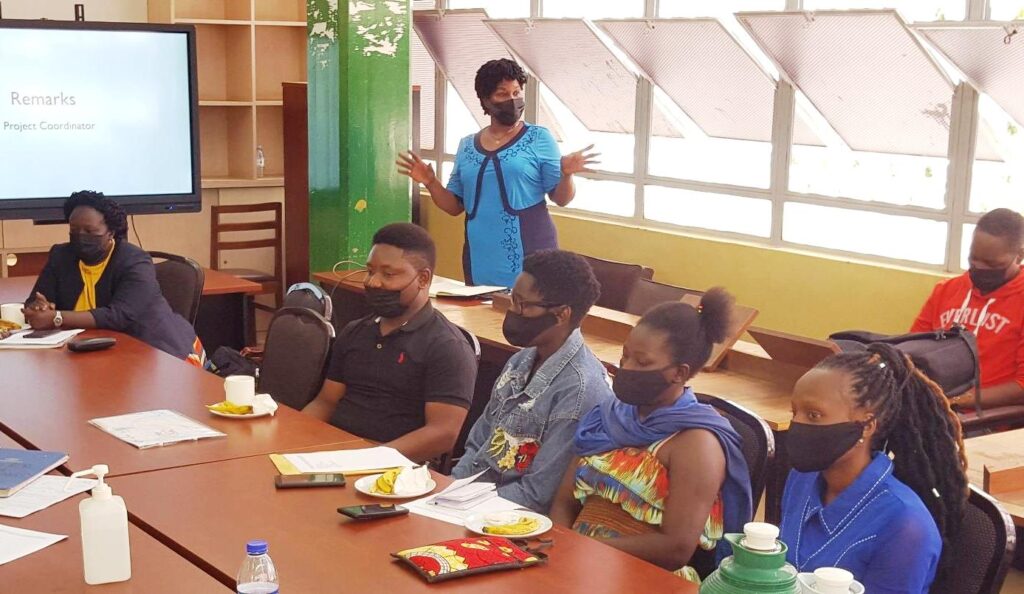 Dr. Joyce Bukirwa also chipped in and encouraged them to make sure that they attend all the classes (physically and online) and take the opportunity to interact and network for the many opportunities that will be made available to them.
Representing the International Office, Makerere University was Ms. Martha Muwanguzi who congratulated the students for this impressive achievement and asked them to fully utilize this opportunity to seek knowledge and establish life long partnerships as mentees or mentors.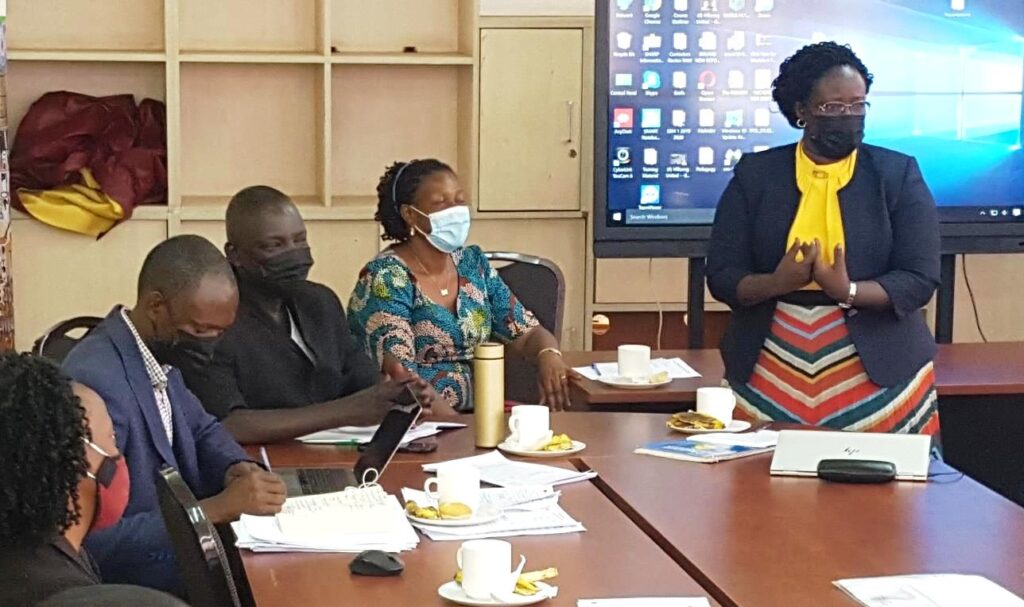 In closing Assoc. Prof. Agnes Rwashana (Deputy Principal, CoCIS) congratulated the East African School of Library and Information Sciences for winning the Erasmus grant and making the effort to collaborate with international universities. She also congratulated the students for being selected and asked them to embrace all the advice given by the Dean, Project coordinator and the rest of the team. Most importantly she advised them to take the opportunity seriously for it might never come again.
Speaking on behalf of the students Mr. Ssemogerere Abubaker (BLIS, Student team leader) thanked the EASLIS management and staff for the opportunity of a lifetime. He asked EASLIS staff for their prayers as they embark on this new journey in their lives and promised they would represent EASLIS and Makerere University in a positive light.
Amity University: Call For Applications July 2021 Intake
In partnership with Amity University (AUUP), Makerere University under the College of Computing and Information Sciences (CoCIS) has been offering e-Learning courses (Bachelor's degrees, Master's, post-graduate diplomas and Post-graduate certificates) for the last over 10 years under the Pan African e-network project on behalf of the Uganda government, Indian government and African union.
Now under a new Partnership M.O.U since inception in the year 2018. We offer a variety of courses tailored for convenient and continued education to students in East Africa unable to attend university physically, using modern information communication and online technologies from AUUP and state-of-the-art e-learning technology. The degrees will be awarded to successful candidates by Amity University.
Please see Downloads for course details.
ADMISSION REQUIREMENTS:
Master and Postgraduate programmes – Minimum is a Bachelor's degree in any discipline.
Bachelor programmes – Minimum is two (2) principal passes at 'A' level.
APPLICATION PROCEDURE:
Pick an Application Form (50,000 UGX) and banking details: ACCOUNT NUMBER: 9030014896898, ACCOUNT NAME: COLLEGE OF COMPUTING & INFORMATION PROJECTS. – STANBIC BANK. (ANY BRANCH IS OK.)
Submit together with photocopies of certified transcripts, certificates, two passport size photos, and a copy of your National ID and Passport (Mandatory for all applicants)
PLEASE NOTE:
All students are required to pay not less than 80% of the tuition fees before registration and enrollment.
Application deadline for July intake is 30th June 2021
For additional details contact:
The Front Office, School of Computing and IT, Block A
Phone: +256 788 864870 OR +256 703 147449 (WhatsApp)