MAPRONANO ACE wins UGX 5 billion in Research Grants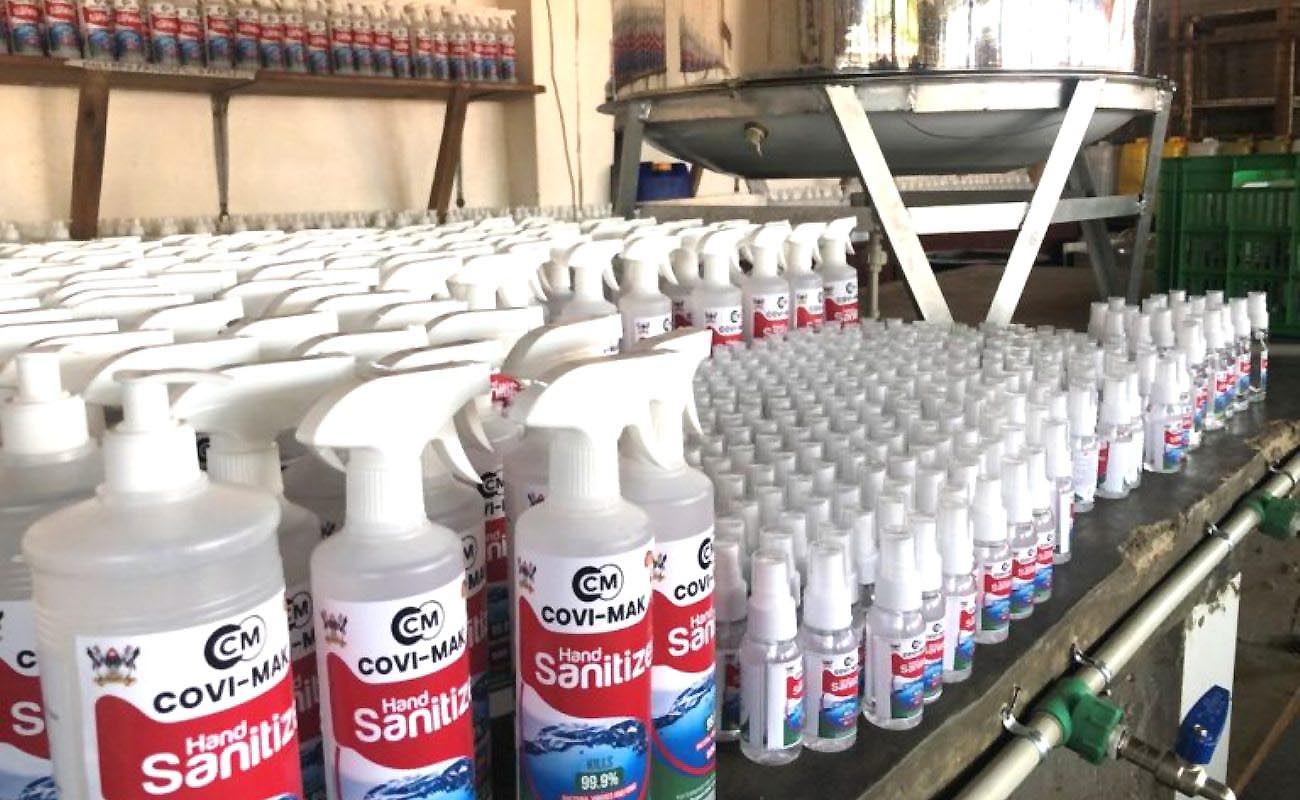 The Africa Center of Excellence in Materials Product Development and Nanotechnology (MAPRONANO ACE), Makerere University has attracted grant funding to the tune of UGX 5,348,380,719 towards research and post doctoral studies for students.
MAPRONANO ACE received UGX 2,812,803,300 funding under Presidential scientific initiative for Evaluation of nanoscale materials as candidate adjuvants and delivery systems for SARS Cov-2 (COVID-19) sub-unit vaccine. These funds will also support the purchase of the first of its kind state-of the art Field Emission Scanning Electron Microscope (FE-SEM) the first of its kind in Sub-Saharan Africa.
MAPRONANO ACE received UGX 1,031,939,998 funding under Presidential scientific initiative for development of saliva test kit for COVID-19. This will solve the issue of lack of cheap testing services in Uganda and hence facilitating massive testing hence effective Covid-19 surveillance and patient management.
Nanobody based point of care diagnostic kit for cervical cancer – UGX 194,770,000
Volkswagen foundation Post doctoral fellowship for African researchers in the Engineering sciences UGX 795,999,500
Antibacterial and antiviral nanocoated cloth mask to limit the spread of Covid-19 – UGX 75,000,000
Green synthesis of graphene from coffee husks and other agro-wastes for energy storage applications – UGX 156,445,850
Development and validation of lateral flow based multiplex test device to detect and differentiate SARS CoV-2 from other human coronaviruses – UGX 157,130,071
Determination and characterisation of viral load and antibody profiles in samples from multiple sites of Covid-19 patients in Uganda – UGX 60,000,000. This is in partnership with Makerere University College of Health Sciences and Uganda Virus Research Institute.
Perfecting the design and testing the feasibility of Disinfecting Gloves (D-Gloves) – UGX 60,000,000
Multimorbidity and lifestyle prevention in low and middle income countries – UGX 4,292,000
Kayoola Diesel Bus launched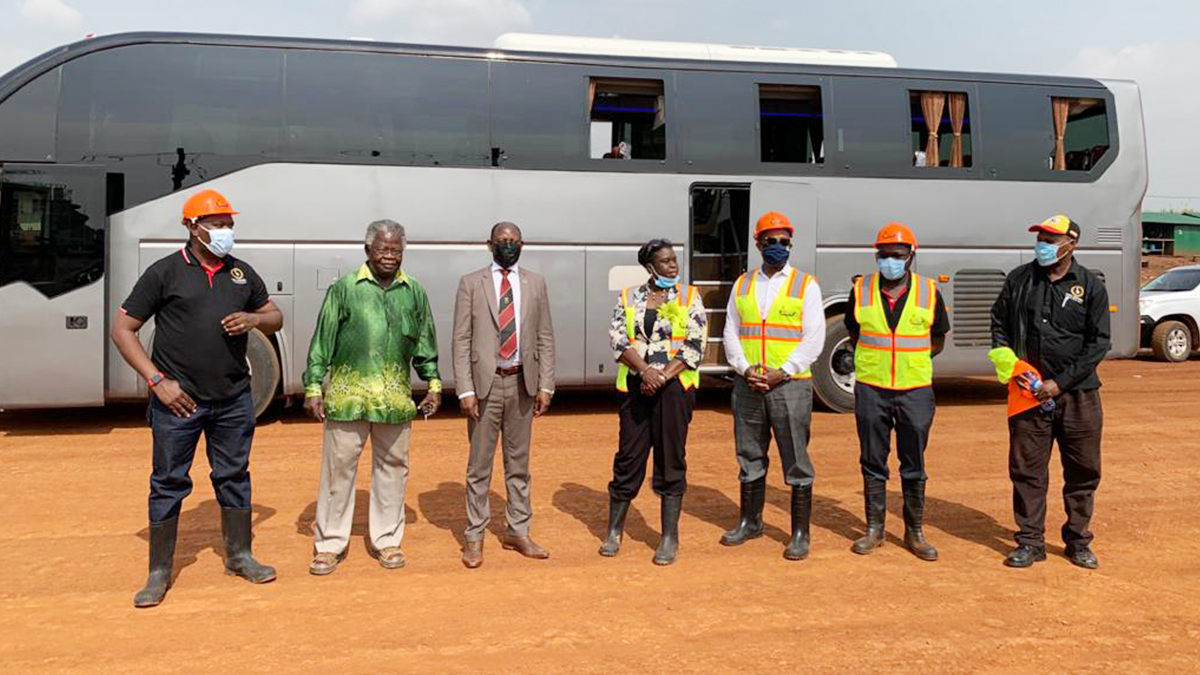 Kiira Motors Corporation (KMC), a state enterprise established to champion value addition in the domestic automotive industry has a launched their latest product -the Kayoola Diesel Bus.
The 47-seater executive coach, the first of a kind in the East and Sub Saharan -Africa that was unveiled by the automotive industry leaders Kiira Motors at UPDF's Luwero Industries in Nakasongola on 17th February 2021. The bus had just returned to Kampala from a 900 kilometers roadshow trip in western Uganda where it was showcased to excited Ugandans- who applauded the Ugandan engineers for proving to the world that the country can now produce commercial vehicles locally. Kiira Motors is led by the Executive Chairman Prof. Sandy Stevens Tickodri-Togboa. Prof. Tickodri-Togboa taught at and served as a Deputy Vice Chancellor(Finance and Administration).
The KMC Chief Executive Officer Mr. Paul Isaac Musasizi said that while designing and building this unique bus the company's team of engineers ensured better aerodynamic performance , fuel efficiency and safety of passengers. The bus is configured to a luxury interior featuring 47 reclining leather seats (43 Executive + 2VIP + 1 Guide + 1 Driver), a lavatory (toilet), on board Wi-Fi, refrigerator and CCTV cameras. The bus conforms to EURO 111 emissions standards.
Makerere University Vice Chancellor Prof. Barnabas Nawangwe is one of the prominent Ugandans who have had a ride on the Kayoola Diseal Bus . He stated thus ; "It feels good to be aboard the ultra modern Kiira Kayoola Diesel bus, designed by Makerere University trained engineers and built in Uganda by Ugandan engineers with more than 50% indigenous parts. Finally we are on the move."
While flagging off the bus from Nakasongola to Kampala , Maj Gen Sabiiti Muzeyi, the Luweero Industries General Manager appealed to Ugandans to support the state owned nascent car manufacturer in order to develop the country's automotive industry.
"Ugandans need to support our own because when we produce and no one consumes the products, we put their work down. This bus is the best I have ever seen. It has the finest features, it consumes only 22 litres of diesel per 100 kilometers and I don't know whether there's any part of the country this coach doesn't reach," Gen Sabiiti stated .
Kiira Motors and the partners plan to produce and deploy 1,030 Buses by end of 2021, 50 of which will be electric. Makerere University is one of the equity partners of KMC.
How a Researcher is Using Art to Create HIV Awareness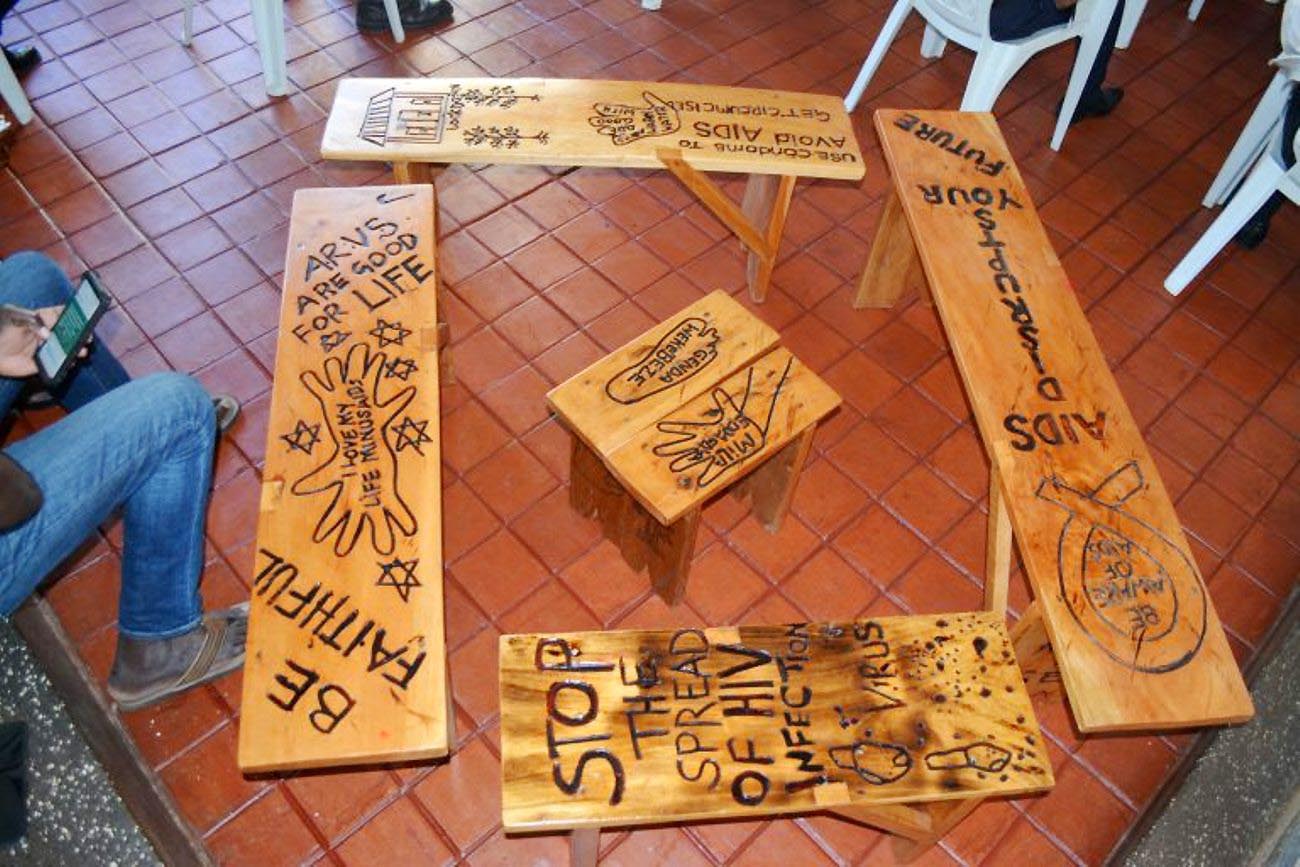 By Betty Kyakuwa & Isaac Abaho
Researchers have been called upon to increase awareness about HIV among the population. The call was made by Rtd. Maj. Rubaramira Ruranga, during the opening of Mr. Robert Ssewanyana's art exhibition that sought to create HIV awareness and prevention in slum areas of Kampala. Maj. Rubaramira said the biggest reason for the increase in HIV is lack of knowledge and information by the population especially in the rural areas. The exhibition was attended by the Deputy Vice Chancellor (Finance and Administration) Dr. Josephine Nabukenya as well as organisations doing HIV treatment and rehabilitation.
Maj. Rubaramira said there was no reason as to why people should contract HIV even if raped. He pointed to the existence of post-exposure prophylaxis (PEP), an emergency treatment to prevent HIV after exposure. This treatment is given before 72 hours after exposure or rape.
The spread of HIV has been on the rise especially among the young people aged between 15 and 24 years. This has been due to lack of knowledge about HIV especially among the rural communities. In the urban centres, HIV increase has been attributed to a number of factors, including, poverty, illiteracy, ignorance, a thriving commercial sex industry and lack of knowledge of matters relating to the spread of HIV. To this end, Mr. Robert Ssewanyana, an artist and lecturer at the Margaret Trowell School of Industrial and Fine Art set out to work with communities in an effort to create awareness and prevent the spread of HIV. He worked with communities of Bwaise, Ndeeba and Katwe.
Guide to Sanitation Resource Recovery Products & Technologies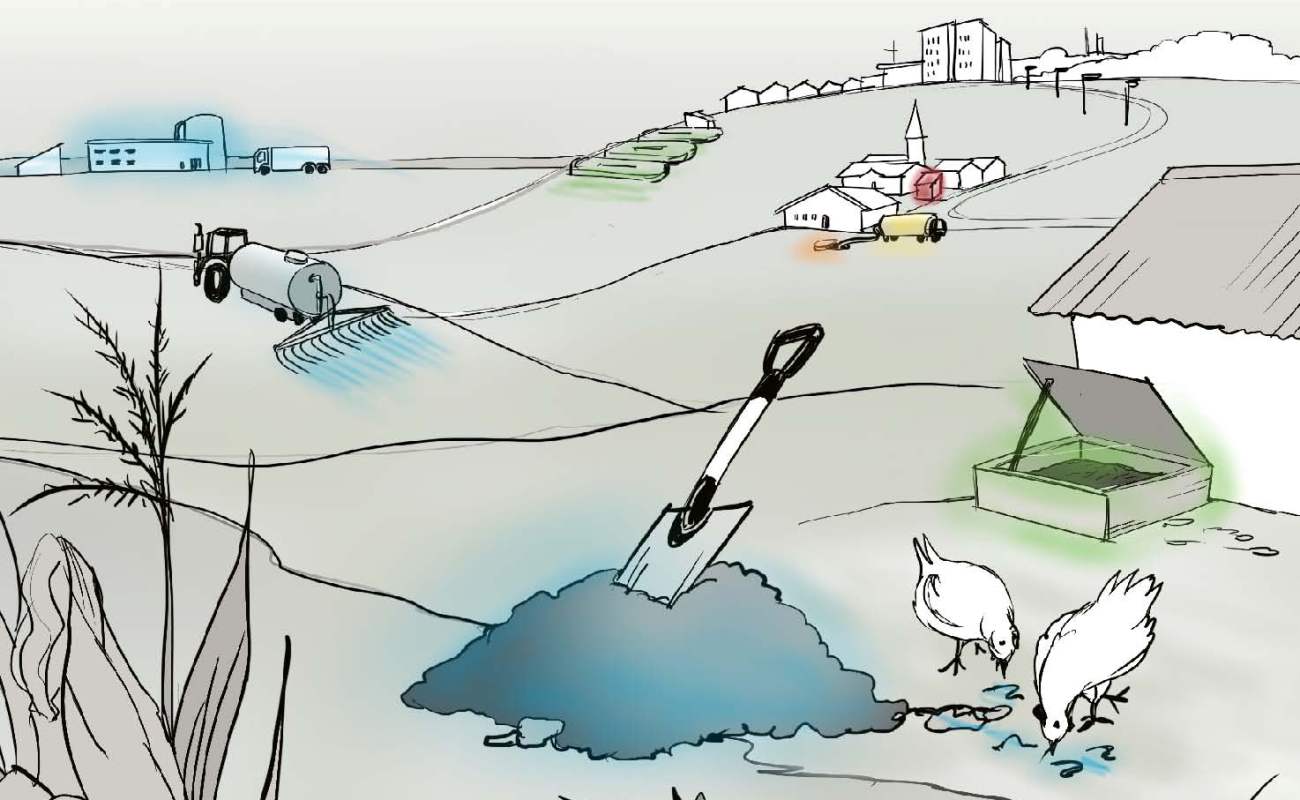 The world is currently undergoing a paradigm shift towards a circular society in which resources are recovered and reused rather than discarded. The global population has surpassed seven billion people, and rapid urbanisation in many areas is putting a significant strain on our ability to provide basic services to all. The Sustainable Development Goals highlight the fact that millions still lack access to food, healthcare, water and sanitation. At the same time, it is increasingly evident that we are consuming the Earth's resources and releasing waste into the environment in an unsustainable manner. The resulting effects on climate change, biodiversity loss and changing nutrient cycles threaten to over-step critical planetary boundaries. Crossing these boundaries has the potential to cause irreversible environmental change and to threaten the ability of humanity to develop and thrive. Sanitation systems manage carbon, nutrient and water flows, which are key resource flows that affect the planetary boundaries and thus should be recovered and recirculated instead of being released into the environment. Increasing resource recovery within our sanitation systems can play a critical role in shifting to a more sustainable society.
There are significant resources within excreta and wastewater fractions that can be recovered and turned into useful products. For example, the average person excretes 4.5 kg of nitrogen, 0.5 kg of phosphorus and 1.2 kg of potassium every year. These elements and other micronutrients found in excreta are critical for the fertilising and restoration of agricultural soils. The energy value of faeces is on average 4 115 kcal/kg of dry solids. This energy can be utilised as a renewable energy source. On top of this, there are large volumes of wastewater that can be captured, cleaned and reused. However, human excreta and wastewater contain pathogens and other undesired substances, risks that need to be managed in a reuse system. The growing demand for recycling needs to be complemented with a growing knowledge of how to do it safely.
The aim of this document is to provide an overview of the possibilities for resource recovery from sanitation and provide guidance on treatment processes to achieve safe products for reuse. The focus of this document is on resource recovery from the organic wastes managed in sanitation systems and, to a lesser extent, on the recovery of water and energy generation. Resource recovery sanitation systems are defined as systems that safely recycle excreta and organic waste while minimising the use of non-renewable resources such as water and chemicals. Safe recycling means that waste flows are managed so that physical, microbial and chemical risks are minimised. Thus, the recycled product should not pose any significant health threat or environmental impact when correctly used.
The specific objectives of this document are:
To expose the user to a broad range of recovered sanitation products and innovative treatment technologies.
To help the user to design functional solutions for resource recovery by illustrating the linkages between sanitation inputs, treatment technology and the recoverable products.
To provide an overview of basic information regarding design aspects, operational requirements and health, safety and social considerations related to resource recovery technologies and products.
Describe and fairly present technology-specific advantages and disadvantages.
Please see Downloads for full Text Book