MAKNAI Hand Pump Automation to Eliminate COVID-19 Spread at Boreholes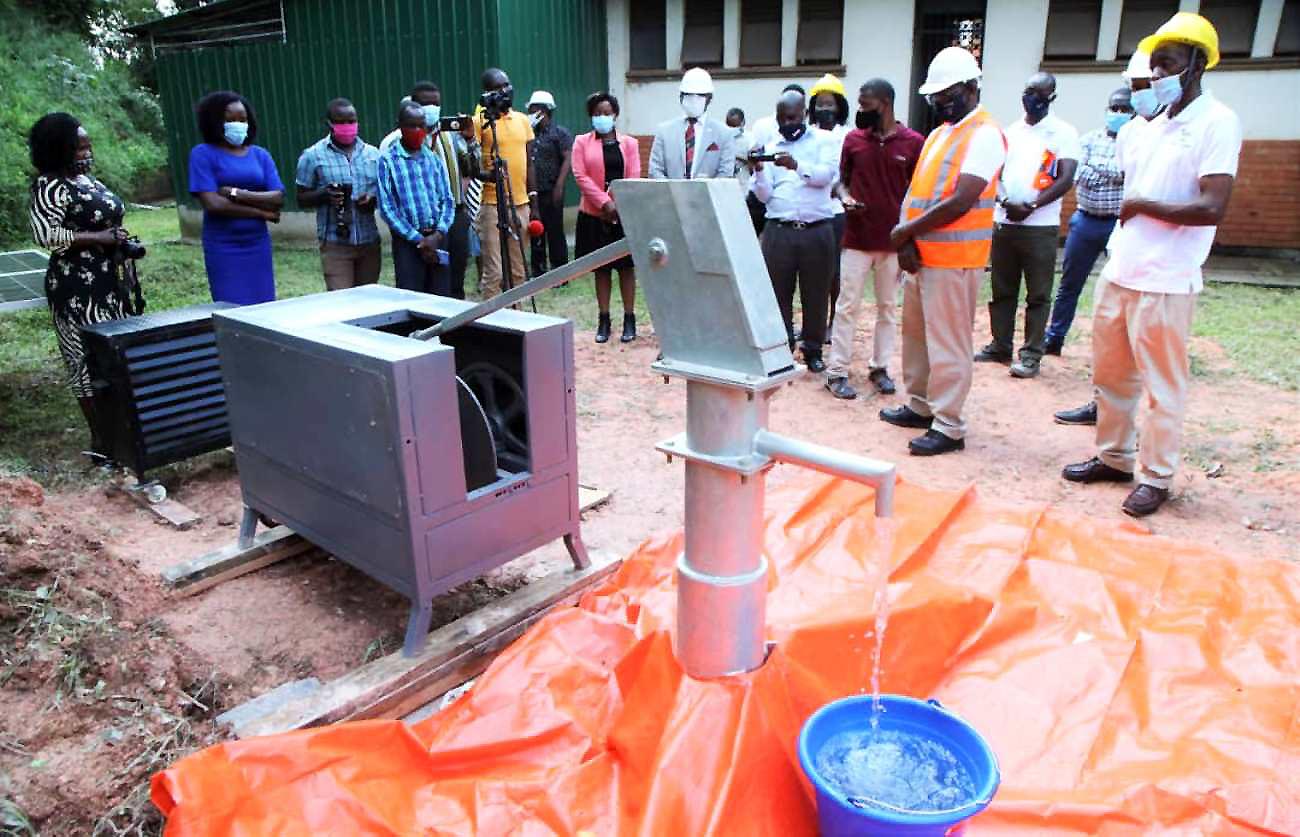 "Boreholes and shallow wells account for 67.6% of the water sources in rural areas in Uganda and supply water to an estimated 18,540,000 persons" remarked Dr. Nicholas Kiggundu. "Each well or borehole supplies about 300 persons in the wet seasons, and more than 1,000 persons during dry spells," continued the Principal Investigator as he gave a background of the project.
MAKNAI is an acronym for the Makerere University–MAK NAyIkondo – vernacular for borehole, a prototype to automate cranking of the hand pump that draws water from a well. Designed by a team from the Department of Agricultural and Biosystems Engineering (DABE), School of Food Technology, Nutrition and Bioengineering (SFTNB), College of Agricultural and Environmental Sciences (CAES) the prototype consists of a PV (photovoltaic) panel, battery, solar charge controller, inverter, motor, pulleys, belt, reciprocating arm and a foot switch. The foot switch further serves to replace the use of palms and fingers to crank the pump handle, as is the practice while drawing water at boreholes.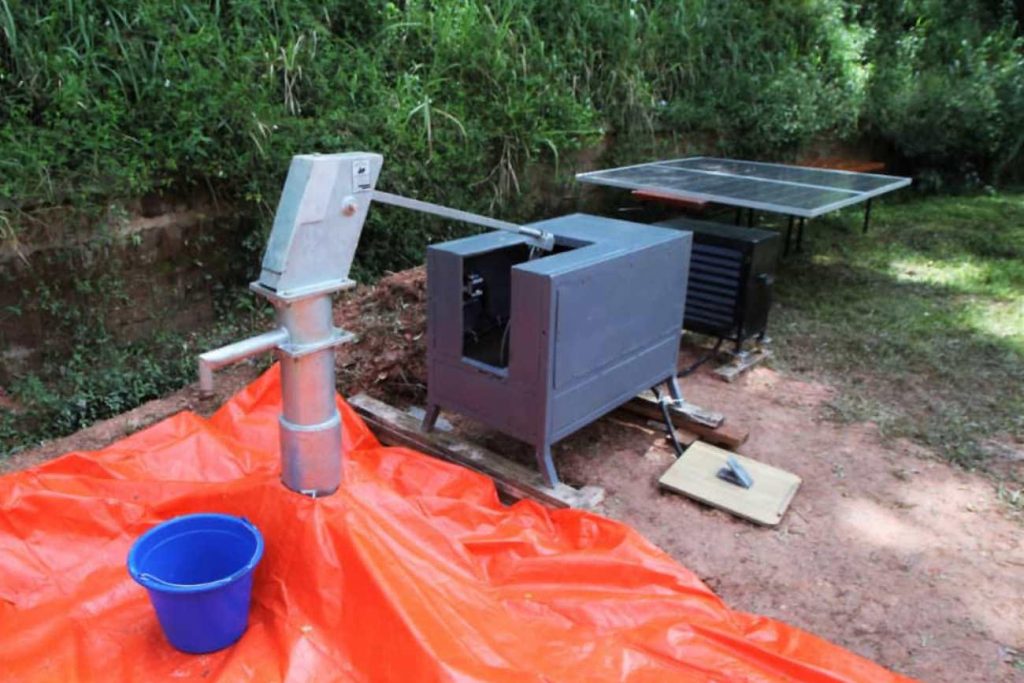 Funded by the Government of Uganda under the Makerere University Research and Innovations Fund (Mak-RIF), the research project was titled: "Automation of communal hand water pumps to eliminate COVID-19 transmission". The title was motivated by the observation that alternative solutions of limiting the spread of COVID-19 such as washing hands with water and soap or use of chemical sanitizers are difficult to enforce especially in the low income rural and peri-urban communities where the boreholes are found.
In addition to eliminating COVID-19 transmission at boreholes, this project is in line with the Ministry of Water and Environment's efforts to replace hand pumped boreholes with submersible pumps as a means of eliminating drudgery, prolonging the life of boreholes, and supplying water to bigger populations in a shorter time. Other members of the project team are; Dr. Prossie Nakawuka, Mr. Sam Cherotich, Eng. Joseph Kizito, Eng. Robert Baluku and Mr. Gyaviira Ssewankambo a student researcher.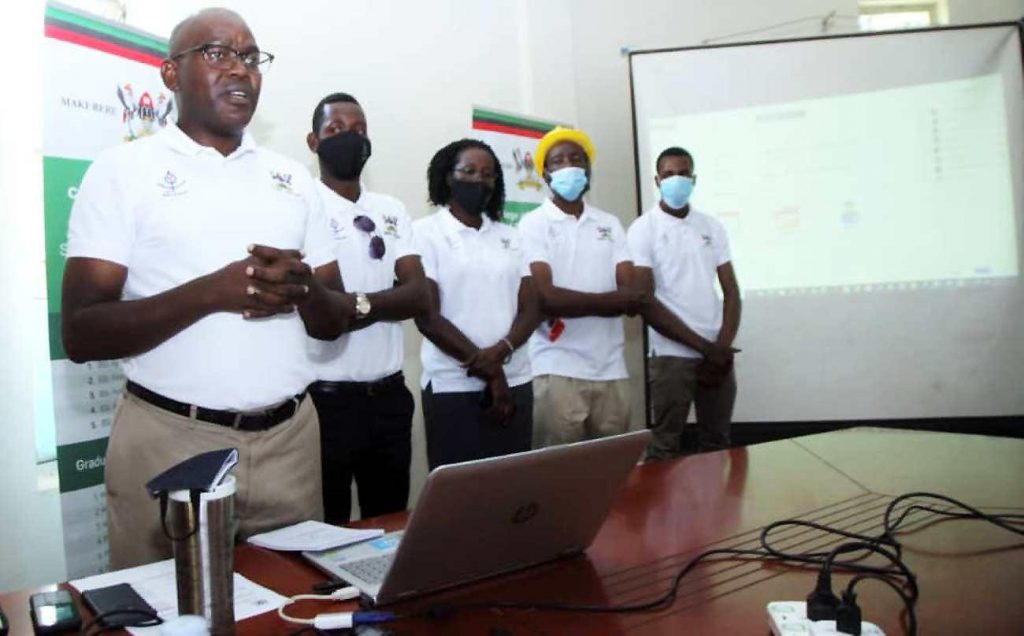 Welcoming participants to the research dissemination event held on 30th December 2020 at the SFTNB Conference Hall, the Chair DABE, Prof. Noble Banadda applauded the Government of Uganda for enabling members of staff to turn research ideas into innovations that are transforming livelihoods and communities through Mak-RIF.
"If there is anything that has proved to the world that research is important, it is COVID-19. The MAKNAI prototype is one of several innovations that the Department has developed to help mitigate the spread of COVID-19. These include: The Touchless Handwashing (Tw-20) Kit, the thermal imaging detector of COVID-19; and the use of 3D printing technology to make biodegradable face masks, and on a wider scale, to teach science, technology, engineering and mathematics and plan urban centres" said Prof. Banadda.
As Chair, he expressed pleasure at leading a team whose every member holds a PhD, is committed to undertaking research, which has led to innovations and the production of at least 27 publications in different journals. "I am happy to inform you that this year, I have been able to mobilise research grants worth 10million USD" he added.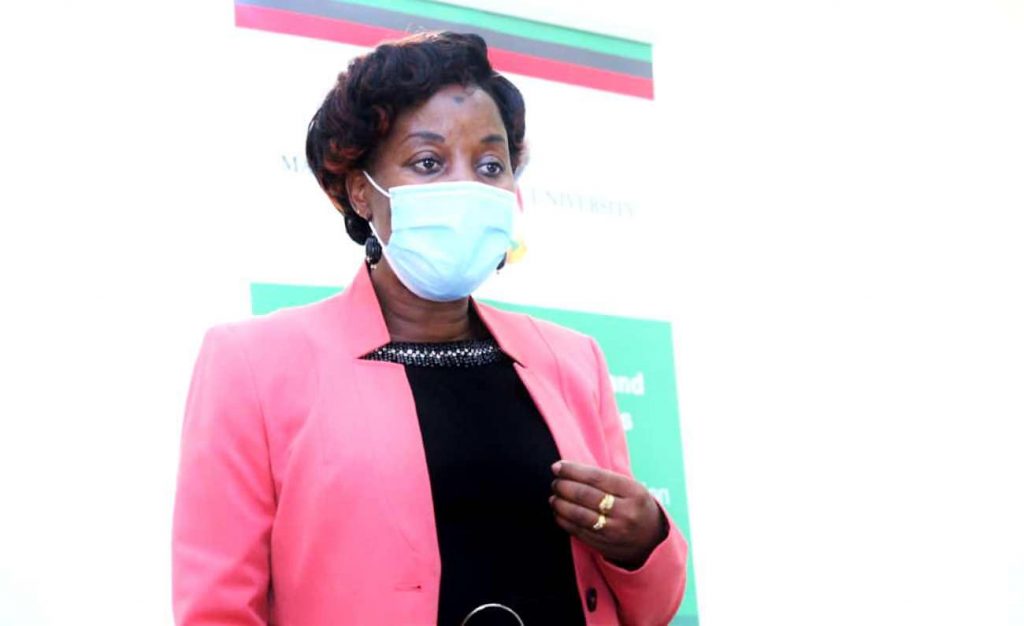 In her remarks the Deputy Principal CAES, Dr. Gorettie Nabanoga applauded Dr. Kiggundu and his team for bringing great pride to the college and University. "Your innovation is going to be a flagship of some of the activities that the college has done because it touches the most rural individual in this country."
Dr. Nabanoga who represented the Principal CAES, Prof. Bernard Bashaasha acknowledged that women in villages are involved in gardening, fetching water from boreholes, taking care of children and other household chores. She added that the MAKNAI innovation would help women save time and energy which would have otherwise been expended on this laborious task.
She thanked the Vice Chancellor for the excellent leadership that conforms to his manifesto and dream for a better Makerere. "We have been recognized in the whole country as the source of knowledge and innovation that contributes to the development of the country."
Presiding over the event, the Vice Chancellor Prof. Barnabas Nawangwe thanked all invited guests particularly from the Ministries, Departments and Agencies as well as Local Governments for sparing time to attend the research dissemination. Citing his manifesto theme for the Vice Chancellorship – "Unlocking the potential of Makerere University", he prayed that numerous innovations would lend credence to the fact that the University's potential was being unlocked.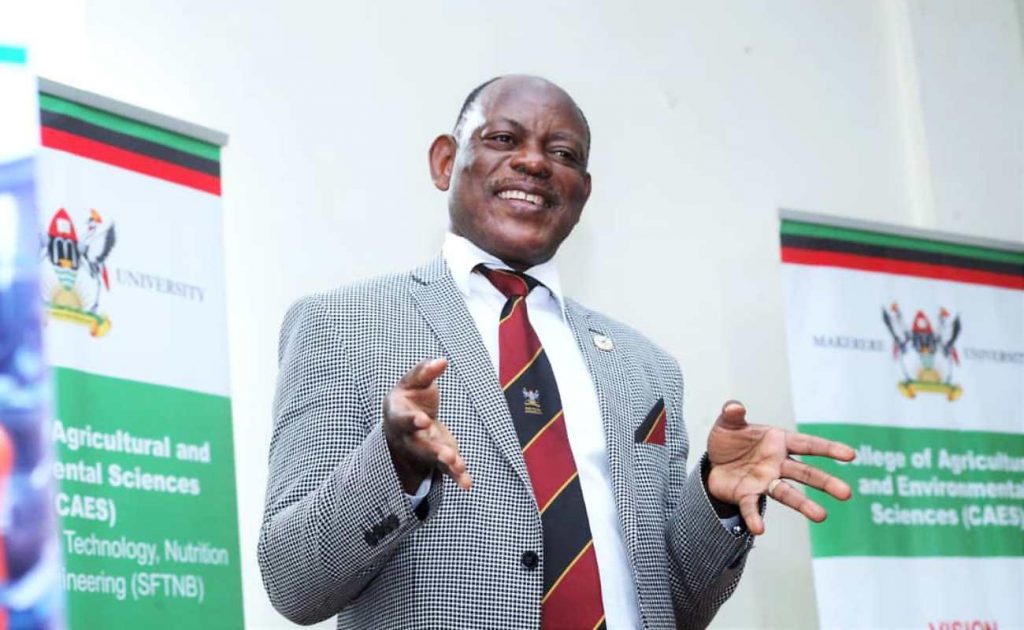 Prof. Nawangwe thanked the Government of Uganda for recognizing the importance of homegrown solutions by allocating specific funding for research and innovations at Makerere University. He commended the Mak-RIF Grants Management Committee (GMC) for ensuring that awardees account for the funding received, "and I am glad to say that over the last two to three months, there has been a launch of a product or innovation at Makerere University almost every day because of RIF."
He expressed confidence that by producing innovations such as MAKNAI, Mak-RIF has the potential to turn around the country's fortunes in a very short time by providing employment to the exploding young population. "This innovation alone if well handled can change a lot of lives and generate income for Makerere, and I am happy to hear that one of the team members is going to immediately work on registration of Intellectual Property for it."
Dr. Kiggundu while presenting the research findings shared that the study conducted in the districts of Wakiso, Mukono, and Buvuma was informed by; i) time taken to fill a 20 litre jerrycan, ii) maximum power needed to draw water from the borehole, iii) borehole dimensions and iv) borehole discharge. Based on data from the three districts, the PV (photovoltaic) system, battery to supply the needed power, and the motor to drive the system were sized and sourced from the market.
Eventually, a 1.4 horsepower Alternating Current (AC) motor with a crank speed of 100 rpm and generating average torque of 68 Nm was obtained. The other units of the system including the pulleys, belt reciprocating arm and foot switch were developed in-house at Makerere University.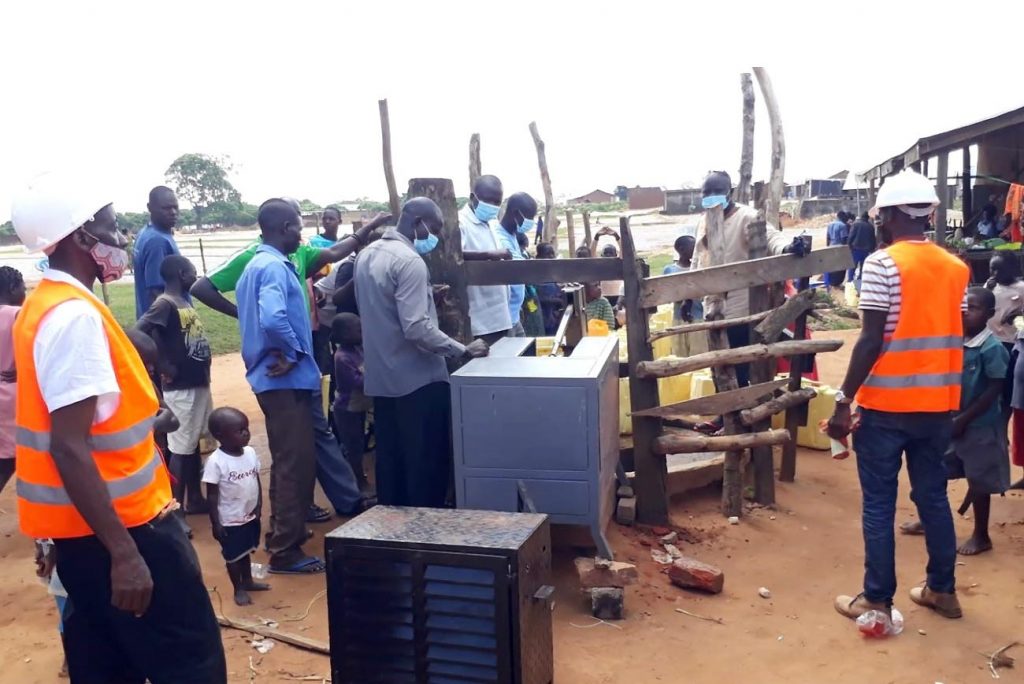 Nevertheless, Dr. Kiggundu reported that parts such as a 1 horsepower Direct Current (DC) motor were hard to find on both local and international markets. The team also faced challenges during in-house fabrication as the parts produced weren't often an accurate fit.
Despite the various challenges, the team produced the MAKNAI v1.0 prototype which after successful field tests was able to fill a 20 litre jerrycan within an average time of 50seconds at boreholes with depths ranging from of 12 to 70 metres. The communities where the prototype was installed appreciated and welcomed the innovation as it reduced the time spent by each user at the borehole by over 70%.
"MAKNAI eliminated the drudgery experienced by the users especially children, the elderly and expectant mothers because pumping water at a borehole requires lots of energy;" shared Dr. Kiggundu, before comically noting that, "you don't need to go to the gym if you go to the borehole daily." He appealed for more support from stakeholders to help scale-up the project.
The highlight of the research dissemination was the unveiling of a working MAKNAI v1.0 prototype installed at SFTNB by the Vice Chancellor, Prof. Barnabas Nawangwe. The event moderated by Ms. Ritah Namisango, Principal Public Relations Officer and DABE's Dr. Joshua Wanyama, Principal Investigator of the "Development of a Green Low-Cost Touchless Handwash Technology (TW-20 Kit) for public Shared Spaces" project.
Article by Public Relations Office
CAES Mentorship Programme to Enhance Capacity of Young Scientists in Agricultural Policy Processes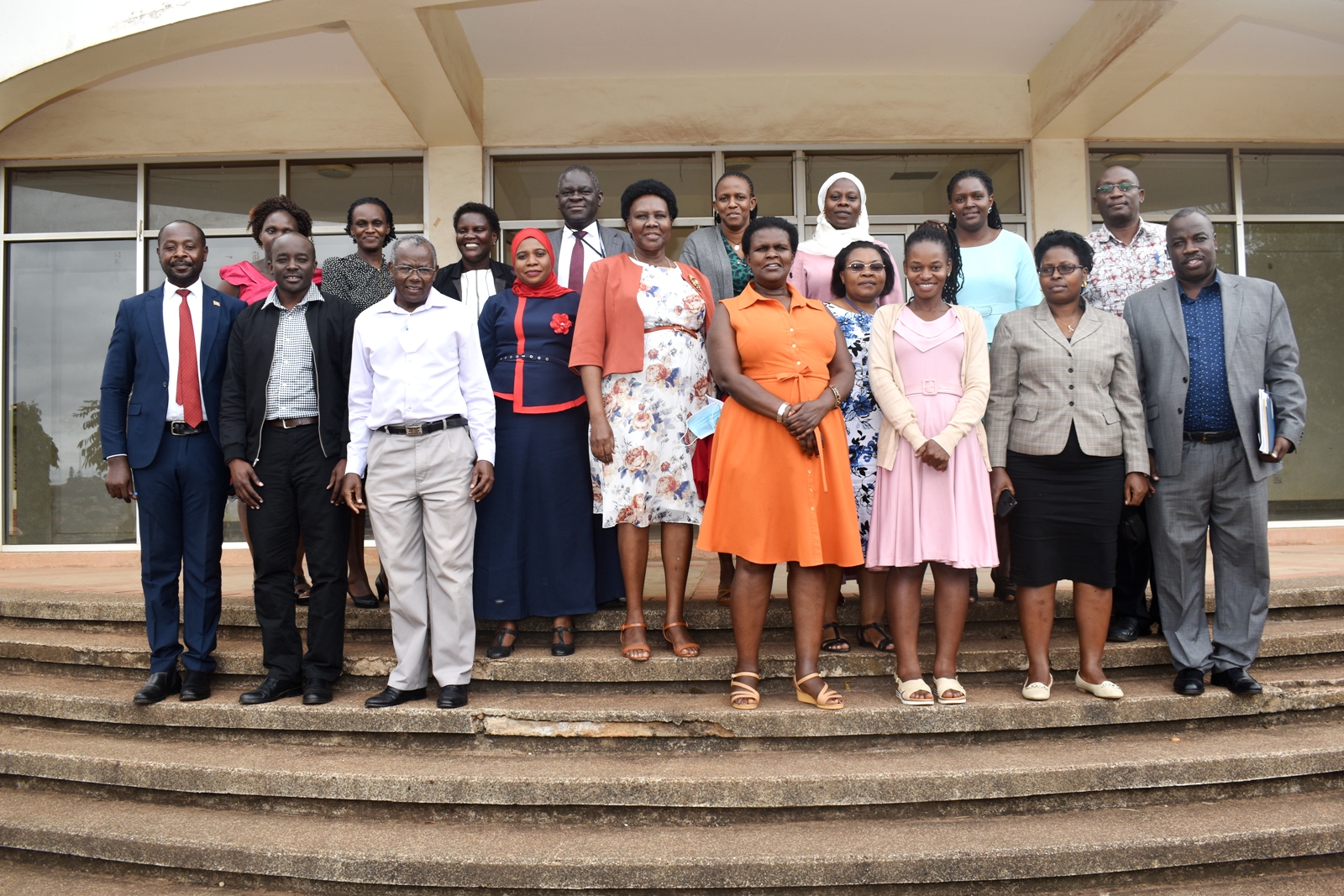 The programme titled, "Enhancing the Capacity of Young Scientists to Engage in Agricultural and Food Security Policy Processes in East Africa" seeks to improve connection between science, policy and practice
Funder: Swedish University of Agricultural Sciences
Overview
Agriculture is a key economic sector in the East African Region and it is an important source of livelihood for households and communities, especially in rural areas. Efforts to achieve food security and desirable nutrition outcomes, as well as spur economic growth largely revolve around the agricultural and environmental sectors. The role of these two sectors in achieving the first and second Sustainable Development Goals (SDGs) that focus on ending poverty and hunger respectively has been recognised in many continental, regional and national agricultural initiatives. Yet identifying and implementing enabling policies and evaluating their impact remains a challenge to the development and protection of the two sectors in most African countries. Africa's continental framework for promotion of agricultural transformation, the Comprehensive Africa Agriculture Development Programme (CAADP), recognizes and emphasizes the need to strengthen capabilities and the policy and institutional environment required to trigger agricultural transformation while protecting the environment. The process includes interventions to strengthen the capacity for evidence-based planning, implementation and review, and to increase the capacity to generate, analyse and use relevant information and innovations.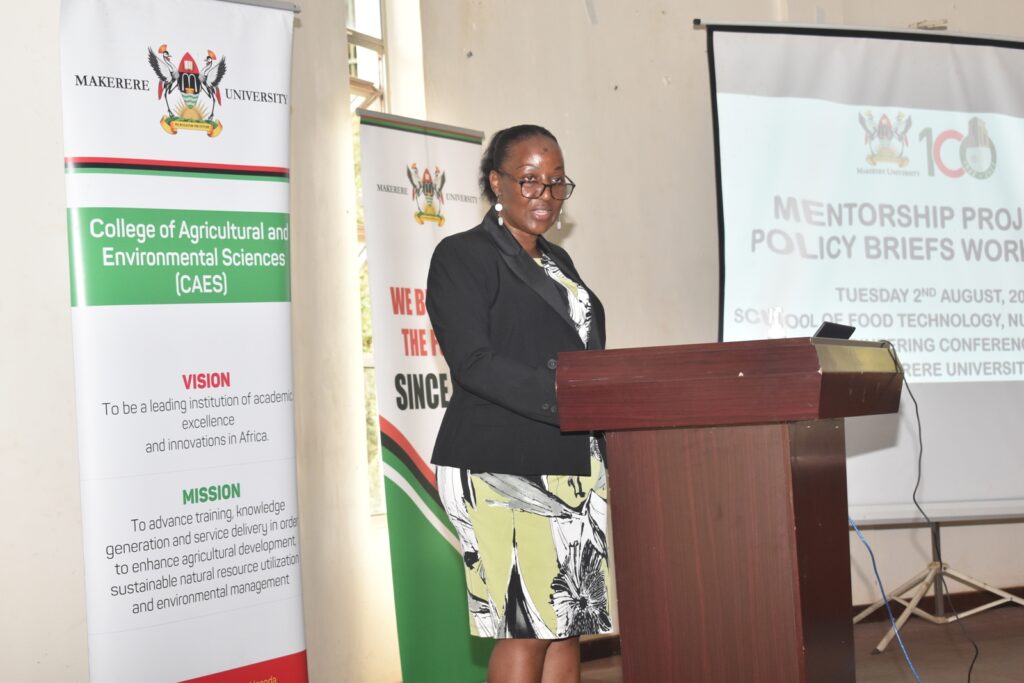 About the project
Through a project titled"Enhancing the Capacity of Young Scientists to Engage in Agricultural and Food Security Policy Processes in East Africa", the Department of Agribusiness and Natural Resource Economics, College of Agricultural and environmental Sciences (CAES), Makerere University together with Kyambogo University, Busitema University, and the Department of Agricultural Economics at the University of Nairobi have mentored 13 PhD graduates – 8 in Uganda and 5 in Kenya. Supported by the Swedish University of Agricultural Sciences under the leadership of Prof. Bernard Bashaasha, the project aims to increase the capacity of scientists to synthesize, analyse and communicate science with different stakeholders; increase use of science-based knowledge in policies & practice; and improve connection between science, policy and practice. The mentees include; Dr Florence Lwiza from the Department of Agribusiness and Natural Resource Economics, CAES; Dr Betty Christine Nagawa from the Department of Forestry, Bio-Diversity and Tourism, CAES; Dr Kanifa Kamatara from the Department of Agricultural Production, CAES; and Dr Kellen Aganyira from the College of Education and External Studies, Makerere University. Others are Dr Catherine Ndagire; Dr Margaret Namugwanya Misinde; and Dr Judith Nagasha from Kyambogo University. The mentors include; Prof. Bernard Bashaasha from Makerere University; Dr Peter Opio from Busitema University and Dr Faith Muyonga from Kyambogo University.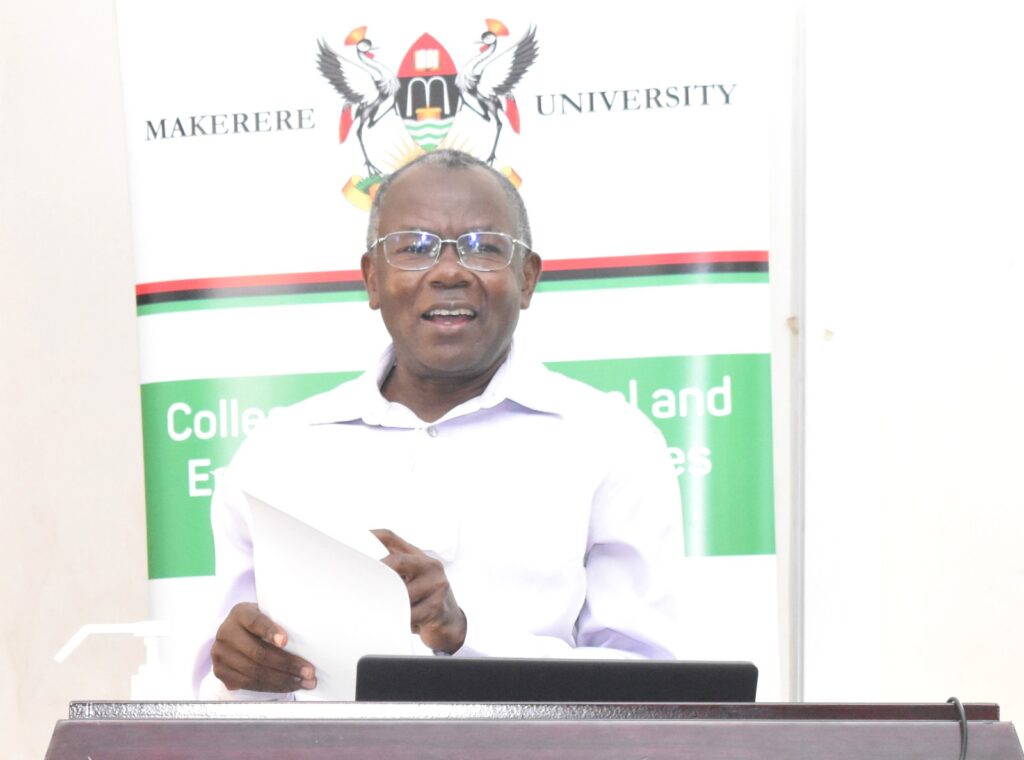 On 2nd August 2022, the project partners held a workshop at Makerere University to discuss and receive feedback from policy analysts on 7 policy briefs developed by the mentees. In the policy briefs, the mentees made a number of recommendations in relation to building resilience to extreme weather changes through index-agricultural insurance,the use of eucalyptus essential oils as an alternative to the commonly used synthetic pesticides in preservation of stored grains, quality-based classification scheme for beef carcasses as an incentive for beef cattle producers, conservation farming as a strategic solution to climate change challenges, the use of farmyard manure as a potential booster of macro and micronutrients in crops, building women's capacity in value addition in a bid to increase their incomes, and the need to support school children and adolescents in Kampala to meet sedentary behaviour and physical activity guidelines.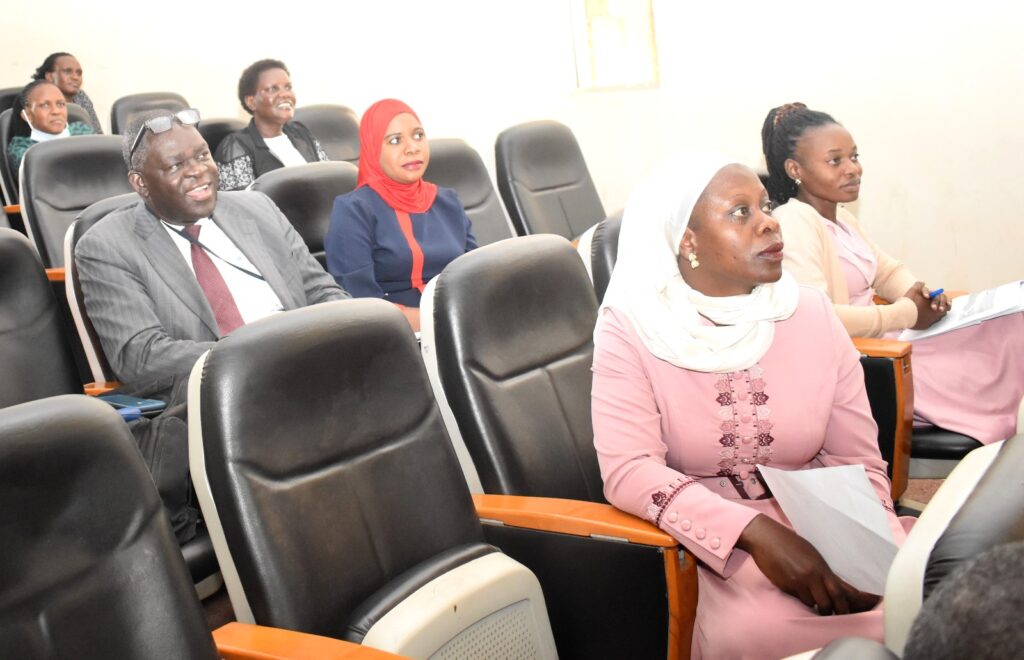 Policy recommendations by the Mentees
Building resilience to extreme weather changes through index-based agricultural insurance
In her research, Dr Florence Lwiza from the Department of Agribusiness and Natural Resource Economics, CAES notes that despite efforts by the Government of Uganda to promote Index-based Insurance which has potential to mitigate weather-induced effects, uptake of agricultural insurance among smallholder farmers remains low. To increase uptake,the researcher recommends,i) increase in financial literacy to enable farmers to better understand the value of agricultural insurance, ii) expansion of investments in high-quality agro-meteorological data- data crucial for informing investment decisions, iii) gender considerations- encouragement of women and youth participation in agricultural insurance markets, iv) increased access to information on changes in farmer behaviour, v) flexible design of contracts- promoters should consider the heterogeneity in farmer characteristics, risk exposure and risk preferences and therefore design contracts to suit their specific resources, needs and characteristics.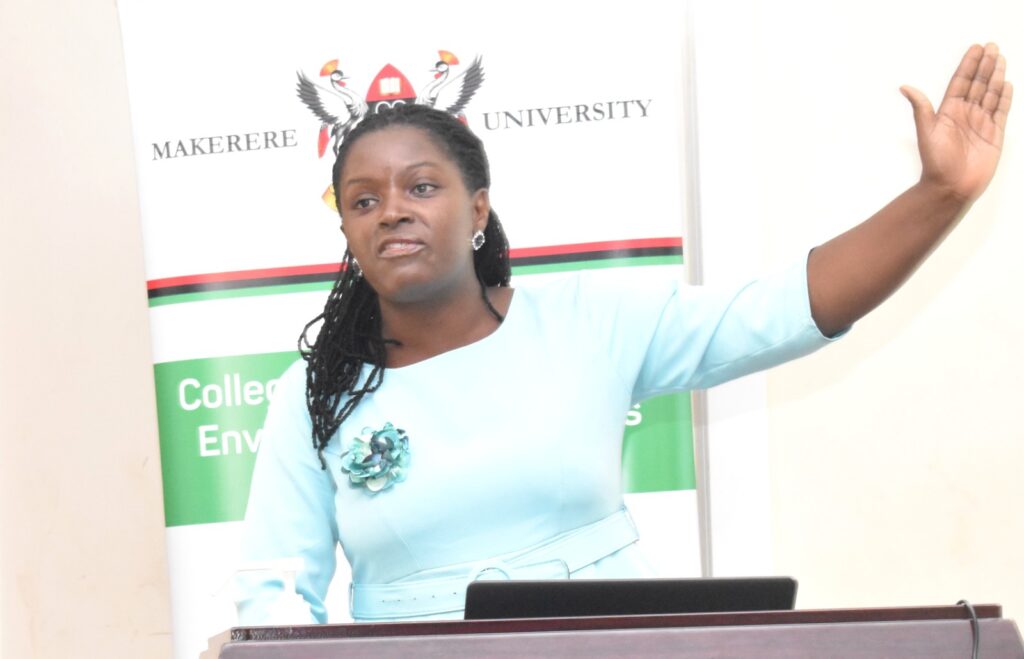 The use of eucalyptus essential oils as an alternative to the commonly used synthetic pesticides in preservation of stored grains
According to Dr Betty Christine Nagawa from the Department of Forestry, Bio-Diversity and Tourism, CAES post-harvest handling and storage remains a challenge in Uganda. Shortage of standard and modern storage facilities reduces the shelf life of agricultural produce hence posing threats of food insecurity. Many farmers resort to pesticides to preserve their produce. However, the use of pesticides poses risks of chronic illnesses such as cancer. In a bid to minimise the use of pesticides, Dr Nagawa recommends the use of eucalyptus essential oils as a strategy to reduce on pest infestation in stored grain. This, she notes, requires conservation of eucalyptus trees species capable of obtaining oil at individual, community and district levels, and the establishment of cottage industries to support distillation of eucalyptus oil.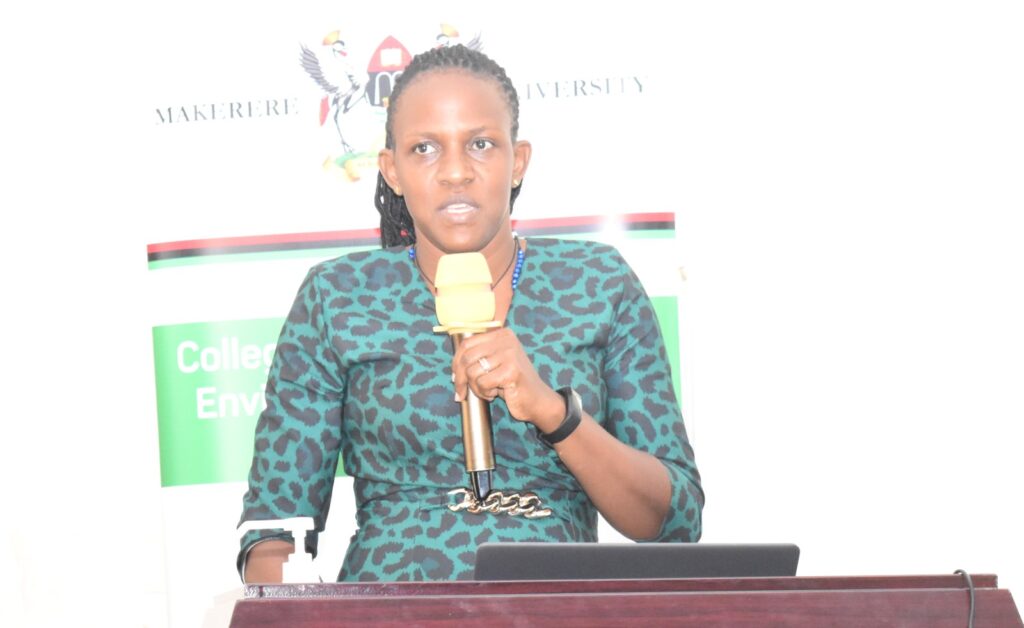 Quality-based classification scheme for beef carcasses as an incentive for beef cattle producers
In its current form, the grading scheme offers no incentive to producers since carcasses are priced based on weights rather than on distinctively
differentiated quality classes. Dr Kanifa Kamatara from the Department of Agricultural Production, CAES calls for mandatory grading of carcasses at all slaughter houses just like inspection. She also recommends revision in the current classification scheme – attributes such as primal cut yield prediction and tenderness should be included to the classification criteria. She calls for adoption of objective classification technologies to improve accuracy.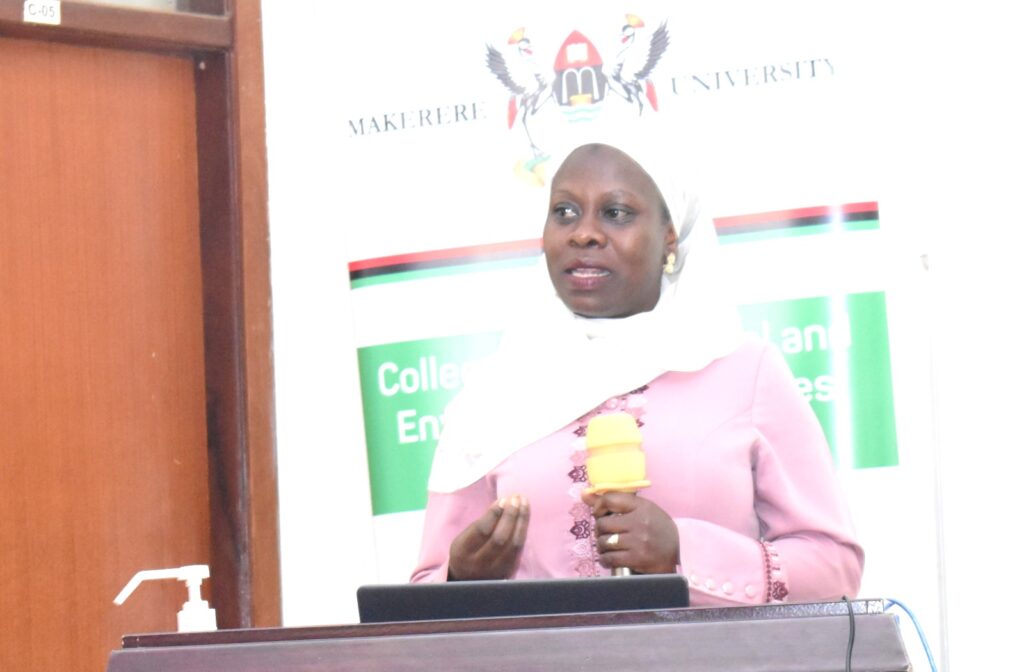 Empower Farmers to Gain from Conservation Farming
As farmers grapple with land shortage and climate change challenges, conservation farming offers the opportunity to increase food production and food security. In her policy brief, Dr Kellen Aganyira recommends empowerment of farmers through extension services, affordable farm inputs, vermin control and access to competitive market. According to her research, farmers do not practice conservation farming due to the high cost of inputs, lack of market for their produce, and uncontrolled vermin that destroy crops. She also calls on the Ministry of Agriculture, Animal Industry and Fisheries (MAAIF) in collaboration with the private sector to support farmers with subsidized farm inputs. She implores the government through the Ministry of Trade, Industry and Cooperatives to link farmers to competitive markets, and to strengthen vermin control systems.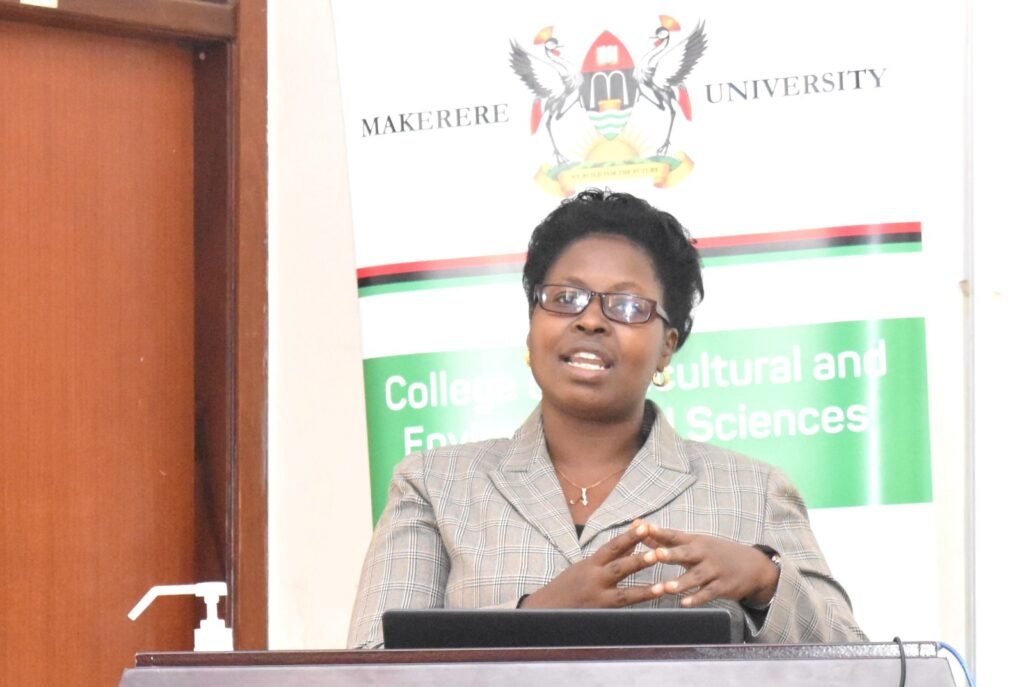 Pig Manure, a Promising Option for Improving the Nutritional Value of Beans
Nutrient deficiency remains a serious public health threat as many households in low developing countries may not be in position to regularly afford foods rich in protein and micronutrients.  Three-quarters of children 6-59 months old and 50% of women of reproductive age have severe micronutrient deficiency, resulting into impaired mental development and deaths. Due to high nutritional content (proteins, vitamins and micronutrients – zinc and iron), beans can play a big role in food and nutrition security for the poor. According to Dr Margaret Namugwanya Misinde from Kyambogo University, the nutrient content in bean seeds can be improved by combining farm yard pig manure with manufactured phosphorus fertilizers such as triple supper phosphate. The use of pig manure in combination with super phosphate for bean production is a sustainable strategy to improve protein and micronutrient intake for poor households, which cannot afford diversified diets. Farmers should therefore be sensitized and supported to adopt the practice.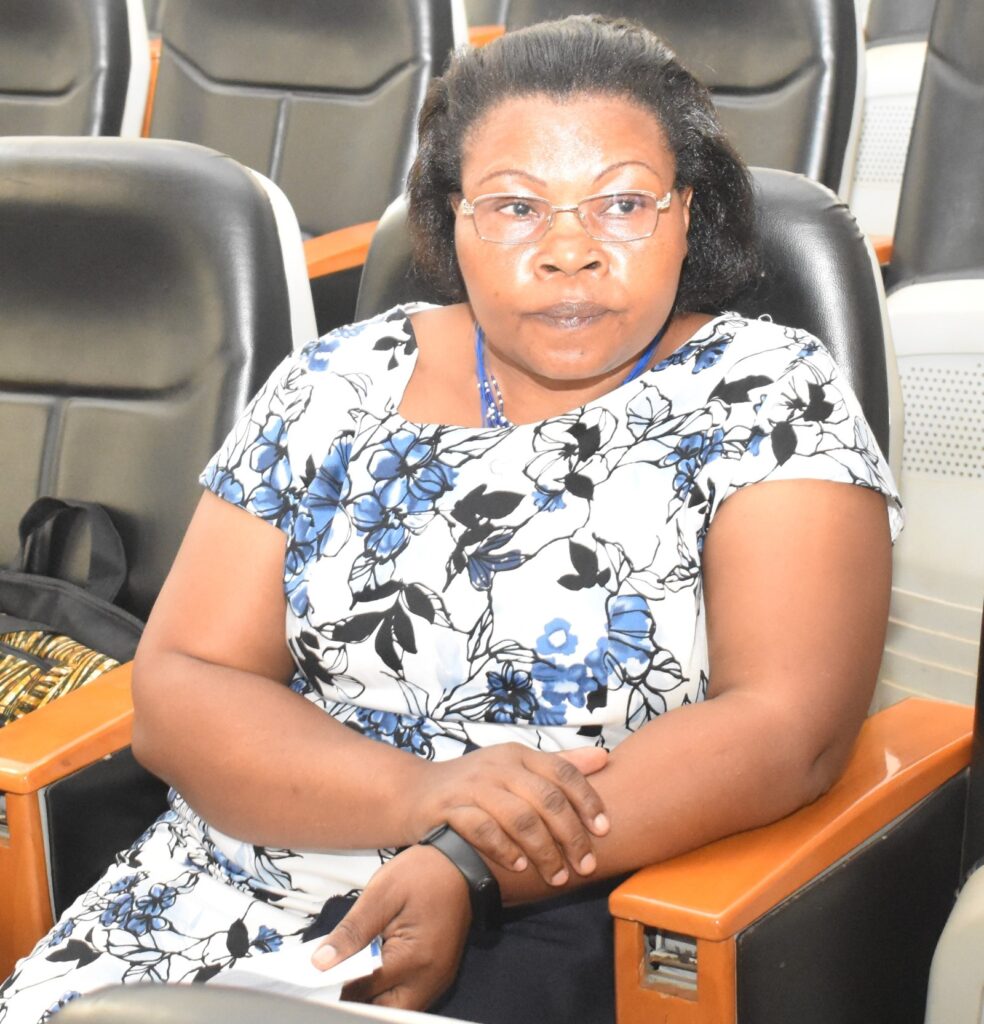 Sedentary behaviour and physical activity guidelines
According to research conducted by Dr Catherine Ndagire from Kyambogo University, a small proportion of school children and adolescents meet sedentary behaviour and physical activity guidelines.
46% of school children and adolescents spent excessive time in sedentary behaviours. To reverse this, Dr Ndagire points to the need for schools to give students access to a wide range of activities. Schools need to design and renovate play grounds so that they can inspire play, movement and sports. The Ministry of Education and Sports should support a community-wide comprehensive physical activity campaign that provides education and opportunities directly to children and adolescents in schools.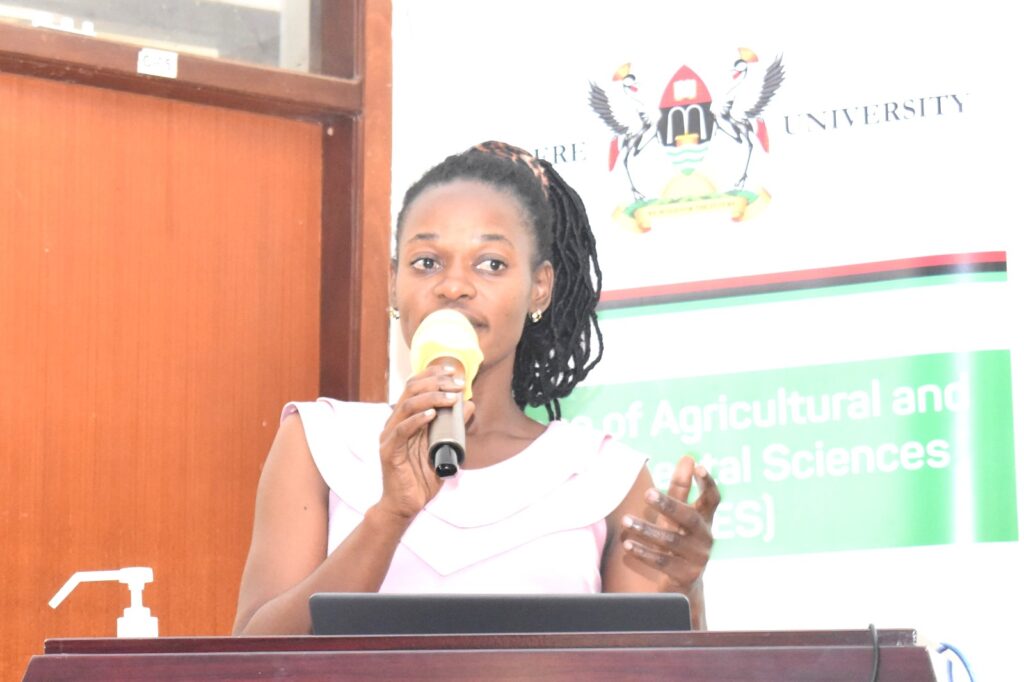 Building women's capacity on value addition for increased income
According to research conducted by Dr Judith Nagasha from Kyambogo University, women play a significant role in activities related to animal husbandry and dairy production. However, a lot of milk is wasted due to poor knowledge on safe production methods and appropriate storage facilities.  Building their capacity on how to add value by refining the milk into products such as yogurt, butter, ghee, cheese and cosmetics that can be sold at a higher price can enhance their income.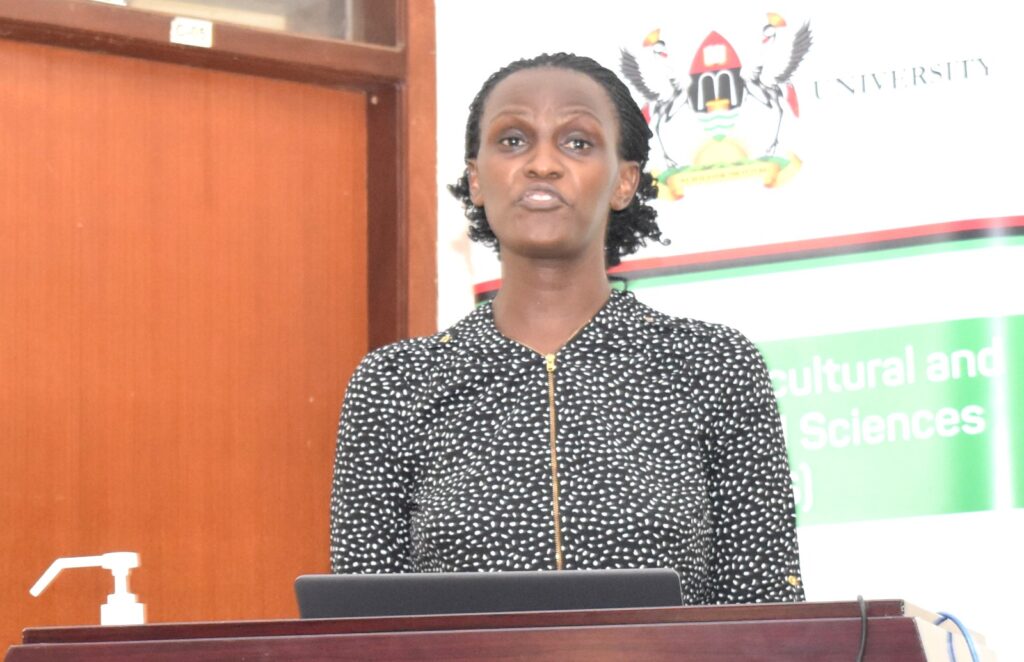 ---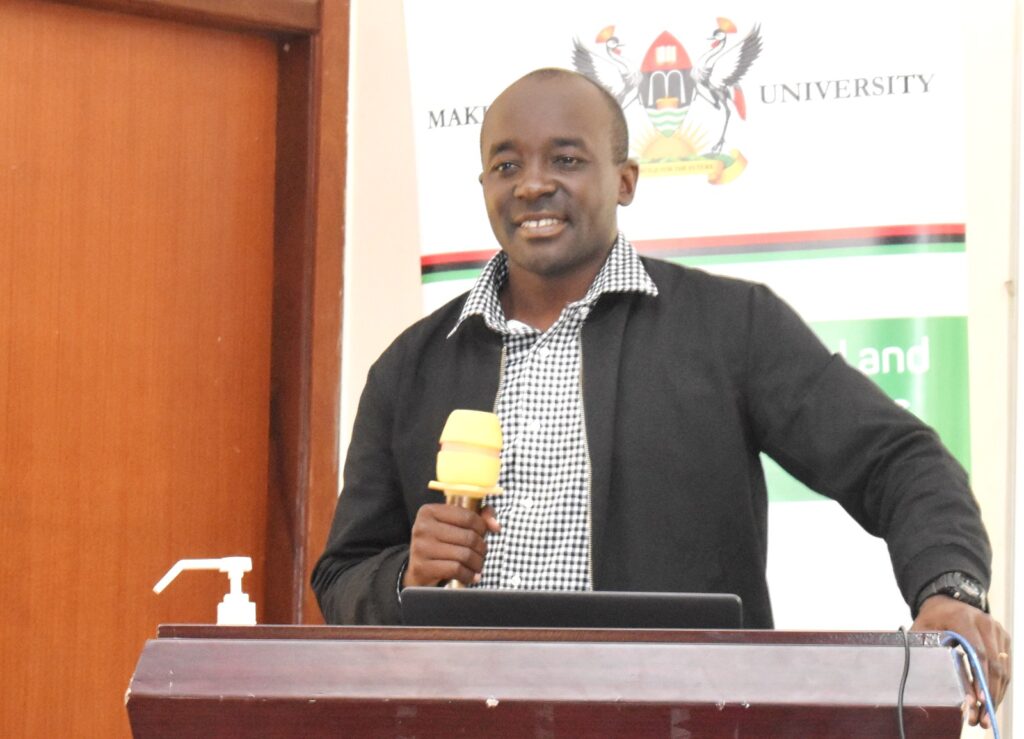 ---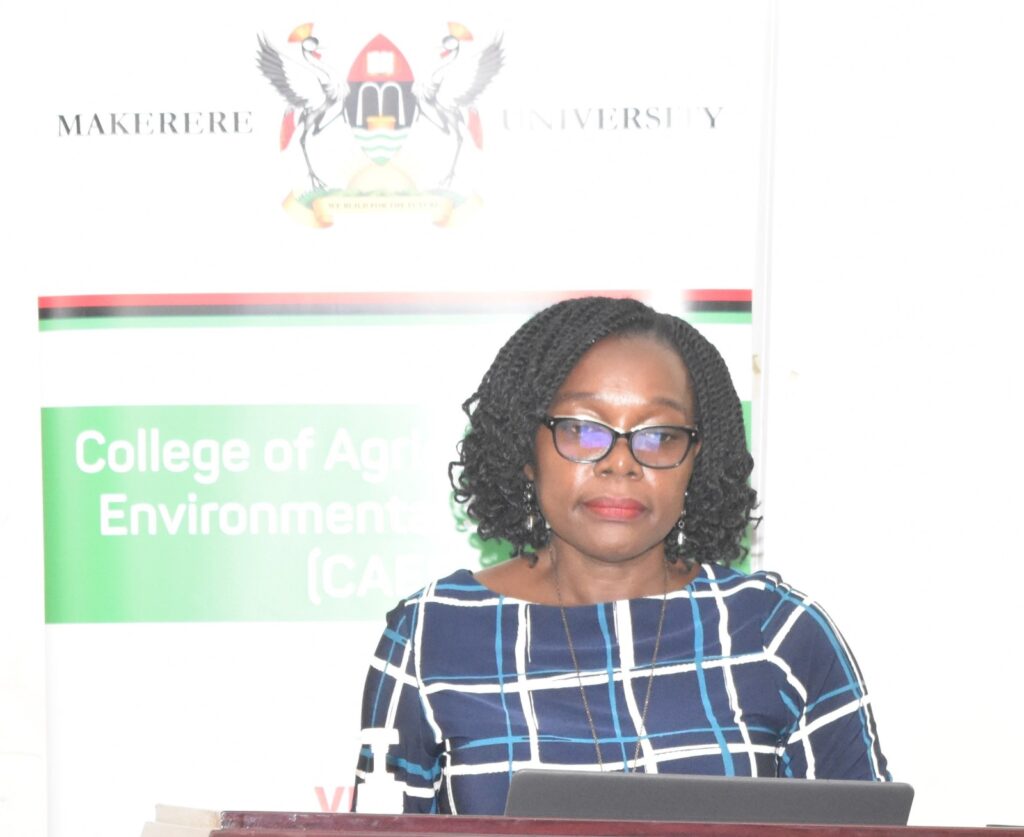 ---
Feedback from Policy analysts
The event was graced by a number of policy analysts who provided enriching feedback on the briefs. These included officers from the Office of the President; Ministry of Finance, Planning and Economic Development; Ministry of Agriculture, Animal Industry and Fisheries; USAID; Water Resources Institute, and the Economic Policy Research Centre. The analysts cautioned policy developers to always avoid technical terms and to keep them precise, with recommendations that directly address community challenges. They also noted the importance of directly addressing the briefs to relevant bodies.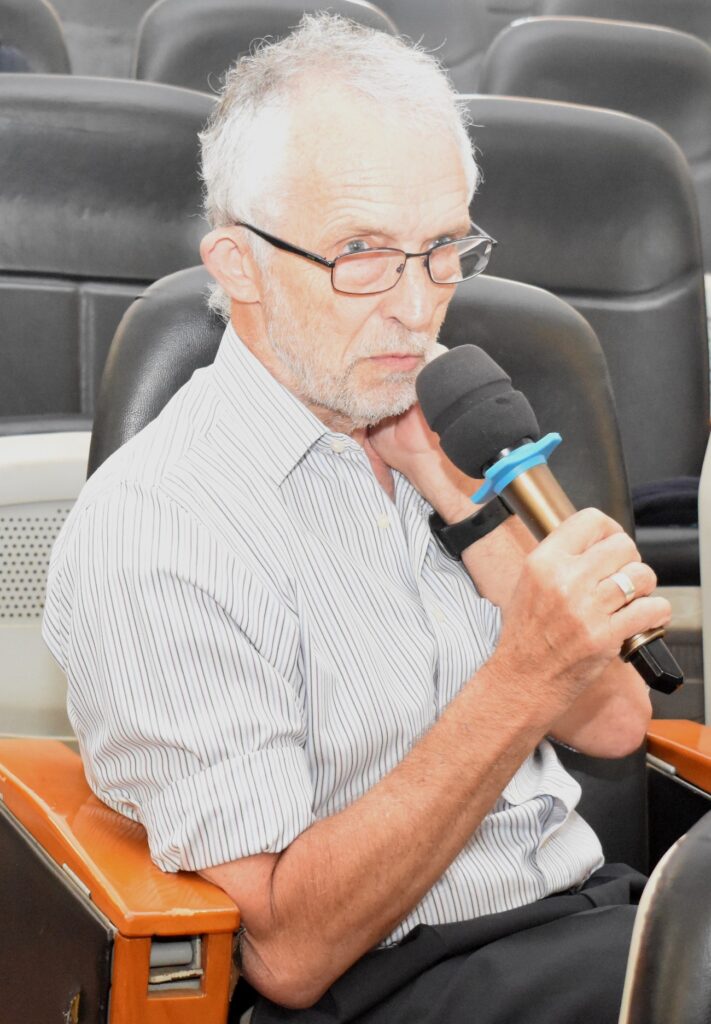 Principal's remarks
In her remarks, the Principal, CAES, Prof. Gorettie Nabanoga applauded all partnering institutions for the timely initiative. "For Uganda, this initiative cements Makerere University's role to support and mentor the new universities in the country." Prof. Nabanoga acknowledged the efforts and commitment of the mentors to build a new cadre of policy influence ambassadors. She thanked the Swedish University of Agricultural Sciences for the funding and continued collaboration with Makerere University, and specifically CAES.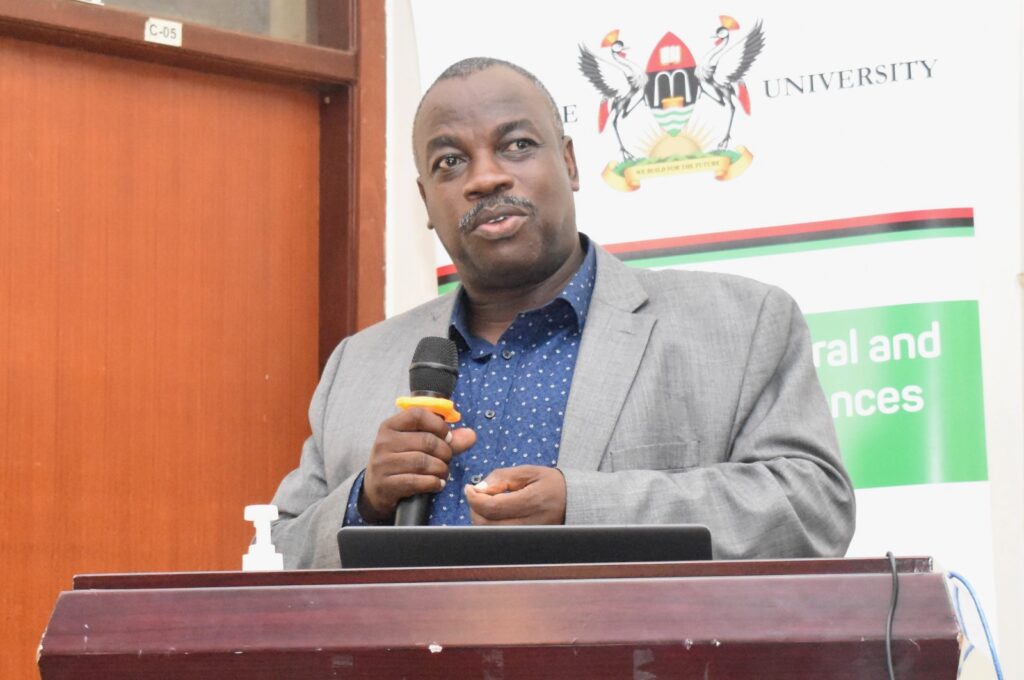 Mak staff trained on the importance of Diversity & Inclusion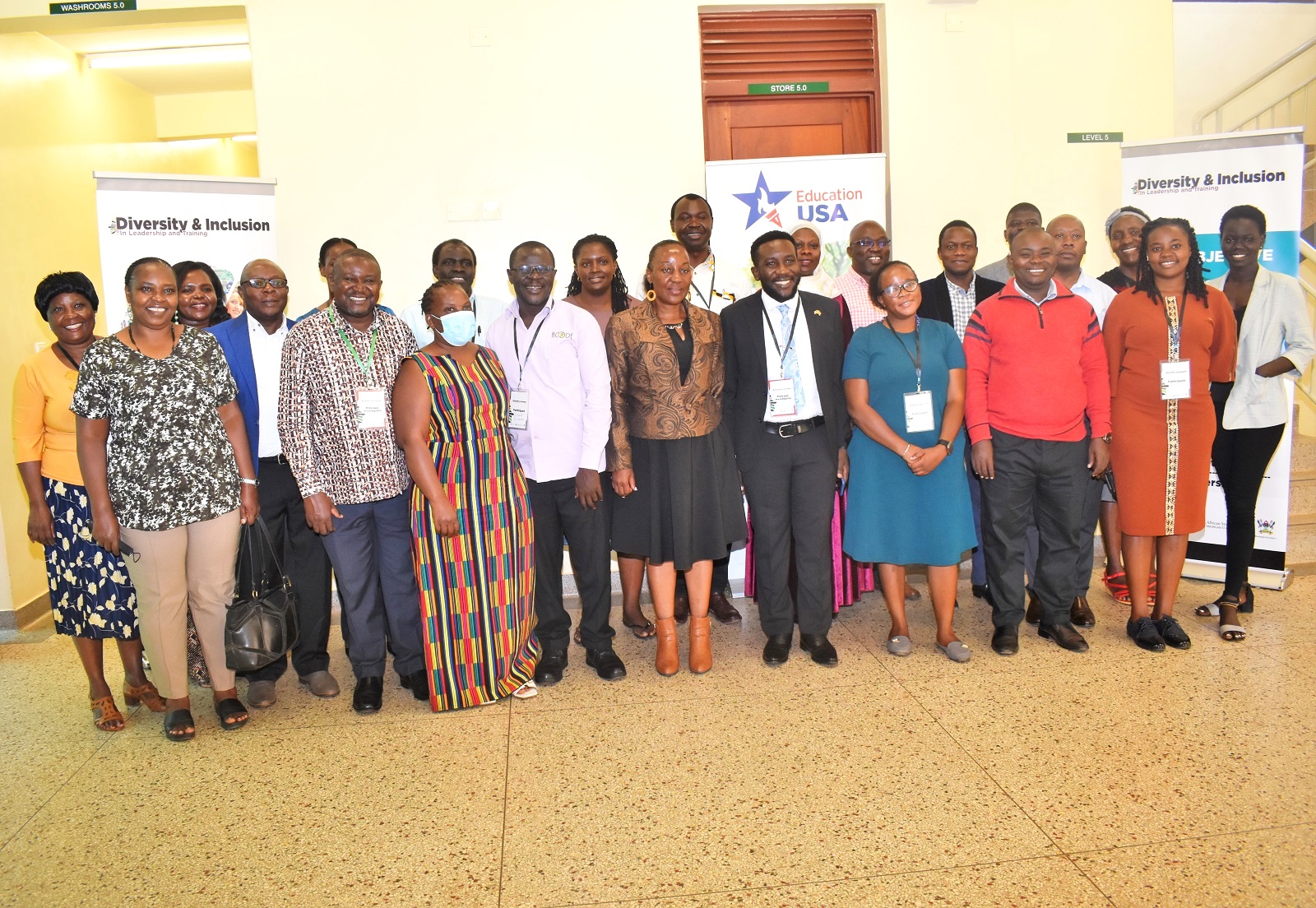 Diversity and Inclusion (D&I) in Leadership and Training: The project funded by Michigan State University's Alliance for African Partnership (AAP), under the Transforming Institutions Strategic Funding seeks to deepen knowledge and sensitivities on diversity and inclusion at the participating institutions.
The Department of Extension and Innovation Studies, College of Agricultural and Environmental Sciences (CAES), Makerere University on 28th July 2022 held the second workshop on diversity and inclusion for management and staff from participating institutions. The activity held at the Yusuf Lule Central Teaching Facility at Makerere University was graced by the Principal of CAES, Prof. Gorettie Nabanoga. It featured expert presentations on integrating diversity and inclusion in teaching, training and community engagement; exploration of inclusive teaching and research; as well as cultivation and nurturing diverse and inclusive environments.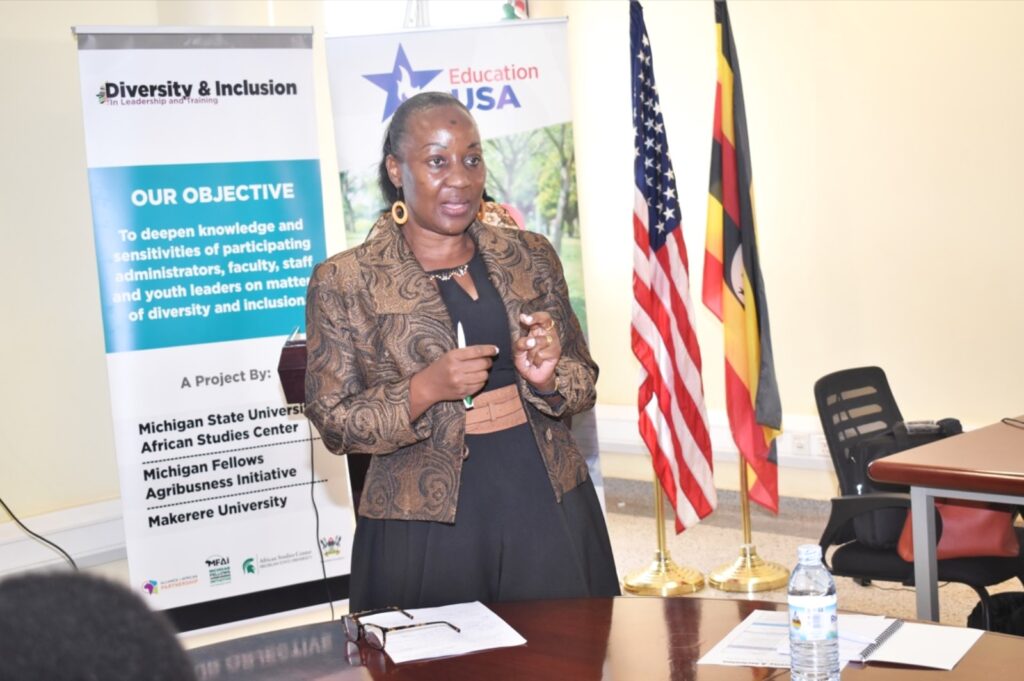 About the D&I Project
The Diversity and Inclusion in Leadership and Training project, funded by Michigan State University's Alliance for African Partnership (AAP), under the Transforming Institutions Strategic Funding is implemented by Michigan Fellows Agribusiness Initiative (MFAI), Makerere University (Mak), and Michigan State University (MSU)-African Studies Centre. The project features a series of trainings aimed at deepening the knowledge and sensitivities of participating administrators, faculty, staff and youth leaders on matters of diversity and inclusion. The overarching objective of the project is to increase the representation of categories of people typically marginalized from leadership and decision-making processes such as women, people living with disabilities and youth from low income earning families. The project Principal Investigator (PI) at Makerere University is Prof. Nelson Turyahabwe, Head, Department of Extension and Innovation Studies at CAES.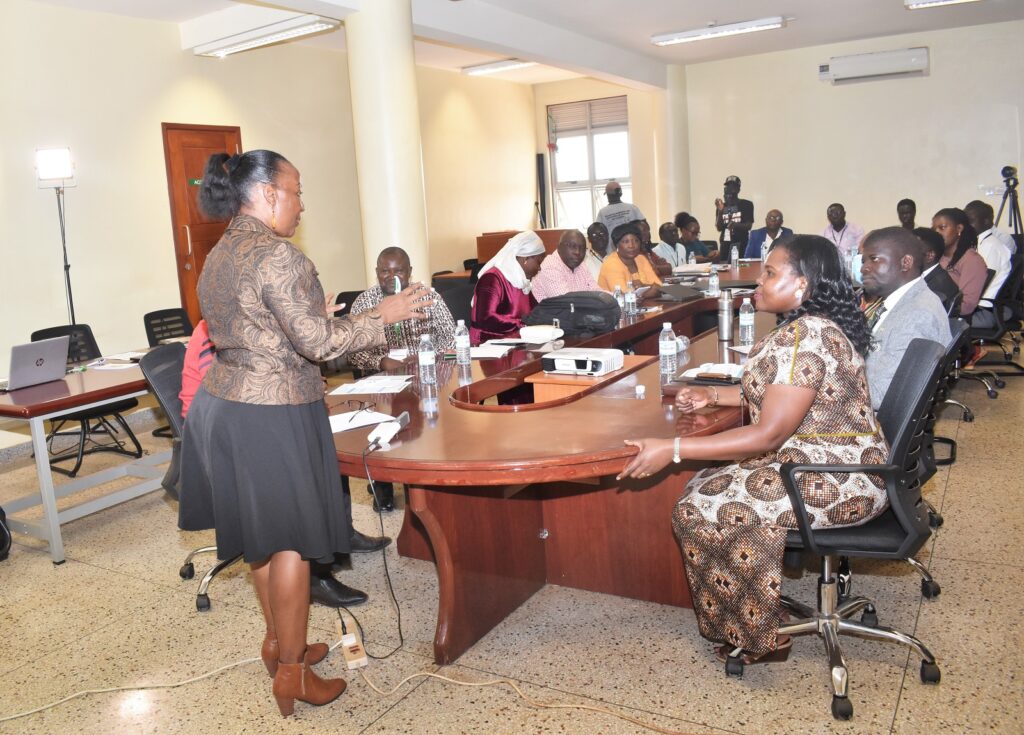 Presentations at the workshop
Addressing participants at the workshop, the Principal of CAES, Prof. Gorettie Nabanoga, emphasized the importance of inclusivity in all University programmes. "Inclusivity is extremely important and starts with us as individuals. It is important for fulfilling the University mission and core values and each one of us, regardless of our shortcomings has a contribution to make. We must therefore be intentional on diversity and inclusion and must always practice fairness and justice in our pursuit for inclusivity," she explained.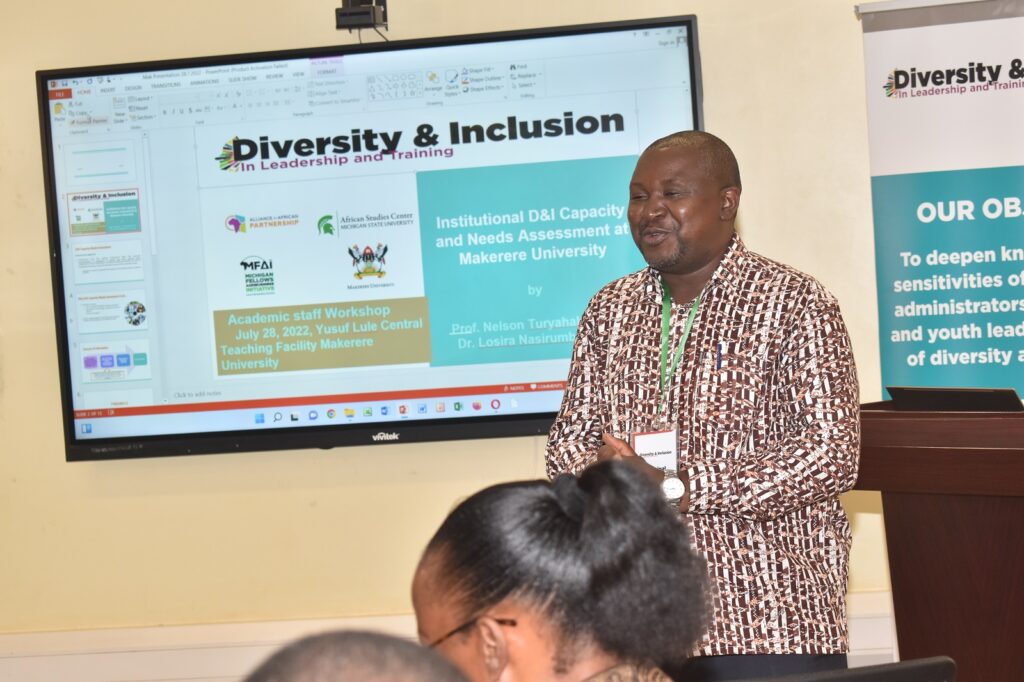 The Institutional Diversity and Inclusion (D&I) Capacity and Needs Assessment at Makerere
Sharing the project findings on Makerere University, the PI, Prof. Nelson Turyahabwe indicated that some of the University policies do not outrightly address issues of diversity and inclusion. He called for periodical reviews to ensure diversity and inclusion are emphasized in all University programmes. According to the Institutional D&I Capacity and Needs Assessment conducted at Makerere, the University is an inclusive institution with policies and procedures that provide equal opportunity for all and generally lay foundation for diversity, equity and inclusion in the provision of services to the wider community without discrimination. However, integration of diversity, equity and inclusion in the University core mandate areas: teaching, research, and Knowledge Transfer and Partnerships is wanting, thus the need for training of persons responsible for these core functions. The Institutional D&I Capacity and Needs Assessment targeted to understand how the partner institutions take into account representation of categories of people that have typically been marginalized from leadership and decision-making processes as well as integration of Diversity, Equity and Inclusion in the mandate areas. The assessment was conducted by staff from the Department of Extension and Innovation Studies led by Prof. Turyahabwe (PI) and Dr. Losira Nasirumbi Sanya.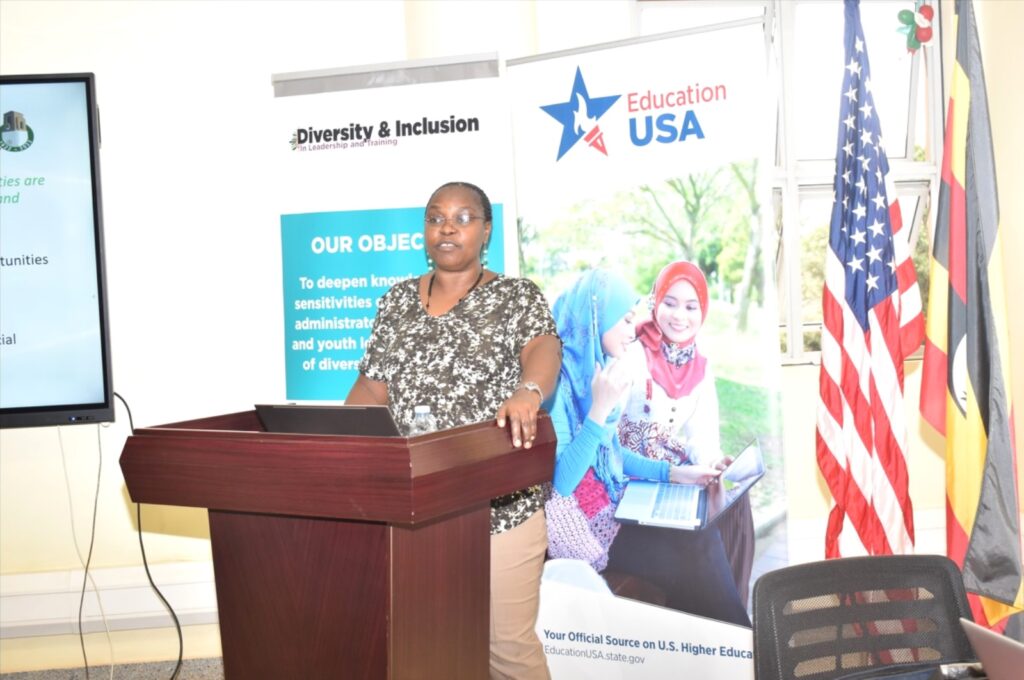 Preliminary findings/ Status of D&I at Makerere University
Appointment and Recruitment of Staff policies are silent on D&I. 'Equal Opportunity Employer' is more of theory than practice
Admission of students: All courses are open to all gender; Girls are given affirmative action of 1.5 at entry and 40% for females in STEM. There is a District quota system to address imbalances and cater for the less privileged/disadvantaged students from rural districts and also minority tribes. However,there is still low consideration of D&I in the admission of graduate students
Curriculum Development: Many programmes are approved without gender and equity considerations. Appreciation of the importance of D&I is not shared across the board
Teaching and Learning: Instructors/Lecturers to some extent use gender-responsive pedagogy. There are limited facilitates and support systems for special groups – Venues/buildings without lifts and ramp, no exams and examination scripts to cater for PWDs and no childcare facilities. Limited capacity – inadequate or no training on D&I
Staff Development: The Staff Development Policy (SDP) is neutral to Diversity and Inclusion. However Administrative and Support staff 'are not entitled' in the SDP
Research: Appreciation of the importance of gender dimension is not shared across the board. There is inadequate or no training in gender-responsive research methodology
Implementation of Knowledge transfer partnerships (KTPs) is more on ad hoc basis
Leadership: There is openness to diversity in the current Strategic Plan 2020-2030. However, women are still very few in senior positions and become even fewer the higher you go in the hierarchy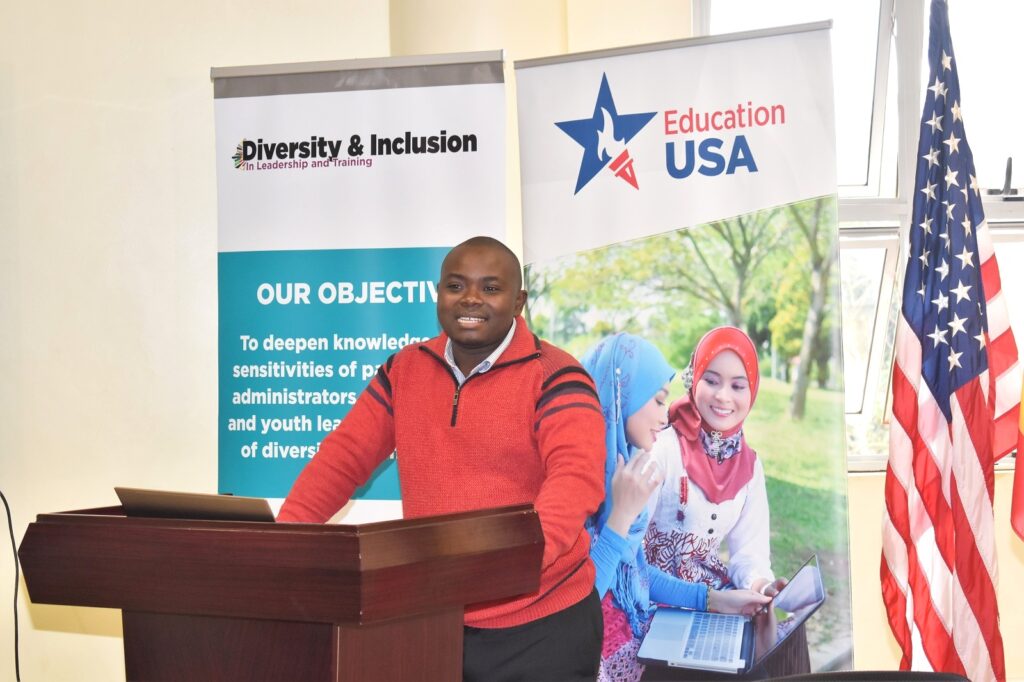 Integration of D&I in teaching, training and community engagements
Speaking to participants on the need to integrate diversity and inclusion in teaching, training and community engagement, the Founder, Africa Diversity and Inclusion Centre (ADIC), Mr Mubiru Ipolito pointed to unconscious bias as one of the major obstacles to nurturing inclusive environments. "We all have unconscious bias in our practices. If we are to create inclusive environments, we must learn to address our biases. Unconscious bias leads to prejudice," he noted.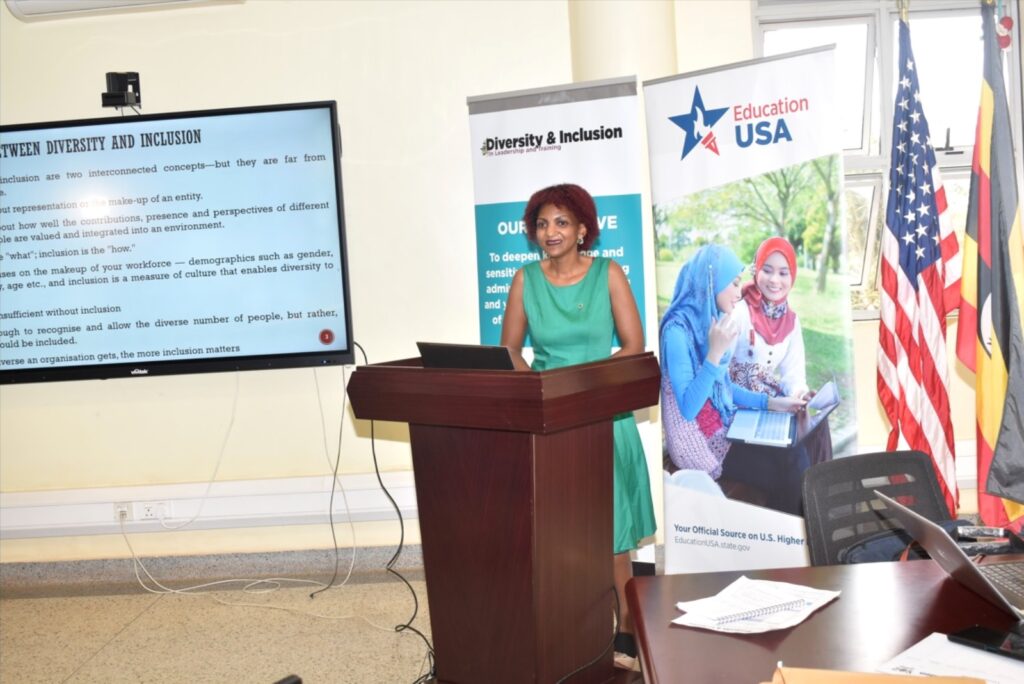 In her presentation titled "Exploration of Inclusive Teaching and Research", Dr. Euzobia Baine Mugisha, Director Gender Mainstreaming at Makerere University noted that research in higher education institutions was predominantly STEM and a few areas in social sciences. "The link between disciplines & how they affect development is not adequately explored," she explained, noting that most of the funding goes to science research, a factor that largely undermines inclusivity and development of some units. She further explained that research at the University was still gender-blind despite the initiatives to incorporate gender analysis/perspectives.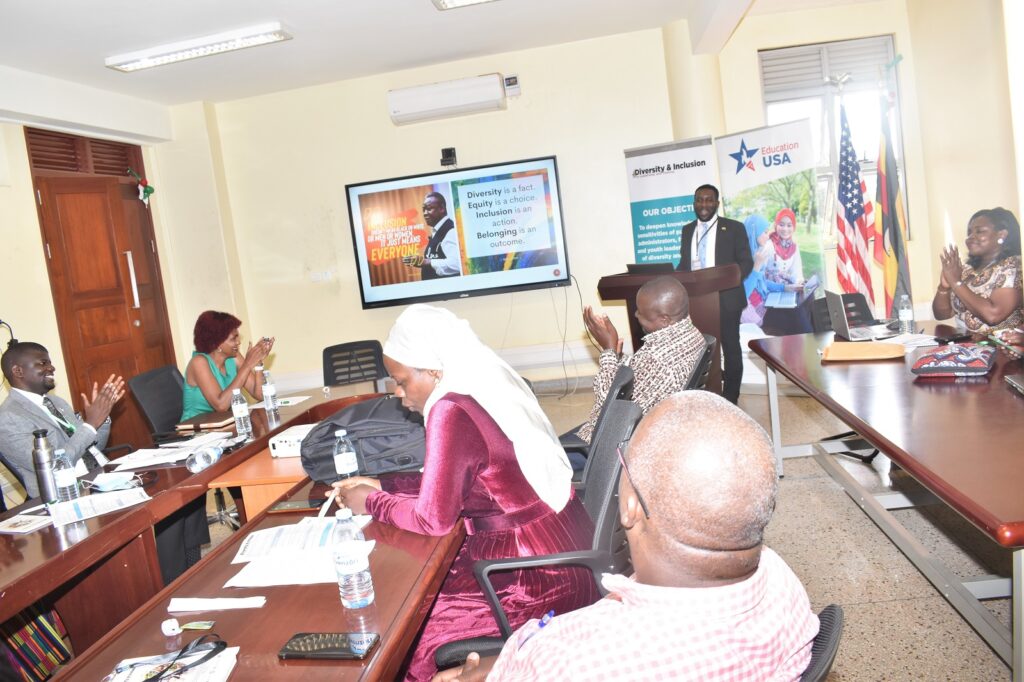 Commenting on the small number of women in leadership positions at Makerere, Dr. Euzobia called for periodical monitoring and evaluation of the University policies from an inclusive perspective. "We should exercise discretion in the implementation of policies. We also need to interrogate the concept of merit and how it applies in real life." Dr. Euzobia further appealed to the University managers to pick interest in the welfare of staff and students, saying the majority struggle with different challenges that undermine their performance. "We should not rash to judge and exclude them before establishing the root cause of poor performance," she explained.
Cultivating and nurturing inclusive environments
Regarding the need to cultivate and nurture inclusive environments, Dr. Gorretti Byomire, a Lecturer and Director Makerere University Business School (MUBS) Disability Resource & Learning Centre, called for modification of existing practices and policies to accommodate everyone. "Developing Institutional policies on Diversity Management and training University leadership, staff and students about diversity and inclusion fosters inclusivity at workplaces.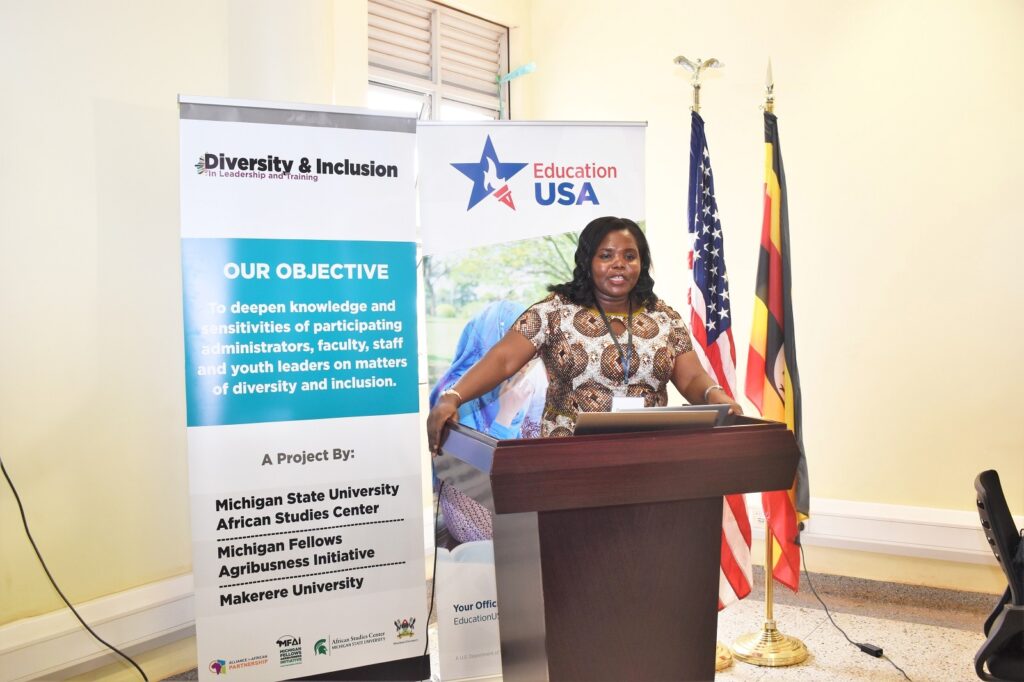 The discussion was moderated by Dr. Losira Sanya, project member, also Lecturer in the Department of Extension and Innovation Studies, CAES, Makerere University.
First D&I training at Makerere: https://caes.mak.ac.ug/uncategorized/makerere-administrators-sensitized-on-significance-of-diversity-and-inclusion/
Mak-CAES to provide Training Services to Technical Staff of Local Governments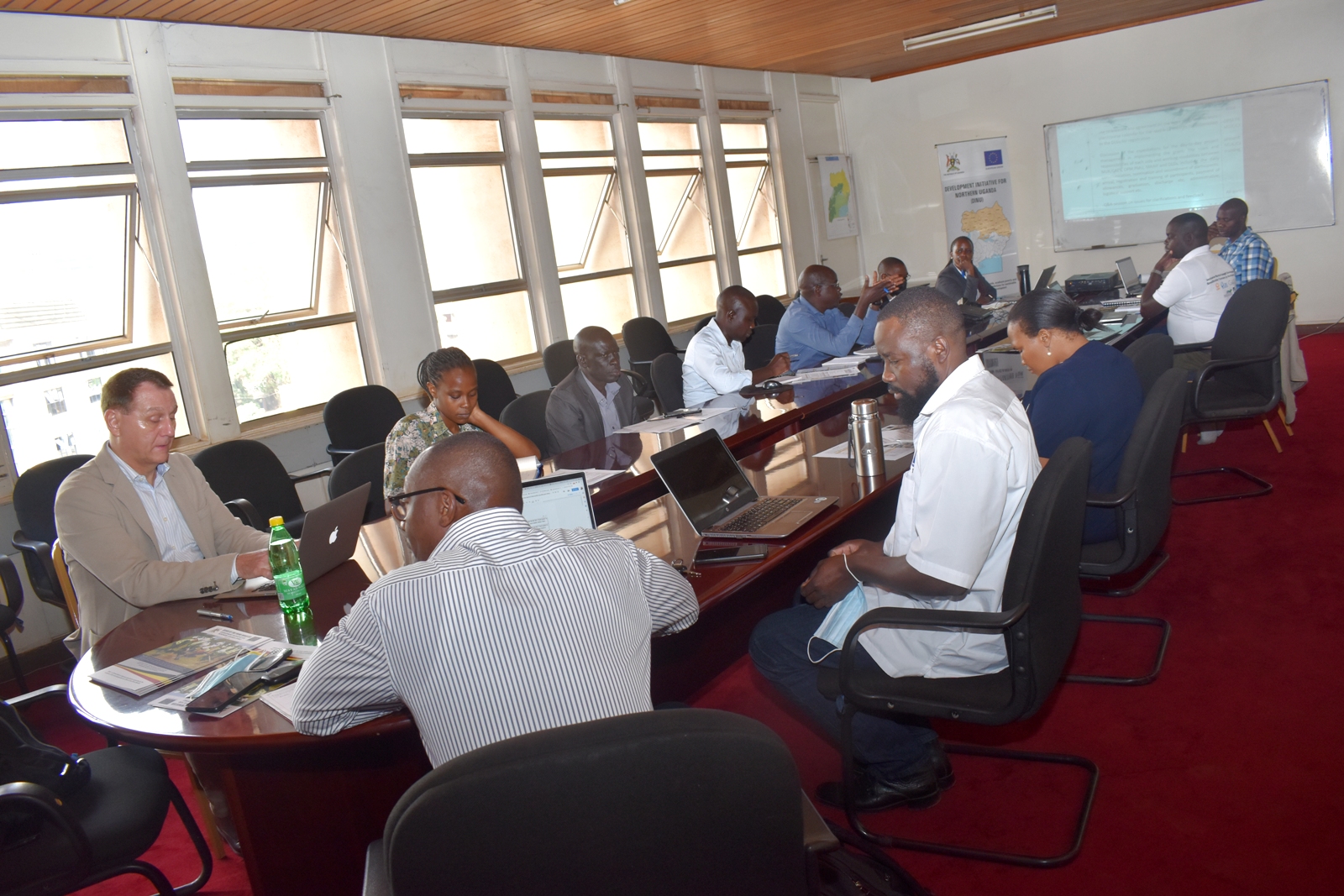 Overview
While notable strides have been made to enhance household food and nutrition security, reduce poverty and improve household incomes through agriculture, Northern Uganda is still lagging behind due to the long-term insurgency that left many households disintegrated. Uganda's Vision 2040, the National Agricultural Extension Policy (NAEP), the National Agricultural Policy (NAP) and the National Agricultural Extension Strategy (NAES) strategically place agriculture as a key driver to achieve socio-economic transformation in the country. The Northern Uganda Region has immensely benefited from massive investments in agricultural infrastructure, but dismal efforts have been made to enhance actual service delivery. As a result, functional extension systems that efficiently and effectively respond to challenges that farmers experience along the value chain of key agricultural commodities have not been given adequate attention in the region. Consequently, the farmers continue to be constrained in terms of accessing inputs and advisory services on modern agronomic practices and market opportunities. Although the district and sub-county extension officers are expected to provide this service, they have inadequate knowledge and skills to enable them render improved and relevant advisory and support services to farming communities.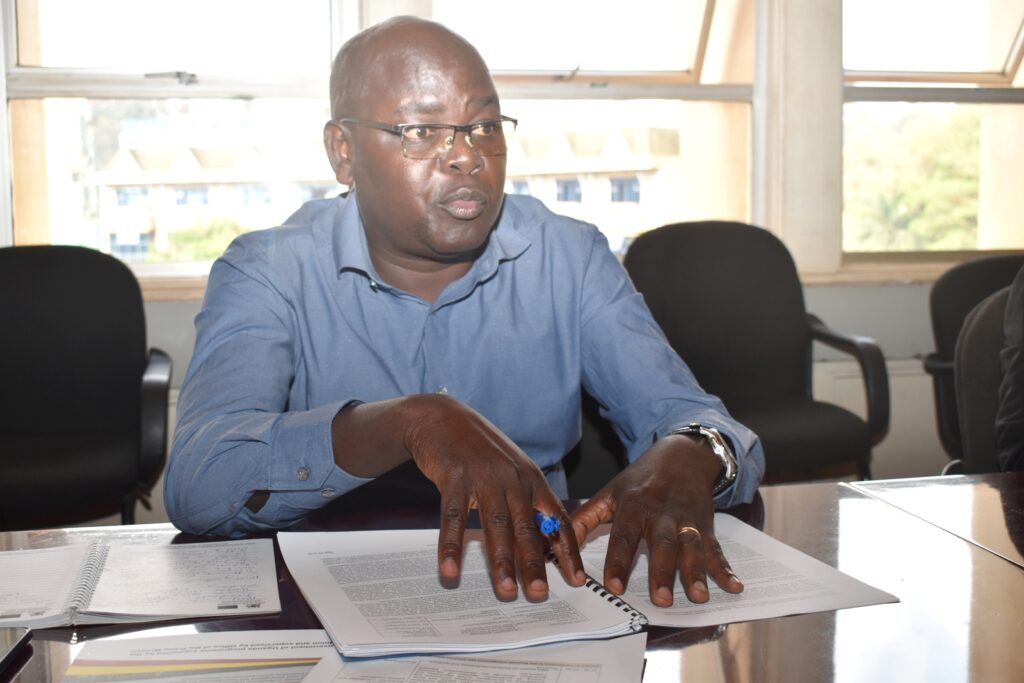 The training programme
To address the challenge, Makerere University College of Agricultural and Environmental Sciences (CAES) through the Northern Uganda Development Initiative (DINU) will effective 5th September 2022 provide training services to technical staff of local governments in the region. The trainings to be conducted at Makerere University Agricultural Research Institute Kabanyolo (MUARIK) will end in January 2023.
DINU is a Government of Uganda programme supported by the European Union (EU) and supervised by the Office of the Prime Minister. It is a multi-sectoral programme aimed at improving livelihoods in 41 districts in the five sub-regions of Acholi, Karamoja, Lango, Teso, and West Nile for a duration of six years (2017-2023). The 150.6 million Euro programme covers interventions in three interlinked sectors; (1) Food Security, Nutrition and Livelihoods; (2) Infrastructure (transport, logistics, water; and (3) Good governance.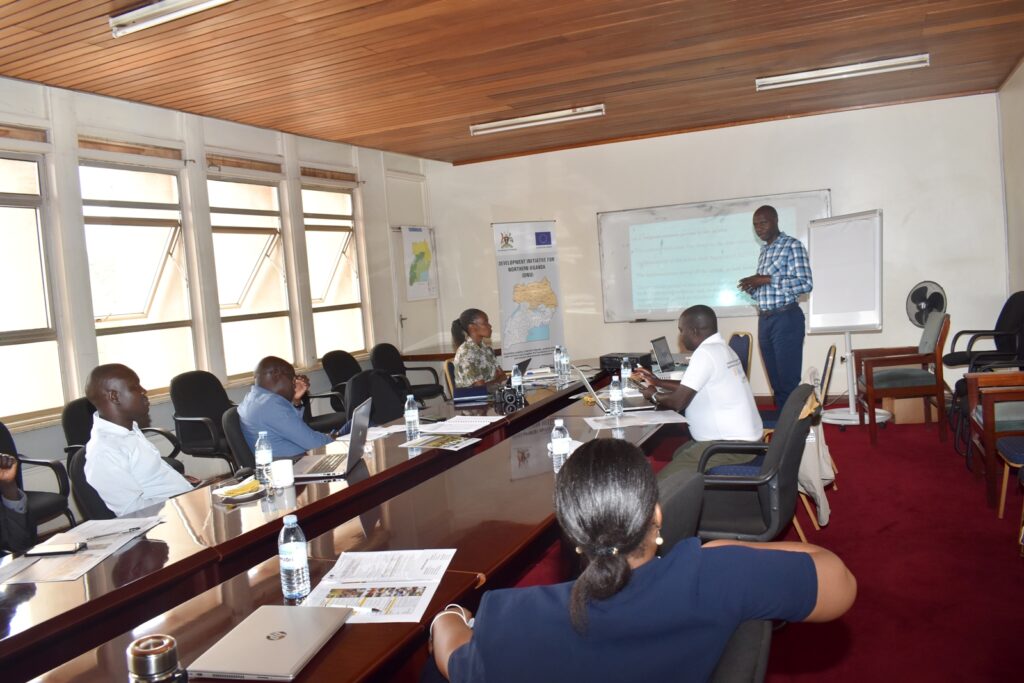 Objectives of DINU
To increase food security, improve maternal and child nutrition, and enhance household incomes through support to diversified food production and commercial agriculture, through improving household resilience – notably to climate change, and through women empowerment
To increase trade of commodities within the region, in the country and within neighbouring countries through improved transport infrastructure
To strengthen capacity, gender-responsiveness, good governance and the rule of law at the level of local government authorities and empower communities to participate in improved local service delivery
Through a programme titled; "Provision of Training Services to Technical Staff of Local Governments for improved Extension Service Delivery to Farmers in Northern Uganda", a total of 543 extension workers will be trained in the areas of Integrated Pest and Disease Management, Climate Smart Agriculture and Postharvest Handling, Animal Feed Formulation and Dry Season Feeding, Fish Feed Formulation and Feeding, Animal Breed Improvement through Artificial Insemination, Fish Breeding and Hatchery Management, Apiculture (Queen rearing and breeding and value addition in honey), Farmer Institutional Capacity Development, Agribusiness and Market Linkages, and Financial Management.
The trainers will mainly be members of staff from CAES with a few co-options of staff from the College of Natural Sciences (CoNAS), the College of Veterinary Medicine, Animal Resources and Biosecurity (CoVAB), and the College of Business and Management Sciences (CoBAMS), Makerere University.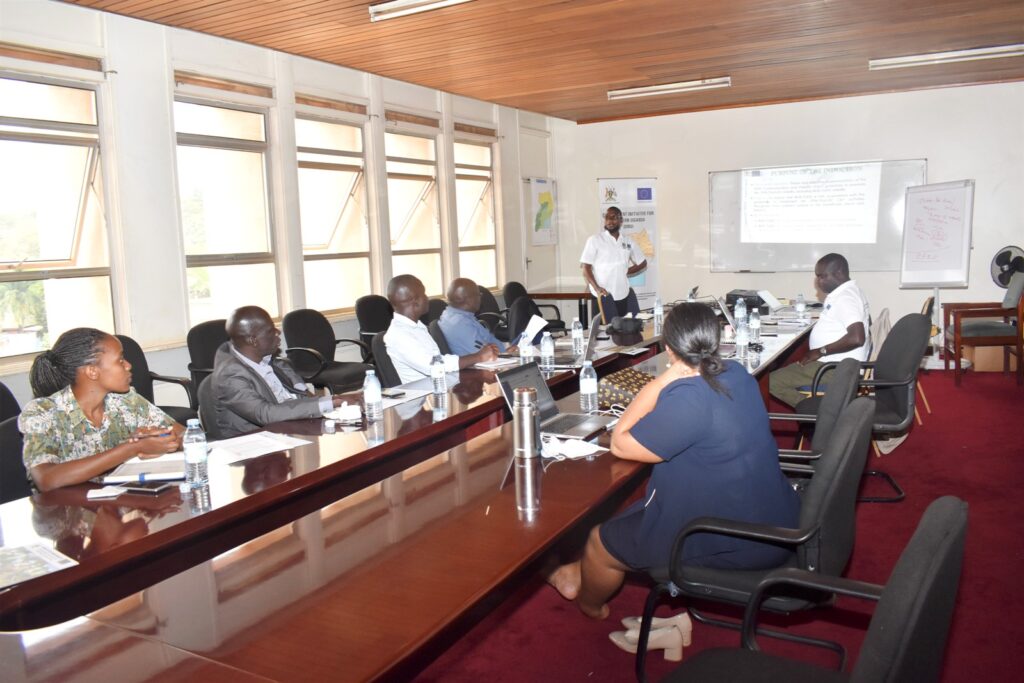 Expected outcome
The training is expected to contribute to the broader objective of DINU targeting to consolidate stability in Northern Uganda, eradicate poverty and under-nutrition, and strengthen the foundations for sustainable and inclusive socio-economic development. Specifically, the training is expected to improve extension service delivery to farmers through enhanced performance of local production departments, community-based services, as well as trade, industry and local economic development departments of local governments in the targeted sub-regions of Northern Uganda.
At Makerere University, the training programme is coordinated by Dr Bernard Obaa and Dr Christopher Mawa from the Department of Extension and Innovation Studies, CAES. The programme is overseen by the Principal of CAES.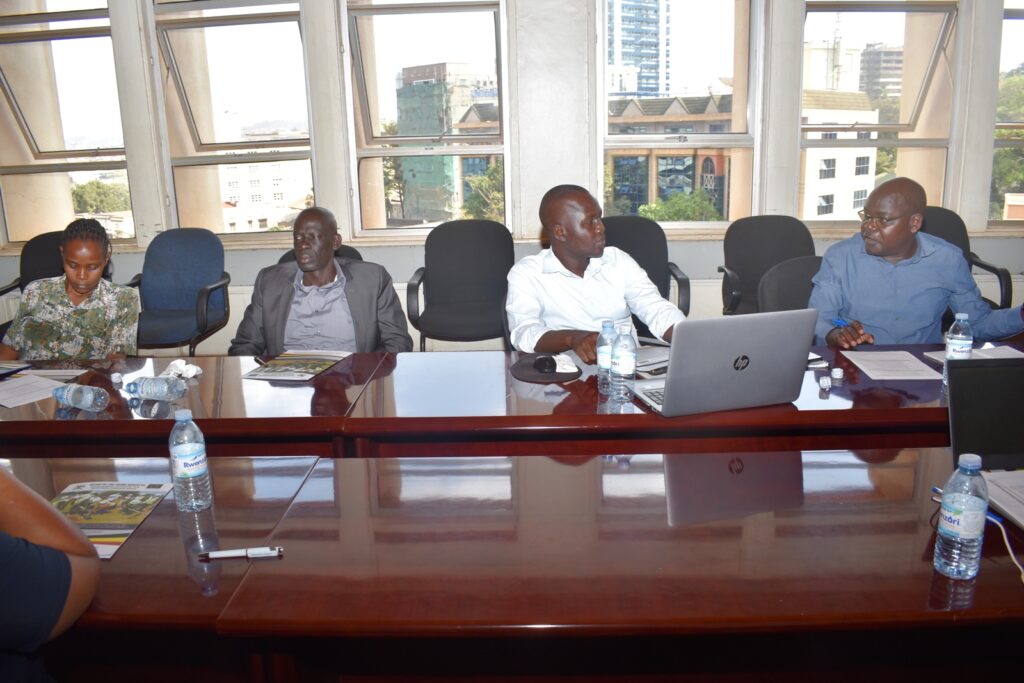 Meeting to discuss the implementation plan
On 27th July 2022, the programme coordinators met at the office of the Prime Minister in Kampala to deliberate on the implementation plan. At the meeting, the Makerere team was briefed on the financial management process and expected visibility plan. The meeting was attended by several staff from the Office of the Prime Minister including, Ms. Pamela Kabahasi, National Programme Coordinator; Mr. Joseph Dramadri, Agribusiness Officer; Mr Isaiah Kitimbo, Communication and Visibility Officer; Mr Ronald Kasozi, Finance, Administration and Contracts Advisor; Mr. Poul Lassen, Chief Technical Advisor; and Mr. John Bosco Birenge, Technical Advisor, Karamoja.