MAKNAI Hand Pump Automation to Eliminate COVID-19 Spread at Boreholes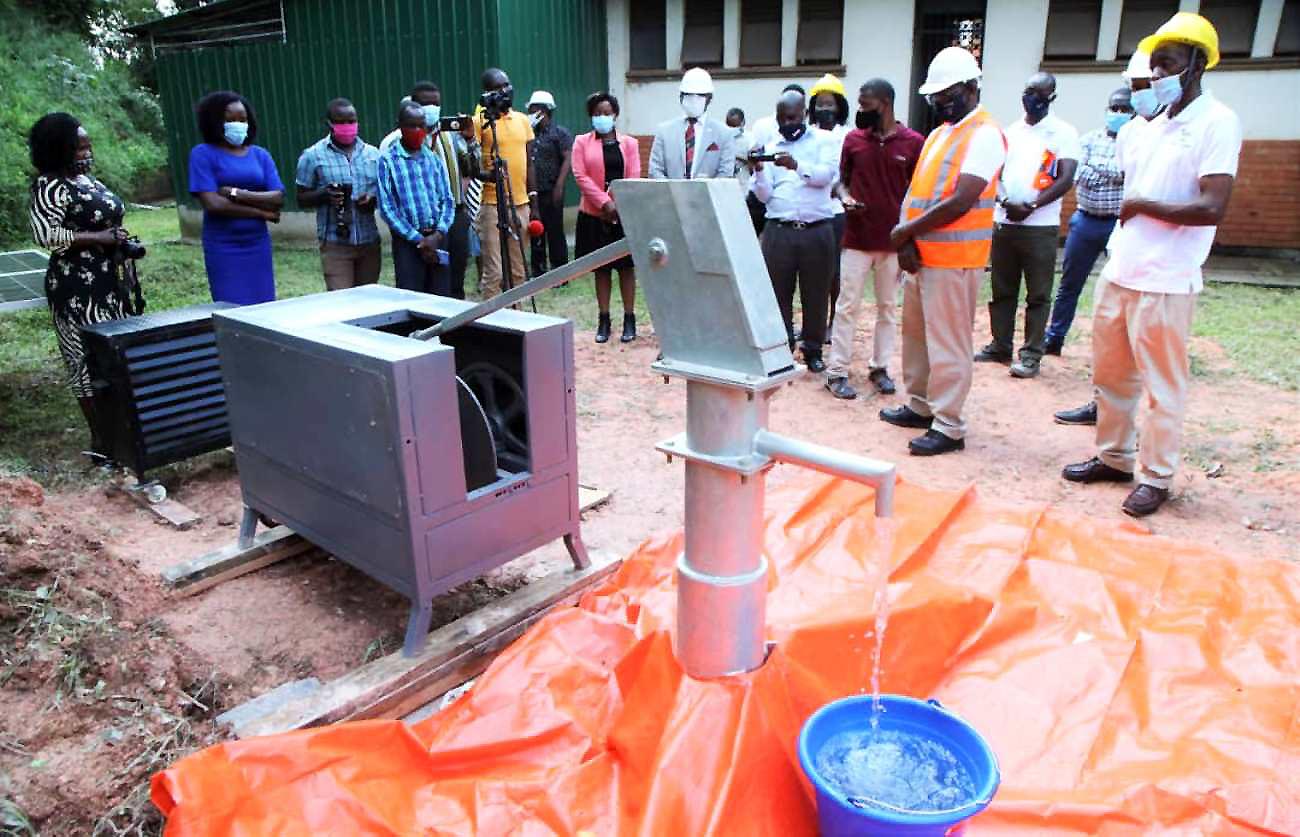 "Boreholes and shallow wells account for 67.6% of the water sources in rural areas in Uganda and supply water to an estimated 18,540,000 persons" remarked Dr. Nicholas Kiggundu. "Each well or borehole supplies about 300 persons in the wet seasons, and more than 1,000 persons during dry spells," continued the Principal Investigator as he gave a background of the project.
MAKNAI is an acronym for the Makerere University–MAK NAyIkondo – vernacular for borehole, a prototype to automate cranking of the hand pump that draws water from a well. Designed by a team from the Department of Agricultural and Biosystems Engineering (DABE), School of Food Technology, Nutrition and Bioengineering (SFTNB), College of Agricultural and Environmental Sciences (CAES) the prototype consists of a PV (photovoltaic) panel, battery, solar charge controller, inverter, motor, pulleys, belt, reciprocating arm and a foot switch. The foot switch further serves to replace the use of palms and fingers to crank the pump handle, as is the practice while drawing water at boreholes.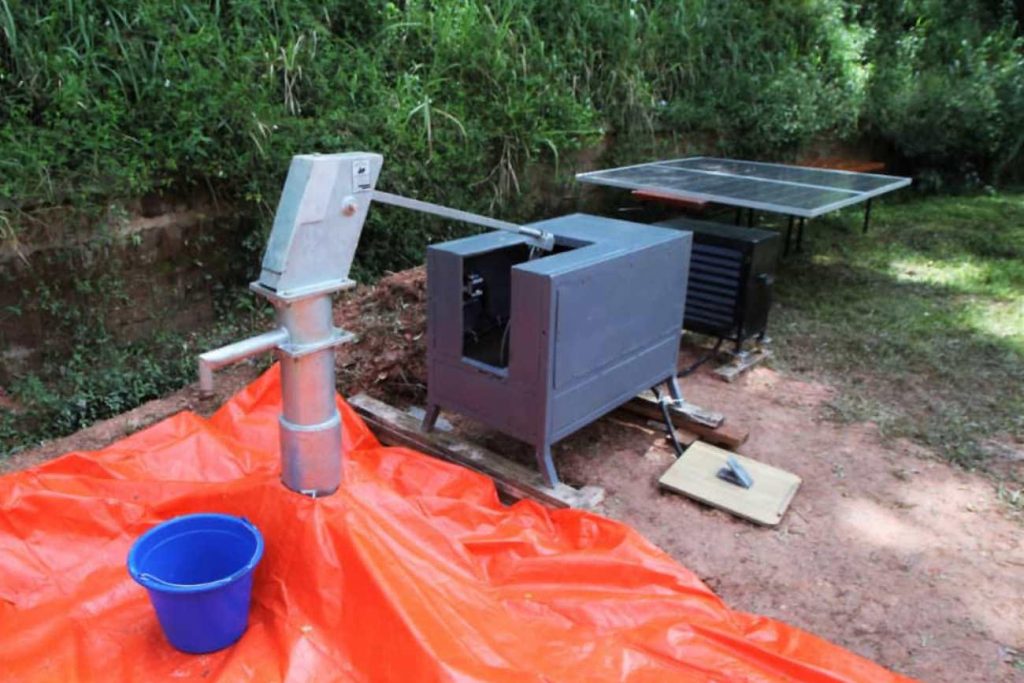 Funded by the Government of Uganda under the Makerere University Research and Innovations Fund (Mak-RIF), the research project was titled: "Automation of communal hand water pumps to eliminate COVID-19 transmission". The title was motivated by the observation that alternative solutions of limiting the spread of COVID-19 such as washing hands with water and soap or use of chemical sanitizers are difficult to enforce especially in the low income rural and peri-urban communities where the boreholes are found.
In addition to eliminating COVID-19 transmission at boreholes, this project is in line with the Ministry of Water and Environment's efforts to replace hand pumped boreholes with submersible pumps as a means of eliminating drudgery, prolonging the life of boreholes, and supplying water to bigger populations in a shorter time. Other members of the project team are; Dr. Prossie Nakawuka, Mr. Sam Cherotich, Eng. Joseph Kizito, Eng. Robert Baluku and Mr. Gyaviira Ssewankambo a student researcher.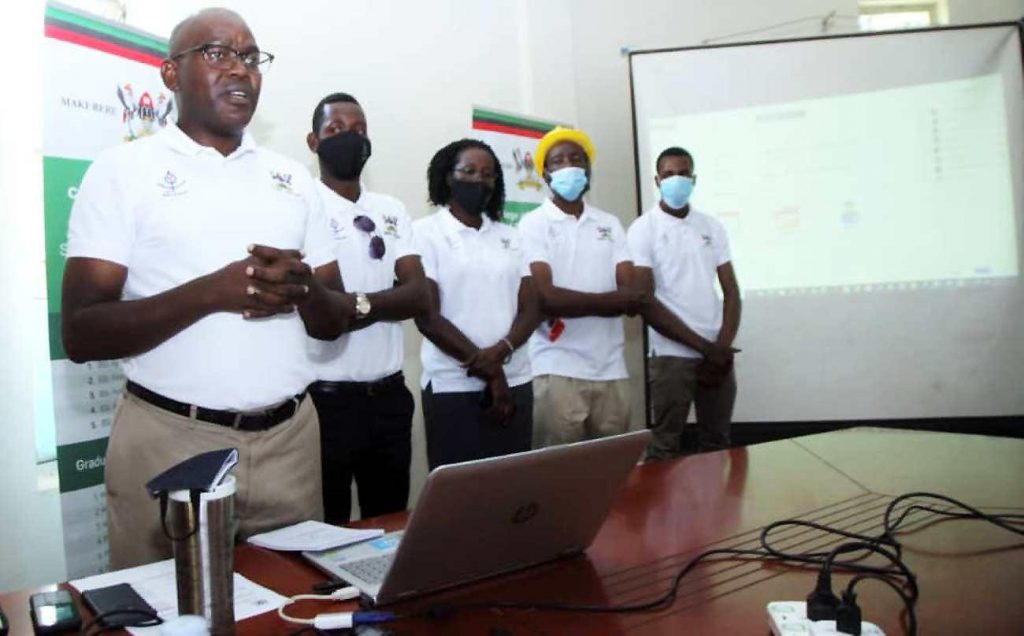 Welcoming participants to the research dissemination event held on 30th December 2020 at the SFTNB Conference Hall, the Chair DABE, Prof. Noble Banadda applauded the Government of Uganda for enabling members of staff to turn research ideas into innovations that are transforming livelihoods and communities through Mak-RIF.
"If there is anything that has proved to the world that research is important, it is COVID-19. The MAKNAI prototype is one of several innovations that the Department has developed to help mitigate the spread of COVID-19. These include: The Touchless Handwashing (Tw-20) Kit, the thermal imaging detector of COVID-19; and the use of 3D printing technology to make biodegradable face masks, and on a wider scale, to teach science, technology, engineering and mathematics and plan urban centres" said Prof. Banadda.
As Chair, he expressed pleasure at leading a team whose every member holds a PhD, is committed to undertaking research, which has led to innovations and the production of at least 27 publications in different journals. "I am happy to inform you that this year, I have been able to mobilise research grants worth 10million USD" he added.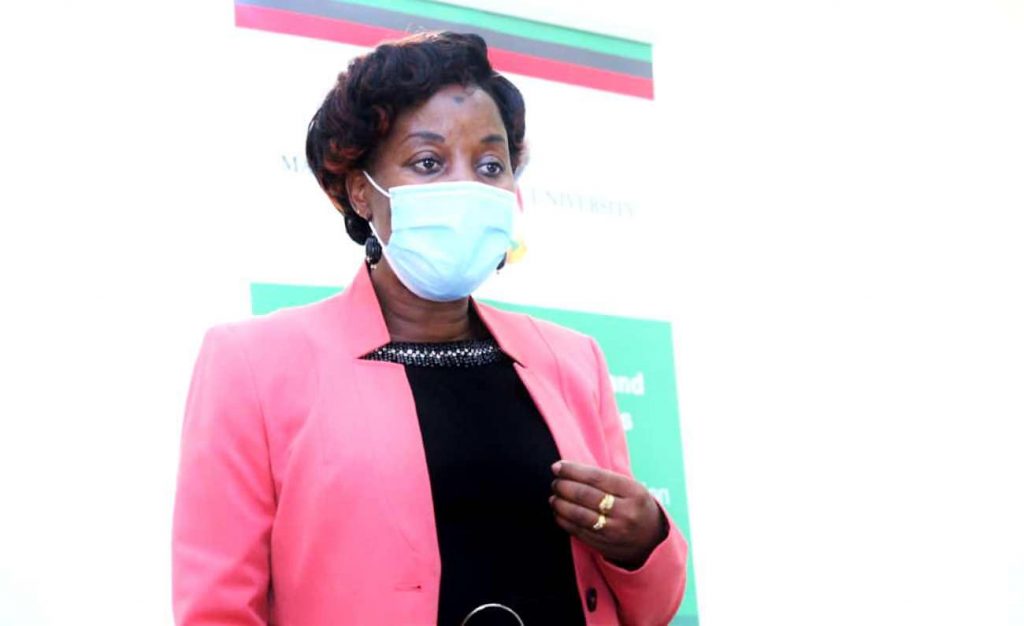 In her remarks the Deputy Principal CAES, Dr. Gorettie Nabanoga applauded Dr. Kiggundu and his team for bringing great pride to the college and University. "Your innovation is going to be a flagship of some of the activities that the college has done because it touches the most rural individual in this country."
Dr. Nabanoga who represented the Principal CAES, Prof. Bernard Bashaasha acknowledged that women in villages are involved in gardening, fetching water from boreholes, taking care of children and other household chores. She added that the MAKNAI innovation would help women save time and energy which would have otherwise been expended on this laborious task.
She thanked the Vice Chancellor for the excellent leadership that conforms to his manifesto and dream for a better Makerere. "We have been recognized in the whole country as the source of knowledge and innovation that contributes to the development of the country."
Presiding over the event, the Vice Chancellor Prof. Barnabas Nawangwe thanked all invited guests particularly from the Ministries, Departments and Agencies as well as Local Governments for sparing time to attend the research dissemination. Citing his manifesto theme for the Vice Chancellorship – "Unlocking the potential of Makerere University", he prayed that numerous innovations would lend credence to the fact that the University's potential was being unlocked.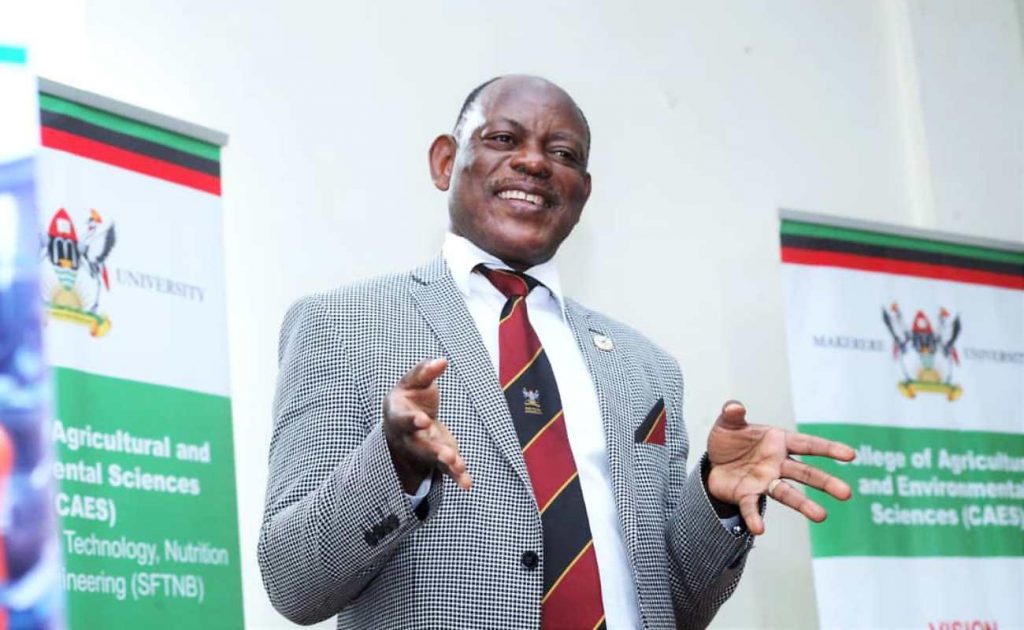 Prof. Nawangwe thanked the Government of Uganda for recognizing the importance of homegrown solutions by allocating specific funding for research and innovations at Makerere University. He commended the Mak-RIF Grants Management Committee (GMC) for ensuring that awardees account for the funding received, "and I am glad to say that over the last two to three months, there has been a launch of a product or innovation at Makerere University almost every day because of RIF."
He expressed confidence that by producing innovations such as MAKNAI, Mak-RIF has the potential to turn around the country's fortunes in a very short time by providing employment to the exploding young population. "This innovation alone if well handled can change a lot of lives and generate income for Makerere, and I am happy to hear that one of the team members is going to immediately work on registration of Intellectual Property for it."
Dr. Kiggundu while presenting the research findings shared that the study conducted in the districts of Wakiso, Mukono, and Buvuma was informed by; i) time taken to fill a 20 litre jerrycan, ii) maximum power needed to draw water from the borehole, iii) borehole dimensions and iv) borehole discharge. Based on data from the three districts, the PV (photovoltaic) system, battery to supply the needed power, and the motor to drive the system were sized and sourced from the market.
Eventually, a 1.4 horsepower Alternating Current (AC) motor with a crank speed of 100 rpm and generating average torque of 68 Nm was obtained. The other units of the system including the pulleys, belt reciprocating arm and foot switch were developed in-house at Makerere University.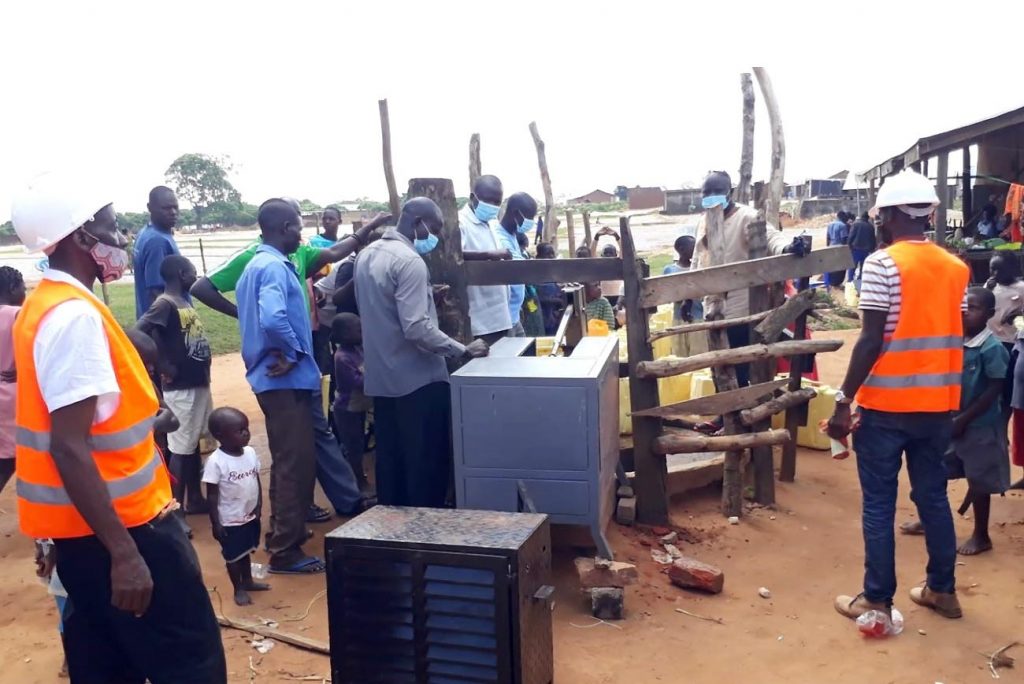 Nevertheless, Dr. Kiggundu reported that parts such as a 1 horsepower Direct Current (DC) motor were hard to find on both local and international markets. The team also faced challenges during in-house fabrication as the parts produced weren't often an accurate fit.
Despite the various challenges, the team produced the MAKNAI v1.0 prototype which after successful field tests was able to fill a 20 litre jerrycan within an average time of 50seconds at boreholes with depths ranging from of 12 to 70 metres. The communities where the prototype was installed appreciated and welcomed the innovation as it reduced the time spent by each user at the borehole by over 70%.
"MAKNAI eliminated the drudgery experienced by the users especially children, the elderly and expectant mothers because pumping water at a borehole requires lots of energy;" shared Dr. Kiggundu, before comically noting that, "you don't need to go to the gym if you go to the borehole daily." He appealed for more support from stakeholders to help scale-up the project.
The highlight of the research dissemination was the unveiling of a working MAKNAI v1.0 prototype installed at SFTNB by the Vice Chancellor, Prof. Barnabas Nawangwe. The event moderated by Ms. Ritah Namisango, Principal Public Relations Officer and DABE's Dr. Joshua Wanyama, Principal Investigator of the "Development of a Green Low-Cost Touchless Handwash Technology (TW-20 Kit) for public Shared Spaces" project.
Article by Public Relations Office
Prof. Bernard Bashaasha leads CAES staff for COVID-19 Vaccination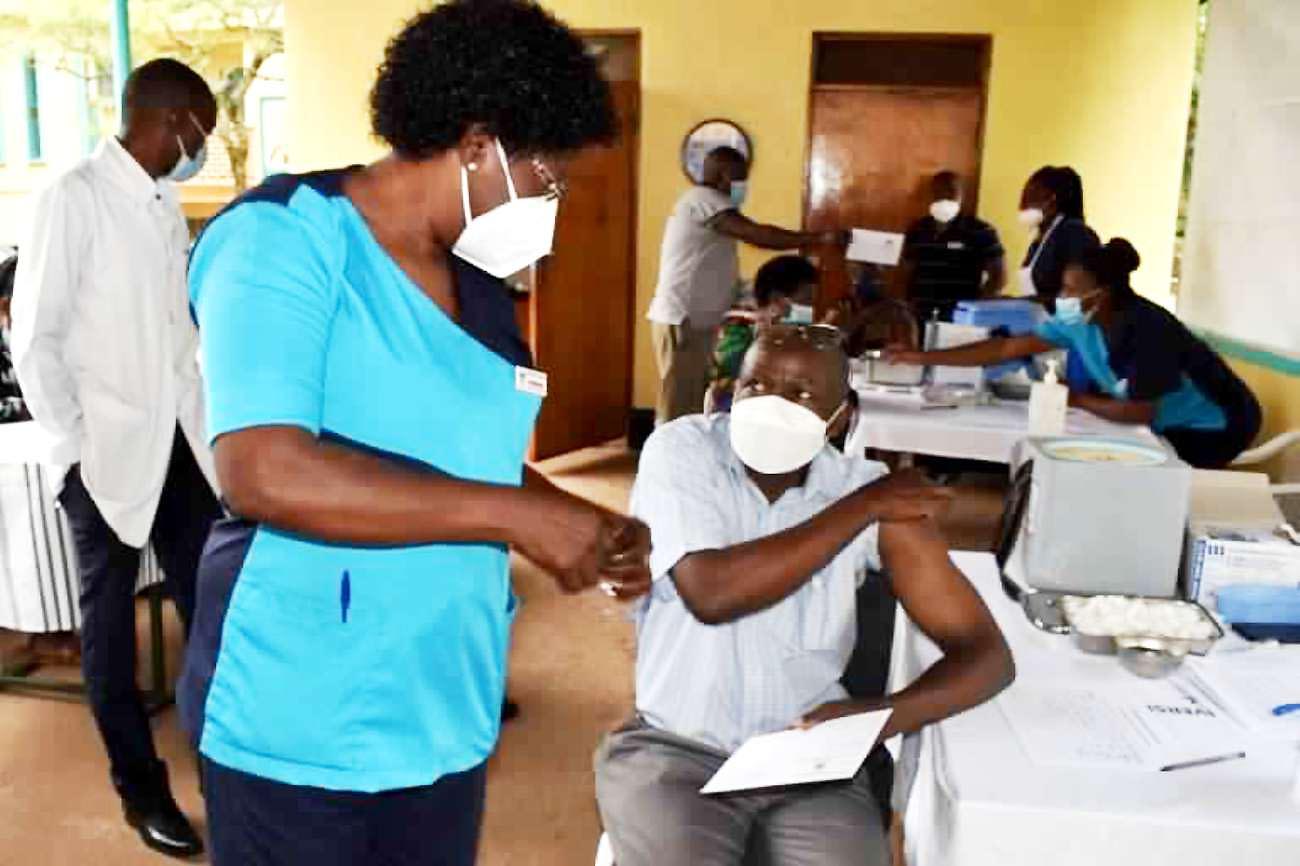 The Principal, College of Agricultural and Environmental Sciences (CAES) Prof. Bernard Bashaasha has got his first vaccination against COVID-19 at the Makerere University Hospital.
 A significant number of staff from the CAES also got their jabs. The other staff vaccinated were from the College of Education and Extra Mural Studies (CEES).  The vaccinated staff from CAES and CEES are expected to turn up for the next dose on 26th May 2021.
Speaking after getting his jab at the University Hospital, on 31st March, 2021, Prof.  Bashaasha described his experience as good and implored all the college staff to embrace this opportunity and get vaccinated for their safety.
"The experience was good. We came in and we were well-received. We filled the forms, we were ushered in, got the jabs and it was not painful. Actually, before you know it, the ladies are so good that your already done.
For CAES, I encourage everyone to come and get the vaccination because, the more people we have vaccinated, the safer we are. So, I think for the safety of everyone, let us all embrace this and stick on the guidelines issued and then, we come for the next jab when it is next scheduled", Prof. Bashaasha advised.
The vaccination of the University community against COVID-19 is being championed by Makerere University Hospital in conjunction with the Ministry of Health, Kampala Capital City Authority (KCCA) and the World Health Organisation (WHO).
In case of any serious adverse reactions, recipients are advised to report the nearest health centre or WhatsApp 0791415555 or 0800101999 (National Drug Authority (NDA).
The scholarship from RUFORUM has expanded my research capabilities and network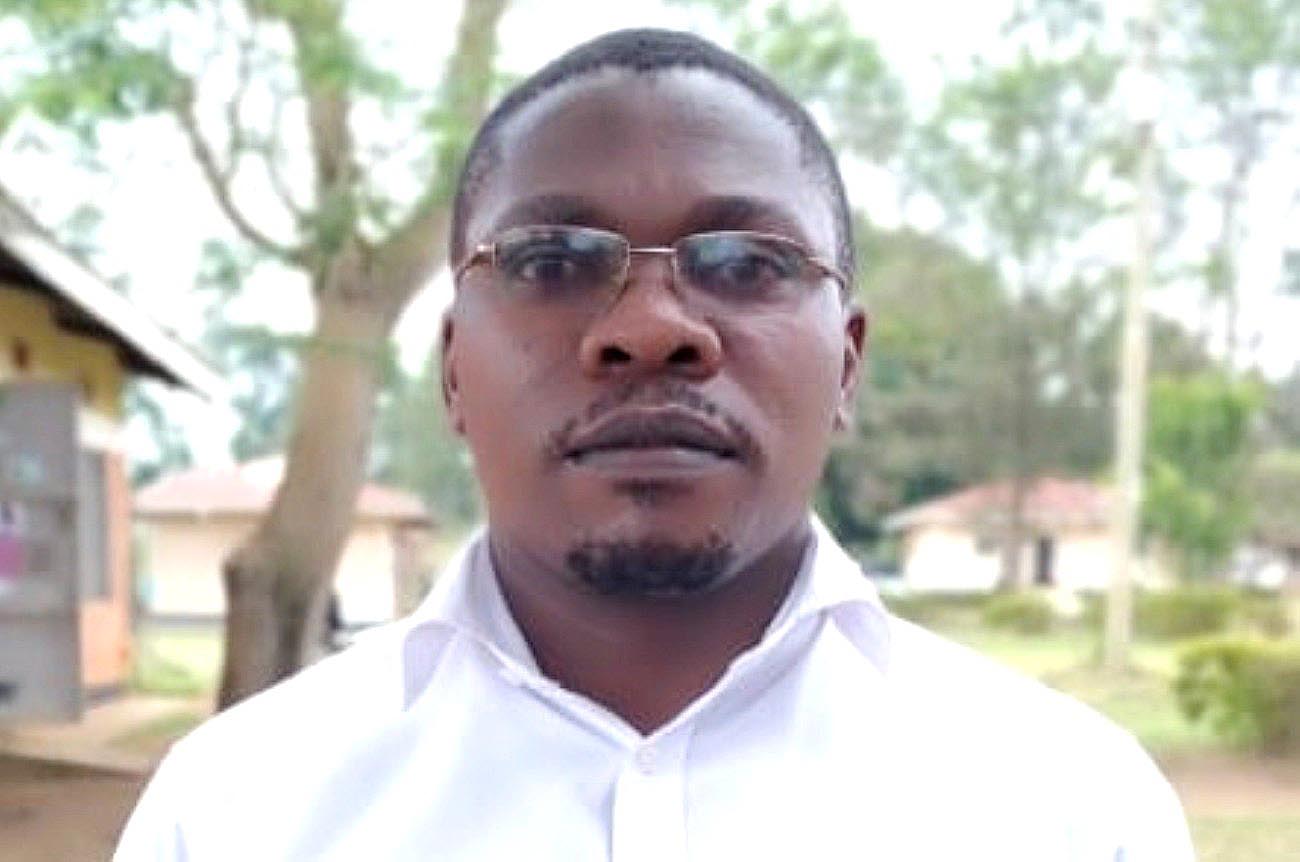 My name is Kusiima Kaheesi Samuel studying PhD Environment and Natural Resources at the College of Agricultural and Environmental Science (CAES), Makerere University, Uganda. I  received funding from RUFORUM under the Social and Environmental Trade-offs in African Agriculture (SENTINEL) Project for my research entitled: Land Use Land Cover Change (LULCC) and its Implications on Ecosystem Services in the Albert Water Management Zone, Uganda. The aim of my project is to unravel the relationship between LULCC and human well-being through alteration of ecosystem service supply in the dynamic landscape famous for being a biodiversity hotspot, oil and gas industry activities, agricultural activities, and an exponential population growth.
The project is great significance because of inter alia reflection of the situation in terms of Sustainable Development Goals (SDGs) 2,3,6,7,11,12,13; accounting for land use sector in Nationally Determined Conditions (NDCs) under the Paris Agreement; Forest Landscape Restoration opportunity of Uganda; Detect the level of compliance and effectiveness of elaborate environment and natural resources laws; understanding ecosystem services synergies/trade-offs; and explanation to the environmentalists paradox.
My proposal was accepted by the Doctoral Committee and since then I have spent most of the time doing intensive literature review to inform my review paper (yet to be submitted), instrumentation, and working on objective one which is basically GIS and RS thus requiring nominal fieldwork.
CoSTClim-NORPART Call For Applications: Masters & PhD Student Mobility to Norway 2021
Makerere University in collaboration with Norwegian University of Science and Technology (NTNU), Uganda Martyrs University (UMU) and Regional Universities Forum (for Capacity Building in Agriculture (RUFORUM) are implementing a five year CoSTClim project (Collaborative Action for Strengthening Training Capacities in Climate Risk and Natural Resource management). The main goal of the project is to improve the quality of training, education and research at the partner institutions with a dedicated focus on climate risk, disaster risk management and natural resource management. CoSTClim builds on a range of other capacity development projects funded by the Norwegian Government at the partner institutions, but is more focused on education.
One of the components of CoSTClim is student mobility from Uganda to Norway and from Norway to Uganda. Therefore, we are inviting applicants from Makerere University for Masters and PhD student mobility to Norwegian University of Science and Technology (NTNU) for the year 2021. The scholarship will cover a maximum 5 months and 3 months stay at NTNU in Trondheim, Norway for Masters and PhD students respectively.
Applications with all the required documents should be submitted by email to all the three contacts below in one message. The project application deadline is 15th and 31st March 2021 for Masters and PhD applicants respectively
Dr. Yazidhi Bamutaze: yazidhibamutaze[at]gmail.com
Dr. Runyararo Jolyn Rukarwa: r.rukarwa[at]ruforum.org
Dr. Charlotte Nakakawa Jjunju: charlotte.jjunju[at]ntnu.no
Short listed applicants will be invited to complete educational procedures at NTNU under the exchange arrangement. A scholarship award will be issued once formalities have been successfully completed at NTNU.
Please see Downloads for details