MAKNAI Hand Pump Automation to Eliminate COVID-19 Spread at Boreholes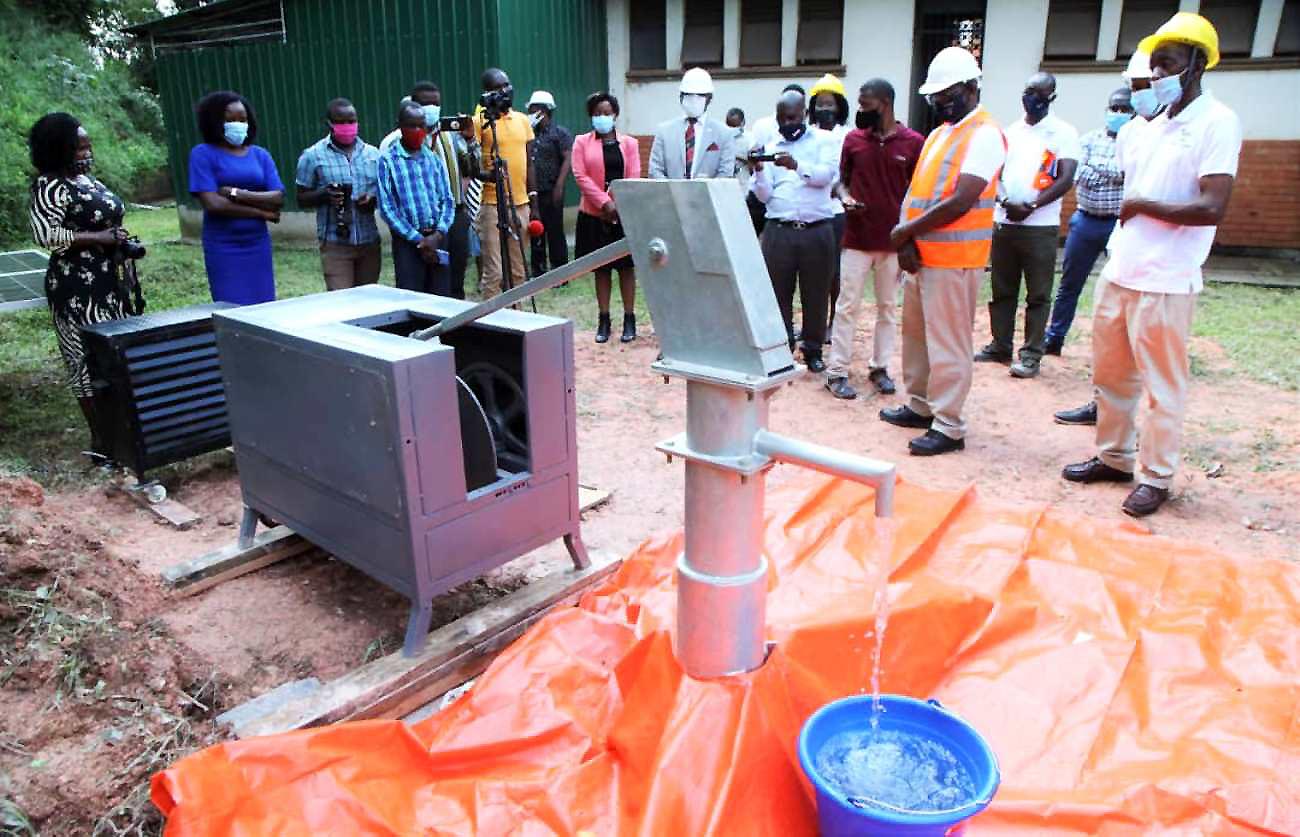 "Boreholes and shallow wells account for 67.6% of the water sources in rural areas in Uganda and supply water to an estimated 18,540,000 persons" remarked Dr. Nicholas Kiggundu. "Each well or borehole supplies about 300 persons in the wet seasons, and more than 1,000 persons during dry spells," continued the Principal Investigator as he gave a background of the project.
MAKNAI is an acronym for the Makerere University–MAK NAyIkondo – vernacular for borehole, a prototype to automate cranking of the hand pump that draws water from a well. Designed by a team from the Department of Agricultural and Biosystems Engineering (DABE), School of Food Technology, Nutrition and Bioengineering (SFTNB), College of Agricultural and Environmental Sciences (CAES) the prototype consists of a PV (photovoltaic) panel, battery, solar charge controller, inverter, motor, pulleys, belt, reciprocating arm and a foot switch. The foot switch further serves to replace the use of palms and fingers to crank the pump handle, as is the practice while drawing water at boreholes.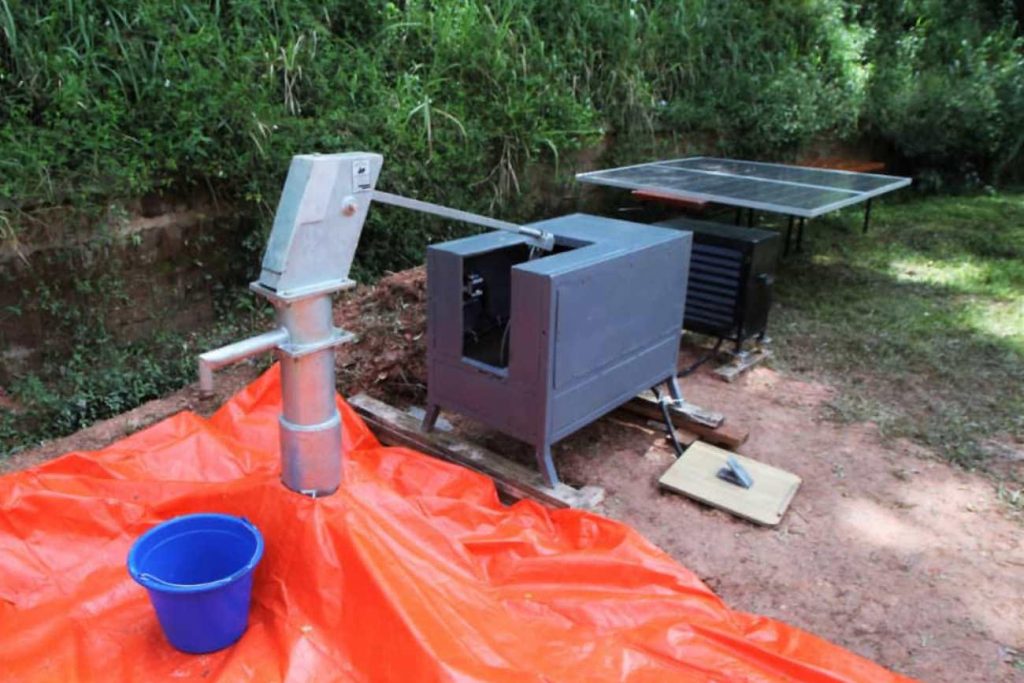 Funded by the Government of Uganda under the Makerere University Research and Innovations Fund (Mak-RIF), the research project was titled: "Automation of communal hand water pumps to eliminate COVID-19 transmission". The title was motivated by the observation that alternative solutions of limiting the spread of COVID-19 such as washing hands with water and soap or use of chemical sanitizers are difficult to enforce especially in the low income rural and peri-urban communities where the boreholes are found.
In addition to eliminating COVID-19 transmission at boreholes, this project is in line with the Ministry of Water and Environment's efforts to replace hand pumped boreholes with submersible pumps as a means of eliminating drudgery, prolonging the life of boreholes, and supplying water to bigger populations in a shorter time. Other members of the project team are; Dr. Prossie Nakawuka, Mr. Sam Cherotich, Eng. Joseph Kizito, Eng. Robert Baluku and Mr. Gyaviira Ssewankambo a student researcher.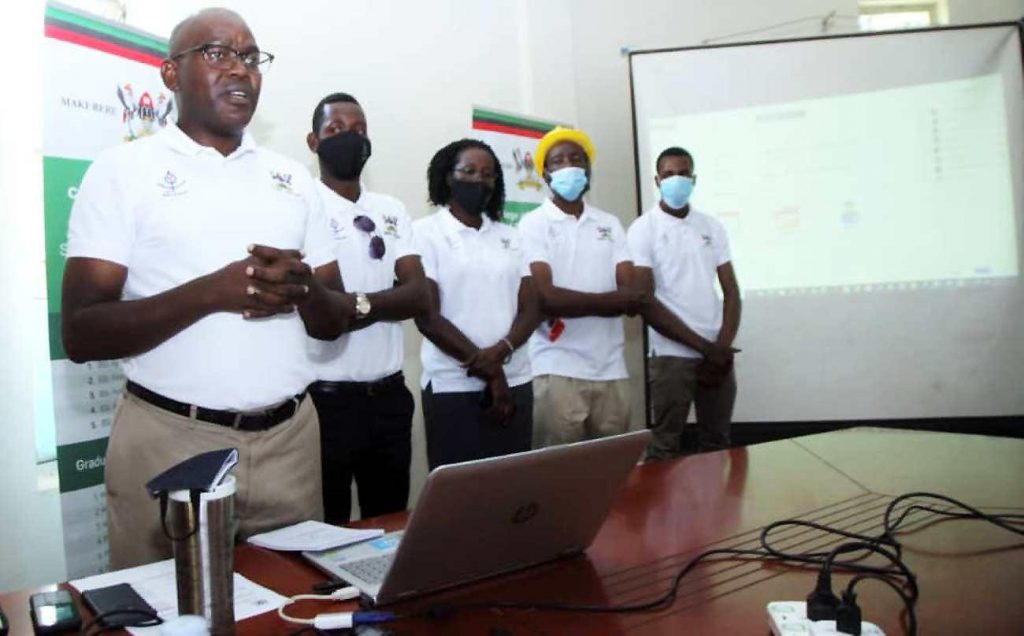 Welcoming participants to the research dissemination event held on 30th December 2020 at the SFTNB Conference Hall, the Chair DABE, Prof. Noble Banadda applauded the Government of Uganda for enabling members of staff to turn research ideas into innovations that are transforming livelihoods and communities through Mak-RIF.
"If there is anything that has proved to the world that research is important, it is COVID-19. The MAKNAI prototype is one of several innovations that the Department has developed to help mitigate the spread of COVID-19. These include: The Touchless Handwashing (Tw-20) Kit, the thermal imaging detector of COVID-19; and the use of 3D printing technology to make biodegradable face masks, and on a wider scale, to teach science, technology, engineering and mathematics and plan urban centres" said Prof. Banadda.
As Chair, he expressed pleasure at leading a team whose every member holds a PhD, is committed to undertaking research, which has led to innovations and the production of at least 27 publications in different journals. "I am happy to inform you that this year, I have been able to mobilise research grants worth 10million USD" he added.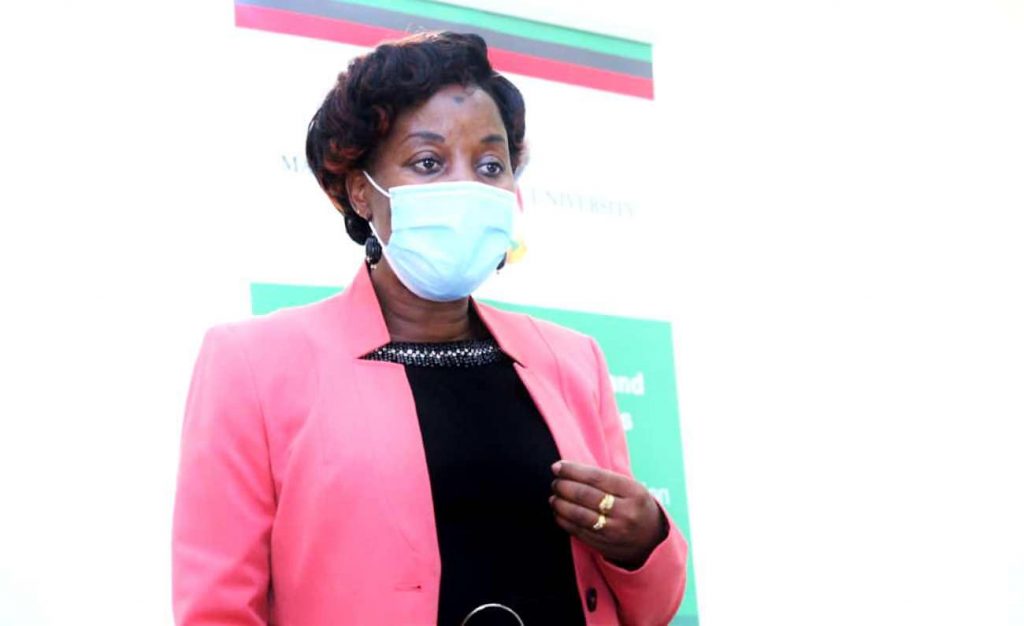 In her remarks the Deputy Principal CAES, Dr. Gorettie Nabanoga applauded Dr. Kiggundu and his team for bringing great pride to the college and University. "Your innovation is going to be a flagship of some of the activities that the college has done because it touches the most rural individual in this country."
Dr. Nabanoga who represented the Principal CAES, Prof. Bernard Bashaasha acknowledged that women in villages are involved in gardening, fetching water from boreholes, taking care of children and other household chores. She added that the MAKNAI innovation would help women save time and energy which would have otherwise been expended on this laborious task.
She thanked the Vice Chancellor for the excellent leadership that conforms to his manifesto and dream for a better Makerere. "We have been recognized in the whole country as the source of knowledge and innovation that contributes to the development of the country."
Presiding over the event, the Vice Chancellor Prof. Barnabas Nawangwe thanked all invited guests particularly from the Ministries, Departments and Agencies as well as Local Governments for sparing time to attend the research dissemination. Citing his manifesto theme for the Vice Chancellorship – "Unlocking the potential of Makerere University", he prayed that numerous innovations would lend credence to the fact that the University's potential was being unlocked.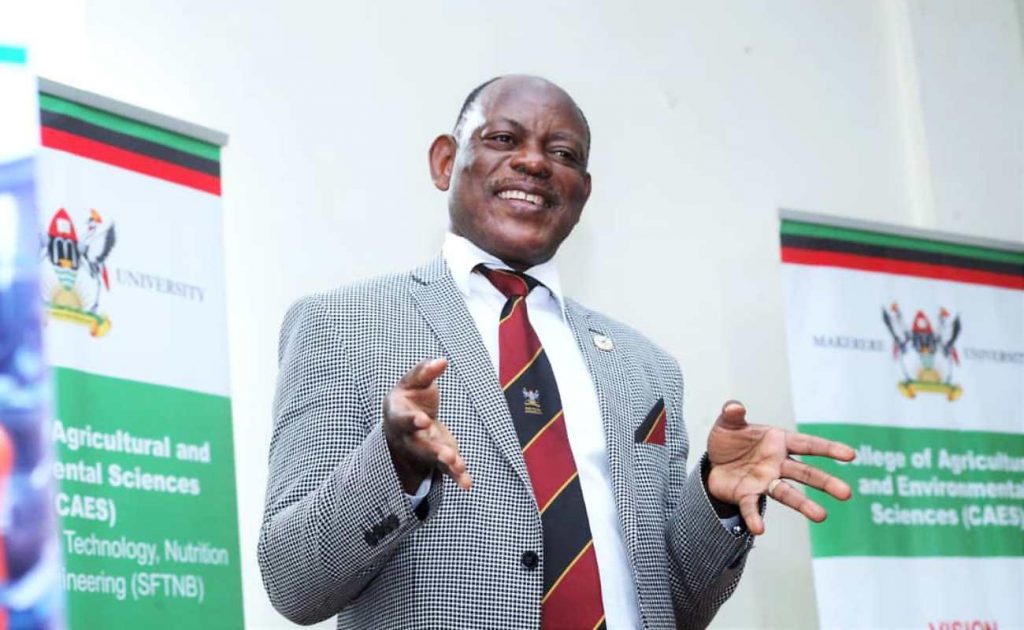 Prof. Nawangwe thanked the Government of Uganda for recognizing the importance of homegrown solutions by allocating specific funding for research and innovations at Makerere University. He commended the Mak-RIF Grants Management Committee (GMC) for ensuring that awardees account for the funding received, "and I am glad to say that over the last two to three months, there has been a launch of a product or innovation at Makerere University almost every day because of RIF."
He expressed confidence that by producing innovations such as MAKNAI, Mak-RIF has the potential to turn around the country's fortunes in a very short time by providing employment to the exploding young population. "This innovation alone if well handled can change a lot of lives and generate income for Makerere, and I am happy to hear that one of the team members is going to immediately work on registration of Intellectual Property for it."
Dr. Kiggundu while presenting the research findings shared that the study conducted in the districts of Wakiso, Mukono, and Buvuma was informed by; i) time taken to fill a 20 litre jerrycan, ii) maximum power needed to draw water from the borehole, iii) borehole dimensions and iv) borehole discharge. Based on data from the three districts, the PV (photovoltaic) system, battery to supply the needed power, and the motor to drive the system were sized and sourced from the market.
Eventually, a 1.4 horsepower Alternating Current (AC) motor with a crank speed of 100 rpm and generating average torque of 68 Nm was obtained. The other units of the system including the pulleys, belt reciprocating arm and foot switch were developed in-house at Makerere University.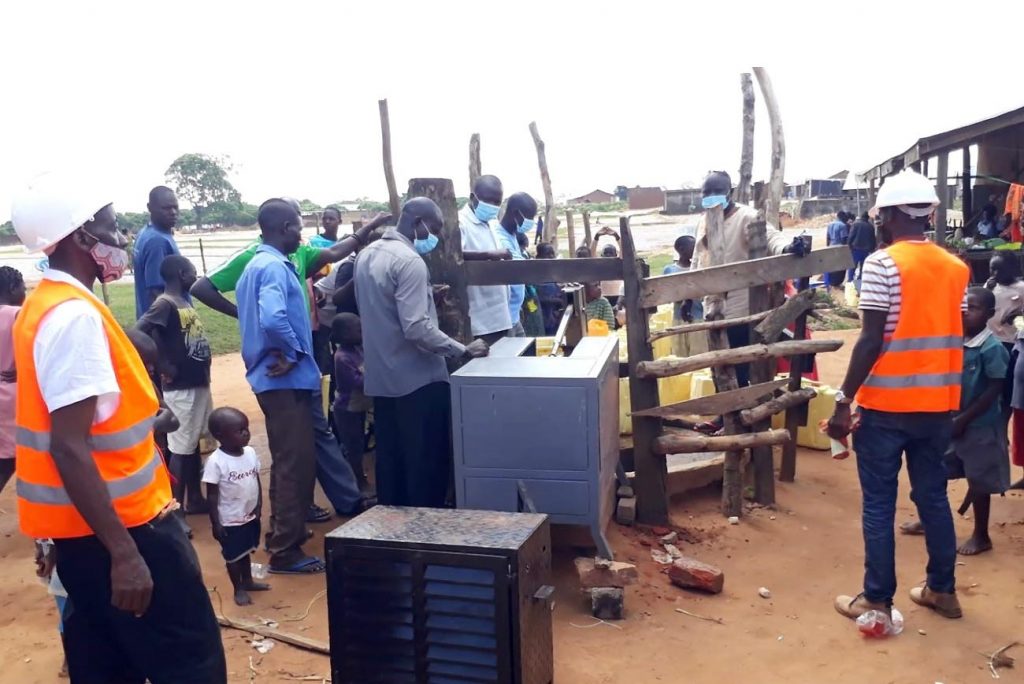 Nevertheless, Dr. Kiggundu reported that parts such as a 1 horsepower Direct Current (DC) motor were hard to find on both local and international markets. The team also faced challenges during in-house fabrication as the parts produced weren't often an accurate fit.
Despite the various challenges, the team produced the MAKNAI v1.0 prototype which after successful field tests was able to fill a 20 litre jerrycan within an average time of 50seconds at boreholes with depths ranging from of 12 to 70 metres. The communities where the prototype was installed appreciated and welcomed the innovation as it reduced the time spent by each user at the borehole by over 70%.
"MAKNAI eliminated the drudgery experienced by the users especially children, the elderly and expectant mothers because pumping water at a borehole requires lots of energy;" shared Dr. Kiggundu, before comically noting that, "you don't need to go to the gym if you go to the borehole daily." He appealed for more support from stakeholders to help scale-up the project.
The highlight of the research dissemination was the unveiling of a working MAKNAI v1.0 prototype installed at SFTNB by the Vice Chancellor, Prof. Barnabas Nawangwe. The event moderated by Ms. Ritah Namisango, Principal Public Relations Officer and DABE's Dr. Joshua Wanyama, Principal Investigator of the "Development of a Green Low-Cost Touchless Handwash Technology (TW-20 Kit) for public Shared Spaces" project.
Article by Public Relations Office
CAES Researchers Train Mpigi & Wakiso Pig Farmers on AI, ASF Mgt.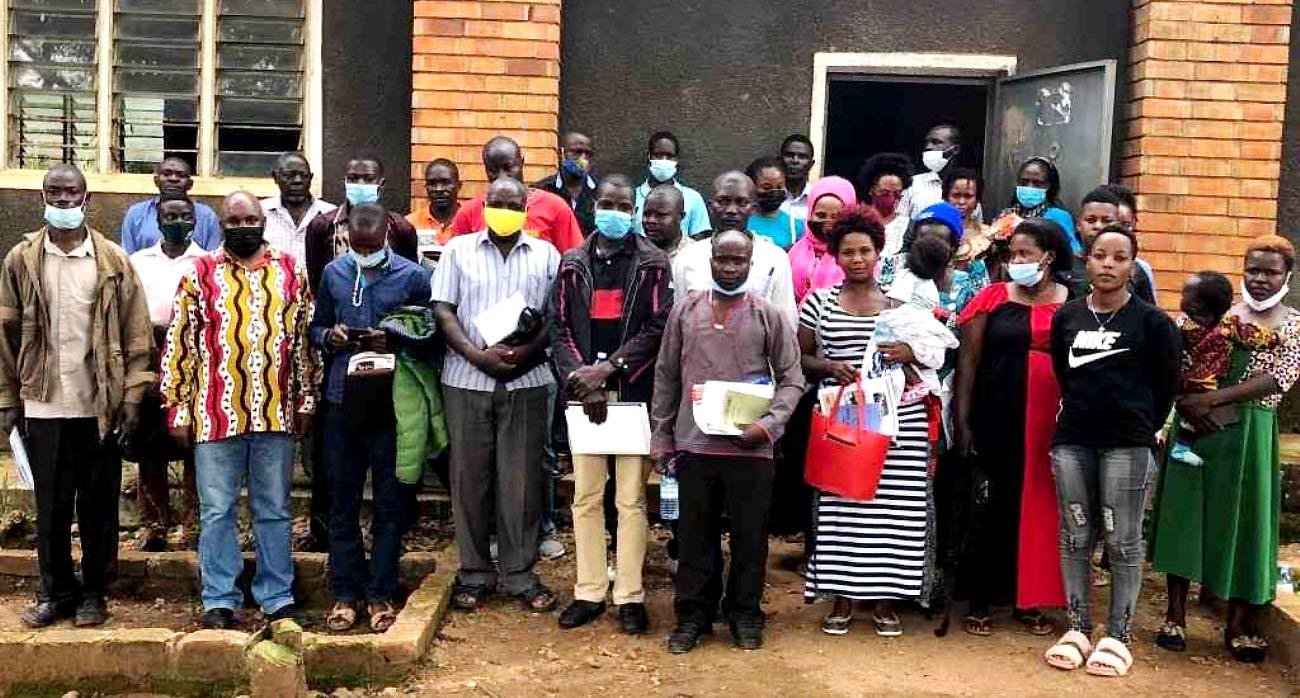 Researchers from the College of Agricultural and Environmental Sciences (CAES), Makerere University in collaboration with Veterinary Officers from Vetline Services, Mukono District have trained farmers in Mpigi and Wakiso districts on pig productivity and African Swine Fever (ASF) management. 
Under their project titled "Improving pig productivity and income through an environmentally sustainable and gender inclusive integrated intervention package", the researchers led by Dr Donald Kugonza have equipped over 300 pig farmers in Buwama, Nkozi, Kyengera, Wakiso, Kakiri, Mende and Kasangati Town Council with skills on Artificial Insemination (AI). The farmers have also been trained on the identification and management of diseases in pigs, vaccination, identification of the best breeds, feeding of pigs, and biosecurity.  
The activity intended to boost pig herd genetics, productivity and marketability of the products is a component of the More Pork Project supported by the International Livestock Research Institute (ILRI). Through the More Pork Project, ILRI works with partners worldwide to enhance the roles that livestock play in food security and poverty alleviation, principally in Africa and Asia. The project is coordinated by Dr Karen Marshall, Principal Scientist at ILRI. It is implemented in four districts in Uganda namely; Mukono, Mpigi, Wakiso and Masaka.
During the five-day activities that started on 22nd November 2021 in Buwama, Mpigi District and ended in Kasangati Town Council, Wakiso District on 26th November 2021, the trainers including Mr Robert Natumanya from CAES, Makerere University, Dr Leonard Kawule from Vetline Services, Mukono and Nalongo Nankya Ruth from the same company extensively trained the farmers on the process of Artificial Insemination (AI), highlighting the benefits and cautioning them on the mistakes. The farmers were specifically trained on the critical success factors of Artificial Insemination. These include proper heat detection by the farmer, supply of quality semen doses, optimal timing of insemination, good farm management practices and herd fertility.
IGE Cross-country National Policy Review & Training Workshop opens in Uganda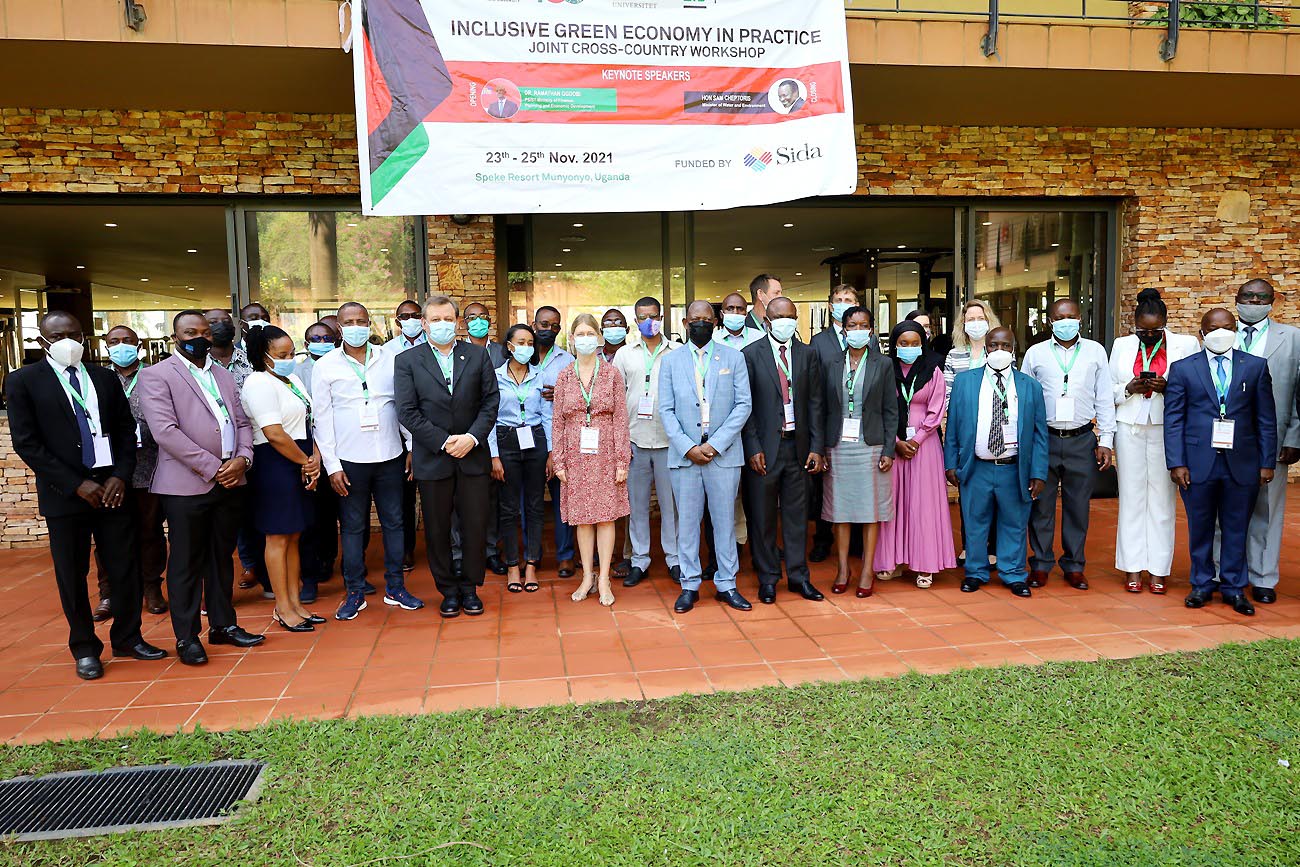 The three-day Inclusive Green Economy (IGE) cross-country National Policy Review and Training Workshop was on 23rd November 2021 opened at the Speke Resort Hotel Munyonyo in Uganda attracting over forty members of academia and policy makers from the Swedish Environment for Development (EfD) Global hub and the East African countries including Uganda, Kenya, Rwanda, Tanzania and Ethiopia.
The function running 23rd -25th November, 2021 was organized by the EfD-Mak Centre, Uganda in collaboration with University of Gothenburg, as part of the activities of the Inclusive Green Economy (IGE) capacity building programme for senior civil servants and policy makers sponsored by the Swedish International Development Cooperation Agency (Sida).
The purpose of the National Policy Review (NPR) training is to strengthen cross-country peer learning by conducting an analytical review of their neighboring country's NPR, and strengthen networks on Inclusive Green Economy in the region.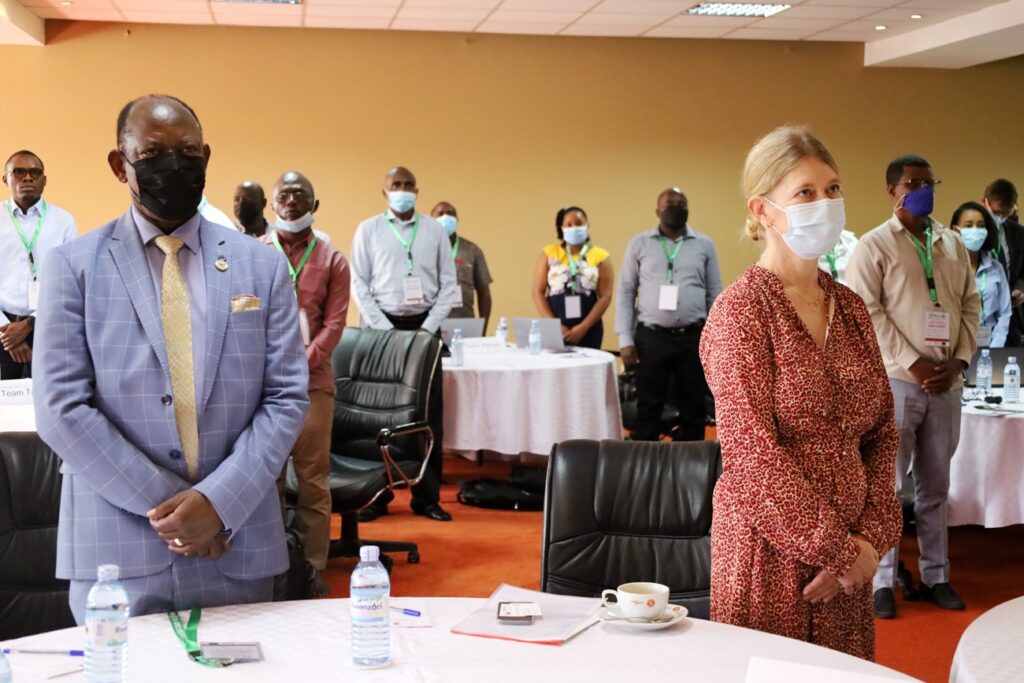 The workshop was opened by the Swedish Ambassador to Uganda H.E. Maria Håkansson. The function was also graced by the Permanent Secretary Ministry of Finance Planning and Economic Development, the Vice Chancellor Makerere University Prof. Barnabas Nawangwe and the Principal College of Business and Management Sciences (CoBAMS) Assoc. Prof. Eria Hisali.
Focus is to keep track towards Agenda 2030 and Paris Agreement for a green transition
Ambassador Håkansson said the workshop comes at a right time as the world experiences the effects of climate change.
"We are living in the mix of climate change. It is no longer a distant problem for the future generation. It affects all of us living now and climate and biodiversity is top priority of my government and we see it clearly linked to poverty reduction and economic development", She said.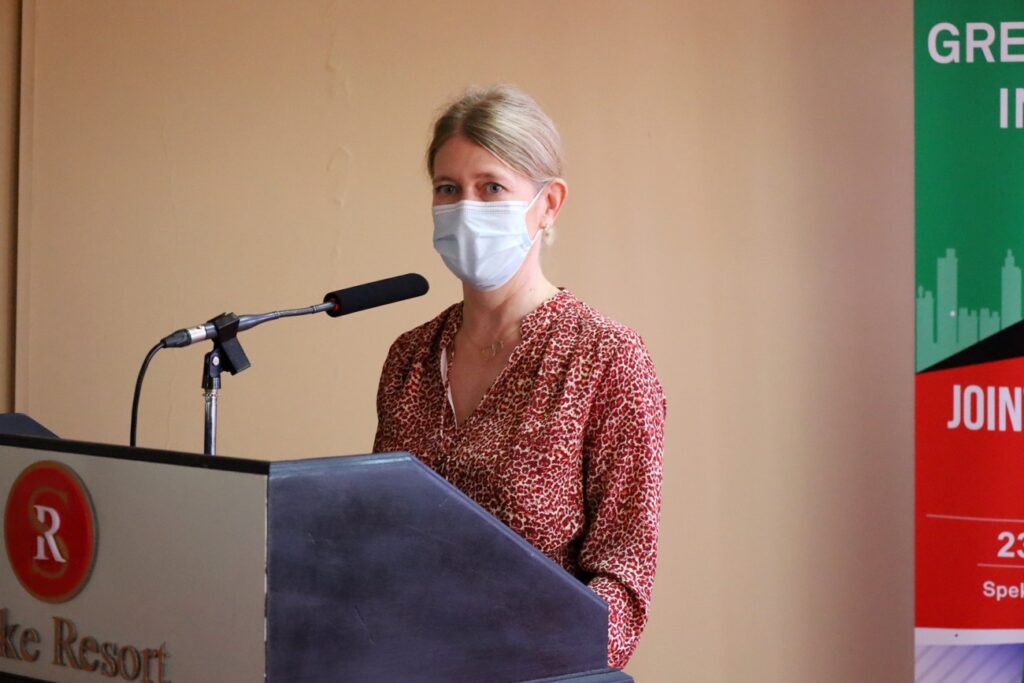 She noted that although a lot of focus today is on COVID-19 pandemic, there is need to start tracking the way out of the crisis towards recovery.
"Recovery strategies need to be developed to promote inclusive growth, employment and competitiveness. Identifying such strategies will depend on how deep and long lasting the economic recession becomes and should also include structural elements that can be used as opportunities to undertake important reforms for the future.
And in doing so, we must endure the approach of the UN Secretary General. We must ensure that the recovery strategies keep us on track towards Agenda 2030 and those of the  Paris Agreement of building  a sustainable  inclusive economy that is a recovery base for a green  transition", the Ambassador emphasized.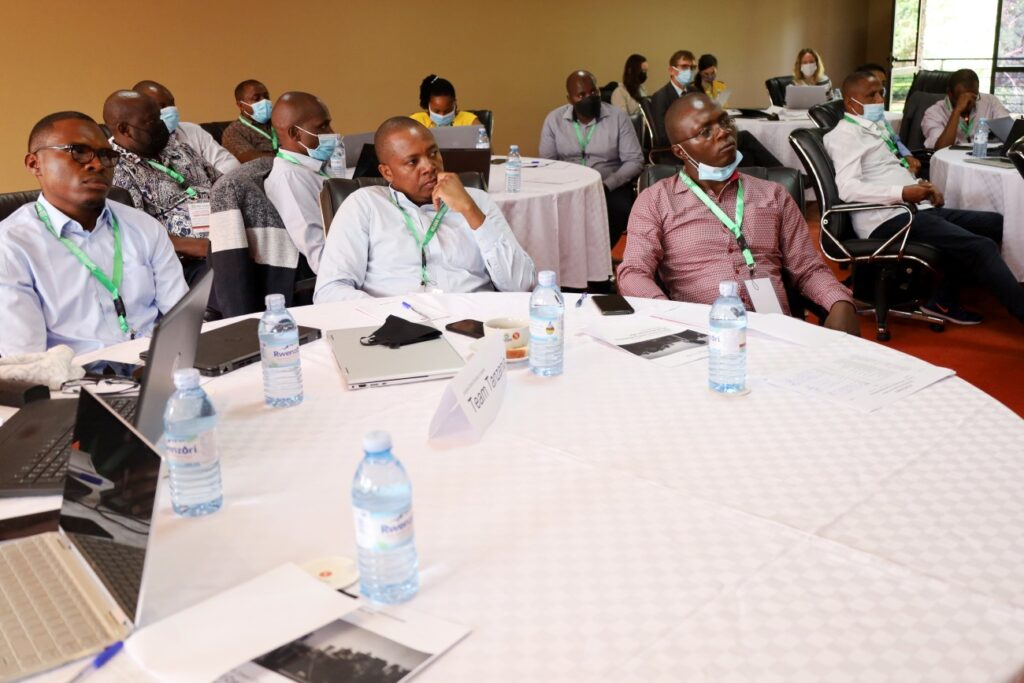 She reported that Sweden was the first country to pass an environmental protection act in 1967 and has continued to take a leading role in tackling climate change to government action and set a goal for carbon neutrality that is more ambitious to the Paris Agreement.
In addition the Ambassador said, the Swedish government has successfully decoupled carbon dioxide emissions from growth since 1997 without compromising public welfare while increasing prosperity for its inhabitants.
By adopting ambitious climate policies, Sweden also wants to set a good example for others to follow and in doing so, it is one of the world largest providers of climate financing and sharing knowledge and incorporating various programmes such as the Inclusive Green Economy in practice
Uganda's progress towards inclusive green economy implementation
Representing the Permanent Secretary, Ministry of Finance, Planning and Economic Development, Ms. Maris Wanyera said, for years, Uganda has experienced a positive trend in population growth which is associated with increased unemployment and environmental destruction.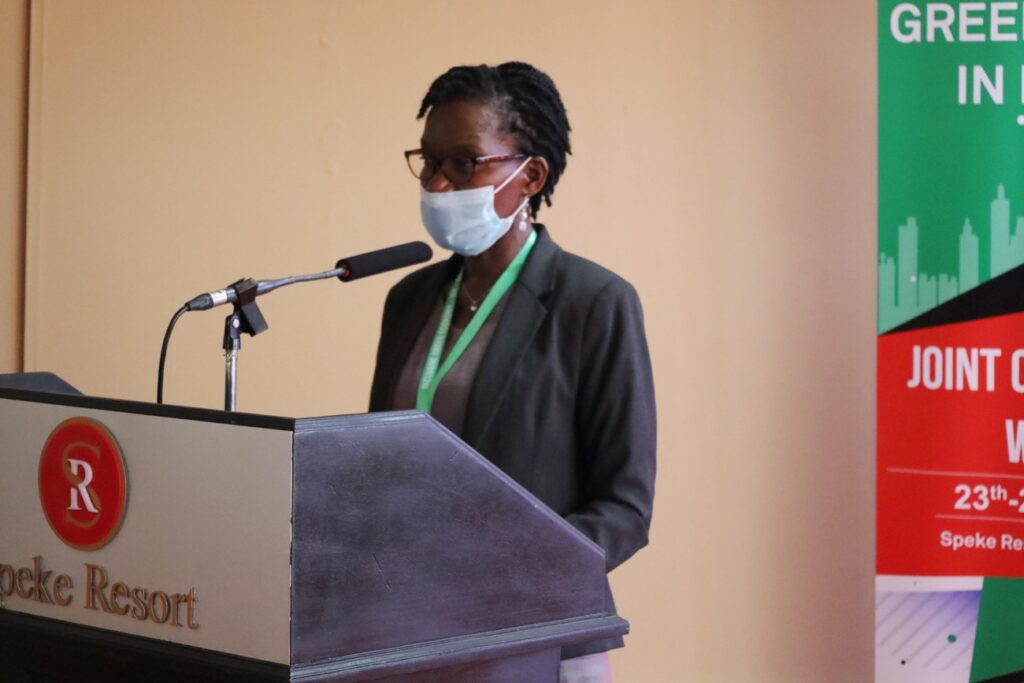 "The country is still challenged with the continuous abuse of natural resources especially forests and wetlands. Relatedly, this has raised concerns on whether the attained economic growth has not been achieved at the expense of the environment and natural resources". Ms. Wanyera said
As the 2030 Agenda took effect globally, Wanyera said, Government took steps to implement principles such as green growth that are embodied in the Sustainable Development Goals (SDGs).
"Uganda was among the first countries to mainstream SDGs into its development plan, although a strategy that unpacks green growth into sectoral interventions that can be implemented had not yet been devised.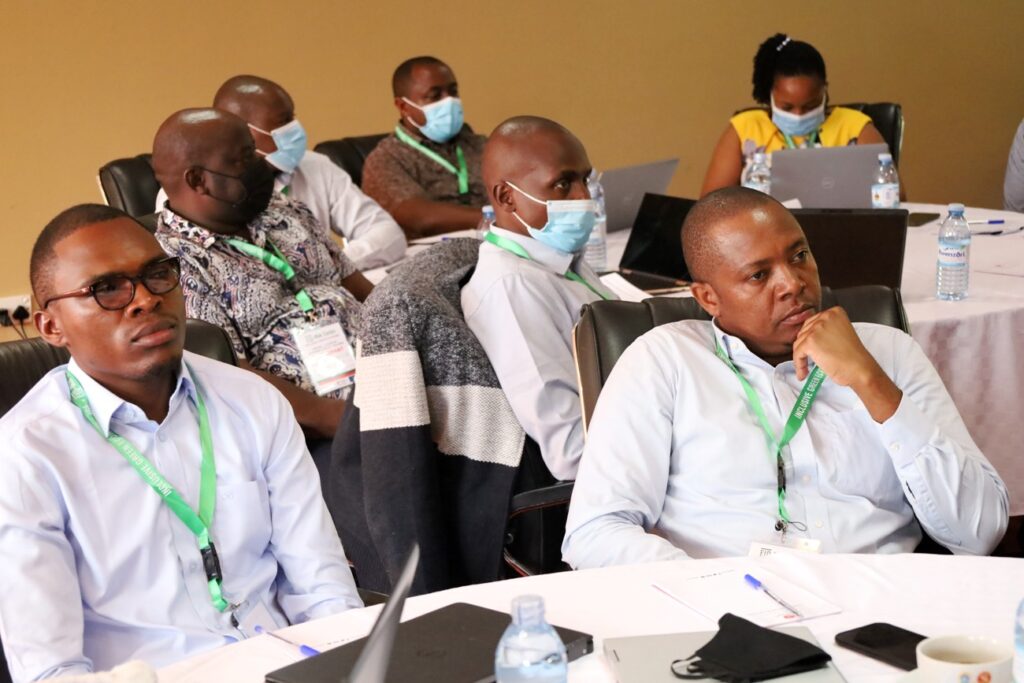 In response, Government developed the Uganda Green Growth Development Strategy (UGGDS) as the blue print to operationalize green growth principles and accelerate the implementation of global development goals, Uganda Vision 2040 and the National Development Plans 2 and 3", Ms. Wanyera said.
The goal of the UGGDS according to Wanyera is to achieve an inclusive low emissions economic growth process that emphasizes effective and efficient use of natural, human and physical capital while ensuring that natural assets continue to provide for present and future generations.
For purposes of achieving the objectives of the UGGDS, Ms. Wanyera said, Government requires that all new projects across all sectors include aspects of sustainable green growth largely emphasized in implementation of the National Development Plan II (2015 – 2020) and currently in NDP III (2021 – 2026).
Accordingly, the NDP III (2021-2026) has a fully-fledged program on climate change in addition to mainstreaming it in all other programmes.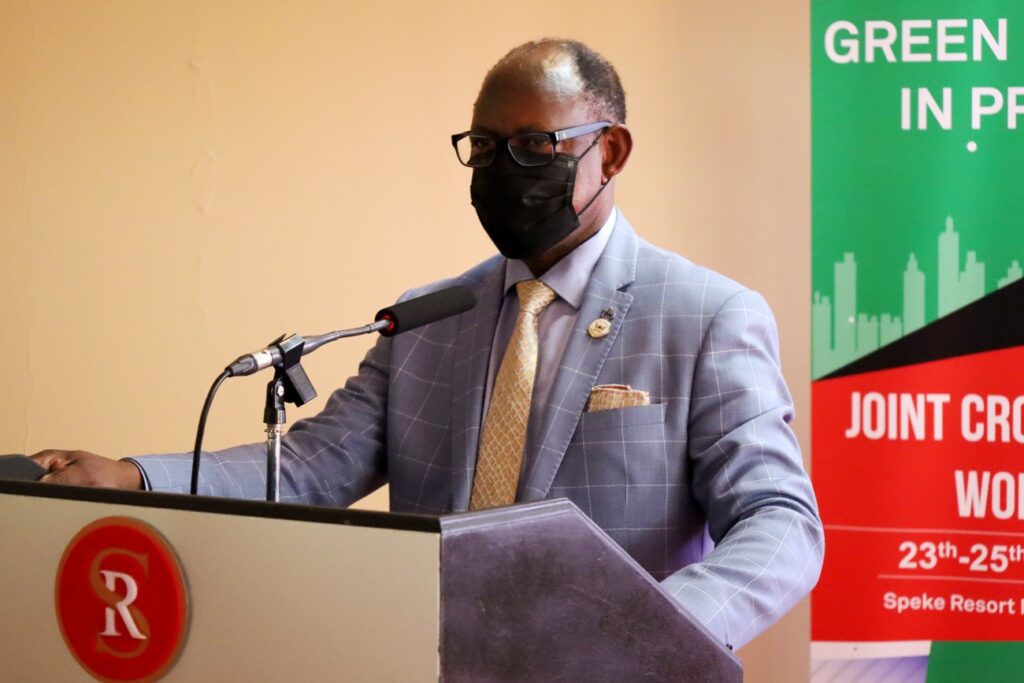 "Uganda has just recently passed the National Climate Change Act 2021 and to further augment the Green Growth Development Strategy and to address the post COVID 19 recovery, the country is working on integrating climate-resilient and low carbon emission measures into Government's stimulus and recovery packages. The priority areas are: climate finance, ICT (Digitalization of sectors), resilient transport, urban and built environment, energy, human capital development and public procurement", Wanyera said.
Environmental degradation a matter of urgency for Uganda's academia
The Vice Chancellor Makerere University Prof. Barnabas Nawangwe said it is extremely urgent for Uganda to think of addressing the issue of environmental depletion.
"There is massive use of firewood as the major source of cooking fuel, cutting down trees for charcoal for home use and export to countries like South Africa. It may be fetching us some little money but we need to think of our future generation.
As a country we need to sit and think seriously about alternative energy sources and reduce the destruction of the environment, otherwise we are heading for real trouble and we are going to leave our children in difficult situations", Prof. Nawangwe said.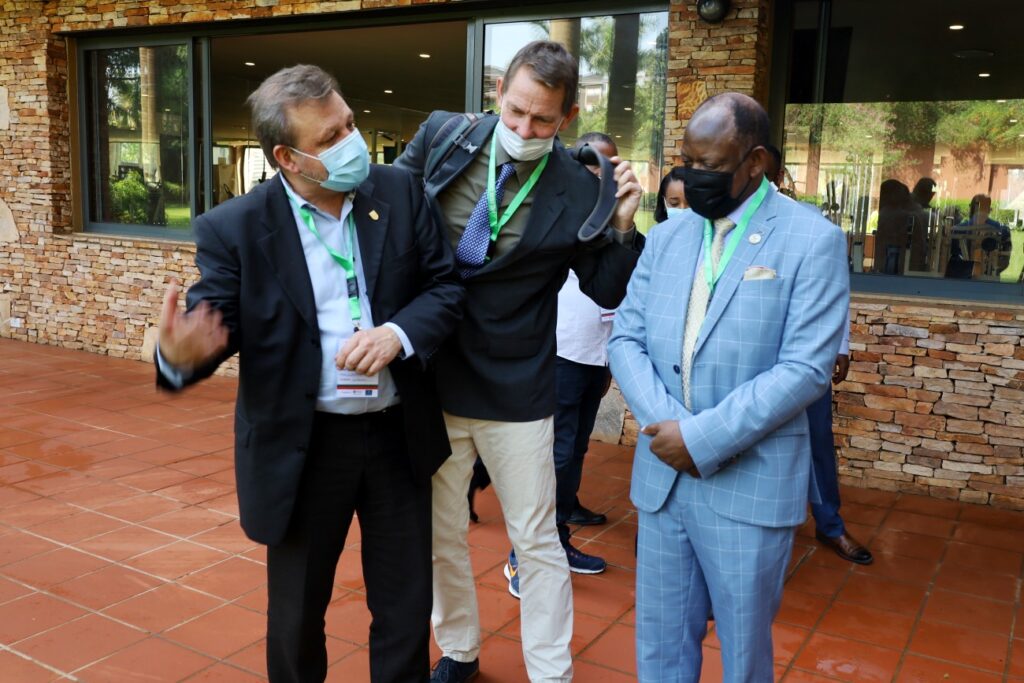 The Vice Chancellor noted that government has tried to come up with laws on protecting the environment but the challenge remains with enforcement. Alternatives such as use of electricity and solar energy are in place but with limitations of affordability and reach. Prof. Nawangwe said these requires the private sector to come on board to supplement government efforts.
As a university, the Vice Chancellor said, the issues of climate change, environmental degradation and the increasing population growth are important to the university.
"The university has a responsibility to conduct research and take the lead in finding solutions to the pressing issues and giving evidenced policy briefs to government to make decisions and come up with new workable policies based on research. We have a number of researchers working on environmental issues and I am happy that the university of Gothenburg is working with Makerere on environment issues through the EfD-Mak Centre", Prof. Nawangwe said.
He said the university promotes multidisciplinary research that brings together expertise in agriculture, economics, forestry, environment and gender among others in trying to seek solutions to environmental challenges facing the country.
IGE fellows challenged on addressing capacity gaps, domestication and monitoring progress of the Inclusive Green Growth concept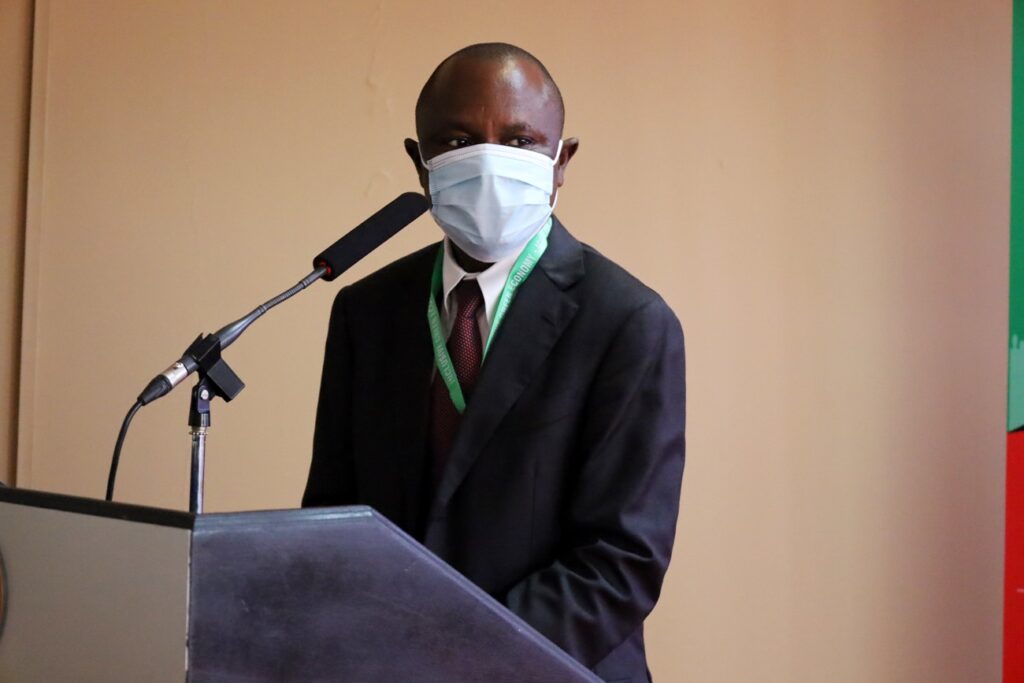 The Principal College of Business and Management Sciences, Assoc. Prof. Eria Hisali paid tribute  to the leadership of the EfD-Mak Centre for  mentoring  the IGE fellows in Uganda pledging commitment to support to the program.
Assoc. Prof. Hisali challenged the IGE fellows to look at the capacity gaps in matters related to inclusive green economy noting that the training in Uganda has covered six fellows and this is only a drop in the ocean compared to size of public service in and the challenges posed by climate change and environmental degradation.
"…how fast are we going to scale up the group to reach out to a bigger number of people? The second challenge is the domestication of the concept of inclusive green economy. With the different international protocols, experience given and many ideas on how to take up the inclusive green economy, how much of this has been domesticated across the different countries?
Do we have a coherent framework in our countries for monitoring and evaluating the progress and how much of  this concept is appreciated out there and if not, what should we do to cover the capacity gaps?", Assoc. Prof. Hisali asked.
Jane Anyango is the Communication Officer, EfD-Mak Centre
Mak Researchers Skilling Roadside Plant Nursery Owners on Business Management & Sustainable Practices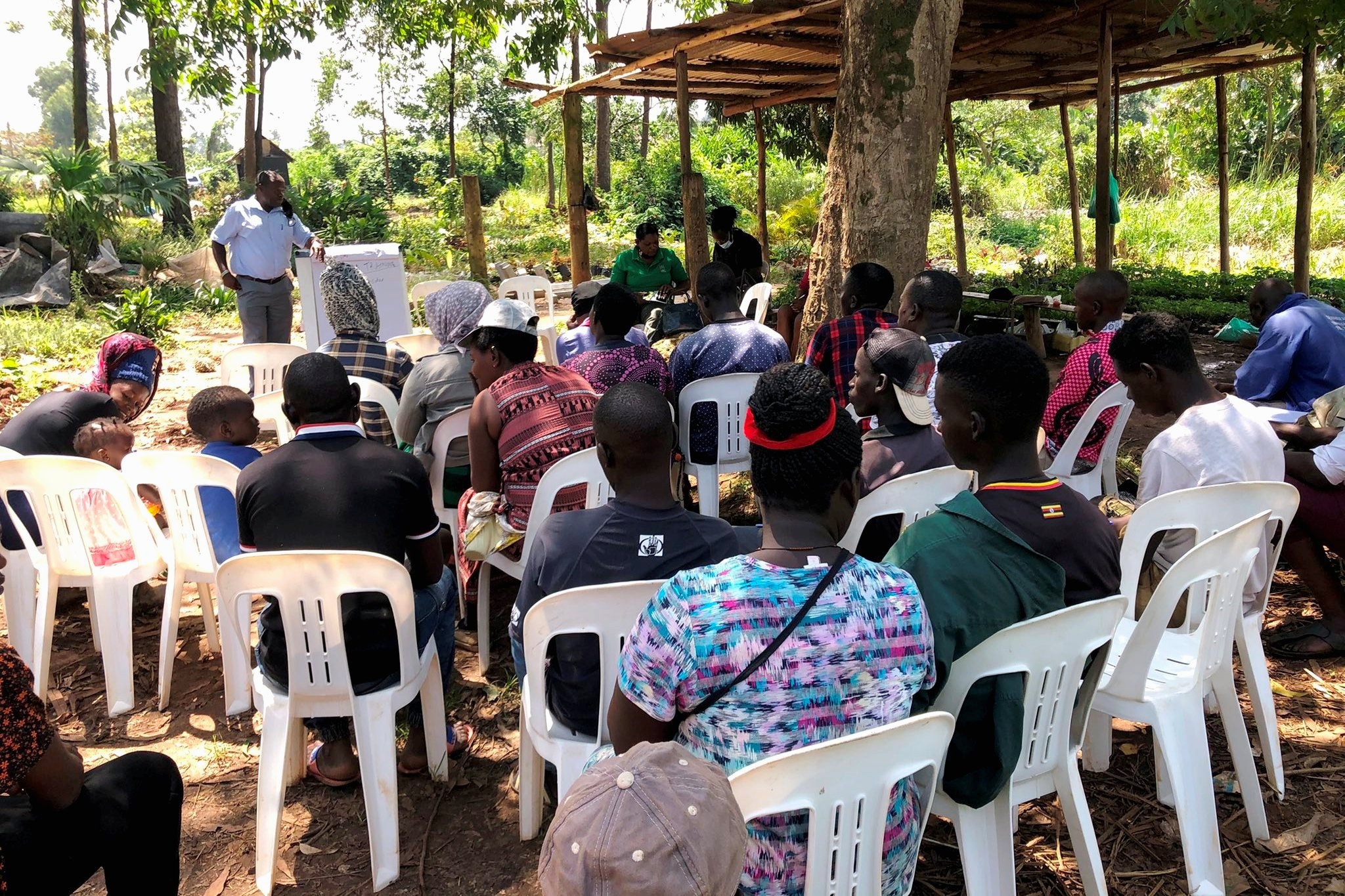 Uganda's roadside urban and peri-urban plant nurseries are a unique small-scale business that play a critical role in poverty eradication by acting as green businesses and providing employment to many youth and women. However, their growth and sustainability is threatened by inadequate requisite business management skills and knowledge. To remedy this, a multi-disciplinary team of researchers from the College of Agricultural and Environmental Sciences (CAES), College of Natural Sciences (CoNAS), and the College of Business Management (CoBAMS), Makerere University have embarked on activities to build business management skills and sustainable plant nursery management practices among their owners, operators, and workers. The researchers namely; Dr Edward Nector Mwavu (Principal Investigator), Dr Anthony Tibaingana, Dr Paul Ssegawa, Dr Grace Nakabonge and Ms. Agatha Syofna are working in collaboration with officials from the Ministry of Local Government and National Agricultural Research Organization (NARO).
The activity is intended to enhance profitability of the roadside plant nursery business.
Through their project titled "Building business management skills and sustainable practices among urban and peri-urban roadside plant nursery owners, operators and workers for resilient 'green' businesses in Greater Kampala, Uganda, the researchers are training roadside farmers on the best plant and business management practices.
The project is supported by the Government of Uganda through the Makerere University Research and Innovations Fund (Mak-RIF).
According to the researchers, building capacity coupled with the provision of access to technical information could greatly help move the nursery businesses from where they are today to where their owners and managers want them to be. Furthermore, the skilling of roadside plant nurseries operators and workers to sustainably manage them as green businesses, is a triple-win strategy since it supports the improvement of livelihoods of many low-income urban and peri-urban households, and boosts plant conservation, urban agriculture as well as forestry development. "If properly managed and maintained these 'green' businesses have the potential to fulfil a variety of financial returns," the researchers advise.