CAPSNAC Project holds Final Research Dissemination Workshop in Mbale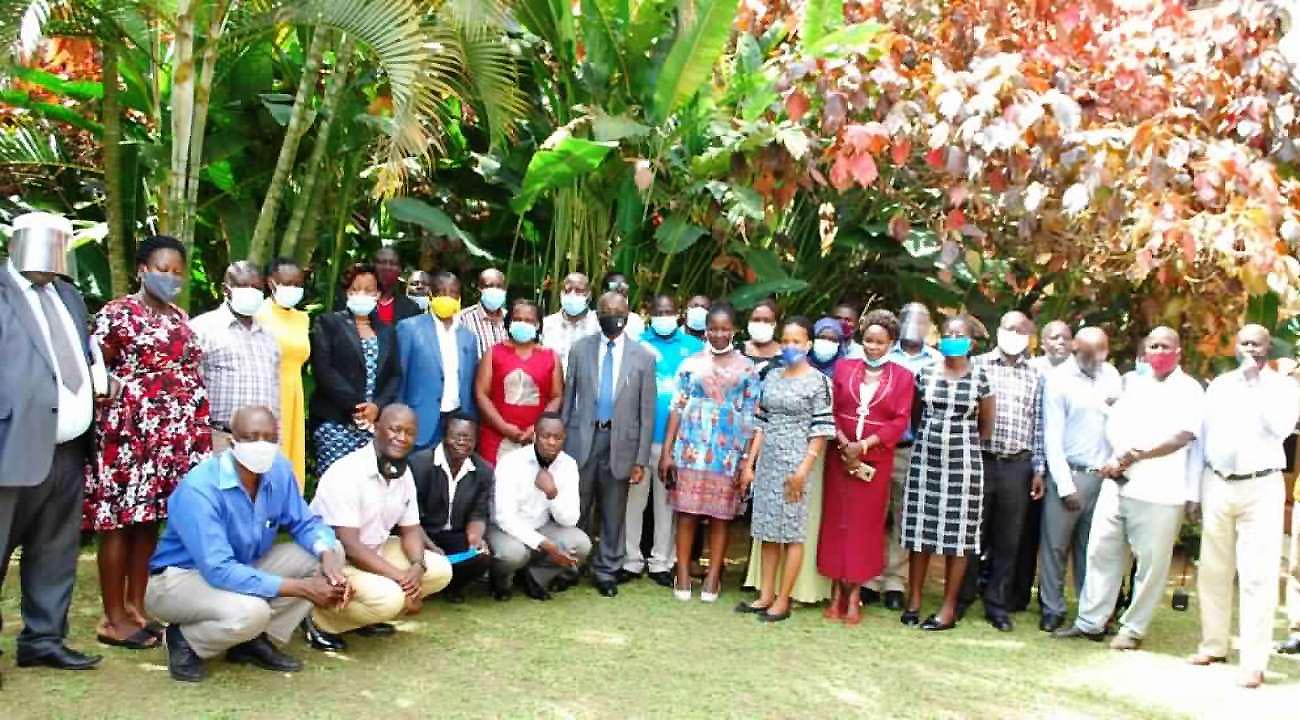 Makerere University College of Agriculture and Environmental Sciences on 07th Dec 2020 held a research dissemination workshop in Mbale District to disseminate the findings of the five year NORAD funded project.
The Project titled "Regional Capacity building for Sustainable Natural Resource Management and Agricultural Productivity under Climate Change (CAPSNAC)" was funded through the NORAD program, NORHED to the tune of 17 million NOK (approximately US$ 2.5m)
The funds channeled through Makerere as the lead university in collaboration with other three universities of Addis Ababa (Ethiopia), University of Juba (Southern Sudan) and the Norwegian University of Life Sciences (Norway) was aimed at strengthening the capacity of universities to address issues to do with climate change, environment and natural resource management.
The dissemination workshop held at Mbale Resort was graced by the Resident District Commissioner (RDC) for Mbale District Ogajo Barasa who also called upon the district residents to sustainably manage the environment and also stop natural resource degradation.
The workshop was aimed at creating awareness and disseminating results and experiences of the five year CAPSNAC project to key stakeholders in the field of agriculture productivity and natural resource management in view of climate change. It was also aimed at fostering effective and interdisciplinary interactions among researchers, practitioners and policy makers.
The dissemination was attended by farmers, farmer organizations, Environmental Officers, and District Local Council Chairpersons from the greater Mbale including researchers and Scientists from Makerere University, Scientists, staff and Graduate students undertaking their research in the Eastern region.
Ugandans Consume Less Meat than Recommended-Livestock Experts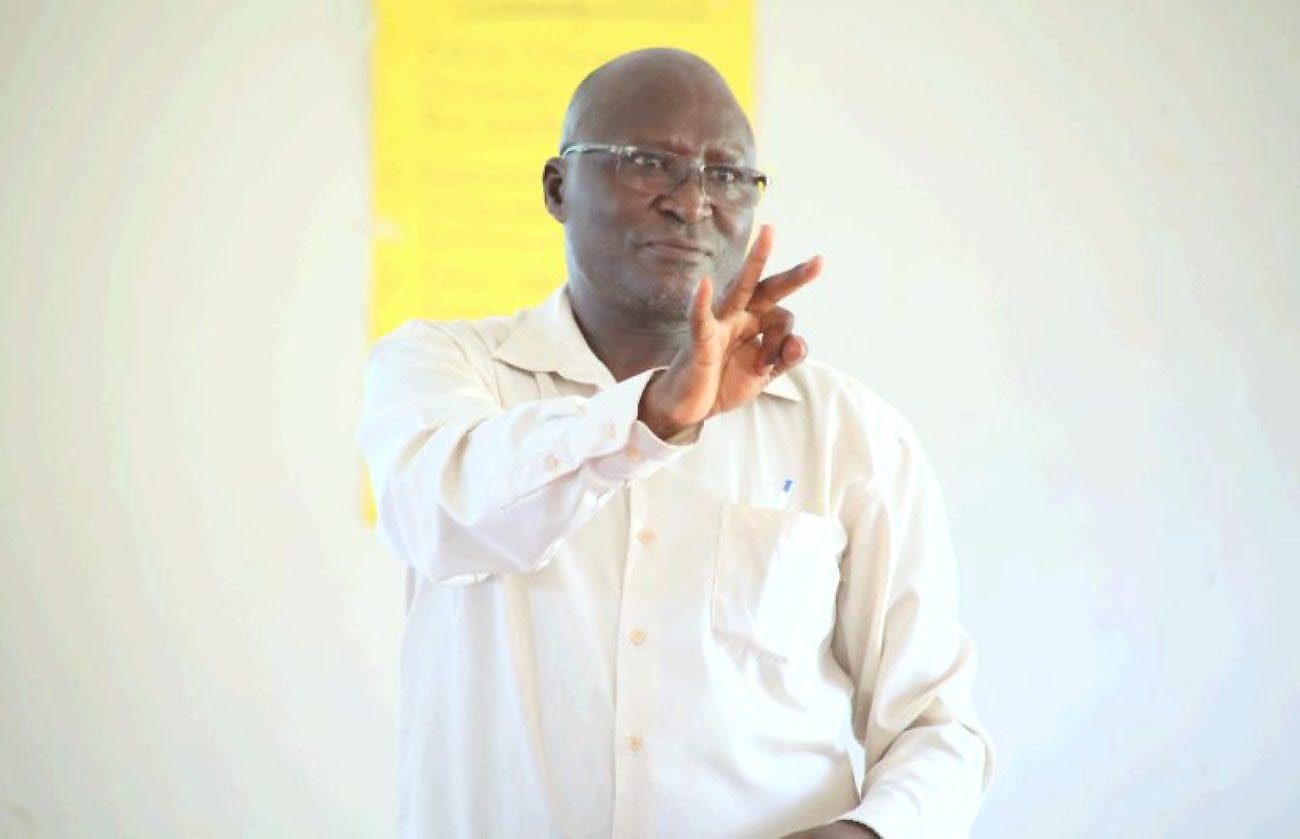 By Jane Anyango
Experts in livestock and beef production have expressed concerns over the low levels of Uganda's consumption of meat saying, there is a clear need to produce more meat, beef in particular, if the country is not to import to meet the demand.
The low consumption rate for meat among Ugandans is attributed to the deficit in meat production, poor beef quality and lengthy period of raising and feeding animals to reach the market and slaughter age.
To increase meat production cattle beef producers need to adopt intensive animal husbandry practices and supplementary feeding technologies to guarantee proper feeding, nutrition, and faster growth.
Experts say, Uganda has 14.2 million cattle, 16 million goats, 4.5 million sheep and 47.6 million poultry. The country also has 4.1 million pigs plus some donkeys and camels-all having a biomass equivalent of 14.7 million Tropical Livestock Units (TLU) dominated by cattle (77%).
The project Principal Investigator (PI) Makerere University, Associate Professor Denis Mpairwe said Uganda's 11.9m cattle population is raised for meat in four broad production systems. Pastoral (41% of cattle) contributing 19% of farm income, Agro-pastoral (49% of cattle) contributing 12% of farm income, Ranches (8% of cattle) contributing 45% of farm income and Semi-intensive production system (2% of cattle ) contributing to 75% of farm income.
Professor Mpairwe however noted that competition for land, feed and water resources is forcing more migratory cattle owners to sedentarize. Depending on the local conditions like climate, infrastructure, land availability, and local traditions, Prof. Mpairwe identified beef cattle husbandry systems in the country.
The extensive systems comprising the pastoral, agro pastoral and ranching systems form the greatest concentration of beef cattle in Uganda but with low input low output with the common practice of leaving animals to survive by nature.
Prolonged use of Traditional Medicines in Malaria Treatment Damages Body Tissues-Study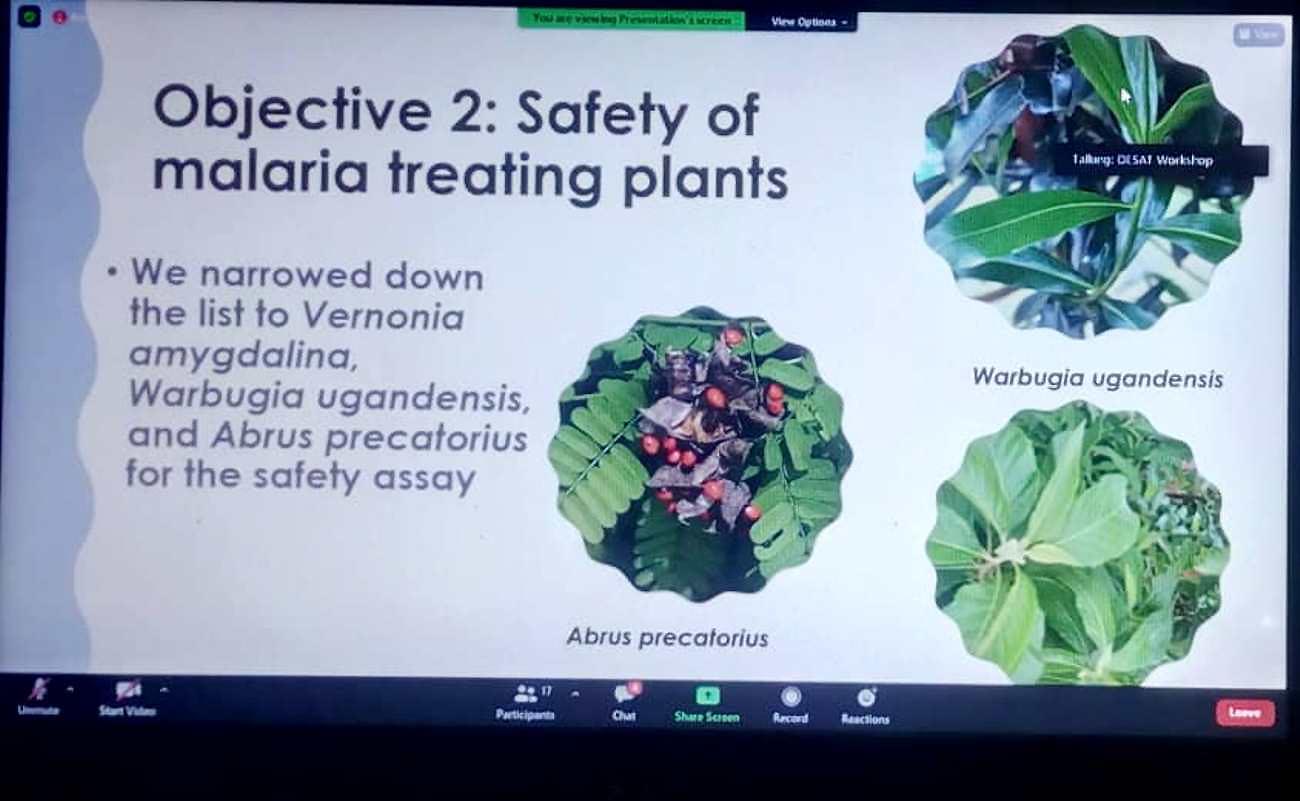 By Jane Anyango
A study funded by the Government of Uganda through the Makerere University Research and Innovations Fund (Mak-RIF) in the College of Agricultural and Environmental Sciences (CAES) has found that prolonged use of herbal medicines affects body organs.
Researchers recommend that traditional medicines should not be used for more than 14 days. The need for regulation and strengthening quality assurance along the value chain to reduce risks associated with the use of herbal medicines has been emphasized.
This was revealed during the virtual research dissemination workshop of the RIF 1/CAES/025 project titled, "Development of   Safe and Efficacious Anti-Malarial drug from Traditional Medicine (DESAT)" on 16th June 2021.
DESAT is an interdisciplinary and multi-institutional research project led by Prof. John Steven Tabuti – an ethnobotanist from Makerere University's Department of Environmental Management  in the College of Agricultural and Environmental Sciences.
Co investigators are Dr. Alice Nabatanzi from the College of Natural Sciences (CoNAS), Cissy Nambejja, Senior Research Officer, Ministry of Health, Natural Chemotherapeutics Research institute, Prof. Paul Waako, Vice Chancellor Busitema University and Micheal R Mutyaba, Manager Traditional and Complementary Medicine, National Drug Authority. Other team members from CoNAS are Stanley Ofwono (Laboratory Technician), Diana Sitenda (Student) and Olivia Maganyi (Para taxonomist).
Presenting the project results, the Principal Investigator Prof. John Steven Tabuti said the project undertook research in Tororo district and gathered data to determine the commonly used plant material for the treatment of malaria and the safety profiles of selected species.
"We found through this study that the three species that we investigated were reasonably safe to use in a period of 14 days. Beyond 14 days, we have observed some negative impacts on the organs of the animals.
One of the effects was on the kidney, another, was a clot in the stomach, and there was also some ulcers in the stomach, and death of some cells in the liver. This suggests that these traditional herbs are not safe. Some of the results have not yet come back, which should tell us if we should be very conscious.
Livestock farmers equipped on Climate-Smart Supplementary Feeding Technologies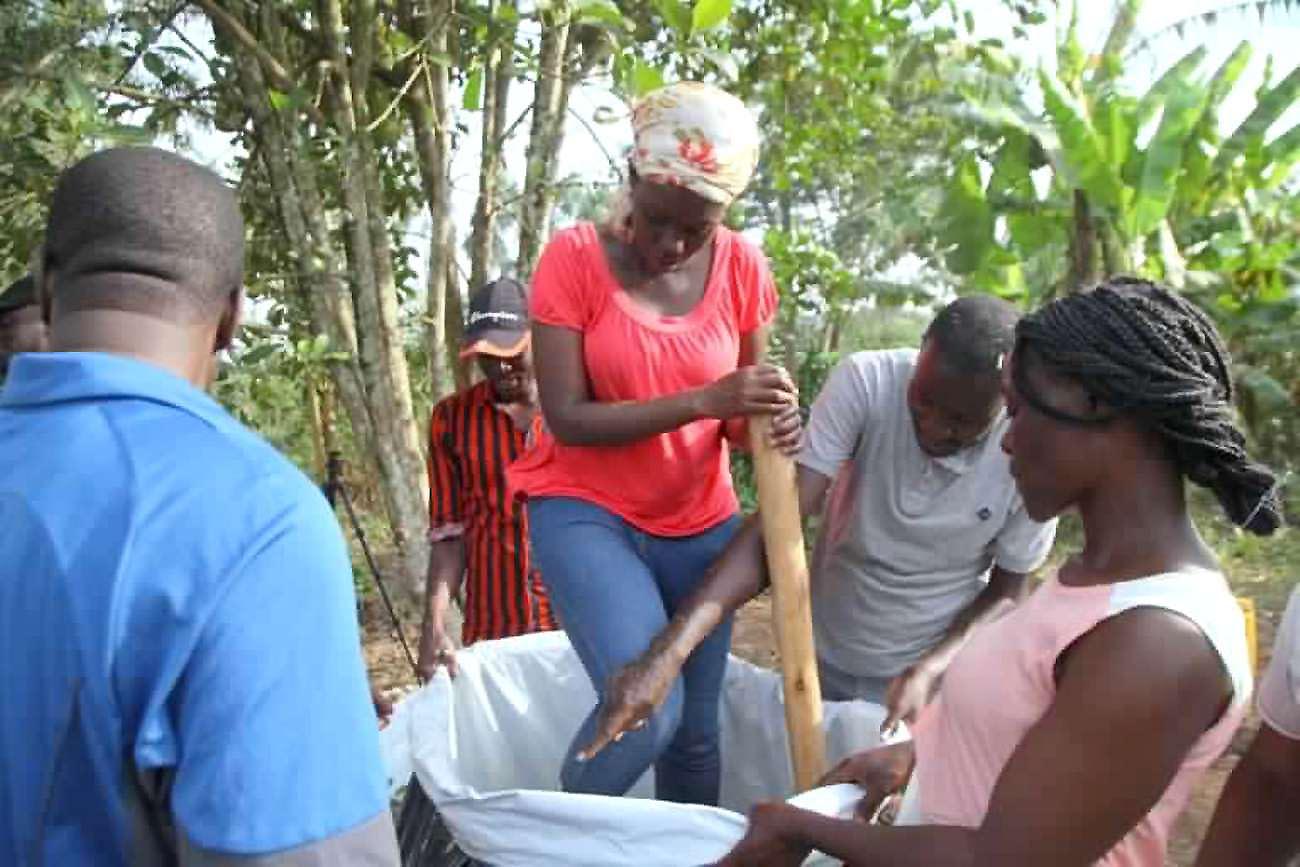 By Jane Anyango
Livestock farmers from the ten districts within Disease Control zones 1 and 2 of the cattle corridor of Isingiro, Masindi, Kiruhura, Lyantonde, Mubende, Kibaale, Nakaseke, Kyakyanzi, Masindi, Kiryadongo and Nakasongola  have undergone a two weeks intensive hands on training  on the production of climate smart supplementary feeding to increase beef production in Uganda.
The training was organized under the Promote Supplementary Feeding (SUPPL-F) project with the collaboration of Robran Holdings Limited (RHL), the Private Sector Foundation Uganda (PSFU), Makerere University College of Agricultural and Environmental Sciences (CAES), The Green Elephant (TGE), the Livestock Development Program (LDF) and Orchid House Farm Nakasongola.
Promote Supplementary Feeding project project is part of a European Union (EU) grant (under the 11th European Development Fund) extended to the Government of Uganda to a programme known as "Developing a Market-Oriented and Environmentally Sustainable Beef Meat Industry in Uganda (MOBIP)". Implemented by the Directorate of Animal Resources (DAR) under the Ministry of Agriculture, Animal Industry and Fisheries (MAAIF).
 The programme awarded Private Sector Foundation Uganda (PSFU) and her six partners to implement a EUR 715,299 focusing on farmers' access to and utilization of supplementary feeds for purposes of fattening animals for the Market.
The trainees included   farm managers of large-scale beef farmers (referred to as Nucleus farmers which are to be demonstration farms) linked to the implementation of the PSFU MOBIP project. The participants also included Trainers of Trainers (TOTS) mainly Small – scale beef producers and women and youth entrepreneurs recruited by the project and currently engaged in similar or related activities in the participating districts.
The intention of this training is to make sure that the TOTs and Farm managers are well equipped to   act as ambassadors to pass on the knowledge and skills to small – holder farmers for use in their respective districts thus promoting supplementary feeding.