Skilling for Entrepreneurship more Impactful among Females with Secondary Education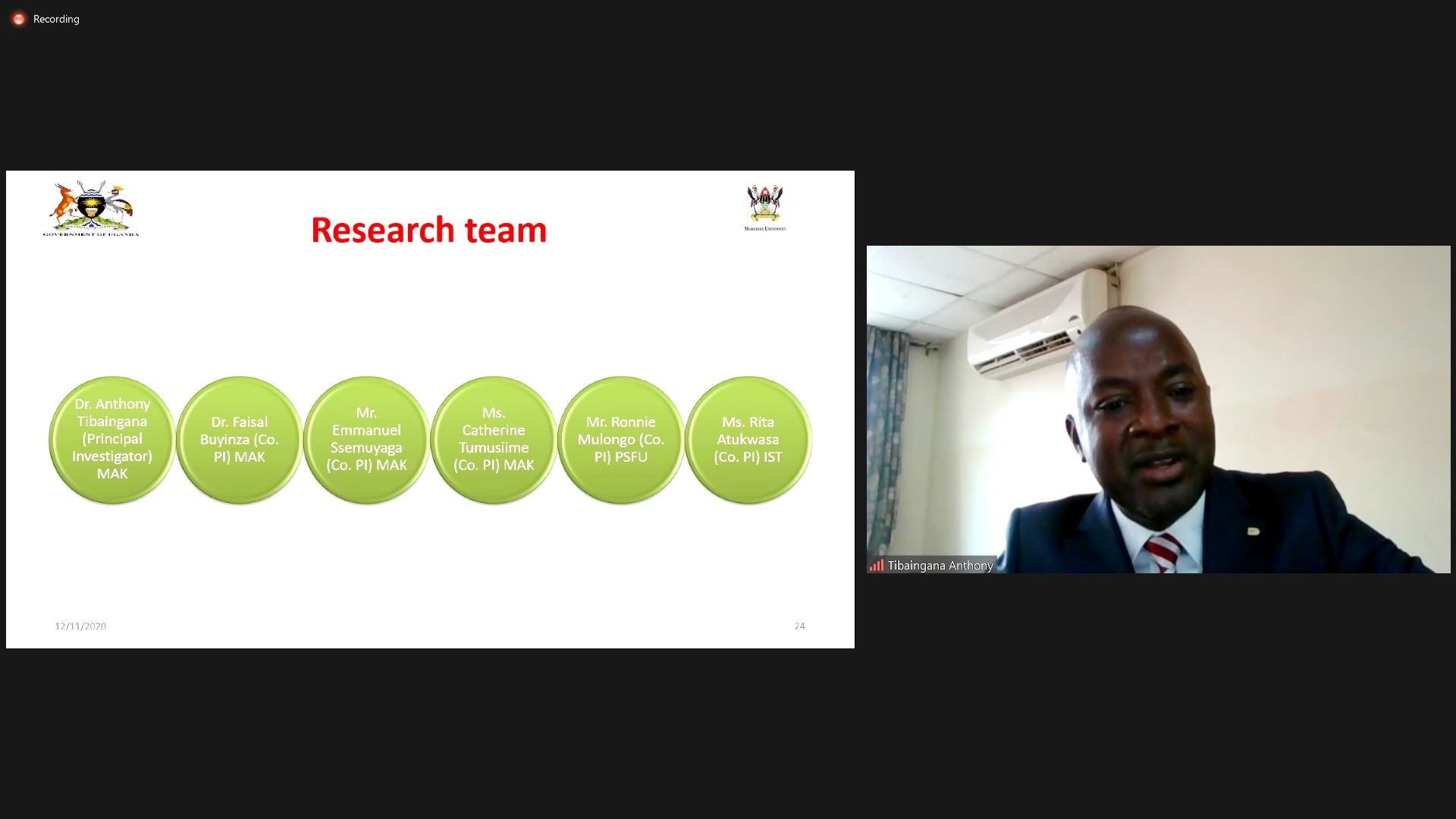 According to research conducted by a team from the College of Business and Management Sciences (CoBAMS), Makerere University and partners, entrepreneurs with secondary education were more likely (69%) to start new businesses after skilling compared to those with either primary or post-secondary education. Additionally, 70% of female entrepreneurs started one business after attending a skilling programme compared to 30% of their male counterparts. The findings were revealed at a research dissemination event held on Friday 11th December 2020 at CoBAMS and hosted live on ZOOM.
The research team led by Dr. Anthony Tibaingana was also made up of Dr. Faisal Buyinza, Mr. Emmanuel Ssemuyaga and Ms. Catherine Tumusiime from CoBAMS. Mr. Ronnie Mulongo from the Private Sector Foundation Uganda (PSFU) and Ms. Rita Atukwasa from the Institute for Social Transformation (IST) completed the team. The research which focused on exploring "The Impact of Skilling the Youth and Women in Household Enterprise Start-Up and Performance in Uganda" was funded by the Government of Uganda under the Makerere University Research and Innovations Fund (Mak-RIF).
The data that informed these findings was collected by the research team through surveys and face-to-face interviews in the districts of Kampala, Mukono and Wakiso where skilling Uganda programmes under PSFU, Enterprise Uganda, Uganda Industrial Research Institute and The Africa Institute for Strategic Animal Resource Services and Development (AFRISA) are implemented. The study that began in December 2019 successfully concluded in August 2020 despite the challenges posed by the COVID-19 pandemic and resulting Government guidelines that imposed a lock down and other mitigation measures.
The study objectives were to; identify the methods used in transferring skills, evaluate the contribution of skilling to the start-up of businesses, examine how the training is influencing the performance of existing businesses and examine the strategic interventions on start-ups and performance. Anchored on National Development Plan III (NDP III)'s goal "To Increase Average Household Incomes and Improve the Quality of Life of Ugandans", the study was also conducted in line with Sustainable Development Goals (SDGs) 1-No Poverty, 8-Decent Work and Economic Growth and 9-Industry, Innovation and Infrastructure.
Presenting some of the findings on selected determinants of start-up, Dr. Tibaingana shared that the per annum average profit for start-ups in the study areas was approximately UGX 276,000 with a maximum of UGX 8 Million reported. "This tells us that much as they are small, these start-ups are making some degree of profit and if they are well supported, they can become bigger and support the Government in its Vision 2040."
Regarding proprietorship, the results showed that while the majority of businesses (61%) were solely owned, only a dismal number (1%) were registered as Private Limited Companies while partnerships accounted for 29%. The average age of business owners was 32.6 years while the maximum reported age was 72 years.
On a rather good note for the Government and implementing agencies, 92% of respondents attributed the source of their business ideas to the skilling programmes. Buoyed by this finding, Dr. Tibaingana said, "The Government needs to invest more money into skilling because it is helping us to get more business ideas."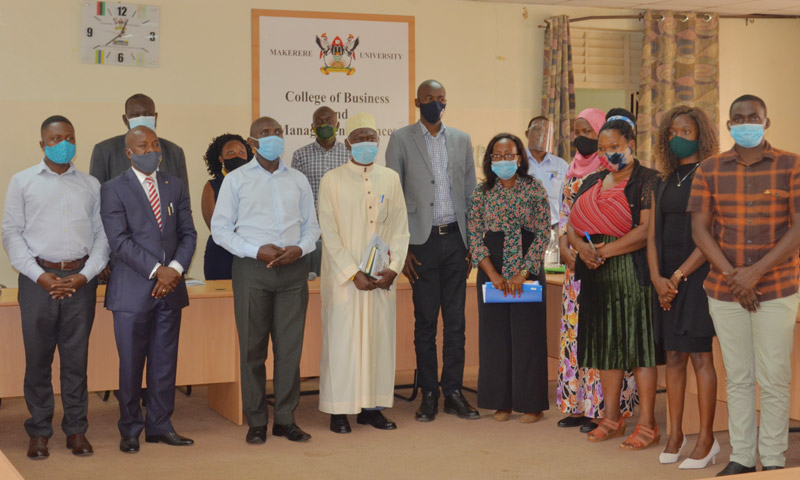 Delving deeper into the skills acquired during training by education level, the findings revealed that entrepreneurs with secondary dominated the skills acquisition. 59% of them acquired business creation skills, 58% acquired production skills, 51% marketing skills and 50% business management skills. Only 14%, 21%, 17% and 25% of entrepreneurs with primary education acquired the same skills respectively. The skill type reported as most acquired by those with post-secondary education was marketing at 32% while the least acquired was production at 21%.
Skilling methods play an important role in any learning endeavour. The stakes are even higher in an era where start-up capital is hard to find; the methods must guarantee knowledge acquisition and retention if start-ups are to make it past their second year of existence. Thankfully, role play was the most used method at 56% followed by the lecture at 27% and practical at 17%.
At the end of the dissemination, the research team made some policy recommendations. These included;
Government measures aimed at easing business registration, access to external start-up capital and business training should be encouraged to promote investment in enterprises that are starting up.
Skilling centres should be spread throughout the country so that entrepreneurs in rural areas can also benefit.
Training syllabus should be developed to accommodate a calibrated training for all.
Training materials should be made available to aid the practical method which is critical in skilling
Business partnerships and limited companies should be encouraged to enhance big start-up businesses as potential sources of gainful employment and enterprise performance.
On behalf of the Principal Dr. Eria Hisali, the Deputy Principal CoBAMS, Dr. Bruno Yawe thanked Dr. Tibaingana, Dr. Buyinza and the research team for conducting the study on an important aspect of Uganda's education sector. He equally thanked Mak-RIF for sponsoring the study and in a special way thanked Dr. Godfrey Akileng, the Dean School of Business, CoBAMS for providing the leadership that has enabled research to thrive.
Representing Mak-RIF, Dr. John Mutenyo a Member of the Grants Management Committee (GMC) commended Prof. William Bazeyo for his efforts in ensuring that the University secured funding from the Government to specifically support research and innovations. He equally appealed to Dr. Tibaingana and the research team to write more proposals when the next call is advertised.
Article by Public Relations Office
Business owners trained on social media usage in business operations by Makerere University Researchers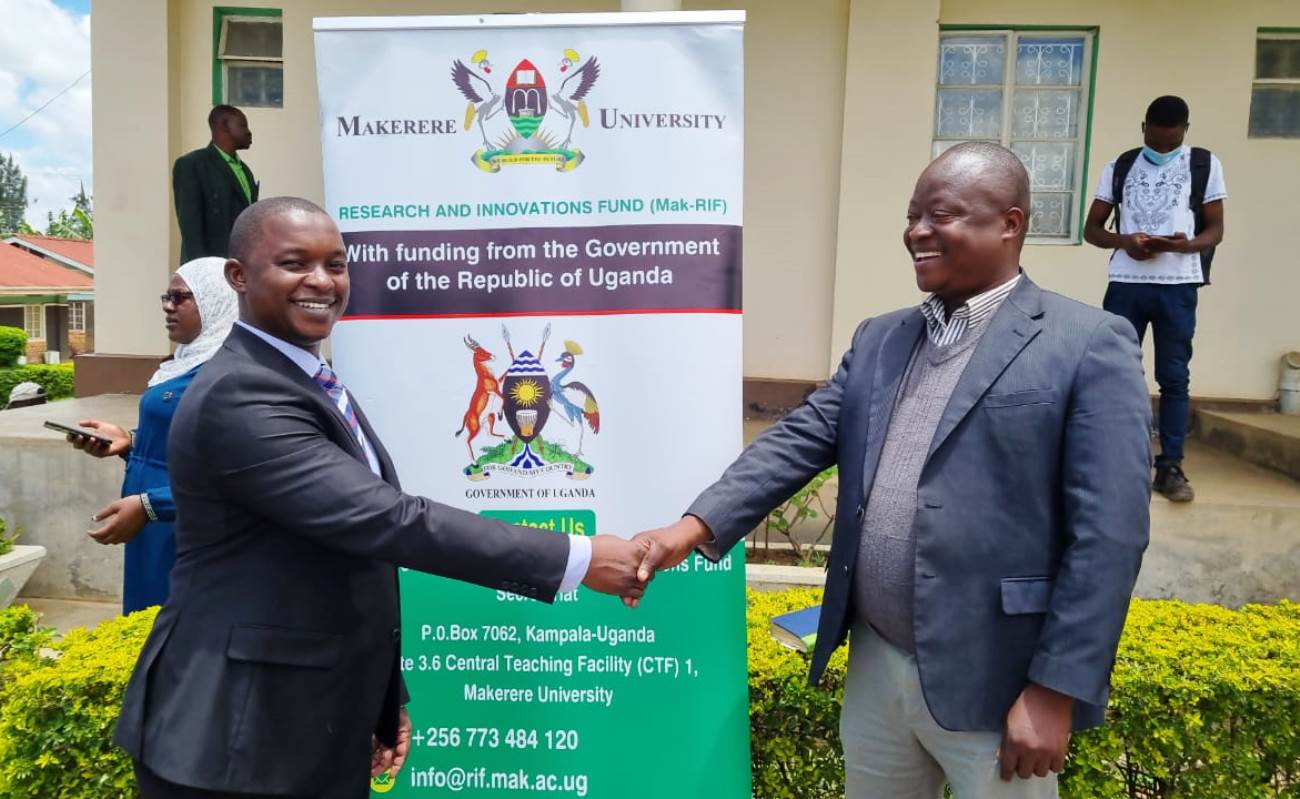 On Thursday 29th September 2022, happened a research dissemination workshop at St. Joseph's Inn Virika-Fort Portal that presented a policy debrief on social media technology as a feasible strategy in catalyzing Sustainable growth of small businesses in Uganda. A case study of Mbale and Fort portal by Makerere University's Business Management expert and Lecturer Dr. Kasimu Sendawula.
The research project themed "Strengthening the Social Media Competencies of Business Owner Managers for Sustainable Growth of Small Businesses in Uganda" objected at equipping business owner-managers with social media competencies that are relevant in boosting productivity, marketing and promoting business operations for sustainable growth.
The project team first conducted a needs assessment before training where it was revealed that 195 (92%) of the business owner-managers in Fort Portal and Mbale had never obtained training on social media usage. The research team engaged the project participants in a hands-on social media training and eventually social media platforms were integrated into the functionality of their businesses.
Uganda being the most entrepreneurial country in the world, it is unfortunate that 64% of businesses started do not live to see their first birthday and those that do, 30% collapse before their 3rd anniversary, this all has been made worse by the covid 19 pandemic.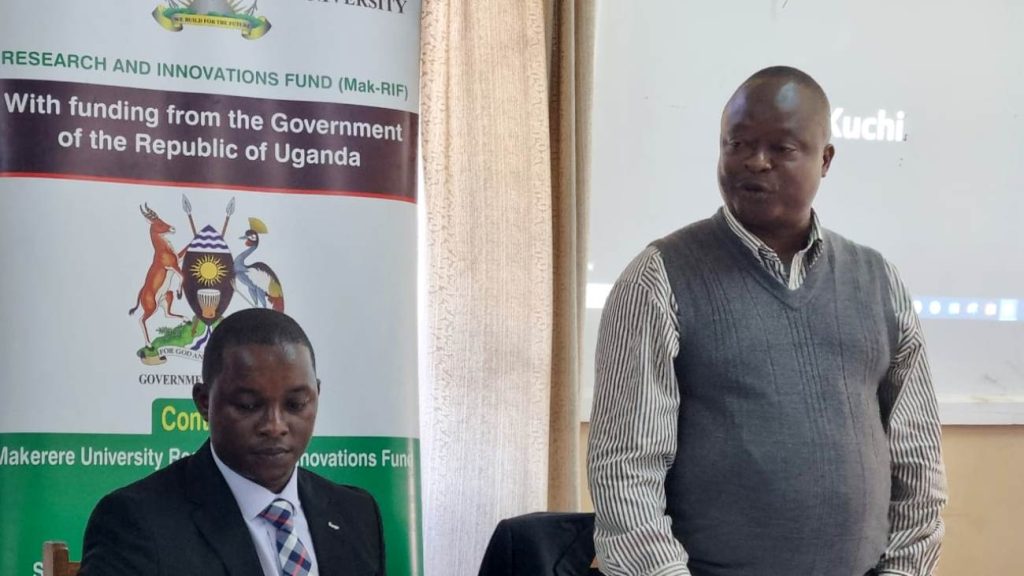 This research further revealed that 85% of the participants demonstrated readiness to use social media in the operations of their business and 77% of Business owner-managers have smartphones. On the other hand, 87% of participants were concerned that social media platforms may make it easy for Governments to spy on their businesses hence Privacy and Security threats.
Dr. Kasimu Sendawula the project Principal Investigator reported that after engaging the Business owner-managers in a hands on training; they appreciated social media and opened up social media platforms, channels, and pages that were suitable for their businesses and that the project team used the training materials to develop social media digital training modules that can be adopted by institutions of higher learning to equip nascent entrepreneurs with social media competencies relevant for sustainable business growth.
Dr. Mercy Amayo the Representative of the Grants Management Committee (GMC), Makerere University Research and Innovations Fund applauded the project team for the job well done and also congratulated them upon winning such a prestigious grant.
Mr. Ssekyondwa Augustine a Business Process Analyst and National Information Technology Authority Uganda Directorate of E-Government Services added his voice to appreciate and congratulate the research team on doing such an impactful study. He encouraged the trained business owners to exercise their marketing goals in respect to computer ethics and patent rights of businesses to avoid falling culprits of plagiarism and offensive communication.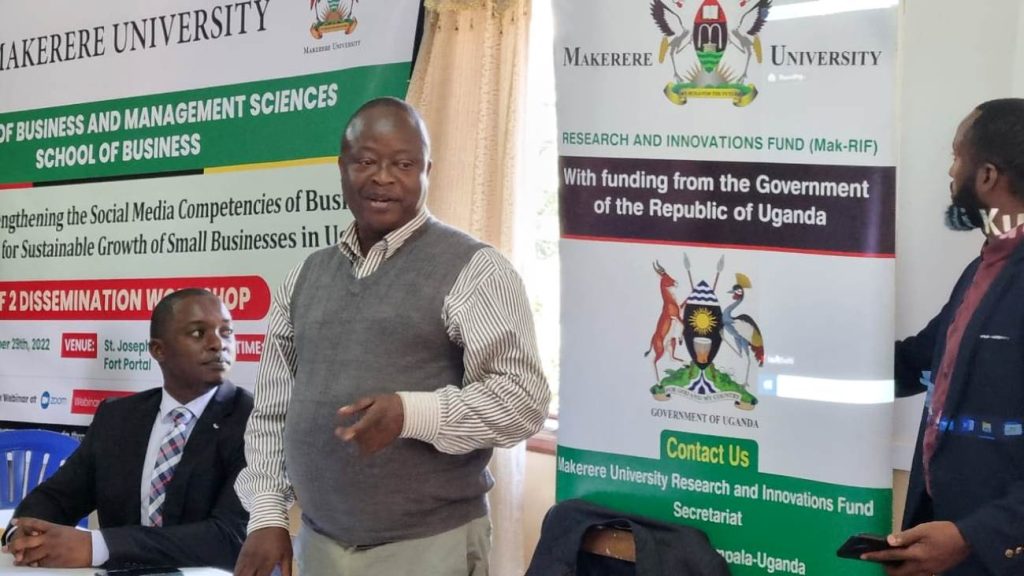 The research recommends that government of Uganda amends the current social media guide by integrating issues concerning social media usage by the business community as it will guide business owner-managers on the requirements and guidelines for social media usage, potential risks, security, transparency and the legal considerations of using social media in business operations, for small businesses will trust social media platforms and fully utilize them with a goal of fostering sustainable business growth in Uganda.
Further recommendations highlight that government integrates social media technology training in the skilling Uganda program to enable nascent entrepreneurs to acquire competencies needed to successfully integrate social media technology into the functionality of their startups for sustainable growth.
The Ministry of Education and Sports should encourage academic institutions to adopt the social media training modules developed from this project to equip learners with practical soft and technical social media skills to enable future entrepreneurs to acquire competencies relevant in launching social media platforms, selling and marketing online.
This study was spearheaded by Dr. Sendawula Kasimu, Professor. Peter Turyakira, Professor Grace Kibanja, Dr. Saadat Kimuli Nakyejwe, Ms. Najjinda Shamirah, Mr. Ashiraf Mutagubya, Mr. Muhsin Mutagubya and Ms. Betty Tuhaise: funded by the Government of Uganda through Makerere University Research and Innovations Fund (Mak-RiF).
MBA Shortlist for Graduate Admission Test (GAT) 2022/2023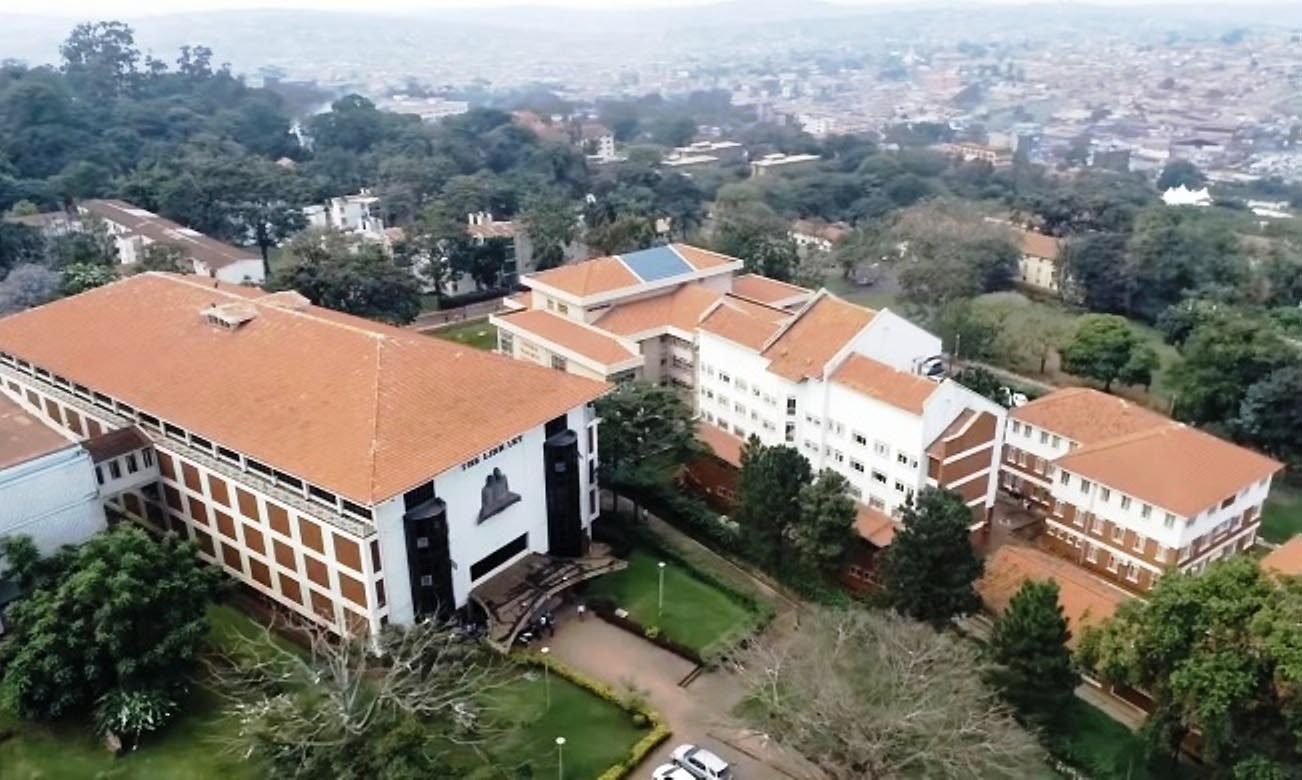 The Academic Registrar, Makerere University, invites all shortlisted candidates who applied for the Master of Business Administration (MBA) programme offered at Makerere University Main Campus; College of Business and Management Sciences (CoBAMS) for academic year 2022/2023 for a Graduate Admission Test (GAT).
The test is scheduled to take place on Saturday 27th August, 2022 starting 9:00 AM at CoBAMS.
Further information can be accessed by following the link:
Hon. Baryomunsi Launches Book with Pledge to continue Supporting Research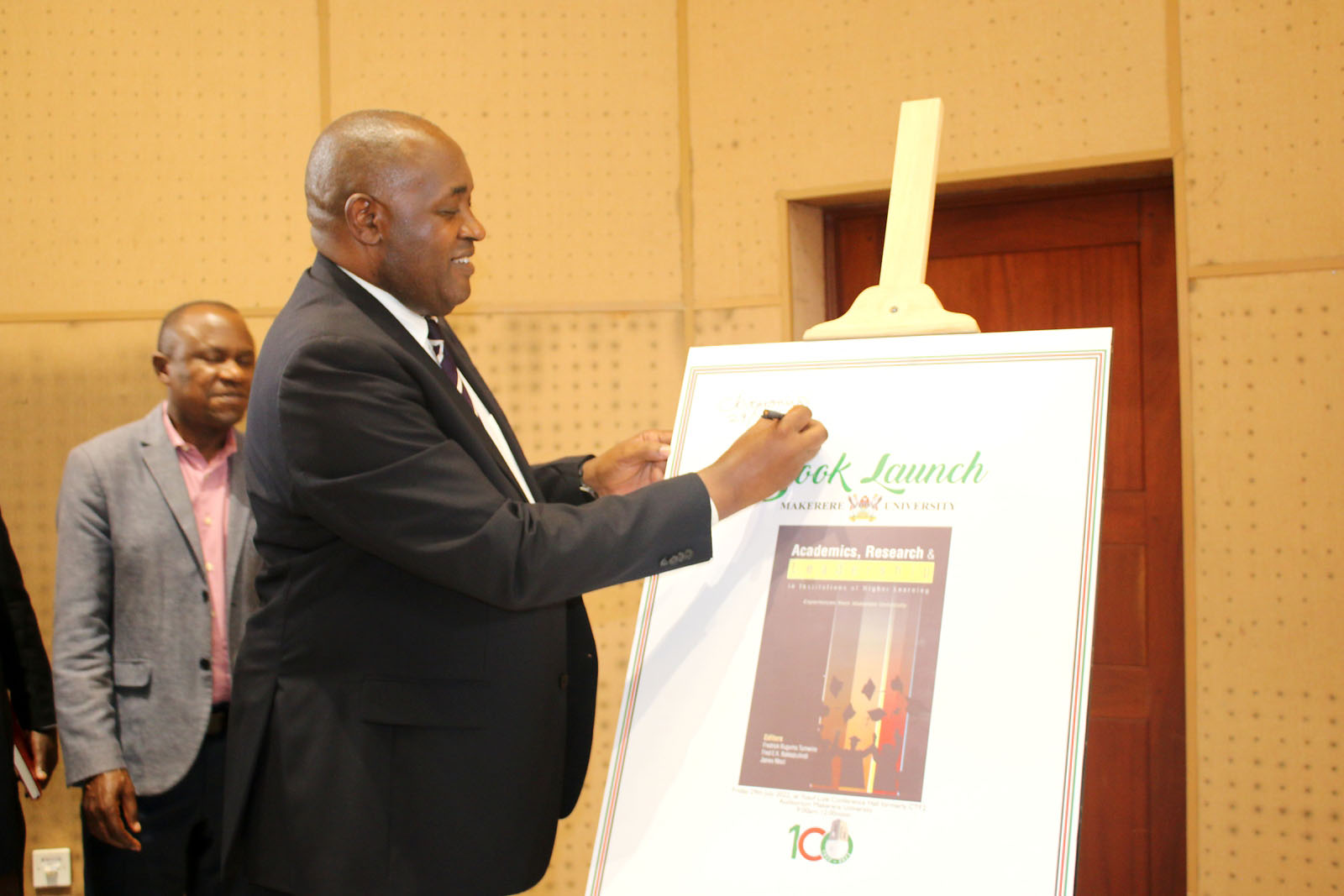 The Minister for ICT and National Guidance, the Hon. Chris Baryomunsi today July 29, 2022, launched a book authored by 20 researchers of Makerere University.
The book titled "Academics, Research and Leadership in Institutions of Higher Learning: Experiences from Makerere University" details the research and training experiences of some academic units in Makerere University. The programs analyzed in the book include training of statisticians, population scientists, quantitative economists among others. The book documents past, present and emerging issues in training and research in the above fields. The book, according to Prof. Ben Kiregyera who gave the keynote address, makes the case for strengthening the infrastructure for training and research including technical and administrative leadership. The book also looks at the acquisition of new knowledge, strategic skills and competences in different disciplines to meet the 21st century development and data challenges.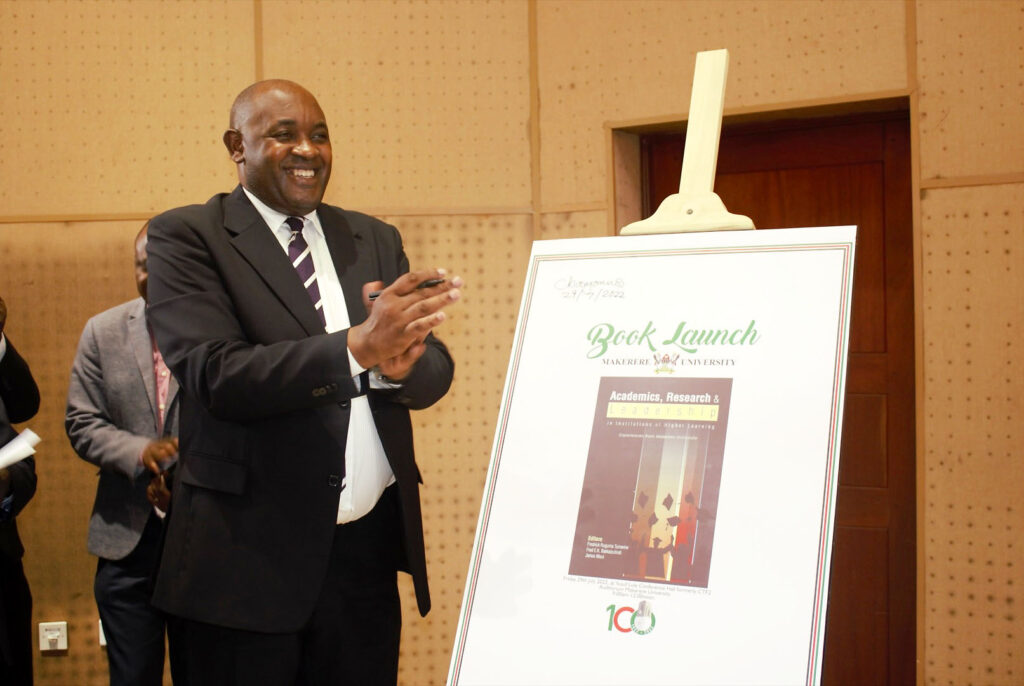 Hon. Chris Baryomunsi, also a former lecturer in the department of population studies said the government would continue to support research and innovation because they drive development of the economy. "What we need to do better is engage policy makers in our research processes," Dr. Baryomunsi advised. "Your research needs to inform government but you also have a role of simplifying statistics to the public". He challenged researchers to engage in new research areas such as robotics, nano-technology, big data, Internet of Things and integrate them in our day to day lives.
Prof. Henry Alinaitwe, the Deputy Vice Chancellor in charge of Finance and Administration, who represented the Vice Chancellor, applauded the authors of the book, saying they are greatly contributing to the research agenda of the university. He said the book will go a long way in informing decision making in the university, as the university moves into becoming a research led university.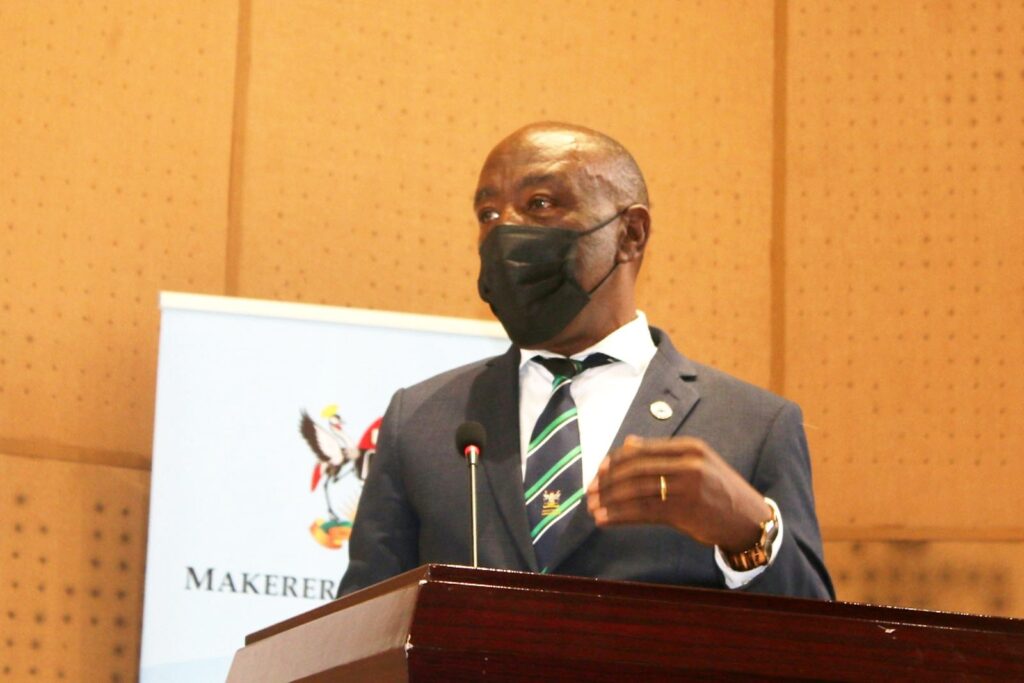 The Principal of the College of Business and Management Science, Prof. Eria Hisali, who was represented by the Deputy Principal Prof. Bruno Yawe, congratulated the authors and editorsfor a job well done. "This is yet another reminder that a lot can be achieved when we are determined and when we choose to work closely together," the Principal said.
The Principal told the authors, most of whom were drawn from CoBAMS that the college will be launching a special purpose vehicle for policy engagements called the Policy Labs. This will bring together policy makers, implementers, private sector actors, development partners and the academia to engage on topical policy issues. It will enable researchers to share the recommendations with a wider audience of policy makers and implementers.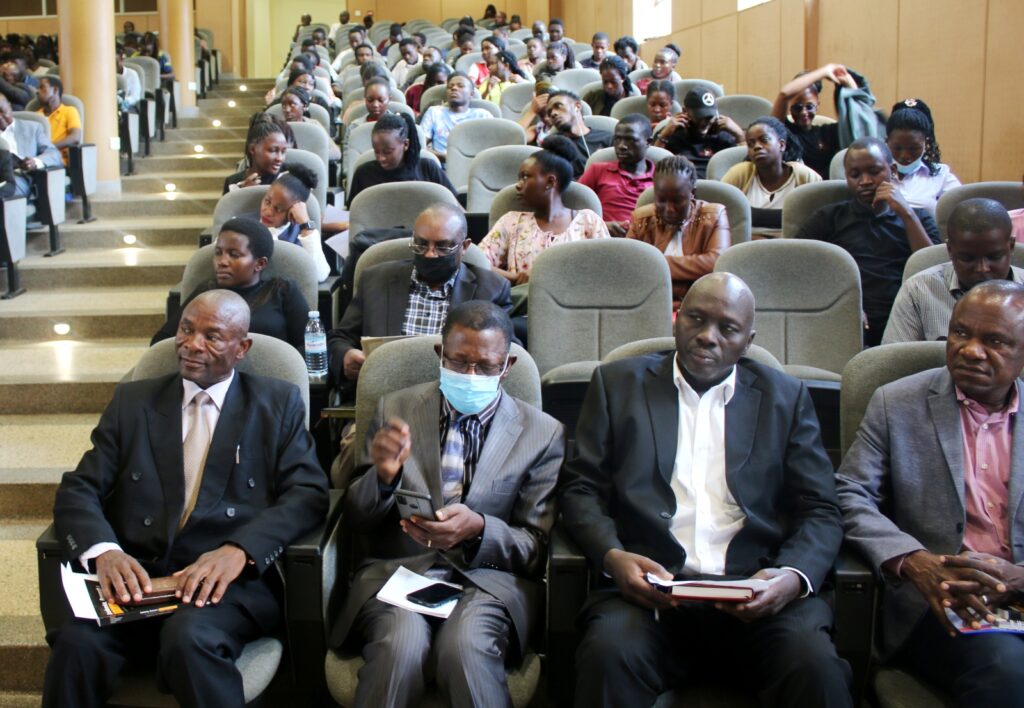 The Director of Research and Graduate Training, Prof. Buyinza Mukadasi also congratulated the authors and reemphasized the university's commitment to supporting research geared at finding home grown solutions to society challenges.
The coordinators of the book project, Prof. Abel Nzabona, shared with the audience the 5-year journey of writing the book.
The journey started in June 2018 when Prof. Ronald Wesonga (in the company of Dr. Fred Maniragaba) mentioned that he had a book idea and wanted Prof. Nzabona to coordinate the writing process. Prof Ronald Wesonga's idea of the book was an academic document that was researched, evidence-based, informative, marketable and interesting to read. The team then set out on a journey or writing, vetting, peer-reviewing and manuscript writing, identifying editors and publishers. 
"We started off with just 4 chapters but never gave up. We intensified the popularization of the book idea and eventually reached the 15-chapter mark," Prof. Nzabona said. The team was delighted to have been joined by colleagues from the College of Education and External Studies namely Dr David Onen and Prof. Fred Bakkabulindi.
The vision bearer and funder of the publication, Prof. Ronald Wesonga, in his remarks highlighted the objectives of the book which included:
To Share evidence-based, data-driven experiences pertaining academics and research leadership at Makerere University.
To Infer how leadership shapes academics and research outputs at universities
To Provide viable recommendations based on findings from different studies
To Contribute to the Mak@100 celebrations
The book Prof. Wesonga shared addresses the following research questions:
What is the effect of leadership on excellence in academics? Addressed in seven chapters: {4,5,6,7,9,10,12}
What is the effect of leadership on research outputs? Addressed in six chapters: {2,3,8,11,13,14}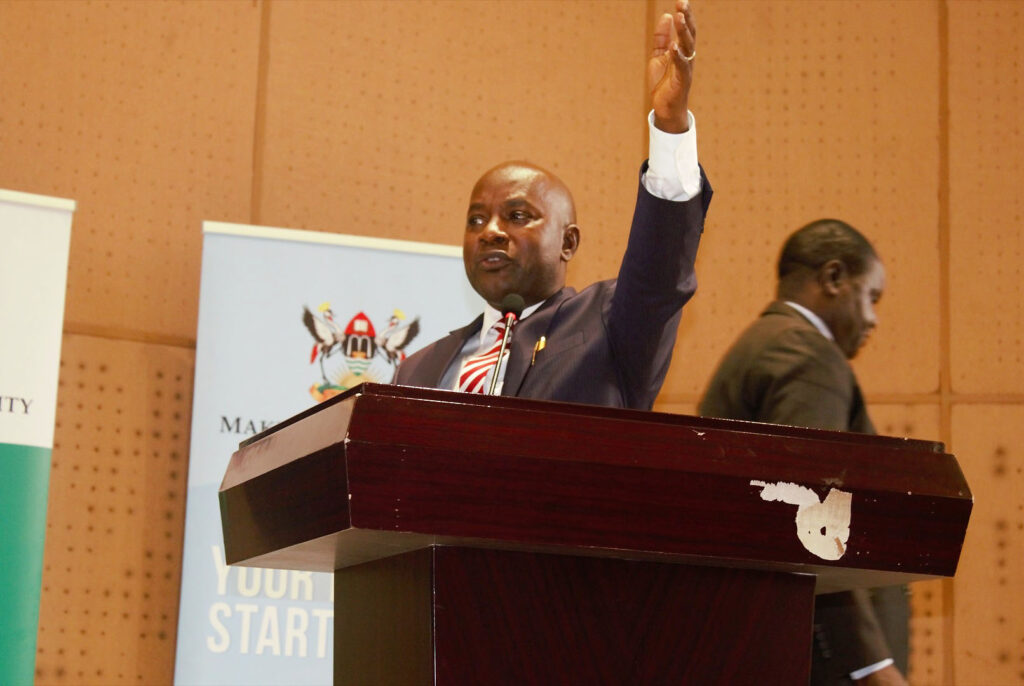 The book employed the following methodology:
Teamwork and networking
Primary and secondary data sources
Literature Search
Mixed Methods
Descriptive and Inferential Approaches
Quality Standardization and Flow (Abstract, KW, Introduction, Methods, Results, Discussion, Conclusion & Recommendations)
According to Prof. Wesonga, the book's unique attributes include:
First ever in the history of Mak to demonstrate impeccable teamwork and network with 20 contributing authors
Pioneering book in Mak history that focuses on leadership audit
Proven data-driven scientific approach
Baseline for various monographs, yet to come soon
First book to be internationally demanded before its launch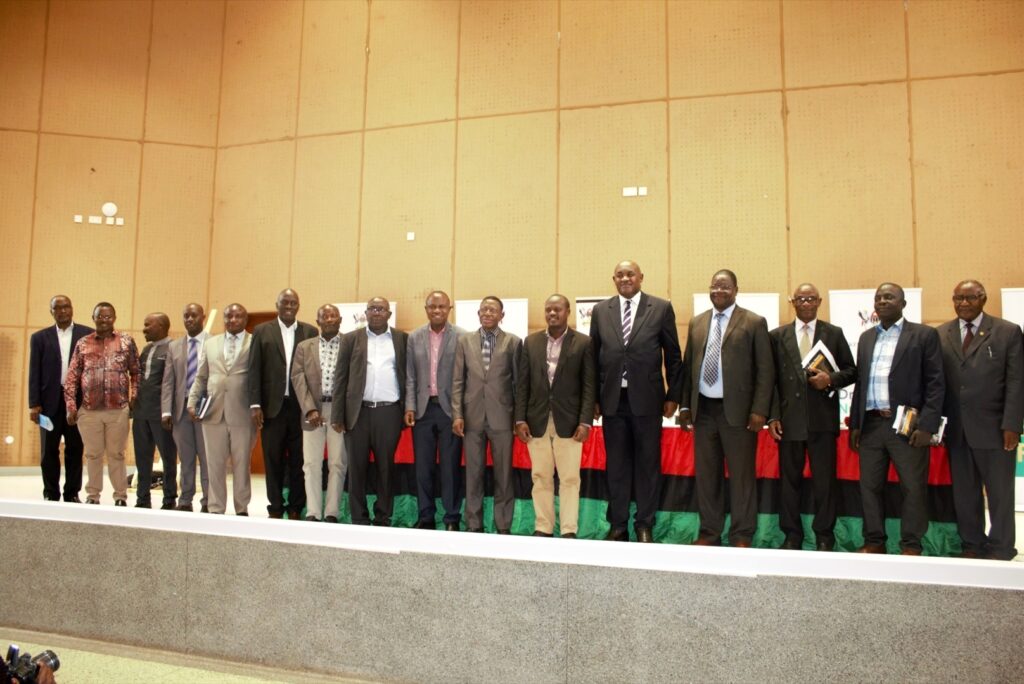 THE AUTHORS
Anthony Tibaingana
Abraham Y. Owino
Mwanga Yeko
Fred Maniragaba
Ronald Wesonga
John Mushomi Atwebembeire
Abel Nzabona
John Paul Tugume
Christian Kakuba
Charles Lwanga
Ishmael Kalule-Sabiti
James Ntozi
Edward Musoke
Richard Tuyiragize
Fabian Nabugoomu
John Bosco Asiimwe
Yeko Mwanga
Paulino Ariho
Fred Edward K. Bakkabulindi
David Onen
EDITORS:
Fredrick Ruguma Tumwine
Fred E. K. Bakkabulindi
James Ntozi