UAPS 8th African Population Conference Report 2019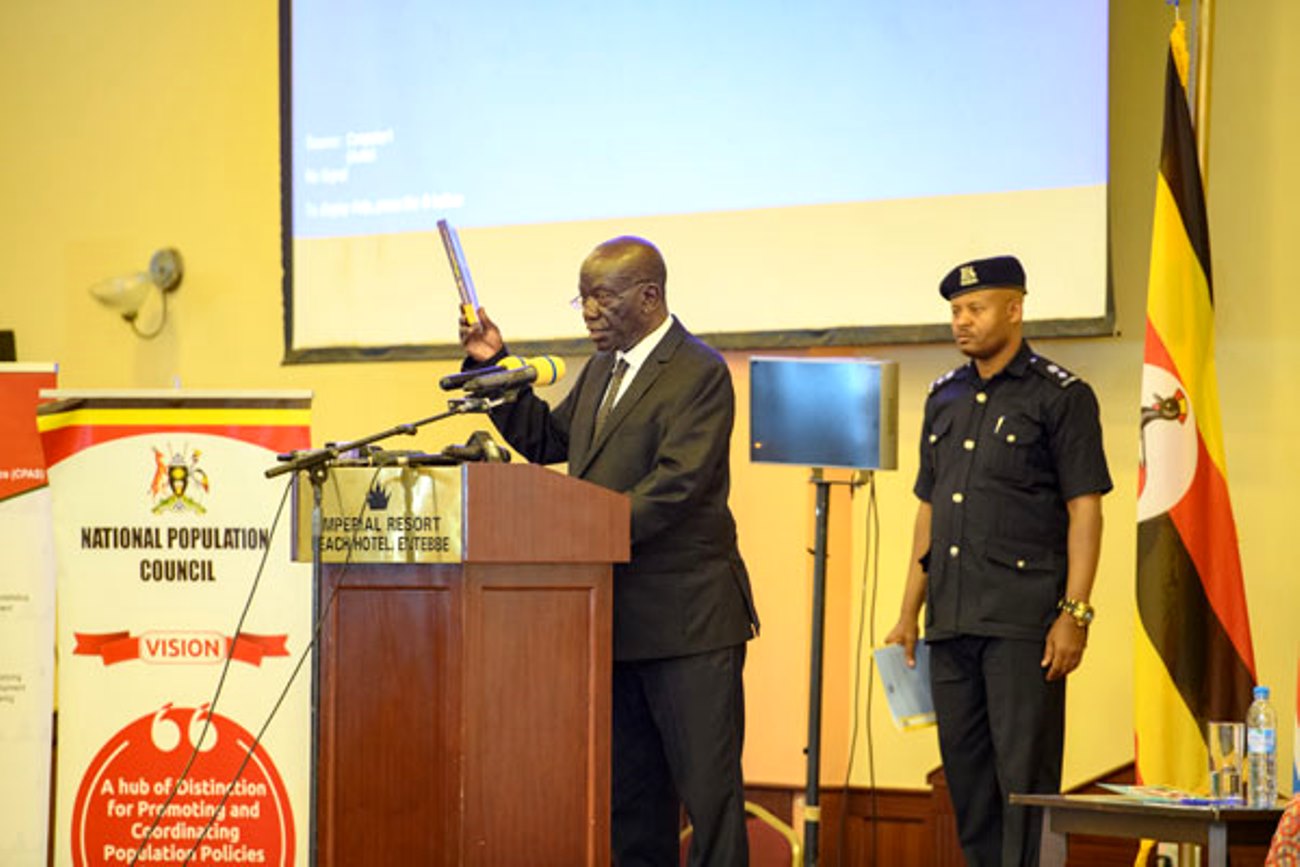 During African Population Conferences, a day is always dedicated to the Host Country to organise events with emphasis on thematic areas of relevance to the country and other African countries. The Uganda Day events took place on Wednesday, 20 November 2019. The day's events commenced with an opening ceremony which featured welcome remarks from the Vice Chancellor of Makerere University, Prof. Barnabas Nawangwe as well as the Chairperson of the National Organising Committee of the 8th APC and Director General of Uganda's National Population Council, Dr. Jotham Musinguzi. The Hon. Minister of State for Finance, Planning and Economic Development, David Bahati and the Right. Hon. Speaker of Parliament of Uganda, Rebecca Alitwala Kadaga presented the opening statements. The keynote address was presented by the Minister of State for Lands, Housing and Urban Development, Chris Baryomunsi while Dr. Fred Wabire-Mangen of Makerere University was the chair of the opening ceremony programmes. Three other sessions organised on this day focused on thematic areas of Population and Development, Young People, and Statistics. A Uganda Day debate panel titled Harnessing Youth Development Potential in Africa: Have We Failed? was the last session for the Uganda Day programme of events. The Uganda Day events took place from 9:00am to 4:00pm while other conference sessions for the day started at 2:00pm. Uganda Day culminated in a well-attended official reception/dinner gala which featured diverse Ugandan cuisine and exciting performances by dance troupes.
Read the Full Report here
Mak Researchers Tipped by EfD-Tanzania on Operating from a Policy & Research Perspective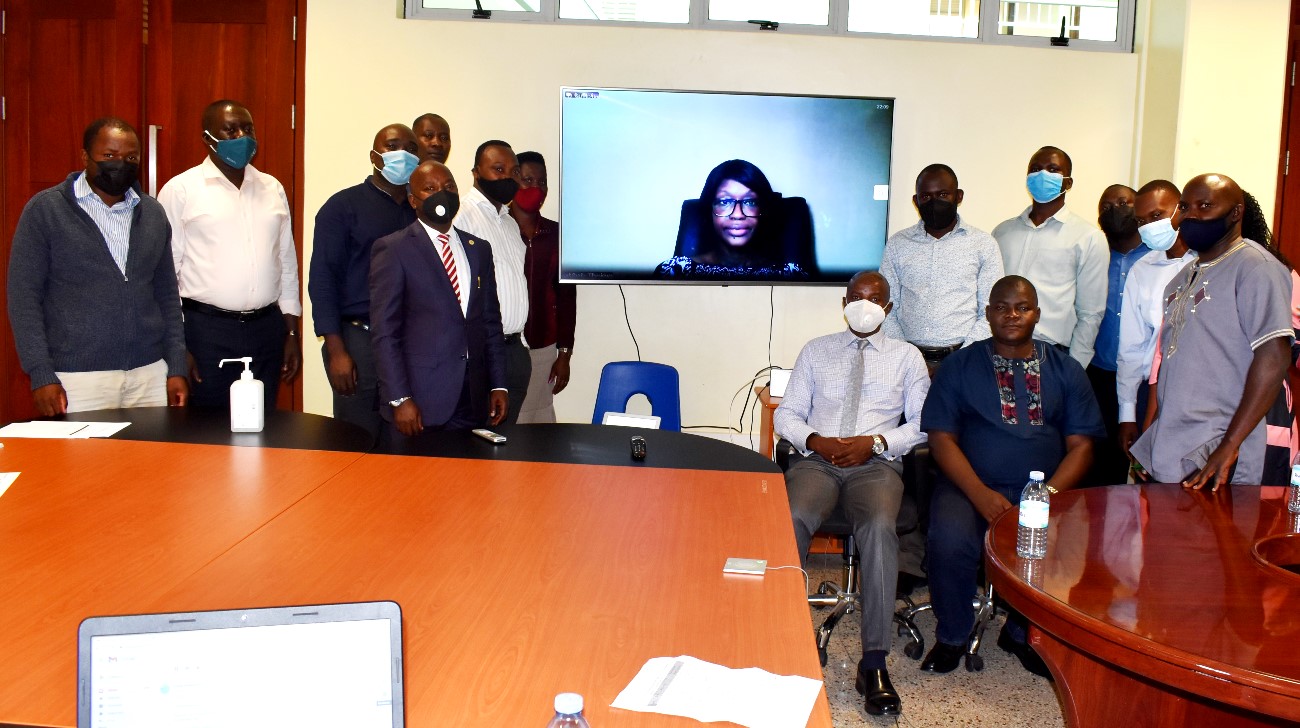 By Jane Anyango
Researchers from Makerere University Environment for Development Initiative (EfD-Mak) Centre on 7th September, 2021 converged in a seminar to learn from EfD-Tanzania on how to effectively operate the centre to attract and motivate research fellows, mobilize resources, conduct research and influence policy.
The seminar held both virtually and physically at EfD-Mak Conference room was officially opened by Assoc. Prof. Eria Hisali the Principal Makerere University College of Business and Management Sciences (CoBAMS) represented by his Deputy Assoc. Prof. Yawe Bruno.
Dr. Yawe thanked the EfD-Tanzania and EfD-Mak centre for nurturing and managing the relationship noting that it speaks volumes in terms of working together, mobilizing resources, building trust and partnerships.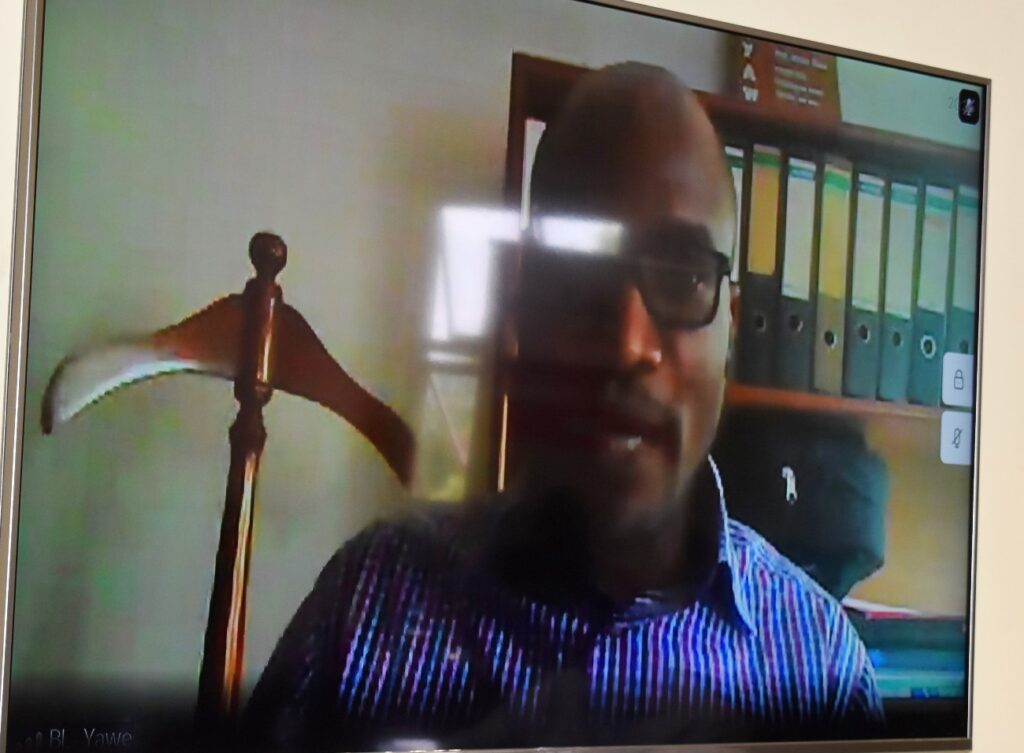 The seminar was facilitated by Dr. Byela Tibesigwa, a Senior Research Fellow from EfD- Tanzania who highlighted Tanzania's experience and the collaborative research recently conducted with development partners, universities and policy makers to drive policy oriented research.
Dr. Byela said the centre has senior and junior research fellows and a ten (10) member multi-stakeholder policy board comprising ministries, the Vice President's Office, UNDP ,UNEP, Ministry of Tourism, university lecturers, heads of departments, Permanent Secretaries, National Environmental Management Council, different Embassies, among others.
"We identify key policy challenges and convene a policy board workshop once a year to highlight our research plans, engage with and get direction from the board", she said.
In terms of attracting funding and co-funding, Dr. Byela described the Swedish embassy and the EfD Global Hub as very important reliable partners for funding and connection with other partners.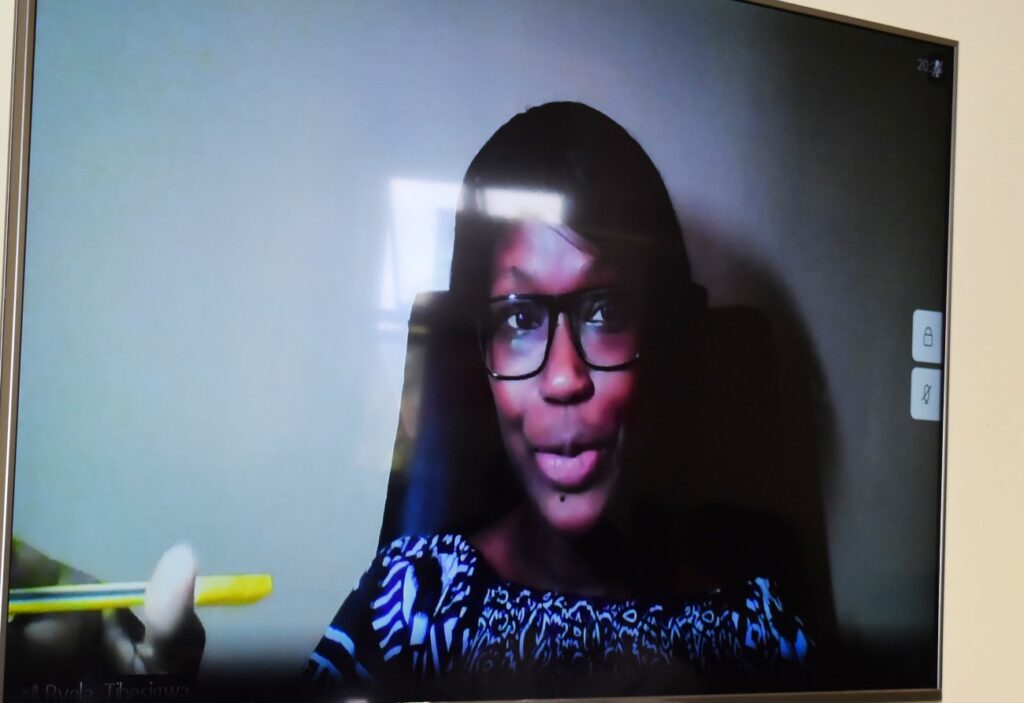 "We were so lucky to get additional funding from the Swedish Embassy and the global hub that connected and allowed us nurture good relationships and link us with partners like the World Bank, Government of Tanzania, Embassy of Norway, UK, Germany and many other development partners.
You want to keep senior and junior researchers interested besides the EfD core funding, get funds through consultancies and other funding. Invite government ministries and present ideas on their interest of funding. Keep advertising yourself, looking at policy interaction, keeping on news, and summaries in newspapers to attract funding", Dr. Byela said.
Despite the minimum funding, Dr. Byela advised the center to come up with non-conventional ways to motivate and keep research fellows interested in center activities for example by mentoring their junior research fellows through lunch seminars.
"You can keep and motivate research fellows through research seminars outside the university. Hire the junior and senior research fellows to organize EfD tasks or events. Instead of centre administrators, let the junior and senior research fellows organize field tours.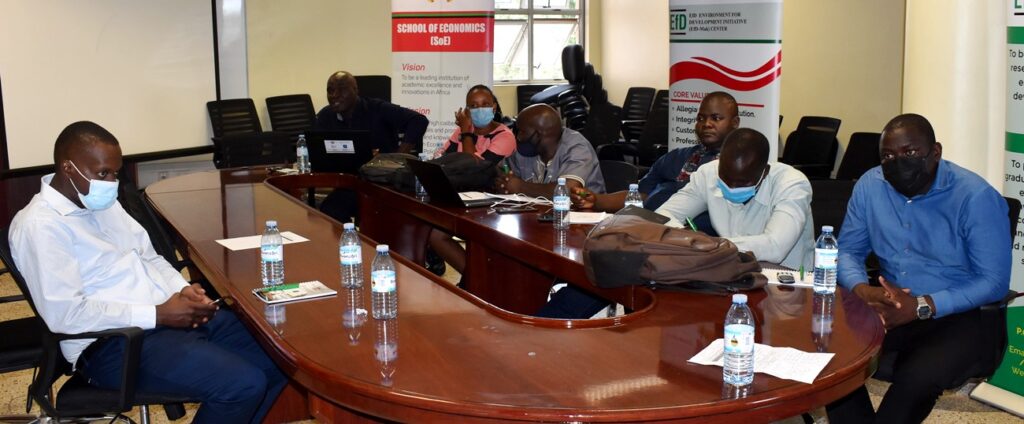 Most research fellows target publications and making research that is relevant to drive policy dialogue in the country. Put them as authors in publications", Dr. Byela Tibesigwa advised.
Dr. Byela also noted that currently, EfD-Tanzania does not have written guidelines on how to engage researchers and authorship criteria on projects. She said, it would be good for Makerere University to have guidelines for various operations.
Presenting one of the recently conducted environmental studies on sustainable use of charcoal and resultant policy note in Tanzania, Dr. Byela observed that most of the environmental issues, such as use of charcoal, single use plastic bags and bottles and wrappers are a huge environmental problems cutting across Africa but presenting a delicate balance that requires consideration of other political, economic, social and other aspects.
She said with the EfD Inclusive Green Economy (IGE) program, centers are set to look at the social acceptance and policy issues and this could be good for Makerere University to provide policy direction for the country.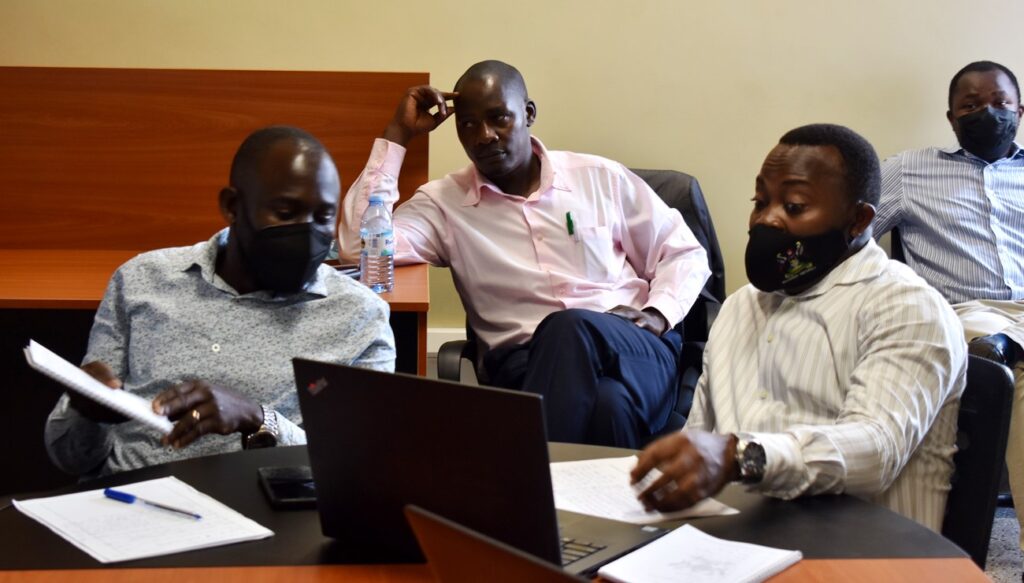 While closing the seminar, the Director EfD-Mak Centre Prof. Edward Bbaale extended appreciation to Prof. Razack of the EfD-Tanzania for making time and nurturing the collaboration with EfD-Mak centre reporting that there is a joint project about gender, food security and COVID-19, a sign of internationalization of research among the centers.
Prof. Bbaale appreciated Dr. Byela Tibesigwa for the inspirational presentation about the EfD- Tanzania.
"You have pointed out the gaps to Makerere and we have learnt. We have a big debt to establish a policy board as a steering committee to provide strategic direction for the centre.
You have talked about collaboration between EfD and the Swedish Embassy. Ours has not been deep. We have had officials attending our policy engagements and presentations. It was not deep to support and recommend us to funders. This is one thing to pick up seriously", Prof. Bbaale stated.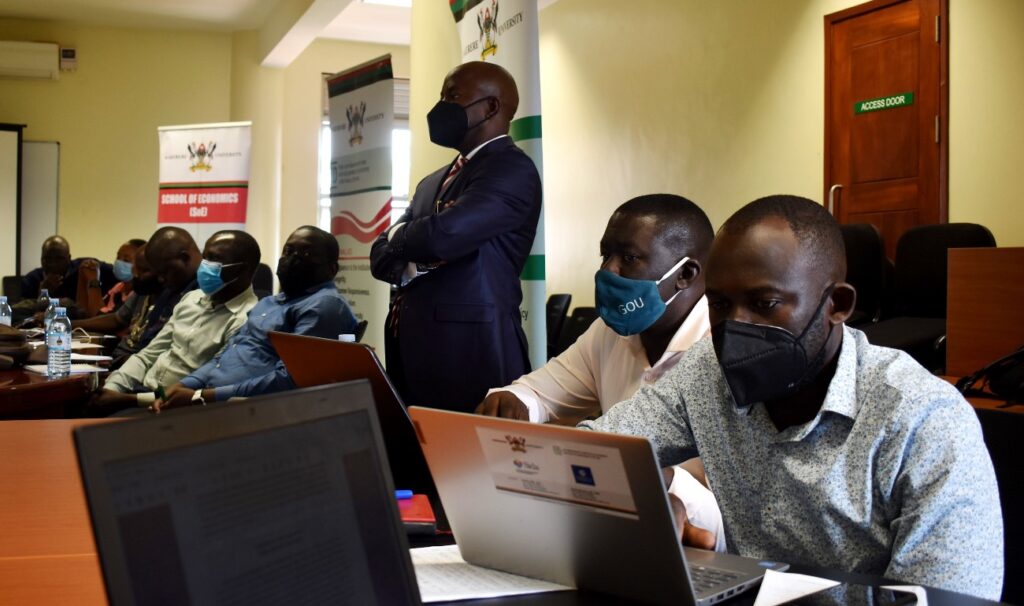 The Director appreciated Dr. Byela for sharing on how to keep researchers motivated and expressed commitment to involve them in data collection and other center activities.
Prof. Bbaale observed that Tanzania's' environmental analysis was key in connecting environment to the economy and pointed out key gaps and research areas that are applicable to Uganda.
"We have a debt to mobilize colleagues and partners to take up environmental analysis to implement research from an informed point of view". The Director said.
Prof. Bbaale thanked the Office of the Principal CoBAMS for according the centre a conducive environment to operate and Prof. Yawe Bruno for opening the seminar.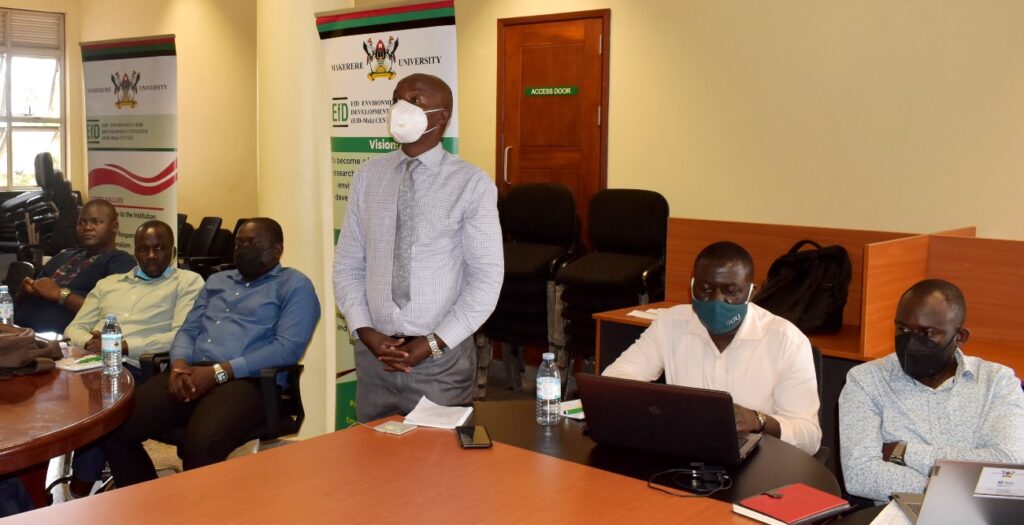 He said the seminar was one of the many that have been held under the centre except that the facilitator was from another country, a move towards embracing internationalization with many more of the kind expected.
"We are not blocking our local facilitators. They have been facilitators for the last two years but we are building bigger into international experiences", Prof. Bbaale explained.
He thanked participants for honoring the invitation and making time to attend. He extended invitation for the upcoming researcher's training on impact evaluation to be facilitated by a colleague from the USA.
Jane Anyango is the Principal Communication Officer, College of Agricultural and Environmental Sciences (CAES)
Mak Wins Two Sida EfD 2021 Grants Worth USD 144,918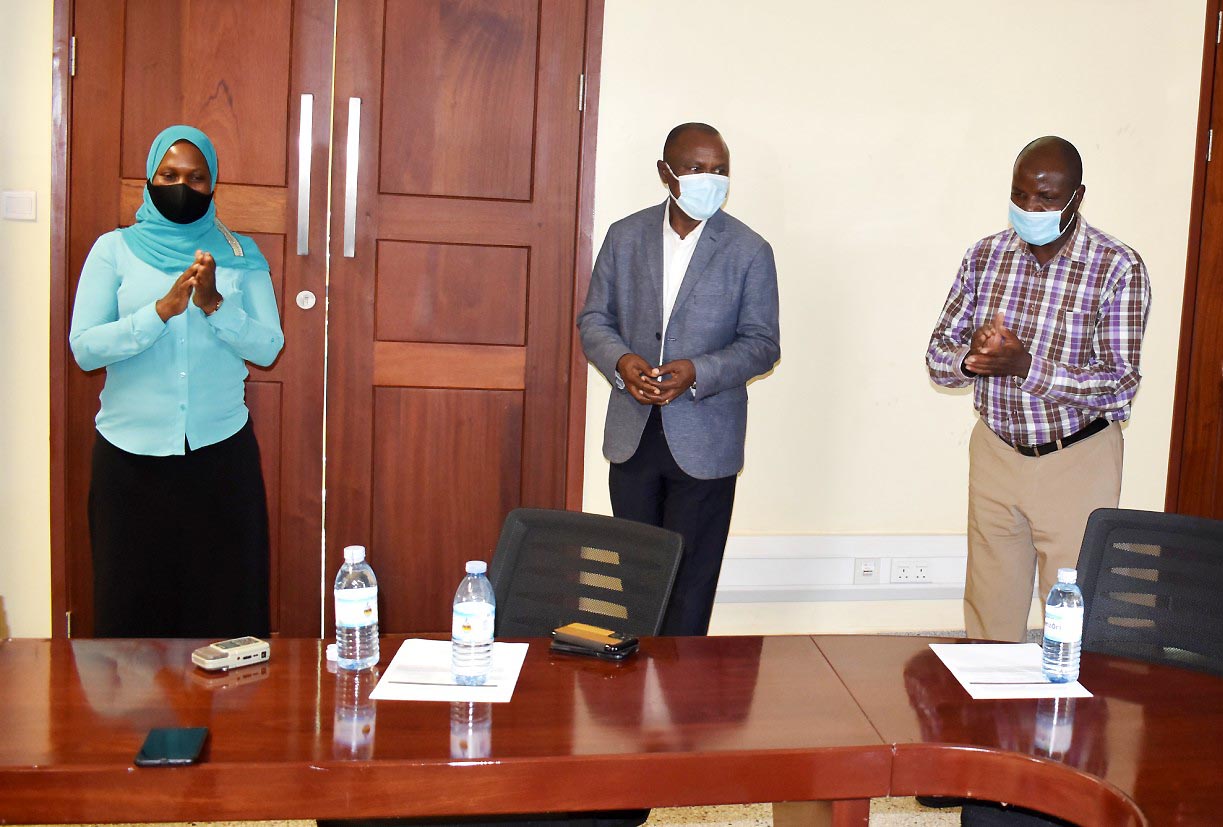 By Jane Anyango
A team of researchers from Makerere University led by Dr. Aisha Nanyiti and Dr. Fred Matovu have won two of the Environment for Development Initiative (EfD ) 2021 Grants  worth  USD 144,918 funded by Sida.
The two collaborative projects involving Makerere University, the University of Dar es Salaam Tanzania and Total Uganda were officially launched by the Principal College of Business and Management Sciences (CoBAMS)  Assoc. Prof. Eria Hisali on behalf of university management on 18th August, 2021.
The blended  function was held  phyisically and online at the EfD-Mak Conference room in the Central Teaching Facility 2 (CTF2)  and graced by partners from EfD Tanzania, and  Dr. Franklin Amuakwa-Mensah the EfD Research Manager, responsible for administrating the EfD research fund at the EfD Global Hub in Sweden.
The USD 55,747 project titled, "A Randomized Control Trial (RCT) on the Adoption of Liquefied Petroleum Gas (LPG) Cooking Technology among Fast Food (Chapati) Vendors in Uganda", is being spearheaded by  Dr. Aisha Nanyiti as the Principal Investigator (PI) assisted by three Co-PIs  Dr. Fred Matovu,  Dr. Suzan Kavuma and Mr. Richard Ssebagala.
Dr. Nanyiti said, whereas Biomass is predominantly the energy used for cooking by households and food vendors in Africa, the technologies burden women and pose negative health and economic effects.
The PI reported that these technologies lead to deforestation which poses a risk to the environment and contributes to climate change.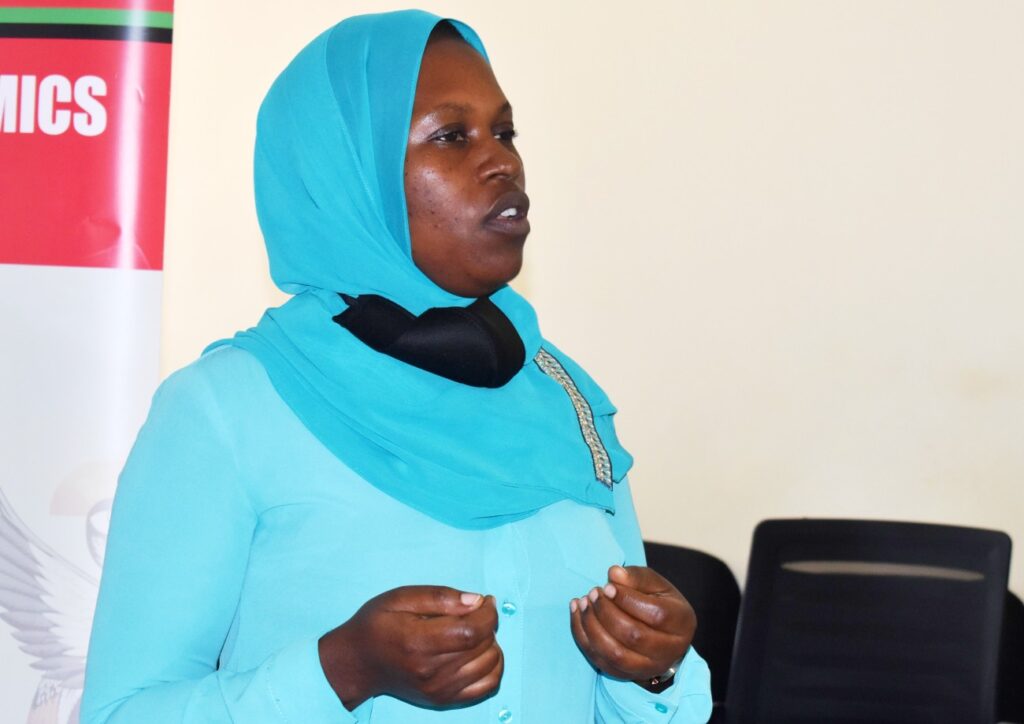 She observed that there are cleaner technologies like LPG available on market but the question is adoption.
"The main objective of this study is to assess the effect of hire purchase schemes and health and safety information on adoption of LPG. Specifically, this study seeks to examine the impact of information on health and safety benefits,Hire purchase, Learning from LPG use in grace period before purchase amortization, and Peer learning on adoption of LPG stoves by chapati vendors for their businesses", Dr. Aisha Nanyiti stated.
To achieve the objective Dr. Nanyiti said the study will employ a RCT in Kampala, three treatment arms (Treatment A- information only, Treatment B-information + hire purchase and Treatment C-information + grace period learning+ hire-purchase) and also carry out Surveys (Baseline., Endline, Follow-up surveys and Peer learning interviews)
The second project worth USD 89,171  titled, "Gender differences in COVID-19 effects on food security and adaptive strategies among the urban poor: Experiences from Uganda and Tanzania", is being led by Dr. Fred Matovu assisted by  Mr. Fred Kasalirwe, Dr.Razack Lokina and Byela Tibesigwa
"The aim of the study is to understand the impacts of the pandemic on the food situation of the households under different COVID-19-related movement restrictions, the coping strategies and the gender dimension" the PI said
Dr. Matovu said the study seeks to understand the effect of COVID-19 pandemic on food security among the urban poor and how this vary across gender.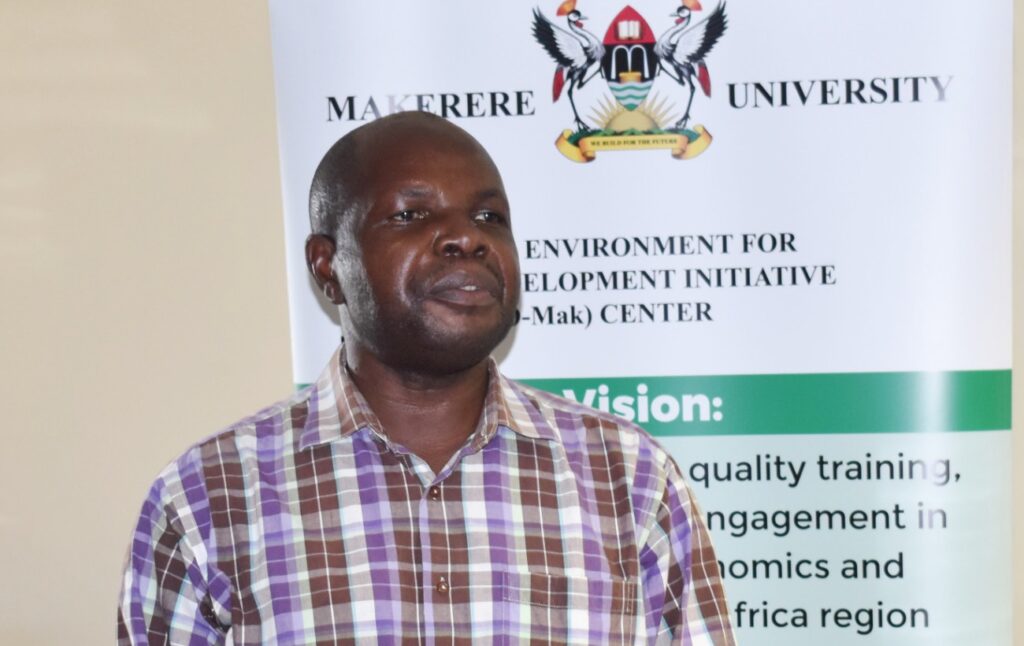 The study will also explore the effect of COVID-19 disruptions on food affordability and consumption among urban poor and their gender dimension and how the urban poor cope with the effects of food security shocks during COVID-19 pandemic across gender.
The study methodology according to Dr. Matovu will involve the use of both primary and existing national household surveys, collection of primary data on a sample of households in Kampala and Dar es Salaam to establish the effects of COVID-19  pandemic and related lockdown measures on the food security and the coping measures adopted and how these varies by gender.
Dr. Matovu also explained that to analyse the effects of COVID-19  on food security, they will estimate the extent to which the COVID-19 crisis has affected the food security using dummies capturing the varying degrees of income loss due to the pandemic
Launching the two projects, the Principal CoBAMS Assoc. Prof. Eria Hisali  congratulated the grantees for making Makerere University proud by winning the highly competitive studies.
"It is a clearly deserved win, the effort you put in has been rewarded and it is our sincere hope that you will continue putting in the effort you have put in up to the very end and you should not relax at this stage.
The Director EfD-Mak centre and the team at the secretariat, we want to say thank you. We see the results of your efforts. I have been part of these activities and it has been one of those centre where we can see clear results", the Principal commended.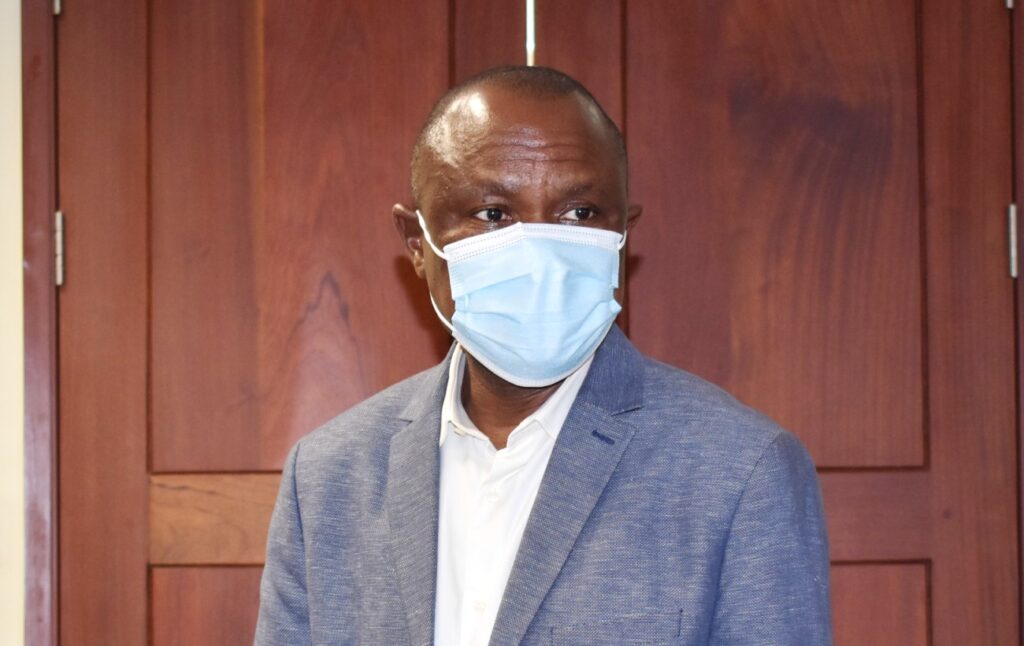 Dr. Hisali hailed the grantees for initiating the collaborative studies appealing to the collaborating institutions that this should the starting point of engaging in bigger collaborations.
He said the two studies have clear huge potential for policy whether looking at coping with effects of COVID-19 and hazardous effects of the current used energy imploring grantees to bring on board policy makers as quickly as possible to have their insights so as to quicken the uptake.
"Here we are in the middle of two things. We want to come up with very good research results used with rigorous techniques but we also want to use research in in a way that will keep policy makers on board , to appreciate what is taking place and they have a full believe that these are results that they can rely on to implement policy," Dr. Hisali said.
Dr. Hisali also expressed the need for staff and graduate students to be brought on board to learn the new techniques and tools being used in these studies. He expressed commitment to provide administrative support that the center and researchers would require.
The Director EfD-Mak Centre Prof. Edward Bbaale welcomed participants to the launch saying, the two projects are funded by the Sida at the EfD Global Hub in Sweden .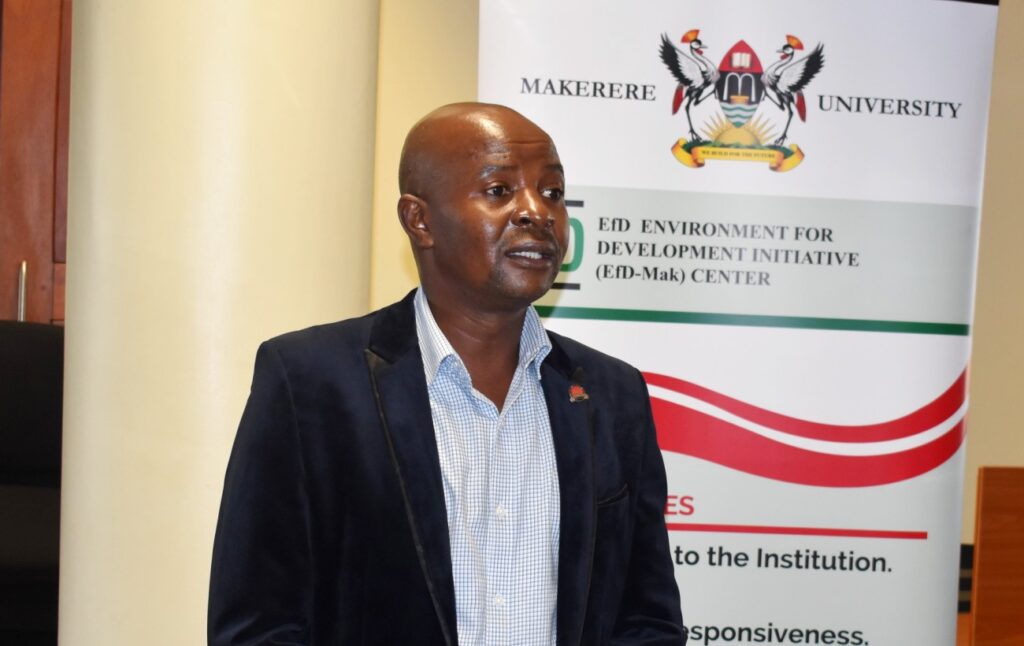 Prof. Bbaale said the center had already received the funding for the two projects and congratulated the two PIs and their teams for emerging as winners of the EfD grants of the year 2021.
"I want to thank the EfD Secretariat for considering to fund this policy oriented research projects. The PIs went through a competitive process starting with developing concept notes which we discussed locally here at the EfD-Mak centre and also at the EfD Tanzania and then sent to EfD Secretariat for consideration and the two grantees were invited to develop full proposals", Prof. Bbaale explained.
Prof. Bbaale said Dr. Aisha Nanyiti's project will take one year and that of Dr. Fred Matovu is unique in the sense that it is a collaboration between EfD-Mak center and EfD Tanzania.
"EfD encourages collaborative research between centers and also between the South and the North. EfD-Mak is leading the project and it will require a transfer of part of the resources from Makerere University to the University of Dares salaam," Prof. Bbaale said.
Research Manager EfD secretariat Dr. Franklin Amuakwa-Mensah congratulated the fund recipients for being successful. He explained that the fund acquisition process undergoes three processes involving concept note,full proposal writing and presentation. He encouraged centers to link up   to have additional funds.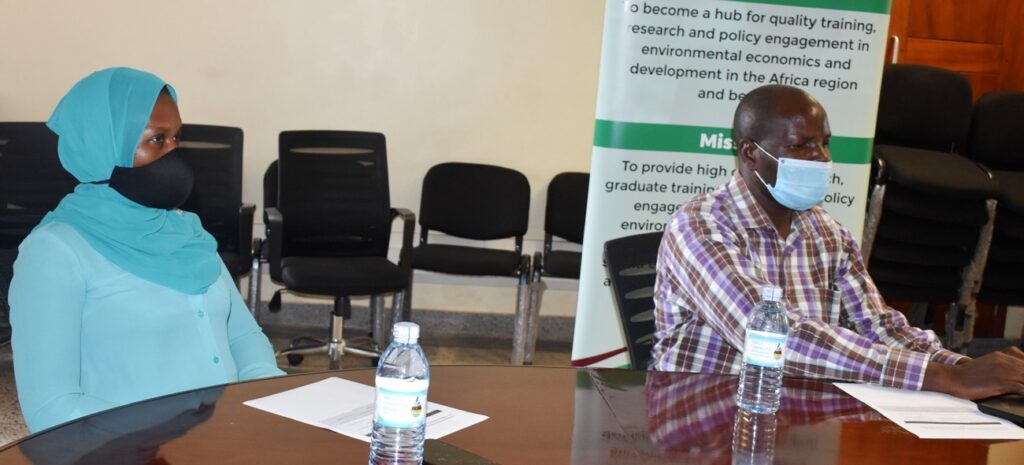 He said the EfD has a Swedish grant for applied research capacity for sub-Saharan Africa where the fund is allocated to all centers in Africa to encourage them do research relating to a particular country.
The other fund he said is for other countries and open to other centers together with those in Africa and the idea is to encourage collaboration across countries.
In addition he said, there is a collaborative research program fund covering different aspects including energy, gender, carbon emissions among others to encourage collaboration across countries.
He said the global hub released money for this financial year late due to the closure of the five year term for the EfD and drafting of new programs that involved so many bureaucracies.
"Because of the delay, the projects which are supposed to end this year 2021 will be extended to  next year .
To enable unsuccessful applicants a chance to get funding and to make centers more vibrant, Dr. Amuakwa-Mensah reported that some centers have devised a strategy of encouraging only successful winners to apply for funds with previous successful grantees participating as a team .
He encourage centers to have research committees that can scrutinize and select the best  proposals  for submissions for funding.
Jane Anyango is the Principal Communication Officer, College of Agricultural and Environmental Sciences (CAES)
Mak Launches IGE in Practice Programme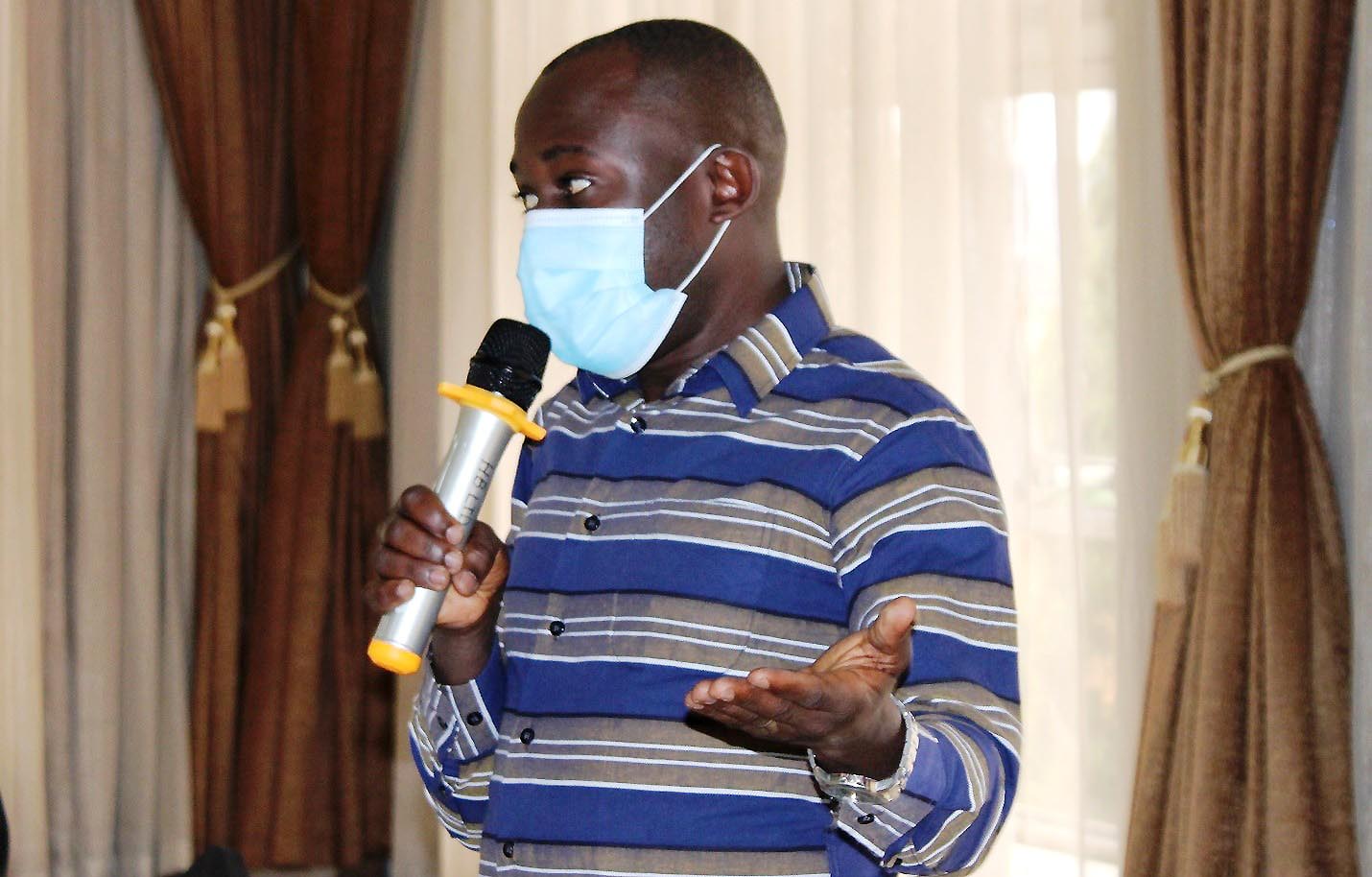 By Hilda Makune for EfD-Mak
Makerere University has launched a new program dubbed "Inclusive Green Economy (IGE) in Practice".  IGE in Practice, is a collaborative programme between Makerere University's Environment for Development Initiative (EfD-Mak) Center and the University of Gothenburg, Sweden fully funded by Swedish International Development Cooperation Agency (Sida). Other participating countries are Ethiopia, Kenya, Tanzania and Rwanda.
The program is aimed at strengthening Uganda's capacity for transformation towards an Inclusive Green Economy largely under the United Nations SDG 8 that focuses on promoting sustained, inclusive and sustainable economic growth, full and productive employment and decent work for all.
IGE in Practice will focus on the use of environmental policy instruments, and specifically economic instruments such as environmental taxes, pollution fees, subsidies or subsidy reduction and other types of fiscal incentives for societal development in line with the Global Agenda 2030.
The program is an advanced in-service training with direct applicability in the participants' daily work involving theoretical training within IGE, practical exercises, project development and support for implementing own change work.
The  official program  launch and training  was held at at Makerere University's Central Teaching Facility 2 (CTF2)  on 4th June, 2021 with  six (6) selected senior public servants competitively selected among the 19 participants nominated through the Permanent Secretary, Minsitry of Finance, Planning and Economic Development and relayed via zoom to other participants.
The selected senior public servants were  from the Ministry of Finance, Planning and Economic Development,  Ministry of Water and Environment,  the National Planning Authority (NPA) and the National Environment Management Authority (NEMA).
These selected public servants will undergo a one year course (running from June 2021 to June 2022) and upon successful completion, given a title of IGE fellows and are expected to become IGE change agents and IGE trainers in their different Ministries, Departments and Agencies.
The function was also attended by the Principal, Makerere University College of Business and Management Sciences (CoBAMS) Assoc. Prof. Eria Hisali, the Director EfD-Mak Centre who is also, Dean, School of Economics Assoc Prof. Edward Bbaale and Makerere University IGE program support team – Dr. John Sseruyange, Lecturer in School of Economics and Mr. Peter Babyenda the Policy Engagement Specialist in charge of coordinating the training program. These were joined by Prof. Anders Ekbom, the IGE program head at the University of Gothenburg, Sweden.

In his opening remarks, the Principal CoBAMS Assoc. Prof. Eria Hisali said the future for sustainable growth across the global is in Inclusive Green Economy, a new phenomenon, yet to be fully tapped into. He thanked the donors for putting trust in the university assuring them that they shall rise to the task that they are taking up.
He underscored the importance of IGE as extremely important in the case of Uganda and across the developing world presenting a number of opportunities and areas of interest to harness such as Water, Agriculture Energy that have been adequately taken care of in the planning frame work under the National Development Plan of Uganda.
"There is vast potential in the area of Renewable Energy; we have a potential to produce up to around 6,000mega watts of renewable energy, and yet what has been exploited as of now is under 500mega watts so, there is quite a big potential in the renewable energy in Uganda.
The good will we still have with the donor community, Inclusive Green Economy naturally includes among others tapping into the appropriate technology, good technology and value addition", the Principal said.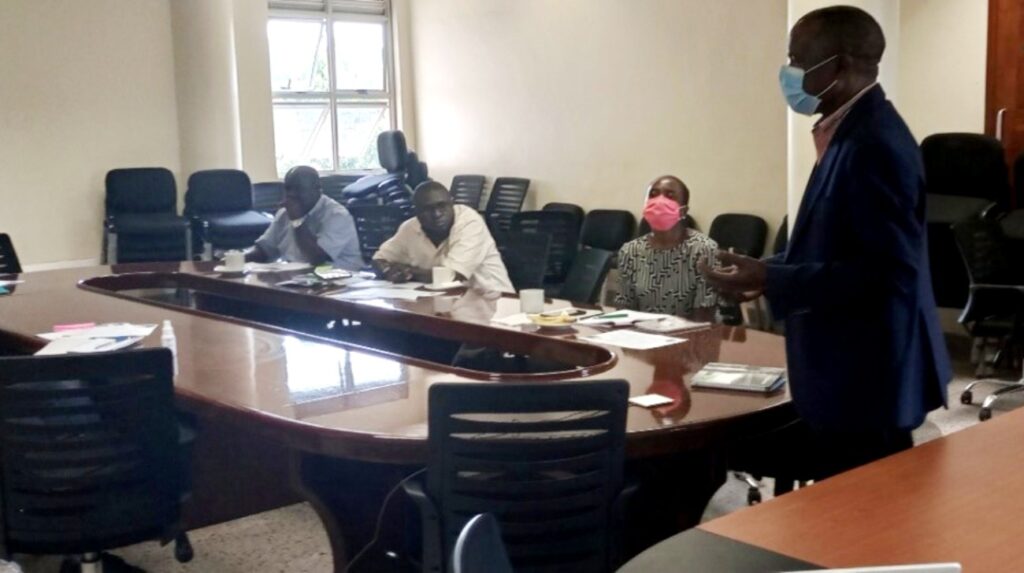 Assoc. Prof. Hisali noted that although there are a number of opportunities and initiatives available in the Inclusive Green Economy, the concept is still new across the private and public arena. He implored the university IGE team to ponder on the issues such as stakeholder coordination, engagement, and involvement.
"Even when you sample across the public and the private sector, not everyone would appreciate the concept in the same way. The coverage is still limited. How do we get the different stake holders on board? How do we exploit now the untapped potential in terms of an Inclusive Green Economy?
The development philosophy of Uganda is largely the private Sector, will naturally play a very big role in driving the development process. Therefore, the question here is how do we incentivize the private sector to take up these different aspects of Inclusive Green Economy investments.
There are a number of initiatives under Inclusive Green Economy investments which are across the country both in the private and public sector. There are different sectors in different locations. How do we plan to coordinate these sectors?" Assoc. Prof. Hisali questioned.
The Director, EfD-Mak Center who is also part of the support team of Inclusive IGE Assoc. Prof. Edward Bbaale introduced EfD as a global network of Environmental Research Centers comprising fifteen centers across the world coordinated in the EfD Secretariat, a special unit in the School of Business, Economics and Law at the University of Gothenburg Sweden.
He said the EfD impact modal values a lot academic training which feeds into the Applied Research and also, institutional development which ultimately leads to Research Policy interaction and then the realization of an impact.
The Director said the meeting was about Inclusive Green Economy in practice, a capacity building program where the trainees will be equipped with information about the IGE Program, what it is about, why IGE, what the training will cover and the role of the centre and the trainees.
Prof. Bbaale expressed the need to ensure commitment by the participants on the program tasks and also connect with each other and understand each other's roles.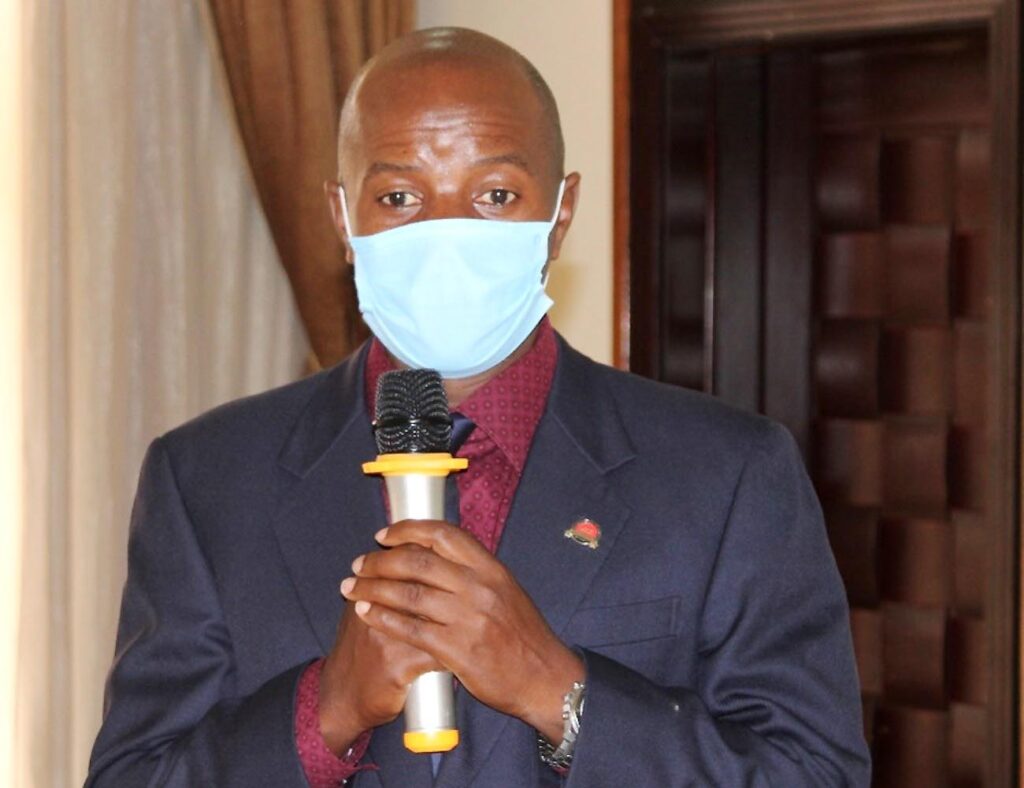 He reported that the first round of this program will run until March 2022 and targets the senior civil servants mainly the economists. In Uganda. Prof. Bbaale said 19 participants were recommended but 6 were selected but the program too has a regional focus with 5 participants from Kenya, Rwanda with 6, then, Tanzania and Ethiopia each with 6.
"The main objective is to strengthen East African countries capacity to transform into an Inclusive Green Economy through; Increased knowledge and Application of Economic and Environmental policy instruments; Organizational change, how do we change the organizations where we work to make sure that we are well aligned in the inclusive Green Economy agenda and; Strengthen National systems for Inclusive and sustainable Economic development", Bbaale said.
In the program out line, Prof. Bbaale said, phase 1 in March –April 2021was a call for applications and phase 2 is the startup meetings which was being done and running according to plan. In phase 3 there will be trainings on the Inclusive Green Economy aspects, theories and practices.
Prof. Bbaale reported that Phase 4 shall have the Golden thread called the Inclusive Green Economy Project where each participant will have to design a project in their different organizations intended to show how they can change their organizations and how well they can align themselves in a Green Economy.
In the same phase 4, the Director said, there will be support workshops, high level policy workshops, support meetings from the mentors and the peer running reviews followed by regional course between October and March 2022 and then national workshops.
"This program is an advanced in-service training with direct applicability, where participants will get great understanding, knowledge and ability to critically review and analyze the current economic policies and conditions while at the same time find opportunities for transformation towards a Greener Economy. Therefore, this means you are a change agent in your organization, the training will strengthen the role of the participant as a change champion.
The program is organized by the UGOT, the center for sustainable development in collaboration with several expert organizations and Makerere University being part of that under the EfD- Mak Center. A team of experts and Lecturers include; those from Sweden but also other international experts with extensive experience.
The program is fully funded by the Swedish International Development operational Agency (SIDA). All costs are covered by the UGOT. Therefore, the participants will only contribute their time." Assoc. Prof. Bbaale added.
He highlighted some of the benefits from the program at individual level, organizational and at the system level that combines the entire country.
At individual level he said, there is peer to peer learning, understanding the inclusive green economy, its usefulness, risks and opportunities of applying these economic instruments, and increased knowledge of organizational change, how does one start up the change at organization level and how to build network efforts at international level.
At organizational level; he explained that one will benefit by building capacity on behalf of the organization in the area of Inclusive Green Economy; Application of economic instruments and increased priority on Inclusive Green Economy and the Introduction of Inclusive Green Economy or economic instrument projects and support of the ongoing IGE projects.
At national level, he said the benefits range from Strengthened National systems for green economic transformation; Improved cooperation between government agencies and across countries of collaboration and; Enhanced application of green economy analysis and economic instruments for IGE transformation
Program Training Methodologies
In terms of training Methodologies, the Director said, these shall include; advanced professional capacity building program, which will have action learning methodologies online; under that shall have online meeting place for professionals in planning and policy development strategic and resource green economy.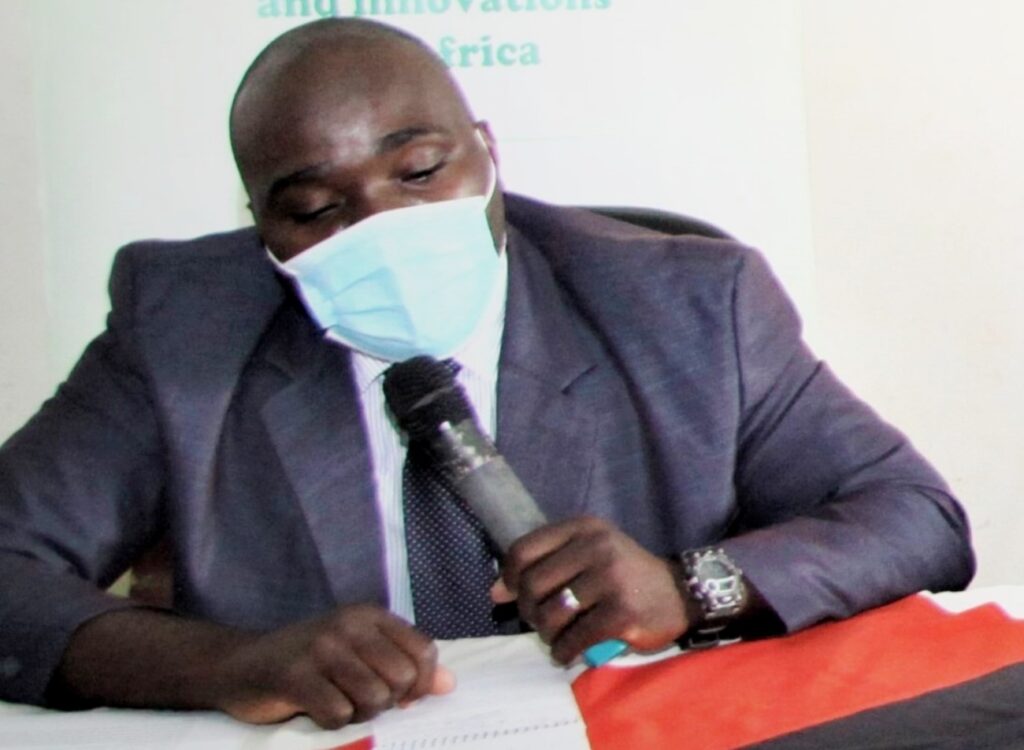 Since it is going to be an action learning experience, part of it shall be exchange of knowledge and sharing of experiences. There shall be interaction in terms of group work, discussions, joint learning i.e. on line and then develop the Golden Thread – the Inclusive Green Economic Project which will be developed from the different organizations.
The Program Tasks according to Prof. Bbaale include participation in the training, developing and implementing the Inclusive Green Economy Project and conducting and participating in National policy review workshops for peer learning.
As part of the tasks; one will be a trainer and as a participant, one will be given a title of Inclusive Green Economy Fellow (IGE-Fellow) which will distinguish one from those that have not undergone this program.
As a Fellow, one will be required to actively involve the workmates/colleagues where one will form a team at their place of work with in their organization. One will work on experiences and work projects and actively contribute on their own expertise and experiences.
One will in addition manage development and implementation of a number of tasks through the 10months of the program duration and upon graduation and successful achievement of all tasks, one will be awarded a certificate and become part of the IGE-Fellow networks or program alumni.
All IGE-Fellows are assigned a support team which includes; Country Academic partners and expert advisors on Inclusive Green Economy.
Prof. Bbaale said, the role of the support team is to; Provide feedback on ones assignments and tasks, offer advice on critical questions, support and encourage one to keep moving on the program. This support team understands the Inclusive Green Economy processes, changes process and organization capacity program and they will challenge, coach , encourage and also critically review the written tasks and helps fellows with the information sharing and IGE networking.
Program Guide for the Trainings
10th-11 June as the first training
17th -18 June second training
9th -10th September third training
16th -17th September fourth training
These trainings will be conducted virtually.
Giving his remarks via zoom, the IGE program head at the University of Gothenburg, Sweden. Prof. Anders Ekbom said, Inclusive Green Economy (IGE) is one of the Agenda of 2030 of the Sustainable Development Goals (SDG 8).
He said the rich and poor countries cannot do things the same way for various reasons and that is why development is not sustainable.
"And therefore we cannot go on the way we do. The Rich countries consume too much while the poor countries cannot invest in technologies that are sustainable. Investments are not environmentally or socially and economically sustainable. Our horizons are too short.
Therefore, the agenda is to guide development and this program focuses on SDG 8 which really deals with jobs, decent work but also sustainable economic development," Prof. Anders Ekbom said.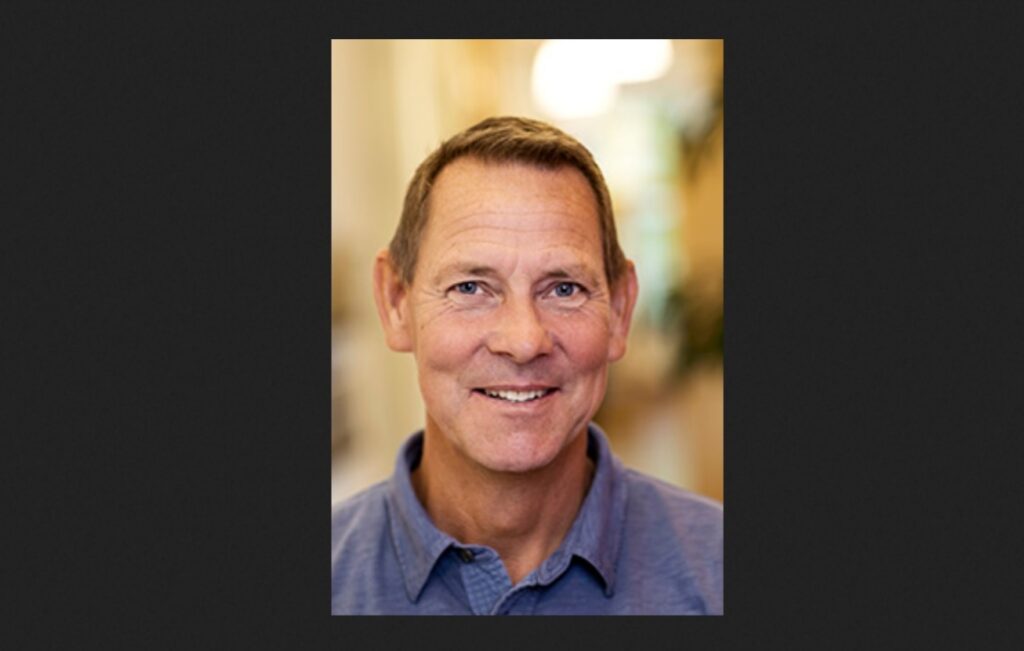 He said IGE is a practical approach to address and work with SDG8 and that it is broader than just Green Economy because one can go for policies that promote green growth but at the expense of the poor or the marginalized people.
He clarified that, one has to emphasize on inclusion or social acceptance as one designs the green economy policies.
He explained that the SDGs are made up of 5Ps, i.e. Prosperity, People, Planet, Peace and Partnerships where the first three Ps represent Inclusive Green Economy.
In the case of IGE Prof. Anders said there is need to ensure that the economy and the environment are brought together in a large extent.
"The concept of IGE is to bring the social, economic and environmental issues together for integration, inclusion of people in planning, decision making and the outcomes. Environmental sustainability, social sustainability and economic sustainability, the three need to come together so as to have a comprehensive sustainable development", Prof. Anders Ekbom said.
IGE according to Prof. Anders is made up of several concepts; resource efficiency, system mitigation, system resilience, strong communities and habitats, sustainable economic growth, Inclusive economic growth, equity, poverty reduction, strengthening of rights and social inclusion.
He said the Green economy wants to reduce pollution, reduce inefficiency, reduce waste, economize the natural resources and go for extensive use of natural resources while IGE has to make use of internal policy plans, and other departments as well.
"This does not mean taking over their jobs but rather working together through campaigns and other means.
IGE needs to promote green jobs and sustainable employment. Need to move from the Ministry of Environment and NEMA, and involve the Ministry of Finance because these organizations sit on very powerful tools to manage the environment through economic empowerment.
IGE needs to move away from the victims being paid for polluting the environment but rather have the polluters pay for polluting the environment. That way the environment will be preserved.
Need to move from environmental conservation and protection to sustainable management". Prof. Anders Ekbom stressed.