REDD-EA Project Shares Successes as Research Dissemination Workshop Kicks-off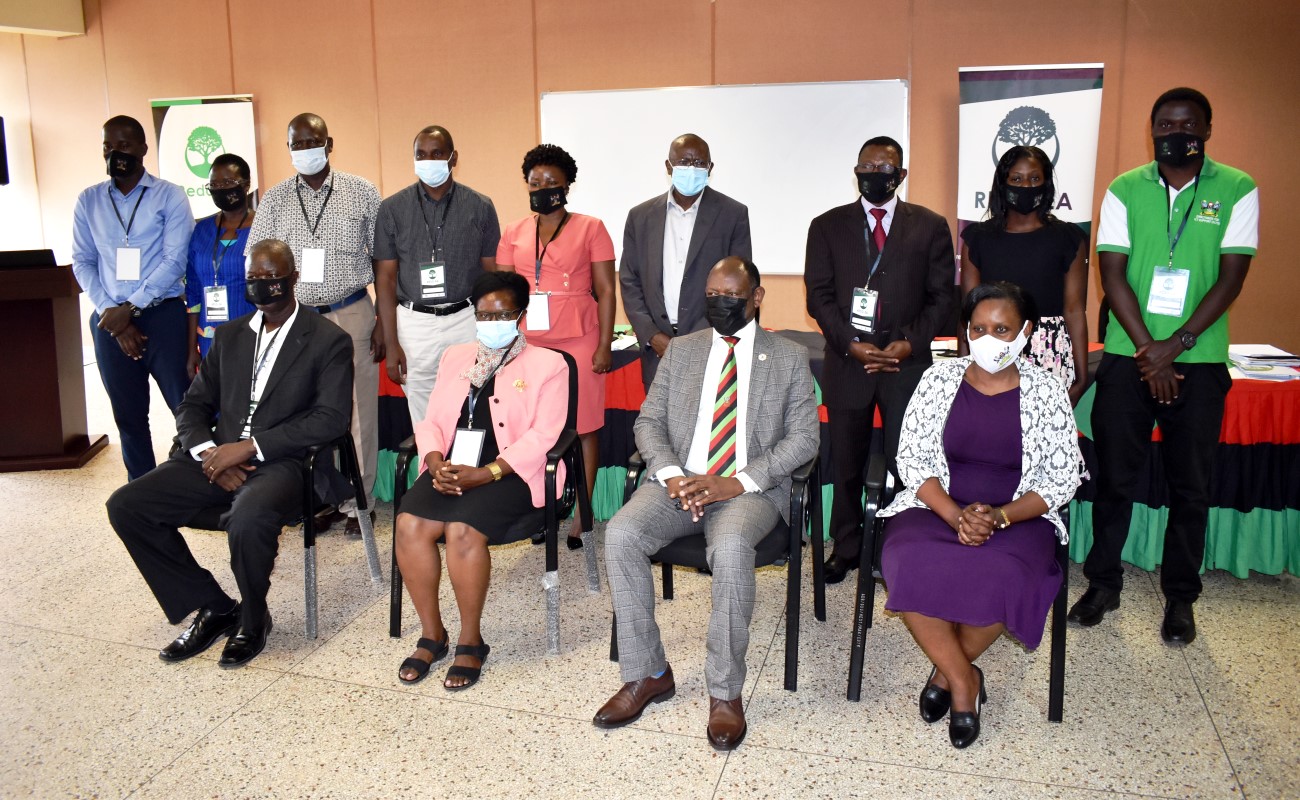 The REDD-EA project on 24th November 2020 launched a two-day National Research Dissemination Workshop to share its outputs under the theme "Forest-based emissions: Solutions for climate change mitigation, improved ecosystem health and sustainable livelihoods". Held in Room 3.2, Central Teaching Facility 1 (CTF1), Makerere University, the workshop was officially launched by the Minister of Water and Environment, Hon. Sam Cheptoris, represented by Mrs. Mwebesa Margaret Athieno, the Ministry's Assistant Commissioner for Forestry (Planning and Development).
REDD-EA stands for Building capacity for REDD+ in East Africa for improved ecosystem health and for sustainable livelihoods in Eastern Africa. REDD+ stands for Reducing Emissions from Deforestation and forest Degradation, (+) plus conserving carbon stocks, sustainable forest management and enhancing carbon stocks. REDD+ which was negotiated out of concern for the rapid loss of forests globally is aimed at rewarding actions that conserve forests and contribute to social and environmental outcomes.
With the above as its basis, the REDD-EA project goal is to contribute to reduced greenhouse gas emissions and improved ecosystem health for sustainable livelihoods in East Africa. The project which started in 2014 and ends in December 2020 purposed to achieve this goal by strengthening the capacity for education and research on climate change and REDD+ at Makerere and the University of Dar es Salaam (UDSM).
Addressing participants, the Principal Investigator (PI) REDD-EA, Prof. John Tabuti shared that the project has so far graduated 23 PhD and Masters Students, which is the largest number of graduate students of all projects funded by NORHED.
"I thank the Norwegian Government under the Norwegian Programme for Capacity Development in Higher Education and Research for Development (NORHED) for funding REDD-EA. I also thank the Government of Uganda for creating the necessary conditions for attracting the grant that funded this project and the Uganda National Council for Science and Technology (UNCST) for granting our students permission to conduct research in the country," remarked Prof. Tabuti.
He equally thanked the National Forestry Authority (NFA) and Uganda Wildlife Authority (UWA) for allowing the project to conduct research in protected areas under their mandate. "I thank the Vice Chancellor-Prof. Barnabas Nawangwe, Principal College of Agricultural and Environmental Sciences (CAES)-Prof. Bernard Bashaasha and the entire University Management for availing us an efficient environment for the management of research projects."
In her remarks, the Chairperson NIDIC (NORHED Institutional Development and Implementation Committee) Dr. Consolata Kabonesa noted that Norwegian Government support has enabled REDD-EA to contribute to generation of research crucial to not only economic development but also sustainable livelihoods. She paid tribute to the REDD-EA Co-PIs Prof. Douglas Sheil from the Norwegian University of Life Sciences (NMBU) and Prof. Pius Yanda from UDSM for their contribution in ensuring that the project was a success. "The research being disseminated today will support the policy informing and implementation process not only in Uganda but also internationally."
Prof. Bernard Bashaasha in his remarks applauded the School of Forestry, Environmental and Geographical Sciences (SFEGS) for creating a strong environment in which research on protecting our ecosystems has thrived. "When we take away forests, it is not only the forests that we lose but entire ecosystems that are associated with them."
Staying with the need to conserve our forests, the Director, Directorate of Research and Graduate Training (DRGT), Prof. Buyinza Mukadasi noted that the dissemination was timely to address emissions from forest cover loss. "Deforestation is the second largest source of emissions after the burning of fossil fuels and accounts for more than all the emissions from the transport sector."
He nevertheless expressed hope that the capacity built by REDD-EA over the years would help to generate new knowledge on forest conservation and increase its uptake through translation into technologies, interventions and strategies.
"It is heartwarming to note that this project has built capacity of over 60 researchers in REDD+ business through academic exchange mobility to Norway and likewise Norwegian Professors visiting Makerere to supervise students." said Prof. Buyinza. These include 12 PhDs – 8 from Makerere and 4 from UDSM and 35 MScs.
The Vice Chancellor in his address thanked the Norwegian Government for supporting research and staff development initiatives at Makerere University over the years through various programmes such as NUFU, NOMA and NORHED. He applauded Prof. Tabuti and his team for ensuring that communities that participated in the project have a deeper appreciation of the need to conserve forests as a mechanism for reducing carbon emissions.
"Uganda's population is expected to reach 100 million by 2050 and the number of people living in urban areas is expected to hit 22 million by 2040. This unchecked rapid population growth and rural to urban migration will inevitably have a negative impact on our forests and environment in general unless we intervene with timely dissemination of the consequences" warned the Vice Chancellor.
Prof. Nawangwe concluded by thanking the Government of Uganda for supporting Makerere University to undertake research on unfunded priorities critical to national development through the Research and Innovations Fund (Mak-RIF). He added that whereas the impact of Mak-RIF was beginning to be seen within a year, a lot of good research ideas from the immense capacity at Makerere had to be left out due limited resource envelope. The Vice Chancellor nevertheless expressed hope that outputs from projects like REDD-EA would be able to attract additional funding from the Government and support from development partners.
The keynote address at the research dissemination on "Uganda's REDD+ Readiness Process: Achievements and Developments" was delivered by Mrs. Mwebesa Margaret Athieno. She assured her audience that Uganda meets all four requirements necessary to implement REDD+. These include a; REDD+ National Strategy or Action Plan, National Forest Monitoring System (NFMS), Safeguards and Safeguards Information System (SIS) and Forest Reference Emission Level (FREL).
Mrs. Mwebesa nevertheless pointed out that her Ministry still has work to do in terms of building in-country capacity for REDD+ requirements such as expertise for collecting and analyzing data for carbon reporting purposes among others. She also noted the need to promote Public-Private-Partnerships, particularly those that promote commodity value chains, especially since 70% of Uganda's forest cover is under privately-owned land.
The Minister in his remarks read by Mrs. Mwebesa noted that the Ministry of Water and Environment with the support of partners intends to increase Uganda's forest cover from the current 12% to 15% by the end of the Third National Development Plan (NDPIII) 2020/21 – 2024/25. Under Forest Investment Planning, the Minister shared that it was important for Uganda as the third largest refugee hosting country in the world to reduce carbon emissions caused by environmental degradation around settlements by investing in reforestation programmes.
He noted that Uganda has prepared two emission reduction project proposals for the Albertine and Kyoga Water Management Zones, which will be supported by the World Bank's Forest Carbon Partnership Facility. The Minister concluded his remarks by commending the Norwegian Government for supporting the Sawlog Production Grant Scheme (SPGS) and other REDD+ initiatives in Uganda. He reiterated the Government's commitment to promote programmes such as the National Biodiversity Strategy and Action Plan (NBSAP) as an incentive for communities to continue preserving indigenous tree species such as the Shea nut tree and Prunus Africana.
The Research Dissemination Workshop which was moderated by Principal Public Relations Officer, Ms. Ritah Namisango also featured breakaway sessions where students presented their research findings. The sessions were on Forest Land Use and Land Cover Change (LULCC) and On Farm Tree Planting and Climate Smart Agriculture.
Article by Public Relations Office
EfD-Mak Policy Dialogue Calls for Conservation in Line With SDGs
Makerere University Centre for Environment Development Initiative (EfD-Mak Centre) has held yet another Policy Dialogue on the changes in Lake Victoria's Hydrology, Water quality and livelihoods.
The dialogue held at the Senate building on the 16th of December, 2020 was graced by the Principal College of Business and Management Sciences Assoc. Prof. Eria Hisali and presided over by the Acting Deputy Vice Chancellor in charge of Finance and Administration (DVCFA) Assoc. Prof. Josephine Nabukenya.
Among the discussants of the topic were Dr. Sseruyange from Makerere University, Ms. Harriet Nankya the Wakiso District Environmental focal person, ACP Simon Peter Okoshi the Assistant Commissioner of Police also the Deputy Commandant of Environmental Protection Unit, Dr. Tom Bukenya the Commissioner Fisheries Control Regulation and Quality Assurance Ministry of Agriculture Animal Industry and Fisheries (MAAIF) and Dr. Edward Rukunya also from MAAIF.
While delivering her message, Assoc. Prof. Nabukenya applauded the EfD-Mak Director, Assoc. Prof. Edward Bbaale for organizing such a wonderful function despite the challenging situation occasioned by COVID-19.
She explained that water bodies as part of natural resources in our country are crucial sources of ecosystem service provision and are potential drivers of development through a multiplicity of economic activities.
"This can be highly achieved if research-based policies are put in place to manage these resources within appropriate boundaries.
Initiatives like this are essential in countries where a majority of people depend directly on soil, water, forests and fisheries for their livelihood, "she said.
The Acting DVCFA said that Makerere University appreciates the relevance of natural resources and the environment in fostering economic development.
Mak Launches Book on Agriculture and Ecosystem Resilience in Sub-Saharan Africa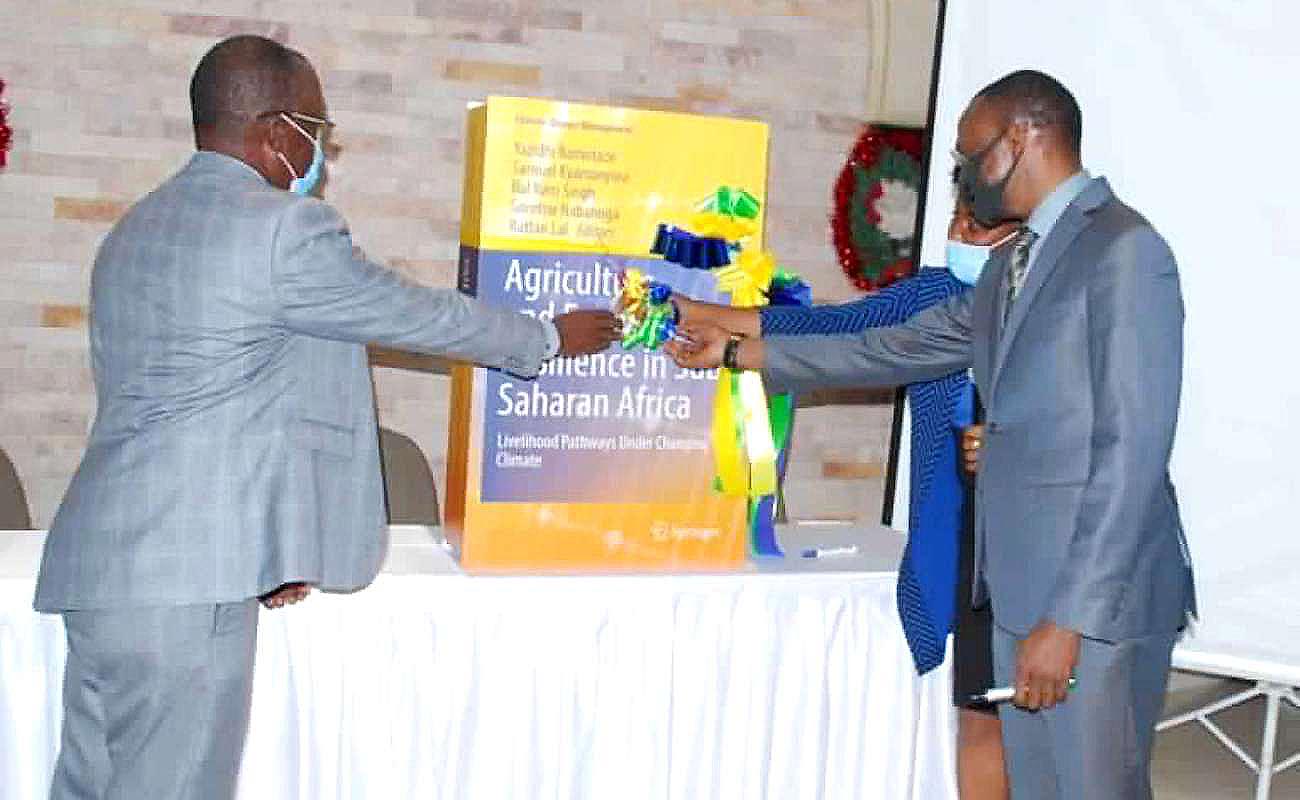 Makerere University on 4th December 2020, launched a book titled, "Agriculture and Ecosystem Resilience in Sub Saharan Africa". The book is one of the outputs of the project titled "Regional Capacity Building for Sustainable Natural Resource Management and Agricultural Productivity under Changing Climate" (CAPSNAC).
CAPSNAC is Collaborative Project involving four institutions, one in the North and three in the South. These included: Makerere University-Uganda, Addis Ababa University-Ethiopia; University of Juba-South Sudan, Norwegian University of Life Sciences-Norway.
Makerere University is the lead institution of the project based in CAES, with Prof. Samuel Kyamanywa, as the Principal Investigator (PI). It was funded by NORAD through the NORHED program to a tune of NOK 20 million.
The book was edited by Assoc. Prof. Yazidhi Bamutaze as the Lead editor, and had Prof. Samuel Kyamanywa and Assoc. Prof. Gorettie Nabanoga as Co-editors. Others from partnering institutions were Prof. Bal Ram Singh and Rattan Lal.
Giving the citation the lead editor Assoc. Prof. Yazidhi Bamutaze said the volume discusses emerging contexts of agricultural and ecosystem resilience in Sub Saharan Africa, as well as contemporary technological advances that have influenced African Livelihoods.
In six sections, he said the book addresses the sustainable development goals to mitigate the negative impacts on agricultural productivity brought about by climate change in Africa while some of the challenges assessed include soil degradation, land use changes, natural resource mismanagement, declining crop productivity, and economic stagnation.
The book, Dr. Bamutaze said, will be of interest to researchers, NGOs, and development organizations. Section 1 focuses on climate risk management in tropical Africa. Section 2 addresses the water-ecosystem-agriculture nexus, and identifies the best strategies for sustainable water use.
Mak Holds 2nd Policy Seminar on Rural Development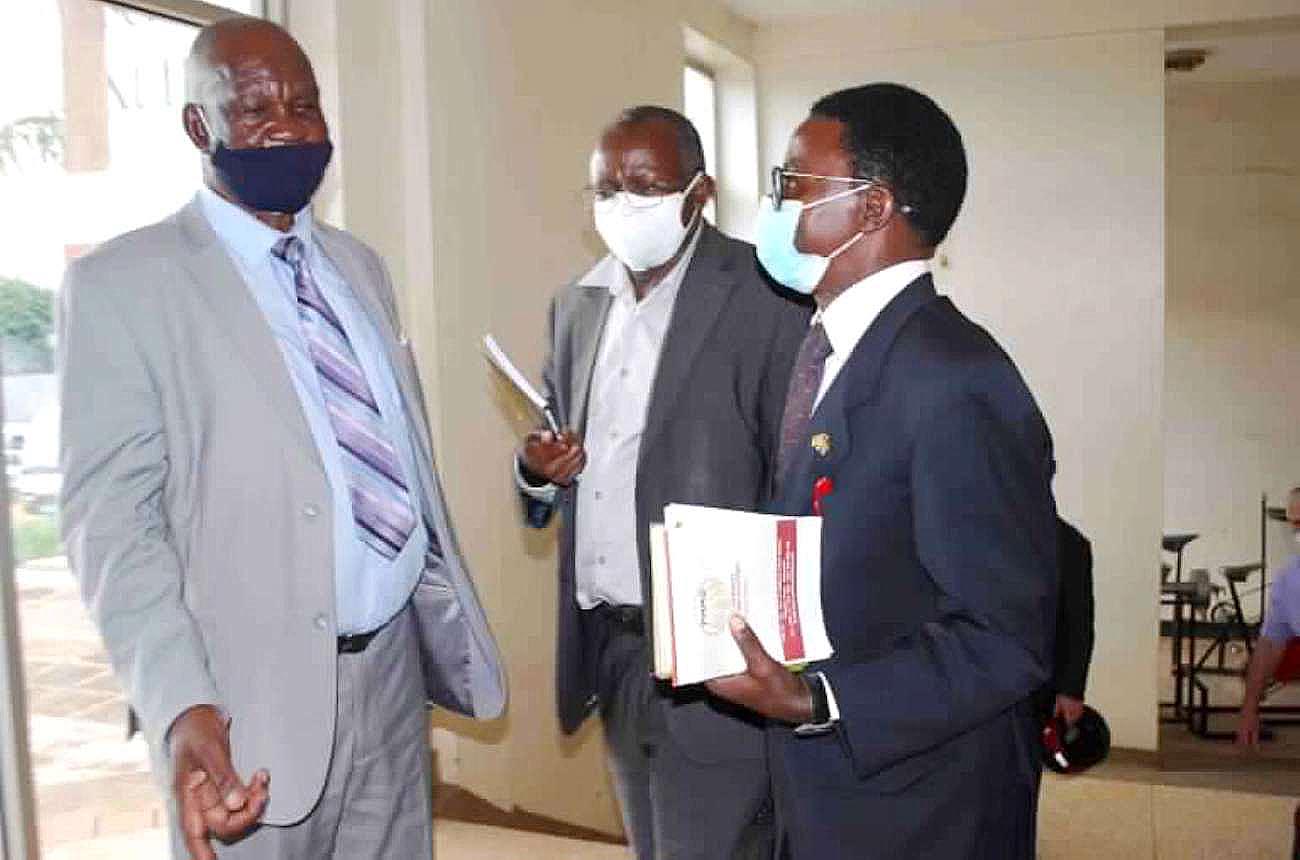 With support from the Makerere University Research and Innovations Fund (Mak-RIF) the College of Agricultural and Environmental Sciences (CAES) on 15th December 2020 held the 2nd policy seminar on Rural Development.
The seminar held at the school of Food Technology Nutrition and Bio-engineering was conducted under the topic; Agro Industrialisation in the context of Rural Development in Uganda.
Presided over by the former Minister of Agriculture Dr. Kisamba Mugerwa, the seminar was attended by Researchers, policy makers and advisors across the country. It was moderated by the Principal CAES Prof. Bernard Bashaasha, with participants attending both physically and virtually.
The presenters included Martin Fowler the Senior Agricultural Adviser USAID Uganda and Jacob Rauschendorfer the Country economist Bank of Uganda also at the International Growth Centre.
While Making a presentation titled, The current status, future prospects and possible solutions to pressing challenges both Martin Fowler and Jacob Rauschendorfer observed that COVID-19 had had a great impact on Uganda despite the fact that agriculture was declared an essential service with so much uninterrupted.
According to the presentation, during the period, there has been a reduction in turnover and sales of 30% for seeds, fertilizers, agro-chemicals, veterinary drugs, whereas raw materials' supply to processors from out-growers were negatively affected.
The presentation also indicated that Lack of data on COVID-19's impacted on SMEs, "they are more generally clear that they are a critical force in the economy but remain vulnerable"
The presentation also recommended focus on value chain observing an Urgent need to rationalise and prioritise the value-chains that are to form the focus of future national agro-industrialization efforts.
They also recommended that governments' role in fostering agro-industrial sector growth needs to be defined and respected to ensure increased budgetary support required for a more enabling environment including, electricity grid expansion, land tenure security among others.
While officiating at the seminar, the former Minister of Agriculture Dr. Kisamba Mugerwa called for coordination of all the policies related to Agriculture along the value chain. He observed the need to increase production, marketing and processing noting that increasing productivity requires concentrated areas of production in order to ease marketing.
"We need to invest in research, extension, water for production, marketing and processing, "he said.