REDD-EA Project Shares Successes as Research Dissemination Workshop Kicks-off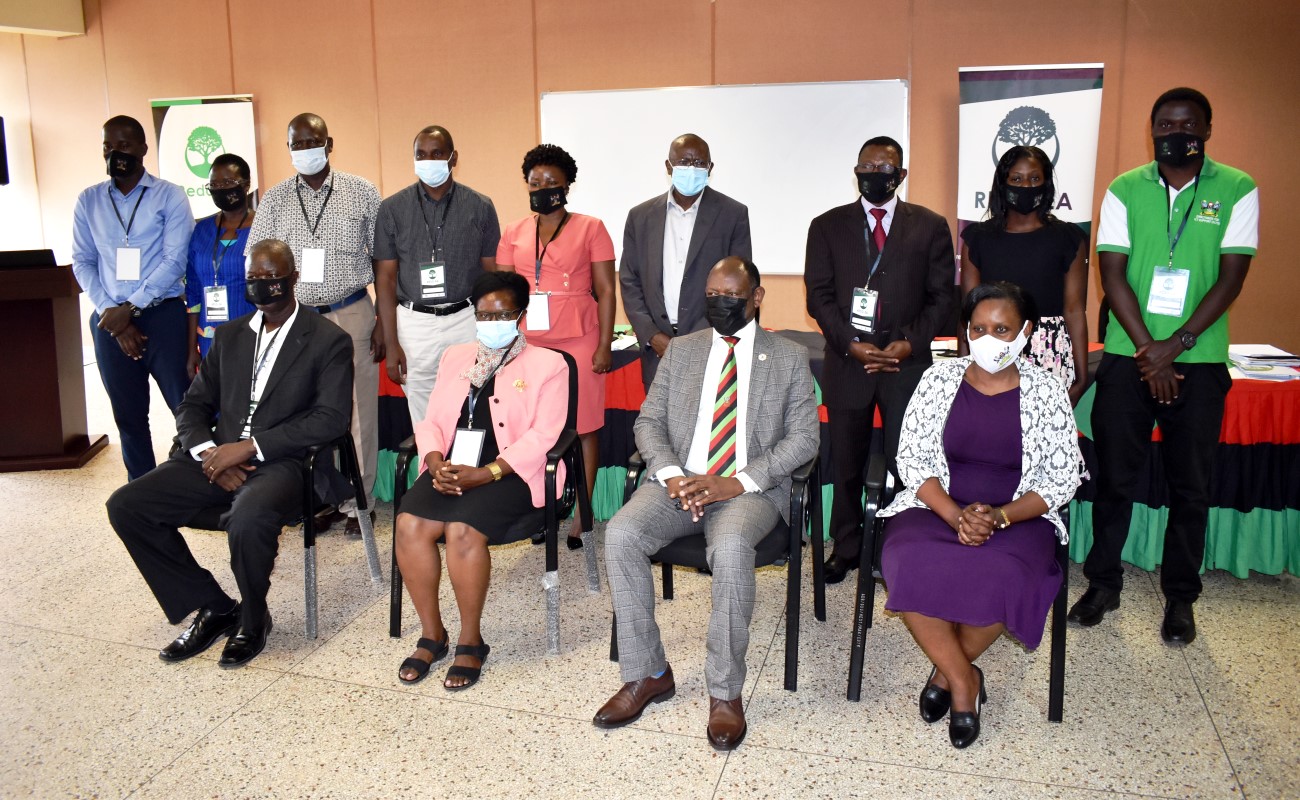 The REDD-EA project on 24th November 2020 launched a two-day National Research Dissemination Workshop to share its outputs under the theme "Forest-based emissions: Solutions for climate change mitigation, improved ecosystem health and sustainable livelihoods". Held in Room 3.2, Central Teaching Facility 1 (CTF1), Makerere University, the workshop was officially launched by the Minister of Water and Environment, Hon. Sam Cheptoris, represented by Mrs. Mwebesa Margaret Athieno, the Ministry's Assistant Commissioner for Forestry (Planning and Development).
REDD-EA stands for Building capacity for REDD+ in East Africa for improved ecosystem health and for sustainable livelihoods in Eastern Africa. REDD+ stands for Reducing Emissions from Deforestation and forest Degradation, (+) plus conserving carbon stocks, sustainable forest management and enhancing carbon stocks. REDD+ which was negotiated out of concern for the rapid loss of forests globally is aimed at rewarding actions that conserve forests and contribute to social and environmental outcomes.
With the above as its basis, the REDD-EA project goal is to contribute to reduced greenhouse gas emissions and improved ecosystem health for sustainable livelihoods in East Africa. The project which started in 2014 and ends in December 2020 purposed to achieve this goal by strengthening the capacity for education and research on climate change and REDD+ at Makerere and the University of Dar es Salaam (UDSM).
Addressing participants, the Principal Investigator (PI) REDD-EA, Prof. John Tabuti shared that the project has so far graduated 23 PhD and Masters Students, which is the largest number of graduate students of all projects funded by NORHED.
"I thank the Norwegian Government under the Norwegian Programme for Capacity Development in Higher Education and Research for Development (NORHED) for funding REDD-EA. I also thank the Government of Uganda for creating the necessary conditions for attracting the grant that funded this project and the Uganda National Council for Science and Technology (UNCST) for granting our students permission to conduct research in the country," remarked Prof. Tabuti.
He equally thanked the National Forestry Authority (NFA) and Uganda Wildlife Authority (UWA) for allowing the project to conduct research in protected areas under their mandate. "I thank the Vice Chancellor-Prof. Barnabas Nawangwe, Principal College of Agricultural and Environmental Sciences (CAES)-Prof. Bernard Bashaasha and the entire University Management for availing us an efficient environment for the management of research projects."
In her remarks, the Chairperson NIDIC (NORHED Institutional Development and Implementation Committee) Dr. Consolata Kabonesa noted that Norwegian Government support has enabled REDD-EA to contribute to generation of research crucial to not only economic development but also sustainable livelihoods. She paid tribute to the REDD-EA Co-PIs Prof. Douglas Sheil from the Norwegian University of Life Sciences (NMBU) and Prof. Pius Yanda from UDSM for their contribution in ensuring that the project was a success. "The research being disseminated today will support the policy informing and implementation process not only in Uganda but also internationally."
Prof. Bernard Bashaasha in his remarks applauded the School of Forestry, Environmental and Geographical Sciences (SFEGS) for creating a strong environment in which research on protecting our ecosystems has thrived. "When we take away forests, it is not only the forests that we lose but entire ecosystems that are associated with them."
Staying with the need to conserve our forests, the Director, Directorate of Research and Graduate Training (DRGT), Prof. Buyinza Mukadasi noted that the dissemination was timely to address emissions from forest cover loss. "Deforestation is the second largest source of emissions after the burning of fossil fuels and accounts for more than all the emissions from the transport sector."
He nevertheless expressed hope that the capacity built by REDD-EA over the years would help to generate new knowledge on forest conservation and increase its uptake through translation into technologies, interventions and strategies.
"It is heartwarming to note that this project has built capacity of over 60 researchers in REDD+ business through academic exchange mobility to Norway and likewise Norwegian Professors visiting Makerere to supervise students." said Prof. Buyinza. These include 12 PhDs – 8 from Makerere and 4 from UDSM and 35 MScs.
The Vice Chancellor in his address thanked the Norwegian Government for supporting research and staff development initiatives at Makerere University over the years through various programmes such as NUFU, NOMA and NORHED. He applauded Prof. Tabuti and his team for ensuring that communities that participated in the project have a deeper appreciation of the need to conserve forests as a mechanism for reducing carbon emissions.
"Uganda's population is expected to reach 100 million by 2050 and the number of people living in urban areas is expected to hit 22 million by 2040. This unchecked rapid population growth and rural to urban migration will inevitably have a negative impact on our forests and environment in general unless we intervene with timely dissemination of the consequences" warned the Vice Chancellor.
Prof. Nawangwe concluded by thanking the Government of Uganda for supporting Makerere University to undertake research on unfunded priorities critical to national development through the Research and Innovations Fund (Mak-RIF). He added that whereas the impact of Mak-RIF was beginning to be seen within a year, a lot of good research ideas from the immense capacity at Makerere had to be left out due limited resource envelope. The Vice Chancellor nevertheless expressed hope that outputs from projects like REDD-EA would be able to attract additional funding from the Government and support from development partners.
The keynote address at the research dissemination on "Uganda's REDD+ Readiness Process: Achievements and Developments" was delivered by Mrs. Mwebesa Margaret Athieno. She assured her audience that Uganda meets all four requirements necessary to implement REDD+. These include a; REDD+ National Strategy or Action Plan, National Forest Monitoring System (NFMS), Safeguards and Safeguards Information System (SIS) and Forest Reference Emission Level (FREL).
Mrs. Mwebesa nevertheless pointed out that her Ministry still has work to do in terms of building in-country capacity for REDD+ requirements such as expertise for collecting and analyzing data for carbon reporting purposes among others. She also noted the need to promote Public-Private-Partnerships, particularly those that promote commodity value chains, especially since 70% of Uganda's forest cover is under privately-owned land.
The Minister in his remarks read by Mrs. Mwebesa noted that the Ministry of Water and Environment with the support of partners intends to increase Uganda's forest cover from the current 12% to 15% by the end of the Third National Development Plan (NDPIII) 2020/21 – 2024/25. Under Forest Investment Planning, the Minister shared that it was important for Uganda as the third largest refugee hosting country in the world to reduce carbon emissions caused by environmental degradation around settlements by investing in reforestation programmes.
He noted that Uganda has prepared two emission reduction project proposals for the Albertine and Kyoga Water Management Zones, which will be supported by the World Bank's Forest Carbon Partnership Facility. The Minister concluded his remarks by commending the Norwegian Government for supporting the Sawlog Production Grant Scheme (SPGS) and other REDD+ initiatives in Uganda. He reiterated the Government's commitment to promote programmes such as the National Biodiversity Strategy and Action Plan (NBSAP) as an incentive for communities to continue preserving indigenous tree species such as the Shea nut tree and Prunus Africana.
The Research Dissemination Workshop which was moderated by Principal Public Relations Officer, Ms. Ritah Namisango also featured breakaway sessions where students presented their research findings. The sessions were on Forest Land Use and Land Cover Change (LULCC) and On Farm Tree Planting and Climate Smart Agriculture.
Article by Public Relations Office
Sasakawa Africa Association President Dr. Makoto Kitanaka visits Mak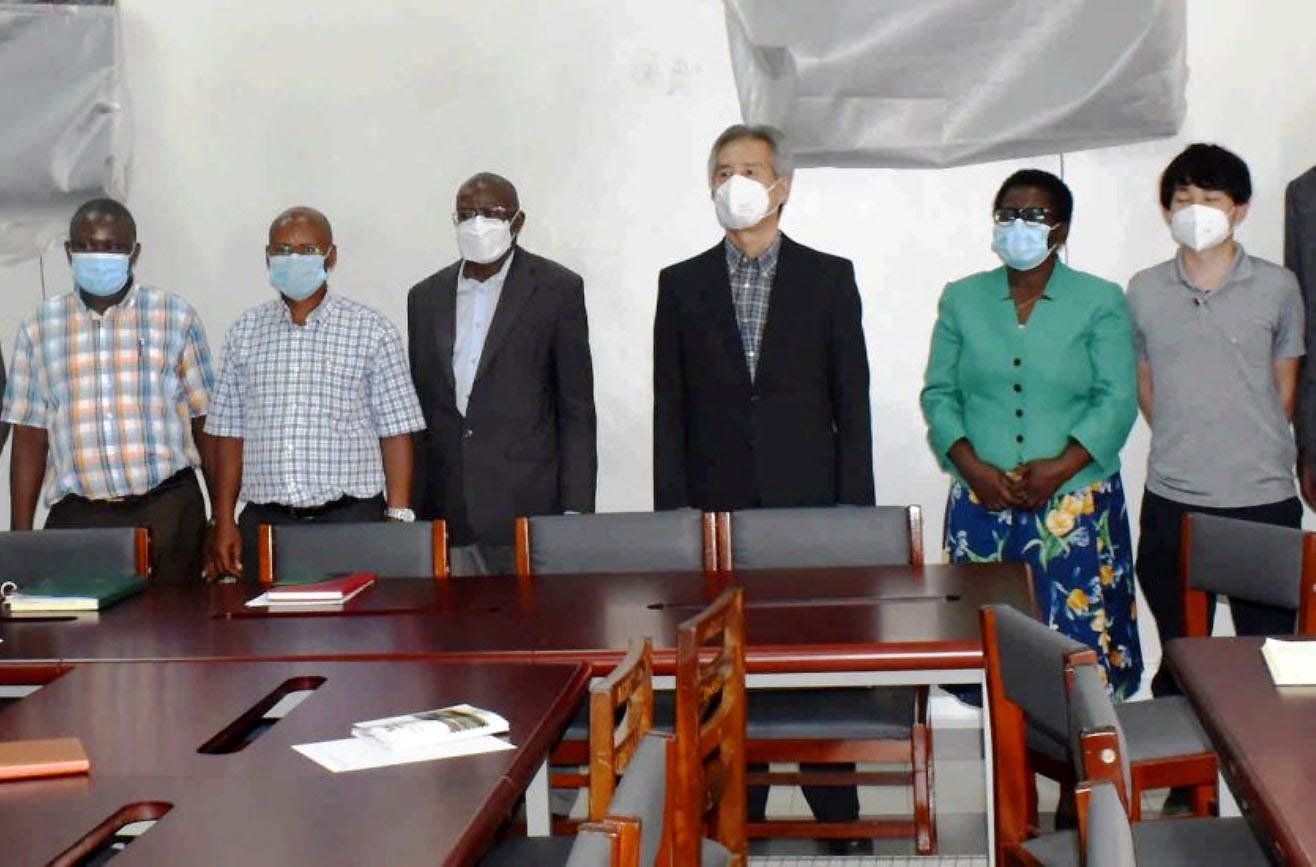 By Jane Anyango
Sasakawa Africa Association (SAA) President Dr. Makoto Kitanaka and several of his entourage from Tokyo, Japan on 4th June 2021  visited Makerere University's College of Agricultural and Environmental Sciences (CAES)  for a partnership meeting with the Department of Extension and Innovation Studies (DEIS). The meeting  was aimed at discussing modalities of enhancing the universities capacity  to engage with the community and also help women and youth to productively engage in Agriculture as a business.
The team also shared what SAA has in store for Makerere and their strategic direction. They emphasized the need to promote sustainable, resilient and regenerative agriculture looking at integrated soil fertility management, Nutrition sensitive agriculture promoting nutrient dense crops and skilling university and rural youth to engage in market-oriented agriculture and agribusiness.
The meeting held in the Conference Room, School of Agricultural Sciences was also graced by the Director SAA Regional Office in Addis Ababa, Ethiopia, Dr. Mel Oluoch,  SAA Country Director Uganda Dr. Roselline Nyamutale and her team.
Also present was the representative of the Principal, Bukalasa Agricultural College. The university runs a program with Bukalasa to reach out to and certify farmers and agribusiness personnel. The outreach program gives farmers credentials recognizing what they are doing in terms of business and good farming practices.
The  team was received by the Principal CAES, Prof. Bernard Bashaasha, the Dean, School of Agricultural Sciences Prof. Johnny Mugisha and the Head DEIS, Prof. Nelson Turyahabwe. Also present were the Head Department of Agricultural Production (DAP), represented by Dr. Mildred Ochwo and DEIS staff led by Drs. Richard Miiro, Sarah Akello, Losira Nasirumbi, Boniface Orum, Prossy Isubikalu and Assoc. Prof. Paul Kibwika.   
Mak GREAT & IRRI Train 30 Scientists from Asia on Gender Responsive Plant Breeding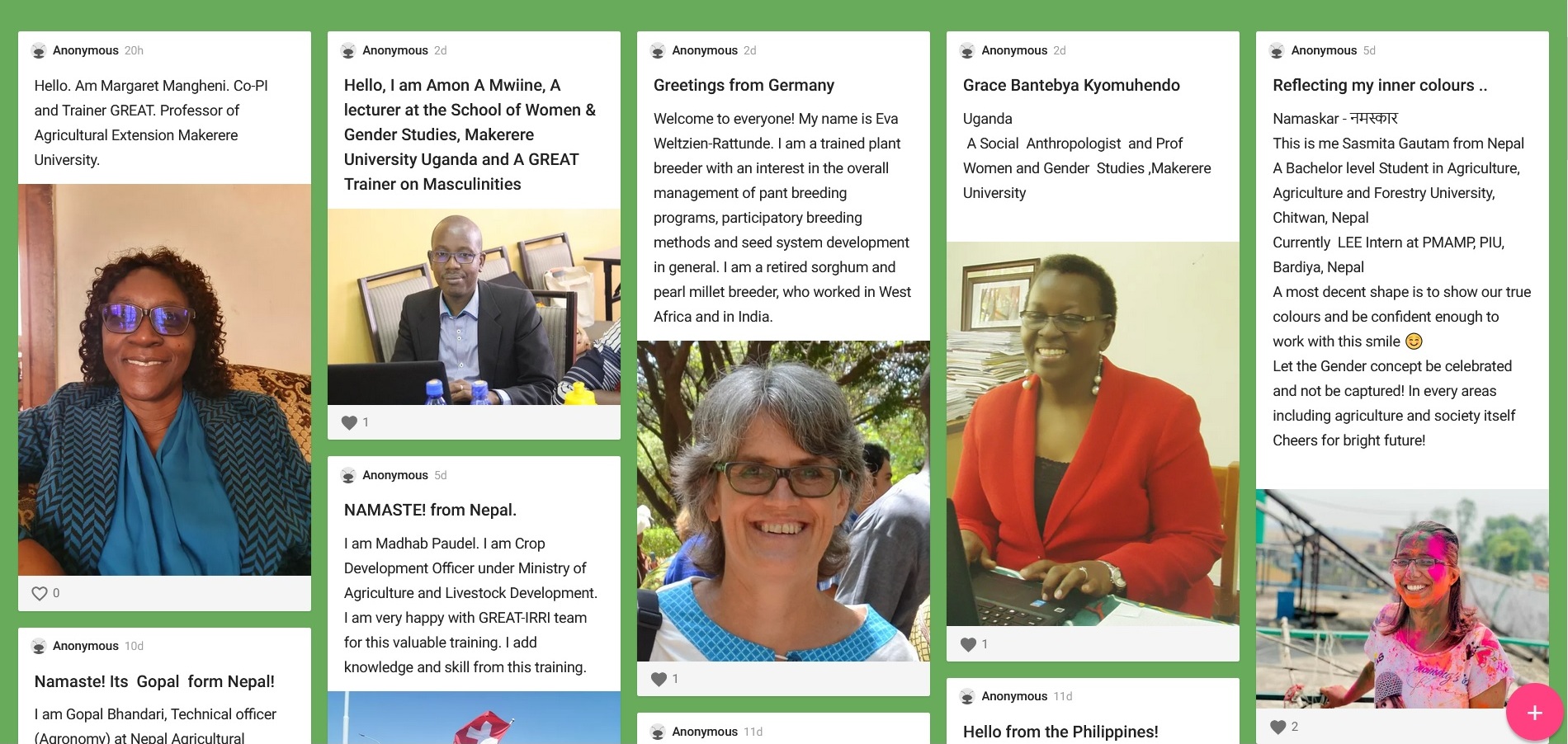 By Jane Anyango
Makerere University's Gender-responsive Researchers Equipped for Agricultural Transformation (GREAT) project in collaboration with International Rice Research Institute (IRRI) has trained 30 plant breeders and social scientists from South Asia and South-East Asia on gender responsive rice breeding. The two weeks training was conducted via zoom from 17th-20th & 24th-27 May 2021
The purpose was to enhance the capacity of partners to develop gender responsive rice breeding strategies and products and understanding of gender responsive preference analysis to ensure the products address needs of men, women and the youth.
At the end of the training, participants virtually received certificates of participation from Makerere and Cornell University signed by the Vice Chancellor Makerere University Prof. Barnabas Nawangwe and the Director of International Programmes at the College of Agriculture and Life Sciences, Cornell University Prof. Ronnie Coffman.
The training dubbed, "GREAT-IRRI" adopted a blended approach of Self-study materials on Google classroom platform comprised of exercises, handouts and discussion activities, Online interaction among trainers and participants through forums and discussion boards and Live delivery/ Synchronous by Trainers through Zoom (3 hours a day).
The  course which  attracted   participants from the biophysical and social  Sciences (28 participants from South Asia and two  from South East  Asia) was  conducted  by  experts in gender and agriculture from Makerere University College of Agricultural and Environmental Sciences (CAES), the School of Women and Gender Studies (SWGS), Cornell University and international experts.
The trainees were drawn from various disciplines including breeders, soil scientists. horticulturalists. plant pathologists, agronomist, seed system experts, agricultural economists, Social scientists , agricultural extensionists and project managers and evaluators among others.
Majority (50%) were from Nepal (15), Bangladesh (10) India (3) and  Philippines(2) representing different institutions including the International Rice Research Institute(CG) Nepal Agricultural Research Council (NARs), Bangladesh Institute of Nuclear Agriculture. Other institutions represented were Indira Gandhi Krishi Vishwavidyalaya, Ministry of Agriculture and Development Nepal and from the Prime Ministers Agriculture Modernization project, Nepal.
Mak Launches Native Chicken Program & Incubator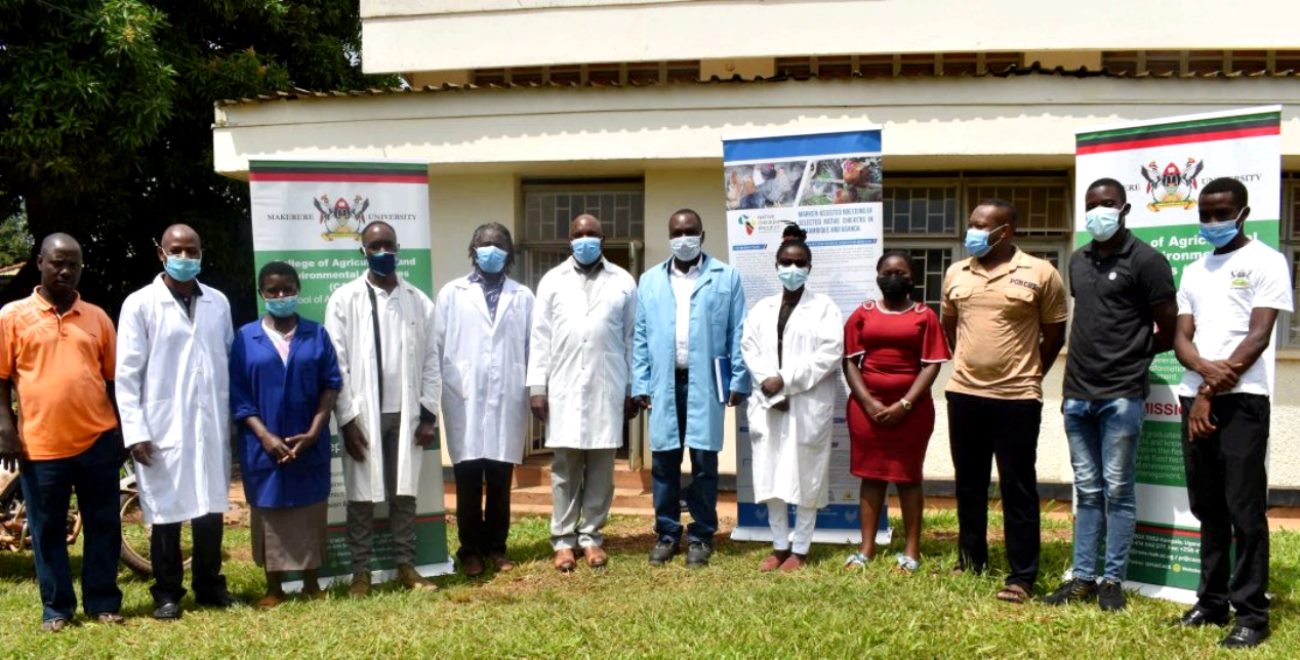 By Jane Anyango
Makerere University College of Agricultural and Environmental Sciences (CAES) has launched a locally manufactured incubator with a capacity of 1000 eggs at the University Agricultural Research Institute Kabanyolo (MUARIK ) for purposes of training, research and farmers capacity building.
The UGX 4.5 million incubator is made in Uganda by Butenga Farmers, a company based in Kiira. An imported incubator of the same capacity costs UGX 10 million. The incubator is to serve the university for teaching courses on poultry production, hatchery management and for people who want to conduct experiments.
The incubator was procured under the Native Chicken Project funded by the African Union (2019-2021). It is a collaboration between institutions from two countries Mozambique and Uganda with the project lead at Eduardo Mondlane University Mozambique.
At Makerere University, the project is spearheaded by Dr. Donald Rugira Kugonza from the Department of Agricultural Production, CAES.
The project objectives are to increase the number of eggs and meat produced by local chickens and to evaluate the effective models or processes of disseminating improved chicken technologies in Uganda and Mozambique.
One of the main challenges of producing native chicken is that a hen lays 10-15 eggs and takes a period of three weeks to incubate and hatch them. The hen takes an additional six weeks brooding the chicks, which translates into 10 weeks lost in terms of egg production. The same hen repeating the cycle three times a year implies that it has limited time laying eggs as it spends more time brooding.
The project researchers carried out surveys in 60 districts of Uganda, collected 2,000 eggs from 40 districts incubated, hatched and evaluated them for growth rate and egg production.
The project aims to breed native chicken that can produce 100 eggs per hen per year as opposed to the current production of 30-45 eggs. The project also aims to reduce the maturity period from the current six to three months.