Prof. Nawangwe Shares Mak's ODeL Milestones at 16th RUFORUM AGM High Level Dialogue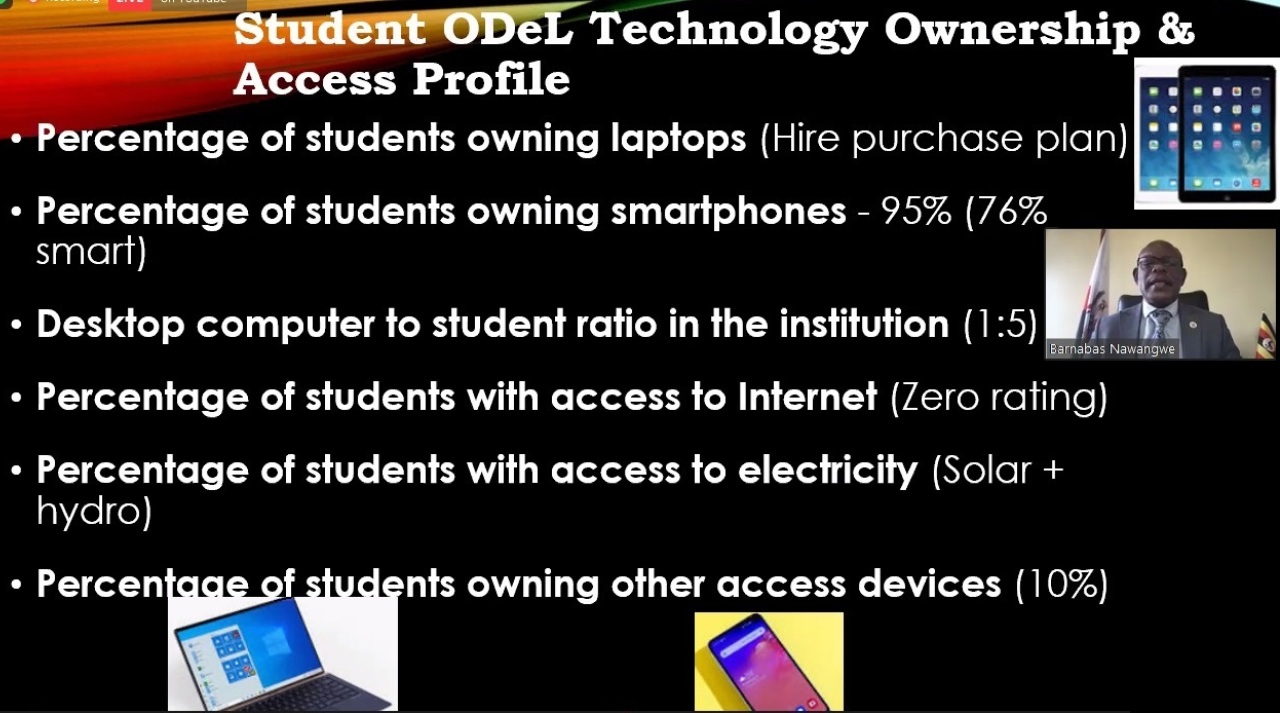 As part of activities to mark its 16th Annual General Meeting (AGM), the Regional Universities Forum for Capacity Building in Agriculture (RUFORUM) held a High Level Dialogue on the theme Realignment towards Online Teaching and Learning in Universities: Learning from each other. The virtual event held on 18th November 2020 was split into two sessions, with the Vice Chancellor, Prof. Barnabas Nawangwe as Lead Speaker for the first and Prof Francis Petersen, Vice Chancellor and Principal, University of Free State, Southern Africa as Lead Speaker for the second.
Welcoming participants to the dialogue, RUFORUM Executive Secretary, Prof. Adipala Ekwamu noted that galvanizing efforts towards online teaching and learning in Universities in Africa remains an important and relevant factor. This, he said, would require in-depth analysis of modern digital technologies, pedagogical approaches that must be adopted as well as knowledge and skills to facilitate the transition to online teaching and learning in the face of COVID-19.
The first session was moderated by Prof. Dora F. Edu-Buandoh, Pro Vice Chancellor, University of Cape Coast, Ghana. She asked the Lead Speaker, Prof. Nawangwe to give an overview of and discuss how integration of digital technologies can be effected in African universities' systems to cause meaningful impact. She also requested him to share the key challenges universities have recorded in mainstreaming online teaching and learning in the Higher Education System in Africa.
Delivering his presentation in the context of Makerere University, Prof. Nawangwe shared that despite numerous technological advances and increased penetration of smart phones in Africa, the digital divide is still real and is further compounded by factors such as unreliable electricity supply. He nevertheless pointed out that the Makerere University E-Learning Environment (MUELE) is a Moodle-based Learning Management System (LMS) backed by some of the best ICT infrastructure with a bandwidth capacity of 0.5Mbps. MUELE had 791 well-designed, interactive, activity-based courses before April 2020 and 157 have since been added.
The Vice Chancellor said that Makerere University opted to embrace blended learning, which makes use of a combination of technologies, approaches and methodologies, to deliver courses to learners separated by time and space from facilitators as well as fellow learners. He added that the University Open, Distance and eLearning (ODeL) Policy was approved by the University Council in 2015. The policy paved way for the creation of an ODeL pedagogy support Unit, the Institute of Open, Distance and eLearning (IODeL).
Prof. Nawangwe shared that both the previous and current (2020-2030) institutional Strategic Plans had recognized ODeL as a major strategy and as such, put in place quality assurance systems as outlined in the Quality Assurance Policy. He said that whereas the current institutional budget of UGX 200Million per annum to support ODeL was still low, support towards the enabling environment; ICT Services and Internet bandwidth costs, is close to US$ 1Million.
Sharing results from the E-Learning Readiness Tracer Study conducted by the University prior to emergency ODeL rollout, Prof. Nawangwe noted that 75% of over 12,400 student respondents had expressed willingness to continue their studies online. Some of the challenges cited by students unwilling to continue learning online included high data costs, lack of laptops and poor connectivity in rural areas, among others.
To help support the emergency ODeL rollout and ensure that these genuine concerns were addressed, the Vice Chancellor had negotiated with telecommunication companies to effect zero rating of Makerere University's E-Learning and other related websites. The University has also negotiated with equipment manufacturers to help secure affordable laptops for staff and students.
In the spirit of leaving no student behind, the University has appointed E-Learning coordinators for each School and is making progress with developing learning assistance/options for students with visual impairment and other disabilities. The Vice Chancellor concluded by sharing that Makerere University has since 1991 been preparing for ODeL delivery, which is the future of teaching and learning even after the COVID-19 pandemic dissipates. He summed it all up by saying that recent policy changes brought about by COVID-19 will enable the institution to rollout emergency ODeL to traditionally face-to-face programmes whilst strengthening existing ones.
The first panelist of the day was Prof. Address Malata, Vice Chancellor of the Malawi University of Science and Technology. In her presentation, she noted that lack of; policy frameworks, necessary infrastructure, experience in pedagogy by academic staff and experience in learning by students were some of the key challenges in realigning learning content for effective online delivery.
In line with online pedagogy, Prof. Malata said that the lack of knowledge and skills to; customize content for teaching, engage with and properly assess students were some of the biggest challenges for academic staff. She also identified lack of time management skills to effectively plan for online teaching as another major hindrance for staff.
On the part of online learning by students, she outlined the lack of knowledge and skills to; handle non-traditional forms of lecture delivery such as video and audio, engage with lecturers and fellow students, and deal with non-traditional forms of assessment such as quizzes as some of the challenges. Prof. Malata pointed out most students' lack of experience with the learner centered approach, which requires them to actively participate in classroom activities as an additional challenge.
Linking African Universities with knowledge centres in the area of online teaching and learning is a precursor for institutions learning from each other. Explaining how this may be achieved, Prof. Malata said there is need to create centres of excellence in online teaching and learning in different Universities in Africa. These, she said, may be complemented by the creation of an annual peer-reviewed conference and an African Journal both dedicated to online teaching and learning.
Prof. Youssao Abdou Karim Issaka from the University of Abomey-Calavi, Benin was the second panelist of the day. He represented the Beninese Minister of Higher Education and Scientific Research, H.E. Hon. Prof. Dr. Eleonore Ladekan Yayi. Prof. Issaka noted that whereas internet bandwidth was initially insufficient to support online teaching and learning, the Government of Benin had managed to improve it to 100Mbps per University. The country has four major universities, with two of these being multidisciplinary.
In a bid to support online teaching and learning in the wake of COVID-19, the Beninese Government had successfully negotiated with telecommunication companies for zero-rating access to online teaching and learning platforms in all universities including privately-owned ones. In order to ensure quality in Higher Education, Prof. Issaka said that his Government had put in place a project to restructure all courses to be tenable online. This as well as other interventions have enabled Universities in Benin to stay on schedule to complete the current academic year in December 2020.
Responding to a question from Prof. Edu-Buandoh on how the integrity of the examinations process will be maintained under ODeL, Prof. Nawangwe shared that examinations at Makerere University will not be conducted online for this academic year. He added that whereas exams for this semester would be conducted in situ, the University was working with experts from various fields on protocols to facilitate online examinations in the future.
Article by Public Relations Office
EBoML Project Proves Boda-Boda Riders Can Learn on the go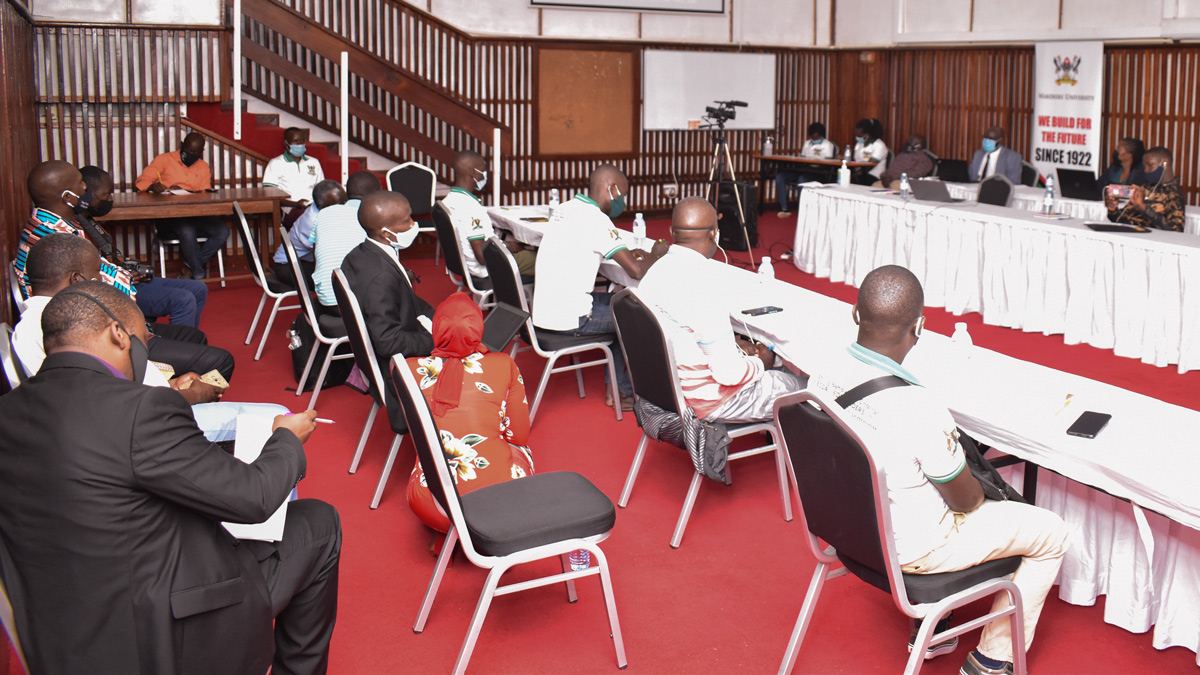 Enhancing Behavioural Change of Boda-Boda Riders in Uganda Using Mobile Learning (EBoML) is a three-year project initially funded for one year by the Government of Uganda through the Makerere University Research and Innovations Fund (Mak-RIF). The goal of EBoML is to professionalise the Boda-Boda industry in Uganda using Mobile Learning (mLearning) for positive behavioural change of Boda-Boda riders. The project is being implemented in partnership with the Ministry of Works and Transport (MoWT), Ministry of Gender, Labour and Social Development (MoGLSD) and Boda-Boda riders from the two pilot districts of Wakiso and Namayingo.
Speaking at the EBoML Research Dissemination Workshop held on Friday 28th May 2021, the Deputy Principal, College of Education and External Studies (CEES) and EBoML Principal Investigator (PI) Dr. Paul Birevu Muyinda noted that although the Boda-Boda industry employs more than 50% of youth, it lacks order, the riders have limited or no savings and they face a myriad of health risks.
Furthermore, riders by the "nomadic" nature of their work cannot be gathered into the organised classroom settings and given one-off training on behavioural change. The solution; take learning to the beneficiaries wherever they are, provided they have a smartphone and an internet connection.
"We therefore developed a multimedia-based Positive Behavioural Change virtual mLearning Environment (PBC-mLE) for self-paced and/or assisted lifelong learning in; safe-driving principles, health-living and entrepreneurship" remarked Dr. Birevu.
The PBC-mLE was then rolled-out in the pilot districts, evaluated and the purpose of the dissemination workshop was to present findings from that exercise.
Presenting findings from the Entrepreneurship Module, Mr. Turyakira Nazarius shared that the majority of Boda-boda riders (83%) knew the importance of saving and 69% were in the habit of saving regularly, with only 5% admitting to never having saved. The majority (40%) preferred to save with the Boda-Boda scheme, while a third (33%) opted to keep their savings in a secret location at home. 14% saved with a bank, 8% saved with a trusted person and 5% used other undeclared methods.
Further analysis revealed that solving daily household demands and paying school fees at 22% each accounted for the largest expenditure of savings. These were followed by buying household assets and caring for parents at 16% each, servicing loans (7%) and other expenditures (17%).
The Boda-Boda riders were also asked to share the most important skills they would wish to acquire. At 26%, the need for skills on how to secure more capital topped the riders aspirations. This was followed by basic knowledge about the Boda-Boda business at 22%, Marketing at 19% and Customer care at 16%. Record keeping accounted for 13% of the responses while 4% aspired to learn other skills in areas such treating cattle diseases.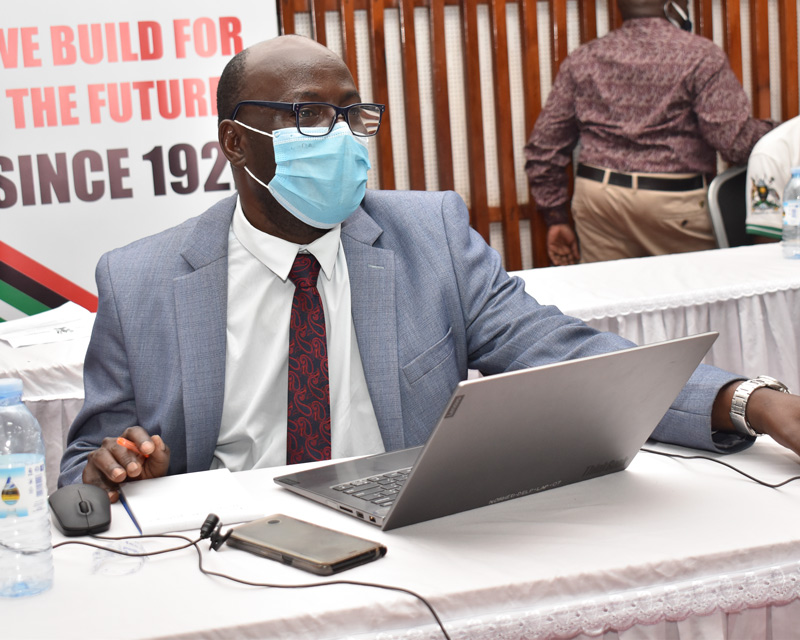 At the end of the entrepreneurship module, riders were expected to know; the different ways of saving, the different types of businesses, good customer care practices and how to use savings from Boda-Boda riding to start up another business.
"Being a service industry, good or bad hygiene impacts directly on the riders' lives and those of their customers thereby having an impact on the business" remarked team member, Ms. Lillian Mbabazi from the Department of Performing Arts and Film (PAF) as she presented findings from the Health and Safe-Living Module.
Findings revealed that 66% of Boda-Boda riders acquire health information from their fellow riders or friends, 51% from healthcare providers and 50% from family or the mass media. Other riders reported that they secure information from; health outreaches, social media, school or classes, herbalists, the internet and other sources.
A number of health issues were reported to impact the lives of Boda-Boda riders. Accidental injury, hygiene and substance abuse had the highest recorded impact at 80%, 44% and 42% respectively. Additionally, intentional injury and violence accounted for 38%, unwanted pregnancy and parenting-28.7%, Sexual health-27% and obesity-11%.
Boda-Boda riders reported a number of barriers they faced in accessing healthcare. These, in order of priority included; high costs, long waiting lists, embarrassment, lack of knowledge, long distances to facilities, time constraints and language barrier among others.
Furthermore, healthy eating, emergency services and dental services at 53%, 52% and 45% respectively were reported by the riders as aspects of healthcare that lacked sufficient information. Others reported were; mental health, prolonged disease or condition management, education about physical activity, primary health care, substance abuse and treatment, and reproductive health.
Boda-Boda riders when not on the move are usually stationed at designated stages. Under personal and workplace hygiene, only 30% of riders reported that they had access to running water for handwashing. Additionally, while 83% of riders admitted to bathing three or more times a week, 6% said they bathed only once a week. On the bright side, 39% of the riders admitted to bathing twice a day.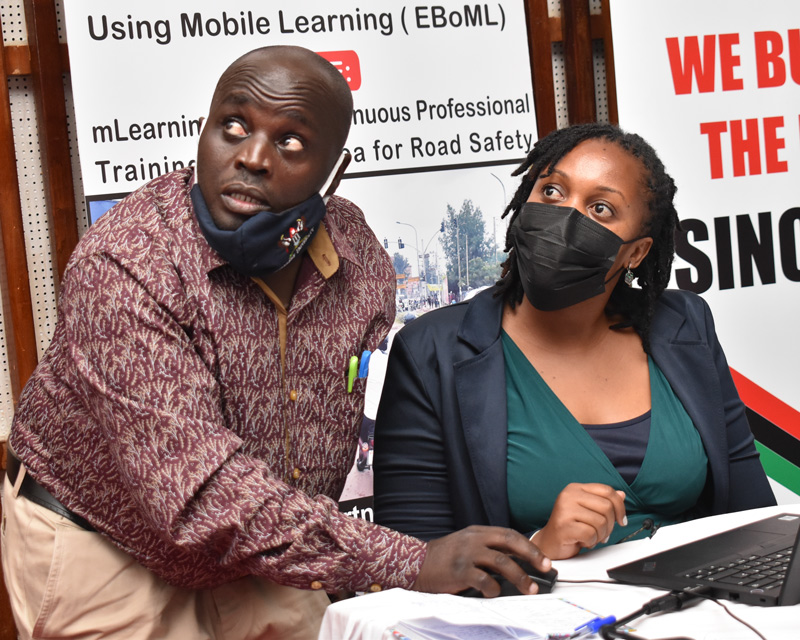 In terms of risky sexual behaviour, whereas 65.7% of the riders reported that they had sex with one to two sexual partners in the past 12 months, 23% had engaged in sex with three or more women in the same period. On an alarming note, 57% of the riders reported that they did not use a condom in the past six months prior to the survey.
Engaging with multiple sexual partners is a high-risk sexual behavior especially in the absence of condom use. The researchers therefore sought to find out the number of women impregnated by the riders in the last twelve months. Whereas the majority (53%) reported that they hadn't impregnated any women in the period, 36% had impregnated one, 6% two, 4% three and 1% four or more.
Further examination of the relationship between riders and the women revealed that whereas 35% had impregnated their wives and 5% their girlfriends, disturbingly, 1% had impregnated a student and another 1% a stranger. 4% admitted to impregnating a girl/woman who was neither a wife, nor a girlfriend, nor a student, nor a stranger. The majority (54%) opted not to state their relationship with the woman they impregnated.
Transactional sex between Boda-Boda riders and clients who fail to pay cash for their trips has often been talked about but with no figures of its extent. Findings from the EBoML team revealed that whereas 88% of Boda-Boda riders reported that they do not engage in transactional sex, 12% admitted to engaging in the practice.
Away from the health and safe-living, the third and final module on Safe-Driving revealed that 63% of Boda-Boda riders sampled had less than five years of riding experience. Nevertheless, 12% admitted to having more than ten years of riding experience and the rest (25%) had six to ten years of experience.
Adulthood is a regulatory requirement for operation of motor vehicles because maturity is considered a critical factor for decision making. The project therefore sought to ascertain at what age the riders first operated a motorcycle. Whereas the majority of riders (84.6%) said that they were 18 years and above at the point of first riding, 6.8% admitted to have started riding while still below 18 years of age. 8.6% of respondents said they were more than 30 years of age at their first riding attempt.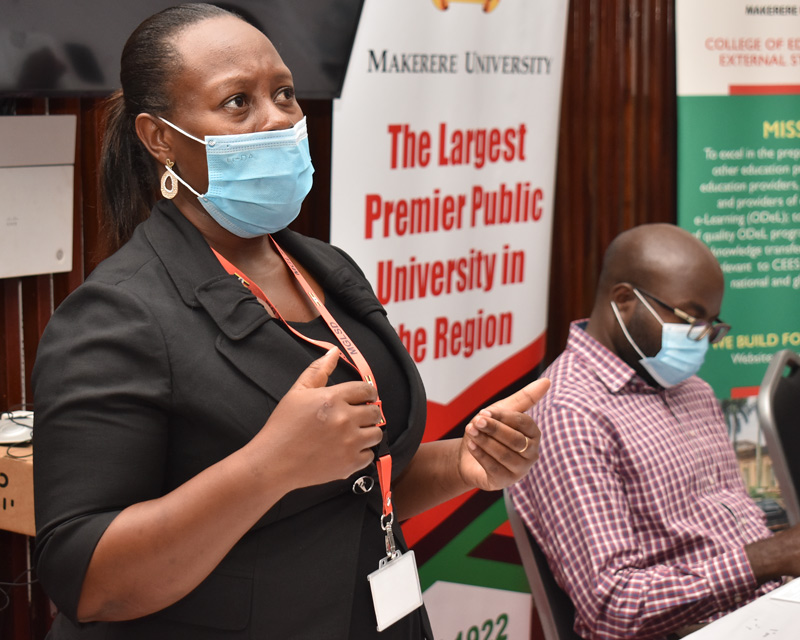 A driving permit is a legal requirement for every Boda-Boda rider. That notwithstanding, only 13% of respondents were in possession of a driving permit, with the majority (87%) having never acquired one. A further analysis of the reasons as to why riders didn't possess permits revealed the expense involved as the biggest deterrent at 75%. Others reasons cited were; ability to freely ride without a permit (34%), ignorance of permit acquisition procedures (43%) and no time to process the permit (10%). Despite not possessing driving permits, 90% of Boda-Boda riders claimed to know the rules governing the road usage.
The pilot also sought to determine the leading causes of Boda-Boda accidents. Crossing animals at 43.5% were cited as the leading cause, followed by over speeding and other motorists/Boda-Boda riders at 41.5% and 30.5% respectively. Other causes cited included; poor mechanical condition of motorcycles, struggling for passengers with peers, overloading, excitement during celebrations, drink driving and other causes at 21.5%, 16%, 15.5%, 11%, 8.5% and 6.5% respectively.
In terms of training needs under this module, the majority (66%) of riders required training in basic mechanics to help reduce their expenses at the garage. Additionally, 65% required training in road safety while 4% preferred training in both defensive driving and understanding road signs.
The dissemination workshop would have been incomplete without feedback from the project beneficiaries. Speaking on behalf of the Boda-Boda riders, Mr. Ayebazibwe Rogers and Mr. Alibe Jonathan both based in Wakiso District thanked the EBoML team for according them the opportunity to access lifelong learning without interrupting their work schedules. The riders highlighted some of the valuable lessons learnt in each module as;
Under the Entrepreneurship Module:
How best to start up a small scale business alongside the Boda-Boda job
Importance of saving money even the least earnings and why one should save
Customer care
How to deal with losses
Book keeping
Good work ethics and appreciating the value of work
Under the Safe-Driving Module:
Importance of the wearing helmets and protective gear
Defensive driving
Simple mechanics
Importance of road signs and colour codes
Smartness and presentability
Road use in consideration of other road users
Under the Health and Safe-Living Module:
How to avoid use of drugs and narcotics
How to avoid pregnancy and sexually transmitted diseases (STDs)
Healthy dieting
Good personal hygiene
A health body is the primary tool of work
A healthy rider attracts more customers
The riders' representatives nevertheless asked that the learning materials be adapted into simpler English and make use videos/illustrations that are relevant to the Ugandan setting.
In her remarks, Ms. Nazziwa Sharifah who represented the Permanent Secretary (PS), MoGLSD expressed her Ministry's gratefulness at being part of the project. She said the Ministry under its Department of Occupational Safety and Health inspects workplaces for safety standards and investigates accidents, occupational diseases and dangerous occurrences. She noted that though informal, the Boda-Boda industry, was an asset to the National workforce.
"I therefore encourage Boda-Boda riders as assets in our workforce to always ensure that they wear their helmets and maintain good personal hygiene and health practices" she said.
Ms. Nazziwa reassured participants of of her Ministry's readiness to protect the rights and safety of all workers, the majority of whom are youth. She equally recommended that since the majority of the Boda-Boda riders were either illiterate or semi-literate, the EBoML project should translate learning materials into local languages so as to reach more beneficiaries.
The MoGLSD representative also shared that the Green Jobs and Fair Labour Market Programme under her Ministry is tasked with, among other objectives, providing support to youth and women in form of affordable credit and grants at both individual and group levels. She therefore urged the Boda-Boda riders to always value their group schemes.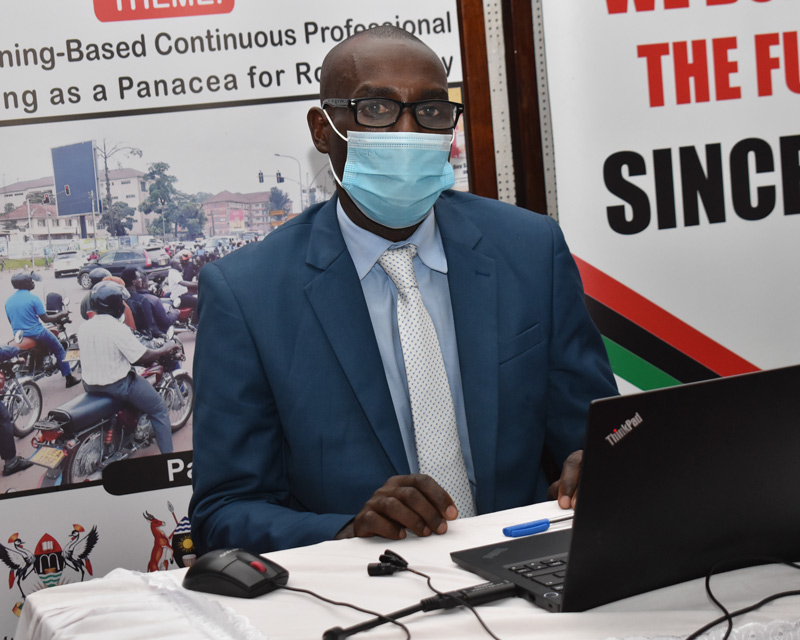 Representing the PS, MoWT, Mr. Bageya Waiswa, the Senior Road Safety Officer in the same ministry, Mr. Katunguka James commended CEES for the EBoML innovation that is going to tremendously address behavioural change among Boda-Boda riders and improve road safety. Pointing to the over 3,500 lives lost per year due to road traffic accidents, the PS said there was need for a multi-sectoral approach to influence the behaviour of road users in order for Uganda to achieve the 50% reduction in road traffic fatalities target by 2030.
"Riding competence and discipline is a key foundation for road safety that demonstrates the rider's abilities to use the road without endangering his/her life or other road users" he explained.
He added that findings by the EBoML project findings would go a long way in helping Government to develop scientifically proven evidence-based interventions aimed at improving behavioural change of Boda-Boda riders in Uganda.
Mr. Bageya in his speech read verbatim by Mr. Katunguka equally pledged his Ministry's support and continued partnership with CEES and promised that MoWT would spearhead the implementation of project findings.
He challenged every participant to play to play their part in sustainable road safety enhancement, concluding that "Road safety begins with you, with me and road safety is a shared responsibility."
Please see Downloads for the detailed presentations
CEPIDE Lays Ground for Innovative Doctoral Education in Ugandan HEIs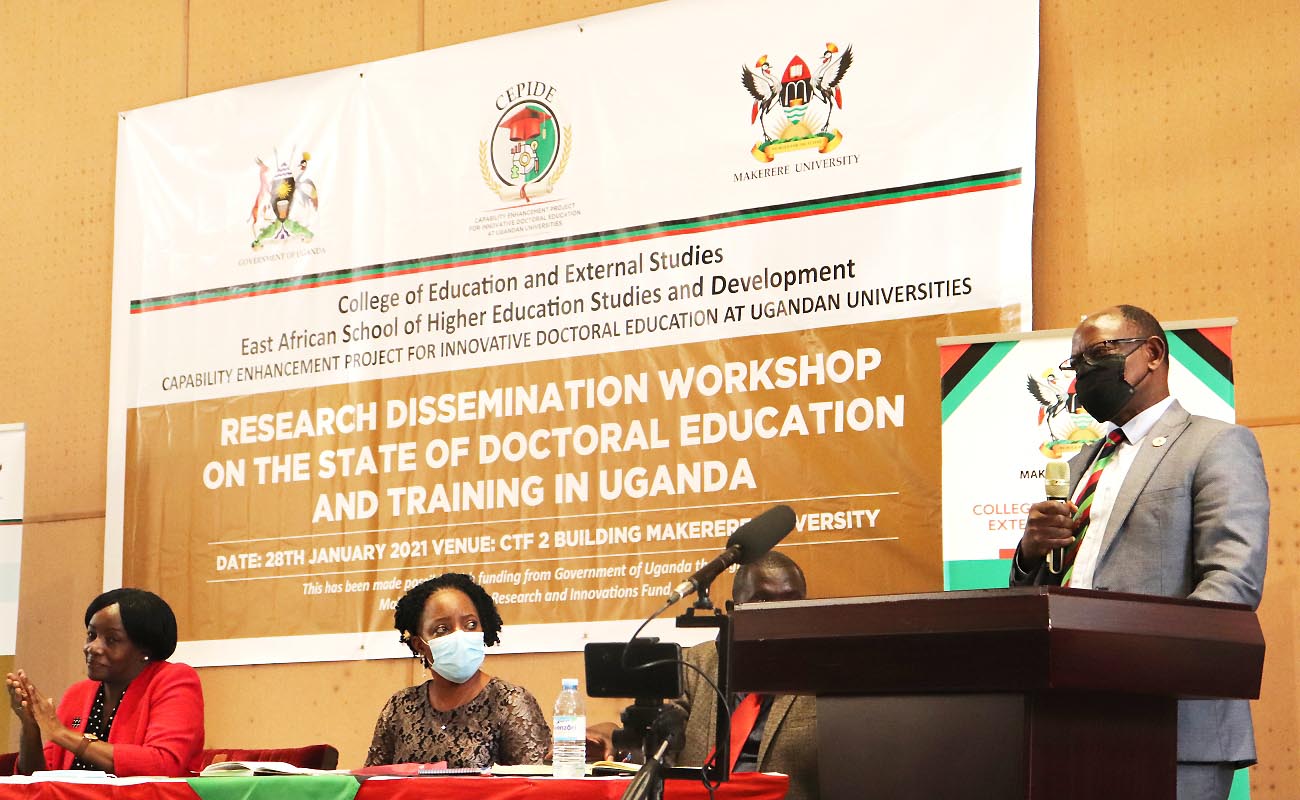 CEPIDE is an acronym for the Capability Enhancement Project for Innovative Doctoral Education at Ugandan Universities (CEPIDE). Funded by the Government of Uganda under the Makerere University Research and Innovations Fund (Mak-RIF), this two-phase project aims to build institutional capacity and individual capabilities of doctoral supervisors at Ugandan universities by giving rise to a shift from traditional modalities to innovative approaches of doctoral education.
On 28th January 2021, stakeholders gathered in the Central Teaching Facility 2 (CTF2) Auditorium, Makerere University, to receive findings from Phase one of the project. This phase entailed conducting a baseline study of the state of doctoral education in Uganda. Phase one will also involve writing a course module for a specialized blended capacity building training for supervisors of doctoral candidates at Ugandan universities. Phase two on the other hand will involve implementing the course module developed in phase one as well as creating a database and an online platform for e-networking, knowledge sharing and professional support among doctoral supervisors in Ugandan universities.
The East African School of Higher Education Studies and Development (EASHESD) under which CEPIDE falls has aligned its activities along four thematic areas namely; Policy and advocacy, Research and Innovations, Leadership and Management, and Training and Learning. These thematic areas position EASHESD to contribute to research in the understanding of the field of higher education, with the CEPIDE study intricately feeding into this.
EASHESD is predominantly a graduate School offering Masters and PhD programmes and as such, the CEPIDE study on improving the quality of Doctoral Education and Training in Universities in Uganda is a fulfillment of its mandate. Addressing the dissemination workshop, the EASHESD Dean Dr. Ronald Bisaso elaborated that CEPIDE study is aligned to the School's own practice and grounded in research undertaken therein.
"As Dean, I am happy to note that the members of staff from the East African School of Higher Education Studies and Development wrote proposals and received funding to support three projects under the Makerere University Research and Innovations Fund (MakRIF). These projects include: i. Capability Enhancement project for Innovative Doctoral Education at Ugandan Universities (CEPIDE), ii. Enhancing Women to Leadership positions in Universities in Uganda (WOLEP) and iii. Pedagogical Leadership of Academic Staff in Higher Education Institutions to Enhance Graduate Work Readiness and Transition to Work (PLASHE-WIL).
"Through the aforementioned research projects, the School has ensured that key stakeholders namely female Vice Chancellors, the National Council for Higher Education (NCHE), National Planning Authority (NPA) and the Ministry of Education and Sports (MoES) participate in the research projects as well as actively engage with researchers during the dissemination of findings on higher education" remarked Dr. Bisaso.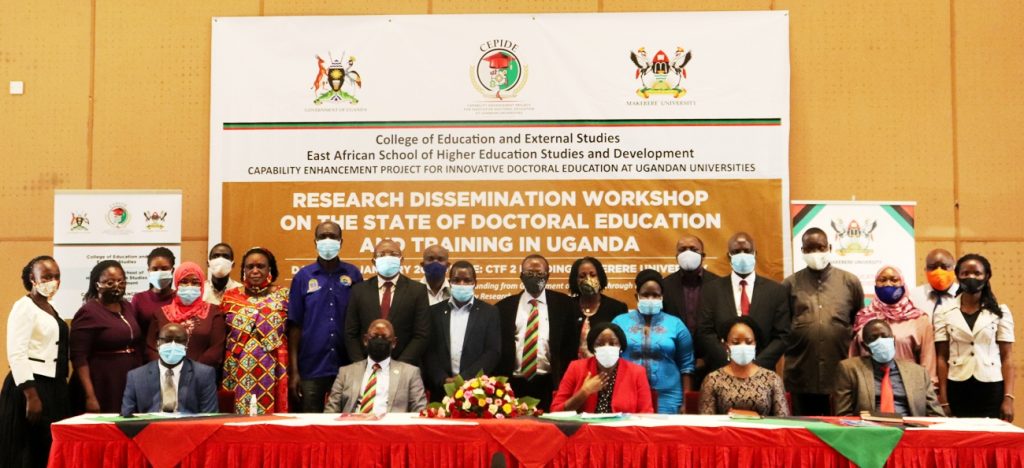 He concluded by saying that the involvement of key stakeholders in research and dissemination has enabled EASHESD to build a network that connects research in higher education with Government agencies that focus on higher education and development as well as universities in Uganda.
Presenting an overview of the project, the Principal Investigator (PI) Dr. Irene Etomaru said the study was driven by the acute shortage of a critical mass of doctorates with requisite knowledge and skill sets to undertake translatable research and train innovative researchers in Uganda. "There are only about 26 researchers per million inhabitants in Uganda, which is well below the world average of 1,083, about 1,000 PhD holders in various disciplines are unevenly distributed across the academia, government ministries, agencies and research institutes and 80% of these are at Makerere University."
The PI shared that through CEPIDE, it is envisaged that an Enhanced Postgraduate Environment (EPE) will be created in Ugandan universities. The EPE, she said, would lead to the nurturing of a new cadre of doctorates able to undertake translatable research, train innovative researchers as well as develop innovative models to address local societal needs and improve Uganda's innovative capacity.
In terms of data collection, the CEPIDE team reviewed laws, plans, policies and reports, and held Focus Group Discussions (FDGs) with NCHE. Furthermore, they collected data from fourteen institutions offering doctoral education and training in Uganda and held in-depth interviews with a total of 49 participants.
Prof. Fred E. K. Bakkabulindi another member of the research team tasked with the role of mentorship then delved into the context and history of doctoral training in Uganda. Statistics for the period 1970-2020 revealed that Makerere University at 90% had the highest number of PhDs among the five doctorate awarding Public HEIs in Uganda. Mbarara University of Science and Technology (MUST) followed with 7.2%, Gulu University (GU) with 1.5%, Uganda Management Institute (UMI) with 1.1% and finally Kyambogo University (KyU) with 0.2%. The glaring difference in percentages could be attributed to the fact that whereas Makerere's statistics stretch back to 1970, the other four HEIs only started awarding PhDs in the 2010s with GU coming closest in 2013.
The statistics shared by Prof. Bakkabulindi further proved the unfortunate fact that doctoral education and training in Uganda is biased in favour of males. Only 23.4% of the total numbers of PhD graduates in the aforementioned 50-year period were female. UMI led the percentages with 45.5%, followed by Makerere at 23.6%, MUST at 20.5%, GU at 14.2% while KyU is yet to graduate any female PhDs.
Prof. Bakkabulindi also examined the Science Technology Engineering Mathematics (STEM) versus non-STEM dichotomy with telling results. KyU proved that it is a predominantly STEM HEI by producing 100% STEM PhDs. KyU was followed by MUST at 79.5%, Makerere at 67.6%, GU at 40%, while UMI produced none.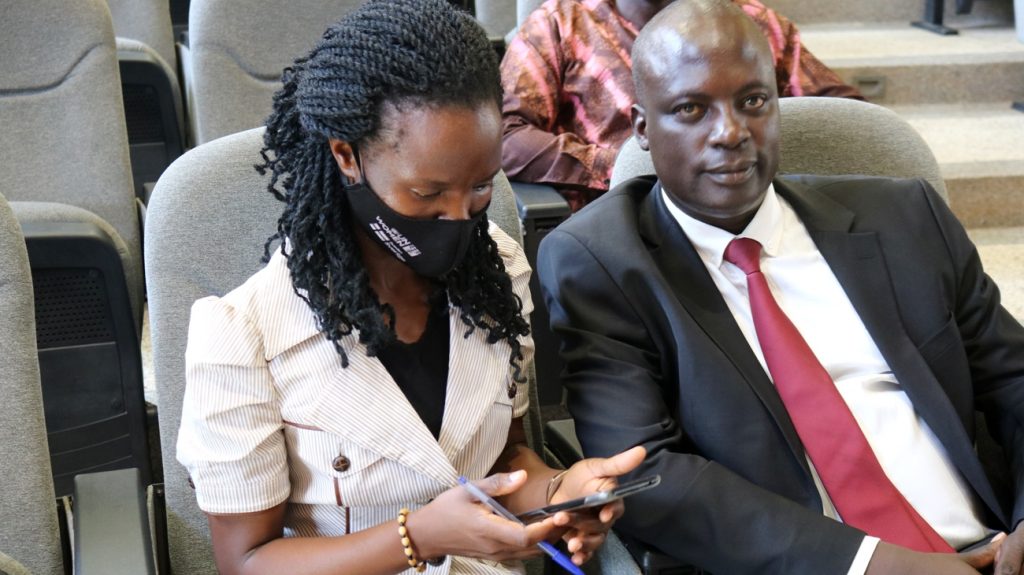 With the contexts established, it was time for the participants to hear the team's findings from their baseline study. Dr. Tom Balojja who also doubled as the day's emcee in delivering a summary of the findings shared that doctoral education and training in Uganda had low throughput rates. Furthermore, doctoral education and training is biased in favour of males and STEM disciplines, and has its capacity concentrated in Makerere University.
He then went on to present the findings in detail, as espoused by the European Commission's Seven Principles of Innovative Doctoral Training. These seven are; Research excellence, Attractive institutional environment, Interdisciplinary research options (cross-disciplinarity), Exposure to industry and other relevant employment sectors, International networking, Transferable skills training and Quality assurance.
The CEPIDE study recommended that;
Government of Uganda should integrate doctoral education and training in national development planning within the context of the policy objective of increasing the percentage of the GDP spending on Research and Development (R&D).
National targets should be set and resources should be committed to achieve the set targets in order to address concerns about the inadequacy of the critical mass of researchers in the country.
Government of Uganda should introduce a sufficient and well-structured legal framework necessary to regulate doctoral education and training. The legal framework should regulate the structure of doctoral programs and curriculum issues, support systems and staffing to improve the quality of the postgraduate training environment in HEIs in Uganda.
Government of Uganda and institutions offering doctoral education and training should work out mechanisms which will enable them to work with the industry and other research institutions in promoting research and innovations.
Institutions should transit from offering PhD by research to the taught PhD
The scope of doctoral education and training should be broadened to incorporate other models of the doctorate such as PhD by coursework (taught PhD), Professional doctorates, Work-based doctorates.
The role and funding of Doctoral Schools in Universities should be underscored to create enhanced postgraduate environment (EPE)
More research and interventions into doctoral education and training in Uganda.
Reacting to the presentation, the Director Directorate of Research and Graduate Training (DRGT), Prof. Buyinza Mukadasi requested the NPA to come up with a PhD training strategy for Uganda that clearly outlines the demand for PhDs particularly in the industry as well as resources to train them. He emphasized the need to preserve the quality of PhDs trained as the drive for more PhDs is impressed upon HEIs. In the same breath, the Deputy Director DRGT, Dr. Robert Wamala advocated for a mechanism to ensure productivity of PhDs as a third factor to consider in addition to quantity and quality.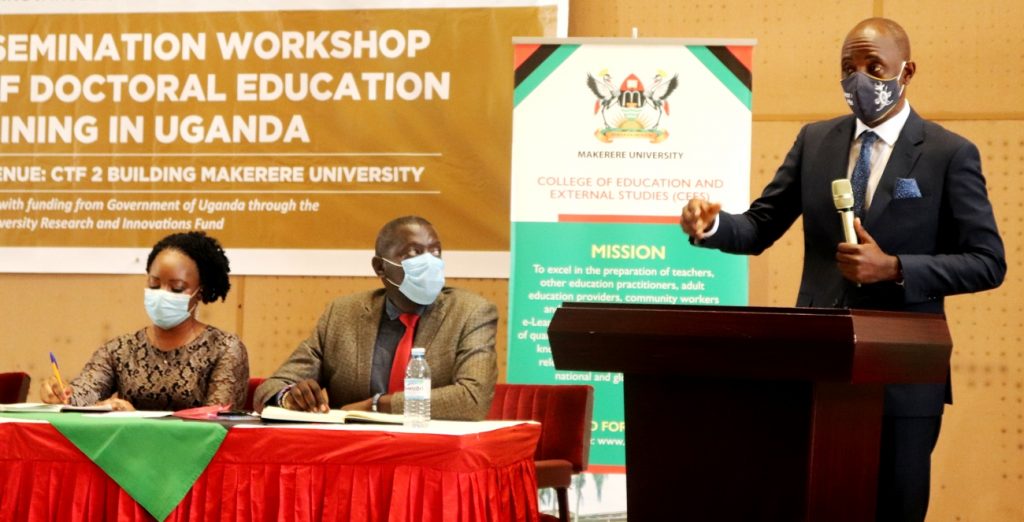 Dr. Paul Birevu Muyinda, the Deputy Principal College of Education and External Studies (CEES) in his remarks commended Mak-RIF for changing the terrain of research and innovations at Makerere University. "CEES was one of the Colleges that wasn't attracting much funding but with the coming of Mak-RIF, we have seen a very significant increase from only two research Projects to twenty."
He thanked NPA for accepting to conduct both virtual and physical training for staff at Makerere University who are interested in writing impactful policy briefs.
Dr. Sabrina Kitaka who represented the Mak-RIF Grants Management Committee (GMC) Chairperson, Prof. William Bazeyo commended the CEPIDE research team for recognizing that Makerere as a leader ought to strive to bridge the gap in doctoral training and education between itself and younger institutions. She thanked the Government of Uganda for providing funding to more than 500 Research Projects all aimed at informing national development priorities.
"The Volatility, Uncertainty Complexity and Ambiguity (VUCA) phenomenon created by the COVID-19 is teaching us how to be innovative by disseminating our findings both physically and online. Any innovation that results in training of scholars is not only exciting but brings closer the possibility of an education that is boundless" said Dr. Kitaka.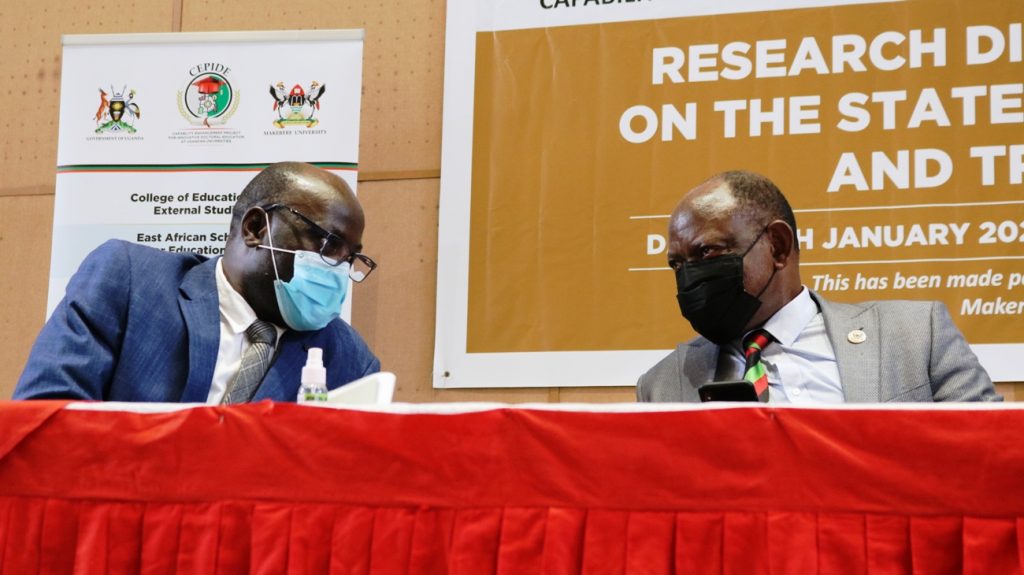 Mr. Timothy Sejjoba who represented Dr. Jane Egau, Director for Higher Technical and Vocational Education and Training – HTVET, Ministry of Education and Sports (MoES) in his address congratulated Makerere University upon not only securing funding under Mak-RIF but also putting it to good use. "We believe that you are going to inspire other institutions to reach the heights that they should."
He noted that the CEPIDE study had brought very interesting findings and conclusions to the fore and that his Ministry would be very glad to continue discussing these with HEIs. On the issue of quality assurance for PhDs Mr. Sejjoba advised that HEIs ought to be self-regulating so as to guarantee the brand of their programmes and graduates in the job market.
In his remarks, the Vice Chancellor, Prof. Barnabas Nawangwe congratulated the CEPIDE team upon delivering possibly the most important Mak-RIF seminar to-date, owing to its addressing of the University's core strategic direction head-on. He equally thanked the Government of Uganda for providing; i. Funding for over 500 research and innovations through Mak-RIF, ii. Increasing the monthly salary of a Professor to UGX 15million, and iii. Funding infrastructure development for research. "We now have some of the best labs anywhere in the world and there is no reason why as a University we cannot drastically contribute to transformation of our society."
He reiterated Makerere's commitment to support other HEIs to build their capacity in doctoral training and teaching and commended the decision by the Higher Education Student Financing Board (HESFB) to start offering loans for postgraduate study at Higher Education Institutions (HEIs) in Uganda.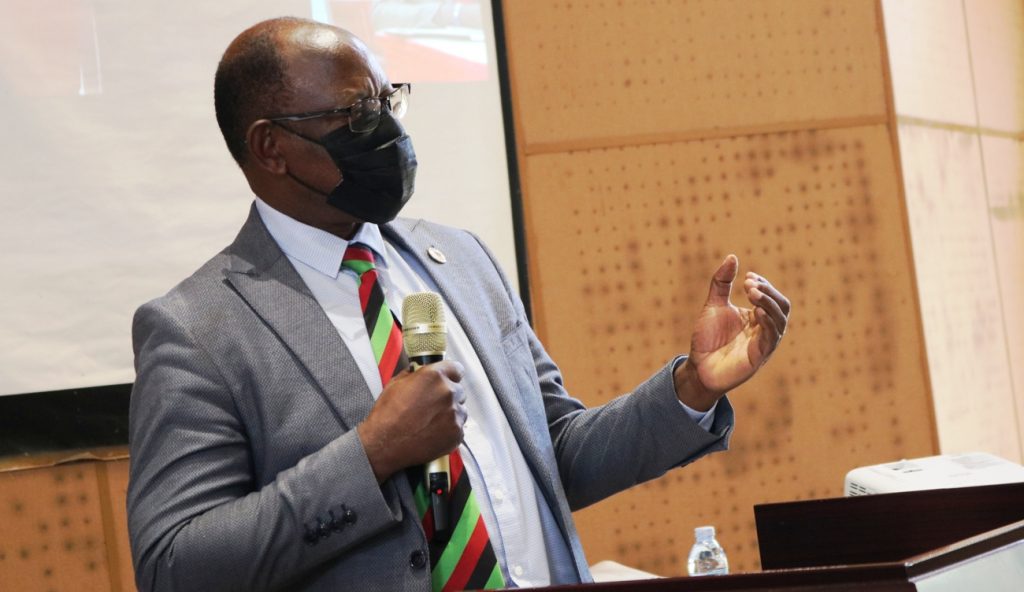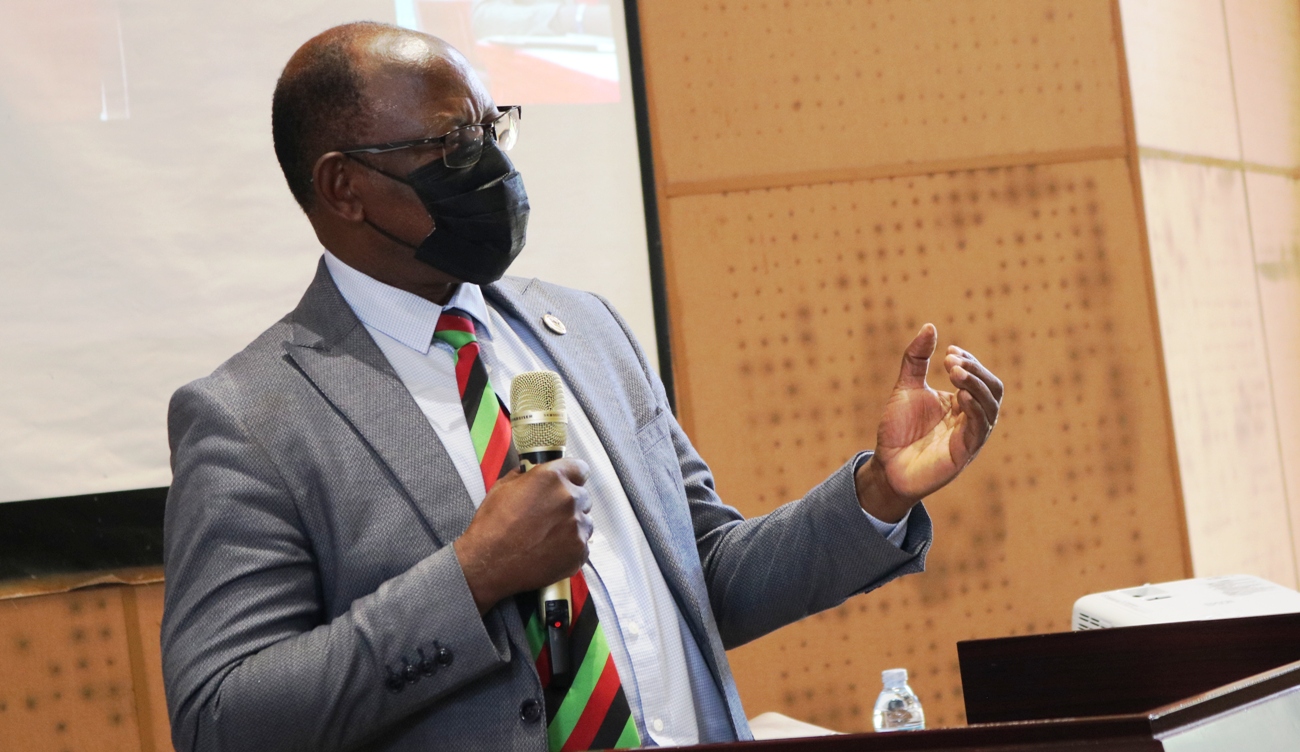 The Executive Director National Planning Authority (NPA), Dr. Joseph Muvawala in his address commended the ongoing policy work between the School of Economics, College of Business and Management Sciences (CoBAMS) and his authority, noting that this ought to be duplicated between other Schools and Government Ministries, Departments and Agencies. He shared that increasing number of graduate students seems to be sufficient condition for Uganda to take off in terms of economic development and emphasized the importance of Makerere University implementing its new 10 year strategic plan, which he described as "good".
He advised the CEPIDE team and all researchers to improve their capacity to write policy briefs, noting that policy makers lack the time to read research papers in their entirety. "I am here to say that you have our full support as NPA and my colleague Dr. Mugendawala will draft a concept on how to connect graduates to industry."
Concluding the day's remarks, the Chief Guest Dr. Nora Mulira who represented the Executive Director NCHE, Prof. Mary Okwakol acknowledged that the Council as a participant in the CEPIDE study had gleaned a number of lessons to incorporate in the UNESCO instrument that feeds the state of Uganda's Higher Education. She added that the study provided a number of options on how to advance the National PhD programme and thanked the Vice Chancellor for effectively using the funds received from Governement of Uganda.
"To the Principal Investigator, this is a pivotal study that is going to move Uganda ahead and is well aligned with strategic development framework as enshrined in NDPIII and Vision 2040, which look at research and innovation as a driver for development" commended Dr. Mulira.
She urged the research team to formulate an output plan that stipulates the specific actions that need to be undertaken by particular stakeholders within set timelines.
Article by Public Relations Office.
Please see Downloads for presentations
Dissemination of Pedagogical Leadership of Academic Staff in Higher Education Institutions to Enhance Graduate Work Readiness and Transition to Work (PLASHE-WIL)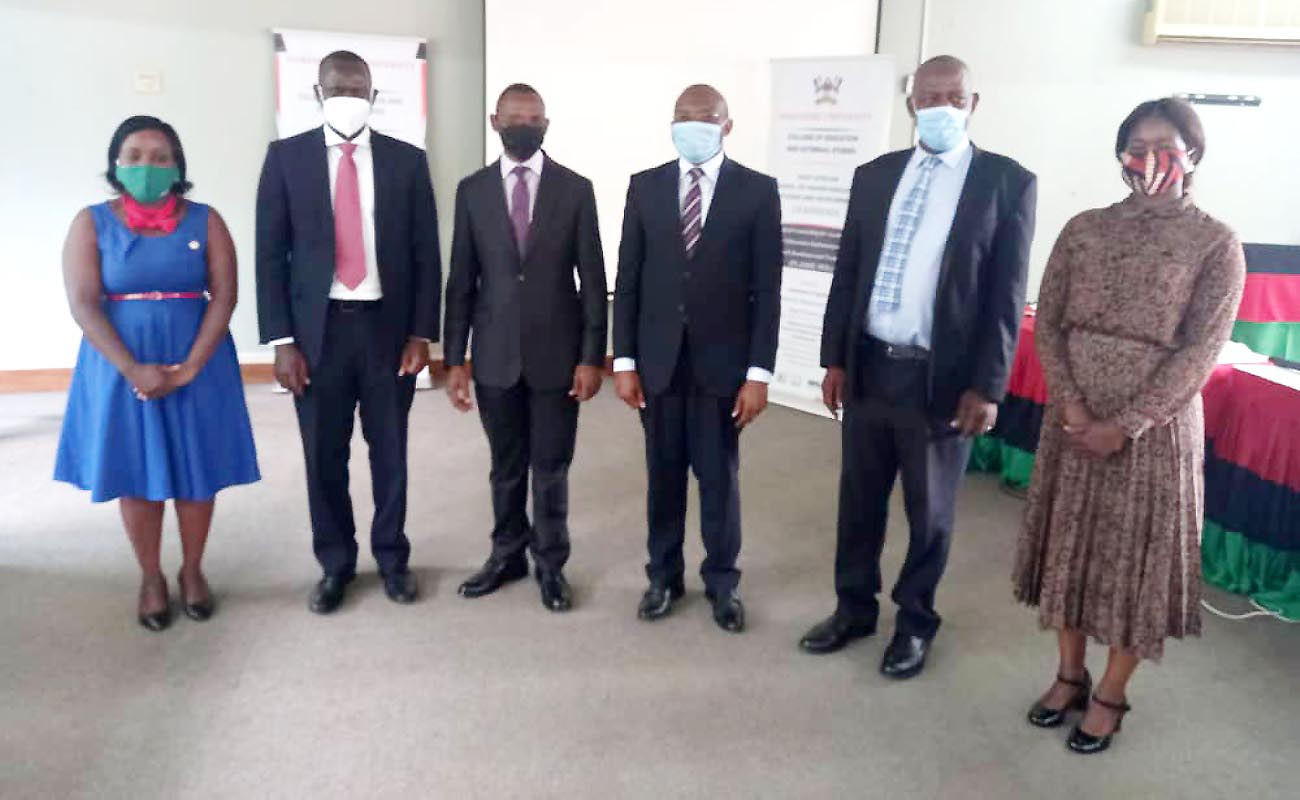 By Nuwagaba John
On Thursday 3th December, 2020, a project titled Pedagogical Leadership of Academic Staff in Higher Education Institutions to Enhance Graduate Work Readiness and Transition to Work (PLASHE-WIL) held a Dissemination Event at Makerere University. The Principal Investigator (PI) of the PLASHE-WIL project is Dr. Ronald Bisaso, Associate Professor and Dean, East African School of Higher Education Studies and Development (EASHESD), College of Education and External Studies (CEES). The project team members include: Dr. Rovincer Najjuma, Co-PI and Senior Lecturer, Department of Foundations and Curriculum Studies, Dr. Florence Nakamanya, Lecturer, EASHESD, Assoc. Prof. Proscovia Namubiru Ssentamu, Uganda Management Institute (UMI), Dr. Pius C. Achanga, Director, Quality Assurance and Accreditation at the National Council for Higher Education (NCHE), and Dr. Hamis Mugendawala, Head, Policy Research and Innovation, National Planning Authority (NPA). Other expert members are: Professor Christopher B. Mugimu, Foundations and Curriculum Studies, Dr. Joseph Kimoga, Assoc. Professor, EASHESD and Dr. David Onen, Senior Lecturer, EASHESD in CEES. The event started with a prayer led by Dr. Rovincer Najjuma. Dr. Florence Nakamanya who was the moderator welcomed members to the dissemination and gave a preamble of the PLASHE-WIL project.
The event was graced by distinguished stakeholders who attended both physically and virtually. These included; the Guest of Honour – Professor Mary J.N. Okwakol, the Executive Director, National Council for Higher Education (NCHE), Dr. Umar Kakumba, the Deputy Vice Chancellor (Academic Affairs), Prof. Fred Masagazi Masaazi, the Principal CEES, Dr. Vincent Ssembatya, Director, Directorate of Quality Assurance, Makerere University, Dr. Robinah Kulabako, Member of the Grants Management Committee (GMC) Makerere University Research and Innovations Fund (Mak-RIF) and Dr. David Kabugo, Coordinator, Centre for Teaching and Learning Support, CEES. A range of stakeholders from the Inter-University Council of East Africa (IUCEA), the Uganda National Council for Science and Technology (UNCST), the Ministry of Education and Sports (MoES), the Uganda Small Scale Industries Association (USSIA), NCHE, the Directorate of Human Resources (DHR), Makerere University student representatives, academic leaders and staff from different universities attended the dissemination.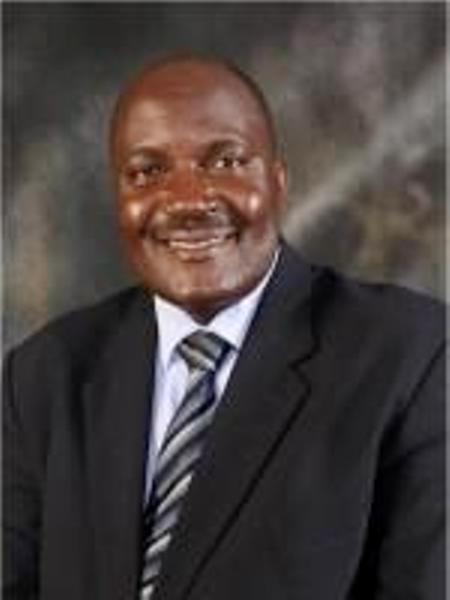 Prof. Fred Masagazi Masaazi in his remarks, welcomed the stakeholders. He congratulated the team led by Dr. Ronald Bisaso for ensuring that the School is continually productive. He noted that dissemination was a form of accountability and portrays transparency. He applauded the PLASHE-WIL Project Team for entrenching stakeholder engagement in the conception, team composition, conducting the study and the dissemination that attracted higher education experts, students, the private sector, media, student leaders, and academic staff. He informed stakeholders that CEES was committed to more such engagements in the areas of higher education, secondary education, adult education among others. He thanked the Government of Uganda through Mak-RIF for the financial support and guidance in research output reporting.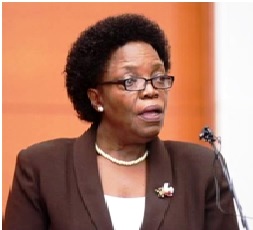 In her remarks, the Guest of Honour, Professor Mary J.N. Okwakol noted that the involvement of NCHE as a strategic partner in the implementation of the PLASHE-WIL project was anchored on the need to promote the Teaching Excellence Agenda in the Uganda Higher Education system. Realisation of such an important milestone would be through strengthening pedagogical competences of academic staff in the Higher Education sub-sector. Prof. Okwakol further observed that, the key deliverable in this project was a Pedagogical Leadership Programme for training academic staff in universities in Uganda because the Higher Education sub-sector needs pedagogical competent academic staff! The Executive Director, NCHE was equally delighted by the involvement of several partners including Makerere University, the National Council for Higher Education (NCHE) and the National Planning Authority (NPA). She noted that, the fact that the findings of the PLASHE-WIL project were based on perspectives of students, academic staff (mainly early career academics), employers, pedagogical leadership facilitators and curriculum leaders, the partnership availedfavourable conditions for uptake of research findings and presented opportunity for policy options which has been a missing link in many innovative endeavours. Prof. Okwakol informed the stakeholders that NCHE sees great potential for creating a critical mass of professional pedagogical leaders in Uganda's Higher Education system who are not only competent in didactics but also able to integrate graduate work readiness and transition to work skills in teaching and learning processes. She congratulated the PI – Dr. Ronald Bisaso and Team for the great job done. She challenged the team to ensure that they empower lecturers into both good teaching and research in addition to ensuring gender inclusive interventions. She thanked the Government of Uganda through Mak-RIF for funding research on a topical issue and indeed an issue of concern. She officially opened the Dissemination Event.
Dr. Ronald Bisaso, the PI in his presentation recognized the generosity of the Government of the Republic of Uganda through Mak-RIF that funded the PLASHE-WIL Project.  He gave the PLASHE-WIL Project overview by noting that there is a graduate employability skill deficiency where 63% of Uganda graduates are unemployable, according to the employers, and that the existing pre-labour market education or training is inadequate (IUCEA, 2014 p.54-55). He observed that the 'covenant between education and employment is broken' and the 'lack of linkage between the training institutions and potential employers' was articulated in the outgoing National Development Plan II (2015/16-2019/2020, p.39).
To further illuminate the challenge, the PI historicized Higher Education Pedagogy in Makerere University noting that, Pedagogical Skills training was initiated in 1979 because "university lecturers lacked teaching skills and, as a result, some of them were doing a really bad job." (Ssebuwufu, 2017 p.478). This culminated into the establishment of the Department of Higher Education at Makerere University (now the East African School of Higher Education Studies and Development).  One of the downsides of developing pedagogical capacities of academic staff was the dependence on initiatives funded by development partners e.g. the European Union, Carnegie etc. with ramifications for sustainability. However, in July 2018, Makerere University invested her own resources in pedagogical skills training for Assistant Lecturers (Early Career Academics). This was coordinated by the Directorate of Human Resources and the College of Education and External Studies (through the East African School of Higher Education Studies and Development, the School of Education, and the Centre for Teaching and Learning Support). This was consistent with guidance of the Makerere University Visitation Committee, 2016. The PI further noted that, over 200 assistant lecturers from8 Colleges were trained in learner-centred pedagogy (Makerere University Strategic Plan 2020-2030 p.23). However, there was need to improve on the training programme by embedding Work-Integrated Learning (WIL) philosophies and pedagogy to complement the programme who focus was on the technical competences of writing learning outcomes, delivery methods, integration of technology, assessment, and teaching large classes. This culminated into the PLASHE-WIL Challenge as presented by the PI and Co-PI, Dr. Rovincer Najjuma.
PLASHE-WIL Project Challenge:
The increasing numbers of students that graduate every year in a variety of disciplines amidst rising graduate unemployment and employability skill deficiency is both a risk and potential for the country. Embedding graduate work readiness and transition to work strategies in University curricular and pedagogy is one of the employability development strategies that can potentially address rising graduate unemployment. Owing to the complexity and multi-dimensional nature of the challenge, the East African School of Higher Education Studies and Development (EASHESD) in the College of Education and External Studies, Makerere University in partnership with the National Council for Higher Education (NCHE) and technical support from the National Planning Authority (NPA), sought to engage with stakeholders including; employers, students, academic staff, pedagogical leadership facilitators and programme leaders to collaboratively develop a Pedagogical Leadership Programme for academic staff to enhance graduate work readiness and transition to work.
PLASHE-WIL Project Aim:
This project aimed to develop the capacity of academic staff in Pedagogical Leadership and Work-Integrated Learning to enhance graduate work readiness and transition to work competence development.
Methodology:
The research adopted the design research methodology. Design research combines research, design, and practice. The methodology of this research and innovation project was implemented through a multi-stakeholder partnership. First, a scoping review was done. Second, a consultative stakeholders' meeting was held to initiate engagement and dialogue on how to enhance graduate work readiness and transition to work through strengthening pedagogical leadership of academic staff in Higher Education Institutions. Third, empirical evidence was collected from 73 employers, 146 academic staff, and 548 final year students stratified in four fields of engineering, agriculture, education and development studies. Fourth, practitioner engagement in interviews and expert meetings.
Summary of the findings:
Objective One: Employer requirements and expectations
The employers expect graduates to follow workplace principles/rules, possess work readiness skills (e.g. problem-solving, thinking critically, develop professionalism etc.). In addition, graduates are expected to have transition to work skills (e.g. identify personal skills and how they can be deployed). The employers identified Work-Integrated Learning opportunities such as exposure to relevant work setting, understanding workplace cultures as essential for graduates.
Objective Two: Graduate attributes and aspirations
Final year candidates' degree experience had developed their pre-professional identity attributes (e.g. matching university to the workplace), work readiness attributes (e.g. developing social responsibility and accountability like behaving in line with company values) among others.
Objective Three: Academic Staff Competence Profiling
The academic staff were confident that they teach and assess foundational knowledge (theories and principles) and work readiness skills (e.g. team work, professionalism). However, they were less confident that they taught problem-solving yet they were confident that they assessed it.
Objective Four: Pedagogical Leadership Perspectives
Most of the existing pedagogical leadership training focuses on alignment. Pedagogical leaders identified competences academic staff should possess include; team work, co-facilitation, managing industry partnership, case-based teaching philosophies (industry-based learning, scenarios, e-case studies, industry-based cases, projects).
Objective Five: Curriculum Mapping Perspectives
The key focus is on foundational knowledge. There is need for strengthened partnerships between stakeholders (cross-sector, intra-sector, alumni, professional bodies, employers and internship providers. Programme reviews and enhancements should include work readiness and transition to work skill-sets to enact graduate work readiness and transition to work. Programme reviews and enhancements should include work readiness and transition to work skill-sets.
On the basis of the multi-dimensional findings, the Key Deliverables are:
A proposed Post Graduate Diploma in Higher Education Pedagogy that embeds Work-Integrated Learning has been piloted among stakeholders drawn from public and private universities and line agencies. The post graduate curriculum includes; a practicum, educational research, Work-Integrated-Learning, higher education dynamics among others.
A PLASHE-WIL framework that illuminates how WIL would create a springboard between the university and other stakeholders to enhance work readiness and transition to work.
PLASHE-WIL reports on pedagogical leadership and work-integrated learning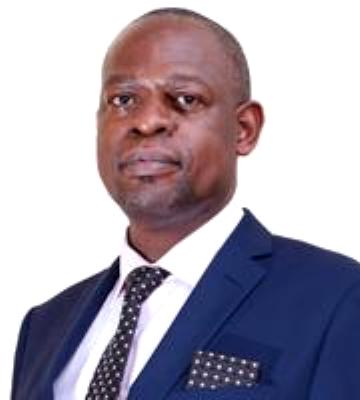 Responding to the findings of the PLASHE-WIL Project, Dr. Vincent Ssembatya was delighted that the promises made in February 2020 at the stakeholders' inception meeting at NCHE were being met. He expressed the need for the National Planning Authority to articulate the aspirations of the country and have engagement with the PLASHE-WIL Project Team. He implored the team to think through scaling in space and disciplines whereby the interventions can as well be relevant to the other disciplines without necessarily collecting data on them. Dr. Ssembatya reflected on the imperative to produce employable graduates who are lifelong learners with capacity to disintegrate theories, renew knowledge and invent. This called for pedagogical reskilling of academic staff through a research-informed programme which was the key deliverable of the PLASHE-WIL Project.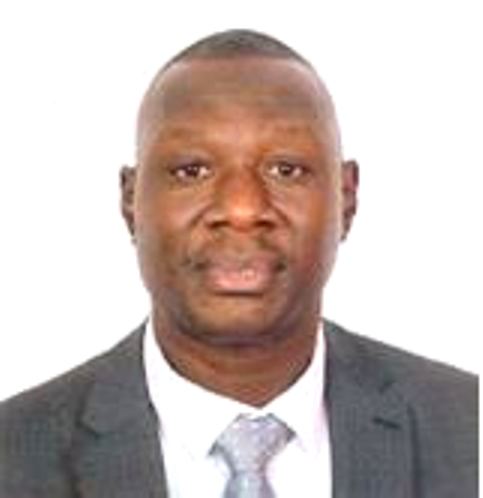 Dr. Pius C. Achanga reflected on the possibilities for scaling-up and policy options emanating from the PLASHE-WIL Project findings and congratulated the team. He noted that the deliverables would provide an avenue where lecturers meet the students and engage in disruptive processes. He noted that whereas there has been overemphasis on basic knowledge offered by universities, it was time to reflect concretely on the returns. He made reference to the Mandate of NCHE as enshrined in the Act, section 5(h) within which NCHE agreed to work with Makerere University and others in the implementation of PLASHE-WIL Project. He implored the project team to work with other tertiary institutions to operationalize the project when there is continuation of funding. He also appreciated the contribution of the National Planning Authority.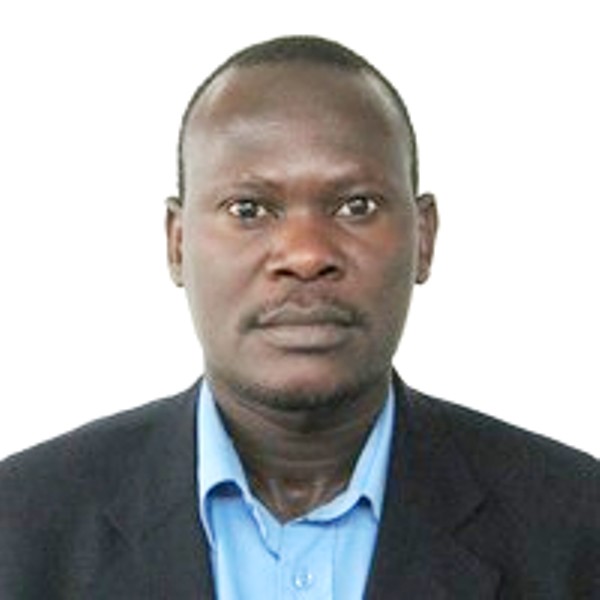 Dr. Hamis Mugendawala informed the stakeholders that NPA took pleasure to be part of the partnership. He noted that the project was responding to a terrain that was so scaring for the country. This was because of the permanent divorce between education and employment where supply was not speaking to demand. He highlighted the increasing shift in focus from qualification to skills-based employer demands. With regard to PLASHE-WIL, the need for enhancement of the competences of the academy was evident. He noted 'if the academy does not possess the graduate work readiness and transition to work skills then they cannot deliver them to the students' amidst the shifting demands of the labour market and industry. Moreover, there was need to modularize the proposed pedagogical training curriculum and embrace multiple modes of flexible delivery. He noted that the University should simulate the industry environment as it trains graduates. Dr. Mugendawala informed the stakeholders that the National Development Plan III was in agreement with some of the findings. He requested Makerere University through the DVC-AA to consider inviting industry to Makerere University to ensure that they closely innovate, incubate ideas and embark on production. He concluded that 'young people should be trained to work with people and to work with machines' and that the National Planning Authority was willing to further the collaboration on the PLASHE-WIL Project.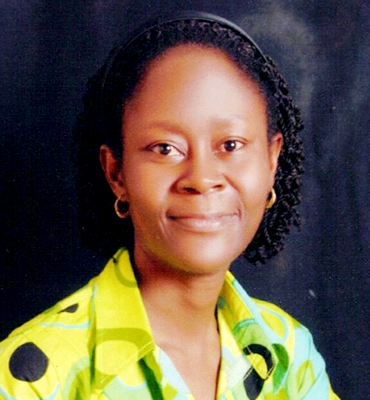 Dr. Robinah Kulabako, Member of the Mak-RIF Grants Management Committee (GMC) in her speech thanked the participants for attending the dissemination event. She recognized the DVCAA, Makerere University among other dignitaries. She thanked Professor William Bazeyo for steering the GMC and informed members that she was representing him at the dissemination event. Dr. Kulabako informed the stakeholders that Mak-RIF received 30billion and an additional 15billion to fund multidisciplinary projects from the Government of Uganda. PLASHE-WIL was one of the 500 multidisciplinary projects funded and she was optimistic that it will surely contribute to the development of the nation and specifically the higher education sector. Dr. Kulabako thanked the Principal Investigator – Dr. Ronald Bisaso and Team for smartly identifying the problem and conceptually thinking through the solution. She urged the team to ensure that the deliverable – the PLASHE-WIL programme is fast-tracked and rolled out. Dr. Kulabako concluded by promising that Mak-RIF will collaboratively engage and leverage additional resources so that projects such as PLASHE-WIL continue to make a positive contribution to the communities we live in. In a special way, she thanked and noted that the Government of Uganda was willing to continue funding research in Makerere University through Mak-RIF as long we deliver on the promises of innovative deliverables as we work with the respective partners.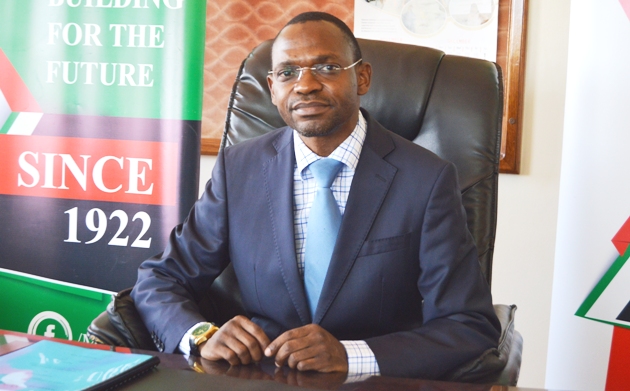 At the Official Closing of the Dissemination Event, Dr. Umar Kakumba, the Deputy Vice-Chancellor (Academic Affairs) was grateful for the value addition by the PLASHE-WIL Project Team led by Dr. Ronald Bisaso. He noted that it was a great team. He informed the stakeholders that his involvement at the inception stakeholders' meeting held in February 2020 at the National Council for Higher Education (NCHE) was because of the innovativeness of the concept. It was on that basis that he graciously deemed it appropriate to officiate at the dissemination event. Dr. Kakumba thanked the National Council for Higher Education for the support extended to the PLASHE-WIL Project and the contribution of the National Planning Authority. He observed that the uniqueness of the PLASHE-WIL Project was the engagement with different actors and other tertiary institutions. He further noted that the deliverables were laudable observing that the starting point for a competitive graduate should be a good curriculum, delivered by competent teachers continually be capacitated through trainings like the proposed PLASHE-WIL programme. The DVC-AA further requested the PLASHE-WIL Project Team to generate a brief to inform the review of the policy on internship/field attachment/Work-Integrated Learning. Finally, on behalf of University Management, Dr. Kakumba thanked the Government of Uganda for all the support which has kept staff engaged in writing grants, contacting respondents and disseminating findings among other activities and in process contributing to research productivity and progressive engagement. He thanked Professor William Bazeyo for steering the Grants Management Committee (GMC) and Mak-RIF. He also thanked Dr. RobinahKulabako for her contribution to the GMC and the remarks. He officially closed the Dissemination Event noting that this was the first phase of dissemination because he looked forward to more disseminations of the PLASHE-WIL Project deliverables.