CPD, Networking Platforms, Mentorship Needed to Enhance Capacities of Women to Leadership Positions in Uganda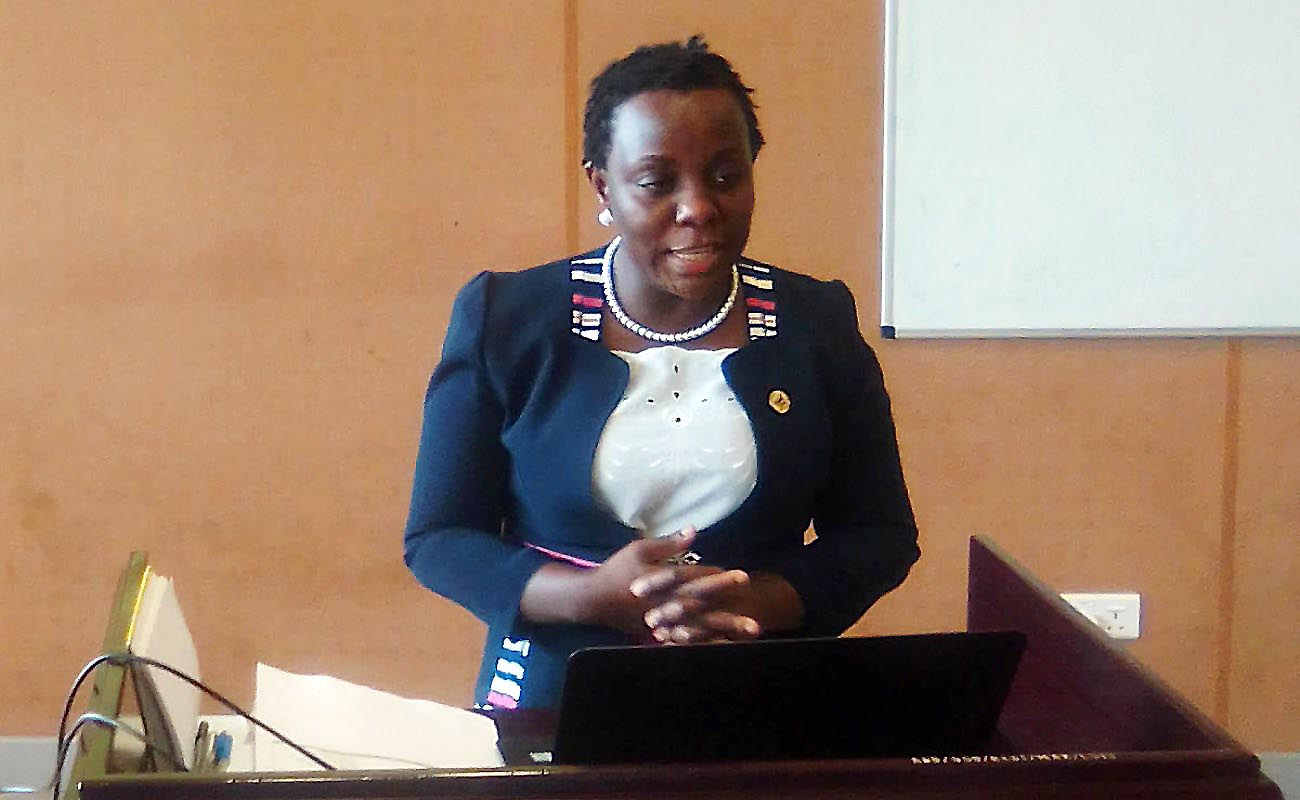 On Thursday 5th November, 2020, a project titled Enhancing Capacities of Women to Leadership Positions in Universities in Uganda (WOLEP) held a Dissemination Event at the Central Teaching Facility 1 (CTF1), Makerere University. The Principal Investigator (PI) WOLEP is Dr. Florence Nakamanya, Lecturer, East African School of Higher Education Studies and Development (EASHESD), College of Education and External Studies (CEES). The WOLEP team that also includes Assoc. Prof. Ronald Bisaso and Ms. Sharon Ainmbabazi recommended that Continuous Professional Development (CPD), Suitable Networking Platforms and Structured Mentorship Programmes are needed to enhance capacities of both incumbent and aspiring women leaders in Uganda's Higher Education sector. The Dean, EASHESD, Assoc. Prof. Ronald Bisaso who was the moderator welcomed members to the dissemination and gave a preamble of the WOLEP project. The event started with a prayer led by Sr. Bernadette Lutaaya.
The event attracted a number of distinguished personalities who attended both physically and online. In attendance online were; Prof. Joy C. Kwesiga,  the Vice Chancellor of Kabale University and  the Guest of Honour, Prof. William Bazeyo, the Chairperson Grants Management Committee (GMC), Makerere University Research and Innovations Fund (Mak-RIF), Prof. Charles Masembe, GMC Member, Prof. Fred Masagazi Masaazi,the Principal, College of Education and External Studies(CEES), Ms. Harriet Adong, Head, Communication, RIF, Prof. Monica Chibita, Dean, Faculty of Journalism, Media and Communication, Uganda Christian University (UCU), Assoc. Prof. Betty Ezati, Dean, School of Education, Makerere University and GMC Member. In the physical meeting, we had the project team members, women leaders from Ugandan Universities including Makerere University, Kyambogo University, Ndejje University, Kampala International University, St. Lawrence University, Al-Mustafa Islamic College and female employees from the National Planning Authority (NPA) among others.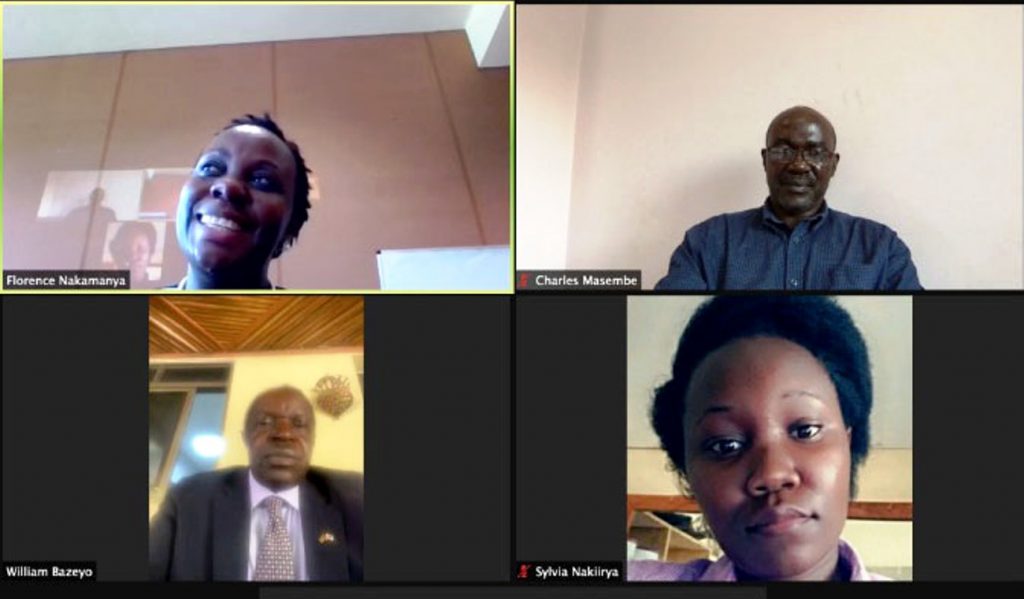 Dr. Nakamanya in her presentation highlighted that the project was made possible with funding from the Government of the Republic of Uganda through Mak-RIF. The PI noted that there exist leadership training programmes aimed at building capacities of female leaders in different parts of the world including Uganda. However, the numbers of women in leadership positions are still miserably low. For instance, she noted, we have only three female Vice Chancellors in Uganda and yet there are over 50 universities. Besides, the leadership training programmes provided are adhoc in nature, they are developed in the western world and adapted to African context, do not meet the current and emerging needs and largely depend on the availability of funding. This then created the need for the WOLEP project.
She enlisted the objectives the project as follows;
To analyze the Leadership-related Training Programmes (LTPs) that women in leadership positions in universities in Uganda have attended.
To establish the leadership-related competence profile for women in leadership positions in universities in Uganda.
To investigate whether the existing leadership-related training programmes influence women's aspirations and progression to leadership training positions in universities in Uganda.
To examine women's experiences with the existing Leadership-related Training Programmes in universities in Uganda.
To identify the capacity needs and what works for women to occupy leadership positions in universities in Uganda.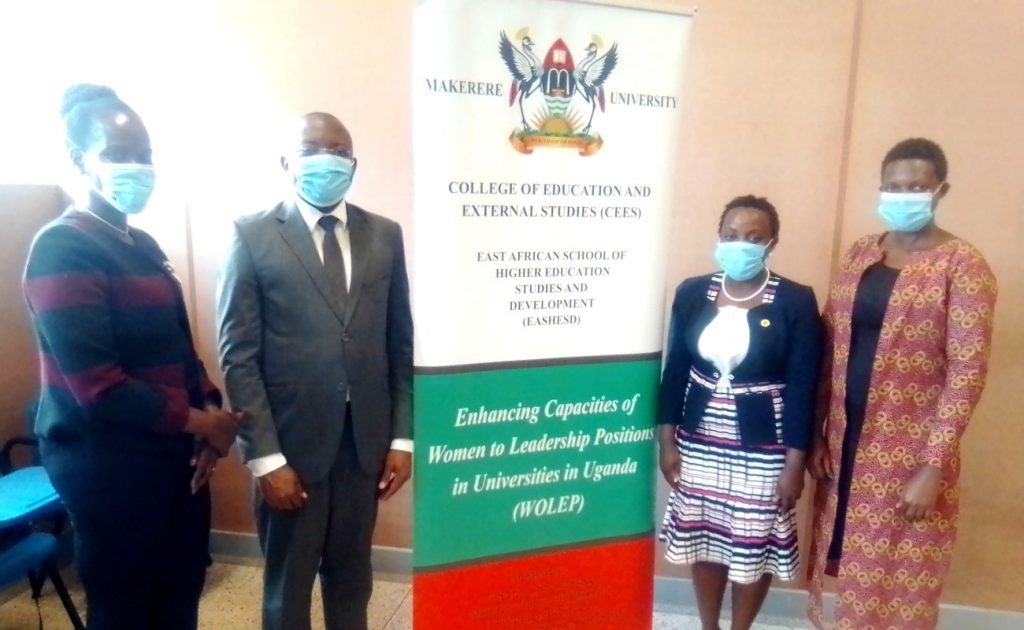 The WOLEP project employed an interpretive approach to research because the team wanted to get an in-depth understanding of the issue that was under investigation. The participants of the project included the incumbent and aspiring female leaders. The Incumbents comprised of senior female leaders like Vice Chancellors, the middle leaders (Deputy Principals and Deans) and the lower leaders such as examination and research coordinators. The aspiring female leaders constituted any female academic member of staff in the university. The participants were purposively selected on the basis that they had ever attended a leadership-related training programmes and were drawn from the different categories of Ugandan Universities. The universities were categorized into public, private religious-affiliated and private-for-profit universities. Data was collected through interviewing 29 participants comprising of 2 senior female leaders, 9 middle female leaders, 9 lower female leaders and 9 aspiring female leaders.
The findings of the study include;
Objective One, where different Leadership-related Training Programmes (LTPs) were analyzed: It was discovered that the participants had attended international leadership-related programmes. Whereas the senior female leaders had participated in programmes organized by the Commonwealth, Higher Education Resources Services, Inter-University Council of East Africa, RUFORUM, the middle female leaders highlighted trainings such as the International Deans' Course adn COACH AFRICA workshops in South Africa and Finland. Importantly, the international trainings were attended by mostly participants at all levels of leadership from the public universities. The middle female leaders had attended national leadership-related trainings particularly those organized by the National Council for Higher Education (NCHE) whereas the lower and aspiring female leaders had mostly participated in internal institutional trainings.
Objective Two, which was about the competence profile of female leaders: She said that during the interviews, the participants shared competences related to leadership and management, teaching and research. Specifically, competences related to pedagogy, curriculum, research, social challenges, customer care, ICT, confidence building, teamwork, conflict resolution among others. She asked participants to reflect on how they teach and supervise graduate students in higher education.
Objective Three, on whether the existing LTPs influenced women's aspirations and progression to Leadership: The female leaders shared that the training enabled them to acquire knowledge, share experiences, provided opportunities for personal professional development and networking. In-depth analysis had confirmed that the female leaders' experiences with the existing LTPs influenced their desire to aspire and progress to academic and administrative leadership positions in Ugandan universities. For example, a female senior leader serving in a public university had said that "we are always given an opportunity to share experiences in the leadership training programmes. I ask colleagues and they would tell me how to solve it. I would get tips that I learn which makes me perform better in my work."
Objective Four focused on experiences with LTPs: The focus was on the programme structure, stakeholder involvement and post-training experiences. The participants shared that the content provided in the trainings was too broad, theoretical and delivered in a very short period of time and yet very costly. She noted that there was limited stakeholder involvement, the training needs analysis was hardly done and there was unclear selection process. It was also found out that most of the LTPs that female leaders attend in Ugandan universities lacked the aspect of mentorship and did not make follow-ups. In view of this, achievement of the intended outcomes was constrained.
Objective Five identified the Capacity Needs for female leaders: The findings showed that the female incumbent and aspiring leaders would like to be capacitated in areas including networking and mentorship, research and publishing as well as leadership and management skills.
The study concluded that:
Female leaders had attended International, National, and Institutional LTPs.
The competence profile of female leaders comprised of leadership and management, teaching and research skills developed from the training programmes.
LTPs had influenced women's desire to aspire and progress to leadership positions.
LTPs were too costly, theoretical with broad content, with limited stakeholders' involvement, no follow up and lacked mentorship opportunities.
Networking, mentorship, research and publishing as well as leadership and management skills were the capacity needs of incumbent and aspiring female leaders in Ugandan Universities.
The study recommended that:
Continuous Professional Development should be rolled out for both incumbent and aspiring female leaders. The modularized programme that has been developed out of the current study will span a reasonable period of time and will be flexibly delivered using blended training approaches at the East African School of Higher Education Studies and Development, Makerere University.
Universities should initiate sustainable networking platforms that provide avenues for incumbent and aspiring leaders to share experiences, challenges and new insights on how to perform their duties through periodic meetings and reflective seminars that could be flexibly organized or delivered using online technologies and social learning platforms like WhatsApp, Facebook, Zoom etc.
The Ministry of Gender, Labour and Social Development and other relevant stakeholders should collaboratively initiate and support robust structured mentorship programmes for women in higher education where those with rich experience are invited to share their life stories which could be published in different formats like videos and used to continually nurture aspiring leaders and equally enhance women's progression to leadership
The study proposed an intervention/solution/programme informed by a range of capacity needs that were highlighted by women at the different levels of leadership. The two modules developed to be flexibly delivered are:
Leadership and Management in Higher Education
Career Advancement of Women in Higher Education
The PI shared a quote by Sheryl Sandberg:"If more women are in leadership roles, we'll stop assuming they shouldn't be".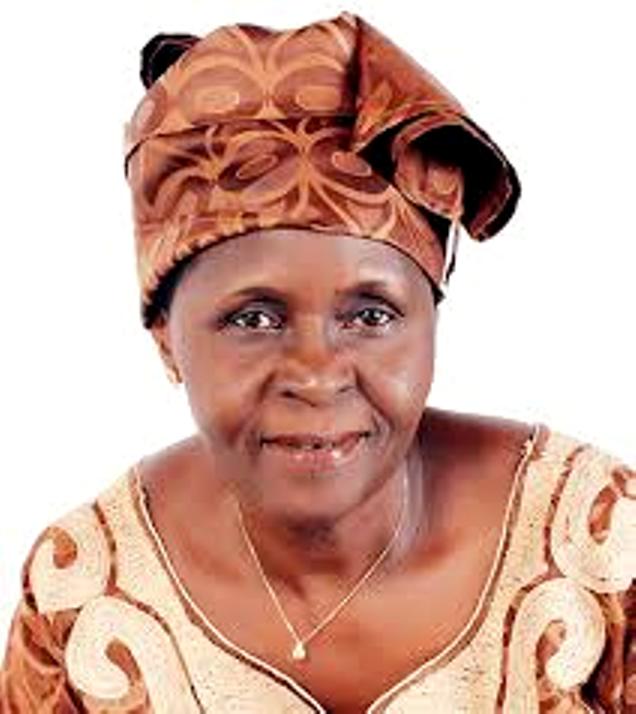 In her welcome remarks, Prof. Joy Kwesiga the Guest of Honour congratulated the project team on the important research in which she participated and that she had been looking forward to the general research results. She highlighted that there was a minimal number of females that participate in higher education leadership. She shared her past experience while serving in Makerere University and expected the findings to trigger reflection on how to increase the number of women in leadership positions through established policies, support mechanisms and practices. Prof. Kwesiga noted that when the only female presidential candidate Nancy Kalembe said that females are going to break the glass ceiling and that becoming president was one of them, her mind was drawn to the importance of gender perspectives in leadership and management, in teaching, and research. Finally, she said she was glad that the study had been successfully conducted and that it would open up into a wider field so that we can have specialists.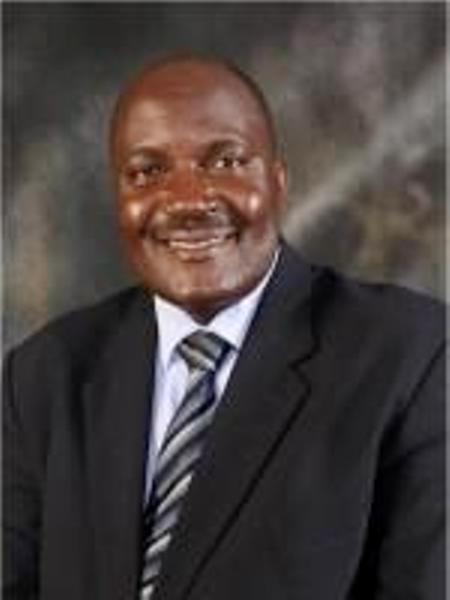 The Principal CEES, Prof. Fred Masagazi Masaazi in his remarks, congratulated the lead researcher Dr. Nakamanya Florence and the research team upon attaining the milestone. He said that, whereas research was a boost to our academic endeavors, it was also a springboard for opening up space for national development. He further said that he strongly believed that the findings would go a long way in informing gender policy and other aspects related to gender and Higher Education. He thanked the Dean, East African School of Higher Education Studies and Development (EASHESD), for the support in ensuring that the School contributes to the body of knowledge, and for impacting on the College's visibility. He further thanked the Mak-RIF team for the support and for identifying and funding the special area of study on enhancing capacities of women to leadership positions in universities. He concluded by noting that young researchers like Dr. Nakamanya were pillars for the University's development.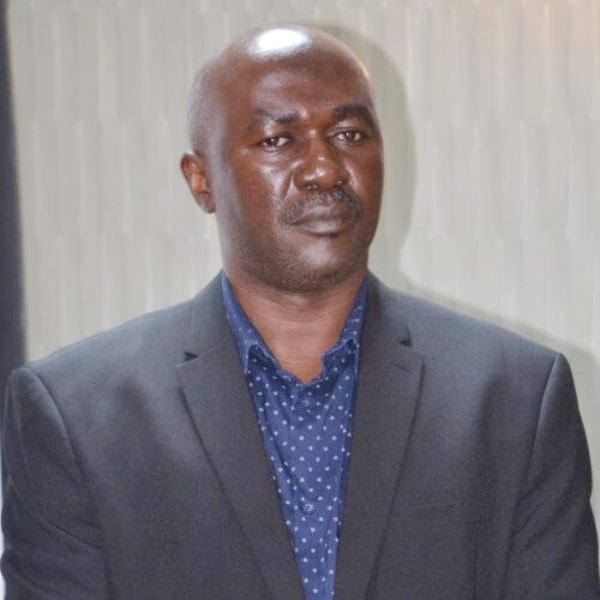 Prof. Charles Masembe, Member of the Mak-RIF Grants Management Committee (GMC) in his speech welcomed the participants noting that they had been drawn from different universities and organisations. He thanked them for making time to attend the dissemination. He thanked the researchers and innovators for their tireless efforts. In a special way, he thanked the Government of Uganda for the continued support to Makerere University and for funding research through Mak-RIF. He further said that for a country to move from lower to middle income status, it needs research. In addition, he said that Mak-RIF is aimed at complementing available research funding to address unfunded priorities critical to accelerating development across different sectors of the economy in Uganda. He was happy that the WOLEP project had unearthed the capacity needs of the different categories of female leaders. He implored the project team to partner with a range of stakeholders to address the capacity needs as they roll out the project's proposed training programme.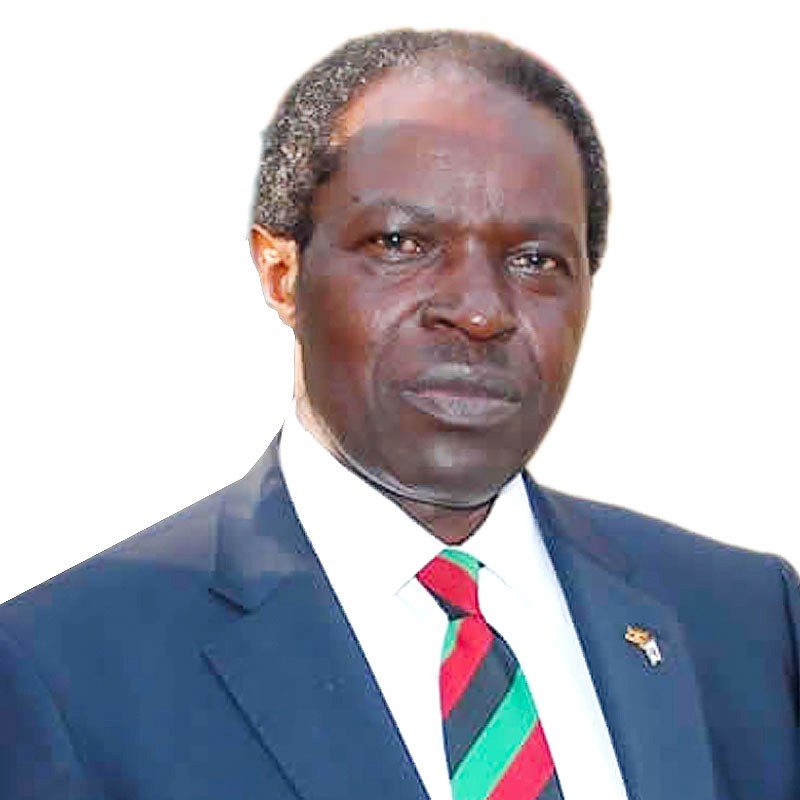 Prof. William Bazeyo Chairperson Mak-RIF Grants Management Committee (GMC), thanked the organizers for the Dissemination. He highlighted that this was the first dissemination he had attended ever since the fund started. He congratulated Dr. Florence Nakamanya and her team and thanked the Principal, Professor Masagazi for supporting research efforts in CEES. He noted that he believed in negotiation and he challenged every researcher to become a negotiator so as to ensure research uptake by the policy makers. He noted that since Makerere has the capacity and the negotiation skills, it should do better. He acknowledged the contributions of other teams on RIF1 and RIF2 and announced that RIF3 had been approved. He emphasized that whereas RIF1 was UGX 30 billion, RIF2 was UGX 30 billion and COVID-19 Response UGX 9.3 billion, he had negotiated for a greater allocation of funds for RIF3 and it will be higher, if not double.
He informed participants that he was also negotiating on how Makerere University (Mak) can support other universities to do research. He cited an example of a model university in Malaysia which was leading in research and had been funded to support research and capacity building in other public universities. Furthermore, he re-echoed the need of researchers to reach out to stakeholders and different ministries to share research findings. He called upon all researchers to begin writing policy briefs. He finally set a challenge to his colleagues on the GMC to start a programme to train researchers on how to write policy briefs.
Article by John Nuwagaba, CEES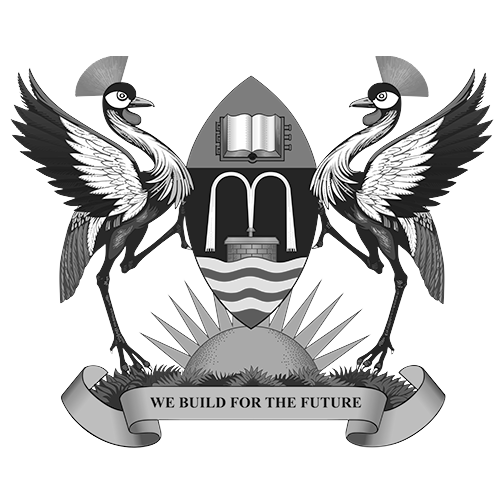 Prof. Nawangwe Shares Mak's ODeL Milestones at 16th RUFORUM AGM High Level Dialogue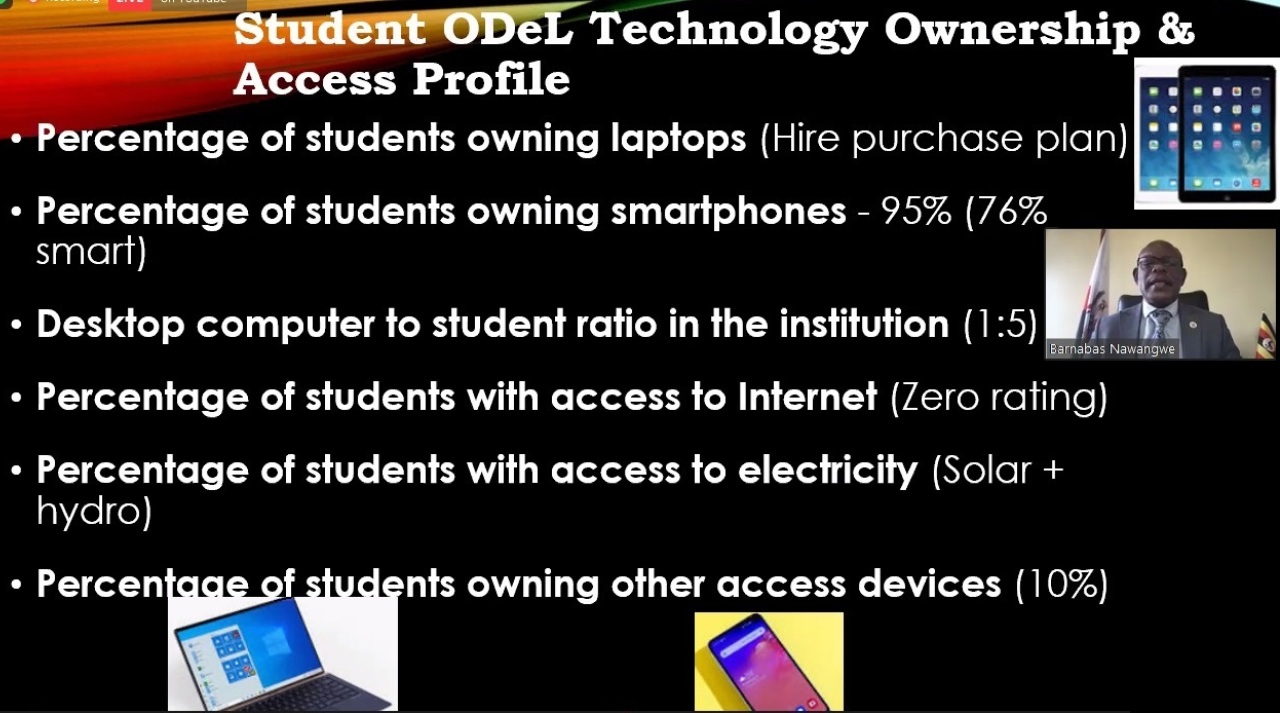 As part of activities to mark its 16th Annual General Meeting (AGM), the Regional Universities Forum for Capacity Building in Agriculture (RUFORUM) held a High Level Dialogue on the theme Realignment towards Online Teaching and Learning in Universities: Learning from each other. The virtual event held on 18th November 2020 was split into two sessions, with the Vice Chancellor, Prof. Barnabas Nawangwe as Lead Speaker for the first and Prof Francis Petersen, Vice Chancellor and Principal, University of Free State, Southern Africa as Lead Speaker for the second.
Welcoming participants to the dialogue, RUFORUM Executive Secretary, Prof. Adipala Ekwamu noted that galvanizing efforts towards online teaching and learning in Universities in Africa remains an important and relevant factor. This, he said, would require in-depth analysis of modern digital technologies, pedagogical approaches that must be adopted as well as knowledge and skills to facilitate the transition to online teaching and learning in the face of COVID-19.
The first session was moderated by Prof. Dora F. Edu-Buandoh, Pro Vice Chancellor, University of Cape Coast, Ghana. She asked the Lead Speaker, Prof. Nawangwe to give an overview of and discuss how integration of digital technologies can be effected in African universities' systems to cause meaningful impact. She also requested him to share the key challenges universities have recorded in mainstreaming online teaching and learning in the Higher Education System in Africa.
Delivering his presentation in the context of Makerere University, Prof. Nawangwe shared that despite numerous technological advances and increased penetration of smart phones in Africa, the digital divide is still real and is further compounded by factors such as unreliable electricity supply. He nevertheless pointed out that the Makerere University E-Learning Environment (MUELE) is a Moodle-based Learning Management System (LMS) backed by some of the best ICT infrastructure with a bandwidth capacity of 0.5Mbps. MUELE had 791 well-designed, interactive, activity-based courses before April 2020 and 157 have since been added.
The Vice Chancellor said that Makerere University opted to embrace blended learning, which makes use of a combination of technologies, approaches and methodologies, to deliver courses to learners separated by time and space from facilitators as well as fellow learners. He added that the University Open, Distance and eLearning (ODeL) Policy was approved by the University Council in 2015. The policy paved way for the creation of an ODeL pedagogy support Unit, the Institute of Open, Distance and eLearning (IODeL).
Prof. Nawangwe shared that both the previous and current (2020-2030) institutional Strategic Plans had recognized ODeL as a major strategy and as such, put in place quality assurance systems as outlined in the Quality Assurance Policy. He said that whereas the current institutional budget of UGX 200Million per annum to support ODeL was still low, support towards the enabling environment; ICT Services and Internet bandwidth costs, is close to US$ 1Million.
Sharing results from the E-Learning Readiness Tracer Study conducted by the University prior to emergency ODeL rollout, Prof. Nawangwe noted that 75% of over 12,400 student respondents had expressed willingness to continue their studies online. Some of the challenges cited by students unwilling to continue learning online included high data costs, lack of laptops and poor connectivity in rural areas, among others.
To help support the emergency ODeL rollout and ensure that these genuine concerns were addressed, the Vice Chancellor had negotiated with telecommunication companies to effect zero rating of Makerere University's E-Learning and other related websites. The University has also negotiated with equipment manufacturers to help secure affordable laptops for staff and students.
In the spirit of leaving no student behind, the University has appointed E-Learning coordinators for each School and is making progress with developing learning assistance/options for students with visual impairment and other disabilities. The Vice Chancellor concluded by sharing that Makerere University has since 1991 been preparing for ODeL delivery, which is the future of teaching and learning even after the COVID-19 pandemic dissipates. He summed it all up by saying that recent policy changes brought about by COVID-19 will enable the institution to rollout emergency ODeL to traditionally face-to-face programmes whilst strengthening existing ones.
The first panelist of the day was Prof. Address Malata, Vice Chancellor of the Malawi University of Science and Technology. In her presentation, she noted that lack of; policy frameworks, necessary infrastructure, experience in pedagogy by academic staff and experience in learning by students were some of the key challenges in realigning learning content for effective online delivery.
In line with online pedagogy, Prof. Malata said that the lack of knowledge and skills to; customize content for teaching, engage with and properly assess students were some of the biggest challenges for academic staff. She also identified lack of time management skills to effectively plan for online teaching as another major hindrance for staff.
On the part of online learning by students, she outlined the lack of knowledge and skills to; handle non-traditional forms of lecture delivery such as video and audio, engage with lecturers and fellow students, and deal with non-traditional forms of assessment such as quizzes as some of the challenges. Prof. Malata pointed out most students' lack of experience with the learner centered approach, which requires them to actively participate in classroom activities as an additional challenge.
Linking African Universities with knowledge centres in the area of online teaching and learning is a precursor for institutions learning from each other. Explaining how this may be achieved, Prof. Malata said there is need to create centres of excellence in online teaching and learning in different Universities in Africa. These, she said, may be complemented by the creation of an annual peer-reviewed conference and an African Journal both dedicated to online teaching and learning.
Prof. Youssao Abdou Karim Issaka from the University of Abomey-Calavi, Benin was the second panelist of the day. He represented the Beninese Minister of Higher Education and Scientific Research, H.E. Hon. Prof. Dr. Eleonore Ladekan Yayi. Prof. Issaka noted that whereas internet bandwidth was initially insufficient to support online teaching and learning, the Government of Benin had managed to improve it to 100Mbps per University. The country has four major universities, with two of these being multidisciplinary.
In a bid to support online teaching and learning in the wake of COVID-19, the Beninese Government had successfully negotiated with telecommunication companies for zero-rating access to online teaching and learning platforms in all universities including privately-owned ones. In order to ensure quality in Higher Education, Prof. Issaka said that his Government had put in place a project to restructure all courses to be tenable online. This as well as other interventions have enabled Universities in Benin to stay on schedule to complete the current academic year in December 2020.
Responding to a question from Prof. Edu-Buandoh on how the integrity of the examinations process will be maintained under ODeL, Prof. Nawangwe shared that examinations at Makerere University will not be conducted online for this academic year. He added that whereas exams for this semester would be conducted in situ, the University was working with experts from various fields on protocols to facilitate online examinations in the future.
Article by Public Relations Office