Mind Education, an Enabler of National Development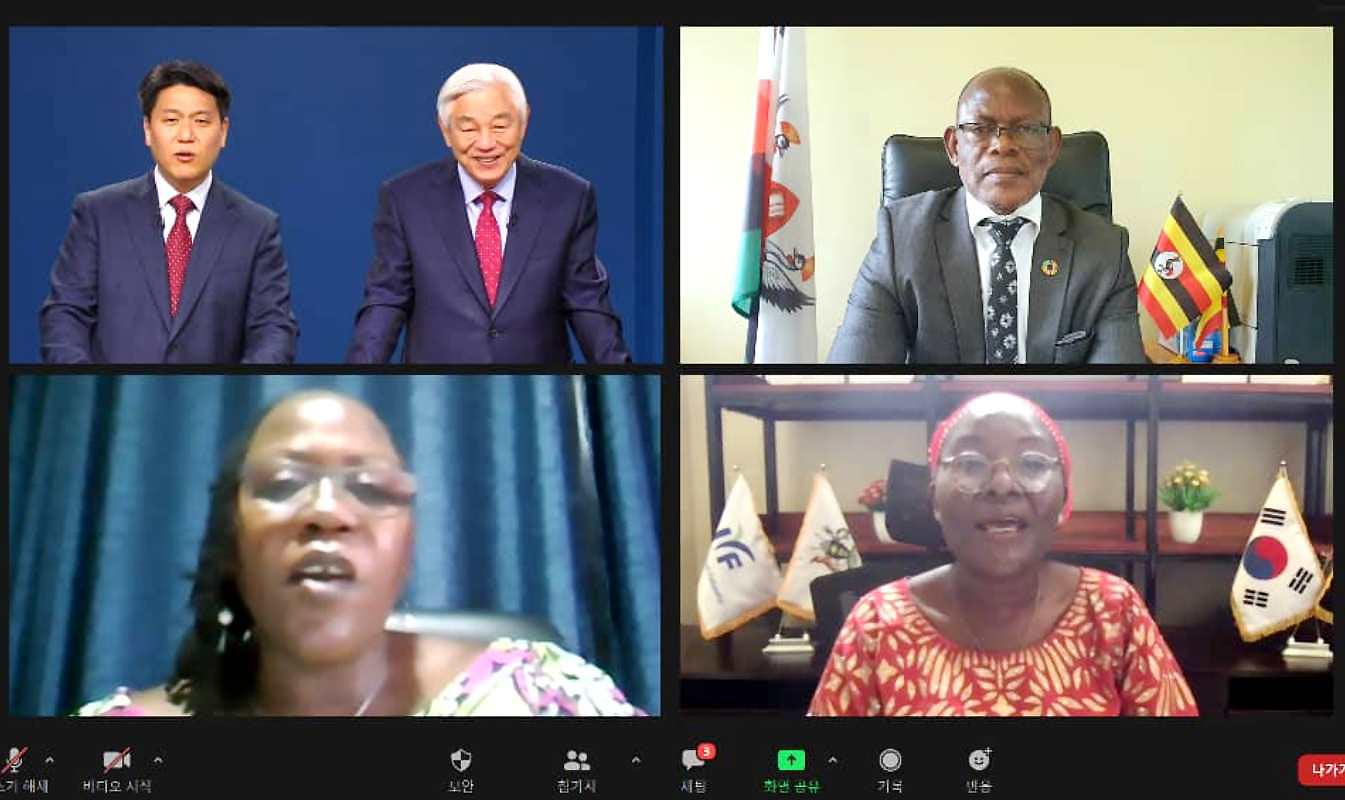 In 1962, the GDP per capita of South Korea was US$90. Matters weren't helped by the fact that country had poor soils, no mineral resources to exploit and hostile neighbours. During the winter when the temperatures dropped to -5 degrees centigrade, it was not uncommon for the less fortunate to either starve or freeze to death.
This vicious cycle of poverty continued until the 1960s when President Park worked hard to introduce Mind Education to help change the mindset of the South Korean population. Mind Education programmes were introduced in school curricula and as the mindsets of people changed, the country evolved. Today, South Korea is ranked highly among developed countries with a GDP per capita above US$30,000.
This picture of South Korea's remarkable transition was painted by Prof. Johan Kim, Chairman of the International Youth Fellowship (IYF) in East Africa. Prof. Kim made his presentation at the virtual Mind Education Workshop for staff of Makerere University hosted by the Vice Chancellor Prof. Barnabas Nawangwe on Friday 6th November 2020. The Workshop was organized by the Principal, College of Humanities and Social Sciences (CHUSS), Assoc. Prof. Josephine Ahikire and the Dean, School of Psychology, Assoc. Prof. Grace Milly Kibanja in partnership with IYF.
Welcoming participants to the workshop, Dr. Kibanja shared that the School of Psychology had been collaborating with IYF since 2015. Together, the School and IYF have organised youth conferences both within and outside the university and reached out to prisons to conduct Mind Education.
"In 2019 we piloted the Mind Education Course among second year students of the Bachelor of Industrial and Organisational Psychaology and this is still ongoing. We are planning to conduct an evaluation of the programme soon" added Dr. Kibanja.
Explaining why the School had taken lead in this initiative, the Dean said that since Psychology is the scientific study of the mind and behaviour, as sure as night follows day, training in upright judgment and clear reasoning would inevitably lead to positive behavioural change. "Mind Education is geared towards strengthening our hearts and minds to overcome resistance to change by rising above our unpleasant desires."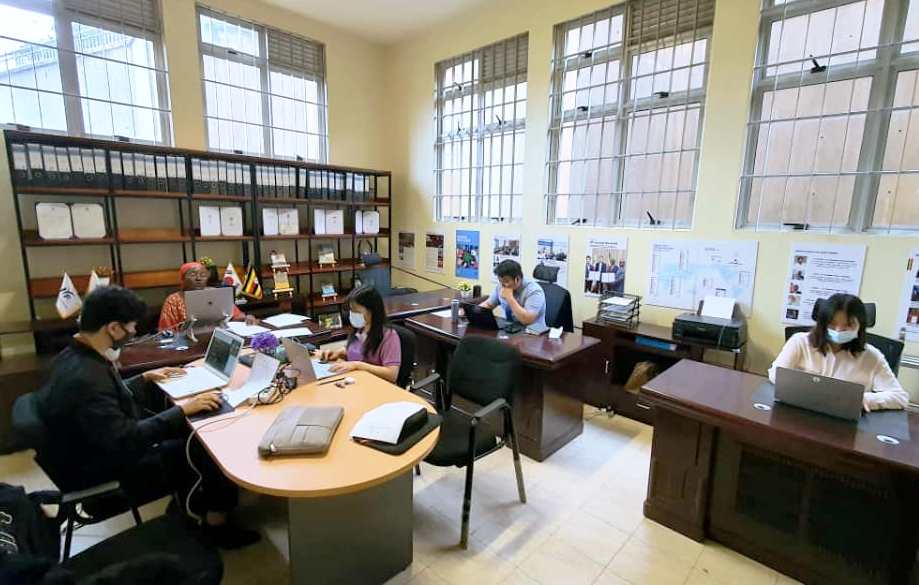 In her remarks, the Principal CHUSS observed that it is important to generate a network of people who will not just complain about problems but seek to create solutions and forge a way forward. "As Principal, I am happy about Mind Education because I think it will go a long way in creating a generation that will take the future in its hands and craft solutions accordingly."
In this regard, she thanked the Vice Chancellor, Prof. Nawangwe for always being on the lookout for opportunities that can foster the delivery of Makerere University's mandate. "The mindset change conversation is very important to us as an institution and we need to mainstream it in the programmes that we teach at Makerere."
Dr. Ahikire pointed out that although people on the African continent face a number of challenges, the COVID-19 pandemic has illustrated that we have the capacity to come up with appropriate solutions. Strengthening this mindset, she noted, would enable us to train a resilient generation.
"I therefore thank the International Youth Fellowship for this very important collaboration with the School of Psychology and Makerere University in general. We welcome you and we embrace the Mind Education Programme as we build for the future."
Prof. Johan Kim in his presentation noted that the mindset change in South Korea had spawned a generation of optimistic innovators and researchers who helped to turn their national economy around. This evolution meant that the hitherto disadvantaged country had gradually become a leading global exporter of goods whose raw materials they didn't even produce.
"Today, South Korea is the seventh leading exporter of refined petroleum, a leading exporter of coffee and for a country that doesn't have iron ore, home to the largest shipbuilding companies in the world" remarked Prof. Kim.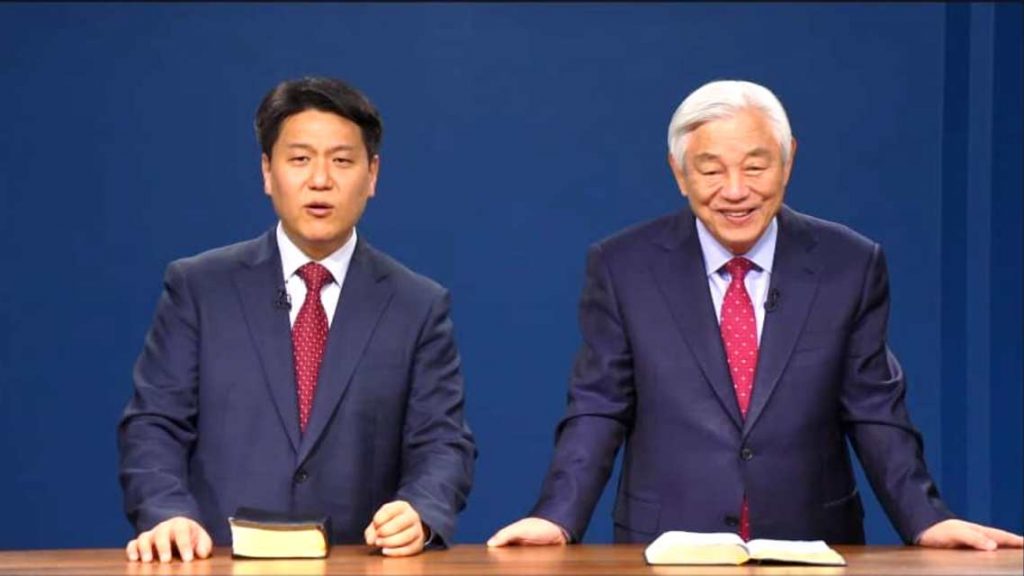 He concluded his presentation with the illustration of Koi's law. Koi is a Japanese fish whose growth is proportional to the environment it is kept in. In a fish bowl, it grows to from 5 to 8cm, while in a pond it grows from 12 to 25cm. However, when the same fish is placed in a river it grows to a whooping 90 to 120cm. "The environment in which we keep our minds will determine where (how far) we go."
Prof. Kim reassured that once the youth acquire a strong and positive mindset through Mind Education, the way they look at their country is bound to change. "Through Mind Education, we shall be able to move the mindset of our young people from the fishbowl to the pond to the river."
As participants were still absorbing Prof. Kim's fascinating presentation, it was time to be treated to yet another captivating performance, this time by the Gracias Choir, an orchestra and choral ensemble founded by Rev. Dr. Ock Soo Park in the year 2000. Their melodious and well-assembled performance of the Ugandan National anthem and Yansumulula Nze; a Luganda gospel song, amazed the participants.
Following this spectacular performance, the Keynote Speaker Rev. Dr. Ock Soo Park "took to the stage" to deliver his Special Lecture on Mindset with through his proficient translator. He began by stressing the importance of applying ones heart to scenes that play out daily, noting that people who'd mastered the art of taking care of and using their heart were a world apart.
Like a true Evangelist, Rev. Dr. Park delivered his special lecture in storytelling fashion, starting off with his own life as a nineteen year old and the difficulties he faced to the story of the beautiful, well-educated young lady who against all advice chose to marry a crippled uneducated young man.
He captivated his audience by painting a picture of the uphill task faced by the girl in breaking the news to her parents, to the suspicion she aroused from the young man's family, which suspicion melted into pure bliss when they discovered how serious she was. Rev. Dr. Park had us all eating out of the palm of his hand as he narrated how this love story progressed into marriage, complete with all the facial expressions, appropriate sounds and hand gestures, leading us past blooming flowers up the mountain to the peak.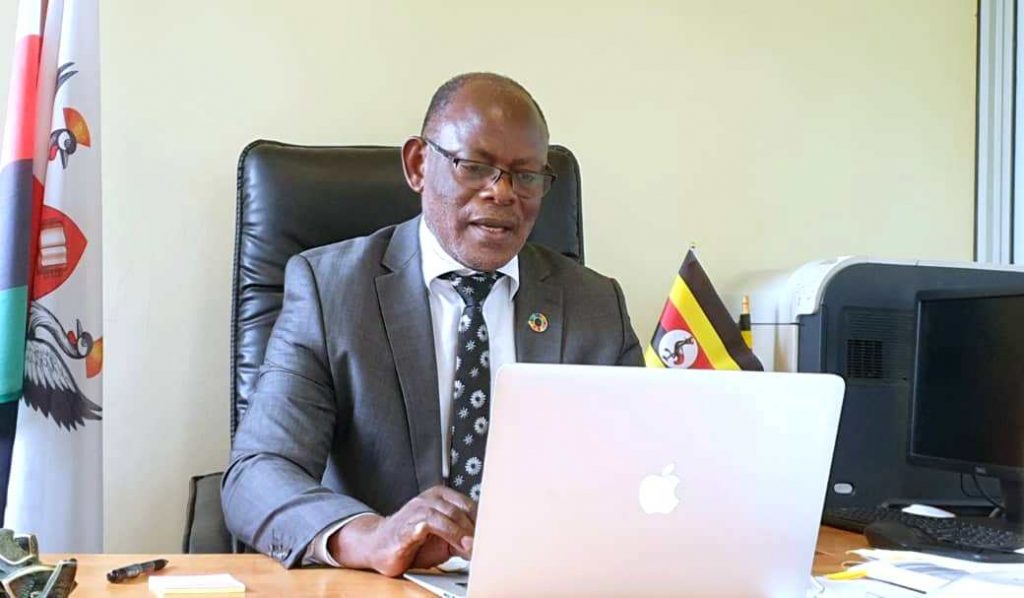 Suddenly, the beautiful tale veered off, taking a dark ghastly turn. Happily ever after gave way to ominous foreboding as the young man's envy and rage overwhelmed his sense of reason. Mistaking his beautiful bride's market errands for moments spent cavorting with other able-bodied men, he resorted to violent assault, shattering body and heart, a sad turn of events, a bitter end.
The Evangelist now had us where he wanted. It was time to deliver his blow, or so we thought. He then switched gears, shifting to a tale of South Korean car manufacturers and how the power of Mind Education had turned this sector's fortunes around. Having depended on the Japanese to supply car engines for their brands for years, the South Koreans felt that they had gained sufficient experience to assemble their own and therefore asked their former supplier to teach them this skill. This request had been met with persistent "it's too hard" responses year after year. When the South Koreans threatened to make their own engines, this announcement was received as the joke of the century by the Japanese.
Frustrated and insulted, the South Koreans had returned home, assembled their teams, shared their vision to build their own engines going forward and embarked on the herculean task. As fate would have it, they were pleasantly surprised to learn assembling car engines wasn't as hard as the Japanese had made it seem. The rest as they say is history. Today South Korean car exports are worth billions of dollars.
"If you think more deeply, you get to think of things other people don't. Leave behind your first level of thought and try to embrace deep thinking. If you go about life thinking deeply, you will live a blessed glorious life" concluded Rev. Dr. Park.
In the reactions that followed, a participant wondered why mindset change has been less experienced in Africa and whether the environment had any effect on this. In response, Prof. Kim noted that South Koreans too were in the past more concerned about basic living (eating and sleeping), and quitessentially focused more on how to become rich. "Many people in Africa are focusing on the materialistic or hardware more than the software part of our life. We need a lot of awareness through Mind Education especially for the youth so that they can think more in terms of development than daily needs."
Another participant sought to find out whether frustration plays a role in mindset change. Prof. Kim responded by sharing that a weak heart and mindset are the primary reason why people are easily frustrated or stressed by anything. "This is because such a person is usually avoiding burdens or difficulties of life. When we continuously allow our mindset to collide with burdens and difficulties, our hearts become stronger. As such, we are able to easily overcome hardship when it comes our way."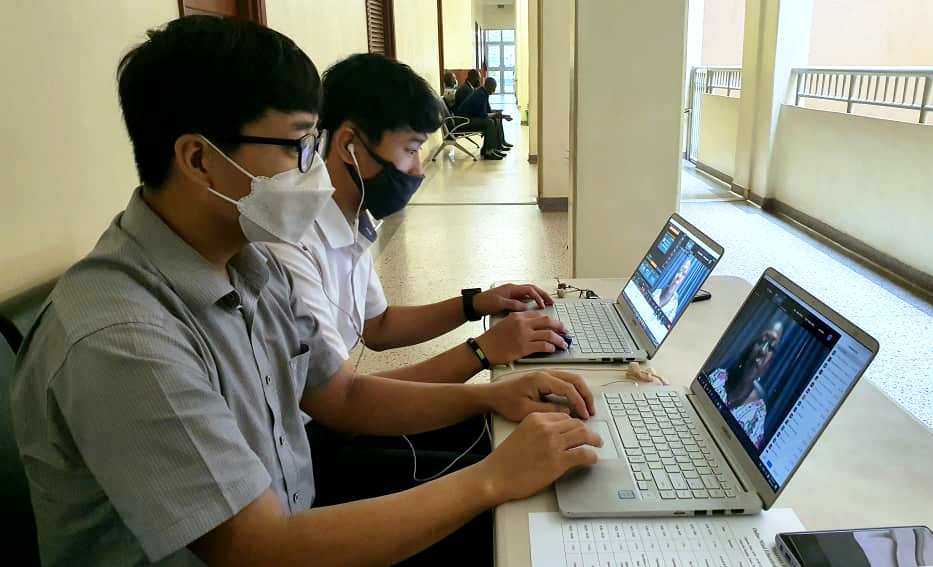 Delivering the closing remarks, the Host, Prof. Barnabas Nawangwe shared that civilization started in Africa 5,000 years ago and for over 800 years, the Moors occupied Spain. Whereas these ancient civilizations had collapsed, the Vice Chancellor opined that it was still possible for Makerere University to be inspired by the South Korean success and as the top black University lead the mindset change campaign. "For the last few weeks, I have seen a lot coming out of Makerere University in the form of research and innovations from every college. This is commendable."
Prof. Nawangwe observed that whereas our population is exploding, our resources are not and as such a quick solution is needed to address this. As a first step, the School of Psychology was working closely with IYF to explore how to incorporate Mind Education into the curriculum. The Vice Chancellor also shared that a second workshop was in the offing and staff would be informed about the dates accordingly.
He thanked Rev. Dr. Park for delivering the keynote, as well as Dr. Ahikire, Dr. Kibanja and the IYF representatives, Prof. Kim and Pastor Part for organizing the Workshop. He equally thanked all participants taking time off to attend the workshop. "We cannot continue leaving our fate to chance; we have this fate in our hands."
Article by Public Relations Office.
Related article
President Museveni Launches National Mindset Education Programme
WHS Regional Meeting Africa 2021: Finance Chairperson's Update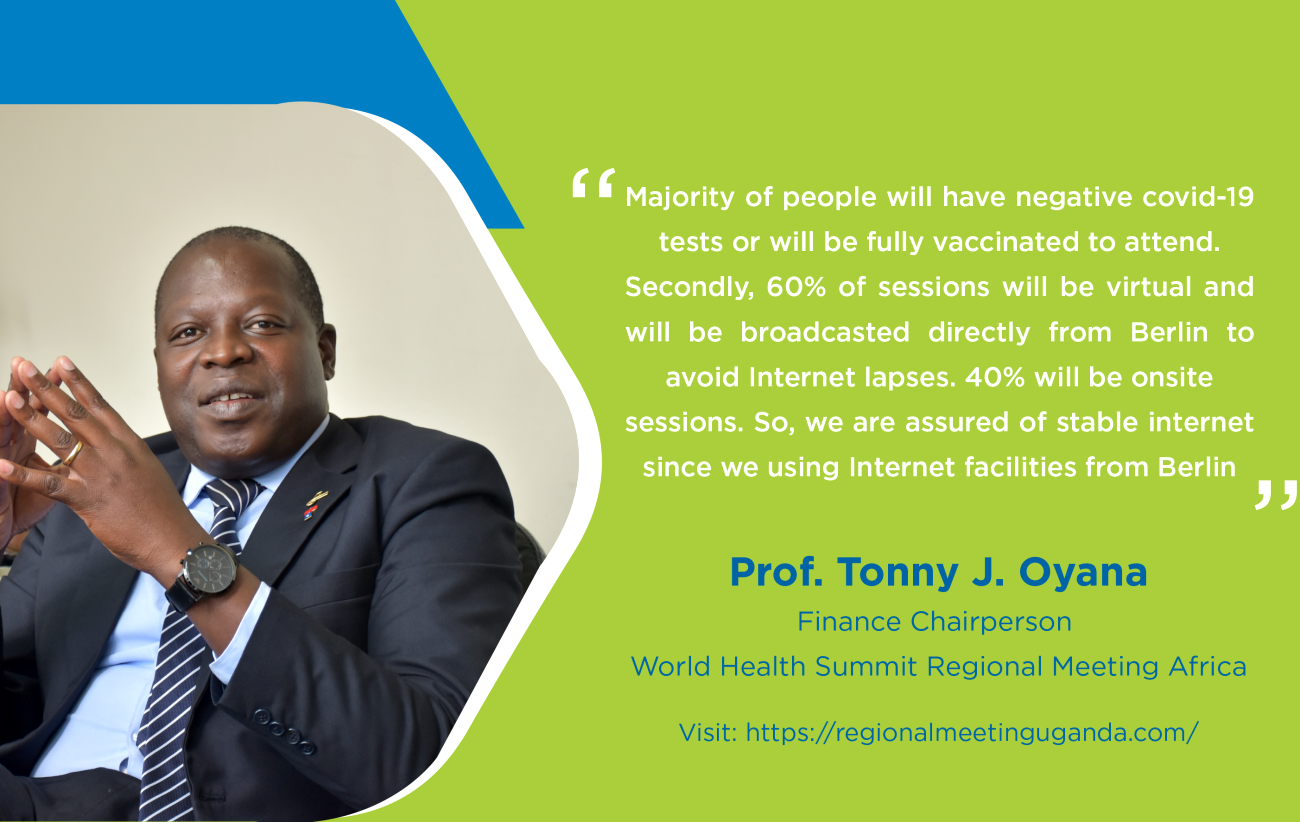 SOPs: Our plan is to have 200 sets of people in different spacious rooms…

Prof. Tonny j. oyana, finance chairperson whs regional meeting africa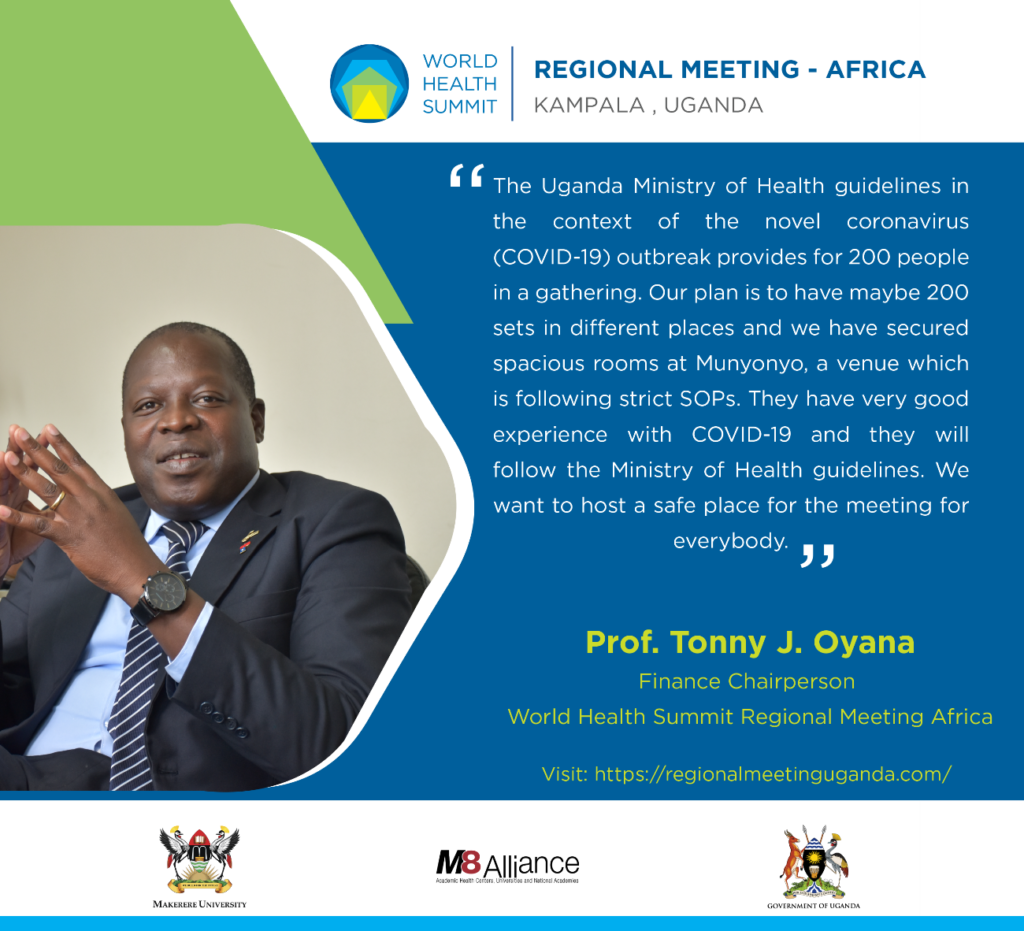 We are sincerely grateful to our sponsors…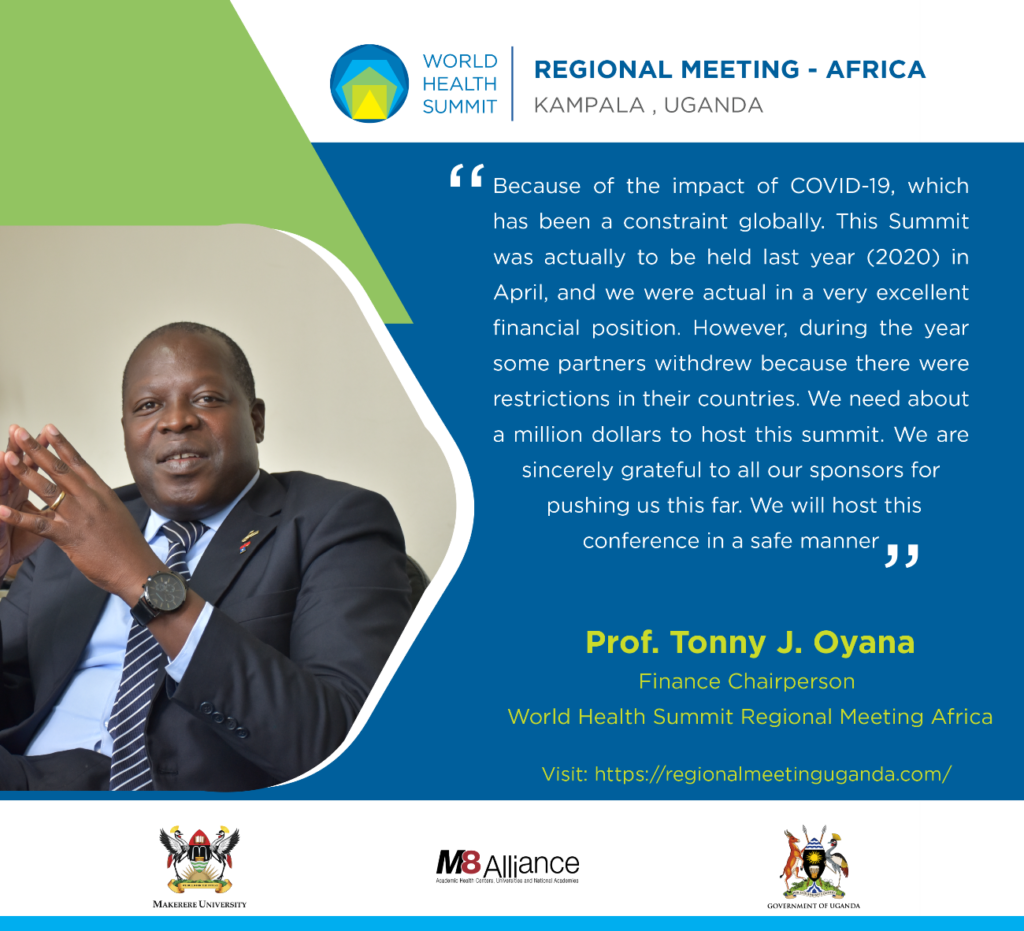 Over 15 core sponsors…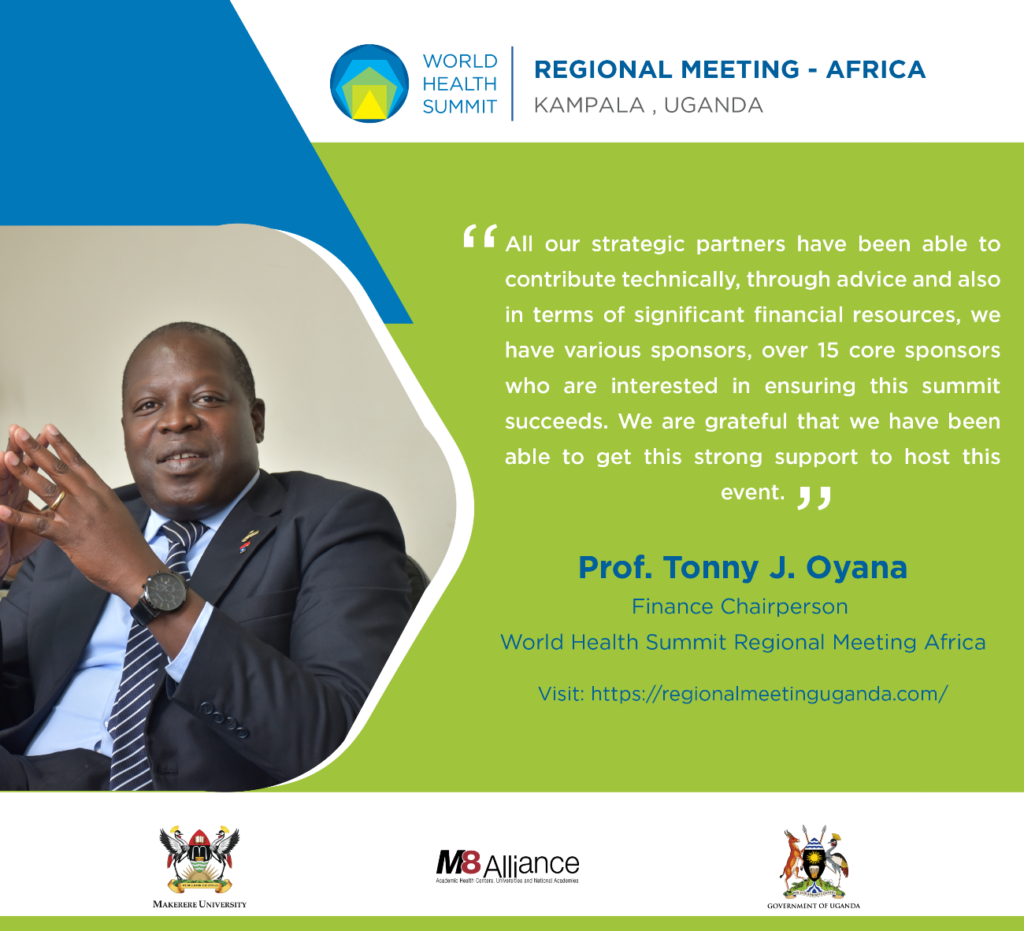 Sessions: 60% Virtual, 40% Onsite…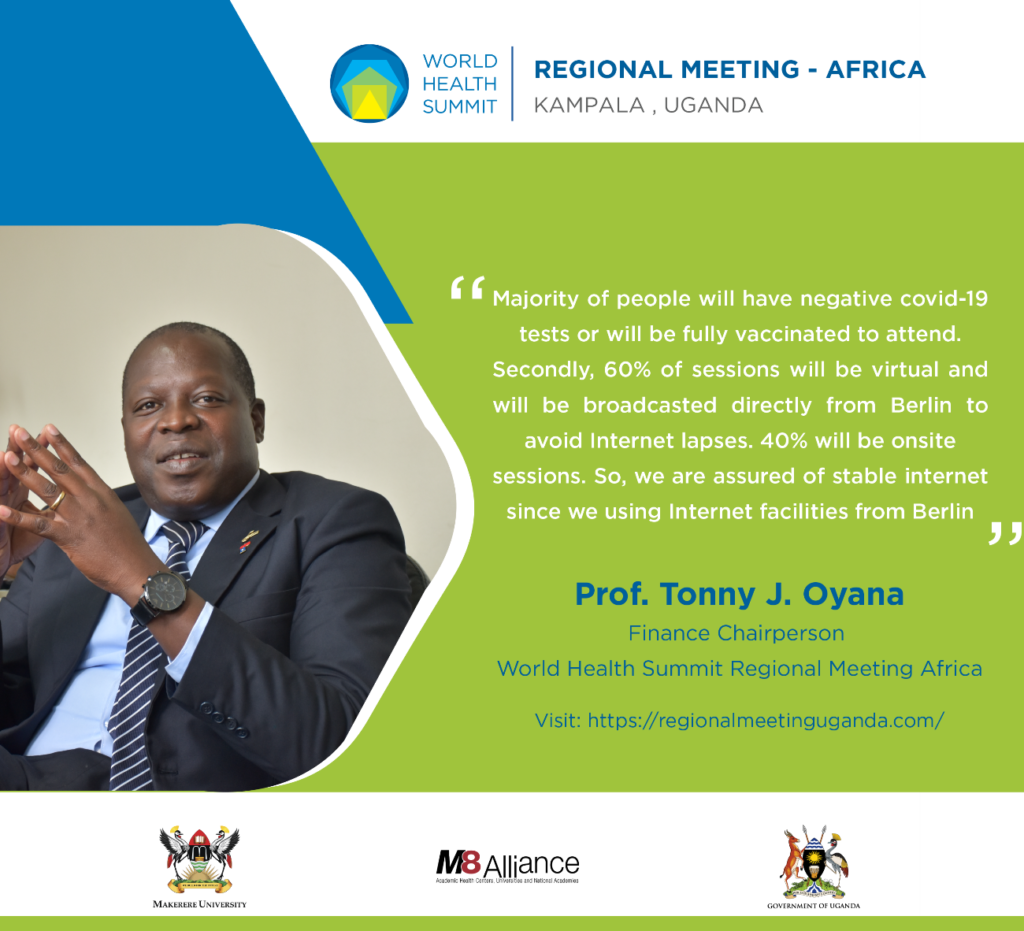 HERS-EA Fourth Leadership Academy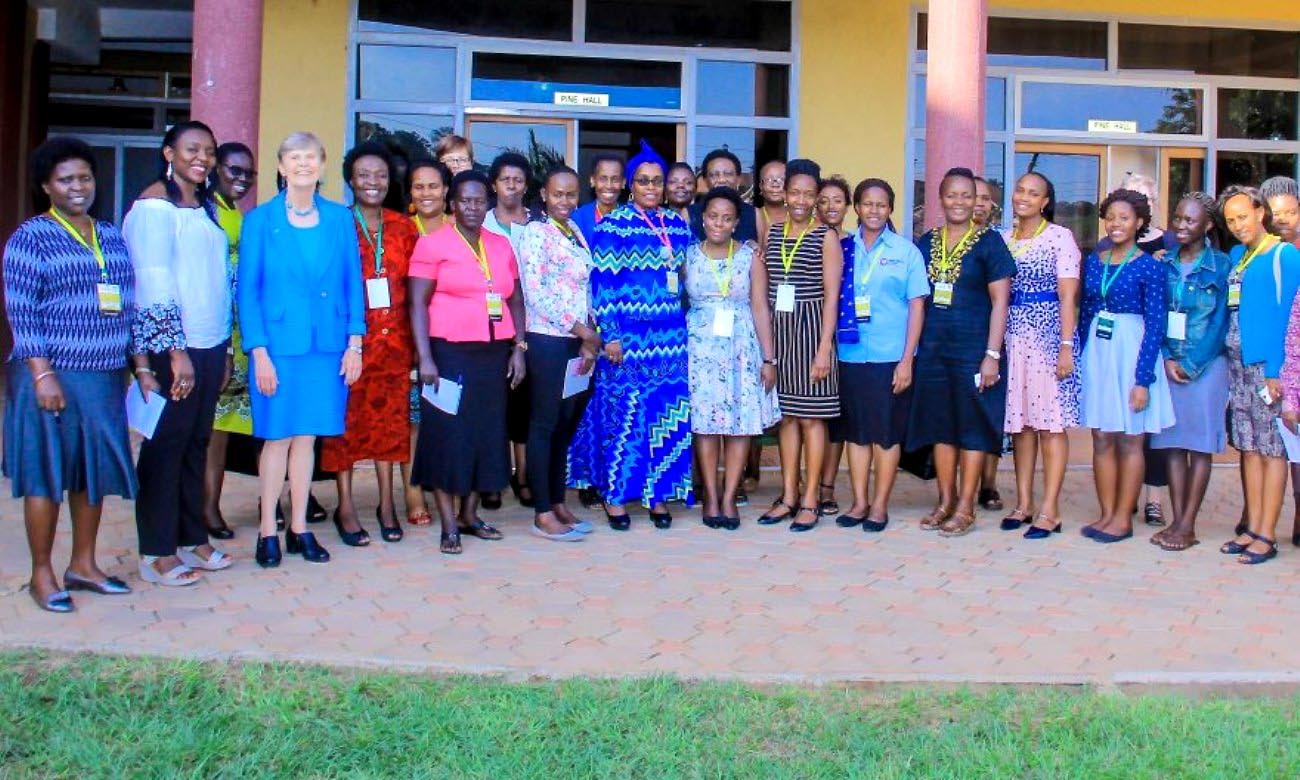 The Higher Education Resource Services-East Africa (HERS-EA) provides an intensive residential one-week leadership and management development curriculum focused on women, mainly in higher education institutions and administration.
In response to the current Covid-19 pandemic, HERS-EA Fourth Academy will be a totally virtual one. As such, the Academy previously scheduled to take place between June 28th – July 3rd has been postponed by one week to July 5th-9th. 
Theme: "Positioning Women for Leadership in Higher Education"
A. Institutional Development
1. Managing and Leading Change
2. Reframing Organizations for effective work
3. Developing Effective Partnerships in Higher Education for Women and gender focused advancement
B. Personal Development
4. Career Mapping/building dossier/personal development
5. Professional Women's economic empowerment through Enterprise development and management for profit maximization
6. Research and Publishing; Leadership and Fundraising for projects including research and publication.
C. Networking
7. The Power of Mentoring; Networking
Who Should Attend?
HERS-EA expects many diverse and dynamic women leaders to attend the ACADEMY, to share and learn from multiple institutional perspectives with guidance from women with a wealth of experience in higher education, national academic organizations, government and non- governmental organizations. Participants are expected hold mid to senior-level positions and bring expertise from all parts of a college or university. They also represent a range of national groups, ages and years of experience in higher education and other fields.
Applying to the ACADEMY:
The deadline for registration has also been extended to June 30th. For more information regarding registration, please visit the website: www.hersea.org Completed registration forms should be emailed, with a scanned payment slip to: info@hersea.org, by 5.00 p.m. on Wednesday 30th June.
A complete application includes:
a) CV
b) A self-descriptive letter (not > 500 words) to include:
Current Title (e.g. Associate Professor of Economics; Deputy Dean, e. t. c.)
Name and Contact Information for 2 Recommenders (e.g. Vice Chancellor, Head of Department, Chief Officer in your area, and/or direct supervisor)
Short- and long-term career goals
Your expectations for the HERS-EA ACADEMY.
c) Passport size photograph
d) A developmental project you have been assigned or you would like to initiate at your campus (maximum 500 words)
e) Registration fee of $100, please attach a copy of the deposit slip to your application (Bank A/C details below):
Contact Information
If you have any further questions, please email:
info[at]hersea.org or call the HERS-EA Administrator on: +256 (0)772082011 Please,also, visit the HERS-EA website for further updates: www.hersea.org.
Payment Bank Account Details:
Account Name: Higher Education Resource Service East Africa
HERS-EA US $ ACCOUNT
Name of Bank: DFCU Bank
Makerere University Branch
A/C No: 02083553153181
Swift Code: DFCUUGKA
HERS-EA UGX ACCOUNT
Name of Bank: DFCU Bank
Makerere University Branch
A/C No: 01083553153172
Mak Commissions CoVAB@50 Celebrations, Awards Certificates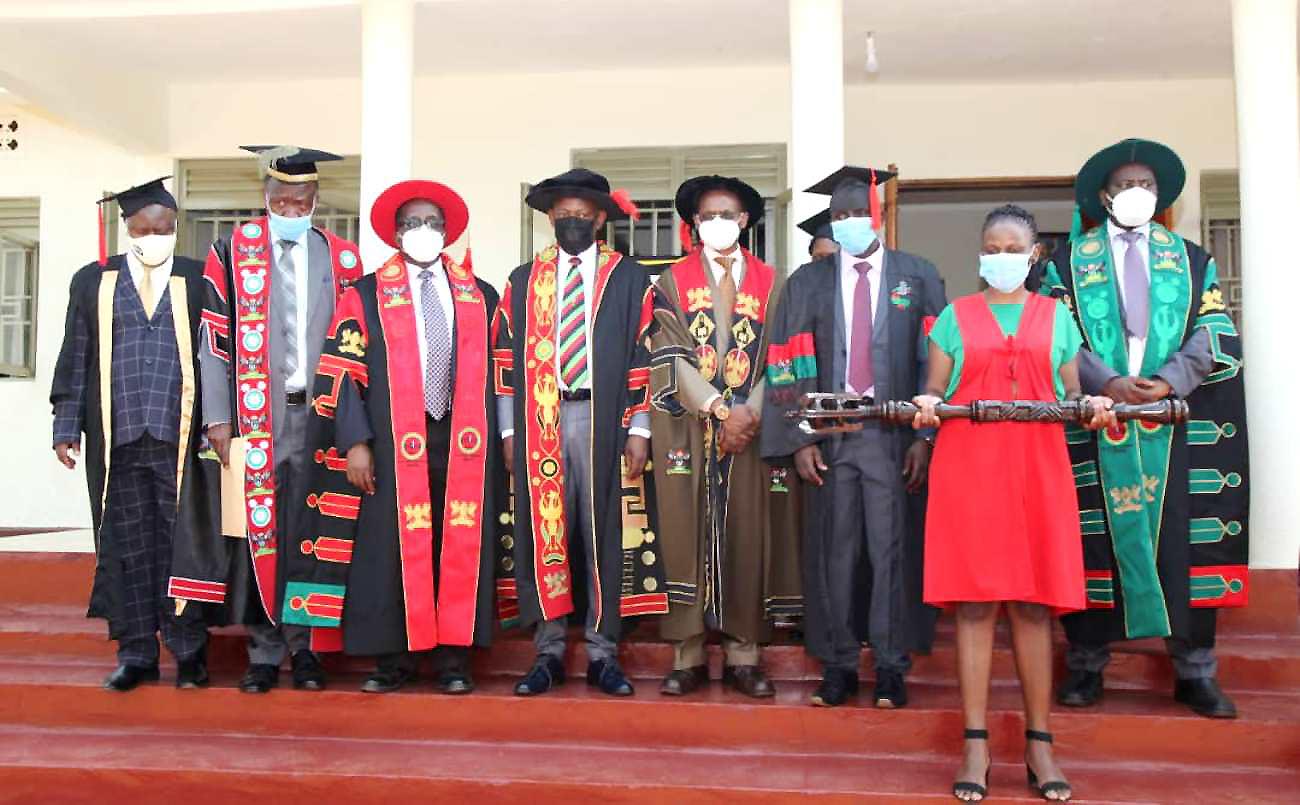 The College of Veterinary Medicine, Animal Resources and Biosecurity (CoVAB) on Thursday 17th June, 2021 commenced celebrations to mark 50 Years of Veterinary Higher Education, Science, Technology, Innovation and Services (HESTIS) in Uganda. The blended event held at the Industrial Livestock Research, Incubation and Skilling (ILRIS) Center at Nakyesasa, Namulonge as well as online was presided over by the Chancellor, Prof. Ezra Suruma and First Lady and Minister of Education and Sports (MoES), Hon. Janet Museveni both represented by the Vice Chancellor, Prof. Barnabas Nawangwe.
The event, held as part of Makerere University Centenary Celebrations (1922-2022) was a moment of celebration for 1,930 skilled livestock agribusiness entrepreneurs who were awarded certificates in recognition of completion of their respective courses. Owing to the strict Standard Operating Procedures (SOPs) instituted by the Ministry of Health (MoH) to curb the spread of COVID-19, the students from Incubation Hubs in Atiak, Butaleja, Mubende, Nakyesasa, Sheema and Wakiso were awarded their certificates virtually.
In her remarks read by Prof. Barnabas Nawangwe, Hon. Janet Museveni thanked Makerere University for supporting grassroots level development through groundbreaking innovations under the Africa Institute for Strategic Services and Development-Skills for Production Enterprise Development and Accreditation (AFRISA-SPEDA) model.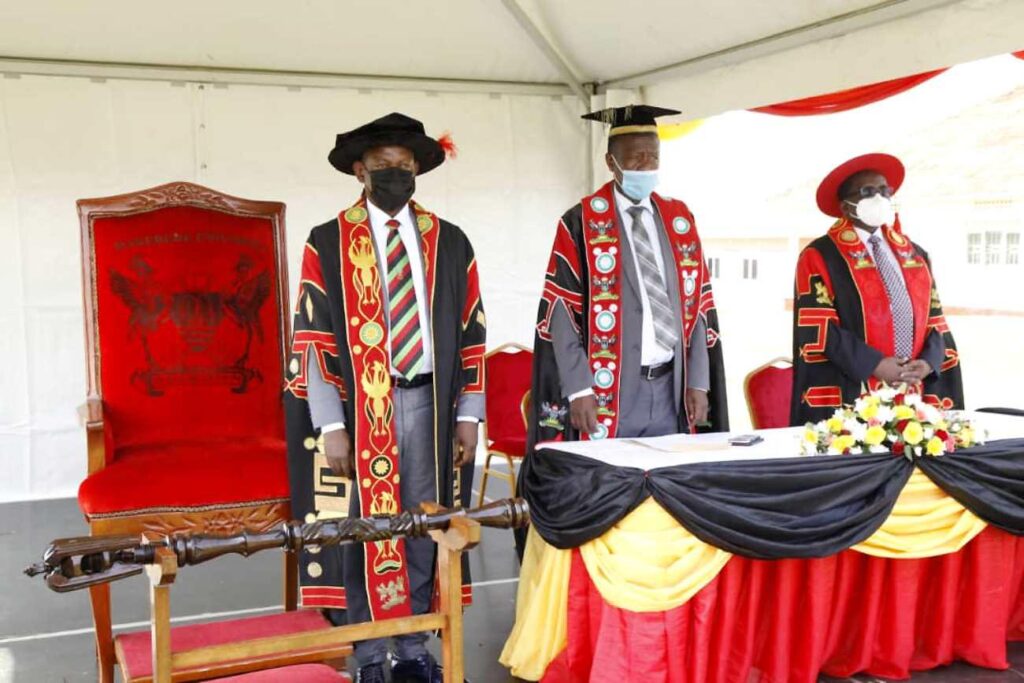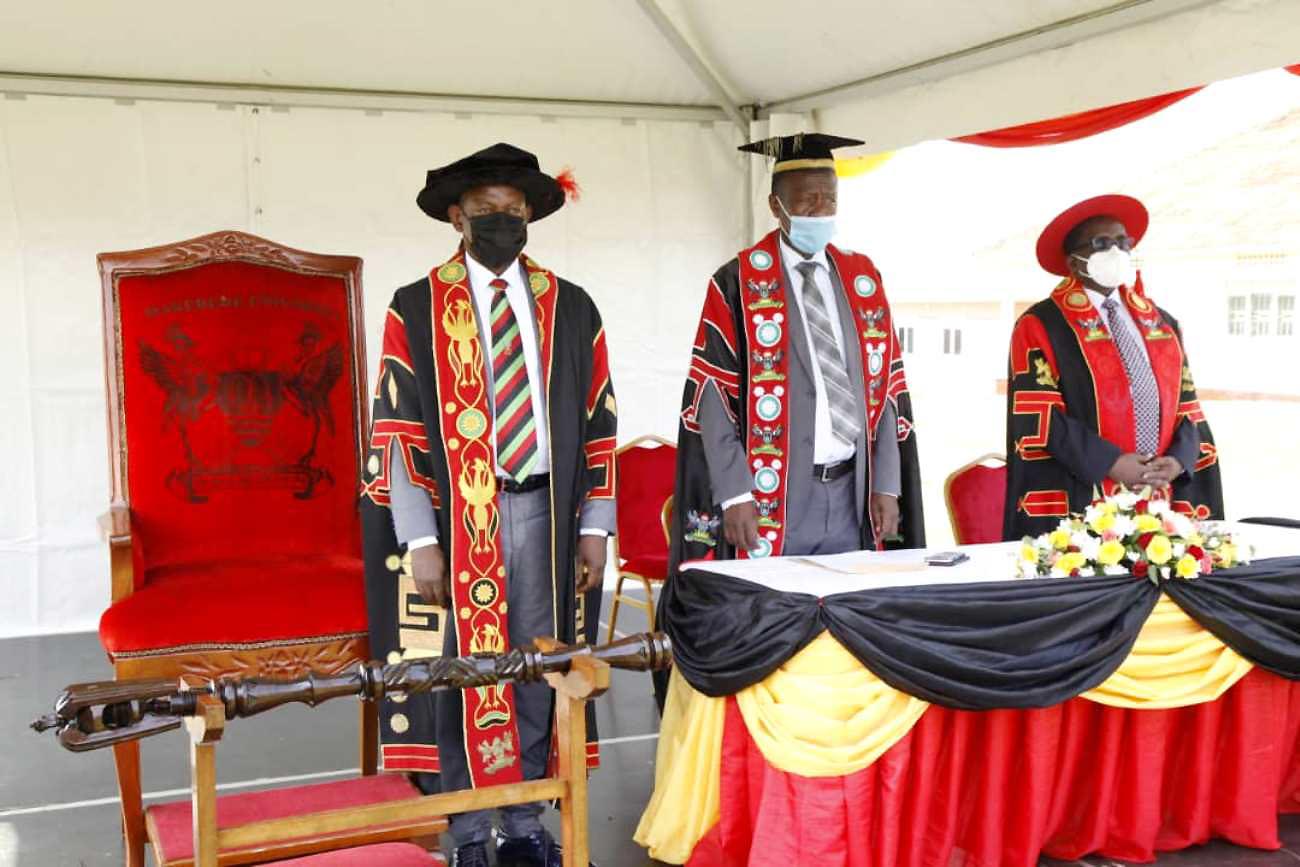 "I am extremely pleased that Makerere University, through those innovative approaches, has developed and launched the alternative approach to building human capital and transferring knowledge to enterprises in communities.
"I would like to encourage all those involved in skills development to adopt methodologies that transform those trainees that go through these programs in ways that enable them also transform the societies they live in" read the Minister's remarks.
She further noted that commissioning of the CoVAB@50 celebrations was both timely and rewarding. "The commissioning of the college innovations indeed has made meaning. This is a true path to growth of an Academic and Development College of the University, and we congratulate you again."
Addressing the congregation as Chancellor, Prof. Barnabas Nawangwe congratulated CoVAB alumna and incoming Minister of Science, Technology and Innovation (MoSTI) under the Office of the President, Dr. Monica Musenero upon her recent appointment. "We thank His Excellency the President for identifying you. Science is in good hands."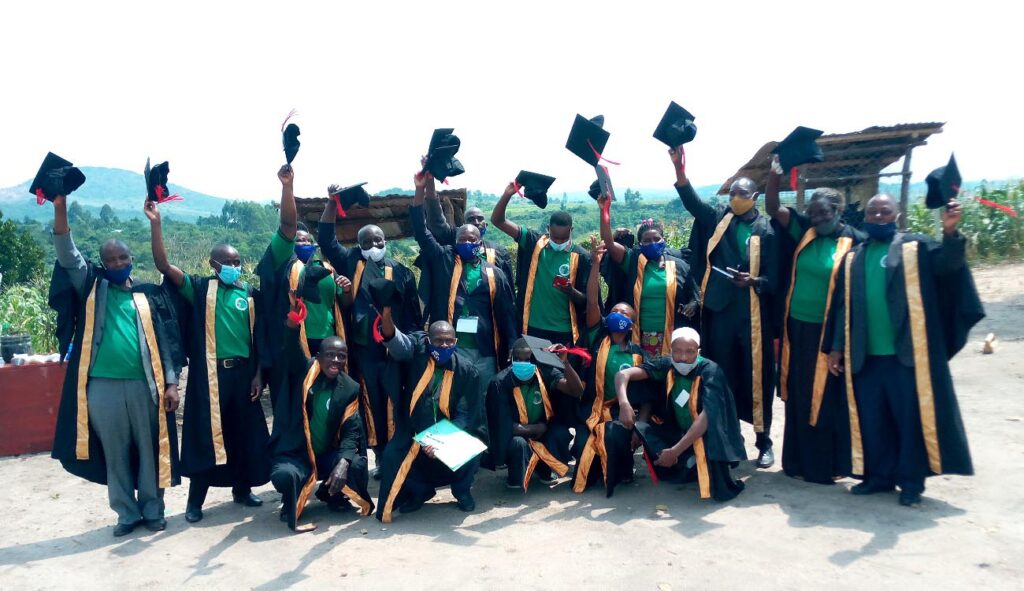 Prof. Nawangwe urged Dr. Musenero to address the structures of managing research and innovation in Uganda, "including the role of the Uganda National Council for Science and Technology and the apparent need to establish a Research Council for Uganda."
In the same breath he thanked the outgoing and pioneer Minister of Science, Technology and Innovation, Hon. Dr. Elioda Tumuwesigye, for his role in ensuring that the ministry is empowered to carry out its mandate.
The Chancellor congratulated CoVAB upon training the bulk of Veterinary Doctors in Uganda over the last 50 years and more recently, Laboratory Technologists at the highest level. He recognised Makerere University's obligation to contribute to the economic self-determination of Uganda and thanked CoVAB for conducting research that addresses hindrances to national development, especially in the livestock industry.
"The anti-tick vaccine is one of such innovations which will solve the huge problem of tick-borne diseases that have caused enormous losses to our farmers. There are many other problems on which the college is researching and we thank you for the enthusiasm" he added.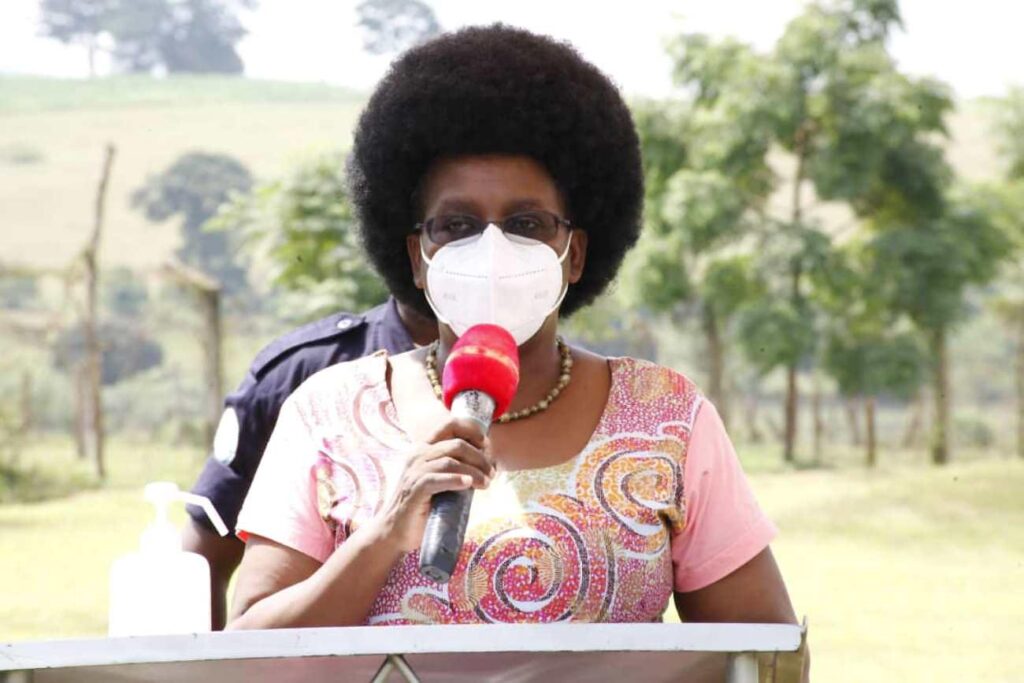 The Chancellor commended CoVAB for being the vanguard of transformation of the grassroots communities through the SPEDA model. "I urge Government to fund this important initiative so that it can more meaningfully contribute to solving the big problem of youth unemployment."
In her remarks, Dr. Monica Musenero commended the Principal, CoVAB, Prof. John David Kabasa for fulfilling the College's dream of enabling the masses who drop out of the education value chain as well as those who complete education but have no skills for livelihood, to attain certification in agribusiness entrepreneurship.
"Many people attain academic success and write papers, publish and they become professors but without demonstrable impact on their nation. You have shown by the thousands that you have touched nationwide that indeed you are a professor of national transformation. Congratulations," remarked Dr. Musenero.
She therefore congratulated the teams at CoVAB and AFRISA upon successfully conceiving and executing a model that is non-traditional, informal, not easily understood and not documented in any textbooks.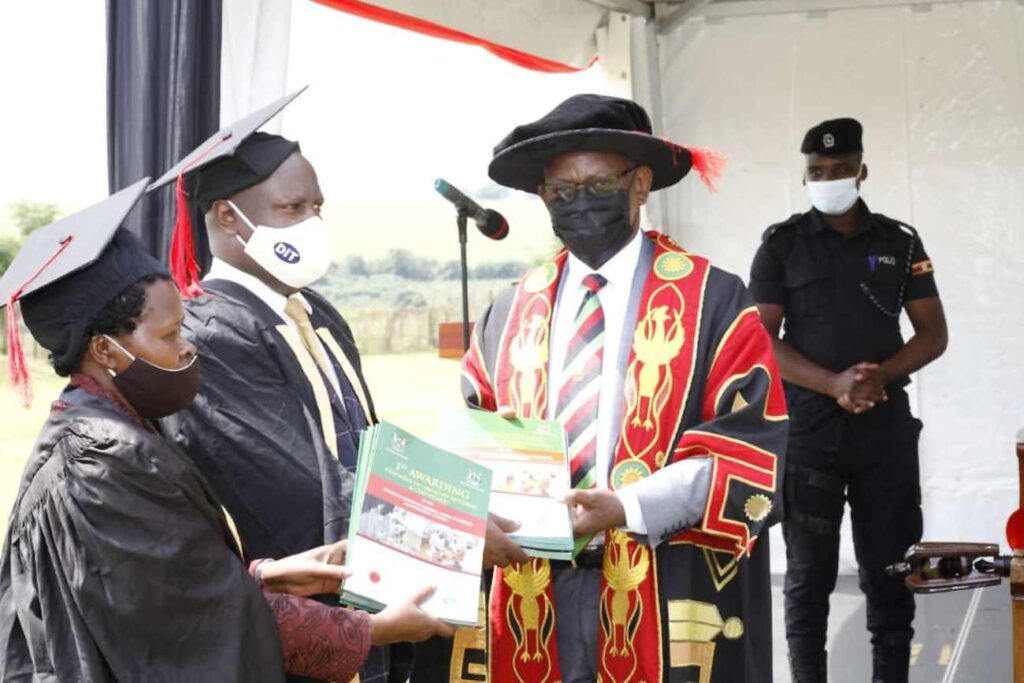 As Minister, Dr. Musenero noted that witnessing thousands of individuals from across the country whose skills had been honed through a university programme receiving certificates gave her a lot of hope and material to embark on her tenure with. "I will be looking forward to harnessing these resources as we initiate work on the next leg of Science, Technology and Innovation in the country under the President's Office."
The invitation to the Principal, CoVAB to present students for the award of the ordinary diplomas, ordinary certificates and artisan certificates was given by the Deputy Vice Chancellor (Academic Affairs), Dr. Umar Kakumba. He congratulated the awardees upon successfully completing their respective courses and graduating with evidence on an enterprise.
Prof. Kabasa clarified that the approach used to train the day's awardees was not simply a vocational skilling. "The combination of action research with knowledge transfer, skilling, plus assessment and accreditation processes done by organs like the DIT (Directorate of Industrial Training, MoES) has given us this result, for the University to provide true leadership and transformation of the community."
Present at the celebrations were the Director, DIT, MoES-Mr. Byakatonda Patrick and the Deputy Commissioner Social Services Development, MoES Madam Elizabeth Bateme who have worked through the Academic-Community-Public-Private-Partnership model to ensure that students graduate as entrepreneurs with micro enterprises.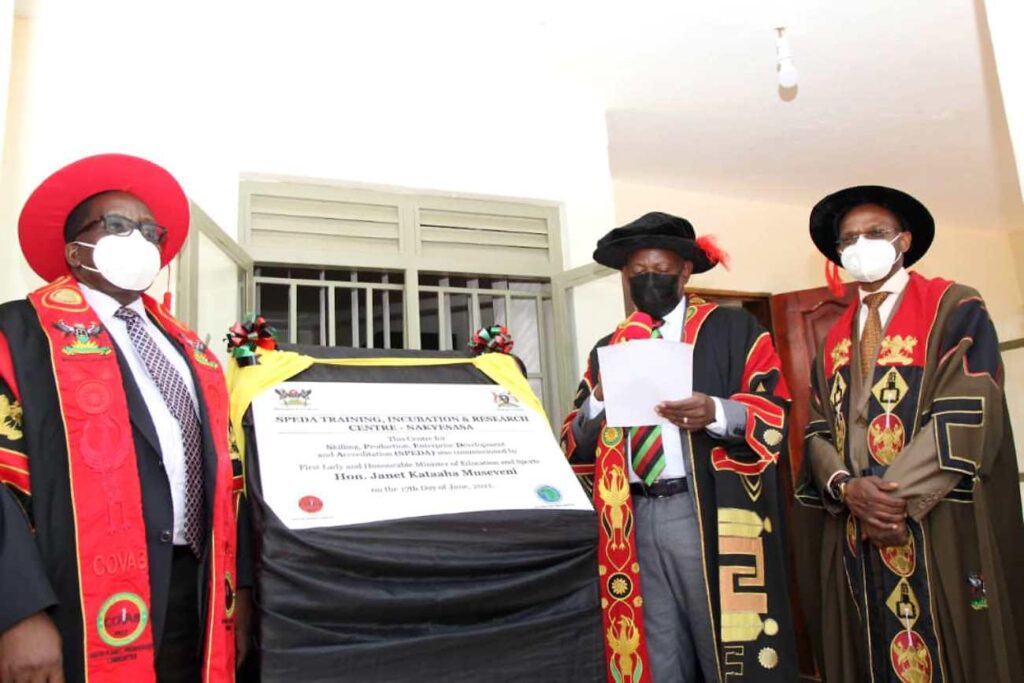 Prior to presiding over the ceremony, Prof. Barnabas Nawangwe, on behalf of the First Lady and Minister of Education and Sports officially commissioned the SPEDA Training, Incubation and Research Centre – Nakyesasa.