The Tough but Promising Journey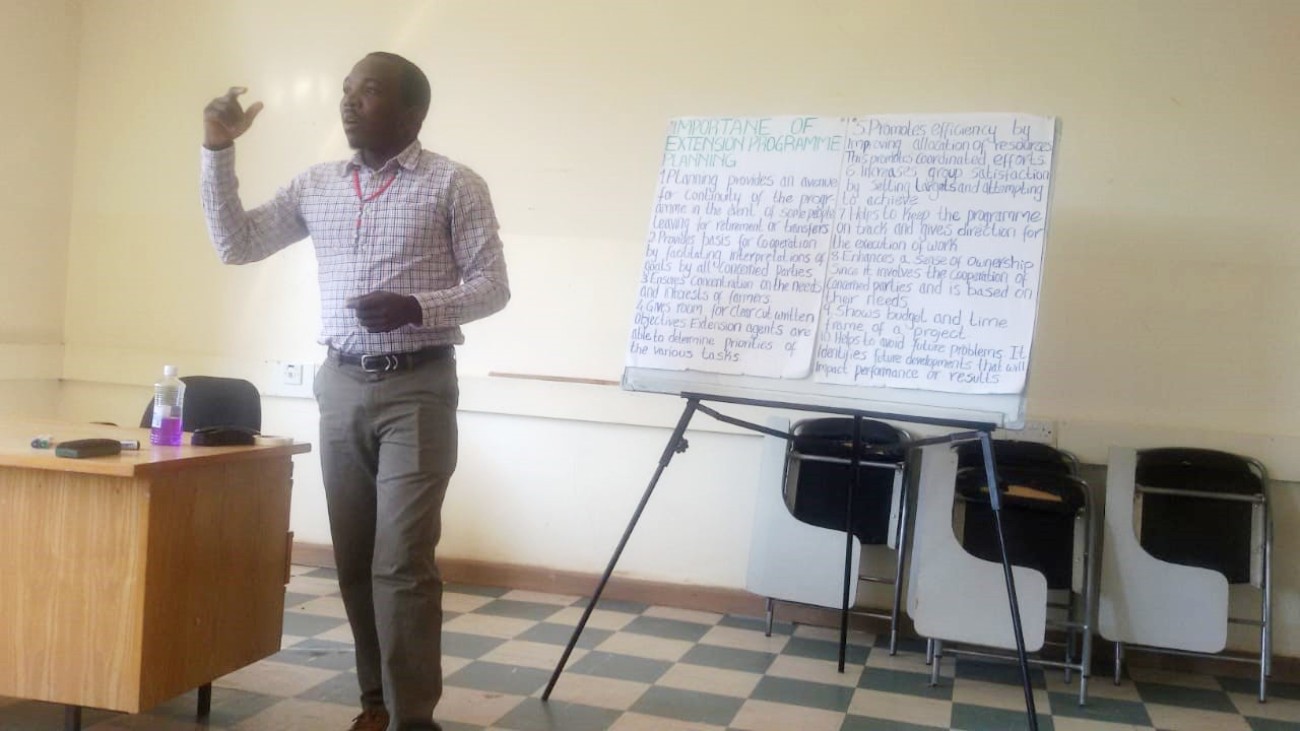 Andrew Waaswa is from Kibuku District, Eastern Uganda pursuing MSc. Agricultural Extension at Egerton University. His research is focused Climate-Smart Agriculture practices among smallholder potato farmers in Gilgil Sub County, Nakuru County, Kenya. Andrew comes from humble family background. His education was interrupted by the death of his father in 1995, leaving him with his peasant mother. During his childhood, Andrew served as a herds-boy for the neigbour's cattle to raise money to support his family but his mother later chose to take him to school where he studied under the Universal Primary Education (UPE) at Nambiri Primary School.
He completed the UACE in 2013 at Lugazi Mixed School-Naalya from where he excelled. The Secondary School in the meantime retained him as a Teaching Assistant (teaching Principles and Practices of Agriculture and Foods and Nutrition). It was from there that he learnt about the Higher Education Student's Financing Board (HESFB) that offers tuition loans to needy students in Uganda. He applied and was considered for funding at Makerere University, Uganda where he pursued BSc. Agricultural and Rural Innovation. The loan covered only tuition fee and left Andrew with no option apart from renting a wooden house (nicknamed by his classmates as Waaswa's Flats) where he stayed with his friend Bwire Joseph. He excelled, graduating with a First Class Honours (CGPA 4.55/5.0).
Bachelor of Laws Government Sponsorship Admission List 2020/2021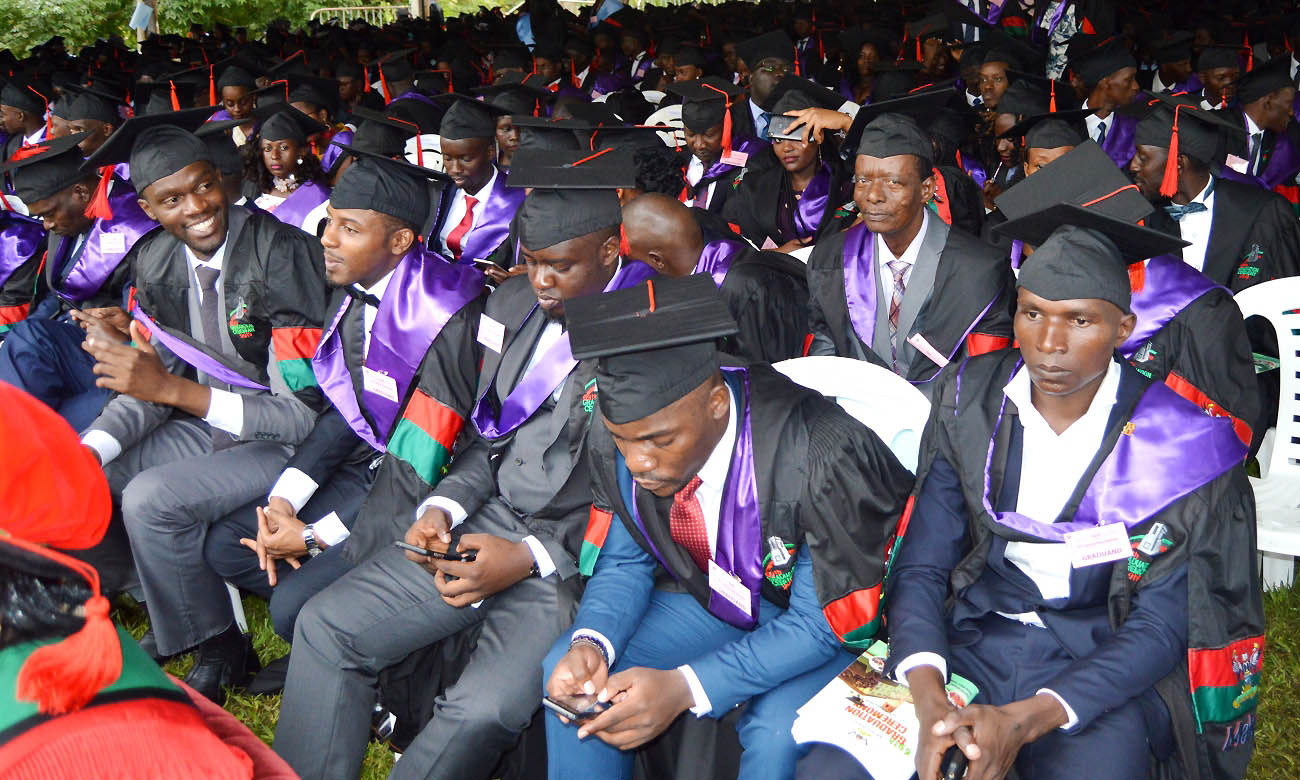 2021 DAAD In-Country In-Region Competitive Masters & PhD Scholarships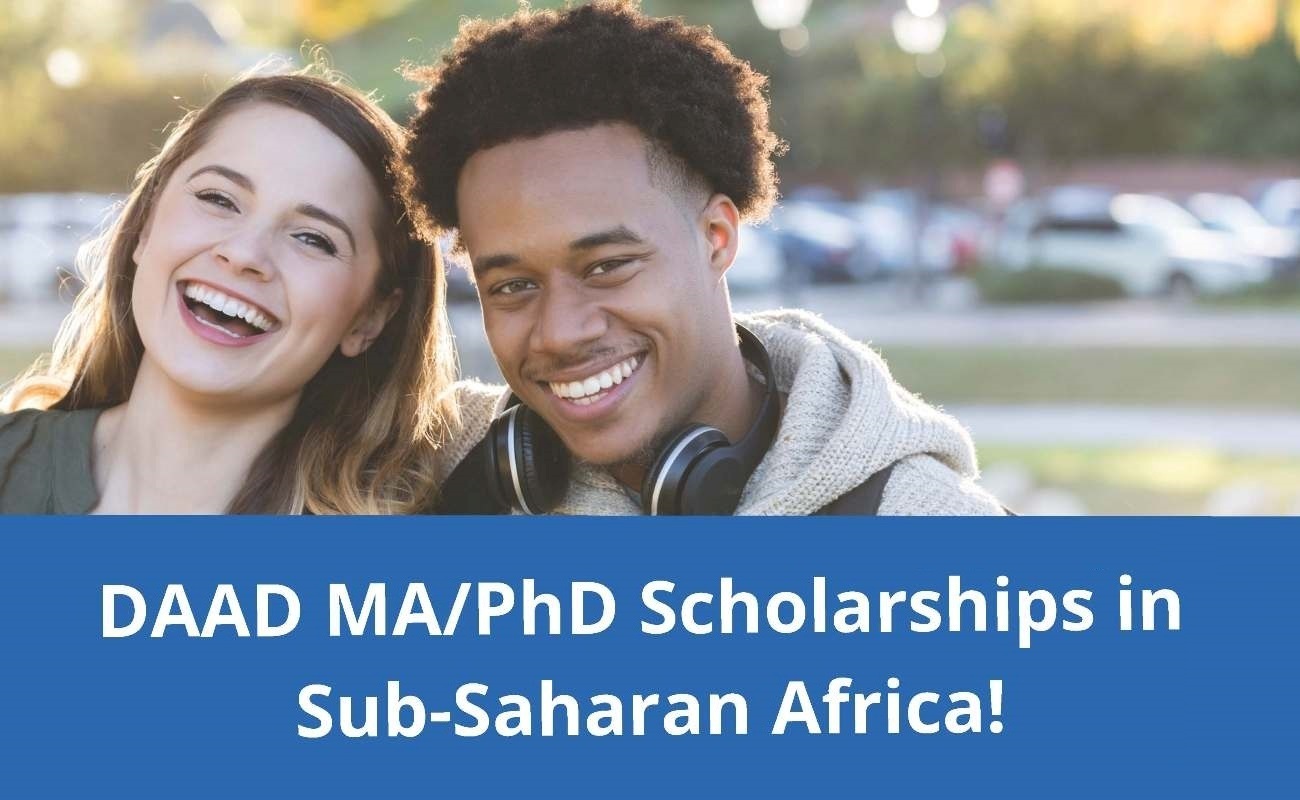 The German Academic Exchange Service (DAAD) in collaboration with Makerere University is offering up to 14 In-Country/In-Region Scholarships for PhD and Master studies at Makerere University for the intake 2021.
Application requirements:
Applicants must meet the following DAAD criteria:
have successfully completed generally a three-year Bachelor's university degree (Master candidates) or a two-year university Master's degree (doctoral candidates) with above average results (at least: Second Class/Upper Division)
clearly show motivation and strong commitment
have thorough knowledge of the language of instruction
have generally completed their last university degree not more than 6 years ago at the time of application
must be nationals or permanent residents of a Sub-Saharan African country
should generally be a) staff member of a public university, b) candidate considered for teaching or research staff recruitment, c) from the public sector and/or d) Alumni of the DAFI-programme
Female applicants and candidates from less privileged regions or groups are especially encouraged to participate in the programme.
Scholarships are initially granted for one year and can be extended to a maximum of the regular period of study upon receipt of an application for extension. Scholars must demonstrate satisfactory progress before an extension is granted.
Eligible fields:
The In-Country/In-Region Scholarship Programme supports studies in subject areas with strong relevance to national development.
The scholarships at Makerere University are available in the following fields:
PhD in Plant Breeding
Master in Environment and Natural Resource Management
Duration and commencement:
The duration
of the PhD programme is generally three years (regular period of studies) and is usually starting in September 2021
of the Master programme is generally two years (regular period of studies) and is usually starting in September 2021
Please note that the maximum duration of the scholarship is based on the time that is left until the scholarship holder has reached the regular period of studies in that programme; i.e., if you apply for a DAAD scholarship starting in your second year of studies of a three-year programme, the maximum duration of the scholarship will be two years.
DAAD will conduct interactive information sessions to guide prospective applicants on Thursday, 29 October, Tuesday 03 November and Thursday 05 November 2020 from 2:00 pm – 3:00 pm EAT. Please click the link below for details on the upcoming information sessions:
https://www.daad.org.za/en/about-us/online-info-sessions/
Please see Downloads for details
The application deadline is 15th December 2020.
Contact and advice
DAAD Contact Person:
Ms. Vivian Magero
Email: magero[at]daad.de
Makerere University Contact Persons:
Dr. Justine Namaalwa (Masters Programme)
Email: namaalwa.justine[at]gmail.com
Prof. Patrick Rubaihayo (PhD Programme)
Email: prubaihayo[at]gmail.com
The Jim Leech MCF Fellowship on Entrepreneurship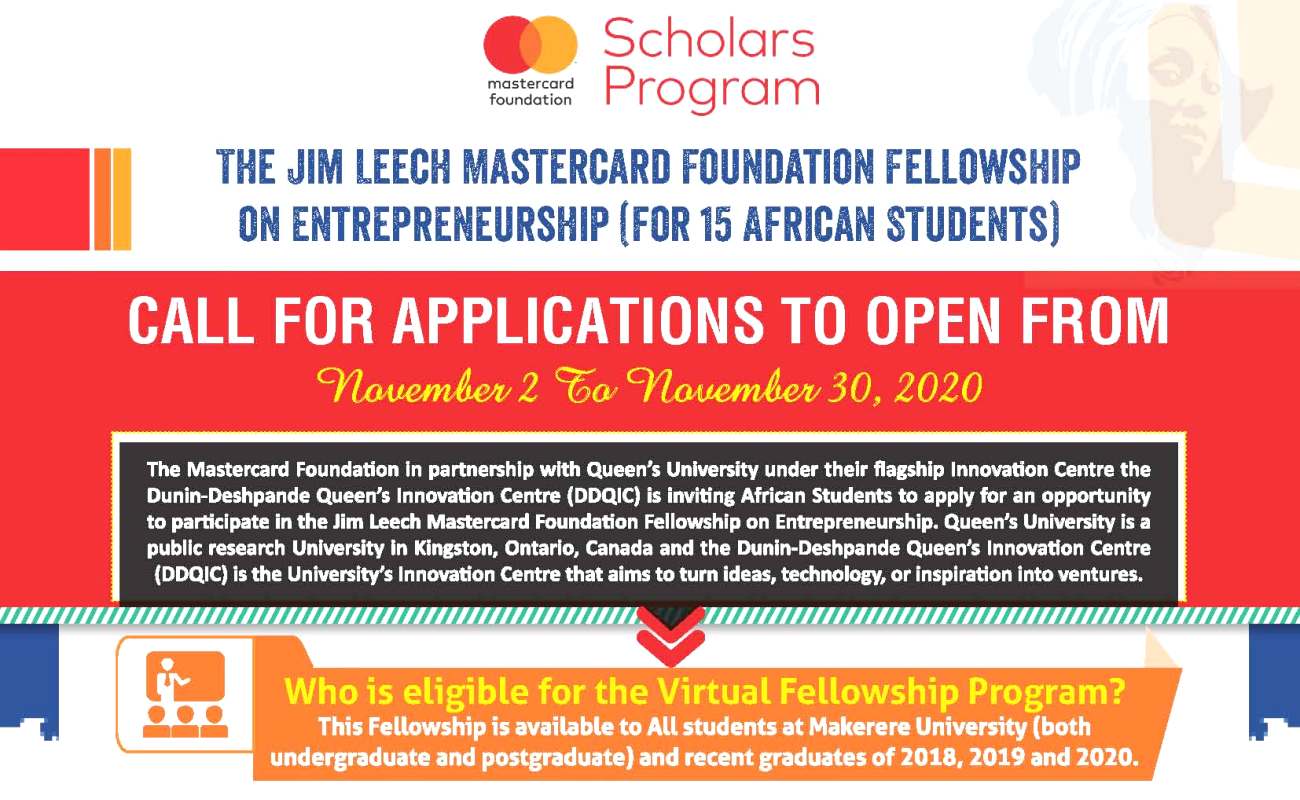 The Mastercard Foundation in partnership with Queen's University under their flagship Innovation Centre the Dunin-Deshpande Queen's Innovation Centre (DDQIC) is inviting African Students to apply for an opportunity to participate in the Jim Leech Mastercard Foundation Fellowship on Entrepreneurship. Queen's University is a public research University in Kingston, Ontario, Canada and the Dunin-Deshpande Queen's Innovation Centre (DDQIC) is the University's Innovation Centre that aims to turn ideas, technology, or inspiration into ventures.
Who is eligible for the Virtual Fellowship Program?
This Fellowship is available to All students at Makerere University (both undergraduate and postgraduate) and recent graduates of 2018, 2019 and 2020.
The Fellowship will be based at DDQIC. The Fellowship will be offered to at least 15 Fellows with 15 outstanding business ideas. They will benefit from the online version of DDQIC's "QyourVenture".
This Eight-month accelerator program provides:
Access to the Discipline Entrepreneurship Toolbox for five months. This is an online entrepreneurship training program with 24 steps developed by the Martin Trust Center for MIT Entrepreneurship.
Access to an incubation support for three months. The Fellows will be on boarded into a company creation process with access to mentorship and coaching from DDQIC's network. They will compete to win seed funding grants from DDQIC's network of investors.
Support to facilitate the Virtual Fellowship Program
Each Fellow will receive a $500 stipend. The stipend is to ensure the Fellows have access to digital devices as well as safe and secure internet access.
Call For Applications to open from November 2 to November 30, 2020
Contact Information
Bernard B. Buteera
Communications & Web Officer
Mastercard Foundation Scholars Program
Makerere University
Tel +256-772325028
Web: http://mcfsp.mak.ac.ug
Please see Downloads for detailed Advert