Mak-Gender Mainstreaming Directorate Student Peer Trainers Undergo Training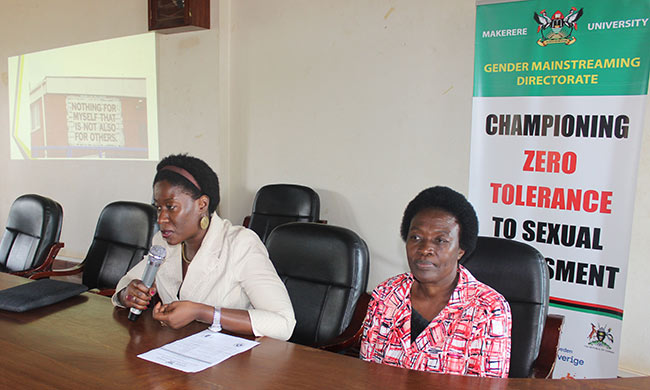 Makerere University Gender Mainstreaming Directorate (GMD) has rolled out the Student Peer Trainers programme to train 250 students in handling gender issues as well as equipping them with knowledge and skills aimed at ending gender-based violence.
The Student Peer Trainers approach is one of the key strategies for implementing the Gender Mainstreaming Programme (GMP). The Student Peer Trainers programme targets all categories of Makerere University students. It is voluntary, based on expression of interest.
The training programme, to be conducted in cohorts, started on 28th March 2019 with the first cohort comprising 50 students who expressed willingness to participate in the programme. The first recruitment and training has been undertaken in partnership with the Uganda Association of Women Lawyers (FIDA Uganda) and the Uganda Women's Network (UWONET).
Representing the Director GMD, Dr. Euzobia Baine Mugisha, the Deputy Director, Ms. Frances Nyachwo said the Student Peer Trainers Program aims at creating a pool of trained champions with the capacity to reach out to their peers at Makerere University and beyond.
"This training prepares you to use the positive power of peer influence to promote respect and civility not only at Makerere University, but also in your communities. I urge you to carry on the skills you have gained to change the world and empower women and girls worldwide," said Ms. Nyachwo.
She revealed that the Student Peer Trainers will also facilitate the wide dissemination of the referral system for students and victims to report any form of gender based violence.
"We expect student peer trainers to use the skills attained from this training to create awareness,
and train other students and the society at large about gender equality and equity. This will help to curb gender discrimination, sexual harassment and gender-based violence in society," said Ms. Nyachwo.
Presenting the overview and objectives of the student peer trainers program, Ms. Suzan Mbabazi, the Principal Gender Officer, highlighted some of the objectives as follows;
Getting knowledge on how to champion zero tolerance to sexual harassment especially at universities.
How to end gender-based violence
Understanding gender policies and concepts
Appreciating women's roles and promoting women empowerment
Building gender equality in society
Ms. Mbabazi urged students to familiarize themselves with the Makerere University Gender Equality Policy to help them advocate for gender-responsive services.
Addressing the students, the Chairperson of FIDA Uganda-Mrs. Lydia Namuli Lubega said the issue of gender as well as ending gender-based violence is pertinent to them and central in their lives and operations.
"The issue of gender is part of FIDA Uganda through protecting women and girls, to curb the root causes of sexual harassment, gender-based violence, and gender discrimination," she said.
Mrs. Namuli Lubega revealed that through this partnership, FIDA Uganda will work with Makerere University GMD, students and its partners to find solutions to the root cause of gender-based violence.
Eric Tumwesigye, Senior Gender Officer at Makerere University called upon the student peer trainers to work hand in hand with the Gender Mainstreaming Directorate to end social misconceptions about gender and empower women and girls.
"Let us put an end to the roles that hinder women transformation and guard against stereotyping to ensure that both men and women receive equal opportunities," said Mr. Tumwesigye.
Written by: Esther Joyce Nakibombo, Volunteer, Mak Public Relations Office
Bachelor of Laws Government Sponsorship Admission List 2020/2021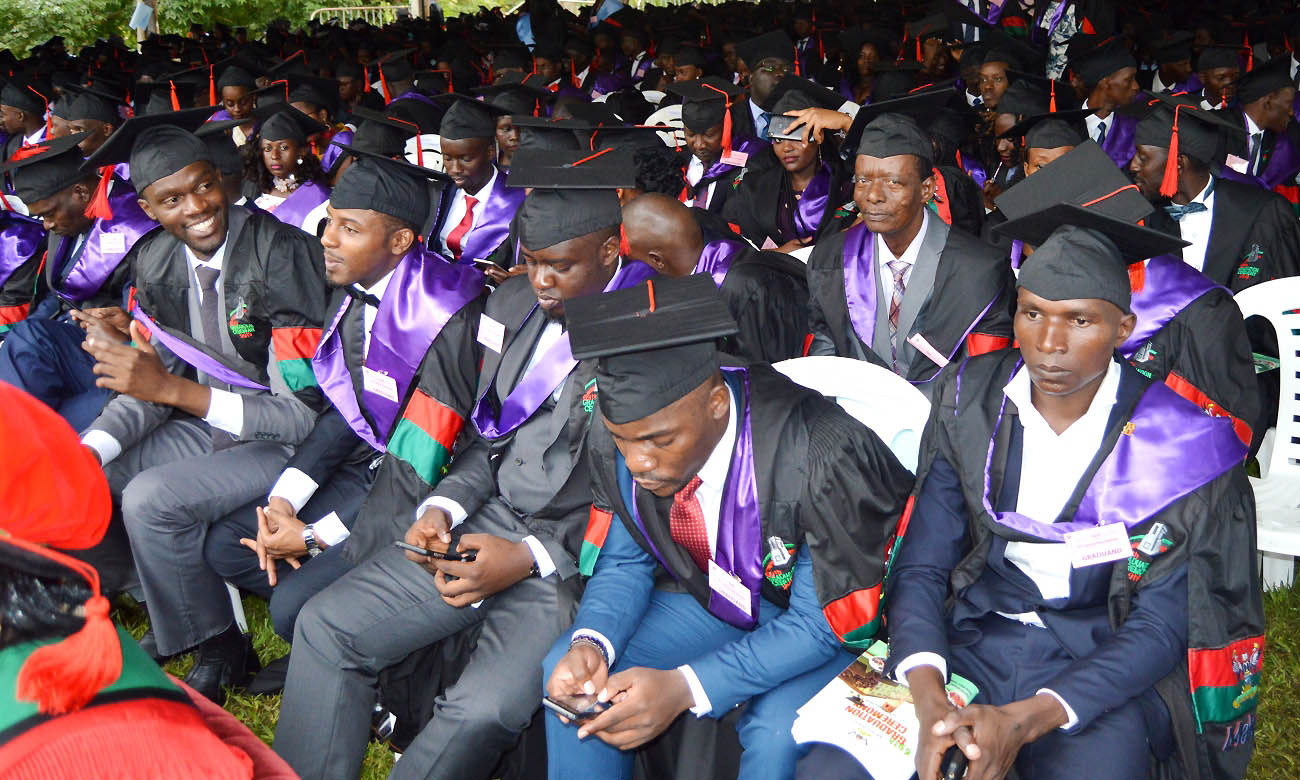 2021 DAAD In-Country In-Region Competitive Masters & PhD Scholarships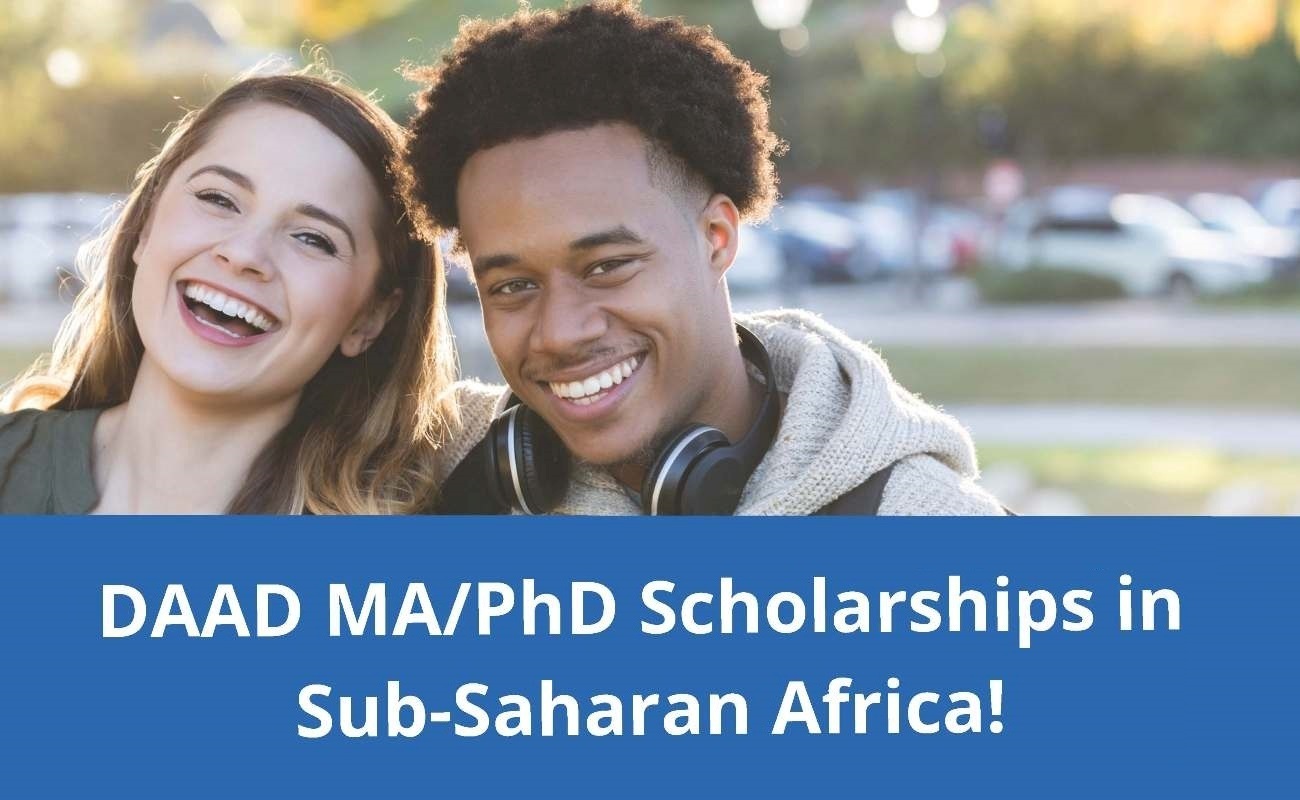 The German Academic Exchange Service (DAAD) in collaboration with Makerere University is offering up to 14 In-Country/In-Region Scholarships for PhD and Master studies at Makerere University for the intake 2021.
Application requirements:
Applicants must meet the following DAAD criteria:
have successfully completed generally a three-year Bachelor's university degree (Master candidates) or a two-year university Master's degree (doctoral candidates) with above average results (at least: Second Class/Upper Division)
clearly show motivation and strong commitment
have thorough knowledge of the language of instruction
have generally completed their last university degree not more than 6 years ago at the time of application
must be nationals or permanent residents of a Sub-Saharan African country
should generally be a) staff member of a public university, b) candidate considered for teaching or research staff recruitment, c) from the public sector and/or d) Alumni of the DAFI-programme
Female applicants and candidates from less privileged regions or groups are especially encouraged to participate in the programme.
Scholarships are initially granted for one year and can be extended to a maximum of the regular period of study upon receipt of an application for extension. Scholars must demonstrate satisfactory progress before an extension is granted.
Eligible fields:
The In-Country/In-Region Scholarship Programme supports studies in subject areas with strong relevance to national development.
The scholarships at Makerere University are available in the following fields:
PhD in Plant Breeding
Master in Environment and Natural Resource Management
Duration and commencement:
The duration
of the PhD programme is generally three years (regular period of studies) and is usually starting in September 2021
of the Master programme is generally two years (regular period of studies) and is usually starting in September 2021
Please note that the maximum duration of the scholarship is based on the time that is left until the scholarship holder has reached the regular period of studies in that programme; i.e., if you apply for a DAAD scholarship starting in your second year of studies of a three-year programme, the maximum duration of the scholarship will be two years.
DAAD will conduct interactive information sessions to guide prospective applicants on Thursday, 29 October, Tuesday 03 November and Thursday 05 November 2020 from 2:00 pm – 3:00 pm EAT. Please click the link below for details on the upcoming information sessions:
https://www.daad.org.za/en/about-us/online-info-sessions/
Please see Downloads for details
The application deadline is 15th December 2020.
Contact and advice
DAAD Contact Person:
Ms. Vivian Magero
Email: magero[at]daad.de
Makerere University Contact Persons:
Dr. Justine Namaalwa (Masters Programme)
Email: namaalwa.justine[at]gmail.com
Prof. Patrick Rubaihayo (PhD Programme)
Email: prubaihayo[at]gmail.com
The Jim Leech MCF Fellowship on Entrepreneurship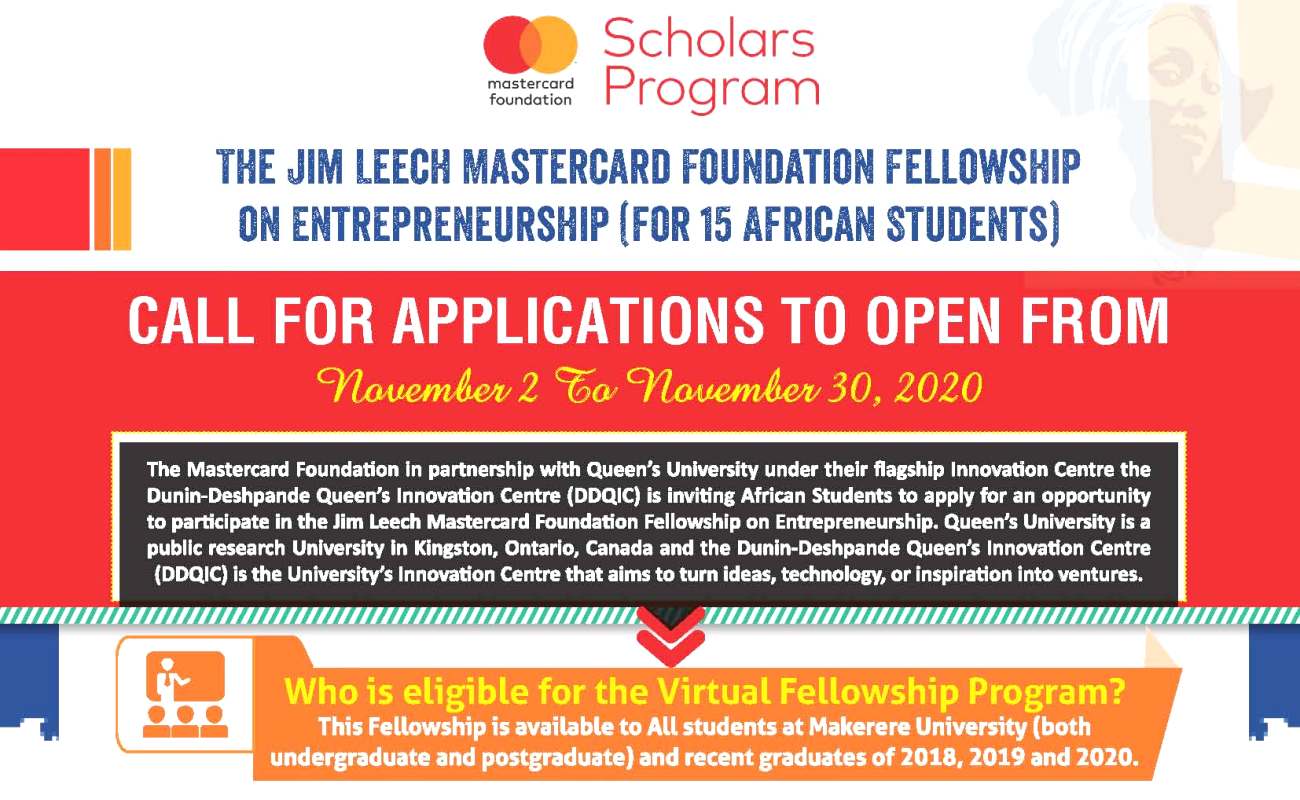 The Mastercard Foundation in partnership with Queen's University under their flagship Innovation Centre the Dunin-Deshpande Queen's Innovation Centre (DDQIC) is inviting African Students to apply for an opportunity to participate in the Jim Leech Mastercard Foundation Fellowship on Entrepreneurship. Queen's University is a public research University in Kingston, Ontario, Canada and the Dunin-Deshpande Queen's Innovation Centre (DDQIC) is the University's Innovation Centre that aims to turn ideas, technology, or inspiration into ventures.
Who is eligible for the Virtual Fellowship Program?
This Fellowship is available to All students at Makerere University (both undergraduate and postgraduate) and recent graduates of 2018, 2019 and 2020.
The Fellowship will be based at DDQIC. The Fellowship will be offered to at least 15 Fellows with 15 outstanding business ideas. They will benefit from the online version of DDQIC's "QyourVenture".
This Eight-month accelerator program provides:
Access to the Discipline Entrepreneurship Toolbox for five months. This is an online entrepreneurship training program with 24 steps developed by the Martin Trust Center for MIT Entrepreneurship.
Access to an incubation support for three months. The Fellows will be on boarded into a company creation process with access to mentorship and coaching from DDQIC's network. They will compete to win seed funding grants from DDQIC's network of investors.
Support to facilitate the Virtual Fellowship Program
Each Fellow will receive a $500 stipend. The stipend is to ensure the Fellows have access to digital devices as well as safe and secure internet access.
Call For Applications to open from November 2 to November 30, 2020
Contact Information
Bernard B. Buteera
Communications & Web Officer
Mastercard Foundation Scholars Program
Makerere University
Tel +256-772325028
Web: http://mcfsp.mak.ac.ug
Please see Downloads for detailed Advert